As a travel writer, I should be able to write about most anything travel-related. And I'd like to think I can, if the numerous reviews I've written of hotels I've never visited are any indication of my research skills and general wordsmithery. (Oh yeah, that's totally a word. You're welcome.)
But you know what? I really hate writing about places I've never been to, hotels I've never stayed in, and experiences I haven't had. It just feels inauthentic to me to deign to give advice on something I've had no firsthand experience with. (Though, full disclosure, sometimes I do take paid assignments no matter the topic – a girl's gotta pay her student loans while traveling, am I right?) Such hogwish has no place on this blog.
All this to say: I've put a lot of time and thought into compiling this particular blog post, which I feel more than qualified to write because I've spent a cumulative 22 months here and have actually visited all 8 states/territories in Australia (most of them quite thoroughly). So know that I'm not pulling my must-do lists straight from guidebooks or other blogs: at least 90% of these recommendations come from my own experiences traveling in Australia, a country I'm ridiculously passionate about and want so badly for others like you to experience and love the way I do.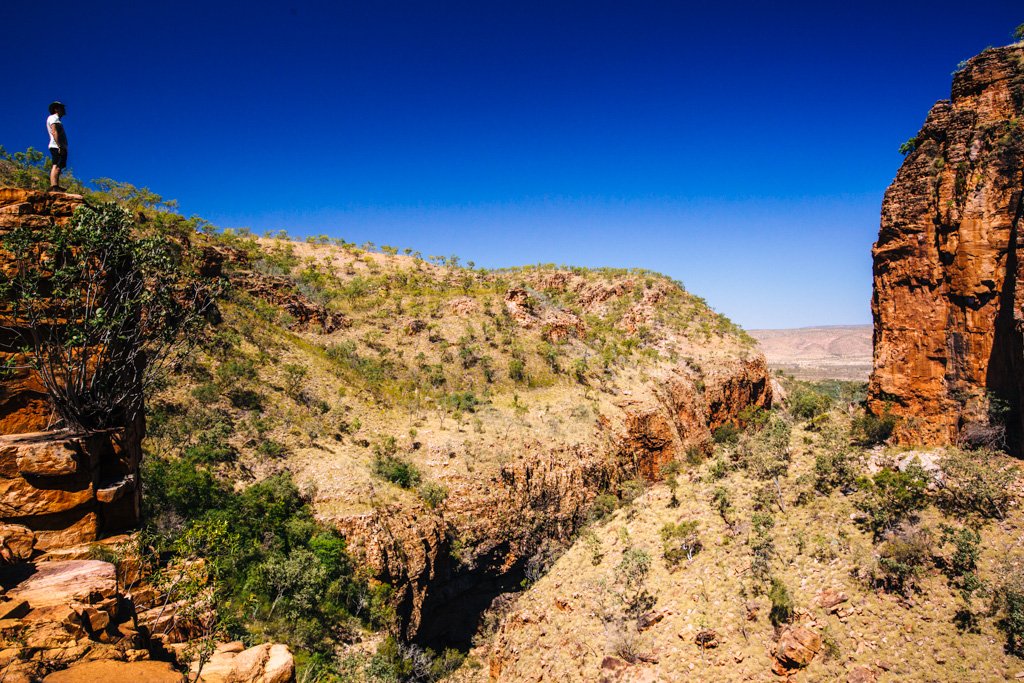 Wandjina's Window at El Questro in the Kimberley
This is a guide on things to do in Australia, and when. In addition to spilling all the best things to do in each part of the country, I highlight when the best time to visit is: because let's face it, weather can make or break a trip. If your travel dates are fixed, consider visiting the parts of Australia with ideal weather during that time. If they're flexible, work out which parts of the country are most appealing and then decide what time of year might work best, weather-wise.
Lastly, I encourage you to take your time while exploring Australia. This country is very spread out, and domestic travel can be both time-consuming and expensive.
Note: I've excluded Canberra and the ACT because a). I haven't actually seen anything outside of Canberra Airport (remember the time I got stranded there?), and b). Let's be real: no one should really go out of their way to visit the snooze-worthy Australian capital.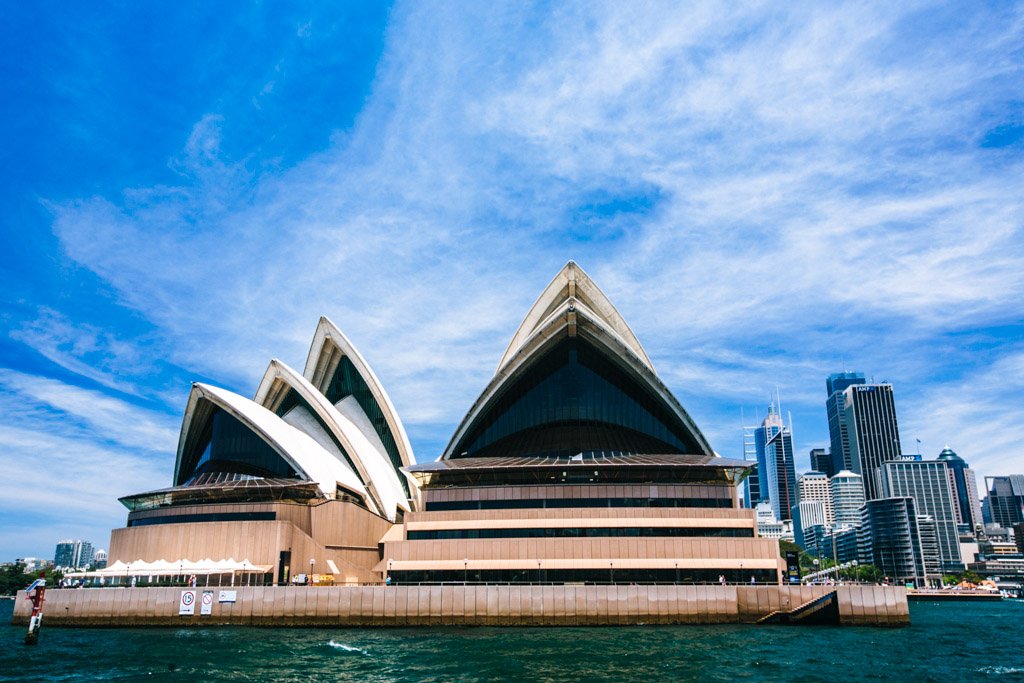 Sydney Opera House
Sydney // New South Wales
My heart still beats for Sydney. I can't imagine planning a trip to Australia and not stopping at this glorious cosmopolitan harbour city.
The city itself is nothing to write home about. No, the magic of Sydney lies in its harbour and its ocean beaches. If you're a slave to stunning scenery, you'll never tire of the harbour views you'll glimpse from seemingly infinite vantage points all around Sydney. And if you're a beach bum, well, you can't do much better than Sydney's Northern Beaches or world-famous Bondi Beach (which is well worth the hype, despite what the haters may say!).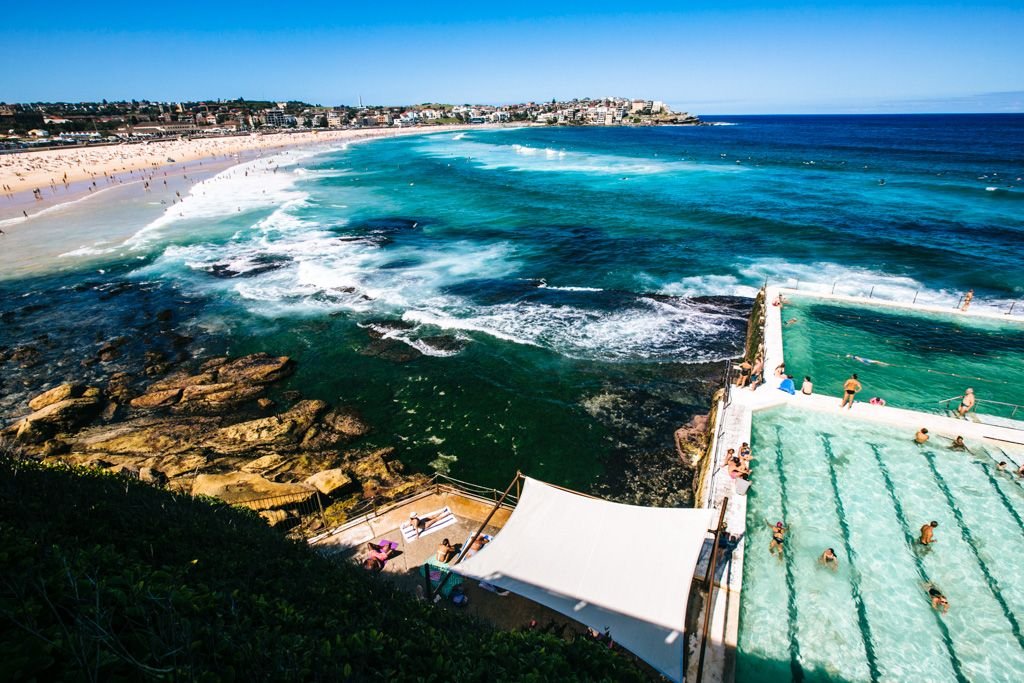 Bondi Beach in Sydney
Things to do in Sydney and NSW:

Royal National Park coastal track in NSW
When to go to Sydney:
Sydney is a year-round destination, with pleasantly mild winters (averaging 10-12C/50-55F in winter) and hot summers (averaging at least 30C/90F). As the harbour and the beaches are its focal points, Sydney is at its most glorious during warmer weather. Witnessing the Sydney NYE fireworks is nothing short of epic, if you can swing it – just make sure you book your accommodation wayyyyy far in advance!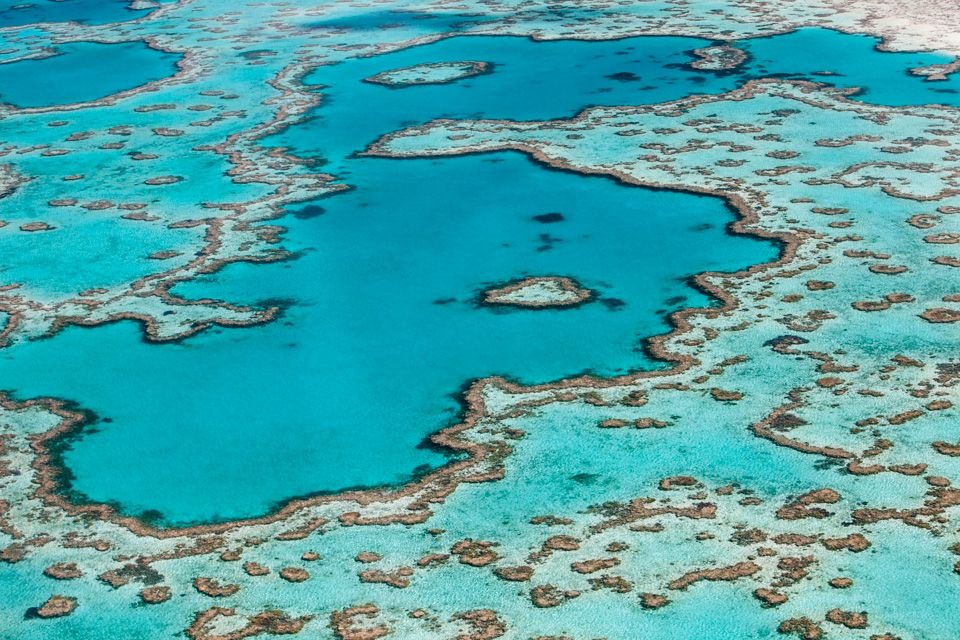 Heart Reef in the Whitsundays
Queensland
Beaches and reef: that's what Queensland is most known for, and for damn good reason. There's plenty more to see in this sunny Aussie state, but these two things should be your top priority. They are stunning and unforgettable.
You'll notice that I haven't included Brisbane on the list below, and that's because I find it frightfully boring. I'm sure it would be a pleasant place to live, but if you have limited time on your travels I wouldn't allocate any more time in Brisbane than is necessary (likely you'll be flying in and/or out from here).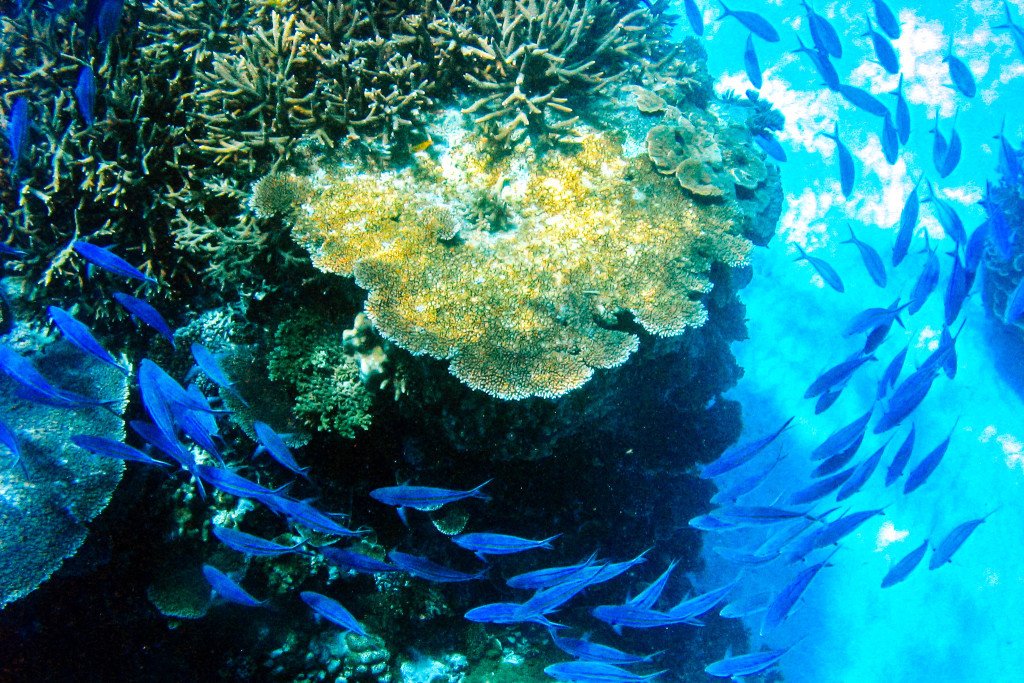 Great Barrier Reef, Lady Elliot Island
Things to do in Queensland:
Dive or snorkel the Great Barrier Reef via one of the islands rather than Cairns (recommended: Lady Elliot Island)
Go on a Whitsundays sailing trip (recommended: Solway Lass)
Take a 4WD self-drive tour of Fraser Island
Tackle the Thorsborne Trail on Hinchinbrook Island (4 days)
Hug a koala, rent a topless car, and go beach hopping on Magnetic Island
Explore far north Queensland via Cape Tribulation, the Daintree Rainforest, and the Outback
Enjoy the endless beaches that comprise the Gold Coast (Surfers Paradise if you're after glitz and nightlife; a smaller town like Burleigh Heads for something a little more lowkey but equally scenic)
Chillax on the gorgeous beach and embrace your hippie tendencies at Byron Bay (or nearby Nimbin, if weed and shrooms are your style) Note: While technically in New South Wales, Byron Bay is only a 2 hour drive south of Brisbane and makes more sense to include on a Queensland trip than on one from Sydney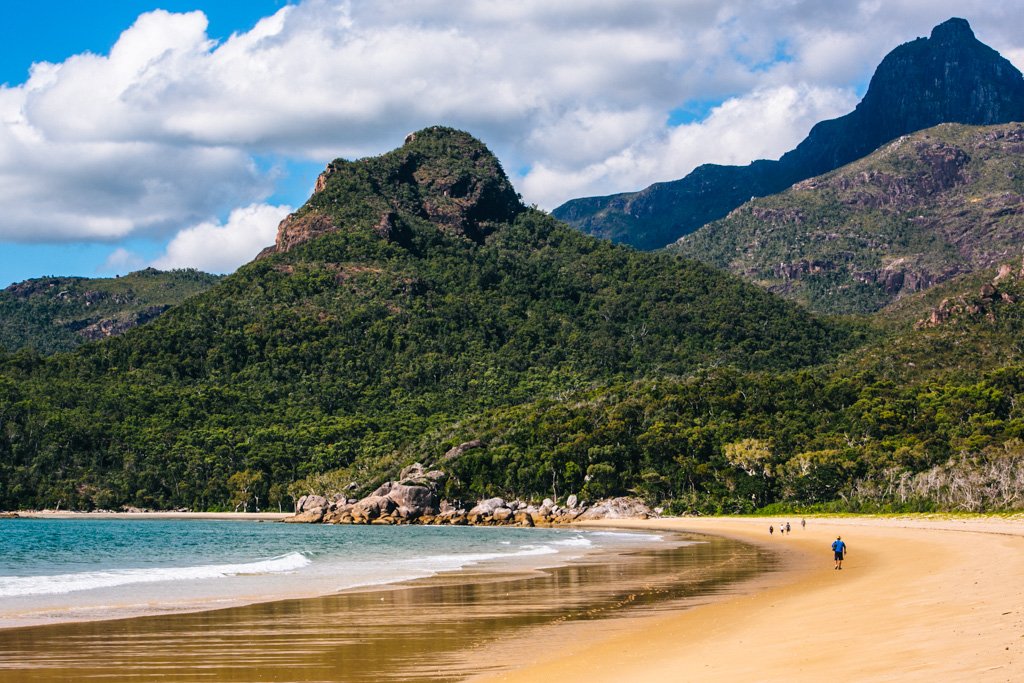 Hinchinbrook Island in Queensland
When to go to Queensland:
The Queensland coast is haunted by stingers (namely, box jellyfish) from November through May. Unless you're down to swim in a wet suit or run the risk of getting stung and subsequently dying within 3 minutes (it has happened!), consider traveling to Queensland in winter and spring (June-October) if you're eager to swim.
Aside from that, Queensland can be enjoyed at any time of year. It's consistently warm and sunny no matter the month. Southern Queensland has some of the most comfortable weather you can imagine, averaging 20C/70F in winter and 28C/82F in summer. Northern Queensland is hotter and more humid, enduring a summer wet season with temperatures of around 31C/88F that feel much hotter due to the humidity. With this heat and the threat of stingers, you may want to avoid northern Queensland from December-February. It cools off to a much more manageable 26C/79F here in winter.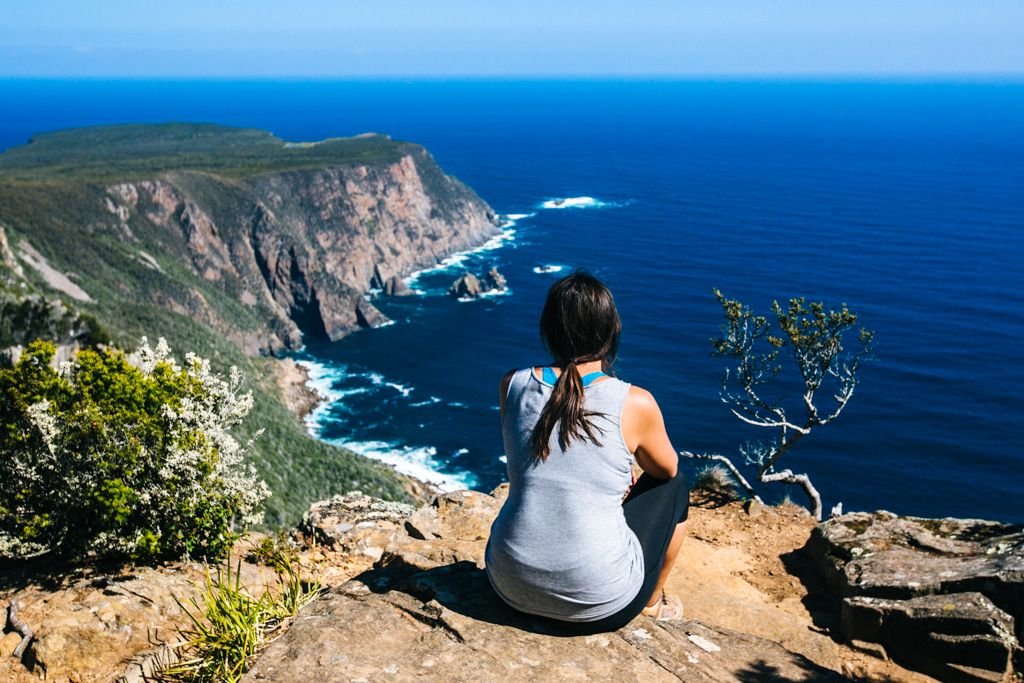 Tasman Peninsula in Tasmania
Tasmania
Tassie is regrettably easy to skip on a trip to Australia, but if you're an avid hiker or nature lover, you should seriously consider making some time for it. Tasmania's rugged coastline, mountainous interior, and incredibly underrated beaches make for some prime outdoor adventures.
While more time is always preferable, you can see a lot of this small island in just 4-5 days if that's all you have. And sometimes you can snag a $29 flight to Launceston from Melbourne, so I'd let that be the deciding factor if you're lucky enough to spot this deal (though beware of Jetstar!).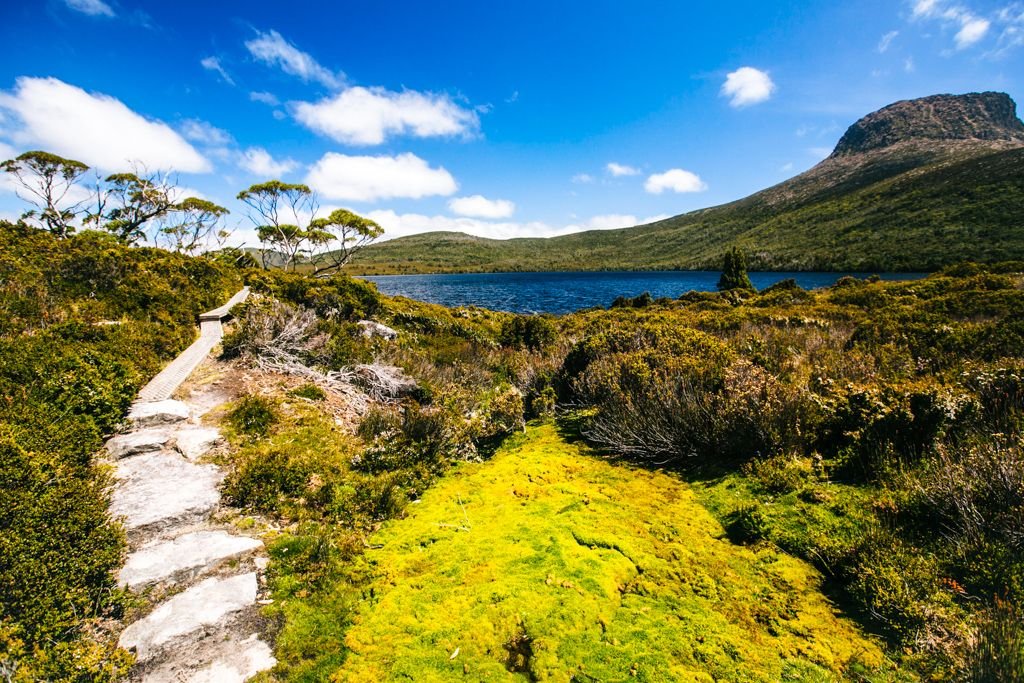 Lake Will on the Overland Track in Tasmania
Things to do in Tasmania:
Spend some time in Hobart (recommended: the MONA museum, Salamanca Market, and seafood)
Hike the famous Overland Track (5-7 days)
Go roadtripping – it's the best way to see Tassie's beautiful landscapes and nature
Go wine tasting in the Tamar Valley region (recommended: Chardonnay and Pinot Noir)
Feast your eyes on Wineglass Bay and the tropical-looking beaches along the Bay of Fires
Tour historic Port Arthur
Do some walking on the Tasman Peninsula – there are lots of day hikes; alternatively, you can sign up for the newly-opened Three Capes Track (4 days)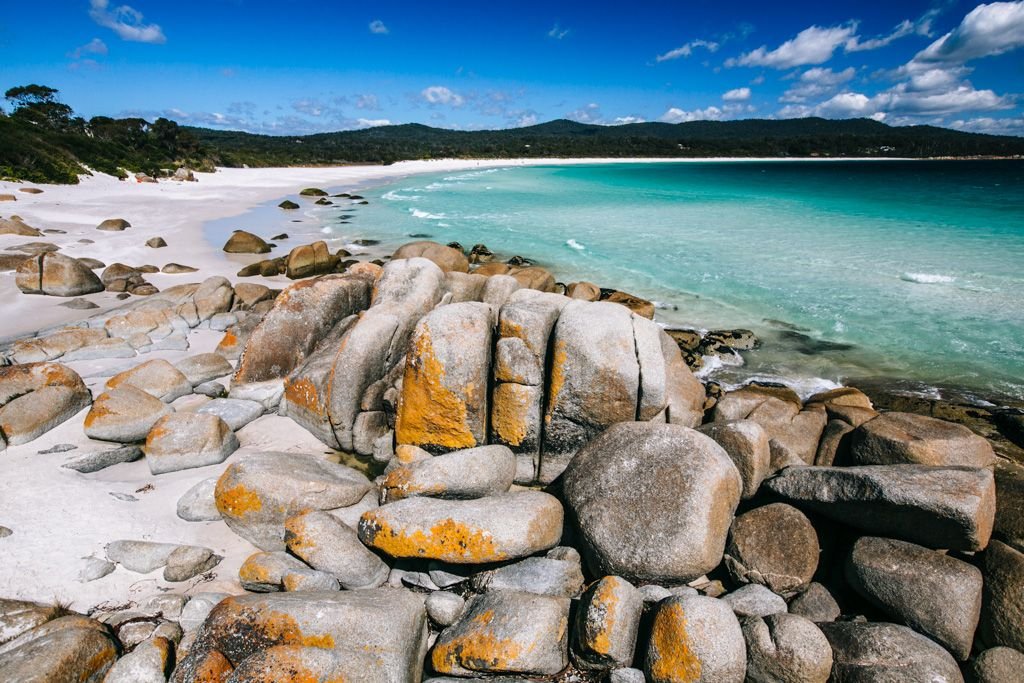 Bay of Fires, Tasmania
When to go to Tasmania:
Tasmania is best enjoyed during summer months (December-February), though cold and rainy weather can strike at any time of year. This little island is stationed in what they call the "Roaring 40's", aka some seriously strong winds between the latitudes of 40-50 degrees. I visited in January and had nothing but rain and 12C/55F degree weather in Hobart, and 20C/70F sunny (but at times windy) weather while roadtripping further north.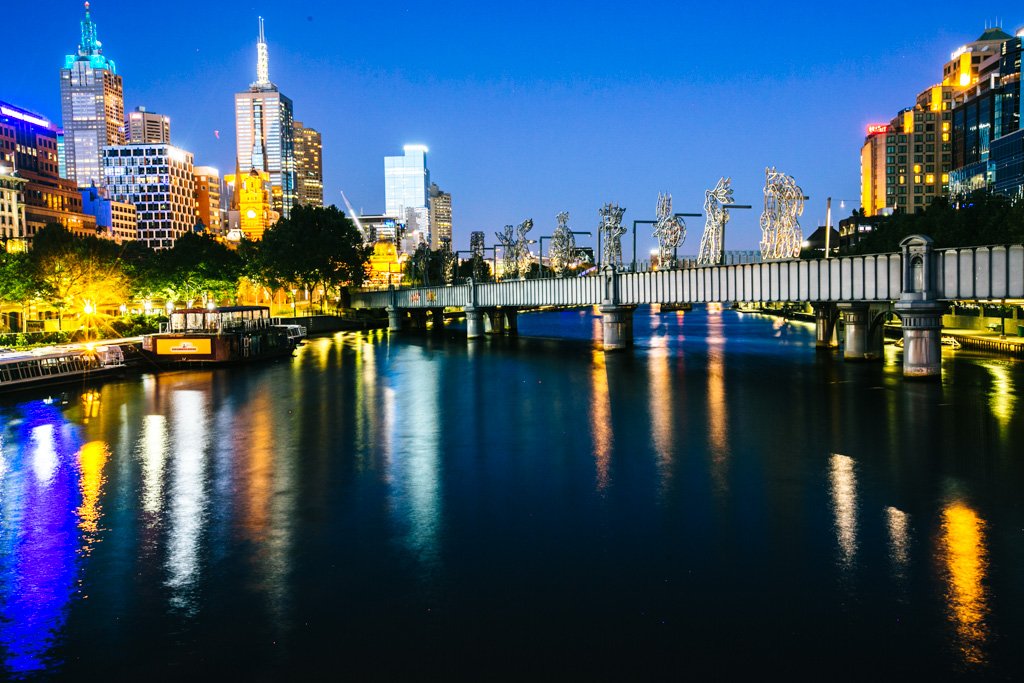 Melbourne by night
Melbourne // Victoria
Melbourne's been consistently ranked as the world's most livable city. Before I moved here, I wasn't sure if I believed the hype. What does it even mean to be super-duper livable, anyway?
I think I get it now. Melbourne manages to get so many things right: plentiful bike lanes, efficient public transport (that somehow doesn't show up on Google Maps), numerous museums, creative multicultural events and festivals held throughout the year, consistently awesome coffee, an unparalleled restaurant scene, plenty of green spaces, even holidays dedicated to sports. The fact is, Melbourne is a fantastic place to live. I think it can be challenging to fully experience this city as a tourist (particularly as a budget conscious backpacker), but if you're able to budget enough time and money for it, I don't see how you wouldn't adore Melbs.
Word of caution: Melbourne isn't known for its beaches. Don't come here expecting Sydney-caliber coastline. You'll find far more beautiful beaches if you venture out from the city towards the Great Ocean Road or Wilson's Promontory.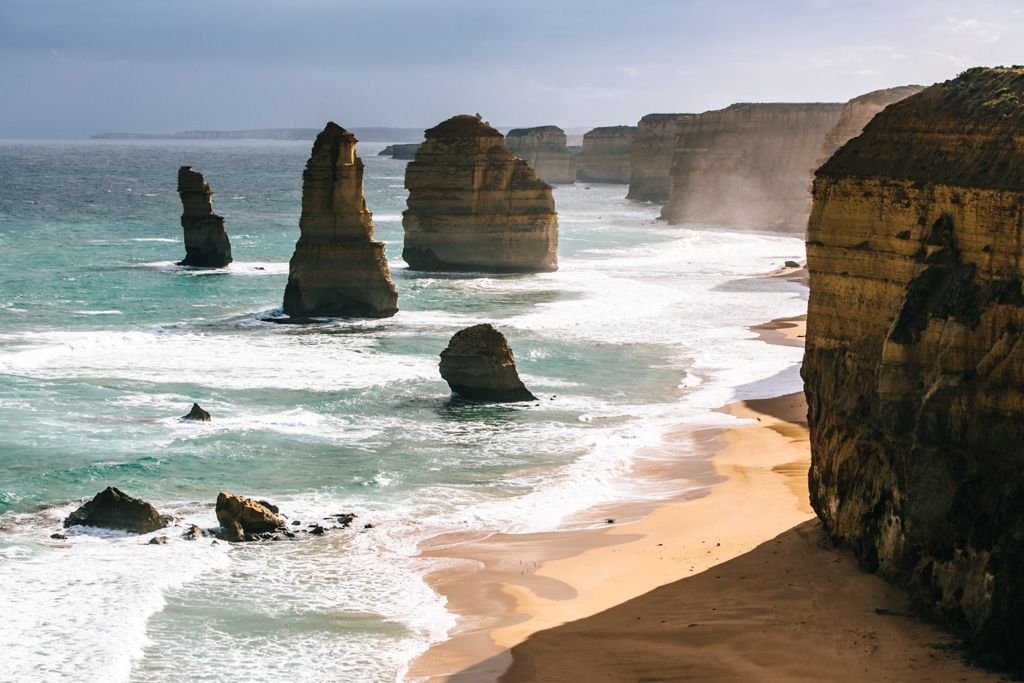 Great Ocean Road in Victoria
Things to do in Melbourne and Victoria:
Eat, drink, and coffee crawl your way through Melbourne – there are so many top notch restaurants, hip bars (some of which are so cool that they're hidden, or secret), and quality cafes in town, with new ones popping up constantly
If you're into sports, see a footy game in Melbourne – this town is fanatical about the AFL!
Go cycling in Melbourne on the Yarra Trail, Capital City Trail, and along the coast heading south from St. Kilda
Go wine tasting in the Yarra Valley and on the Mornington Peninsula (recommended: Chardonnay and Pinot Noir – like in Tassie, these wines thrive in the cooler southern climates)
Drive the Great Ocean Road and soak up that gorgeous iconic coastline
Hike and camp by the stunning beaches at Wilson's Promontory and explore the surrounding Gippsland region
Go cycling and wine tasting in Victoria's High Country (recommended: Bright)

Yarra Valley wine tasting
When to go to Melbourne:
Melbourne experiences cool, rainy winters (10C/50F) and reasonably hot summers (30C/90F+). There tend to be more festivals and events happening in spring and autumn, so if you're a culture vulture you might want to aim to visit during these seasons. Otherwise, Melbourne is ideal from September-April (outside of winter).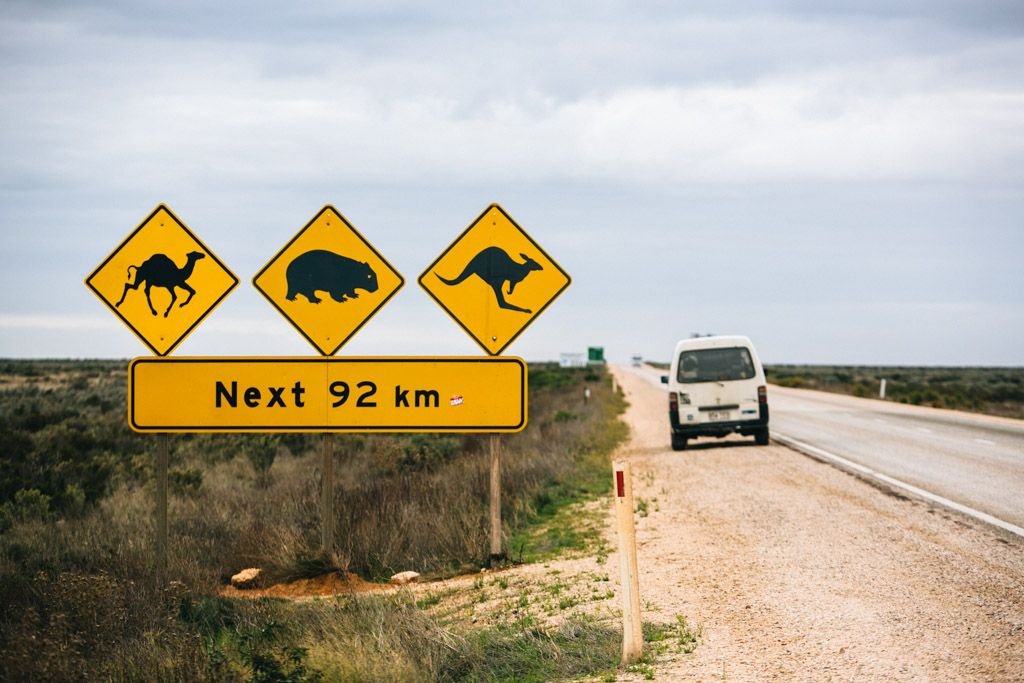 Crossing the Nullarbor in South Australia
South Australia
I'm going to be honest: I don't know that I would choose South Australia, of all the regions in this country, if I had limited time in Australia or it was my first time Down Under. But should you find yourself in Adelaide (a perfectly nice, but pretty dull city – not unlike Brisbane in that respect), there are a few rad things you can do in the area.
Things to do in South Australia:
Go wine tasting around the Barossa Valley, McLaren Vale, and Adelaide Hills (recommended: Shiraz)
Explore the rugged beaches and spot all sorts of wildlife on Kangaroo Island
Stop in Coober Pedy, an opal mining town where most people live underground due to the extreme daytime heat
Drive and hike around Flinders Ranges, the largest mountain range in SA
Cross the Nullarbor while driving from Adelaide to Perth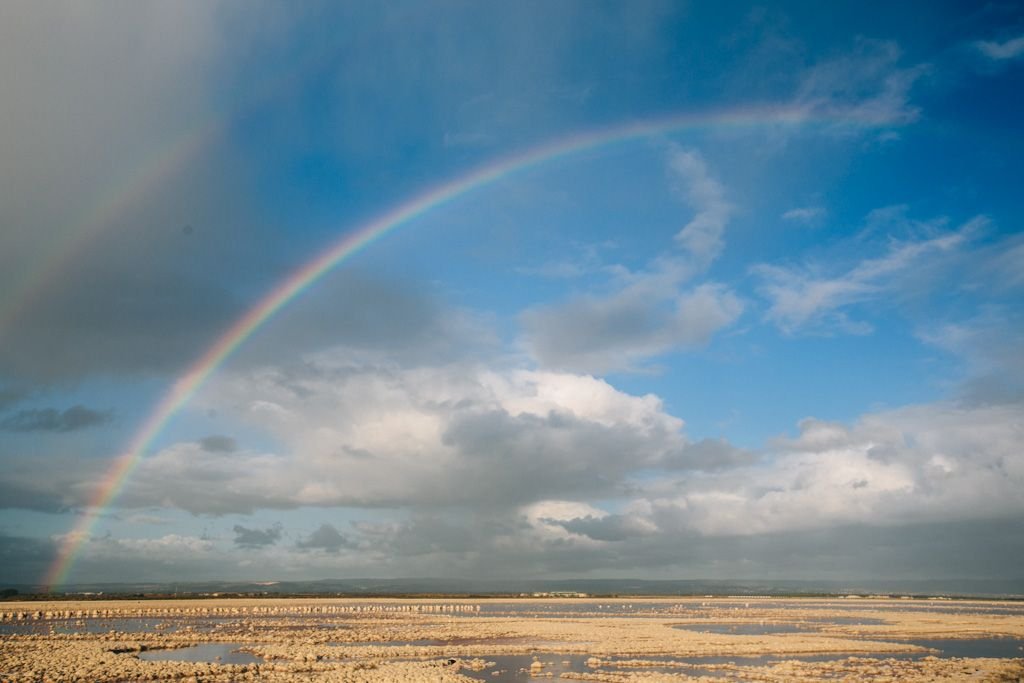 Salt flats just north of Adelaide
When to go to South Australia:
The South Australian coast is glorious outside of winter (29C/84F), and rainy and cool during it (15C/59C) – thus, aim to visit Adelaide and surrounds during spring, summer, or autumn (September-May). The northern interior (Coober Pedy, Flinders Ranges) is warm and mostly dry year-round.

Karijini National Park, Western Australia
Western Australia
Western Australia is my favorite state in Australia. I always say that if you can only hit one part of the country, it should be WA. You'll find all of the best aspects of Australia in this state: white sand beaches, reef, world class wines, the Outback, waterfalls, gorges, rainforest, and more. This region is so sparsely populated in comparison to the east coast, and is quite under-touristed due to its remoteness – which makes adventuring in Western Australia all the more satisfying. Crowds won't be an issue anywhere when you're touring this state.

Two Peoples Bay near Albany, Western Australia
Things to do in Western Australia:
Take a roadtrip around Southwest Australia and go wine tasting and beach hopping in Margaret River, Denmark, and Albany
Take a cycling wine tour around Margaret River vineyards
Visit Australia's so-called whitest beaches in Cape Le Grand National Park (recommended: Lucky Bay)
Take a day trip from Perth to Rottnest Island and cycle around to its many beaches
Go snorkeling in Ningaloo Reef and swim with whale sharks at Exmouth
Explore Karijini National Park (at least 2-3 days)
Kick back in Broome and relax on Cable Beach, take a sunset camel ride, and watch Staircase to the Moon (if it's a full moon!)
Tackle the Gibb River Road through the Kimberley (4WD required; allow as much time as possible to explore all the gorges and take it slow on the rocky roads)
Visit El Questro Wilderness Park and do some of the gorge hikes and cruises (recommended: El Questro Gorge hike, Emma Gorge hike, Explosion Gorge cruise)
Take a sunset cruise on Lake Argyle
Go hiking and perhaps splurge on a scenic flight over the Bungle Bungles

Gibb River Road in the Kimberley
When to go to Western Australia:
Spanning from the north to the south coast of the country, there's always at least one region of Western Australia fit for exploring at any given time of year:
Southwest Australia is beautiful and travel-able year-round, but during winter (June-August) it's too cold to swim and the weather is more prone to rain.
Perth is a brilliant destination at any time of year. During winter, its beaches are deserted.
The west coast can be visited year-round, though if you want to swim with whale sharks you should plan for April-July.
The Kimberley is best visited during its dry season (April-October). In the wet season (November-March), parts of the region experience serious flooding and roads can be impassable.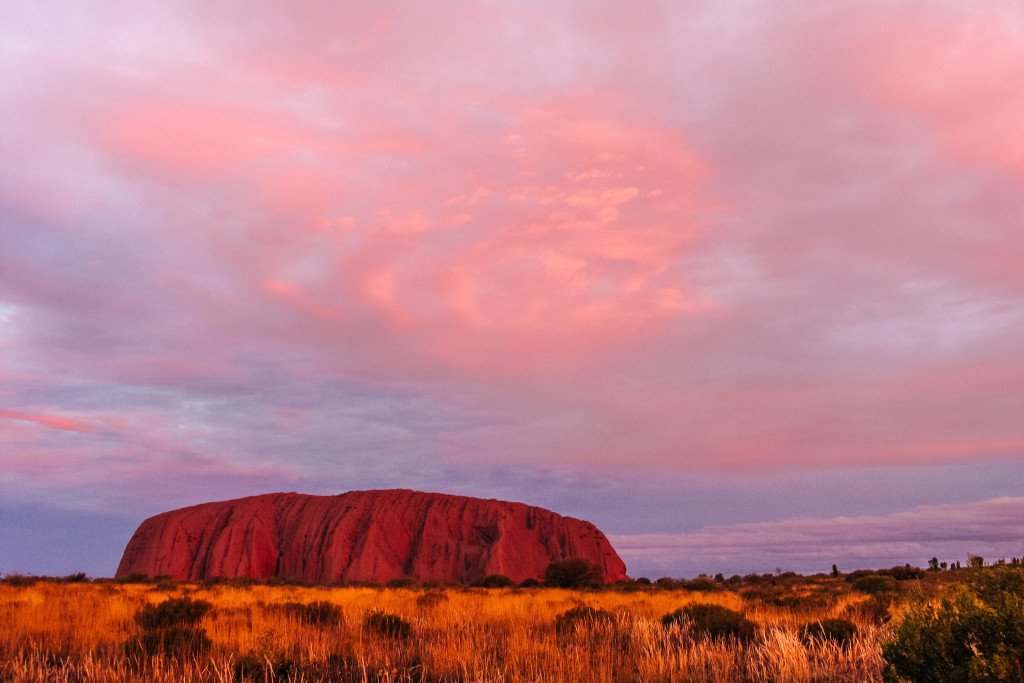 Uluru in the Red Centre
Northern Territory
If you want the true Outback experience, you gotta travel around the Northern Territory. From the epic landscapes outside of Darwin in the Top End, to the scattered Outback towns and stations along the red dusty roads heading south, to the majestic Red Centre, there's no place like it anywhere else in the world.
Things to do in the Northern Territory:
Aim to be in Darwin on either a Thursday or a Sunday evening for the Mindil Beach sunset market
Drive and camp around Kakadu National Park (minimum 3 days and 4WD required)
Spend a day waterfall hopping at Litchfield National Park
Ogle the jumping crocodiles on one of many Adelaide River cruises (or if you prefer your crocs with an adrenaline rush, swim with them at Crocosaurus Cove in Darwin)
Take a cruise through Katherine Gorge
THE RED CENTRE. Uluru, Kata Tjuta, and King's Canyon are the big three here. Whatever you do, be sure you sleep in a swag – you'll never forget the first time you lay eyes on the Outback night sky as you doze off into the happiest of sleeps.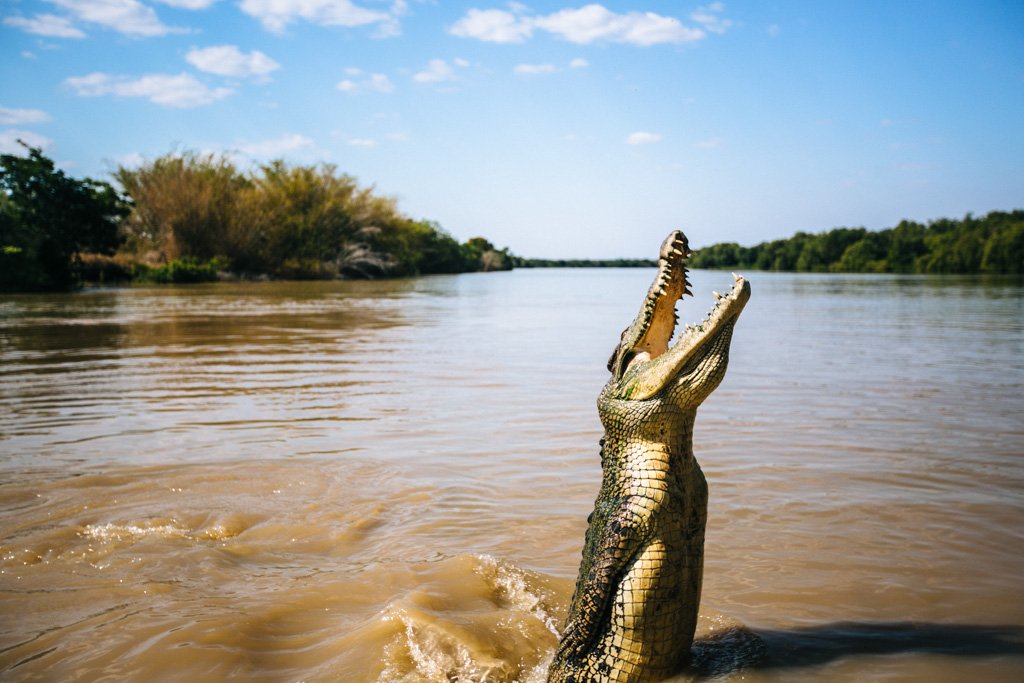 Jumping crocodile near Darwin
When to go to the Northern Territory:
The NT is split into two main climate regions:
The Top End (Darwin and surrounds) has a wet and a dry season. The wet season lasts from November-April and is characterized by hot, humid days and monsoonal rains. Because the heavy rains can make some natural attractions inaccessible during this time, most tourists tend to visit the Top End of the NT from May-October in the dry season, when the days are warm and dry.
The Red Centre is consistently dry year-round, but experiences more extreme temperatures. It can be below freezing during winter nights and above 35C/100F on summer days. For a more comfortable experience, consider visiting the Red Centre during spring or autumn (September-November or March-May).

Kata Tjuta in the Red Centre
What's your favorite part of Australia?
Pin it!