The first time I flew to Australia, in 2006, I went from Hartford to Chicago to Los Angeles to Sydney. This took about 2.5 days longer than it should have due to a delayed flight and a missed connection. I remember holing up in an airport hotel in Chicago because my LAX-SYD United flight couldn't get rebooked right away, and sitting in my underwear for two straight days because I didn't have my luggage (and hence no change of clothes) and didn't feel comfortable venturing into the city. Then, only one of my two bags made it to Sydney when I did. Rough, right?
So this time around, I wanted to do everything I possibly could to make it a smoother experience flying to Australia. I'd avoid Chicago, whose airports are notorious for weather delays. I'd aim for 2 legs instead of 3, and allow a larger cushion of time between them in case my first flight was delayed. And finally, for the mic drop: I'd be flying BizFirst class on United, from New York to San Francisco to Sydney.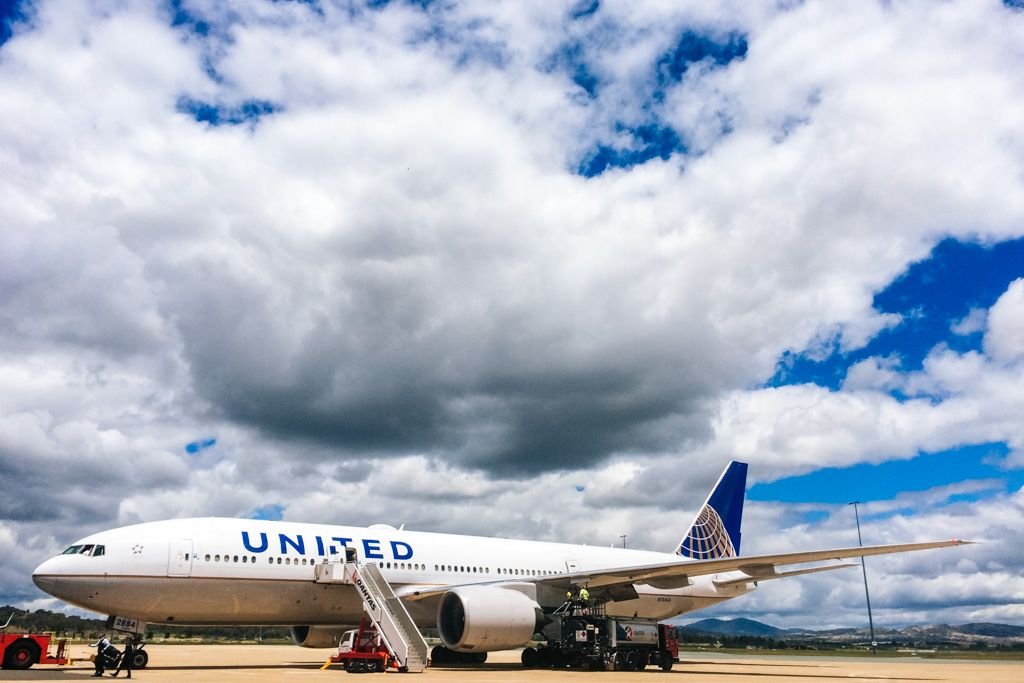 Things started out well enough. I took an Uber to JFK for good measure, then did my usual frantic shuffling of belongings between checked bags so they'd make the weight limit. I had 115 lbs of checked luggage because I'm the worst and have too many things I NEED, like all my camping and trekking gear. I swear I'd have been under 100 lbs without all that stuff.
I flew through security and hung out in the United club lounge, a perk of flying BizFirst. I completely forgot about having lounge access when I flew BizFirst to Asia last year, so this was my first time experiencing it. Turns out I wasn't missing much other than the comfy chairs and cappuccino machine. Memo to United, you might consider offering more than cheese and crackers and baby carrots as snacks – just a thought.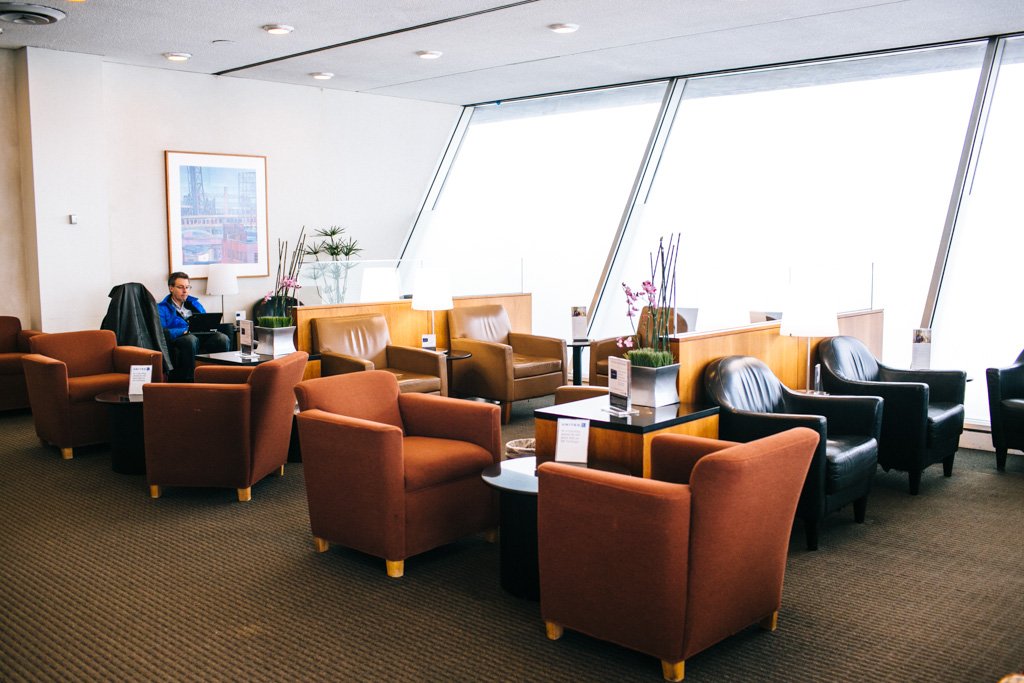 I headed to the gate a bit early to check on my status on the upgrade waitlist. When I booked my flight, I was only able to confirm BizFirst for the SFO-SYD leg, and got waitlisted for it on the JFK-SFO leg. I didn't see my name on the monitor, so I went up to ask the staff at the counter. "I can add you, but this flight is completely full so it probably won't go through", the counter person told me. Like magic, my name popped onto the top of the waitlist. I waited patiently through announcements of "this is a full flight", hoping that someone would just not show up so I could steal their seat. I watched as all the actual business people boarded first: namely men in suits, carrying dry cleaning and briefcases. My name was never called.
I begrudgingly boarded Flight #1 and took my economy class seat in the very back of the plane. Everyone was seated and just about buckled up when I heard someone call out, "Are you Lindsay? Your upgrade went through – you're in 6A". Henceforth, I will recall this as one of the finest sentences ever uttered to me. My move from row 29 to 6 can best be described as both gleeful and bull-in-a-china-shop like. Within the hour, I was feasting on steak and enjoying some white wine in my cozy recliner. BOOYAH!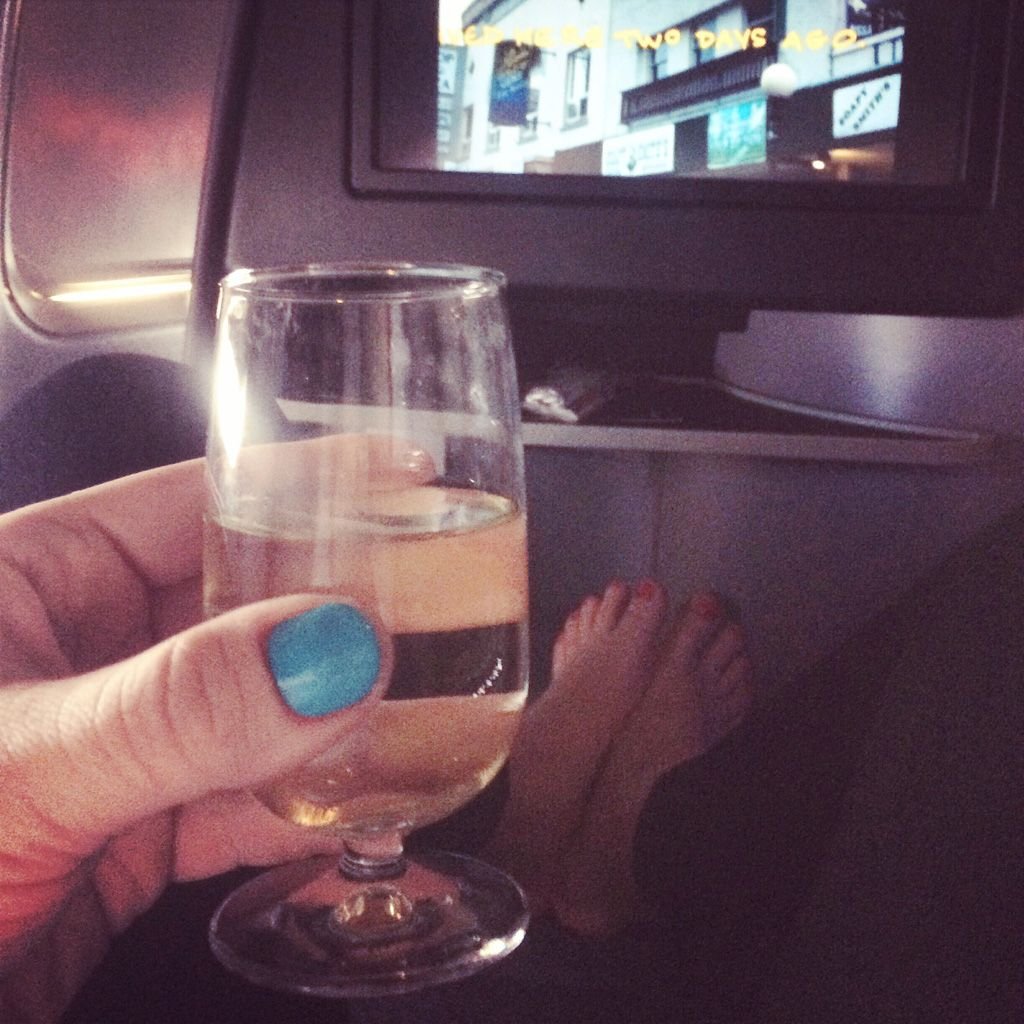 Thanks to some turbulence around San Francisco, I felt nauseous when we landed. I wanted nothing more than to assume the fetal in the corner of some empty gate area, but my friend Mike was meeting me at the airport during my layover so I had to perk up. How fitting is it that one of my closest friends from when I studied in Sydney 9 years ago was there to see me off? He vowed to come visit me there next year, and we took a goofy picture to send to our other friend from Sydney Uni, Melvin the Dutchman. Will 2015 be the year the 3 of us finally reunite? We shall see!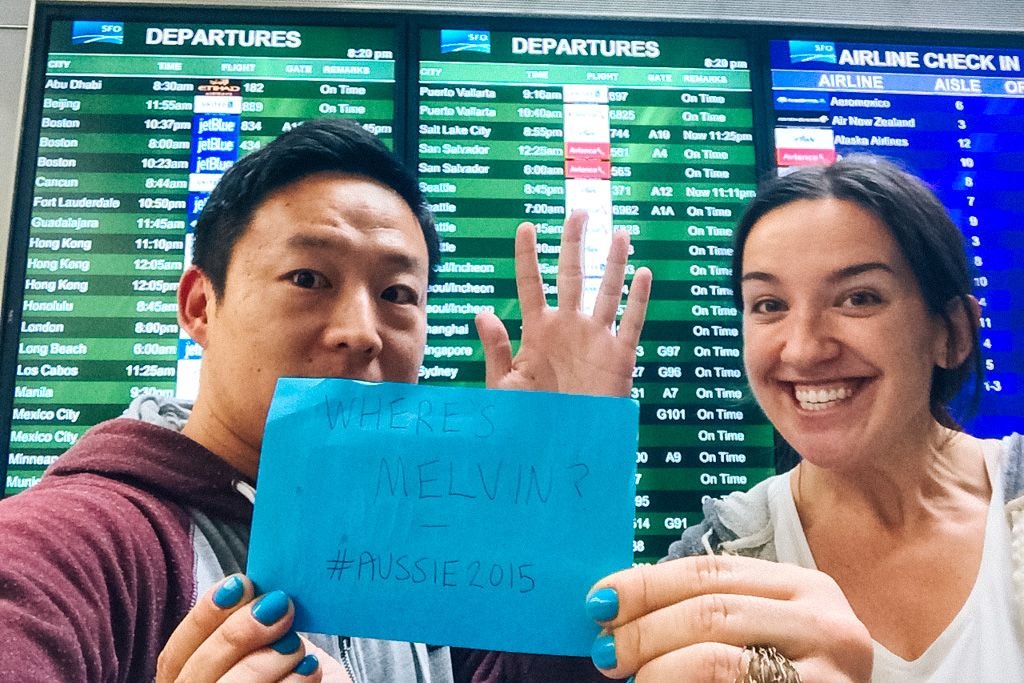 Guess whose idea this was? Also, my nails match the paper.
Flight #2 absolutely rocked my world. The second we were allowed to, I reclined my seat into a layflat bed and passed the heck out for 10 hours. I didn't even know I was capable of that without any help from pills or drinks. I completely missed dinner and snacks! AB. SURD.
I stayed awake for the remaining 5 hours. Toward the end of it, the captain made an unusual announcement: "We've just gotten word that one of the two runways in Sydney is down. That means that all planes are being funneled into the one runway. The best we could negotiate was 55 minutes of wait time, but because we don't have enough fuel for that we're being diverted to Canberra." Canberra?! Cue the groans, from rows 1 through 40. The captain continued, "Our crew is not allowed to work any longer, and we don't have any United staff at Canberra, so we're going to fly a new crew in from Sydney within a couple hours."
We landed in Canberra around 9am. There was talk of us eventually taxi-ing to a gate and setting up customs so we could deplane and then reboard, but since Canberra isn't an international airport, it's not equipped with a customs infrastructure – meaning we weren't allowed in the airport. All we could do was sit in our seats and wait.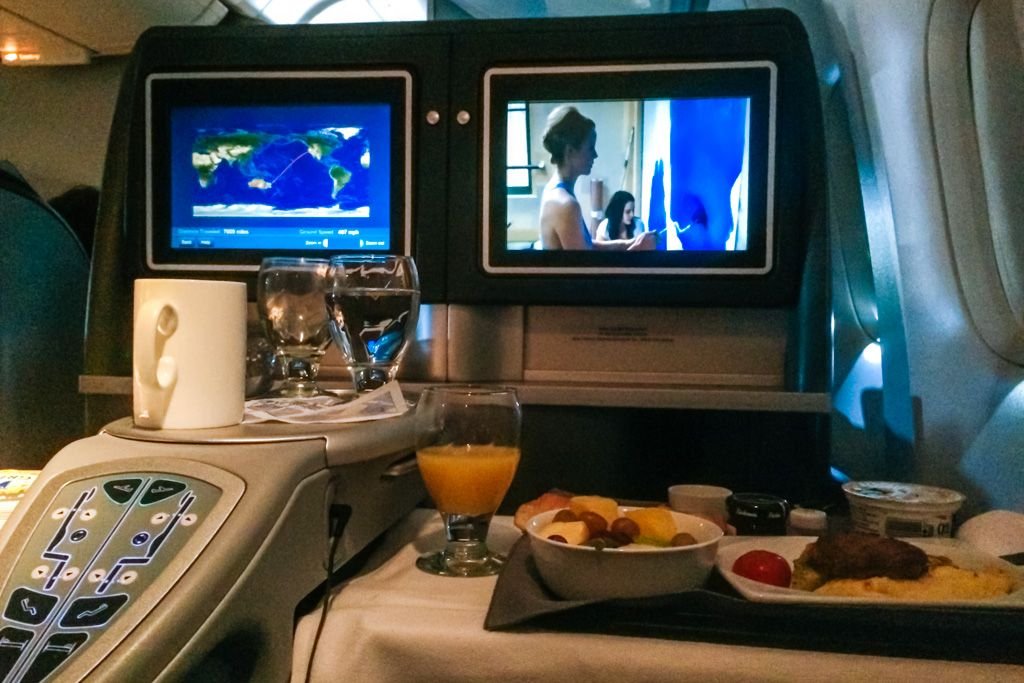 Breakfast and Parenthood, the good life.
Around 11:30am, Qantas sent us some snack boxes from the terminal.
Around 12pm, we were allowed to open up the plane doors to circulate some air.
Around 1pm, we were given permission to get off the plane as long as we stayed between the two specified hangars below.
I was content to keep laying in my reclined seat, but once they announced that a truck would be delivering food and water to us outside, I left my nook. The scene was downright ridiculous: a lengthy line formed from the plane to the truck, where a couple of guys passed out lunch boxes to the masses – our rations, if you will. I wouldn't quite classify what we were given as 'lunch', but we got more cheese and crackers, plus an apple, banana bread, and candy.
At least half of the passengers sat out on the tarmac and had themselves a little concrete picnic. I stayed out a bit longer in the sun with my laptop until I couldn't take the wind anymore.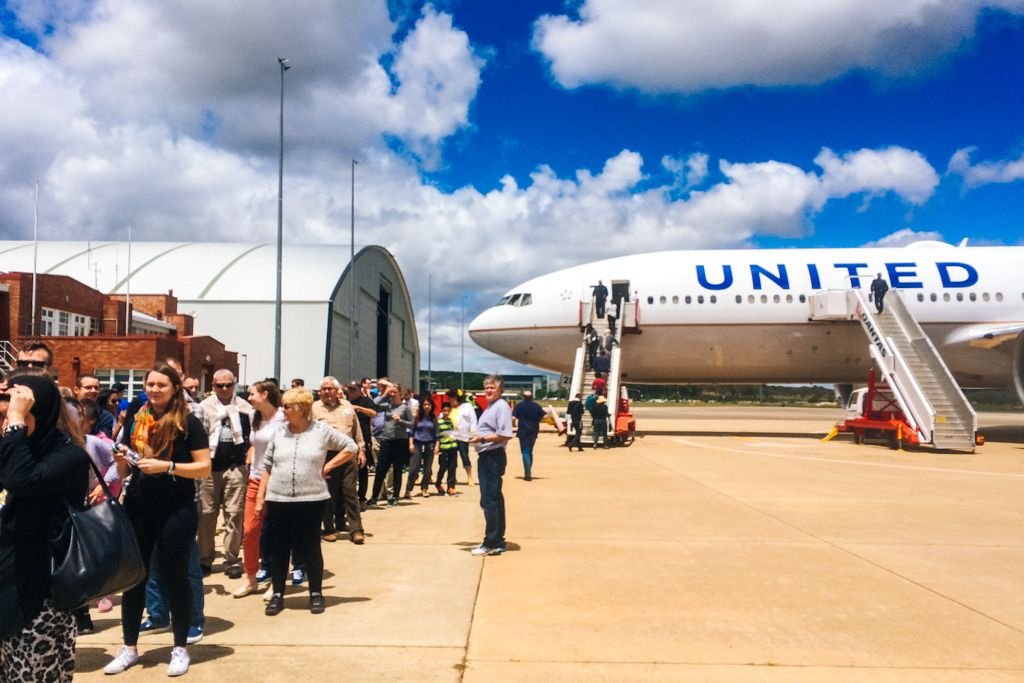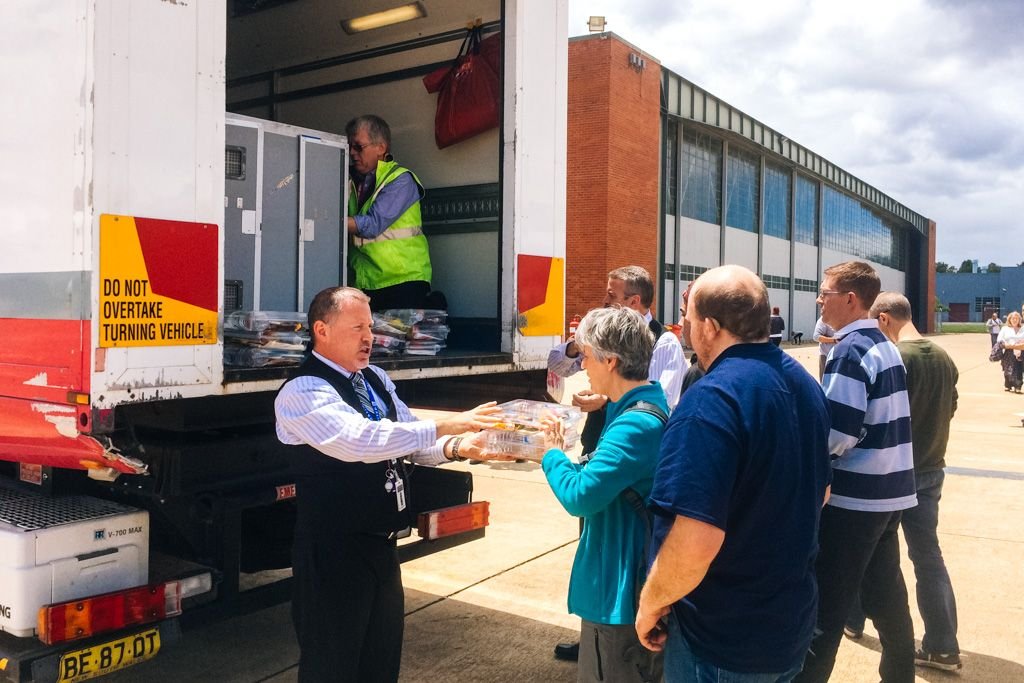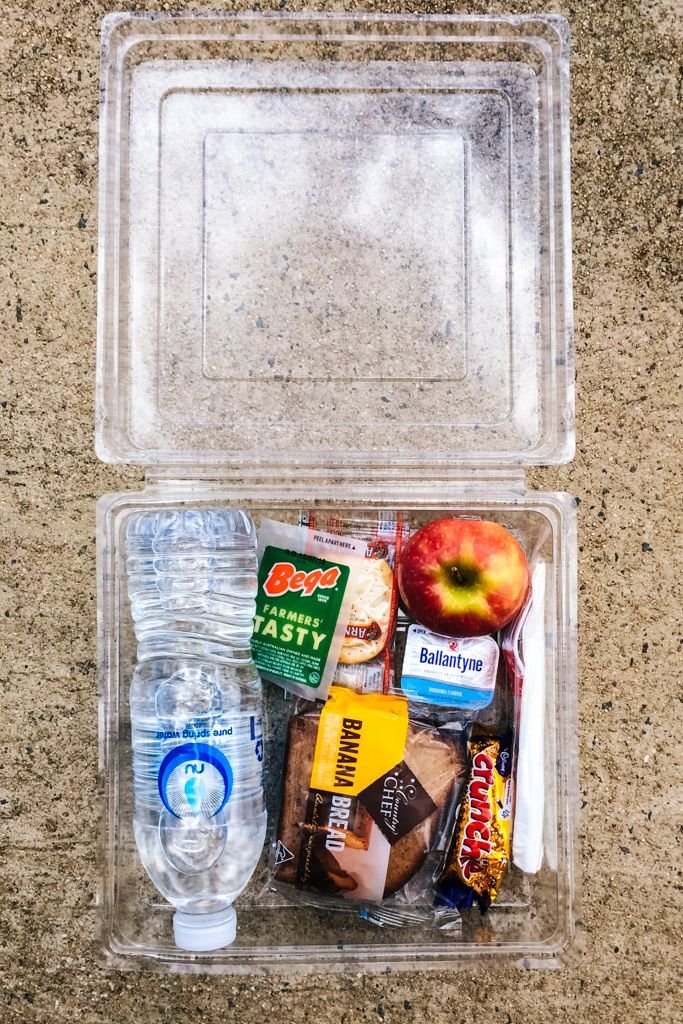 The new crew arrived around 3:30pm, we finally took off for Sydney at 5pm, and we arrived at 5:30pm – 9 hours later than scheduled.
Honestly? Aside from this whole ordeal being objectively annoying and borderline inhumane, I wasn't terribly bothered by it. I didn't have a schedule to keep, I wasn't missing out on any work or vacation days, I was pretty comfortable in my BizFirst seat, it was a glorious 70-degree day, and I was in AUSTRALIA. And if we had landed in Sydney as scheduled, I likely would have just crashed at the hostel for several hours anyway, so it's not like I missed much frolicking time.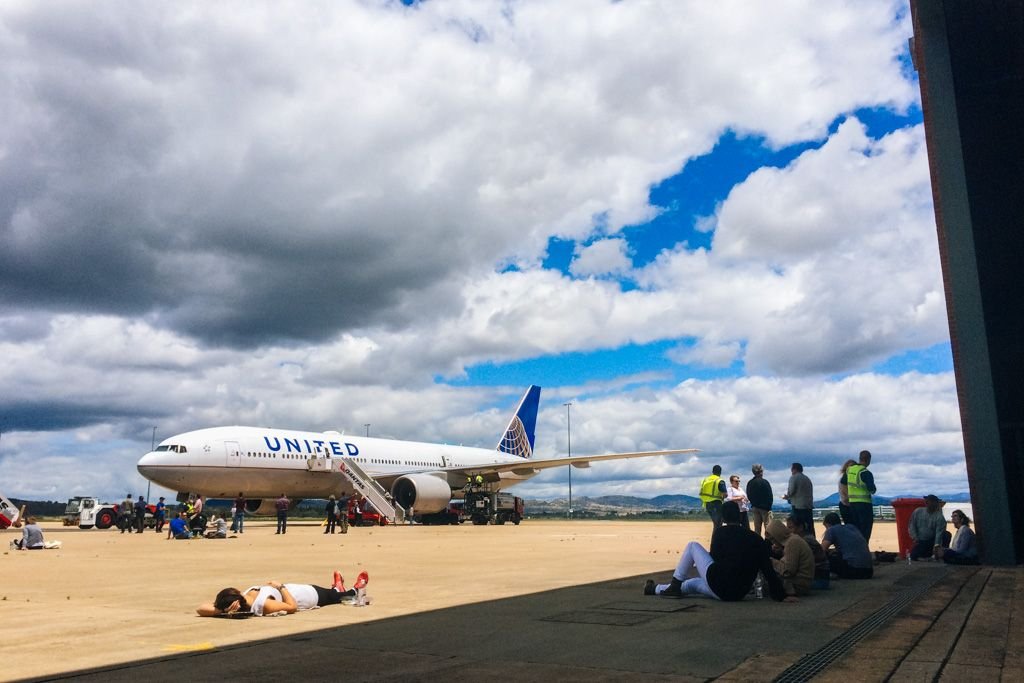 I don't know if it's because we were all sitting pretty in BizFirst, but everyone around me was extremely good-natured about it all. I didn't hear anyone freak out or voice a complaint all day, though I TOTALLY wouldn't blame anyone in coach for pitching a fit. Can you imagine having to sit in an economy seat for nearly 24 straight hours?!
And the United crew was absolutely fantastic. They constantly kept us informed, kept thanking us for being so patient and understanding, and seemed genuinely sympathetic. The crew was just as inconvenienced and frustrated as we were, and they made us feel like we were all in this together – a united front, if you will (pun intended, obvs).
The icing on the cake came the next day, when I received an email apology on behalf of United and a credit of 25,000 miles. Oh, and apparently I made the news! I noticed a couple of guys with massive zoom lenses shooting us through the fence and evidently their shot of me all sprawled out with my laptop on the ground made it into the Daily Telegraph.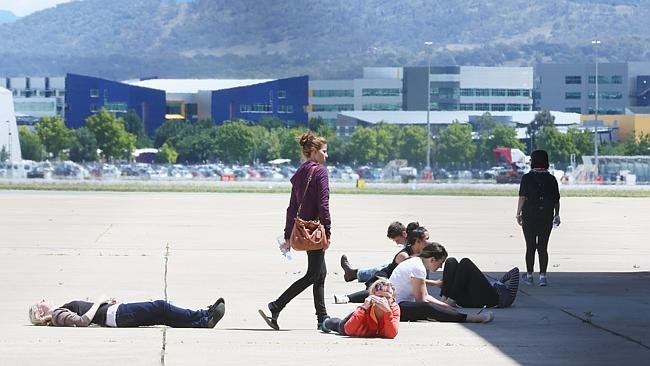 Photo credit: Daily Telegraph. I'm in the white shirt!