Sure, you've heard of Byron Bay (and maybe even Byron Baes, the awful Netflix reality show filmed there) – but have you heard of Lennox Head?
Just a 15-20 minute drive south, Lennox is practically a suburb of Byron. Here, you get all of the laidback beach vibes with none of the pretension. In a word, it's glorious.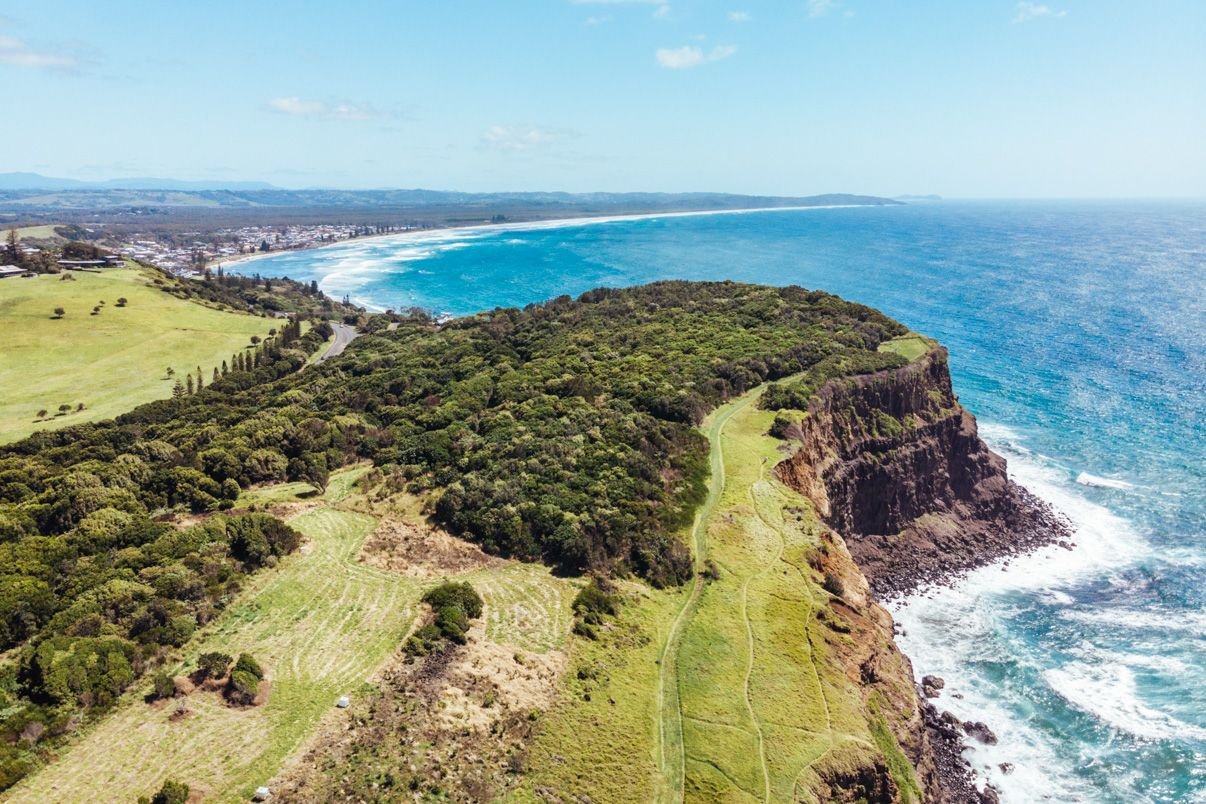 I spent a few delightful summer weeks based in Lennox Head, sampling all of the walks and beaches in the area (it's a tough job, but someone's gotta do it, right?).
And here I present you with: the best outdoorsy things to do in Lennox Head, NSW —
CLICK TO BOOK ACCOMMODATION IN LENNOX HEAD
Seven Mile Beach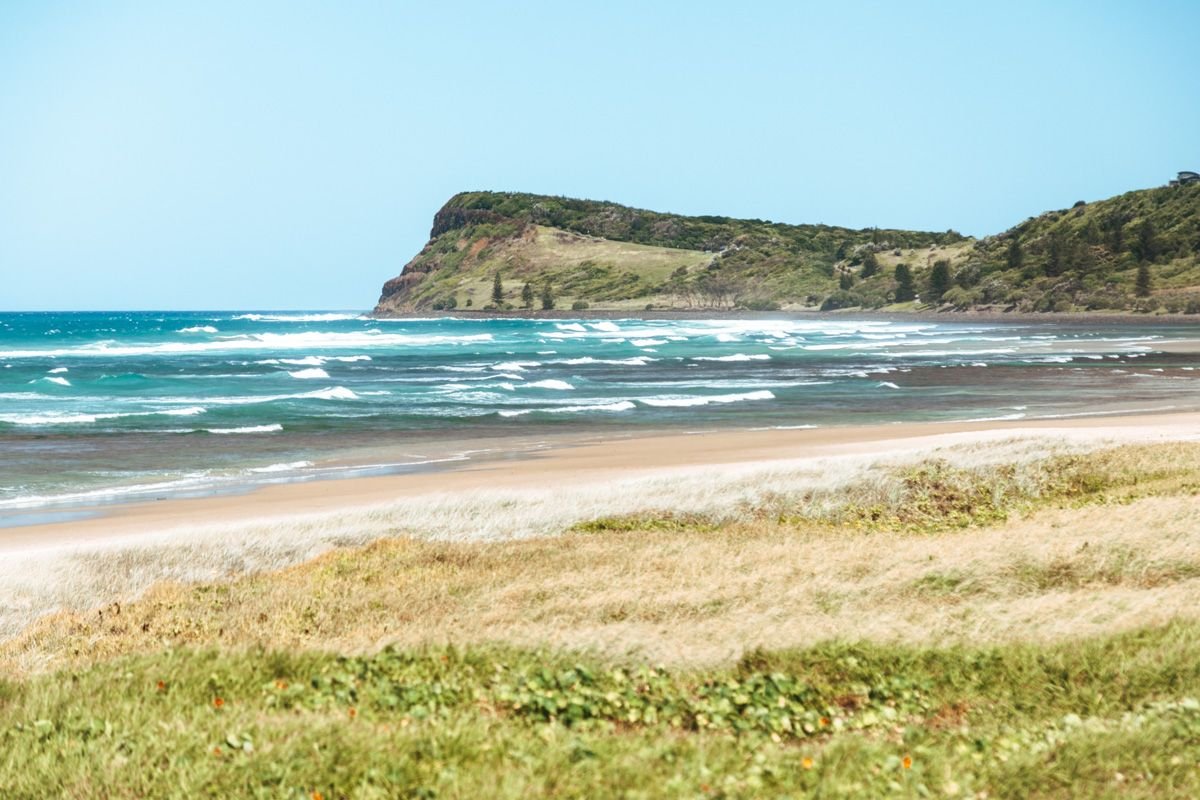 The main Lennox Head beach is Seven Mile Beach, a lengthy stretch of sand that runs alongside Ballina Street / Pacific Parade, which is where most of the shops, cafes, and pubs in town can be found. You can score a seat with a sea view from a handful of establishments, such as Mr. Tipsy's (who do a great banh mi) or The Point Cafe.
In my semi-professional beach snob opinion, there are better beaches in Lennox Head and nearby to spend the day at than Seven Mile Beach. I like it best as a backdrop while I'm wandering down the street – it gives it such a beach town holiday vibe. One of my favorite things to do in Lennox Head is grab a coffee from Kopi Lennox (FYI they have the best coffee in Lennox Head!) and go for a little frolic.
Lake Ainsworth
One of the best things to do in Lennox Head if you have kids is take them for a swim at Lake Ainsworth, where the water is much calmer than the ocean waves. This tea tree lake is said to be great for your skin and hair, and also apparently helps wounds heal faster.
The lake is tea-colored thanks to leaves from the nearby tea trees falling into the lake and dyeing the water orangey-brown. I didn't swim here, but if I were going to, I'd definitely wear a dark-colored swimsuit just in case the water dyes it.
Either way, Lake Ainsworth is worth a look because it's pretty, and it's a lovely spot for a picnic lunch!
Pat Morton Lookout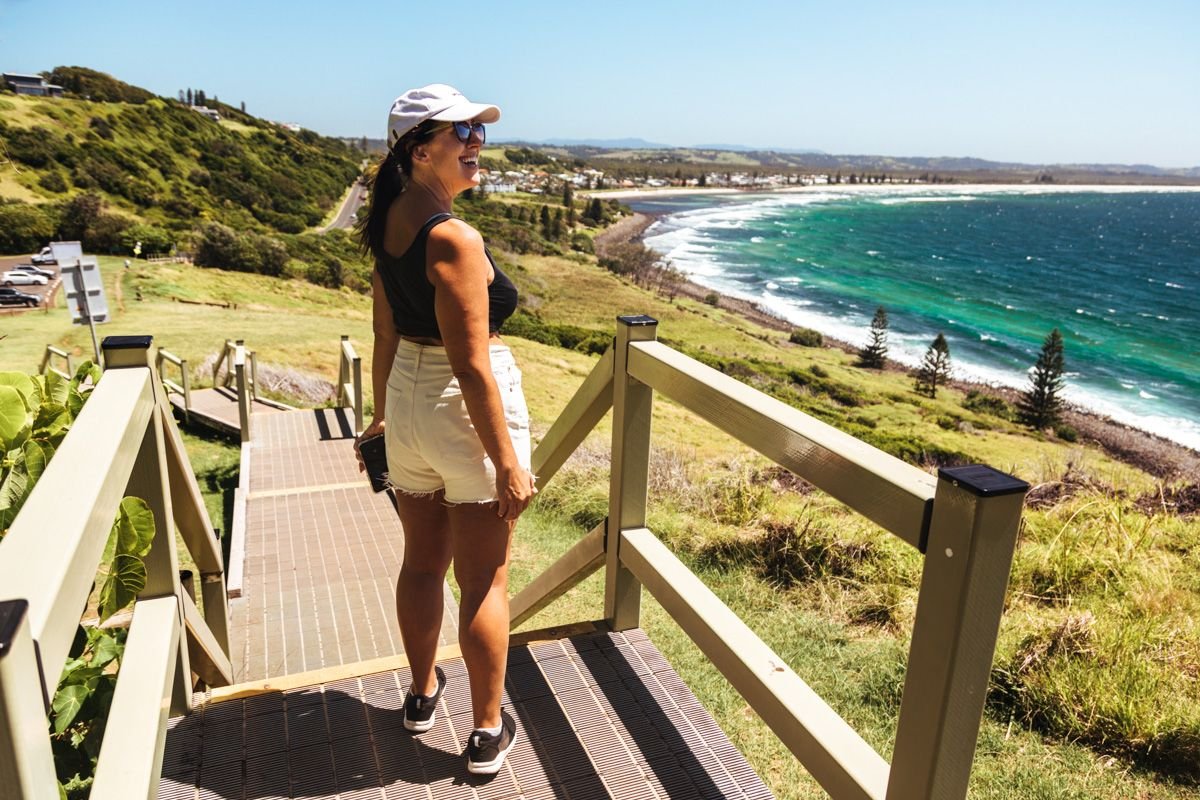 Without a doubt, one of the top things to do in Lennox Head NSW is the Pat Morton Lookout. Positioned atop Lennox Headland, it offers fabulous views north over town and Seven Mile Beach, with Byron Bay in the distance.
This would be an incredible picnic spot, if not for one teeny-tiny thing: the wind. Good lord, it is incredibly windy up here! So windy, in fact, that it's a very popular hang gliding launching point.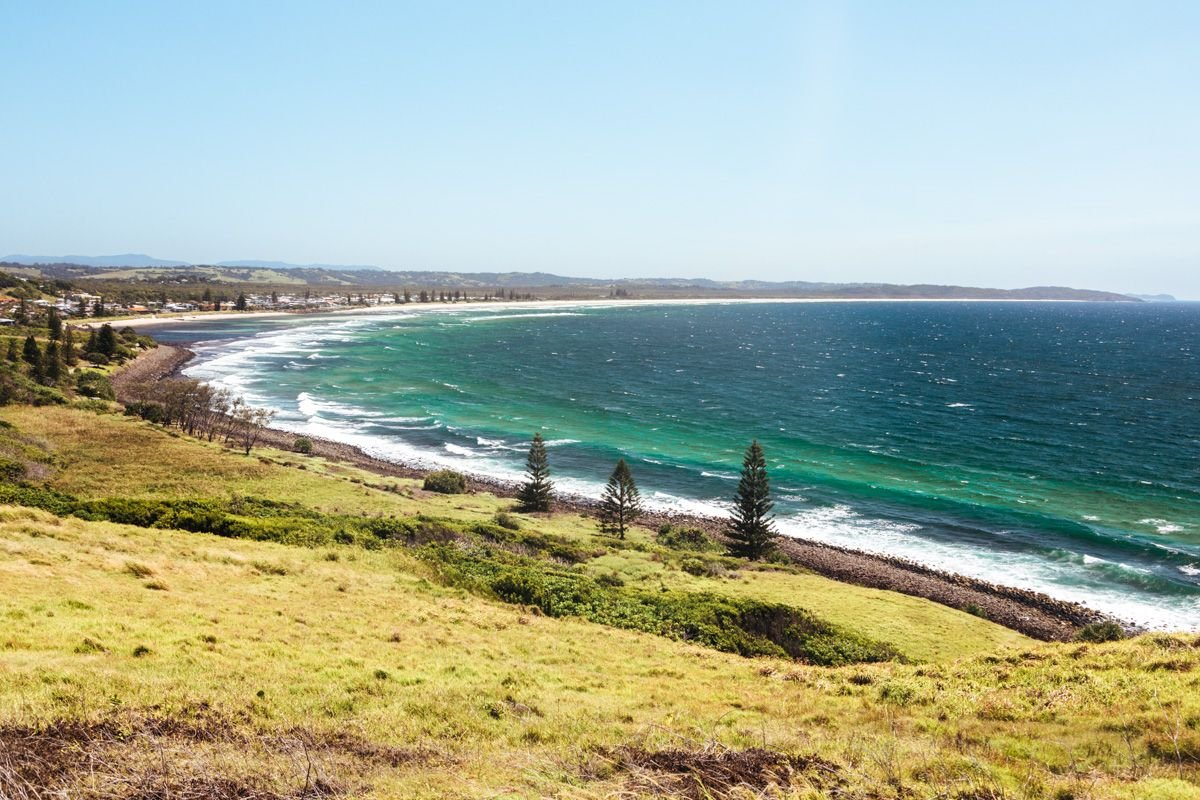 From the lookout, you can follow the boardwalk either downhill into town, or uphill over the headland – more on these walks below!
PRO TIP: Aim to visit the Pat Morton Lookout either in the morning (when the sun is behind you) or at sunset; otherwise you'll be staring into the sun, and the landscape in front of you won't be as saturated!
CLICK TO BOOK ACCOMMODATION IN LENNOX HEAD
Lennox Head Boardwalk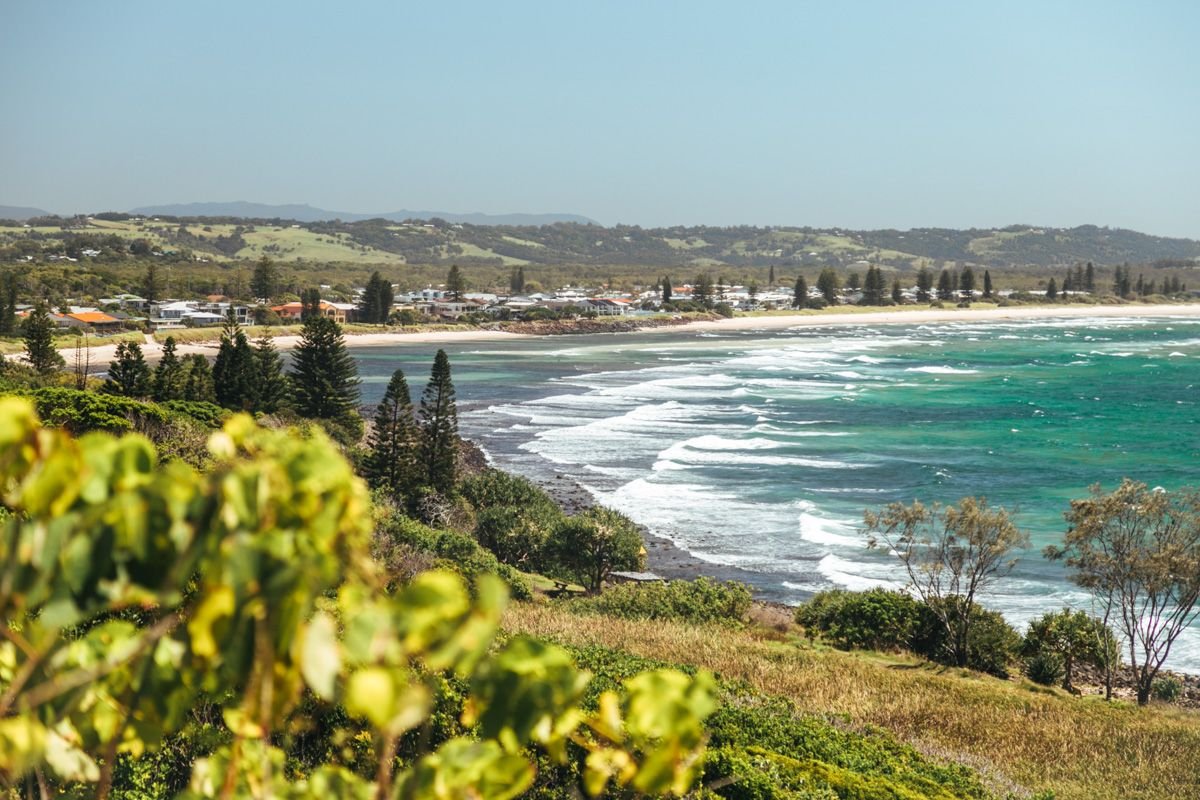 The easier walk from the Pat Morton Lookout is following the boardwalk north for about 1.5km downhill into town. You'll walk alongside the road and enjoy fleeting views of the water from between the trees.
In just 15 minutes, you'll be at the start of Seven Mile Beach with cafes and a gelato shop beckoning. With the rewards-to-effort ratio being so good, there's no reason not to do this Lennox Head walk!
Lennox Point Headland Walk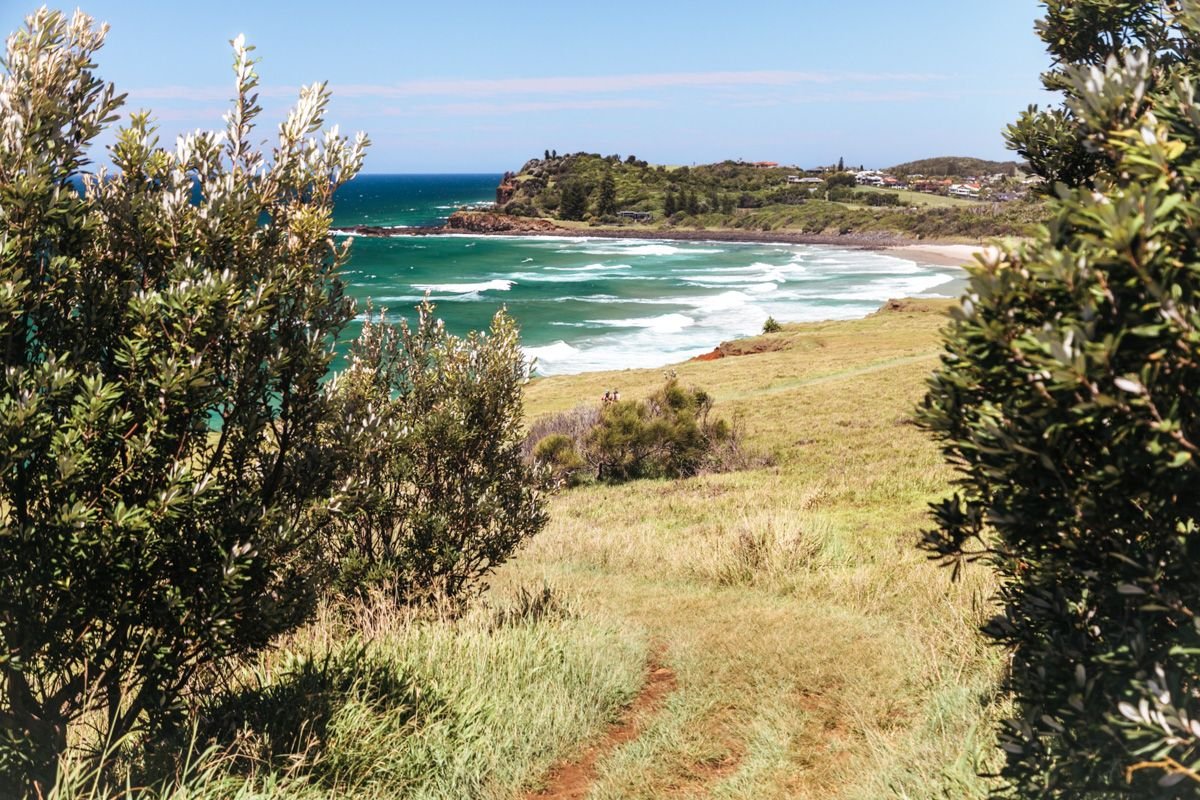 The slightly more challenging walk from the Pat Morton Lookout is uphill and south to Boulder Beach. From the lookout, walk up the stairs til you reach the top of the headland, then follow the worn dirt path.
Because of my need to obsessively research my travel destinations, I'm not often surprised by a place. Impressed and excited, sure – but rarely astonished.
But this hike (which I don't think has even been properly named…?!) – WOW. I was NOT expecting to encounter such a glorious landscape! I'll let the photos do the talking here: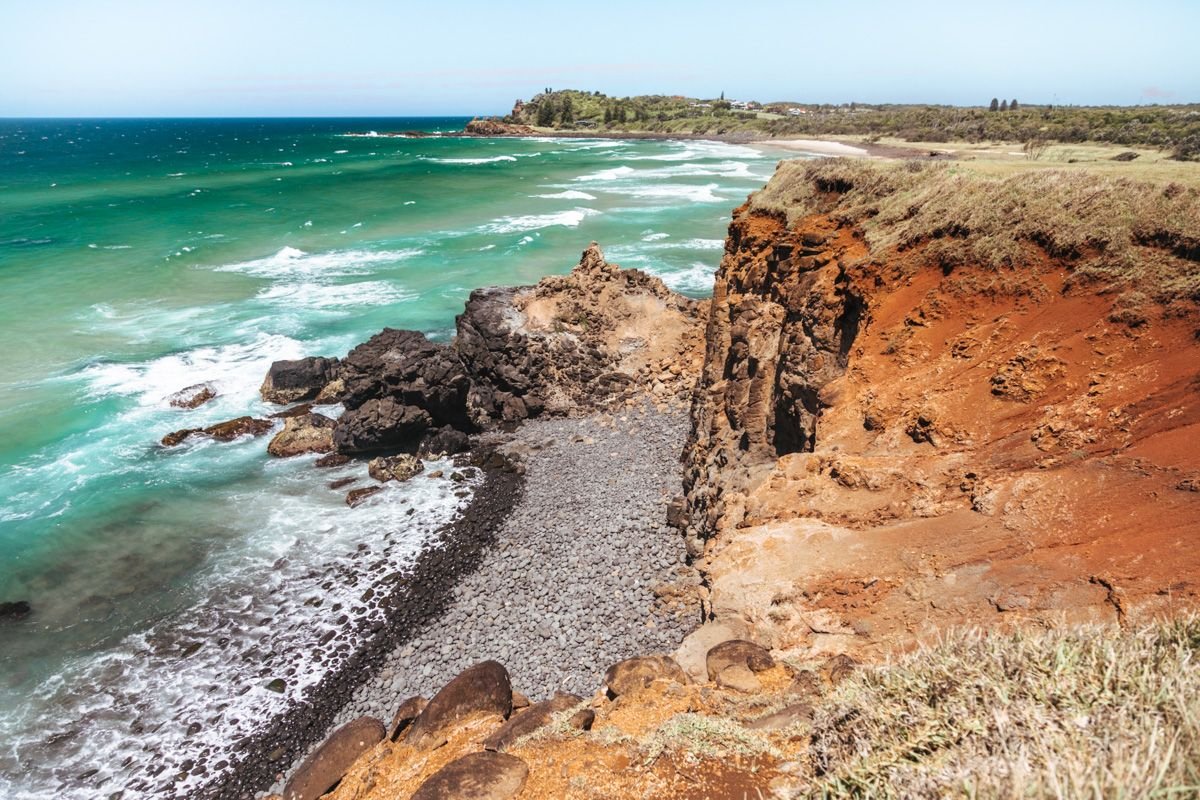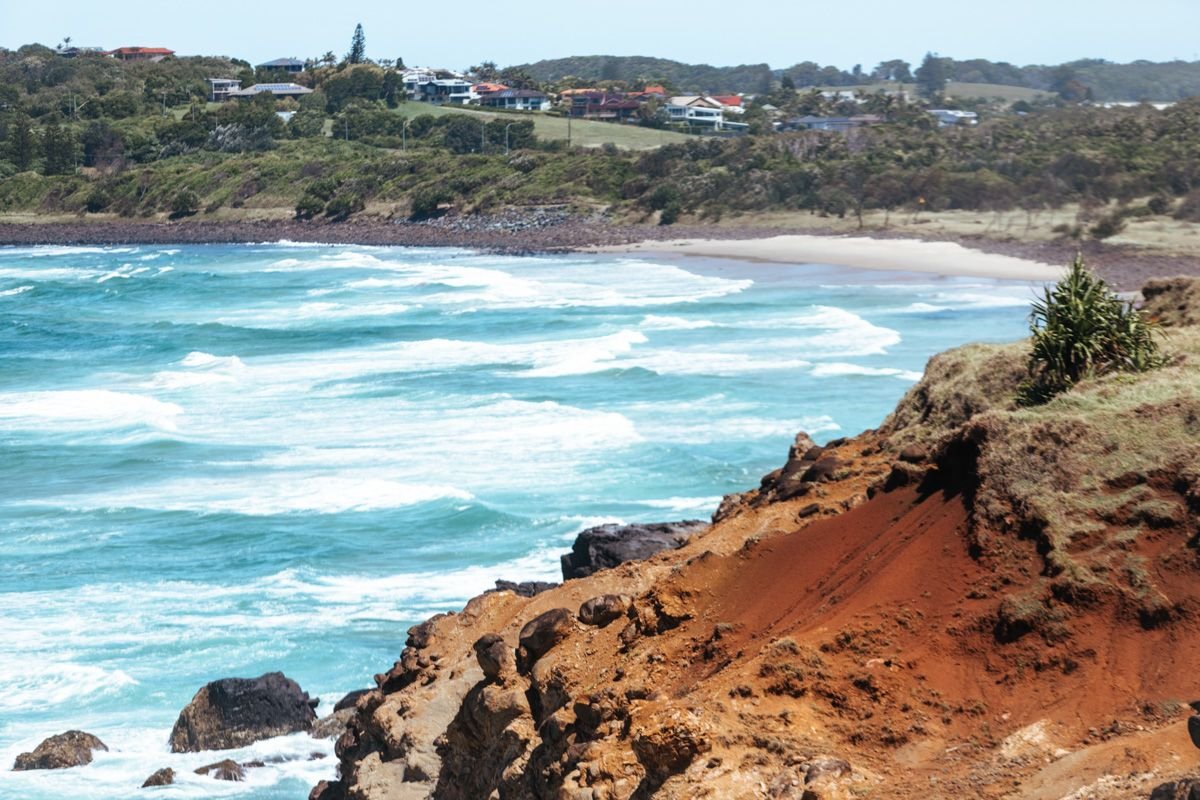 Be sure to venture off the main path onto the side trails through the grass as you're approaching the beach. They'll take you to the edge, where you'll see the most vibrant orange rock on the cliff edge contrasted against the blue water below. SO STUNNING!
Oh and keep your eyes peeled for dolphins! I spotted a pod not too far offshore when I was there in February.
The picturesque views continue even after you hike down from the headland and start walking across Boulder Beach, the southernmost Lennox Head beach. True to its name, the beach is comprised more of rocks than sand (i.e. it's not ideal for swimming or sunbathing). There's some boardwalk again in this section of the trail, and at one point it crosses a creek with the beach in the distance behind it.
Then at the end of the walk, don't forget to stop and admire the view looking back from the headland on the south side of Boulder Beach.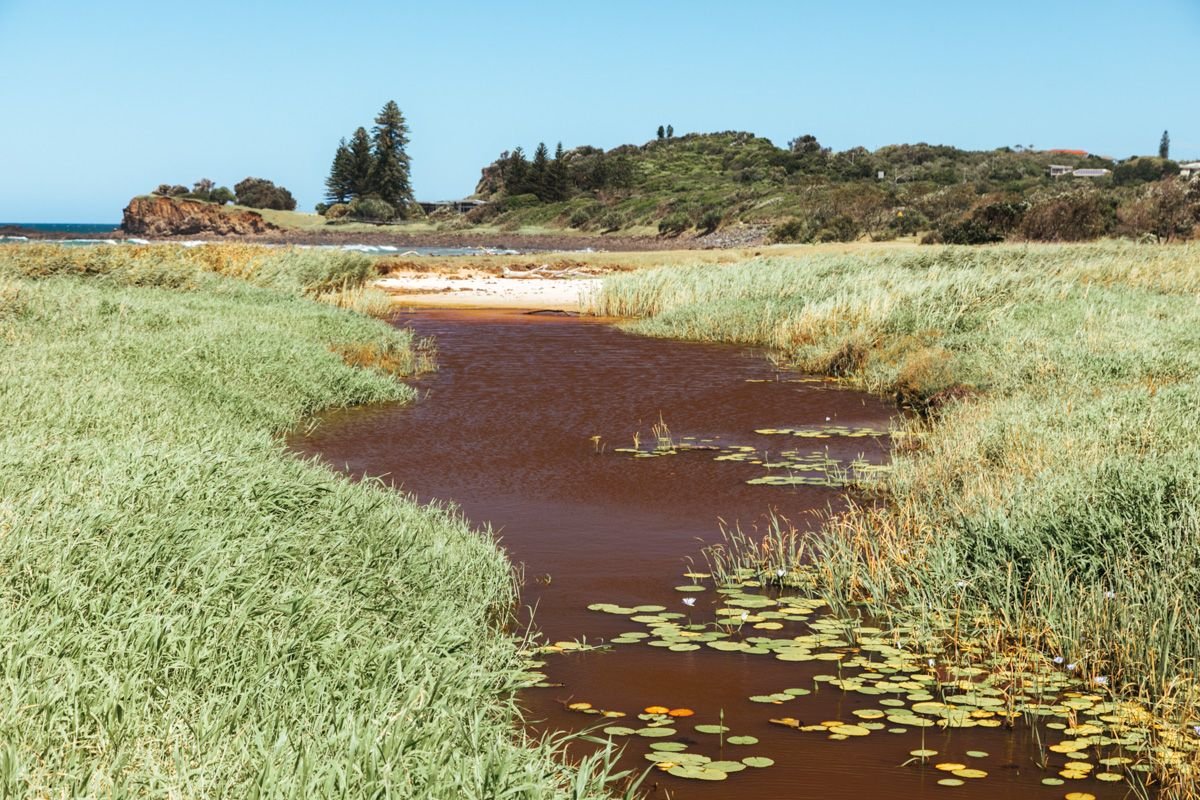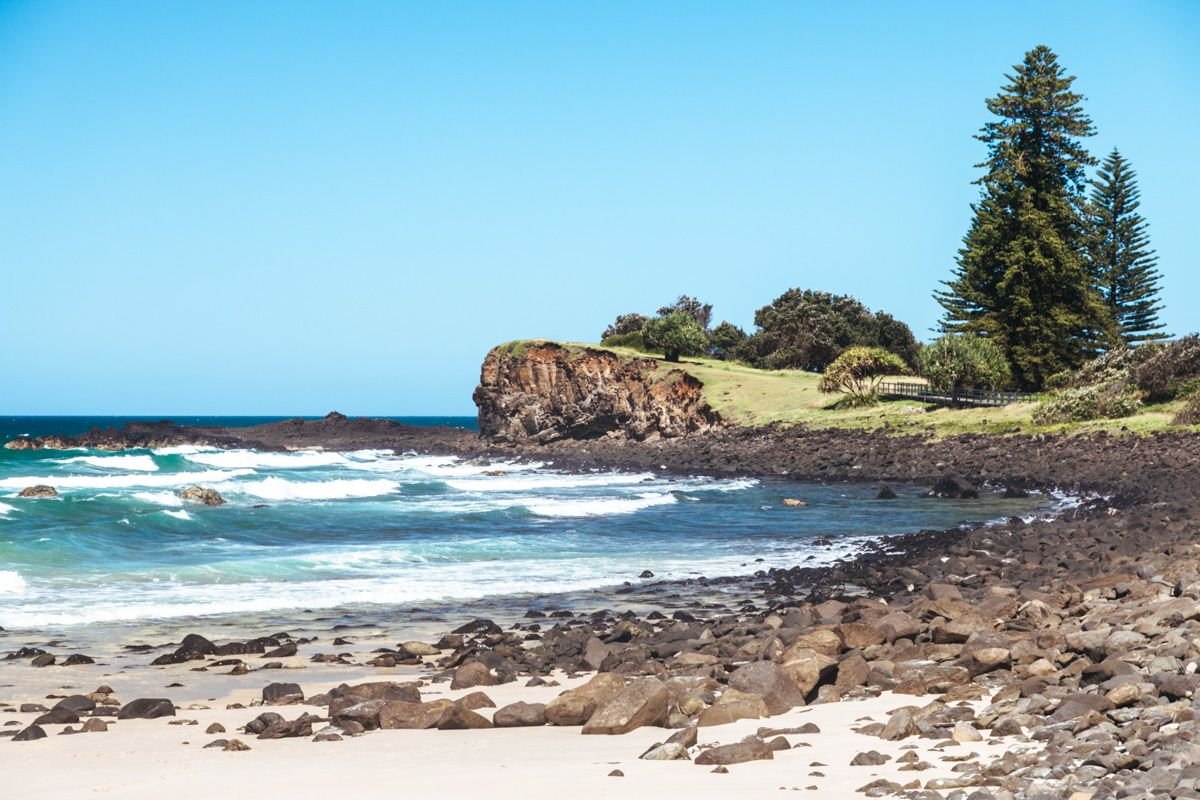 Google Maps clocks this as a 2km / 25 minute walk, but that seems a little quick to me even without making any stops. I spent a couple hours on the trail taking hundreds of photos and OMG-ing every 10 seconds. I'd allot at least an hour for this walk, or more if you like to take your time to soak in all the beauty.
PRO TIP: Do this hike from north to south, starting from the Pat Morton Lookout either late morning or early afternoon so the sun is behind you and the water is at its bluest. Ideally, try to get dropped off at the Pat Morton Lookout and picked up at the south end of Boulder Beach (the Rocky Point Road car park)… that way you don't have to hike all the way back up to the lookout.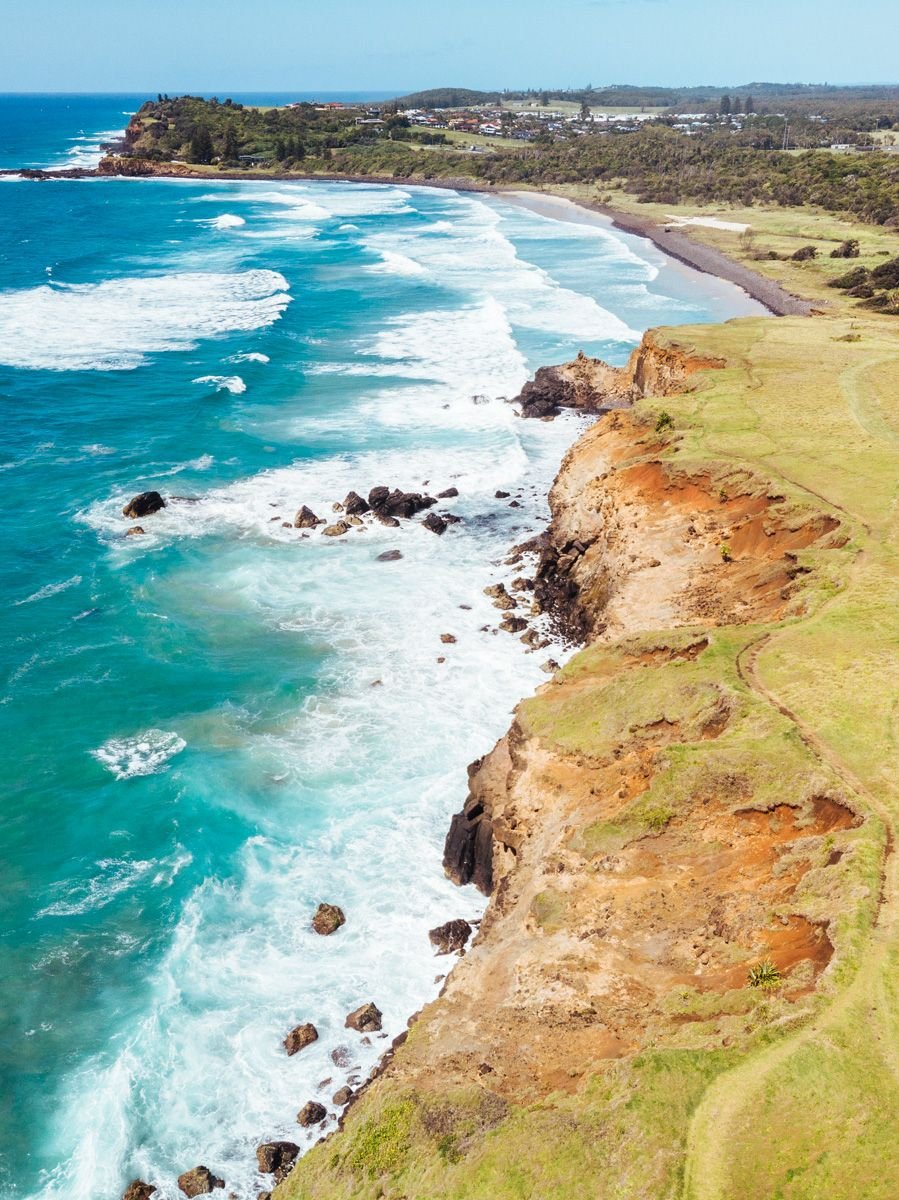 CLICK TO BOOK ACCOMMODATION IN LENNOX HEAD
Sharpes Beach (East Ballina)
Heading south from Lennox Head, there's a series of very pretty beaches in East Ballina that I much preferred to the one in Lennox. If you're like me and prefer your beaches to be more cove-like with rock pools, rather than just a long stretch of sand, you'll definitely want to check them out!
First up is Sharpes Beach, which is lined with a concrete walking path through the bush. Oddly there aren't really any views of the ocean from this path, so if you're not biking or pushing a stroller, you might want to walk on the sand instead. The view of the headland facing north is really pretty from this beach.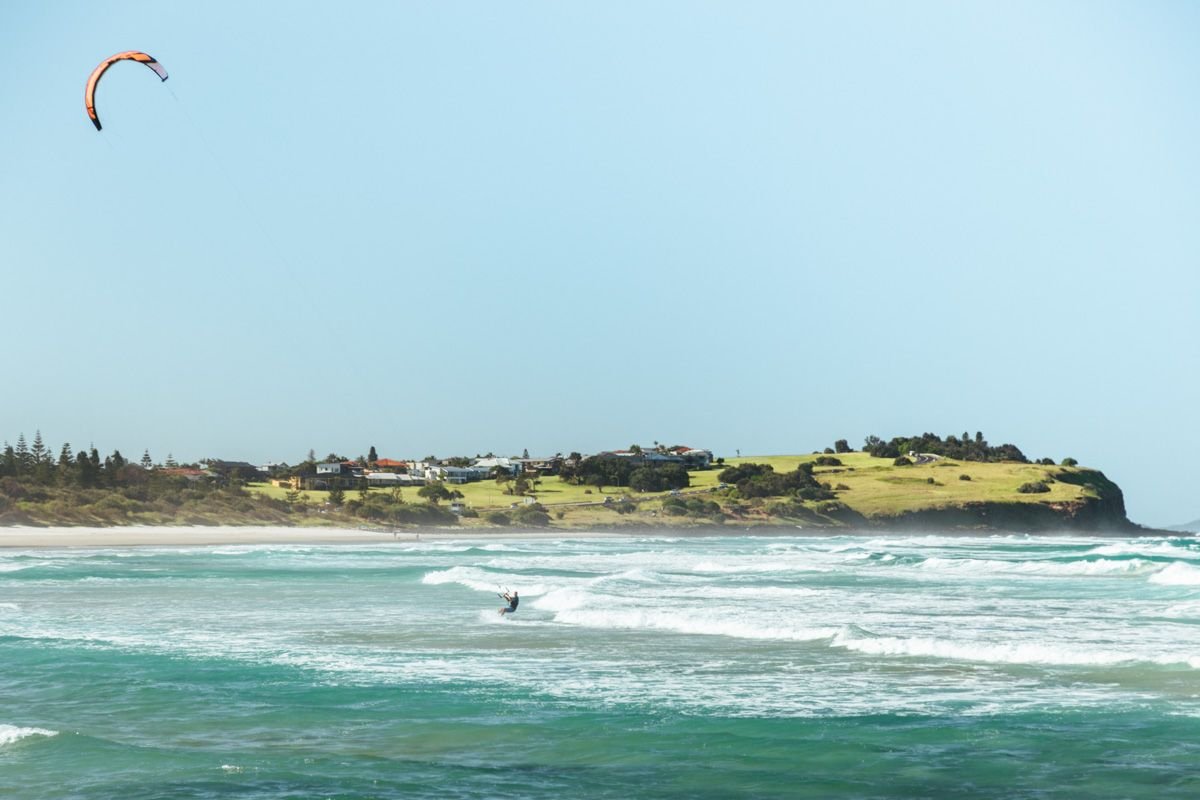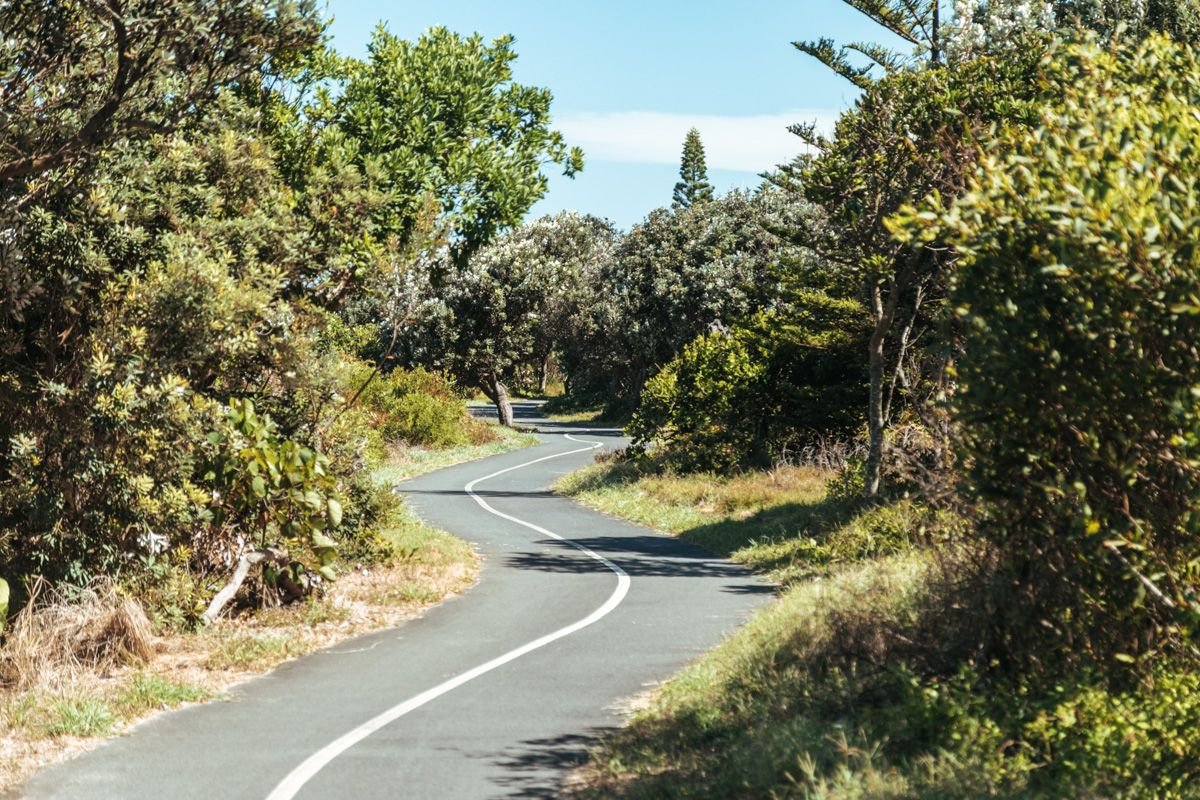 At the south end of the beach is Flat Rock, a popular spot for beach walks and spotting birds and marine life.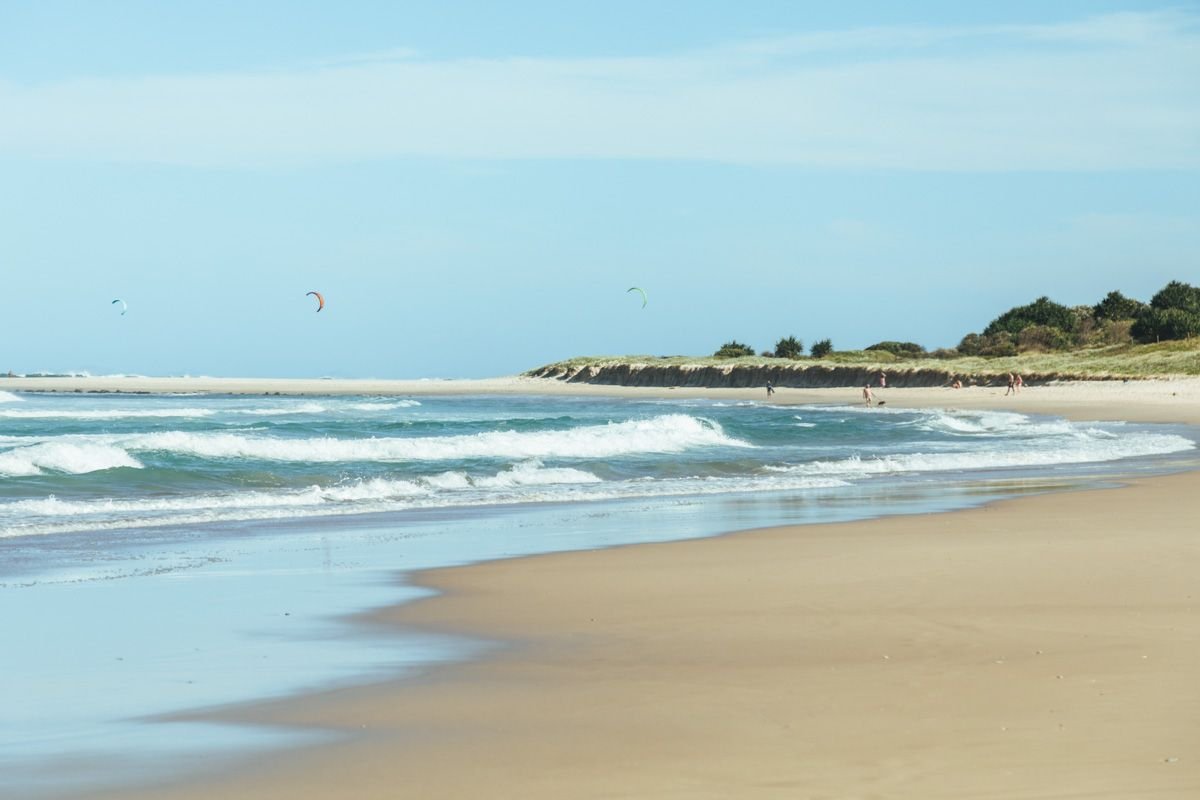 Continuing south from there, you'll traverse Angels Beach. I think it's probably the least interesting of all the East Ballina beaches, so if you're short on time, just check out Sharpes Beach and you won't be missing much.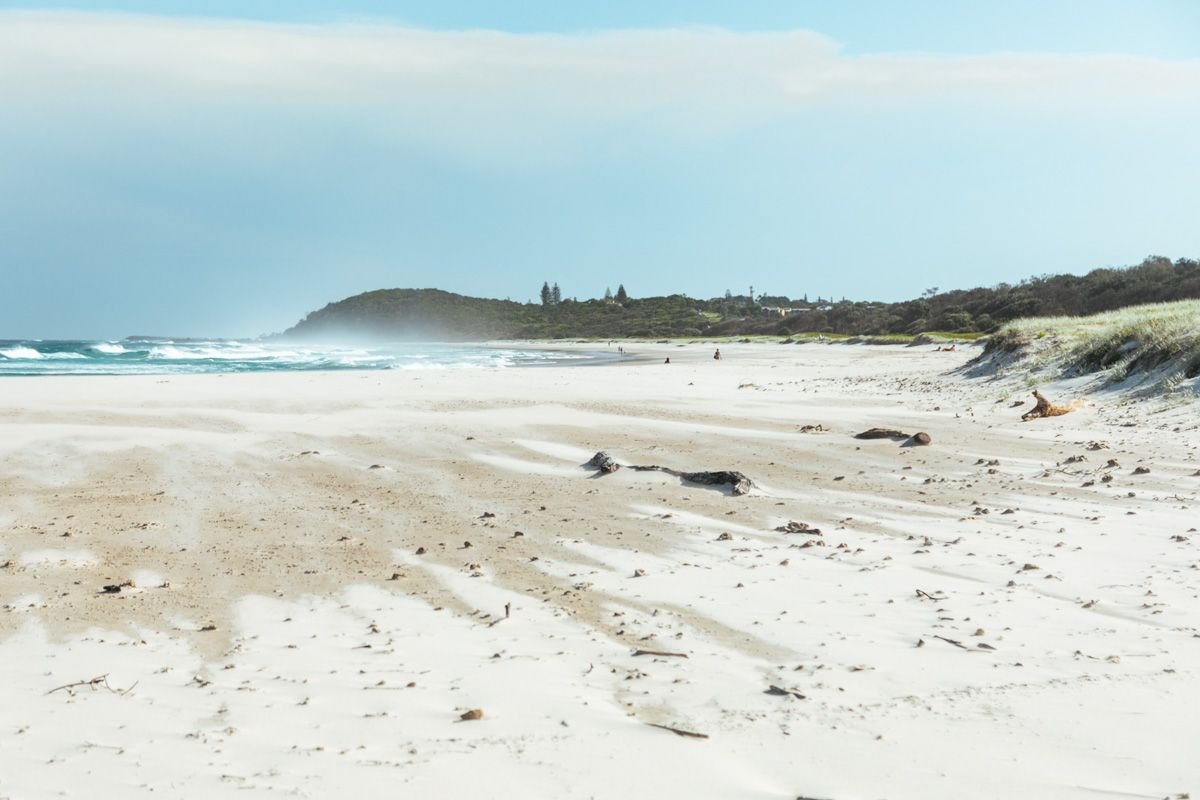 CLICK TO BOOK ACCOMMODATION IN LENNOX HEAD
Shelly Beach (East Ballina)
I think Shelly Beach may be my favorite beach near Lennox Head. First, there's a really nice pathway leading from the car park on the south side of Shelly Beach down to Lighthouse Beach with beach views galore.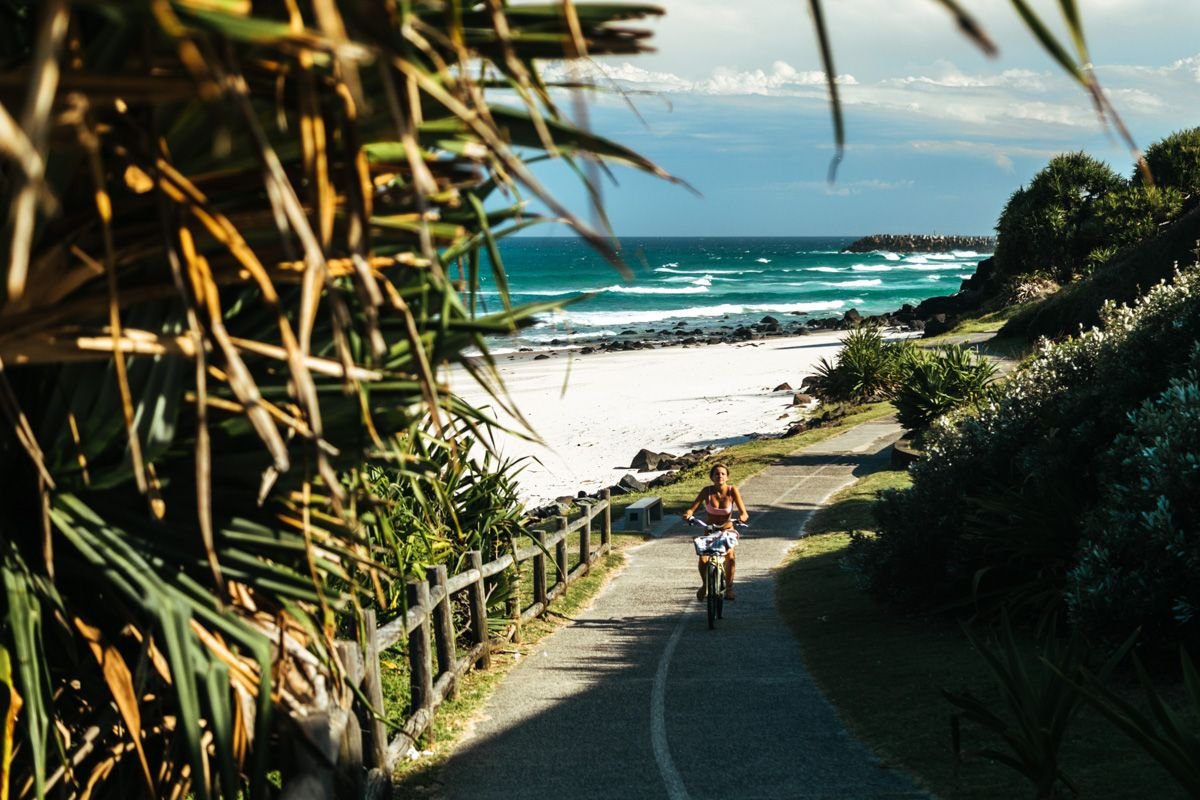 And second, Shelly Beach has some amazing rock pools! There's a man-made rectangular one you can easily spot from the car park, and a couple of smaller/natural ones nearby it as well. This spot seems to be very popular on weekends and in late afternoon (think: parents taking their kids to swim after work), so aim to visit earlier and on a weekday if possible.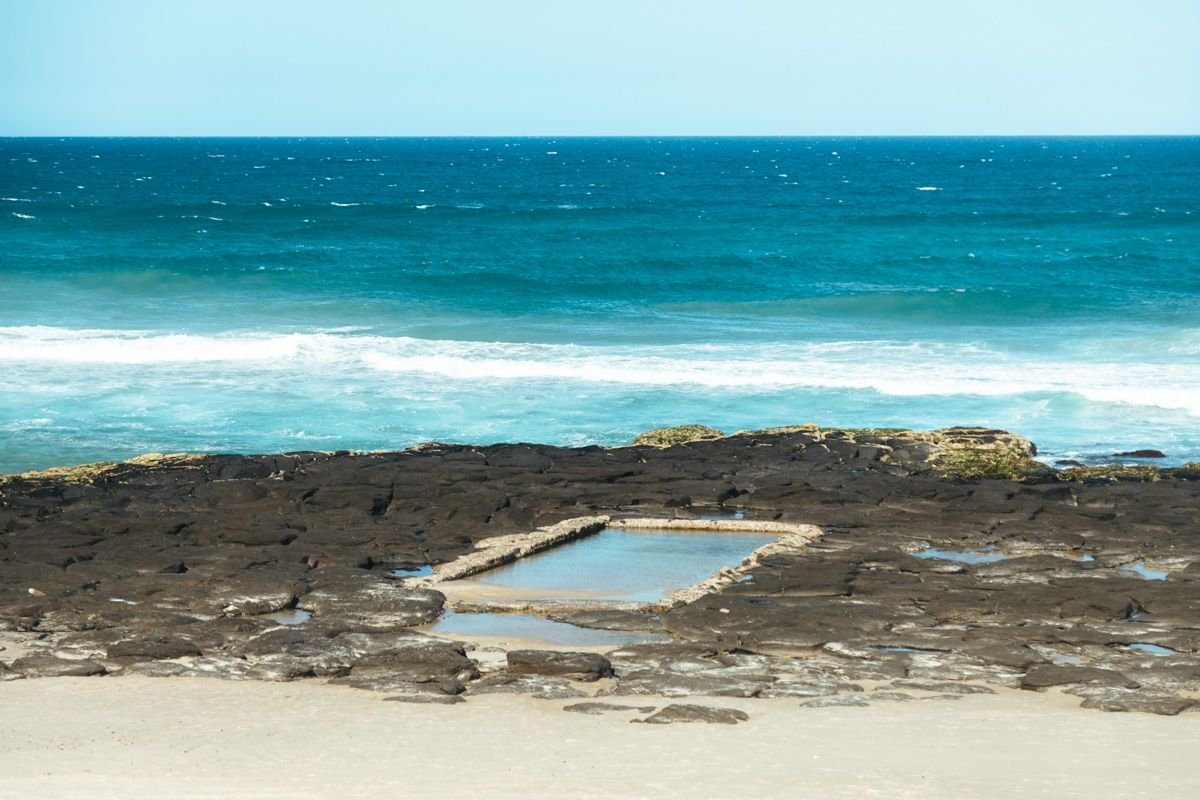 Lighthouse Beach (East Ballina)
Along the pathway south from Shelly Beach, you might as well stop at the Ballina Head Lookout. I wouldn't put it at the top of your list of things to do in Lennox Head NSW though, as the views aren't any better than what you get from the pathway below.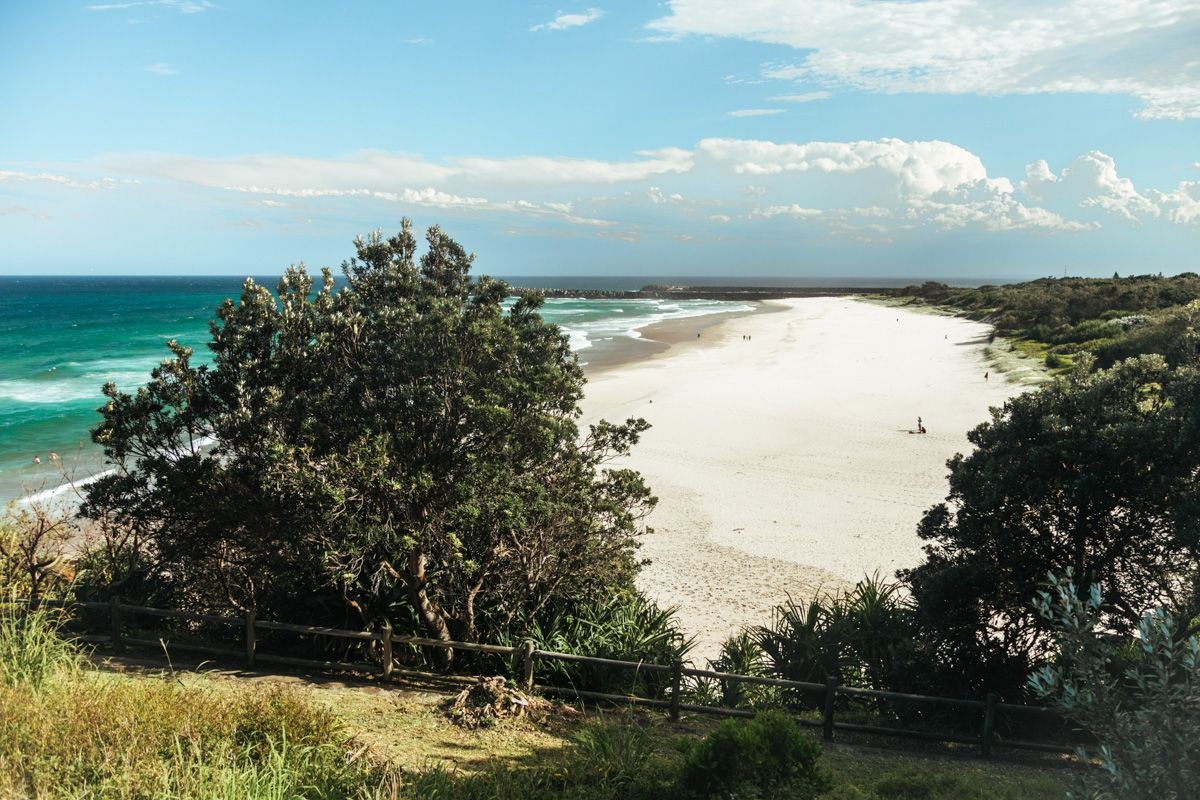 What IS worthwhile, though, is Lighthouse Beach, the southernmost beach in East Ballina. This is the beach I most enjoyed swimming at around Lennox Head: it's small, the sand is soft and white-ish, the headland is pretty.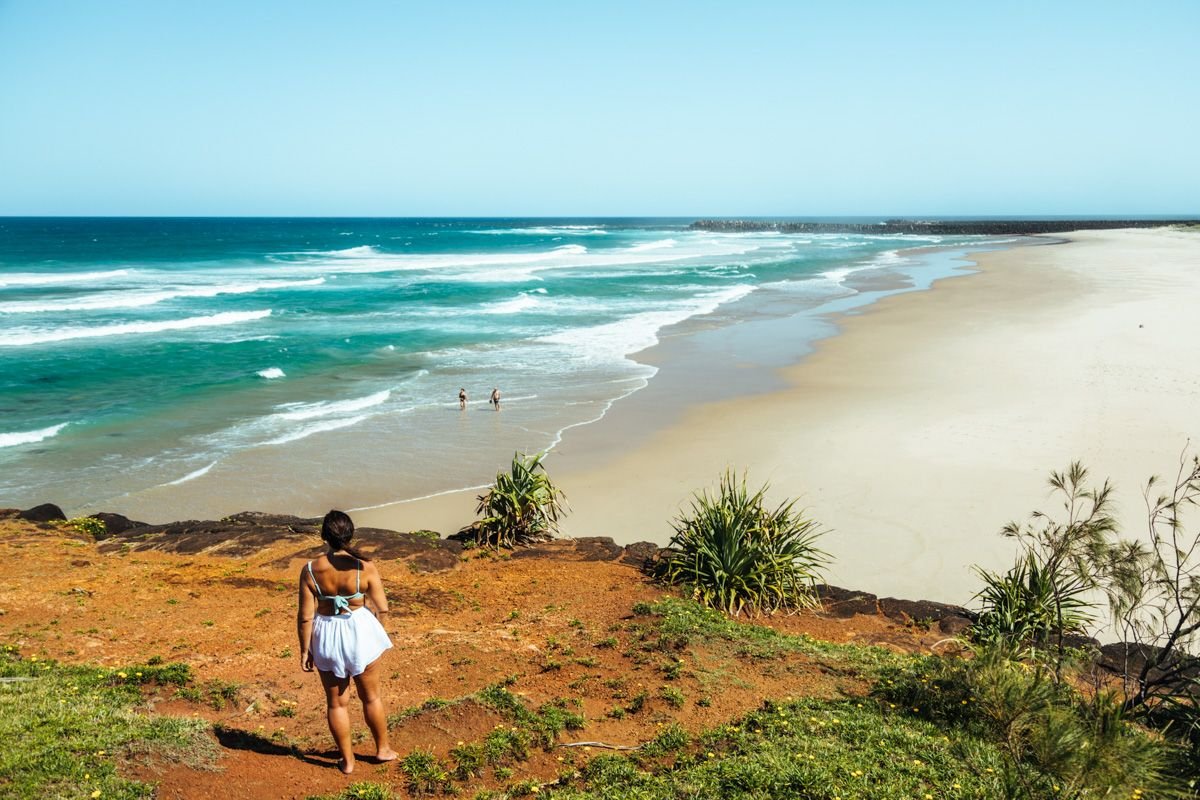 Book Accommodation in Lennox Head
Want More Things To Do In Lennox Head NSW?
Check out these blog posts:
Pin it!