If you're looking for the best places to stay in the Scenic Rim region of southeast Queensland, I've got just the spot for you!
Fyrefly Retreat in Beechmont is officially my new favorite accommodation in the Gold Coast hinterland. Picture a tiny house for 4 surrounded by rolling green hills and grazing cows, with views over a nearby mountain range from the front door. Absolute magic, right?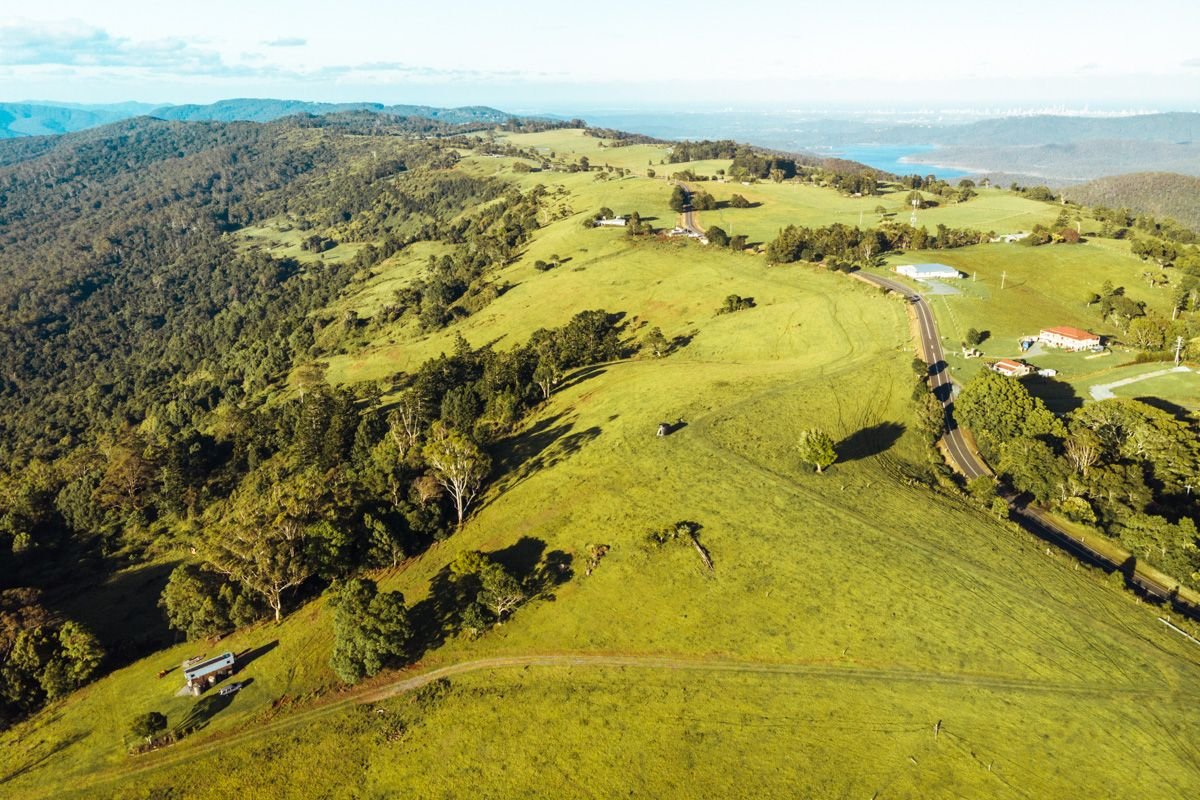 See that skyline in the distance, behind the lake? That's Burleigh!
I've stayed in lots of cool and unique accommodation during my travels (bubble tents, bell tents, yurts, penthouses), but somehow it took me this long to stay at my first tiny house.
And boy was it worth the wait!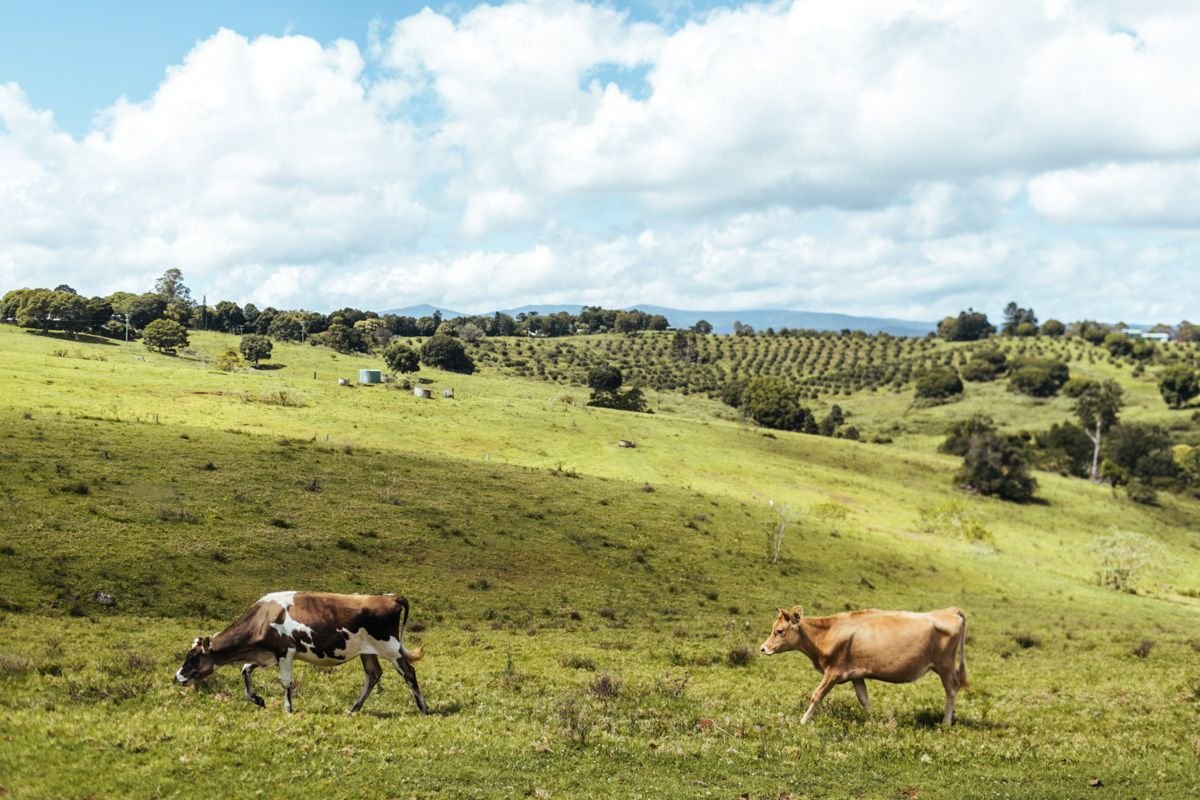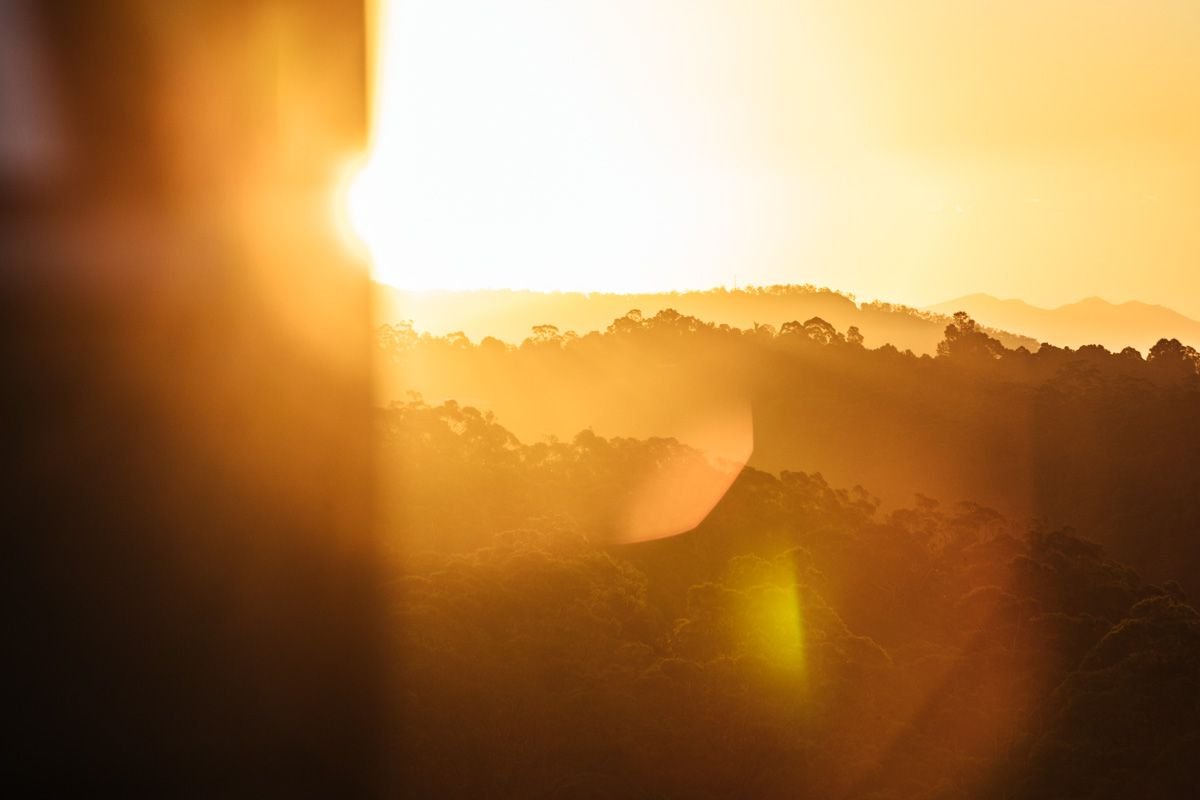 Where is Fyrefly Retreat?
Fyrefly Retreat is due west of Burleigh Heads (about a 40 minute drive), and just south of Canungra (a 20 minute drive). From Brisbane, it's about an hour and 15 minute drive south. Just pop 'Fyrefly Retreat' into Google Maps and it'll take you there without issue.
Beechmont feels like a world away from the city, which is exactly what you want on a weekend getaway to the countryside. Nothing but green grass, open skies, and a whole lot of cows to see here. It makes for a good base from which to explore the Scenic Rim (more on that later), but when you're glamping or staying in a luxury tiny house, the accommodation itself is often the destination.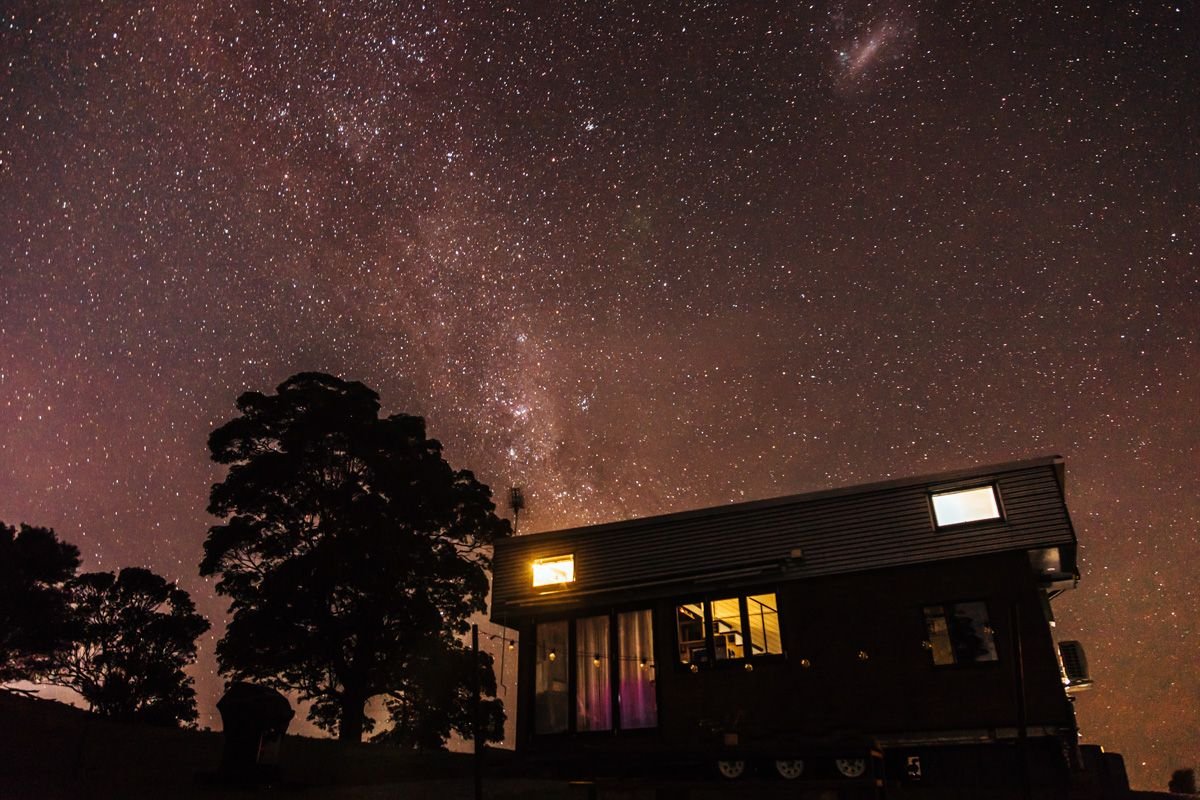 We spent two nights at Fyrefly Retreat and didn't leave the property once! (Trust me, when you see what it looks like there, you won't blame me :)
As soon as you turn off the main road, you'll start traversing the hilly dairy farm on a dirt path that looks like it's meant for tractors and 4WDs, rather than house guests. That's the start of your tiny house adventure!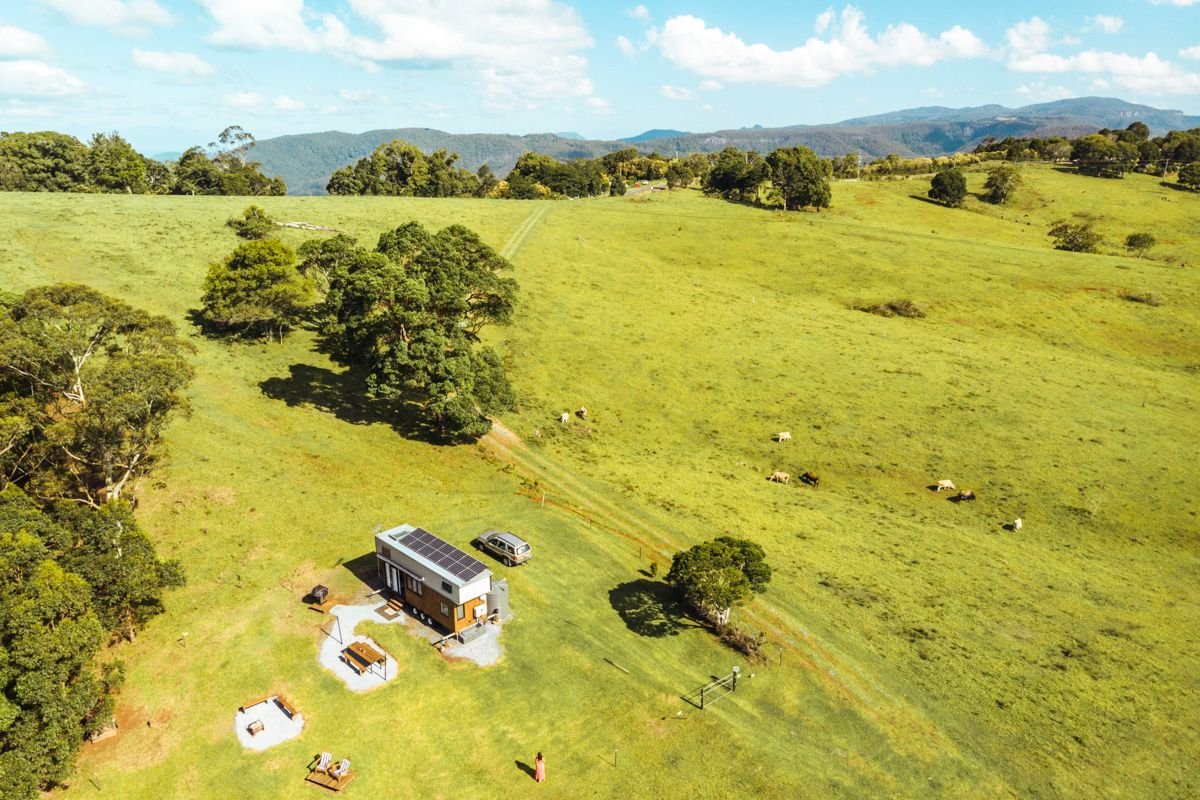 At the end of this short track, you'll spot your accommodation to the right. Self check-in is quick and easy with the lockbox, which you'll be sent instructions for beforehand.
Inside Fyrefly Retreat
One of my favorite things is that moment when you step inside what you know is gonna be an amazing accommodation, for the first time. You've seen photos of it, so you know it's nice – but then you open the door and see it in person and it's SO beautiful and special and you just want to run around the place and see EVERYTHING inside.
Yep, that's 100% what happened upon arriving at Fyrefly Retreat. And like a kid in a candy store, I dashed around the tiny house ooh-ing and ahh-ing at pretty much everything.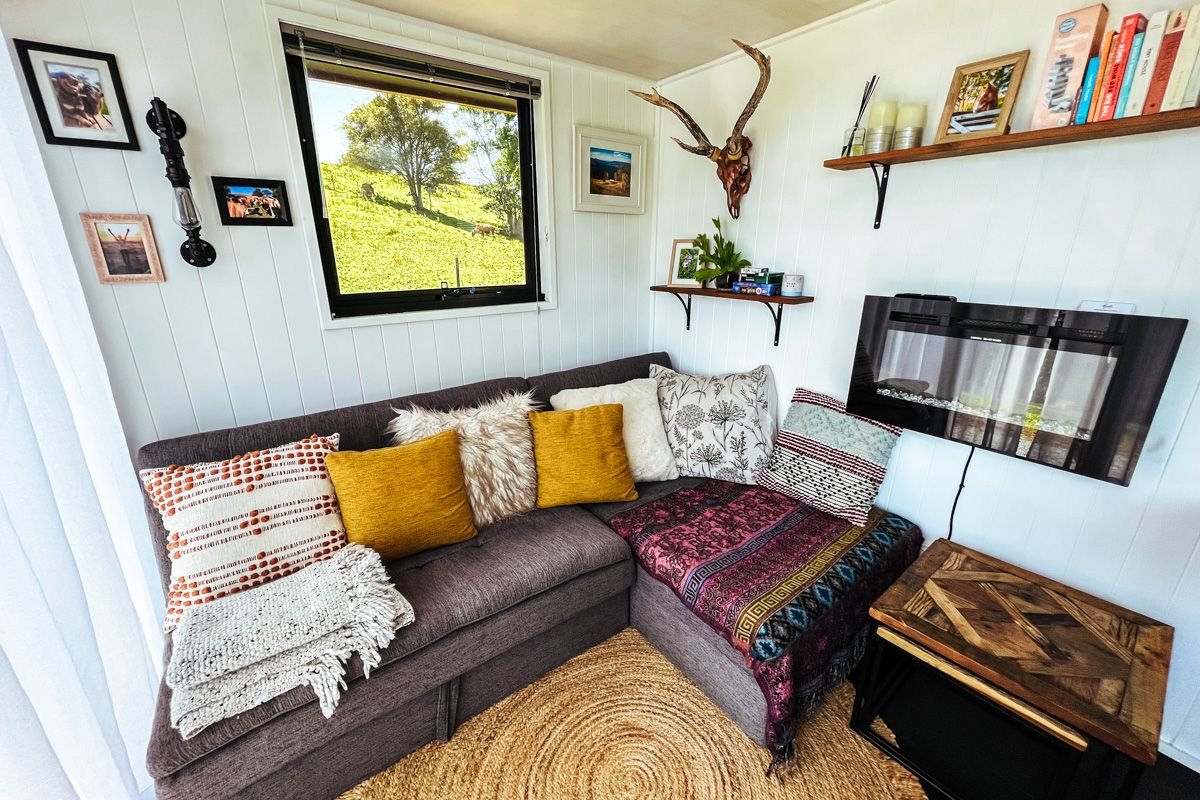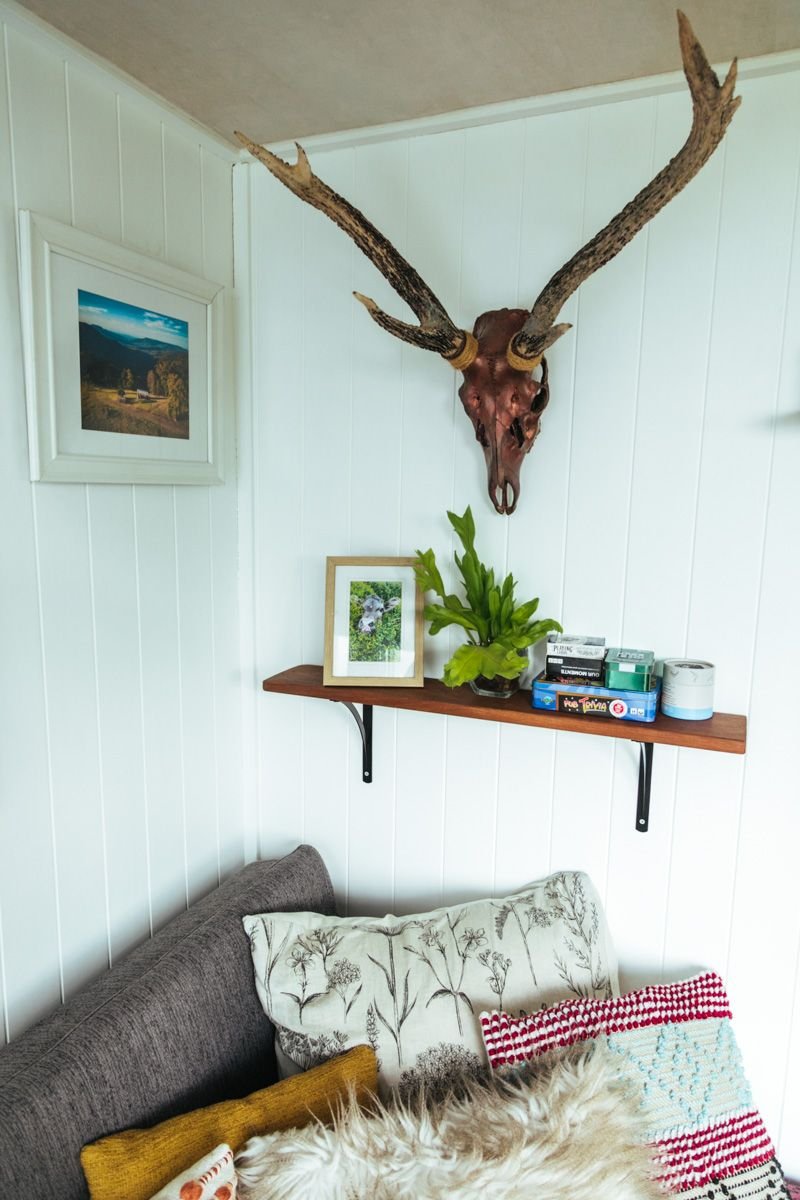 The tiny house has two levels: the bottom floor contains the living room, kitchen, and bathroom, while the top floor is split into two bedrooms.
When you walk inside, you see the living room first, equipped with a couch, throw pillows, TV, electric heater, work desk/table, and a collection of books and games. We ended up using it more as an office slash luggage storage space, but it works well as a lounge, too.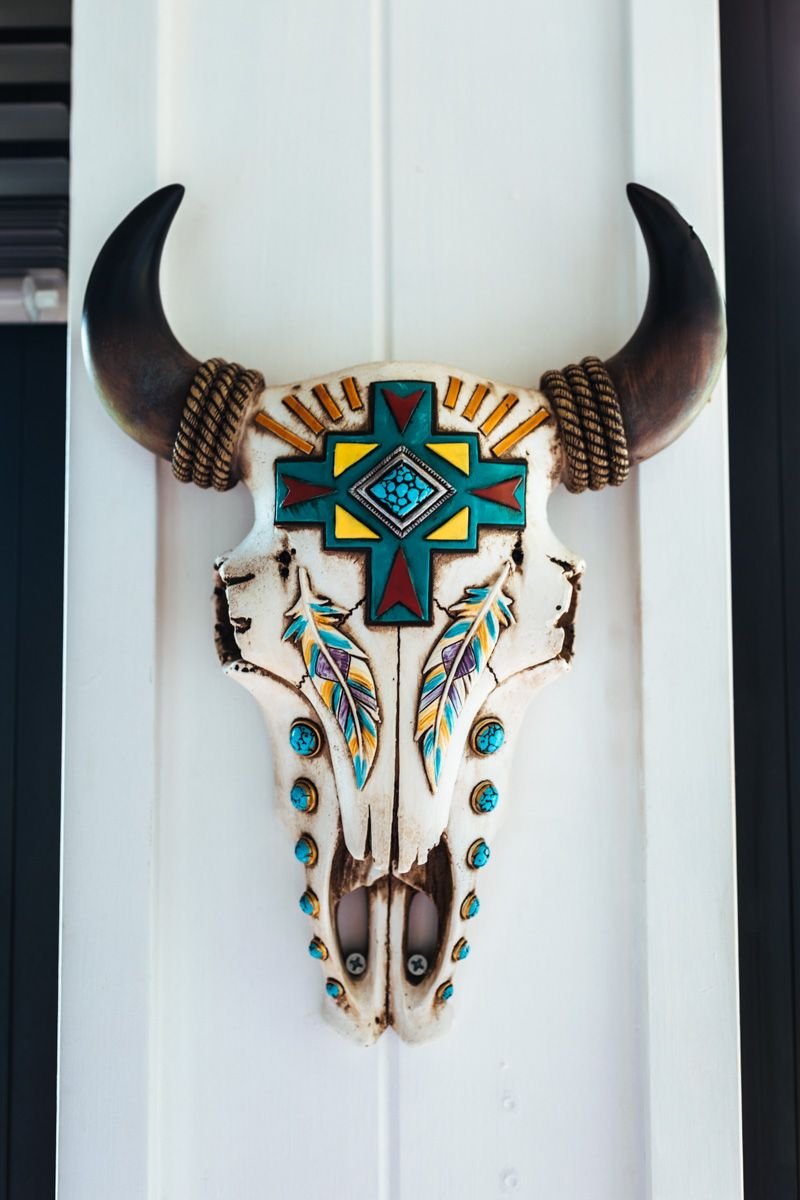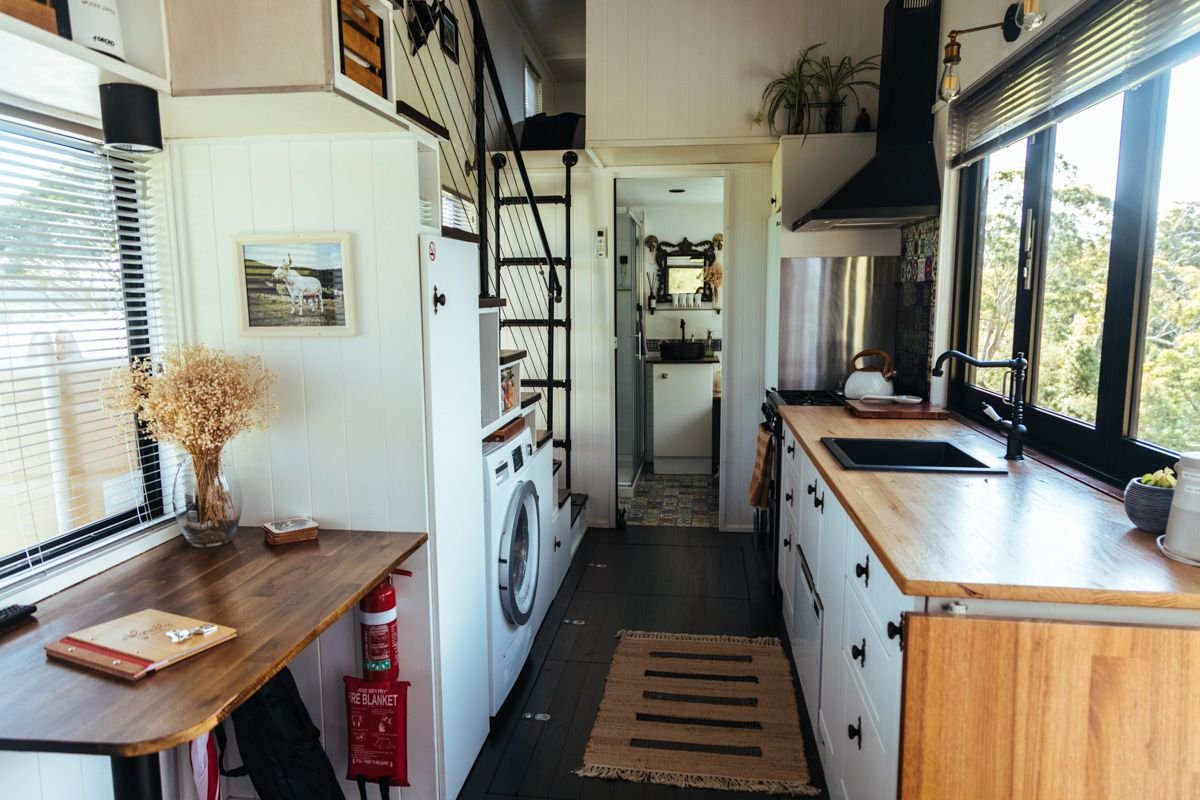 Next, you have the fully stocked kitchen. I couldn't believe how well-equipped it was! Everything from utensils to aluminum foil and baking paper to olive oil to all cleaning supplies… all you need to bring is your own food and drinks, literally.
There's even a cabinet full of freebies stocked with chips, tonic water, pasta, and other non-perishables, all complimentary (and especially excellent if you're like us and forgot to bring any snacks at all, oops!).
And of course, there's tea and coffee… and even a Nespresso machine with an assortment of pods to use.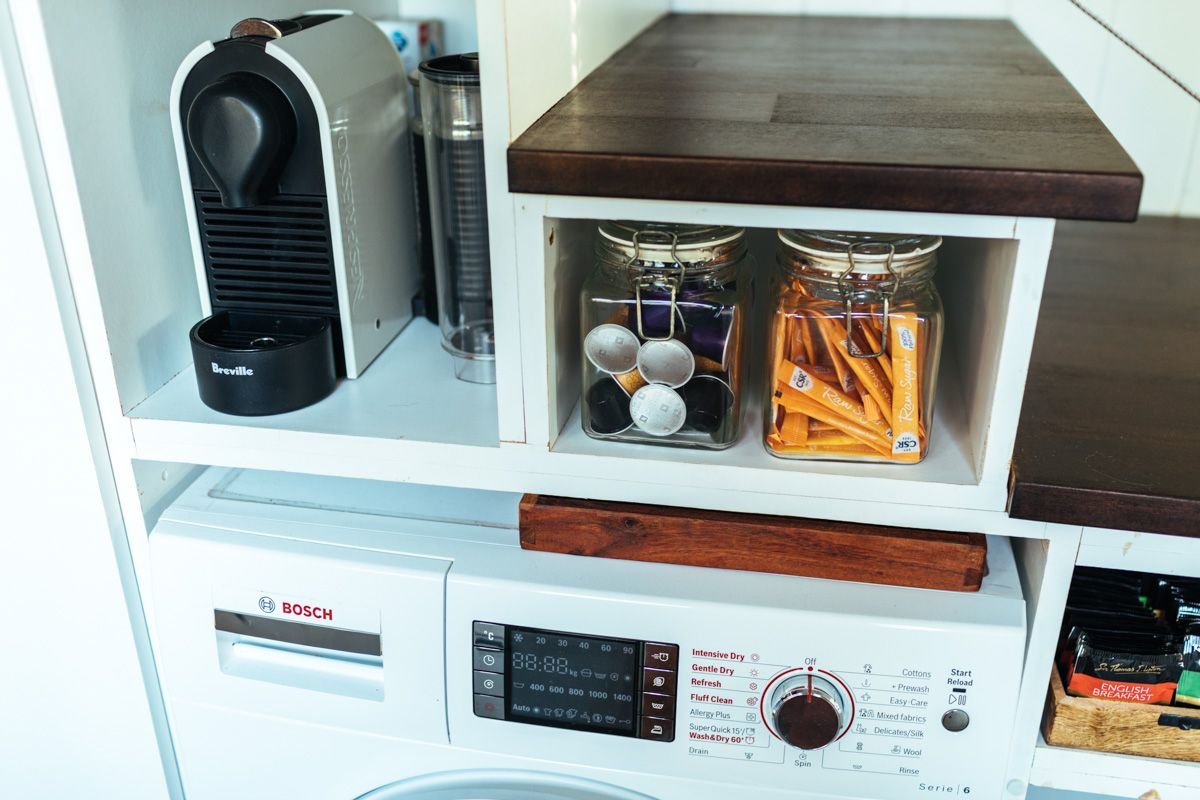 Also in the kitchen is a combo washer/dryer unit and a full size fridge/freezer. It's incredible how they've managed to fit so much into such a small space!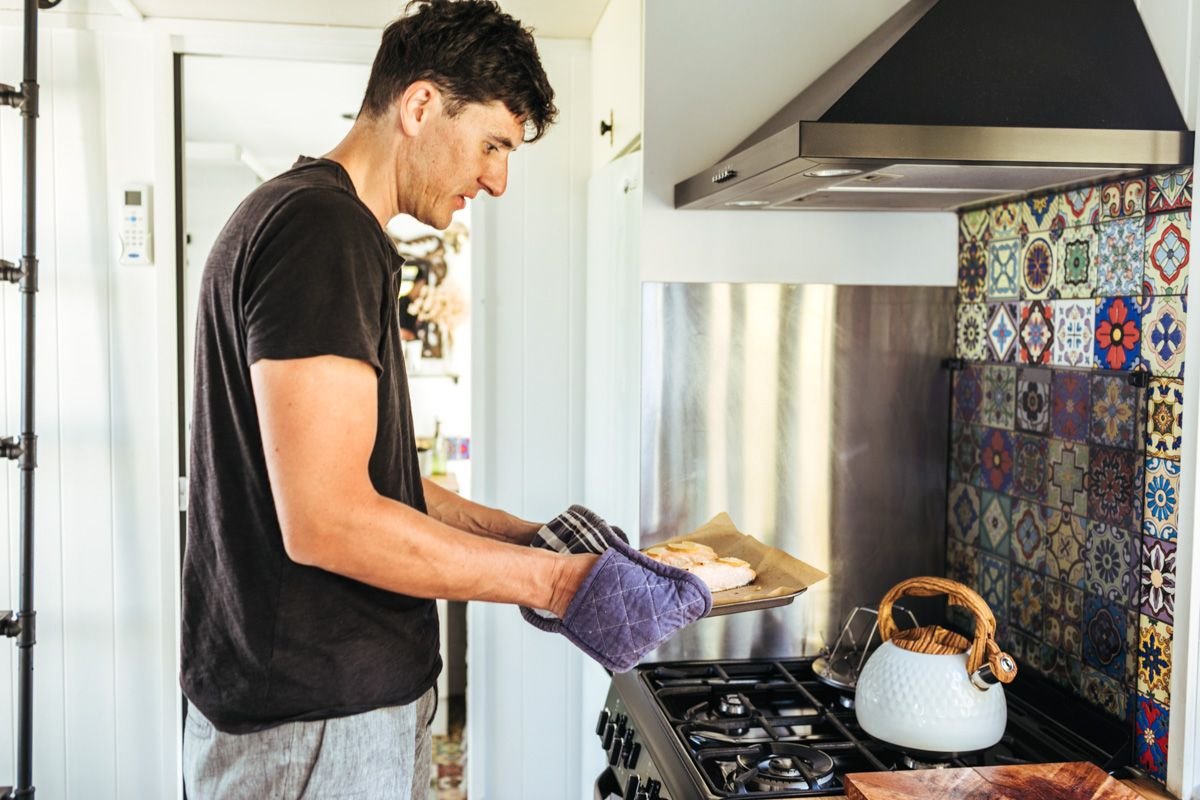 And that's the beauty of tiny houses: you have to get creative with ways to maximize space. Having a plethora/variety of storage space makes it so that you don't have things taking up what little floor space or counter space there is. Fyrefly utilizes cabinets, shelves, and containers for storage throughout.
Rob and Chrissy (the owners and masterminds behind Firefly) are absolute magicians, not just with making such great use of the space but also with decorating it. The whole place looks cohesive from top to bottom, and somehow manages to feel both homey and luxurious. More on what impressed me the most in the next section!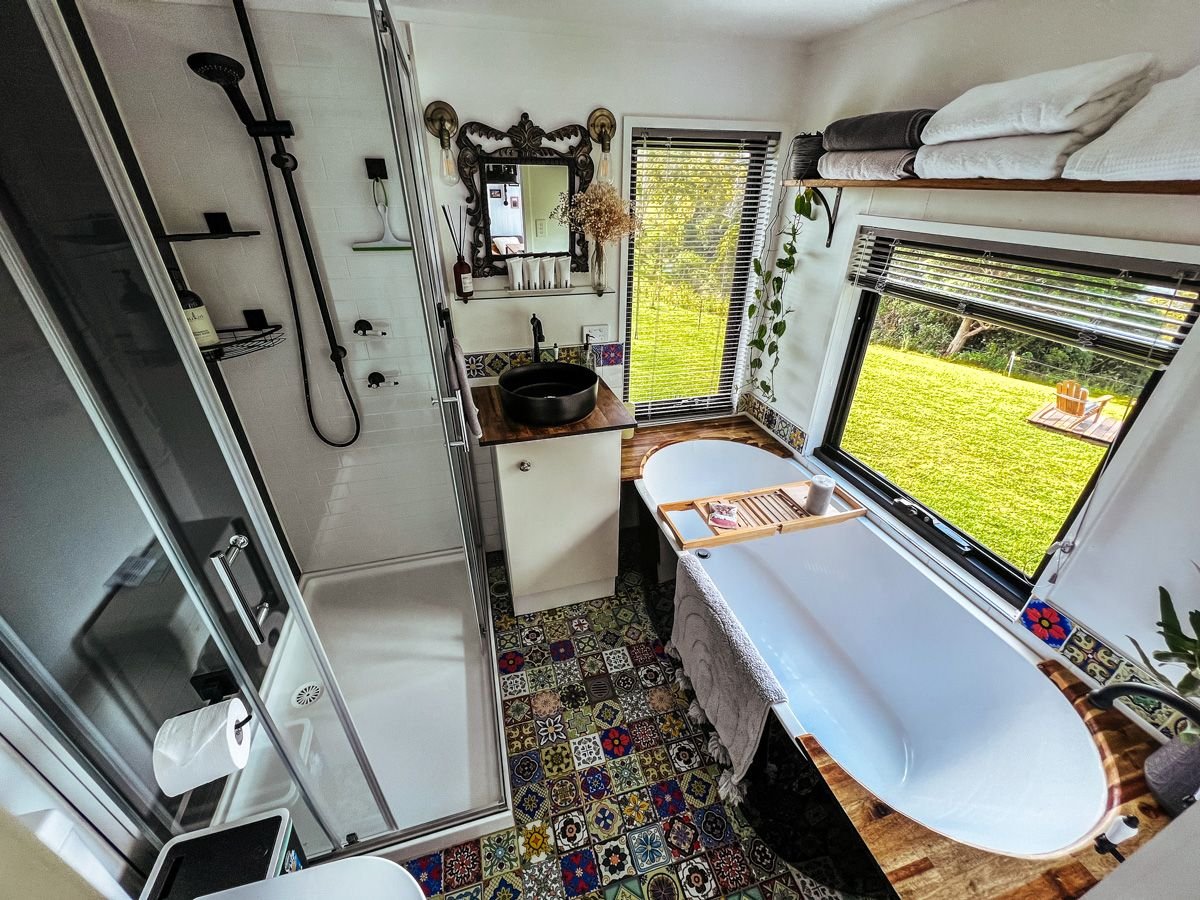 The luxe-yet-cozy bathroom manages to fit a shower, toilet, sink, and large bath tub. High quality toiletries, towels, and robes are provided.
THIS BATH TUB THOUGH. Isn't she gorgeous?! Highly recommend having a golden hour soak, when the light is just right and the shadows from the blinds and vines are dancing around the tub. It's definitely one of the best views I've ever enjoyed from a bath.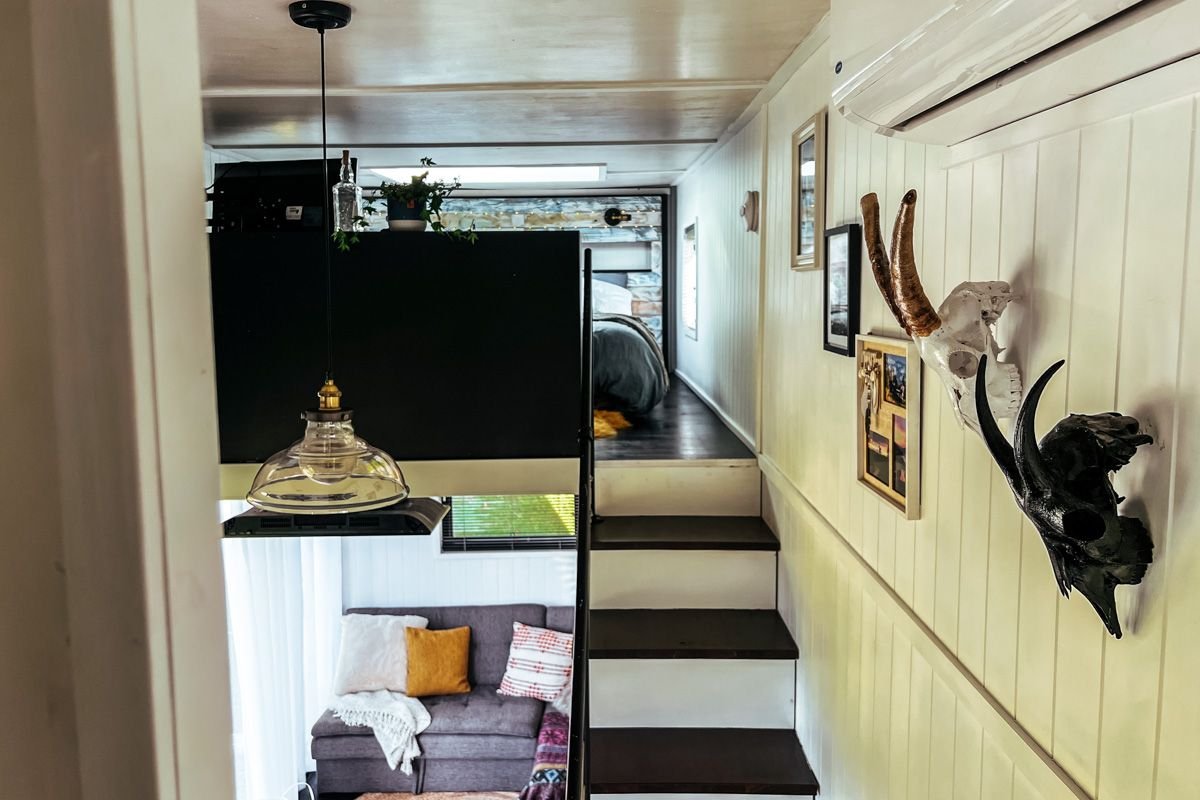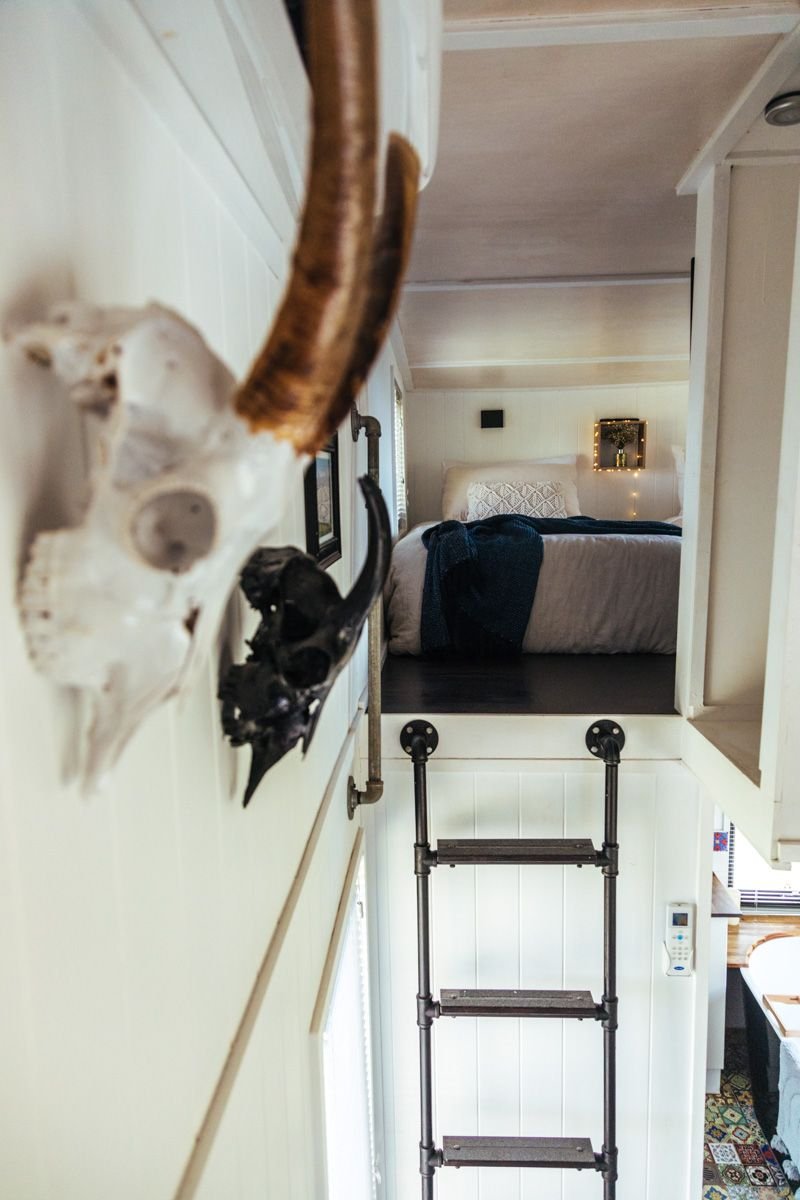 Upstairs, there's a staircase leading to the master bedroom, and a ladder leading up to the twin bedroom. The ceiling is low, so you can't really stand up in either room – but do you really need to? (We didn't :)
Both rooms have their own TV, making it 3 TVs in total in the tiny house. The master bedroom boasts a skylight right above the bed for late night stargazing.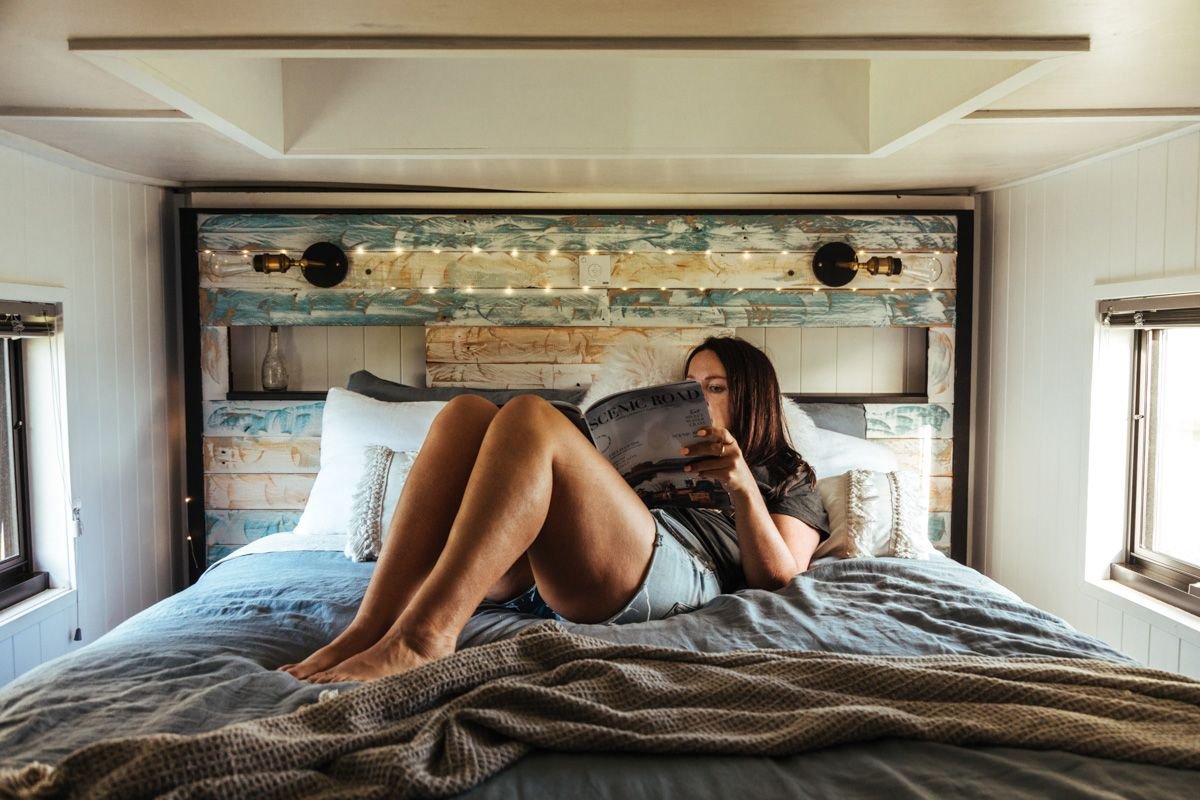 Oh and bonus: Fyrefly Retreat runs entirely off solar and is set up for off-grid living. We love a sustainable accommodation!
Some Cool/Random Things At Fyrefly Retreat
I wanted to call out some of the really cool details and features incorporated into the Fyrefly Retreat tiny house that make it really unique and impressive. I'm sure there's plenty more that I didn't notice/find on my visit, but here are a few that really wowed me:
Fairy lights inside glass bottles – I am officially stealing this idea for my next home! Who would've thought to fill a glass bottle with a string of tiny, battery-operated fairy lights? It looks so cool, especially at night.
Matching tiles – The bathroom floor tiles reminded me of the colorful tiles in Seville, Spain, which I loved. Even better: the tiles behind the stove and the knob on the cabinet door under the sink match them! It really pulls the home together and makes it feel that much more fancy.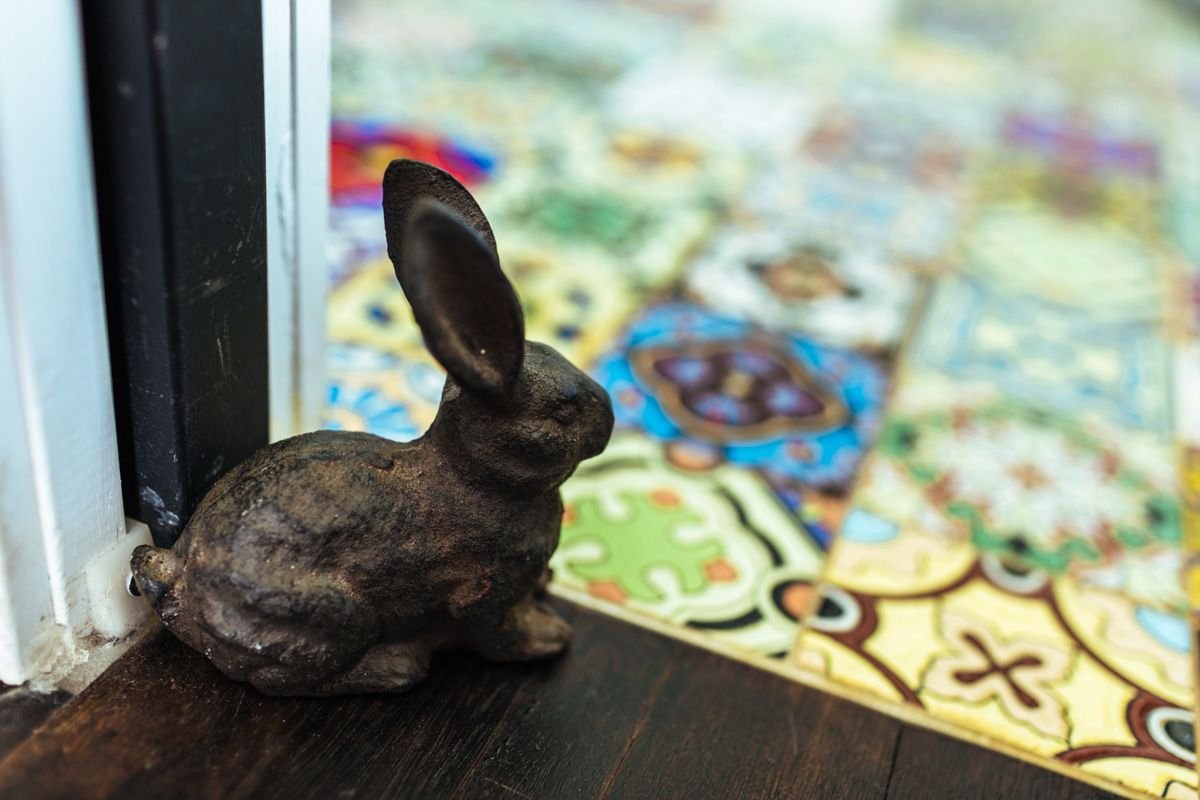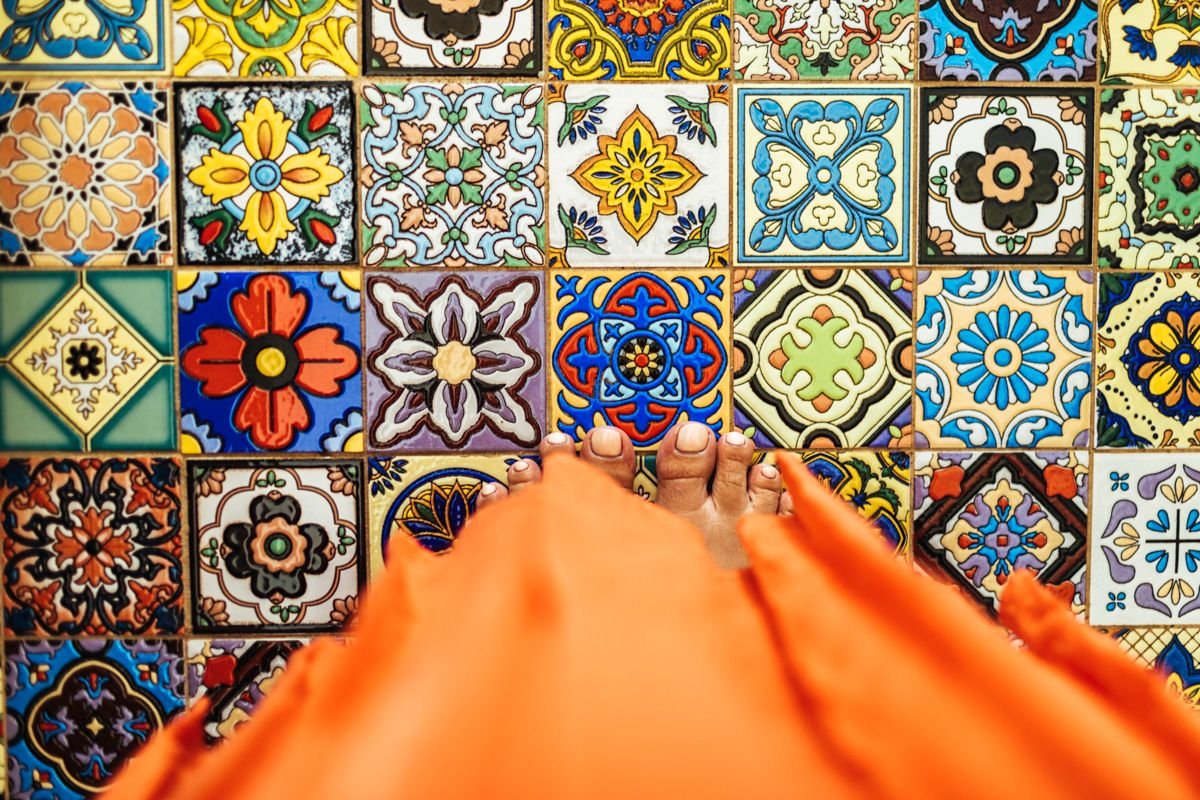 Pop-up outlet – While cooking, I spotted a plastic circle embedded in the wooden countertop and wondered what it was. Turns out, you can pull up on it and out comes a mini outlet strip for plugging in appliances. Such a nifty way to avoid having so many cords strung across a small space.
Fold-up TV – Have you ever used a fold-up TV? I hadn't either, until now. At Fyrefly, they save space by having the TV screen folded up close to the ceiling just inside the front door. When you want to watch something, you simply pull it down. Bloody brilliant!
Bath salts – These are available as an add-on to your stay at Fyrefly and let me tell you that they are a MUST. I've never smelled a nicer-smelling bath salt (mmm lavender).
Portable speaker – We loved using this while taking a bath, but also could have used it outside (e.g. while having a campfire).
Skylight in bed – There is a skylight with a retractable cover just above the master bed, which you control via a switch in the headboard. Perfect for stargazing as you fall asleep in bed!
Outside Fyrefly Retreat
The front yard serves as an extension to the tiny house with all its seating options. Don't feel like eating inside at the small table next to the kitchen? Bring your food outside and enjoy it at the long wooden table instead. Want to read your book or sip your drink with a view? Take a seat on one of the two wooden lounge chairs facing the mountains.
I don't know about you, but I'm a girl who loves having options!
There is also a fire pit with 2 benches outside of the tiny house, which comes equipped with wood, fire starters, and lighters – literally everything you need to start a fire, so no need to bring your own supplies. They even provide marshmallows for roasting!
Unfortunately we didn't get to have a fire while we were there because we discovered a little too late that the lighters didn't work :( Ah well, next time for sure!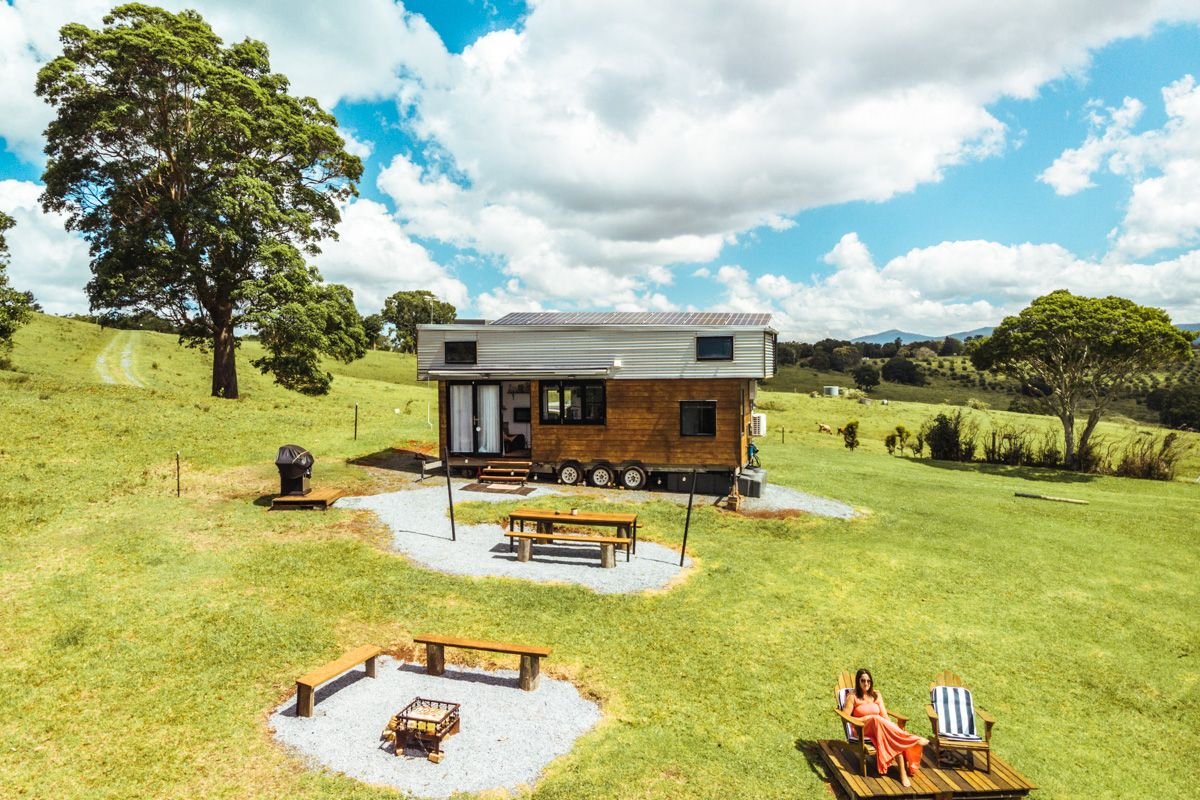 Oh and let's not forget all the cows you'll see around the property! They do come up very close to the fence, so definitely be sure to keep the gate closed at all times. I loved looking out the window or door and being able to see at least one cow at pretty much all times during the day. At certain times, we could spot a dozen or so hanging out in a herd just outside the fence.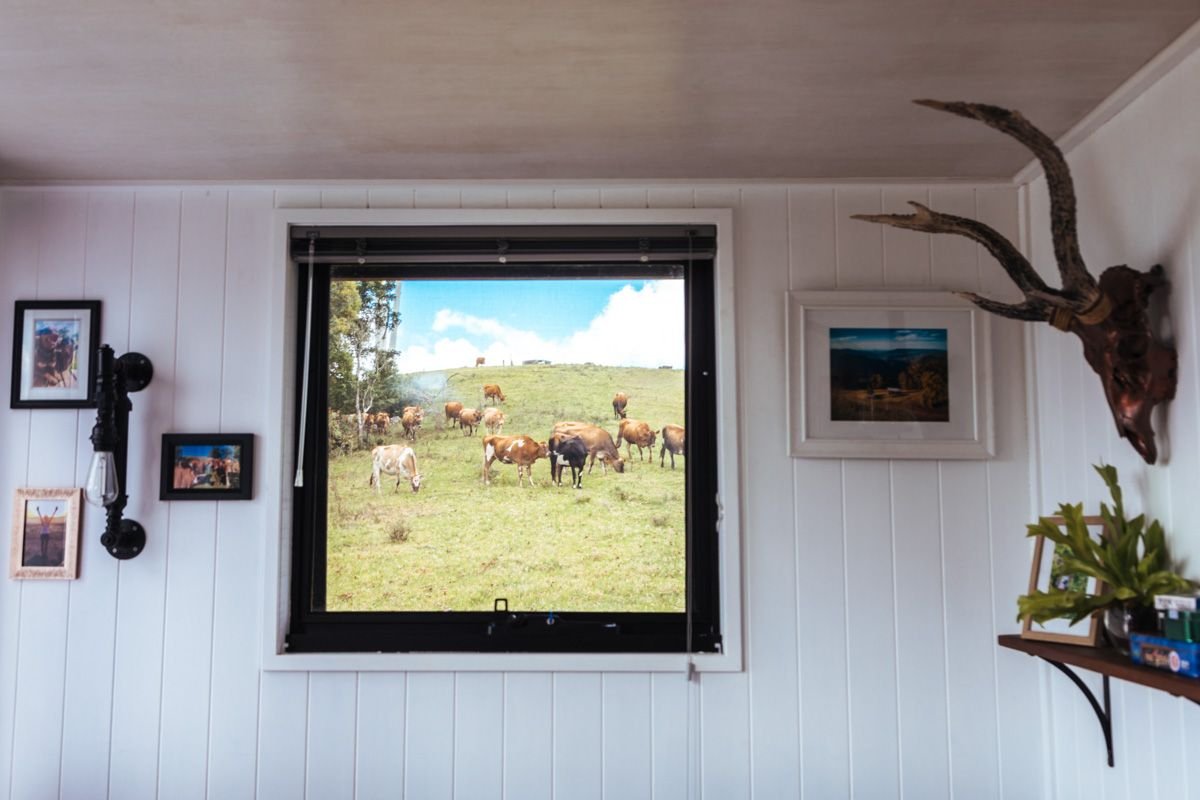 Window or painting?
Things To Do Near Fyrefly Retreat
If you can manage to pry yourself away from this glorious tiny home in the Gold Coast, there's plenty of adventures to be had nearby the property (many of which are listed on Fyrefly's website).
The Flying Bean Cafe – the closest place to grab coffee and a bite to eat (just a few minutes down the road)
Paratech Paragliding – $199 for a tandem flight (or alternatively, you can watch paragliders float over the hills nearby, without having the leave the property!)
Binna Burra – ~15-20 minutes up the road. Similar to O'Reilly's Rainforest Retreat in that it serves as a hiking hub. There's a smattering of rainforest hikes you can do from here.
O'Reilly's Canungra Valley Vineyards – ~30 minutes away and well worth a stop for an afternoon picnic and wine tasting (we stopped here before we stayed at Fyrefly)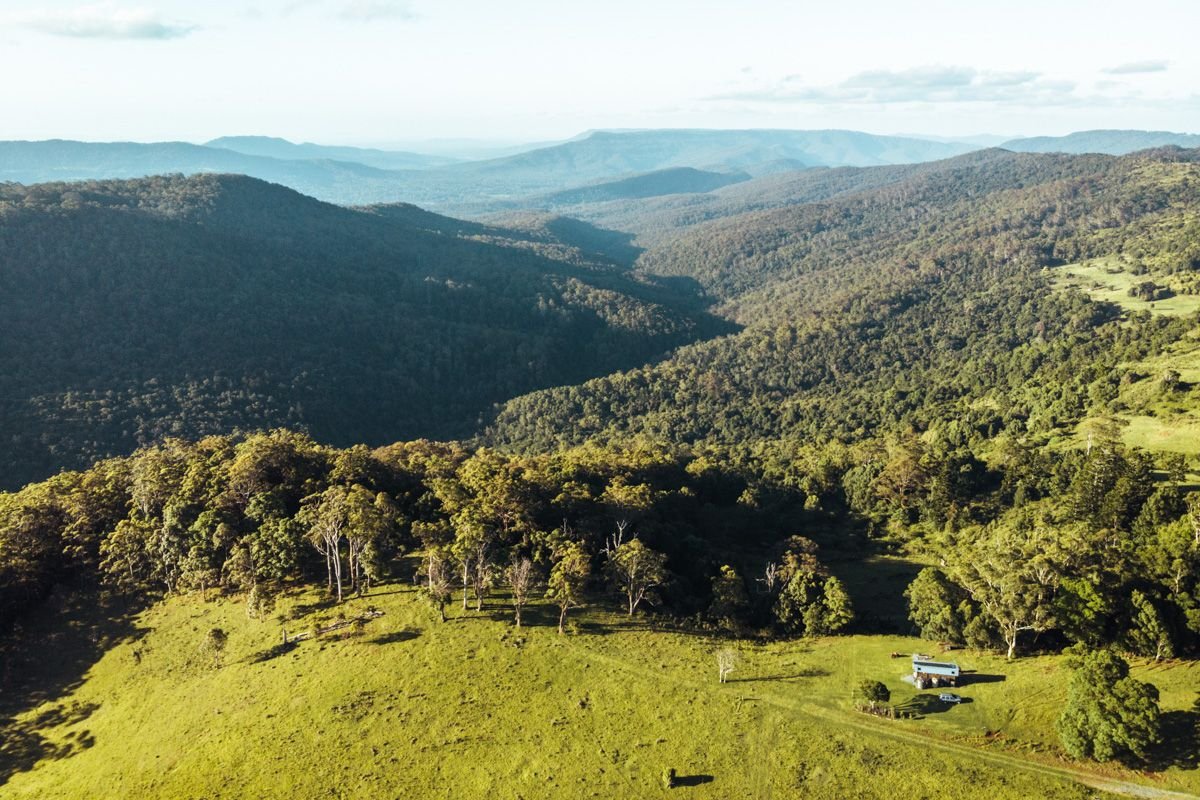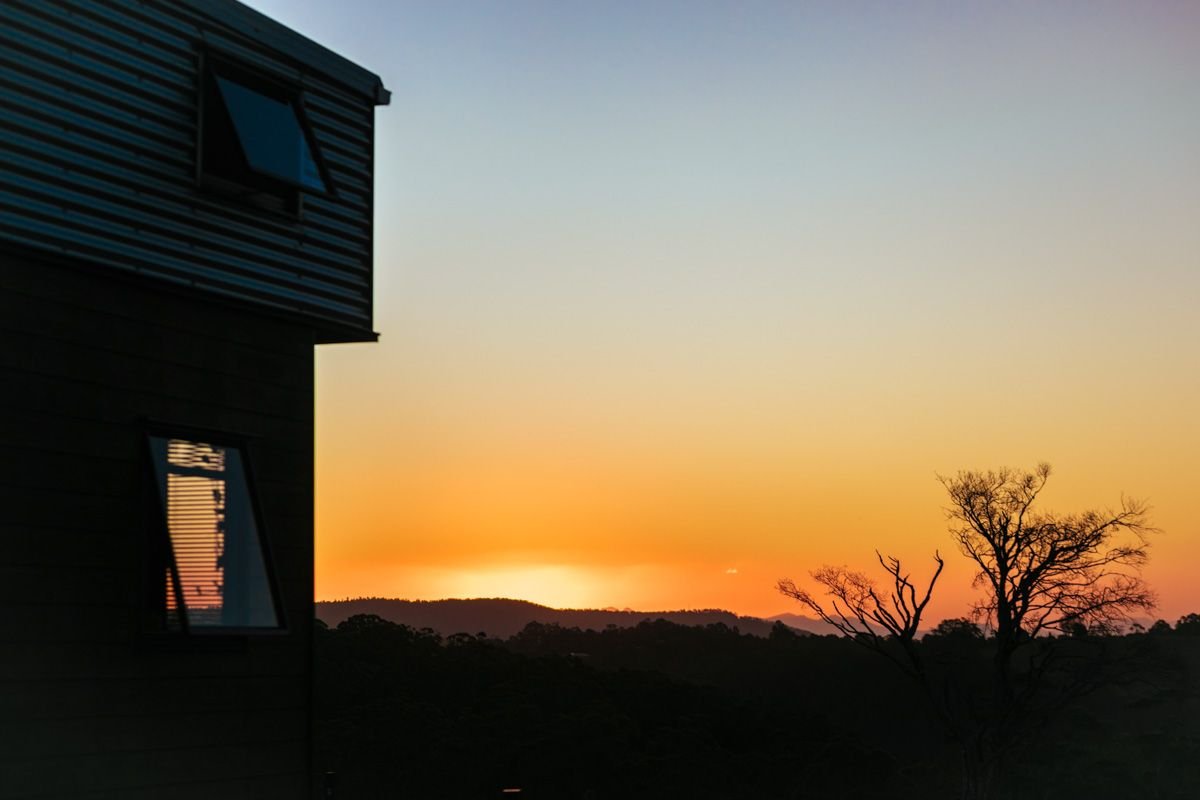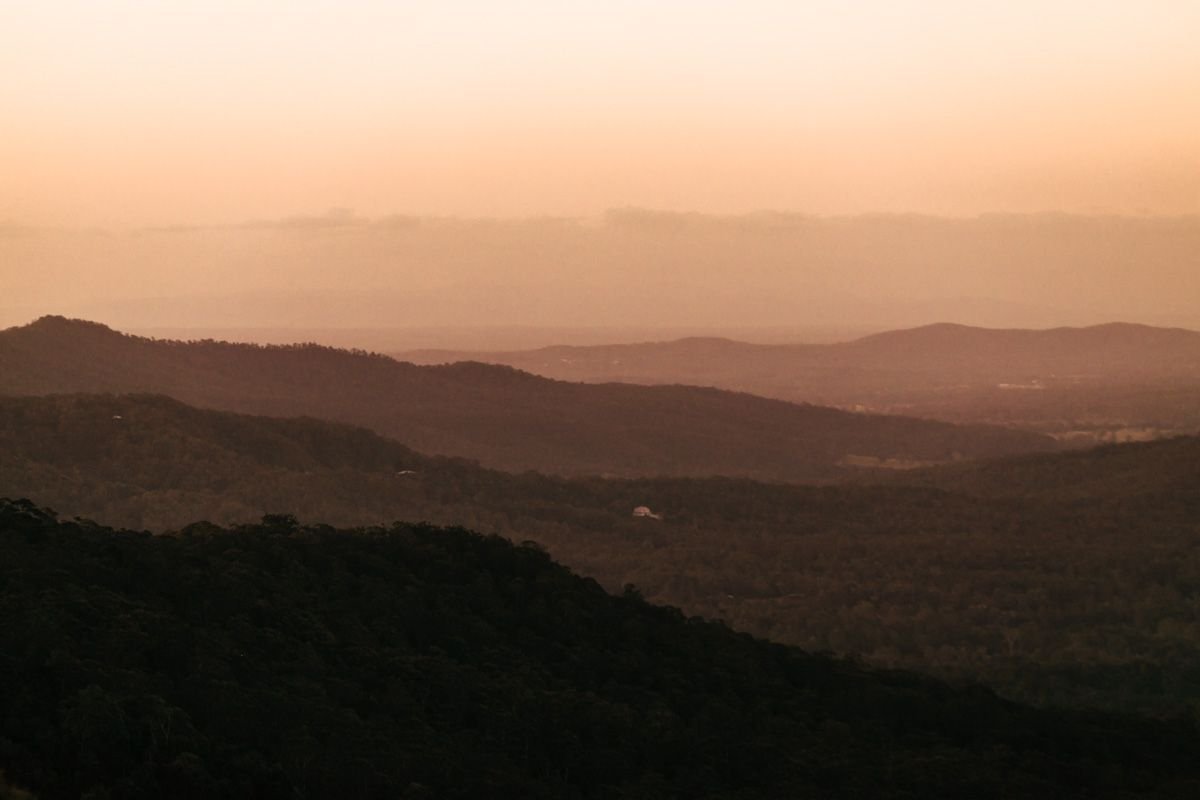 Thank you to Fyrefly Retreat for gifting us with a 2 night stay. Note that all opinions expressed here and elsewhere on this blog are my unbiased own, and are uninfluenced by any gifts or incentives I may receive.
Pin it!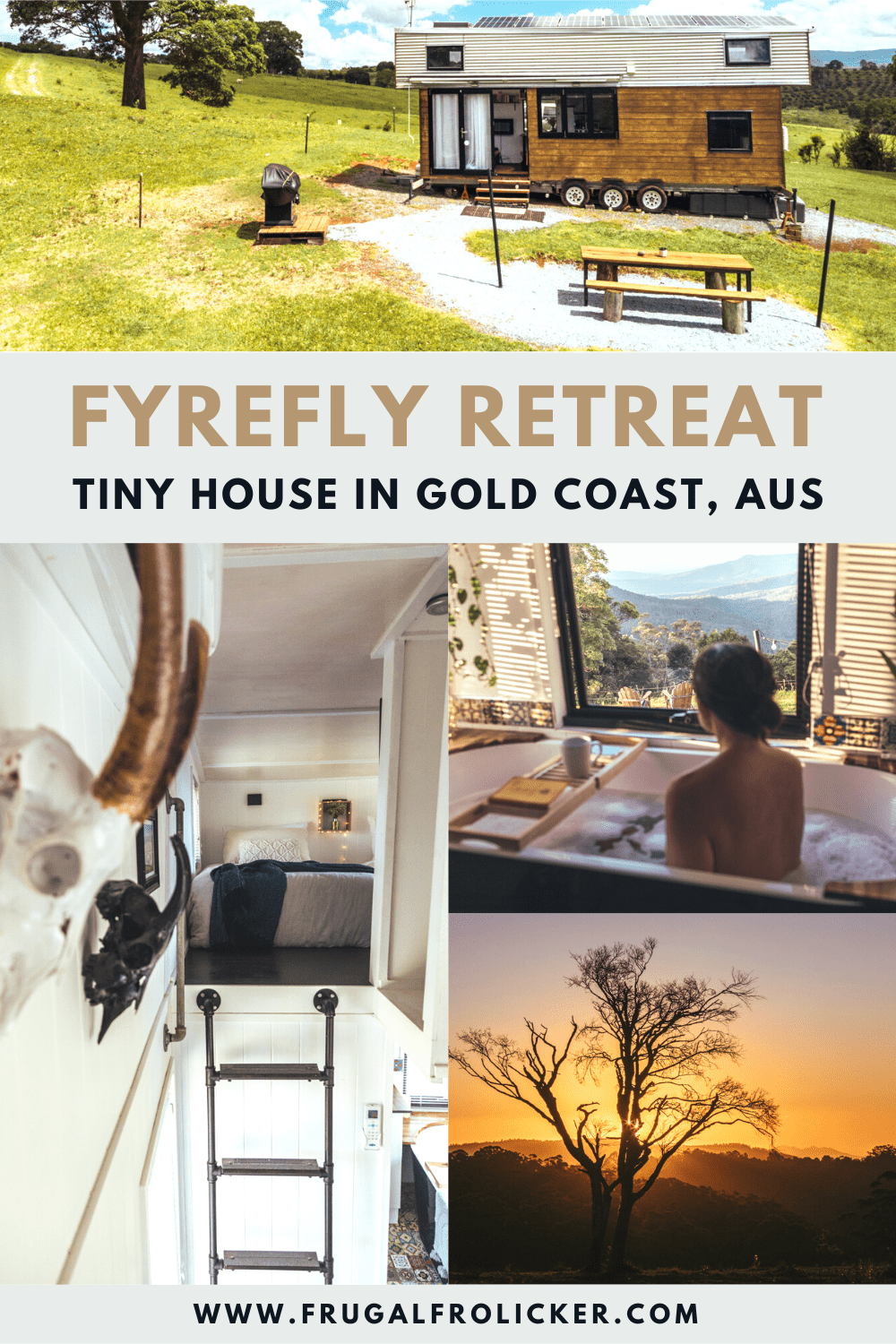 Pin it!