Since making the switch from America to Australia 9 years ago, I've been gradually swapping American brands for Aussie brands.
Most recently, I replaced my old suitcases with luggage from July, a relatively new Aussie travel accessories brand that prioritizes considered design and seamless travel.
Rather than pumping out cheaply made luggage that doesn't last and selling it through numerous retailers, July luggage is built to last (and look good!), sold direct to consumer, and comes with a very generous warranty (including a lifetime warranty for all suitcases).
In their words:
We read over 4,000 reviews of existing cases and began designing around fixing what was wrong; we needed better reinforcement of corners and bends, a better business model around trials and warranty, and more considered features for travel.

In Venice, Los Angeles.
First I picked up one of their tote bags to use for carrying my laptop and promptly fell in love. Then, July offered to send me a carry on suitcase and a checked suitcase to test out and review on this blog.
I don't know if they realized how extensive my testing would be, though, because my July bags went around the world with me in 5 months of travel, which included 15 flights, 9 countries, and god knows how many train rides and boat trips.
Below, I'll go into detail about each piece of July luggage that I used, but the TL;DR of it is: I was able to travel solo with about 43kg (95lb) worth of carry-on and checked baggage combined, both with ease and with style, using my new July suitcases and tote bag.
NOTE: July does ship outside of Australia, and they have a Black Friday sale on now!
July Everyday Small Tote (Natural)
The Everyday Small Tote was my first (and possibly favorite) July purchase.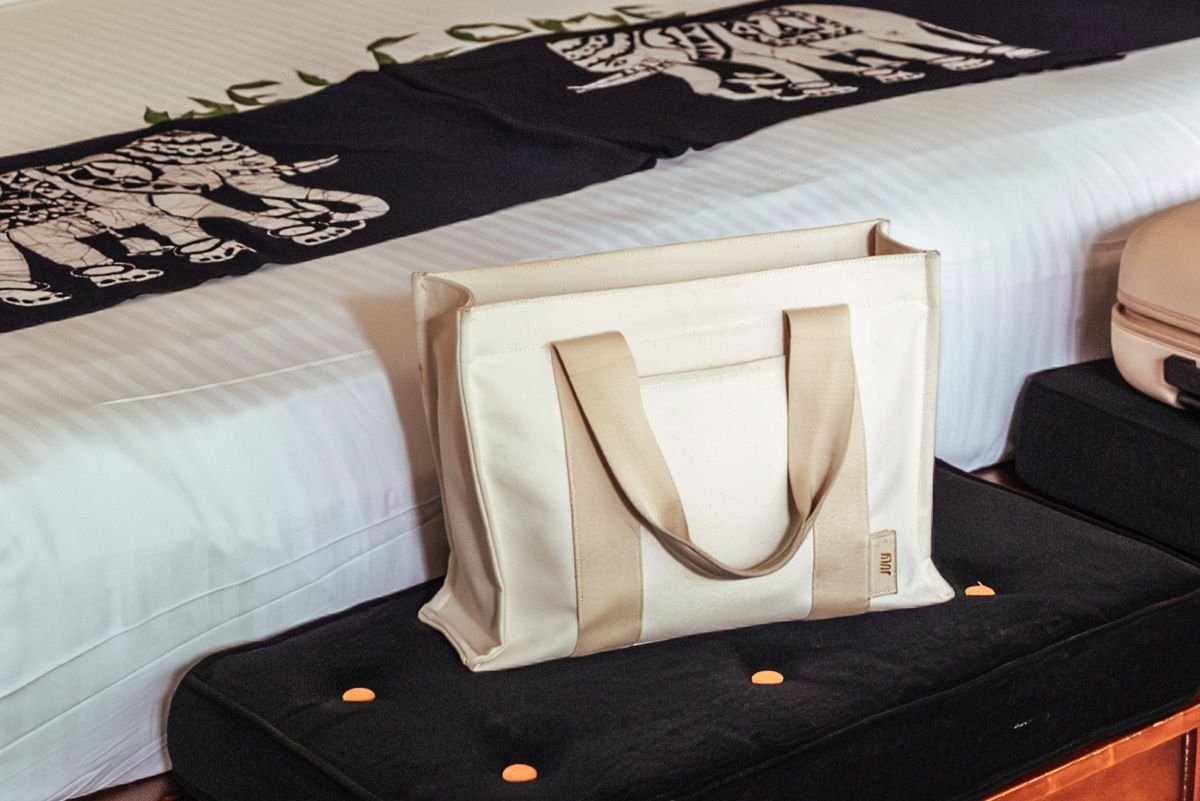 One thing about me is that I am extremely fussy about my bags. I tend to rotate between several different bags, which I reserve for different uses and occasions. And I hate to admit this, but if I buy a bag and find that it doesn't quite feel right (whether it's uncomfortable to wear, or doesn't have the right interior organization), it will sit and collect dust for years and years and I will be on a perpetual quest to replace it with something better.
Having recently retired my trusty camera backpack, I was in the market for some sort of tote to use as both a plane carry-on, and a work-from-cafe bag.
I've used the July Everyday Small Tote for nearly a year now and love it so much! It has a sleeve inside that fits a 15″ MacBook Pro, which is very important to me as I don't have or want a case for my laptop, but also don't want to have other items in the bag banging up against it and scratching it. July advertises this tote as fitting a 14″ laptop in the sleeve, but my 15″ fits fine (albeit slightly snug).
There's another little pocket inside the bag that I throw random small items in, such as pens, lip balm, iPhone charging cable, and old boarding passes. My version does not have a zipper on this pocket, but the newer version of this bag does, which I think is a great feature.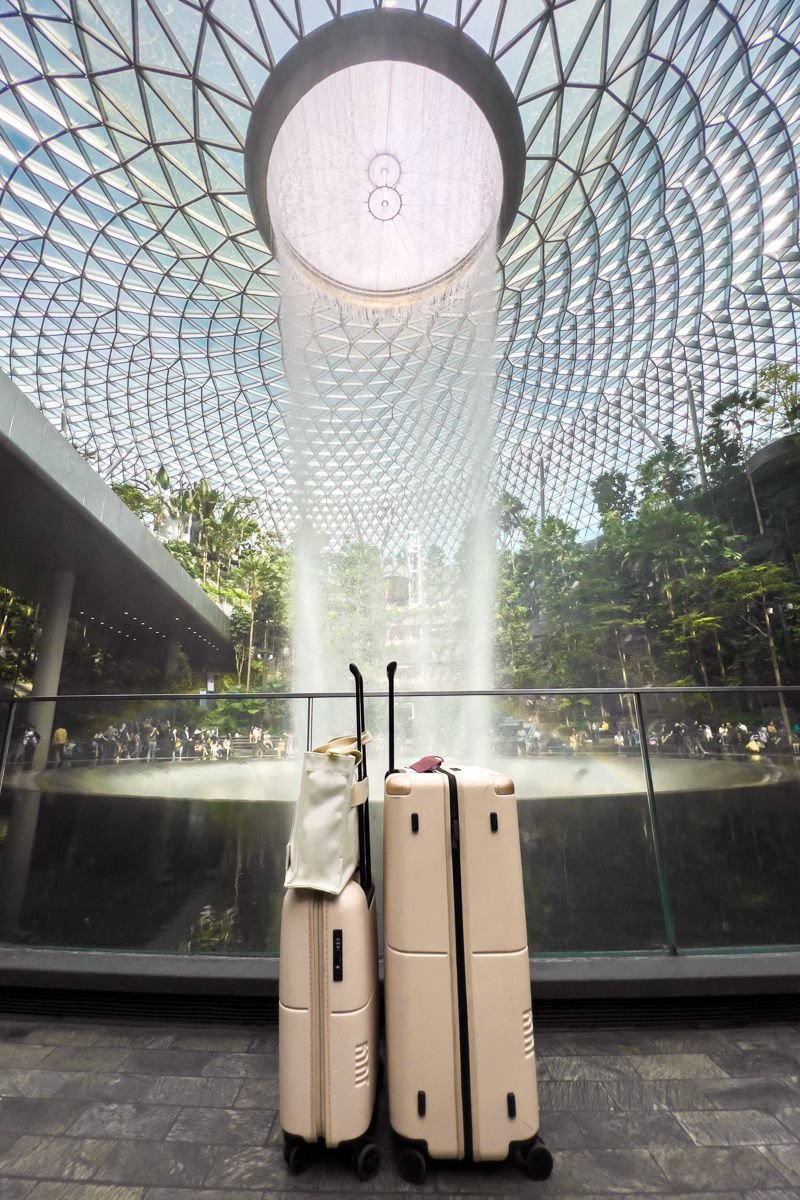 (L) In Paris; (R) At Singapore Changi Airport.
Along with my laptop, I can also fit a water bottle, laptop charger, travel adapter, passport wallet, regular wallet, and sunglasses case inside the tote. The tote zips at the top so that you can slide the bag under your seat without worrying about any items falling out while in transit.
The newest version of the tote comes with a removable strap so you can wear it messenger bag-style, which I think is necessary if you plan to use it as an everyday bag because the built-in straps are just a bit too short to wear the bag comfortably over your shoulder.
There are also two small exterior pockets: the front one is the perfect size for stashing your iPhone for quick and easy access, and the back one is magnetic and "hidden" for sensitive items like your passport or credit card. I have a separate wallet for both of my passports, so I use this pocket to house my small power bank instead.
I spent some time in-store comparing the small and large sizes of the July Everyday Tote in store and went with the small because it's more structured than the large. If you only want ONE carry-on bag, or want a daily use bag to fit more than just your laptop and a few small items, a large tote might be better for you.

In Koh Samui, Thailand.
For me, I knew I wanted to divide up my carry-on items between two bags: this small tote bag (for laptop + small items) and a small suitcase (for heavy camera gear), so I didn't need the tote bag to be too big.
And guys, the July Everyday Tote really is the perfect carry-on bag. Not only does it fit a laptop and the essentials, but it also has a pass-though band on the back side so you can slip it right over your suitcase handle. I have always yearned for a bag that had this feature: yes, I was very much that person wheeling her luggage around who had to stop every other minute to adjust the bag on top of her suitcase because it kept sliding off (ugh, is there anything more annoying?).
And I can now confirm: the pass-through band is a life changer/saver!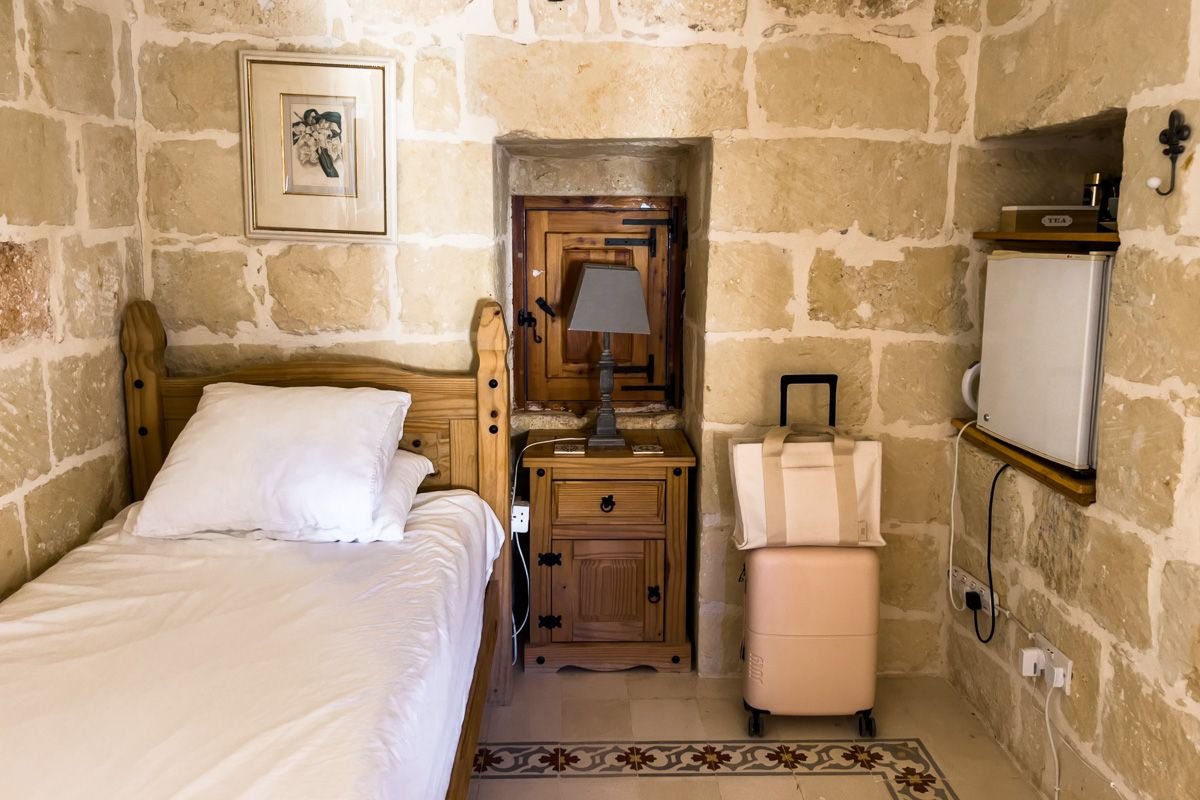 In Gozo, Malta.
CLICK TO BUY THE JULY EVERYDAY TOTE
July Carry On Light (Sand)
Though the Everyday Tote was my first July purchase, what initially drew me to the July brand was their Carry On Light suitcase.
I was looking to switch from using my old camera backpack as a carry-on, to using a small suitcase instead (I'm currently in my anti-backpack era, as my shoulders are too tight and I hate back sweat – anyone else relate?).

At the TWA Hotel at JFK Airport, NYC.
However, my backpack full of camera gear would always hover right around the carry-on weight limit of 7kg (15.4lb), so I knew that the standard carry-on suitcase would definitely put me over.
My old backpack weighed 1.3kg (2.9 lb) with 21L volume.
The July Carry On Light suitcase weighs 1.8kg (just under 4lb) with 32L volume.
The regular July Carry On suitcase weighs 3.4 kg (7.5 lb) with 42L volume.
I reasoned that if I used the July Carry On Light suitcase, I could easily shave a pound off my carry-on baggage weight by shifting some power cords and accessories to my new Everyday Tote (though my main carry-on bag is sometimes weighed at check-in or at the gate, my laptop bag has NEVER been weighed).
By contrast, the regular July Carry On suitcase (along with most standard carry-on suitcases) takes up about half of the carry-on weight limit, which would leave me with not enough left for my heavy camera gear. And I'm not willing to risk getting caught with an overweight carry-on bag because I NEVER want to check my camera gear – it's too fragile and expensive.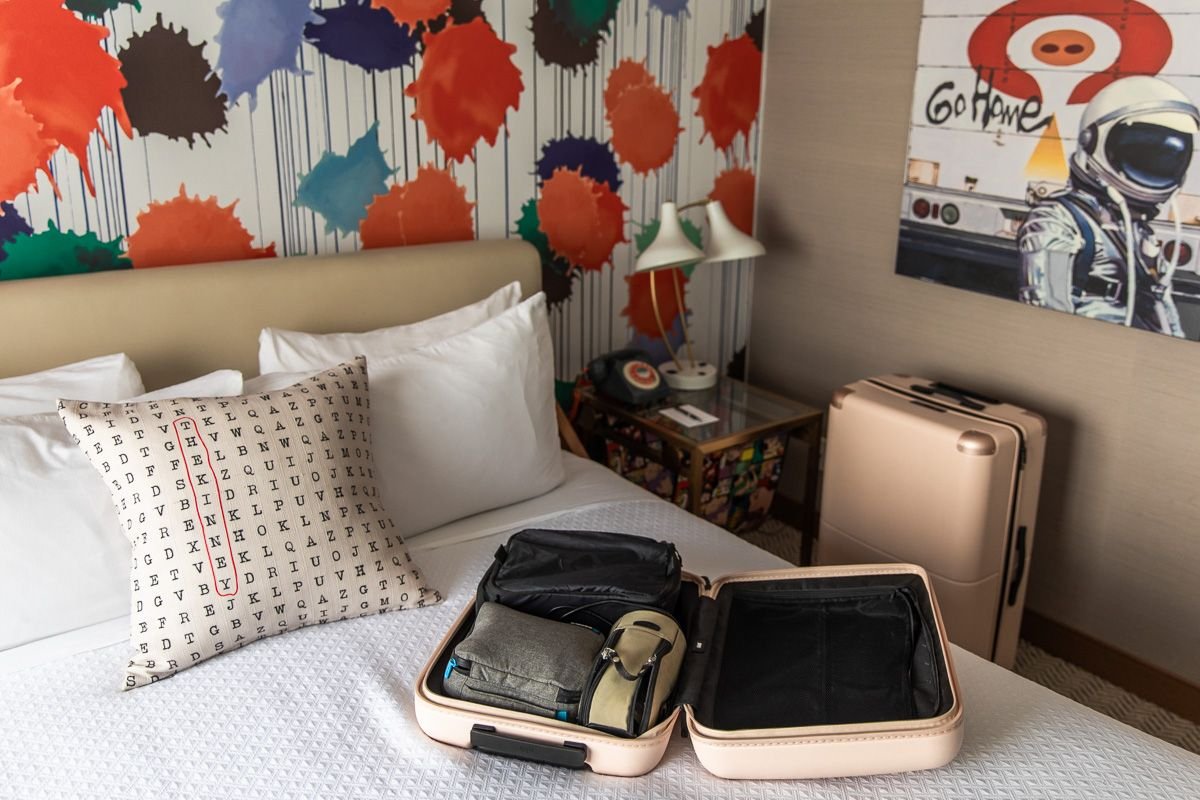 The July Carry-On Light fits my big zoom lens, drone kit, and a padded compartment with my camera body and smaller lenses.
So for me, the Carry On Light suitcase was the clear winner. This suitcase is SO light that I can literally lift it with my pinky finger – how crazy is that?! This may actually be the lightest carry-on suitcase in existence.
The Carry On Light suitcase has a TSA lock on the outside, and a mesh zip on each side of the interior. All of my gear fits perfectly on one side, but because it's a bit "tall", I have to leave the mesh zip open on both sides. I'd say my camera gear takes up 75% of the suitcase volume, so I can't fit too much else in there – which is fine, because most of my other carry-on items can fit in my Everyday tote. I sometimes will stash my neck pillow or sweatshirt inside the carry-on suitcase, which I can easily remove and wear if my bag gets weighed or if I want to use them in-flight.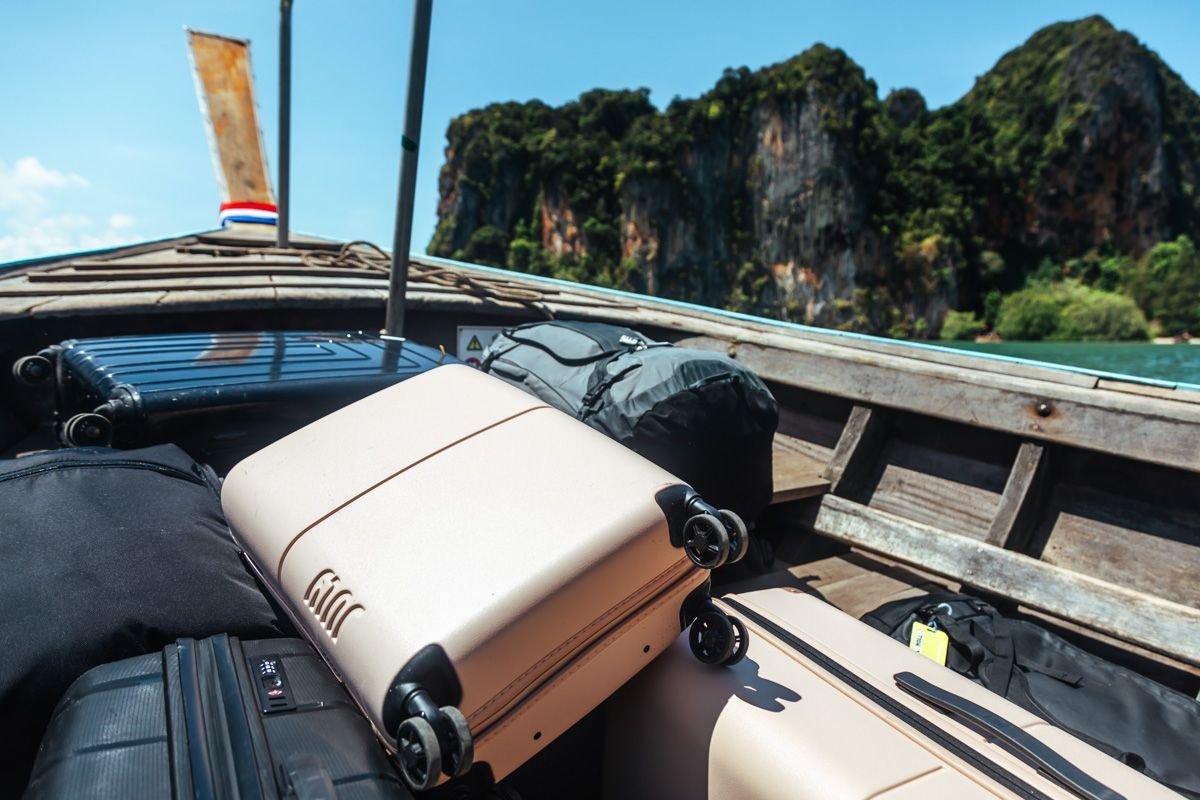 In Krabi, Thailand.
My Everyday Tote slips on top of my Carry On Light suitcase and together, they are my new carry-on setup when I fly. The tote goes under the seat, and the suitcase goes in the overhead bin.
For me, the Carry On Light suitcase is perfect. I think it's a great choice for anyone who struggles to get their carry-on luggage within the weight limit, as well as photographers who have their own internal organization system they can use inside of it (i.e. padded compartments and cases for lenses, camera bodies, etc).
CLICK TO BUY THE JULY CARRY ON LIGHT SUITCASE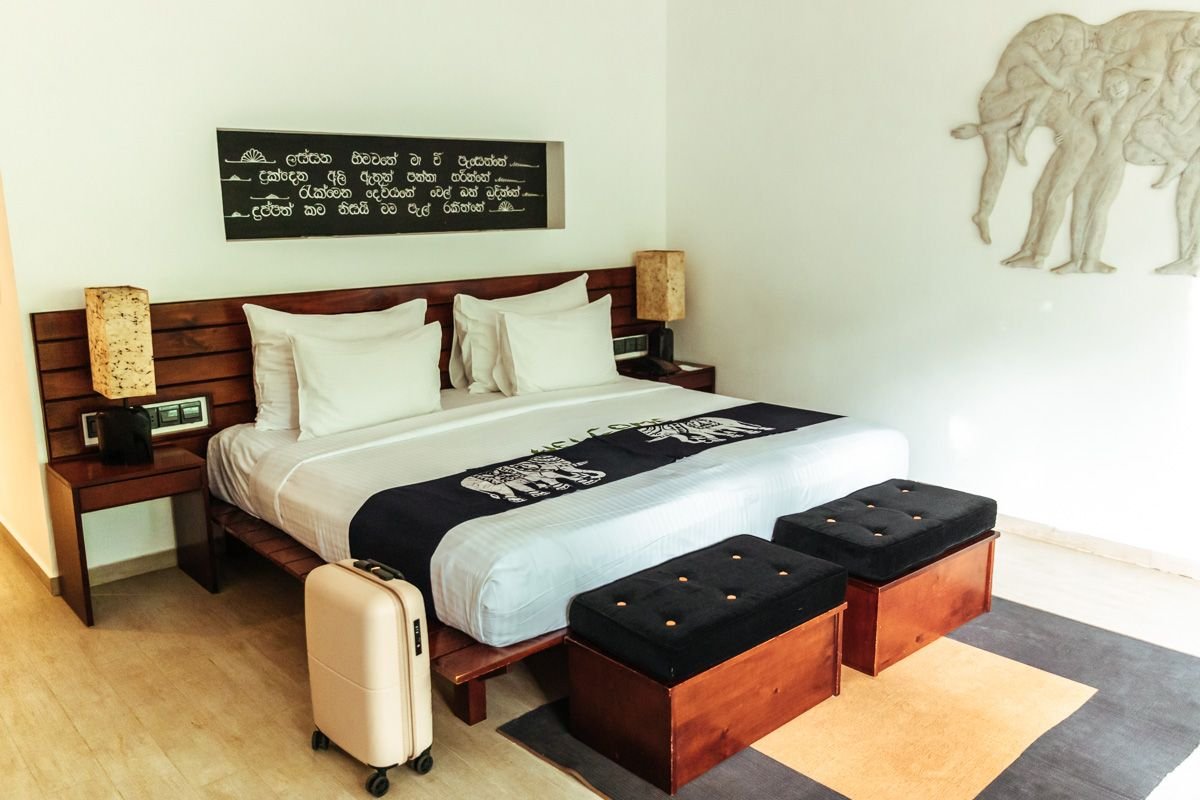 In Sri Lanka.
July Checked Plus (Sand)
I couldn't upgrade my carry-on luggage without also upgrading my checked luggage, right?
So I snagged myself a matching Checked Plus suitcase!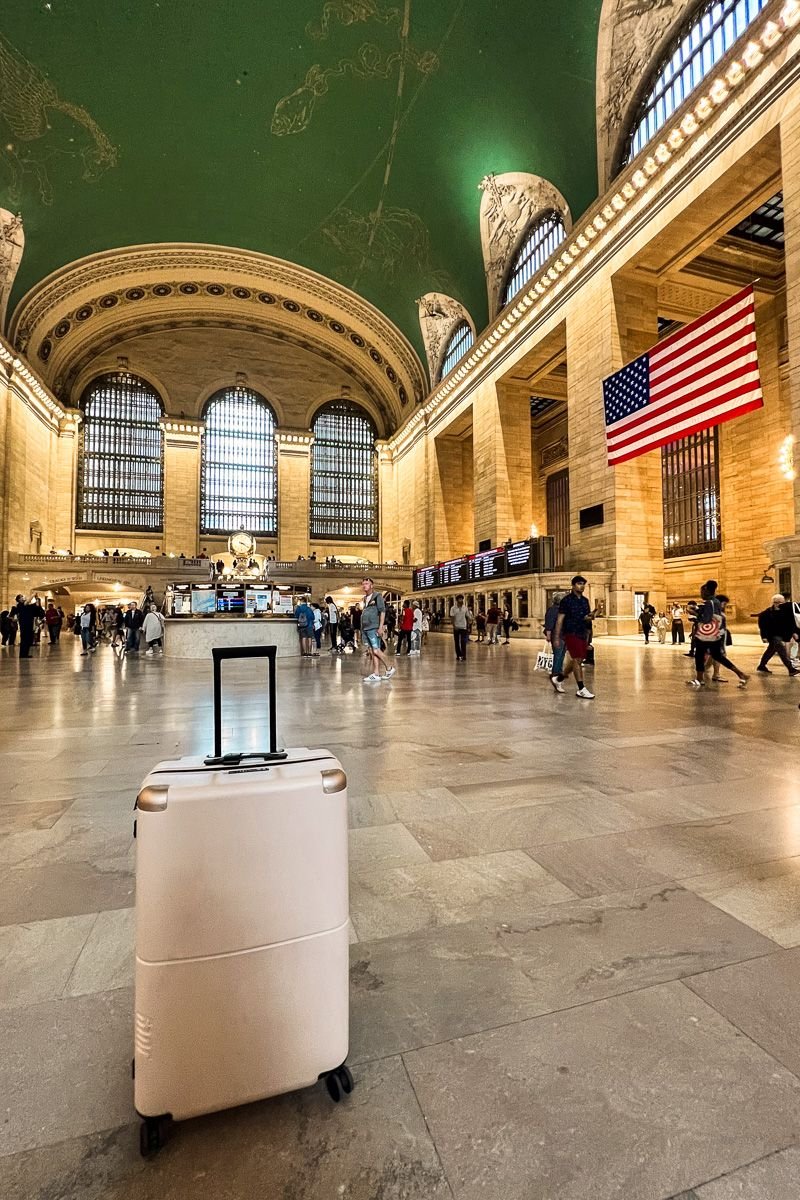 (L) At Grand Central Terminal, NYC; (R) In Gozo, Malta.
I have a lot of things to say about this suitcase, but first let's talk about the color of it.
I fell in love with the sand color in-store, as well as in photos. It's impossible to explain just how gorgeous it is, you really need to see it in the flesh to fully appreciate its beauty. It's a cream color with a pinkish tint, I'd say. And it looks slightly different depending on the lighting.
The sand color, combined with the aluminum bumpers on the top 4 corners of the suitcase, make this suitcase aesthetic as hell. I find myself constantly glancing over at it when it's in the room with me, much like you would if your newborn or your puppy were napping nearby. It's my beautiful baby!
Another plus: this suitcase is easy to spot on the baggage carousel because there won't be another bag remotely similar to it, guaranteed. I once had my (generic black) suitcase stolen off of a baggage carousel, AND I'm an Aquarius – so having a suitcase that doesn't look like anyone else's is very important to me.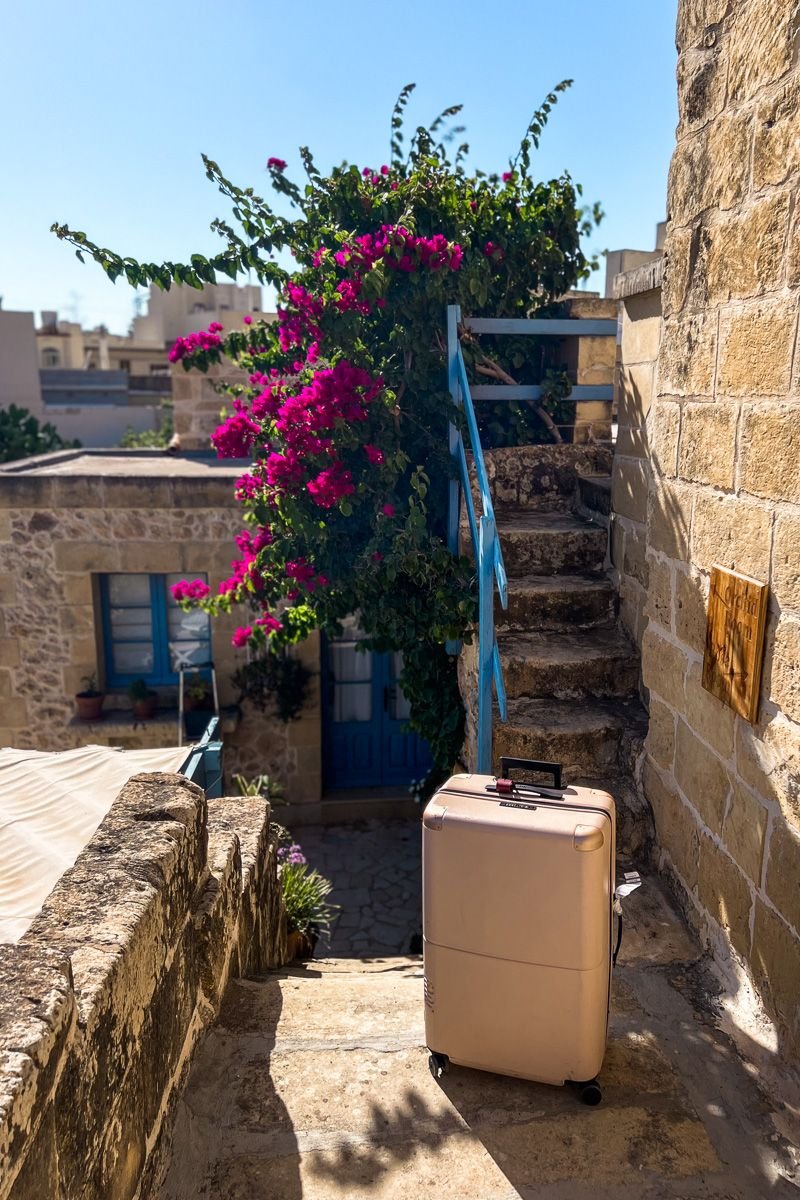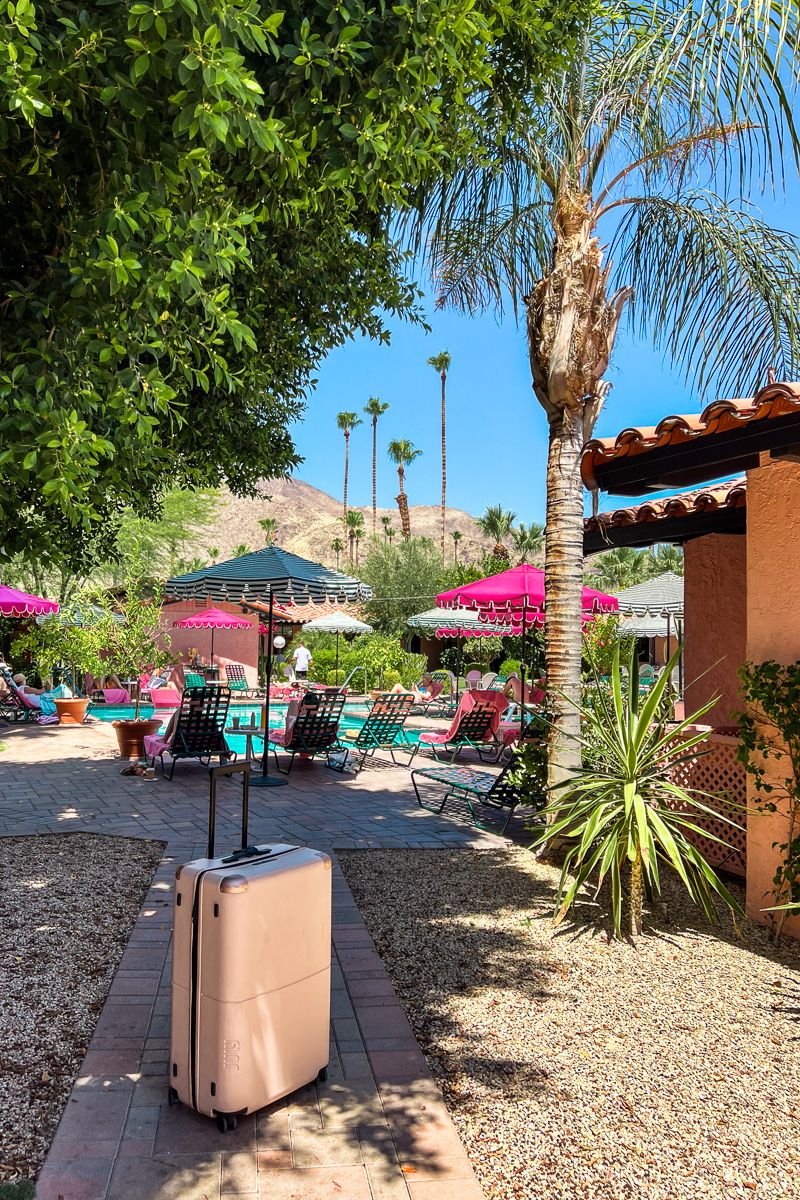 (L) In Gozo, Malta; (R) In Palm Springs, California.
The obvious downside to having a light-colored checked suitcase is that scuffs and marks are a lot more noticeable. I traveled with a pack of magic erasers which took off most of the marks the suitcase accumulated while in transit. A few marks seem to be permanent. I definitely did not consider how annoying it would be to have to constantly clean the outside of my suitcase, but if you're not so bothered by imperfections, you might not mind as much as I do.
Also, with the July Checked Plus suitcase, no matter which color you have, you will end up with numerous obvious scratches on the aluminum corners. Many of the product reviews on the July website mention this, even for the darker colored suitcases. You just have to expect it when you buy this July suitcase.
Thankfully July now offers covers for their suitcases, so grab one of these if you want to minimize scuffs and scratches.
All that said, I don't regret going with the sand color because it's so damn beautiful and unique. However, I wish that covers were an option back when I bought the suitcase!

July luggage is kitty approved!
Aesthetics aside, the Checked Plus is a functionally brilliant suitcase.
There is a 3-digit TSA lock on all July suitcases, including the Checked Plus.
My favorite feature is the smooth-gliding 360-degree wheels that make wheeling your suitcase around a breeze. I'm a big fan of pushing it around on 4 wheels in front of me, rather than pulling it on two wheels behind me… though it's great being able to carry it both ways.
Especially if one of the wheels breaks while in transit! Yep, just over 4 months into my travels, one of my wheels broke, which made it impossible to drag it behind me on two wheels without using brute force, and cumbersome to push around on all 4 wheels (it somewhat worked if I positioned the suitcase in a certain way, with the broken wheel in the back). To be fair, this suitcase endured a LOT during my travels, including being dragged on cobblestone and gravel and being dropped onto European train platforms, and it performed like a champ before the wheel broke.
Thankfully July has a lifetime warranty on its suitcases, so when I returned home to Australia I contacted them for a repair. They sent me a brand new suitcase and arranged for me to send back the broken one – all for free! Now THAT'S great service.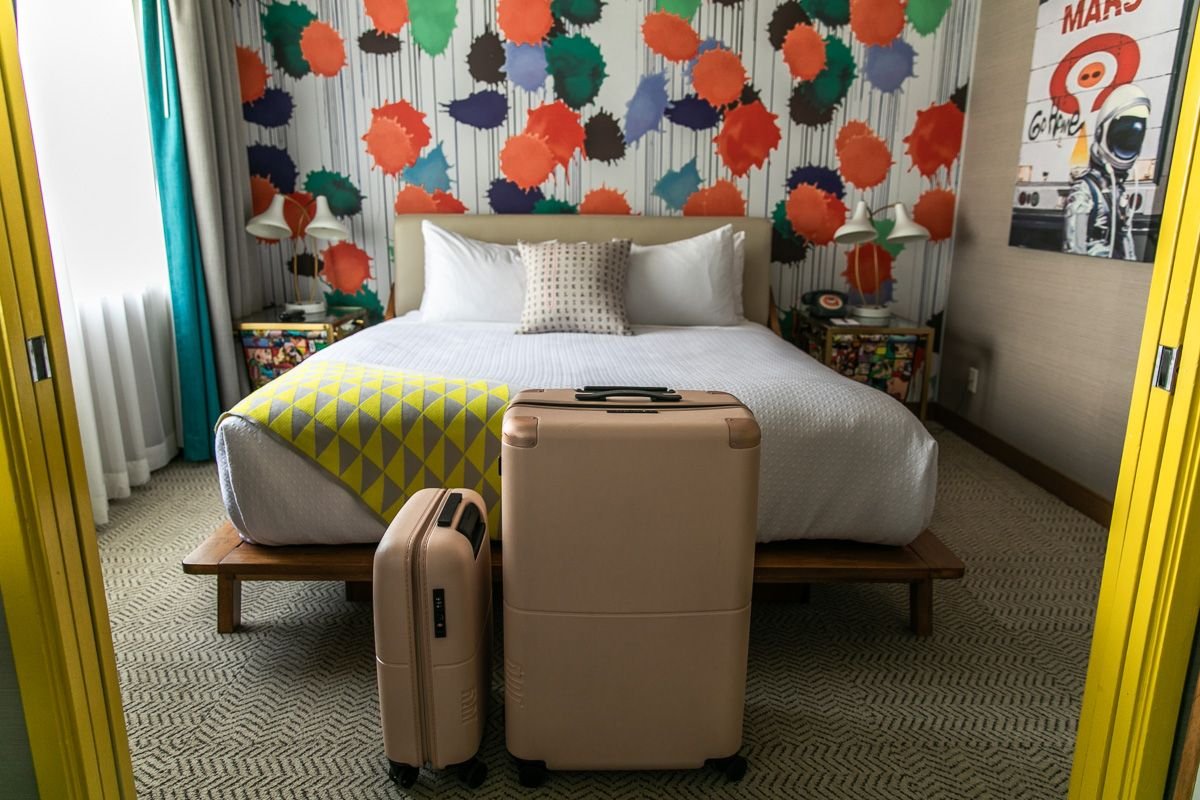 Another awesome feature of this July suitcase is its "20-height multi-stop telescopic handle". And by that, they mean that you can pretty much adjust the suitcase handle to any height you want and it'll stay there. There have been so many times where I set the handle, assuming it was at its highest setting because that's normal with most other suitcases… only to realize later on that I could've set it even higher.

In Puglia, Italy.
Inside this July luggage, there's a mesh zip on the left side with two storage pockets. I love this feature and find it perfect for keeping small items organized and easily accessible (like socks and undies).
There's a Y-Strap compression system on the right side, which you can pull tighter in order to compress your clothes and make more room in the suitcase. I've personally never had much use for this, as my issue is weight rather than volume, but I'm sure it's useful if you're using packing cubes or folding your clothes rather than rolling them.
What I DO use is the divider that's attached to the Y-strap, which has one large mesh pocket for additional storage. I store all of my bathing suits in this pocket. You can also opt to remove the divider entirely if you don't need it.
And lastly, there's a laundry zip-bag tucked into a little side pocket on the right side of the suitcase – a must for keeping your dirty clothes separate from your clean clothes.
July Checked Suitcase vs July Checked Plus Suitcase: Which Is Better?
I debated for quite a while between these two suitcases before deciding on the Checked Plus. I later realized that the Checked would have been the better choice for me.
Here are the specs for both:
My old checked suitcase was about 100L, so I thought 80L wouldn't be quite enough room for me. But as it turns out, 110L was too much room. When I packed for my 5 months abroad, my suitcase ended up weighing 32kg and I had to pay extra for overweight baggage on ALL of my flights.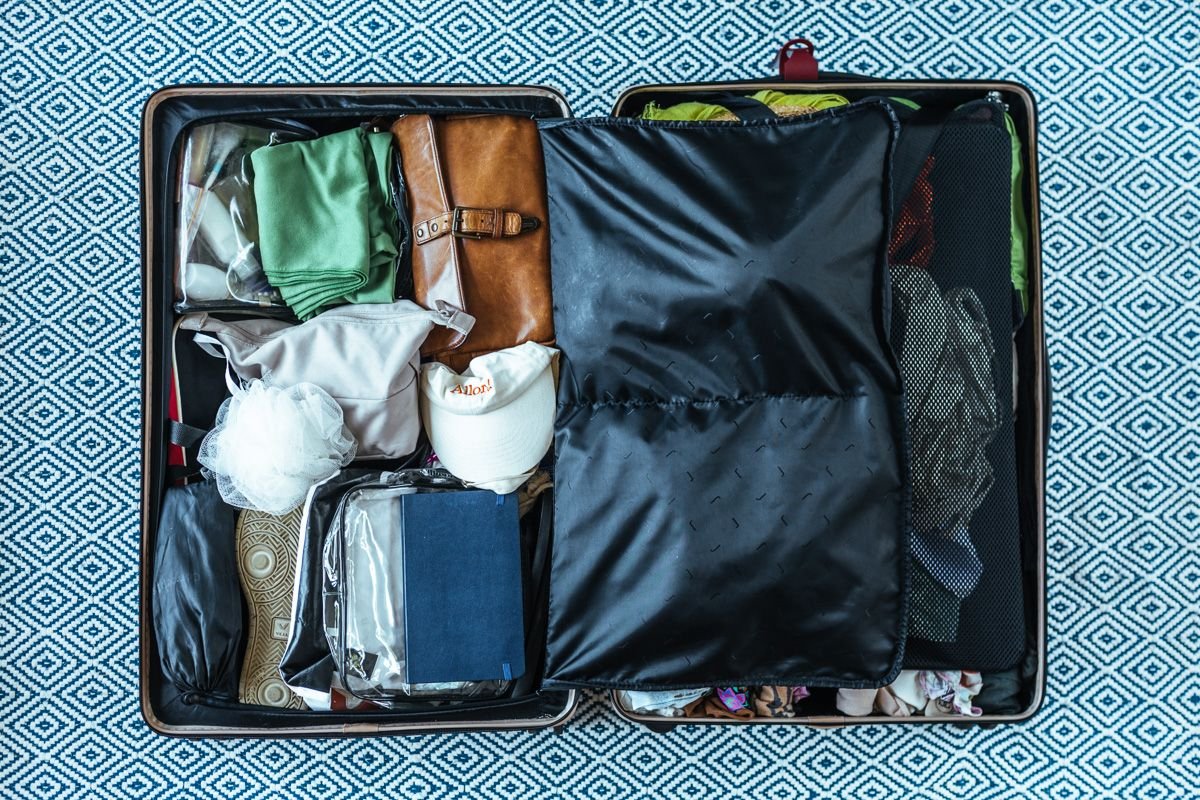 After that first flight, I thought ok, let me at least pre-pay online for extra baggage before my other flights on this trip so it won't sting as badly as paying at the check-in desk like I did at Sydney Airport. But what no one seems to talk about is how for many (most?) airlines, you either cannot have a bag that's 32kg, or you can but it costs way more than having two 23kg bags.
So for those 5 months, I bought a cheap duffel bag off Amazon and used it as my second checked bag. I'd fill up my July Checked Plus about 75% so that it would weigh 23kg, and I'd put the remaining luggage in the duffel.
For me, I don't really see a use case for a suitcase this large. If I can't fill it up more than 75%, what's the point? I might as well go with the smaller Checked suitcase – or better yet, two of them.
If I were to fill both suitcases up to their max, the Checked would be about 23kg and the Checked Plus would be about 32kg. Obviously it depends on *what* you're packing and *how* you pack, but this is true for me, someone who packs their suitcase as if it were a game of Tetris.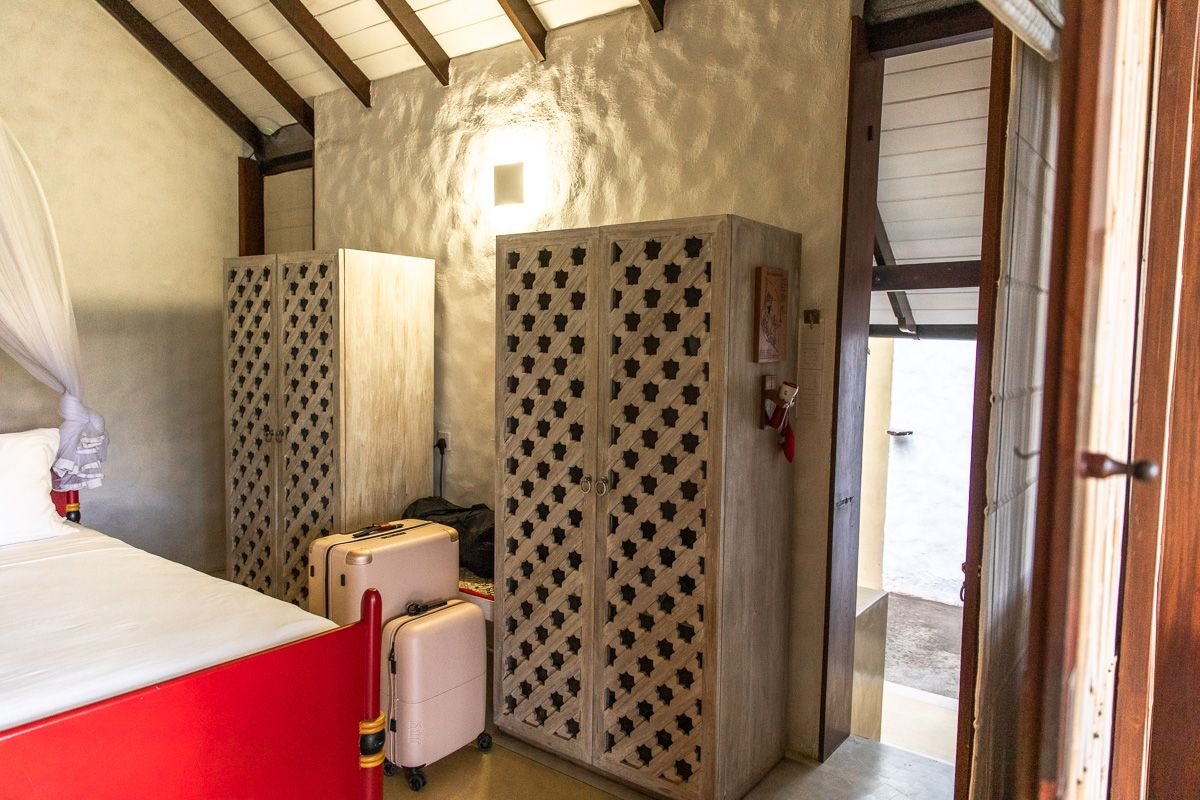 In Sri Lanka.
So who is the Checked Plus suitcase for?
If you're constantly flying business class and have the luxury of taking extra luggage, then the Checked Plus is perfect for you.
Or if you're moving countries and want to take as much of your belongings with you as possible, you probably won't mind paying *once* for an overweight bag.
Or if you're more of a sloppy packer (i.e. you fold your clothes rather than roll them, or don't make any effort to save space), you might need the extra space of the Checked Plus suitcase to fit 23kg.
But for most people, it just doesn't make sense having such a large suitcase that's bound to be overweight on every flight. If in doubt, go with the July Checked suitcase.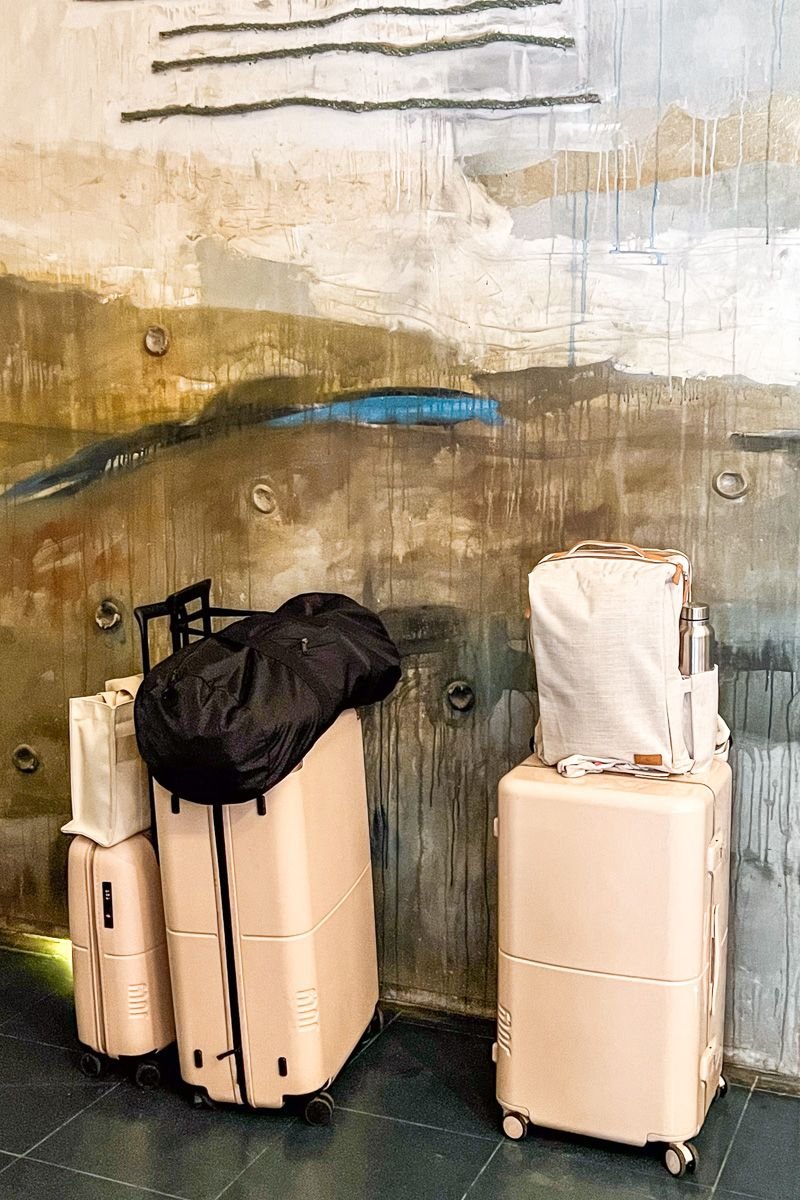 What are the odds that I end up on a FAM trip with someone who also has a July suitcase in the same color?! (Hers is the Checked Trunk)
Or better yet: try the new Checked Expandable suitcase! This one comes with an extra zipper which adds an additional 10L of volume when unzipped, making it a 90L suitcase. I think this would be the best option for me, but unfortunately it wasn't available when I ordered my suitcases. I like having the option of making it a little bit bigger, just in case I end up buying something overseas that wouldn't fit into a 100% full 80L suitcase.
CLICK TO BUY THE JULY CHECKED PLUS SUITCASE
Thank you to July for providing me with the Carry On Light suitcase and the Checked Plus suitcase free of charge in exchange for this review. Note that all opinions expressed here and elsewhere on this blog are my unbiased own, and are uninfluenced by any gifts or incentives I may receive.
Pin it!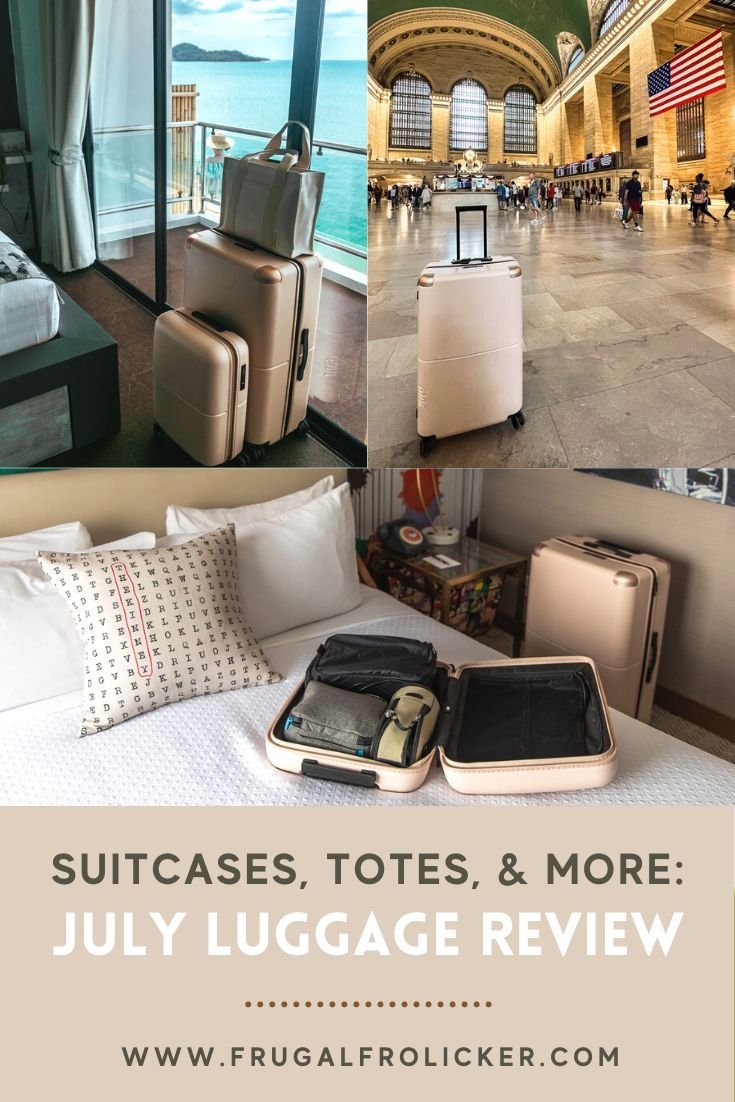 Pin it!