If there's one thing I know well, it's the best cafes in Bondi to get some work done on my laptop. As a digital nomad turned Sydney-based freelancer, I have spent the better part of my working hours these last two years hopping from Bondi cafe to Bondi cafe, seeking a workspace that felt juuuuuuust right (y'know, Goldilocks-style). And I won't lie, it's been a frustrating experience.
One of the few things I miss about living in New York is having countless cafes nearby serving great coffee, providing outlets and WiFi, and open late. Sadly I haven't quite been able to find a cafe in Bondi that has it all.
Sometimes I debate moving back to Melbourne and becoming a morning person, which would take care of the coffee quality and opening hours issues I'm having here – but who are we kidding? I'm a Sydney girl, and a night owl, and damn am I lucky to be able to walk from my "coffice" to the beach every day.
So here are the best cafes in Bondi and North Bondi for getting work done: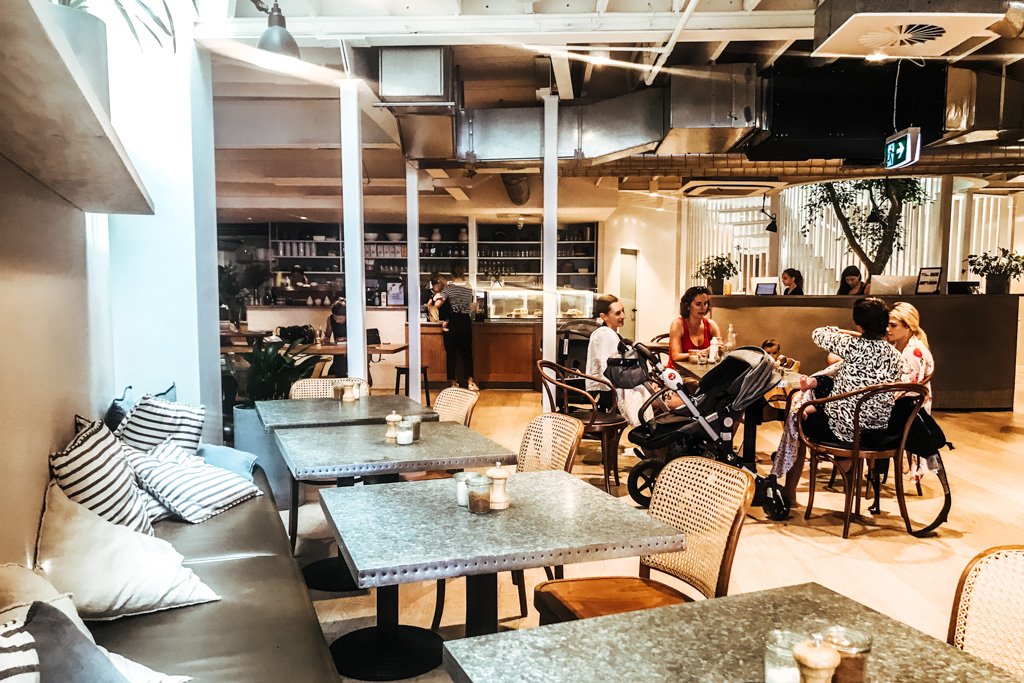 The Well
I usually default to working at The Well because it feels like my second home. The Well is a holistic wellness center that's part-gym, part-cafe – it's only been open since late 2017, so it still feels quite shiny and new. Think plants everywhere, nice wooden tables, and marble counter tops. All their food is farm-to-table and insanely delicious – I would know, I've sampled pretty much every dish by this point ;)
I have a (painfully expensive but very worth it to me) membership because I'm obsessed with their pilates reformer classes; the beautiful cafe downstairs is a very welcome added bonus. It means that I pretty much spend most of my days here working and working out. I love that I'm constantly surrounded by staff, instructors, and cafe regulars when I sit down with my laptop – this really makes it feel like a community.
The Well's become quite popular with laptop workers so they've limited WiFi access for those who aren't members (see below for details). Despite this, it is still a great Bondi cafe for getting work done. Be sure to say hi if you ever see me here!
Address: 78 Campbell Parade, Bondi Beach
Hours: 7am-3pm daily (it's usually fine to stay well past 3pm working – they just shut the registers down by 3)
WiFi: Members get free WiFi; guests can ask for a 45-minute voucher with each purchase
Outlets: There's an outlet within reach of nearly every table
Coffee: Average-to-great. Sometimes it's up there for some of the best coffee in Bondi, while other times I almost regret ordering a cup.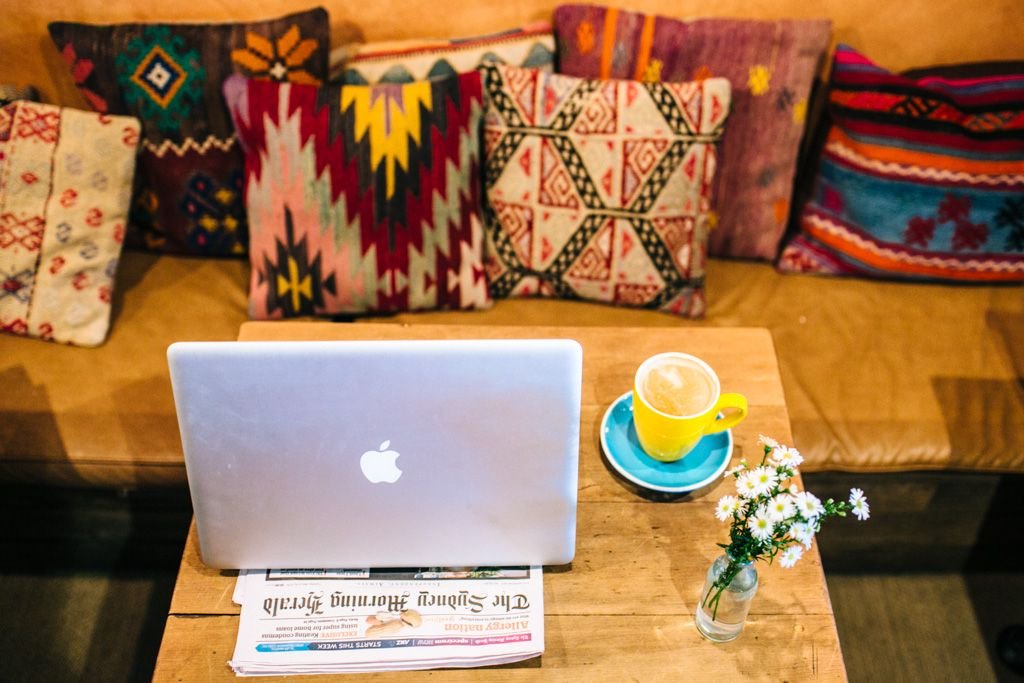 Chapter One
Close to The Well is another good Bondi cafe for working, Chapter One. It's super cozy, rarely busy, and offers a view of the beach if you manage to snag a table in the front. And it's my good friend V's favorite place to work, so that says something too, I think!
Address: 34 Campbell Parade, Bondi Beach
Hours: 6:30am-3pm (except on Mondays, when they close at 11:30am)
WiFi: Yes
Outlets: Not many
Coffee: Good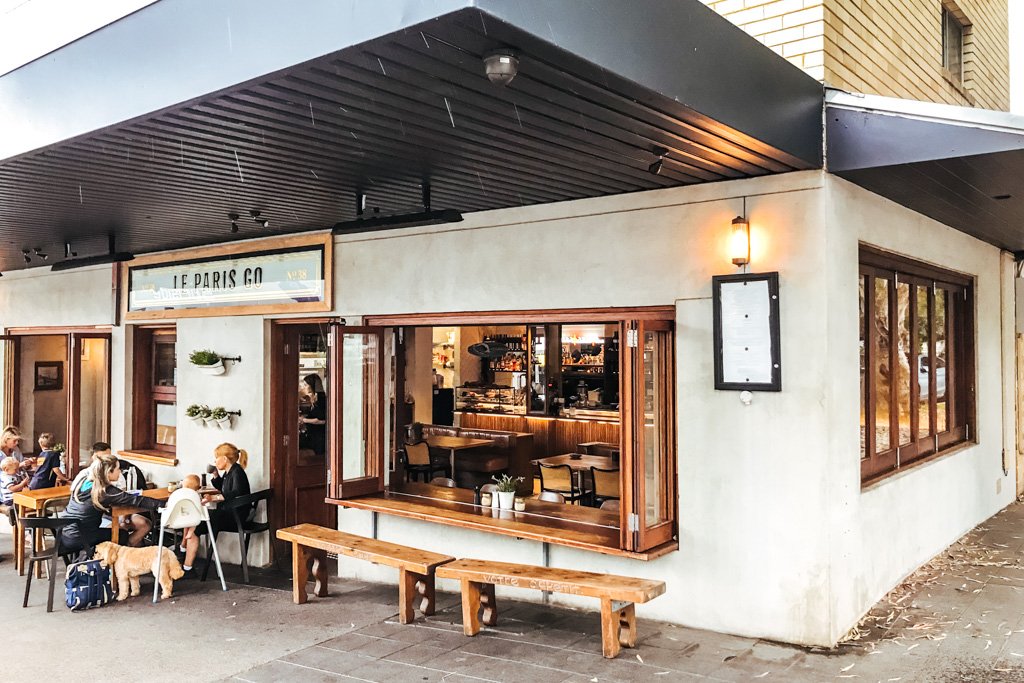 Le Paris-Go
Le Paris-Go is a very popular Bondi cafe for brunch, and it's also become a hotspot for laptop goers. I'd classify it as buzzy rather than cozy – centrally located on Hall Street, it can get pretty busy.
Paris-Go is an especially nice place to hang out when the weather's good because they have large open windows all around the perimeter, excellent for people watching. I sometimes come here when I want to stay in one place and work into the evening, as they're open a bit later than most of the cafes in Bondi.
Address: 38 Hall Street, Bondi Beach
Hours: 7am-6pm Sun-Wed, 7am-7pm Thurs-Sat
WiFi: Yes
Outlets: Not many
Coffee: Average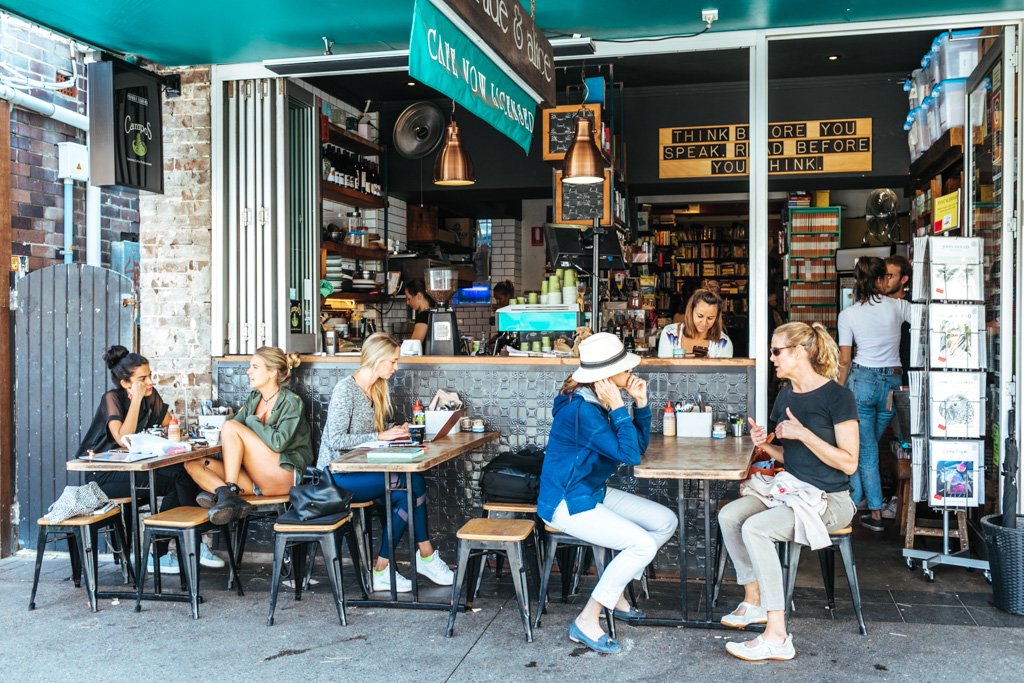 Gertrude & Alice
Gertrude & Alice is a Bondi institution and so beloved by locals. It's essentially a cute little bookstore with a cafe inside, very much a place in which you could wile away an entire afternoon absorbed in a book.
To be honest, this isn't the best cafe in Bondi for working: there's no WiFi or outlets, and they can be quite Nazi-like if it's busy and you've been sitting at a table for awhile (i.e. they'll badger you to order more food or drinks and if you don't, they'll ask you to leave). BUT – the coffee is stellar, and the ambience is unbeatable. Who wouldn't feel inspired to work when surrounded by books on all sides?
Gertrude's is good for when you need to get some reading or writing done and don't want to be distracted by the internet, when you're wanting to work after 4pm, and when you're planning to order more than just a cup of coffee.
Address: 1/46 Hall Street, Bondi Beach
Hours: 7am-8:30pm
WiFi: None
Outlets: None
Coffee: Excellent, and some of the best in Bondi. Occasionally it will fall a bit short, but the majority of the time the coffee is very on point.
Rocker
Rocker's a classy joint that serves as a great drink or date spot, but it's strangely near-empty during the day… which makes it ideal if you need to get some work done in quiet. I actually used to work here quite often before I discovered The Well, but mostly because it's the closest Bondi cafe to my old apartment.
Address: 5/39-53 Campbell Parade, North Bondi
Hours: Wed 8am-10pm, Thurs-Sat 8am-11pm, Sun 9am-10pm, Mon-Tue closed during the day
WiFi: Yes
Outlets: A few
Coffee: Average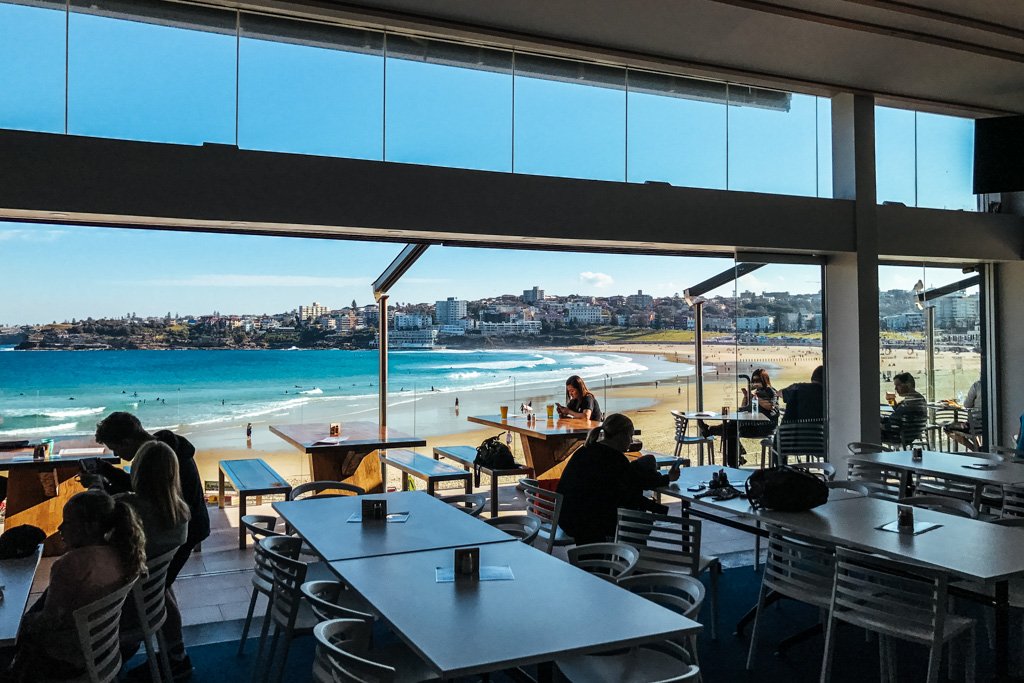 North Bondi RSL
Ok, if you're not Aussie then you might not know what an RSL is. Basically, it's an organization for those who have served in the defense force. There's typically an RSL club in every suburb (at least in Sydney – I can't vouch for other Aussie locations) where locals can gather to drink, socialize, and play the pokies (slot machines). You don't need to have served to hang out here – all are welcome.
Now, an RSL has quite a different vibe to a coffee shop, so it might not be a suitable work environment for everyone. I like coming here in late afternoon when most of the coffee shops have closed, but only if the work I'm doing doesn't require lots of concentration. Let's just say it can get a wee bit distracting with the noise and the beach views.
If you live in the neighborhood, you can pay $25 for an annual membership at the North Bondi RSL; otherwise, just show your out-of-state license or passport and you can get a free guest pass to enter the club.
Address: 118-120 Ramsgate Ave, North Bondi
Hours: 12pm-10pm
WiFi: Yes
Outlets: One, near the vending machine
Coffee: I've never had it, but given it's an RSL and not a proper Bondi cafe… I'd order something else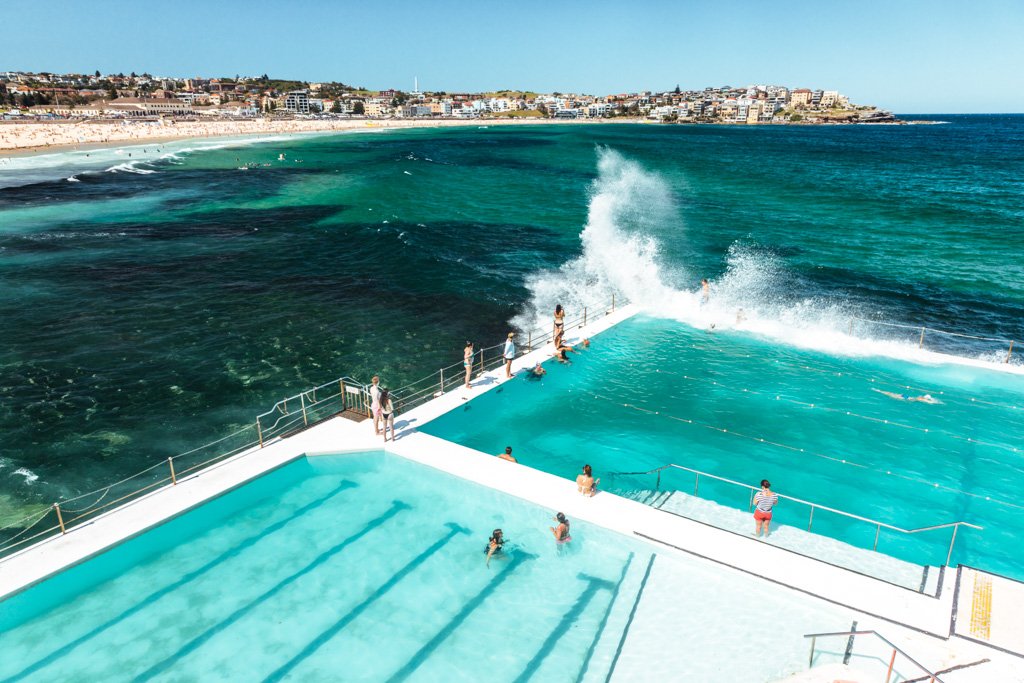 Bondi Icebergs
I'd be remiss if I didn't include the famous Bondi Icebergs on this list of cafes in Bondi. The food and coffee is nothing to write home about (at least in the cafe and RSL) – but the view? It's worth at least a million dollars for sure. It may be a wee bit distracting working with a 5-star view of Bondi Beach and the picturesque swimming pool below, but if you've got some discipline then you should definitely make this your new office.
At Icebergs, there are two different areas where you can set up shop: either the Icebergs Terrace Cafe downstairs, or the RSL club upstairs. The cafe only has outdoor seating and no WiFi or outlets, which makes it not-so-great for working for long periods. The RSL upstairs, like with the North Bondi RSL, is a club where you either need to be a member, or show an ID proving you live > 5km from the venue.
I'd say the RSL is better for working on your laptop because it has bigger tables and shade from the sun, but the cafe has a better atmosphere.
Address: 1 Notts Ave, Bondi Beach
Hours: 12-8pm cafe / 11am-11pm RSL
WiFi: Only in RSL
Outlets: Only in RSL
Coffee: Average
Orchard Street
Orchard St isn't the typical coffice – there aren't any tables or outlets to accommodate freelancers with laptops. Yet somehow it's still a nice place to work and absolutely bursting with good vibes.
Go to Orchard Street to sample their raw food, juices, and elixirs and curl up with a book (or your laptop) on the platform or chairs outside. The building faces west, making it ideal for late afternoon work sessions in the sunshine. It's not the Bondi Beach cafe to go to if you need a full day to work, but it's perfect for a couple hours.
Address: 2 Brighton Blvd, North Bondi
Hours: 7am-5pm
WiFi: Yes
Outlets: None
Coffee: Haven't tried it – this is a place where you should order tea or some sort of healthy elixir instead!
Pin it!