Never in my wildest dreams did I think I'd live in a beautiful apartment just minutes from one of the world's most beautiful beaches, but such is the life I seem to have manifested for myself.
Actually, the truly shocking thing is that I've managed to furnish and decorate the whole place myself with absolutely zero experience. I was never interested in decorating my old Brooklyn apartment – partly because I always kinda had one foot out the door knowing that NYC would just be my temporary home (so why bother putting much effort into it), and also because interior design has never been an interest or skill of mine.
My previous home in Brooklyn was a mish-mash of non-cohesive furniture, my old bedroom a dark cave that I literally only inhabited while sleeping. I never prioritized making it a home, so instead it always felt like a place to crash when I was done with my day.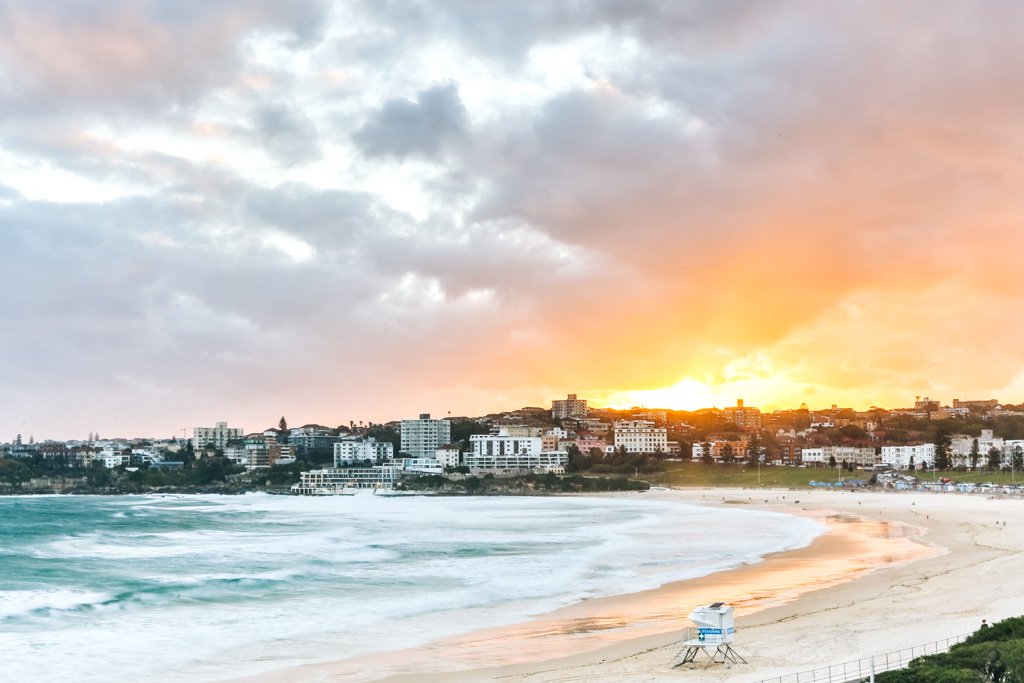 My backyard :)
But after two years of being nomadic and staying in countless other homes around Australia, it suddenly became important to me to make a home for myself.
I feel like I've finally arrived, that I've found my place in the world – and I want to fully love where I live, both location and home.
It has been a verrrrry slow process of building my new home. I've lived in this apartment for 15 months and only now feel like I'm ready to share it with others.
Are you ready to take a peek inside my Bondi Beach pad? Here we go!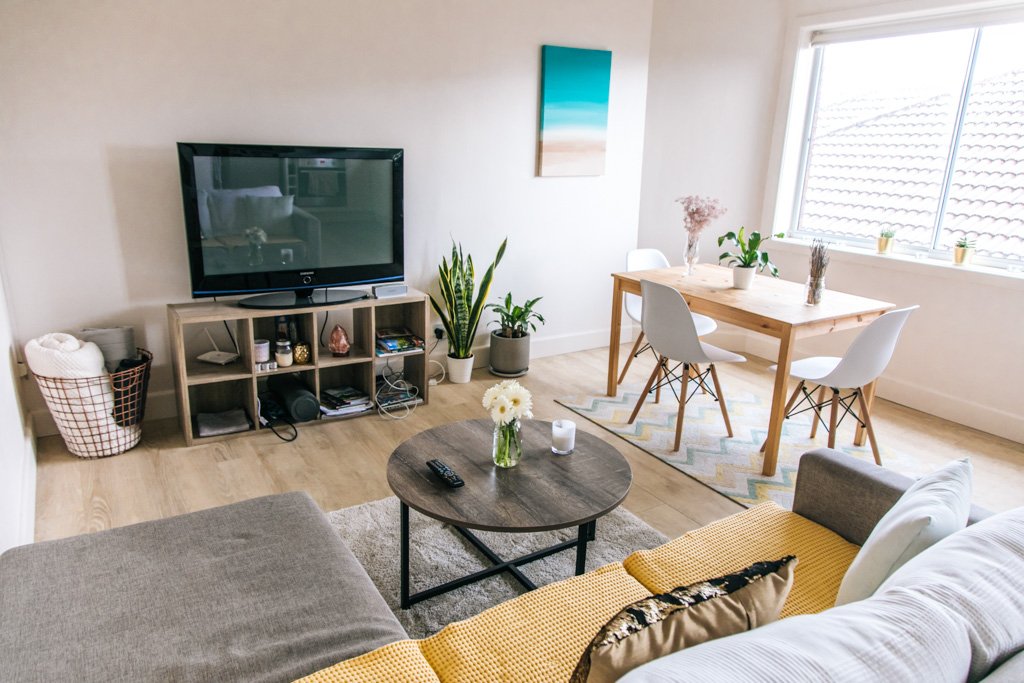 First, a few details: This is a 2-bedroom unit on the second/top floor of a 6-unit building in North Bondi, a beachside suburb in Sydney, Australia. It's about 1/4 mile from the front door to the sand at Bondi Beach – that's a 5 minute walk to the beach!
This 2br apartment is about 600 sq ft by my estimates and freshly renovated. The rent is about US$300/month more than the rent on my old Brooklyn 2br apartment (which was larger, older, nowhere near as nice, and honestly should have cost us more than it did).
After a year of sharing this apartment and the lease with another person, I am now the sole leaseholder and sublet the extra bedroom. While it's a wee bit scary being the only one on the lease and more than a wee bit stressful when it comes to filling that other room periodically, I feel like I have so much more freedom now. The apartment feels like mine – everything in it is mine, and all the decorating decisions have been made by me.
The ultimate dream is to live completely on my own, but I'd say this is pretty dang close in the meantime.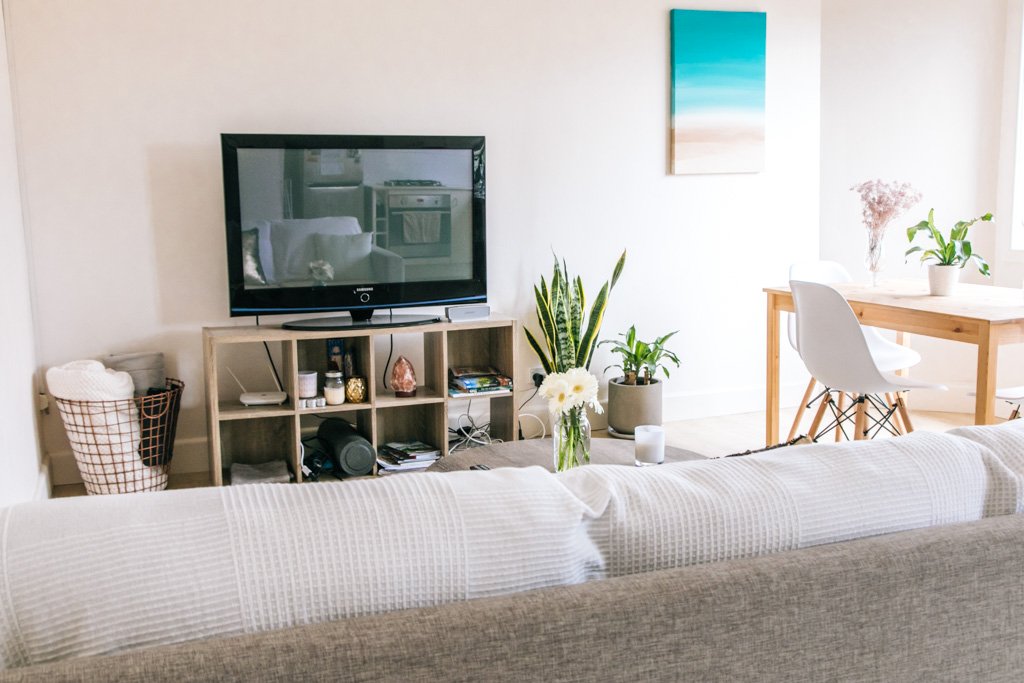 I actually painted that canvas myself! Anna had a little painting party at her place last year and taught us how to paint a beach scene.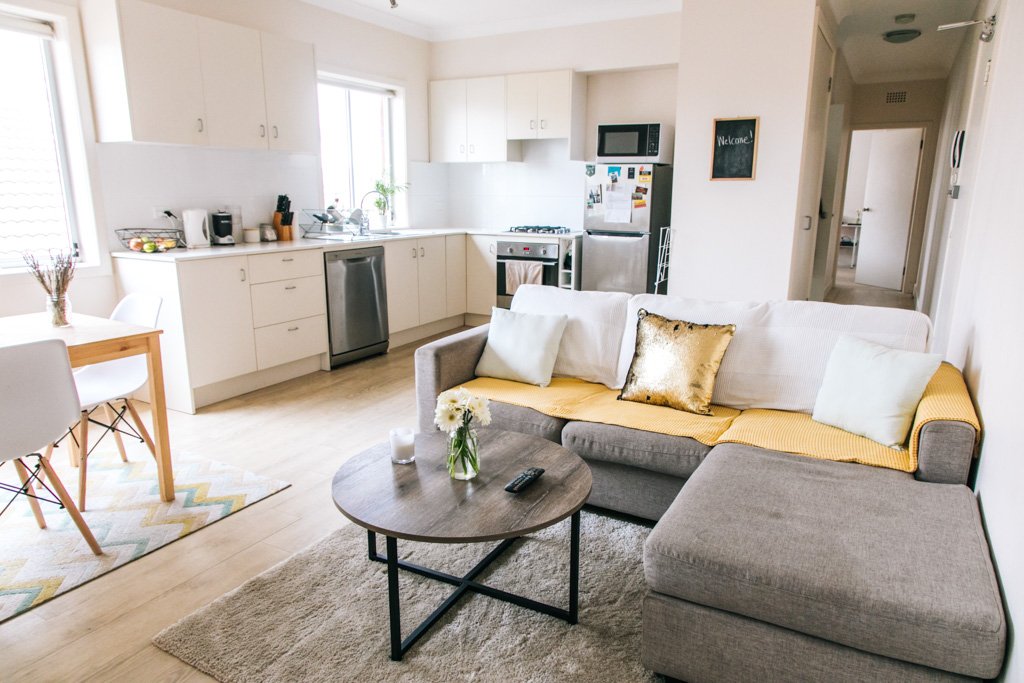 The living room, dining room, and kitchen are essentially one big common room, which is fine – though if given a choice, I'd prefer a bit more separation.
The first door on the left down the hall is our laundry cupboard, equipped with a washing machine, dryer, and sink… which was too tight of a space for photos, so you'll just have to take my word for it!
I found that microwave sitting on the sidewalk outside of our building. I very rarely microwave things and so didn't want to buy one, but I mean if it's free… why not?
Dishwashers are somewhat rare in rental apartments in Sydney and NYC, yet I somehow lucked out both times with having one, even without making it a priority while apartment hunting.
Also, I'm super weird in that I derive much pleasure from unloading dishwashers and clothes dryers. I mean, who doesn't love a bunch of clean, warm, fresh-smelling clothes and dishes? Hands down my favorite household chores.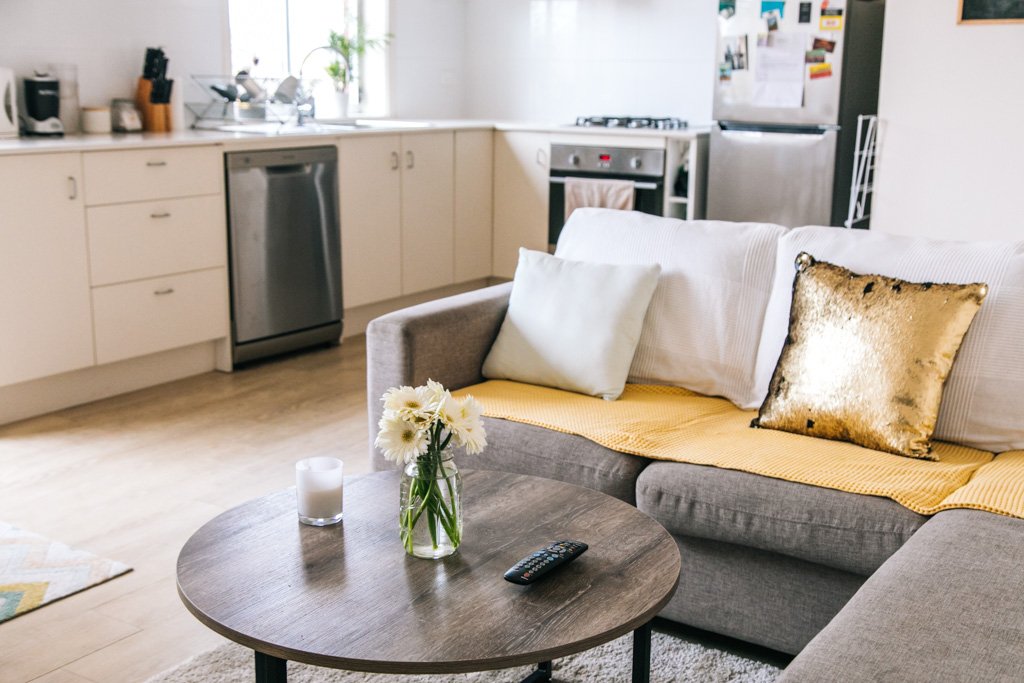 Look at me retaining some Brooklyn hipster style and embracing that mason jar life. Real mason jars are actually hard to come by in Australia, so I packed a couple in my suitcase the last time I was in the US and flew them back with me. I've since found a local website where you can buy mason jars in bulk, and soon I'll be buying a bunch to make some DIY spice jars.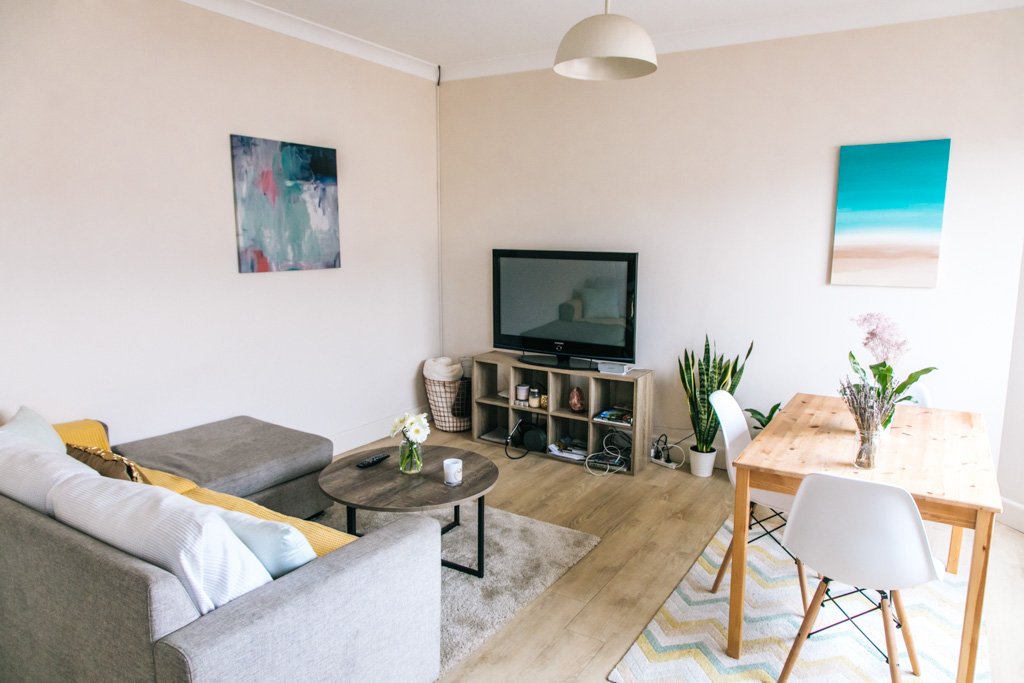 The TV stand is my least-favorite thing in the apartment. It's actually meant to be a bookshelf, but I really like using it to store random things we sometimes use in the living room (e.g. candles, magazines, books, laptops, wifi router). I haven't found a(n affordable) TV setup I like enough to copy, so for now this one stays.
The blanket basket we found on the street outside of our building. My sister thought it would be worth snatching up, and my immediate thought was: blanket storage! It works, right?
I also want to decoupage the coffee table with beach photos that are full of tropical blues! Which means I should probably start collecting and cutting out photos for it…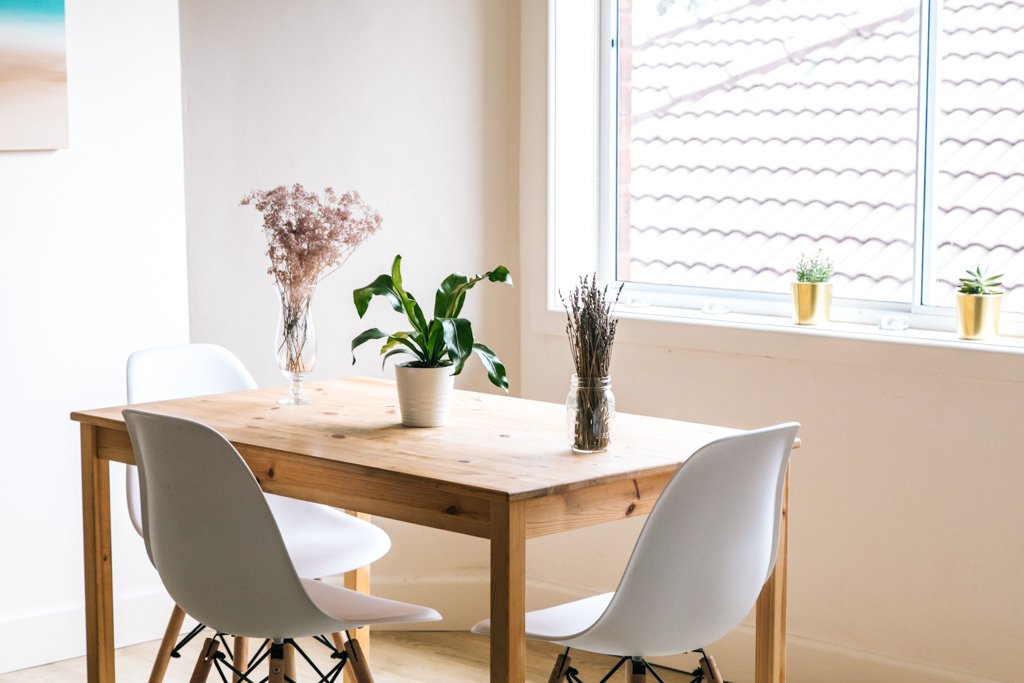 It's incredible what a few plants and flowers can do to spruce up a space! Ikea has made a small fortune off of me these past few months.
These chairs are stylish, but not very comfortable and I don't think are meant to be sat in for too long. I keep having to retighten the screws on my work chair which is a bit annoying.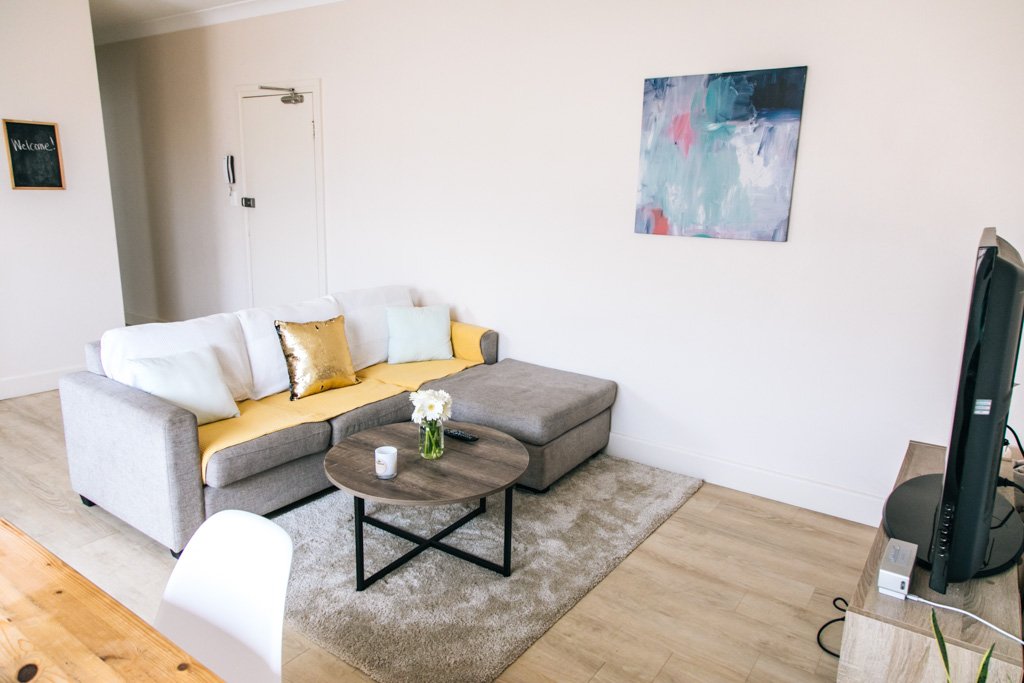 This canvas is a cheap one from Kmart. I'd much rather have a giant framed beach photo here, but I can't put any nails into the wall and had another frame fall and shatter to pieces when I used the 3M velcro tape. So… modest-sized canvases it is!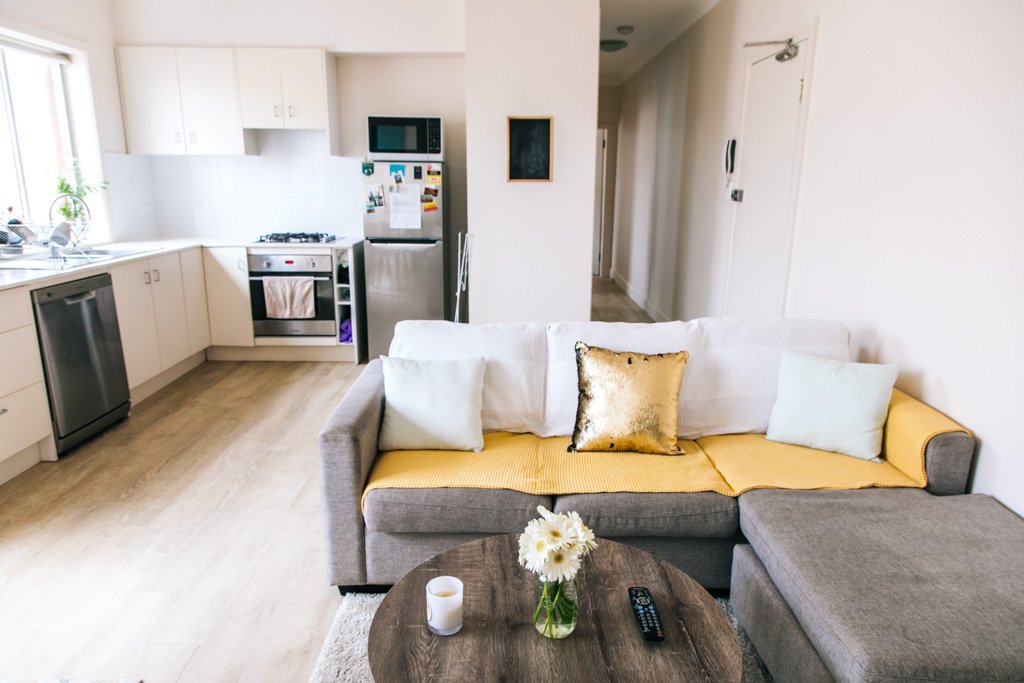 I've also developed a love for candles since moving in here. Anything woody or spruce-y is very up my alley; no vanilla or fruity smells, thankyouverymuch. I've been playing with tea lights recently – you can see the little holders along the windowsill.
The zig zag rug was one of the first items I bought for the apartment when I first moved in. I love the color palette in it and have tried to match other household items to it.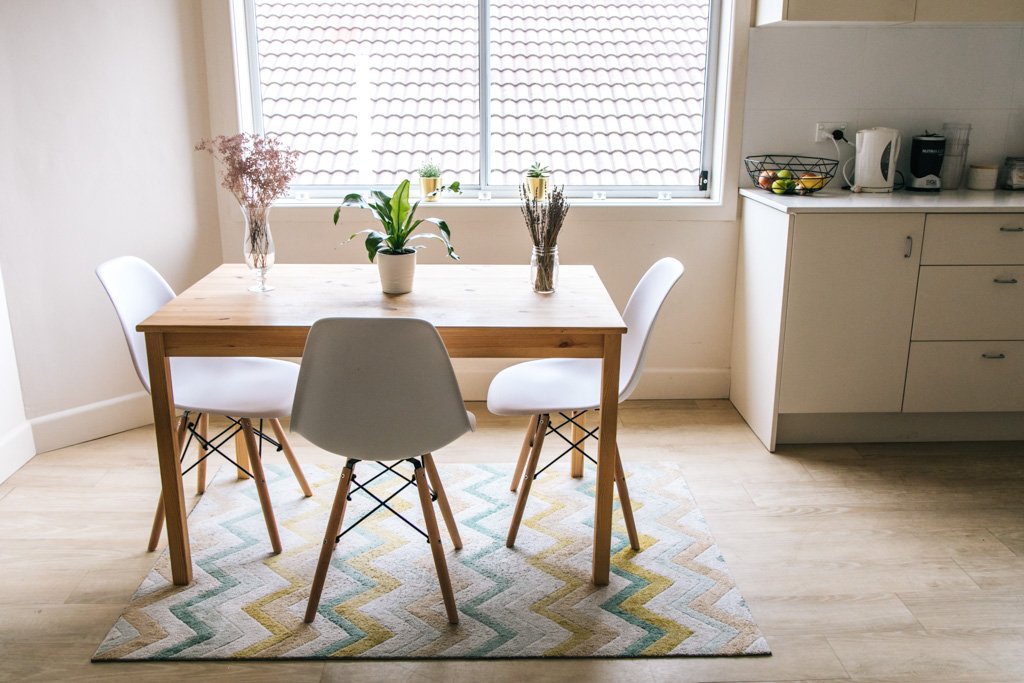 I bought a bunch of dried lavender from a shop in Mudgee on our Easter getaway and now have it in every room of the apartment. I want to use the rest to make some lavender eye masks (you know, the ones you place over your eyes when you meditate or do savasana in yoga class).
I absolutely LOVE our bathroom. I'm really not a fan of having to step into a tub and battle against an unruly shower curtain in order to shower, so this is basically my ideal setup.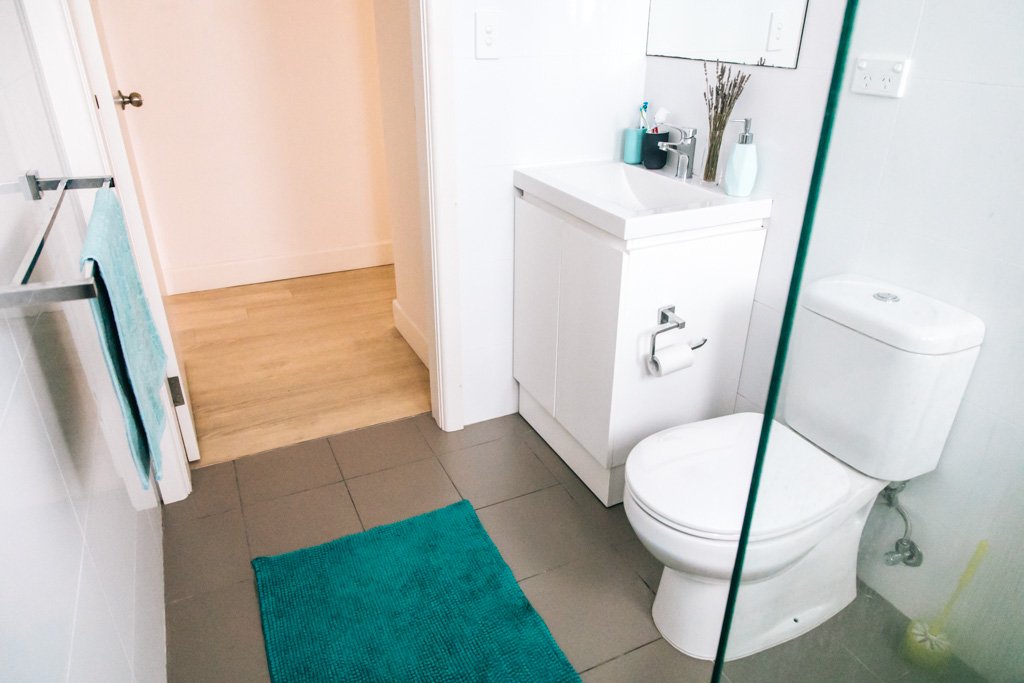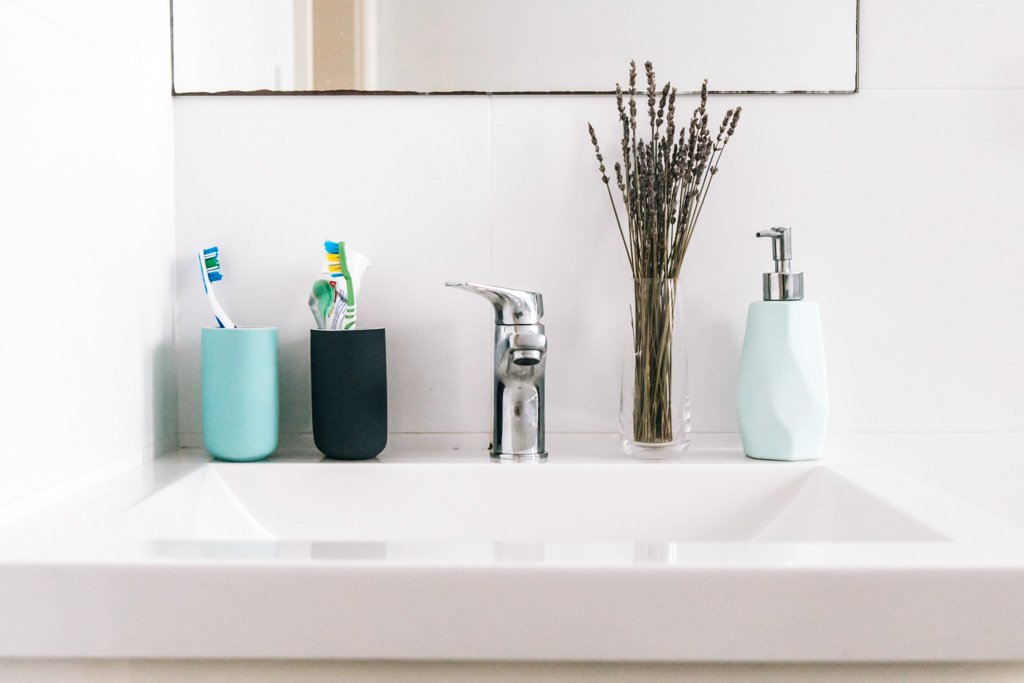 At the end of February, I moved into the master bedroom which is about 60% bigger than my old room. I knew I wanted it to be white, bright, and minimalist – beyond that, I had not a clue how to decorate my new bedroom. I kind of like that it was that way though, 'cause I put it together piece by piece in a very organic way.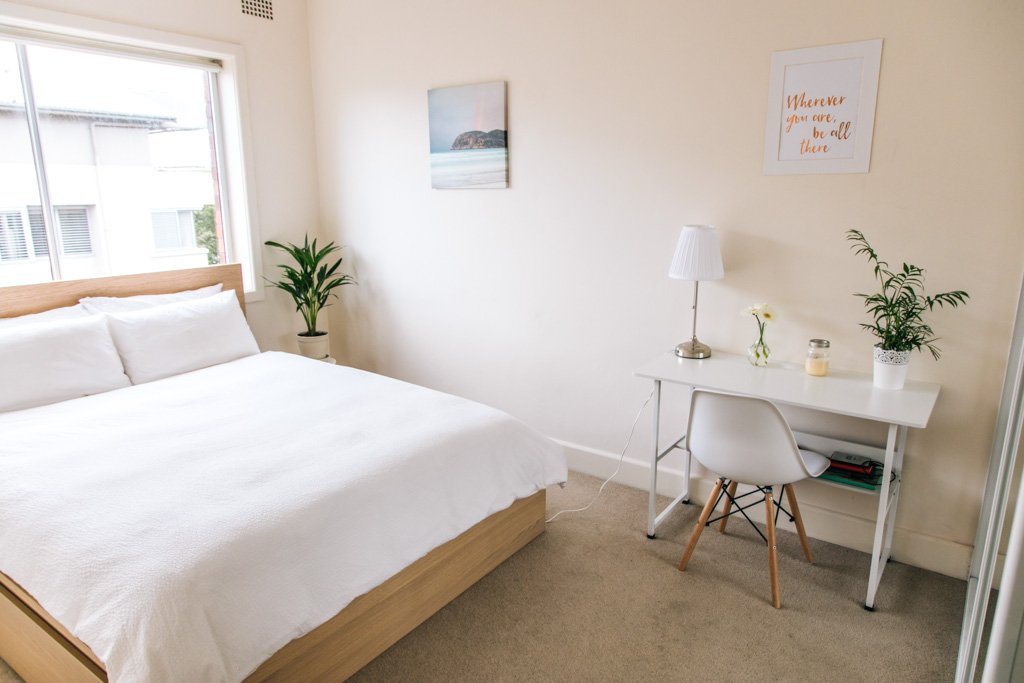 I knew I wanted to have space on both sides of my bed, even though I'd probably ever access it from one side. For some reason I sleep better when my bed isn't in the corner. Maybe it's something to do with the symmetry?
I don't mind that it's not the most efficient use of floor space because I don't want to fill my room up with unnecessary furniture anyway. My bedframe is lined with a little ledge around the edges, which is perfect for leaving my phone or kindle while I sleep. Who needs a bedside table? Not this girl!
The bedframe also has two pull-out drawers on one side, which I use for storing folded clothes. The other side is open, and currently is where I stash all my cords and my photo gear.
The window is lined with fairy lights, which offer just the right amount of light for bedtime reading.
I suddenly became fixated on getting a hanging plant for my bedroom – I have no idea how the idea came to me, but once it did I just couldn't cast it aside. I spotted some chain of hearts at a plant sale I attended and knew they'd be perfect. They've already more than doubled in length in 6 weeks!
I was also sure that I wanted some sort of desk in my room. Since I work from home, it is hugely important that I have my workspace.
Previously, I had used the dining room table as my desk and had it sitting in the corner of the living room (aka my office) – but I had no privacy when I needed it, and nowhere to retreat to in the evenings when I wanted to work but my flatmate was around.
So now I use both for working and switch it up depending on time of day, lighting, mood, and who's around.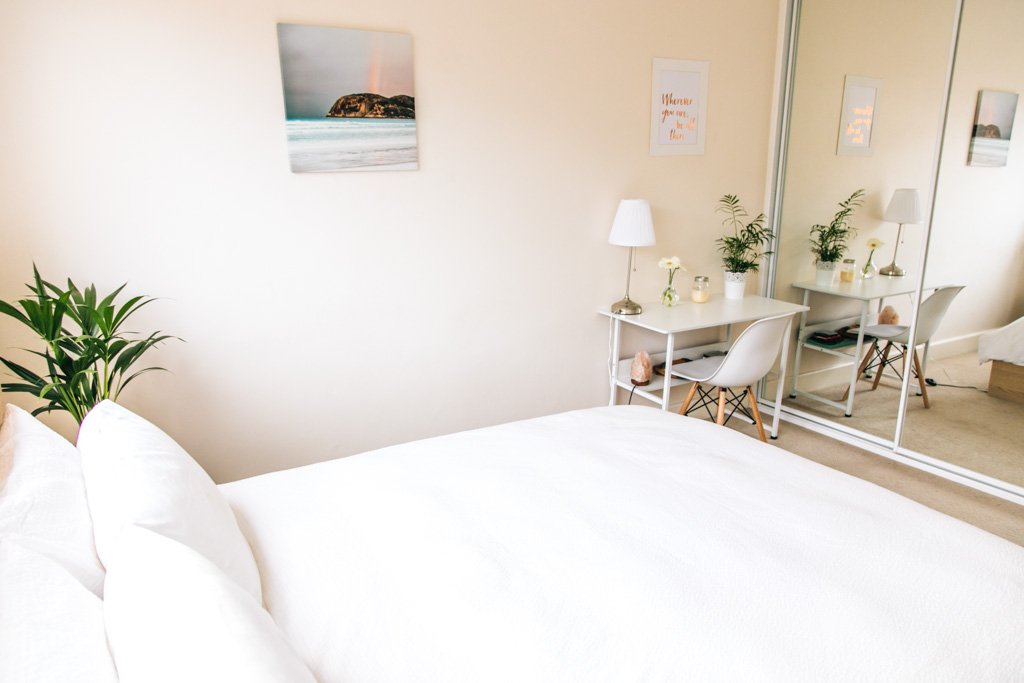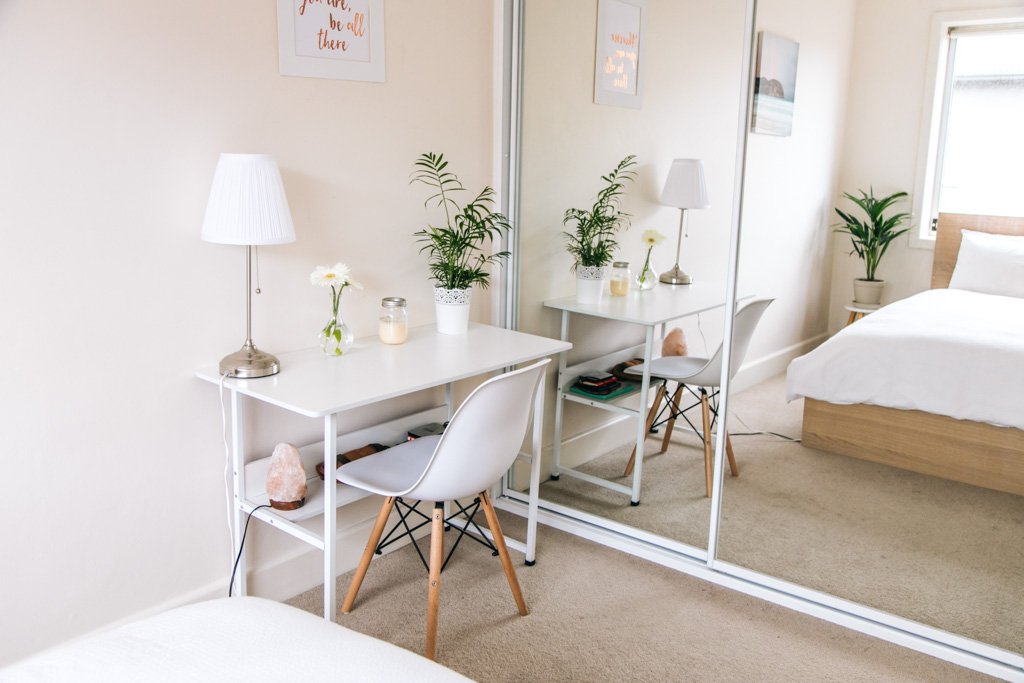 Yep, that's a mason jar candle! There's a Korean lady at the Bondi Markets that sells 'em, and I got one called Vampire Blood (the wax looks reddish when it melts). If you clean out the jar and bring it back to her for a refill, you get $5 off your next candle – how good is that!
And yes, that is a Himalayan salt lamp. I used to think they were silly – then I got into yoga and spirituality and now I'm in love. DEAL WITH IT.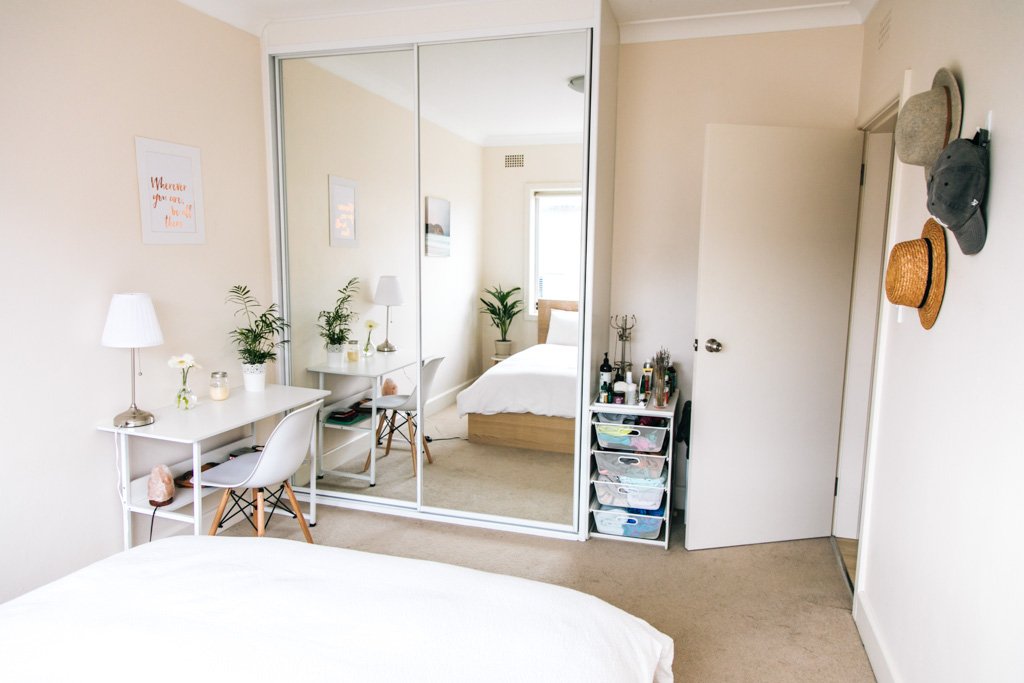 Those little drawers house my most important clothing items: undies, bikinis, and beach towels! Between these and the drawers in my bedframe, I have absolutely no need for a proper chest of drawers.
I carried over the hanging hat system from my old bedroom. That wall has plenty of space to accommodate more hats (aka permission to add to my hat collection), but I'd also like to hang a photo print or canvas on that wall to balance out the one on the opposite wall. I just need to decide on which image to use for it!