You may have noticed that I quietly phased out my monthly recap posts this year. I loved reflecting on each month of my travels for the two years I spent traveling around Australia and surrounds, but now that I've slowed down and established a home base in Sydney, there's been less to recap on the travel front.
That's not to say life has been boring! It definitely hasn't. Mostly I've been spending an exorbitant amount of time at various beaches around Sydney: often at Bondi, since it's just a few minutes walk from my new place, but I've also made an effort to explore other beaches and coastal walks while we've still got that summer weather. I swear, as long as I live here, I will NEVER take for granted the incredible coastline and harbour Sydney is blessed with.
Above all, I've been slowly and deliberately carving out a life here. I'm sampling different yoga studios, climbing gyms, and cafes; meeting new people; getting into a work routine. It feels so good to nest!
Here's exactly what I've been up to these past 3 months settled in Sydney:

I have a kitchen! With a NutriBullet! And succulents!
House Hunting in Bondi
Come January, I was absolutely desperate to find myself a home. I thought I could hack it indefinitely as a nomad, but nope – after two years, I was on the verge of exhaustion and exasperation. Everything in me screamed STAY STILL, while the Bondi housing situation did its very best to conspire against my plans to settle down.
Let me just say that trying to find housing in Bondi Beach during summer is nothing short of hellish. In fact, I wrote all about how this process went down for me (spoiler alert: not smoothly). I inquired about SO MANY rooms for rent in the area and literally nothing worked out. Fearing more and more for my mental health with every homeless day that passed, I took matters into my own hands and applied for an apartment with a Welsh girl I'd met in the same boat as me.
Now I'm loving life in my brand-new two-bedroom apartment in North Bondi! Most importantly, I am less than a 5 minute walk from Bondi Beach and this brings me more joy than you could ever imagine. Also exciting is that everything is new and shiny. I'm paying slightly more in rent than I did back in Brooklyn, but I feel like I'm getting much more value here so for me it's worth it. The place looks pretty bare at the moment because I'm horribly inept at home decorating and wanted to wait til my bank account was somewhat replenished before I splurged on non-essentials, but I hope to add a rug and some wall prints soon! Now: who wants to come visit me in Sydney?

Girls Night in Bondi.
Getting Sick Often
Welp, 2017's been off to an abnormal start for me. I'm pretty fortunate in that I don't often get sick or hurt, or at least I never did before this year.
Since returning to Australia in mid January, I've gotten stung by a bluebottle jellyfish, caught the flu, had two colds, and got diagnosed with rosacea. All in less than 3 months! Chalk it up to stress, lots of change, or life finally just catching up with me – I'll never know for sure why all this has happened.
A few notes on the aforementioned ailments:
It is really strange being so sick when it's 100 degrees out. I'm used to catching colds and the like during winter months.
I don't think I've ever had the flu before, but after two days of not being able to leave my bed, I'm pretty certain that's what I was suffering from this time.
For awhile I thought I had a perma-sunburn on my face – my cheeks and forehead were constantly red no matter how much I stayed out of the sun or slathered on SPF50. Finally I cast my perpetual stubbornness aside and went to the doctor and she said I probably have rosacea, which is a skin condition that makes you look like you're blushing. It tends to pop up in women in the 30-50 age range of Northwest European descent with fair skin, and is triggered by excessive exposure to sunlight, consumption of wine and coffee, and a few other things… aka I probably had it coming. So far it's not been a big deal at all, except the skin around the rash flaking off daily is pretty annoying. I'm taking doxycycline, the anti-malarial I refused to take during my 2013 Asia trip because I hate all drugs, for it – oh the irony!
2 Deaths in the Family
So, my 90-year-old grandma and 50-something uncle (her son) died just 5 weeks apart, earlier this year. My grandma had been sick so we kinda knew the end was near, but my uncle's passing was completely unexpected (he died in his sleep, we still don't know how or why). I'm so glad I got to spend time with my grandma when I was home for Christmas – I think I'll always remember her blurting out "you have BOOBS!" to me (totally random and not at all brand new information, therefore hilarious).
You never really want to think about what would happen if someone back home were to die while you're living on the other side of the world. Part of me felt guilty for not being there with my family and not being able to help with anything. Mostly, I just felt very alone. I still randomly tear up when I think of them.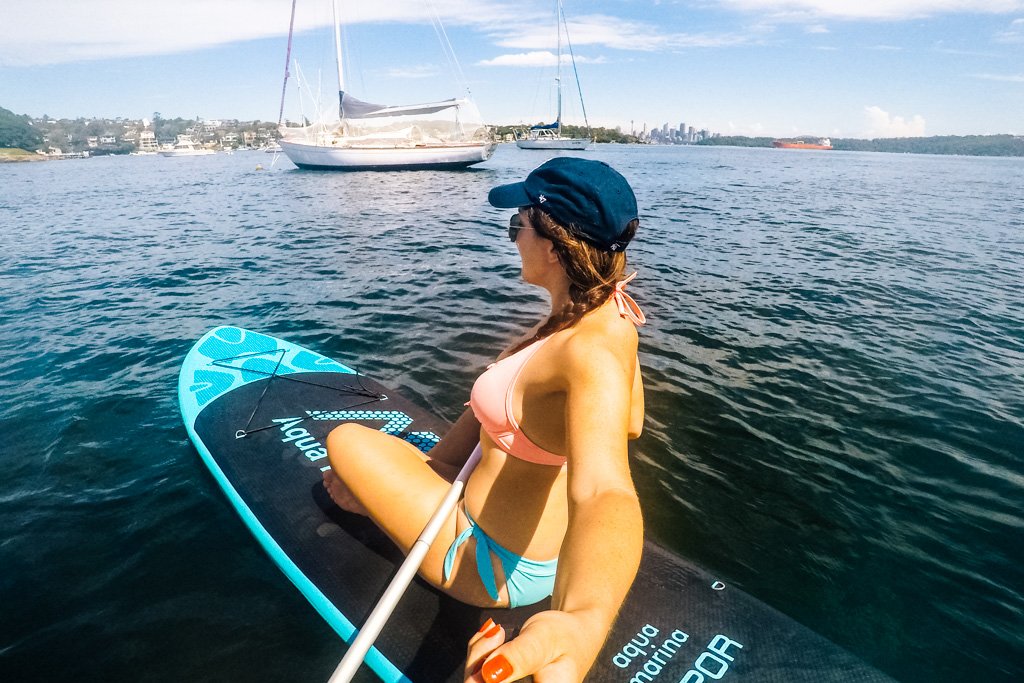 New Fitness Routine
One big reason I was ready to settle down for awhile was that I wanted to get back into a fitness routine. I've kept my weight consistent over the past two years (actually, fun fact: I've been approximately the same pants size since 8th grade, +/- maybe half a size), but I just didn't feel as fit as I have in the past.
For me, the wake-up call came on some flight I took last year where I struggled a bit to hoist my heavy carry-on bag into the overhead bin, something I can normally do in one swift motion without breaking a sweat. Yes, I'm well aware that this is a little silly and that any nearby gentleman would probably be very happy to help me with my bag – but dammit, I'm stubborn and totally self-reliant and really just want to be able to do it myself.
So operation: get strong has commenced! I've been doing my typical yoga studio hopping (i.e. sign up for a cheap unlimited intro pass and then move to a different studio to do the same once it's expired) and I think I've finally found *my* studio. I love BodyMindLife not just for its yoga classes (big fan of literally every instructor I've had there thusfar), but for its pilates reformer classes. OH MY GOSH, you have no idea how excited I am to be able to use these machines again. Back in NYC, pilates reformer classes were an occasional splurge for me at $25-30 apiece, and I always limited myself to Groupon deals (which were still pretty pricey). But at this studio, you get unlimited yoga and pilates classes for about $41/week. What's more, their pilates reformer classes quite literally kick my ass – i.e. sore glutes for days. I've been working muscles that I never knew how to target before, doing movements that I never would have imagined were possible on the reformer machines.
I've also recently gotten back into indoor rock climbing! I'm not sure if I ever mentioned this before, but from 2011-12 or so I would climb 3 times per week. Travel and crossfit ended up replacing my old climbing gym membership, so I'm quite out of practice now. Hopefully climbing once a week or so in Sydney will help me regain my strength and technique.
And lastly, I bought myself an inflatable stand-up paddleboard. I'd been wanting to get into SUP for a long time but it never made sense while I was nomadic or living in NYC. I nearly talked myself out of it after dropping a ton of money on furnishing my new apartment, but in the end I gave my soul what it wanted and have been having so much fun with my new paddleboard! I'm just a 15 minute bus ride from a few of the bays on Sydney Harbour, so it's easy enough to carry it onboard in a backpack and then inflate it once I'm there. I almost feel like I'm learning faster because the water is never flat and I'm constantly struggling to keep my balance. I'm excited to paddle in more bays around Sydney!
Visa Update
SO, I'm officially on a student visa which means I have to show up for class once in awhile (at least 50% of the time, lest they report me to immigration). I'm taking a marketing and communications course at a school that was clearly set up for foreigners who are primarily looking for a way to legally stay in Australia, not looking for an actual quality education. So for my purposes, it's pretty ideal. The topic is at least interesting and somewhat relevant to me, even if the course material and assignments are a complete joke.
Speaking of which: I got invited to apply for my independent skilled visa on March 1! I knew the invite was coming after I submitted an additional work reference I'd been chasing down for months and jumped from 65 to 70 on the Points Test, so I had all my documents in order and was able to submit my application that same day. Two weeks later, they contacted me asking for additional documentation from past employment, so off I went to download my tax returns from the past 10 years, print them out, get them notarized, scan them, and attach them to my application. I haven't heard anything since then. From what I gather, it could either take 3 months for my 189 visa to be granted, or 5-7 months. Either way, it probably aint happening tomorrow so I'll be practicing patience until further notice.
Upcoming Travels
Admittedly I've thoroughly enjoyed not leaving Sydney for the past 3 months, but I'm starting to get the itch to explore beyond its world-class beaches and harbour. What I really need is to learn how to drive here and then invest in a used car so that I can take myself on adventures without relying on others (but first, money). For now, I'm resolving to take advantage of nearby getaways that I can access by train or bus.
This winter (well, summer for you northern hemisphere folks), I'll be back at it, though! I have a couple of short trips to Queensland in the works in June; then in early July I'm heading back to the US for a week to attend my cousin slash childhood BFF's wedding.
I figured I might as well hit Europe while I'm back on that side of the world, so in mid-July I'm flying to Paris and OMG I'M FINALLY VISITING FRANCE! (Hello, massive travel oversight). I'm figuring I'll have about 1.5 weeks in France, with at least 4 days in Paris and then hopefully the south of France to meet up with some of my Euro-friends (fingers crossed it actually works out). If you've been to Paris or France before, puh-LEASE leave me some suggestions and must-do's in the comments below because I know NOTHING.
From there, I'll head over to Italy in late July to meet up with another Euro-friend (my beloved Dutchman from the Sydney Uni days!). I'm just going to focus on Northern Italy for these 2 weeks, specifically Cinque Terre (the one big thing I missed on my 5 week Italy backpacking trip 10 years ago). I wouldn't mind revisiting Lake Como while I'm there, either. I'm thinking I'll end my trip with several days hiking in the Dolomites. There don't seem to be many helpful resources online for planning such an endeavor, so guess what I'll be blogging about upon my return?