If you've spent any amount of time in, or researching things to do in Sydney, then you undoubtedly know that the Bondi to Coogee coastal walk is an absolute must-do in Sydney. In my professional frolicker's opinion, it's not at all overrated and is well worth enduring the flocks of people that will be walking the track on any given day.
But what if I told you that a similar coastal walk existed with only a fraction of the number of walkers that the Bondi to Coogee walk receives? I don't know about you, but this pseudo-hermit slash hardcore introvert gets a little too excited when she's able to enjoy beautiful places in solitude.
I don't know why you never hear about the Coogee to Maroubra walk, but heads up: the coastal path doesn't abruptly end once you reach Coogee Beach. It actually continues on to Maroubra Beach. I'm pretty sure most people who walk from Bondi to Coogee don't bother continuing any further, which is such a shame because IT IS AWESOME.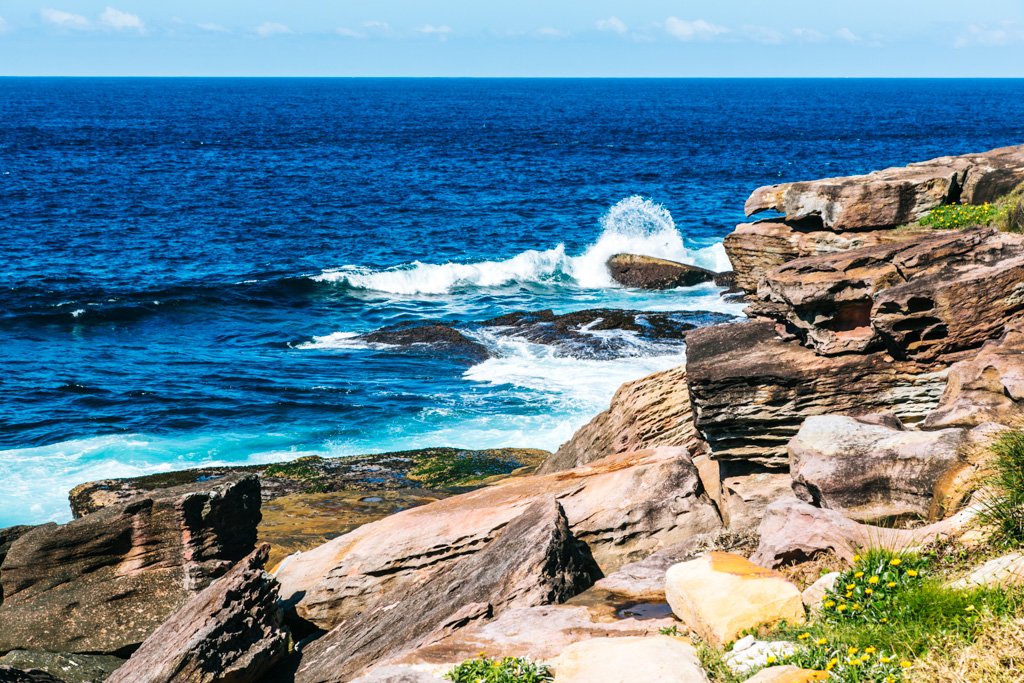 While the Bondi to Coogee coastal path is more about stunning beaches and dramatic coastline, the Coogee to Maroubra coastal walk rocks – literally. It's all about the rock pools and cool rock formations along the way. I think it's the perfect walk to do in Sydney if you're looking to escape the crowds and do a little swimming and sunbathing away from the sand.
Though it only takes about an hour to walk, you could easily spend at least a half day enjoying the Coogee to Maroubra walk because of all the pit stops and photo ops along the way.
Like what, you ask? Allow me to show you!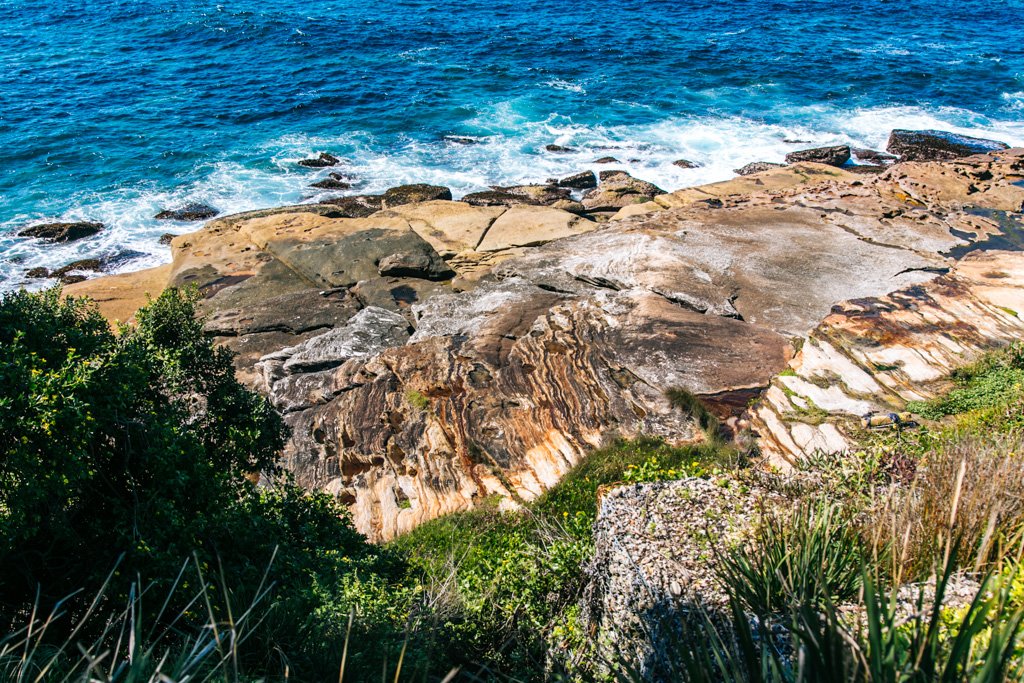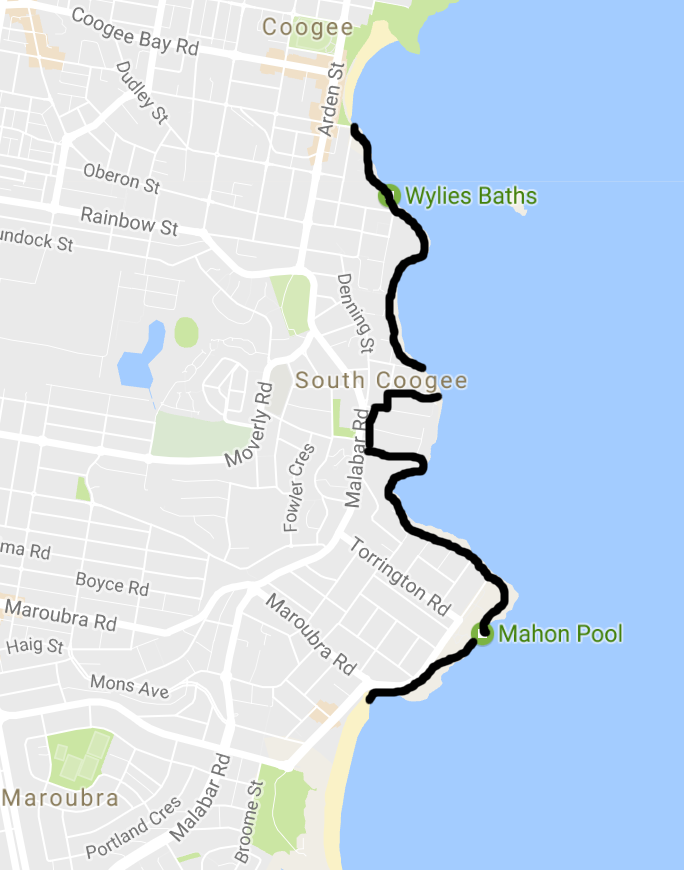 READ MORE: The 15 Best Hikes in Sydney
Coogee Beach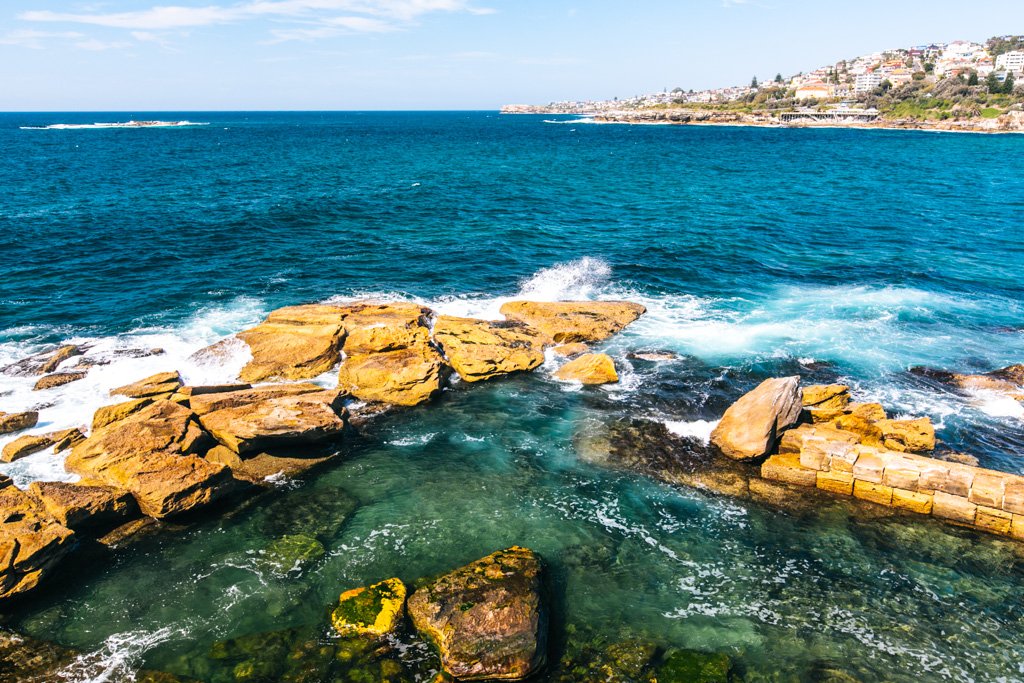 Giles Baths
This natural rock pool sits on the northern end of Coogee Beach. You'd see it if you were coming down the hill through Dunningham Reserve as you finish up the Bondi to Coogee walk – just look for the old "Giles Gym and Baths" sign and then climb down to the rocks.
I love this pool because you can hardly even tell it exists while you're on Coogee Beach, which makes it feel like a hidden gem that's sort of camouflaged in the surf.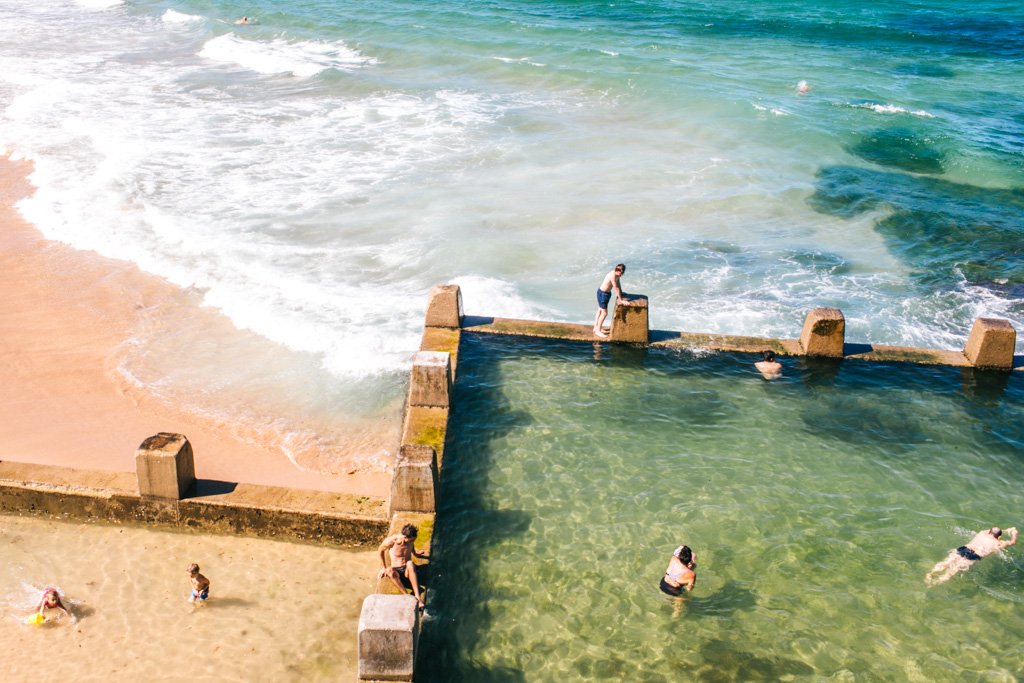 Ross Jones Memorial Pool
This pool, on the other hand, is very visible from Coogee Beach. It's located on the southern end of the beach next to the Coogee Surf Lifesaving Club.
Unlike Giles Baths, the Ross Jones Memorial Pool is man-made with concrete walls and is much easier to access from the beach. Families and children tend to use this pool more than anyone else.
Coogee to Maroubra Walk
Heading south from Coogee Beach on the Coogee to Maroubra walk, here are the swimming spots you'll pass: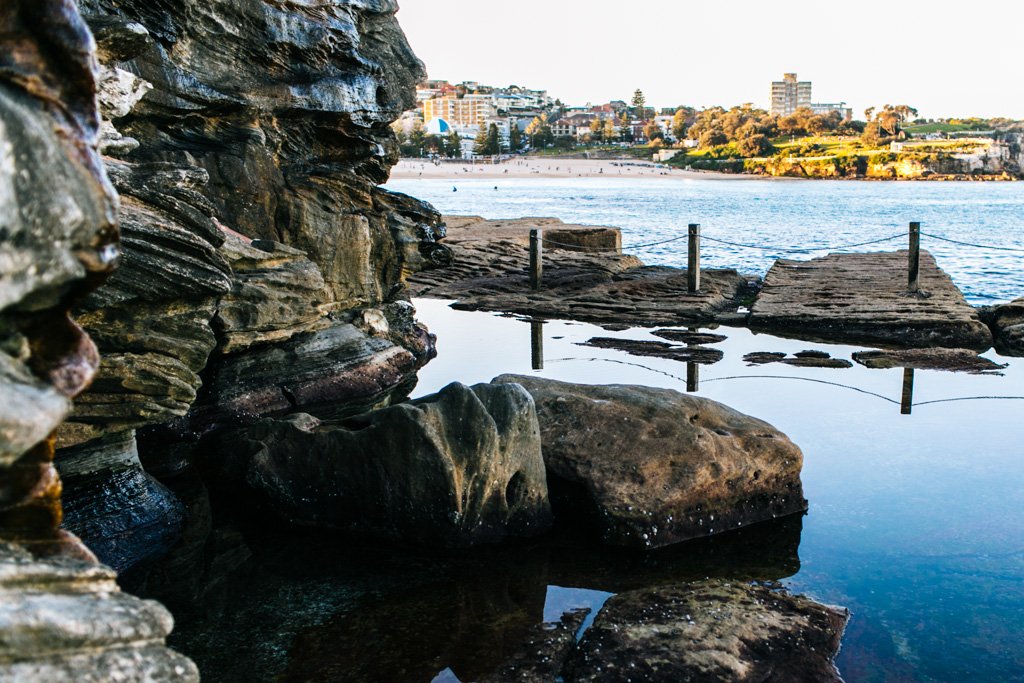 McIvers Baths
Sorry fellas – this one's for the ladies only!
McIvers Baths is the sole womens-only ocean pool left in Australia. You'll spot the sign for it while walking through Grant Reserve, followed by another sign prompting for 20-cent coins to be dropped inside the doorway for admission.
I feel bad for the men because my goodness, this pool is fantastic. It's nestled alongside the cliffs with a fabulous view of Coogee Beach and the coastline. It just feels very raw and peaceful.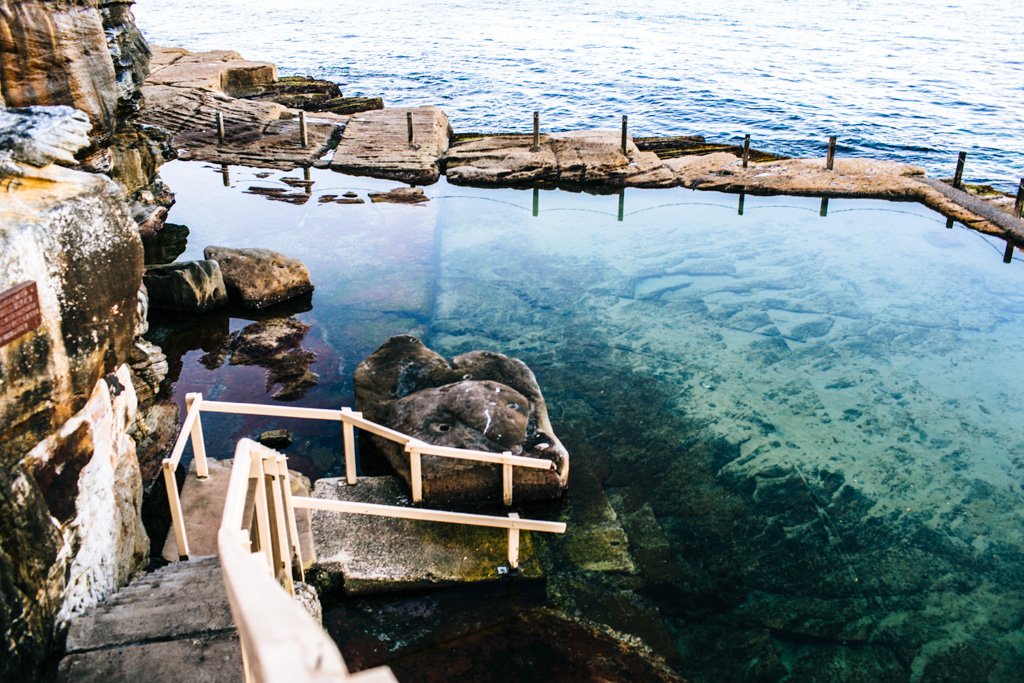 The best time to visit McIvers Baths is on a weekday morning: during the week for less crowds, and earlier in the day so that you're in the sun. The cliffs block the sun once it gets to be early afternoon, which can make for some chilly swimming later in the day.
There are changing rooms, cold showers, and a toilet for visitor use here.
Wylies Baths
Ok gentlemen, you can tune back in now 'cause this ocean pool is open to all!
Wylies Baths is just a tiny bit further down the path from McIvers Baths on the Coogee to Maroubra walk with a similar view of Coogee and the nearby coastline. This tidal pool is bigger and more built up, though, and commands $5 for admission. Once inside, you'll have access to the lap pool, bathrooms and changing rooms, and kiosk selling snacks and swimming gear.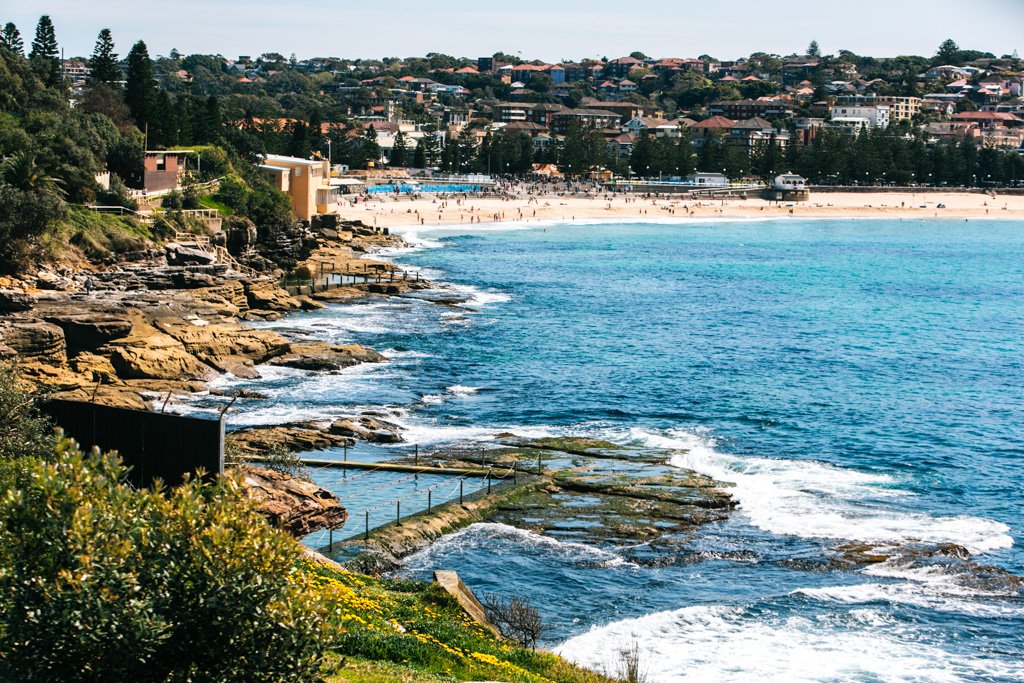 Wylies Baths is the ocean pool in the foreground.
If you're one of those people who can't spend too long lounging on the beach (or in this case, in the pool or on the deck), Wylies also offers daily yoga and pilates classes for $18 (in addition to the $5 admission fee). Check the schedule ahead of time to ensure your visit coincides with a class.
Wylies also hosts Massage by the Sea, which is exactly as it sounds: a massage on the pool decks with a view of the ocean. Massages here are weather-dependent, and are only offered from October through mid-April. Prices start at $80 for 45 minutes and $100 for 60 minutes.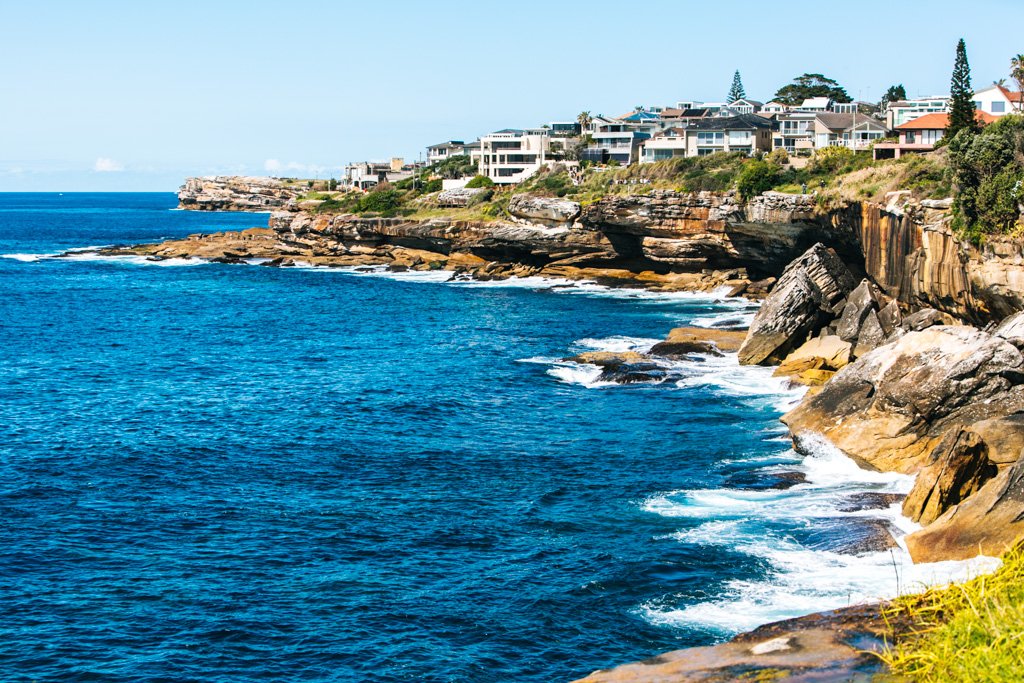 The coastal path through South Coogee.
Ivor Rowe Rockpool
And now, for the king of hidden gems in Sydney: the Ivor Rowe Rockpool.
Maybe you've seen photos of circular pools naturally cut out of the rocks along the Australian coastline? The east coast around New South Wales, in particular, is dotted with them. Most of them require a car to access from Sydney, but this one in South Coogee is super accessible by bus or on foot, if you're doing the Maroubra coastal walk.
And it. is. SO AWESOME.
There isn't a sign pointing out the Ivor Rowe Rockpool, but you'll see a little wooden platform just before the coastal pathway ends. The stairs here lead down to the rockpool. There's a decent chance you'll have it all to yourself if you visit on a weekday – and if you don't, then hang around for awhile and soon enough you will.
One thing worth noting is that you really need to plan your visit around the tides. Hit this rockpool at either low tide or mid tide; at high tide, the pool gets covered and the surf can be rough.
The tide can come in very fast, too. I had my bag up on some higher rocks while I was in the pool and the water suddenly came right up to it. I still can't believe the water didn't soak through and damage my camera gear! So just be super careful here.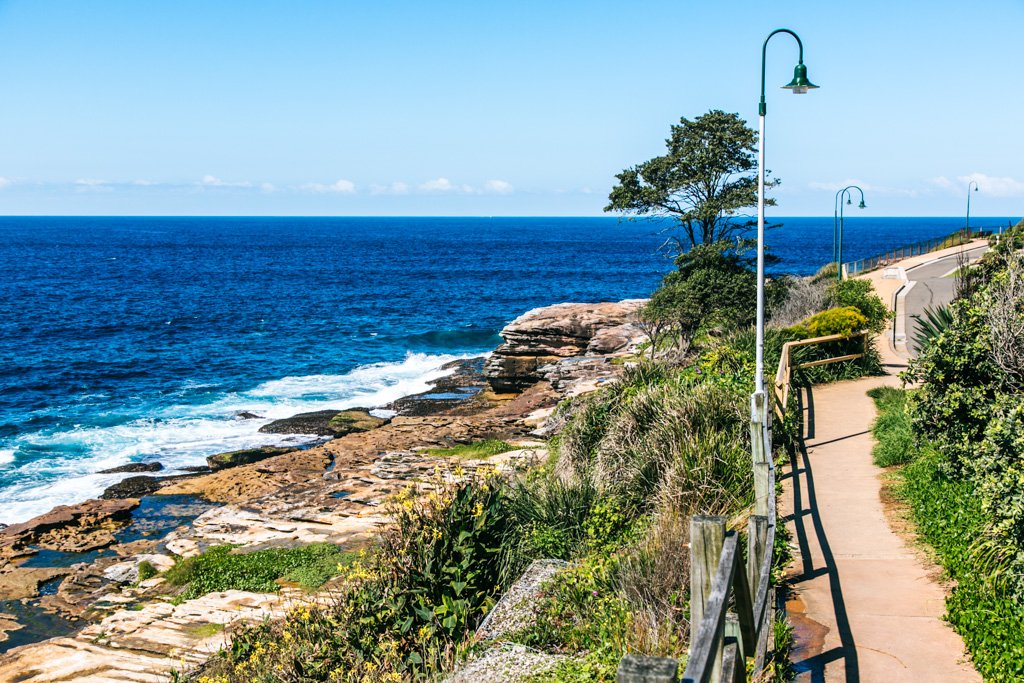 Maroubra Beach
From Ivor Rowe, the Maroubra coastal walk veers away from the coast and onto the streets for a short time. You shouldn't spend more than 10 minutes on this diversion before you're back on the coast for the second leg of the walk from Coogee to Maroubra.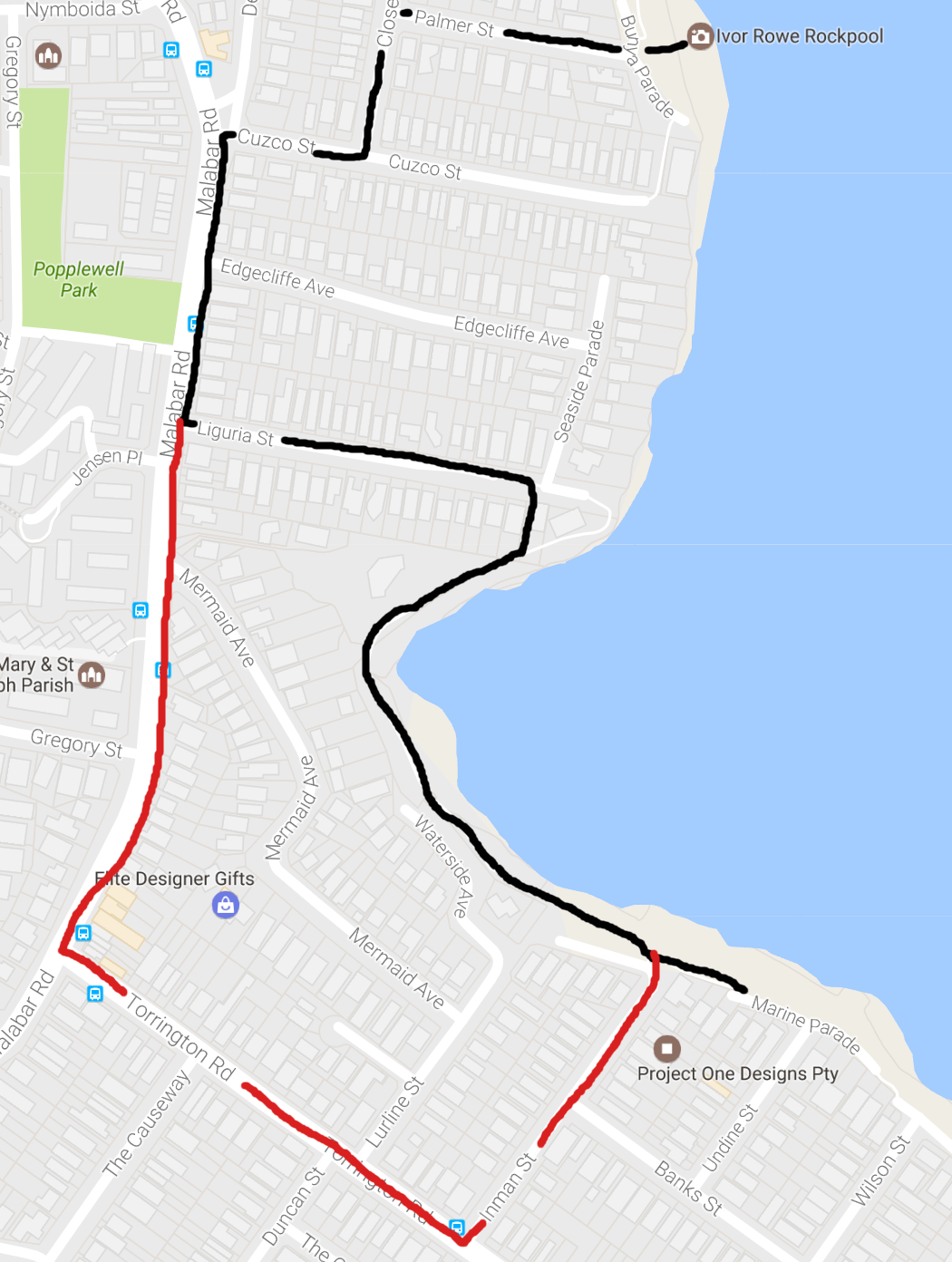 Inland diversion from the coastal path.
Around the intersection of Liguria Street and Seaside Parade, there is a long set of stairs between houses that leads right down to the rocks along the bay. This segment is not an actual path, and should not be attempted at high tide or during rough surf times.
If it's not safe to rock hop here, follow the red route on the map above instead. Walk further down Malabar Road to bypass this segment of the Coogee to Maroubra walk track and rejoin it via Inman Street at Marine Parade.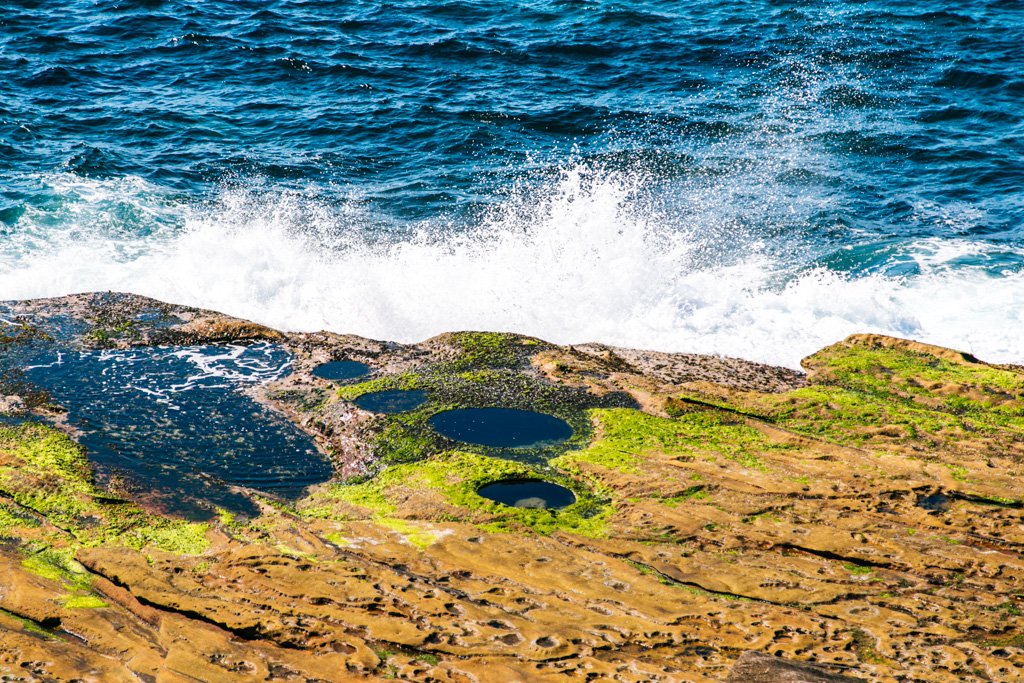 The last stretch of coastline leading south into Maroubra is absolutely glorious. When I walked it in late March, it was speckled with wildflowers.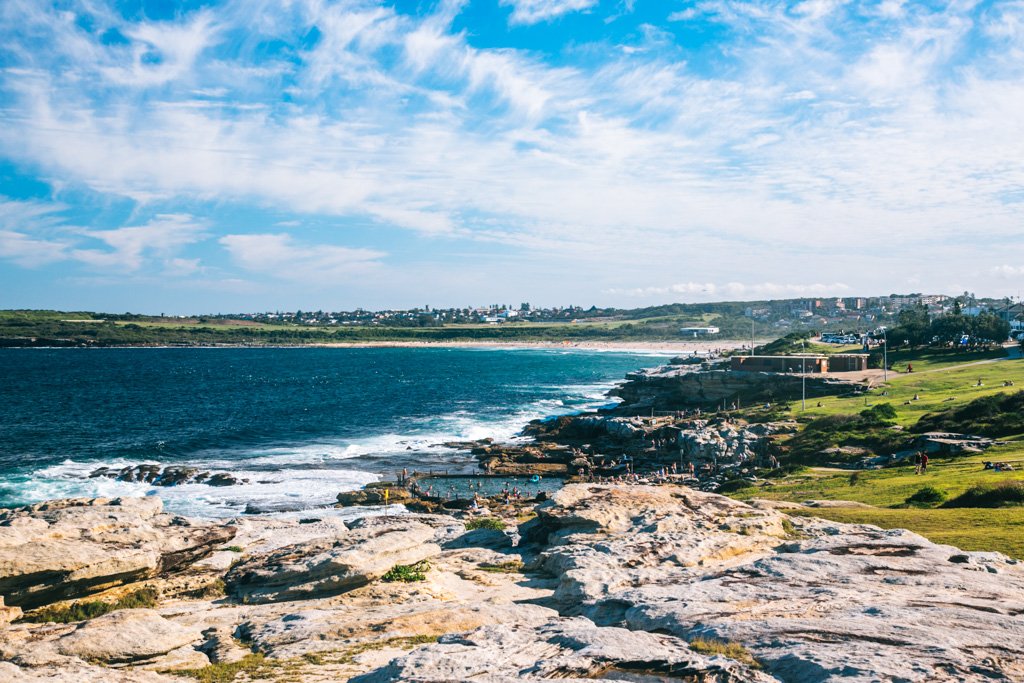 The Cliffs at Mistral Point
Right about the time you first glimpse Maroubra Beach, you'll be standing right near the cliffs at Mistral Point. Hop over the short wooden fence and walk across the grass to get nice and close to these magnificent rocks.
I never even made it to Maroubra Beach to sunbathe because I was so captivated by the cliffs here. The rocks have so much texture! And many of them are smooth and flat enough to lay on in semi-comfort.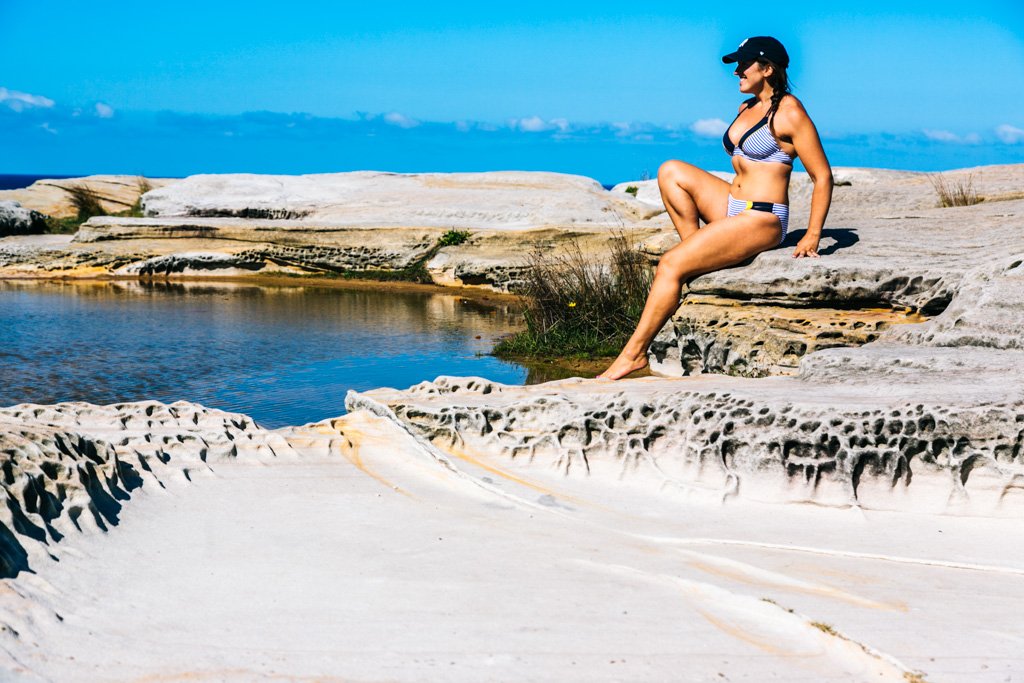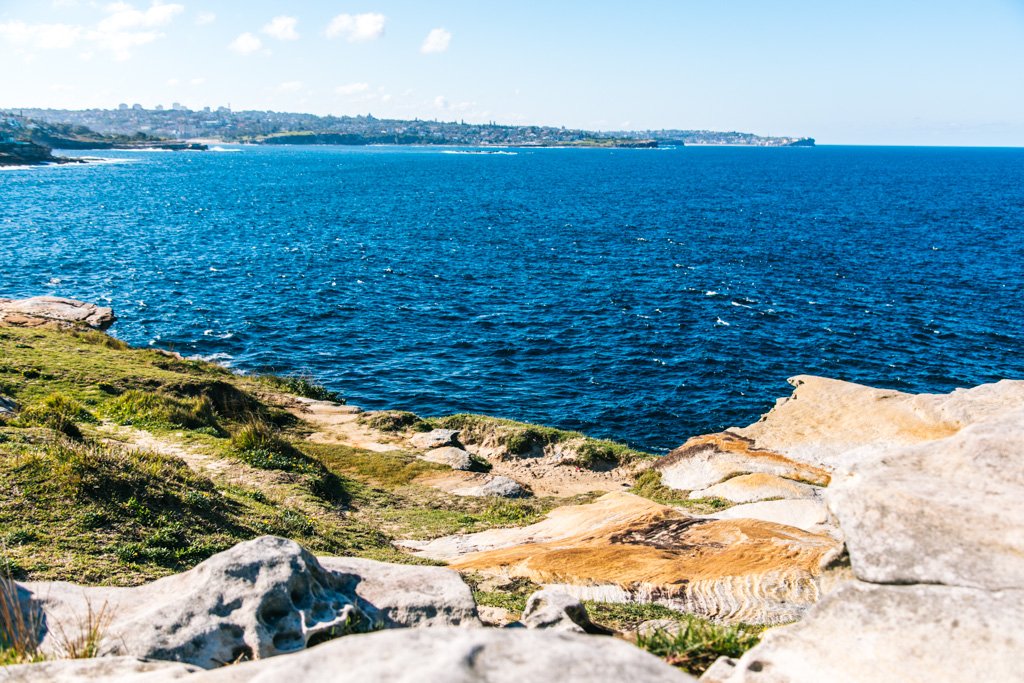 Whether you plop yourself on a flat ledge and sunbathe, or frolic around to the various outcrops and crevasses, the cliffs at Mistral Point are not to be missed. Great spot for a mini photoshoot, too (not that I did that or anything…).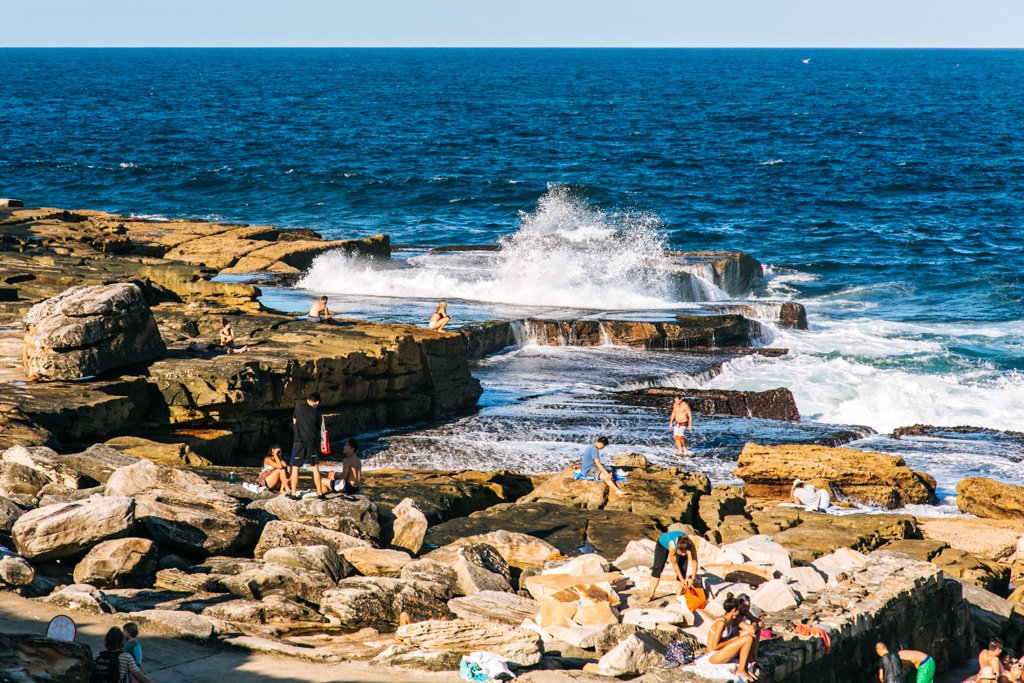 Mahon Pool
Last stop on the Sydney to Maroubra coastal walk: Mahon Pool, on the northern side of Maroubra Beach.
This one's a beaut! Whether you swim in the ocean pool itself, sunbathe on the surrounding rocks, or sit out on one of the rock outcrops and watch the waves crash in, Mahon Pool makes for an excellent outing. It's a top spot to watch the sunrise as well.
There are bathrooms, changing rooms, and outdoor showers by the pool. If you need anything more than that, Maroubra Beach and village are a quick walk away.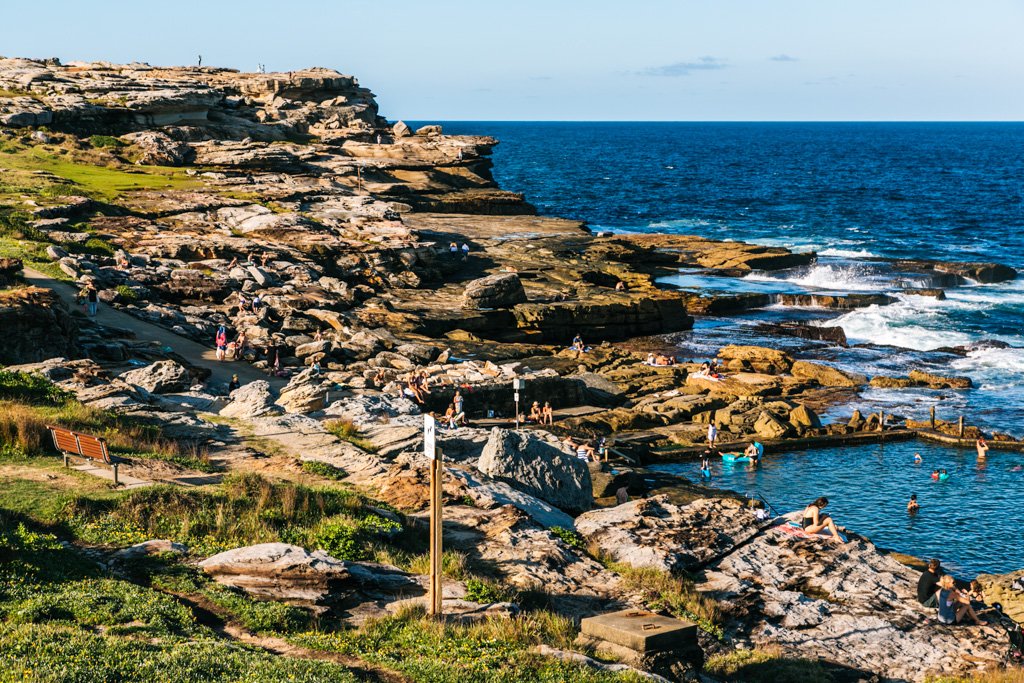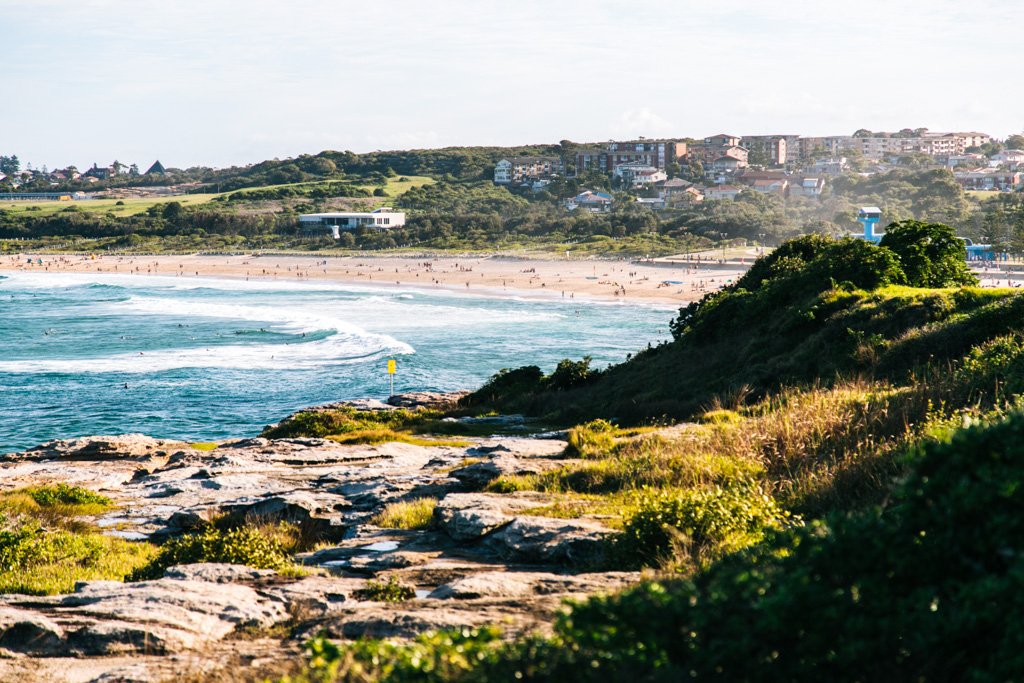 Maroubra Beach.
Check out some other Sydney coastal walks: Bondi to Coogee // Royal National Park // Kurnell to Cronulla
Pin it!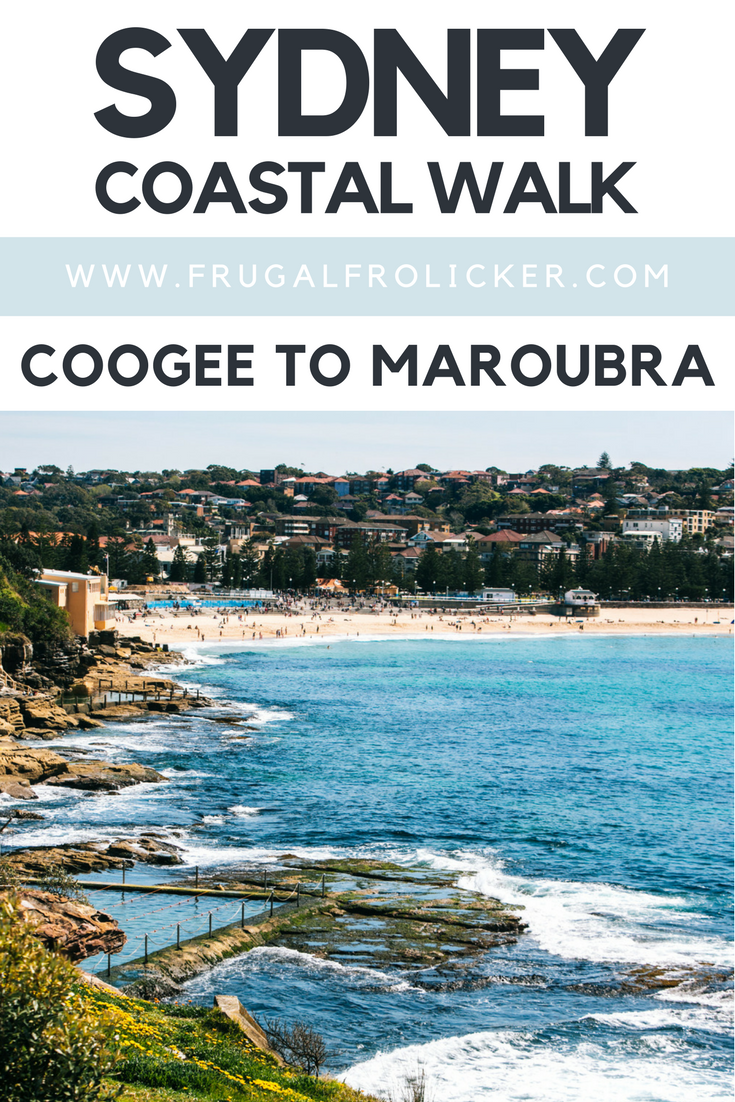 Frugal Facts
How to get there: To get to Coogee Beach, take the 313/314/353 bus from Bondi Junction, the 372/373/374 bus from Central Station or the city, the 370 bus from Glebe or Newtown, or the 362 bus from Bondi Beach or Bronte (only runs on weekends from October-April).
How much time to allow: It takes about an hour to walk from Coogee Beach to Maroubra Beach without stopping. You'll want to allow at least a half day to fully enjoy the baths and rock pools along the way.
You'll love this hike if you enjoy: Getting off the beaten path, ocean pools, rock pools, cliffs, and panoramic coastal views.