If you're into stargazing and mountain adventures without any tourists around, boy do I have the perfect Sydney weekend getaway for you!
The Warrumbungles probably aren't going to make it onto any visitor's Australia bucket list, but that only makes it better for locals who do have the time and inclination to schlep out to bumble*ck New South Wales for a semi-private hit of nature. Y'know, like my friends and me.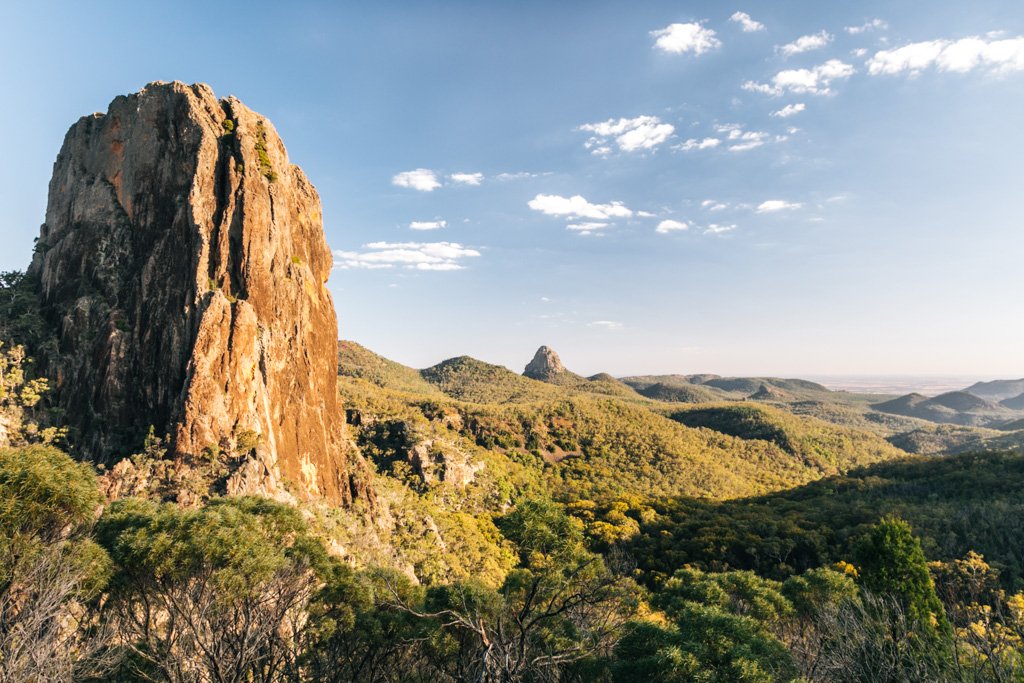 How To Get To Warrumbungle National Park
From Sydney, it's about a 6 hour drive to Coonabarabran, the closest town to Warrumbungle National Park (35km west). Yeah, it's quite a trek – definitely a bit too far to be done as a regular ol' weekend trip from Sydney. We went up over Easter weekend and had 4 days allotted for the the trip which worked perfectly.
Unless you particularly enjoy long-ass car rides, I recommend breaking up the drive with a stop or two along the way. On the way up, we stopped off in Mudgee for a wine tasting; on the way back, we camped at Wollemi National Park on the last night. I'd never been to either spot before this trip because they're about 4 hours away from Sydney and not really accessible by public transport – so it was nice to finally get a taste of both.

Mudgee, we WILL be back someday – hopefully not just before starting a hike!
Warrumbungles Things To Do
Before I got there, I'd assumed that there would be several different walking tracks in Warrumbungle National Park and that we'd have a tough decision to make as to which we'd be exploring.
There are a handful of shorter bush walks in the park, that much is true. However, the impression I got from the staff at the visitor's centre is that none of them are really worth doing if you're going to be hiking the 15km Breadknife & Grand High Tops circuit. This one is far and away the best hike in the Warrumbungles (more on that below).
Armed with this knowledge, we decided to ax the idea of doing a late afternoon hike on our first day. Also, it was really hot, and we were quite enjoying our little campsite setup at Camp Blackman.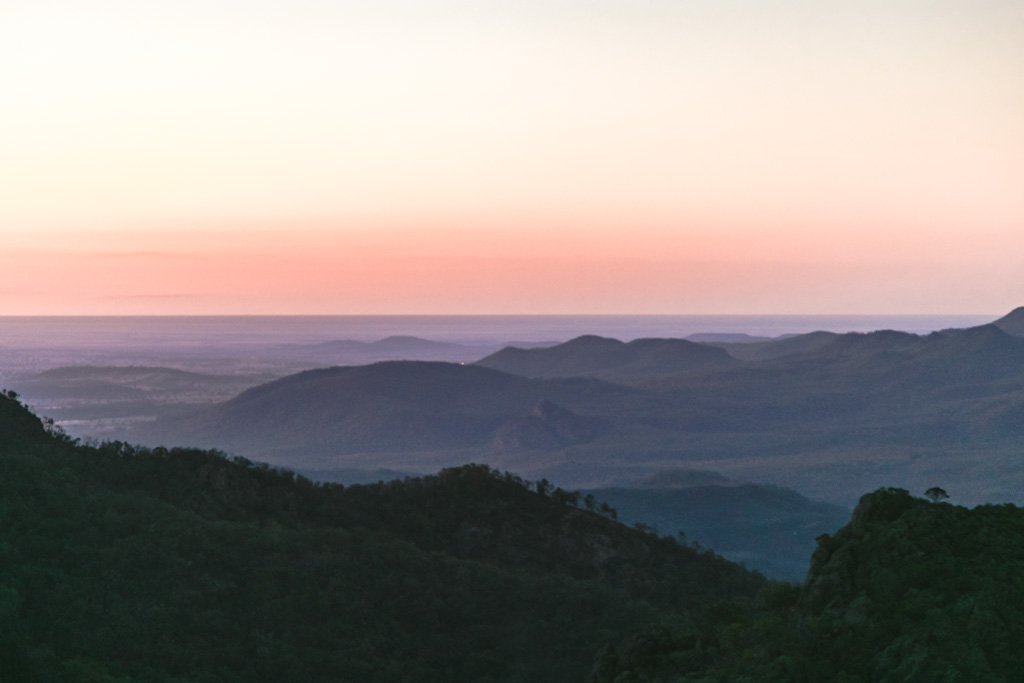 Warrumbungles Camping
There's no better way to soak up the mountain vibes and starry skies of the Warrumbungles than to camp there.
There are 3 campgrounds accessible by car: Camp Blackman, Camp Wambelong, and Camp Walaay (large groups only). You can book in at the visitor's centre at $6/person per night.
We chose to camp at Blackman because it's the only one with showers. There were far more people around than we would have liked (duh, Easter weekend), but we really lucked out by finding a campsite with a fire pit and direct views of the mountains. We spent the afternoon and evening lounging around, reading, cooking dinner on the campfire, and paparazzi-ing kangaroos and it was glorious.
Speaking of roos, I don't think I've ever seen so many kangaroos in my life! Come dusk, they're hopping all over the place here – but the worst is when you're driving after dark and they suddenly dart out into the road and give you a heart attack. We had a couple of close calls, but mercifully did not add to the roo carcass count along the roads.

Campsite at Balor Hut.
There are also several "remote" campsites that you have to walk into with all your gear, mostly along the Breadknife and Grand High Tops circuit. Though it's free to camp at these and you don't need to book a specific campsite in advance, you're supposed to register with the visitor's centre right before you set off and sign back in upon your return – y'know, so in case you disappear, they'll know to go looking for you.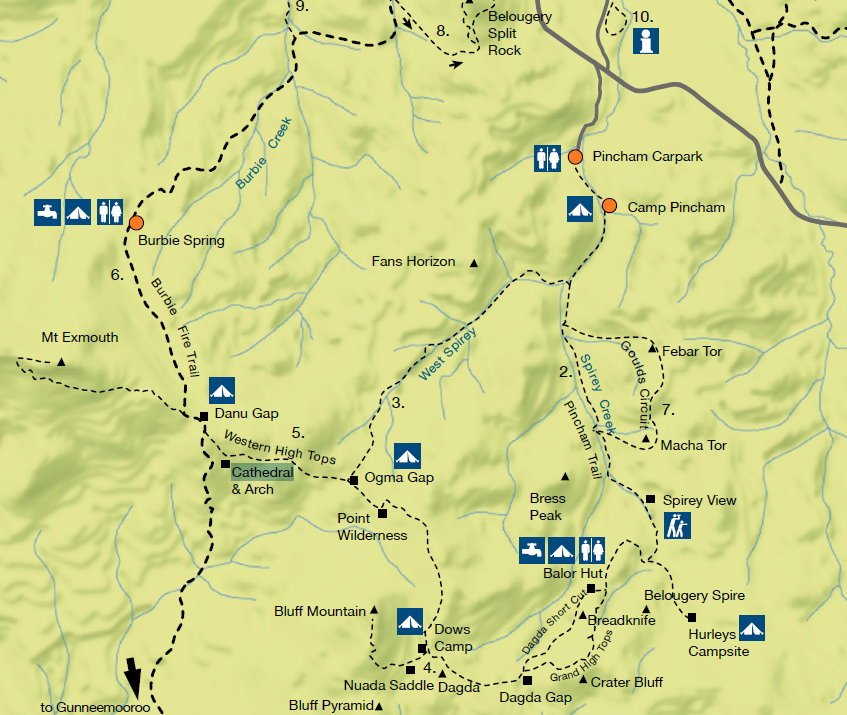 Map via Mtn Views. Trails 2 & 3 are the Breadknife & Grand High Tops circuit.
Breadknife & Grand High Tops Walk
If you're going to do any hiking in the Warrumbungles, it's gotta be the Breadknife & Grand High Tops circuit (unless 15km is too much walking for you, in which case you can do just part of it or opt for one of the shorter hikes in the park instead). You can either hike in with all your camping gear and camp at one of the campsites on the trail, or do it as a day hike.
Heading clockwise from the Pincham carpark, the trail is mostly flat and pretty cruisey until you reach what seems like a never-ending set of stairs leading up-up-up the mountain and to Balor Hut, the most popular campsite along the trail thanks to its toilets and tank water. Definitely fill up on water here before continuing on the trail.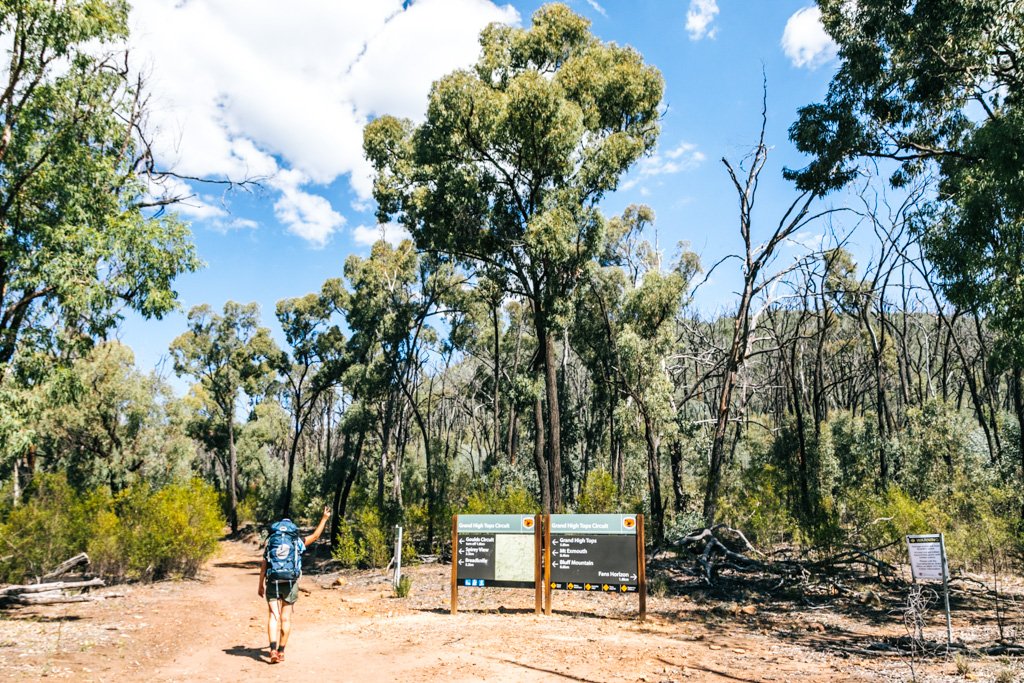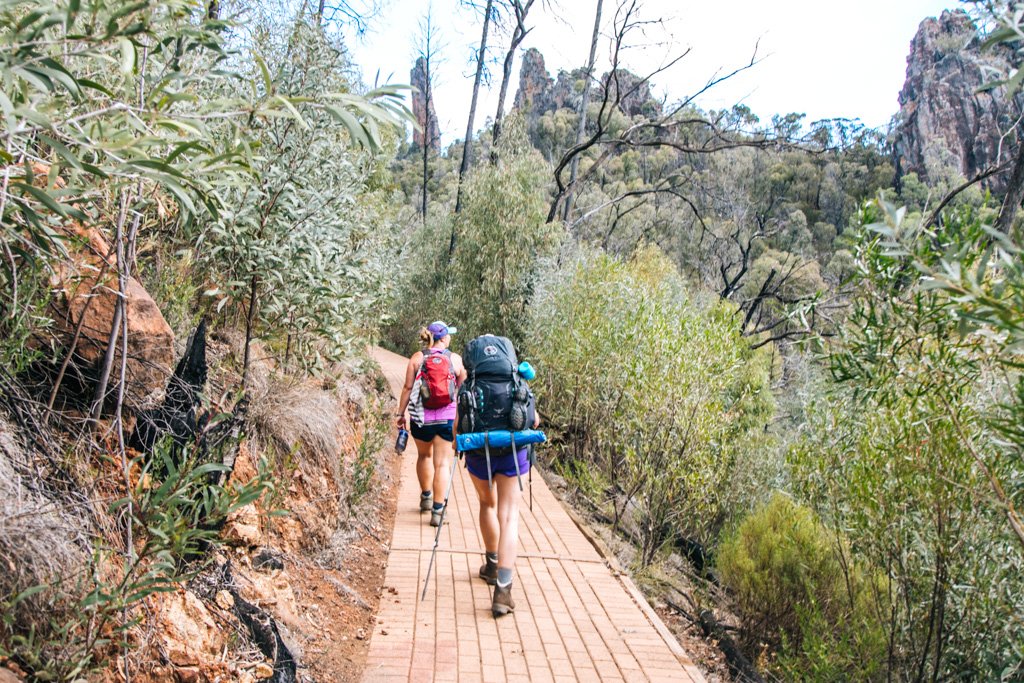 About halfway along the circuit, there's a junction where we dropped our packs and hiked up to Grand High Tops for sunset and moonrise. DO NOT SKIP THIS. The 360-degree views from the summit are breathtaking and by far the highlight of the whole circuit. From here you can spot Breadknife and several other mountains (one of which had some rock climbers after dark – crazy!).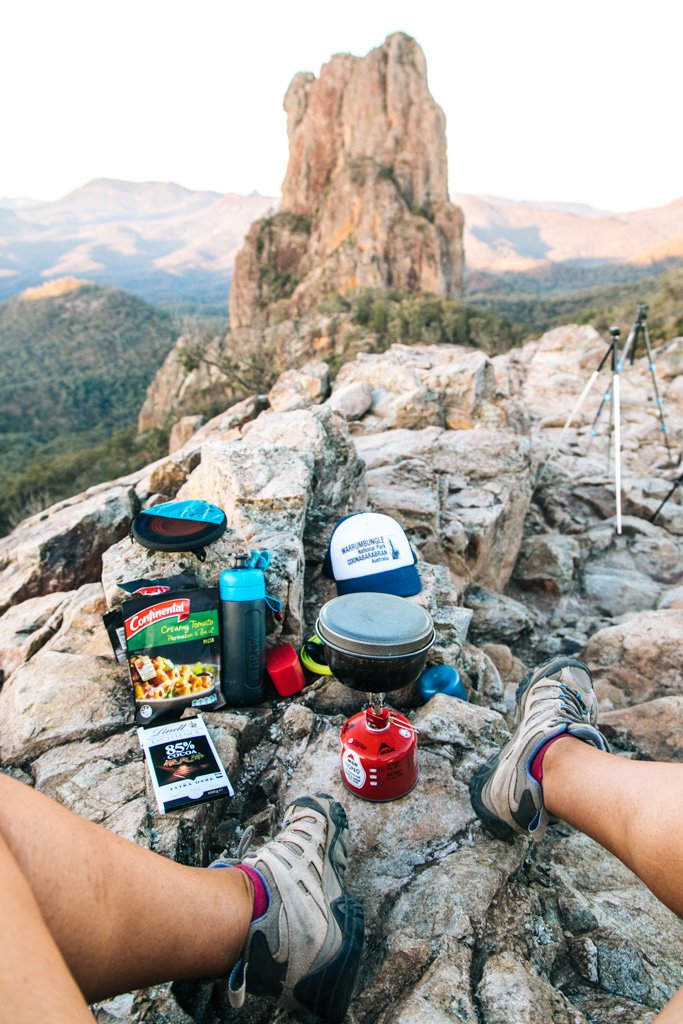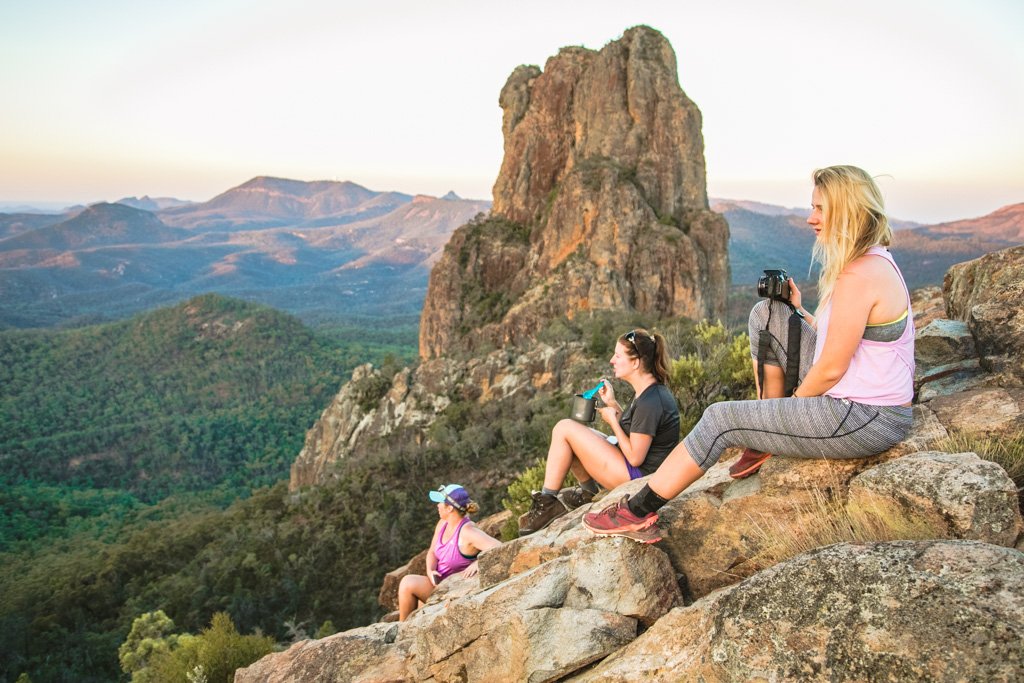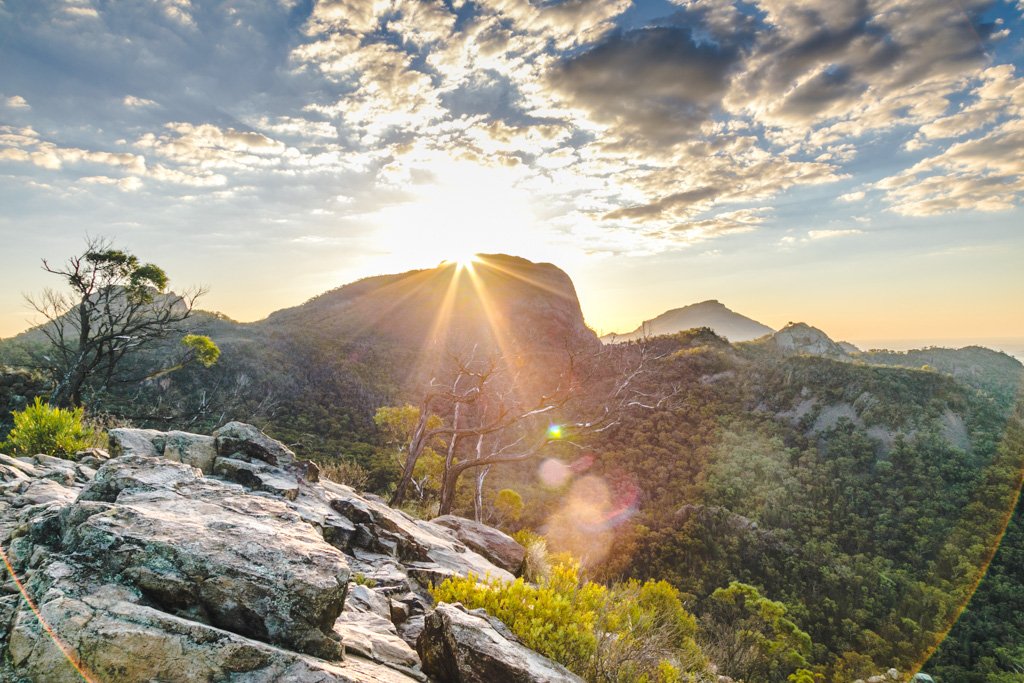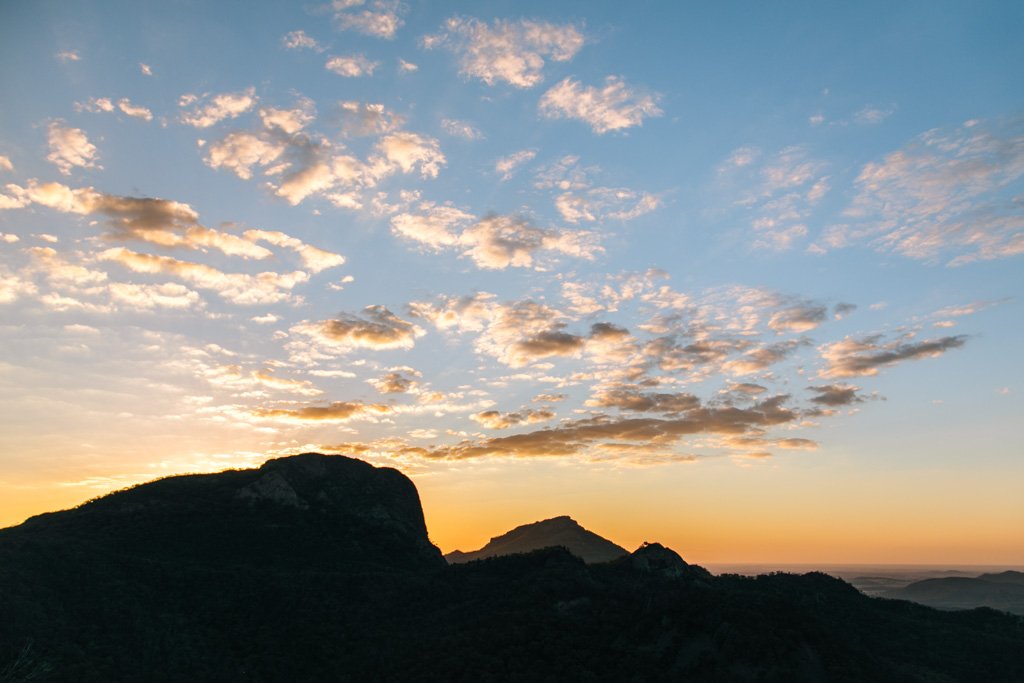 The upside to having a full moon was that it made it easy to hike back down the mountain in the dark. It's definitely doable in darker conditions with headlamps and torches, just go slow.
We set up camp right at the Grand High Tops junction, where we'd dropped our packs earlier. It's not an official campsite, but we saw several other tents pitched here as well as people sitting around a bonfire, so we figured it was fair game.
From here onwards, the trail is mostly flat or downhill – easy-peasy. The next morning, we found an excellent sunrise spot just beyond Dows Camp and watched the sun come up over the mountains with tea and coffee in hand. Bliss!

Sunrise over the Warrumbungles.
We started the Breadknife & Grand High Tops walk late afternoon on day 1, camped around the halfway point of the trail, and finished the hike the following morning on day 2. We could have stretched it to two full days of hiking and added on some of the side trails, but with the very hot 30C+ weather, one of us recovering from a back injury, and another of us tackling their first-ever overnight hike, we took it easy.
Grand High Tops Circuit Side Trails
A few of the side trails you can take from the Breadknife & Grand High Tops circuit:
Goulds Circuit (6.3km)
Grand High Tops – a must-do!
Bluff Mountain (2.4km return from Dows Camp)
Mt. Exmouth (from Ogma Gap via Western High Tops) – note that you'll probably want to allot an extra day for this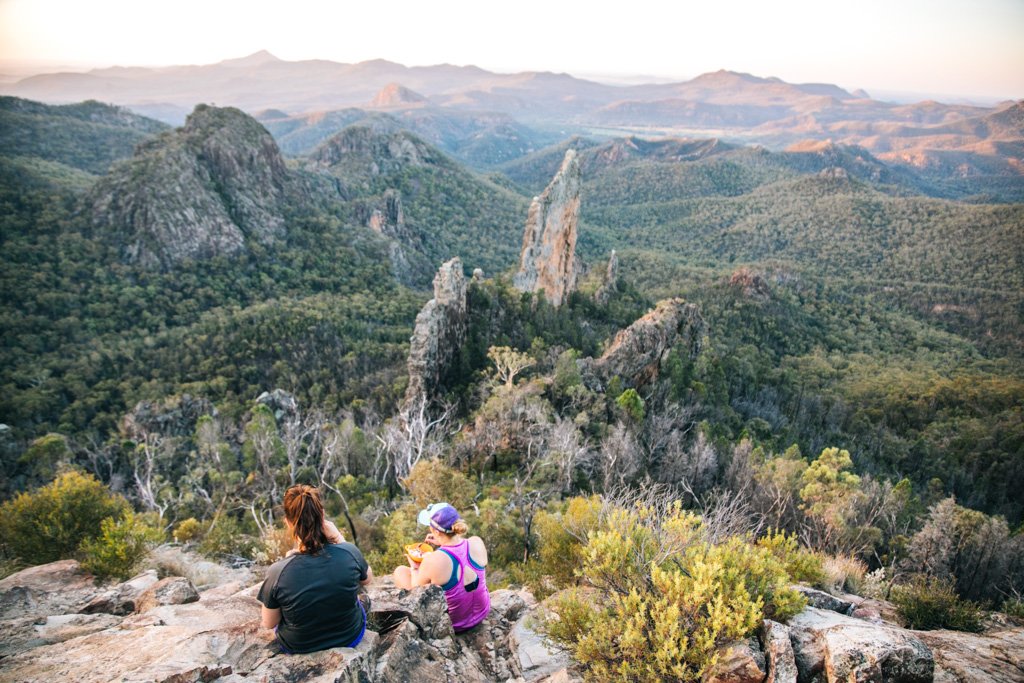 Breadknife Mountain in the distance.
Stargazing at Warrumbungle Observatory
Perhaps the #1 selling point of Warrumbungle National Park is that it's Australia's first dark sky park.
According to this source:
International Dark Sky Parks are publicly or privately-owned spaces that have exceptional starry nights and a nocturnal environment. Dark Sky Parks are specifically protected for their scientific, natural, educational, cultural heritage, and/or public enjoyment.
The lack of city smog and humidity coupled with Coonabarabran's relatively high altitude (505m) makes Warrumbungle National Park an ideal setting for a dark sky park (not to mention, a downright refreshing place to visit). These parks are all about preserving the naturally dark night sky and minimizing light pollution. Consequently, there aren't any street lights in the park at all.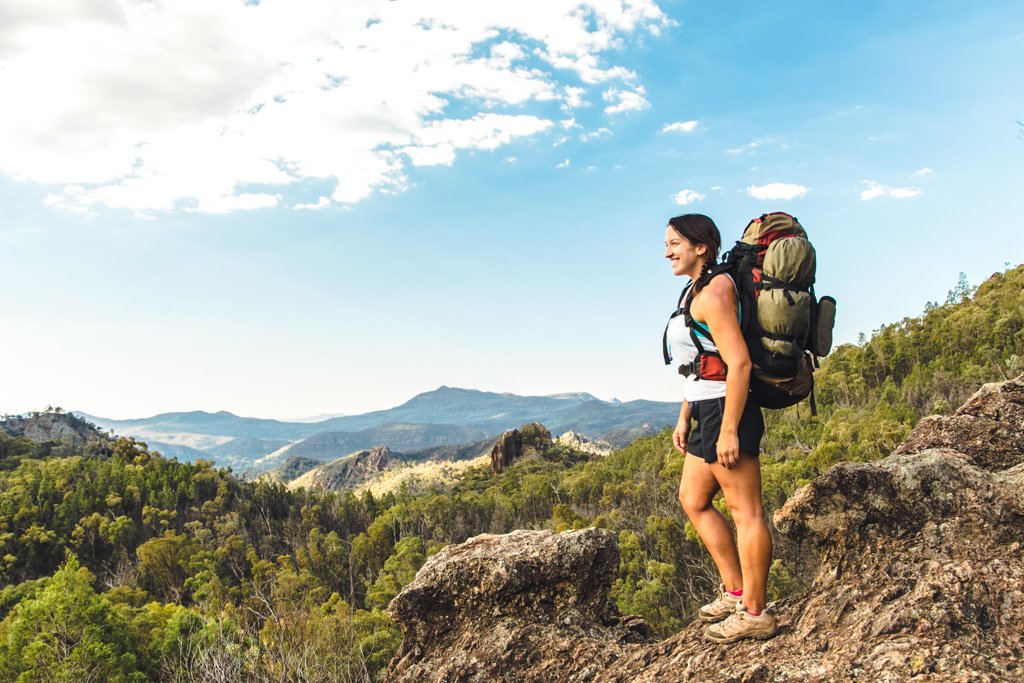 Go figure that it was a full moon during our time in the Warrumbungles, aka the literal worst for stargazing purposes. While we did see a bazillion more stars here in rural New South Wales during full moon than we normally would on a moon-less night in Sydney, it was nowhere near what you can see here when the moonlight doesn't wash so much of it out.
We'd had grand plans to shoot the night sky on this trip, with some of us rushing around at the last minute to buy new tripods for the occasion (yep, myself included). But nope, the moon had other plans. We were pretty bummed, but hey – what can you do?
I'll tell you what you can do – you can book a ticket to one of the observatories in the dark sky park!. We attended a night sky and telescope viewing show at the Warrumbungle Observatory ($25 for a 90 minute viewing).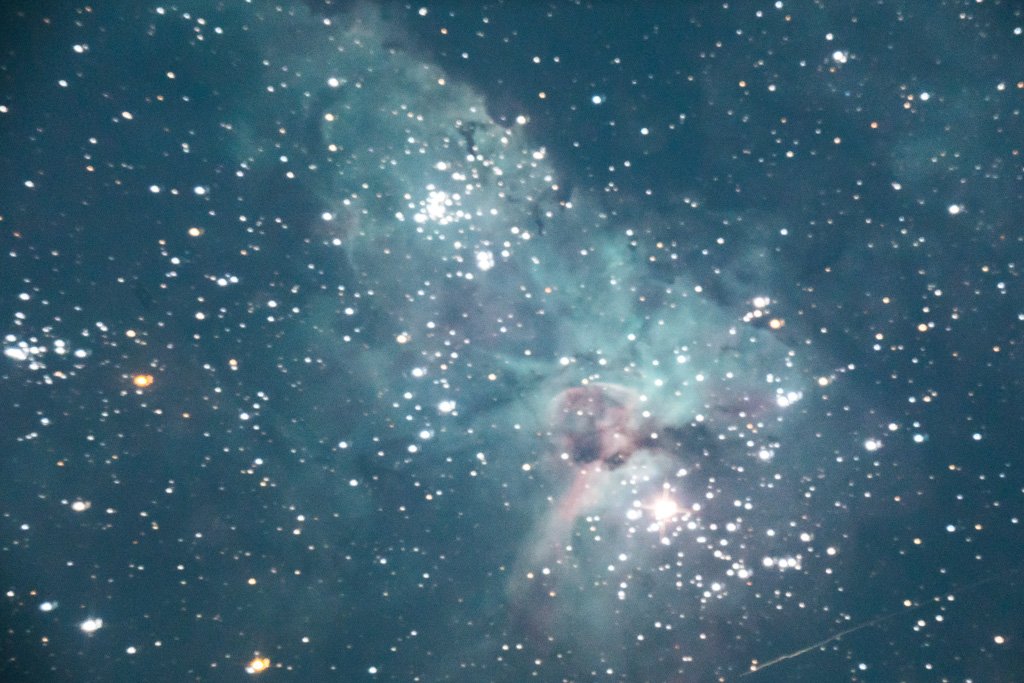 Slightly out of focus shot of the Eta Carina nebula.
To be honest, I was a bit underwhelmed by it. It didn't feel like an intimate experience at all with people queueing up at each telescope to view the star clusters. Having said that, everyone else in our group really enjoyed the experience so I think maybe I'm just a weirdo and you should probably do it anyway.
The coolest thing was getting to see Jupiter through one of the telescopes. JUPITER! With its rings and all!
At the Warrumbungles Observatory they also allow those with Canon or Nikon dSLR cameras to hook them up to one of their telescopes to take a photo of the Eta Carina nebula (see above photo).
Pin it!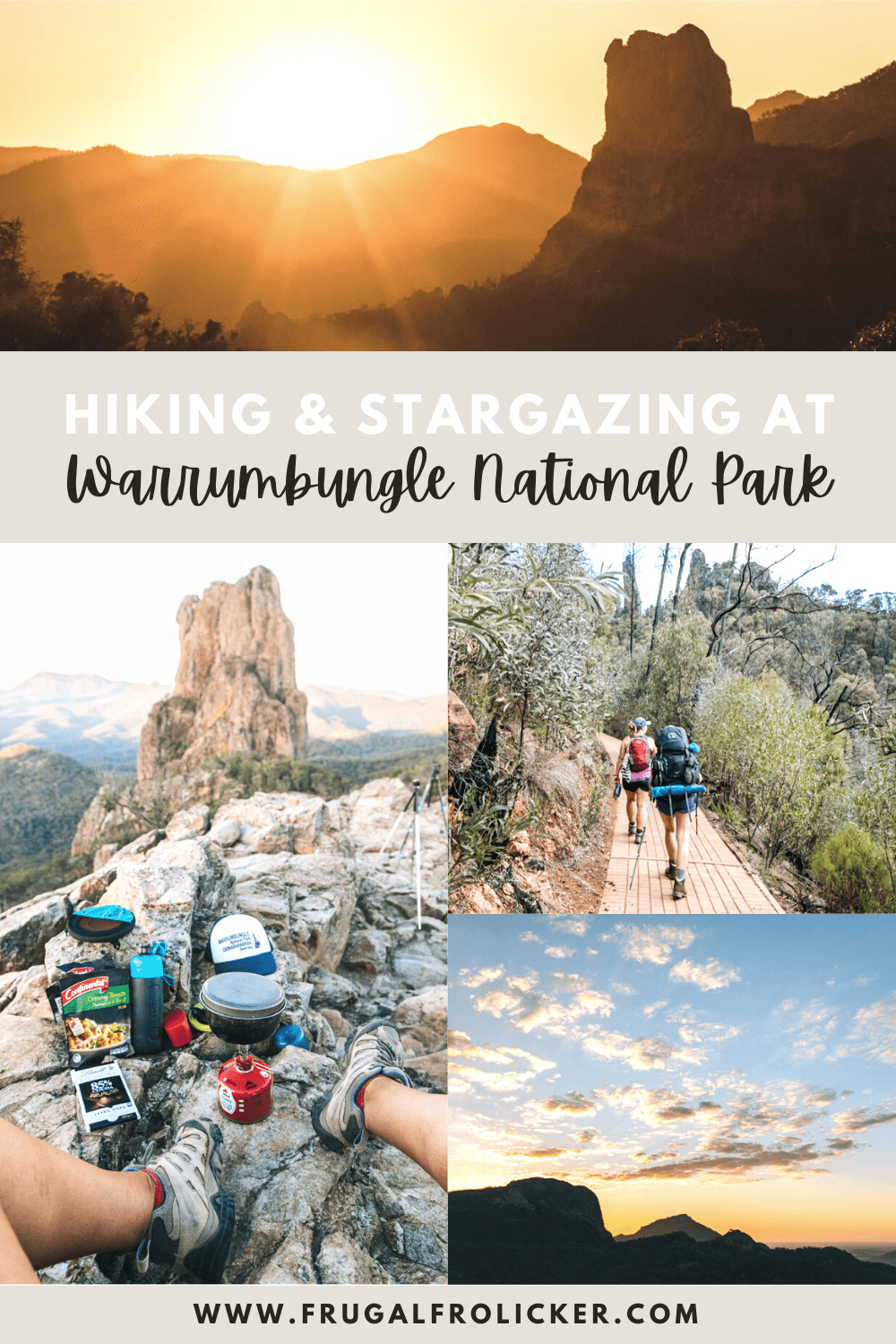 Pin it!