I think March and April can best be described as the much-needed calm after the January/February storm. With the stress and life admin BS that accompanies housing drama finally behind me, my new flatmate moved in and I got serious about making this apartment my own.
It's probably mostly in my head, but now that I'm the sole leaseholder and renting out the second bedroom, I finally feel like this is my home. I don't have to run furnishing or decorating decisions by anyone anymore – and literally every item outside of the second bedroom is mine.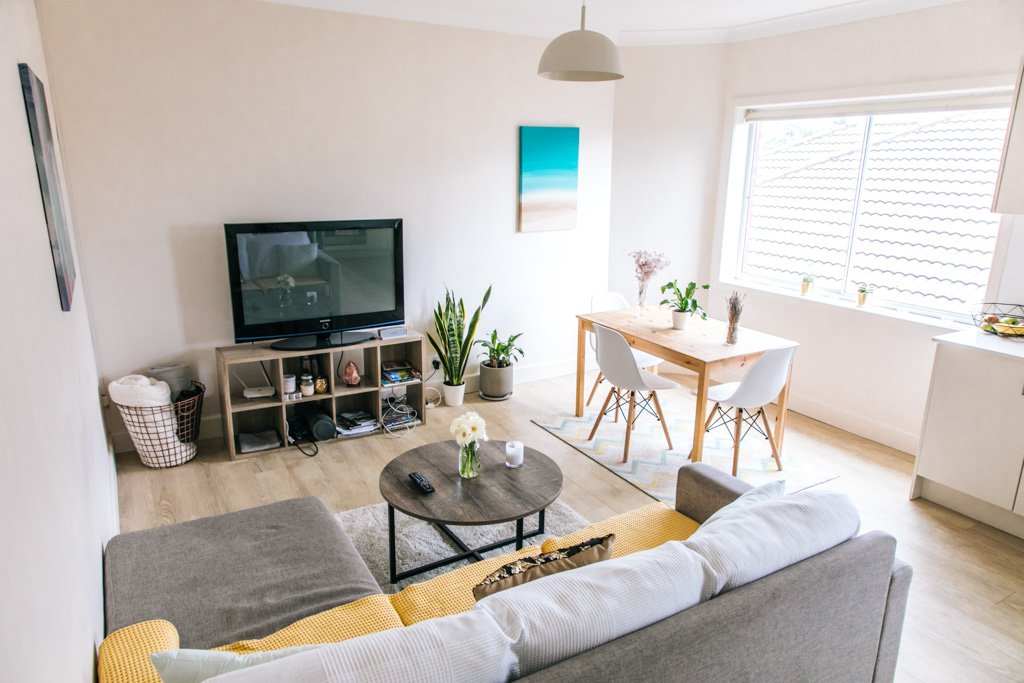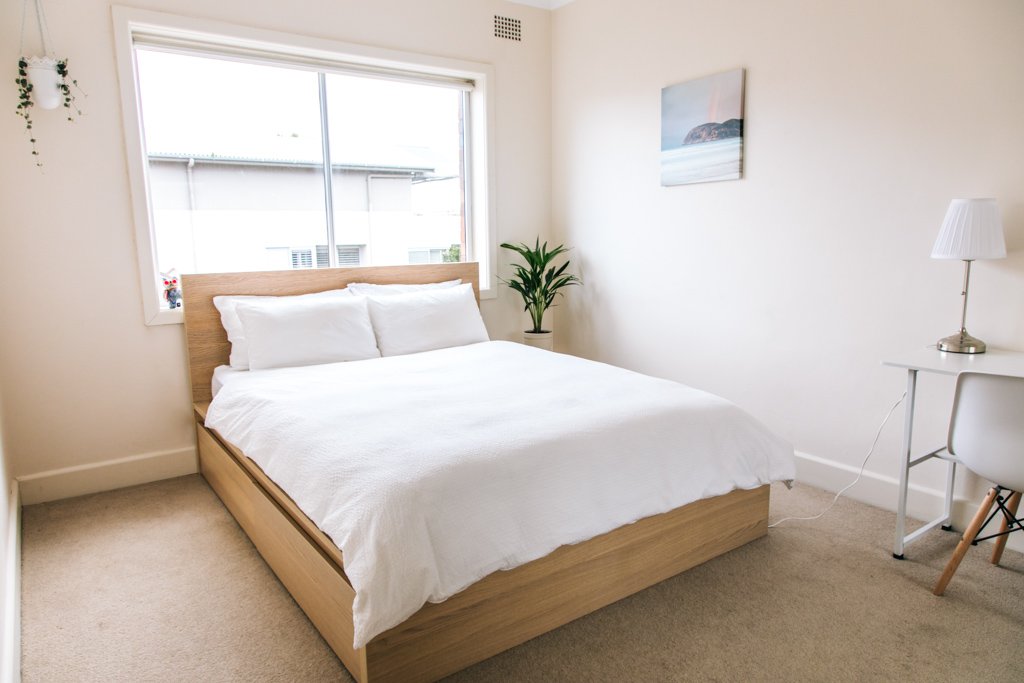 Changes of note: I moved into the bigger bedroom and completely cleaned and redecorated, I turned my old "desk" into a dining room table, and I bought a whole lot of plants. Really happy with how everything's come together!
I'm also pleased with the number of adventures I went on these last two months. Lots of beach time, a couple hikes, a few camping trips, and even a little city staycation. It certainly helped having the most glorious weather imaginable in Sydney (hot sunny days interspersed with warm sunny days, and very little rain).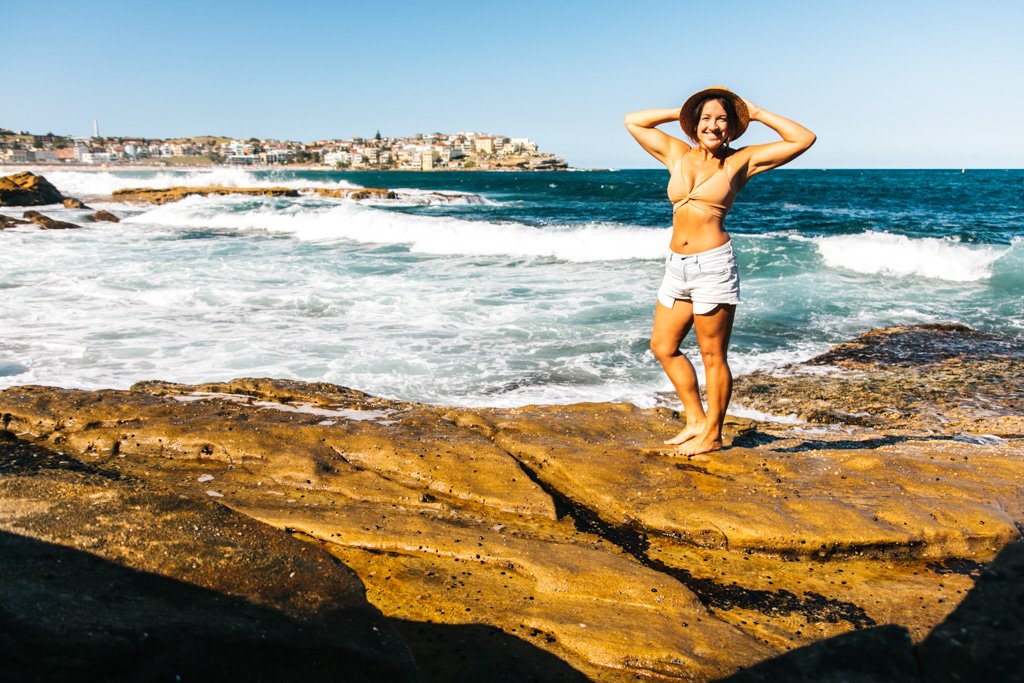 Aaaaaand I've been super diligent about my gym routine these past few months. I have my standard 3x/wk pilates reformer classes, usually 1x/week yin yoga class, and 2x/week gym workout where I bust through a bunch of exercises prescribed to me by my personal trainer (free perk I got as a promo when I first signed up). Between all that exercise and the bulletproof brain octane + collagen protein supplement I've been taking, I feel AWESOME.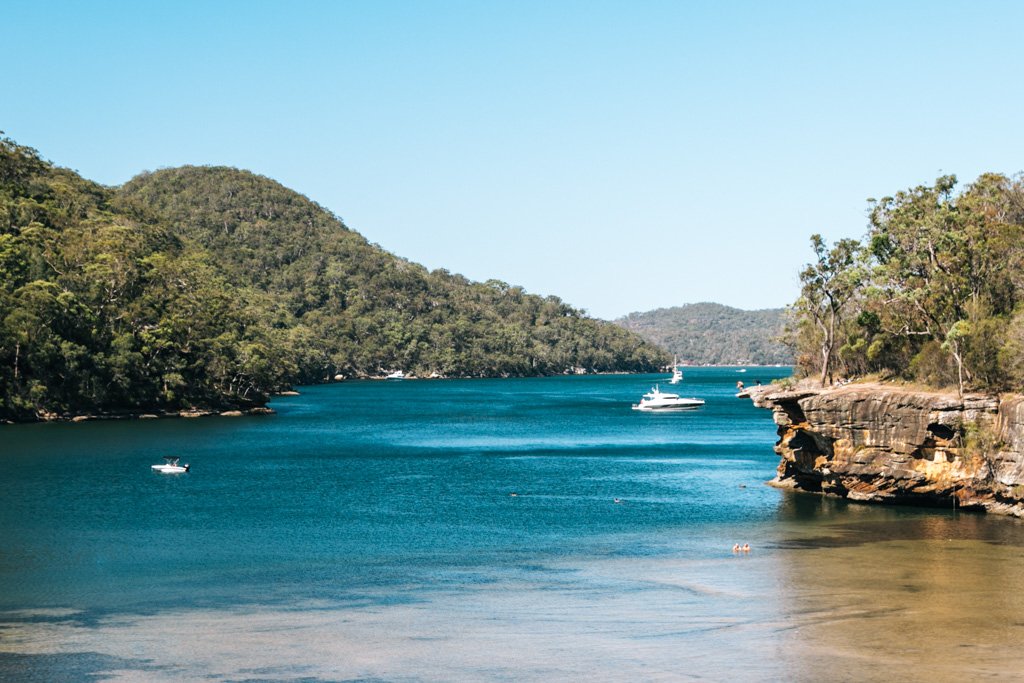 Jerusalem Bay, Ku-ring-gai Chase NP.
Adventures & Travels
Jump Rock in Ku-ring-gai
I headed up to Ku-ring-gai Chase NP on possibly the hottest day of the year thusfar to jump off a 10-meter-high cliff into a bay. We ended up hiking in to such a beautiful little nook in Pittwater!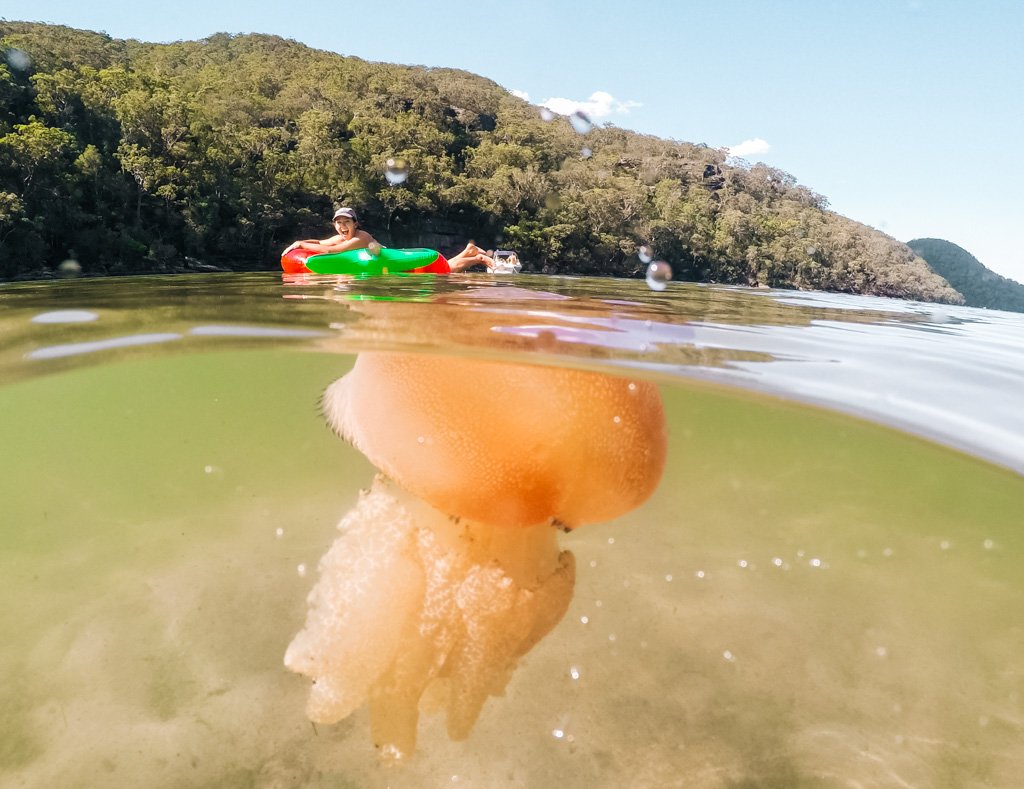 Jerusalem Bay, Ku-ring-gai Chase NP. Photo credit: Marijs.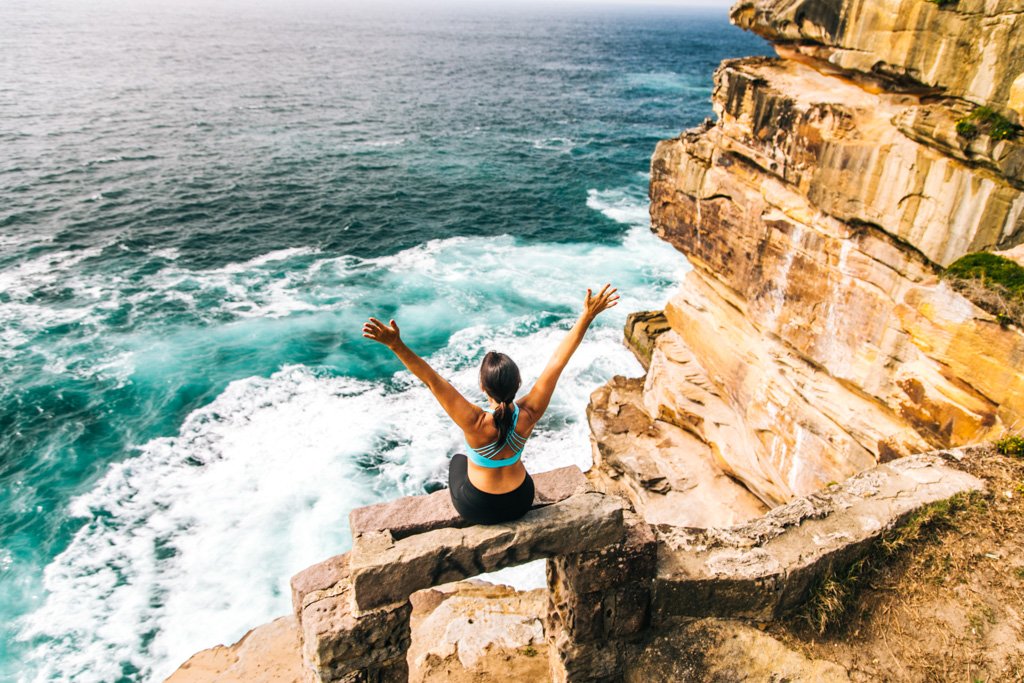 Diamond Bay.
Diamond Bay
Anna and I went for a walk one day to nearby suburb Vaucluse to explore Diamond Bay. There's a perilous-looking stairway leading down the cliff there that we sensibly avoided, but we still soaked up plenty of coastal views and had ourselves a little photo shoot.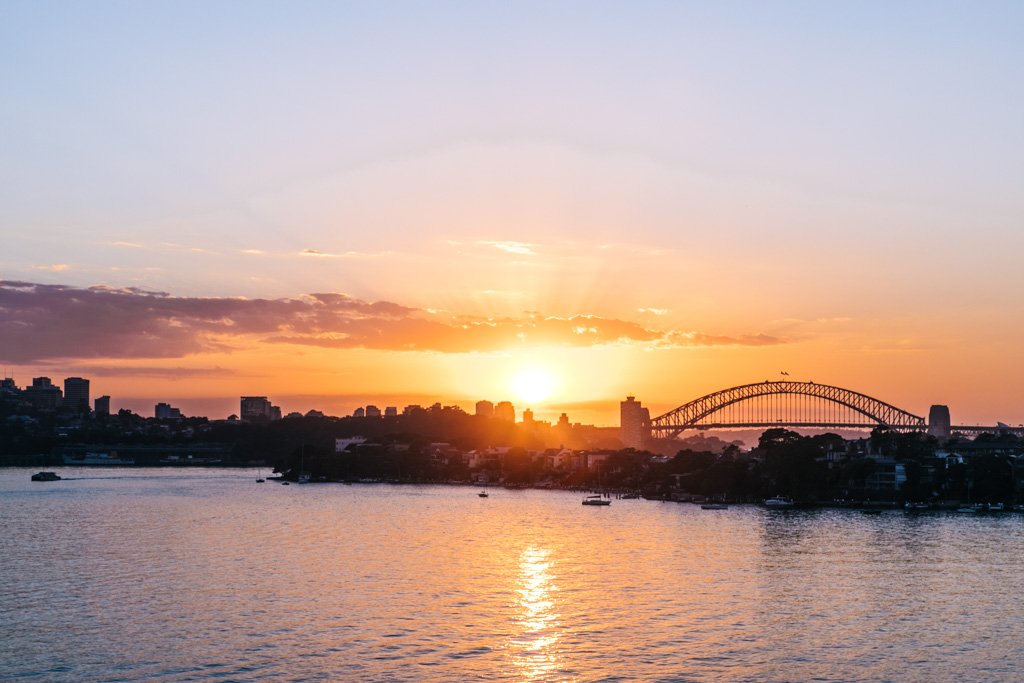 Sunrise from Cockatoo Island.
Cockatoo Island
My Adventure Babes organized a big group camping trip on Cockatoo Island, which we'd already done ourselves earlier this year and loved. This time we scored a beautiful sunrise over the Sydney Harbour Bridge.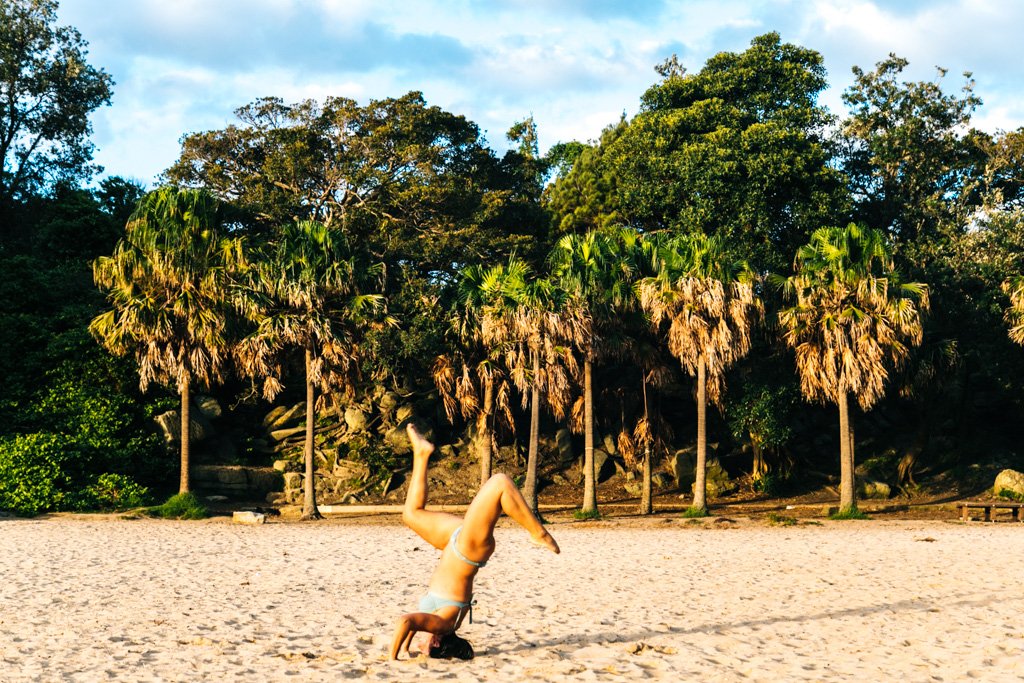 Beach yoga gone wrong.
Manly & North Head
Stacy and I went up to Manly for one of our midweek day trips and did some stand-up paddle boarding and beach yoga (or more like, I attempted headstands in the sand and kept falling over backwards). The highlight of the day was catching a vibrant sunset over Sydney Harbour from North Head. We got sooooooo lucky this time!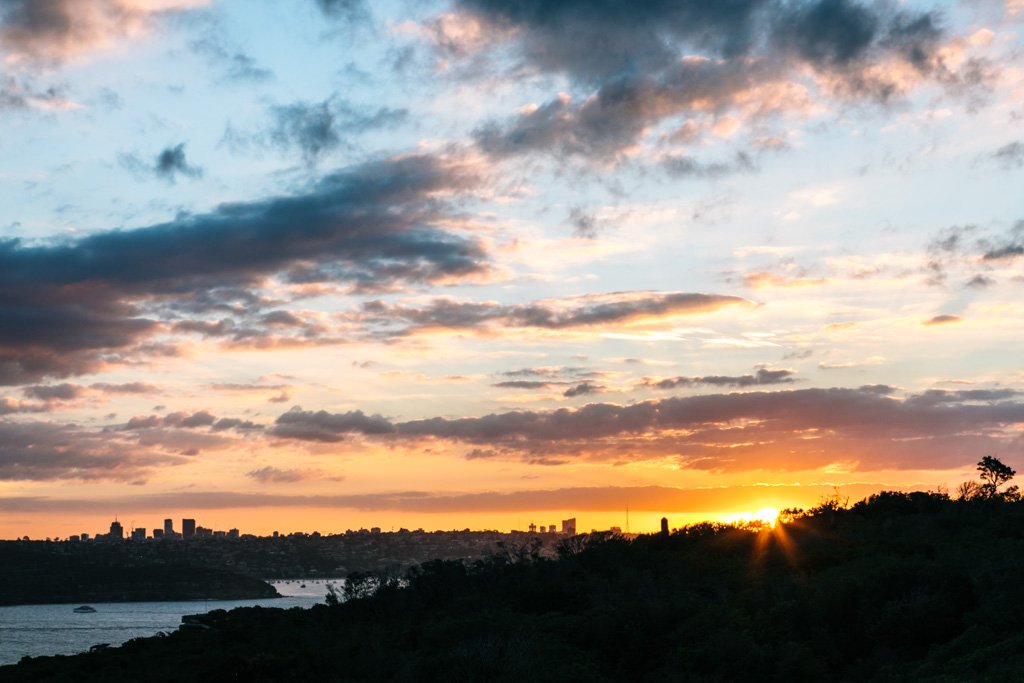 Sunset from North Head.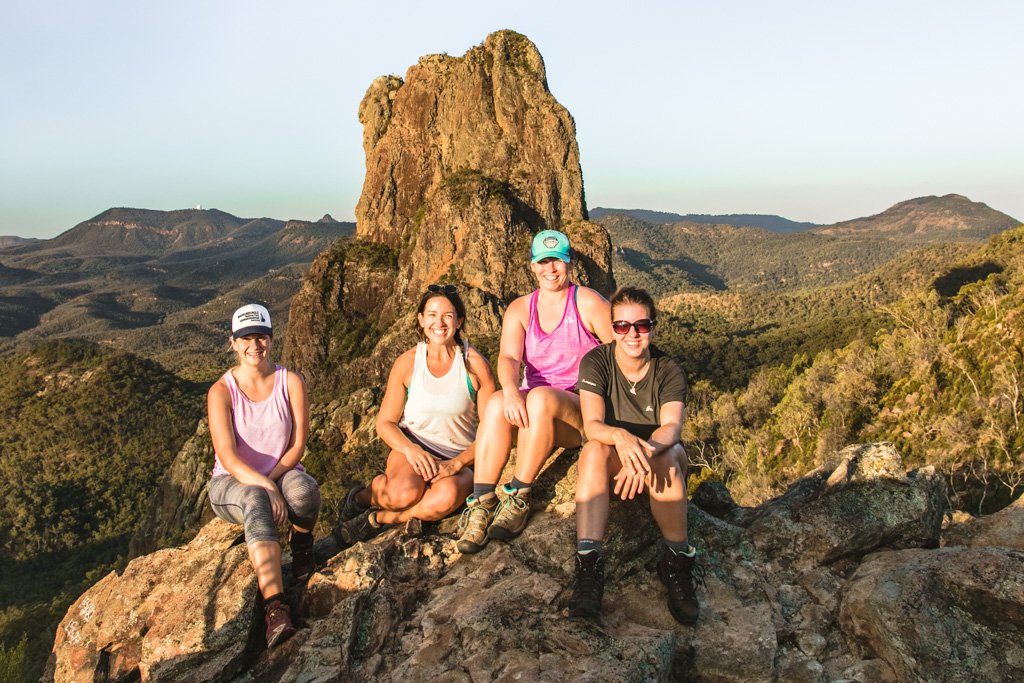 Easter Weekend at the Warrumbungles & Wollemi NP
For the long Easter weekend (Aussies get both Good Friday and Easter Monday off work), we Adventure Babes drove up to Warrumbungle National Park (6+ hours from Sydney) to camp and hike, stopping en route in Mudgee for a little wine tasting and camping on the way back for a night at a free campsite in Wollemi National Park.
This trip was just too good! I completed my first overnight hike in over 6 months, watched sunset and moonrise from atop a mountain, and plunged into a cold swimming hole just to get some photos.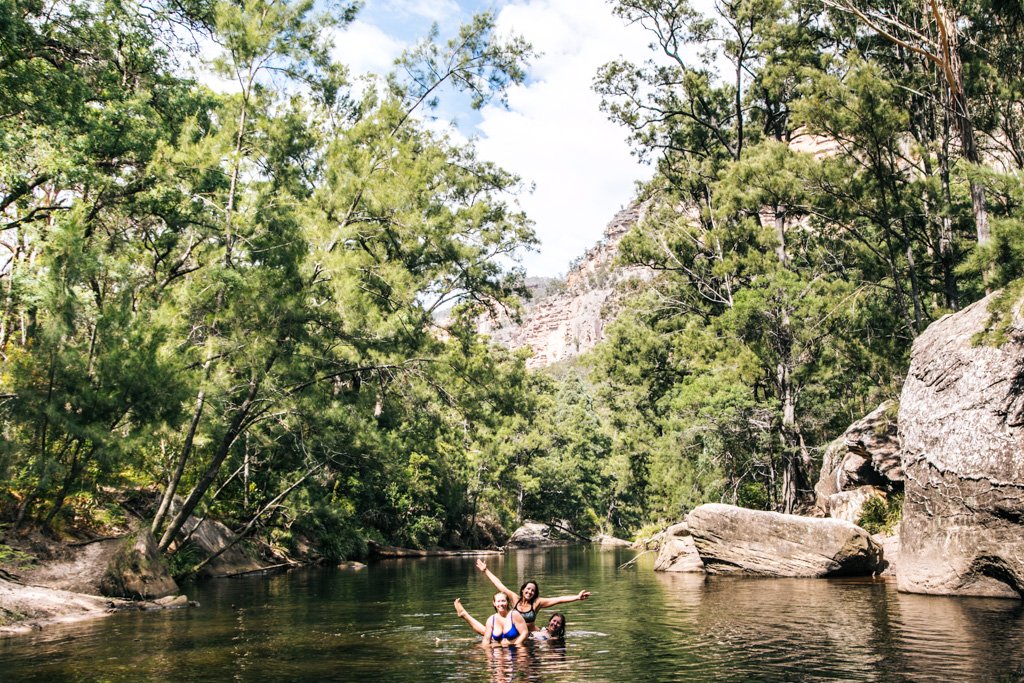 Swimming at Wollemi NP. The water is actually deep, but we're all sitting on a rock!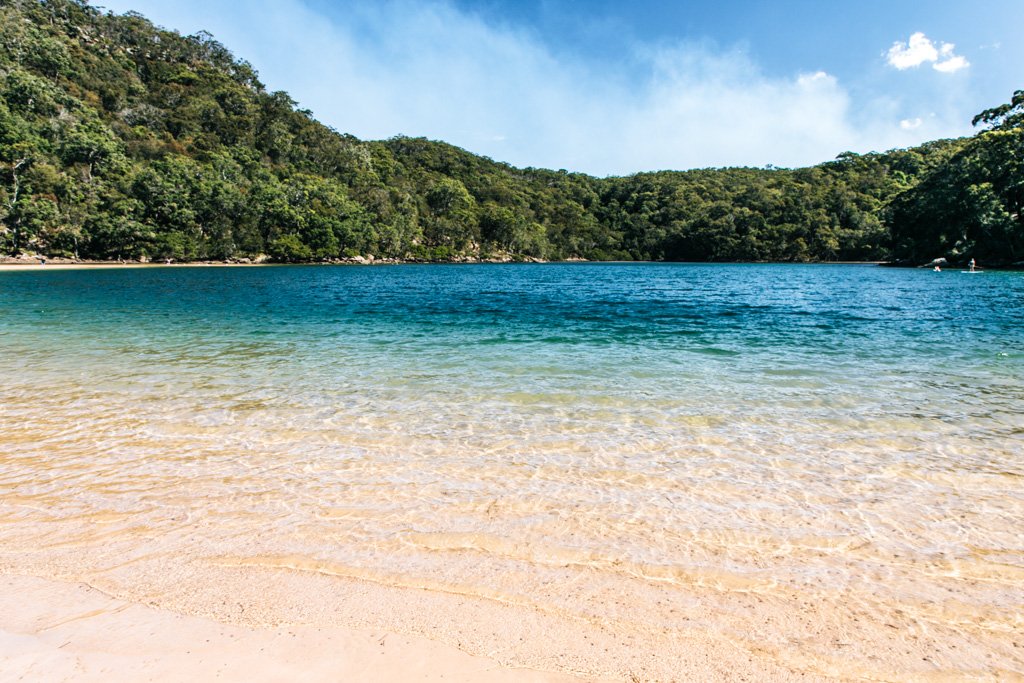 The Basin in Ku-ring-gai
Yet another Adventure Babes group trip, this time to a little campsite in Ku-ring-gai Chase NP that's right on the water and perfectly situated next to a little lagoon made for paddle boarding.
We drove all the way up to Palm Beach and took the ferry across Pittwater to reach The Basin on a Friday night. On Saturday we had the most glorious weather for a SUP session – I swear the water looked tropical!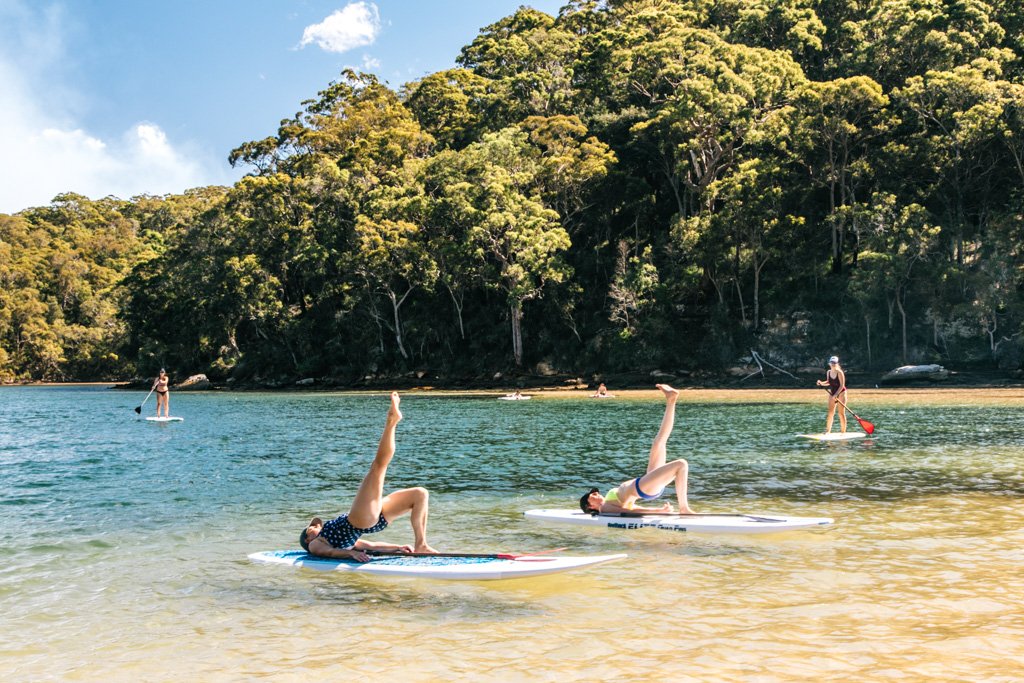 Sydney Staycation
I scored a free night in a really nice Sydney hotel thanks to a PR connection I made earlier this year, and it gave me a really good excuse to spend some time in the CBD (city centre) which I very rarely do (blame the Bondi Bubble). At just a 10 minute walk from Sydney Harbour, I knew I had to make it down there for sunrise – cause let's be real, I'm probably never gonna make it down there any other time at the ass crack of dawn.
I recruited my fellow travel blogger Marijs to stay with me at the hotel and wake up absurdly early for a sunrise shoot at the Sydney Opera House. Sunrise itself was a dud, but soon after we got hit with some gorgeous light that we took full advantage of. Pretty sure we gave the security guards a show running up and down the stairs and twirling in front of the Opera House in our dresses…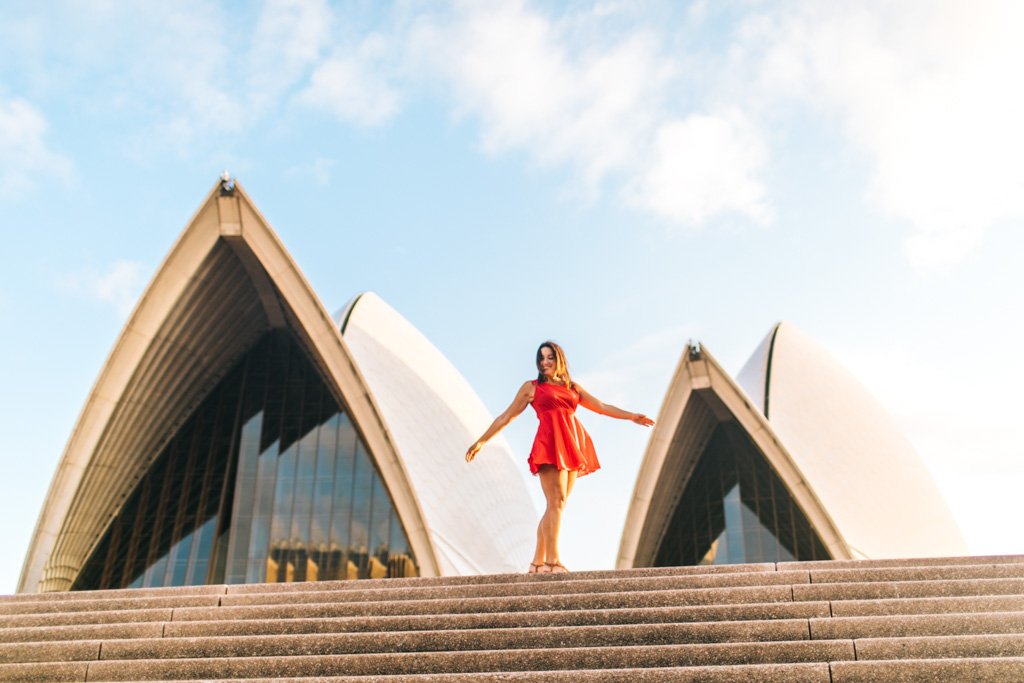 Kiama
I squeezed in one more adventure before the end of April and finally went for a little frolic down by Kiama. Cathedral Rocks at sunrise is still on my to-do list for a future camping trip, but it was fun to do a little location scouting and rock scrambling on a cloudy day in the meantime.
Life Tip: Find yourself some friends who will dress in neon and strip down to their underwear for goofy photos on your cue. So many LOLs with these guys!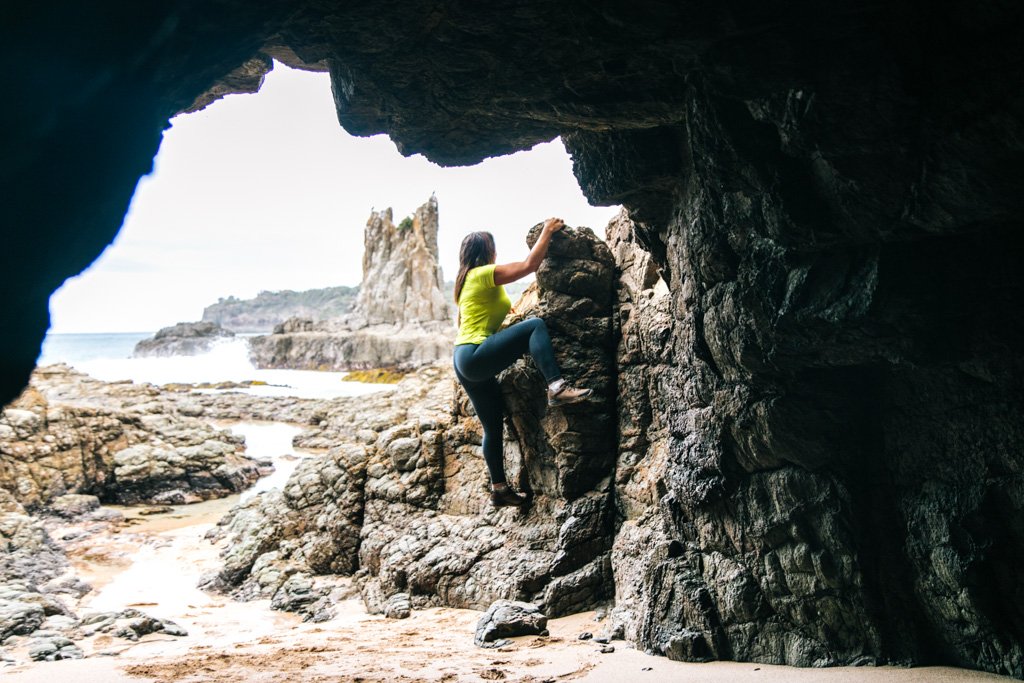 '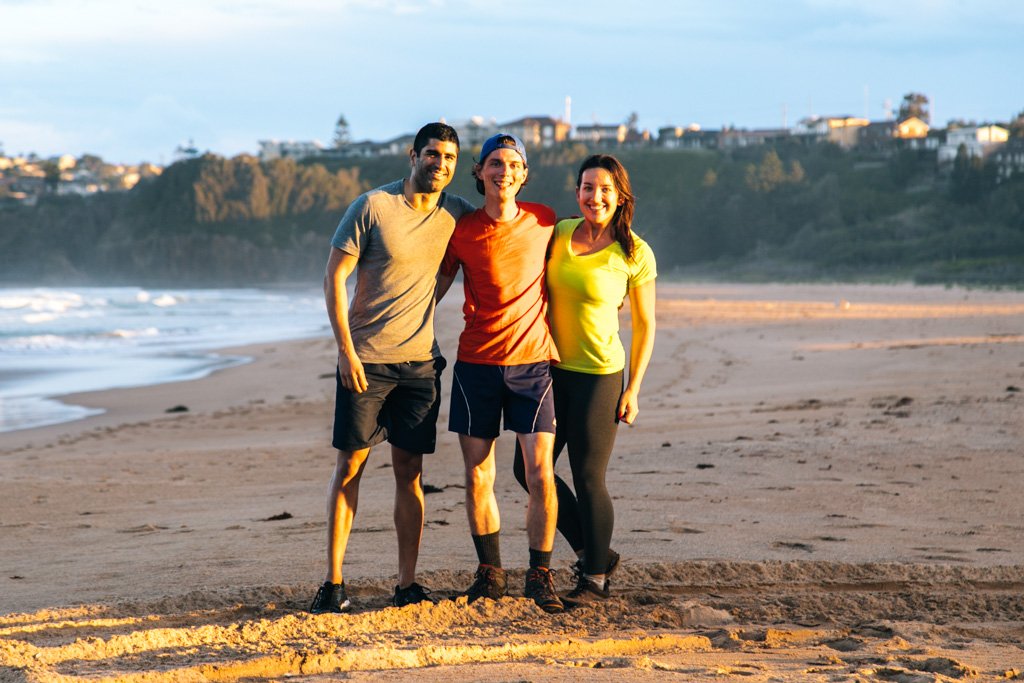 Top 3 Instagram Posts
Blog Posts
Here are the posts I wrote in March and April:
The Katoomba Street Art Walk: A Delightful Surprise!
FF Monthly Recap: January & February 2018
Cockatoo Island Camping, Glamping, & Adventuring
Summer in Italy: The Best Places to Visit
Camping Near Sydney: The Best Camping Trips by Public Transport
Hiking & Stargazing at Warrumbungle National Park
Presenting… My North Bondi Beach Pad!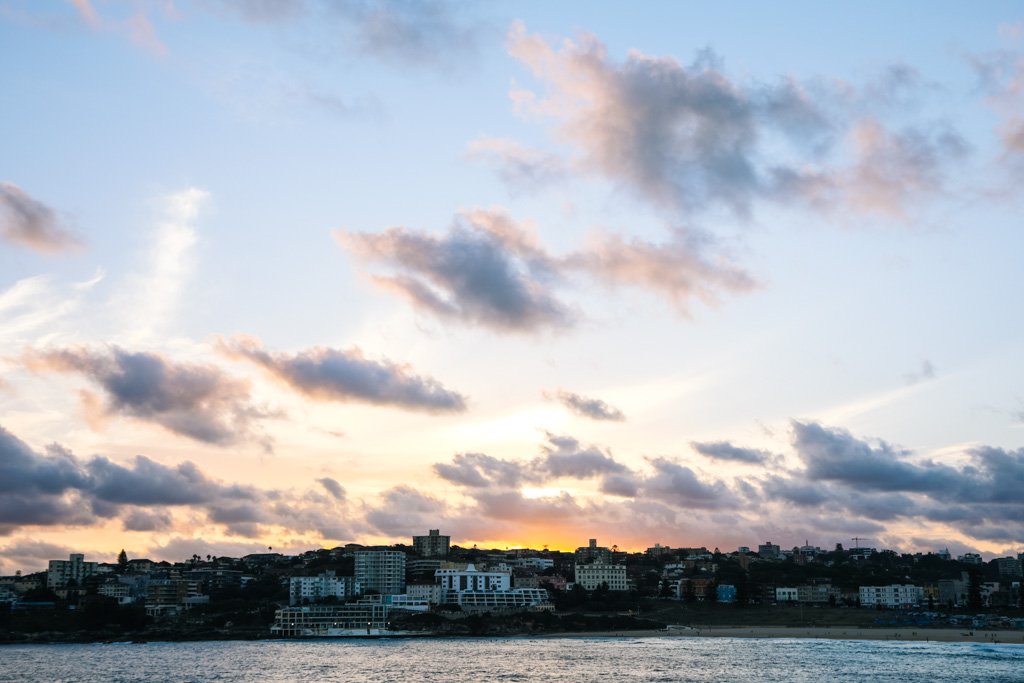 Bondi Beach sunset.
Reads
I'm endeavoring to complete at least half of the 2018 PopSugar reading challenge, so I figure this section will hold me accountable. If you have any suggestions for good books to read, please throw 'em in the comments below! :)
A Gentleman in Moscow– Amor Towles
In short: a Russian count is sentenced to house arrest in a fancy hotel in Moscow, where shenanigans ensue. It took me several weeks to get through this one, but not because it was bad! I definitely enjoyed it overall, but it was pretty slow-going at times, and I tend to get distracted when I read unless the book is super captivating.
The Rosie Project – Graeme Simsion
I've been hearing about this one for years and finally got around to reading it myself. I mean, the concept of someone being "good on paper" but not so much in reality (and vice versa) is nothing new – but it's pretty relatable, and this book is an easy and enjoyable read so… thumbs up from me!
The Hate U Give – Angie Thomas
Though not my usual murder mystery read, this one does involve a murder – but rather than a mystery surrounding it, it's got everything to do with racism. A real eye opener for anyone with "white privilege".
Lillian Boxfish Takes a Walk – Kathleen Rooney
I was surprised at how much I enjoyed this book. I loved reading about NYC in a different era, and it really made me appreciate being a woman in later times.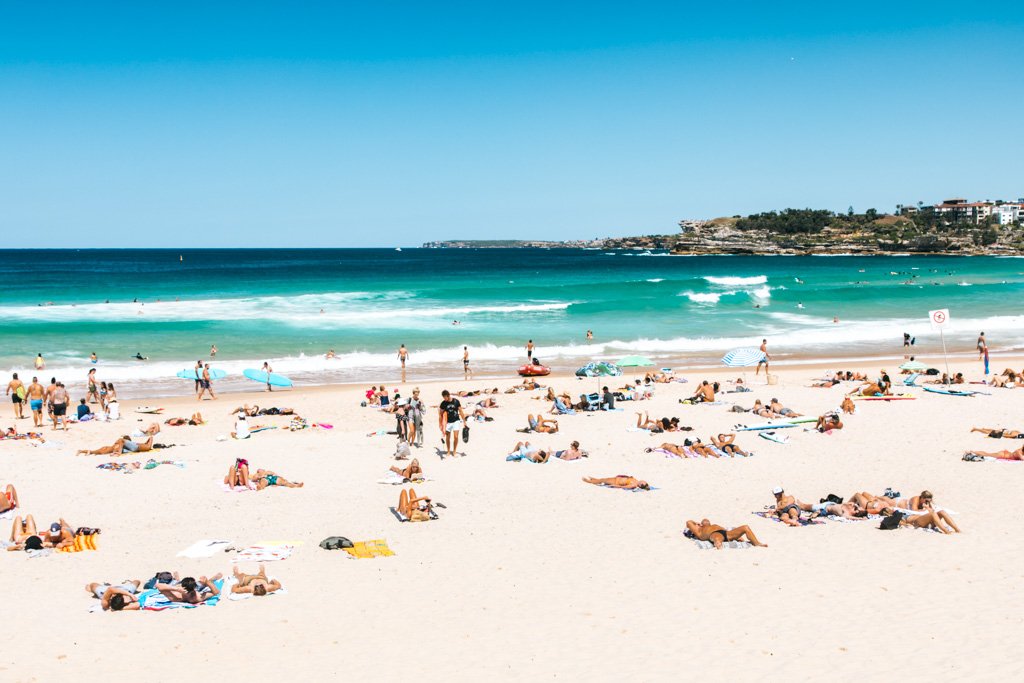 Bondi Beach, my backyard.
Coming up in May & June
Now that summer's over and beach weather has ended in Sydney, it's time for me to hit the road!
First up, I've got 10 days in Melbourne and surrounds in early May. I had originally booked the trip to do the week-long Great Ocean Walk, but since I've felt zero excitement about it this whole time I decided to redesign the trip. Now I'm splitting my time in half: 5 days in Melbourne ODing on the world's best coffee and ogling street art, and 5 days road tripping solo. It's pretty comical how I went from being absolutely terrified to drive in Australia, to renting a campervan on my own – but I can roll with that.
Then in mid-June I'm flying back to the US for a month! Cape Cod, NYC, San Francisco, and a NorCal RV road trip are on the agenda and I'm pretty happy about it.