Did you know that there's actually an island in Sydney Harbour where you can stay overnight?
Cockatoo Island is absolutely steeped in convict history and today, 110 years after the closure of the old prison there, it's a UNESCO World Heritage site and makes for a most excellent Sydney getaway or day trip. Best of all, you can make it a very affordable stay if you fashion together a DIY Cockatoo Island camping trip with friends.
So pitch a tent and frolic amongst the old convict buildings and industrial precinct – here's where to stay and what to do on Cockatoo Island in Sydney: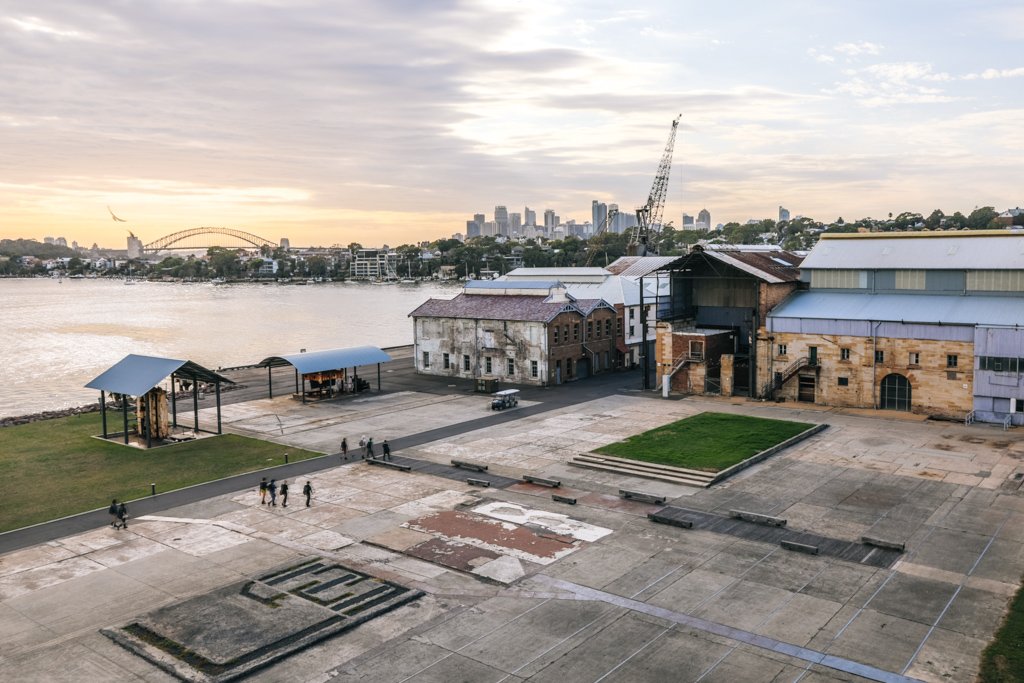 Cockatoo Island Accommodation
Cockatoo Island Camping
Of the many options, camping is by far the best value option for Cockatoo Island accommodation.
Self-sufficient campers who bring their own tents and sleeping gear can snag a campsite for $45/night ($50 on weekends). If you max out the site with 4 people, you'll end up paying $11.25/night per person to camp on Cockatoo Island. Such a steal!
There's a large patch of grass right by the ferry terminal where you're free to pitch your tent. Technically, your campsite is 4m x 4m – but this wasn't enforced or checked at all when we camped on a weeknight.
If you're keen to camp but don't have your own gear, you can opt for the camping package at $89/night ($99 on weekends) which includes a perma-tent with 2-3 mattresses and camp chairs. There are SO MANY tents set up on Cockatoo Island – you'll see rows and rows of them after you disembark the Cockatoo Island ferry and walk along the north side of the island. They're quite popular with school groups.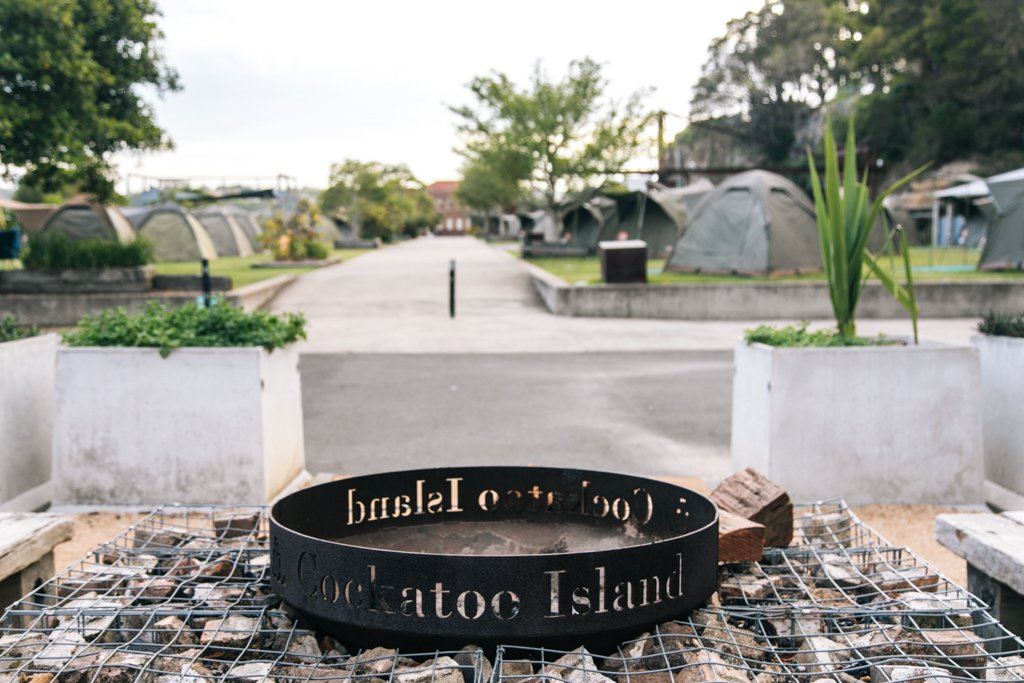 The fire pit is lit every night at 9pm.
Cockatoo Island Glamping
Glamorous camping, anyone? If you kind of like the idea of camping, but don't want to sacrifice comfort or convenience, Cockatoo Island glamping might be more your jam.
The glamping option includes a permanent-tent with all linens, chairs, lanterns, cooler (esky), toiletries, and a waterfront view. It's $150/night for 2 people ($175 on weekends) or $310/night ($360 on weekends) for 4 people.
Personally, I don't think there's great value in the glamping option: the tents used are the same ones you can rent as part of the regular camping package (i.e. they're pretty rustic and underwhelming), so basically you're paying $61 more for bedding, toothpaste, and a view.
Cockatoo Island Apartments
Not into camping, glamping, or anything involving a tent? Then the best Cockatoo Island accommodation option for you is most definitely an apartment. Here are the options:
Harbour View Apartment (1 bedroom starting at $285, 2 bedroom starting at $390)
Garden Riverview Apartment 1 bedroom starting at $315, 2 bedroom starting at $390)
Fire Station Studio (starting at $265)
Contained Pop-Up Hotel Suite (starting at $305)
The apartments and studio all feature a self-contained kitchen and a deck with panoramic views.
The pop-up suite has been built out of repurposed shipping containers and is such a unique accommodation option in Sydney that I'm actually tempted to splash out on it for a special occasion. It's available for booking February to June 2018.
Cockatoo Island Things To Do
Take A Historical Walking Tour Of The Island
Independent adventurers will love taking a self-guided tour of Cockatoo Island. There is SO MUCH to see, from sandstone convict buildings and jail cells to silos and old residences.
Each time I've visited the island, I've stumbled across new viewpoints, buildings, and pathways on my own aimless frolics; however, if you prefer a bit more structure and narrative to your wanderings, you can hire an audio guide for $5 and follow the numbered audio stops around the island.
There are signs and plaques all over the place which explain a bit about what you're seeing in line with some history of Cockatoo Island, but the audio commentary goes into greater detail and is a must if you're any sort of history buff. You can pick up your audio guide at the visitor's centre.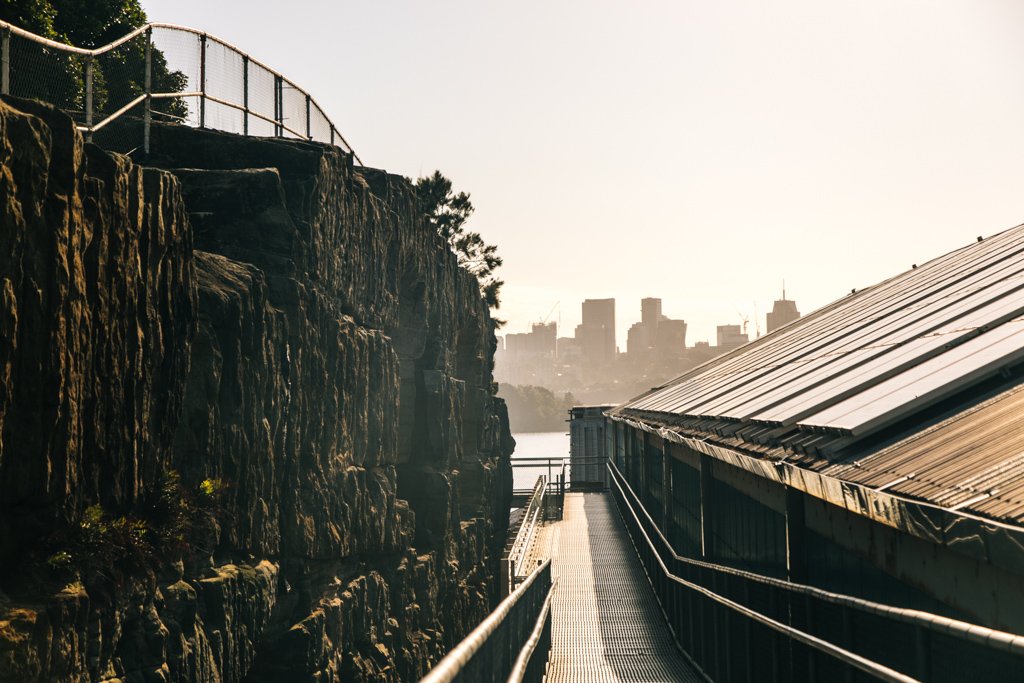 Clifftop walk.
And if you're less interested in history and just want to explore the landscape (i.e. like me), there's a clifftop walk that's well worth doing, and a couple of tunnel passages to amble through to get from one side of the island to the other.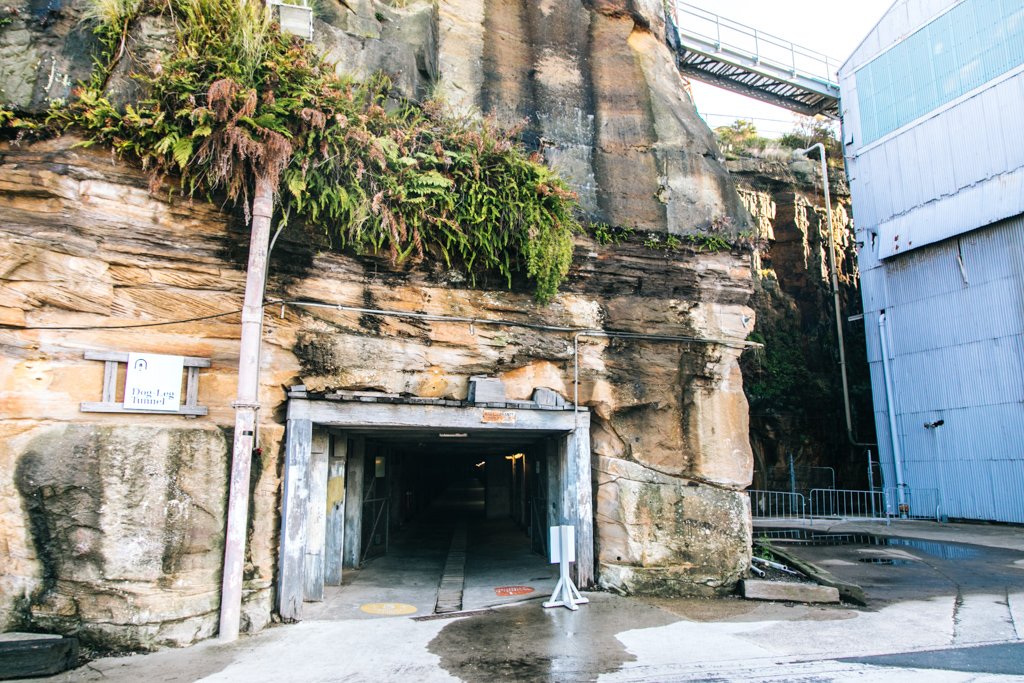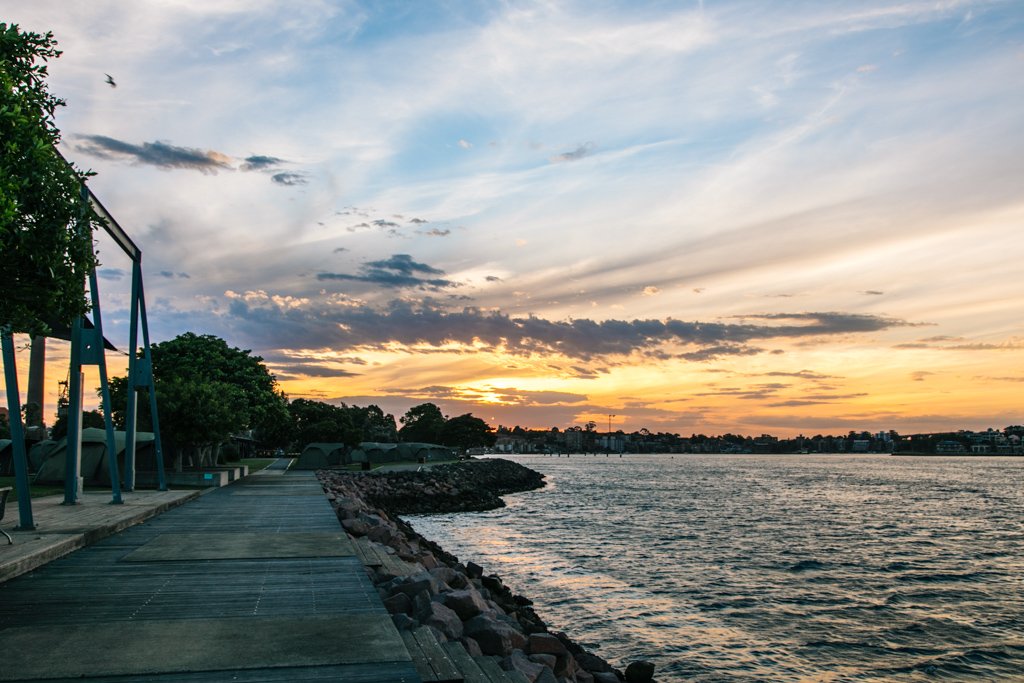 Sunset on Cockatoo Island.
Catch Sunset & Sunrise
The beauty of staying overnight on Cockatoo Island is that you're there for both sunset and sunrise, both of which you can watch over the harbour.
For sunset, head to the far end of the camping area to the west side of the island, facing Drummoyne. For sunrise, head to the east side of the island near the visitor's centre. The best view of sunrise is on the upper island from Biloela Lawn – you can glimpse the whole Harbour Bridge from this high up!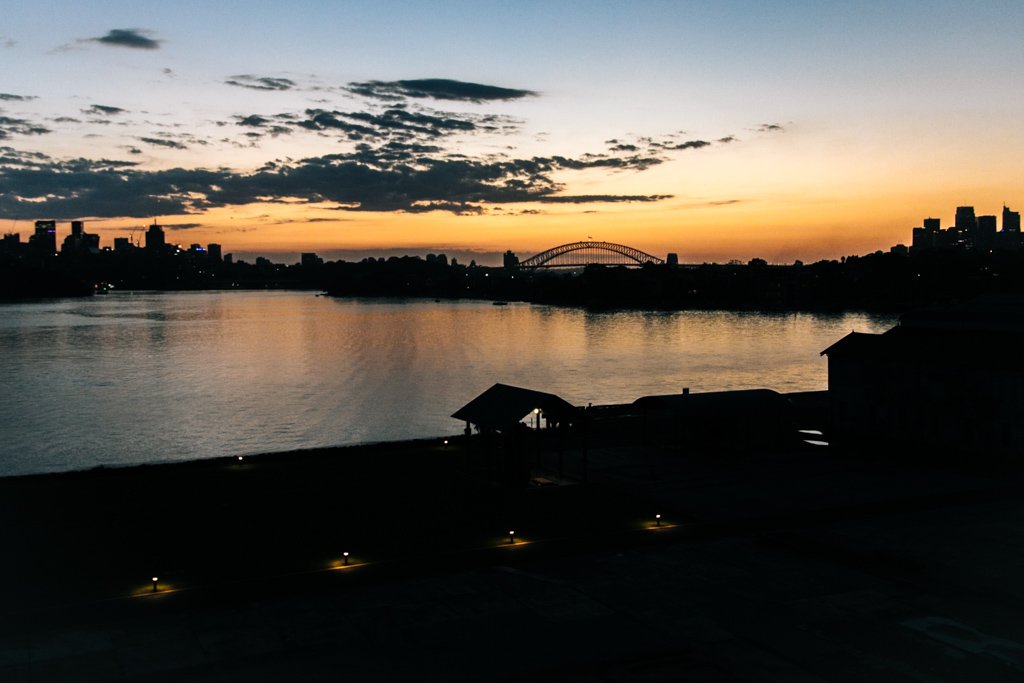 Sunrise from Biloela Lawn.
Go To The Cinema
The Convict Cinema in building 4 up on the Upper Island (aka the top of the hill) screens two movies every night: kids movie at 7pm, adults movie at 9:15pm.
Play Tennis or Chess
It's hard to miss the clifftop tennis court when you first arrive on the island… but look a little closer and you'll also spot a life-size chess board between the ferry terminal and toilet block.
Chess is free to play 24/7, while the tennis court costs $20/hour plus $5 per tennis racket rental.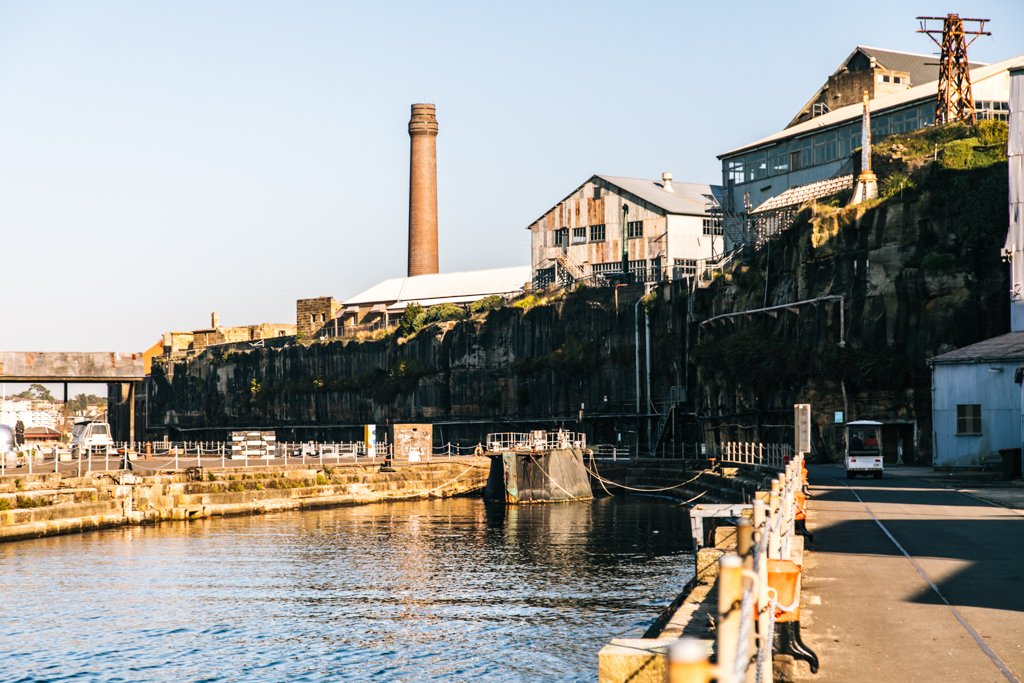 Bike Around The Island
Cockatoo Island is small enough to cover on foot, but for a change of pace you can opt to get around by bike. There are plenty of O bikes around, which you can unlock by downloading the app on your phone.
Check out the Biennale of Sydney
Check out various artwork on display around Cockatoo Island for the 21st Biennale of Sydney, taking place from 16 March – 11 June 2018.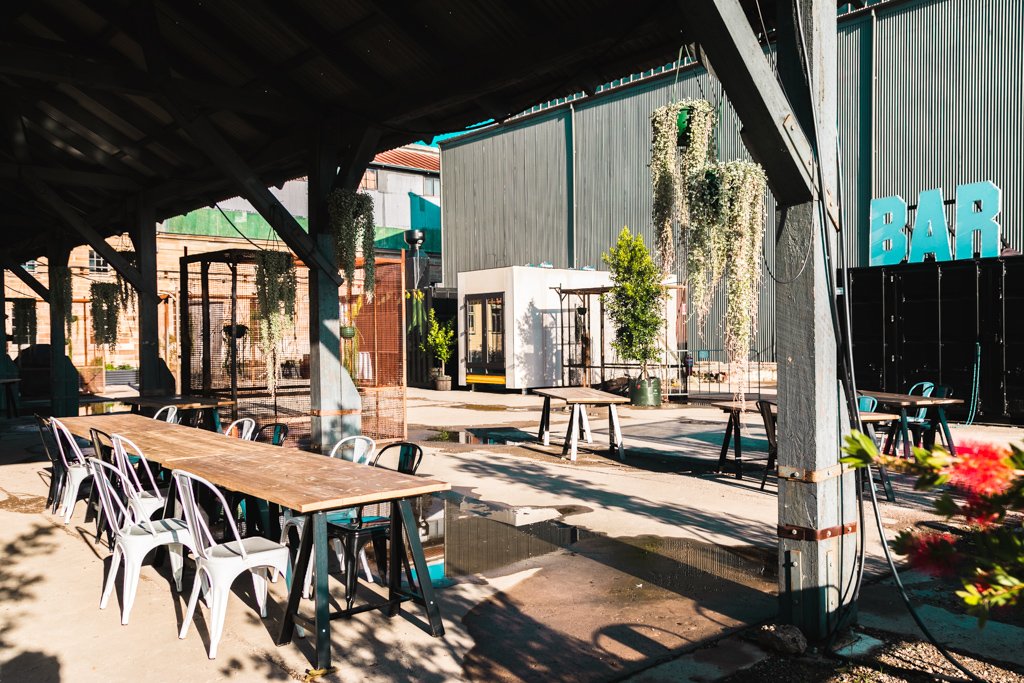 Contained. It's a lot more impressive when lit up in the evening!
Wine and Dine at Contained
Brand new in 2018, Contained is "an adventure hub of discovery and sensory exploration… formed through the use of innovative structures, materials and art". It includes a pop-up restaurant, wine bar, urban farm, and two hotel suites made from old shipping containers and adorned with plants and fairy lights… aka an instagrammer's dream location.
The Don Tapa restaurant and bar are open Wednesday through Sunday. The hotel suites are open for bookings until June, but I couldn't find any information on whether the venue will stay open past this time. All the more reason to venture to Cockatoo Island and check this spot out before winter!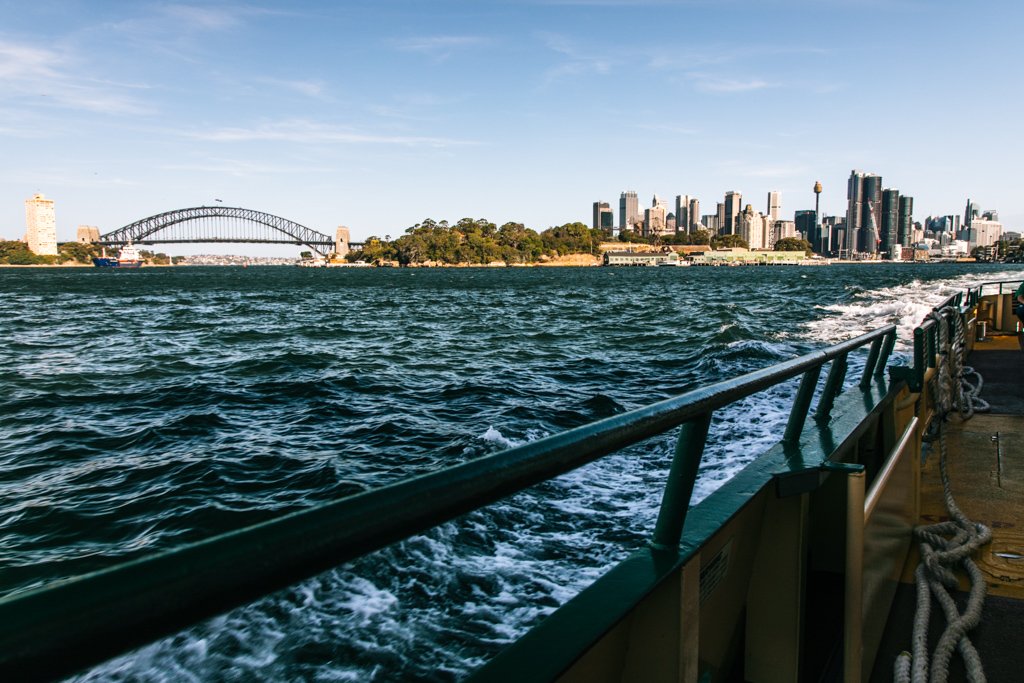 Other Things To Know About Cockatoo Island Sydney
The Cockatoo Island ferry runs from Circular Quay (F3, F8) and Barangaroo (F3). Depending on where you get on and which ferry you take, it could take 10, 20, or 30 minutes to reach the island.
No alcohol is allowed to be brought onto Cockatoo Island. Instead, they want you to drink at the bars/cafes on the island, or purchase beer/wine from them to take away to drink at your campsite. Sometimes they check bags as you disembark the ferry, so you might want to think twice before sneaking some alcohol onto the island.
There's a camp kitchen kitted out with several picnic tables, BBQ plates, a microwave, sinks, a boiling water tap (for tea/coffee), and electrical outlets. If you don't feel like bringing your own food supplies, you can preorder BBQ and breakfast packs to have ready upon arrival.
There is a toilet block and a hot shower block, both of which are clean and quite excellent.
Pin it!