What does your ideal Cape Cod vacation look like?
If it's anything like mine, it'll involve beach hopping from bay side to ocean side, sampling as much clam chowder as you can stomach, making a trip up to Provincetown for shopping and general merriment, and perhaps a night at the Wellfleet drive-in.
But with my last 2 Cape Cod jaunts, I've added one more endeavor to the must-do list: biking the Cape Cod Rail Trail.
About the Cape Cod Rail Trail
A paved pathway running about 25 miles from South Dennis north to Wellfleet, the Cape Cod Rail Trail makes for a safe and scenic ride up the central Cape. It runs alongside what used to be the Cape Cod railroad tracks, which were torn up in the 1960's in favor of bridges and America's beloved automobile. With nary a remnant, it's hard to envision freight trains once rumbling up and down the Cape, though.
The Cape Cod Rail Trail passes through 6 towns: Dennis, Harwich, Brewster, Orleans, Eastham and Wellfleet. There are bike rental shops all along the way, just off the trail – most of which will let you park your car for the day. Rates are very affordable, and vary by outlet – we paid $20 for 5 hours at Barb's Bike Shop, which is stationed at the very start of the trail in Dennis.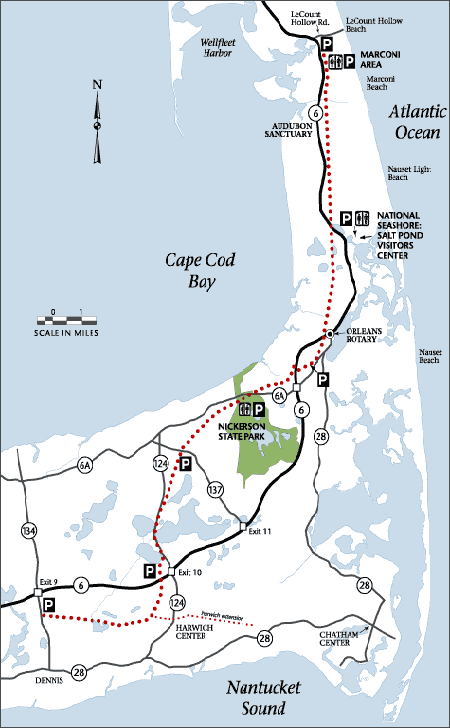 Photo Credit: New England Vacations Guide
What's the Cape Cod Rail Trail like?
Um, awesome. Or did you want a bit more than that?
The scenery along the Cape Cod Rail Trail is quite diverse
There are cranberry bogs in Dennis, though I didn't photograph them because they're rather bland looking outside of harvest season. Visit in the fall, and you'll see vibrant red just off the trail.
Through Harwich, you'll pass by several lakes that'll make you question whether you came to the Cape to see the beaches. The trail enters the town of Brewster at Nickerson State Park, where my family spent many a camping trip back in the day. From Brewster to Orleans, the scenery goes from marshes to forest.
In Eastham and Wellfleet, the trail meets Rt 6, where you can veer off to stop at an ocean beach. Coast Guard, Nauset Light, Marconi, and Lecount Hollow are excellent (albeit crowded) options. A few hours picnicking and resting on the beach, and you'll be good to hop back on the trail.
The ponds in Harwich
Brewster
The Cape Cod Rail Trail is a flat trail that you can customize to your own style
You can make the CCRT as long or short, leisurely or demanding, as you wish. There are families that stick together on the trail, keeping pace with the slowest member of their clan, that you'll likely want to pass by. But there are also people in proper cycling attire with fancier bikes who are in it to rack up miles and therefore whip past everyone on the trail.
You can bike the whole Cape Cod bike trail, or just a segment of it – at any pace. Every .1 of a mile there are mile markers spray painted on the ground, informing cyclists how far into the trail they are, and which town they're currently in.
What's more, you don't even have to cycle! There are plenty of folks who walk, run, scooter, or rollerblade instead.
Forest in Orleans
What to do near the Cape Cod Rail Trail
With the summer heat and inevitably stiff bike seats you'll be enduring, taking breaks on the rail trail is necessary. The CCRT constantly criss-crosses with actual roads, so you can easily get off to find food, drink, or supplies.
Here are a few of my recommendations for pit stops along the Cape Cod Rail Trail:
Stop for coffee, chocolate, or ice cream at Hot Chocolate Sparrow in Orleans
Get off at the Salt Pond Visitors Center in Eastham and bike the 2 mile trail to Coast Guard Beach
Grab a sandwich or some clams at Cobie's in Brewster

Getting off the trail around Nauset.

Coast Guard Beach in Eastham.

Lecount Hollow Beach in Wellfleet.
READ MORE: 20 Things To Do In Cape Cod In Summer
Pin it!