One of the very first things I noted when I moved to Sydney on a work & holiday visa a few years ago was that on Sundays, there's a $2.60 cap on public transport for the whole day.
Hey, if the government has subsidized public transport to encourage more people to use it on this particular day of the week, then I'm very happy to take advantage. Sundays are usually when I like to head over to Manly (would normally cost me about $22 for bus + ferry), or pop down to Watsons Bay for a stand-up paddleboarding session. Occasionally I might take the train for weekend trips from Sydney and go for a hike somewhere (would cost me about $12-15 for bus + train if I went on any other day).
As a frugal traveler, it feels fantastic not having to worry about how much I'm spending getting from A to B because I know that all I'll pay all day on a Sunday is $2.60 total.
With most bus rides running just under $4 per journey and ferry rides maxing out at $7.50 each, getting around Sydney can be rather pricey. Planning your travels and city adventures on Sundays is such an easy way to save money, and it really does add up if you're living in Sydney for awhile and make this a habit.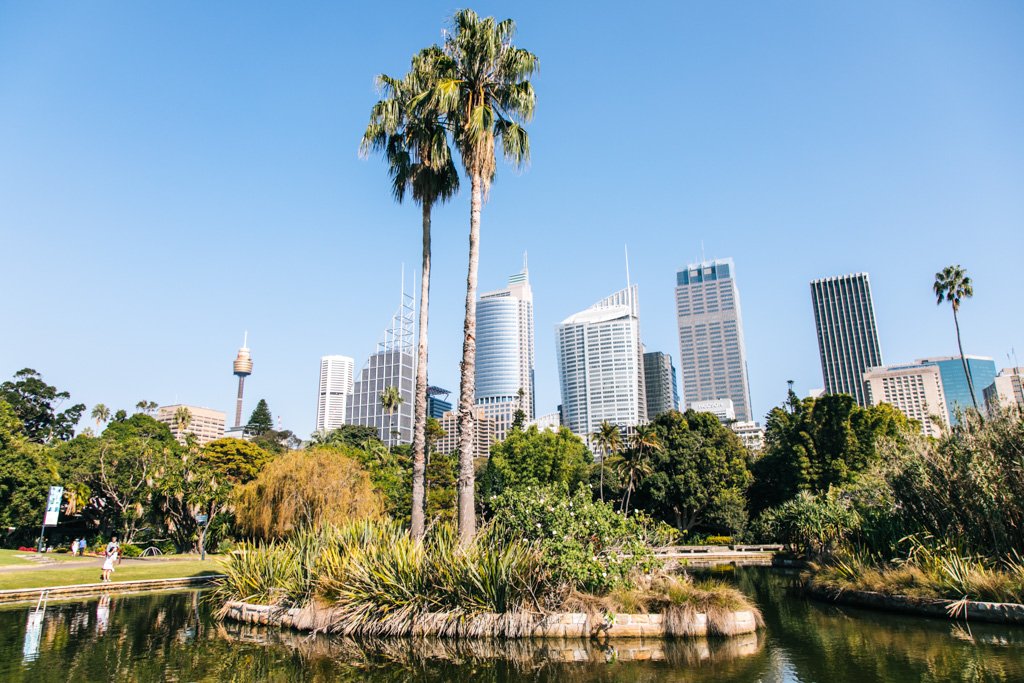 When I had the chance recently to stay overnight at a hotel in Sydney's CBD, I decided to challenge myself and craft a different kind of Sunday adventure. Here are a few of my best ideas for 1). Making use of the cheap public transport on Sunday, 2). Saving money in Sydney, and 3). The best things to do in Sydney.
Presenting: a one day itinerary for Sydney, on a Sunday!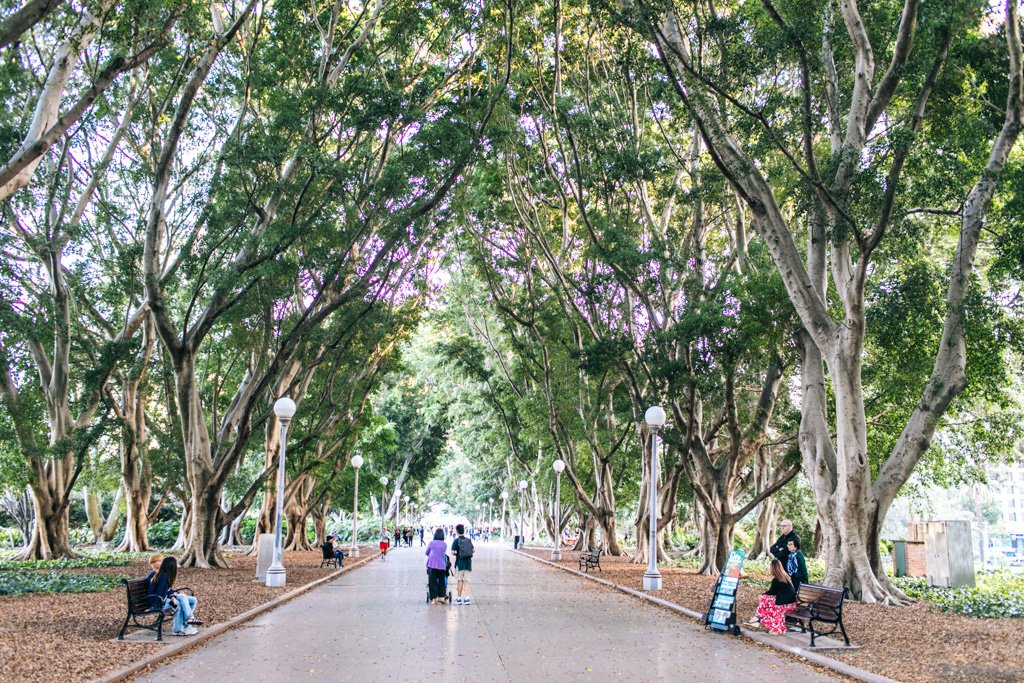 Brunch at Paramount Coffee Project – Surry Hills
I've not found many cafes in Sydney of Melbourne caliber, but PCP in Surry Hills is one of the few that has both sensational coffee and creative/delicious food options. It's the brunch spot I recommend to those visiting Sydney, and where I like to try to take friends who are in town and want to meet up.
Order the buttermilk fried chicken waffle or crumbed eggs on toast if you're not veg. You're welcome.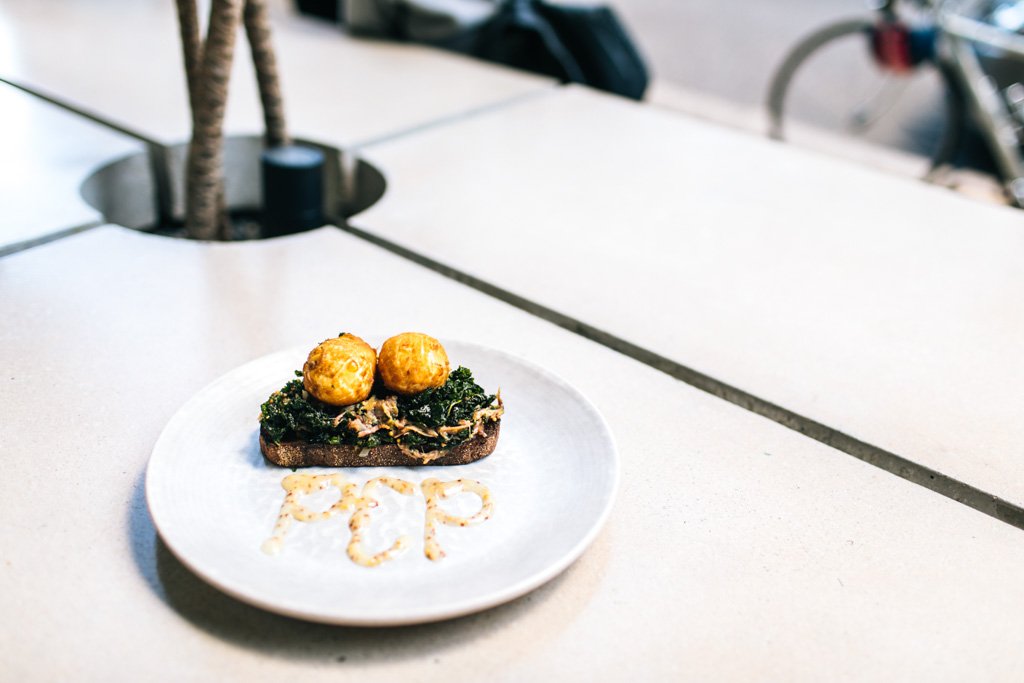 Mmm crumbed eggs on toast with mustard braised ham hock and kale.
Hit The Beach – Manly or Watsons Bay
C'mon, it's me here – you knew I was gonna tell you to head to the beach!
Manly is the obvious option on a Sunday because you save so much on the ferry trip there and back (normally $7.50 each way). It's also the popular option, so you'll likely be battling crowds if you're heading out there on a summer Sunday.
At Manly, you can take your pick of outdoor adventures, or just hang out at one of its many gorgeous beaches (that's right, there's more than just Manly Beach up there!).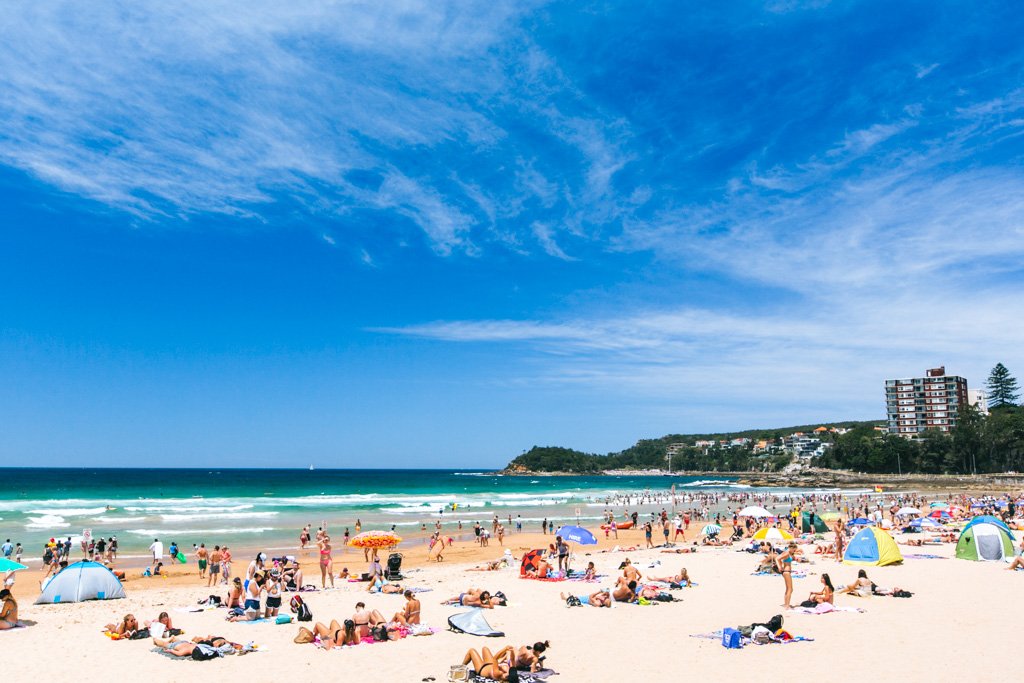 Manly Beach.
Or, for a slightly more offbeat Sunday beach excursion, catch the ferry from Circular Quay to Watsons Bay (normally $5.88 each way). Here you can partake in a Sunday session at the stylish Watsons Bay Boutique Hotel or take a stand-up paddleboarding lesson/tour at Watsons Bay beach, head to the nearby picturesque Camp Cove beach, or do a Sydney Harbour walk around South Head.

Camp Cove.
Watch the Sunset – Kirribilli
I usually recommend walking across the Sydney Harbour Bridge to get to the north side (it's free, it's good exercise, and the views of Sydney are incredible). But because you'll have been busy bopping around town taking advantage of the cheap Sunday travel, you probably won't have time to walk it. More importantly, it would be silly NOT to take what essentially is a free ferry ride from Circular Quay to Milsons Point (normally $5.88 each way) and get there in 7 minutes.
My favorite sunset spot is right by Jeffrey St wharf. From here, you're almost directly across from the Opera House and are aptly positioned to watch the sun go down behind the Harbour Bridge.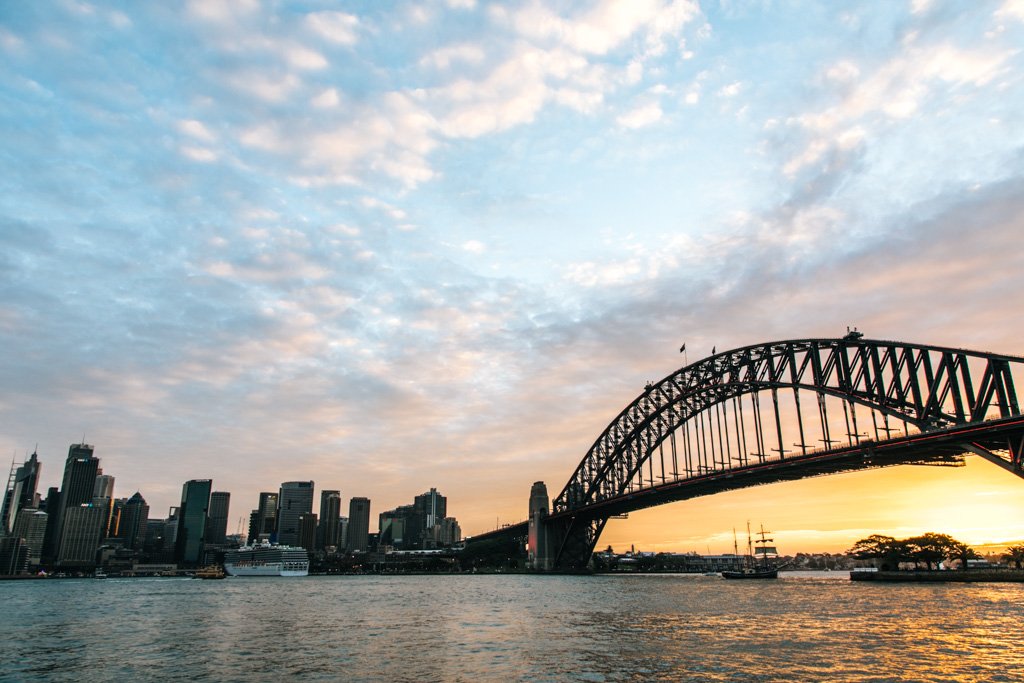 If you have time to linger afterwards, the waterfront right around the bridge makes for some excellent long exposure photography of Sydney's skyline at night.
$10 Negronis + Free Live Jazz at Moya's – Redfern
I feel like this is one of the best value bar experiences in Sydney and one that not too many Sydneysiders know about. There's a cozy gin bar in Redfern called Moya's Juniper Lounge that does an insanely good Negroni – and on Sunday nights it's only $10! Not only that, but from 6-9pm you can sit and enjoy some free live jazz music with your Negroni. Just get there on the earlier side to avoid the queue.
Late Night Pizza at Frankie's – CBD
Dinner will be a bit on the late side if you follow this Sydney one day itinerary exactly, so maybe plan ahead and snack on something earlier if you're prone to hanger? (I tend to prioritize sightseeing and doing things over eating, which works for me but definitely is not for everyone).
There's not much that remains open on Sunday nights in the CBD, which is how I first discovered the joy that is Frankie's Pizza By The Slice. It's a little bit confronting at first with rock music blasting and walls absolutely covered in old photos (often lewd ones). Then you settle in and start thinking, man, this place is pretty glorious. Or if you're not quite there yet, you will be once you dig into your pizza – it's pretty delish, and you can order a slice or a whole pie.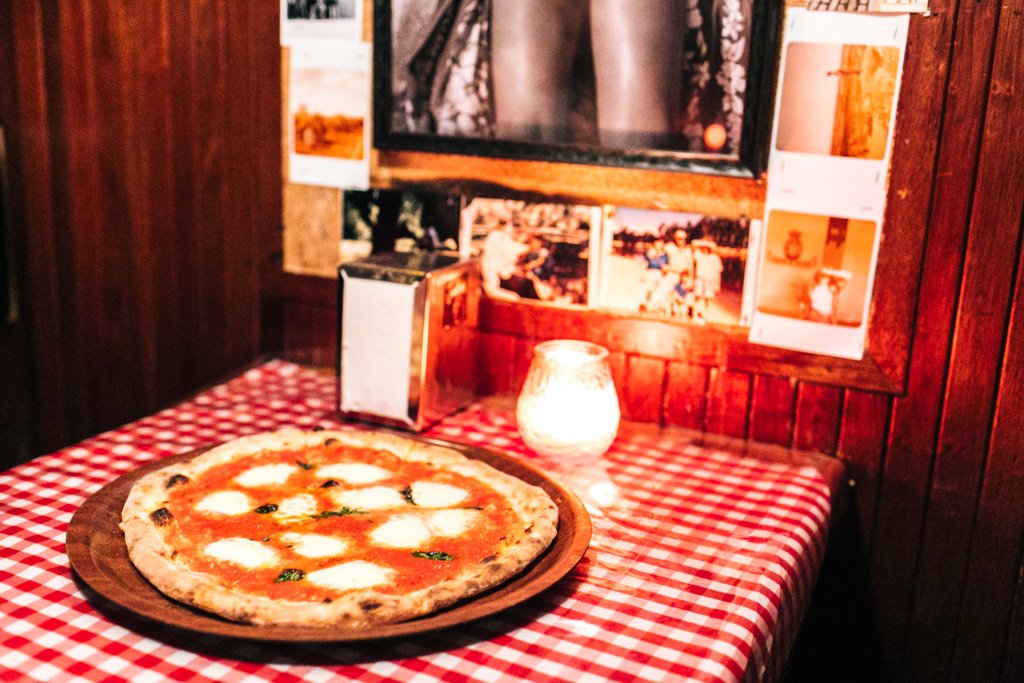 Stay at The Tank Stream – CBD
Just around the corner from Frankie's is the Sydney hotel I recently stayed at and highly recommend as a base for your Sydney adventures: The Tank Stream. Located within a 5-minute walk of Wynyard and Martin Place stations and just a 7-minute walk from Sydney Harbour, staying at this hotel makes it so easy to take advantage of the cheap Sunday travel and hit all of the hotspots I've included in this post.
With a blog that has the word "frugal" in its name, I'm constantly having to explain to people that it's not about hardcore budget travel or being cheap. To me, being frugal is about putting your money toward things that you value highly and minimizing your spend on everything else.
And I feel like The Tank Stream really gets it. This hotel gives you everything you need and nothing you don't. There are no empty conference rooms, no frivolous decor or furniture set out just for the sake of taking up space, no fitness center that probably <1% of guests would ever bother using anyway. There's a reception area, a restaurant and wine bar, and guest rooms – and that's it.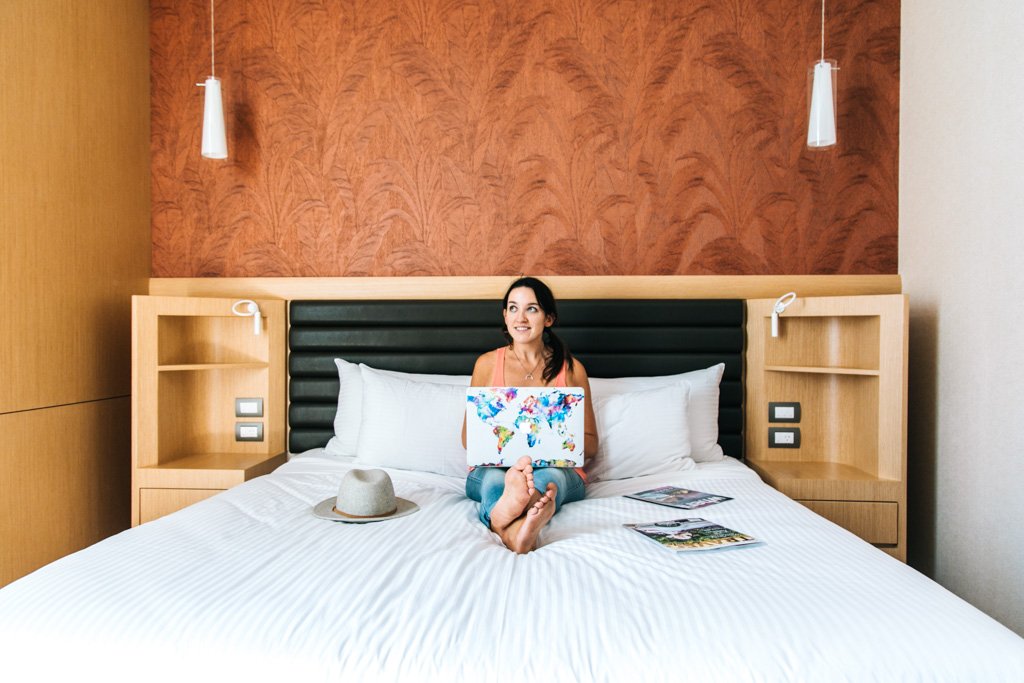 I don't know about you, but unless I'm splurging, all I really want is a nice, comfortable room to crash in after a day of adventuring. I don't want to pay for all that extra stuff I don't need. But at the same time, I do want to stay somewhere stylish and modern. The Tank Stream is one of those rare hotels that's really nice, centrally located, and very affordable. Highly recommend if you're looking to book a hotel in Sydney.
The Tank Stream is offering a Sunday Weekender package throughout 2018 which includes wi-fi, free in-room movies, minibar stocked with non-alcoholic drinks, and a buffet breakfast for two – at up to 50% less than their normal rate (which tends to range from AU$150-300 depending on the day of the week and time of year).

If you want to take advantage of this Sunday deal, e-mail reservations@tankstreamhotel.com rather than booking via the website, as it just shows room-only rates. Be sure to tell them Frugal Frolicker sent you! ;)
Sunrise at Sydney Opera House
Technically this would be Monday morning, but I had to include sunrise the next day because you're literally a 7 minute walk from Sydney Harbour if you stay at the Tank Stream on Sunday night. It's not that often most of us have that luxury, and though it was a bit painful waking up at 5:15am, I'm so glad I made the effort!
The sun rises from behind the Sydney Opera House (like, as you're looking towards the outer harbour and away from the bridge), so if the sky is looking good I'd stake out a spot somewhere near the Sydney Harbour Bridge on the south side facing the Opera House (e.g. Hickson Road Reserve) and watch the sun come up from there.
If the sunrise looks like it's going to be lackluster, I'd head straight for the Opera House instead and get some shots of the building up close with that killer morning light. Or if you've got a tripod and the inclination, maybe have yourself a mini sunrise photoshoot in your Monday finest. I speak from recent experience when I say that NO ONE is at the Opera House that early on a Monday morning – it's the perfect time for a shoot!
HAVE MORE TIME IN SYDNEY? CHECK OUT THIS 5 DAYS IN SYDNEY ITINERARY.
Thank you to The Tank Stream for hosting me during my Sydney Staycation. Note that all opinions expressed here and elsewhere on this blog are my unbiased own, and are uninfluenced by any gifts or incentives I may receive.
Pin it!
Pin it!