I'm calling bullshit on everyone who claims that it's too expensive to travel to or live in Australia.
The truth is, if you practice healthy spending and saving habits in your daily life, there's no reason you can't do the same while visiting Australia. Plus, with the Australian dollar being weak in comparison to the US dollar among others, your foreign currency can stretch reasonably far in this country.
Here are my best tips for how to save money in Australia – 35, to be precise. If you have any of your own money saving tips for Australia to add, please comment at the bottom of this post!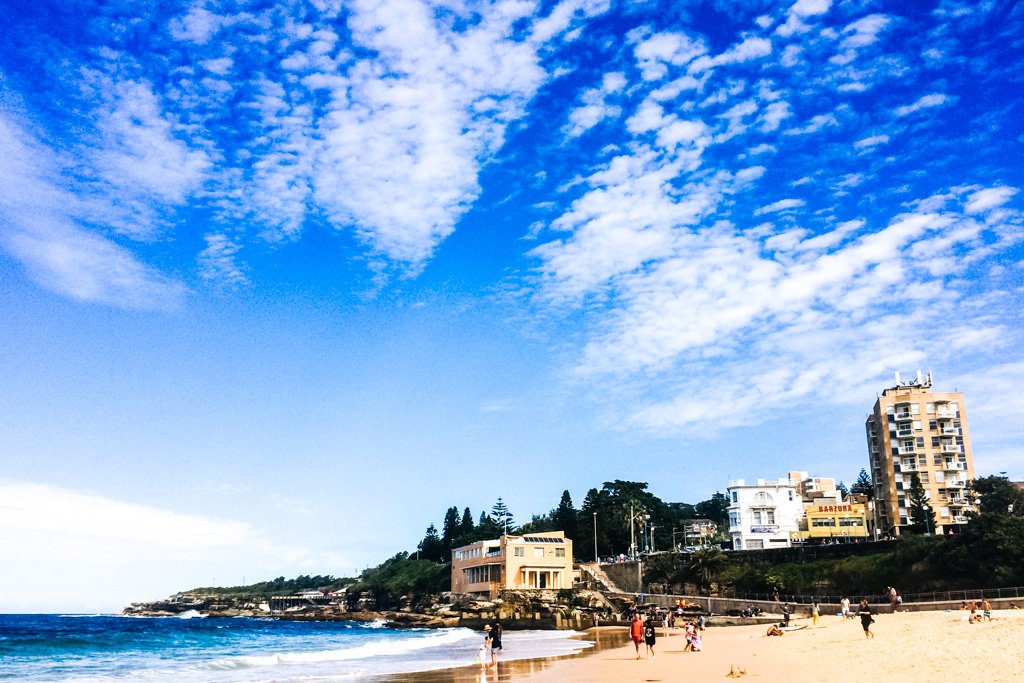 Coogee Beach in Sydney.
Save Money on Transportation in Australia
READ MORE IN THIS POST: How To Travel Cheaply in Australia
1. Snag an Error Fare on a Flight to Australia
Sometimes airlines screw up and advertise flights at a much lower price than normal – it actually happens far more frequently than you'd think. If you're seriously considering traveling to Australia, start following the Secret Flying or The Flight Deal facebook pages and configure your settings so that their updates show up first on your timeline. That way you won't miss it when they post about the error fares they find (for example, Sydney to Los Angeles for AU$370 return in early 2016).
2. Fly With Australia's Budget Airlines
Jetstar has a Friday Frenzy sale every week, as well as other sales periodically during the year, advertising crazy-cheap flights on both domestic routes and international routes (to New Zealand and parts of Southeast Asia). Tiger Air likes to advertise sale fares on Facebook – be sure to like their page so you don't miss a deal!
3. Fly with Air Asia if you're traveling between Australia and Asia
While Jetstar and Tiger Air do have flights to Asia, Air Asia provides more consistently cheap fares between Australia and Asia.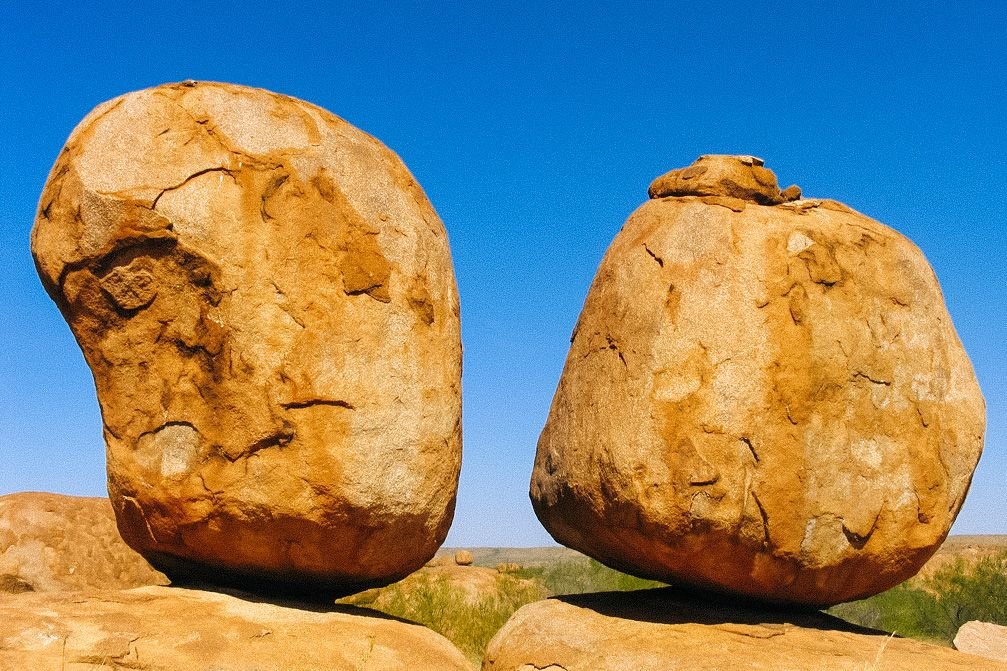 Devils Marbles.
4. Fly With Virgin Australia if You're Traveling With Heavy Baggage
Virgin Australia allows up to 3 checked bags at 23kg each (and the first checked bag is free!).
5. Don't Travel Long Distances By Train
The national train network in Australia is limited and way too expensive compared to other modes of travel, especially when you can often find flights covering the same route that are both cheaper and faster.
6. … But *Maybe* Travel By Train Between Melbourne and Sydney
Once in awhile you can find really cheap train tickets from Melbourne to Sydney (and vice versa) via NSW Train Link. If you have the luxury of time and don't mind spending 12 hours on a train, this is a pretty amazing way to save money in Australia – particularly if you aren't traveling light (as they don't weigh your baggage).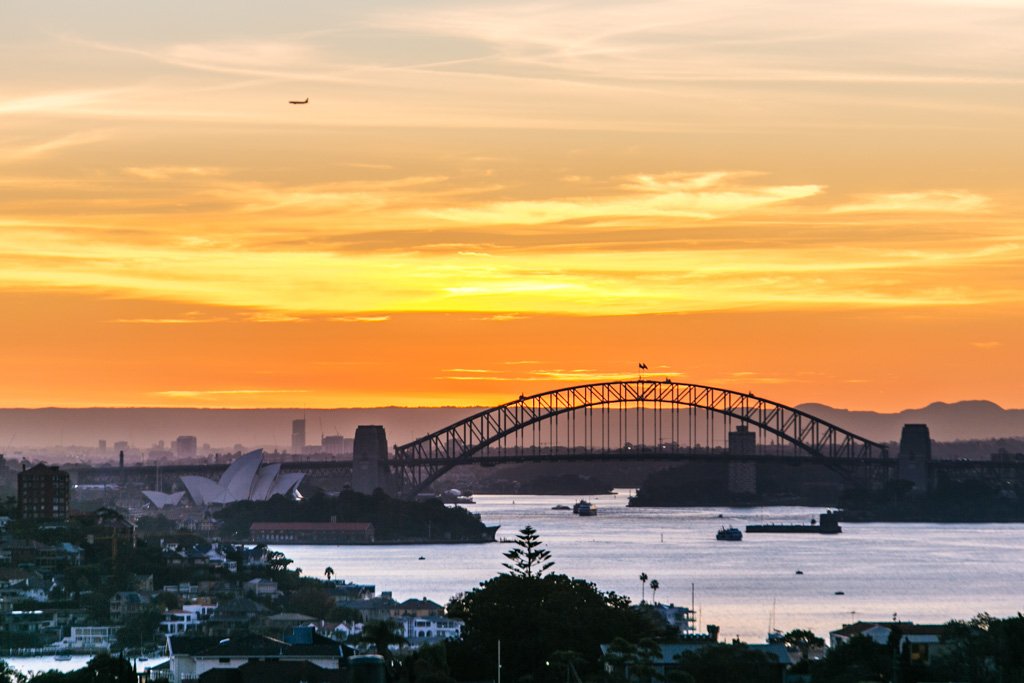 Sydney Harbour.
7. Rideshare
Need to get from one city to another for cheap? Check Gumtree, the Couchsurfing forums, or your city's backpacker group on Facebook (e.g. Melbourne Backpacker) to see if anyone is offering a ride from your city – otherwise, post a message asking for a ride. Some drivers may aim to get from A to B as fast as possible, while others might want to turn it into a more leisurely road trip. Either way, a rideshare in Australia is a great way to save money in Australia and see a bit more of the country for just the cost of fuel.
8. Book a Cheap Rental Car
VroomVroomVroom has the best car hire deals across Australia. Much like Kayak and Skyscanner aggregate cheap flights, this site aggregates cheap rental cars.
On that note, prices tend to drop drastically if you pick up the rental car from a city airport or an outer suburb, rather than in the city center.
9. Buy a Used Campervan
Road tripping around Australia is hugely popular amongst backpackers and working holidaymakers, and there's no shortage of used camper trailers and campervans available to buy, often fully equipped with everything you'll need for road trips. Your best bet is to look for vehicles to buy on Gumtree or Facebook Marketplace in a city that's a popular end point for Australian road trips (e.g. Sydney, Cairns, Perth).
Here's why this is such a great way to save money in Australia: when you're done with the van, you should easily be able to sell it for close to the amount you paid for it… which basically means you'll have had a free campervan with which to travel around Australia.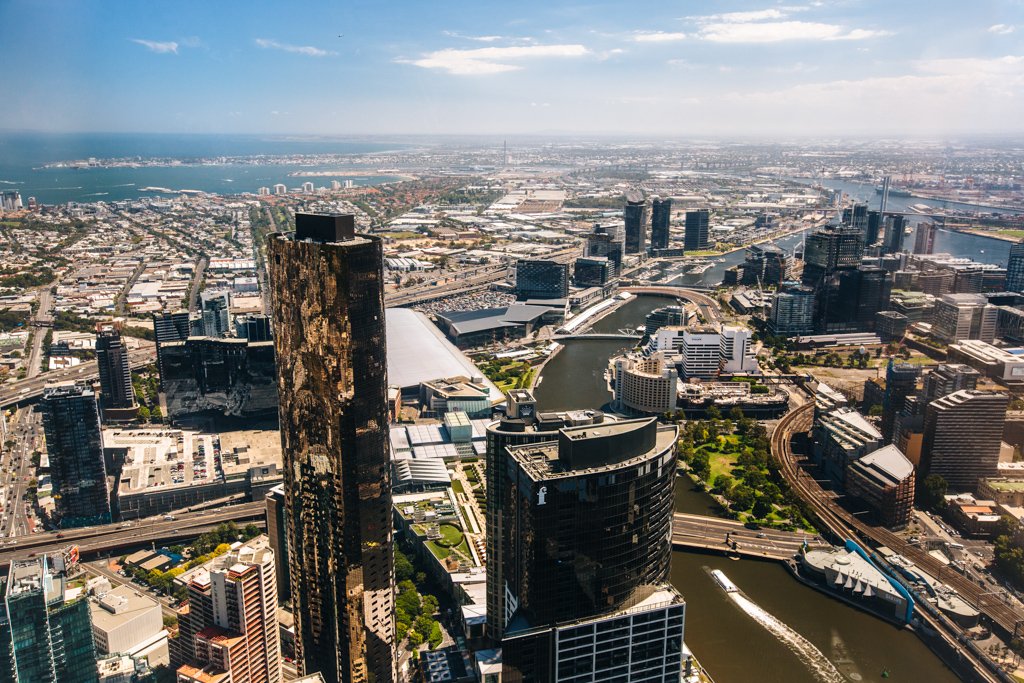 Melbourne.
10. Campervan Relocation
There is a wonderful thing in Australia known as campervan relocation, where many rental companies are desperate enough to move vehicles from one city to another that they will offer rentals for as low as $1. This is a fantastic opportunity to travel cheaply in Australia if you are willing to be flexible with your travel schedule.
Transfercar, Coseats, and VroomVroomVroom do campervan relocations, and a quick Google search for "Australia campervan relocation" should reveal many more.
11. Buy a Smartcard for Public Transport
Most of Australia's major cities offer a reusable transit card that you can load money onto and use to tap on/off when taking public transport. You might have to pay a small fee when you first obtain the card, but you'll end up saving loads more in the long run.
12. Take Public Transport to the Airport
Unless you're traveling with other people, it's far more economical to take public transport than a taxi to the airport – and it's actually pretty convenient in most Aussie cities.
13. Buy a Bus Pass for Extended Travel
If you plan on traveling throughout one region for a set amount of time, Greyhound's Hop On Hop Off pass is brilliant for saving money in Australia. You buy a pass for travel between two cities, and you can hop on or off as many times as you'd like within 3 months (without backtracking). Oz Experience offers similar bus passes but with added extras like accommodation and activities.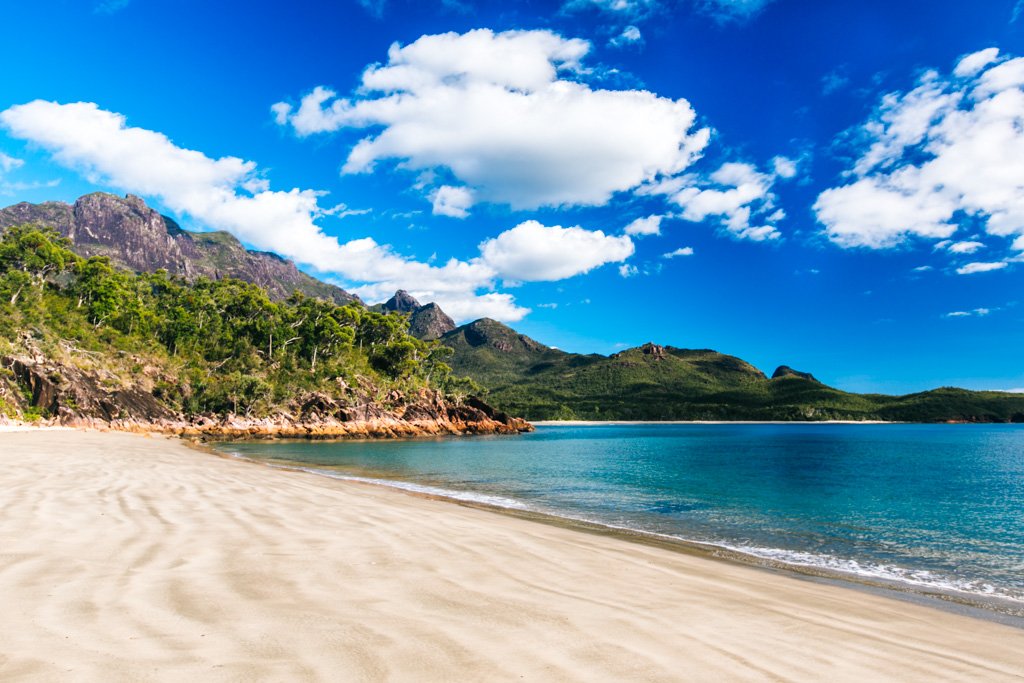 Hinchinbrook Island.
Save Money on Accommodation in Australia
READ MORE IN THIS POST: How To Find Cheap Accommodation in Australia
14. Stay in Hostels
In Australia, hostel dorm beds tend to fall in the $30-40 range per night, but you may be able to find cheaper hostels outside of the city center. You can search on sites like Hostelworld and Hostelbookers to see what the highest-rated hostels are in the city, and what other travelers are saying about them in the reviews, before booking a hostel bed.
YHA Australia is an Australian hostel chain that's associated with Hostelling International (HI), the world's largest backpacker accommodation network. Their hostels don't show up on the aforementioned booking sites, so you'll have to visit the YHA site separately to search for them.
If you're planning on staying in a city for awhile, you could look into working at your hostel in exchange for free accommodation. Most hostels have travelers who have been living there for months, doing a couple hours of cleaning or laundry each morning – just ask reception if they're in need of any help.
15. Couchsurf
Want to meet locals and stay at their house for free? You can do exactly this with Couchsurfing, an online community of travel lovers. Many members will offer their couches or spare rooms up to travelers who are passing through their city – for free! The idea is to promote cultural exchange and authentic travel experiences, rather than complete a transaction.
16. Stay in an Airbnb
If you're someone who likes to have their own space and privacy but still craves a local experience that hotels can't provide, Airbnb might be right up your alley. On Airbnb, people can list their spare room or empty home for short-term rental, making it available for guests to book for one night up to several weeks or even months.
I love Airbnb because you get to live like a local, hanging out at home and frequenting your favorite local haunts, maybe even sharing the home with locals who are living there full time. It's much more affordable than booking a tiny hotel room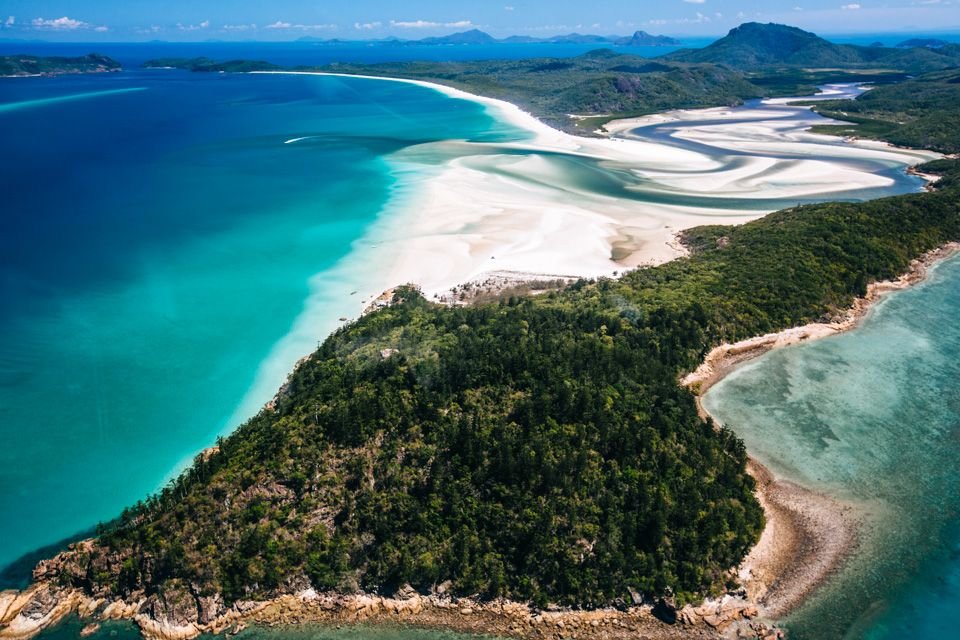 The Whitsundays.
17. Take on a Short Term Sublet
If you'll be in some Aussie city for at least a couple of weeks, you may be able to secure a short term sublet. This is one of my favorite money saving tips for Australia, and one I've used numerous time when in-between permanent housing.
Sometimes people want to make a little extra money by renting out their room while they go overseas for a short time, but don't want to go through the hassle of listing it on Airbnb or paying the fees. So instead, they might advertise their room on Gumtree (check the Real Estate section) or on a local Facebook group (for example: Melbourne Sustainable Share-house Service, Melbourne housemate finder, Eastern suburbs housemates, Bondi Local Loop). You're likely to see more sublets available during holidays, for example December through January (Christmas, New Years, and uni breaks) and during winter (July-August, when Aussies travel to warmer climes).
18. Do a Work Exchange
Consider doing a work exchange, where you put in a few hours of work each day in exchange for room and board. Websites like HelpX and Workaway are great for finding hosts around Australia who are looking for help around the house, be it gardening, construction, babysitting, or other manual labor. Some may even be seeking skilled labor (usually something computer-related). Arrangements vary for each exchange, but you'll typically work 3-5 hours per day and may have one or two days off each week.
19. House Sit
What could be better than having a whole house or apartment to yourself and a pet or two to keep you company? With house sitting, you can live for free in someone's home while they are away in exchange for looking after their pets, home, and/or garden for them. It's a fantastic way to experience different neighborhoods around a city while saving money in Australia.
Try joining Aussie Housesitters, Trusted Housesitters, or Mind A Home to score house sits around Australia.
READ MORE: How To Become A House Sitter & Travel The World With FREE Accommodation!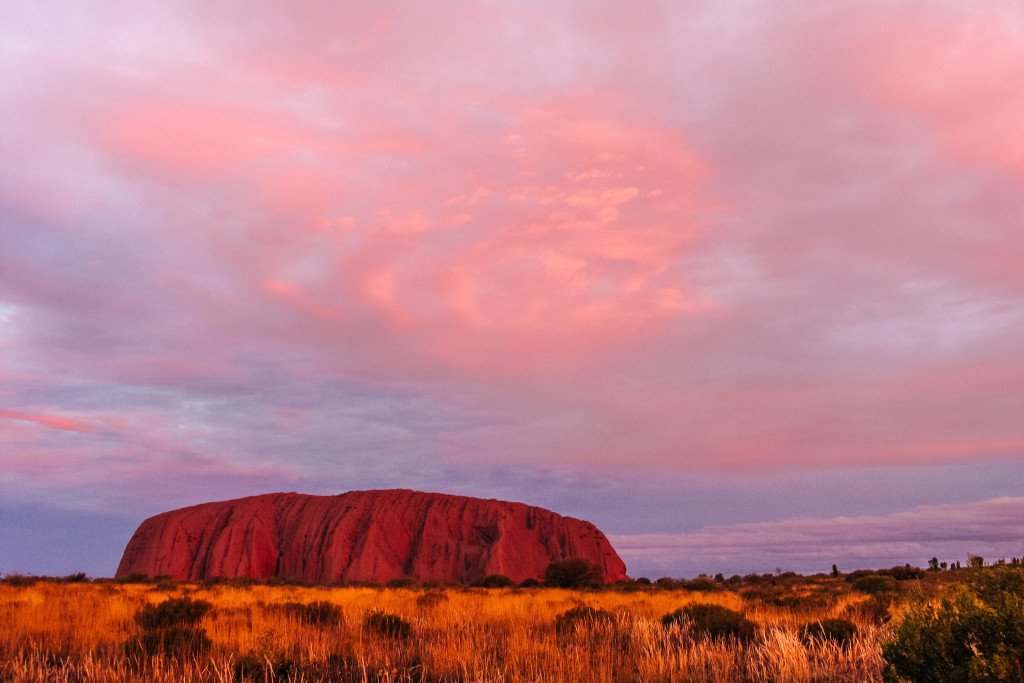 Uluru, Outback Australia.
Save Money on Food & Drink in Australia
20. Go Grocery Shopping As Much As Possible
To stock up on some staples for super cheap, hit up the discount supermarket Aldi. For fresher produce and a wider variety of goods, do your shopping at larger supermarkets like Coles or Woolworths.
21. Better Yet: Buy Cheap Produce At The Markets
Most major Aussie cities should have a fruit and vegetable market where you can pick up produce that's fresher and cheaper than what's in the stores. Try Paddy's Markets in Sydney, Queen Victoria Market in Melbourne, Salamanca Market in Hobart, and the Adelaide Central Market.
22. Save On Your First Order When You Sign Up With A Food Delivery Company
UberEats, Deliveroo, and Foodora are the major players in Australia's food delivery scene. They often offer a $10-20 discount on your first order using their app with a special discount code. Restaurants sometimes hand out flyers advertising their food delivery company of choice which includes a discount code on it; alternatively, you can Google around for one to use.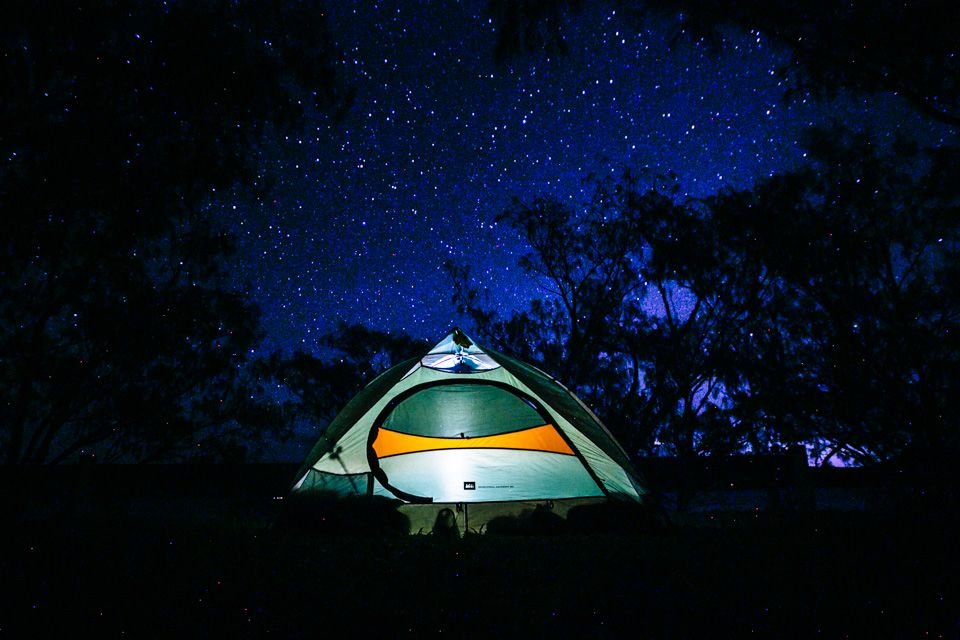 23. Order Takeaway and Delivery From Restaurants With Deals On
When I order dinner for takeaway or delivery using the EatNow or MenuLog apps, I typically browse restaurants in my area and check to see if any offer discounts for first-time orders – it usually ranges from 15-20% off. Sometimes restaurants will also offer discounts if they are under new management, or newly opened.
24. Have A BBQ On The Beach (Or A Picnic In The Park)
Know what's great about Aussie beaches (aside from the fact that they're, you know, objectively gorgeous)? Many of them have free BBQs for public use! Best of all, you don't even need to bring gas or charcoal, as most turn on with the press of a button.
Not near the beach? Instead, take to the park wherever you are and have a picnic in the sun.
25. Eat Pub Meals
It's pretty common for Aussie pubs to advertise cheap meals on certain days of the week. You can typically get a good feed for just AU$10-12 – though for a true Aussie experience, go for the chicken parma or the Sunday roast.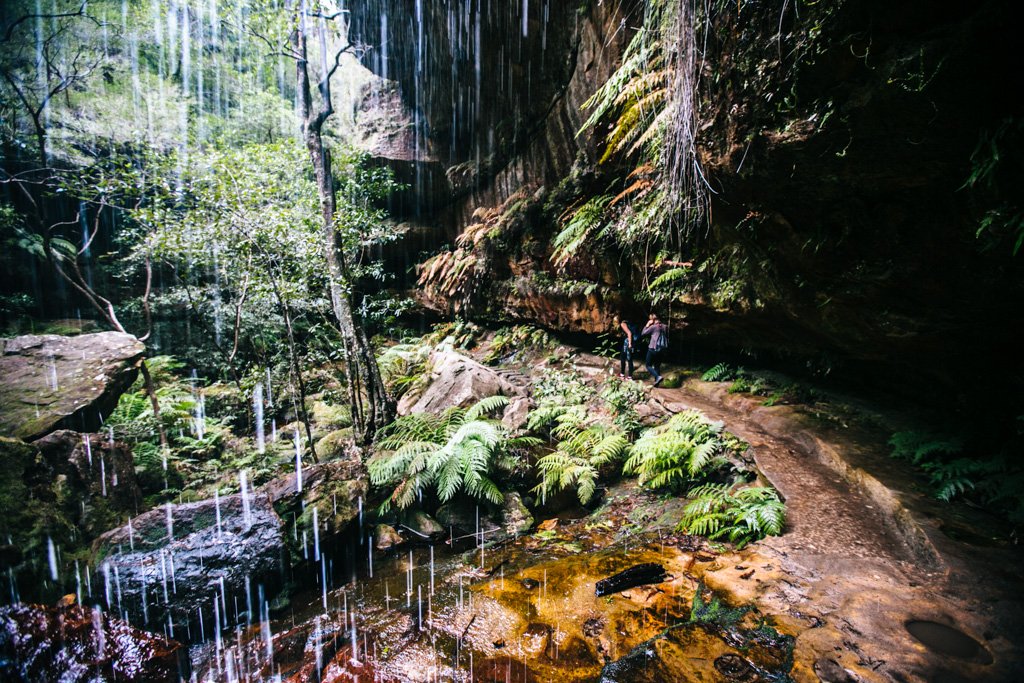 Blue Mountains, NSW.
26. Order Wine, Not Cocktails
One quick way to save money in Australia? Cut down on your drinking! Or at least drink smart.
Opting to order cocktails at a bar or restaurant is a fast way to hemorrhage your money. In Australia, they typically cost around $18-20 and tend not to be generous servings, aka not great value for money. Instead, order a glass of house wine for $6-8.
27. BYO Wine Or Beer To Restaurants
Many Aussie restaurants are BYO – that is, you can bring your own beer or a bottle of wine to enjoy with your meal instead of spending much more to order drinks from the restaurant. They'll charge a dollar or two as a corkage fee, but you still end up saving loads so it's well worth it.
28. Dine At Cheap Asian Restaurants
Australia is blessed with some seriously good Asian cuisine. Thai food in particular tends to be cheap, plentiful, and insanely delicious here.
Your best bet for finding cheap, authentic Asian food if you're in one of Australia's larger cities is to head for Chinatown or another ethnic enclave. In Sydney, my go-to is King Street in Newtown for incredible and inexpensive Thai; the suburb of Cabramatta is meant to have excellent Vietnamese (though I've not yet been). You might also be able to find cheap Asian eats at shopping centre food courts or in shopping arcades.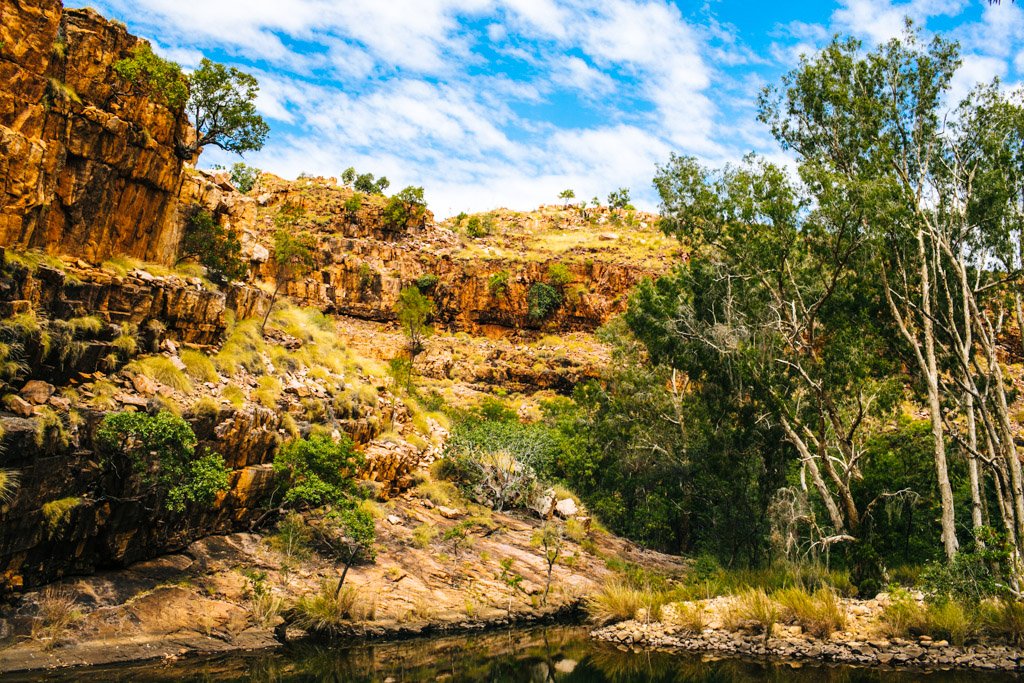 El Questro, in the Kimberley.
Save Money on Activities in Australia
29. Book Discounted Adventure Activities Via Groupon Or Adrenaline
One of my favorite life hacks in general is snagging deeply discounted adventures and spa services off Groupon and other similar apps/sites. In Australia, Groupon and Adrenaline are where you can book cheap scenic flights, surf lessons, kayak rentals, scuba diving courses, and even meals at restaurants – among many, many other deals.
30. Hit The Beach
Let's be honest: you're coming to Australia for the glorious beaches, now aren't you?
You guys, Australia has over TEN THOUSAND beaches. And quite frankly, any one of them could put a Jersey Shore beach to shame because not only are Aussie beaches about a gazillion times more beautiful, but they're also FREE. I promise you, you will not find better value for money in this country.
31. Embark On A Coastal Walk or Trek
For those that love exploring on two feet, Australia is chock full of coastal walks, hiking trails, and multi-day trekking opportunities. Taking in beautiful vistas and getting in a good workout for free, does it get any better?
Some of my favorite walks and hikes in Australia include the Royal National Park Coastal Track, Thorsborne Trail on Hinchinbrook Island, and around the gorges at El Questro.
32. Explore The National Parks
Australia has over 500 national parks spread across the country. And while you'll probably need to pay to enter, park, or camp in them, the fees are minuscule in comparison to what you'll gain in natural eye candy and awesome experiences.
The Blue Mountains and Bouddi National Park are two good ones near Sydney; if you're further afield, try to hit Uluru Kata Tjuta National Park in the Outback, Port Campbell National Park along the Great Ocean Road, Wilsons Promontory in Victoria, and Karijini National Park in Western Australia.

Yaraa Valley, Victoria.
33. Join Events & Excursions Through CouchSurfing & Meetup
Want to make new friends and do cool stuff with them on the cheap? Join some Meetup groups in your city and sign up to attend meetups and excursions. Browse the events and the discussion forum on Couchsurfing to find local happenings and make new friends. A lot of times, these meetups won't cost you any money at all.
34. Sign Up For Intro Passes At Yoga Studios and Gyms
This one's a little bit cheeky, but that hasn't stopped me from doing it! If you're living in Australia and not just passing through, it's totally worth signing up for a yoga studio or gym that's offering a super-cheap deal for new customers. Yoga studios here typically offer 2 weeks or a 1 month unlimited trial membership for 60-70% less than the normal price. So what you could do is sign up for one intro offer, then once it expires hop on over to a different yoga studio and sign up for their intro offer, and so on. Many regular gyms have some sort of special offer for new customers as well, so it's worth looking around to see what your options are before committing to paying regular price somewhere.
35. Take A Free City Walking Tour
Many Australian cities offer free walking tours for visitors to get to know Aussie culture and history while exploring the best bits around town. Sydney and Melbourne have the I'm Free Walking Tours, Adelaide has free Flamboyance Tours, Hobart has the Hobart Free Walking Tour, Perth has free self-guided tours, and Brisbane's visitors centre offers free daily walking tours. Note that while these tours are free, it's customary to tip your guide at the end.
Pin it!