If I had a dime for every time I've heard someone complain about how expensive Australia is, I'm pretty sure I could fund my coffeegre addiction for the remainder of my life. (SERIOUSLY – complaints for days!)
To their point, yes, there are certain things here that are so absurdly overpriced that throwing down money on them may just make you cry (cocktails and cosmetics come to mind). But to write off an entire country just because you've heard how expensive it is, and avoid traveling there? That's just silly, especially for a place as amazing as Australia.
As your resident Frugal Frolicker, I feel it is my duty to dispel the myth of Australia being prohibitively expensive. It's really not that bad, especially if you apply your healthy spending and saving habits that you (hopefully) practice back home.
Bottom line: Australia is not too expensive. In fact, here are my best tips for traveling cheaply around Australia, whether by plane, train, bus, or bike: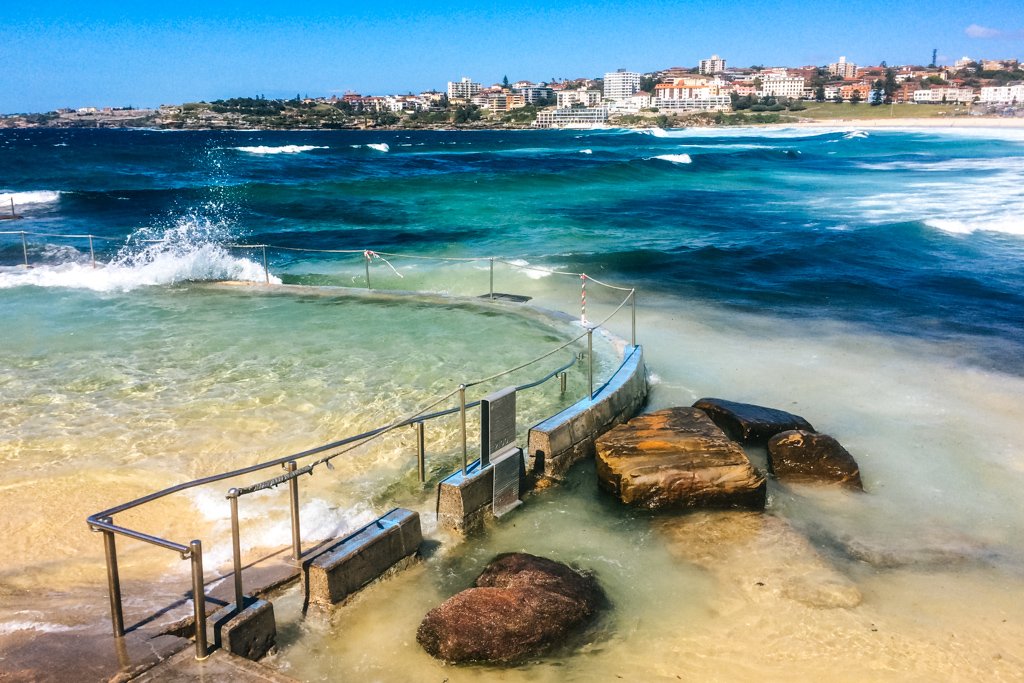 Bondi Beach in Sydney.
Flights To, From, & Within Australia
Snag an Error Fare on a Flight to Australia
One major gripe I hear is that flights to Australia are too expensive. That, my friends, is just the price you pay (literally) to access a place that is very far from, well, most anywhere… unless you're patient and lucky enough to spot an error fare!
Sometimes airlines screw up and advertise flights at a much lower price than normal – it actually happens far more frequently than you'd think. They'll typically notice within a few hours and correct the mistake, but if you spot it first and book the cheap flight they will probably (but not always) honor the error fare. I once scored a $200 return flight from New York to Spain thanks to a glitch on Delta.
So if you're seriously considering traveling to Australia, start following the Secret Flying or The Flight Deal facebook pages and configure your settings so that their updates show up first on your timeline. That way you won't miss it when they post about the error fares they find. If you see a cheap flight to Australia, you must jump on it right away before the airline corrects the error. (Seriously, don't make the mistake of "thinking about it" – the fare will be gone in no time)
Earlier this year, there was a whole slew of error fares from the US to Australia for well under $1000 (including Sydney to Los Angeles for AU$370 return with Virgin Australia).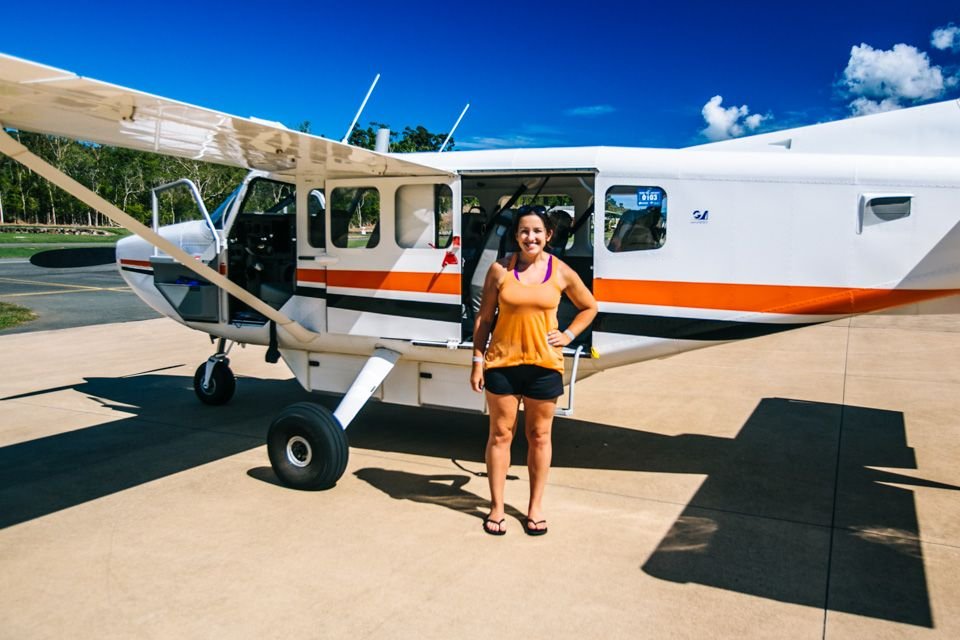 Fly With Australia's Budget Airlines
Traveling by plane around Australia is often more expensive than it should be – unless you're savvy enough to snag a sale fare with one of the budget airlines. Even though they charge extra for checked bags, you still end up saving both money and time if you take advantage of these sales vs. if you wanted to travel the same route by bus, car, or train.
Jetstar has a Friday Frenzy sale every week, as well as other sales periodically during the year, advertising crazy-cheap flights on both domestic routes and international routes (to New Zealand and parts of Southeast Asia). Your best bet is to sign up for their mailing list so that you hear about these sales in advance. They had a Leap Year sale earlier this year where I was able to book a flight from Melbourne to Honolulu for AU$220 (US$162) one way excluding baggage.
Tiger Air likes to advertise sale fares on Facebook – be sure to like their page so you don't miss a deal! I snagged a one-way flight from Adelaide to Sydney for AU$50 a couple months ago.
Fly with Air Asia if you're traveling between Australia and Asia
While Jetstar and Tiger Air do have flights to Asia (and often at a reasonable price), Air Asia provides more consistently cheap fares between Australia and Asia. Last year I flew from Melbourne to Bali for AU$300 (US$227) return excluding baggage.
Fly With Virgin Australia if You're Traveling With Heavy Baggage
Though you can pay to check bags with Australia's budget airlines, they have a limit as to how much baggage you can check (usually 2 bags, and 40kg total). If you're traveling with more baggage than that, try to fly with Virgin Australia as they allow up to 3 checked bags at 23kg each – and the first checked bag is free! (Qantas does too, but I can almost guarantee that a Qantas flight will never show up as one of the cheaper flight options)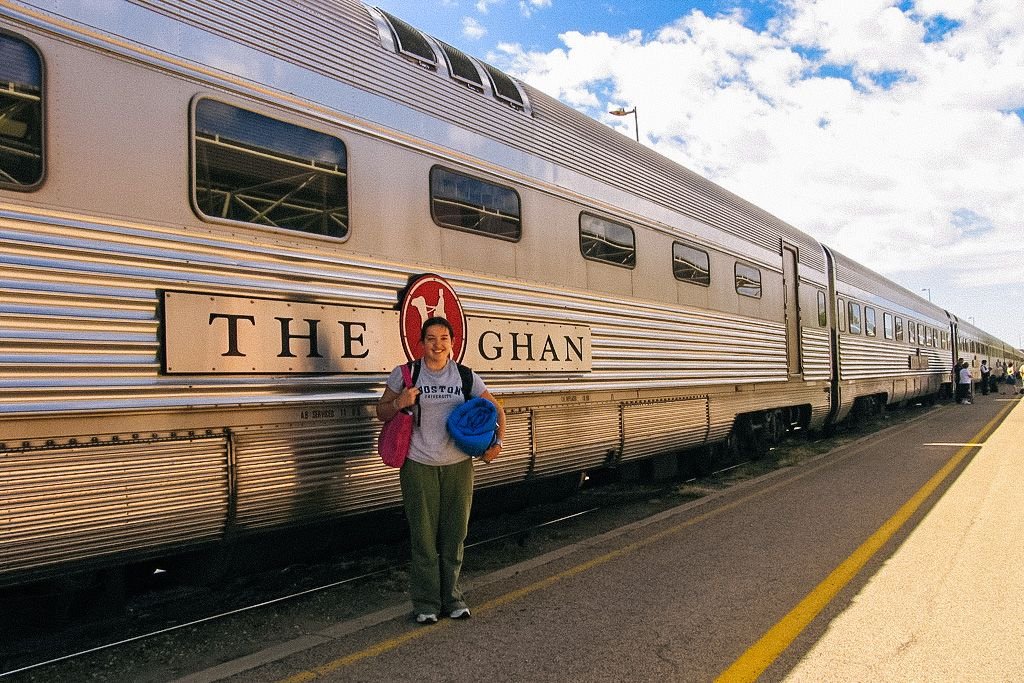 Riding the Ghan train in 2006.
Train Travel in Australia
Don't Travel Long Distances By Train
The national train network in Australia is limited and way too expensive compared to other modes of travel, especially when you can often find flights covering the same route that are both cheaper and faster.
… But If You Do: Book the Cheap Train between Melbourne and Sydney
I know I just said NOT to travel by train in Australia, but once in awhile you can find really cheap train tickets from Melbourne to Sydney (and vice versa) via NSW Train Link. I once paid AU$50 (US$35) to travel with at least 50kg of luggage from Melbourne to Sydney by train. If you have the luxury of time and don't mind spending 12 hours on a train, this is a pretty amazing deal – particularly if you aren't traveling light (as they don't charge extra for baggage).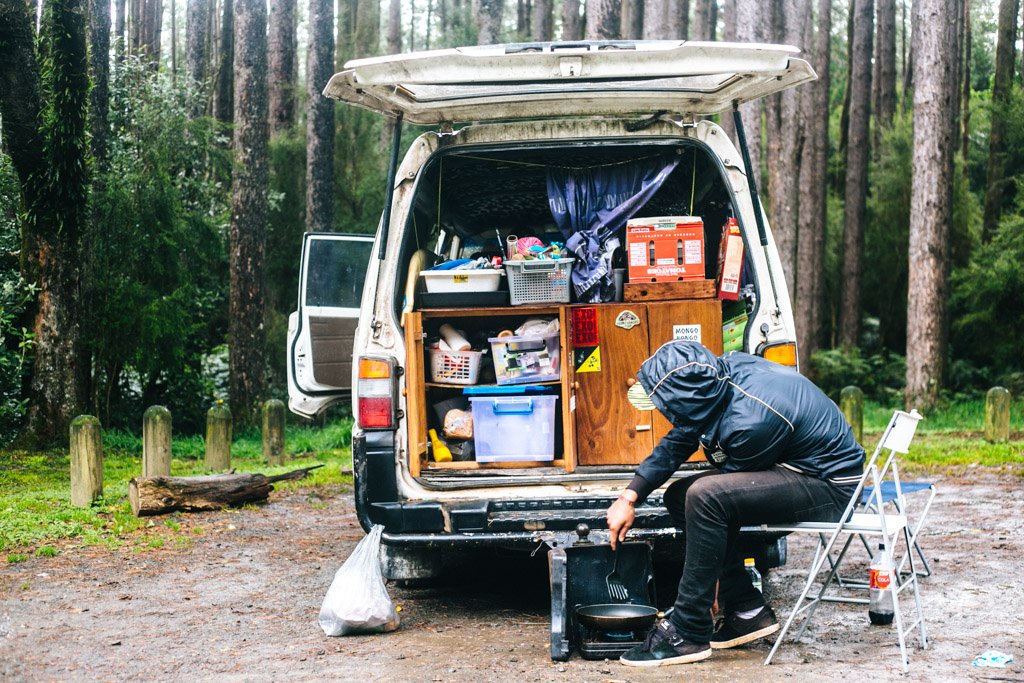 Roadtrip on the Great Ocean Road.
Driving Around Australia
Book a Cheap Rental Car
VroomVroomVroom has the best car hire deals across Australia. Much like Kayak and Skyscanner aggregate cheap flights, this site aggregates cheap rental cars in Australia. Webjet is another handy site that allows you to search for the best car hire options across 1500 suppliers and often advertises special offers like free upgrades.
Pick Up Rental Cars From Outside The City
On that note, prices tend to drop drastically if you pick up the rental car from a city airport or an outer suburb, rather than in the city center. Sydney Airport has the cheapest car hire in Sydney, and Melbourne's outer suburbs have the cheapest car hire in Melbourne.
Campervan Relocation
There is a wonderful thing in Australia known as campervan relocation, where many rental companies are desperate enough to move vehicles from one city to another that they will offer rentals for as low as $1. This is a fantastic opportunity to travel cheaply in Australia if you are willing to be flexible with your travel schedule. Campervan relocation requires you to travel from A to B within a given timeframe, typically a short one that doesn't allow much time for exploring, and you're responsible for paying for your own fuel.
Transfercar, Coseats, and VroomVroomVroom do campervan relocations, and a quick Google search for "Australia campervan relocation" should reveal many more.
Buy a Used Car
For ultimate freedom, nothing beats having your own set of wheels. Backpackers in Australia often buy used cars or campervans and then sell them just before they leave the country – sometimes for a profit! This can be a very economical option if you plan on taking lots of road trips and/or living in your car. You might even be able to find a van that's been converted into a campervan and equipped with a proper bed and storage cabinets.
The best ways to find a used car or campervan in Australia are to search on Gumtree, look out for flyers posted in hostels, and join Facebook groups for backpackers in Australia and/or the Australian city you're in.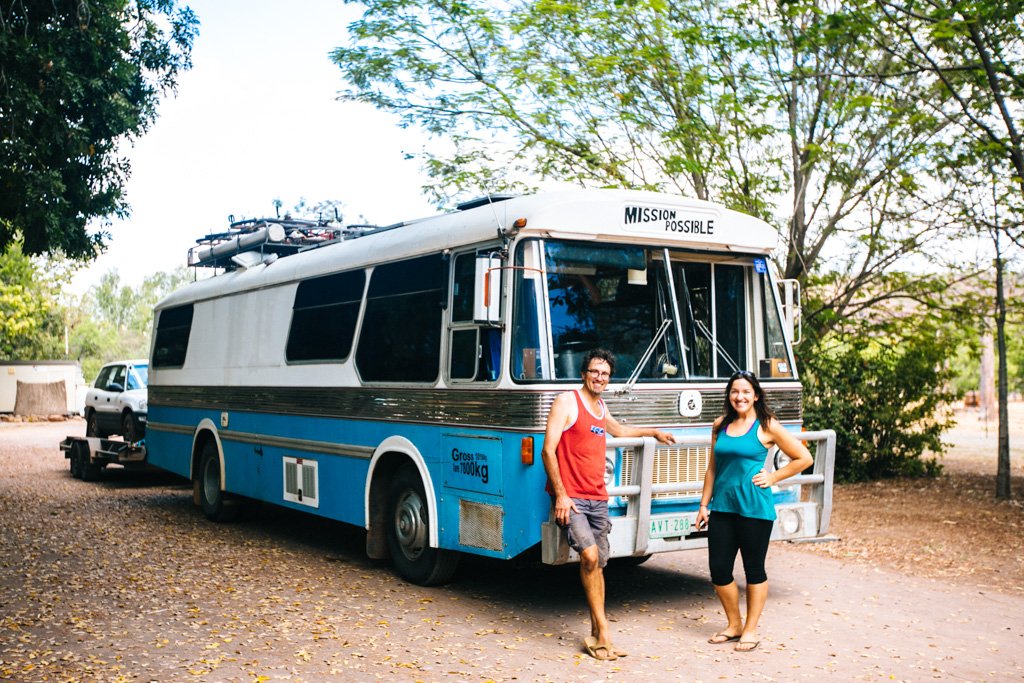 An Australia roadtrip with a converted bus.
Bus Travel in Australia
Explore Outside of Cities By Regional Bus
If you're wanting to escape the city and see more of the surrounding state, you can sometimes go by train – but bus travel is usually your most direct option. The V/Line bus runs from Melbourne to locations throughout Victoria, Greyhound is great for covering the long distances between towns in Queensland,  and South West Coach Lines runs buses from Perth to Southwest Australia.
Buy a Bus Pass For Extended Travel
If you plan on traveling throughout one region for a set amount of time, Greyhound's Hop On Hop Off pass is brilliant. The way it works is you buy a pass for travel between two cities, and you can hop on or off as many times as you'd like within 3 months (without backtracking). Their Sydney to Cairns east coast bus pass is extremely popular amongst backpackers in Australia. Oz Experience offers similar bus passes but with added extras like accommodation and activities.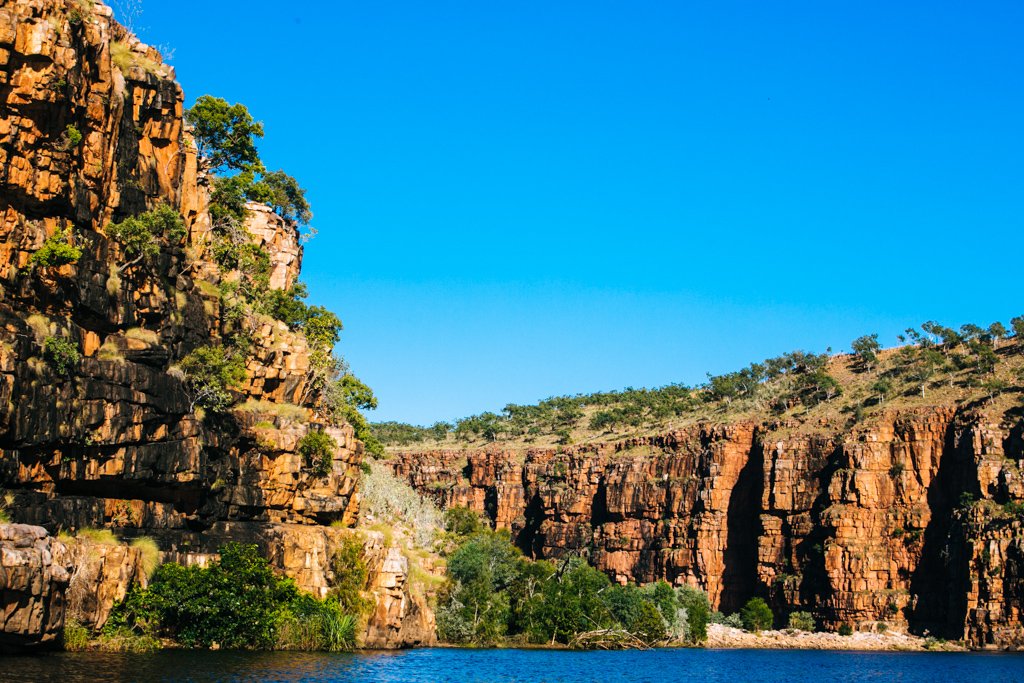 Chamberlain Gorge, El Questro Wilderness Park, the Kimberley
Public Transport in Australia's Major Cities
Buy a Smartcard
Most of Australia's major cities offer a reusable transit card that you can load money onto and use to tap on/off when taking public transport. These smartcards auto-calculate the transit fare based on the distance and time traveled and tend to offer lower fares than if you had paid cash on board or purchased a single ticket.
You can find more information on where and how a smartcard can be obtained by clicking on the city links below, but in general they tend to be sold in convenience stores and sometimes at major transit stations. Some must be purchased for a small fee while others are free.
Take the Train or Bus to the Airport
Holy hell is it expensive to take a taxi to or from an airport in Australia. Unless you're traveling with other people, it's far more economical to take public transport – and it's actually pretty convenient in most Aussie cities.
Sydney – With your Opal card, you can travel by train between Central Station and Sydney Airport in under 15 minutes for $16.
Melbourne – Take the Skybus from Tullamarine Airport to Southern Cross Station (and vice versa) in 30-45 minutes for $19.
Perth – Bus 37/40/380 from Perth Airport to Perth city takes 45-60 minutes and costs $4.60 (slightly less if you use your SmartRider card).
Adelaide – With your Metrocard, the J1/J2 bus from Adelaide Airport to Adelaide city costs $2 (offpeak) or $3.50 (peak) and takes about 20-25 minutes.
Brisbane – The Airtrain from Brisbane Airport to Brisbane city takes about 30 minutes and costs $17.50 with your Go card.
Canberra – The Airport Express shuttle bus will get you from Canberra Airport to the city in about 20 minutes and costs $12.
Hobart – Hobart Airport isn't directly served by public bus, but you can book the Airporter shuttle bus for $18 which takes 35-45 minutes.
Darwin – The Darwin Airport Shuttle shut down in April 2016. Word is that it'll eventually be replaced, but in the interim you can book the Metro Mini Bus or the Darwin Airport Link for $15.
Cycling in Australia
Bike Share in Australia
Australian cities have been a little slower to embrace bike sharing, but there are a few where you can pay a modest day rate for unlimited use of their pool of bikes. You can pick up and return the bikes at designated bike stations around the city. Bike share is excellent for short rides in and around the city center, but because you typically have to dock the bike every 30 minutes to avoid overtime fees, they aren't ideal for longer leisure rides.
SEE ALSO: 35 Ways To Save Money In Australia // How To Find Cheap Accommodation In Australia
Do you have any other tips for traveling cheaply around Australia? Do share!
Pin it!