Along with transportation, accommodation is bound to be one of your biggest expenses while Down Under. The good news is that, depending on how long you plan to be in one place, there are plenty of ways you can save money on accommodation in Australia without ever having to stay in a hotel, so that you have more money to put toward fun activities in Australia.
Here's what I recommend for finding cheap accommodation Australia, based on how much time you'll be spending here:
0-2 Weeks in Australia
Hostels
The obvious choice for finding cheap accommodation in Australia is hostels. I like to search on hostel booking sites like Hostelworld to see what the highest-rated hostels are in the city, and what other travelers are saying about them in the reviews, before I book anything. In Australia, dorm beds tend to fall in the $30-40 range per night, but you may be able to find cheaper hostels outside of the city center, and you'll definitely find more expensive boutique hostels that charge closer to $50/night for a bed in a dorm.
Hostels are great for solo travelers because it's so easy to meet other people, especially if your hostel puts on daily social events. It's cheapest to book a bed in a dorm room (the more beds it has, the cheaper it is), but most hostels also have private rooms available if you prefer to have your own space, and female-only dorms if privacy and cleanliness is a concern – both of which will cost a bit extra than the standard mixed dorms.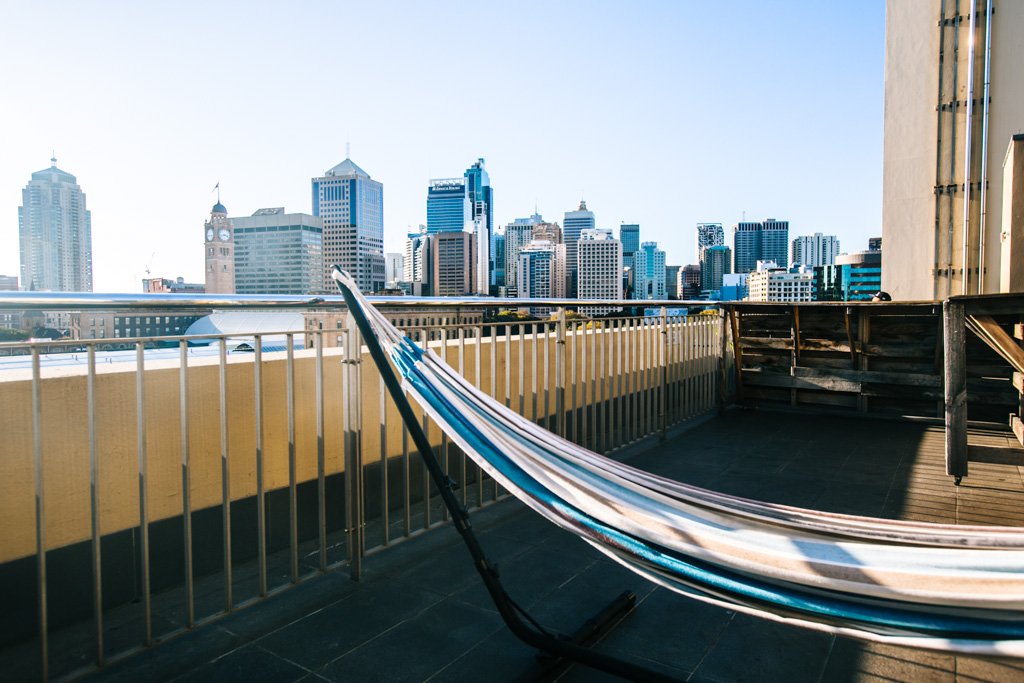 Rooftop at Bounce Sydney.
YHA Australia is an Australian hostel chain that's associated with Hostelling International (HI), the world's largest backpacker accommodation network. YHA hostels sometimes don't show up on hostel booking sites, but you can search for them directly on the YHA website. One major perk to booking a YHA hostel is knowing that you're going to be staying at a fairly high quality hostel, as they are held to high standards and tend to be consistent, quality-wise, across the country. If you think you'll be staying at multiple YHA hostels throughout your time in Australia (or hostels in other countries that are associated with HI), it's worth paying $25 for the annual membership, which will also give you discounts to local attractions. Non-members can stay at a YHA hostel, but will usually incur an additional fee of about $3/night.
If you're planning on staying in a city for awhile, you could look into working at your hostel in exchange for free accommodation. Most hostels have travelers who have been living there for months, doing a couple hours of cleaning or laundry each morning – just ask reception if they're in need of any help.
Lindsay's Recommendations: Bounce (Sydney), Space Hotel (Melbourne), The Island Accommodation (Phillip Island). I loved my stays in all of these hostels – they were all super clean with a modern design and plenty of outdoor space for hanging out.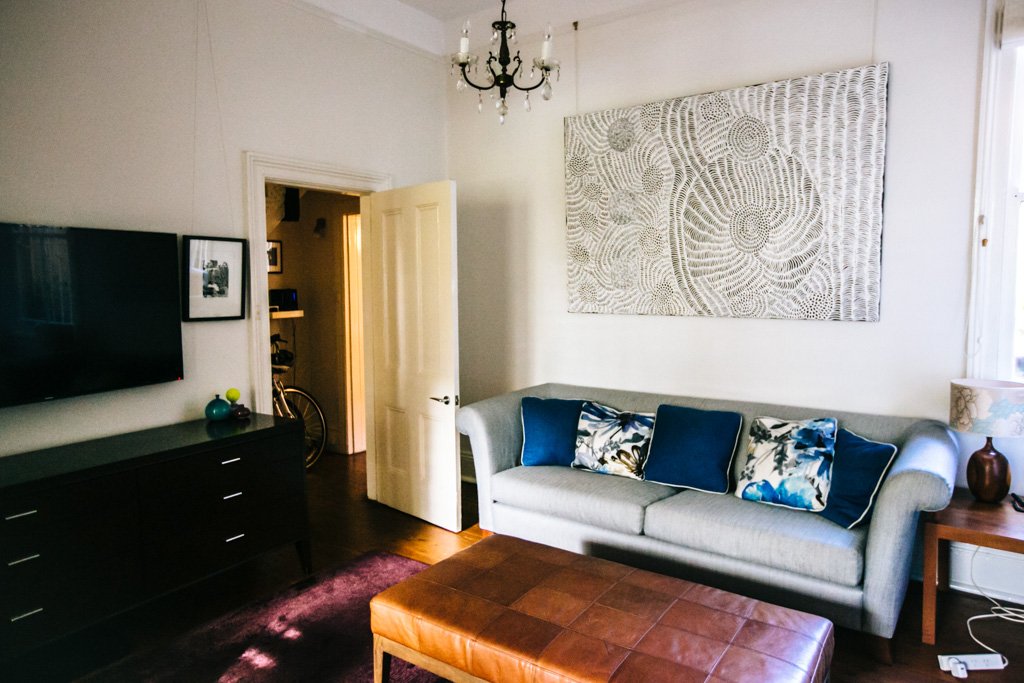 Couchsurfing
Want to meet locals and stay at their house for free? You can do exactly this with Couchsurfing, an online community of travel lovers. Many members will offer their couches or spare rooms up to travelers who are passing through their city – for free! The idea is to promote cultural exchange and authentic travel experiences, rather than complete a transaction.
If you're someone who needs privacy and alone time at the end of a long day of exploring, Couchsurfing may not be ideal for you. You can still take advantage of this incredible community, though, by attending local meetups or connecting with other members in town who might be keen to meet up at some point.
Note that there have been plenty of instances of shady Couchsurfing hosts and awkward living situations, so make sure you do your research before committing to any host. Read their references and make sure you're comfortable with where you'd be sleeping. It's a good idea to have a backup plan just in case you show up and things don't go well.

We rented this funky studio in the Mornington Peninsula on Airbnb.
Airbnb
If you're someone who likes to have their own space and privacy but still craves a local experience that hotels can't provide, Airbnb might be right up your alley. On Airbnb, people can list their spare room or empty home for short-term rental, making it available for guests to book for one night up to several weeks or even months. Quality varies wildly: you can find a cheap room in a larger apartment that maybe doesn't have much in the way of amenities or isn't in the best of locations… and you can also find gorgeously furnished homes that approximate a 4 star hotel. Depending on the location you're searching, you might also come across some exceedingly unique accommodation options like tents, trailers, or garages.
I love Airbnb because you get to live like a local, hanging out at home and frequenting your favorite local haunts, maybe even sharing the home with locals who are living there full time. It's much more affordable than booking a tiny hotel room, and can be cheaper than staying a hostel especially if you are traveling with another person and can share the cost of the booking.
New to Airbnb? If you sign up using this link, you can get $40 off your first booking!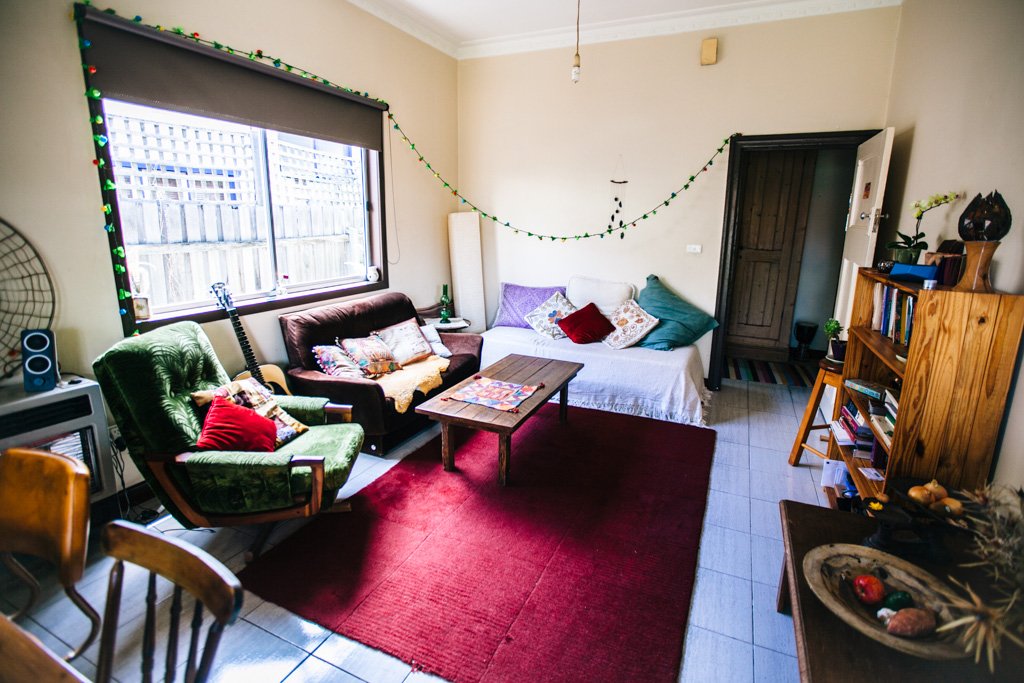 I rented a room in this flat in Brunswick at AU$175/week for 3 weeks while living in Melbourne.
2+ Weeks in Australia
Short Term Sublets
Suppose you'll be in some Aussie city for a couple of weeks. It's not quite enough time to rent a room, but it's probably too much time to spend in a 12-bed hostel dorm and maybe too much money to spend on an Airbnb.
If you're lucky, you may be able to secure a short term sublet instead. Sometimes people want to make a little extra money by renting out their room while they go overseas for a few weeks, but don't want to go through the hassle of listing it on Airbnb or paying the fees. So instead, they might advertise their room on Gumtree (check the Real Estate section) or on a local Facebook group (for example: Melbourne Sustainable Share-house Service, SYDNEY RENT ROOMS&APARTMENTS (FLATMATESandNEIGHBORS), Melbourne housemate finder). You're likely to see more sublets available during holidays, for example December through January (Christmas, New Years, and uni breaks) and during winter (July-August, when Aussies travel to warmer climes).

Hanging out at our Bondi Beach flat before a HelpX team meeting.
Work Exchange
Want to save as much money as possible while traveling in Australia? Consider doing a work exchange, where you put in a few hours of work each day in exchange for room and board. Websites like HelpX and Workaway are great for finding hosts around Australia who are looking for help around the house, be it gardening, construction, babysitting, or other manual labor. Some may even be seeking skilled labor (usually something computer-related).
Arrangements vary for each exchange, but you'll typically work 3-5 hours per day and may have one or two days off each week. Be sure to negotiate your work schedule before agreeing to the exchange. If you play it right, you could spend your mornings working and have the rest of the day free to explore.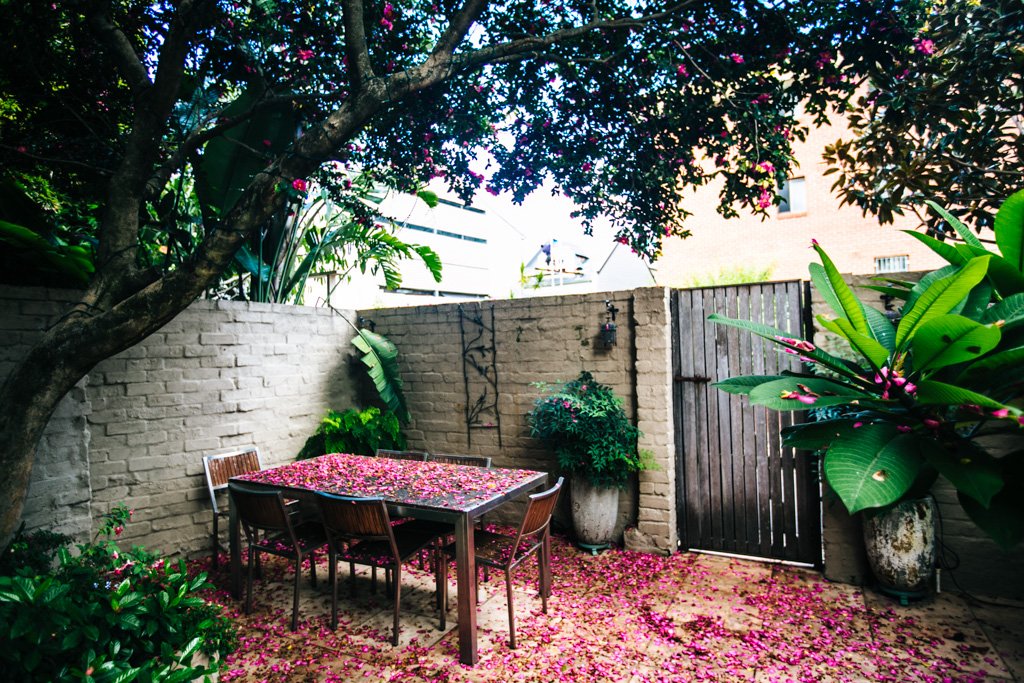 Courtyard at a Sydney house sit I completed this year.
4+ Weeks in Australia
House Sitting
What could be better than having a whole house or apartment to yourself and a pet or two to keep you company? With house sitting, you can live for free in someone's home while they are away in exchange for looking after their pets, home, and/or garden for them. It's a fantastic way to experience different neighborhoods around a city while saving a ton of money.
I've managed to live rent-free for 1/3 of the year thanks to house sitting, but I don't recommend it unless you are traveling long term or living in Australia because it does require a fair bit of time and planning. If you're only here for a few days or a couple weeks, it doesn't make sense to spend your precious time searching for, applying for, and interviewing for house sits – not to mention caring for pets.
If you do have the luxury of time, consider joining one of these house sitting websites: Aussie Housesitters, Trusted Housesitters, Mind A Home.
Note that it can be difficult to score a house sit when you are just starting out and have no references to show. I overcame this by taking on sits that were quite a ways out from the city (i.e. they were less desirable) and doing such a kick-ass job that the house owners wrote me some rave reviews. Since then, it has been much easier for me to secure house sits. Alternatively, you could do some sits at home before coming to Australia just to gain those references (Trusted Housesitters is international, so you can sign up for that and apply for sits all over the world).

House sitting in Australia usually means looking after a dog or cat.
Renting A Room
If you are living in Australia long term, renting a room in a house (or "flat") will provide you with some stability and will likely work out to be cheaper than staying in a hostel for several months. Gumtree, Flatmate Finders, and Flatmates.com.au are great sites to find rooms and flats advertised for rent. You can also join a local Facebook group that's meant for advertising flatshares and available rooms in your city (same as the ones I mentioned above for finding short term sublets).
Sometimes you can find rooms that are partially furnished – otherwise, hit up Gumtree to buy some used furniture for super cheap.
Pin it!