Sydney's a tricky city to plan your travels for. Thanks to its plentiful waterways, traffic, and one-way streets, getting around Sydney is rarely straight-forward. Throw in the normal weekend track work and bus diversions and, man, it can take ages to get anywhere in Sydney by public transport. It's no wonder most Sydneysiders opt to drive.
Thus, I feel like it'd be pretty pointless of me to present you with '5 Days in Sydney' or other such itinerary. So instead, I'm going to hit you with a collection of sights and areas I think are well worth hitting up when you travel to Sydney. It'll be up to you to brave Sydney's public transit system and craft your own itinerary with the best things to do in Sydney!
Allow 3 full days at the absolute minimum to enjoy Sydney – more if you want to take any weekend trips from Sydney.
If you're visiting Sydney from overseas, you'll need to apply for a visa before arrival.
Need an Australian visa? Get it here.
In & Around Sydney City
Circular Quay
SYDNEY OPERA HOUSE. SYDNEY HARBOUR BRIDGE. Need I say more?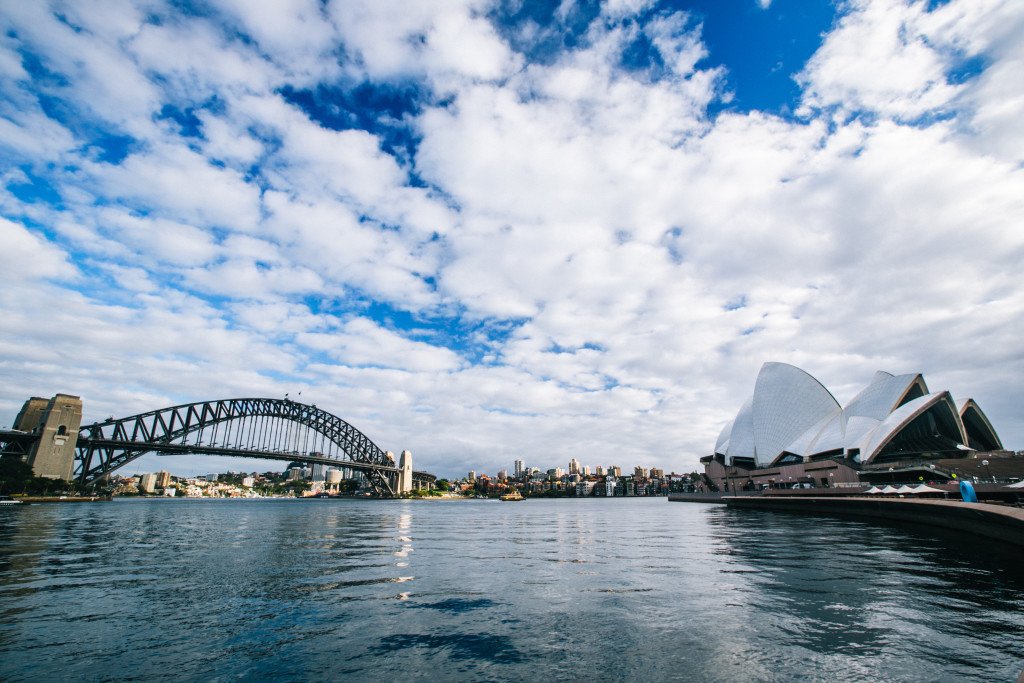 Circular Quay is obviously your first port of call on your Sydney trip. Walk around the Sydney Opera House, walk across the Sydney Harbour Bridge, soak it all in because holy sh*t you're in Sydney! (or am I the only one who got that excited about being here?). If that's not enough excitement for ya, grab drinks with a view at Opera Bar, or check out the art and view from the rooftop cafe at the Museum of Contemporary Art.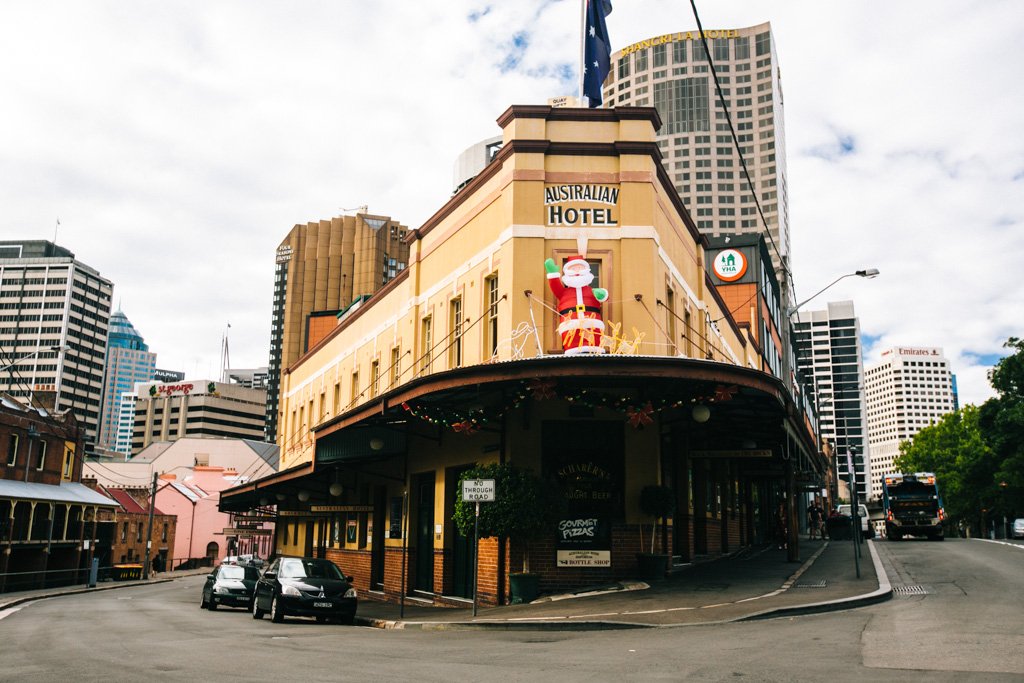 Christmastime in The Rocks.
The Rocks
The Rocks is the closest thing Sydney has to a historic precinct. In its early days, it was occupied by convicts, gangs, and (drunken) sailors. Today, you can comfortably wander down cobblestone laneways, ogle the preserved sandstone buildings, and grab a pint in some of the oldest pubs in all of Australia. Stop by The Australian for pizzas topped with Australian delicacies (kangaroo, emu, crocodile), and The Rocks Markets for weekend shopping.

View from near Mrs. Macquarie's Chair in the Royal Botanic Gardens.
Royal Botanic Gardens
I don't normally go out of my way to roam around a city's botanic gardens, but Sydney's are rather delightful. The best part, though, is that you can glimpse the Sydney Opera House and Harbour from certain spots. You'll want to hit Mrs. Macquarie's Chair for the best photo ops. And if you're in town for New Years in Sydney, the Royal Botanic Gardens are the best place from which to watch the Sydney NYE fireworks! (just be sure to book tickets in advance)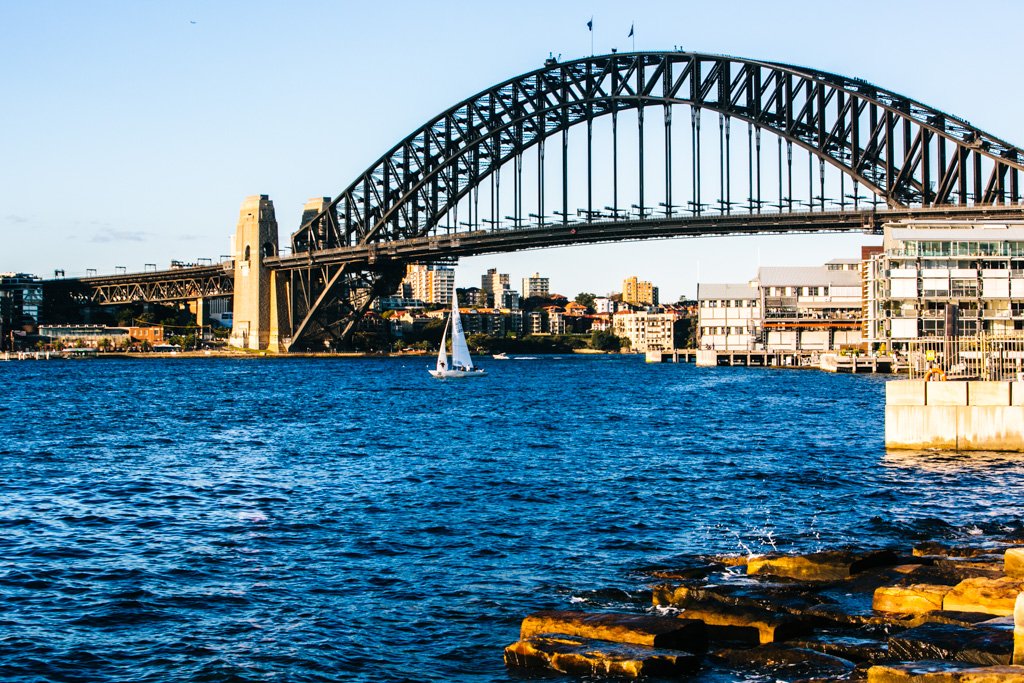 View from Barangaroo Reserve.
Barangaroo
Barangaroo is a brand-new urban development in inner Sydney. Though it's poised to become a new business district (complete with fancy new office buildings and residential complexes), it's well worth taking a stroll around the waterfront at Barangaroo Reserve and maybe stopping for a snack at one of the food trucks or cafes nearby. Barangaroo is penned as a "waterfront renewal project", and just walking around the precinct you can see what they've done so far in terms of design and sustainability. There's so much cool stuff to look at!
Walking across Darling Harbour.
Darling Harbour
Darling Harbour is a little bit cheesy and a lotta bit touristy, but it's worth taking a peek here. This is a good place to drop some serious cash, if for some reason you feel like doing that. Harbourfront attractions include the Sydney Sea Life Aquarium, Madame Tussauds, The Star Casino, IMAX Theatre, Harbourside Shopping Centre, and Australian National Maritime Museum. There are also plenty of (pricey) waterfront restaurants and bars. I really enjoy Darling Harbour at night when everything is all lit up – especially on Saturday nights when there are fireworks! (they seem to go off year round, nearly every week)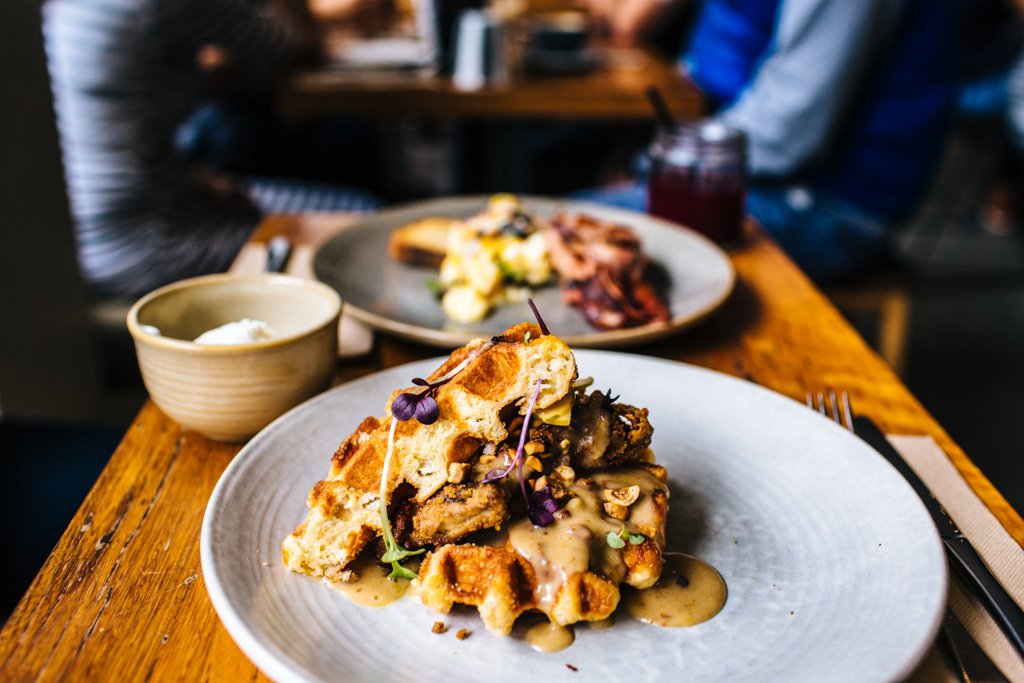 Sydney Brunch: chicken and waffles at Paramount Coffee Project in Surry Hills.
Surry Hills
Surry's a hip neighborhood where lots of young professionals reside. Don't come here for the sights (there are none) – come here for the excellent restaurants, coffee shops, and bars. A few of my favorites:
Sydney's Inner West
The Inner West is a popular residential area of Sydney due to its relatively close proximity to the city center and its ever-growing roster of restaurants, bars, and various hip hangouts. It's comprised of several (rapidly gentrifying) suburbs, but you're best off exploring Newtown and/or Glebe for their plentiful dining and drinking options, street art, and adorable terraced houses.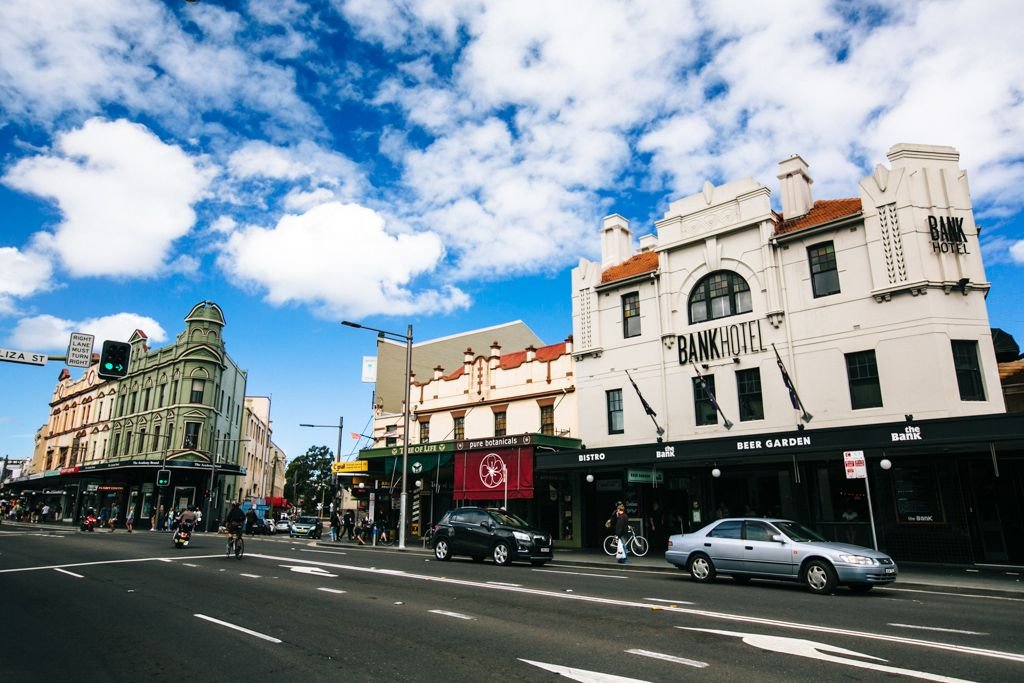 King Street, Newtown.
Newtown
Newtown is like a little piece of Melbourne in the middle of Sydney. It's a neighborhood where hipsters reign, street art abounds, and vegan/organic everything is trending. Walk down King Street and prepare to be overwhelmed by restaurants, pubs, boutiques and thrift stores, and live music venues – just try not to do so on a weekend afternoon, because that's when Newtown is swarming with people!
A few of my favorites:
Campos – Some of the best coffee in Sydney!
Lentil As Anything – A pay-as-you-wish, not for profit vegetarian restaurant with a community feel (there are a few of these in Melbourne as well).
Brewtown Roasters – Great coffee and brunch fare.
Gelato Blue – Delicious plant-based gelato made primarily from coconut milk.
Newtown Thai II – My pick of the myriad cheap Thai restaurants on King Street (hello, $7 lunch special!).
Black Star Pastry – Unbelievable pastries and treats.
Mary's – A bit of a dive, but has some seriously amazing burgers.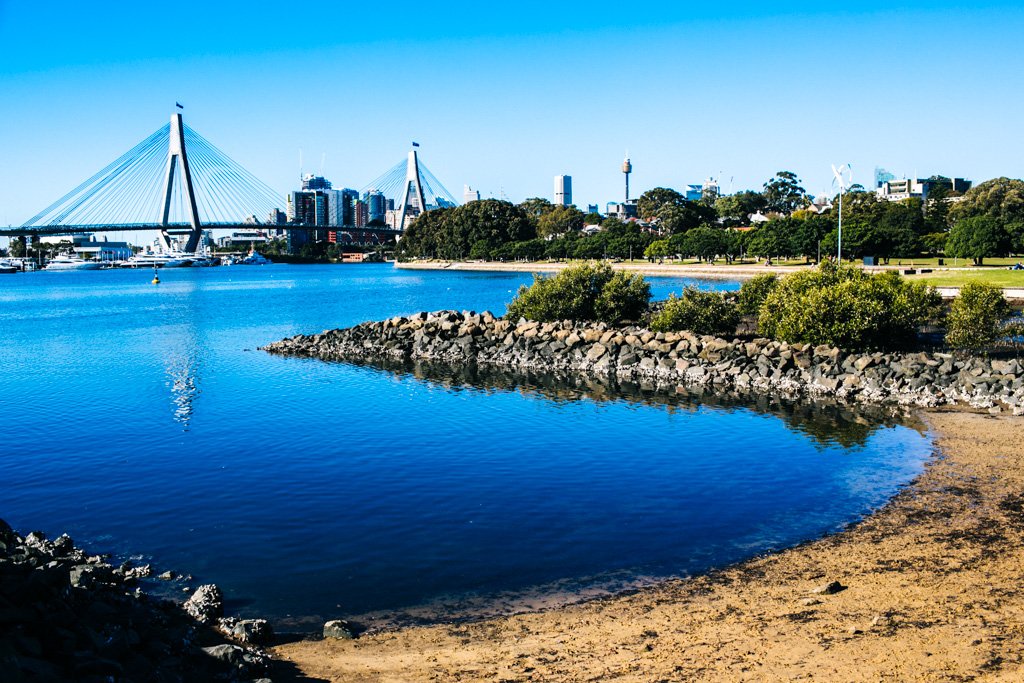 Blackwattle Bay in Glebe.
Glebe
Glebe is a lot more low key than Newtown, with a decidedly less hipster and more bohemian vibe. Glebe Point Road is the main thoroughfare, and where you'll find most of the suburb's establishments – though it's a lot less happening than Newtown's King Street. I love Glebe because it's a well-balanced neighborhood: along with plenty of coffee shops, restaurants, and bars, it offers fleeting views of the Sydney skyline (depending on where you are), ample green space in the form of Bicentennial Park and the waterfront walking track along Blackwattle Bay, and the Saturday Markets.
Bondi Beach & Eastern Suburbs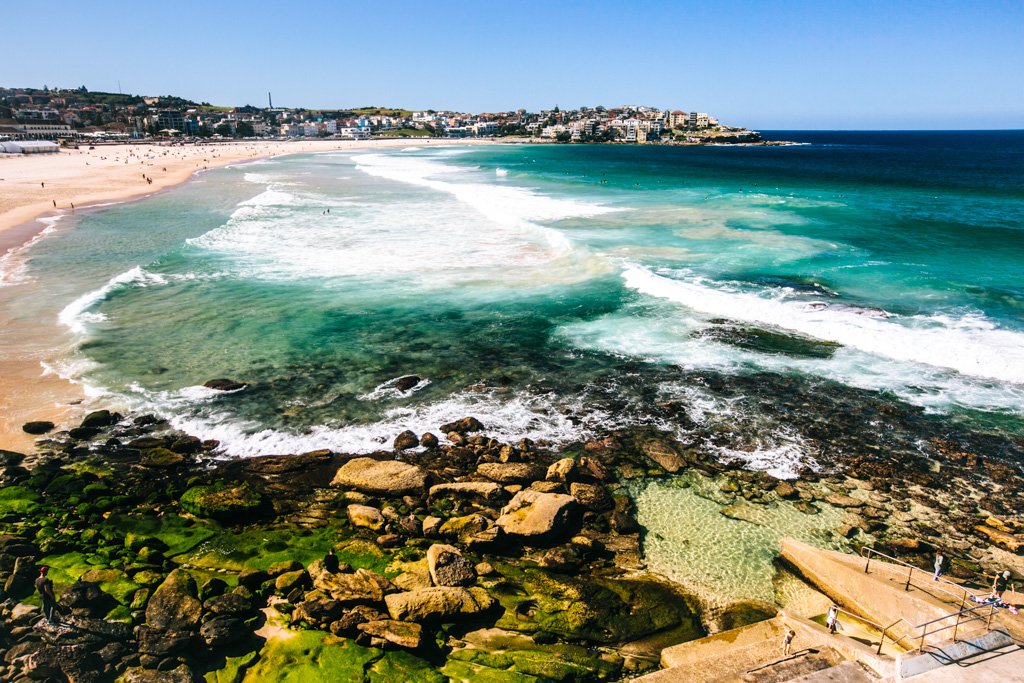 Bondi Beach
Everything you've heard about Bondi Beach is true: it's touristy, scene-y, overrun by expats, and abso-freakin'-lutely gorgeous. It's a definite DO NOT MISS. Just try to visit on a weekday when the beach isn't totally packed.
Bondi itself is a wonderfully chilled out suburb and offers plenty more to do aside from beach bumming. You'll find loads of cafes, restaurants, and shops on Bondi Road, Campbell Parade, and Hall Street. A few of my favorite spots:
Bondi Icebergs Club – You know that iconic photo of a beautiful Aussie beach with a classy ocean pool next to it? That would be Icebergs. For just AU$6.50 you gain admission to the pool and sauna.
Harry's Bondi – A great Bondi brunch spot. Try the ricotta hotcake!
Gertrude & Alice – My pick for the best coffee in Bondi. Their back room is a cozy space that feels more like a book store than a cafe.
Gelato Messina – Yep, there's a Messina in Bondi as well. If you miss the one in Surry Hills, here's another chance to sample some of Australia's best gelato.

Bondi to Coogee coastal walk.
Bondi to Coogee Coastal Walk
No doubt you've heard of this legendary walking track from Bondi Beach to Coogee Beach. This is the most beautiful and easily accessible stretch of coastline around Sydney, with a 6km walking track that passes through several small beaches between Bondi and Coogee (Tamarama's great for surfing, Bronte has rock pools and an ocean pool, Clovelly is very sheltered). Another DO NOT MISS – you can thank me later ;)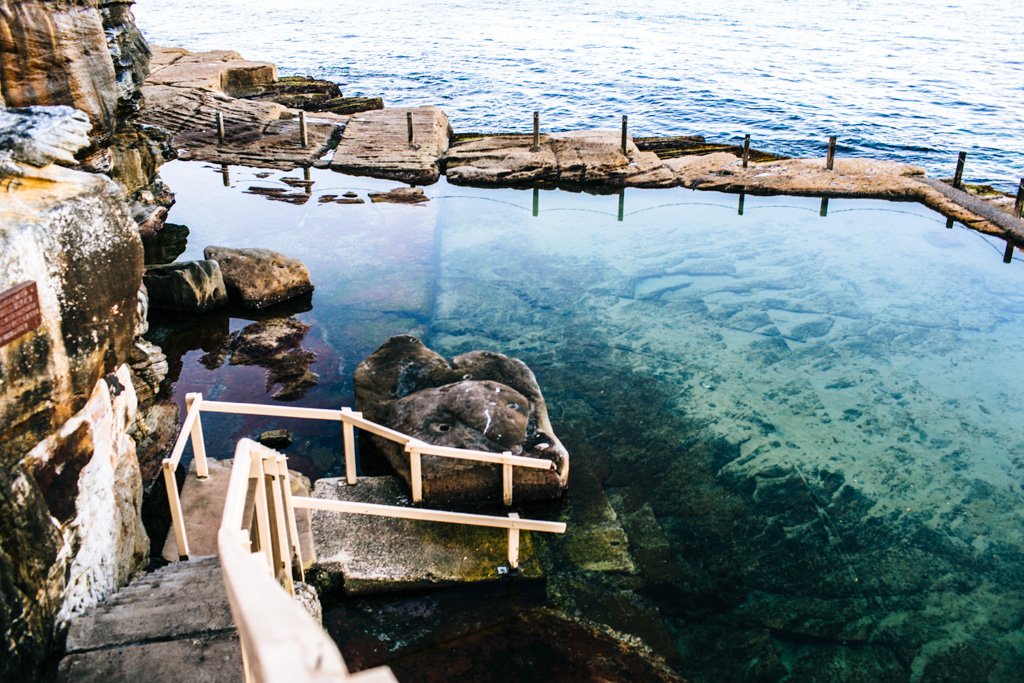 McIvers Baths at Coogee Beach.
Coogee
Coogee is smaller and a bit more mellow than Bondi, and it's a lovely place to wind down after completing the Bondi to Coogee coastal walk. There are several ocean pools here (including the women's-only McIvers Baths) as well as a few beachfront pubs and restaurants.
Sydney Harbour
There are so many lookout points, islands, and walks around Sydney Harbour that you'd need weeks to tackle them all. Here are a few to get you started. (Pro tip: Aim to explore Sydney Harbour on a Sunday, as public transport is capped at $2.50 for the entire day, which means you can go crazy taking multiple ferry rides!)
READ MORE: The Best Things To Do On Sydney Harbour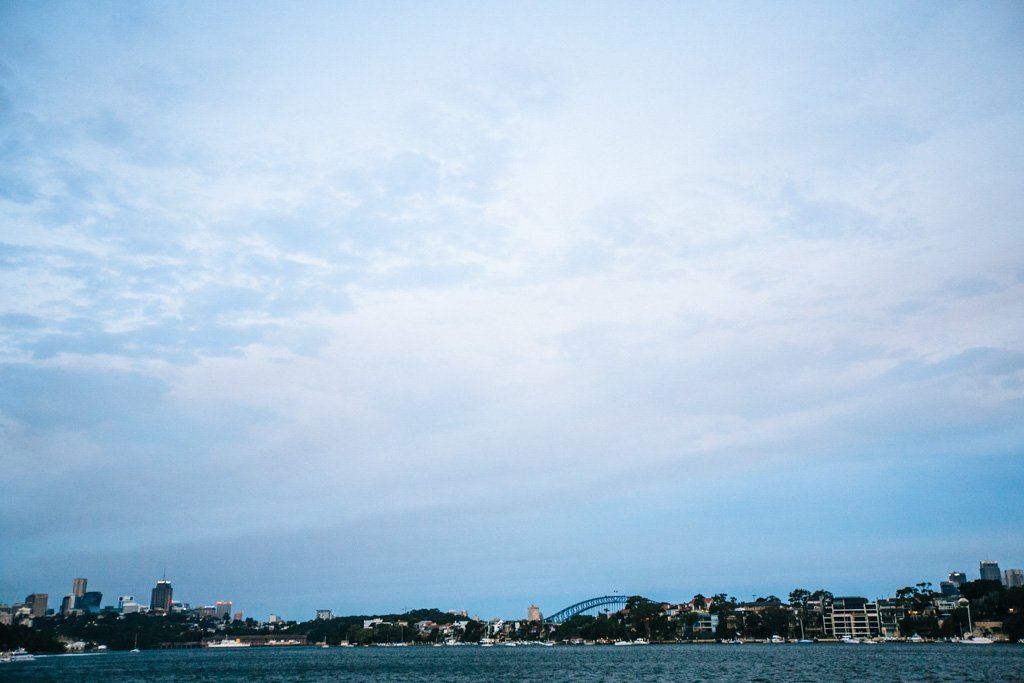 View from Cockatoo Island.
Cockatoo Island
This UNESCO World Heritage Site is slightly off the tourist radar, but totally worth the ferry trip. Here you can kick back with cocktails at the island cafe while enjoying the distant view of the Sydney Harbour Bridge. Or for a more active day out, you can do a self-guided tour of the island to learn more about its convict history.
And you know what else you can do on Cockatoo Island? GLAMPING! (Or camping!). There are tents equipped with bedding that you can reserve for about $100/night, or empty campsites on which you can pitch your own tent for $45-50/night.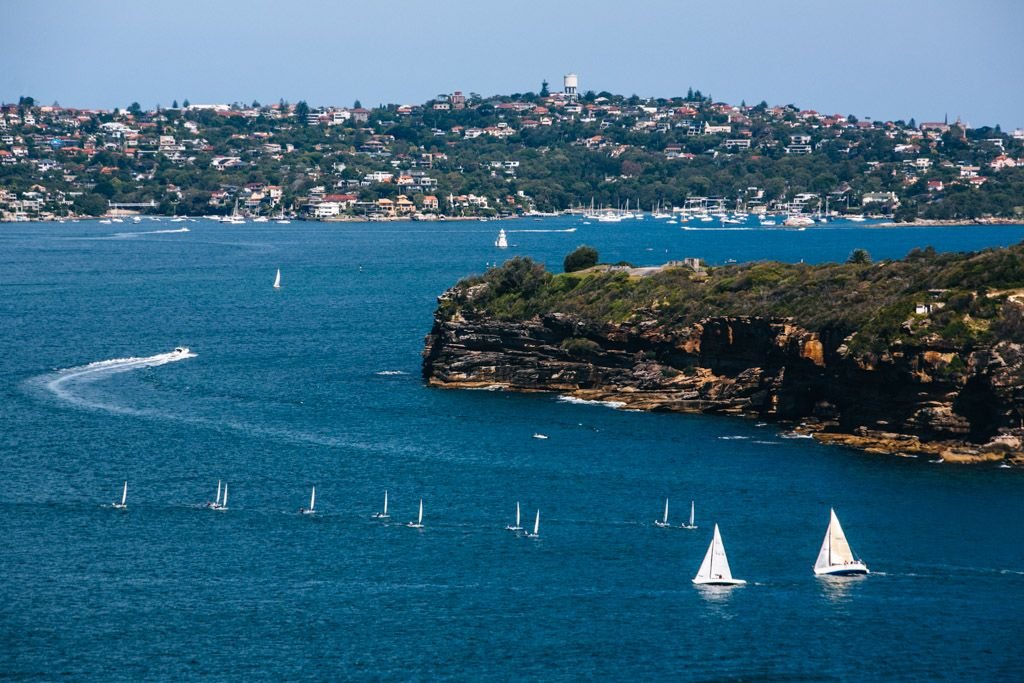 The Manly to Spit Sydney Harbour walk.
Manly to Spit walk
If you only have time for one Sydney Harbour walk, make it the Manly to Spit walk. This 10km track is probably the most varied Sydney Harbour walk, passing through bush, beach, and cliffs and offering unique views of the outer harbour. I recommend starting at Spit Junction so that you end the walk at Manly, where you can relax afterwards with a drink or snack on the beach.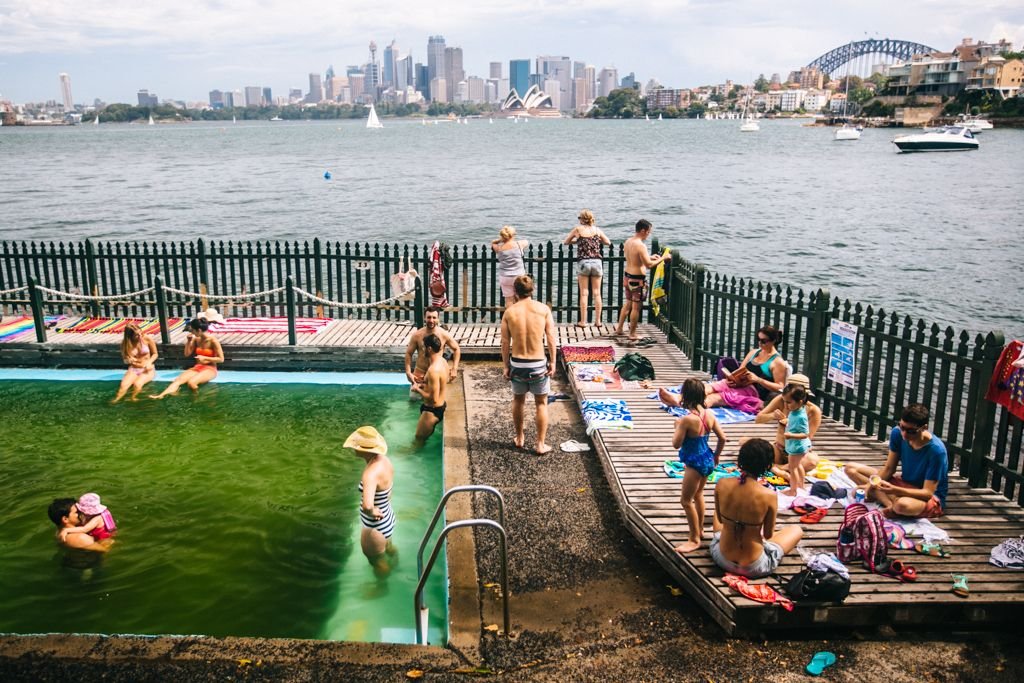 MacCallum Pool in Cremorne.
Mosman to Cremorne walk
Looking to escape the tourists on your harbour jaunt? I highly recommend the walk from Mosman to Cremorne on the north shore of Sydney Harbour. You'll pass by near-empty beaches, yachts galore, and some serious drool-worthy waterfront houses. Be sure to pack your bathing suit so you can enjoy one of Sydney's most scenic pools, MacCallum Pool. Does it get any better than floating around in a pool, gazing out at both the Sydney Opera House and Sydney Harbour Bridge?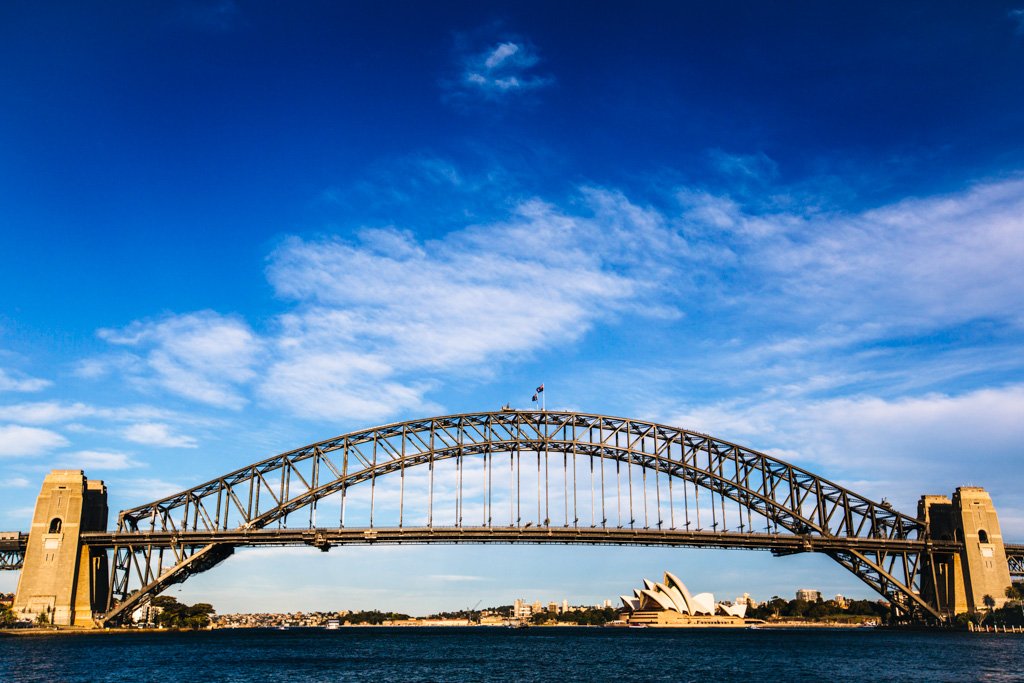 View from McMahons Point.
Luna Park to McMahons Point walk
Just north of Sydney Harbour Bridge, you'll find some of the best views of Sydney at Luna Park. From here, walk along the water and away from the bridge, and you'll reach McMahon's Point followed shortly after by Blues Point – both of which are excellent spots for picnicking and catching the sunset over the city.
Manly & Northern Beaches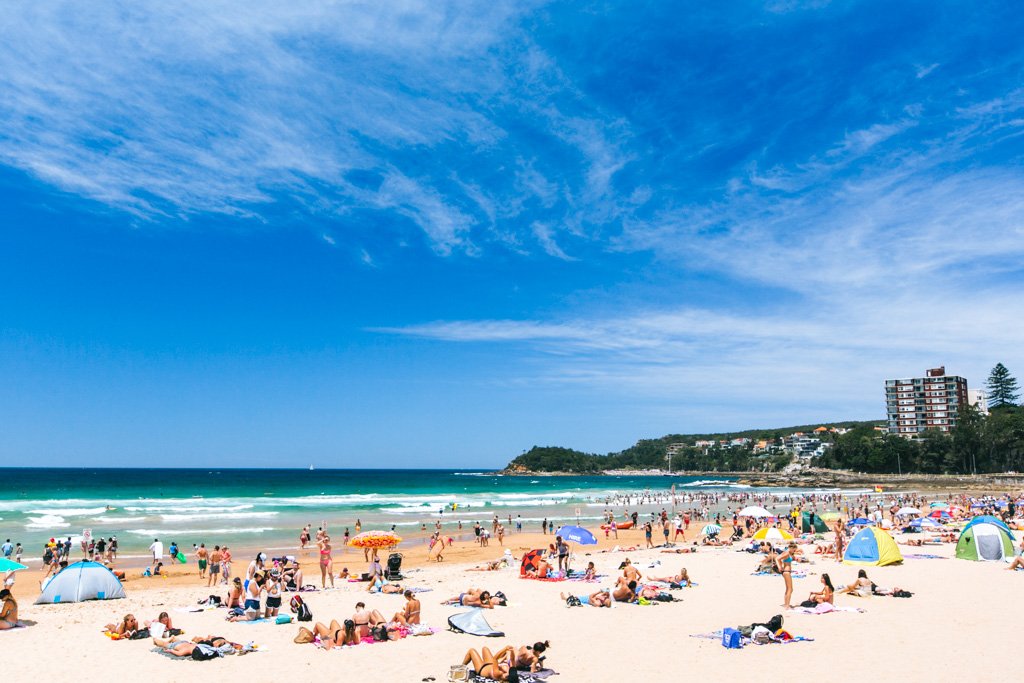 Manly Beach.
Manly Beach
Manly is a little out of the way if you're based anywhere on the south side of the Harbour Bridge, but I promise you this: there are few better ways to spend a hot sunny day in Sydney than catching the ferry from Circular Quay to Manly and spending the day at Manly Beach. Manly is much more casual than Bondi, but has similar things to boast about (namely: a stunning beach, waterfront bars and restaurants).
Between your lay-out and swim sessions, you can grab a bite somewhere on the Corso, walk over to nearby Shelly Beach (great for snorkeling!), or even tackle to walk to North Head (awesome for sunset).
A few of my favorite spots in Manly:
Manly Wine – A stylish waterfront wine bar where you can sip excellent wine or cocktails with a view of the beach.
Showbox Coffee Brewers Cafe – My latest pick for best coffee in Manly (followed closely by Barefoot Coffee Traders which is just down the street)
Fairlight Tidal Pool – If you can bear to pry yourself away from Manly Beach, this little gem is nestled on a harbourside beach on the other side of the ferry terminal.

Palm Beach from the Barrenjoey Lighthouse Walk.
Northern Beaches
The Northern Beaches are a collection of gloriously non-touristy beaches from Manly north to Palm Beach. If you see anyone at all up there, it'll be locals. You'll need to devote the better part of a day to getting there, back, and around if you're relying on the bus, so it might not make sense to include in your Australia trip unless you have ample time in Sydney.
Pin it!