This article was published in May 2015 and last updated in October 2019.
–
Sydney is where my coffee obsession was born, some 14 years ago. Some of my favorite cafes from back then are still thriving in this city today, and that makes me extremely happy. But since I've returned to Sydney to live for realsies, I'm constantly on the lookout for new coffee shops to try out and plan to update this article periodically with my new finds.
On the whole, I've found that most of the cafes in Sydney are not consistent with the quality of their coffee. I would LOVE to be able to enthusiastically recommend a cafe in Bondi, my local 'hood, but I've yet to find a place to get consistently excellent coffee here. Believe me, you'll be the first to know if ever find a Bondi cafe worth writing home about!
That said, this list of Sydney coffee shops includes the few cafes that I trust to craft me a top-notch flat white every time. If you're in Sydney, here's where you should go to sample the best third wave coffee around —
Reuben Hills (Surry Hills)
I stopped in at Reuben Hills once to grab a bag of beans and vowed to come back sometime to eat. I also keep meaning to stop in for their free Friday morning coffee cupping.
In addition to knowing their stuff when it comes to coffee, Reuben Hills is more than proficient at brunch. But perhaps best of all is the beautiful space they have: it's got a great atmosphere for catching up with friends over eggs and coffee.
61 Albion St, Surry Hills // Weekdays 7am-4pm, Weekends 7:30am-4pm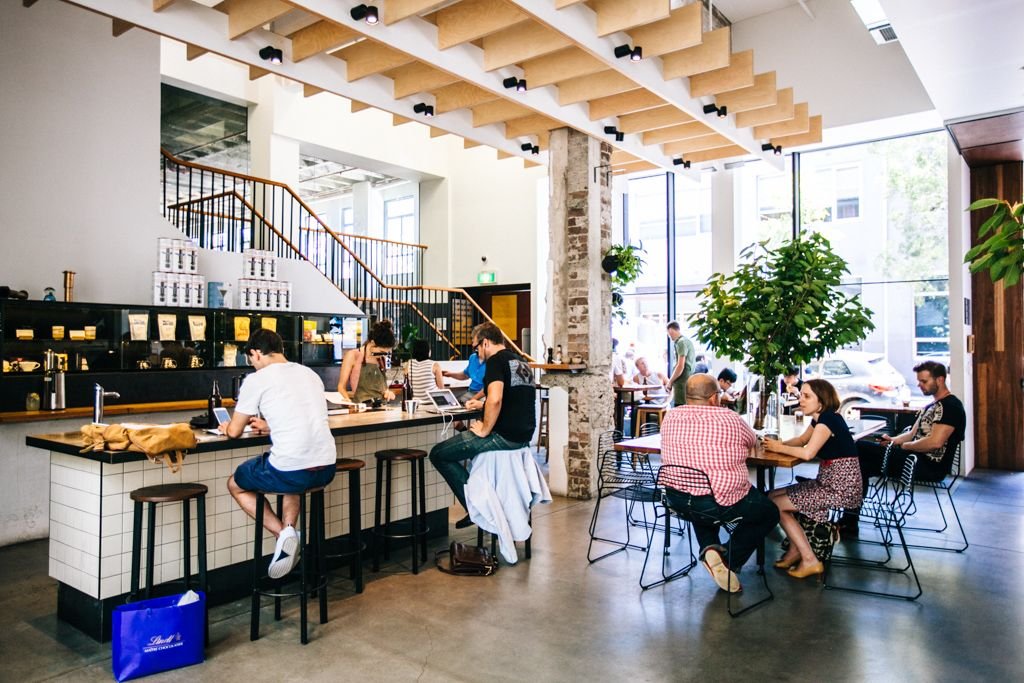 Paramount Coffee Project.
Paramount Coffee Project (Surry Hills)
Paramount is another great brunch spot, but they also make some stellar coffee. You can either sit at the bar with your cup, or grab a table in their "industrial-chic" cafe space. The Paramount building itself is super nice, so if nothing else you should pop in to take a peek and grab a takeaway coffee. As an added bonus: if you're into cycling or movies, there's a Tokyo Bikes shop in the back and Golden Age Cinema downstairs.
80 Commonwealth St, Surry Hills // Daily 7am-4pm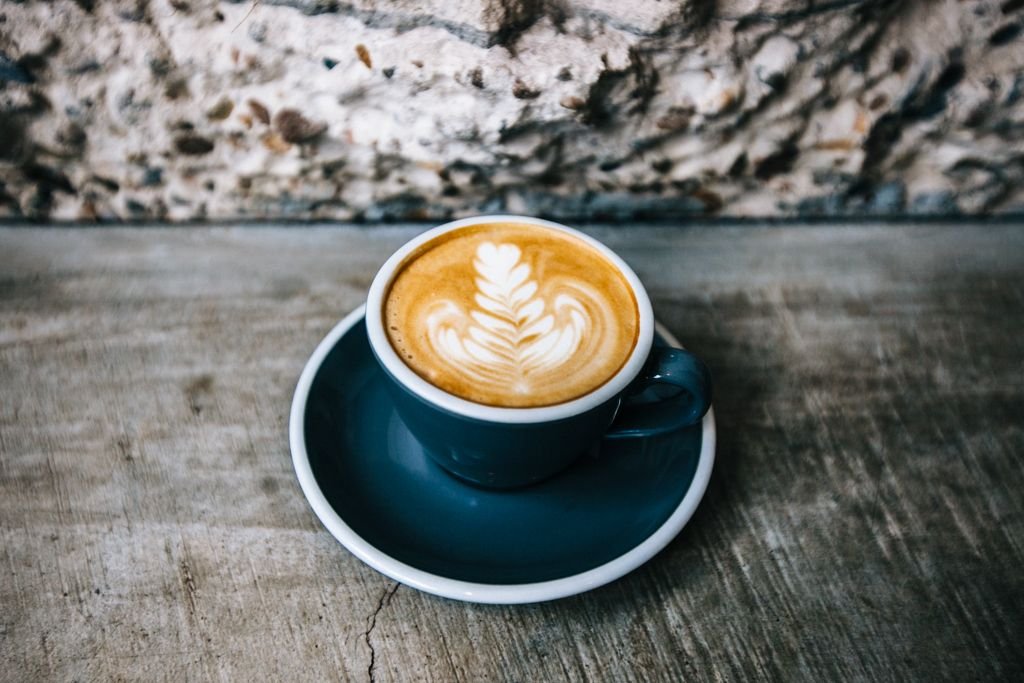 Flat white from Paramount Coffee Project.
Barefoot Coffee Traders (Manly)
I dig this coffee shop so much that I make a point to stop here whenever I make the trek up to Manly Beach. This cozy, open-air cafe does a solid latte and their baristas are really friendly. Barefoot is too small to function as a workspace, but it's perfect for escaping the sun for a hot minute to enjoy a great cup of coffee.
18 Whistler St, Manly // Weekdays 6:30am-5pm, Weekends 7am-5pm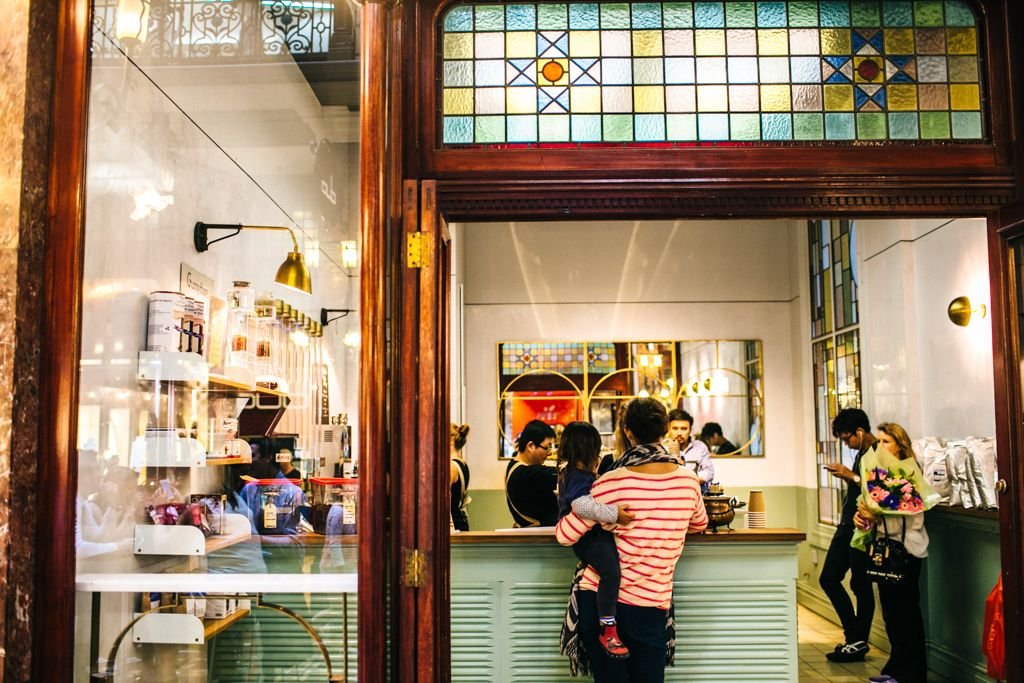 Gumption Coffee.
Gumption Coffee (CBD)
Behold, my favorite place to grab a cup of the best coffee in Sydney CBD: Gumption. If you work in the CBD or happen to find yourself there for some other reason, pop into The Strand (the beautiful, ornate shopping arcade) and hit up Shop #11. Their Asian baristas have served me up some seriously good long blacks and flat whites (I don't know why, but every time I've been there, it's been an all-Asian barista team). It's best suited for takeaway coffee, but if there's a free seat outside, it's worth sitting in the gorgeous arcade sipping your cuppa.
And bonus: The Strand has free public wifi, so theoretically you could come here with your laptop outside of peak hours and get some work done (though it's not really designed to be a workspace).
Shop 11, The Strand Arcade, 412-414 George St, Sydney // Weekdays 8am-5:15pm, Saturday 9am-4:15pm, Sunday 11am-3:45pm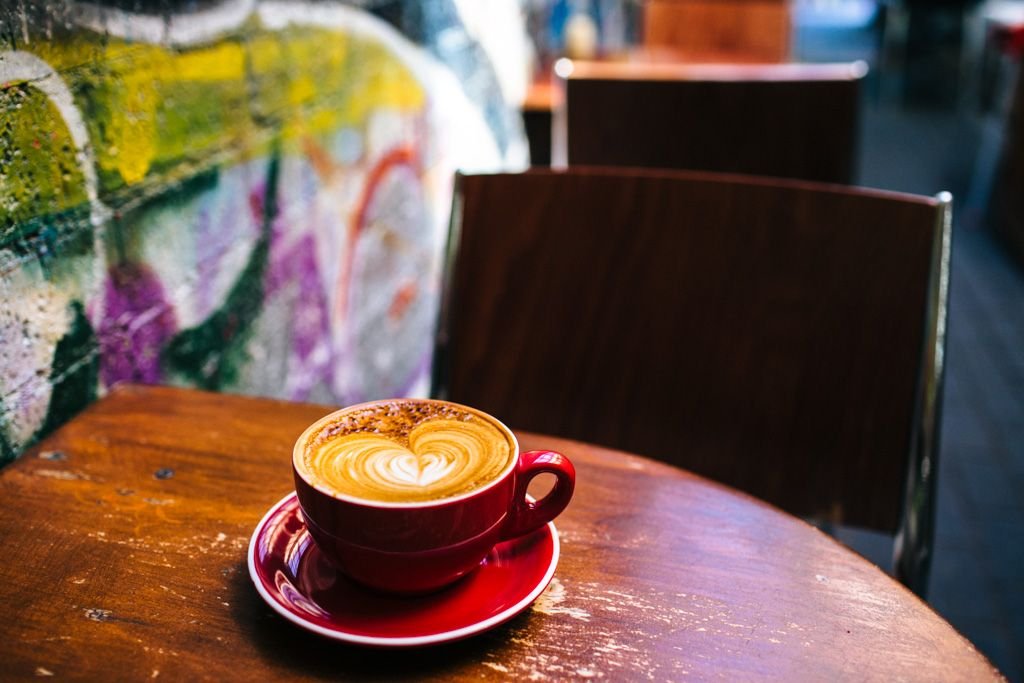 Sappho Books.
Sappho Books (Glebe)
Sappho Books is where my coffee obsession began, way back in 2006. I was elated to find it looking, smelling, and tasting exactly the same in 2015. Part used bookstore and part coffee shop, you can browse the shelves before tucking into a cappuccino at a table in the graffiti-adorned courtyard. I was pleased to see that now, come evening, Sappho morphs into a wine bar. As if this place didn't already have enough to keep me coming back daily!
A word of note about working at this coffee shop: no laptops are allowed here on weekends (to deter students from taking up prime real estate at peak times), and there's no wifi. The signs they had posted when I visited in early 2015 were borderline snarky, but I'm choosing not to be offended because my love for Sappho Books is undying.
51 Glebe Point Rd, Glebe // Monday-Tuesday 8:3oam-6:30pm, Wednesday-Saturday 8:30am-10pm, Sunday 9am-6:30pm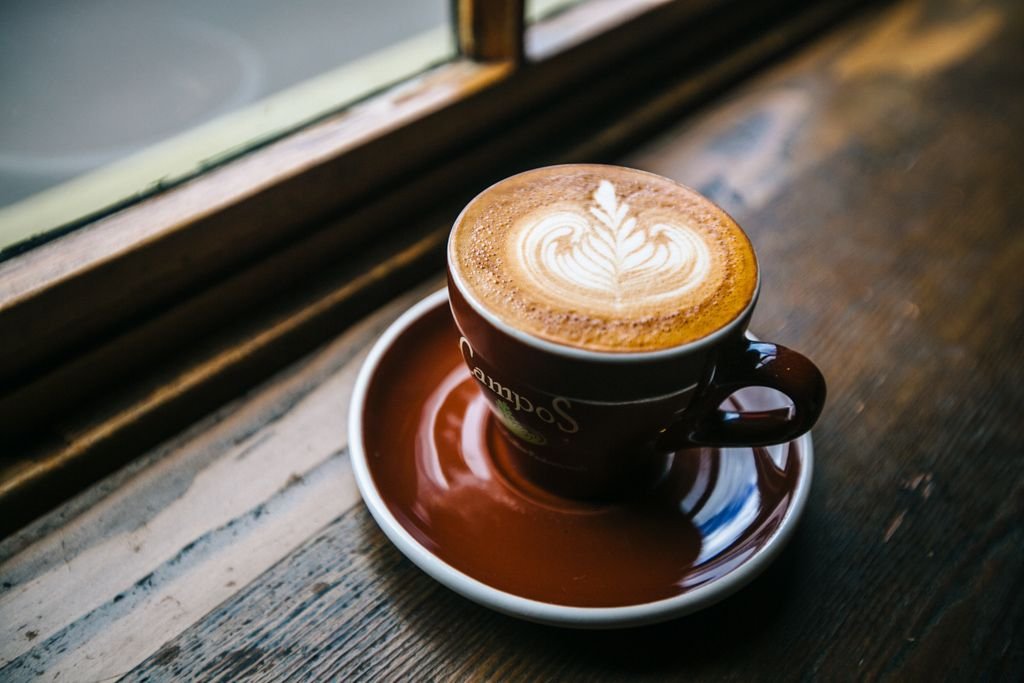 Campos Coffee.
Campos Coffee (Newtown)
Campos coffee is akin to nectar from the gods. Numerous coffee shops around both Sydney and Melbourne brew coffee with Campos beans, that's how good they are. BUT, please note that just because you order coffee from a cafe that has a sign that says they use Campos coffee beans, it doesn't mean the coffee's going to be any good. This review is referring to THE Campos Coffee shop in Newtown.
Their tiny Newtown outpost is suitable for grabbing a quick cup and scurrying off, though I've sat alone at the bar by the window a few times and enjoyed a flat white. The coffee here is consistently stellar and their baristas are top notch.
193 Missenden Rd, Newtown // Weekdays 7am-4pm, Saturday 8am-5pm, Sunday 8am-4pm
Mecca Coffee (Alexandria)
I found out about Mecca thanks to Lonely Planet – no, not from their Sydney or Australia guidebooks, but because I was invited to attend the launch for their new book, Lonely Planet's Global Coffee Tour, which was held at this cafe. They treated us to a coffee cupping as well, since Mecca is also a roastery and produces/sells their own beans.
After sampling several of their beans and returning multiple times to order a takeaway flat white on the way out of the city for weekend camping trips, I can confidently confirm that Mecca serves Melbourne-caliber coffee in a gorgeous, well-lit space. I would definitely make this my digital workspace if I didn't live an hour away by public transport. If you're not eager to make the trek out to Alexandria either, Mecca also has a cafe in the CBD that's open on weekdays.
26 Bourke Rd, Alexandria // Weekdays 7am-3pm, Weekends 8am-3pm
67 King St, Sydney // Weekdays 6am-4:30pm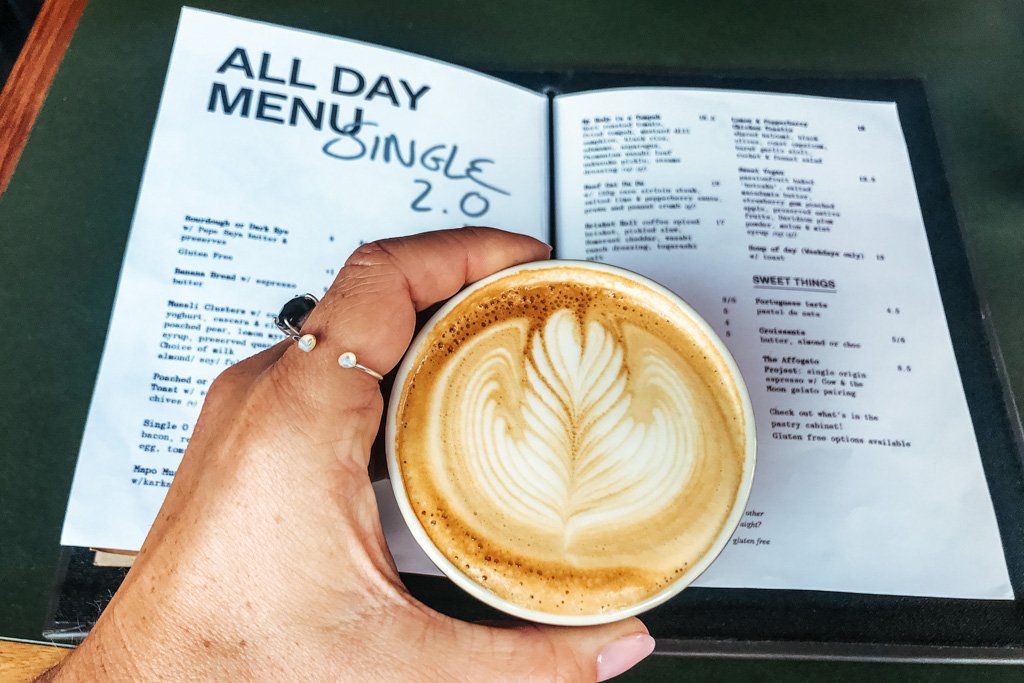 Single O.
Single O (Surry Hills)
Single O is a relatively new discovery of mine and whoa, talk about Melbourne-caliber coffee. This is easily some of (if not) the best coffee in Sydney.
This cafe is on the small side and was absolutely packed on a random weekday afternoon when I stopped by, so sadly it's probably not a great place to linger for awhile with a book or laptop. But for brunch with your coffee snob friends, it's perfect.
They have a tiny outpost in the CBD as well that's great for grabbing a takeaway coffee on weekdays.
60-64 Reservoir St, Surry Hills // Weekdays 6:30am-4pm, Saturday 7:30am-3pm, Sunday 8am-3pm
89 York St, Sydney // Weekdays 7am-3:30pm, Weekends closed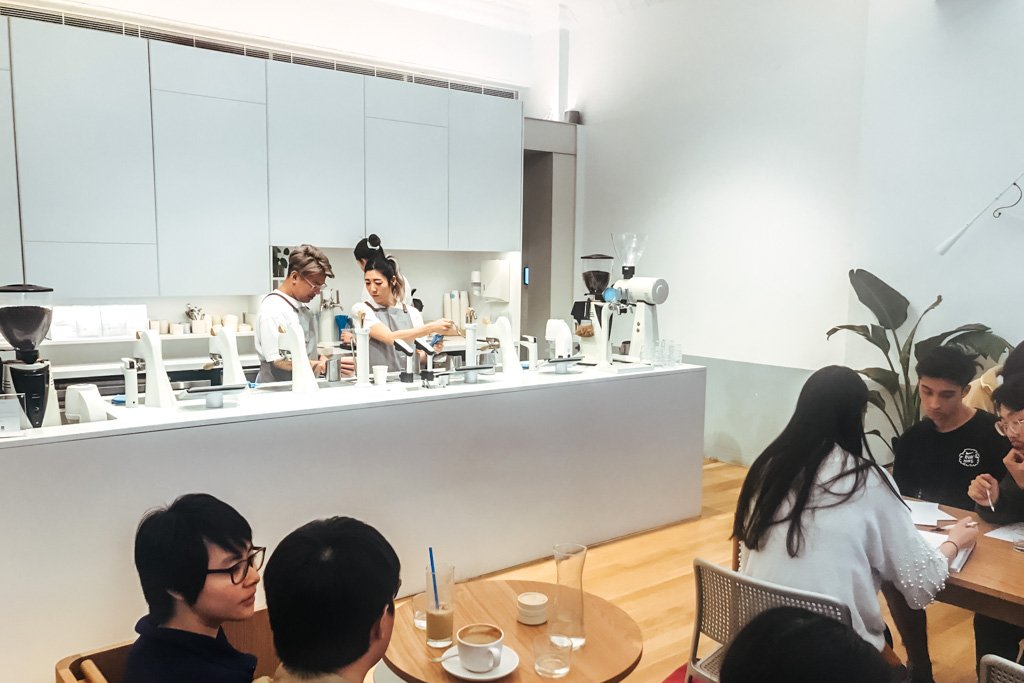 Industry Beans.
Industry Beans (CBD)
I was a fan of Industry Beans when I lived in Melbourne, and thankfully they've recently opened up shop in Sydney. I order my coffee beans online from Industry Beans every month, so that should tell you about the quality of their product (aka these are some of the best coffee beans in Sydney).
Their CBD cafe is all-white and minimalist, manned by a team of baristas that takes its coffee making very seriously. I'd say the coffee quality is consistent to what you'll find at their Melbourne outpost, which is exactly how it should be.
Industry Beans definitely makes some of the best coffee in Sydney CBD, so don't miss it!
Shop 2/40 York St, Sydney // Weekdays 7am-6pm, Weekends 8am-4pm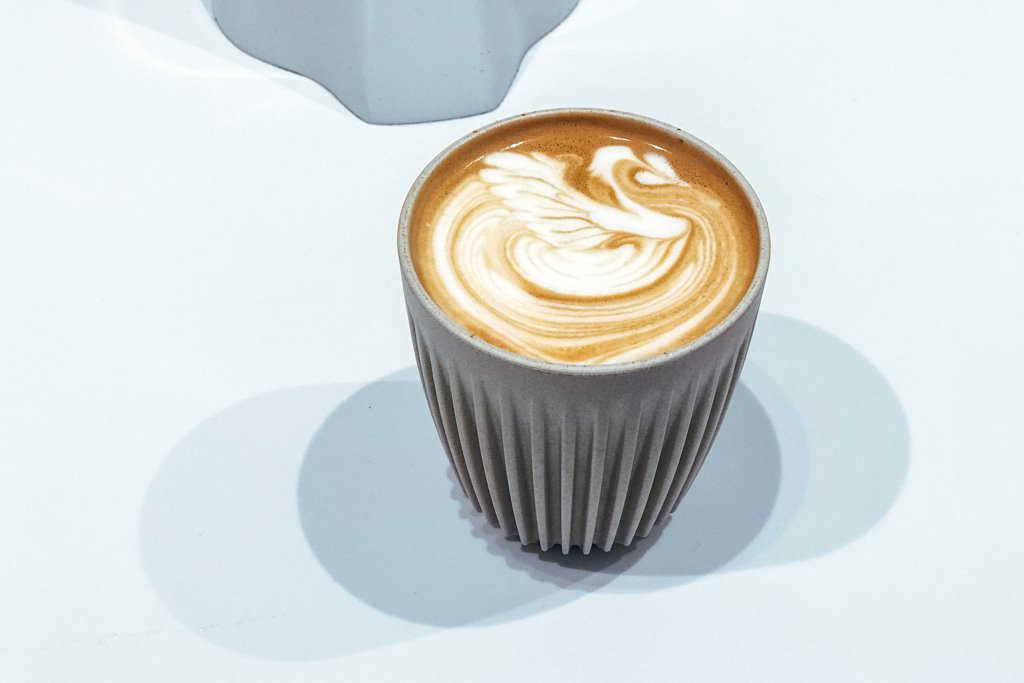 Expertly made takeaway flat white at Industry Beans.
Cabrito Coffee Traders (CBD)
Cabrito is my go-to coffee shop whenever I'm heading to Circular Quay to catch a ferry, though sadly it caters more to those who work in the city on weekdays and thus isn't open on weekends. It's the best cafe in the area to grab a cup of some of the best coffee in CBD Sydney.
10-14 Bulletin Pl, Sydney // Weekdays 7am-4:30pm, Weekends closed

Photo via Bay Ten Espresso.
Bay Ten Espresso (North Sydney)
Bay Ten Espresso was my unofficial office when I spent time living (er, crashing) in North Sydney during my nomadic days. This coffee shop occupies the coolest space right underneath the highway: a spacious old warehouse with concrete walls and a tall ceiling, which they share with a bike mechanic shop. So it tends to draw both cyclists and coffee enthusiasts.
Basically, this North Sydney coffee shop looks like it was plucked right out of Melbourne or Brooklyn and I LOVE it. It really is a beautiful space.
This coffee shop in Sydney is the brainchild of Work Inc, a coworking space just a few bays down. It's a nice alternative to the non-committal folk like me who don't want to commit to a coworking membership or don't spend enough time there to justify it.
10 Middlemiss St, Lavender Bay // Weekdays 7am-3pm, Weekends closed
Check out my other coffee shop round ups: Brooklyn // San Francisco // Montreal // London // Budapest
Pin it!