I've spent the entirety of my near-7 years in NYC living in the Williamsburg, Brooklyn area. As a self-proclaimed coffee snob, I can say with assurance that I've carefully sampled this neighborhood's coffee. And by that, I mean I've poured tens of hundreds of dollars into caffeinating my veins and conducting ongoing research to find the best coffee in North Brooklyn. God, imagine the trips I could have taken with that money. (Nevermind, don't).
I feel zero guilt over this arguably frivolous expenditure. North Brooklyn's plentiful cafes are what have gotten me through each miserable winter in New York. I've derived so much joy out of discovering each new third wave coffee shop that's opened up over recent years in Williamsburg and Greenpoint. Some I find excellent for spending a weekend afternoon getting work done, and others better suited for enjoying a delicious midday cup of whatever their specialty is.
If you find yourself living in or exploring Williamsburg or Greenpoint, here's your guide to finding the best coffee in North Brooklyn —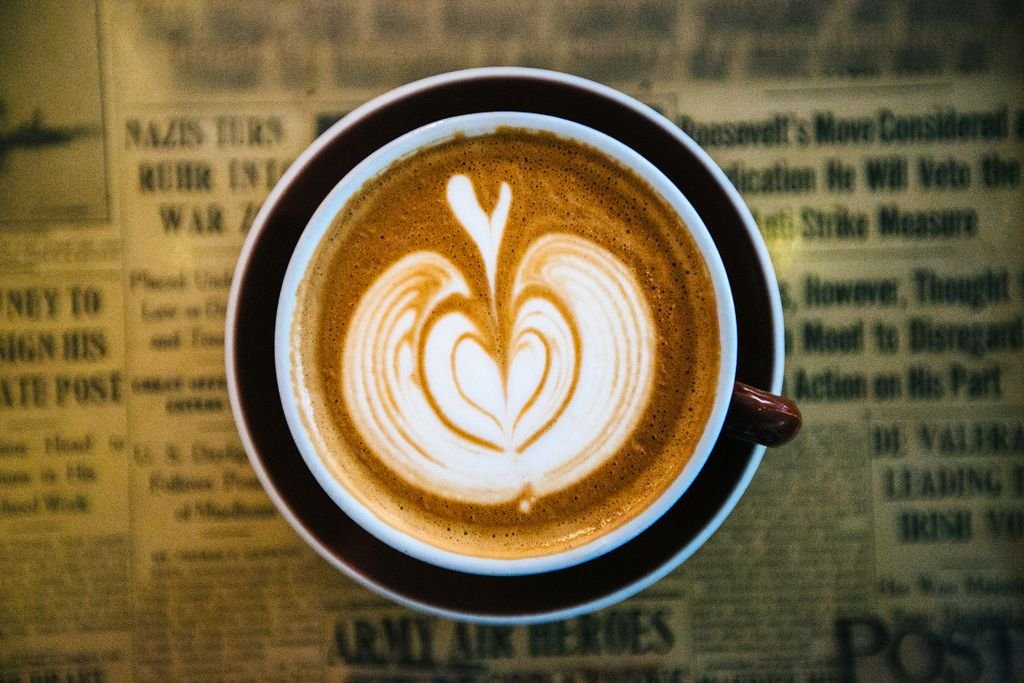 Best Latte
Crema BK (182 Driggs Ave, Greenpoint)
This tiny shop is new, Asian-owned, and makes the best latte in the boonies of Greenpoint (aka east of McGuiness Blvd). It's not meant to be a working coffee shop, but you can usually grab a spot at one of its few tables and break out your laptop. I'd spend more time here if it had a bathroom! Regardless, Crema makes a mean latte brewed from Toby's Estate beans – it's a must try!
Gimme! Coffee (107 Roebling St & 495 Lorimer St, Williamsburg)
Gimme was my jam back in my Cornell days, when I used to grab a cup at their on-campus coffee cart en route to the library. I was thrilled to find they had multiple shops in NYC when I moved here post-graduation. I've since decided that Gimme's lattes (including iced lattes) are among the best I've ever had. Like Crema, neither of its Williamsburg locations is meant to be a workspace – but their lattes are too good not to sample!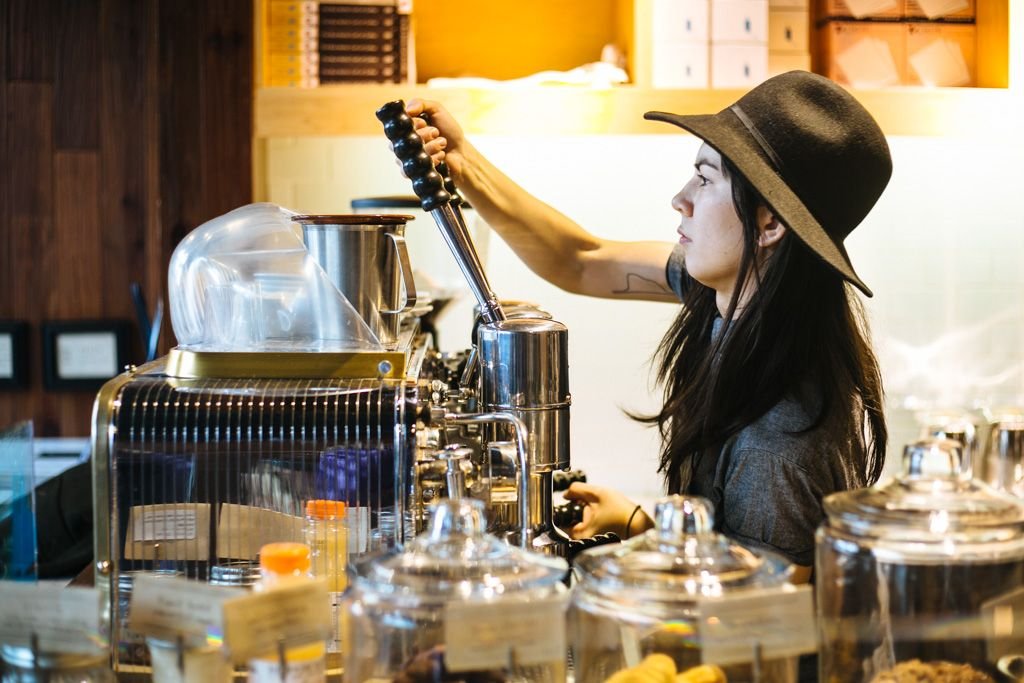 Best Pour Over
Cafe Grumpy (193 Meserole Ave, Greenpoint)
Grumpy has held a solid spot on my go-to coffee shop list since, quite literally, my first week of living in NYC (i.e. early 2008). For years it was my favorite place to hole up on weekends with my laptop and its 1/2 price refills. Then the show 'Girls' went and blew it up and it's a bit more popular now as a result.
I still hang out here on occasion, but now I maintain that the best thing about Cafe Grumpy is its pour over. Some blends are pricier than others (ahem, $10 Clover coffee), but all of their options are delicious.
Toby's Estate Coffee (125 N 6th St, Williamsburg)
I adore Toby's because it's Australian, it's hip, and it has killer pour overs. Their Williamsburg shop is aesthetically gorgeous, but it's too crowded and sceney for my liking. Better to drop in, order a pour over, then take it to the nearby waterfront. (Bonus: In true Aussie style, they offer the flat white. TRY THIS TOO!).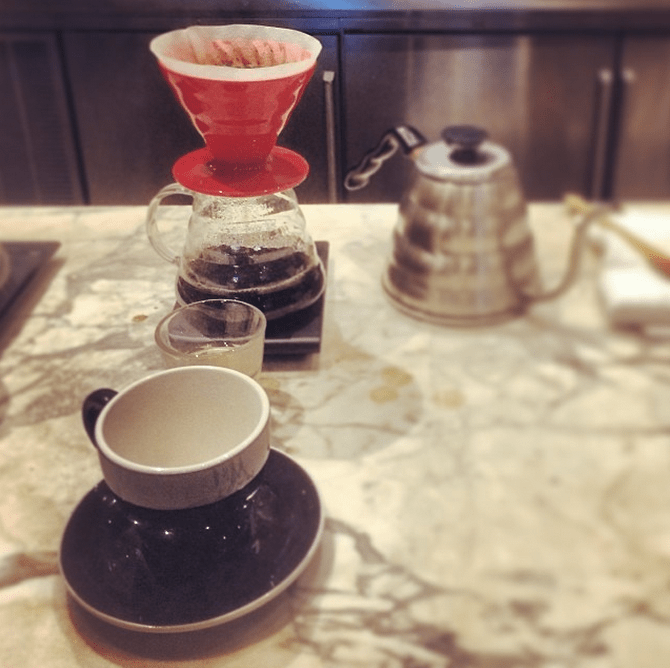 Best Regular Coffee
Cafe Grumpy (193 Meserole Ave, Greenpoint)
In addition to great pour overs, Grumpy has always had delicious brewed coffee. However, the price increase on their regular cup in recent years no longer justifies it, in my mind. For an extra 25 cents, you can get a freshly pulled Americano of the same size. So my strategy is: if I only want one cup, I get an Americano or a pour over; if I want 2 cups, I get the regular brewed coffee because the second cup is 1/2 price.
Black Brick (300 Bedford Ave, South Williamsburg)
This cafe hits all the right spots for me: it's got a cozy hipsteresque workspace, friendly and unpretentious baristas, a great location, and – perhaps most importantly for this frugal coffee snob – cheap AND delicious cups of coffee. I love that I can pay $2 for a really great cup of french press and not feel like I skimped on my joe.
Cafe Grumpy has really cool collaged tables, too!
Best Iced Coffee
Blue Bottle (160 Berry St, Williamsburg)
I much prefer hot to cold brews, but once in awhile I crave Blue Bottle's New Orleans iced coffee. Cold brewed with chicory, sweetened with cane sugar, and blended with whole milk – this is one distinct coffee drink. Best to enjoy its subtle sweetness as-is without adding any additional sugar or milk.
Blue Bottle has been a staple on the San Francisco coffee scene for years, only having made it to NYC relatively recently. Their New Orleans cold brew is such a hit that it's now sold in small milk cartons at all shop locations, as well as in Whole Foods stores across California. Believe the hype, fellow coffee snobs: Blue Bottle's New Orleans iced coffee is as legit as it gets.
Tar Pit (135 Woodpoint Rd, East Williamsburg)
This tiny shop is quite unfortunately located near nothing of interest, so I imagine business is not quite as booming as it would be, were it stationed elsewhere. And that's a shame because they've got some of the best iced coffee around. Tar Pit employs the Kyoto slow drip method to craft their iced coffee – admittedly, I have no idea what exactly this entails, but it's said to be quite time-intensive and results in a very unique taste.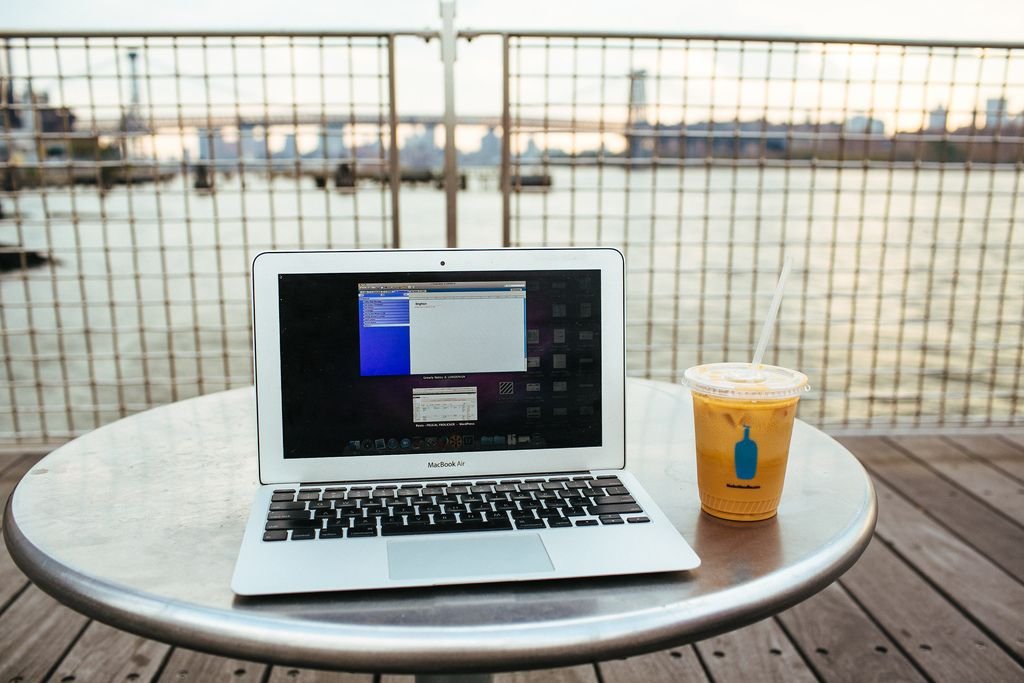 Blue Bottle coffee on the Williamsburg waterfront
Best Flavored Latte
Bedford Baking Studio (347 Bedford Ave, South Williamsburg)
BBS is the coziest, most unpretentious little cafe you could hope to find in hipster Williamsburg. On the rare occasion I'm not looking to camp out with my laptop somewhere, I like to stop by Bedford Baking Studio, order a lavender latte with almond milk, and enjoy my bowl-sized mug on the couch.
Upright Coffee (860 Manhattan Ave, Greenpoint)
Upright is a tiny coffee shop clearly not meant for lingering, as it only has a couple of bar seats at its patrons' disposal. Even if you can't sit, it's worth ordering either a lavender latte or vanilla latte to go. Both are made from flavored syrups infused in-house and are absolutely delicious.
Lavender latte from Upright
Best Workspace
El Beit (158 Bedford Ave, Williamsburg)
I like this coffee shop because it's open late, houses a spacious backyard patio, and has open air seating facing the Bedford Avenue sidewalk in warmer months. Coupled with a prime location near the Bedford subway stop, it's my preferred place to meet my wedding photography clients after work.
Budin (114 Greenpoint Ave, Greenpoint)
I am borderline obsessed with this unique new Nordic coffee shop in Greenpoint. Budin has a very modern feel with its white walls, wooden furniture, wide open space, and light streaming in from both the front and back windows. It's so refreshing to be able to walk into a NYC cafe and always be able to find a place to sit with your laptop – a rarity in this city.
If you need a break from work, you can peruse the selection of Nordic magazines and books, browse the Nordic goods shop in the back, or sit outside on the (non-Nordic) patio. And if you find yourself here after dark, Budin serves wine and beer til 12/1am. You could conceivably spend your entire day hanging out here and it would be glorious.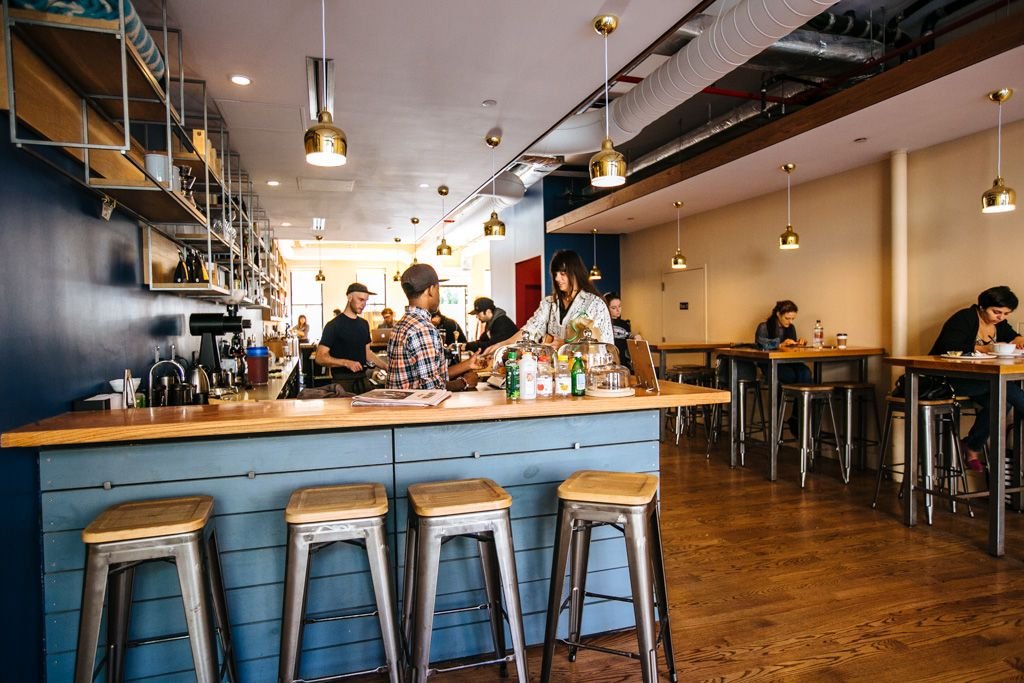 Oh, and the coffee? They have a $10 licorice latte, sourced from international ingredients and priced accordingly. (Fun fact, Icelanders LOVE licorice). If licorice aint your thing, their regular latte is pretty ace and less obscenely priced. They also serve pour over cups made from beans shipped from – you guessed it! – Iceland, Norway, and Sweden.
Propeller Coffee (984 Manhattan Ave, Greenpoint)
So, Propeller is stationed way up north in Greenpoint and does not have the best coffee around. BUT, it's an amazingly cozy place to spend an afternoon getting work done. I always try to grab a seat in the little alcove in the back, a separate partially-open room with a few old school desks and chairs inside. It feels more like hanging out in someone's living room than in the back of a coffee shop.
Check out my other coffee shop round ups: San Francisco // Montreal // London // Sydney // Budapest
Pin it!