Among several other delights, it turns out that Budapest is chock full of specialty coffee shops. I swear, I saw signs along the lines of "we serve speciality coffee" outside of what seemed like every other cafe around the city.
Speciality coffee is kind of a funny term if you're not huge into coffee, but it basically translates to high quality coffee. If a cafe serves specialty coffee, it means they care a lot about the whole coffee process, from bean to cup, and take pride in serving great coffee to their customers. This is the kind of coffee I seek out in my daily life and in my travels.
It's pretty much a given that any coffee shop in Australia will be all about the specialty coffee, but when I travel I remember that this is definitely not the case in other countries (lookin' at you, France). So after 3 weeks of Aussie coffee withdrawal on my recent Eurotrip, I arrived in Budapest to find the plentiful specialty coffee shops and was absolutely ecstatic whenever I could get my hands on a flat white that remotely resembled what I'm used to back home.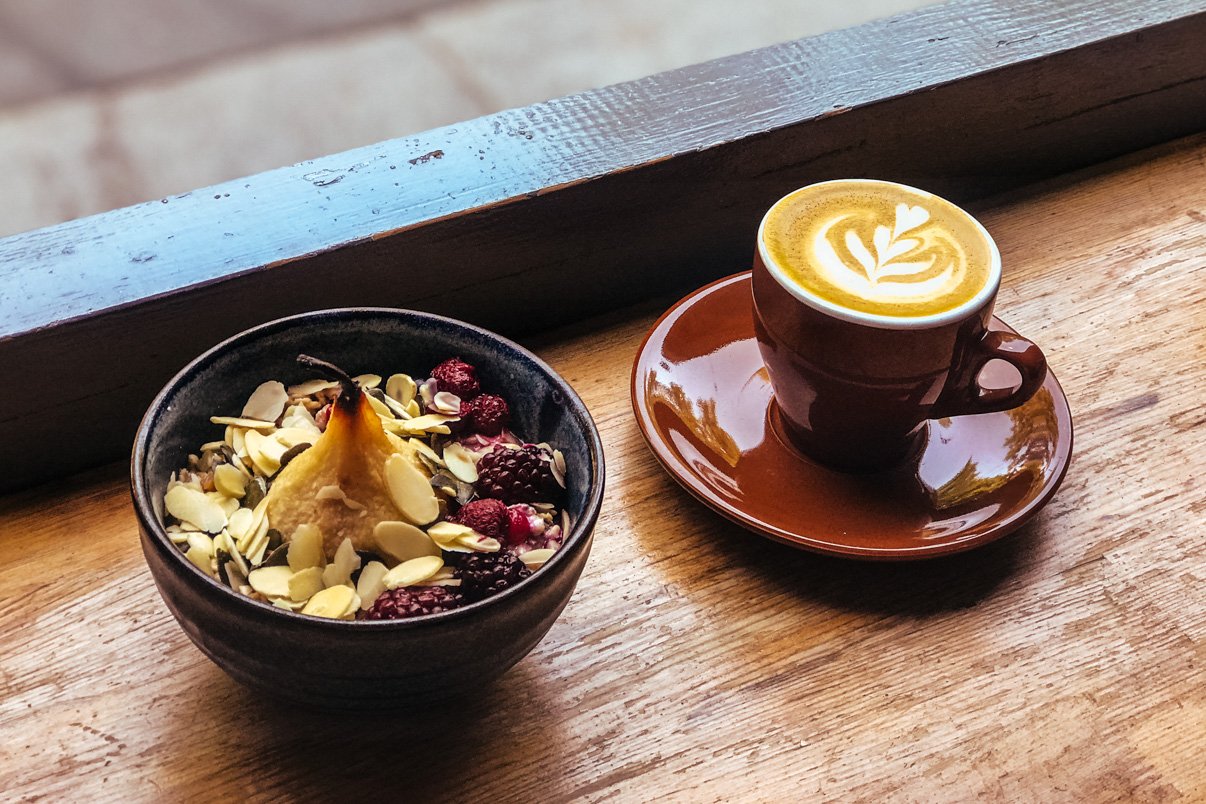 For the purposes of this blog post, I was always sure to rein myself in and ask after the first sip: is this actually GOOD coffee that I would get psyched about back in Sydney, or am I just temporarily blinded by excitement in the moment?
When I checked myself, I realized that all the coffee I sampled in Budapest fell into 1 of 3 categories:
Actually made me go WOW as I was drinking it – these are the first 3 listed below
Well made and tasted good, though maybe not as amazing as the coffee in Australia – these are included below
Technically well made but something about the flavor was off (either the beans or the milk) – these did not make the list
So without further ado, here's what I found to be the best coffee in Budapest: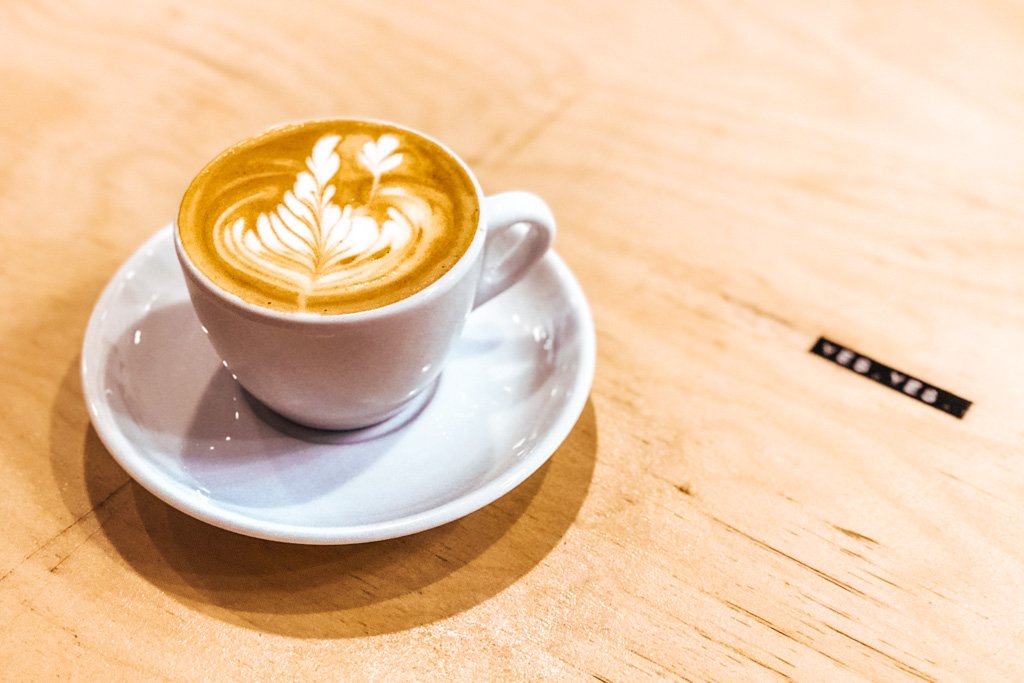 Kontakt
Of all the coffee shops in Budapest that I visited, Kontakt was the one that felt like it could fit right into the Melbourne coffee scene. With its hipster baristas, minimalist space, and absolutely sensational coffee, I temporarily forgot I was actually drinking my flat white in Hungary.
Drip coffee is actually what they're known for, and there are signs reminding customers that no milk or sugar needs to be added to enjoy it. Might sound pretentious to some, but I loved it because this is SO TRUE. If it's really good coffee then adding things only takes away from the taste.
If you're a coffee snob, Kontakt should be your first port of call in Budapest – and possibly only, because few other cups of coffee in the city can compare.
Károly krt. 22 // Open 8am-7pm Mon-Fri, 9am-5pm Sat // Website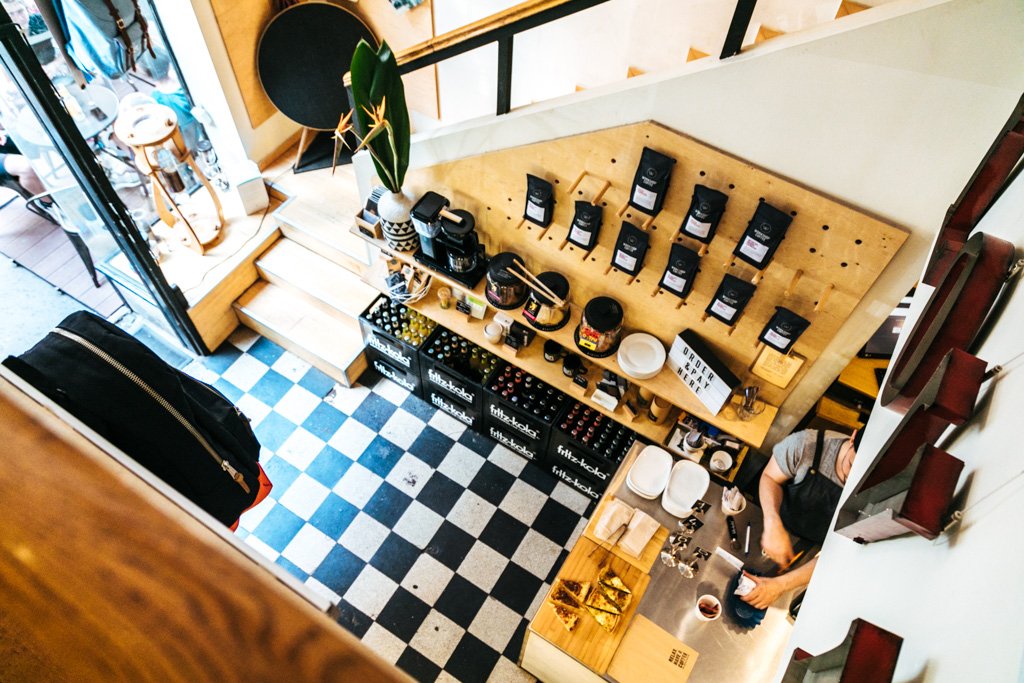 My Little Melbourne
I was drawn to this cafe for obvious reasons and it did not disappoint – though having to keep purchasing items just to get a 45-minute wifi code was a minor annoyance the day I went there to work (let's just say I was very caffeinated by the end of it!).
I totally get why a popular cafe would limit wifi access like this, so I can't even hate. Little Melbourne was by far the busiest coffee shop I visited in Budapest, and if they offered unlimited wifi then people might never leave!
My Little Melbourne also claims to have pioneered the "specialty coffee" movement in Budapest, to which I say: INFINITE THANK YOUS.
Interesting note: most of the patrons were foreigners, which was not the case at most of the other cafes I went to. I think it's become a bit of a tourist stop (though this didn't really bother me when I was there).
Madách Imre út 3 // Open 7am-7-pm Mon-Fri, 8am-7pm Sat-Sun // Website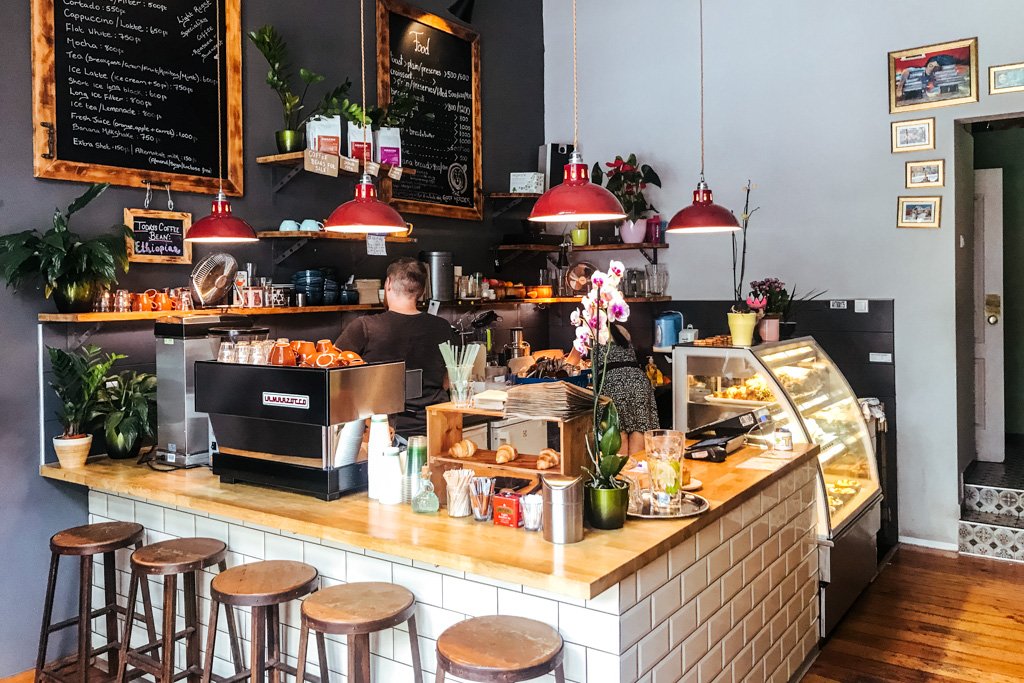 The Goat Herder
The Goat Herder is a hidden gem I found while scouring the streets of Budapest for delicious coffee. It's a bit removed from the city center and not really on the tourist trail, so this is definitely more of a local joint… which only adds to its appeal!
I stopped by twice: the first time was a definite WOW coffee experience, and the second time was slightly less wow-worthy, so they might be lacking consistency across their barista team. Either way, I still feel that The Goat Herder makes some of the best coffee in Budapest, with some tasty breakfast items to boot (the muesli is delish!).
István u. 5 // Open 8am-3pm daily // Website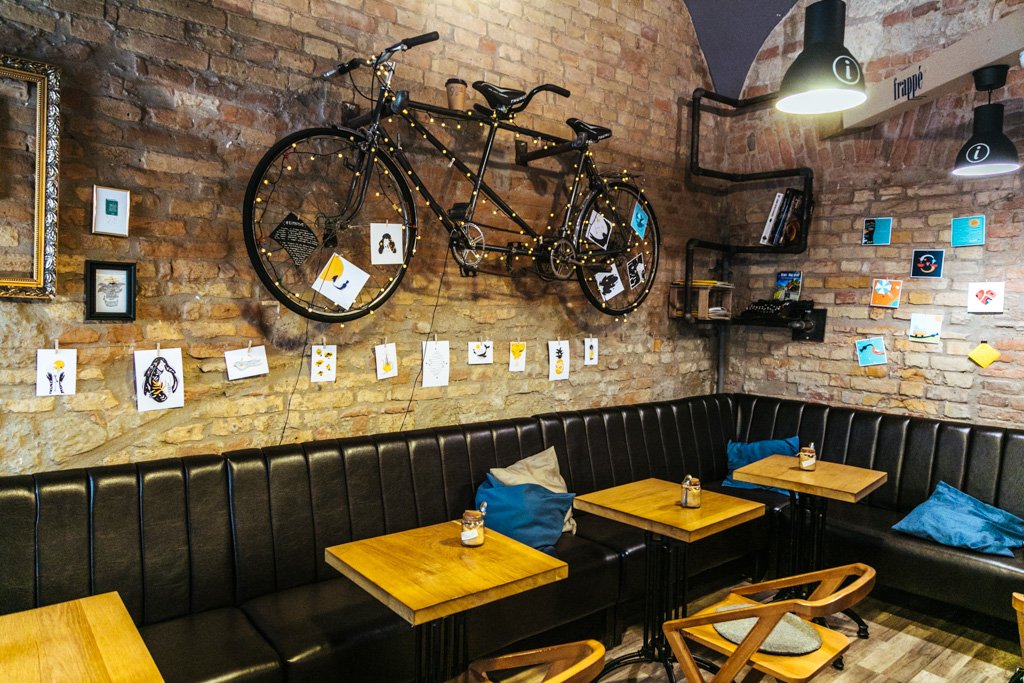 9BAR
I adored this little cafe and really wish I'd gone back for round 2. The coffee was great, but the vibe was even better: think fairy lights and a bike hanging on the wall (be still, my hipster heart!). Also apparently their pistachio croissant is to die for, but sadly they were sold out by the time I snuck in for an afternoon coffee.
9BAR felt pretty spacious to me and had both wifi and ample outlets, so it'd make for a good digital nomad workspace.
Lázár u. 5 // Open 8am-6pm Mon-Fri, 8am-4pm Sat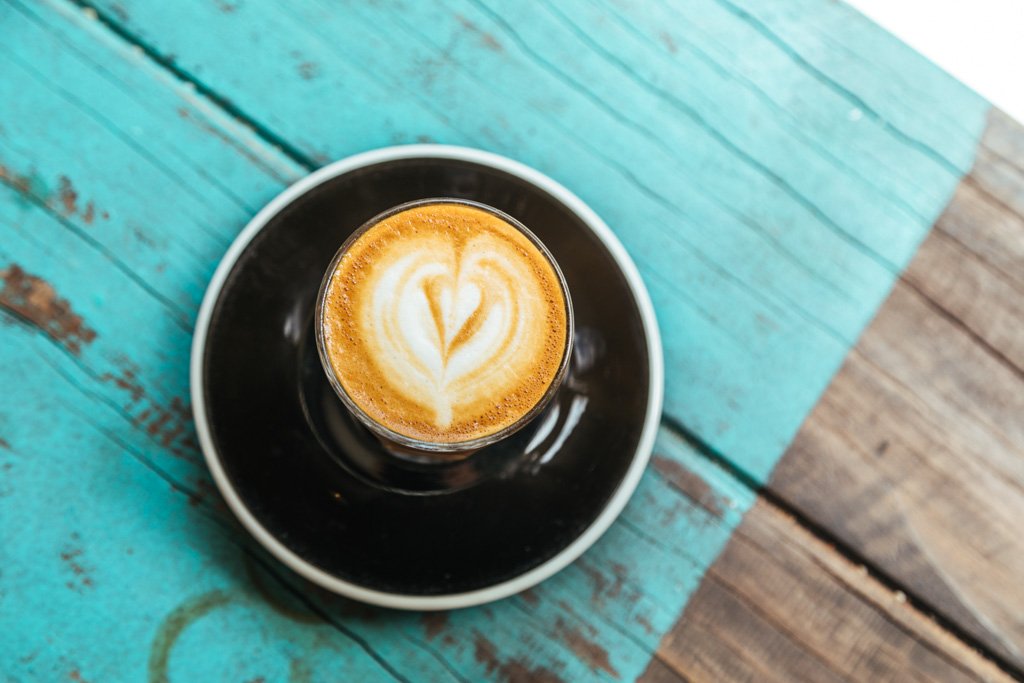 Espresso Embassy
This is one of the more popular coffee shops in Budapest, and for good reason. Really good coffee, lots of seating, centrally located. When I was there, I kept thinking it wouldn't be out of place in Melbourne – just had that kind of vibe.
Arany János u. 15 // Open 7:30am-7pm Mon-Fri, 9am-6pm Sat, 9am-5pm Sun // Website
Matinee
This cafe sits outside of the city center, not too far from the Airbnb I was staying in, aka it's very much a local spot. I really dug the ambience here: lots of old furniture, classic rock playing, some nautical decor upstairs where I sat with my laptop. My little nook felt a bit like cozying up in an attic, except I could see everything downstairs from above.
I enjoyed the coffee here, but it was a bit on the bitter side which I know is a turn-off for a lot of coffee drinkers.
Benczúr u. 2 // Open 8am-6pm Mon-Fri, 9am-6pm Sat-Sun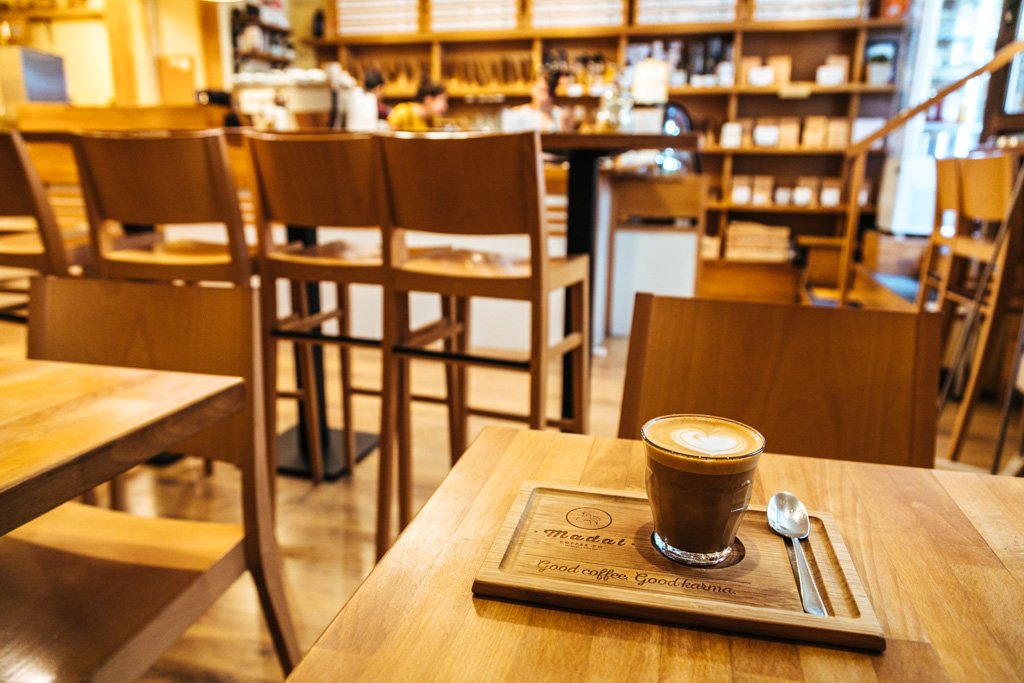 Madal Cafe
Madal has 3 locations in Budapest: I went to the northern-most one, only because it was near the Vegan street food place I wanted to try.
The coffee was fantastic, but I didn't love the vibe of the cafe at this location. It felt kind of blah or sterile, and everything seemed to be made of brown wood – not that there's anything wrong with wood, but some accent colors and decorations would have been nice.
I'm not sure if the other locations are similar, but if I were to return I'd want to try one of those instead. The coffee was definitely worth going back for.
Alkotmány u 4. // Open 7:30am-7:30pm Mon-Fri, 8:30am-7:30pm Sat-Sun // Website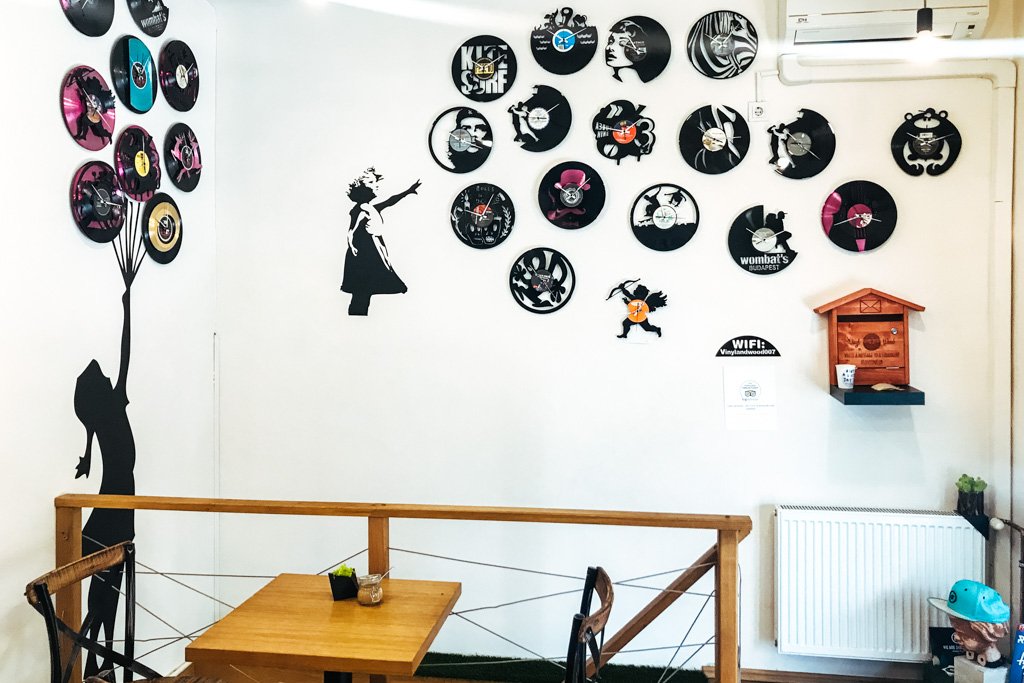 VINYL & WOOD
I had this cafe on my list well before I arrived in Budapest and it was just as cool as I'd imagined it to be. I had the whole upstairs to myself one afternoon and got to sit there with my laptop, surrounded by records and a mural.
Their coffee is fab, and I hear their pastry selection is stellar. They also have a little shop selling unique accessories, many of which are made from recycled… you guessed it… vinyl and wood.
Wesselényi u. 23 // Open 8am-7pm Mon-Fri, 9am-5pm Sat-Sun // Website
Check out my other coffee shop round ups: Brooklyn // San Francisco // Montreal // London // Sydney
Pin it!