This is a guest post by Kat of Wandering Bird.
—
Ever wanted to quit your job and run away in a campervan?
I hadn't. It didn't even cross my mind until one day, three years ago, we found ourselves at the top of a mountain pass in Switzerland, with our brand new (to us) motorhome and I didn't want to go home.
What follows reads almost like the diary of a crazy person- we drove back to the UK, stopped buying 'stuff', saved a lot of money, got rid of the house and sold/ gave away most of our possessions.
I quit my (secure and well-paying) job as an Air Traffic Controller, we home-schooled our teenage daughter, oh – and we decided to tour Europe in our motorhome on an almost full-time basis.
I mean, normal people just don't do that – right?
Whenever I share our story, people look at me and say 'I could never do that'.
And I get it. It's not for everyone. But if, deep down, that sounds like something you'd LOVE to try (but feel utterly intimidated), here are some tips on HOW we did it.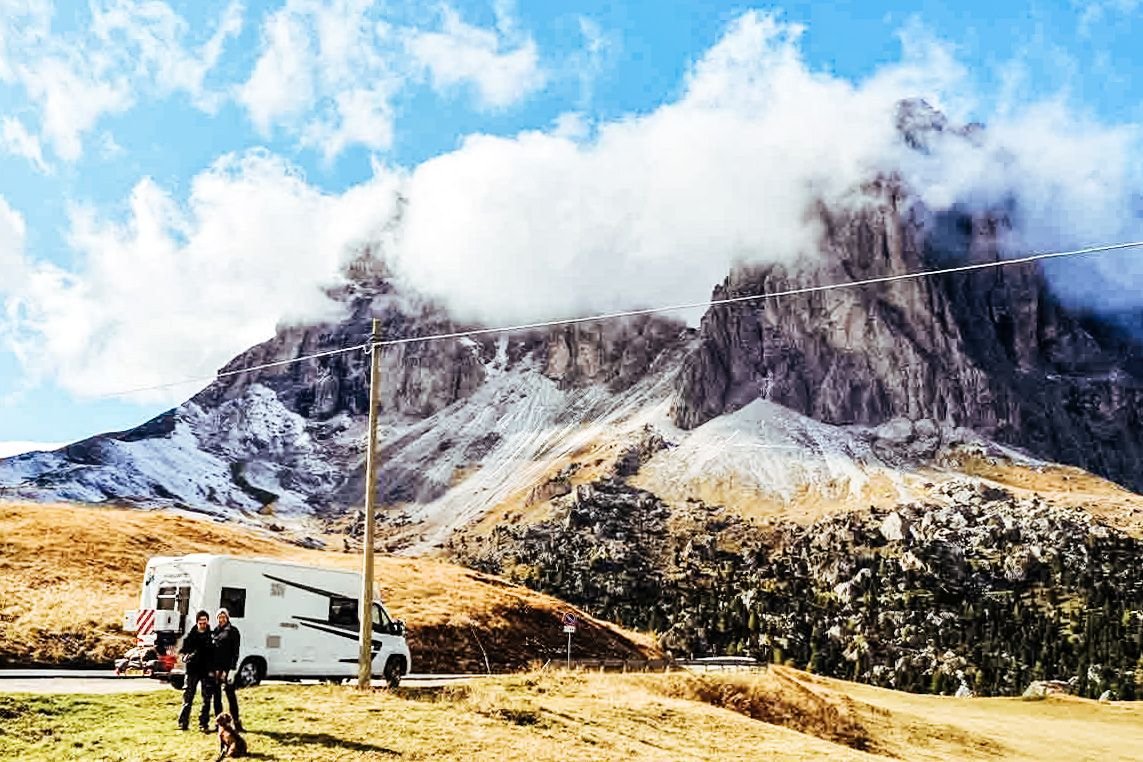 Finances
Money is the first question which everyone asks – how do you afford it? We have two income streams. The first is my husband's job. He has his own company (something to do with software for insurance… yes, it's as boring as it sounds). He didn't want to close his company and around 90% of his work can be done from a laptop wherever we are- as long as we have decent internet.
Every few weeks we park up the van somewhere safe, and he flies back to the UK, USA or wherever his latest clients are.
This has worked really well for us, as it allows us a reliable income stream and travel at the same time. Sure, some days are a compromise- he often has to work the moment we arrive somewhere new, when I want to explore. Also, he spends a lot of time on the phone dealing with clients, which can be tough when we're all in one space together.
BUT – without these compromises we wouldn't be traveling at all. And that's something you're going to hear me say a lot. Life 'on the road' isn't perfect; there are still daily chores to be done, choices to be made and your partner/kids will still drive you nuts on a regular basis – but they'd do that in a house too!
Our second income stream is my blog, Wandering Bird. We share stories of our time on the road, plus itineraries and advice for anyone who wants to get started buying a motorhome or camper and how to prepare for a trip around Europe. As a travel blogger, I monetize the blog via ad revenue, selling ebooks and guides to help others who want to travel around Europe and with a monthly membership where we talk about all things van life.
Costs of Life on the Road
This is a big one – and I know it's something which used to worry me. There's a really simple equation we use to manage our finances – spend less than we have coming in.
That might sound flippant, but it's the core of everything we do. We downsized our life to live on one wage. So even if we have a good month, we try to save the extra money instead of spend it (although I do enjoy buying some new clothes every 6 months or so).
I'm always hesitant to talk about our monthly spend, as it's totally skewed by the fact that my husband still works. So his flights/ hotel bills/ food etc are way above normal. We also still have a boat in the UK which our daughter lives on, so that increases costs too.
BUT, taking all that out and just focusing on the van/ travel costs, I estimate our monthly bills to be around £900/ month, which includes insurance for our van and 2 motorbikes. A lot of it depends on what country we're in. Norway is expensive for food, but there are no campsite costs, so it worked out cheaper than Switzerland, which is expensive, and Croatia, which was pretty cheap.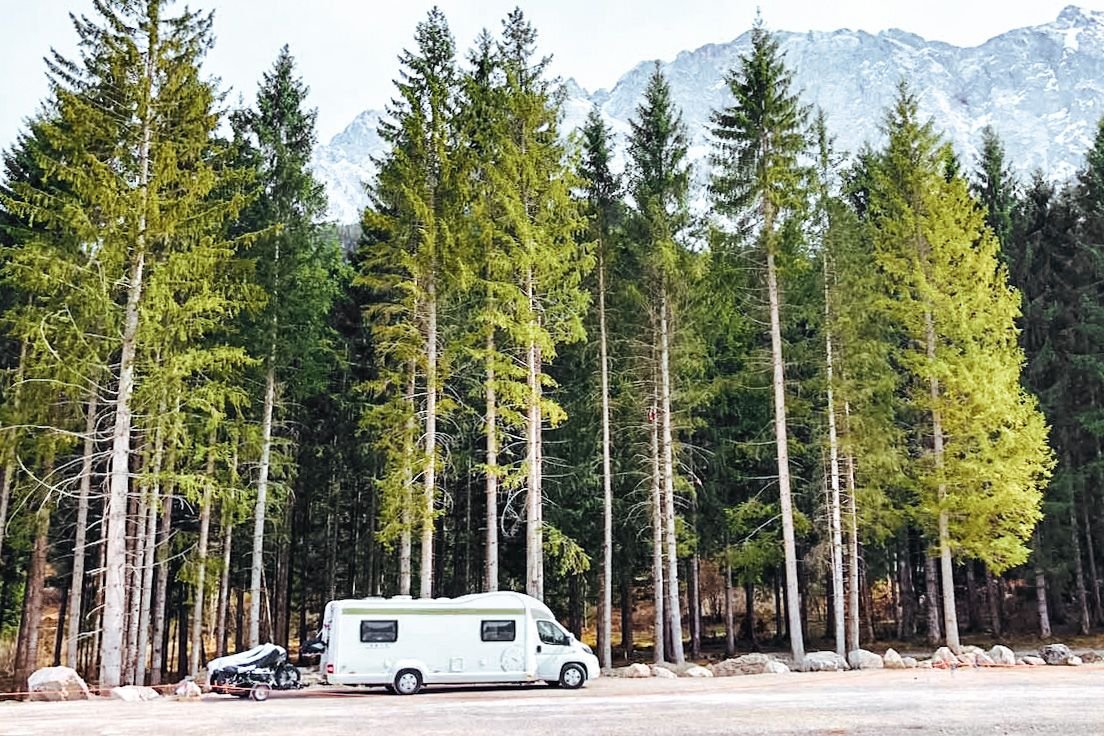 Have an Emergency Fund
An emergency fund is essential – you must have a savings account with enough money in it for emergency flights home should you ever need it or unforeseen breakdowns with your van.
My husband was taken into hospital whilst visiting clients in the UK last year and I am so grateful I could park up the van in Europe, put our dog into dog care and grab the next flight back to the UK without worrying too much about costs.
Homeschooling
We spent a year homeschooling our teenage daughter, Jade. In the UK, the big 'end of school exams' are at age 16 and 18- and Jade was on track to fail the ones at 16. And fail them badly. She managed to coast by really well until her mock exams started. And she got E's and F's across the board.
I'm not sure what possessed me to think I could do better than a trained teacher, but I knew my daughter and I knew how to get the best from her- although homeschooling was very hard work.
I spent a year getting up at 6am, learning whatever I needed to and then teaching it to her.
Because we were on a deadline, we only focussed on the really important subjects- English Language, Literature, Maths, Science and History, but I found it incredibly rewarding to see her grow and improve under our supervision.
We spent much of this time touring Europe in our van, and did plenty of lesson whilst halfway up a mountain in the middle of nowhere. It was a great way to make the most of the time, although we did have to return to the UK regularly to care for my mother-in-law.
It wasn't always easy- she missed her friends at time BUT – she went from getting E and F grades to getting A*, As, Bs and a C on her finals. To say it was worth it is a huge understatement. It also made us a lot closer as a family and we (mostly!) enjoyed that time with her.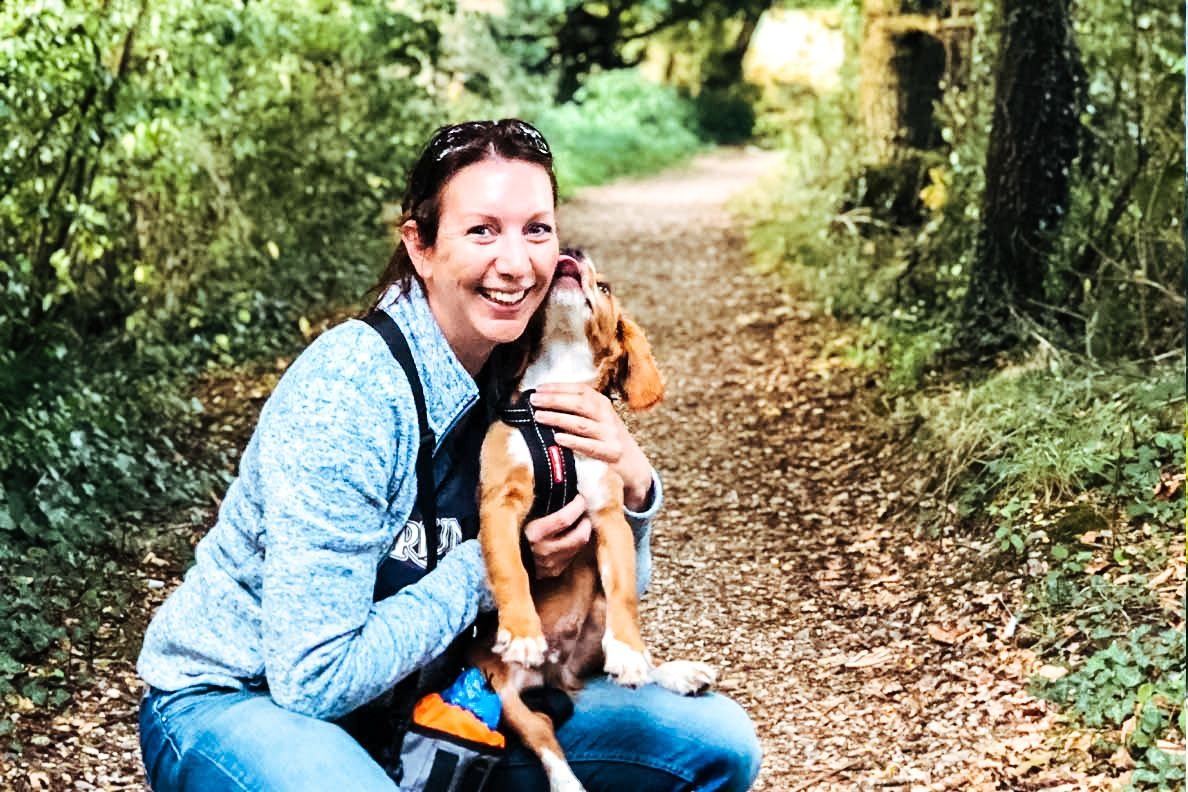 Traveling With a Dog
Whilst we're on the subject of dependents, our daughter grew up and went to college. You'd think we'd revel in the freedom, the adventure, the… freedom (worth saying it twice).
But no – we got a puppy. His name is Mac and he's a crazy cocker spaniel. We love him fiercely.
Traveling with a dog can be challenging- especially when it comes to wanting to do things he can't join us in, but we prefer to spend time hiking or exploring away from big cities- and he fits right in with that lifestyle.
Europe is easy with a dog as there are very few borders. It's only entering the UK, Norway and a couple of other countries where you really need to get special paperwork or treatments completed.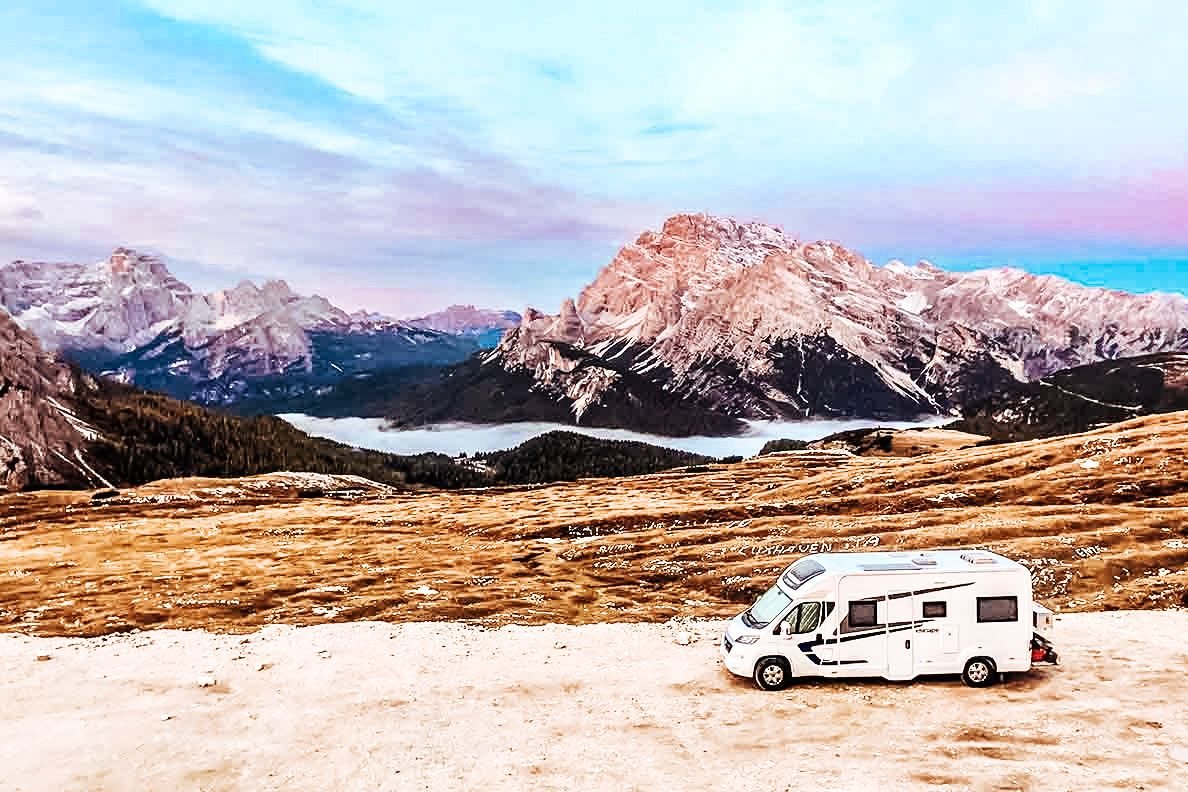 Practicalities
People often ask 'what do I need to pack/take' with me for a trip to Europe – and that's not an easy question to answer.
In fact, I wrote an entire book about How to Tour Europe with a Motorhome – it will give you all the knowledge and tips you need to get started.
But I'll answer some of the most frequently asked questions about van life:
Where do you wash your clothes? In campsites or laundrettes in towns.
How do you get mail? Everything gets sent to my husband's office and someone forwards it on to us wherever we are. Post offices are great for this and so are some friendly campsites- we usually phone in advance and ask if it's ok to send a parcel there.
How do you find places to stay? We prefer to wild camp/ boondock, so we look for spots far away from towns or cities. We love being surrounded by nature. Some of our favourite places include Norway, the Dolomites in Northern Italy and Scotland.
How do you watch TV? We don't watch a lot of TV, but there are certain series (like Game of Thrones) which I refused to miss. Luckily, there are plenty of options nowadays for watching series online- we tend to use Amazon TV on our iPad, but there are many other options too. I also LOVE sport- and regularly get up at crazy o'clock to watch whatever I can before everyone else wakes up!
Can you really just drive from country to country in Europe? Yep- most of the time. Most of the countries in 'mainland Europe' don't have any form of border- although you may need to buy a vignette (like a toll sticker) to use the main roads in some countries (other countries have tolls). The UK, Norway and several countries in eastern Europe all require passport checks but the rest don't. If you're not an EU resident, there are restrictions on how long you can spend in the Schengen zone, so be sure to look into that before you plan your trip.
Lastly, I'll answer one of the hardest questions we get asked about traveling full time in a motorhome:
What Are the Pros and Cons of Van Life?
The biggest con is probably space. Space for clothes and 'things' and also space from each other. It can sometimes get claustrophobic- especially if it's raining outside. We once spent 3 weeks in Norway and it rained every day. That was tough.
It takes a lot of patience and learning how to live together in a small space – a dog helps so much as you can escape for loooooong dog walks when you need to!
But the pros are our relationships. I've gone from barely seeing my husband to us spending almost every day together. It took a while to get into a new routine, but we have remembered why we started a relationship in the first place and what makes our marriage work. We're a team now, instead of just housemates.
We spent precious extra time with our daughter – time which is usually lost with a teenager- and for that I will be forever grateful.
And we've seen and been places I didn't even know existed. Our website started as an online diary and I love scrolling back through and remembering the places we've been and things we've done.
So, if you're considering trying out life on the road, I highly recommend it. It's not always easy, but I promise you won't regret it. Feel free to drop me an email- I'm always happy to answer questions or just offer encouragement.
Maybe we'll see you out there one day!
Coming in 2021
Sign up to be notified when my online course launches!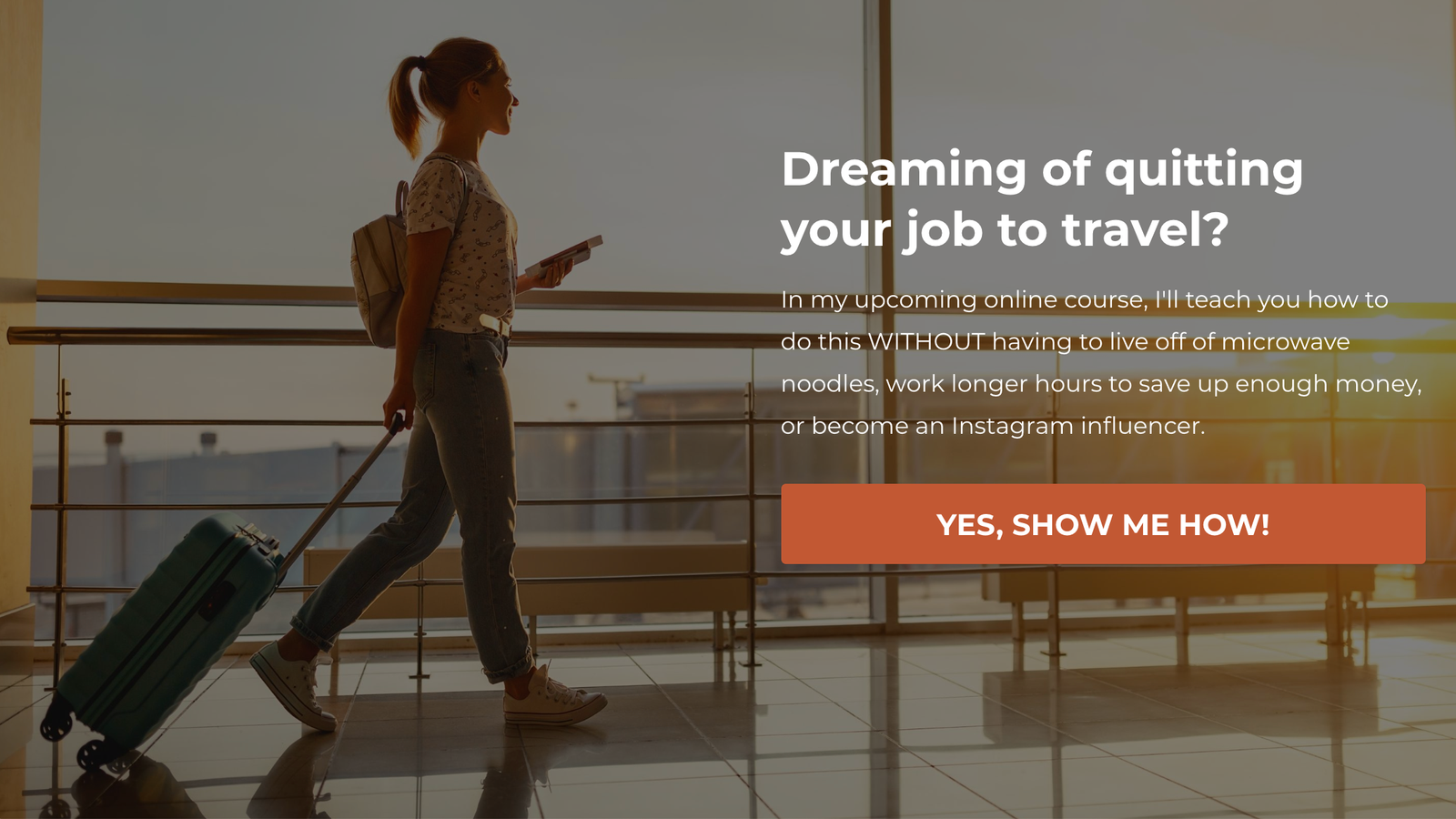 Pin it!