Thanks to COVID-19, this will be my first full winter spent in Sydney.
If you're new around here, you may not know that I typically chase the sun… which for me means leaving Australia during winter and traveling in the northern hemisphere, typically to destinations where I can live in tank tops and bikinis every day.
So I was originally due to be in Europe right now, but then the pandemic hit and we're still not allowed to leave Australia unless we have a special exemption (and nope, leisure travel doesn't qualify as one).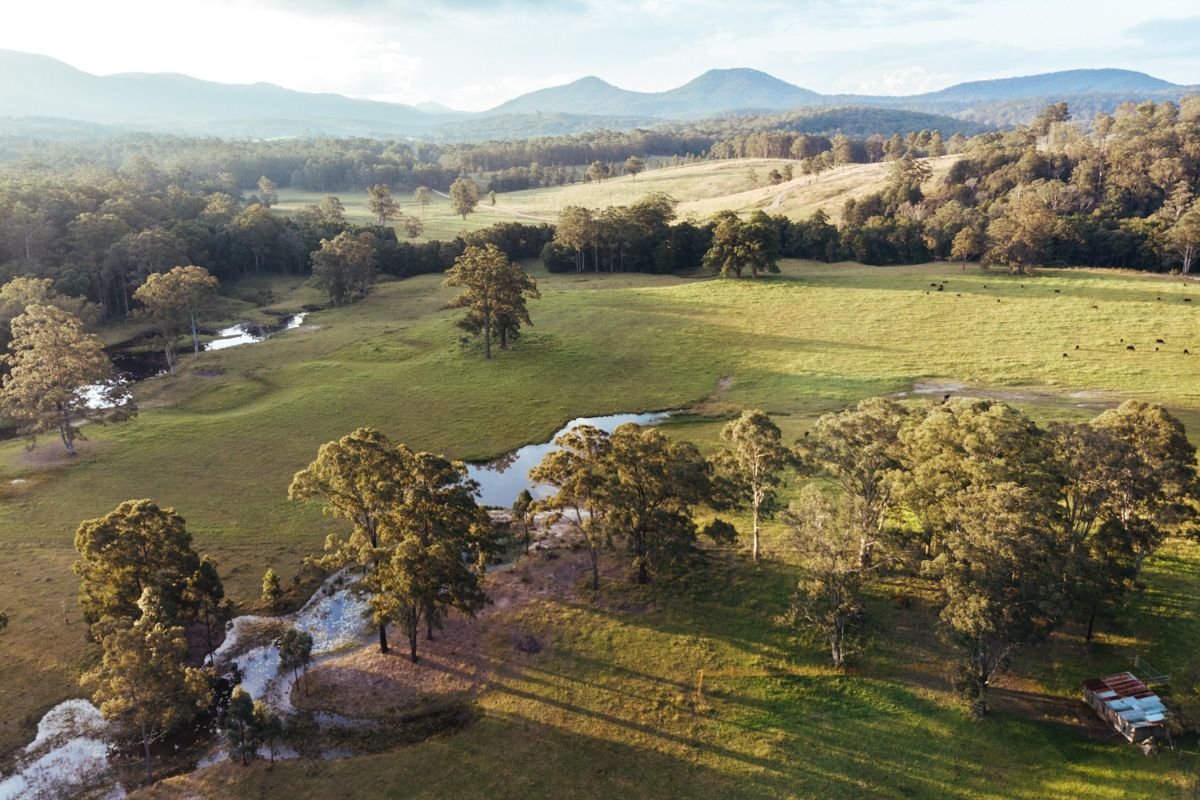 Rather than lamenting the current situation, I've decided to lean into winter this year. I've introduced several new layers to my closet, not just any old jacket or hoodie but pieces I am genuinely excited to wear (I know I'm more than a little late to jump on the Everlane train, but OMG I LOVE THEM).
And pretty much the second leisure travel was allowed again in New South Wales, I started booking winter weekend getaways from Sydney!
Whenever I head out on road trips or weekend trips from Sydney, I typically gravitate towards the coast and turn it into a beach trip (it's why I've only been to the Blue Mountains a handful of times). But now that it's not beach weather, I feel like I can explore more inland locations without wishing I was at the beach.
So winter weekend escape #1 found me at Meandering Farm, 3 hours north of Sydney and just inland from Myall Lakes. I'd booked an Airbnb in Girvan, NSW, a one bedroom cabin / tiny house on the back paddock of a 100 acre property. It looked nice and modern and boasted absolutely nothing to do apart from relaxing and enjoying nature.
With the closest beach an hour away and my laptop turned off and left at home for 3 days, this turned out to be not just a retreat, but a detox from two of my favorite things (ahem, addictions) in life.
And oh my gosh, this was JUST what I needed to rest and refresh.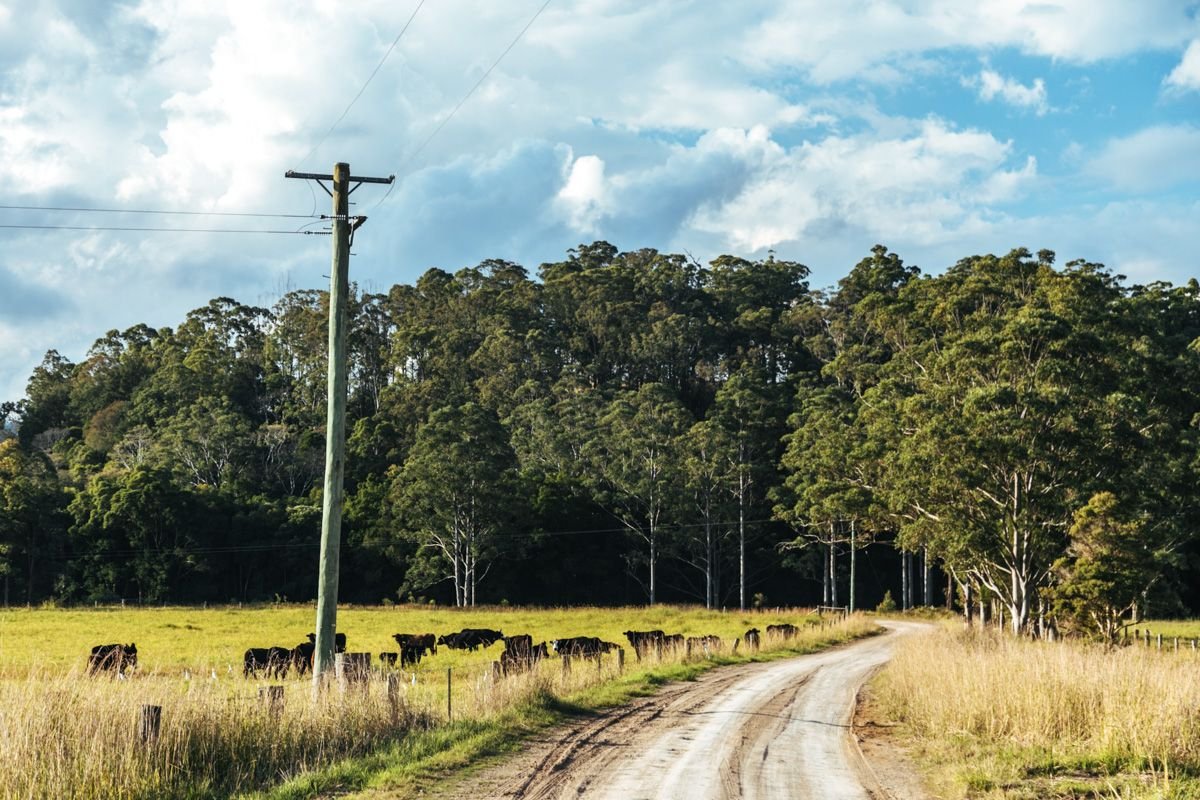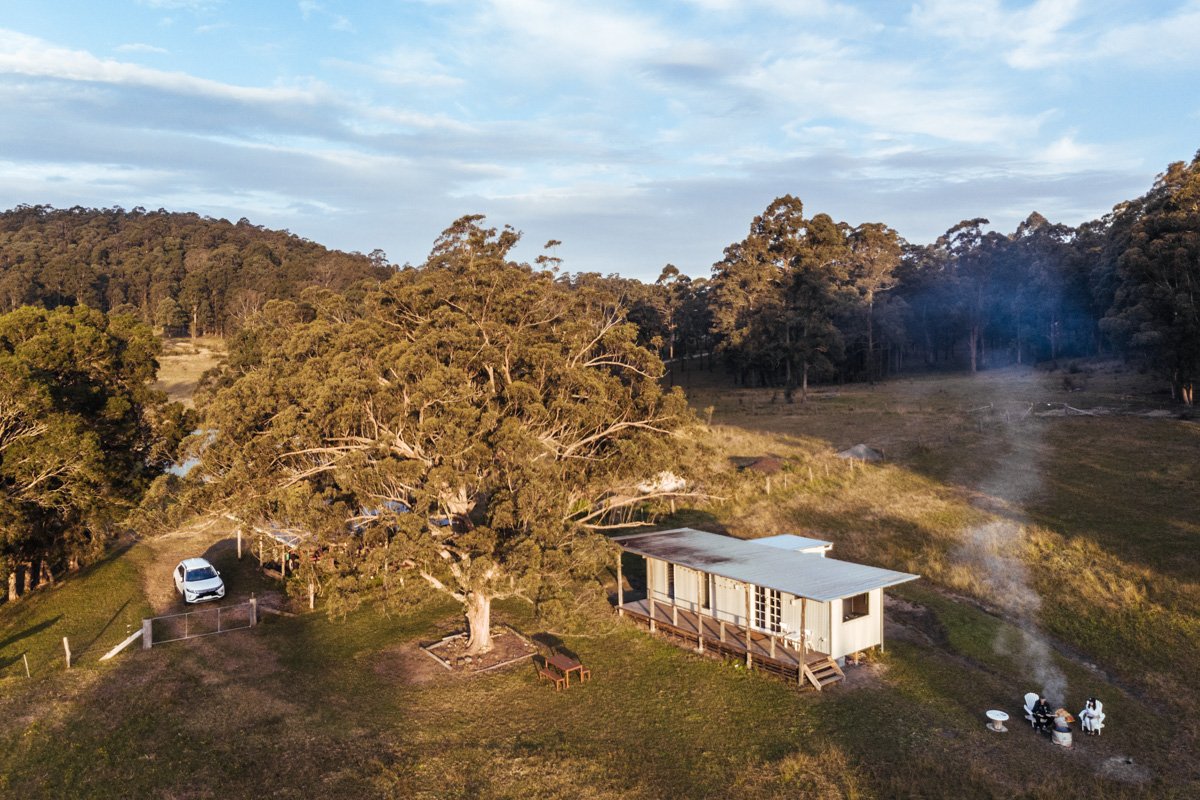 We hired a car and drove up from Sydney late Friday afternoon, and returned on Monday afternoon (it was a long weekend in Australia for the Queen's birthday). So we had 2 full days at the farm, which was just enough to fully unwind – though we could have easily stayed for longer.
I'd had grand plans to do lots of reading, practice yoga every day, and go stand-up paddle boarding on the property pond, but I didn't do any of these things. In fact, looking back I don't even know what I DID end up doing. And that's a sign of a quality weekend retreat, I think.
Without the normal distractions of daily life or the temptation of beaches nearby, I could finally drop the relentless urge to DO, and instead could just BE. Meandering Farm was the perfect setting for this shift.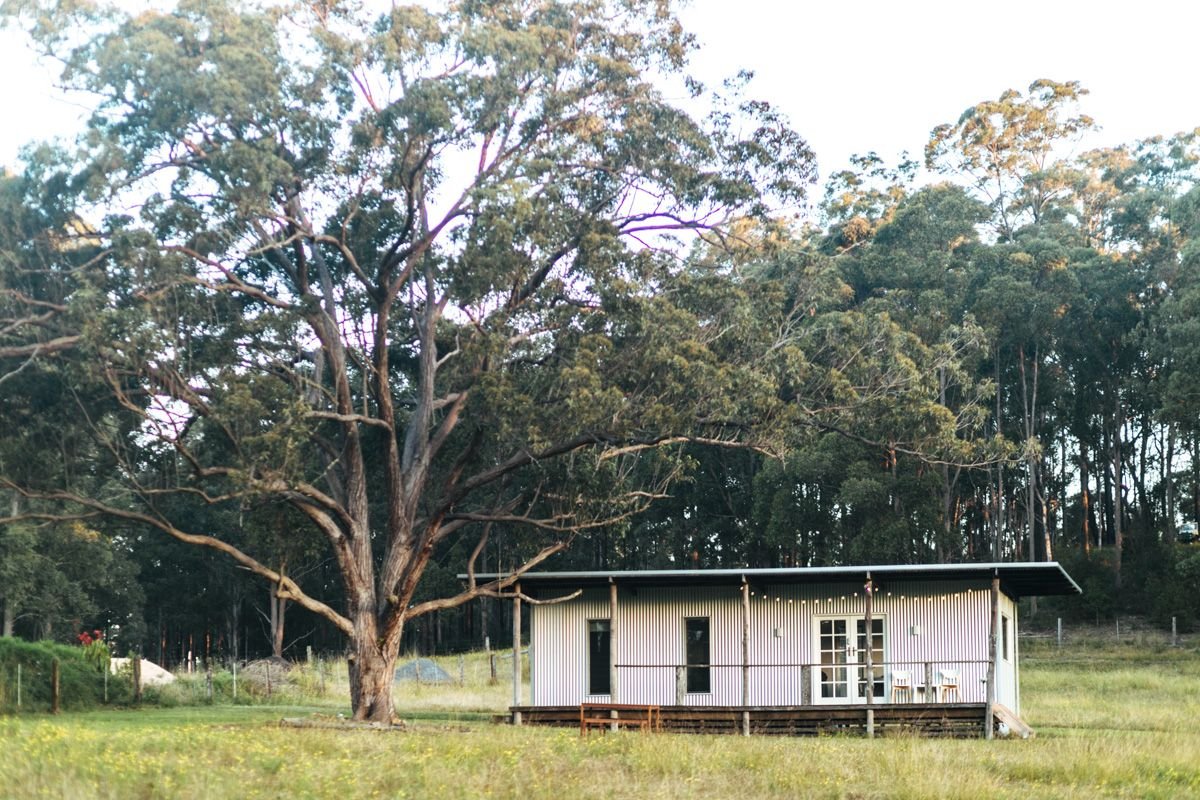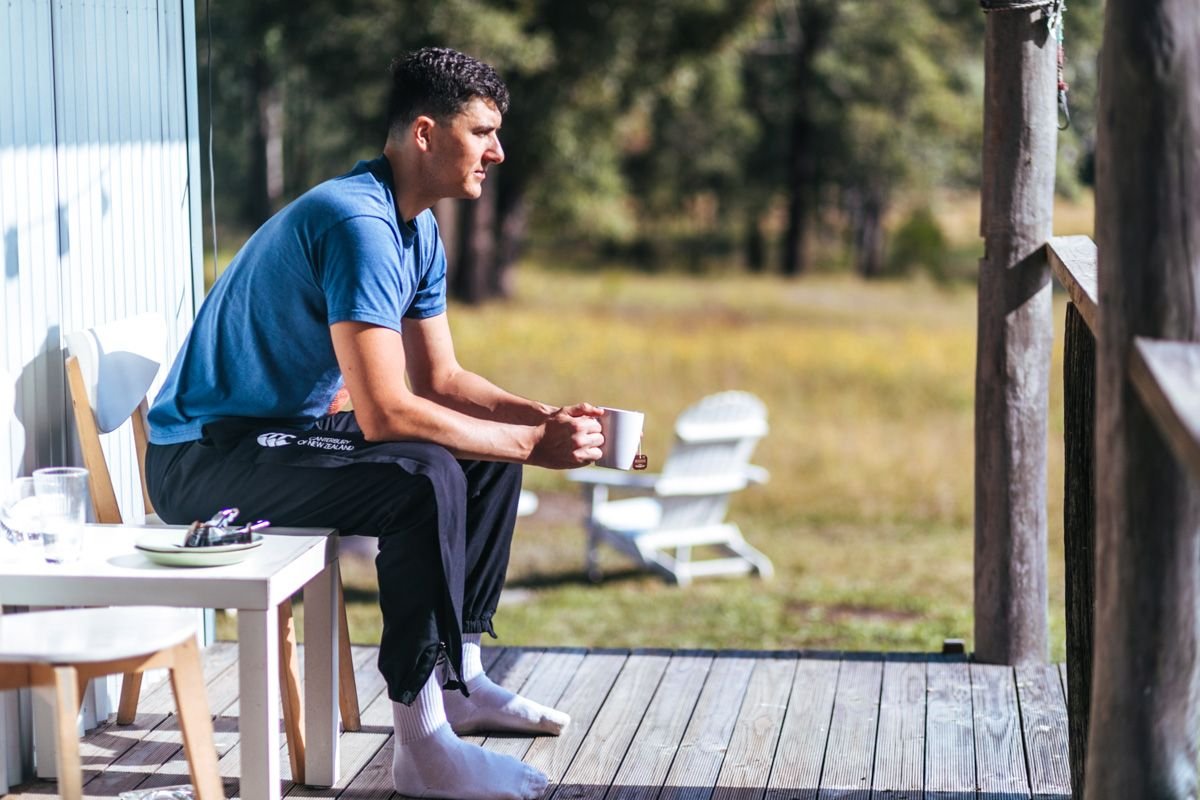 Early morning fog over the property.
I spent most of the weekend hanging out on the spacious front deck, listening to the sounds of nature and watching the two cows and one wild horse on the property make their rounds. They seemed to spend the entirety of each day grazing, gradually moving closer and then further away from our cabin. On our last morning, we woke up to find them practically right at the deck, looking in through our windows!
Then there was the time we went for a stroll around the property and were heading towards the chicken coop, when the horse made a beeline from the forest to us, unprovoked and out of absolutely nowhere. Have you ever been charged by a wild horse? Well, happy to say I have now, and survived to tell the tale!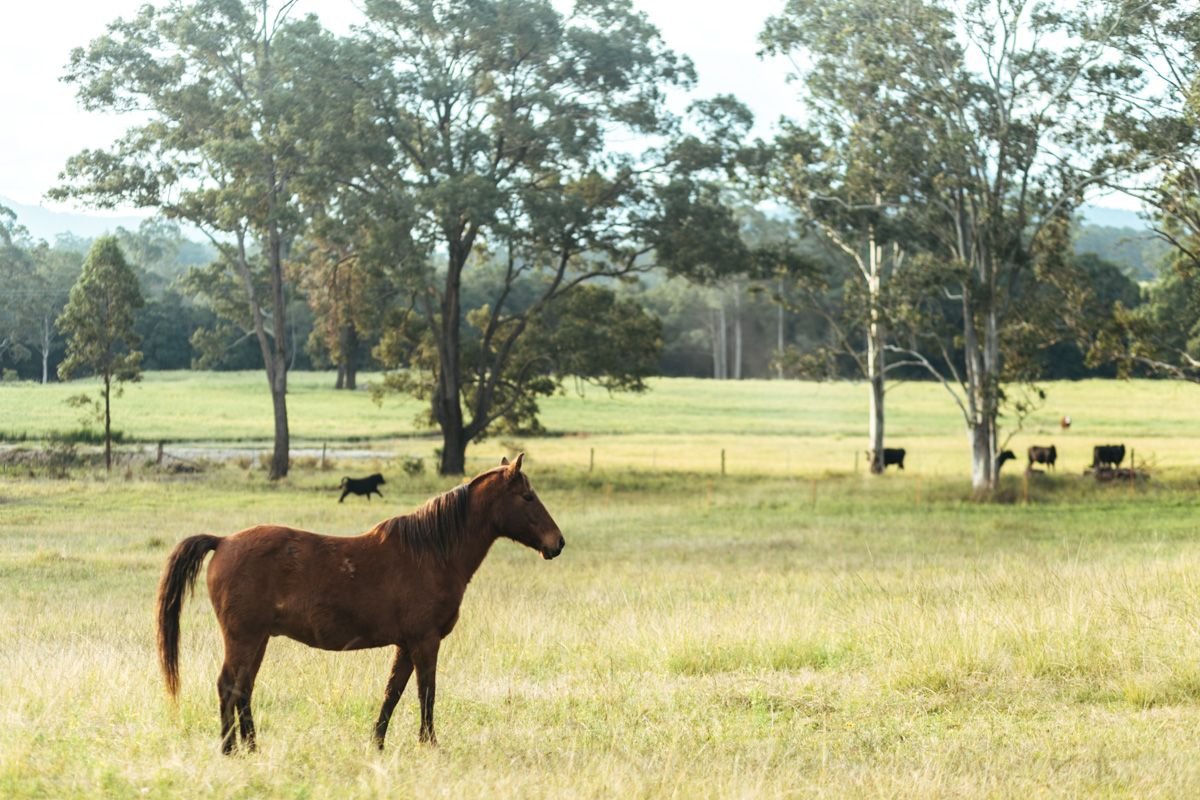 So yeah, you could say I was slightly distracted by nature to accomplish much this weekend. I barely even had the motivation to fly my drone!
I did manage to do a brief yoga practice one morning, and we watched a couple of movies in the evening (the cabin is equipped with a handful of DVDs).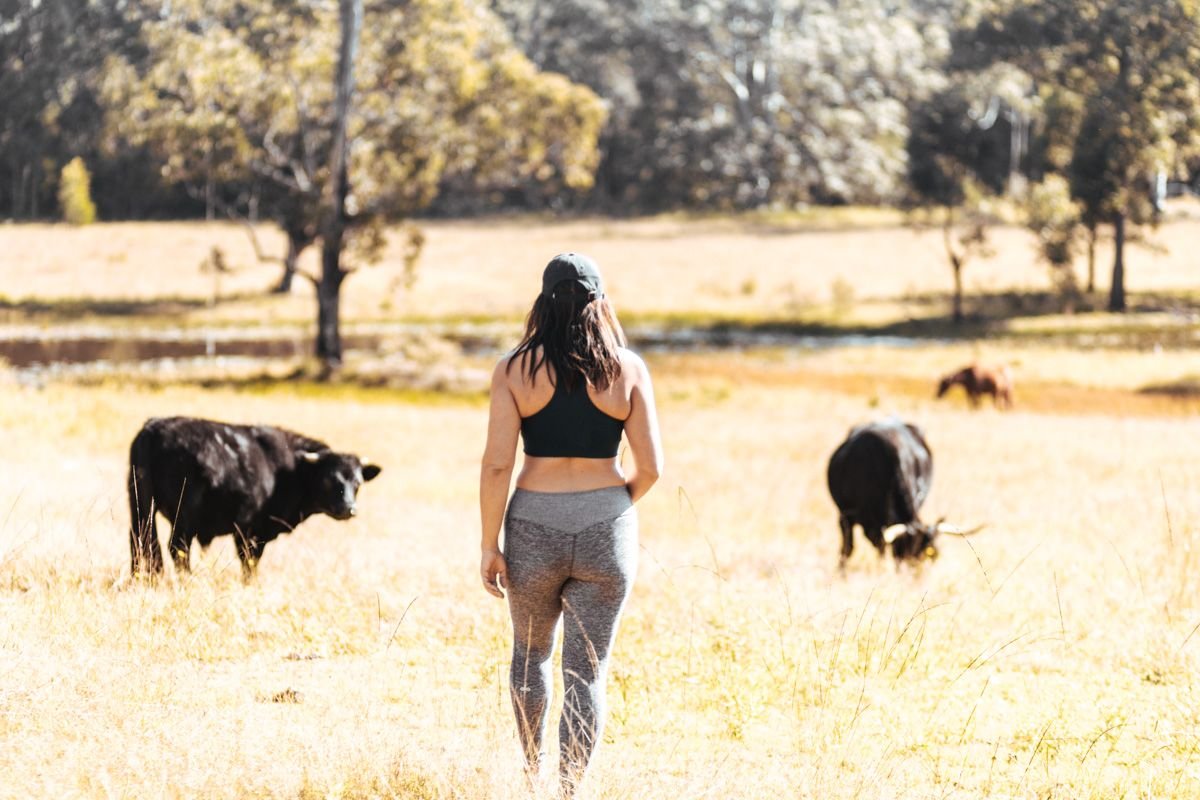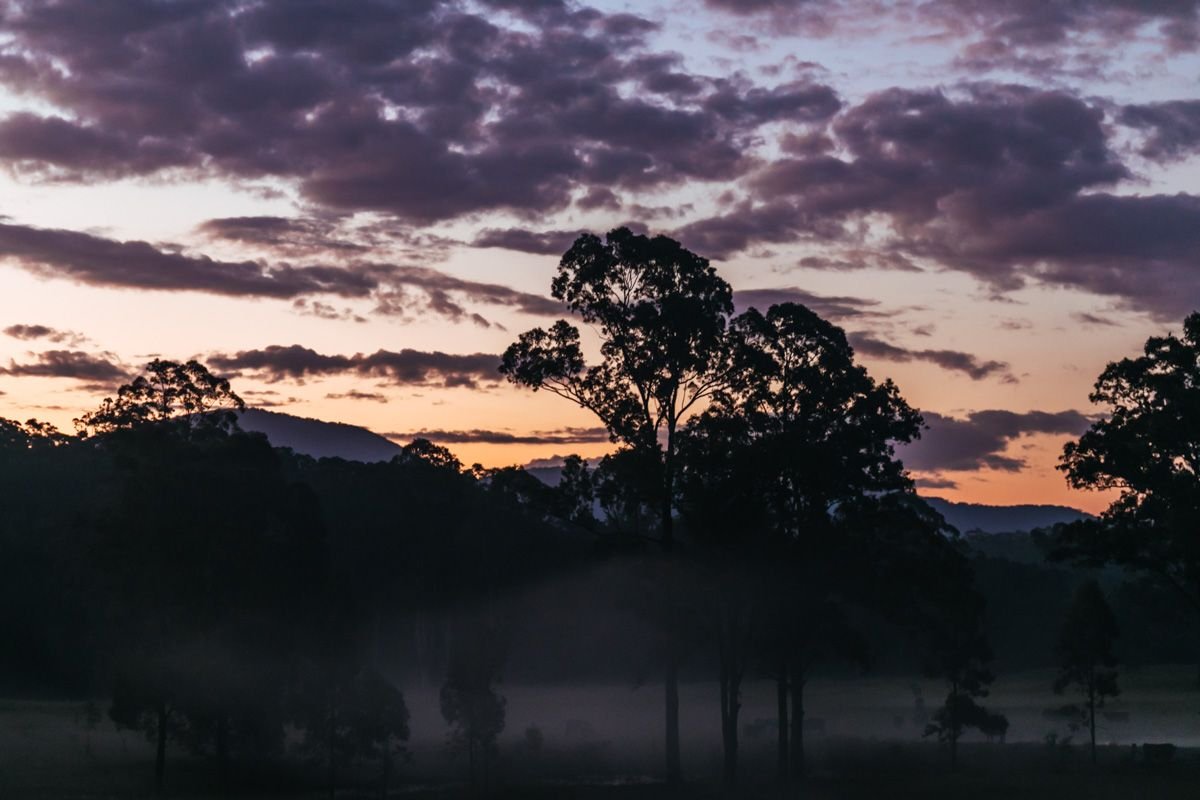 We also thoroughly enjoyed cooking with a view out onto the property. I love that they installed a massive window over the kitchen counter. Actually, I love how they installed several large windows in the cabin. The constant-changing sunlight kept the interior warm all day, even in winter. We were in t-shirts until sunset each day.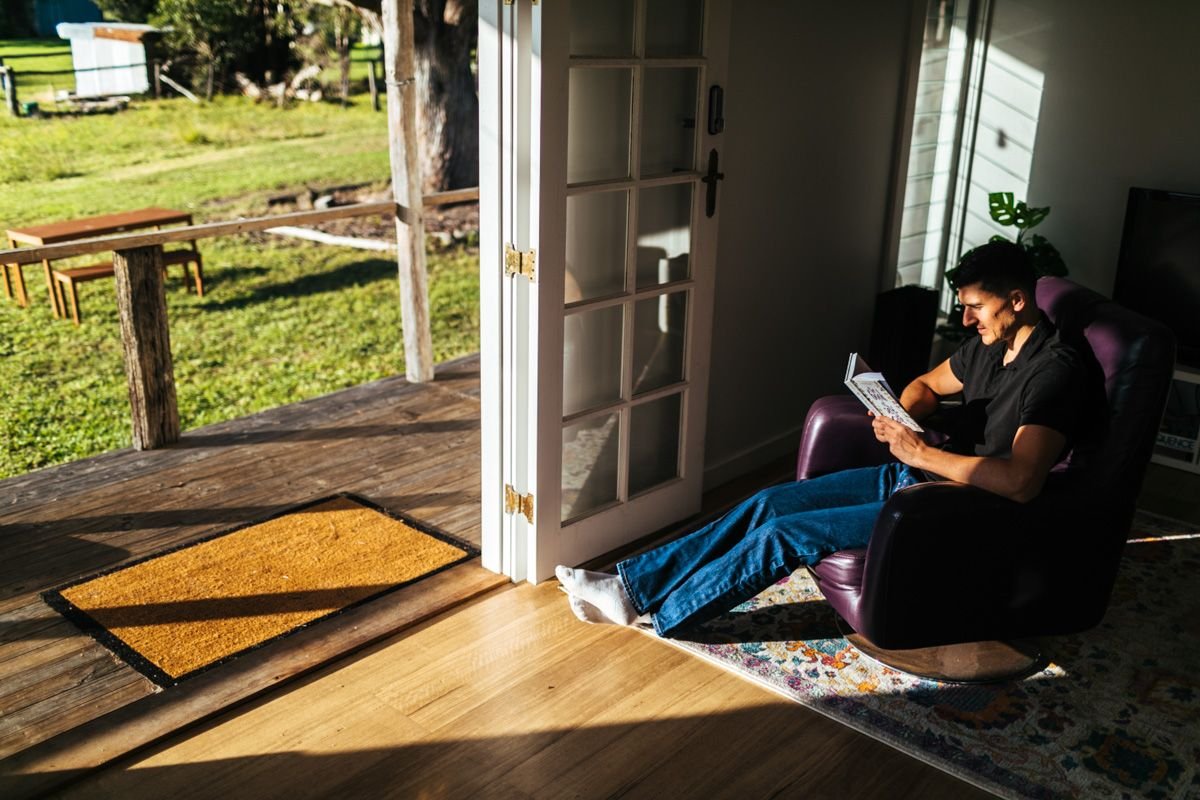 We also made great use of the fire pit just outside the cabin. It feels like such a treat getting to enjoy a campfire, as normally there are fire bans nearly everywhere around Sydney during the warmer seasons (and ESPECIALLY after the horrendous bushfires we had not too long ago).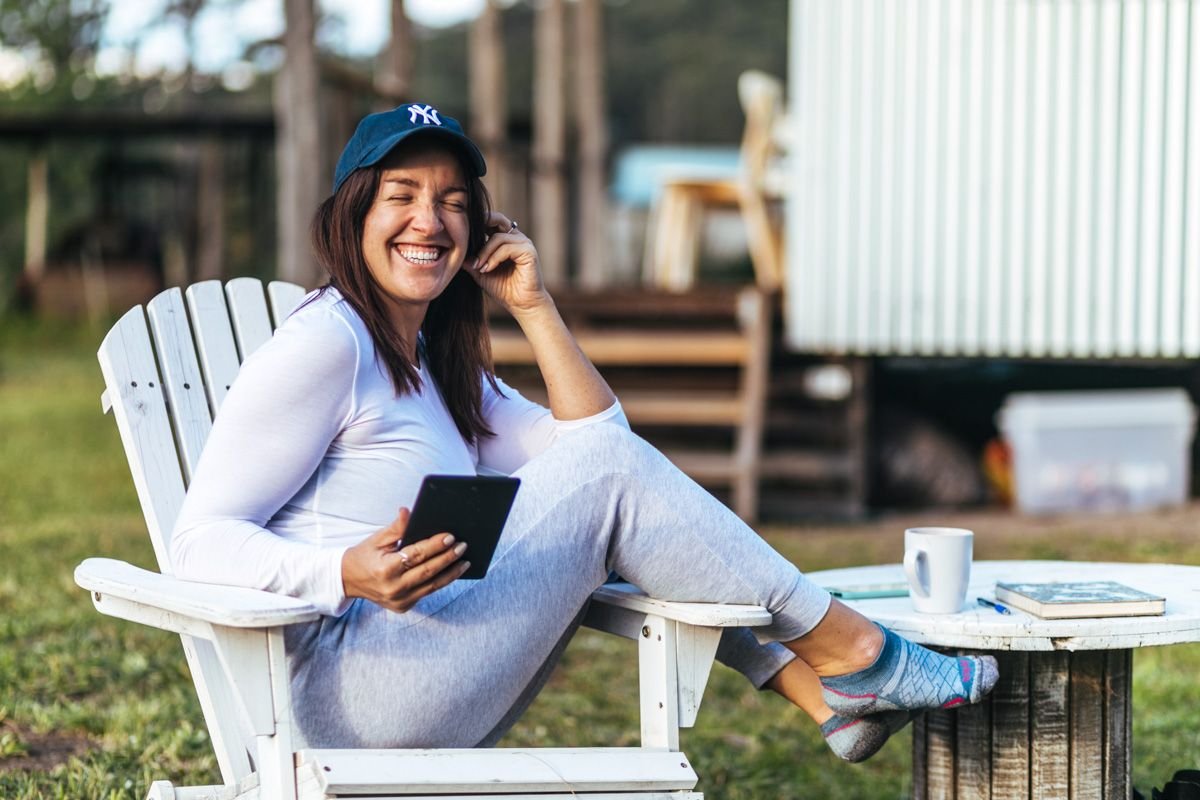 I'd highly recommend booking a stay at the cabin on Meandering Farm if you're looking for a digital detox or relaxing weekend retreat. If you'd rather go on hikes and other adventures, you might as well stay elsewhere or go camping instead.
But if you're staying for a longer stretch of time and need an occasional break from doing nothing, Myall Lakes National Park is a 30 minute drive, and Barrington Tops is an hour away from the farm. You'll likely want to allot close to a full day out at either location, which is why I don't think it's worth it if all you've got is a weekend here.
CLICK TO BOOK THIS AIRBNB IN GIRVAN, NSW
Pin it!