Looking to book the best boutique hotels in Sri Lanka for your upcoming trip?
I was fortunate to experience a number of 4 and 5 star hotels in Sri Lanka during my two week adventure there. Below are my top 5 favorite Sri Lanka luxury hotels.
READ MORE IN THIS POST: 10-Day Sri Lanka Itinerary
---
My favorite of the several Sri Lanka luxury hotels we stayed at, and undoubtedly one of the best 5 star hotels in Sri Lanka, is Jetwing Kandy Gallery.
Despite its name, this hotel is actually located 30 minutes from Kandy, overlooking the scenic Mahaweli River. It makes for a delightfully peaceful respite from all the city bustle, so much so that I wouldn't blame you for not wanting to leave the hotel at all.
CLICK TO BOOK A STAY AT JETWING KANDY GALLERY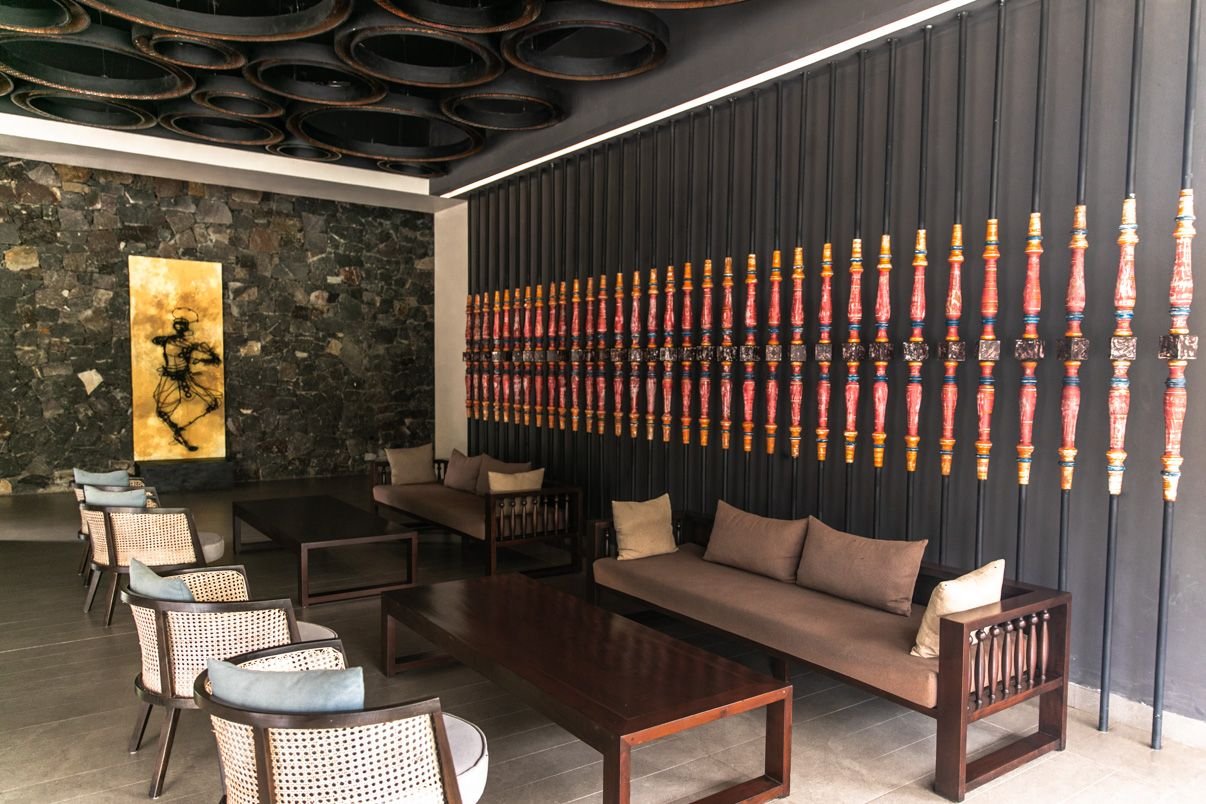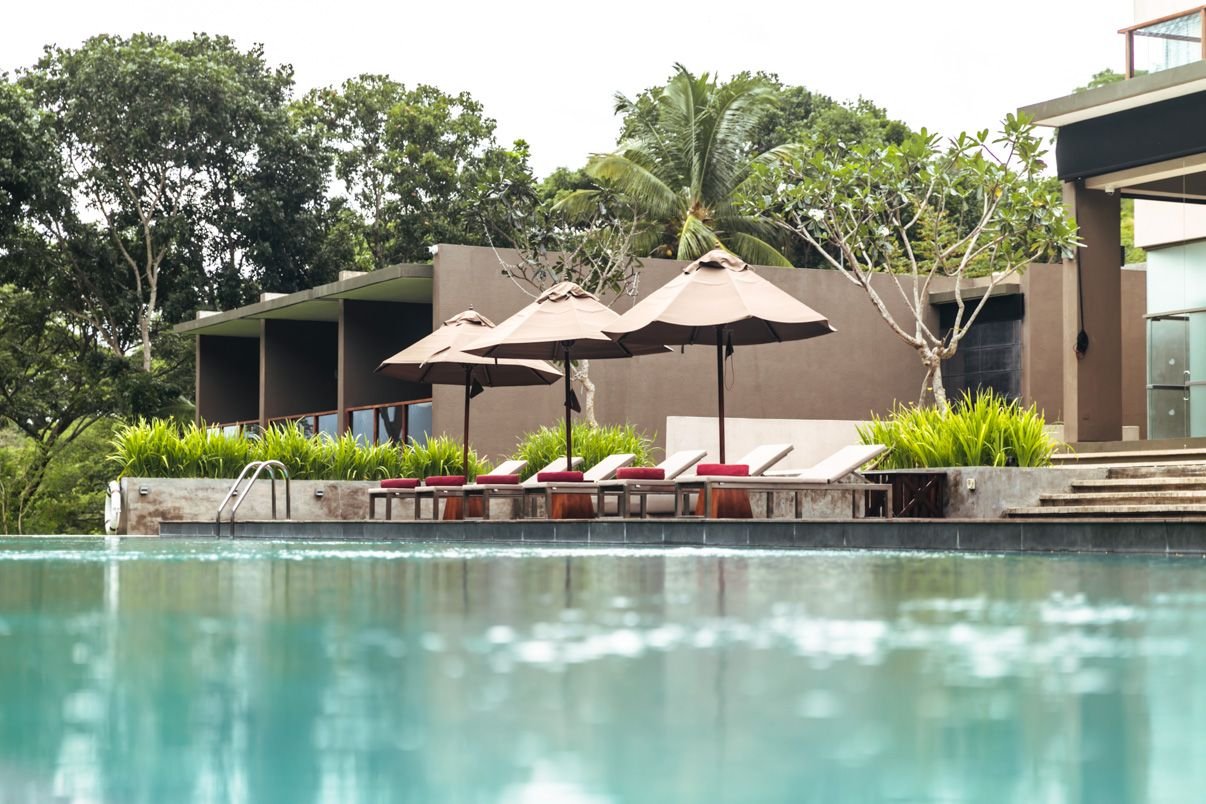 Your luxe stay at Jetwing Kandy Gallery begins the moment you step foot into the gorgeous open-air lobby, as you're greeted with a welcome drink and a musical performance. All guests are assigned a butler upon check-in, and you're given an old-school Nokia phone that you can use to contact them directly with any queries or requests you have during your stay… from booking your meal times and spa treatments to showing you how to turn on the bath tap (ahem, yep, I totally asked our butler to do this).
All rooms and suites at this Sri Lanka luxury hotel are equipped with a terrace from which you can lounge on a sunbed and take in the views of the surrounding landscape (rooms are all river-facing). The rooms themselves take on a modern minimalist design and look so new that you feel like you're the first person to ever stay there.
I'm not sure which I loved more about my room: the deep soaking bath tub with the aromatic bath salts, or The Comfiest Bed Ever (you know the one… where you just melt into the mattress and find yourself enveloped in a comfy little bed nest that you never want to leave?).
Some suites also boast a jacuzzi on their terrace, which I'm pretty sure would take the cake if I'd stayed in one!
Dining at Jetwing Kandy Gallery is an elite experience. Meals are served either in the restaurant, or at a private table by the pool upon request. The menu is handed to you in scroll form, which you unroll to view, and feature a nice blend of both regional dishes and international cuisine. There are a few options for each course and enough variety to accommodate the majority of diners, but the chefs are very happy to customize meals and dishes upon request.
I loved the salad, fish, and cinnamon ice cream I had, but my favorite thing on the menu was a mocktail made of mint, coconut, and lime juice. I could happily drink nothing but this and coffee every day for the rest of my life!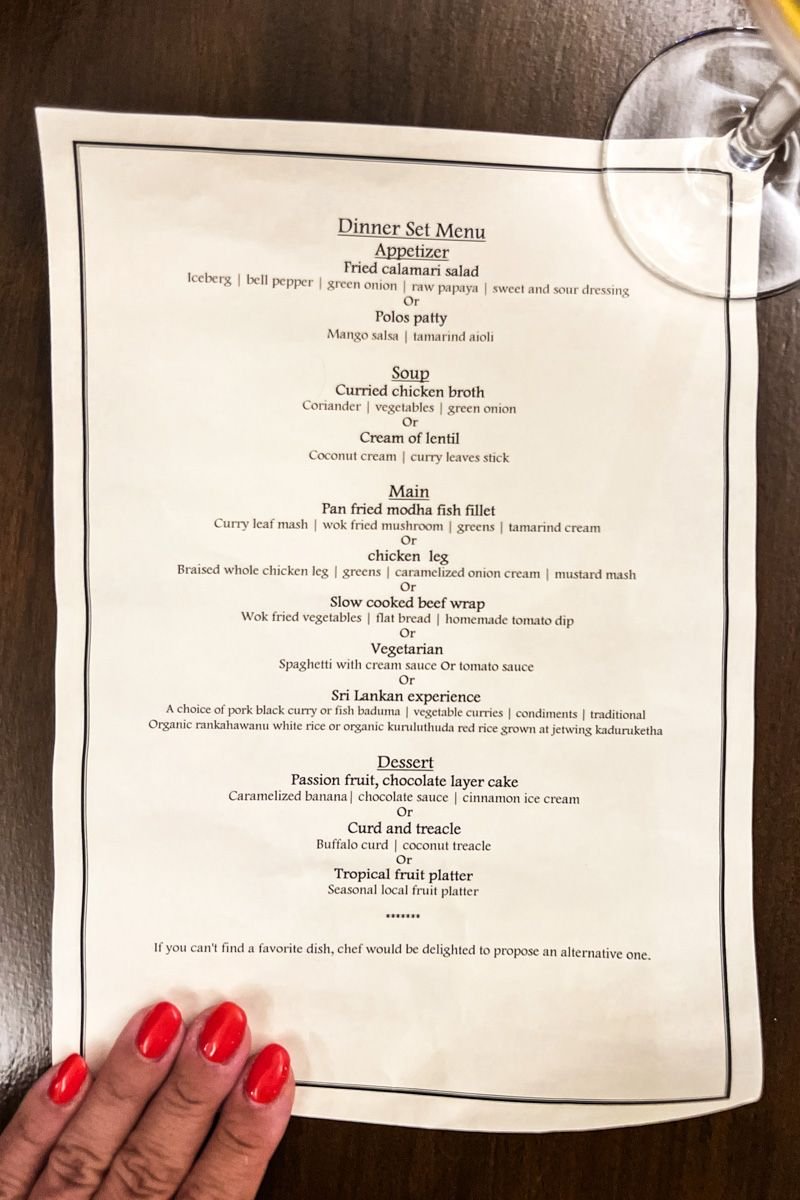 As if you needed another reason to love this Sri Lanka luxury hotel enough already, they are also very eco-friendly. No single use plastic to be found anywhere onsite (a rarity among the many luxury hotels in Sri Lanka that we stayed at), a robust water and waste recycling system, and solar power generating nearly half of its daily electricity – very impressive!
Jetwing Kandy Gallery
Location: Kandy (3.5-4 hour drive from Colombo)
Hotel Class: 5-star
Price: Starting at around US$175/night for bed + breakfast
Highlights: Personalized butler service, rooms with deep soaking bath tub and/or jacuzzi, 5-star dining
Things to do nearby:
Hiking
Bird watching
Temple of the Tooth Relic (Kandy)
Royal Botanical Gardens (Kandy)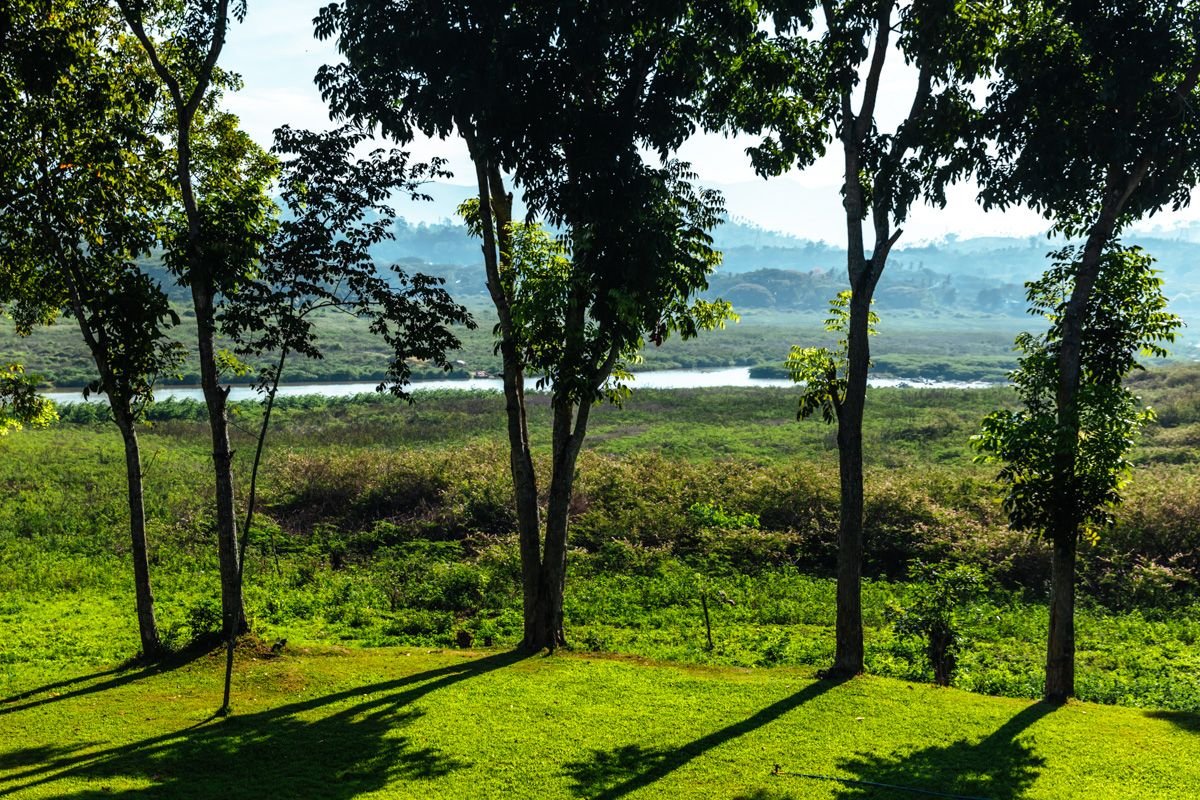 ---
There's no doubt that you're in for quite the majestic view as you make your way up the long, steep staircase at Aliya Resort & Spa, one of the best 4 star hotels in Sri Lanka.
Sure enough, at the top you're greeted with a beautiful open air lobby adorned with a myriad of aesthetic elephant decor. Straight ahead is the million-dollar view, overlooking the hotel's epic infinity pool and facing out towards mega-rocks Sigiriya and Pidurangala.
Aliya makes an ideal base from which to visit Sigiriya (it's just a 20 minute drive away), and no doubt most if not all guests are there to do exactly that. But if you have the time, don't do what we did and stay there for less than 24 hours – instead, stay at least two nights so you can fully enjoy the resort.
Trust me, you'll want to spend some time poolside (ideally after you've spent your morning hiking up the big rock(s)). Apparently the pool at Aliya is a nod to Twin Ponds in Anuradhapura, which have tiered levels descending down into the pools (similar to stairs). The left side of the infinity pool has a few tiers leading down into the deeper part of it.
Additionally, there's an ayurvedic spa onsite, as well as free yoga and meditation classes on offer. When we stayed here, there was also a man in the lobby offering palm readings for about US$5.
CLICK TO BOOK A STAY AT ALIYA RESORT & SPA
Meals at this luxury hotel in Sri Lanka are served buffet style with dozens of options across various different cuisines. They have a dedicated section for Sri Lankan specialties (yes, even spicy curries for breakfast!).
Rooms and suites at this eco lodge in Sri Lanka have a rustic-contemporary vibe, carrying through the elephant theme and boasting both a balcony and a deep soaking tub. The tub in my deluxe room was actually the deepest I've ever seen, and made of wood.
Wooden chalets are a bit more rustic and isolated from the bulk of the rooms at the resort, and are constructed entirely of old shipping pallets. Suites are a bit more luxe, featuring two bedrooms and two bathrooms, a private plunge pool, and a jacuzzi.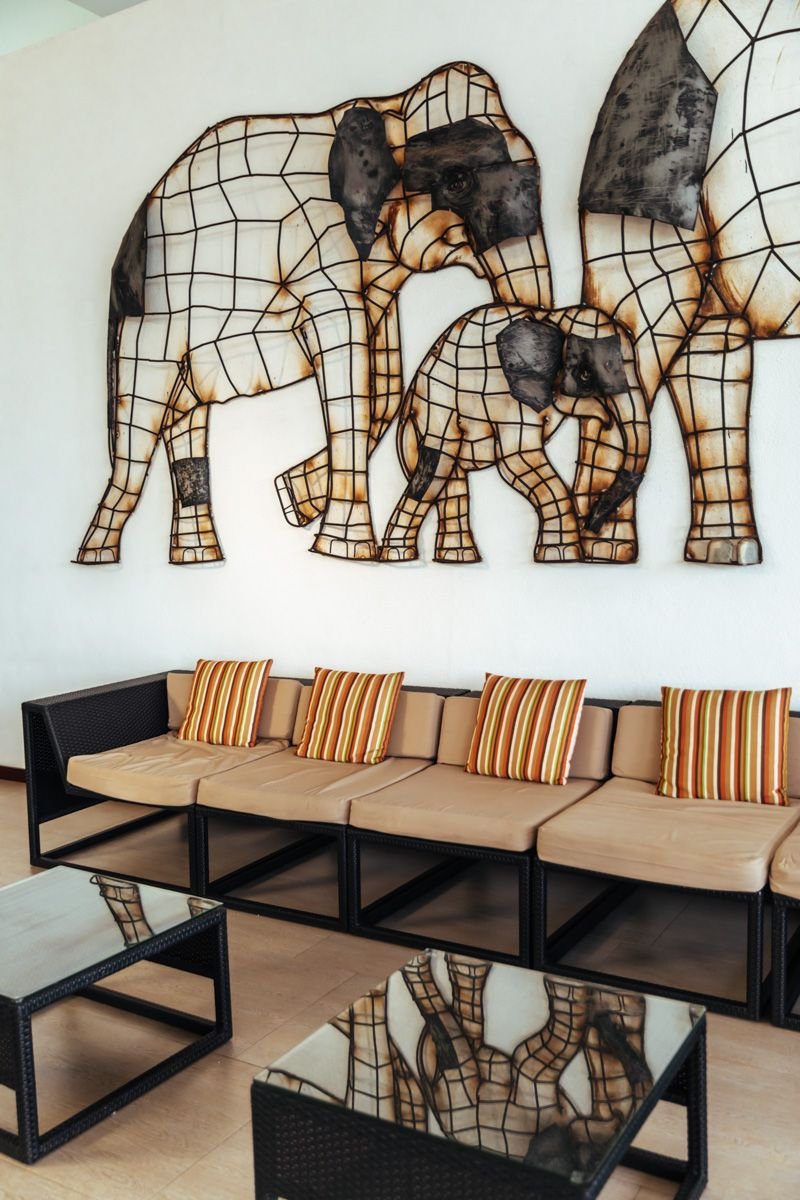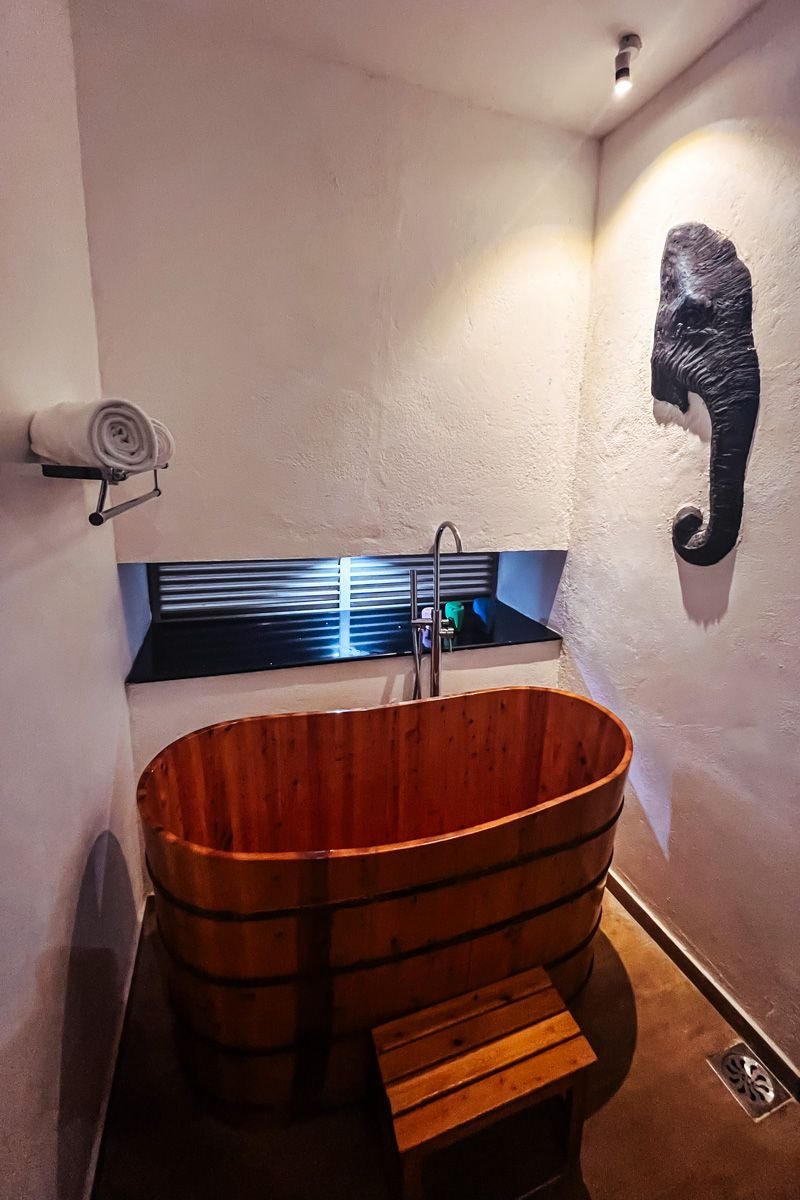 I reckon Aliya is one of the top eco resorts in Sri Lanka with its continuous focus on sustainability. They are energy conscious, grow their own organic vegetables, recycle paper and waste, and conduct environmental research across the country. Plus, they won the Sustainability Rising Star Award in 2020.
I particularly appreciated that bathroom toiletries (soap, shampoo, etc) are provided in large refillable bottles, rather than the tiny travel-sized bottles that need constant replacing. Two thumbs up to Aliya for their exceptional eco friendliness!
Aliya Resort & Spa
Location: Sigiriya (3.5-4 hour drive from Colombo)
Hotel Class: 4-star (feels like 5-star)
Price: Starting at around US$145/night for bed + breakfast
Highlights: Infinity pool, deep soaking bath tubs, view of Sigiriya
Things to do nearby:
Sigiriya rock fortress
Pidurangala
Bike tours
Pottery class
Cooking demonstration
Elephant safari

---
Nearly every international visitor passes through Colombo, the gateway to Sri Lanka.
Revered as the the "grand dame of Colombo", the Galle Face Hotel is a magnificent heritage hotel that locals consider one of the best in Colombo (and certainly one of the best luxury hotels in Sri Lanka!). It enjoys a prime position in the Fort district (the CBD + the area with many historic buildings and sights), next to the Galle Face Green (popular for evening strolls, sunset hangs, and family picnics) and the sea.
A product of its colonial past, this Sri Lanka luxury hotel is nearly 160 years old, originally built as a meeting place for "gentlemen of the colonial era". It was soonafter turned into a hotel, and later expanded and refurbished.
CLICK TO BOOK A STAY AT GALLE FACE HOTEL
Today the Galle Face Hotel is home to 156 rooms and suites, which retain an air of elegance and timelessness. The windows and bathroom door are certainly the tallest I've ever encountered in any hotel room in all of my travels. I especially appreciated the standalone desk and high-backed chair, which make working remotely that much easier.
I don't know how I got so lucky, but I swear I scored the best room in the whole hotel. My heritage room wasn't big, and it wasn't a fancy suite – but it was the corner room on the top floor, with windows overlooking both the green and the ocean. I'll be damned if I didn't have the best view in the house!
The cherry on top was being able to witness two epic sunsets on both of my nights at the hotel. *Cue me darting from window to window, snapping photos with my camera and filming videos with my iPhone, freaking the f out over the ever-changing display of colors in the sky*.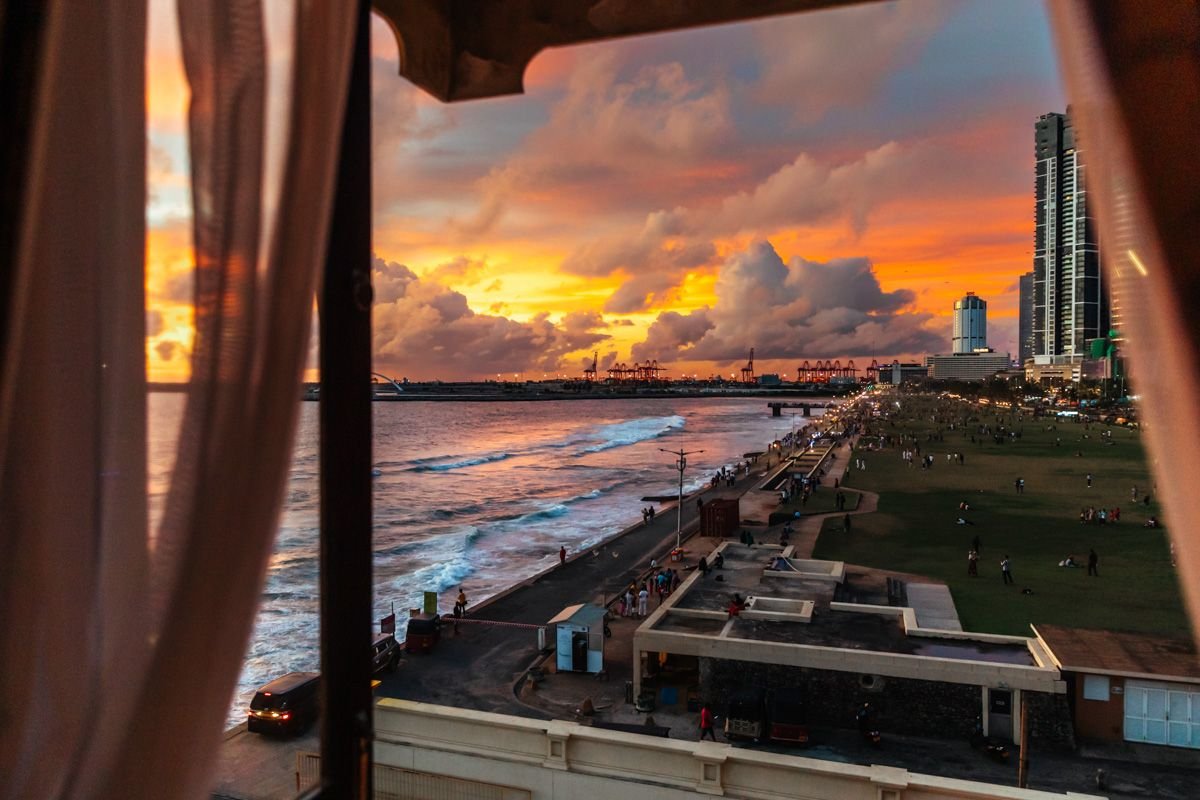 You can really feel the history in this Sri Lanka luxury hotel, from its creaky wooden floorboards to its ornate carpeted staircase to its non-cookie cutter aesthetic. The Galle Face Hotel is certainly one of a kind, and it's really cool to see it so well preserved after so many years. They don't make 'em like this anymore!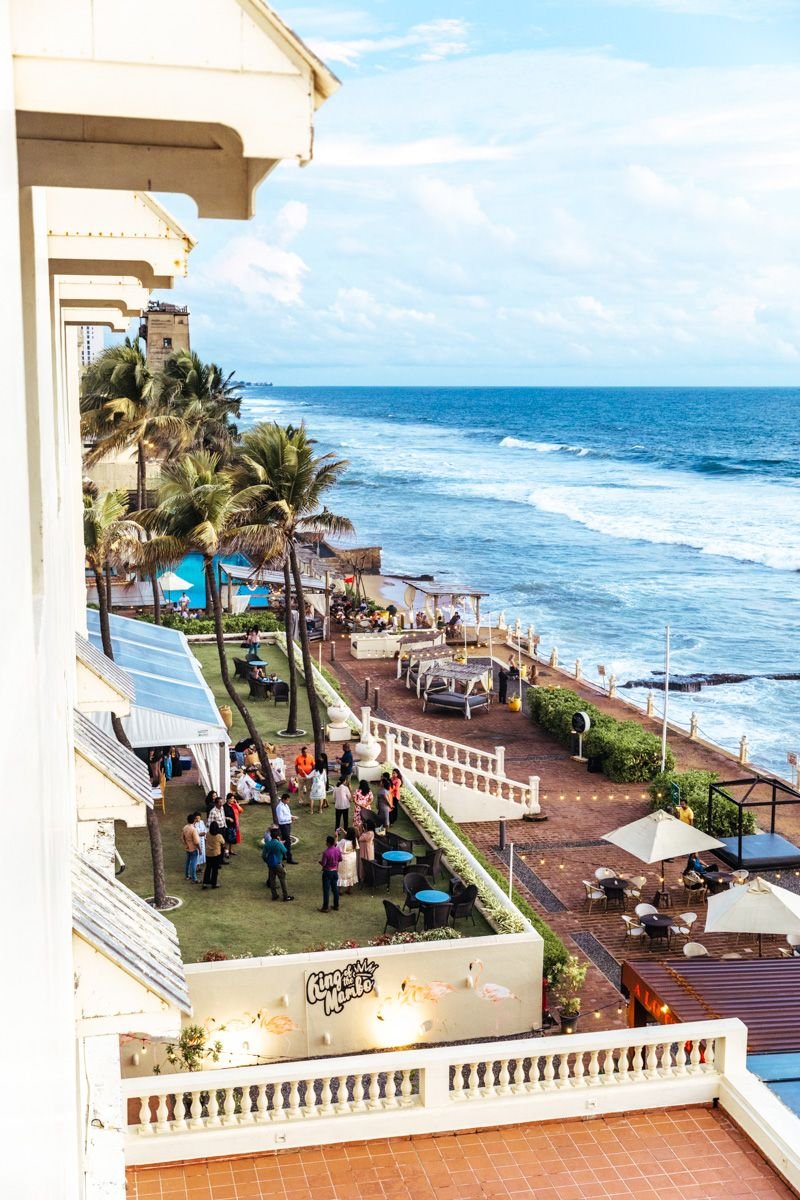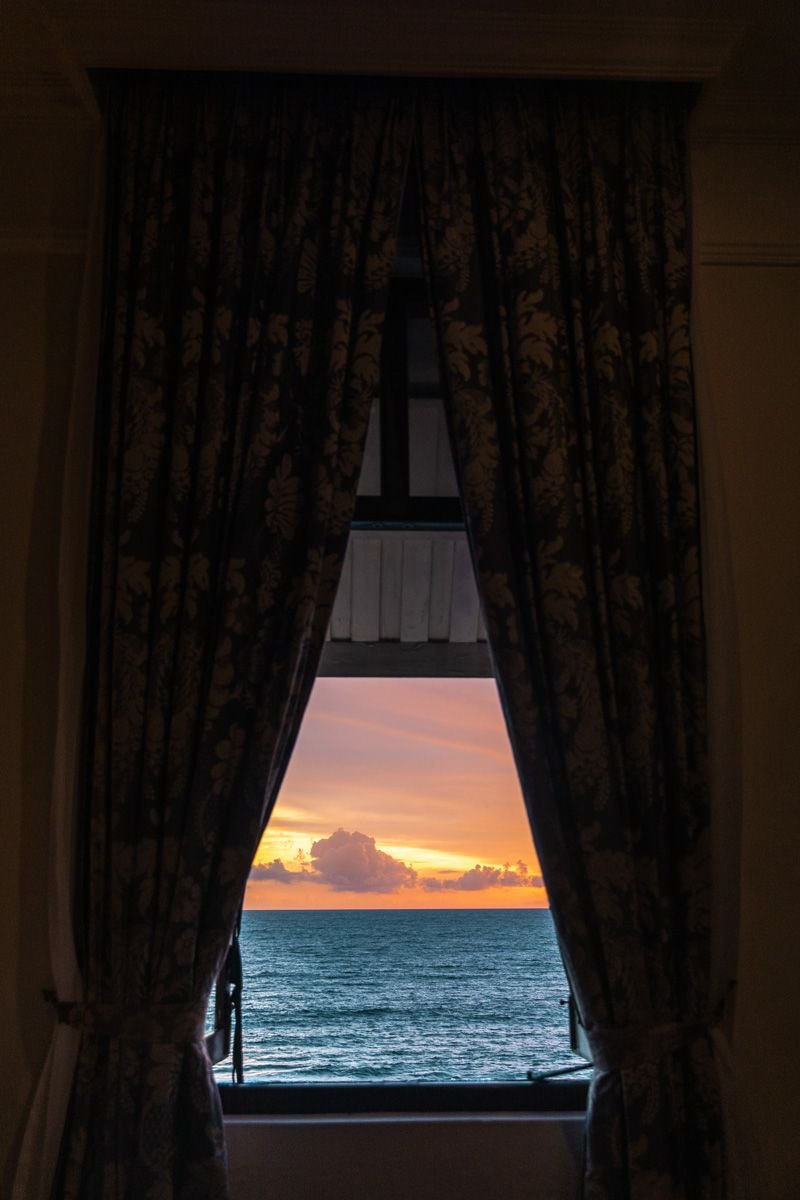 If your accommodation includes half or full board, you'll be eating your meals at The Verandah, buffet-style. When I stayed at the hotel, they had a very impressive breakfast spread (the best breakfast buffet of all the 4 and 5 star hotels in Sri Lanka that we stayed at), and a very one-dimensional dinner buffet (it was South Indian themed both nights I was there, a bit too much for my taste). But the day after I left, the dinner buffet changed and included plenty of non-Indian options.
The staff were more than happy to whip us up a simple fish and veggie dish as an alternative to all the Indian curries at dinner, which we so appreciated!
Other dining venues at the hotel include Firebeach (beach club), King of the Mambo (Cuban restaurant on the waterfront), and Travellers' Bar.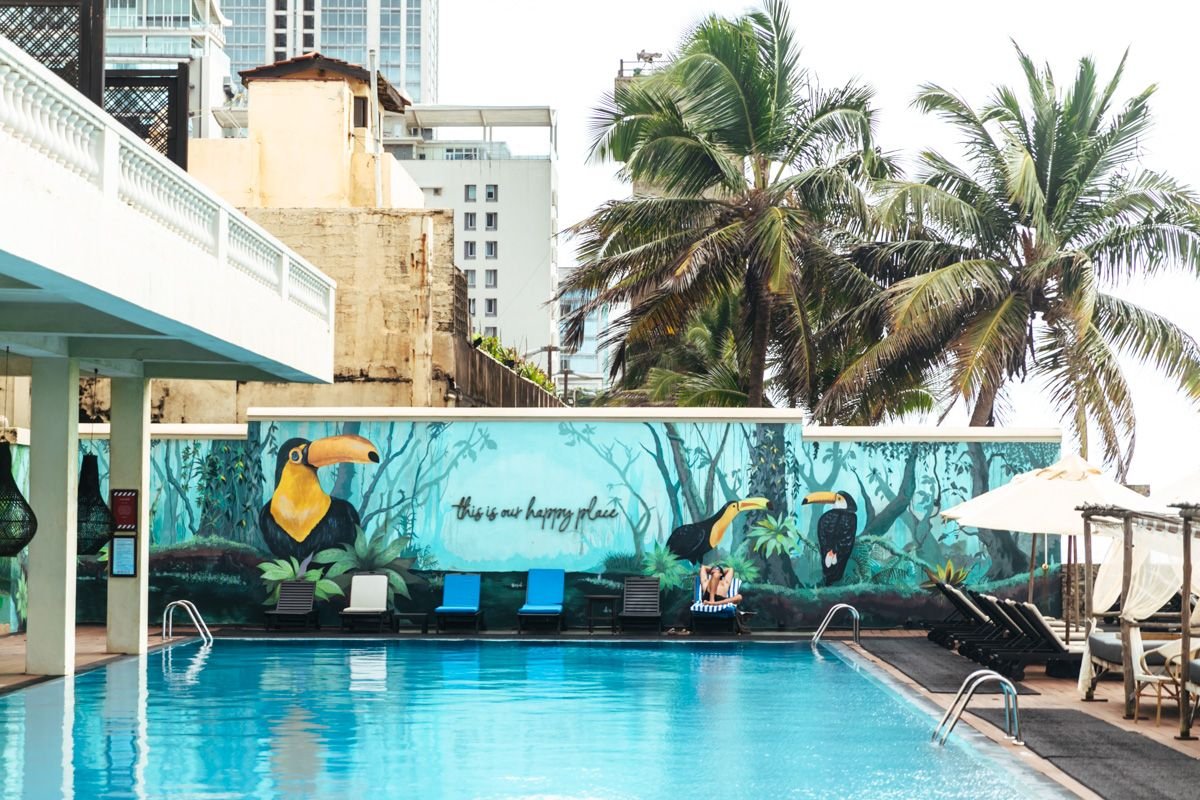 There is also a spa in the basement of the hotel, which I must admit feels more like a basement than a spa. But in the locker room is a sauna, steam room, and cold plunge pool, all free for guests to use. Highly recommend the sauna (the stream room seemed to be out of service when I stayed).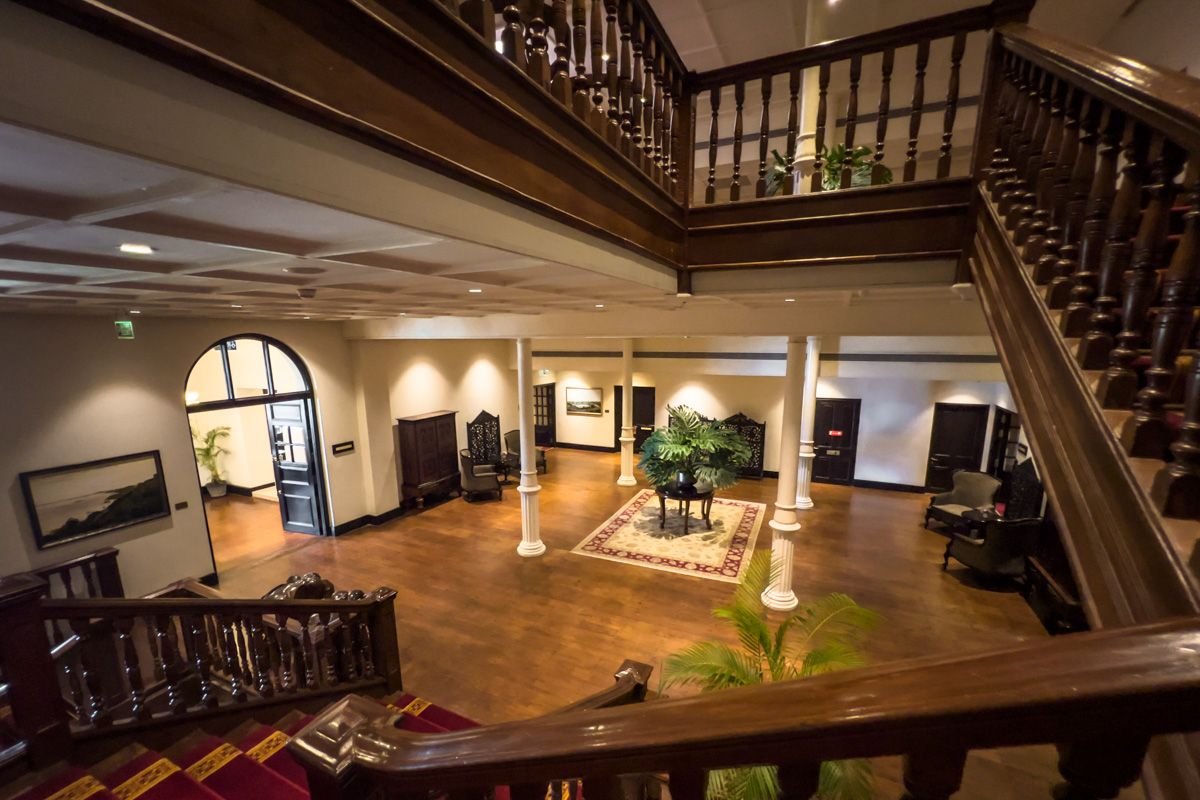 One thing I hate to mention is that the Galle Face Hotel doesn't seem to put sustainability at the forefront of their operations. They could very well be developing some eco initiatives behind the scenes, but there is no mention of sustainability at all on their website, which is a bit discouraging. Also, as a hotel guest, I noticed that drinking water was provided in plastic bottles, rather than in refillable bottles like all of the other Sri Lanka luxury hotels in this post have.
Hopefully Galle Face Hotel starts to focus more on eco-friendly practices in the coming years!
Galle Face Hotel
Location: Colombo
Hotel Class: 4-star or 5-star
Price: Starting at around US$99/night for bed + breakfast
Highlights: Beachfront location, saltwater pool, sauna, extensive buffet, its history
Things to do nearby:
Galle Face Green
Gangaramaya Buddhist Temple
Jami Ul-Alfar Mosque
Mount Lavinia Beach
Colombo National Museum
---
Nestled in the foothills of Sri Lanka's central highlands, Jetwing Kaduruketha makes for a lush nature escape.
One of the more unique five star hotels in Sri Lanka, this property juxtaposes rugged nature with refined luxury. Nowhere is this more evident than the layout of the cabins (or "dwellings"), which feature a stylish open air bathroom with an outdoor shower, and a cozy bedroom equipped with a king bed covered by a mosquito net.
Step outside your dwelling and relax on your patio, venture onto the walking path and wander the paddy fields, or hop onto a bike (docked next to your accommodation) and explore the property.
CLICK TO BOOK A STAY AT JETWING KADURUKETHA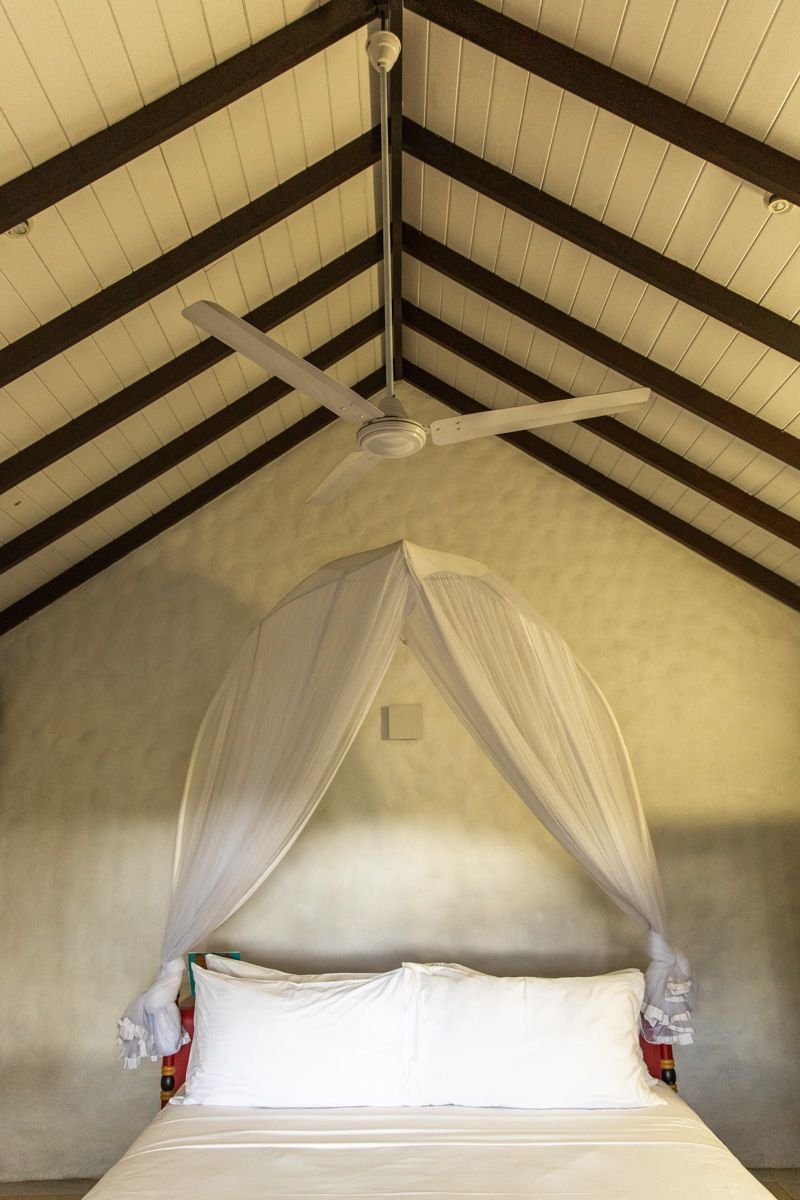 All roads (or paths) lead to the pool, the focal point of this boutique hotel in Sri Lanka. You'll be hard pressed to find a more scenic backdrop for your swim. Can you say Ubud vibes?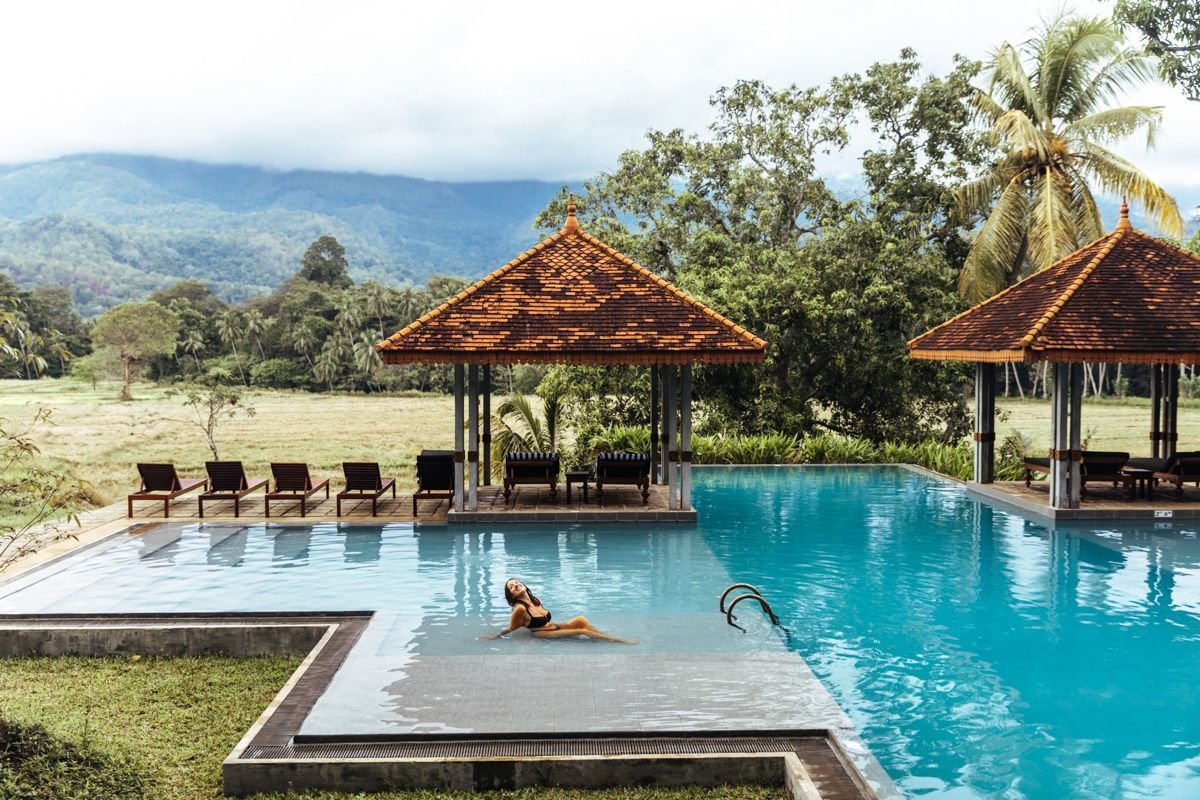 Dining at this Sri Lanka luxury hotel is an absolute delight, with views of the pool from most tables and a variety of options on the menu for each course. I loved the meat platter I ordered for dinner, but the standout was the homemade coconut ice cream we indulged in for dessert.
This boutique hotel in Sri Lanka has a very similar ethos to its counterpart in Kandy (the first property mentioned in this post): it's all about providing personalized luxury while celebrating the local culture and preserving the surrounding environment. All guests are provided with a dedicated butler and a colorful sarong to wear around the property.
Jetwing Kaduruketha, like all of Jetwing's eco lodges in Sri Lanka, prioritizes sustainability in all that they do: from preserving rather than building on most of the land on the property, to opting for natural cooling methods over air conditioning in the dwellings, to sharing rice harvests from the paddy fields with local farmers.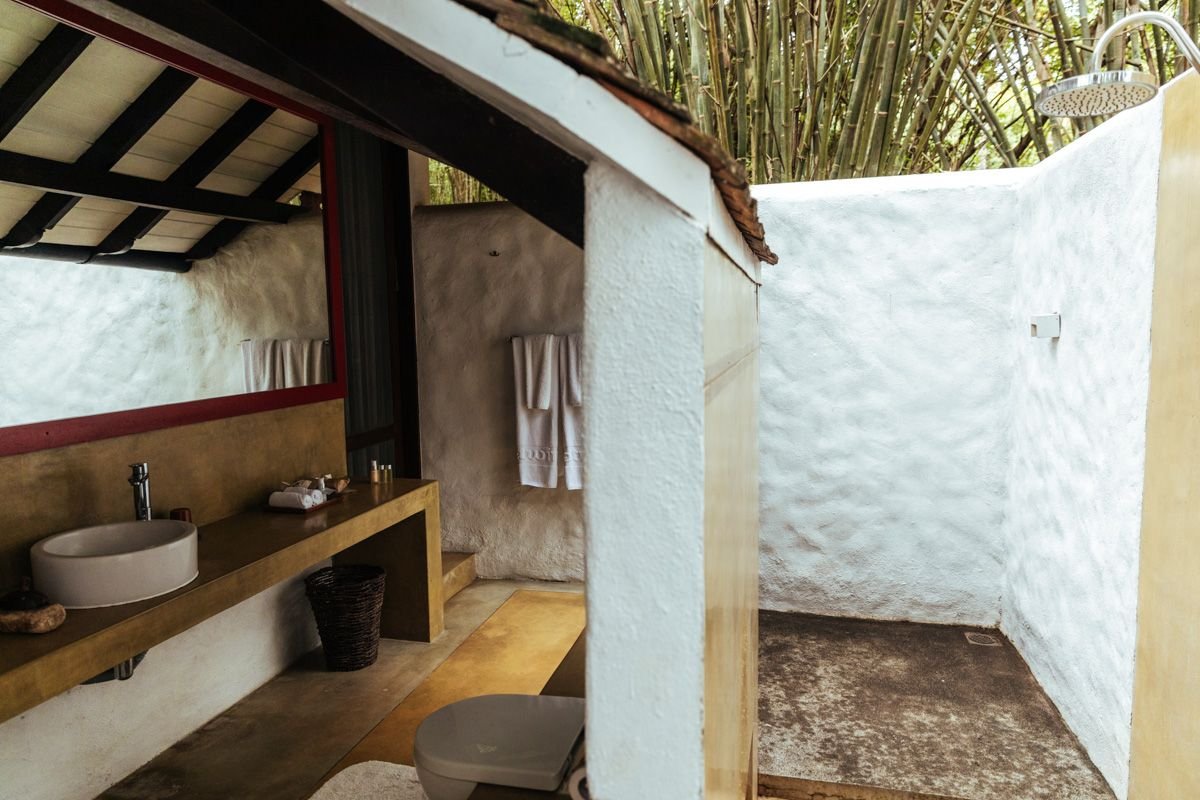 Jetwing Kaduruketha
Location: Wellawaya (4 hour drive from Colombo, 45 minute drive from Ella)
Hotel Class: 5-star
Price: Starting at around US$125/night
Highlights: Pool, personal butler service, outdoor shower, nature, lush Ubud-like landscape
Things to do nearby:
Ella (45 minutes away)
Paddy field walks
Bird watching
Village tour
Hiking
Elle Wele waterfall (accessible by bike)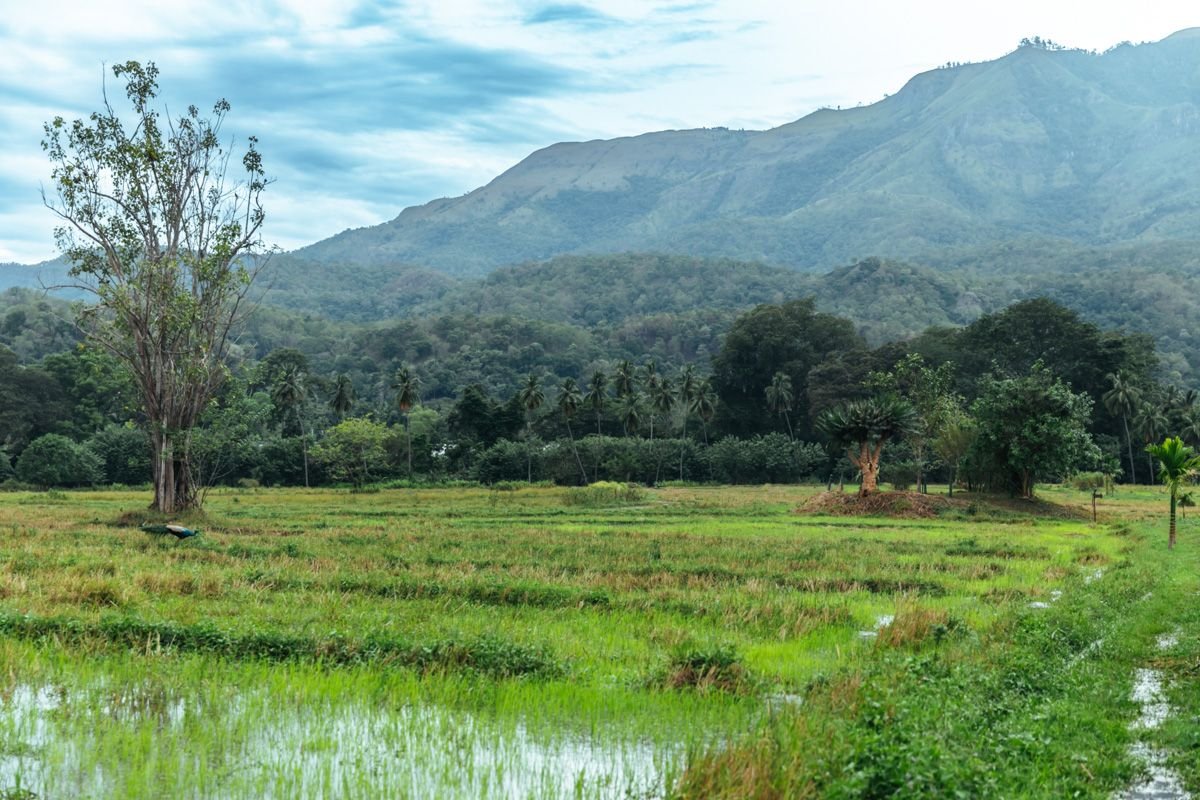 ---
And last but not least on this Sri Lanka luxury hotels list: Jetwing Surf, located on the east coast.
Aptly named, Jetwing Surf is where you want to base yourself if you're here to surf the consistently excellent waves in Arugam Bay and want a luxurious place to unwind after your surf session.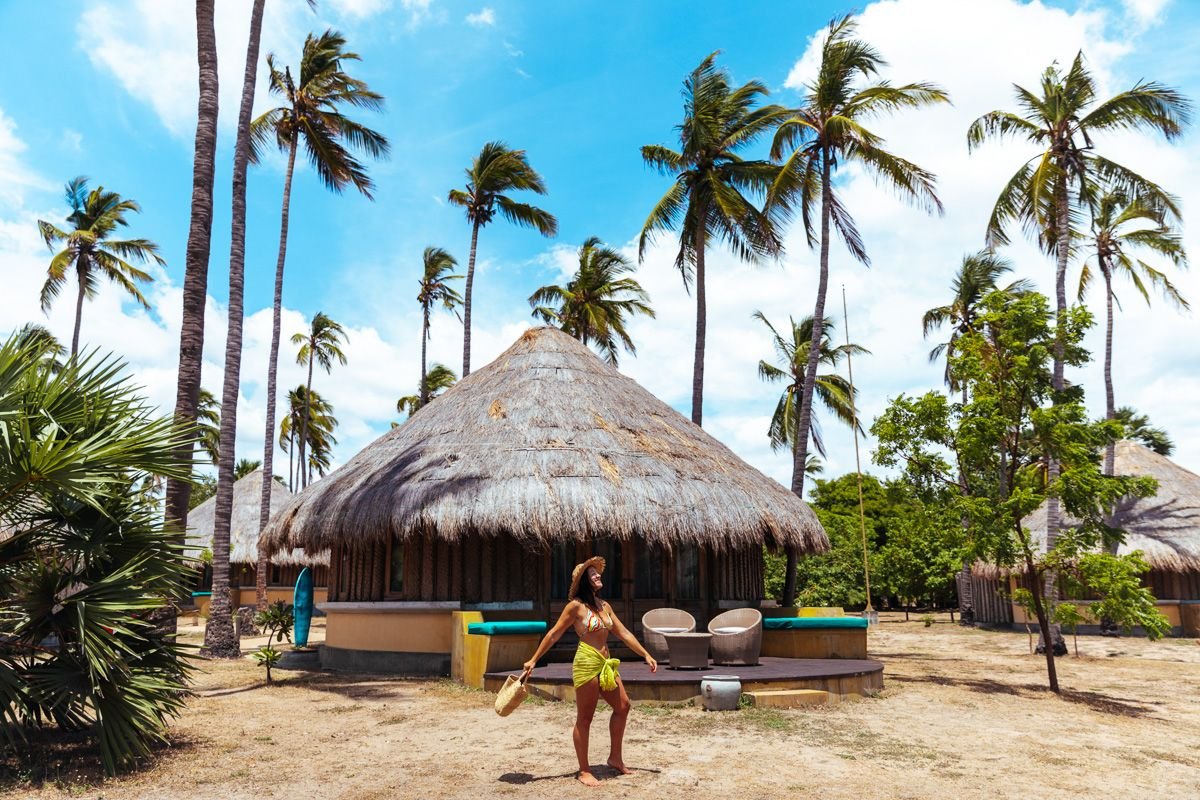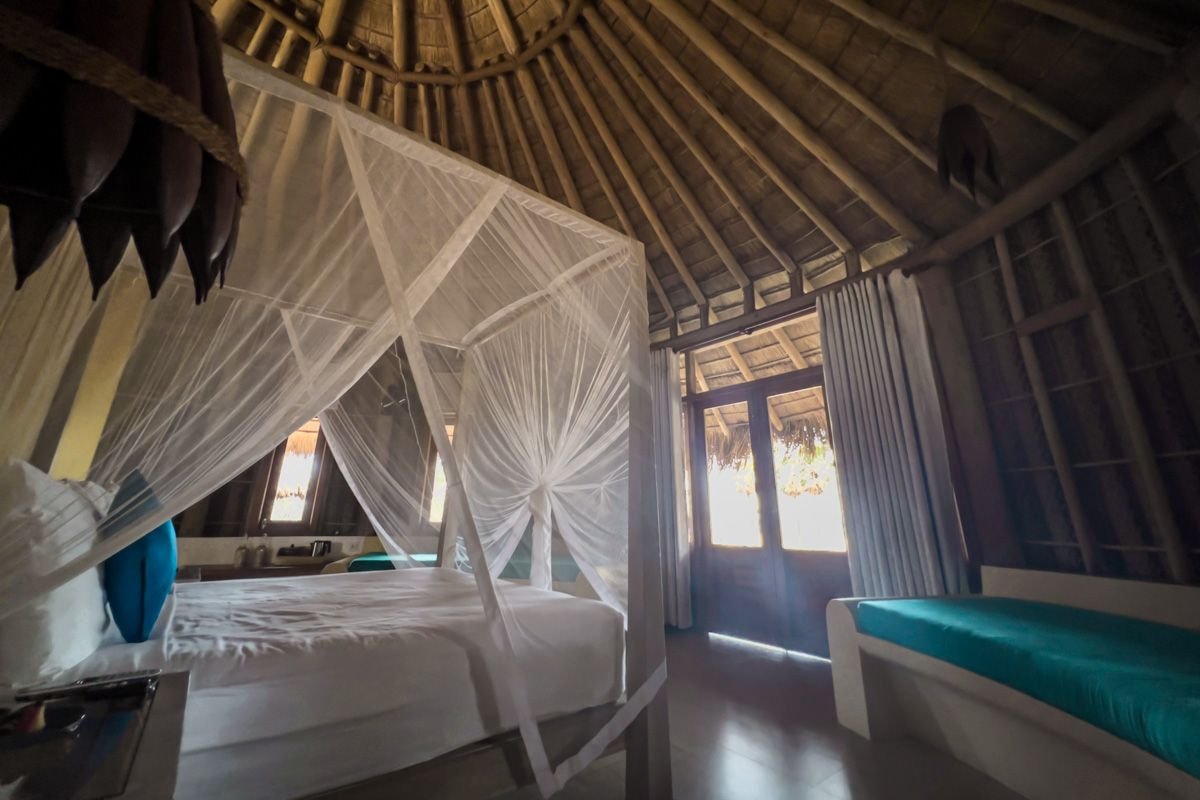 This boutique hotel in Sri Lanka hosts 20 cabanas, scattered amongst the sands behind Kottukal Beach. The cabanas are spherical in design with a conical thatched roof. Circling the interior of the cabana around the king bed (or twin beds), you have two lengthy sofas built into the wall, and then the bathroom which opens out to a private outdoor (cold) shower.
The beachy details inside the cabana are super aesthetic, particularly the sink with the seashell as a water tap.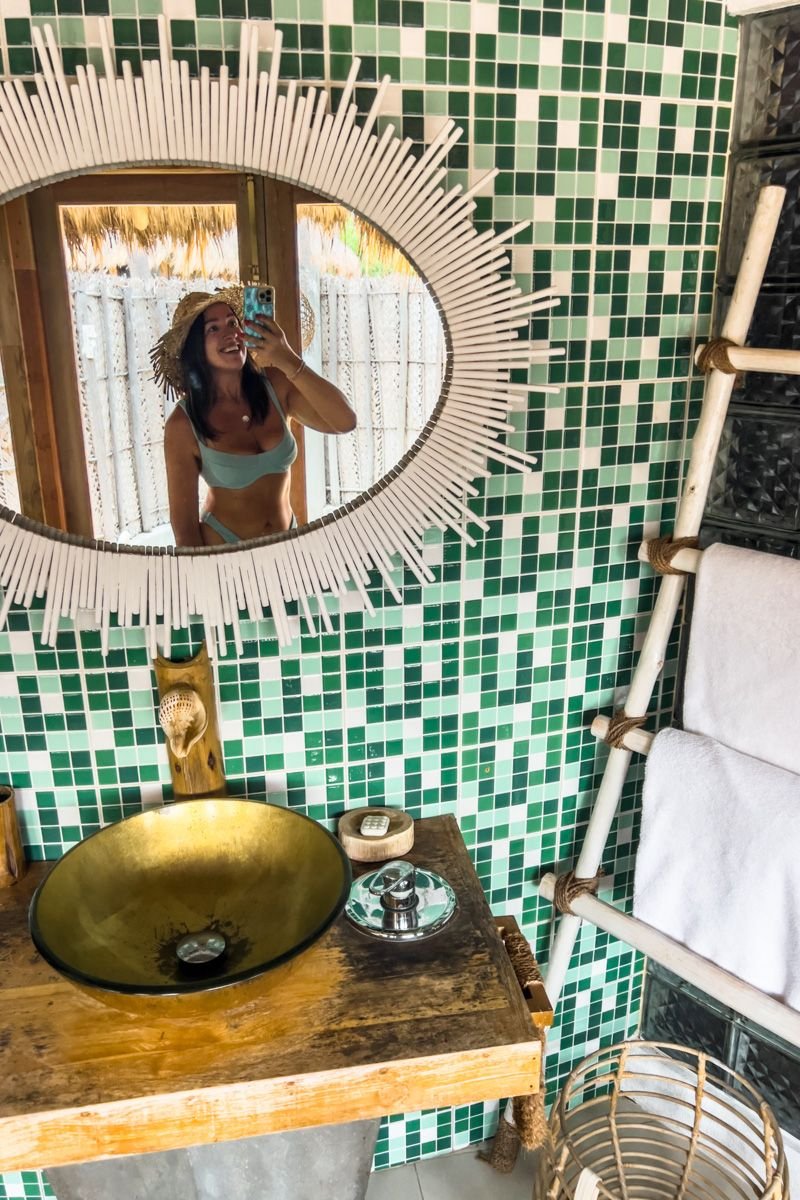 If you're lucky, the deck outside your cabana might be equipped with a hammock or a view of the sea. All decks have a couple of sun beds, chairs, and a small table – perfect for enjoying a morning coffee.
But really, is there anything better than being able to step barefoot out of your bedroom, straight into the sand?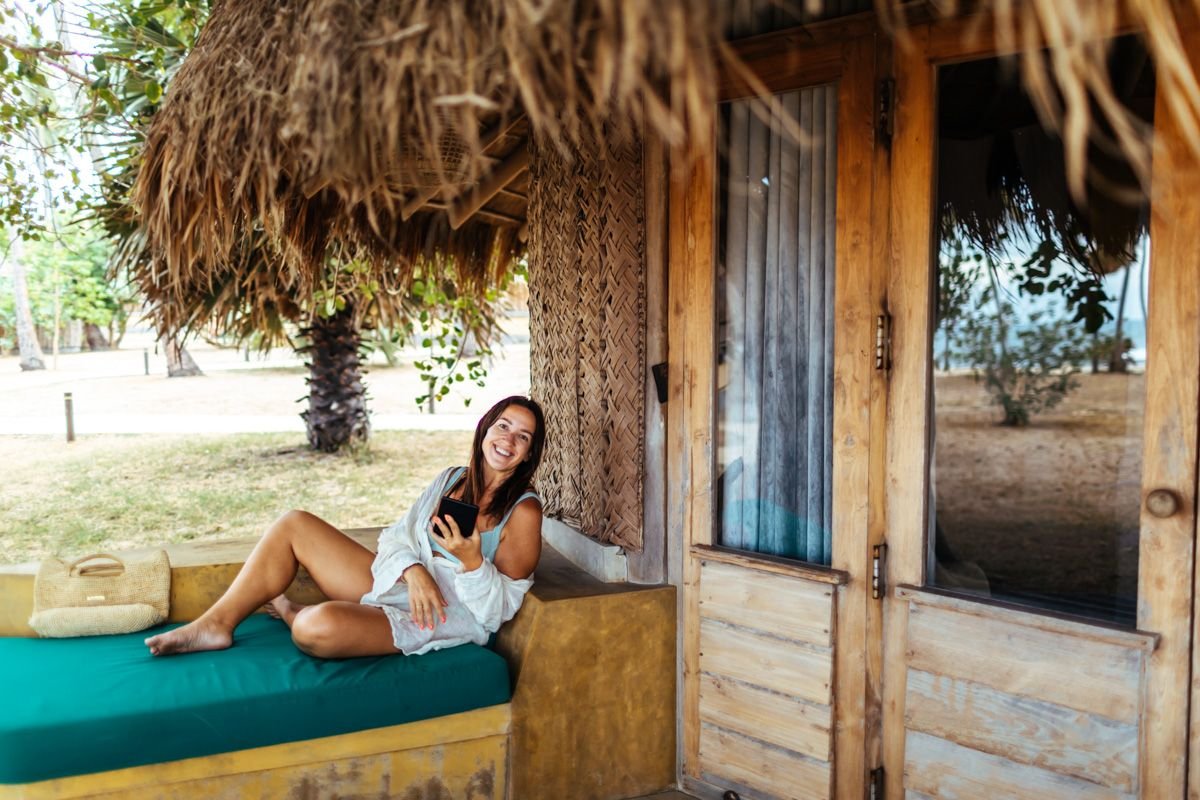 CLICK TO BOOK A STAY AT JETWING SURF
Living up to its status as one of the top 5 star hotels in Sri Lanka, Jetwing Surf comes through with a stunning infinity pool overlooking the beach, complete with a swim-up bar.
Just around the corner is the restaurant, which upholds the usual Jetwing 5-star standard. One morning, the chef had us pick out some seafood at the nearby fish market, which he then whipped up into a seafood extravaganza for dinner that night. The standout for me was easily the fish cooked in banana leaves with whole cloves of garlic inside. I can also highly recommend the chocolate lava cake for dessert.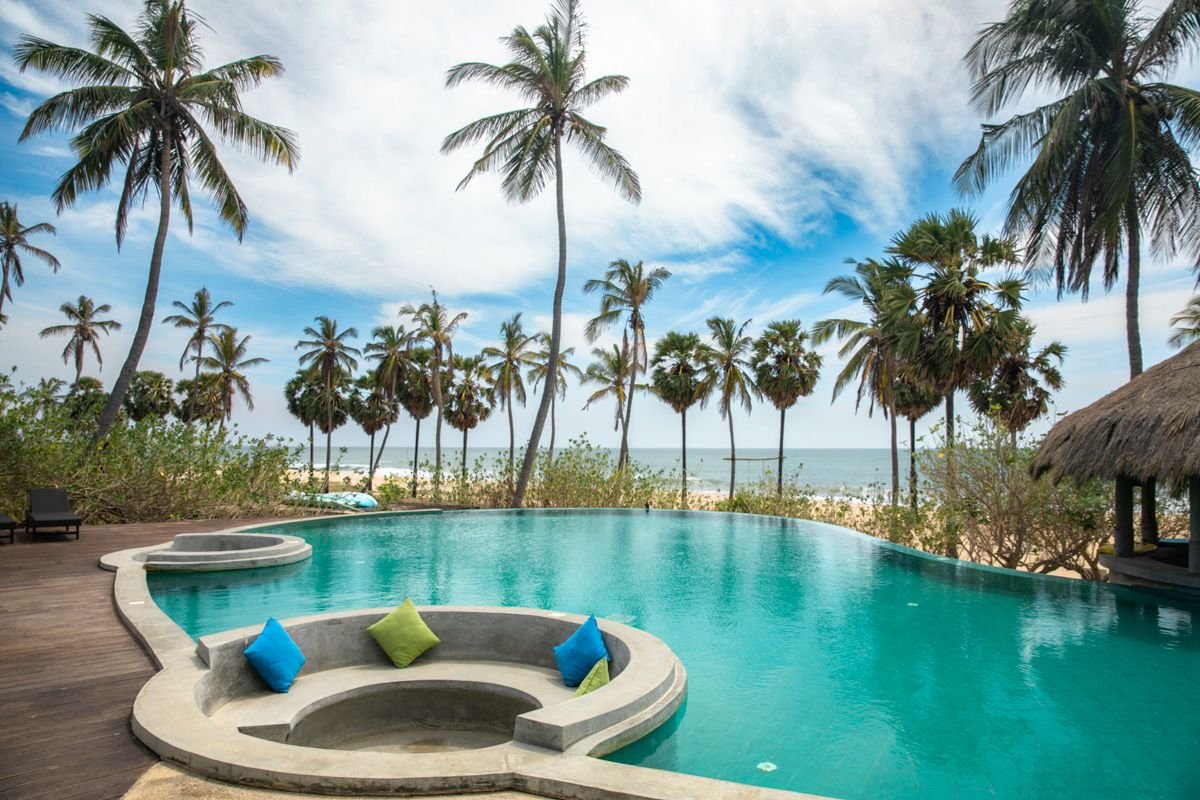 And as per Jetwing usual, this Sri Lanka luxury hotel is committed to sustainability. One key initiative is utilizing natural materials in the construction of all cabanas and buildings, which allows more light and cool air to enter, thus minimizing the energy needed for lighting and cooling.
Jetwing Surf
Location: Pottuvil / Arugam Bay (6.5 hour drive from Colombo)
Hotel Class: 5-star
Price: Starting at around US$110/night
Highlights: Infinity pool, beachfront, fresh seafood
Things to do nearby:
Surf lessons
Lagoon boat safari
Fishing
Bird watching
Kumana National Park (30 mins away)
Elephant safari at Lahugala Kitulana National Park (15 mins away)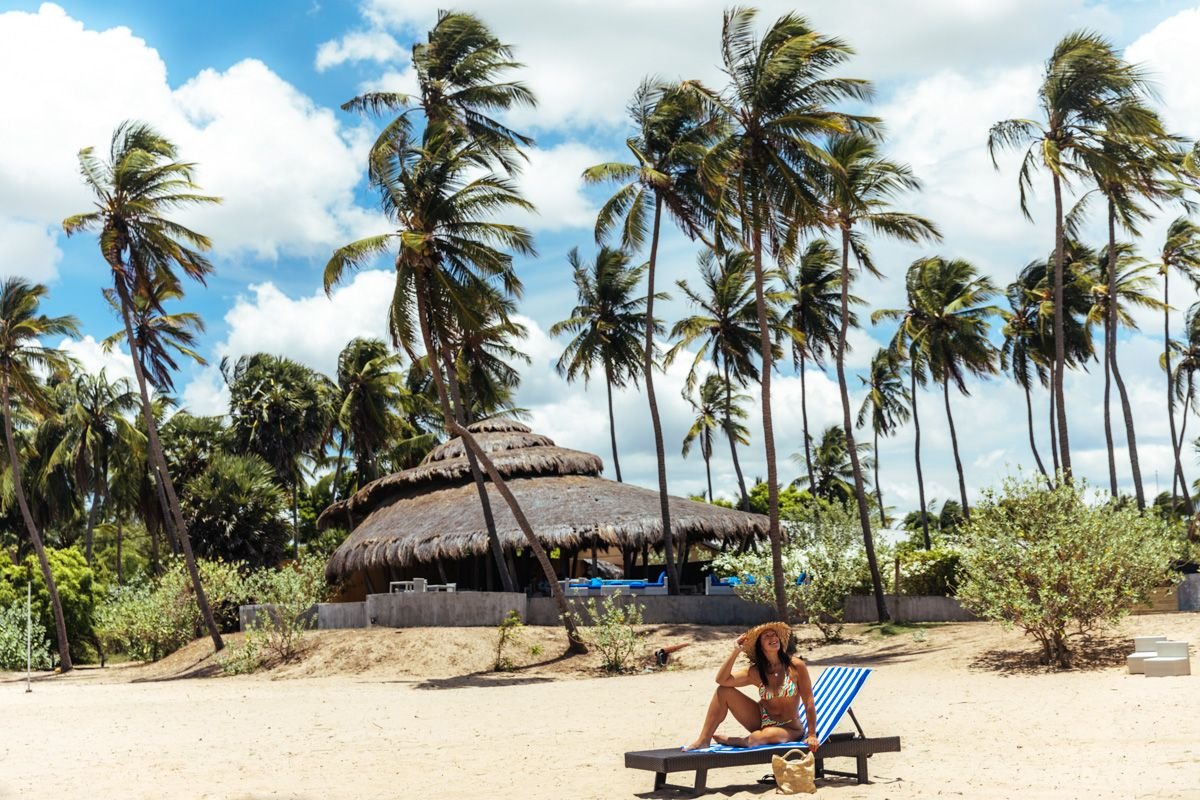 READ MORE ABOUT SRI LANKA IN THESE POSTS:
Thank you to Sri Lanka Tourism for hosting me for 2 weeks in Sri Lanka. Note that all opinions expressed here and elsewhere on this blog are my unbiased own, and are uninfluenced by any gifts or incentives I may receive.
Pin it!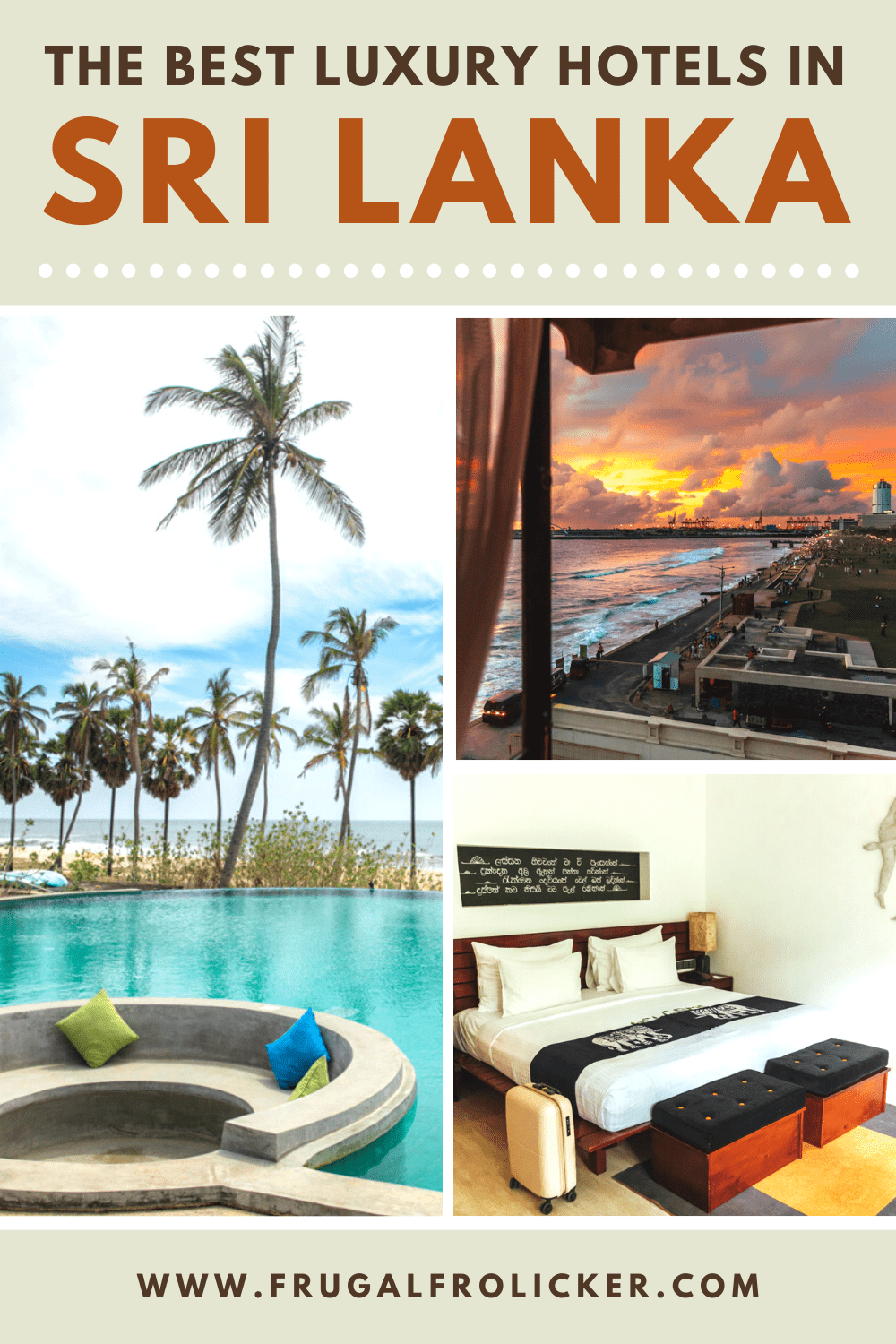 Pin it!