If you're traveling to Krabi, Thailand, odds are you'll be looking to book one or more Krabi island tours while you're there. And rightfully so – this whole region is just begging to be explored by boat with 200 or so islands around.
There are 3 main types of Krabi island tours:
4 Islands (very close to Ao Nang, Krabi Town, Railay)
Phi Phi Islands (halfway between Ao Nang/Krabi Town/Railay and Phuket)
James Bond Island / Phang Nga Bay (close to Phuket)
Having visited Krabi twice now and sampled all 3 types of Krabi island tours, I can tell you that they are ALL fantastic and worthwhile. Do all 3 if you can. And if you can't, then read on and see which appeals to you more :)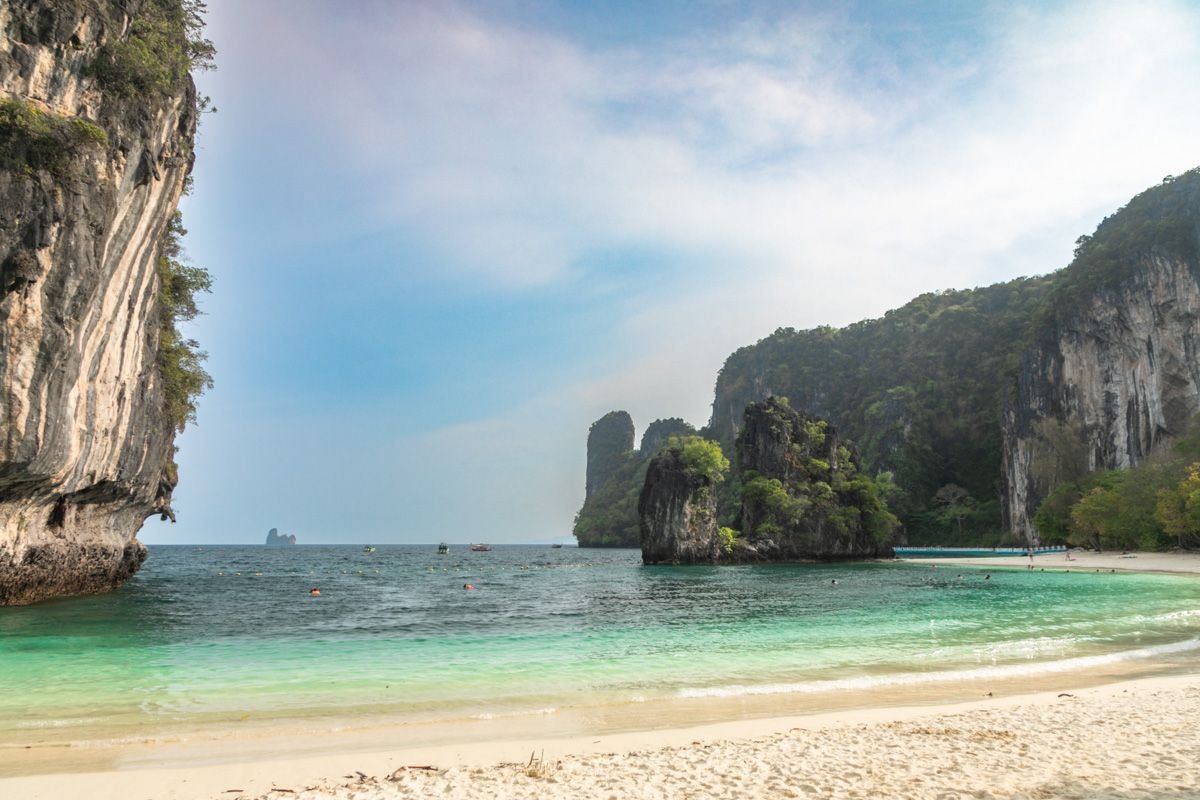 If you're soon to be Krabi-bound, I have a few very important tips for you:
Base yourself in Ao Nang. Is it the nicest place to stay in Krabi, no – but it's the most convenient if you're doing boat trips around Krabi. Pretty much all tours pick up and drop off in Ao Nang. If you're staying in Railay or Krabi Town, you will likely have to make your own way to Ao Nang (whether it's by bus or taxi from Krabi Town, or long tail boat from Railay). Some Krabi island tours may include pick-up from Railay, but it's often an additional charge.
If your Krabi trip is more than a few days: stay in Ao Nang for the first part of your Krabi trip while you do your boat tours, then stay in Railay for the last part of your trip and chill. This is what I did on my most recent trip to Krabi and it was 1000000% the right move.
Book your Krabi island tours ahead of time online. Sure, you could wing it and just book the cheapest options in town when you get there. But don't be surprised when you end up in a huge group with guides that hardly speak English and make no efforts to avoid the crowds.
I'm all for being spontaneous and waiting til the last possible minute to commit to a plan, but I feel very strongly that it's best to book your Krabi island tours before you arrive there. That way you can read the reviews, check the itineraries, and ensure that you're actually booking a quality tour.
And lucky for you, I've done all the research and testing for you! That's right, the very best Krabi island tours are highlighted below in this blog post. They are all very highly rated and bound to guarantee you an excellent time out around the islands.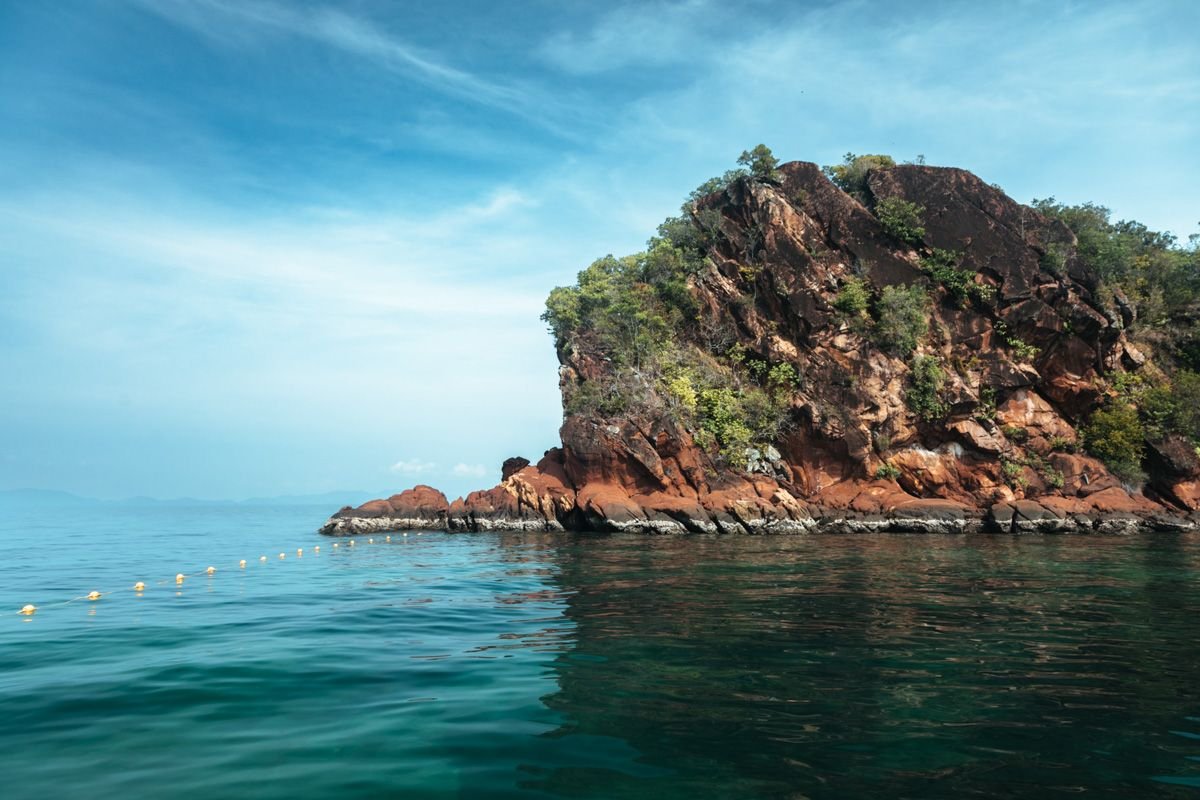 ---
Krabi 4 Islands Tour
If you can only book one Krabi island tour while visiting Ao Nang, Krabi, or Railay, let it be the 4 Islands Tour.
Why? Because most other Krabi island tours you can do from Phuket, as those islands are closer to it. But the 4 islands are further away from Phuket, and they're much easier to access from Ao Nang or Railay (all within a 20-30 minute boat ride).
Not to mention, the 4 islands are flippin' gorgeous!
The Krabi 4 Islands Tours stop at:
Chicken Island (Koh Gai) – An island with a limestone rock formation shaped like a chicken head (it's easily viewed from the water, so doesn't necessarily require a dedicated stop)
Tup Island (Koh Tup) – An island connected to two others by sandbar at low tide. It's got beautiful crystal clear water for swimming.
Poda Island (Koh Poda) – Has a beautiful and expansive white sand beach with picturesque views of limestone rock formations protruding from the water. The best spot for sunbathing.
Railay – Technically not an island, but is only accessible by boat so feels like one :) Typically stops at Phra Nang Beach (one of the most beautiful beaches in all of Thailand!) and cave.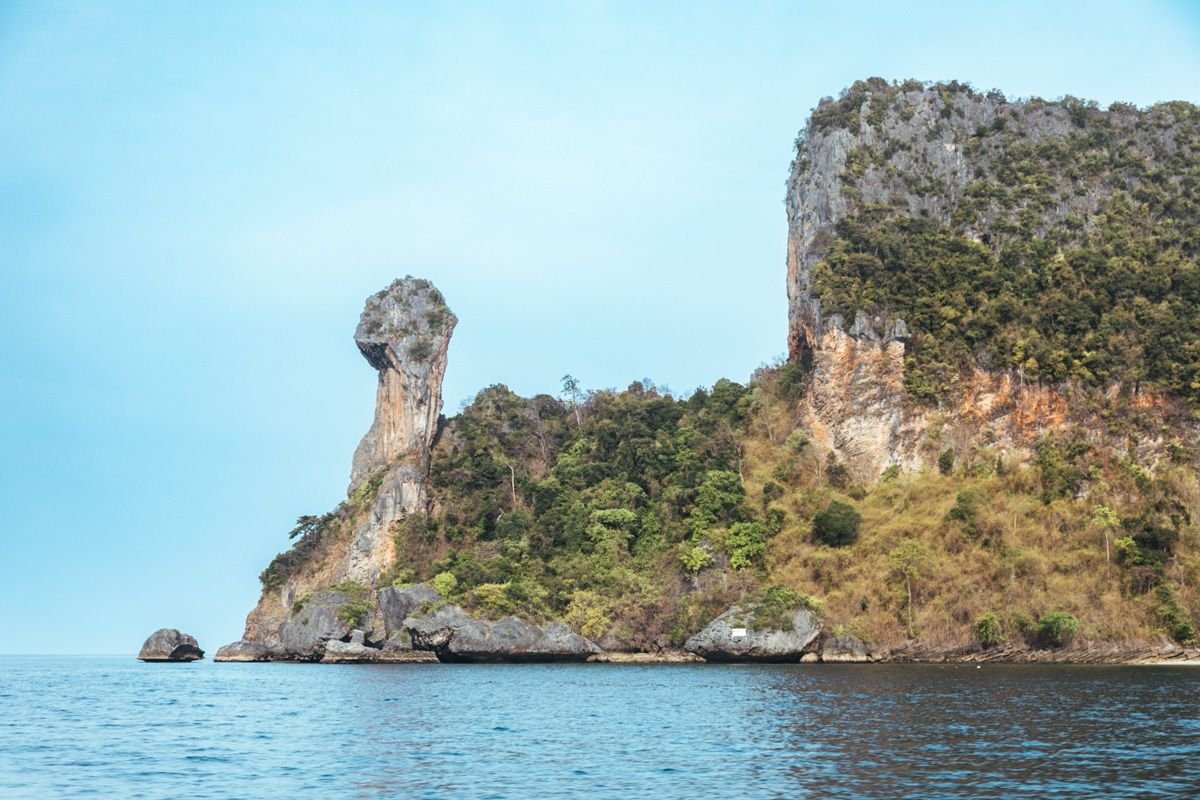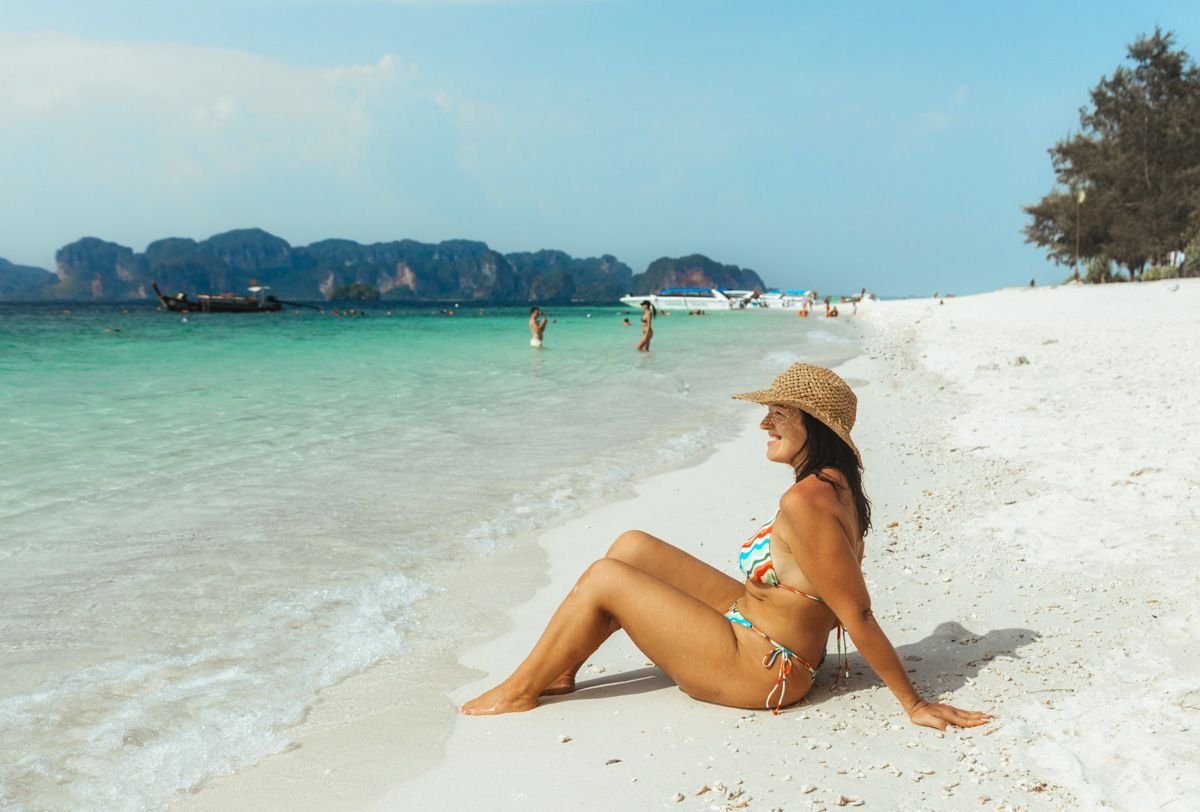 Though all of the 4 Islands Tours from Krabi stop at the same islands in varying order, the most common itinerary has an early afternoon start and finishes up with sunset on Phra Nang Beach in Railay, followed by a swim with the bio luminescence (phosphorescent plankton) nearby once it starts getting dark. A handful of tours may opt to start early to avoid the crowds, and finish earlier without the sunset or plankton swim.
Here are the best 4 Islands Tours from Krabi:
4 Islands Tour with Thalassa
The Thalassa 4 Islands Tour stops at the aforementioned four islands, plus Koh Sii: an island slightly further from the Krabi coast that offers excellent snorkeling. It ends with sunset at Railay and night snorkeling, as many similar tours do.
This is supposedly the only Krabi 4 Islands Tour done by speedboat (most use a traditional longtail boat instead, which is slower and less comfortable). That means less time spent in transit and more time spent on the islands! (And it's how they're able to stop at Koh Sii as well, which would be too far away for a longtail boat tour to fit in).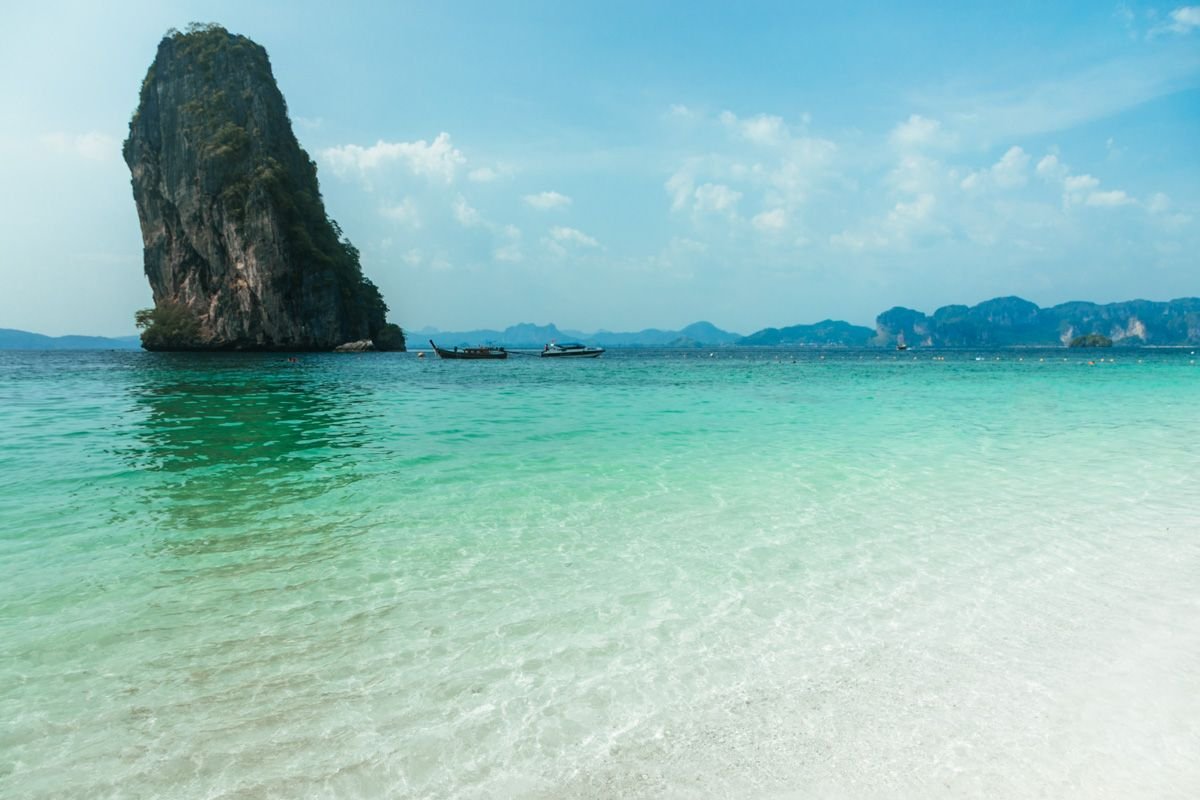 Thalassa tours are marketed as "semi-private", which essentially means that they have smaller groups on board and provide a high touch experience to guests which makes it FEEL like a semi-private tour.
It's also worth noting that Thalassa also offers a different version of this tour with an eco focus (though as of June 2023, it's not being offered). I'm not sure if or when their 4 Islands Eco Tour will return, but it runs from 9am-5pm, swaps out the sunset and night snorkeling for a beach cleanup instead, and is half the price of the regular 4 Islands Tour.
4 Islands Tour with Thalassa

Time: 1pm-7:30pm
Price: ฿3100 (~ US$94)
TripAdvisor Rating: 5.0 / 435+ reviews
Choose this Krabi 4 Islands Tour if: You prefer to travel with a smaller group; great snorkelling is important to you; you'd rather travel by speedboat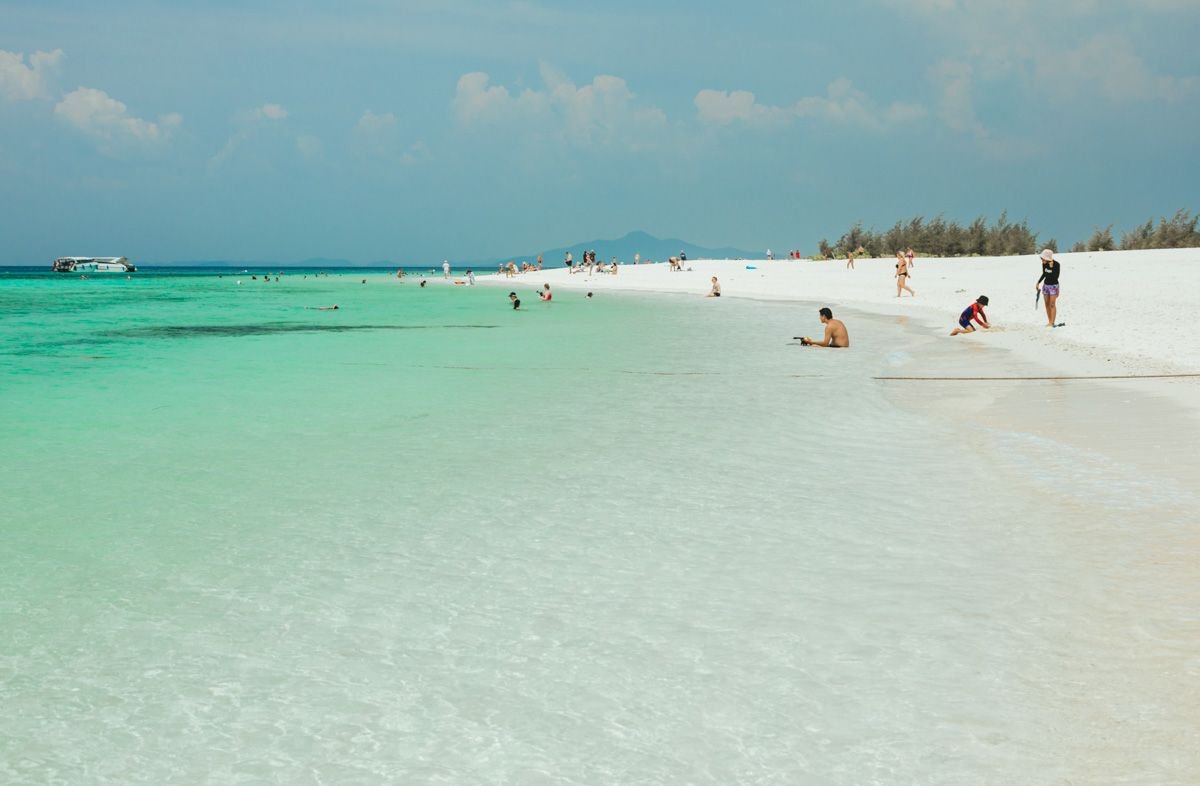 5 Island Sunset Cocktail Cruise with Krabi Sunset Cruises
Yes, you read that right – it's 5 islands instead of 4!
This sunset cruise skips Koh Tup and stops instead at two small islands just off the coast of Railay (along with Poda Island, Chicken Island, and Railay). Though technically, this tour doesn't actually stop *at* the islands but rather, close to them – so if being able to step onto each island and take lots of photos there is important to you, this may not be the Krabi 4 Islands tour for you.
Instead, Krabi Sunset Cruises uses an old junk (aka a pirate ship) with huge sails for its tours. This tour centers more around the epic boat than the islands: it's all about relaxing on the deck with a drink, jumping off the top level, and paddling around the islands with a kayak or stand-up paddleboard (if you feel like it). It's less of a tour, and more of an experience.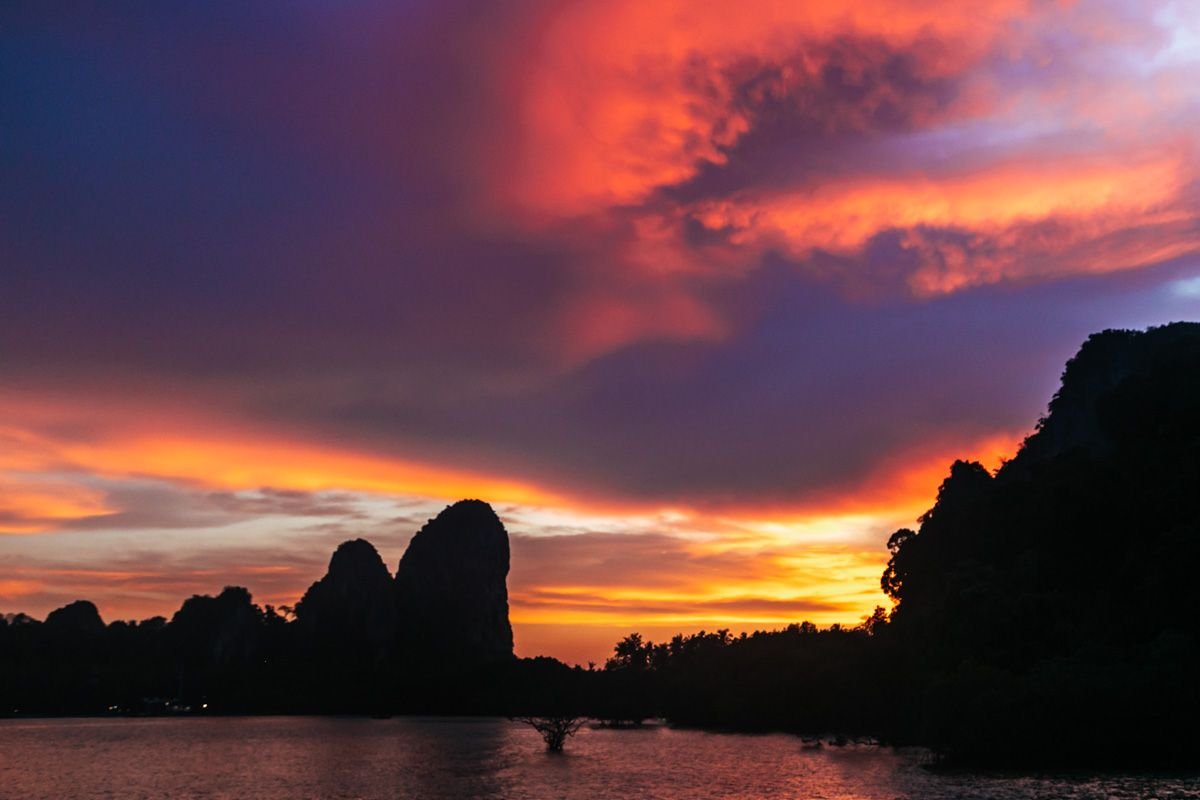 Like many of the other Krabi 4 Islands Tours, this one ends with sunset at Railay and a bio luminescence swim after dark.
5 Island Sunset Cocktail Cruise with Krabi Sunset Cruises

Time: 2pm-8pm
Price: ฿2800 (~ US$93)
TripAdvisor Rating: 5.0 / 1100+ reviews
Choose this Krabi 4 Islands Tour if: You'd rather chill and soak up the vibes than sightsee; you want to try your hand at paddling without it being the main focus of the tour; you want to feel like you're on a pirate ship
---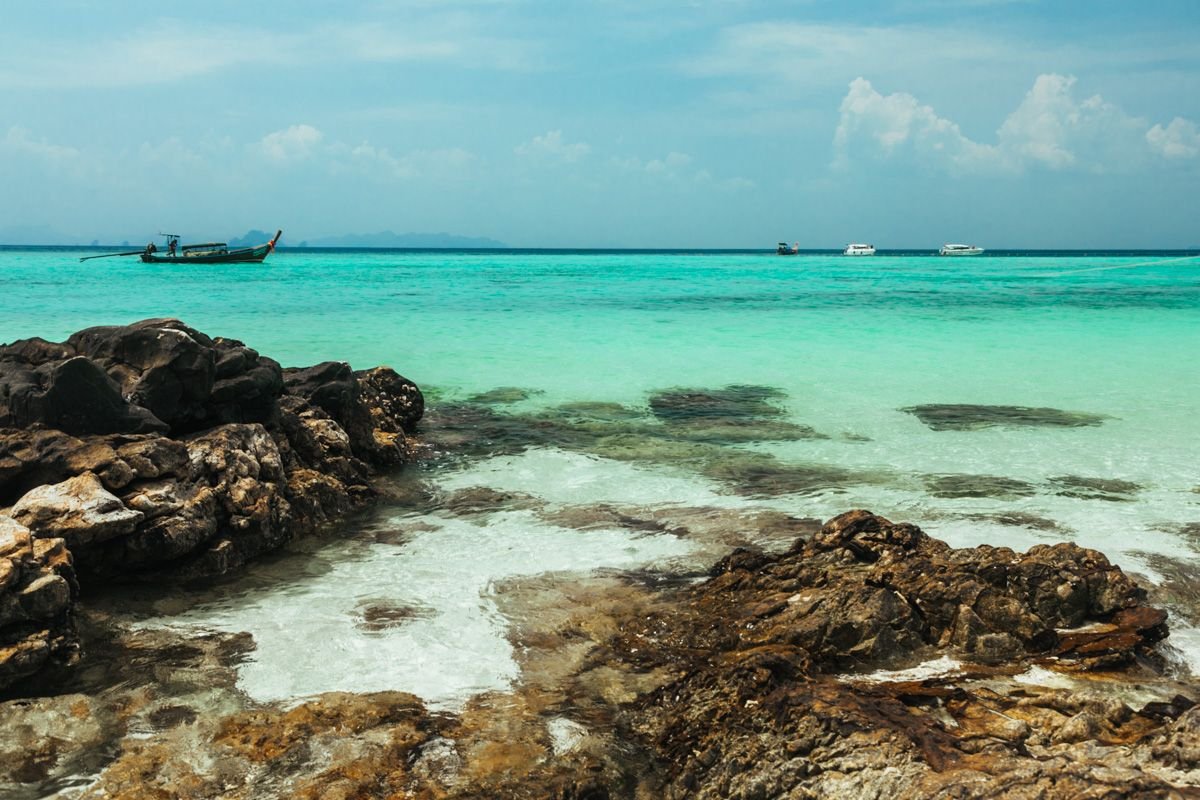 Phi Phi Island Tour
The Phi Phi islands are an absolute must-do for anyone visiting Phuket… but did you know that you can book Phi Phi island tours from Krabi as well?
Yup it's true! Koh Phi Phi is actually about halfway between Phuket and Krabi, which means travel time is nearly the same no matter which location you depart from.
So if you're planning a trip to Krabi, you should definitely consider Phi Phi as one of your Krabi island tours to book!
The Phi Phi islands need no introduction, because odds are you've seen the photos or watched The Beach. Maya Bay is the runaway star of the islands, home to a beach so beautiful that its image will be forever seared in your mind. You're not allowed to swim here anymore, but you can walk in up to your knees.
And there are several other worthwhile places to see around the islands, from stunning lagoons to epic snorkeling spots to picturesque beaches (where you CAN swim). Just know that no matter when and where you go around Koh Phi Phi, there WILL be other people around – it's a very popular area, with little that's off the beaten track – but for good reason!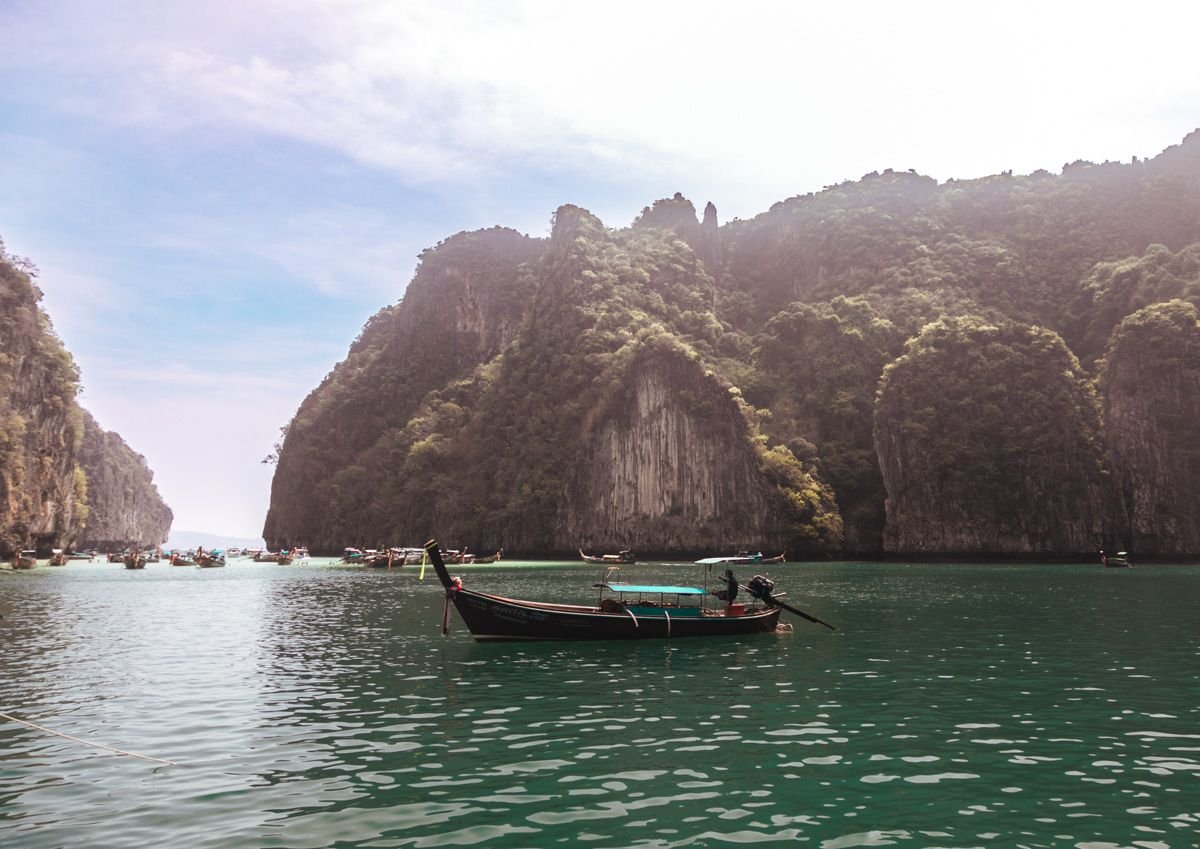 Most Phi Phi island tours stop at:
Maya Bay – A stunning white sand beach encircled by limestone cliffs, made famous by The Beach.
Pi Leh Bay (Lagoon) – A deep blue-colored lagoon often filled with boats. There's not really anywhere to land in the lagoon, so visitors tend to either party on their boat or swim just off of it.
Monkey Beach – If you want to see wild monkeys, this is the place (though they are known to steal things from visitors, and can get aggressive). The beach is a short walk from the bay where your boat will stop, but you can usually spot monkeys climbing the rocks around the bay without having to leave the boat.
Viking Cave – A very cool-looking cave you can peek into while passing by on the boat. Around the corner is an excellent snorkeling spot.
Bamboo Island – A very popular place where you can hang out on the white sand beach and swim. It's easy to avoid the crowds just by walking further down the beach, away from where the boats anchor. It's also a good spot to have lunch (many tour groups do when they stop here).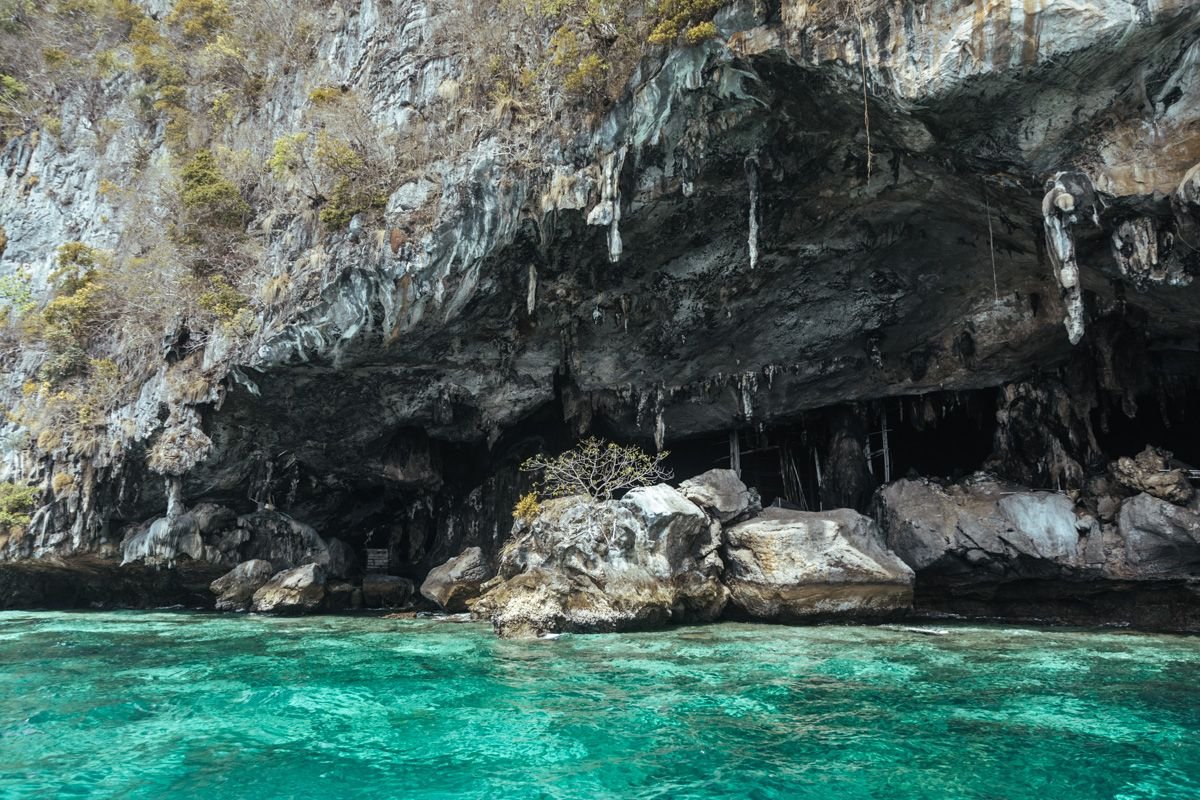 Here are the best Phi Phi Islands Tours from Krabi:
Koh Phi Phi Tour with Thalassa
Thalassa also runs a semi-private (small group) tour to the Phi Phi islands (I believe the max is 16 guests?). There's more of a focus on snorkeling with this particular tour, and depending on conditions, there will be multiple opportunities to snorkel.
The Koh Phi Phi Tour is their most popular tour and it's extremely highly rated on TripAdvisor, so you really can't go wrong with this one. Note that there is an extra charge if you're not staying in Ao Nang and need to be picked up/dropped off at Railay or Krabi town.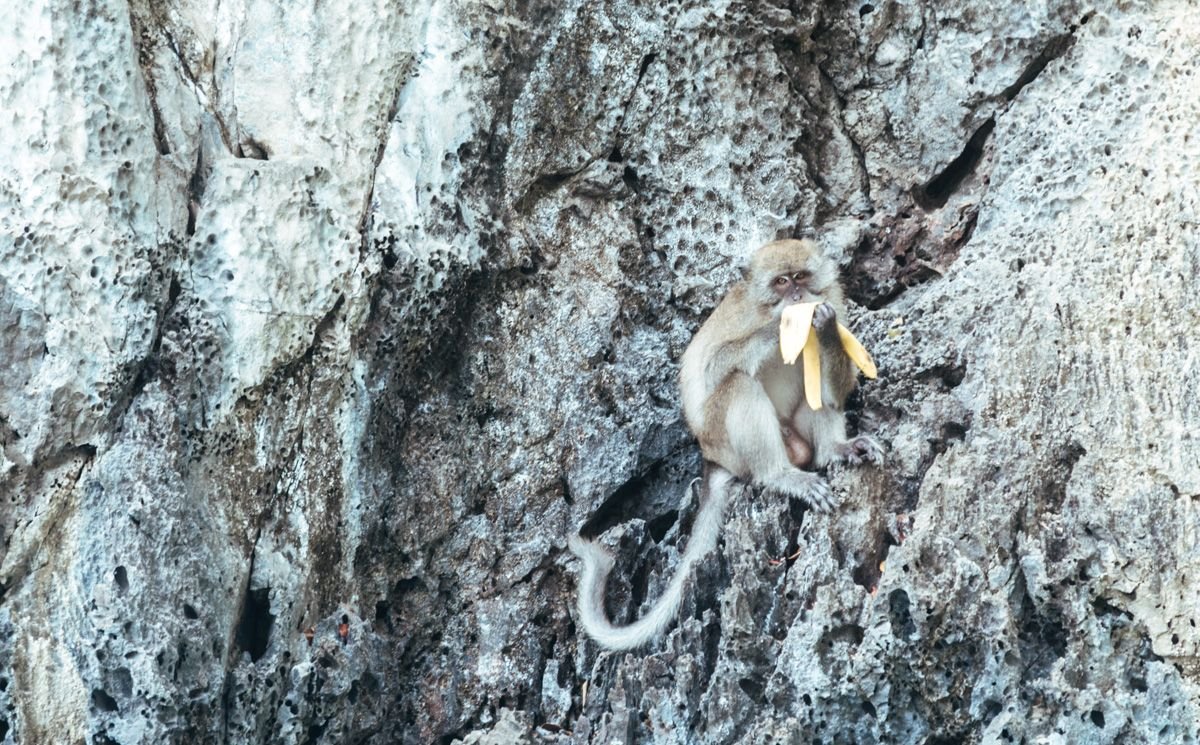 Koh Phi Phi Tour with Thalassa

Time: 8am-3pm
Price: ฿3250 (~ US$99)
TripAdvisor Rating: 5.0 / 576+ reviews
Choose this Phi Phi Islands Tour if: You prefer a small group tour; you want to do lots of snorkelling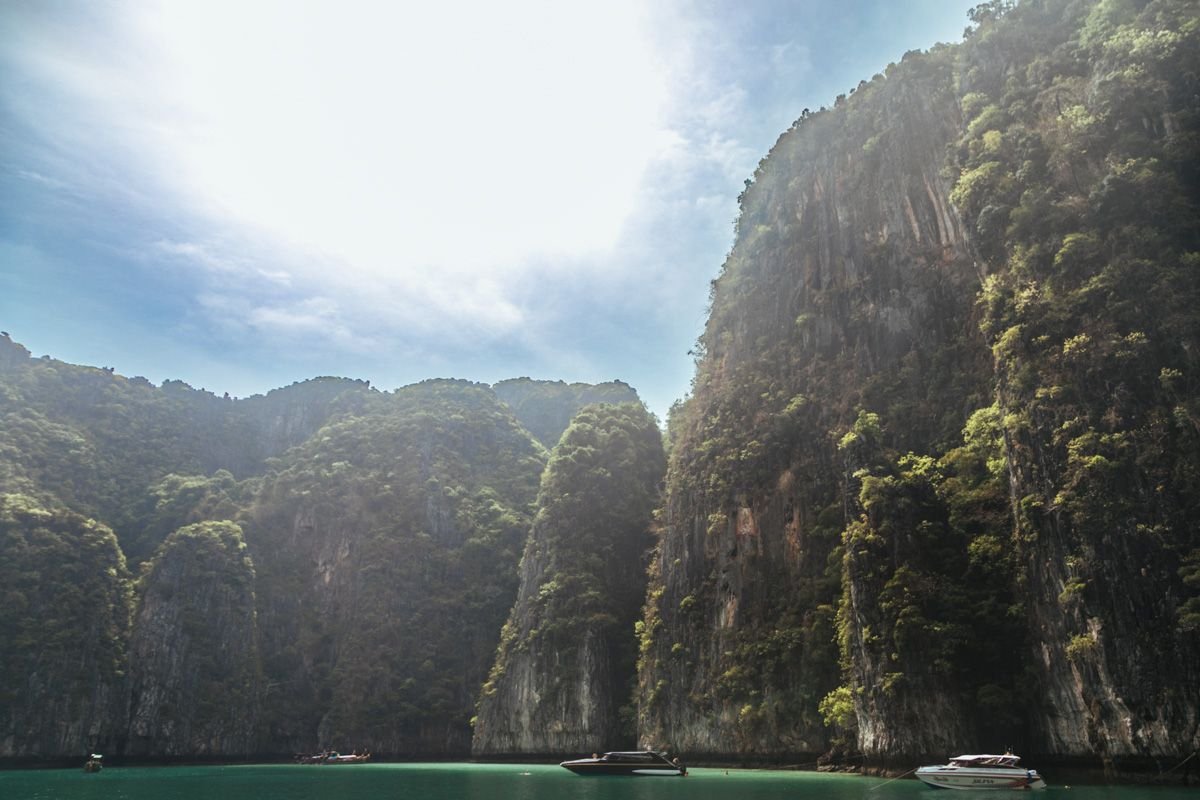 Phi Phi + 4 Islands Tour with Krabi Ezy Trails
One excellent reason to book a Phi Phi Island tour from Krabi instead of Phuket is that there are some tours that add on additional island stops on the way there and back, which gives you more bang for your buck.
Krabi Ezy Trails offers a combo Phi Phi + 4 Islands Tour, ideal for anyone who might not have time or money to book the two separate tours, or for those prone to seasickness who want to limit the amount of time they spend on boats. The latter is definitely me, which was my main reason for booking this tour.
I'm very happy with that decision and I absolutely LOVED this experience! Also happy to report that not once did I feel rushed, despite having so many stops to cover on this tour. It felt like just enough time to enjoy each location. And I didn't get seasick!
It's also worth mentioning that this is not a small group tour like Thalassa's. Our group had ~25 people in it, which didn't feel like too much.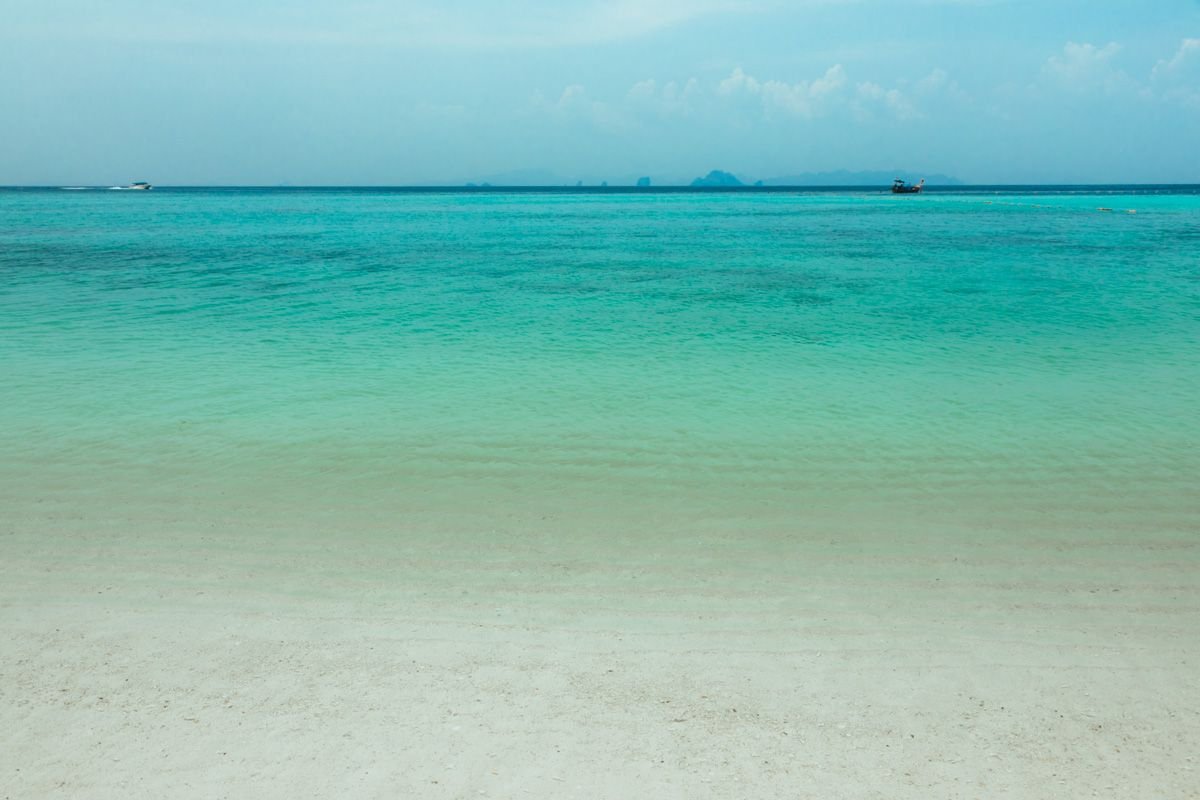 This Phi Phi island tour is marketed as an "Early Bird – Avoid The Crowds" tour, but it's important to set appropriate expectations for what exactly this means.
Yes, this tour starts earlier than most (if not all) other tours to Phi Phi islands, but it doesn't go straight to Maya Bay. The boat stops at another island on the way (Koh Tup) for breakfast, then arrives at Maya Bay just before 9am when plenty of others are already there. But it ended up being fine because the earlier you get there, the more water will be covered in shadows and not looking electric blue like you see in photos. And the later you get there, the more crowded it gets. Maya Bay at 9am seemed to be the best balance between the two variables.
And yes, Krabi Ezy Trails does its best to avoid the crowds… but c'mon, this is Phi Phi, an extremely popular tourist spot. There's really no *avoiding* the crowds, just minimizing them, which this tour did as much as possible.
Since there are more stops on this tour vs. a regular Phi Phi island tour from Krabi, be ready for a LONG day of aquatic adventuring! The boat leaves Ao Nang at 7am, which means you'll get picked up from your hotel even earlier than that. We returned around 5pm (though it says 4pm on their website), making it a solid 10 hours in the Thai heat. If you're someone who's sensitive to hot weather and the sun, you may want to opt for a shorter tour instead of this one (though there's plenty of undercover seating on the boat and shady spots on some of the islands).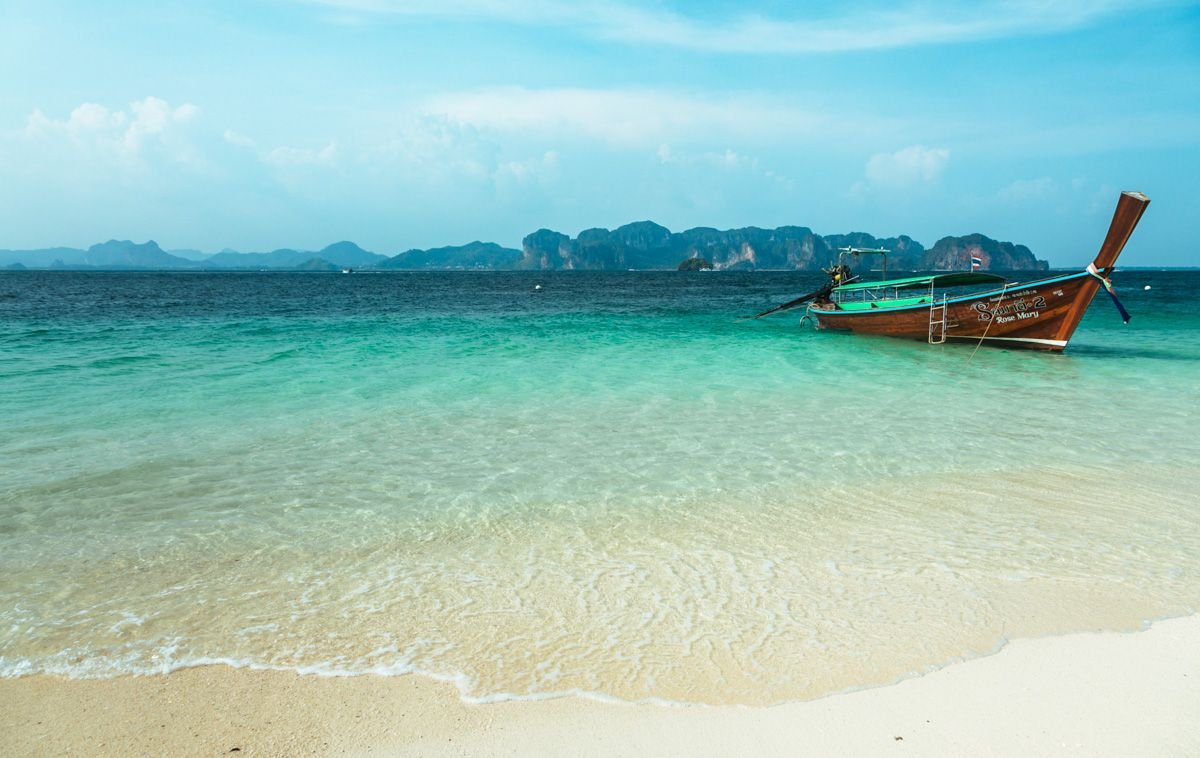 Phi Phi + 4 Islands Tour with Krabi Ezy Trails

Time: 7am-4pm
Price: ฿2500 (~ US$78)
TripAdvisor Rating: 5.0 / 372+ reviews
Choose this Phi Phi Islands Tour if: You want to avoid the crowds as much as possible; you want to save time and money by doing Phi Phi and the 4 Islands in one tour; you don't mind a very long day with lots of stops and time spent in the sun
---
Phang Nga Bay / James Bond Island Tour
A boat trip around Phang Nga Bay is an absolute MUST-DO if you're in Phuket or Krabi.
James Bond Island (Koh Tapu) is the most well known of the many picturesque islands in the bay; it just happens to be the most well known, thanks to appearing in a James Bond movie. Consequently, many Phang Nga Bay tours will be marketed as James Bond Island tours.
On James Bond Island there's a man-made beach that swarms with tourists, so if massive crowds don't appeal to you, you might want to look for James Bond Island tours that don't actually stop at the island. Both of the tours I recommend below don't stop at James Bond Island, but you'll be able to see it and take photos as your boat passes by.
Also note that Phang Nga Bay is much further afield, which is why you won't find too many tours to this area operating out of Krabi. There are many more options for James Bond Island tours from Phuket, which cruise around Phang Nga Bay by speedboat, catamaran, or larger boat, depending on the operator.
Hong Island is another landmark in Phang Nga Bay. It actually merits its own dedicated tour, that's how incredible it is – but it's often an included stop on the James Bond Island tours, so it's like a 2-for-1 special if you book it.
Hong Island is blessed with a lovely lagoon, one of the most beautiful beaches in Thailand, and a ridiculously impressive viewpoint some 200+ steps above. It is understandably very busy during the day, and less so early morning or late afternoon. It's likely that a James Bond Island tour won't stop at all of these locations around Hong Island, so pay close attention to the tour itinerary and make sure whatever tour you book includes the locations you want to see.

View from Hong Island viewpoint.
There are dozens (hundreds?) of other islands around Phang Nga Bay, some of which you'll cruise past, swim off of, or land on. There are limestone cliffs and rock formations everywhere you look out here: truly, the journey is the best part of any James Bond Island tour.
Many James Bond Island tours include an option for canoeing or kayaking, and there are a few where paddling is the main focus of the tour. I recommend booking a tour where you at least have the option to try it even if it's not the focus, because it is an extremely cool experience paddling into the hongs (Thai for "rooms"; in this case, the hongs are more like enclosed pools) around Phang Nga Bay. Hong Island is only one of them!
James Bond Island / Phang Nga Bay tours often stop at:
James Bond Island
Hong Island
Panak Island
Koh Panyi floating village
Here are the best Phang Nga Bay / James Bond Island Tours:
James Bond Island Tour with Thalassa
The James Bond Island Tour was the tour I elected to do with Thalassa on my recent trip to Krabi. Unlike the 4 Islands Tours and Phi Phi Tours, this one has a completely unique itinerary, visiting locations that no other tours stop at. You'll be dropped off on islands with completely empty beaches, and avoid the crowds at the more popular stops. It's Robinson Crusoe vibes to the MAX.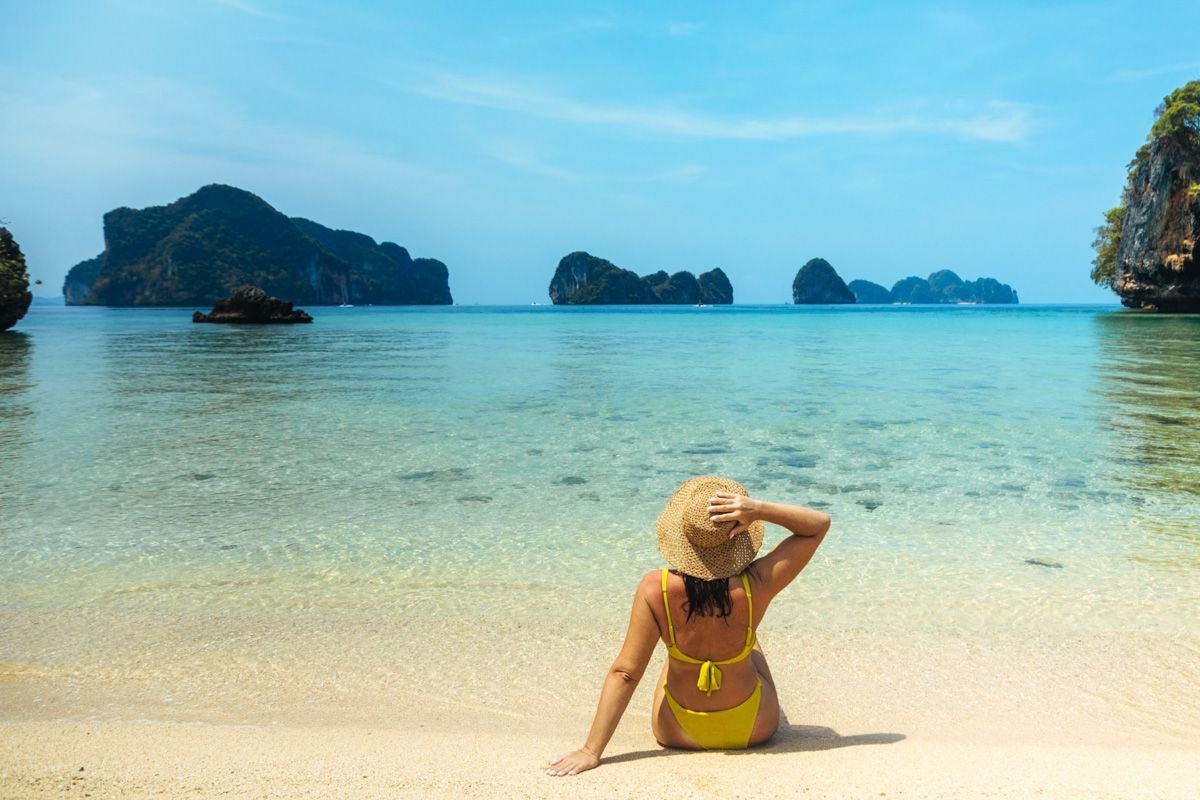 Very few tours to James Bond Island run from Krabi because it's quite a distance to cover. Thalassa makes it worth the journey by incorporating several stops along the way, plus they're able to travel faster with a speedboat. It didn't feel like too much time in transit at all, so don't worry about it taking too long to get there.
They stop the boat close to James Bond Island and allow plenty of time for photos (complete with James Bond movie music + photo props!). We also had lunch at a secluded spot on Koh Yao Noi, snorkelled off of a random island with red rock, and swam off of another island with incredible views and gorgeous white sand. Like the other Thalassa tours, this one is also semi-private: our group felt small and personalized with about 15 guests, and we had plenty of room to spread out around the boat.
Later in the day, once the crowds dissipated, we cruised around Hong Island lagoon, then went around to its stunning beach for one final swim. You can opt to hike up to the Hong Island viewpoint at this time, which I strongly suggest doing even if the humidity + the hundreds of stairs sound like a nightmare. The view of Phang Nga Bay and Hong Island beach from up here is PHENOMENAL.

View from Hong Island viewpoint.
James Bond Island Tour with Thalassa

Time: 9am-5pm
Price: ฿3500 (~ US$106)
TripAdvisor Rating: 5.0 / 262+ reviews
Choose this James Bond Island Tour if: You want an off-the-beaten-path adventure; you prefer to avoid the crowds and the tourist traps; you want to see some of the lesser-known islands around Phang Nga Bay; you want to snorkel
Hong by Starlight Tour with John Gray's Sea Canoe
It may be strange to include a tour that doesn't run from Krabi, and may or may not include James Bond Island, in this blog post – but I did this Hong by Starlight Tour 8 years ago and it still stands as one of my favorite travel experiences ever, so how could I not?
So yes, John Gray's Hong by Starlight tour departs from Phuket, not Krabi. It does not stop at James Bond Island, and there is no mention of it in the tour itinerary; however, on my tour we definitely paddled near it (close enough to take pictures), and some recent TripAdvisor reviews mention seeing James Bond Island (though some also mention NOT seeing it). I suspect that depending on conditions, you may or may not get to paddle close to James Bond Island, so it's not a selling point of this tour.
But trust me when I say that it doesn't matter! James Bond Island may get all the glory, but it's just one of many pretty islands in Phang Nga Bay. No matter where you end up going on this tour, you're gonna see some epic landscapes and enjoy some memorable adventures.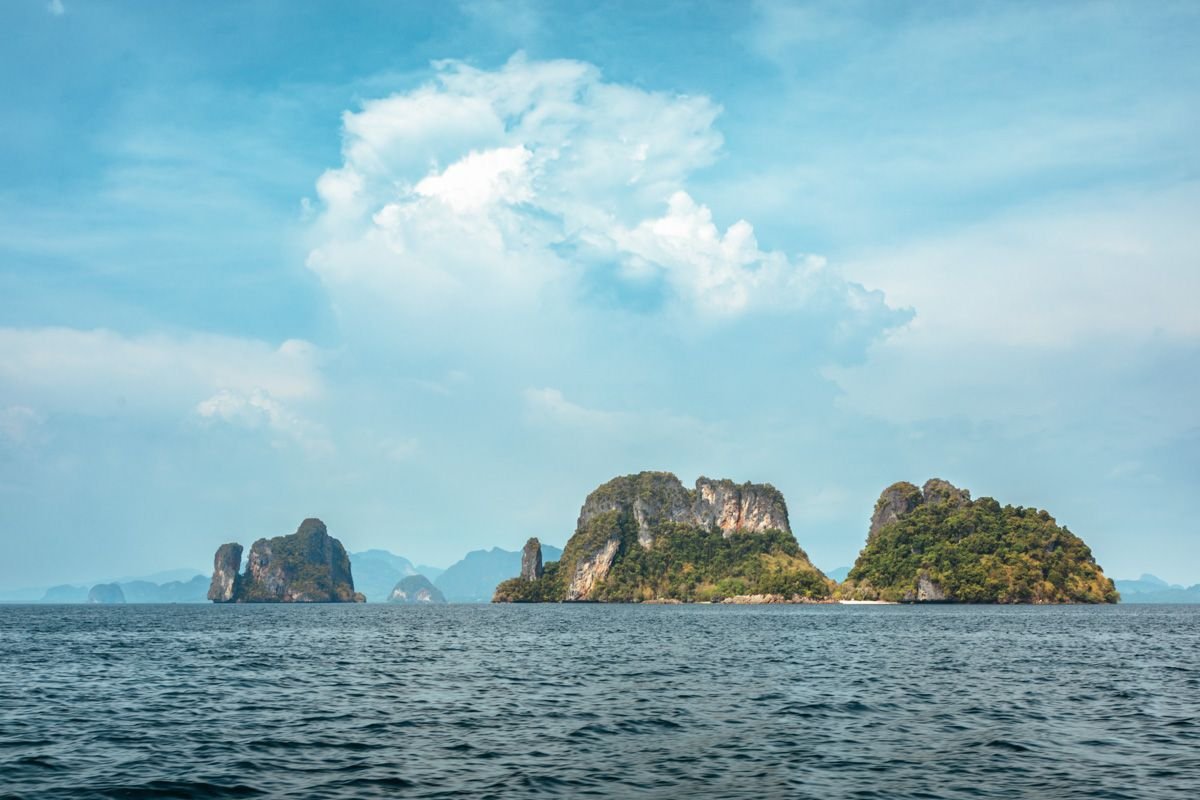 If you are dead set on seeing James Bond Island, you can book one of John Gray's James Bond Island tours – they run one in the morning and one later in the day. However, I HIGHLY advise booking the the Hong by Starlight Tour instead.
With this Phang Nga Bay tour, you get a full day of adventuring on a big boat, featuring a few kayaking excursions around the hongs and islands in "sea canoes", which are essentially inflatable kayaks. You learn just how crucial the inflatable aspect is when you're paddling through some very tight caves that require you to deflate the kayak a bit, lean back, and get as low as you can. Thankfully for these paddle sessions, you'll be paired with a guide who will take care of it all for you. It's a VERY cool and unique experience, something you're unlikely to experience anywhere else on your travels.
Then later in the day, you'll make a "kratong" out of flowers and banana leaves and release it out into the sea after sunset, and paddle through phosphorescent plankton that appear as glowing blue dots underwater.
READ MORE IN THIS POST: Kayaking Thailand: Phang Nga Bay Kayak Trip With John Gray
Hong by Starlight Tour with John Gray's Sea Canoe

Time: 12-8pm
Price: ฿3950 (~ US$114)
TripAdvisor Rating: 5.0 / 641+ reviews
Choose this James Bond Island Tour if: You aren't fussed about seeing James Bond Island itself; you want to do lots of paddling; you want to explore caves and hongs; you're up for an ADVENTURE moreso than a relaxing boat ride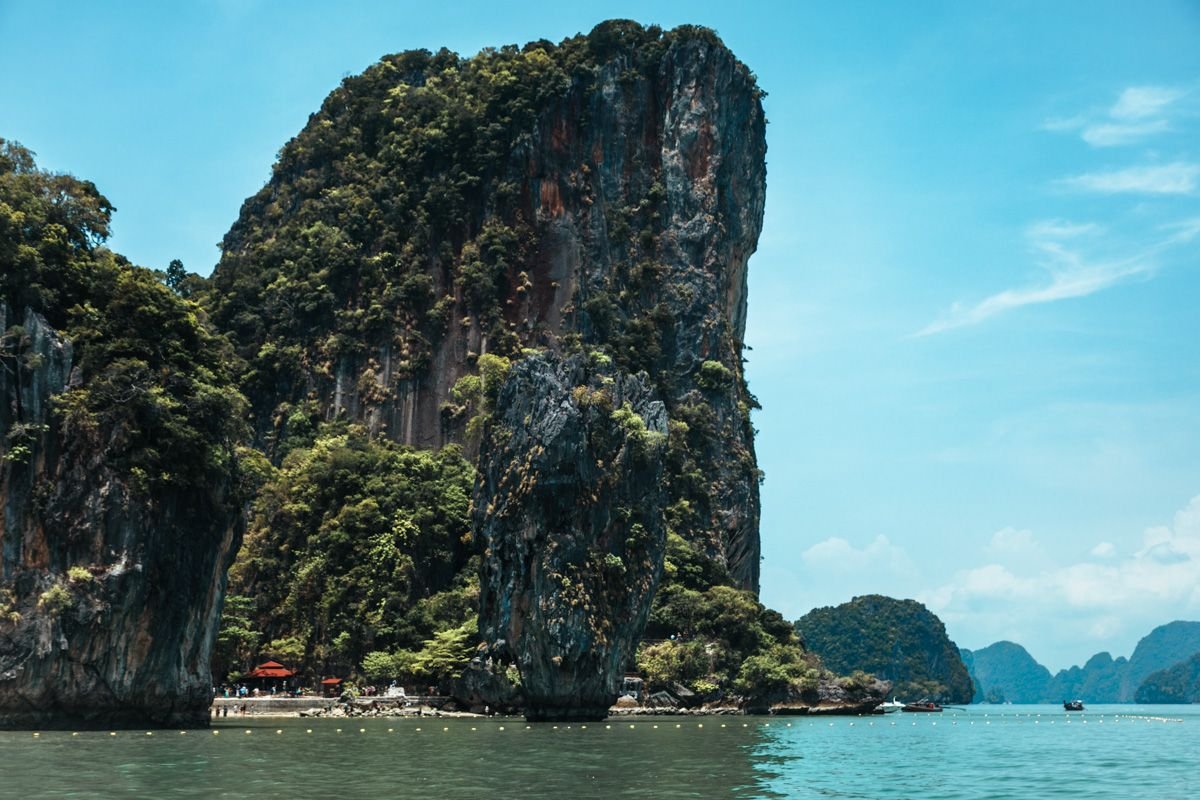 Pin it!
Pin it!