Quick! What comes to mind at the mention of Anaheim?
If you're like me, then you may immediately think of Disneyland or their two major league sports teams (Angels baseball and Ducks hockey) – which is totally understandable, as these are probably the two things this city is most known for.
And if you're really like me, then you avoid the two most popular things to do at Anaheim when you visit and instead go on a little quest to discover what else this Southern California city has to offer.
Viktoria and I included a few days in Anaheim on our recent SoCal road trip and were pleasantly surprised to find it a thoroughly nice place. (Yes, I know the word "nice" is considered a bit of a non-descriptor, but I feel like it describes the Anaheim we experienced so well – it's clean, it's easy to get around, it's got roads lined with palm trees… it's nice!)
One of Anaheim's strengths is its location, tucked inland between LA and the Orange County beach towns (with minimal traffic, it's about a 30 minute drive from either). It makes for an excellent and affordable base from which to explore both areas.
But I'd highly recommend spending some time exploring Anaheim itself while you're there, too. Whether you grab coffee and breakfast in town before heading to the beach, or spend the day at a theme park and then head downtown for dinner or drinks at a rooftop bar, there are plenty of things to do at Anaheim (particularly in the food and drink realm).
Here are my top things to do in Anaheim that AREN'T Disney or sports-related —
Knott's Berry Farm
I don't have the numbers, but I'm fairly confident that *most* visitors in Anaheim are there for Disneyland. And that's extremely understandable, given that it's a big bucket list item for many people, and Disney as a brand has a sizable fandom.
But did you know that Anaheim hosts several other amusement parks besides Disneyland?! Because I didn't until recently, which makes me think that surely other people might not be aware either.
At any rate, there are several non-Disney park options in/around Anaheim:
And a few other parks within 30 minutes to 1.5 hours' drive from Anaheim:
So if you're like me and hate waiting in long lines, can't stand being in big crowds, and just generally like to zag when everyone else zigs, you can have a fun day at an Anaheim amusement park that ISN'T Disneyland!
We opted for Knott's Berry Farm and had the chillest (yet still very exciting) day at the park. Thanks to our fast lane passes, we never had to wait in line for more than 5 minutes. I went on every non-kiddie ride that doesn't spin you around in small circles (hello motion sickness). I even plucked up the courage to go on Supreme Scream, a Tower of Terror-type ride that drops you from 252 feet in the air (gulp!).
Our faves were GhostRider (a wooden rollercoaster) and HangTime (a "dive" coaster featuring numerous inversions and a 96-degree drop!). Seriously though, how do I manage to get seasick on a pontoon but am fine on these insane rides that spin me all over the place?!
And I still can't get over how not-crowded Knott's Berry Farm was when we visited. I've heard horror stories about how many people are packed into Disneyland every day and how you spend most of the day waiting in line even with their new Genie+ program (which replaced the old Disney fast pass). That's SO not how I want to spend my time, and is the main reason I opted for Knott's instead. It was absolutely the right choice for this impatient introvert!
If you go to Knott's, try the fried chicken and a boysenberry dessert and let me know how good they are! Knott's is famous for those foods, though I didn't get to try them because our meal tickets didn't include those as options.
We did, however, score some free funnel cakes thanks to Viktoria's incredible persuasion skills, which we munched on while winding down the evening with some live music (there was a BANJO!).
CLICK TO BOOK SKIP-THE-LINE TICKETS TO KNOTT'S BERRY FARM
Anaheim Packing House
By no means off the beaten track but very worth a visit or three, the Anaheim Packing House is a beloved venue in town. What was once an old citrus packing warehouse has since been converted into a bougie food hall with a few dozen different food and beverage vendors.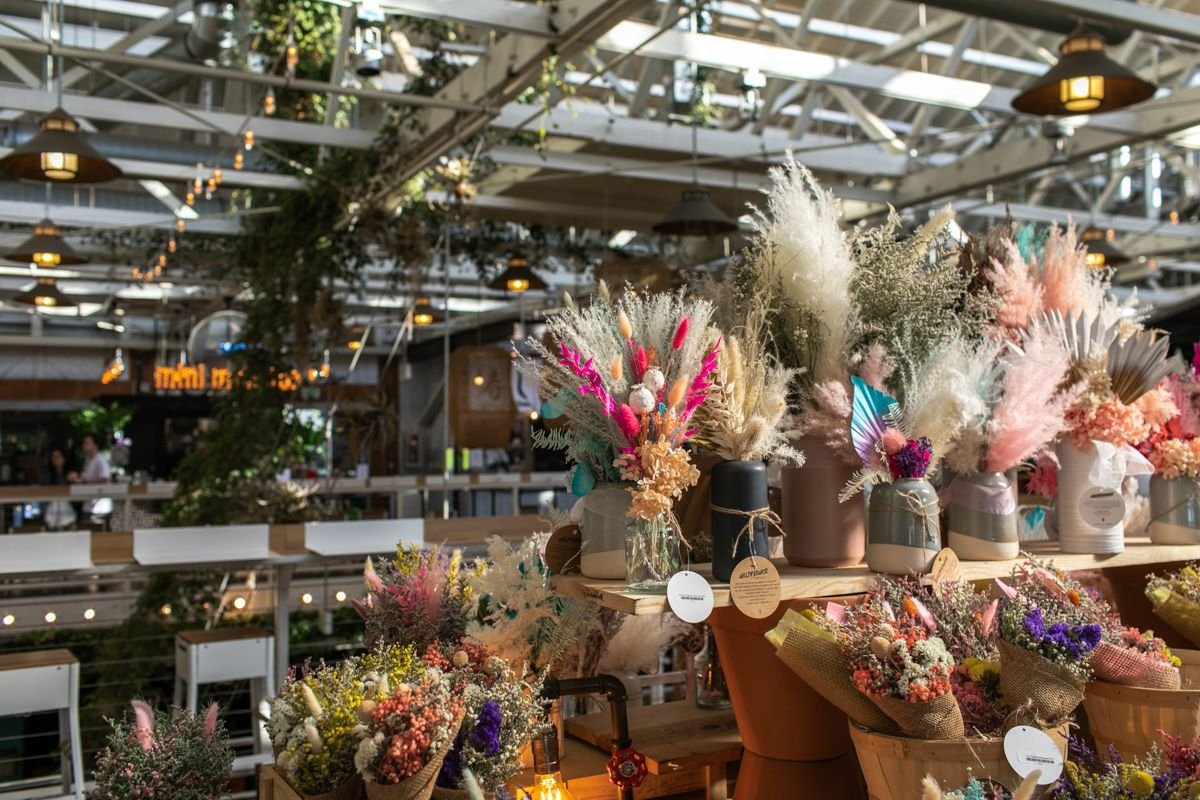 If you're someone who struggles to make decisions (like me!), all the options might be overwhelming. I recommend doing a lap or two around the building to see if anything stands out before you commit to ordering. If you order too soon, you might miss out on other more appealing options elsewhere in the venue!
In true Lindsay and Viktoria fashion, we arrived at the Packing House shortly before closing, which might have been a blessing because some places were closed by that time, thus limiting our options and making our decision a little easier.
We settled on salads from Healthy Junk, who specialize in plant based dishes including wood fired pizzas (with a cauliflower crust option!), burgers, and salads. I say "settled on" because our first choice was a cauliflower crust pizza, but sadly it was too late to order pizza so we had to go with the salads.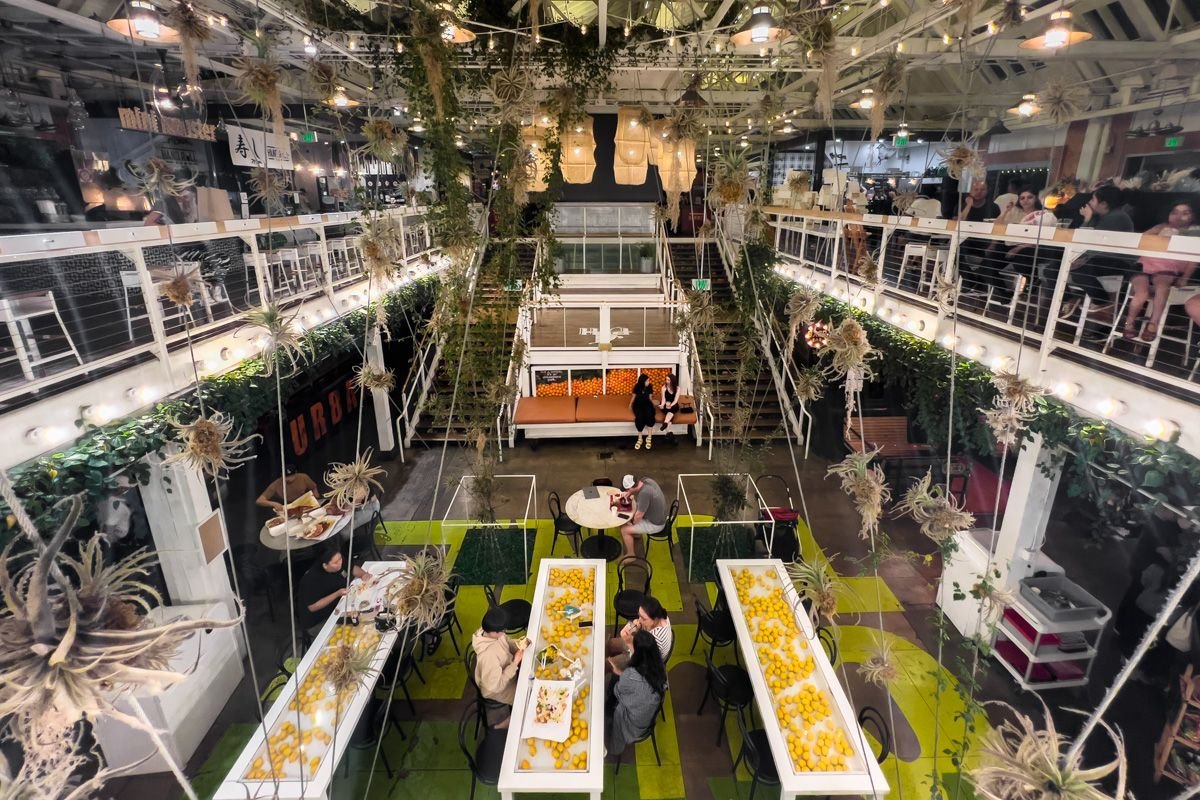 I have long claimed to be a coffee snob and that still holds true, but I'm also somewhat of a salad snob. So when I say that their Superfood bowl was one of the best salads I've EVER had, you know I mean it. Not only that, but it was enough for dinner one night and lunch the next day. What I would give to have Healthy Junk open up a cafe Down Under!
Not in the mood for veggie food? The Anaheim Packing House has plenty else to offer, from ice cream and macarons to floating noodles(!) to a speakeasy… all of which we wanted to try, but ran out of time for unfortunately.
Whatever you end up going with, you can take a seat in the middle of the venue and eat/drink amidst fairy lights and oranges (decor on point and on brand!).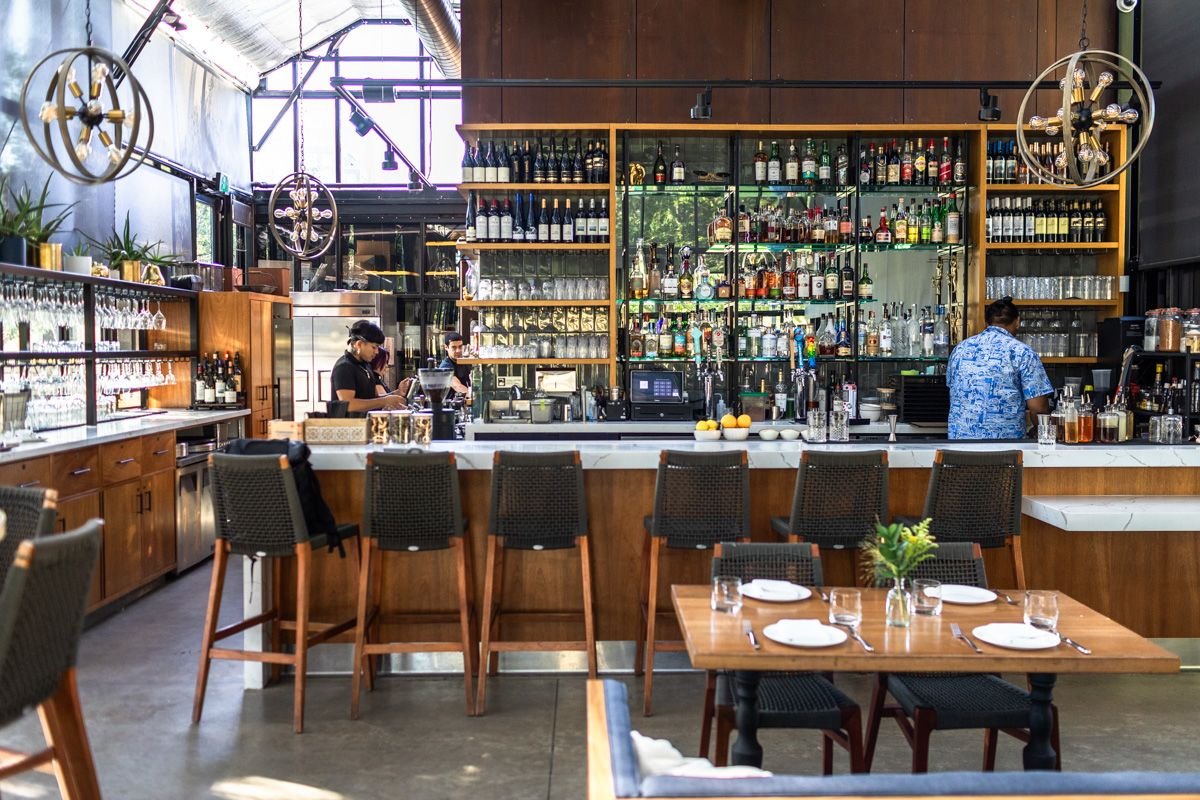 Poppy & Seed
We spontaneously came across this farm to table restaurant just outside of the Packing House and ended up having a fantastic dinner here one night. I loved my scallop dish, discovered that maybe I do in fact like brussels sprouts (or at least I like 'em the way they were served at this place?), and lost my mind with Viktoria over the fancy cocktails we ordered.
I'm no cocktail connoisseur, so maybe don't trust me on my drink advice like you would my coffee or salad suggestions ;) … but their Lover's Quarrel drink was INSANELY good (it had rose petal infused gin, St. George spiced pear, amaretto, and orange blossom water).
Definitely make a point to sit down for a meal at Poppy & Seed when you're in Anaheim!
House of Chimney Cakes
After our delicious farm-to-table mini-feast, we still had one thing remaining on our to-eat list for the night: chimney cakes!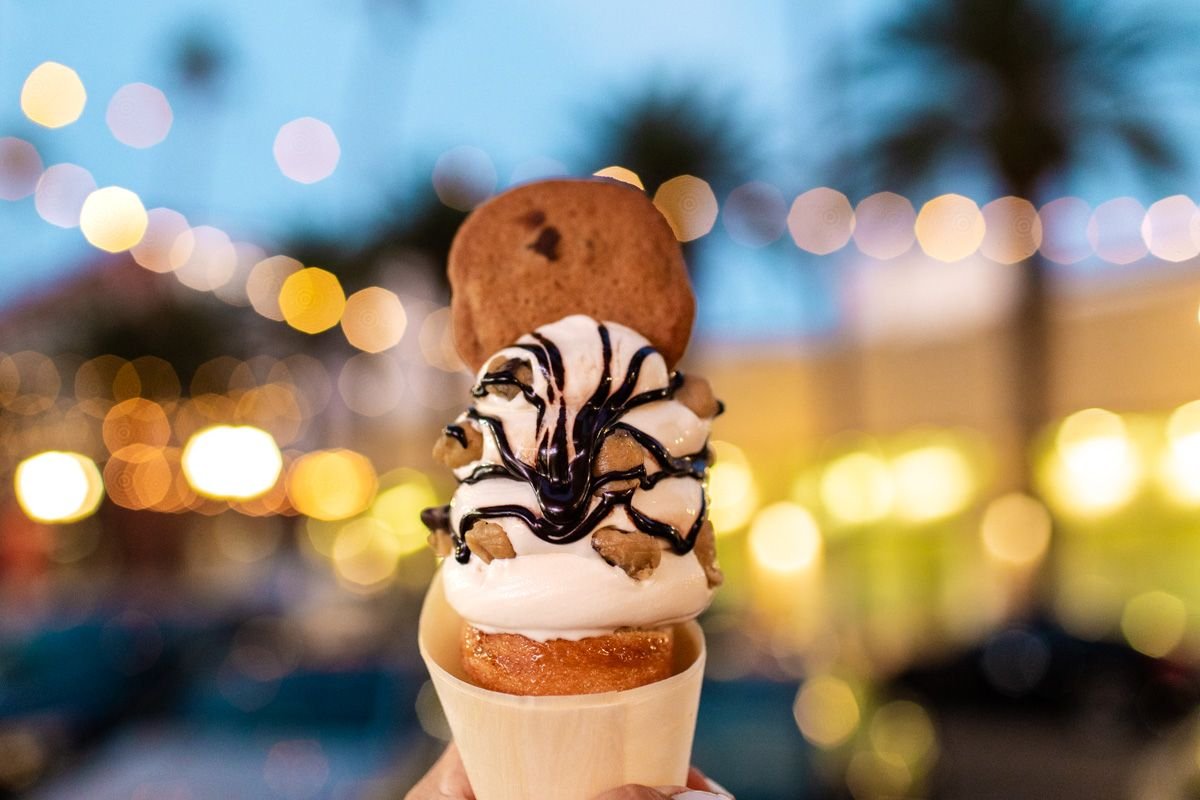 What is that, you ask?
Chimney cakes are a popular Hungarian street food. Think: a long rope of dough wrapped around a cylinder and baked into a cake. It's traditionally covered in sugar and maybe cinnamon or nuts and savored as a sweet treat.
But not at Anaheim's House of Chimney Cakes! They take it a step (or several steps) further by stuffing the cake full of ice cream, slathering it with sauce, smothering it with candy or fruits, and topping it with cookies. Their menu is absolutely insane, and absolute heaven if you've got a killer sweet tooth.
I'm personally not a big sweets person, but I figured, when in Anaheim… must try this ridiculously extra dessert! And let me tell you, the sugar high is REAL.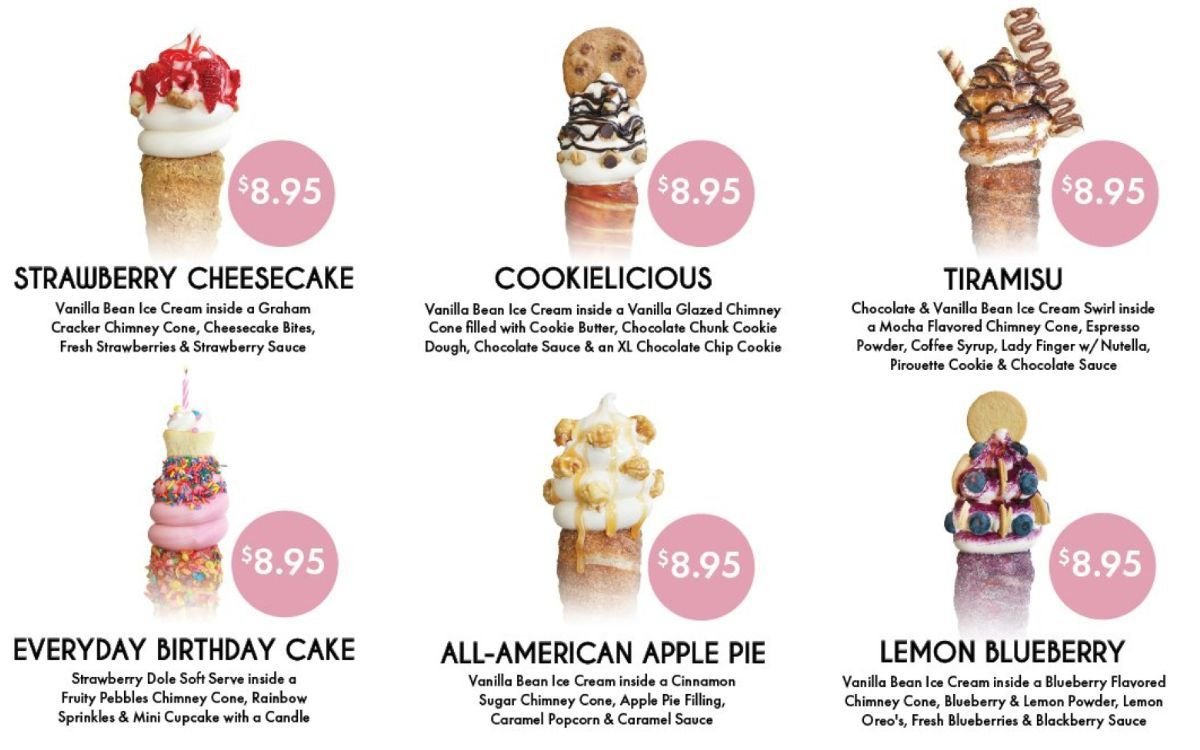 I ordered the Cookielicious chimney cake!
Lamill Coffee
On our last morning in Anaheim, we decided to stop at Lamill Coffee for coffee and breakfast before driving up to LA. Why yes, of course I found this place by Google Mapping "best coffee in Anaheim," as I do in any city I visit :)
As usual, the search results did not disappoint. However, I definitely wasn't expecting to be blown away by my flat white and breakfast sandwich like I was. It was easily the best coffee I had my entire 2.5 weeks in California.
Even more surprising was how blown away Viktoria was by her avocado toast, because 1). it's more an Aussie dish and not so much an American speciality, and 2). she's a harsh (but fair) critic. I actually don't think I've seen her more excited about something she's tasted than she was after taking a bite of this avo toast.
So yeah, in case you couldn't tell, we LOVED Lamill Coffee in Anaheim – don't miss it!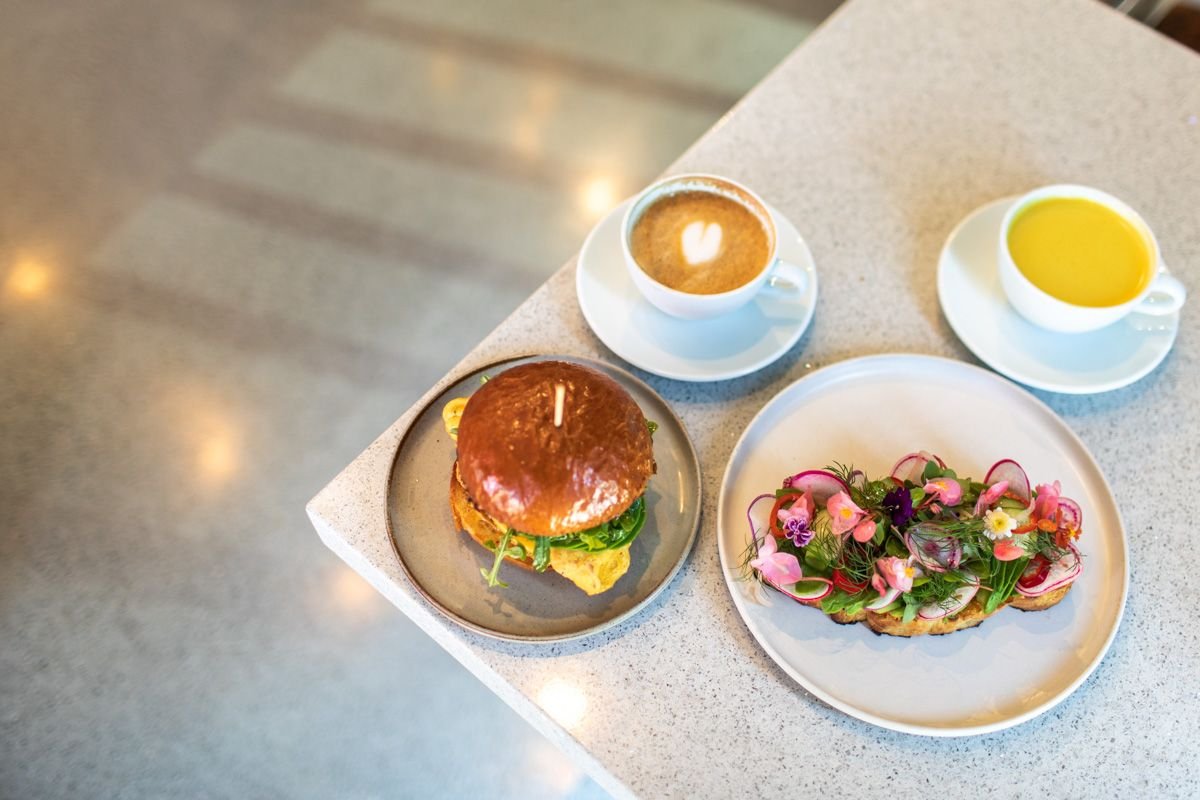 Rise Rooftop Lounge
Last but not least, cheers your trip to Anaheim with sunset drinks at Rise Rooftop Lounge at the Westin Anaheim Resort.
Here you can enjoy artisanal cocktails in a comfy lounge next to a fire pit, while taking in views of Disneyland, Anaheim, and Orange County from the 7th floor.
There are a few other rooftop bars in Anaheim as well, all with varying views and vibes:
Top of the V (Viv Hotel)
The Fifth (Grand Legacy At The Park)
Parkestry (JW Marriott)
Sadly we weren't able to make it to any rooftop bars in Anaheim (we had other priorities!), but Rise Rooftop Lounge would have been my top pick had time permitted!
Steelcraft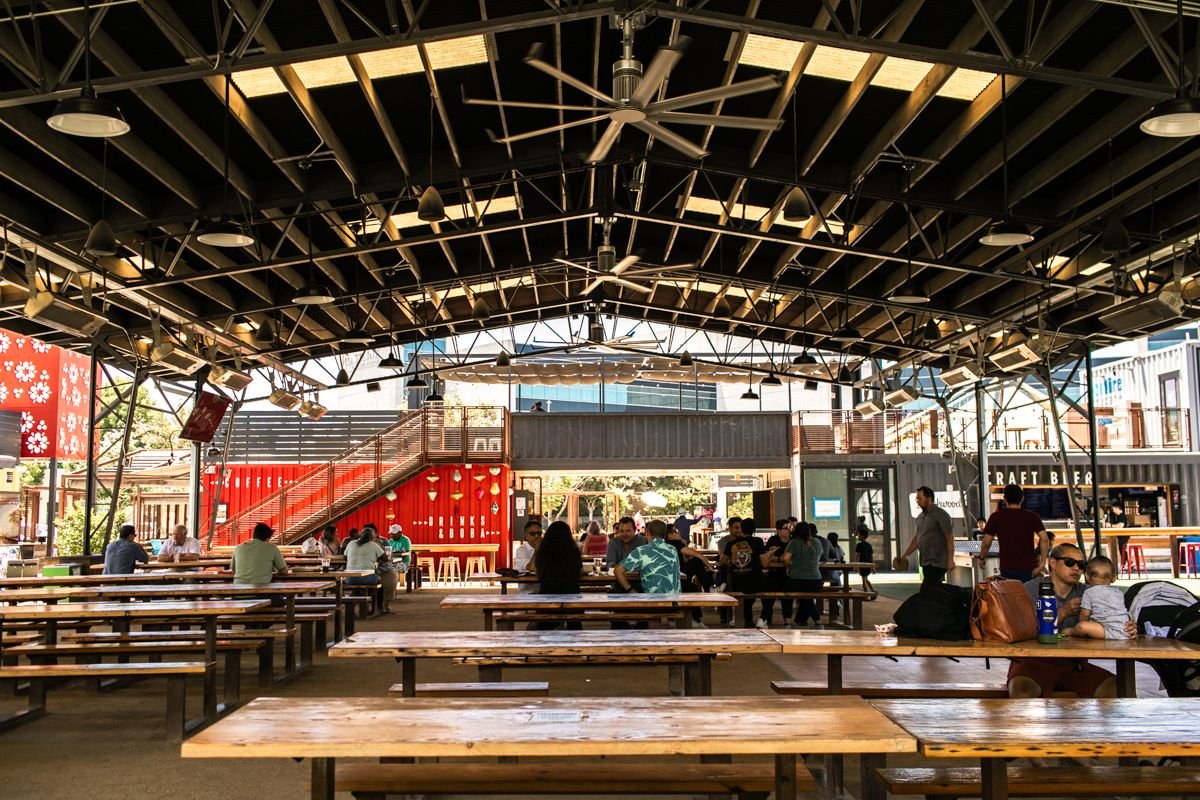 Located in Garden Grove, just a 10-15 minute drive from most Anaheim hotels, Steelcraft is another communal dining venue with several different vendors and a variety of cuisines on offer. Unlike the Packing House, Steelcraft is an open air venue built out of old shipping containers.
Come to Steelcraft, grab one of the picnic tables in the middle, and browse the surrounding containers to see what strikes your fancy, such as the:
hockey-themed dishes at a former Anaheim Ducks player's restaurant, The Penalty Box
speciality coffee from Dark Horse Coffee Roasters
20+ beers on tap at Beachwood Brewing
colorful doughnuts from the North Carolina-inspired Duck Donuts
authentic street tacos from La Taqueria
Where To Stay In Anaheim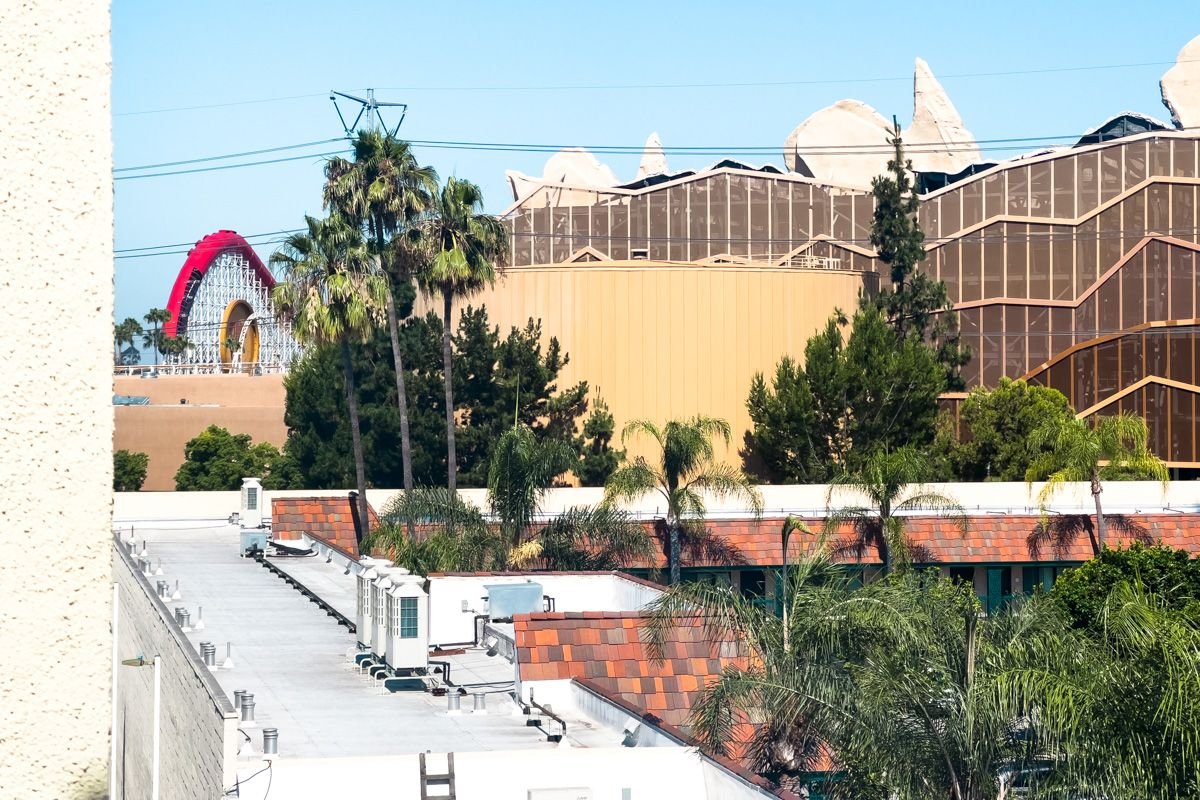 Breakfast room view at the Desert Palms.
Best Hotel in Anaheim For Families
We were hosted by the Desert Palms Hotel and Suites for our 3 night stay in Anaheim. This hotel is an excellent choice for families, as they have rooms with bunk beds for kids, as well as suites that give you extra room to spread out.
It's also ideal for anyone planning to hit Disneyland because the park is just a 10 minute walk from the hotel, making it super easy to head back to your room in the afternoon for a break/nap, and then venture back to the park later on.
Even as childless ladies not heading to Disney, we enjoyed our stay here. The hotel's location was super convenient for all the things to do at Anaheim that were on our itinerary, the free breakfast was a time and money saver, and we loved having a kitchen again on our travels.
CLICK TO BOOK THE DESERT PALMS HOTEL AND SUITES IN ANAHEIM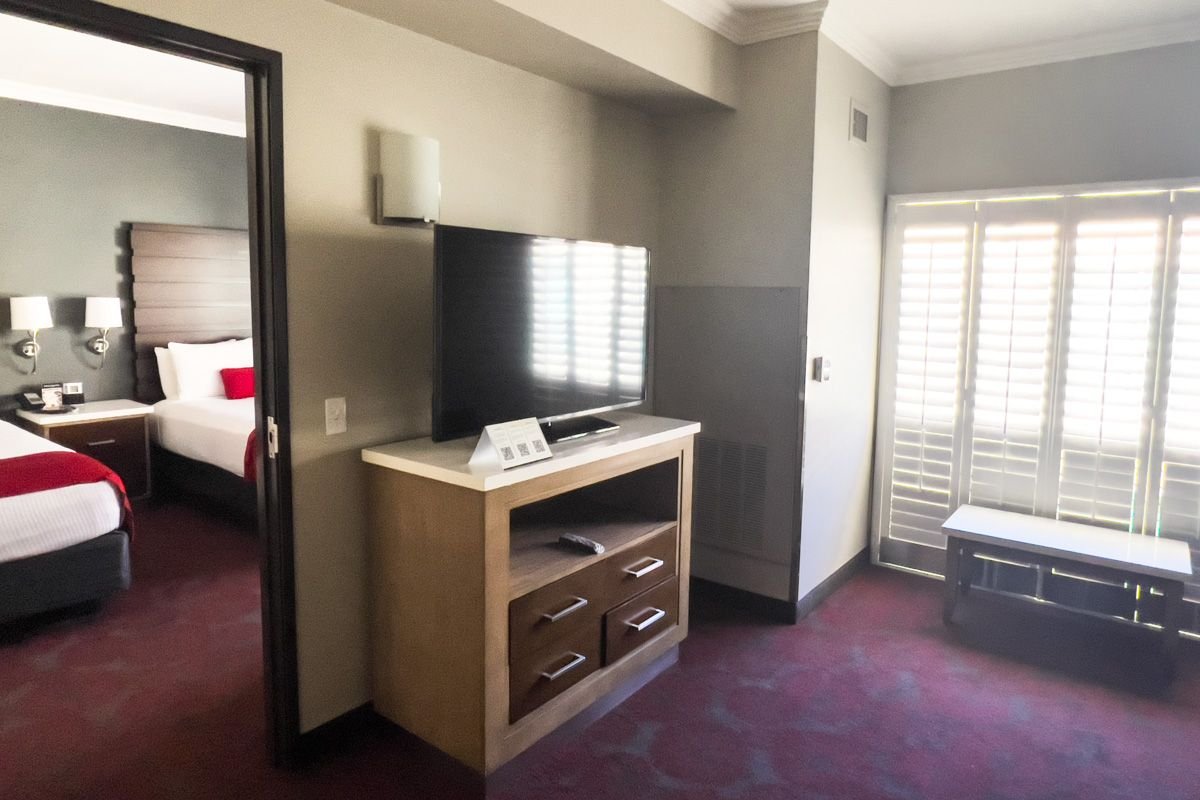 Best Boutique Hotel in Anaheim
The Viv Hotel is an excellent choice if you're in search of boutique hotels in Anaheim. Not only does it host the aforementioned Top of the V rooftop bar, but it also has two chic pools (one of which is on the rooftop as well) and three restaurants.
All rooms are fresh and modern with colorful accents, and suites provide a mini-fridge plus a separate living area.
The Viv is about a 5 minute drive from Disneyland, so not very walkable unless you're up for a 40 minute walk to the park!
CLICK TO BOOK A STAY AT THE VIV HOTEL IN ANAHEIM
Thank you to Visit Anaheim for gifting us a 3 night stay in Anaheim. Note that all opinions expressed here and elsewhere on this blog are my unbiased own, and are uninfluenced by any gifts or incentives I may receive.
Pin it!