Would you believe me if I told you that you could camp under the stars with 360-degree views of the Great Barrier Reef?
What if instead of camping, you could go glamping, sleep on a comfy mattress, and have all your meals prepared for you?
What if you could wake up in the middle of nowhere to barista-made coffee (made with an actual espresso machine)?
OK I'M LISTENING!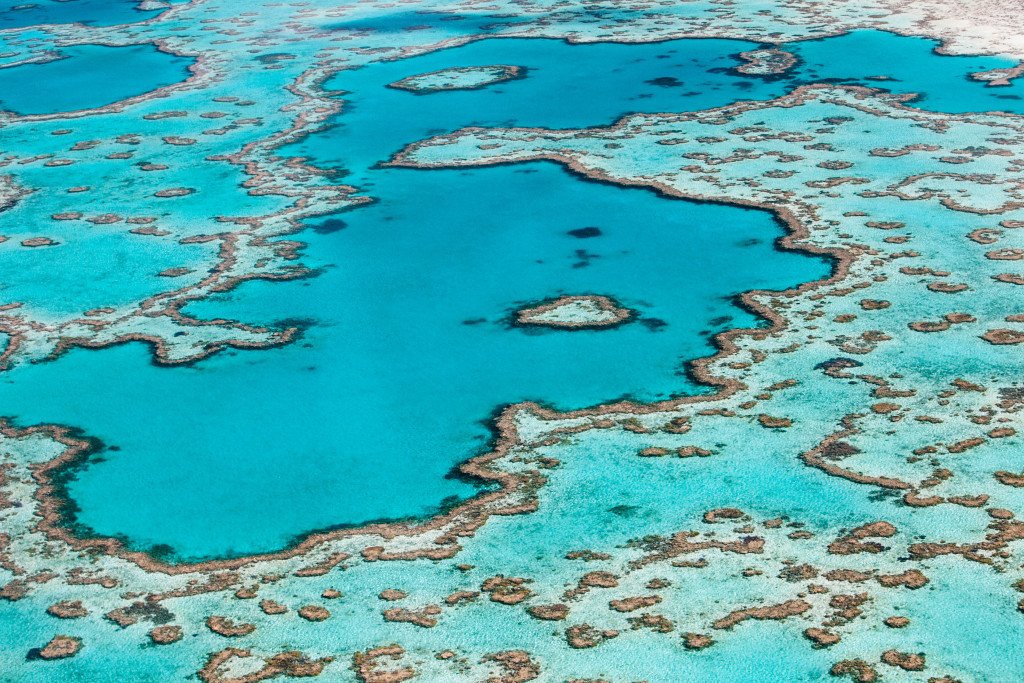 Nope, I'm not talking about staying at a luxury resort on one of Queensland, Australia's stunning islands (as far as I know, you don't get 360-views from them).
This is something WAY more unique that I don't think many people know about yet, something that you're gonna wanna put on your travel bucket list ASAP.
Allow me to introduce you to Reef Sleep: a luxury glamping experience on a pontoon in the Whitsundays' Great Barrier Reef!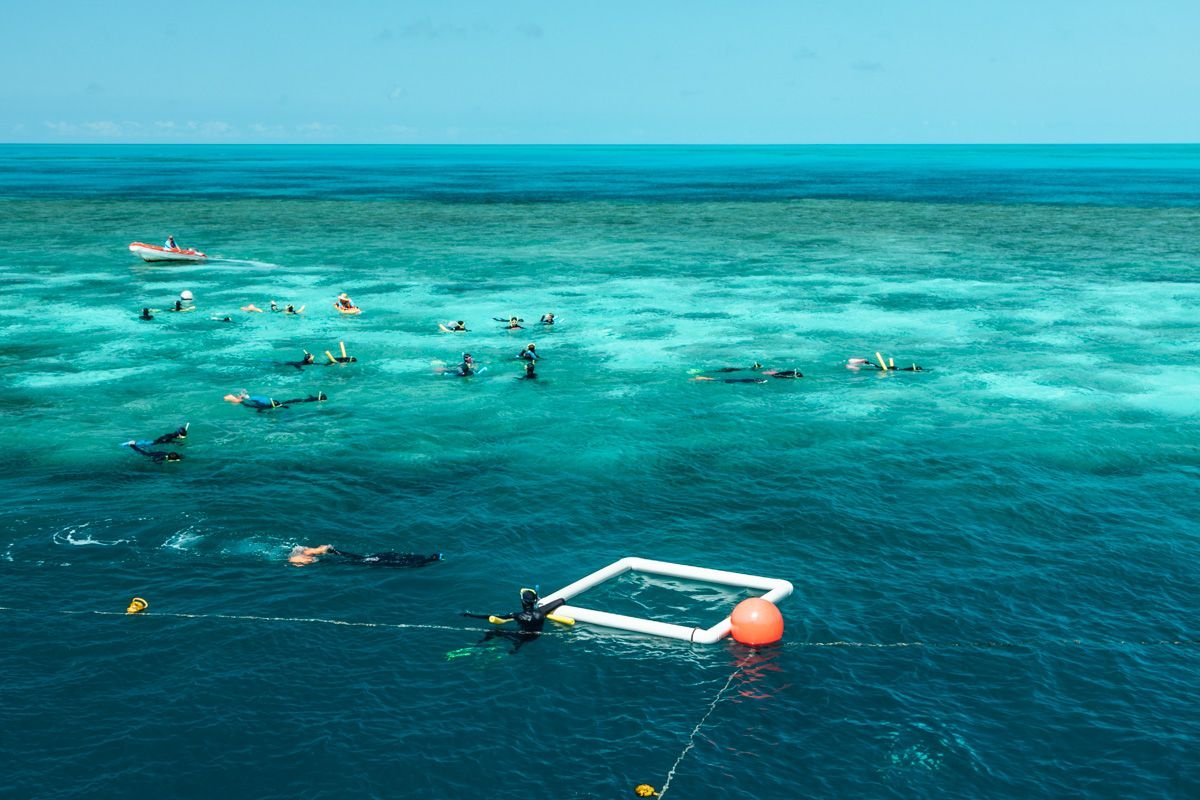 But first, we need to get two things out of the way before we dive in:
1 – Unfortunately this is yet another installment in the Lindsay Gets Seasick series. If you're new around here, I have a terrible, sporadic, and seemingly incurable habit of getting seasick on boats… and now, pontoons. More on this shortly, but just wanted to mention it upfront and apologize for the lack of variety of photos in this post. I had grand plans of flying my drone, snapping some underwater photos, doing some long exposure tripod shots at night… but it was all but impossible when I could barely bring myself to be anything but horizontal for 90% of the time :(
2 – Reef Sleep is not a cheap experience; it's a bucket list item, and a splurge, and IMO it's well worth the cost. At the time of publishing this article (November 2022), one night at Reefsleep Whitsundays costs $1220 AUD (US$818 ) for 2 people. We received a generous media discount from Cruise Whitsundays for our stay, but I was prepared to pay in full.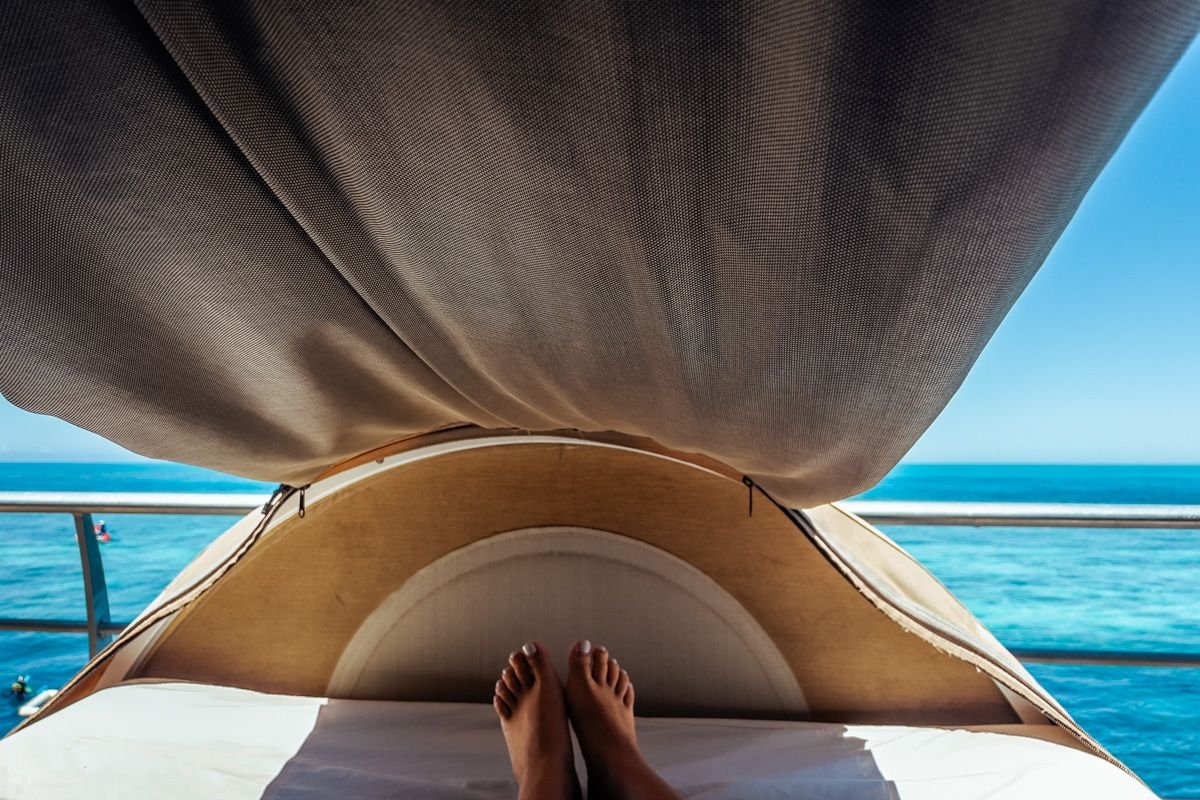 The Reef Sleep Itinerary
Reef Sleep is operated in conjunction with the Full Day Adventure, which is a day trip to the Reef World pontoon.
What this means is that at 8am, both Reef Sleep guests and day trippers board the same boat from Airlie Beach and spend the afternoon together on the Reefworld pontoon (along with the previous night's ReefSleep guests). ReefSleep guests get to enjoy priority boarding and reserved seating on the boat.
The boat ride from Airlie Beach to the pontoon is 3 hours (8-11am). At 9am, the boat stops at Hamilton Island to pick up more guests and then continues on to Hardy Reef.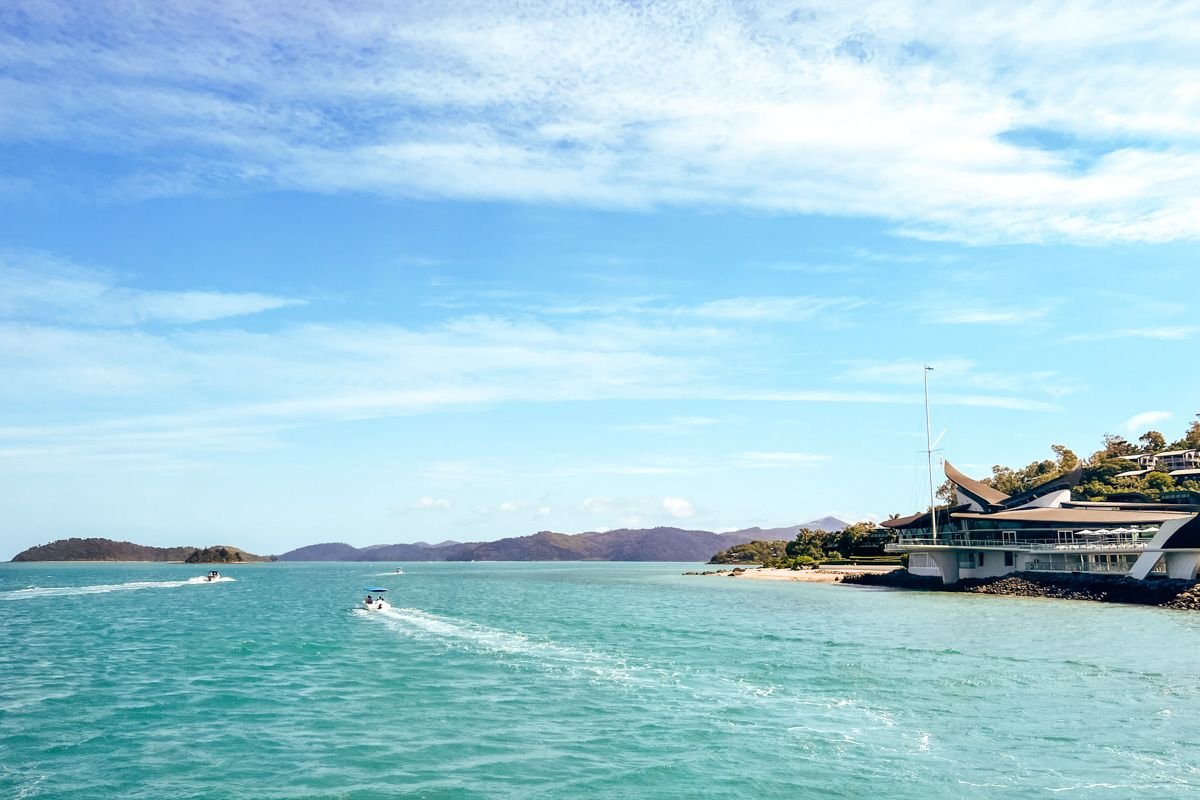 Stopping at Hamilton Island to pick up more Reef Sleep-ers and day trippers.
From 11am-3pm, the pontoon is busy with day trippers getting all their snorkeling time in, while last night's Reef Sleep guests occupy their glamping beds (which are converted to day beds during the day). If it's Day 1 of Reef Sleep for you, you're not yet allowed into the bed area, but are free to sunbathe on the main deck area, swim, snorkel, or book a dive or snorkel safari. You'll also be served lunch on the boat with all the day trippers (which pales in comparison to what you'll eat when your Reef Sleep adventure properly starts later in the day!).
At 2pm, last night's ReefSleep-ers vacate the beds and around 2:30pm, the new Reef Sleep guests are "checked in" to their beds for the next 24 hours or so.
At 3pm, the daytrippers + the Reef Sleep guests from the night before depart for Airlie. This is when your Reef Sleep experience really begins!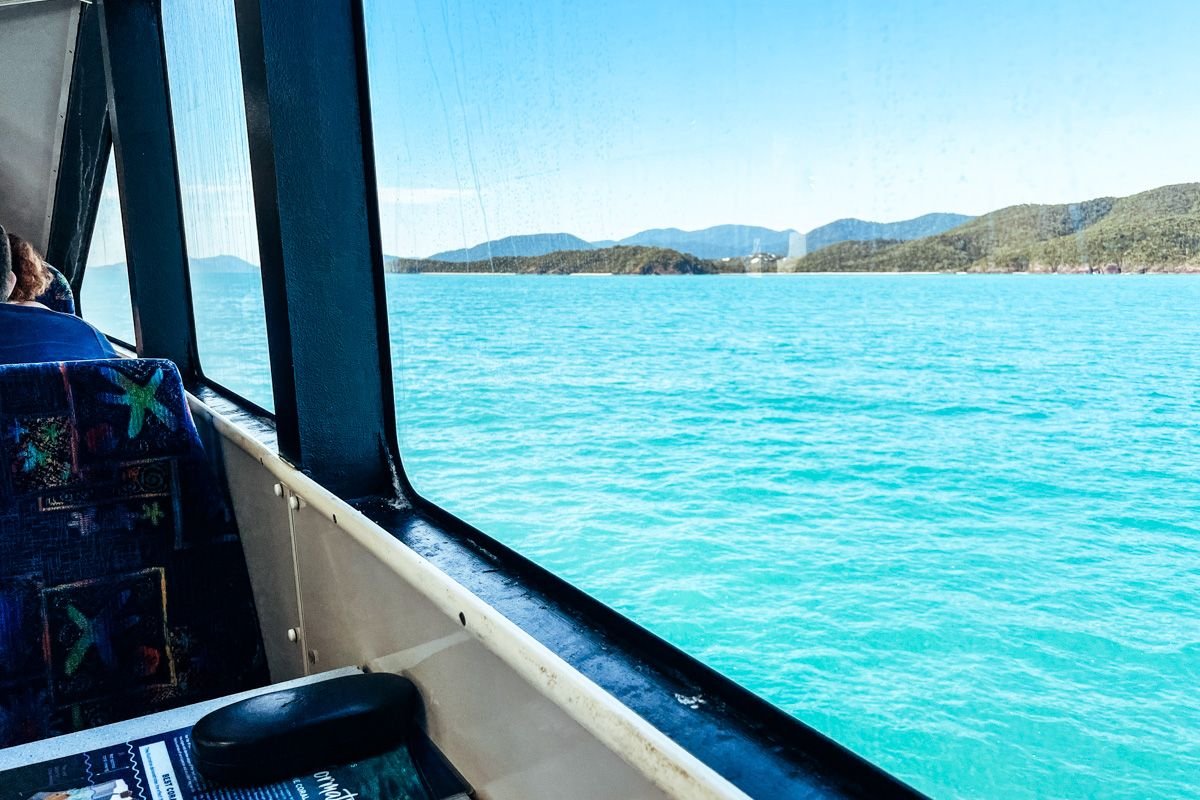 Around 5pm, drinks and canapes are served downstairs.
Dinner is served downstairs around 6pm, followed by dessert.
The next day, the buffet breakfast begins at 7am downstairs. Some kind of snack is offered around 10am, and then lunch is served at 12pm *upstairs* near the ReefSleep beds (away from the daytrippers).
At 2pm, you must vacate your bed and the ReefSleep area, but you're free to relax on the main deck area or boat until you depart at 3pm.
The boat arrives back at Hamilton Island at 5pm, and Airlie Beach at 6pm.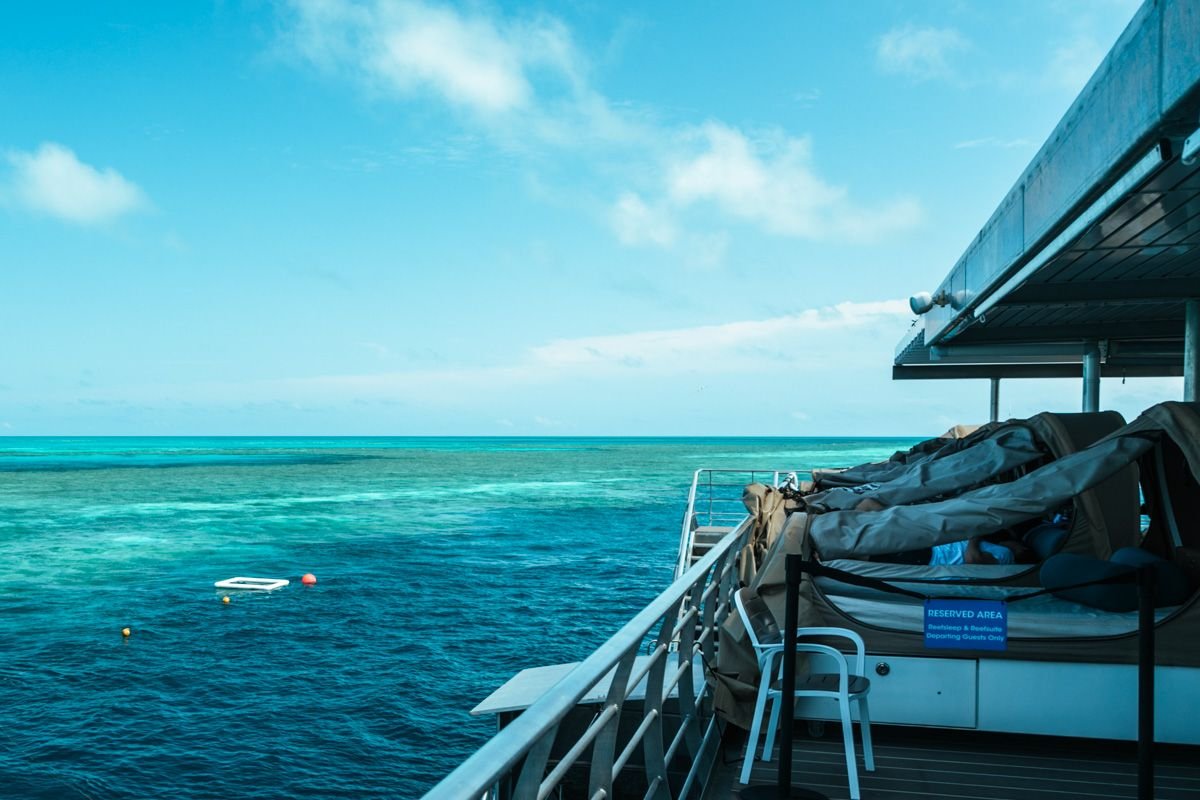 The Reefworld Pontoon
The Reefworld pontoon is sectioned off in 4 quadrants across two levels:
The bottom level has the snorkel and dive deck on one side, and a dining table, underwater observatory, underwater hotel room, and I'm assuming the kitchen and staff area on the other side.
The top level has an open deck with tables, chairs, and recliners on one side, and the private ReefSleep area with the glamping tents on the other side. If you're doing the day trip or it's Day 1 of your ReefSleep experience, you're pretty much limited to half of the top deck if you want to relax and sunbathe; if it's Day 2 of ReefSleep for you, you'll want to be on the other half of the top deck, relaxing on your bed or the bean bag loungers.
Toilets and showers are located in the middle of the top deck and honestly, they are nicer and cleaner than some caravan park bathrooms I've encountered. Showers are only available to ReefSleep guests and therefore only open outside of day trip hours. And yes, they do actually have hot water – you just have to use it sparingly so that everyone else can enjoy it too.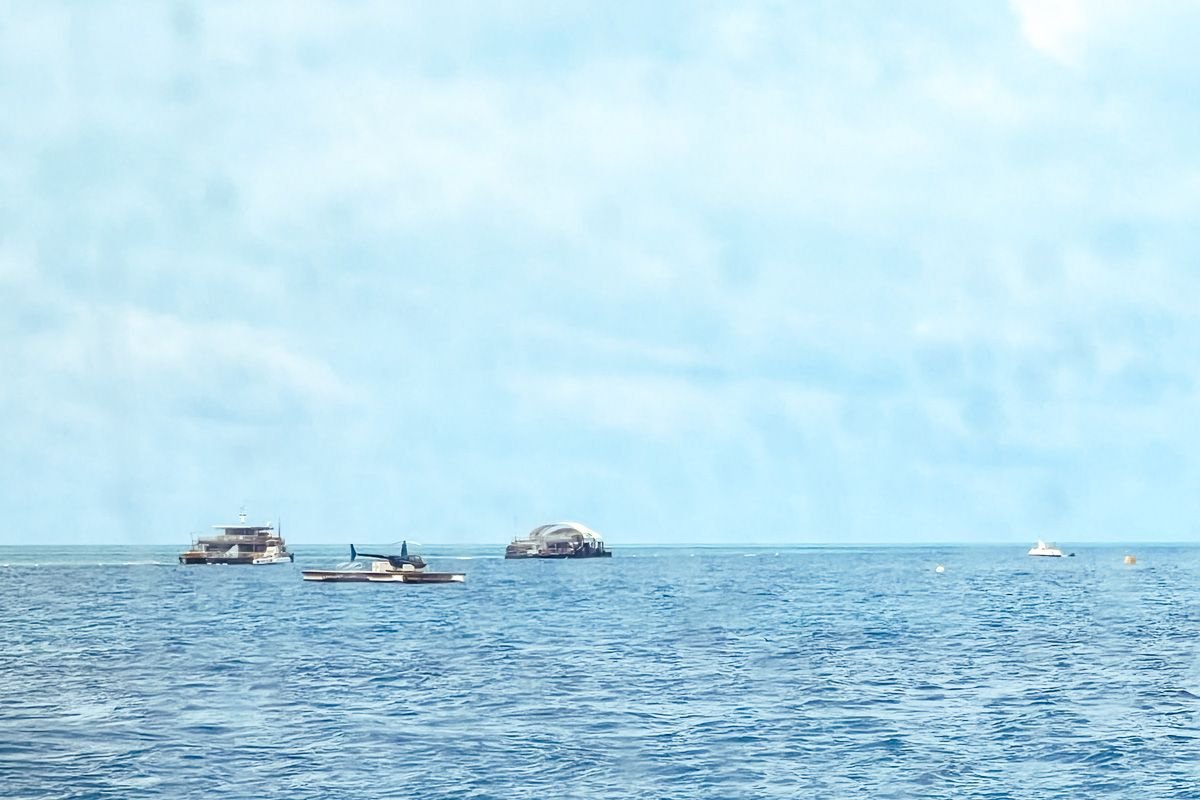 View of the ReefWorld pontoon and helipad from the boat.
The Reef Sleep Beds (Glamping Tents)
ReefSleep Whitsundays guests have access to the private half of the top deck (where the beds are) from 2:30pm on Day 1 to 2pm on Day 2.
Judging from old photos I found online, it seems the ReefSleep glamping situation has improved significantly since ReefWorld opened up in late 2019. Originally they had swags set up all around the top deck (not just on one side) – like, actual swags you would take camping… which to be honest, would still be pretty epic.
But 3 years on, they've upgraded the swags to actual queen beds on a platform, with a pull-out drawer underneath for storage, two small drawers inside (at the headboard), a shelf above the headboard, an overhead light, a few USB outlets, and two tiny portable fans you can plug in to keep cool. It'll probably be the most comfortable sleep you've ever had outdoors!
Note that they don't provide blankets on the beds, just a top sheet, so pack layers if you tend to get cold. I slept in a thin jumper (sweatshirt) and pajama shorts. The pillows and mattress were very comfortable.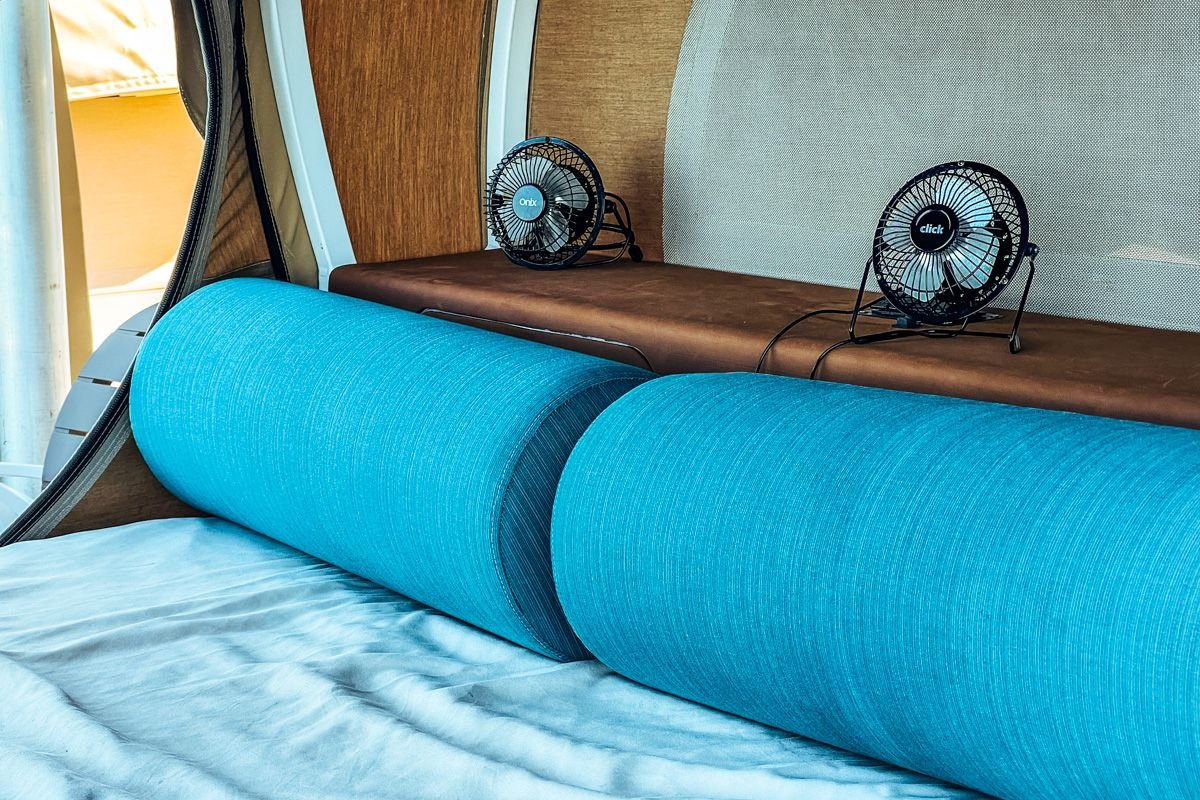 Daybed setup with big pillows and fans to keep cool during the day.
Like a swag, the Reef Sleep beds have a couple of flaps you can zip up to make your bed into a tent. One layer is a screen, while the other is water resistant canvas that helps keep you dry if it rains. I found it very hot and stuffy when zipped up all the way, so slept with the flaps cracked open a little bit. If the weather is clear and not too cold, you'll want to sleep with the flaps all the way open for optimal stargazing.
Early in the evening, we got hit with a quick rain and some heavy winds and our beds remained dry when zipped up. After the storm, we got to watch lightning in the distance that lasted for HOURS – it was seriously so cool. I may not have been able to eat dinner, but at least I could watch the lightning and then later on, the stars, all while laying in bed nauseous.
Also worth noting is that they turn on a neon blue light by the snorkel deck to attract more fish at night. This happened to be right in front of our bed, so I was able to watch these massive groupers swim around in the dark. One was definitely over a meter long!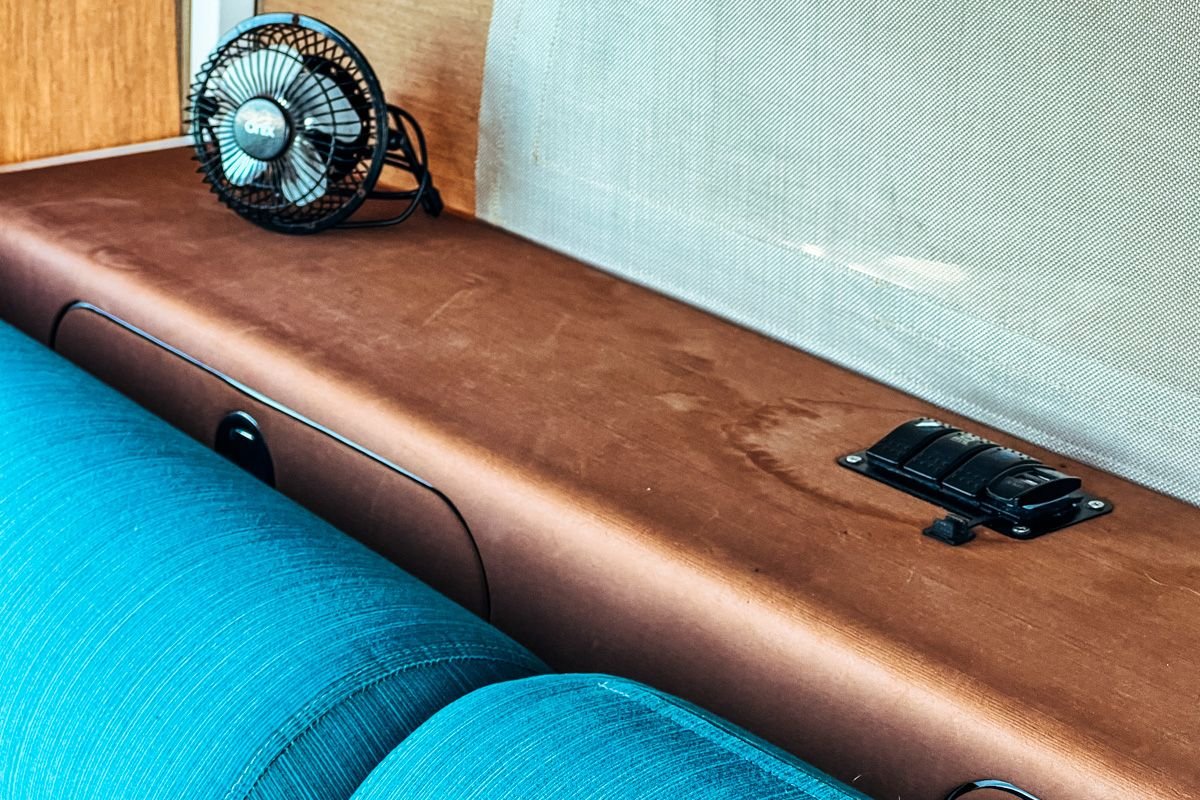 Note the USB outlets, switches, and storage compartments in the headboard of the glamping bed platform.
Reefsleep beds are spaced about a meter apart around the edge of one side of the top deck. We got lucky with a bed that faced the sunrise, which meant we didn't have to move an inch to watch it after waking up. (BTW, do you love how I switched from meters to inches in 2 seconds there? Welcome to life as an American in Australia, 8 years on!)
Late morning on Day 2, staff will tuck away the flaps and turn your bed into a day bed so you can lounge on it in-between swims without having to lay on wet sheets.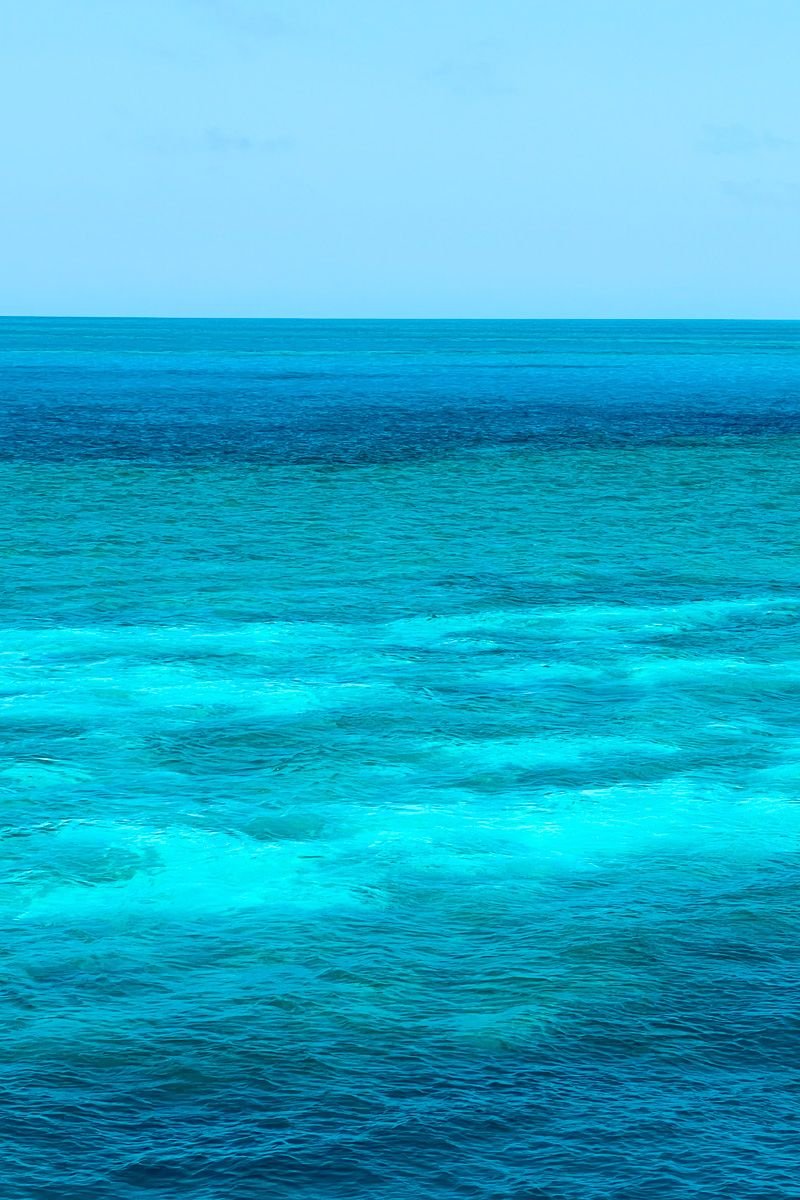 Reef Suites: A Great Barrier Reef Underwater Hotel
BY THE WAY… there is one liiiiiiiittle thing you can do to upgrade your experience at Reef World: book one of the Reef Suites! If you've ever wanted to stay at a Great Barrier Reef underwater hotel, this is your chance.
Reef Suites Whitsundays is the first Great Barrier Reef underwater hotel. Instead of a fancy glamping tent on the top deck, you'll be staying below deck amongst the thousands of fish that occupy the waters immediately surrounding the Reef World pontoon. From bed, you'll be able to watch all sorts of sea life at all hours of the day through floor-to-ceiling windows.
If you do end up swapping stargazing for fish viewing from bed by choosing Reef Suites over Reef Sleep, rest assured that you'll still be able to experience everything that the Reef Sleep guests do: the two experiences are exactly the same, minus the sleep situation. And on Day 2, the staff will set up one of the day beds on the top deck for you so you can relax with the Reef Sleep-ers away from the day trippers.
A Reef Suite costs $1400 for one person and $1990 for two people sharing. There are only two Reef Suites available to book on the Reef World pontoon, so be sure to book well in advance if you want to experience this amazing Great Barrier Reef underwater hotel room!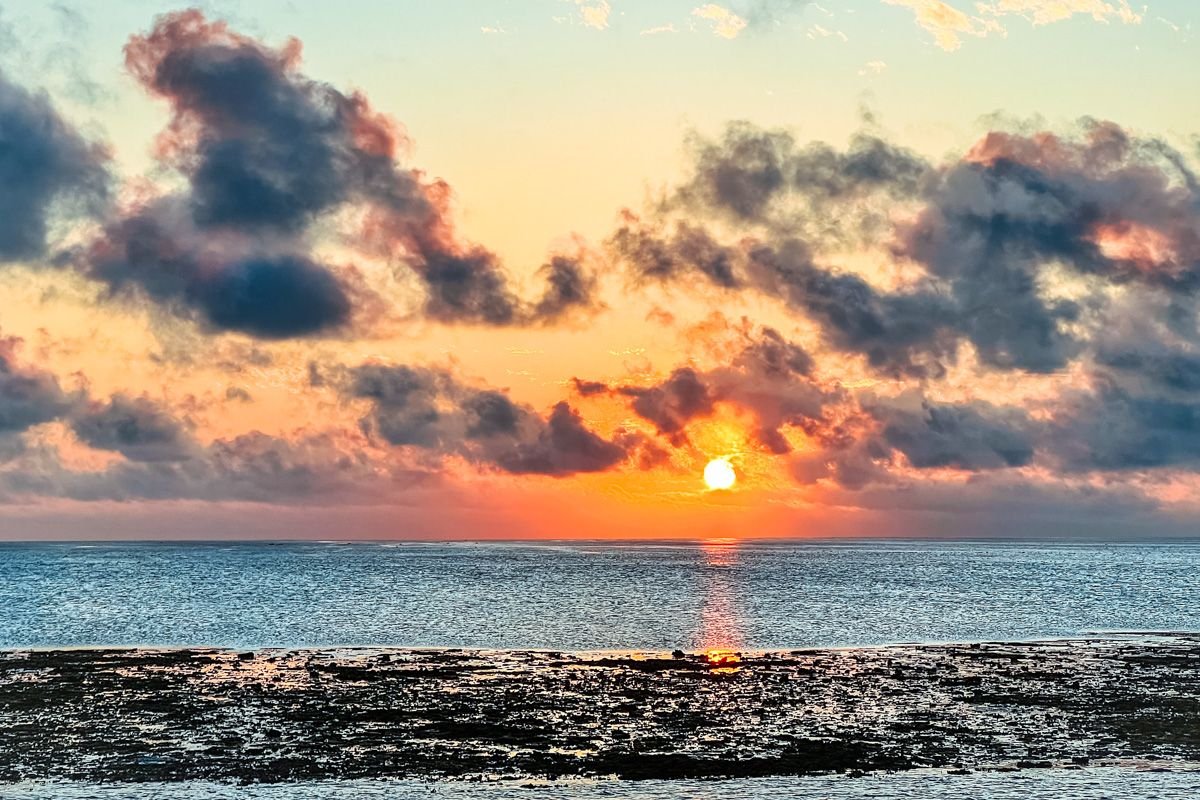 Food at Reefsleep
If you're at all worried about what the food at Reef Sleep is like, rest assured that you will eat WELL and OFTEN.
Lunch on Day 1 is served on the day trip boat for Reef Sleep-ers, Reef Suite-ers, and day trippers. It's available from approx. 11:30am-1:30pm and you're free to re-enter the boat at any time to grab some food or cool off in the aircon.
There's also some light food and snacks served on the boat both on the way out to Hardy Reef and on the way back to Airlie Beach.
All of the boat food is pretty average, nothing special – which I think is good because it make you appreciate the amazing food you're served once the day trip boat leaves for the day!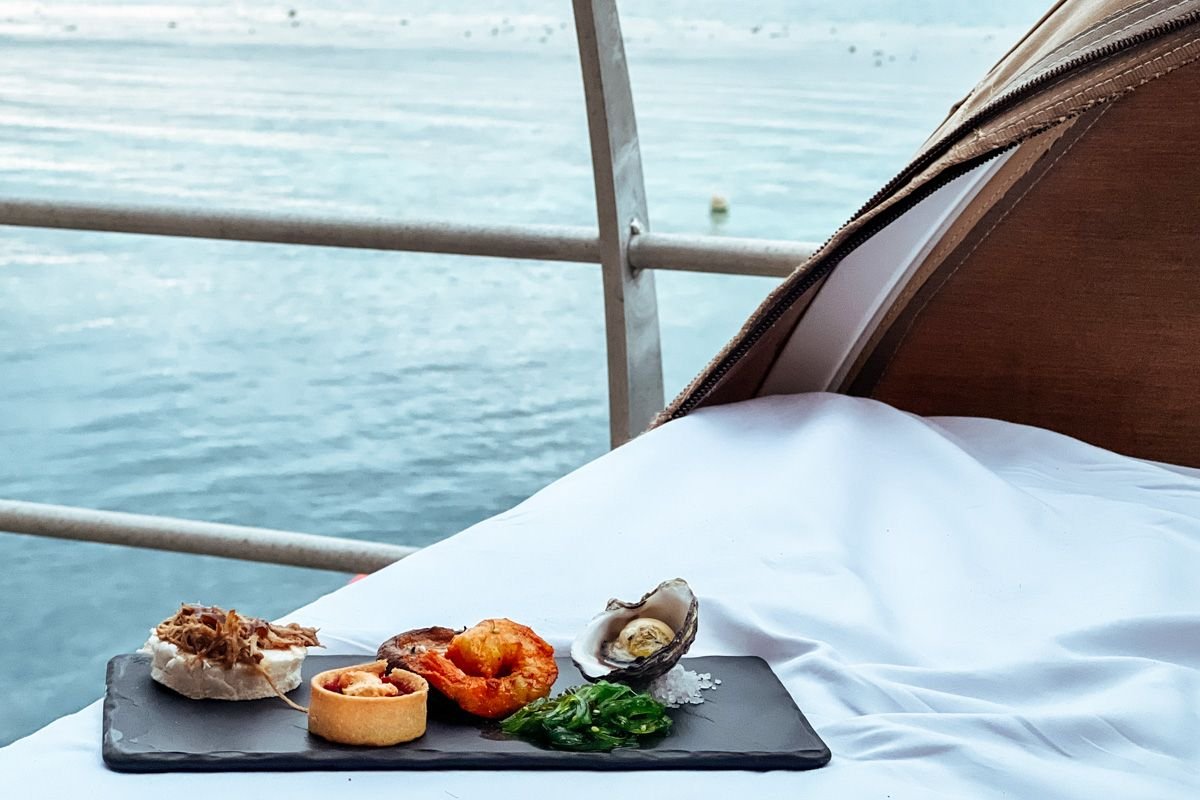 At 3pm, daytrippers depart for Airlie, and Reef Sleep and Reef Suites guests get to enjoy the rest of their time on the ReefWorld pontoon with a bit more luxury – and that includes the food.
Drinks and canapes are served downstairs around 5pm, or just before sunset. Wine and beer are included, while cocktails are at an additional cost. And when I say canapes, I don't just mean cheese and crackers; they served some seriously delicious-looking bites to eat before dinner, with seafood. The staff were nice enough to bring up a plate of canapes to our bed for Pete to enjoy while he sat with seasick me.
For dinner, we were served steak on a bed of veggies and mash (there was also an option of chicken for anyone who didn't eat red meat, and a vegetarian option as well). I recall one of the staff asking us on the boat ride over what our dinner preferences were. Dessert was some "double or triple chocolate thing", according to Pete (he's not the best at details, hah, but said he enjoyed it). I ate precisely none of the food served to us this evening and it KILLED ME.
The next morning, the breakfast buffet opened at 7am and we were free to take whatever we liked from the spread, which included a variety of noms like scrambled eggs, bacon, avocado/guacamole, fresh fruit salad, granola/muesli, yogurt, and possibly a few other items I missed because I was slightly distracted by THE ESPRESSO MACHINE.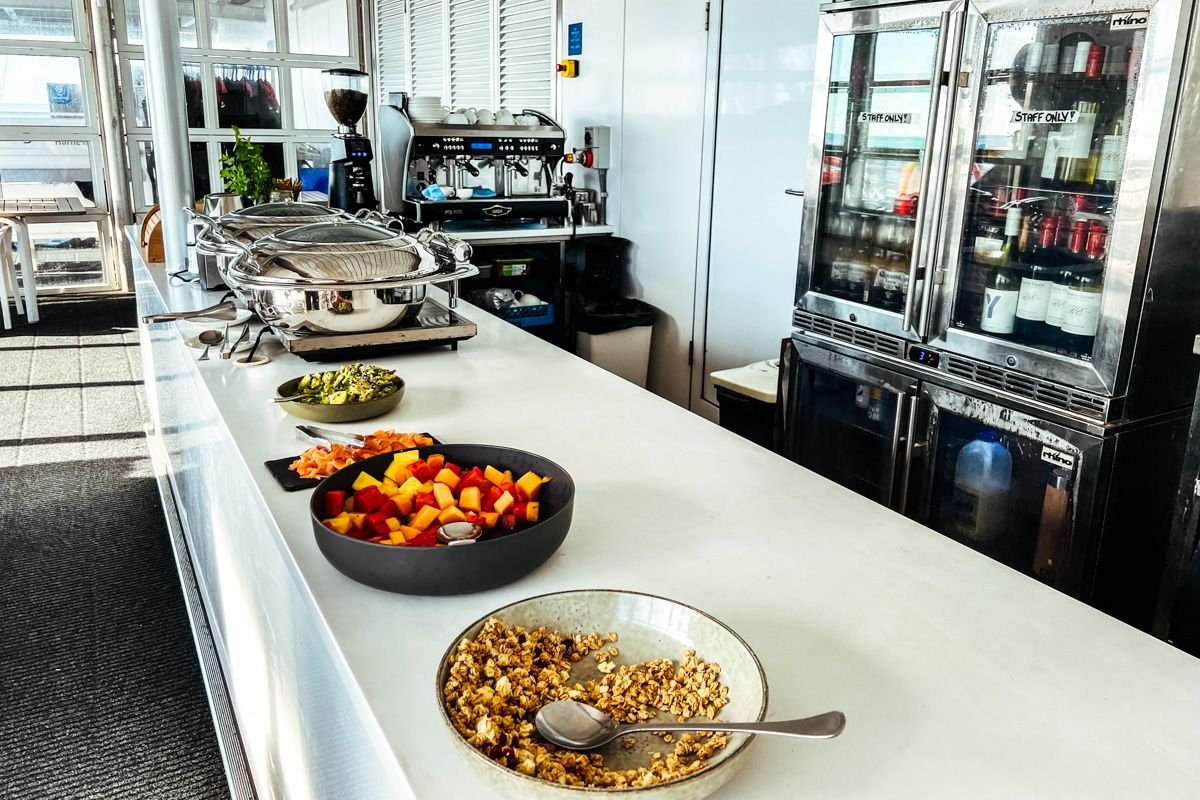 Buffet breakfast for Reef Sleep and Reef Suites guests.
Yes, there is a proper espresso machine on a pontoon in the Great Barrier Reef, can you even believe it?! I got to order my usual flat white, which I definitely had not expected to be able to do. I couldn't quite stomach it though, mostly because I was still recovering from seasickness but also because I didn't like the taste of the beans or milk they used. I think that's more of a me problem though (big coffee snob over here, as you know). Pete thoroughly enjoyed his chai latte, which he ordered more of later in the day as well.
Later in the morning, I believe we were offered some nibbles to snack on before lunch at 12pm. Chicken and salmon were the lunch options, followed by a layered fruit and yogurt cup for dessert. Day 2 lunch was the only meal served at the upstairs table, which is situated in the middle of the Reef Sleep side of the top deck. I guess they have to do it that way so that the daytrippers don't see the ReefSleep-ers having fancier food?
To sum it up: the food at ReepSleep is very good, better than what you'd have on most any other boat trip in the Whitsundays.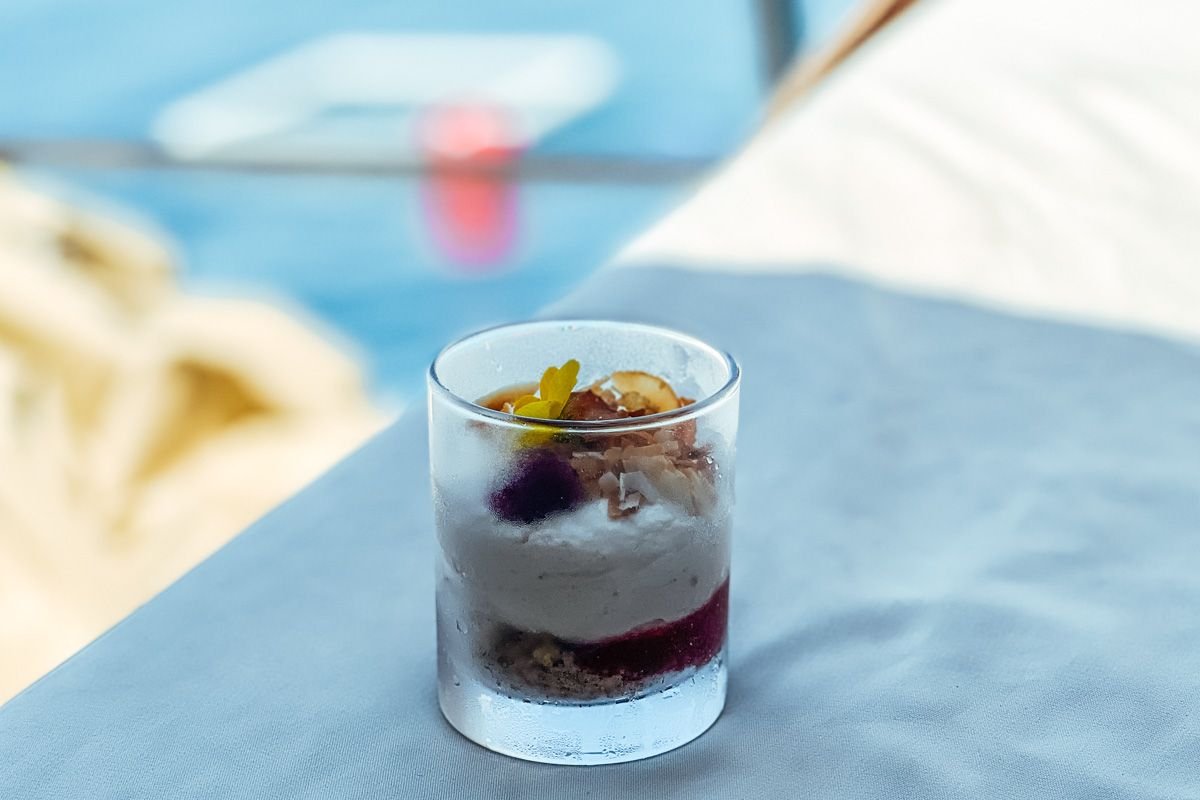 Snorkeling at Reef World
Snorkeling is included with your ReefSleep Whitsundays booking. Whenever the snorkeling platform is 'open', you can feel free to head down to the dive deck, grab a stinger suit, snorkel, mask, and fins, and hop into the water to have a swim or snorkel.
NOTE: Stinger season in the Whitsundays is typically October to May, when the water is warmer. While the odds of getting stung by a jellyfish are very low, you do NOT want to F with them. It just isn't worth the pain and potential damage a sting could cause you. So be sure to wear a stinger suit if you go in the water during these months!
There are ropes set up just off the ReefWorld pontoon which you can use to pull yourself along while snorkeling – especially helpful for going against the current with minimal effort. There are also a couple of small floating platform-like things you can hold onto if you want to take a little break from swimming but don't want to get out of the water. And don't forget to look underneath the pontoon while snorkeling – there are SO many fish there!
Note: This video was captured by my friend, Riaz, who did ReefSleep 2 months before we did :)
As many other ReefSleep reviews will recommend, it's best to snorkel before or after the daytrippers do (so, outside of 11am-3pm). The fish will be more active with fewer people around and closer to the start and end of the day. I believe the snorkel deck closes at 5pm and reopens at 8am the next morning (or at least it did when we visited in late October; times may vary depending on the time of year).
So what can you do from 11-3 instead of snorkeling? On Day 1 you don't have access to your glamping beds yet, so during this time you can relax on the main deck or boat (note that the boat has aircon, the pontoon does not), check out the underwater observatory, or take a quick glass bottom boat tour over the reef. All of these are included with your ReefSleep booking free of charge.
Or, you might opt for an optional extra paid activity…
Optional Extra Activities At Reef World
There are plenty of opportunities to upgrade your Reef Sleep experience if you've got extra cash to spend. They'll all be mentioned on the boat ride to the reef and you can either book while on the boat, or later on while on the pontoon.
Snorkel safari – Want to be taken to the best parts of the reef and learn about what you're seeing? Book a guided snorkel safari to make the most of your snorkeling time on ReefSleep. I believe the price is around $60 or so per person.
Diving – Whether it's your first time or your 50th dive, nearly anyone can sign up to dive Hardy Reef while on Reefsleep Whitsundays. For certified divers, one dive costs $112 and each additional dive is $60. Dives are guided by staff and all dive equipment is available on the pontoon, so no need to BYO. For first-time divers, an intro "Discover Scuba" dive costs $142 (plus $60 for a second dive) and it's prefaced with a lesson on how to use the equipment and what to do while on the dive.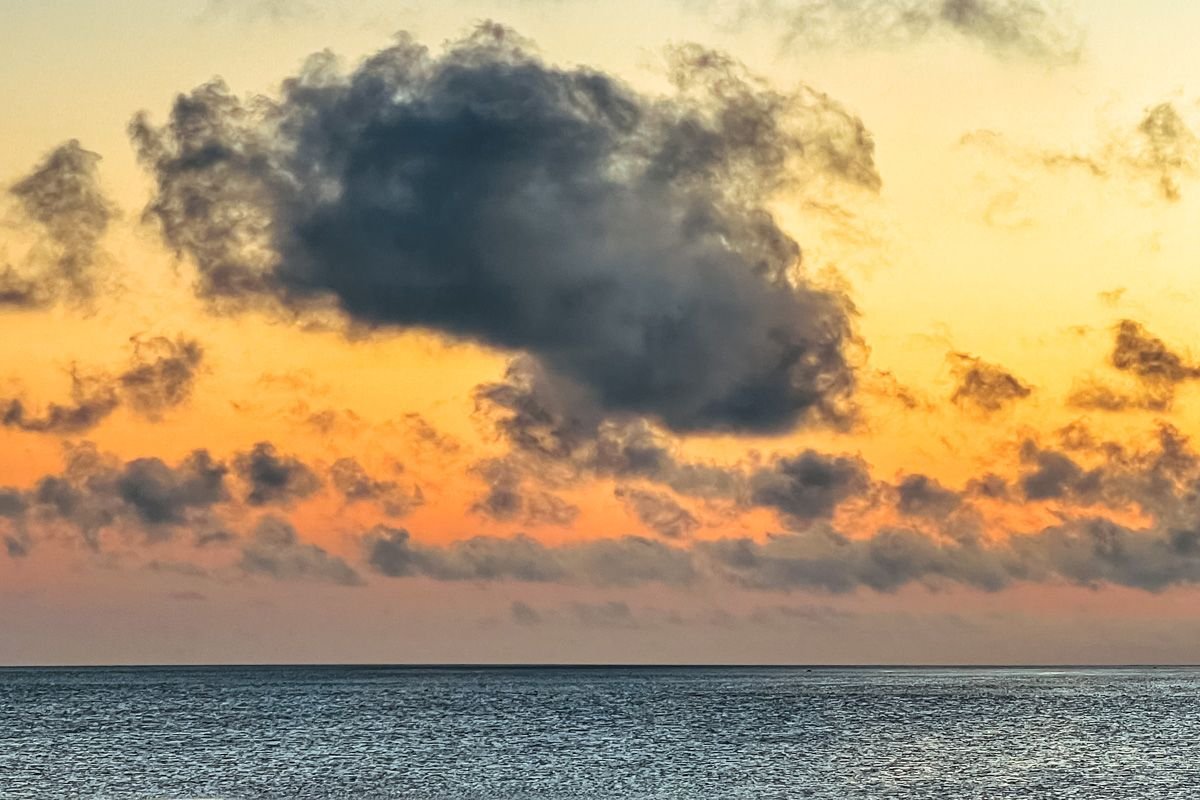 Photos – On the boat back to Airlie Beach, you can purchase photos that staff took of you on the pontoon and in the water. I believe they have all the photos taken that day available to browse on an iPad before purchasing.
Scenic helicopter flights – Having done a scenic flight over the Great Barrier Reef on my first trip to the Whitsundays 8 years ago, I can HIGHLY recommend this as an add-on to ReefSleep. You'll fly over the iconic Hill Inlet and Whitehaven Beach before reaching Heart Reef (yes, there really is a heart-shaped reef!). If this is a once-in-a-lifetime trip for you, flying over the Great Barrier Reef is a must do.
We were quoted somewhere in the $400's for a 40-minute scenic flight that finished at Hamilton Island, but you should be able to book one that starts and ends at the pontoon (I assume this would be slightly cheaper, but don't quote me on that). You may also be able to bargain a cheaper fare at the last minute, as pilots always want to fill their aircraft rather than fly with empty seats (we were offered about $100 off each for a last-minute flight).
If you have limited time in the Whitsundays and flying over the reef is a priority, it makes sense to book a scenic flight add-on in advance. Otherwise if you have more time, you can opt to book a scenic flight that departs from Airlie Beach instead of flying during ReefSleep.
Can I Hire/Rent An Underwater Camera For ReefSleep?
Having retired my old GoPro4, I've been without an underwater camera for years now and wouldn't really use one enough to justify buying it. So I spent some time researching options for renting camera housing or an underwater camera in Airlie Beach.
Unfortunately… there are none (unless they don't have an online presence and therefore didn't pop up during my extensive research).
However, there IS one semi-secret option you may be able to take advantage of. There are a few GoPro9's available for hire for the day during day trip hours (you hire them on the boat, not on the pontoon). On the boat trip to the reef, the staff will do a LOT of talking about what to expect on the day and what options are available. They'll mention the GoPros for hire and that it's first come, first served. So if you want to hire a GoPro to snap some photos while snorkeling, raise your hand right away for it.
GoPro hire for the day is either $80 or $90 (I can't recall, darn seasick brain!) and includes an SD card you get to keep afterwards. But keep in mind that you won't be able to keep the GoPro for the entire ReefSleep experience, it's just for use while the day trippers are there… which means you've got to use it from 11am-3pm on Day 1, and return it to the boat staff before the boat heads back to Airlie for the night.
Personally, I think you'd be better off investing in some underwater housing for your iPhone instead – it's pretty affordable, you get to keep it for future water activities, and can use it outside of day trip hours while at ReefSleep.
CLICK TO BUY THE AQUATECH AXISGO IPHONE WATERPROOF PHONE HOUSING

AquaTech AxisGO iPhone 14/13 Waterproof Phone Housing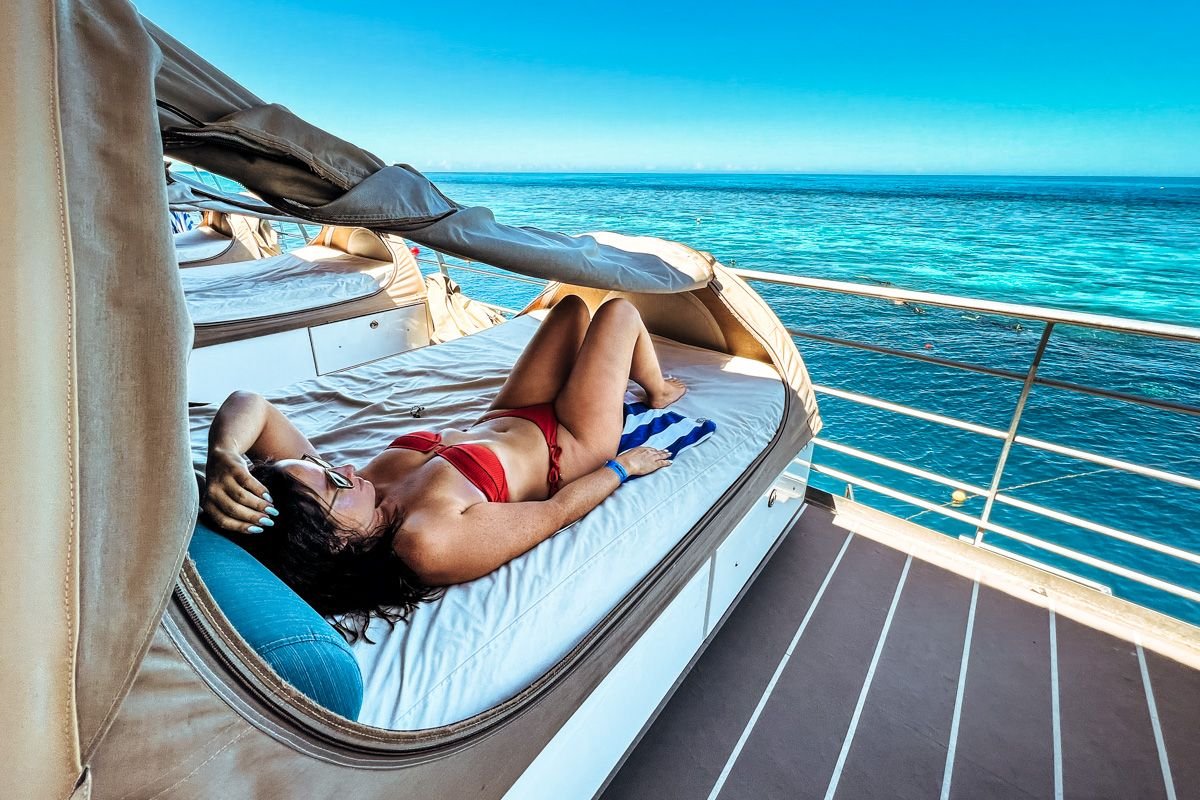 Will I Get Seasick At Reef World?
Unless you're me, almost definitely not 😛
The boat is fairly large and stable, so even on choppy waters you shouldn't feel too much shaky movement. Sometimes the water can be a bit rougher as you get out closer to Hardy Reef and the pontoon, but usually it's pretty smooth sailing otherwise.
Then once you arrive at the pontoon, you're on a platform that you typically won't feel moving. Unfortunately when we visited, the current was strong and the overnight storms had apparently caused a little more movement than usual in the pontoon. I could feel it swaying lightly back and forth for most of our stay. Again, unless you tend to get seasick often, this likely won't bother you at all.
So how the heck did I manage to get seasick on Reef Sleep? Well for me, seasickness usually happens in the moments after the boat stops moving, and before we're allowed off of it. Those few minutes of the boat churning in the water as the crew is in the process of docking it can sometimes send my body haywire and make me feel as if I just finished 10 consecutive go's on the Mad Tea Party (spinning tea cup) ride at Disneyland.
I also realized afterwards that the ginger tablets I took to prevent motion sickness are pretty useless. What I should have taken is a motion sickness prevention pill that has some other active ingredients in it (the Aussie equivalent of the Dramamine, whatever that is). And what I REALLY needed (but can't get in Australia) is a prescription like Scopolamine.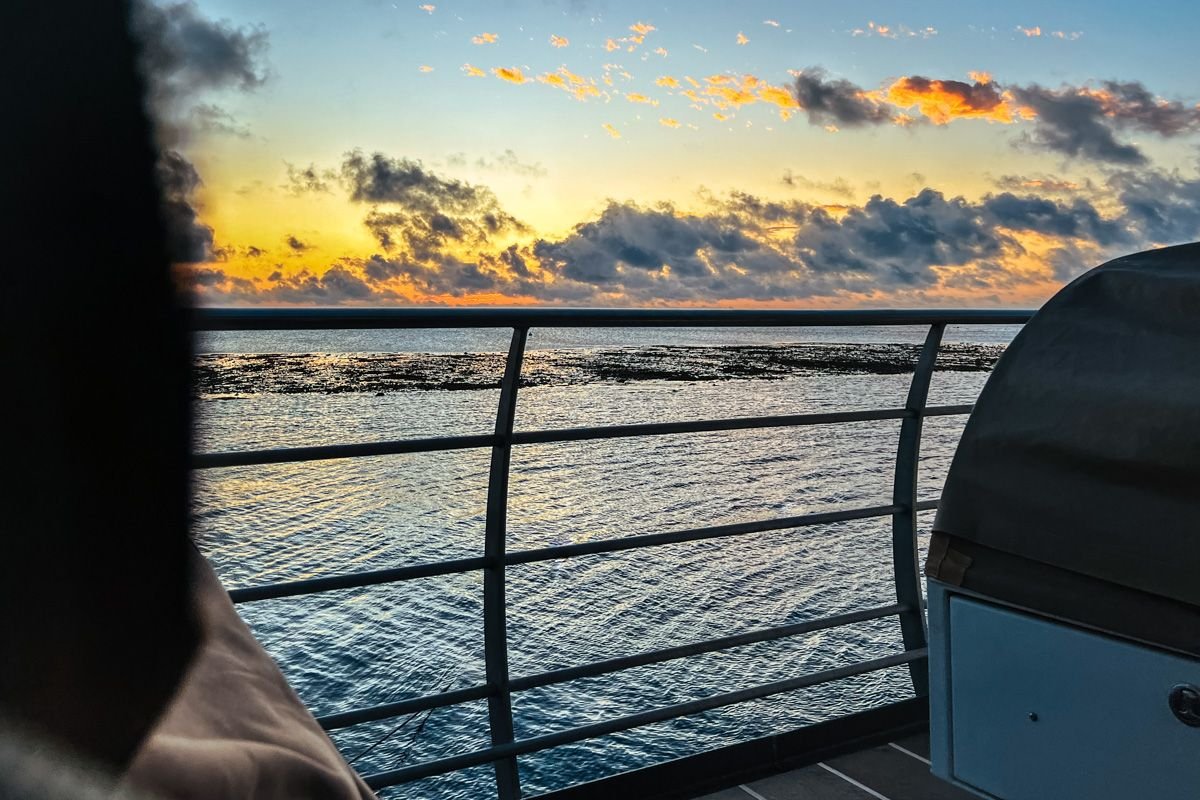 Once I start feeling seasick, the only thing I can really do is lay down and sleep it off – so that's how I spent 90% of my Reef Sleep Whitsundays experience :(
BUT, I have to commend the Cruise Whitsundays ReefSleep staff for being so accommodating and caring while I was feeling seasick. Paige was the one in charge during our stay and she couldn't have been more helpful and kind to me. From the frequent check-ins to the hydralyte and toast deliveries straight to my bed to even inquiring if it might be possible for us to depart sooner via helicopter, she was absolutely amazing and made me feel so taken care of. It's service like this that can turn a terrible experience into a salvageable one, and I'm so grateful to her for doing that for me.
That's why I can look back at my experience and see more positive than negative. Sure, I felt sick and couldn't eat any of the incredible food, but I got to enjoy 5-star service and 360-degree reef views from bed for 24 hours, which is pretty spectacular.

Lightning storm from the Reef World pontoon.
What To Bring (+ NOT Bring) To ReefSleep
There's a short packing list on the Cruise Whitsundays site that outlines what to bring to Reef Sleep.
In addition to these, I'd also recommend packing:
A light layer to wear at night, even during summer (it can get windy)
Headphones (to entertain yourself on the 3-hour boat ride to/from the pontoon, or block out the noise of the daytrippers)
More importantly, there are a few things you actually DON'T need to take with you which will help keep your bag lighter:
Bath towel and beach towel (they provide beach towels on Day 1 when you arrive on the pontoon, and bath towels on your bed when they do turn down late-afternoon on Day 1)
Shampoo and bath soap (dispensers are in the shower)
Coffee (they have an actual espresso machine!)
A soft bag to carry all your belongings in (well, you can, but it's not required like it is when you book a Whitsundays sailing trip. You're allowed to bring a suitcase, but only a carry-on size would fit in the drawer below your bed).
Is Reef Sleep Worth It?
As of November 2022, Reef Sleep Whitsundays costs $1220 for two people (sharing a bed), or $815 for one person (own bed). Reef Suites (the underwater hotel room) costs $1990 for two people or $1400 for one person.
If your eyebrows went up at these prices, I feel you. It's certainly not a budget travel experience, but rather something you might plan to save up and budget for on your trip to the Whitsundays.
But consider what you're getting with the Reef Sleep experience.
You're essentially getting to do the Great Barrier Reef Full Day Adventure snorkelling day trip TWICE – that's $299 x 2 x 2 people, which is $1196. Already that's about what Reef Sleep costs ($1220).
In addition to that, you get an additional 20 hours on the pontoon free of crowds, during which you can snorkel, relax on your private day bed-turned-glamping tent, enjoy 3 meals with table service, and take advantage of the free wine and beer.
When you look at it this way, it's an absolute no-brainer: Reef Sleep is worth it, no question, when you break down the numbers.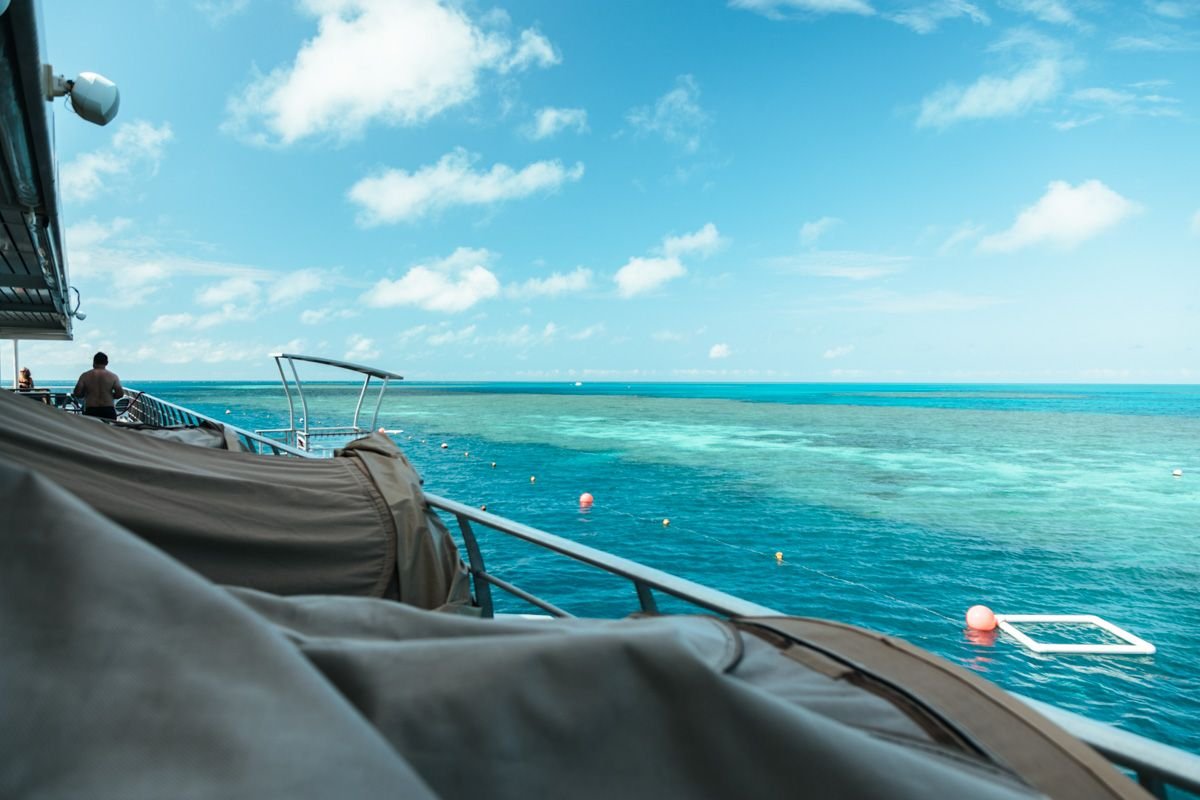 Is Reef Sleep worth it from an experience perspective? 100% yes, and I say this having spent the majority of the trip nauseous and laying down not doing anything.
I've been lucky enough to have snorkeled several different areas in the Great Barrier Reef and I'd rank Hardy Reef as being one of the better spots in terms of how active the sea life was when we snorkeled (around 9am, pre-daytripper arrival). So if snorkeling and fish spotting are important to you, you won't be disappointed with ReefSleep.
In terms of service, I was very impressed with the staff we had. Everyone I interacted with was so nice and happy to help us however they could.
As for the food on ReefSleep, well, I couldn't stomach any of it due to nausea… but Pete said it was great, and the other guests seemed to enjoy it. I did manage to show up for breakfast on Day 2 to nibble on some fruit, and the buffet spread they had out for us was pretty impressive (probably better than any hotel breakfast you could have back in Airlie Beach).
And lastly: how often do you get a chance to fall asleep under the stars and wake up surrounded by 50 shades of blue water? Glamping anywhere is amazing, but glamping on a pontoon in the middle of the Great Barrier Reef is such a unique luxury travel experience. This is definitely one for the bucket list!
Want More To Do In The Whitsundays?
Check out these blog posts:
Thank you to Cruise Whitsundays for a generous media discount on Reef Sleep Whitsundays. Note that all opinions expressed here and elsewhere on this blog are my unbiased own, and are uninfluenced by any gifts or incentives I may receive.
Pin it!