At just a 1.5 hour drive north of Sydney, the Central Coast of NSW makes for an easy weekend away from Sydney. Honestly, it's a wee bit ridiculous how little time I've spent there in my 4+ years in this country. I tried to rectify that this past summer with two trips up to the Central Coast, most recently on a glamping trip in Terrigal.
Glamping Hub generously hooked me up with a stay at the Outlook Cabana, a hilltop cottage boasting an infinity pool and views of the Avoca headland. It made for an ideal base from which to explore nearby Avoca Beach and Terrigal, but also served as a destination in its own right. Nikki and I split our time up here between the two towns and the property and at the end felt like we'd fully soaked up the vibes of all three spots.
Here's the skinny on Avoca, Terrigal, and our fabulous glamping retreat on the Central Coast of NSW: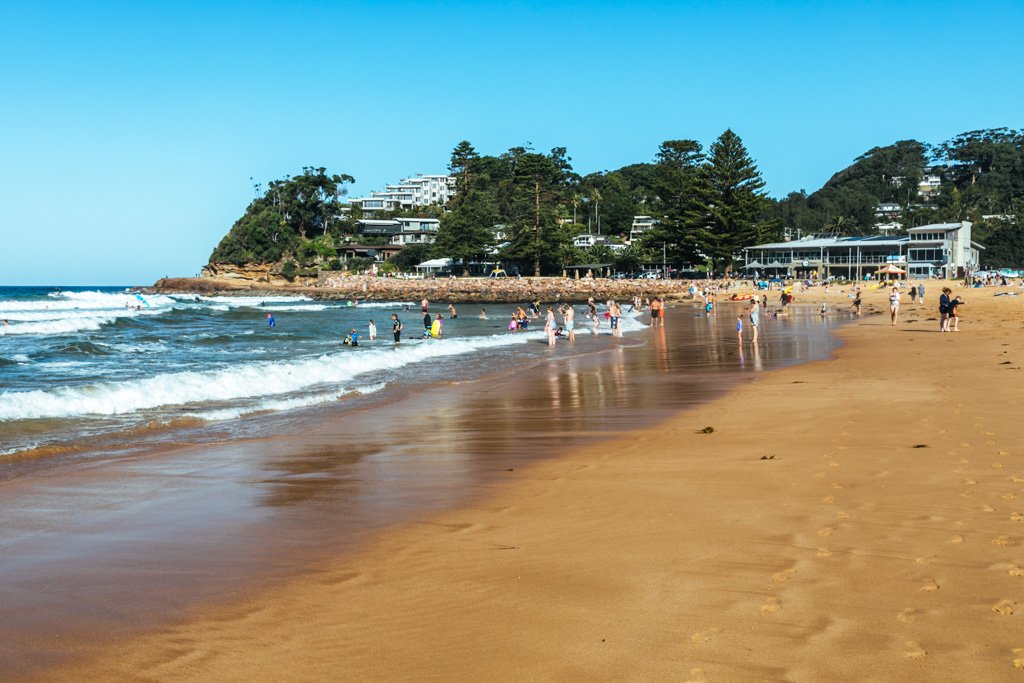 Avoca Beach
Avoca is idealized as this beautiful, laidback Central Coast beach town. But for as much as I've heard about it, I was so surprised to find how… quiet and underdeveloped it is.
This isn't the kind of place where the road along the beach is lined with shops and restaurants. If you want to stroll along the beach, then you've gotta put your toes in the sand.
Note that the highly regarded Avoca Beachside Markets are held on the 4th Sunday of every month from 9am-2pm, so you may want to plan your Central Coast getaway around this time.
Come to Avoca if you want a peaceful, no-frills beach experience with a little adventure on the side.
Top 5 Things to do at Avoca Beach
Swim in the Avoca Rock Pools
On the south side of the beach, there is a picturesque ocean pool lined with rocks – perfect for sheltered ocean swimming.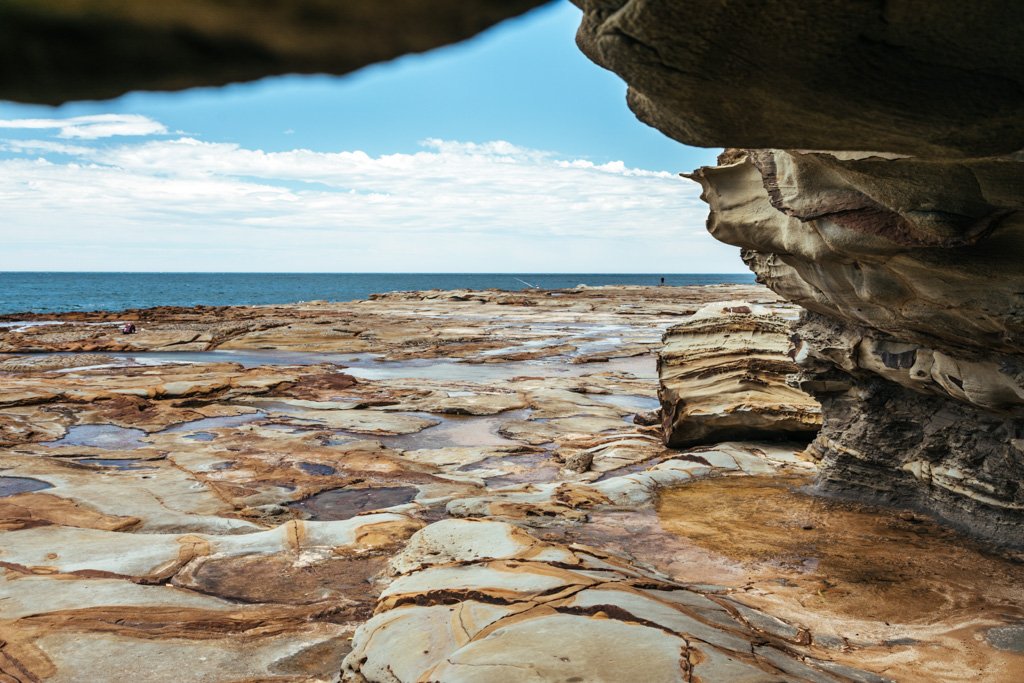 Also on the south side of Avoca Beach, there is an expansive rock platform that wraps around the headland. Right after you turn the corner, you'll soon spot some little rock pools and probably some kids jumping off the rock platform into the ocean.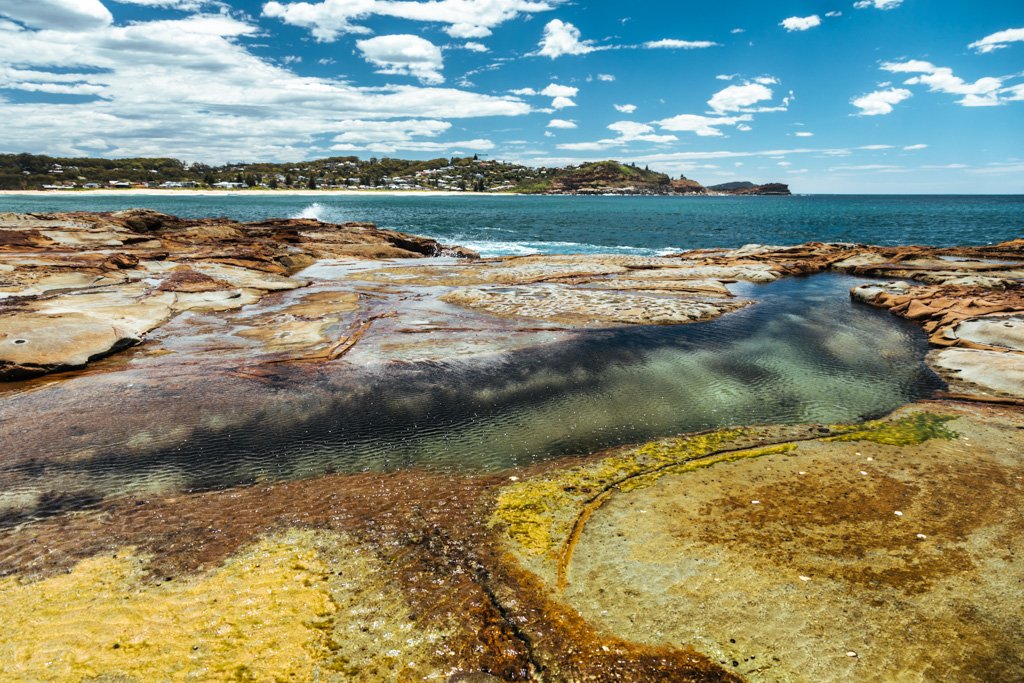 Explore the Avoca Sea Cave
Keep walking down the rock platform (maybe another 10-15 minutes or so?) and you'll come to what looks like the end of it (there will be a rock island just off the edge). But SURPRISE, it actually keeps going if you hug close to the rock wall away from the ocean. You'll know you're going the right way when you see some steps carved into the rock as you make your way around the edge.
And then you'll spot a little hole in the rocks – this is the entrance to the Avoca sea cave!
Catch a Movie at Avoca Beaches Picture Theatre
Avoca is home to Australia's best independent regional theatre. I normally wouldn't recommend seeing a movie, but I feel like it's worth it for the old school cinema experience and novelty factor here.
Grab a Coffee in Avoca Beach
Avoca has a few top spots for quality coffee. Our go-to was Like Minds, which looked like it was plucked right out of Byron Bay. Becker & Co. is also said to have great coffee.
Go Kayaking or Stand Up Paddleboarding in Avoca Beach
Did you know that there's also a lake in Avoca which connects to the beach? Rent a paddle board, kayak, or pedal boat from Aquafun Avoca Lake and explore the town from an alternate angle.
Terrigal
Unlike Avoca, Terrigal feels like an upscale resort town. There are people out and about on the streets, cars circling around for a parking space, and seemingly endless options for food and drink.
Typically, that's a recipe that results in me running in the opposite direction… but strangely I really vibed with Terrigal, moreso than I did with Avoca. I also found the beach itself prettier and nicer to lay out on in Terrigal, which made it easier to forget about the noise on the streets.

Visit Terrigal if you prefer your beach time with a side of bustle, where you can easily flit from sand to table when happy hour (or your stomach) calls.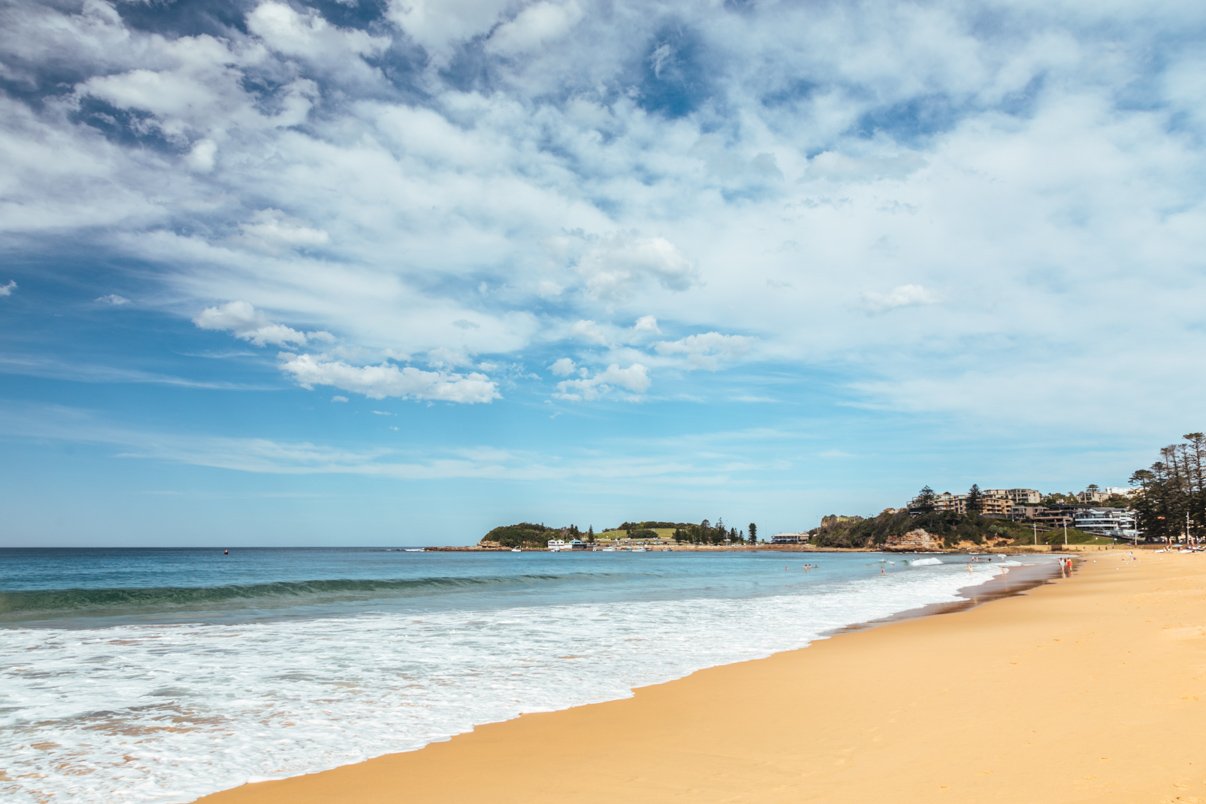 Top 5 Things to do in Terrigal
Lay Out on Terrigal Beach
I won't lie: I've been to Terrigal twice and both times I did nothing other than clock beach time. Can you blame me though?
Terrigal's a lengthy beach with plenty of sand on which to sunbathe. And if you prefer to swim in calmer waters, Terrigal Haven is a little cove tucked around the south side of the beach that's sheltered from the big waves.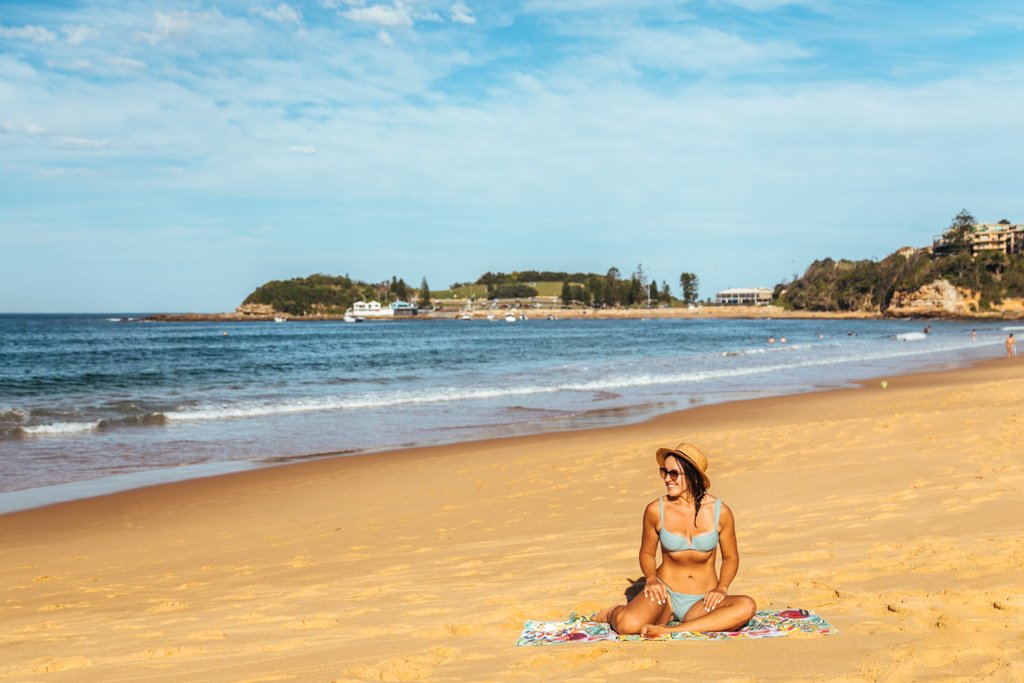 Walk up The Skillion
There's a lookout point on the headland on the south end of Terrigal Beach referred to as The Skillion, which yields lovely views of Avoca from afar.
Get Your Water Sports On
Terrigal's a popular spot for water sports. Surfing, boating, fishing, water skiing, and even scuba diving are on offer at Terrigal Beach.
Paddle on Terrigal Lagoon
Speaking of water sports, there's more! Like Avoca, Terrigal also has a lake (er, they call it a lagoon – it isquite small) that feeds into the ocean. Terrigal Paddle Boats hire out paddle boats and paddle boards for use on the lagoon.
Eat, Drink, and Shop in Terrigal
Lastly, if you opt to spend time in a cosmopolitan beach town such as Terrigal, you might as well take advantage of the restaurants and boutiques there. I can't recommend the restaurant we had lunch at apart from its sea view, but have heard good things about The Laneway (best coffee in town, they say) and the Crowne Plaza Terrigal (best beer garden and very buzzy spot for drinks).
Central Coast Accommodation
Our Central Coast getaway centered around our incredible Glamping Hub digs, a luxury cottage rental with an infinity pool in Terrigal. I'll admit to having a mild obsession with infinity pools, so needless to say that was the main reason I chose to book this holiday house in the Central Coast.
We were wowed pretty much from the second the gates opened to let us into the driveway. It felt like we had just entered some fancy estate… a far cry from the usual dirt-road-to-campsite weekend away from Sydney.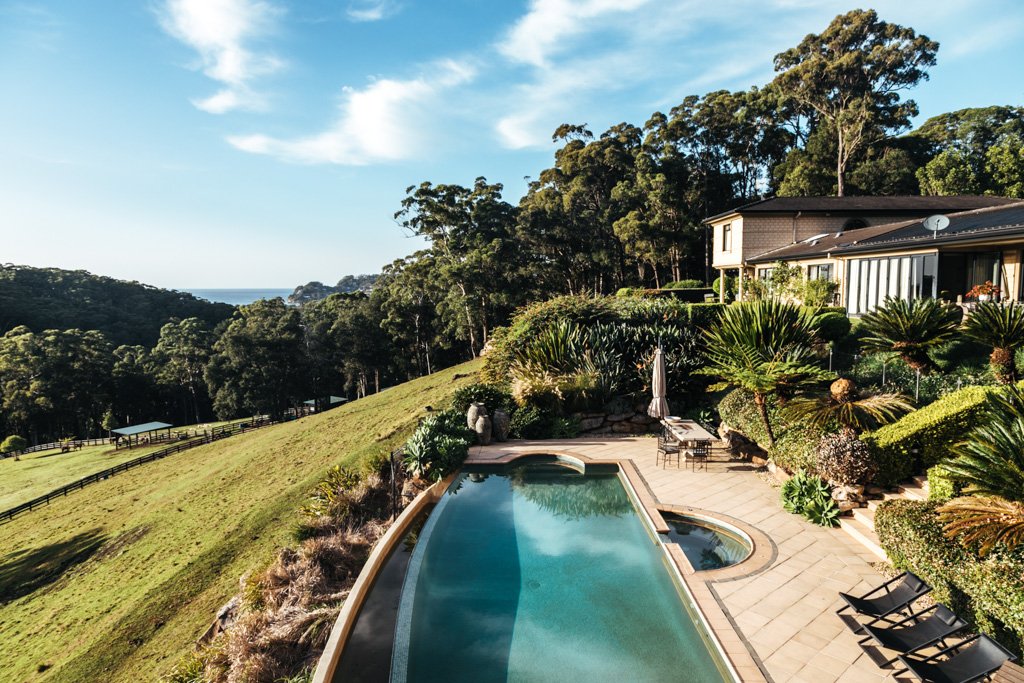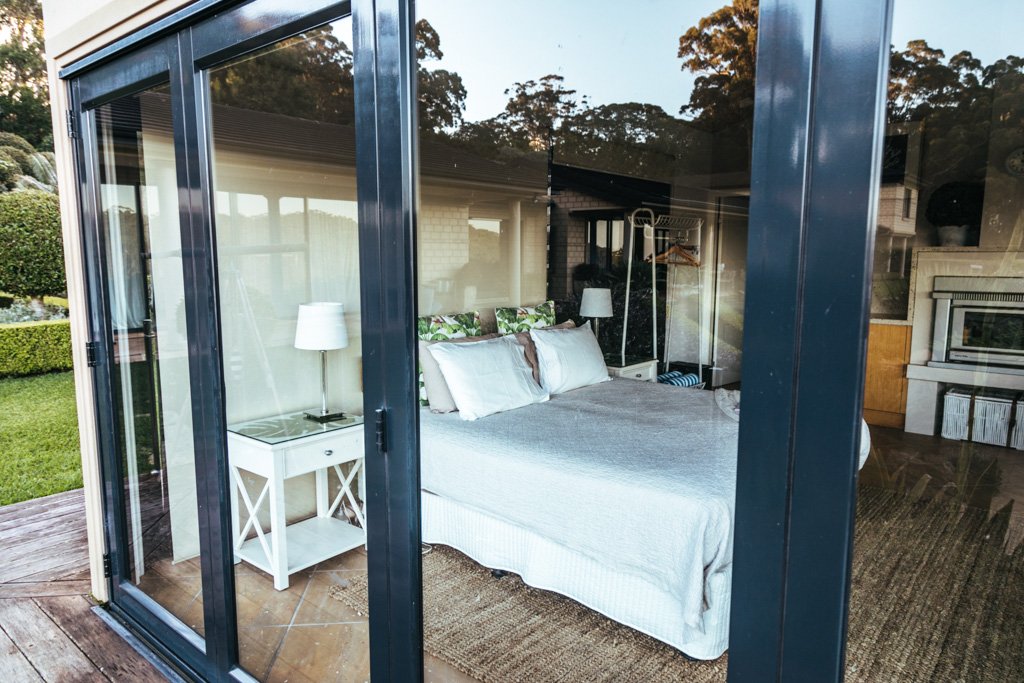 The Outlook, as it's named, consists of one expansive home where the host family lives, and a private cabana that they rent out to guests. The cabana functions as a studio apartment and comfortably fits 2 people (though it can sleep up to 4 if you don't mind getting super cozy).
With floor-to-ceiling windows on 3 sides and a wraparound deck offering views over the property and out towards Avoca Beach, you know we spent the entire time gazing out there. I loved watching the horses, sheep, and alpacas roam around on the hills below, but more often than not my eyes were drawn to the picturesque infinity pool and all the beautiful flowers and foliage around it.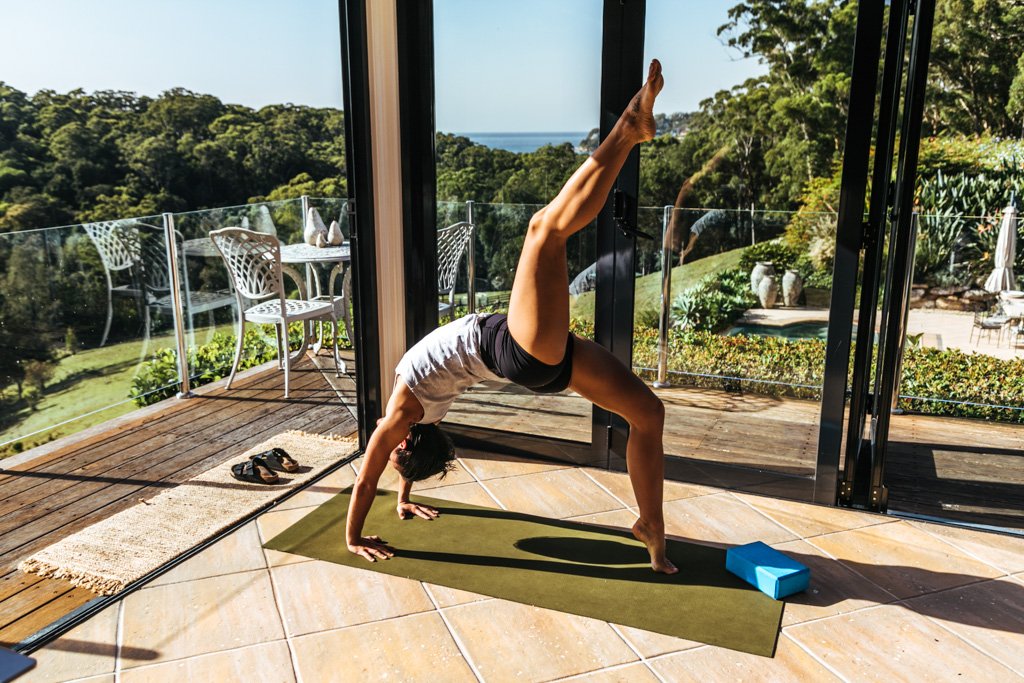 We got SO lucky with the weather during our early April stay. It was essentially summer's last hurrah, and we were intent on taking full advantage of the sun and heat by spending the entirety of each day outdoors. We alternated between beach time and time at the cabana, where we lay poolside, enjoyed our meals outside on the deck, and even did some yoga and meditation.
Nikki masterfully prepared breakfasts and dinners for us, and we even fired up the BBQ one night to grill some veggies to have with the barramundi (I may have resorted to googling "how to light a grill" before giving in and asking our host how to do it).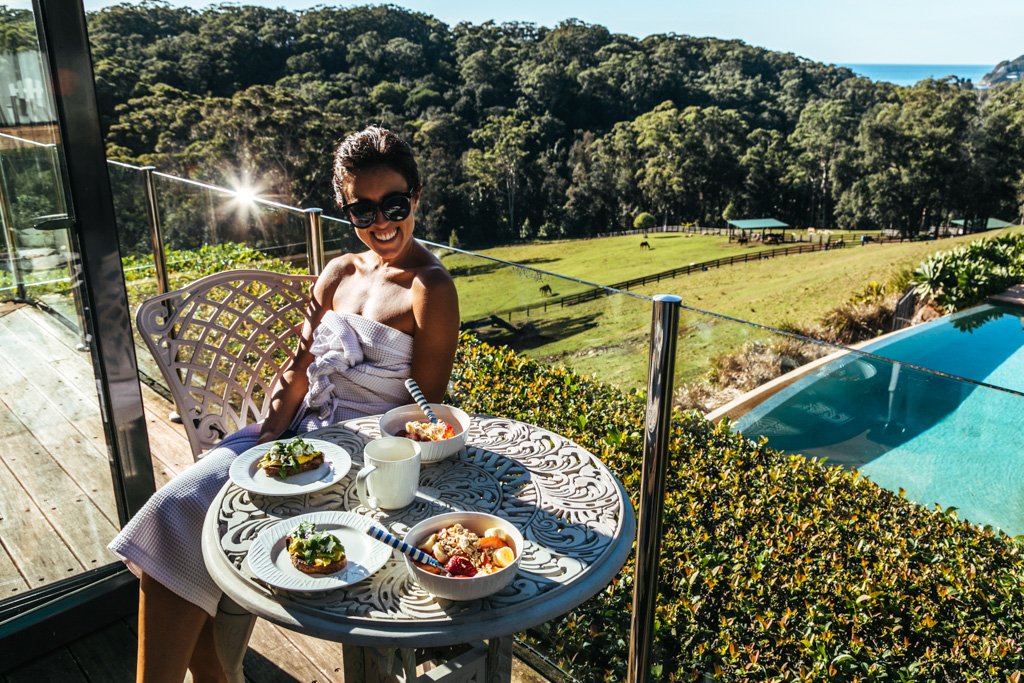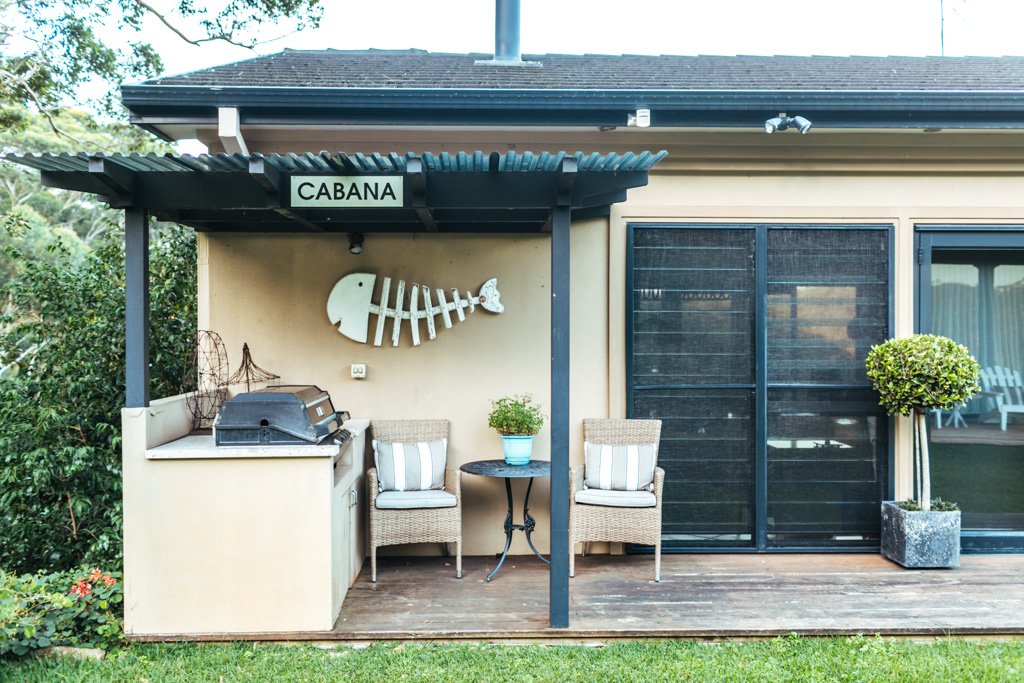 While technically Terrigal accommodation, this property is actually located right between Avoca Beach and Terrigal, clocking in at just a 5 minute drive from either beach – which was super convenient for when we did manage to pry ourselves away from that infinity pool. It really was such an ideal location to base ourselves from on one of the best Sydney weekend getaways I've been on.
One other really cool thing about staying at the Outlook Cabana is that you're free to walk around the property. There's a map provided for you that outlines the walking trails nearby. We didn't really take advantage of the trails because it was HOT and I hadn't packed anything other than flip flops to walk in (oops), but we did walk down to Avoca Lake which is literally just at the bottom of the hill that's on the property.
They provide kayaks for guests to take out on the lake and paddle to the beach, which would have been SO FUN but unfortunately the water level was too low for us to get the boats out. It would have been us trudging the kayaks through mud flats for awhile before we reached the water line. I'd love to return and get out on the lake another time though!
CLICK TO BOOK A STAY AT THE OUTLOOK CABANA
Thank you to Glamping Hub for providing us with accommodation on our Central Coast NSW getaway. Note that all opinions expressed here and elsewhere on this blog are my unbiased own, and are uninfluenced by any gifts or incentives I may receive.
Pin it!