If you're looking for a weekend road trip from Byron Bay, Brisbane, or the Gold Coast that's a little more off the beaten path, the search is over. You're going to Tenterfield!
I wouldn't blame you for never having heard of this alpine town in the northern New South Wales tablelands, as it somehow manages to fly under the radar.
Tenterfield sits 850m (2789 ft) above sea level in the New England high country region, enjoying warm days and cool nights for most of the year. It's one of the few places in Australia where you can experience proper winter weather (think near-freezing temperatures overnight and snow-capped mountains).
Being born and raised in New England, USA (Connecticut represent!), I think it's interesting how New England, Australia also experiences 4 distinct seasons while much of the rest of the country doesn't. If you're not a fan of extreme weather, I highly recommend visiting Tenterfield in November like we did (we had the most comfortable spring weather: warm sunny days and cool clear nights).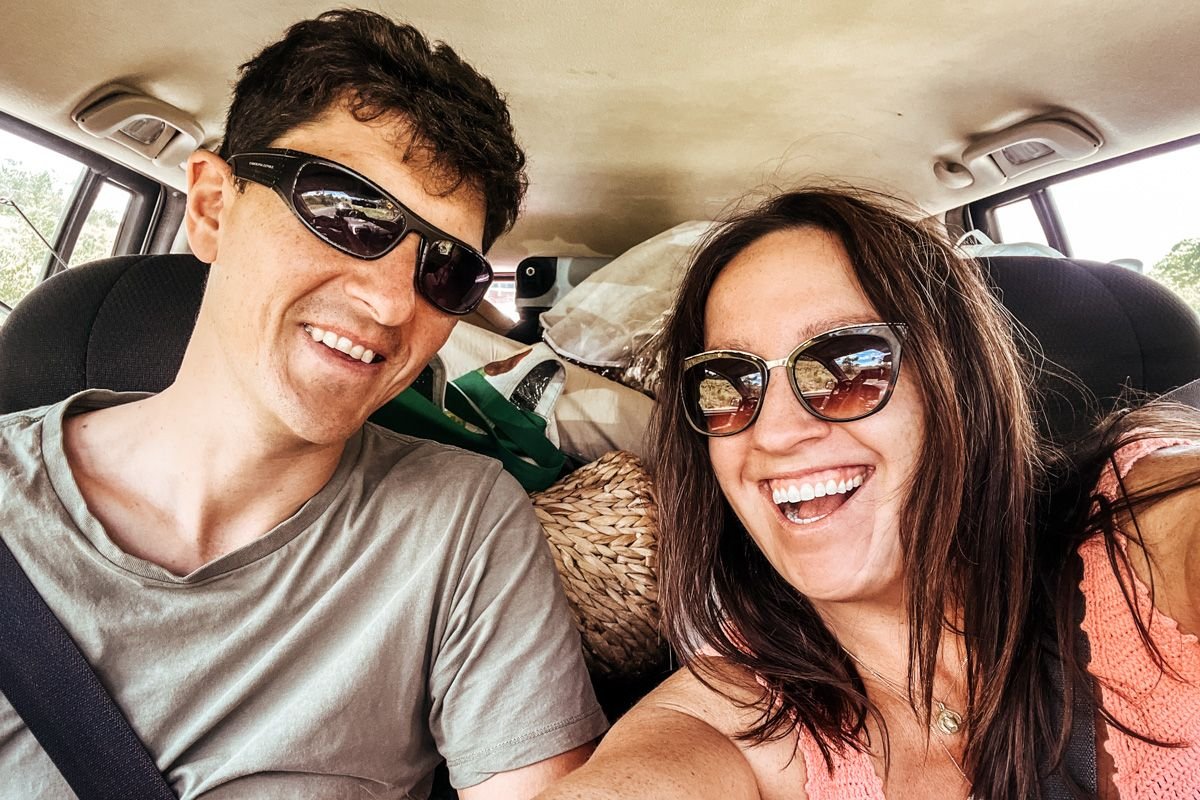 Tenterfield is about a 3-4 hour drive from Byron Bay, Brisbane, and the Gold Coast, making it a bit too far for a day trip, but just the right distance for a short road trip or weekend trip. The drive there is insanely picturesque no matter which direction you're coming from.
We drove west from Byron Bay to Tenterfield, via Lismore and Casino. Much of the drive was through pretty farmland and hilly countryside. Then once we climbed up into the tablelands, the scenery transitioned to tall tree forest. I hardly even noticed that we had climbed 800+ meters because I was too distracted by the landscapes we were traversing!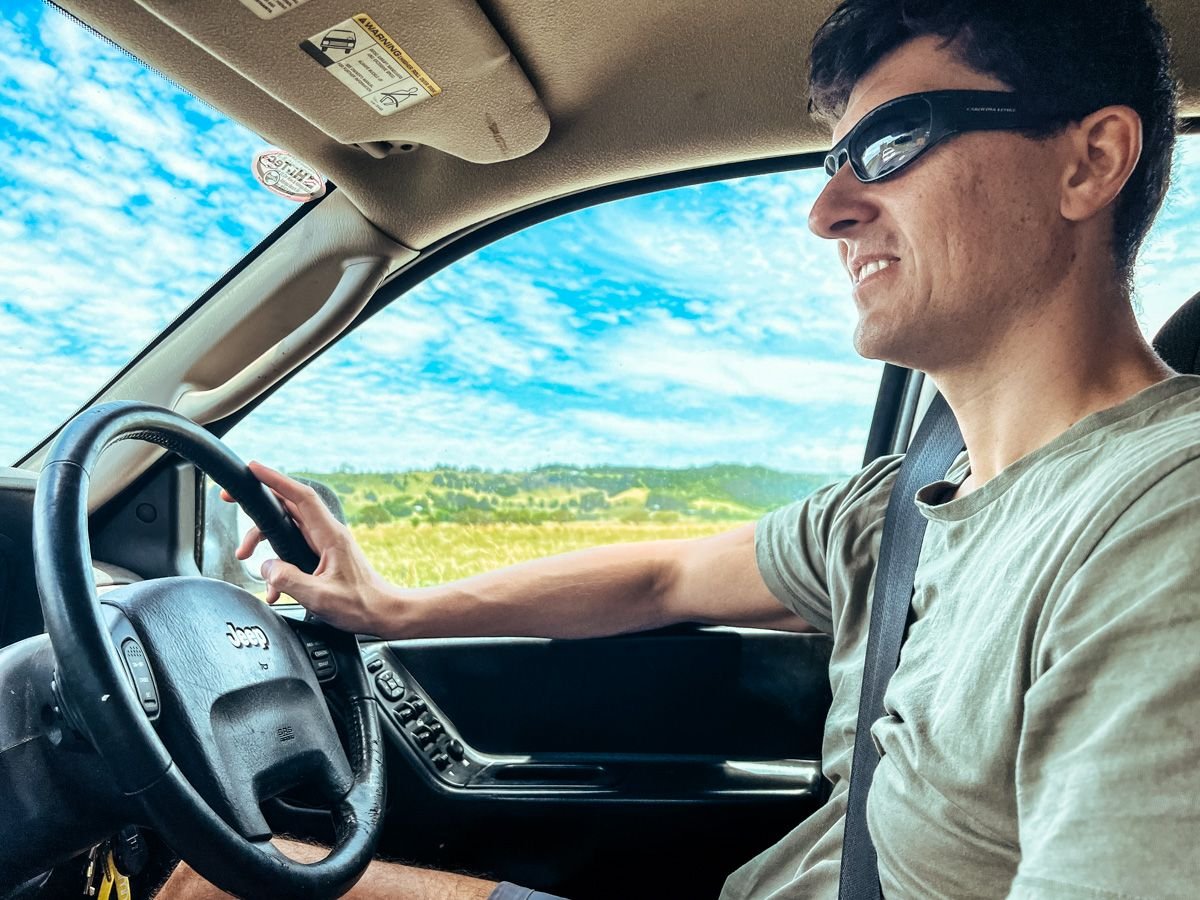 Alternatively, approaching Tenterfield from the south via Armidale or even Sydney (about 8 hours away), the New England Highway will knock your socks off with its mountainous landscape.
If you can spare more than a weekend or a few days, the whole New England region is ideal for an extended road trip.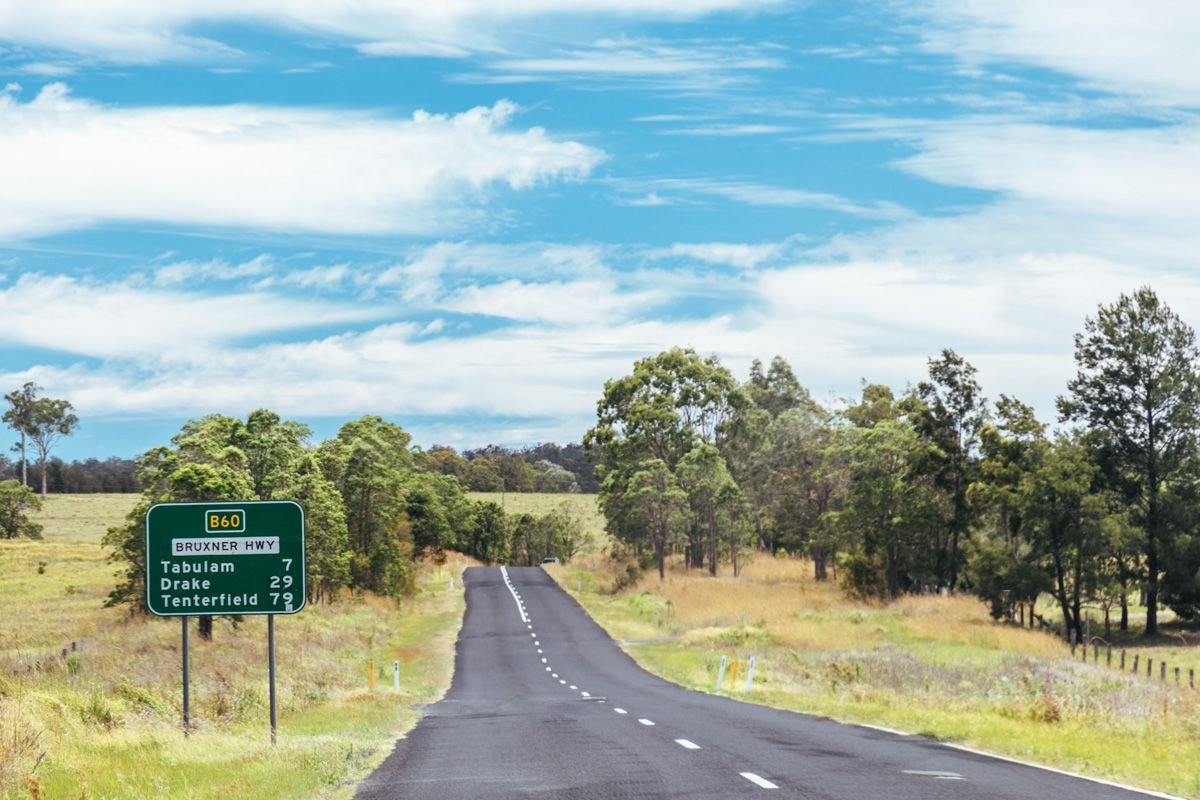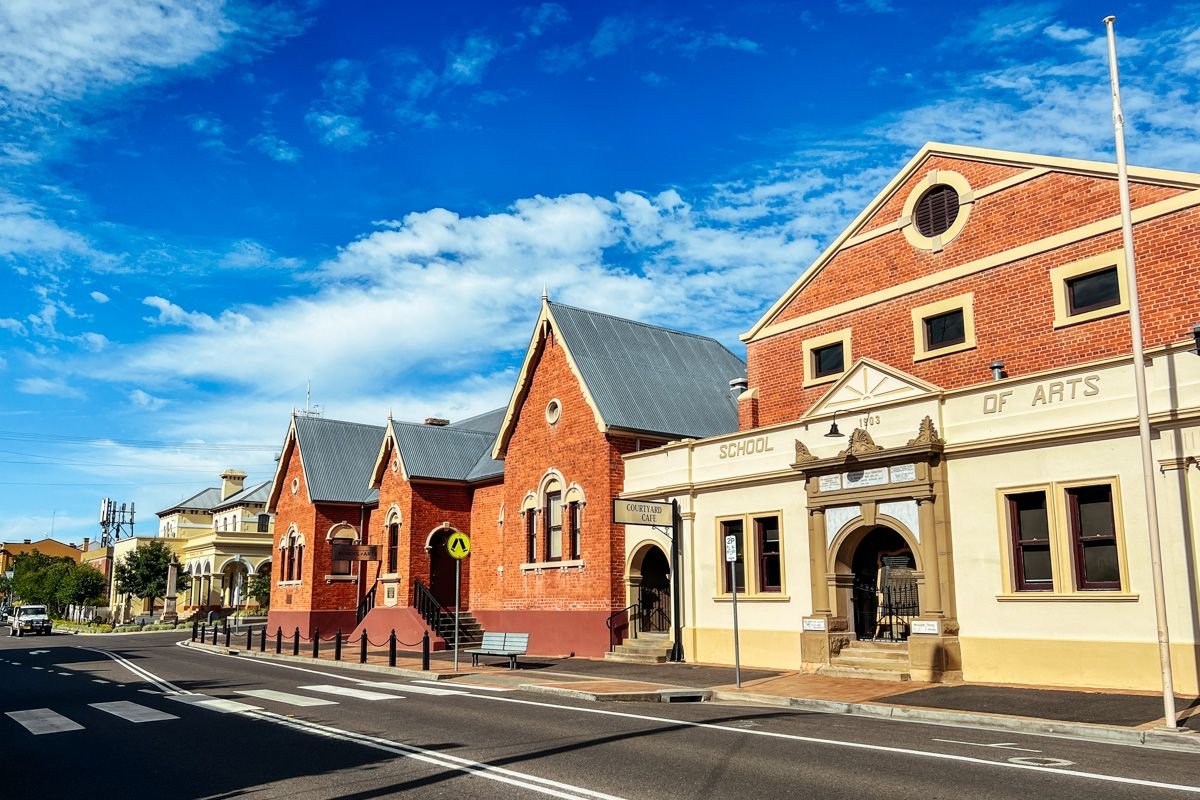 From national park bush walks to heritage-listed building-lined street strolls, the Tenterfield area is a delight to explore on foot.
This wasn't what drew us to the high country, though; we came to enjoy what may be the most unique Tenterfield accommodation option: Mirumiru Bubbletent!
Mirumiru Bubbletent: Glamping Accommodation in Tenterfield, NSW
I usually save the verdict for the end of the blog post when I'm reviewing an experience or accommodation, but — SPOILER ALERT — Mirumiru Bubbletent is absolutely AMAZING in every way.

Would you rather sleep in a Tenterfield hotel, or here?
Upon arrival, Cathryn (the owner and mastermind behind this glamping site) greeted us, gave us a quick run down of the property and things to do nearby, and escorted us to our bubble tent: Captain Moonlite.
There are actually two bubble tents at Mirumiru, both named after Aussie bushrangers. Captain Moonlite is ideal for two people and has the best sunset view over the mountain, while Captain Thunderbolt is best for families with its add-on option of the Mary Ann Bugg tiny bubble tent (fits up to 3 children)… which is set up IN THE TREES. A literal treehouse bubble tent for kids. My 10 year old self would've been obsessed!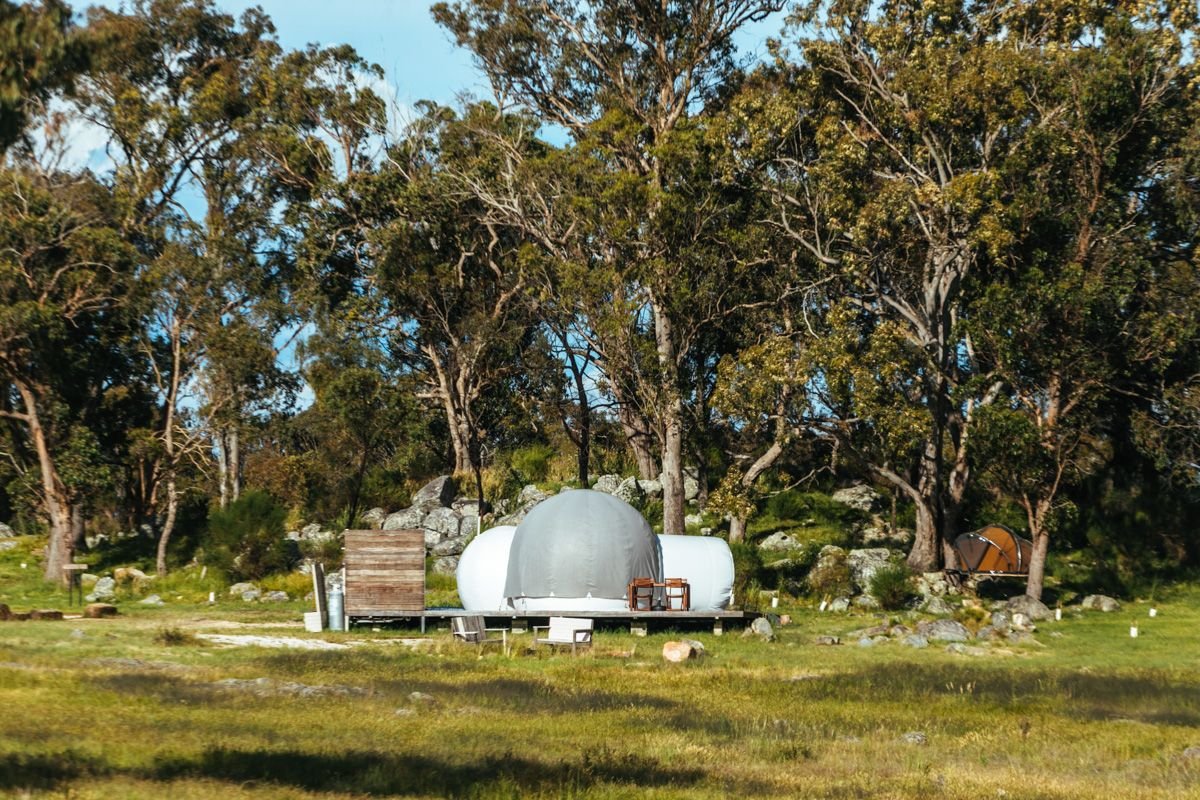 Captain Thunderbolt.
Both tents are equipped with a queen bed, composting toilet, outdoor mini-kitchen, bath tub, and fire pit. Captain Thunderbolt also has an outdoor dining table and chairs.
The bubble tents are set far enough apart that you shouldn't hear or see anyone at the other one, making it easy to maintain privacy during your stay. I love that they've elected to have only two bubble tents on the property even though there's room for several more – it really preserves the feeling of having the whole place to yourself. Or… yourself and the nearby cows and sheep!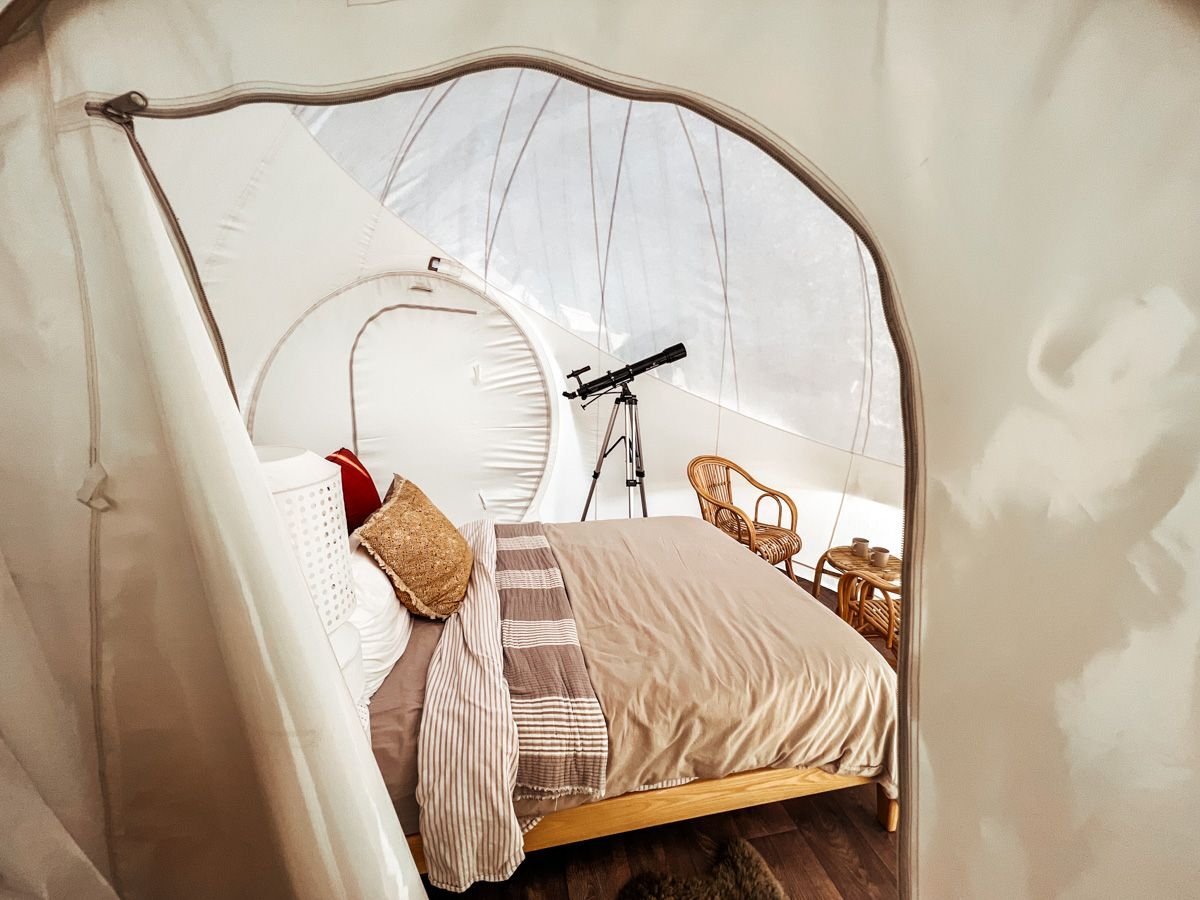 If you've never experienced a bubble tent before, first of all: YOU NEED TO. Also, it utilizes an air inflation system that needs to run constantly to keep the tent inflated. So you'll hear a low hum while you're in the tent, but it's not bothersome at all and will likely just lull you to sleep at night.
The Mirumiru bubble tents have one big bubble with two small bubbles connected to it, separated by zip flaps. The composting toilet and sink are in one of the small bubbles, and the entry hallway with a portable fridge and shelving unit are in the other. You just need to ensure that the flap to the main bubble is zipped up before you unzip the entryway flap on the small bubble so that the big bubble stays fully inflated.
The big bubble is where you sleep: it contains a queen bed with luxury linens and the comfiest mattress I have EVER had the pleasure of sleeping on (and as a travel blogger, I've slept in thousands of beds at this stage, so it's a big call to make). I need to ask Cathryn what brand mattress it is because we've already decided we're buying one when we eventually move into an apartment of our own. You just sort of… melt into it. It's magical.
Both sides of the bed are equipped with heating blankets underneath, with easy-to-access control switches from the bed. At first I questioned why they were still there, nearly at the start of summer – but it does get quite cold at night, so I was very grateful to have them.
Our bubble also had a small table, two wicker chairs, a telescope, and a pair of eye masks.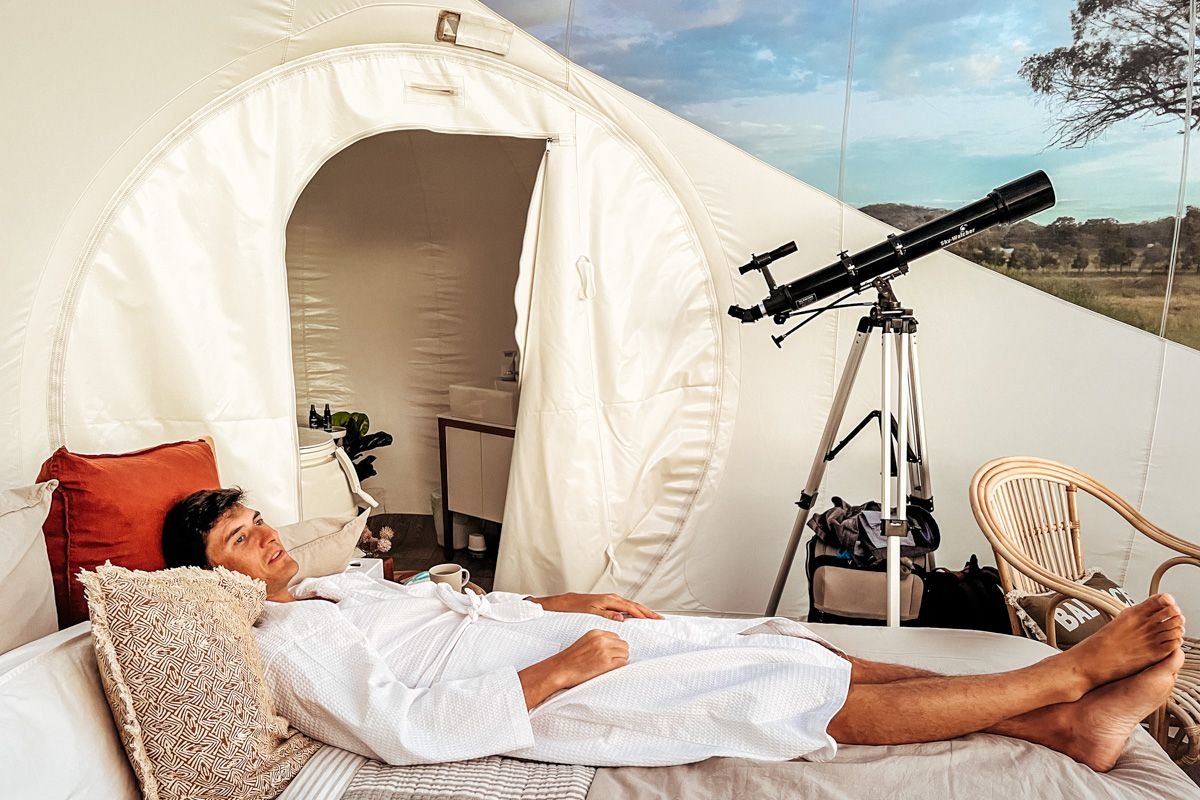 I honestly struggle to think of anything to critique about this fabulous Tenterfield accommodation because everything is so well thought out and presented, but one teeny-tiny suggestion I have is to remove the table and chairs from inside the tent, and replace them with an outdoor table and chair set out on the deck. I think It'd be better to have the extra floor space in the big bubble instead.
As I mentioned earlier, Captain Thunderbolt does have an outdoor table and chairs… but our Captain Moonlite tent did not. We tried to eat one meal inside, but it was a bit uncomfortable using a tiny table that was low to the ground… so after that, we mostly just sat on the deck and ate outside.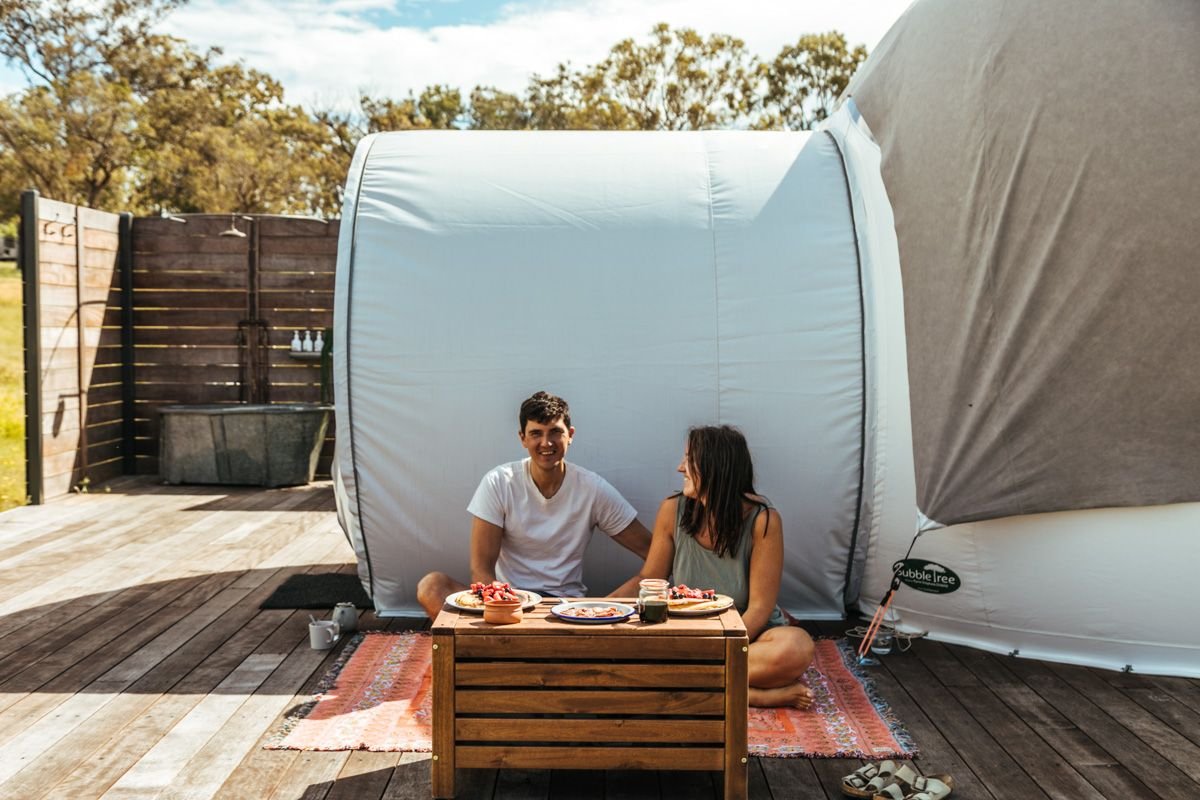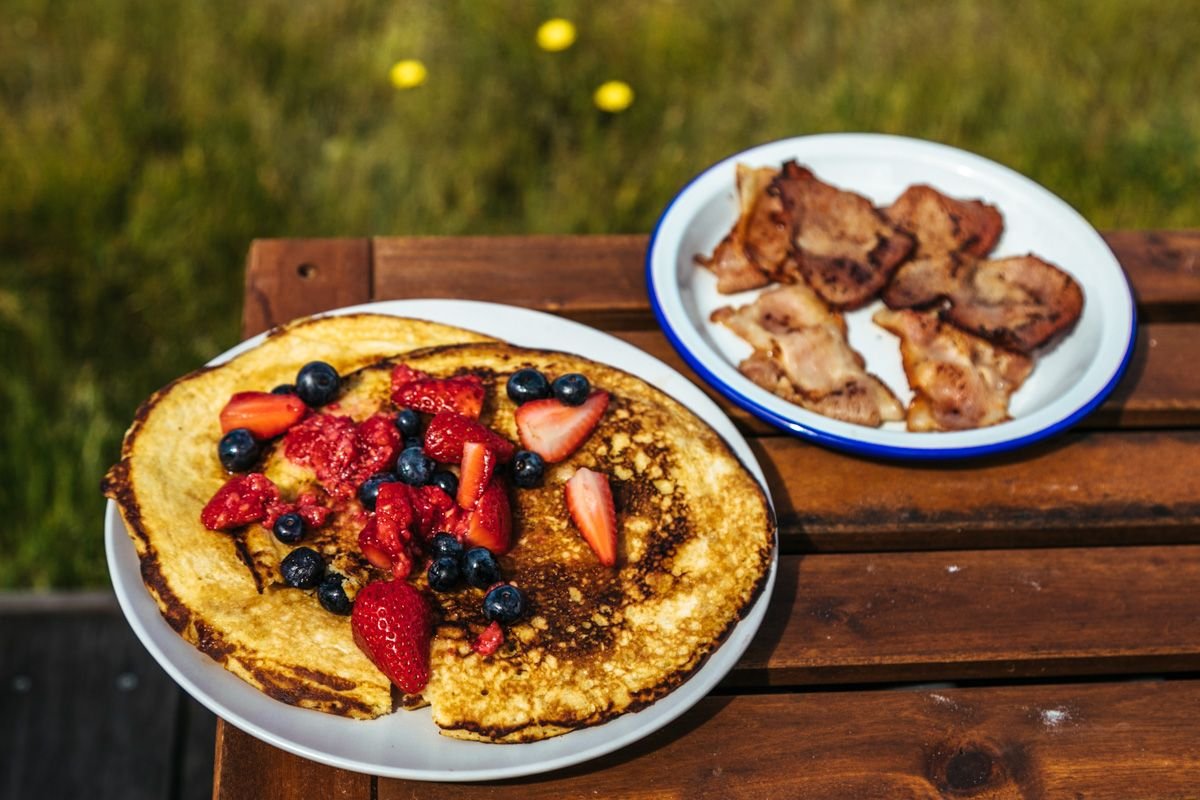 Speaking of eating… you can upgrade your stay by adding on pre-cooked and ready-to-prepare meals, wine and cheese platters, and pantry staples – with "everything homemade from sustainable, locally sourced ingredients". I blindly selected the breakfast add-on and was assured that it would be delicious.
We found a smattering of items waiting for us in the portable fridge upon arrival, accompanied by a sheet of paper outlining what everything was. It turned out to be enough for two days' worth of breakfasts (+ leftovers!): Day 1 was pancakes with berries, butter, maple syrup, and bacon; Day 2 was baked beans and fresh sourdough bread, a quick and easy breakfast for our last day when we had to get an early start. Everything except the bacon was already cooked for us – all we had to do was heat up the pancakes and beans. Couldn't have been easier, or more delicious for that matter. I never knew baked beans could taste this good!
Also worth mentioning: in addition to being local and sustainable, all of our breakfast items were wrapped in compostable packaging.
In fact, both bubble tents are equipped with trash, recycling, and compost bins, use filtered rainwater at the taps, and provide organic toiletries. So if you're looking for sustainable accommodation in Tenterfield, Mirumiru definitely fits the bill.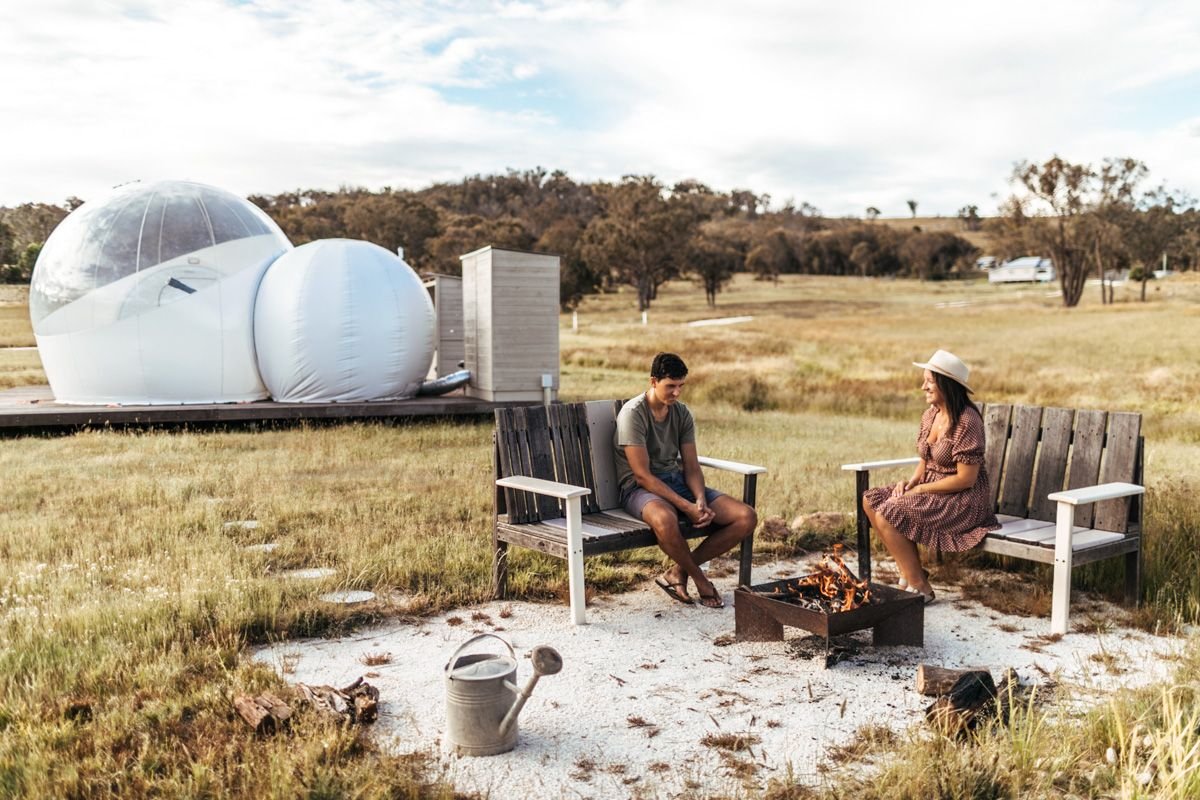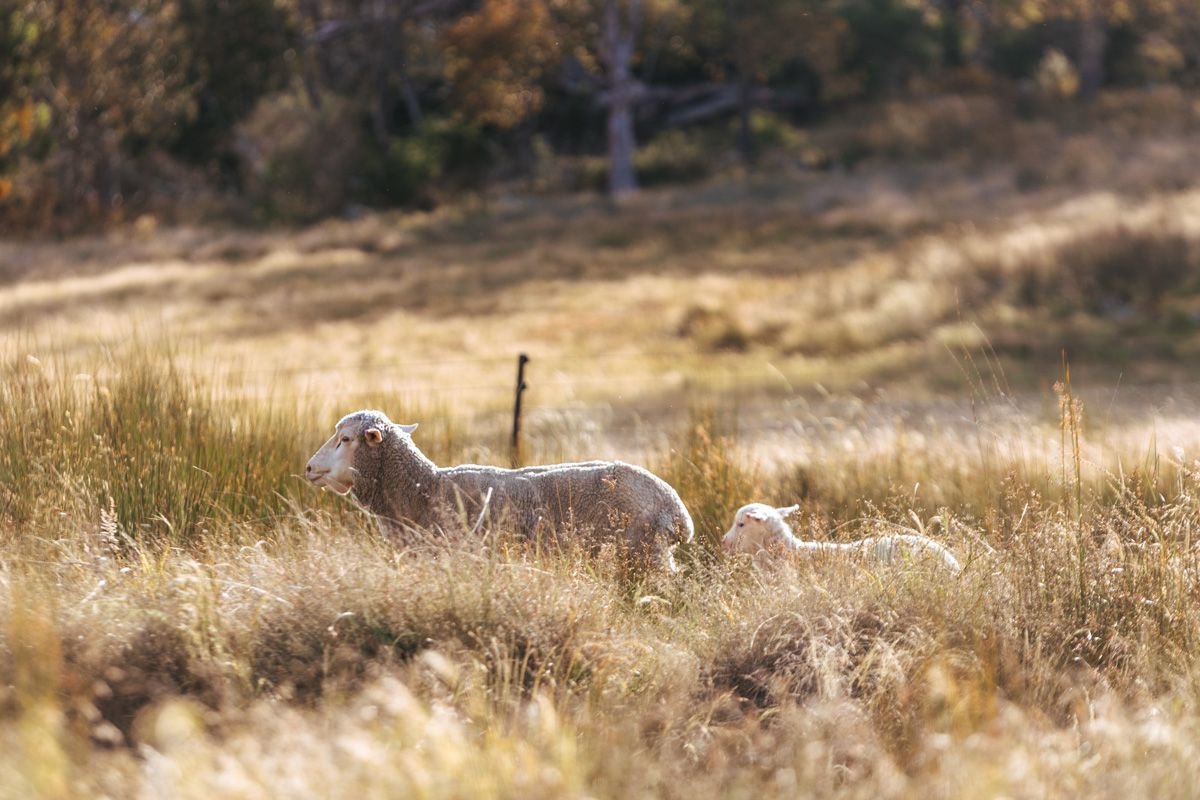 Next to the tent platform, there's a fire pit with benches to sit on and some wood to start a fire with. We had a fire one evening, but admittedly I was a bit too distracted by the sunset, snapping 5 million photos, making dinner, and taking a bath to enjoy it as much as I would've liked.
There's a little kitchen of sorts on the deck, equipped with most everything you need to cook some simple meals (e.g. a single burner camp stove, olive oil, small pot, frying pan, kettle, etc) as well as coffee, tea, and cocoa to drink. There isn't a sink, but there is a small container you can fill with water from the bath tap to wash dishes.
And next to the kitchen? Only the most exciting thing you can find at a glamping accommodation: an outdoor vintage bath!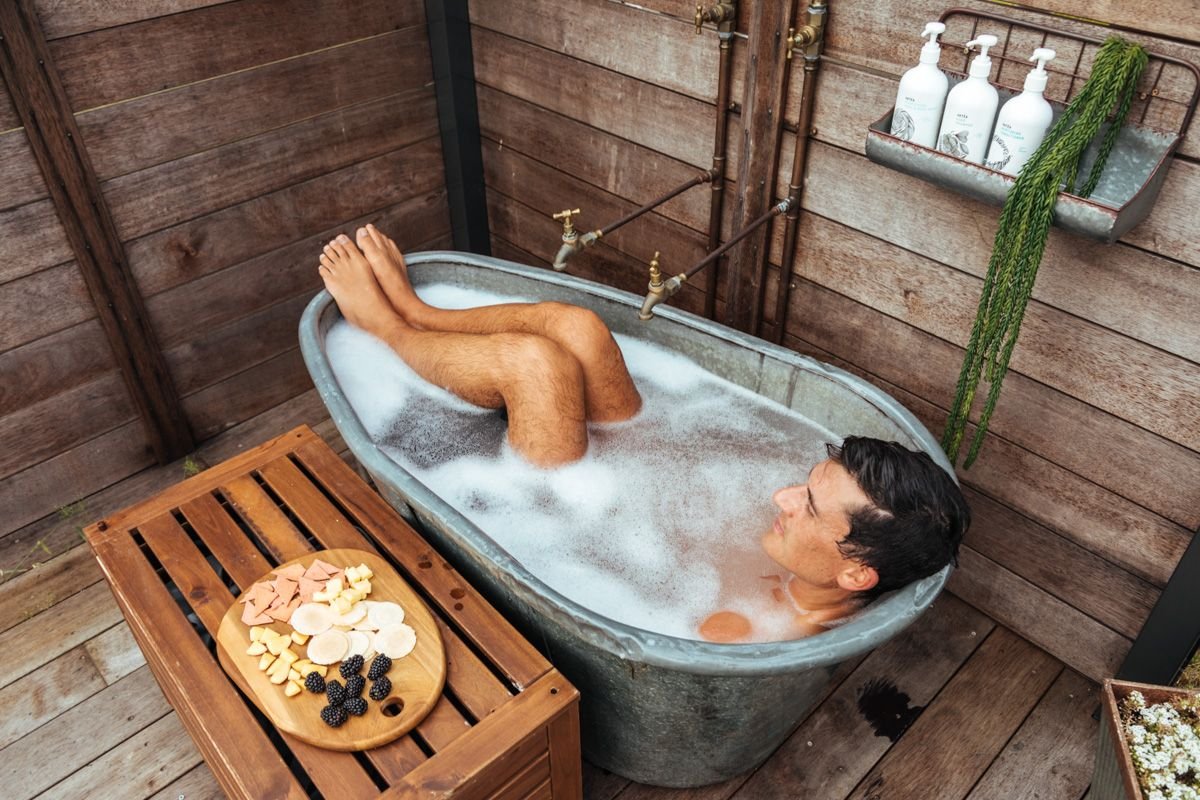 Technically it's a combined shower + tub, but we only took baths while there. There's a shower curtain you can hang up if you're concerned about privacy, but the two walls that frame the tub should be enough to hide you in case there are guests wandering around the other tent.
I highly recommend taking a bath in the evening, just after sunset. You get to watch the lingering sunset colors give way to stars once it's dark and it's the BEST.
Oh and don't worry about bringing any of your own shower things, as they provide shampoo, conditioner, soap, towels, and robes.

Anyone else think Tenterfield accommodation setup this looks like a heart?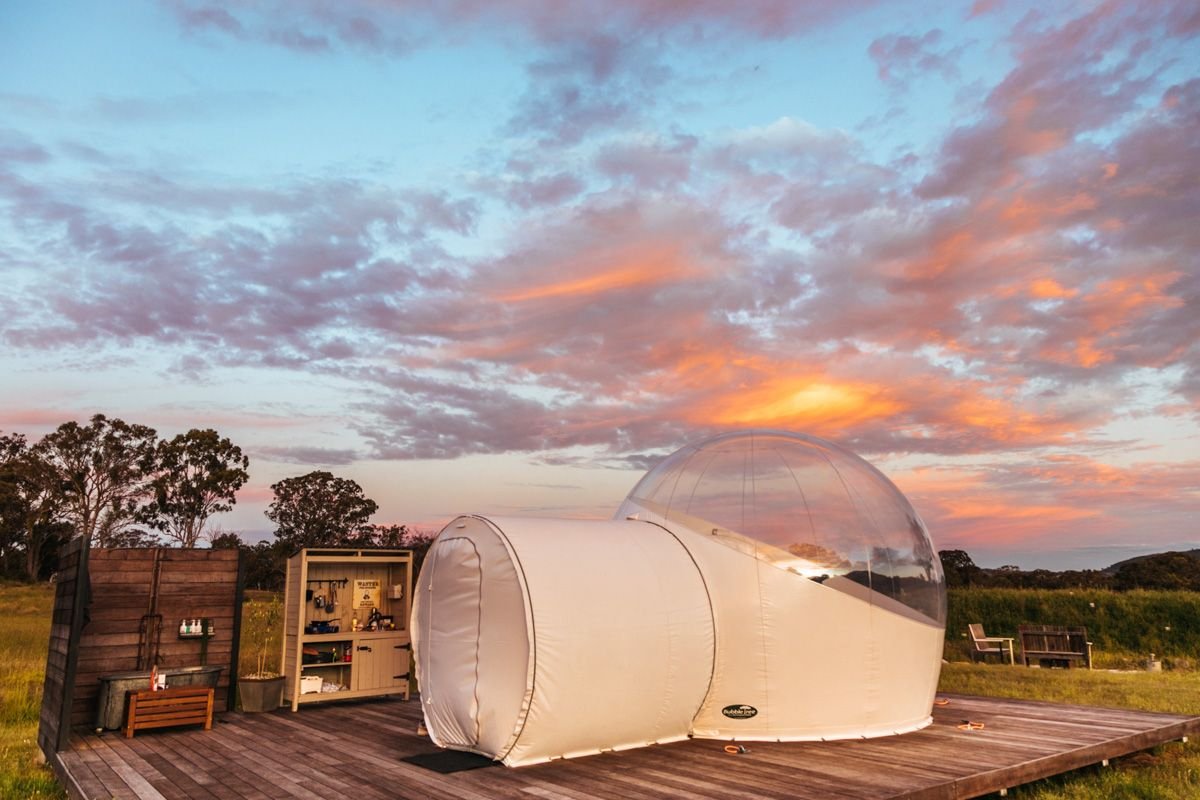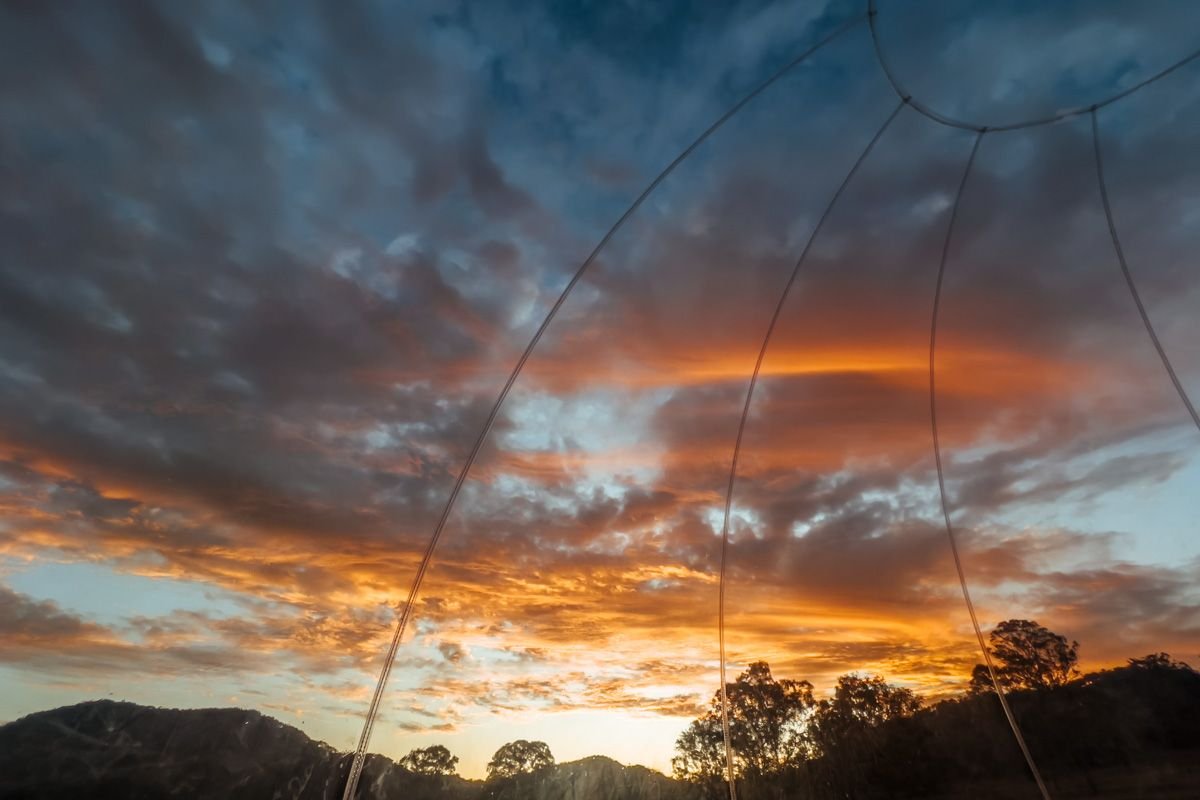 Normally I'm all about enjoying the day and resting or working at night, but at Mirumiru the best time of day is the evening. After all, you're here to stay in a bubble tent, and the whole point is to be able to look up at the sky from inside the tent.
I'm not sure what's in the air around Tenterfield (other than zero light pollution), but the sunsets here are NEXT LEVEL. Both nights we were treated to a lengthy show of various shades of pink dancing across the sky. The colors lingered around the horizon for a full hour after sunset.
The only other place I've ever witnessed such consistently epic sunsets is Kakadu, up in the Northern Territory. It's a rare thing, and it makes a stay at Mirumiru extra special.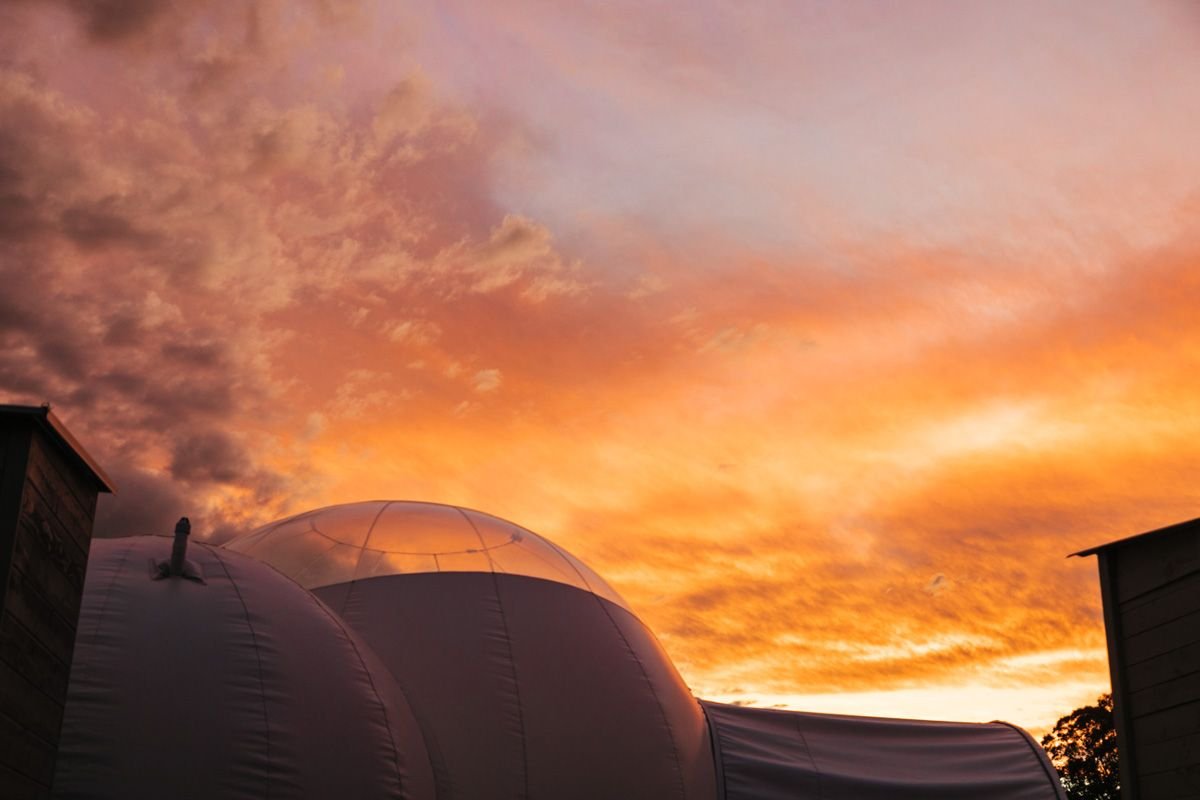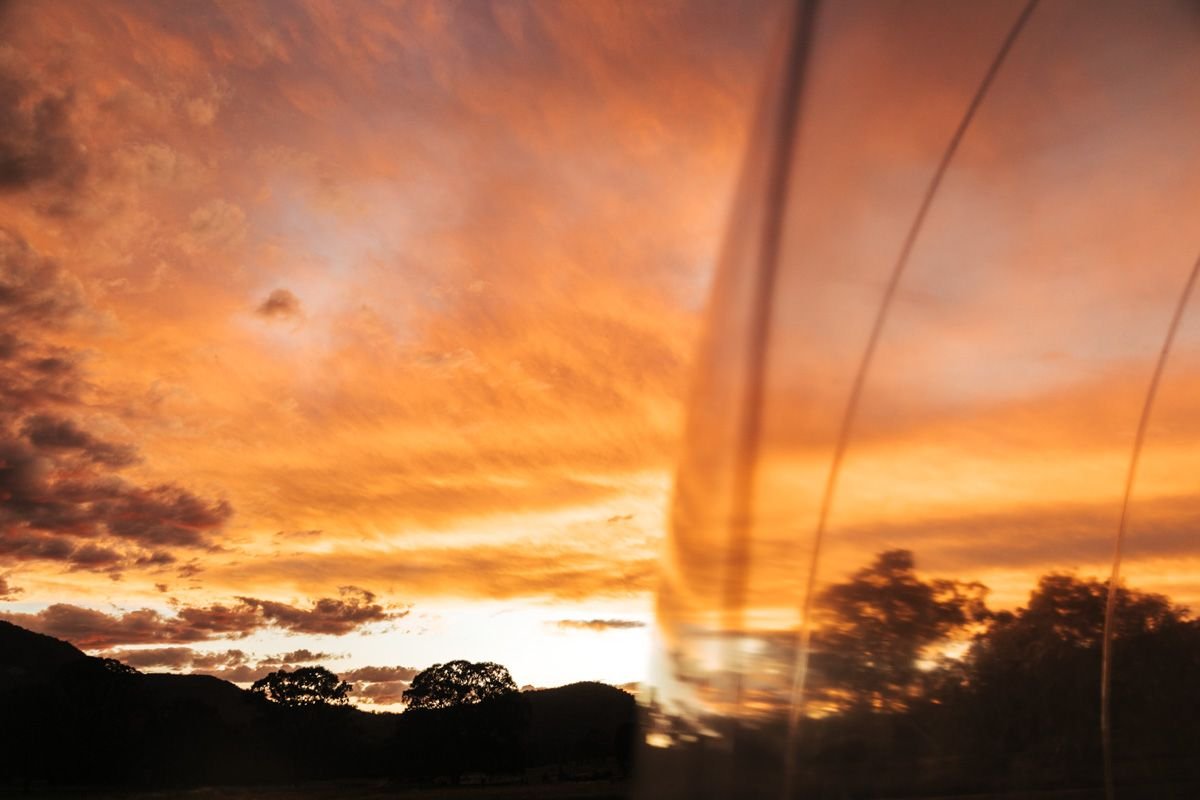 After sunset, we'd eagerly hop into our super comfy bed to get warm, wait for the lingering clouds to clear, and then turn the lights off.
Once we adjusted our eyes to the darkness, we could see millions of stars right through the clear bubble tent walls. Honestly, you forget you're even in a bubble tent when you're in the dark – it's just like laying outside in a swag, looking up at the night sky (except you're much comfier and warmer in a proper bed ;).
Is there anything better than falling asleep under the stars?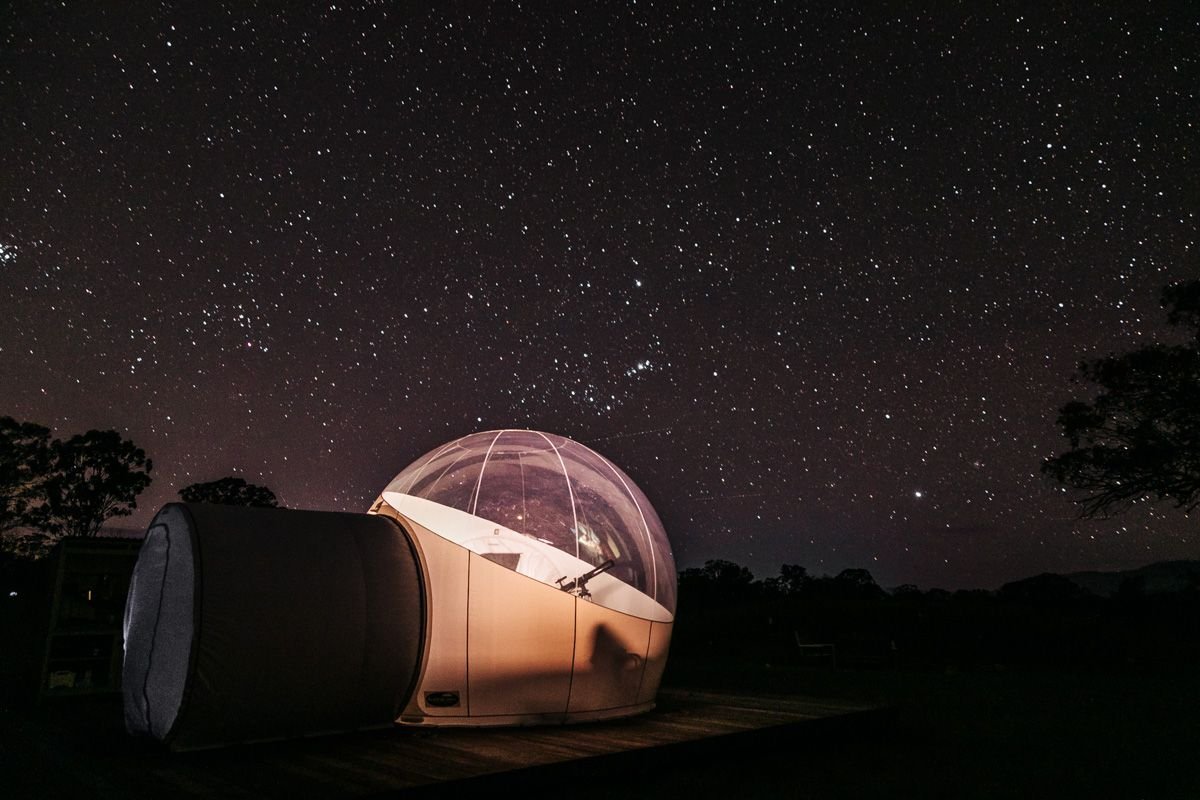 Top Tips For Staying At Mirumiru Bubble Tent
Have I convinced you to drop what you're doing and book a stay at this unique and sustainable Tenterfield accommodation?
Here are a few extra tips for making your stay there the best it can be:
Aim to stay around the new moon, rather than full moon, for maximum star gazing opportunities.
Pre-book breakfast and/or a wine and cheese platter both for ease and enjoyment (the food is all locally sourced and so delicious!).
If you want to cook anything in a medium or large pot, bring your own (there's only a small pot available, at least at Captain Moonlite). Otherwise you can leave all utensils and cooking gear at home.
Always wear closed toe shoes when walking in the grass around your tent platform (there are snakes around, though thankfully we didn't encounter any. There's also a snake bite kit in the tent, just in case).
Put the protective cover back over the big bubble right after you wake up. The sun will warm the tent up VERY quickly if it's able to go through the clear walls!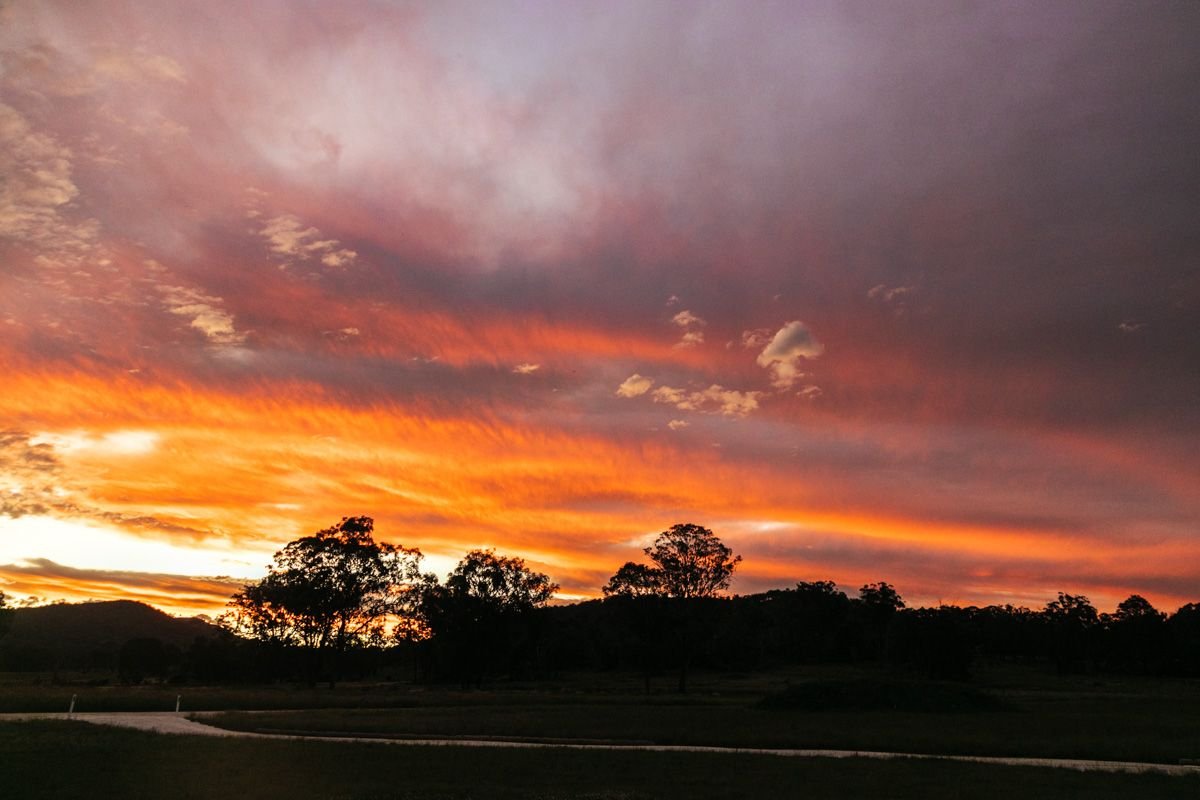 Things to do in Tenterfield
Full disclosure, we didn't do anything in town during our visit because we wanted to enjoy our glamping accommodation in Tenterfield as much as possible.
But if you're got time or itchy feet, there is so much to see and do in the area. Here are a few of the best options:
Explore Bald Rock National Park
Drive up to Mount Mackenzie Lookout (Rt 9 is a gloriously scenic drive!)
Tour the wineries just over the Queensland border (there are lots between Stanthorpe and Wyberba, 20-40min north of Tenterfield)
Thank you to Mirumiru Bubble Tent for gifting us with this glamping experience. Note that all opinions expressed here and elsewhere on this blog are my unbiased own, and are uninfluenced by any gifts or incentives I may receive.
Pin it!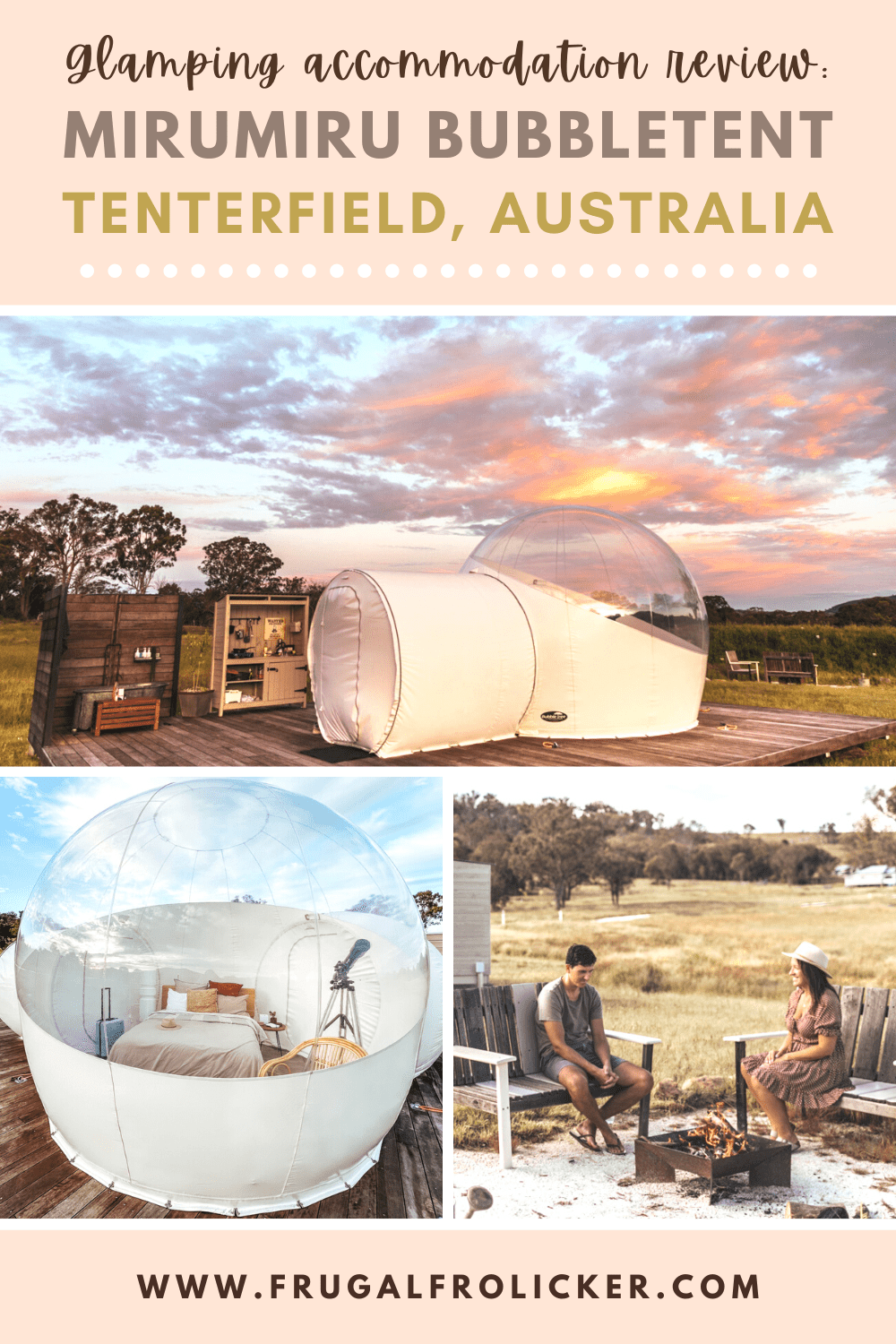 Pin it!