This Brisbane to Sunshine Coast road trip blog post was originally published in October 2017 and last updated in July 2020.
—
It may not be one of Australia's most renowned regions, but Queensland's Sunshine Coast is well worth a visit. Spanning from Caloundra up to Great Sandy National Park (or approximately Brisbane to Noosa), it's delightfully low on tourists, boasts reasonably warm winters (think 70F/20C), and offers both beaches and mountains. Does it get any better?
I readily admit that the Sunshine Coast was never high on my Australian travel radar. It doesn't really host any of the super-popular touristic hotspots that one might normally plan a trip around, so for the past couple years I'd been busy crossing everything else off my Aussie to-travel-to list.
Now that I've had a chance to explore this part of Australia, I feel kinda silly for ignoring it for so long. The Sunshine Coast is a downright pleasant, relaxing, and beautiful place to be, and the fact that it's not very popular only adds to its allure.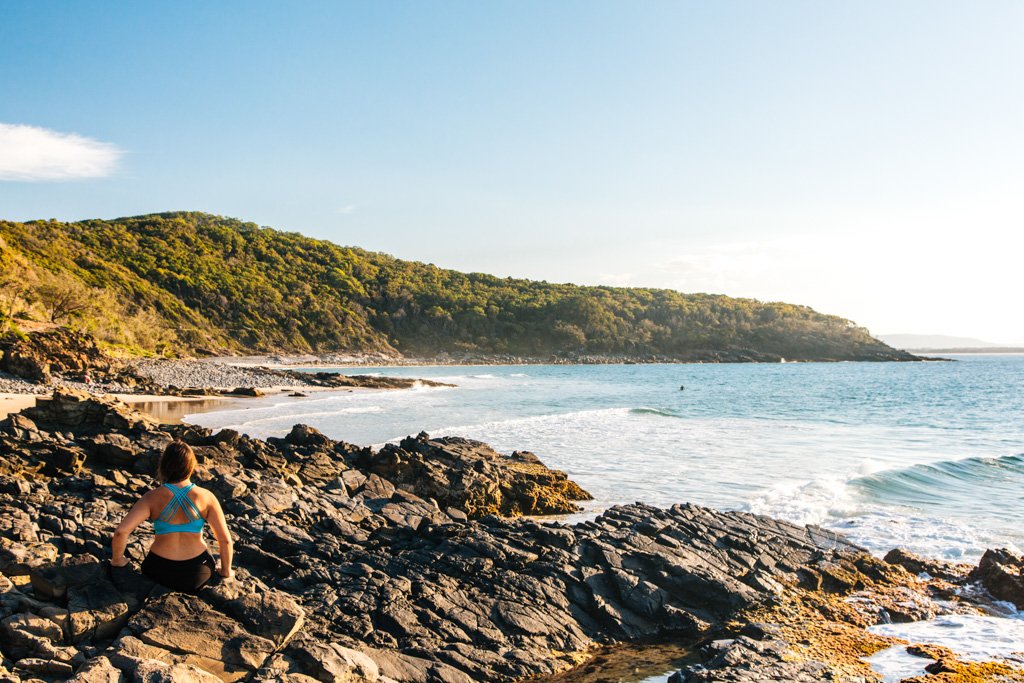 Noosa National Park.
I think the Sunshine Coast is best done as a 4-day road trip from Brisbane to Noosa. Sure, you could spend more or less time there than that, travel by bus, or base yourself in one spot – but I'm hoping I can convince you otherwise in this post.
I flew into Brisbane and began my Sunshine Coast road trip from there, but you could also fly to the Sunshine Coast airport in Marcoola which is right in the center of the region. I'd recommend starting in Brisbane because flights tend to be much cheaper into Brisbane airport, and because it's super close to the start of the Sunshine Coast so you won't be wasting much time in getting to/from the region.
Brisbane to Noosa is about a 90 minute drive, while Marcoola to Noosa is about a 35 minute drive – so it's mercifully not a driving-heavy road trip.

Glass House Mountains.
Day 1: Brisbane to Noosa
Day 1 of this Brisbane to Sunshine Coast road trip is all about exploring the beaches of the Sunshine Coast.
The beaches here aren't at all glitzy like Bondi or Surfers Paradise; they're insanely chilled out and have a very "local" feel to them. You're far more likely to see families rather than tourists enjoying the Sunshine Coast beaches.
Here are a few worth mentioning along the way: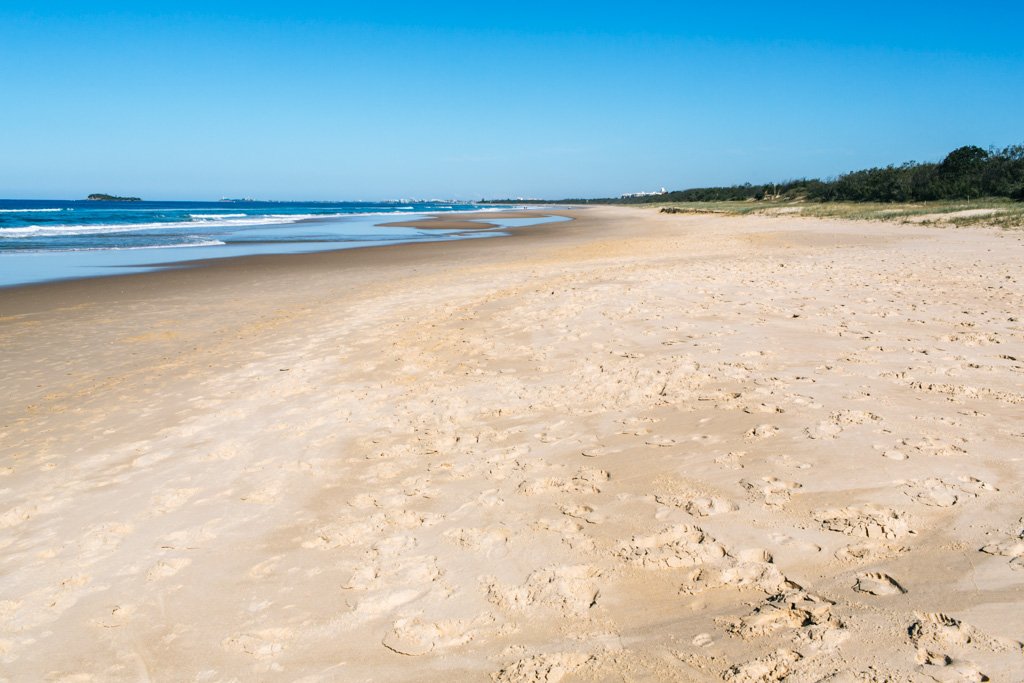 Marcoola.
Caloundra
Caloundra is the first beach town you'll hit if you start your Sunshine Coast road trip from the south (i.e. Brisbane to Noosa).
Kings Beach in Caloundra was named the best beach in Queensland by Surf Life Saving Queensland, so you could do worse than enjoying the rock pools and calm waters here on a nice sunny day (which, honestly, is just about every single day of the year in this neck of the woods). There's also a boardwalk that runs for 25km along the waterfront from Caloundra to Mooloolaba if you fancy a leisurely coastal walk.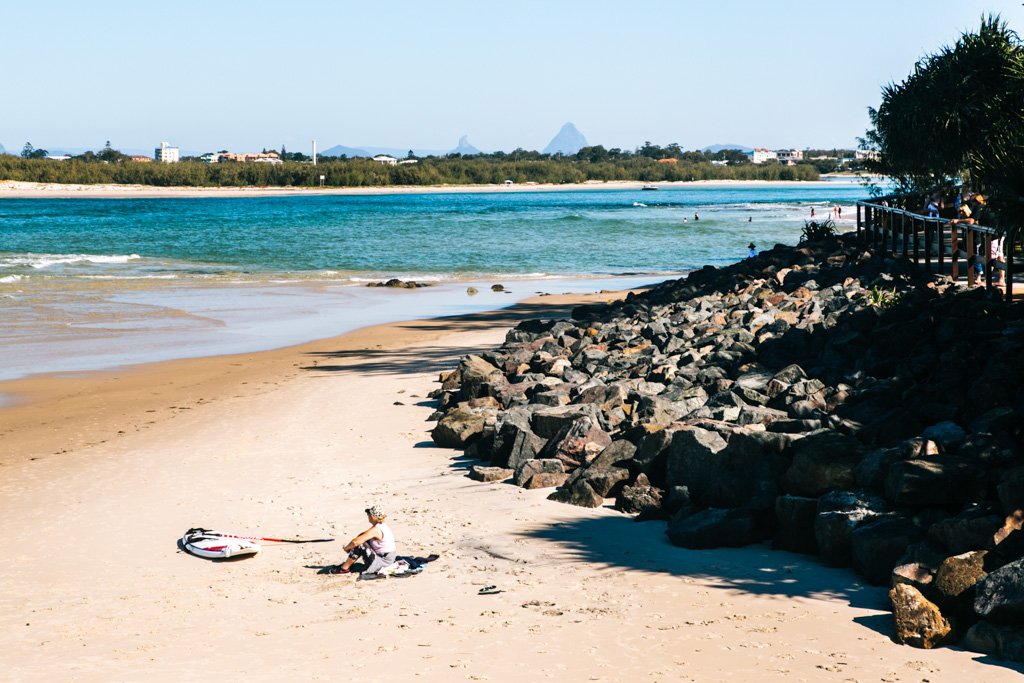 Bullcock Beach in Caloundra, with Bribie Island and the Glass House Mountains in the distance.
Bribie Island is just off the coast and visible from Caloundra. The Pumicestone Passage separates the two land masses and is an ace spot to explore by kayak, jet ski, or paddle board (all of which you can rent from Bill's Boat Hire).
Coolum
Coolum's another chilled out beach town on the Sunshine Coast. Especially of interest is Mount Coolum, where there's a very popular 800m walk up to the summit yielding fantastic views of the coastline and surrounds (2 hours return). It's a local favorite in terms of things to do in Sunshine Coast.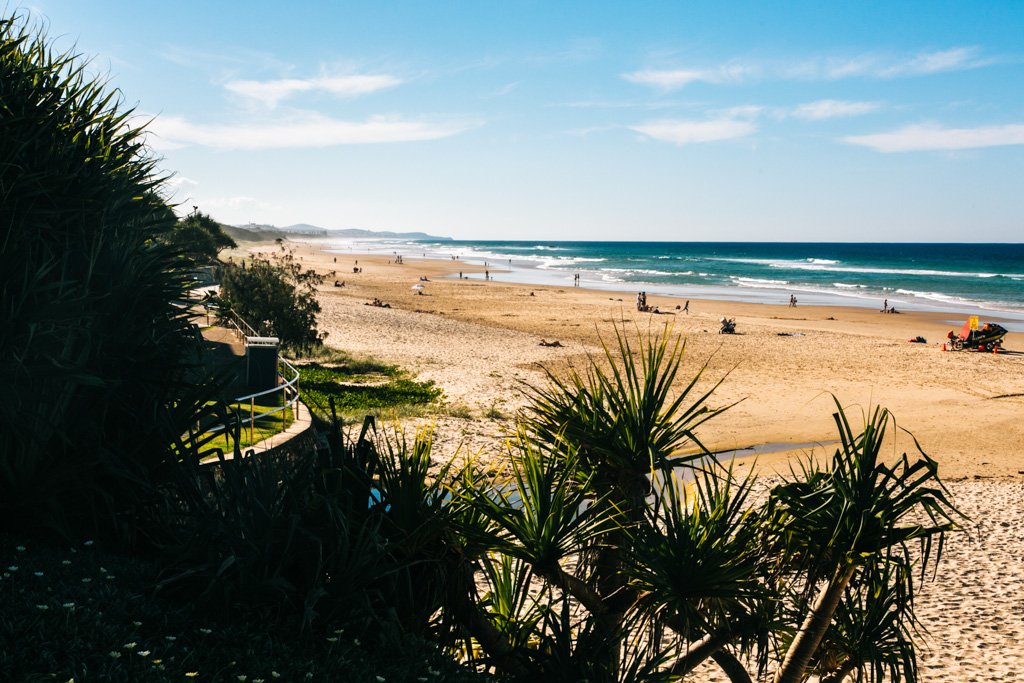 Coolum Beach.
Marcoola
We stopped for lunch at Little Boat Espresso in Marcoola. It felt like something straight out of Byron Bay and/or created specifically for Instagram. Needless to say, I enjoyed the hell out of it and my coffee.
Marcoola itself seemed to be super sleepy to me, with a near-empty beach up for grabs.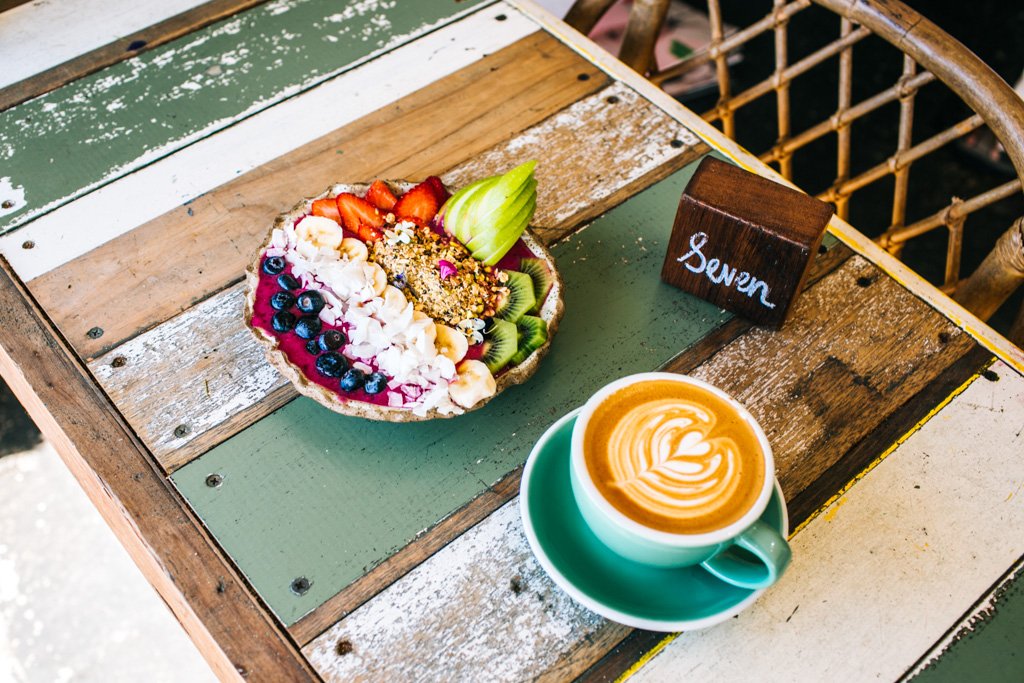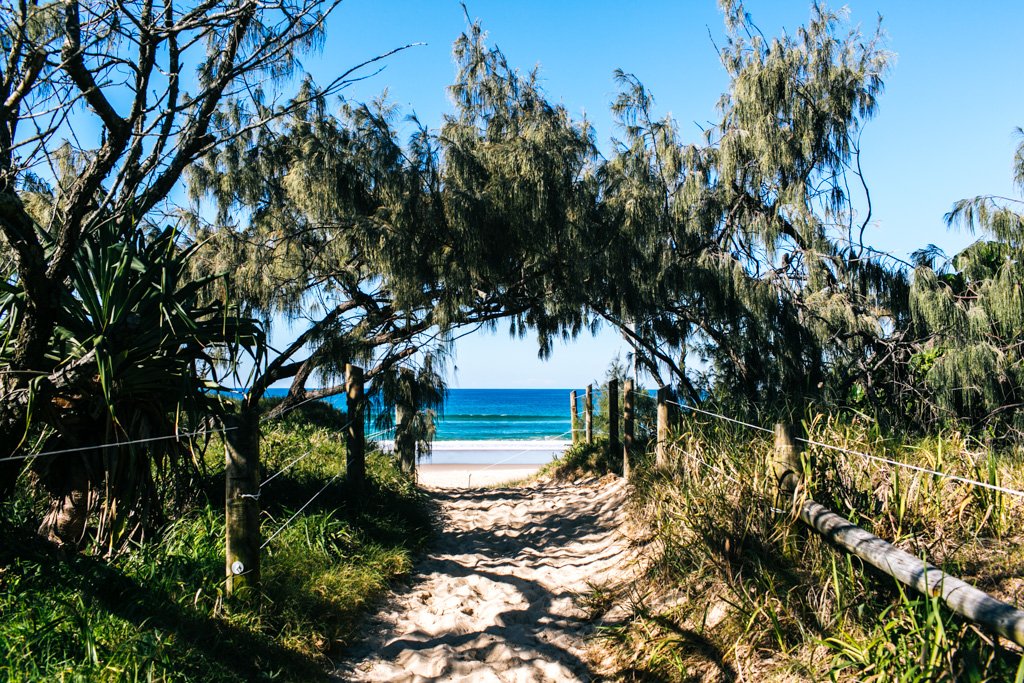 Mooloolaba
First thing's first: this town's name is pronounced moo-LOO-luh-bah, not moo-loo-LAH-bah (my Aussie road trip buddy thoroughly enjoyed making fun of me for that one, oops!).
Mooloolaba is one of the larger towns on the Sunshine Coast. Personally, I don't think it hosts the best beaches; I DO, however, think it's one of the best sunset spots from Brisbane to Noosa. Head up to Point Cartwright Lighthouse and either stake out a sunset spot from up there, or walk through Beacon Lighthouse Reserve and down to the rocky beach. From either place you'll be able to watch the sun go down over the Mooloolah River.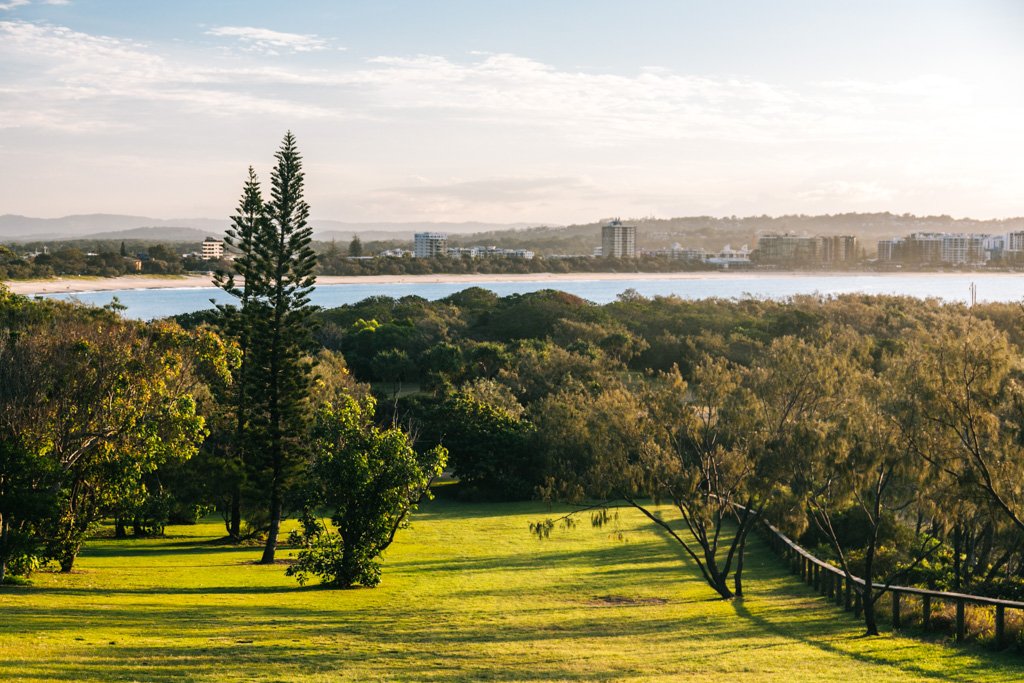 Day 2: Noosa
Ah, Noosa. You could easily dedicate an entire trip to this place, that's how much there is to see and do here.
For the purposes of this Brisbane to Sunshine Coast road trip though, I'm going to narrow it down to just the best things to do in Noosa which can easily be accomplished in one day.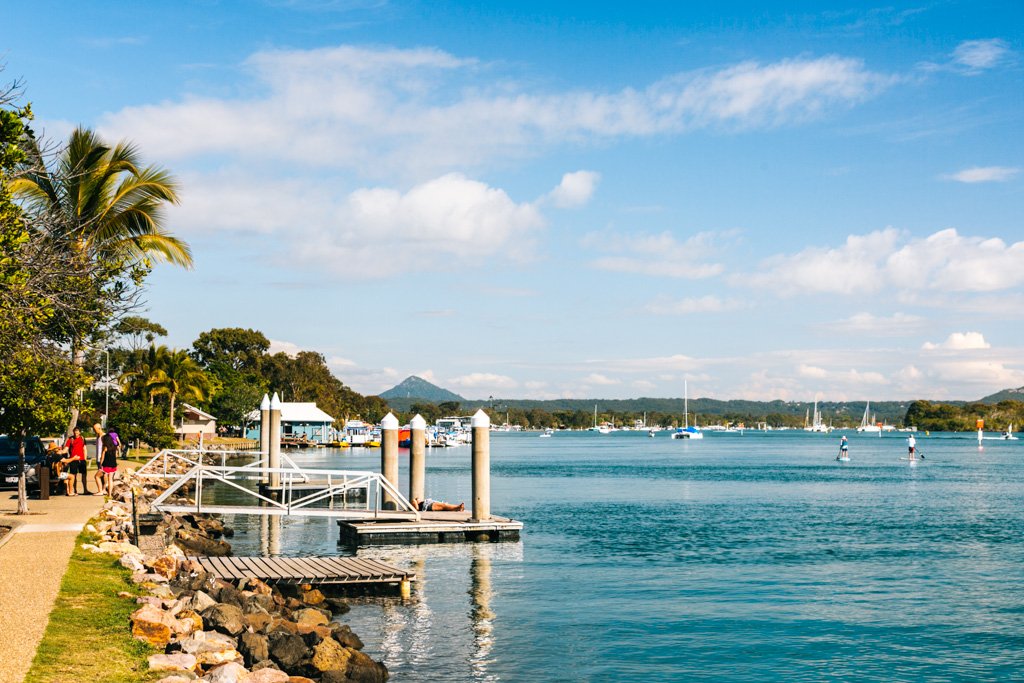 Noosa River.
Noosa Heads
Noosa Heads is the main township in the Noosa region (Noosaville is another), and is where you'll find loads of nice cafes and boutiques. If you're in the mood for more of a lazy morning, you can sit down for brunch in town and then walk it off with some shopping or a frolic through Pelican Beach Park along the scenic Noosa River. Hit up Grind Cafe for a takeaway coffee for your river walk – we loved the coffee there!
Alternatively, for a more active morning you could hire a boat or stand-up paddle board from one of the many vendors along the river.
Whatever you do, be sure to drive up to Laguna Lookout in Noosa Heads to watch the sunset. The view over the river and beach are absolutely sensational, even better if it's a killer sunset. This lookout is certainly one of the best things to do in Sunshine Coast Queensland.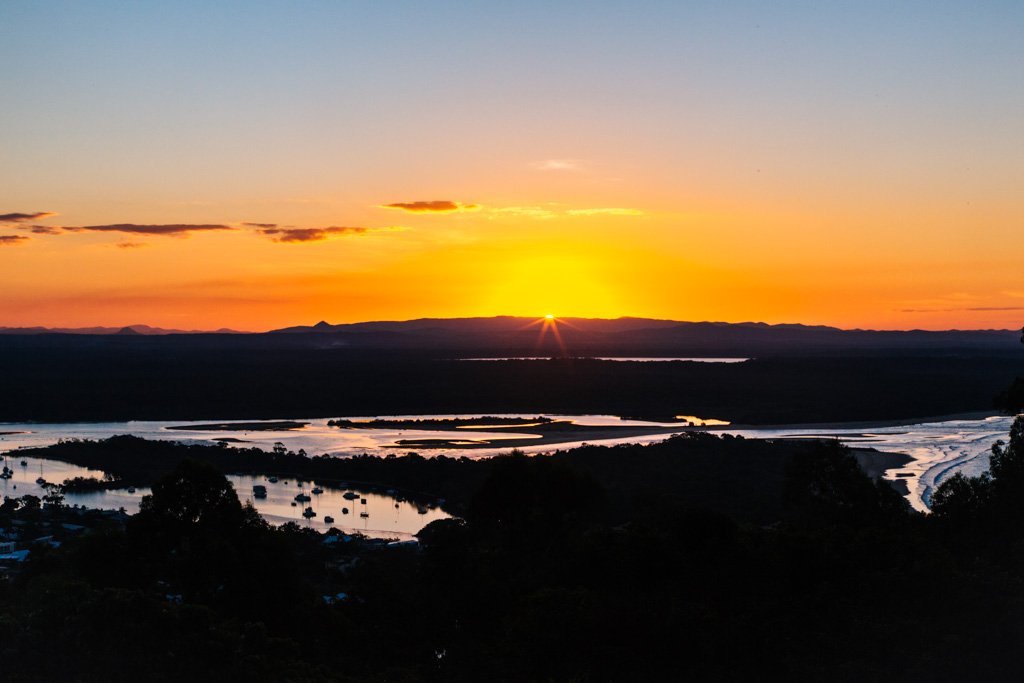 Noosa National Park
If you're a fellow beach bum, I'd recommend spending as much time as possible in Noosa National Park. It is just BEAUTIFUL, and 100% one of the top things to do in Sunshine Coast.
There's an epic 5.4km-long coastal track that leads from Noosa Heads to Sunshine Beach that's a do-not-miss. It'll take 2-3 hours to walk one way with minimal stops, and then you can either walk back or catch a bus back to Noosa afterwards. There are a few quiet beaches along the way that tend to be popular with surfers, but they're far less crowded than Noosa Main Beach – and a lot prettier, in my opinion.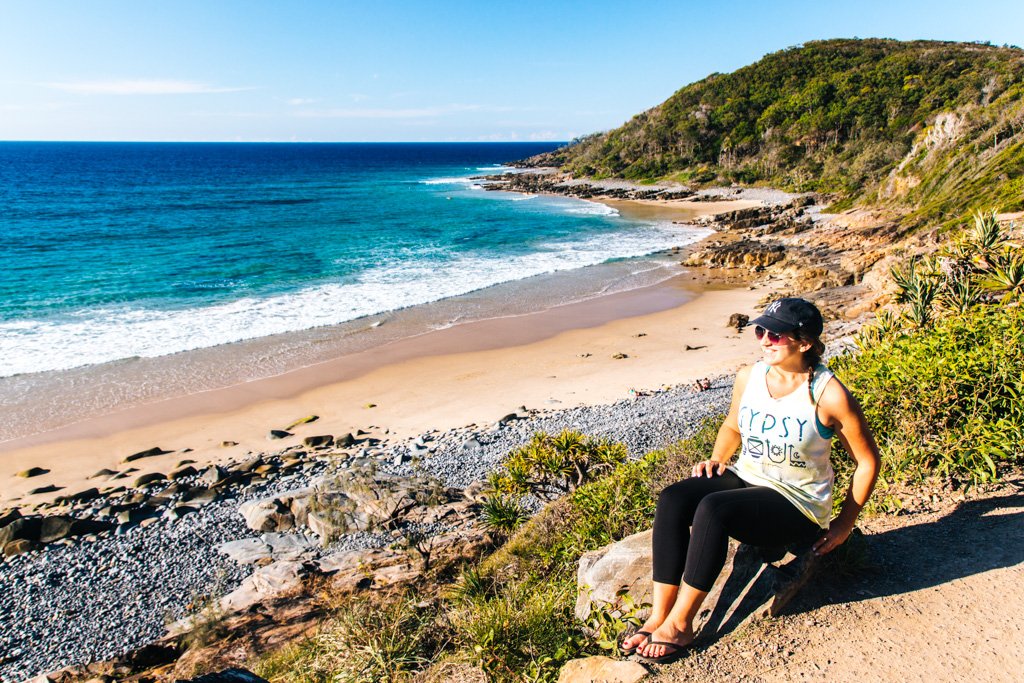 About halfway down the track (or maybe a bit further – you can check on Google Maps), there's a side track that leads down toward the Fairy Pools. Here you'll have to rock scramble to find a couple of tidal pools wedged between some basalt rocks. The water in them is SO CLEAR, and you should be able to spot some coral reef growing on the rock below.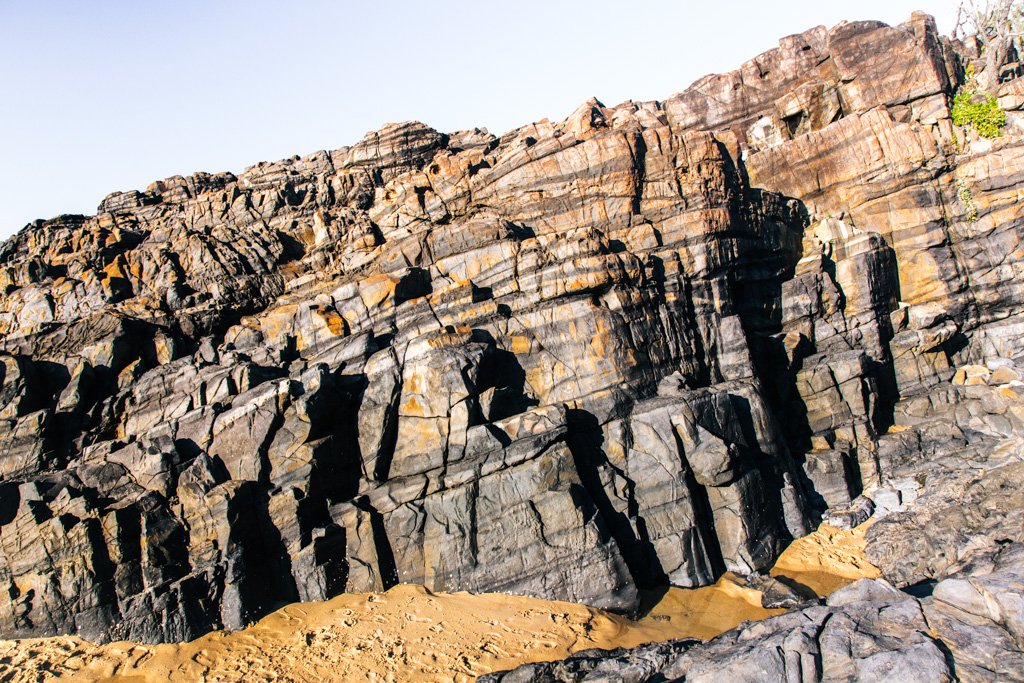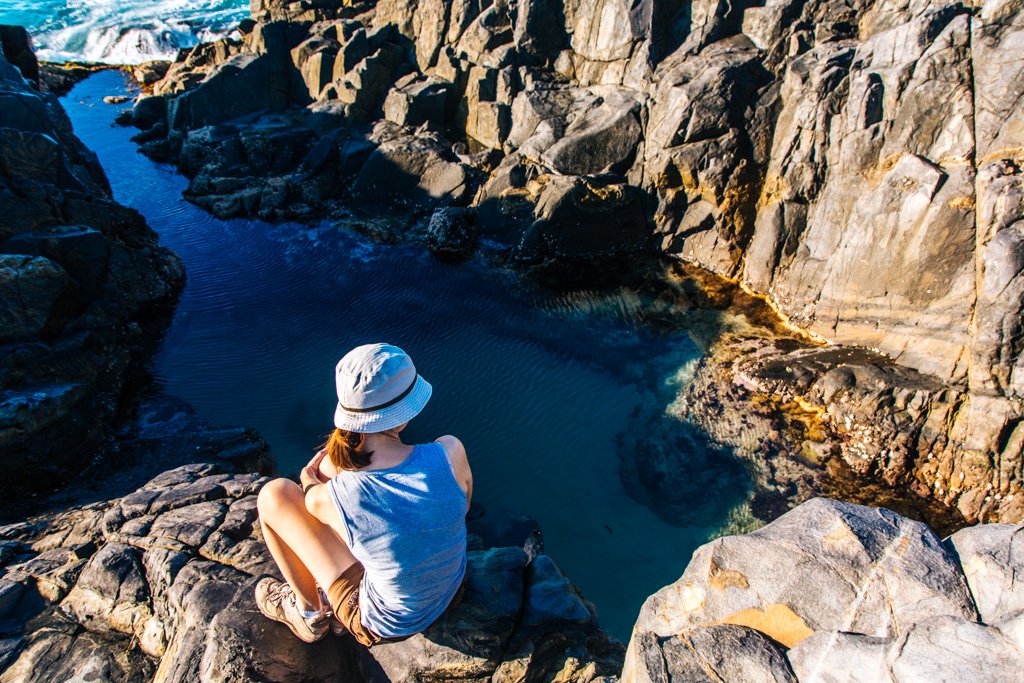 Shortly after the Fairy Pools, there's another side track that leads down to the Devil's Kitchen (also on Google Maps). This is a fabulous place to sit and gaze out at the churning sea below.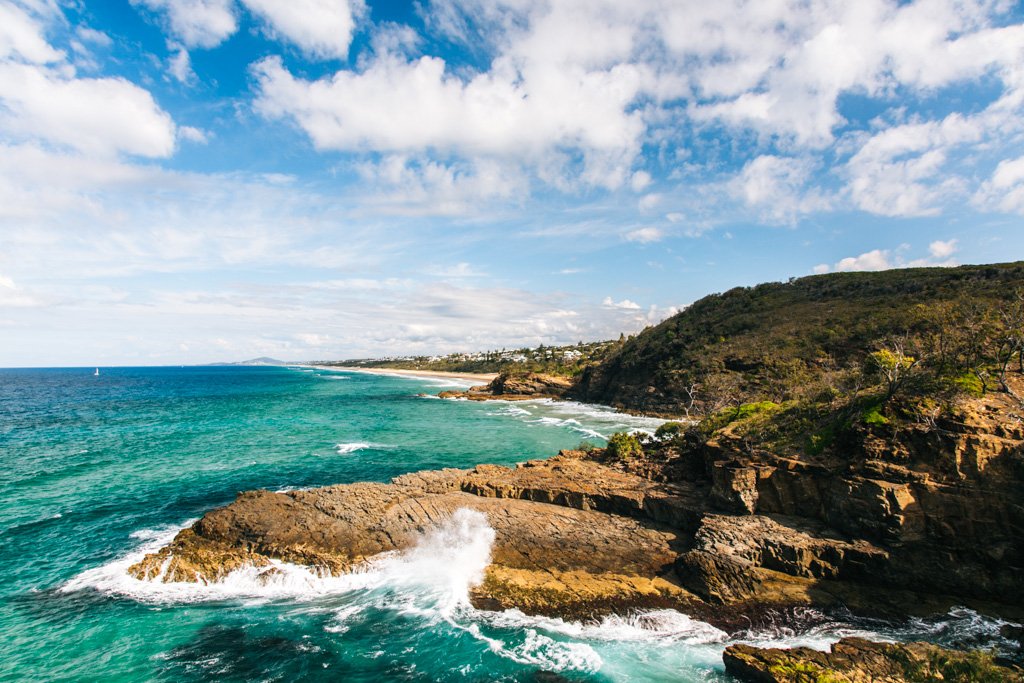 Devil's Kitchen, in Noosa National Park.
It's also worth allowing some time at Sunshine Beach at the other end of the track. Beautiful and near-empty sand for miles, it doesn't get much better!
READ MORE: Outdoorsy Things To Do In Noosa, An Aussie Adventure Paradise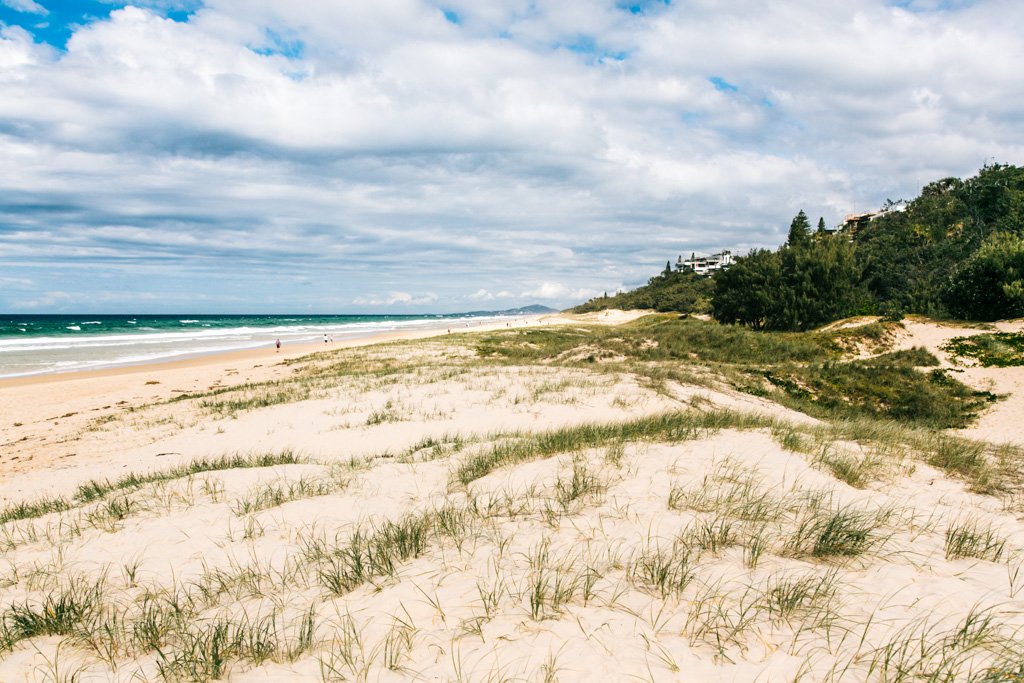 Day 3: Sunshine Coast Hinterland
As dreamy as the coastal part of the Sunshine Coast is, there's actually a treasure trove of other incredible sights and experiences to be had inland as well. I encourage you to divert from the coast and explore the hinterland while driving back from the northern end of the Sunshine Coast to Brisbane.
You probably won't be able to fit all of the following into one day, so pick and choose depending on your interests and time available: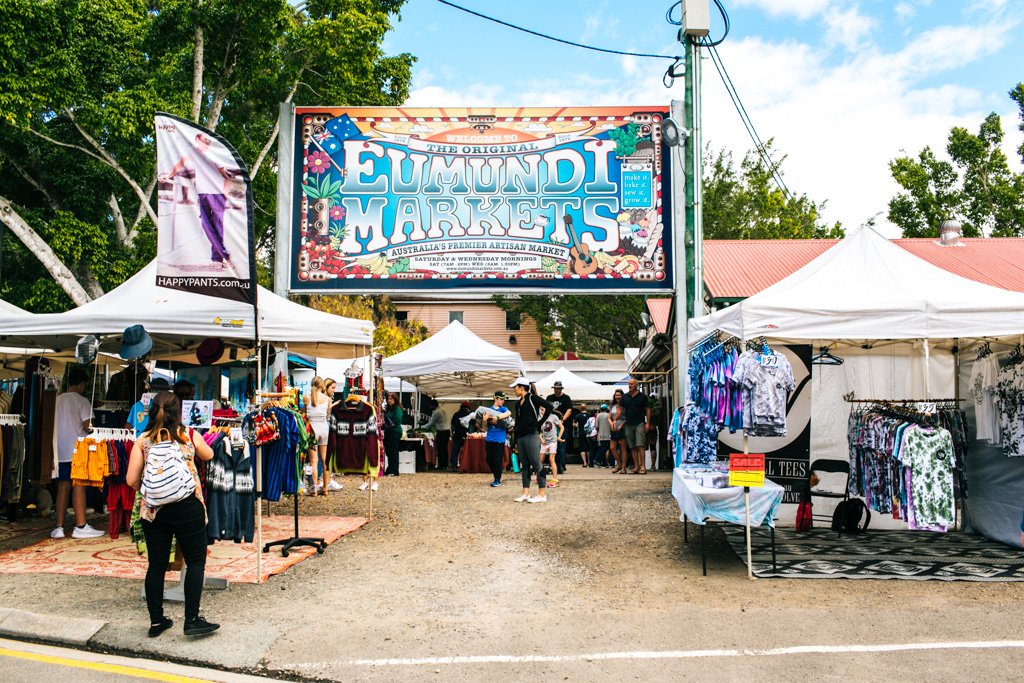 Eumundi Markets
Try to plan your Brisbane to Sunshine Coast road trip so that you're able to drive through Eumundi on a Wednesday or a Saturday, when the Eumundi Markets are held. I don't often recommend markets as must-do activities, but WOW is this one impressive. Definitely one of the top Sunshine Coast attractions.
Whether you're shopping for a unique gift or hungry for lunch, there are a million and one options at the Eumundi Markets. It's far and away the largest market I've seen outside of Thailand, and it's hugely popular – so much so that we had to drive a few laps around town before we found a place to park (on a WEDNESDAY).
Oh and be sure to stop next-door and grab a coffee from Humdrum Espresso. It might be the best Aussie coffee I've had outside of Melbourne! So good that I went back for a second flat white when I definitely didn't need one (whoops).
Waterfall Hikes
Once you head inland, there's actually quite a bit of lush forest in the Sunshine Coast where you can camp and hike.
There's a fairly popular hike to Kondalilla Falls, probably best done in warmer months so that you can frolic in the rock pools at the end of it. The 4.7km circuit is said to take about 2.5 hours to complete.
We opted instead to do an easy stroll through Buderim Forest Park. The first 2/3 of the trail is lined with a boardwalk, and the final 1/3 is a dirt path involving a bit of rock hopping – but in sum, it's an easy and very accessible hike, ideal if you're not looking for anything too strenuous but want a quick hit of nature.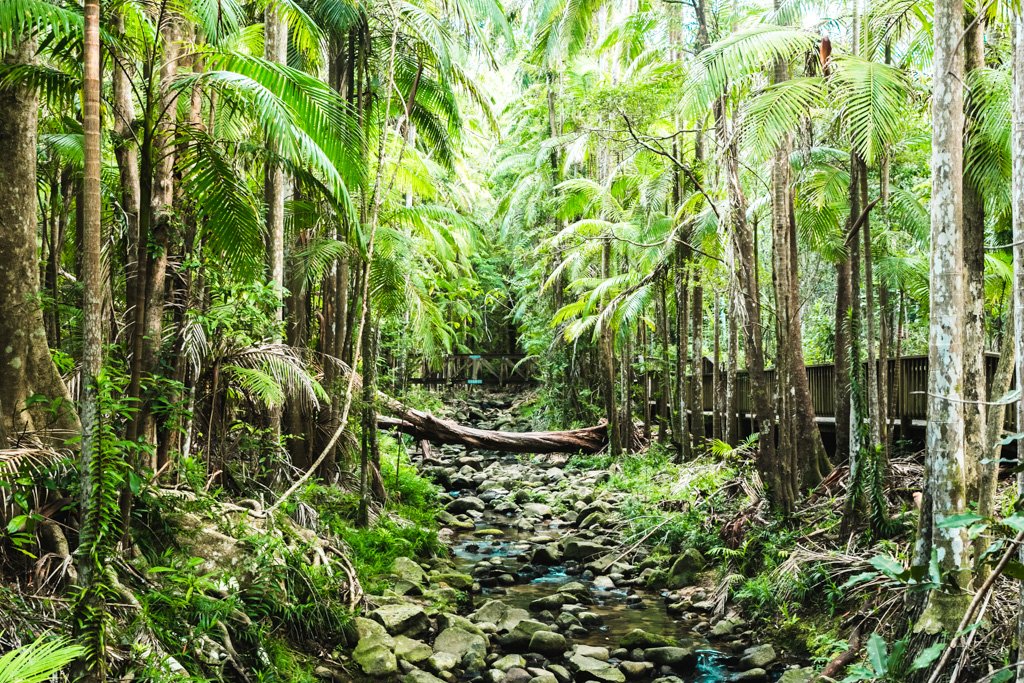 Blackall Range Tourist Drive
An excellent way to explore the Sunshine Coast Hinterland is to take the Blackall Range Tourist Drive (click for map) and stop along the way to take in the views of the surrounding mountains and coastline.
Gerrard's Lookout is best at sunrise, where you can watch the sun come up from over the ocean and light up the Hinterland before you.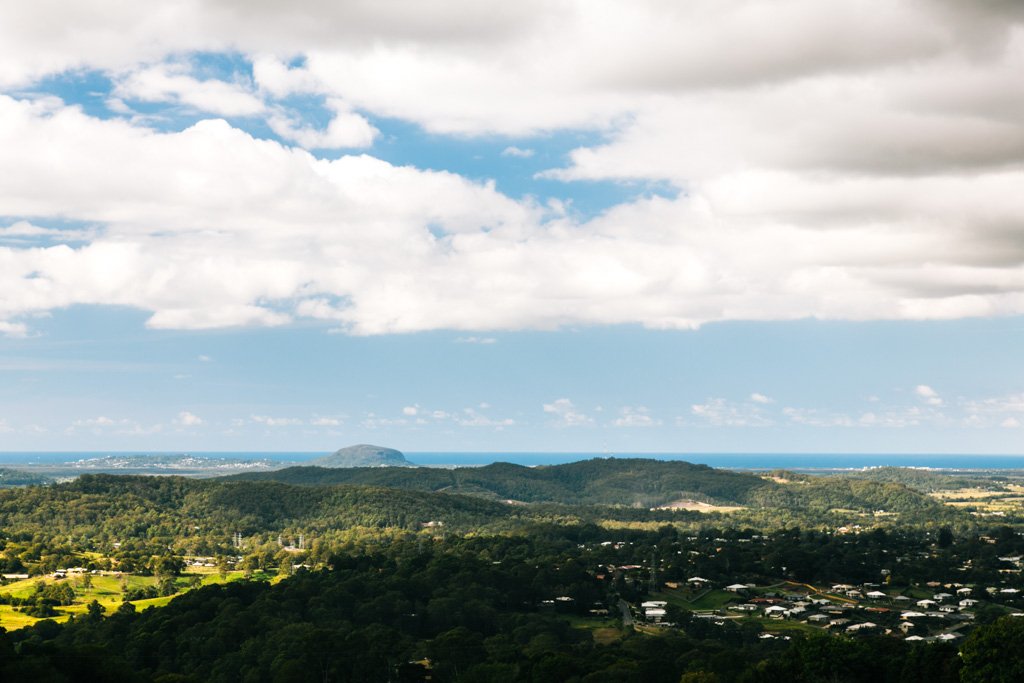 One Tree Hill is another really cool spot where you can glimpse the Glass House Mountains from a hill in Maleny… with a lone tree in the foreground.
Wine & Cheese Tasting
No road trip of mine and Teresa's would be complete without some wine tasting and cheese nibbling, and sure enough we found a few places to do this in the Sunshine Coast Hinterland. This region does not by any means produce the best wine in Australia, but it's worth trying if you happen to be in the area.
Maleny Cheese sells cheese platters that you can enjoy out on their deck, while Maleny Mountain Wines and Flame Hill Vineyard in Montville offer wine tastings and dining amongst picturesque grounds.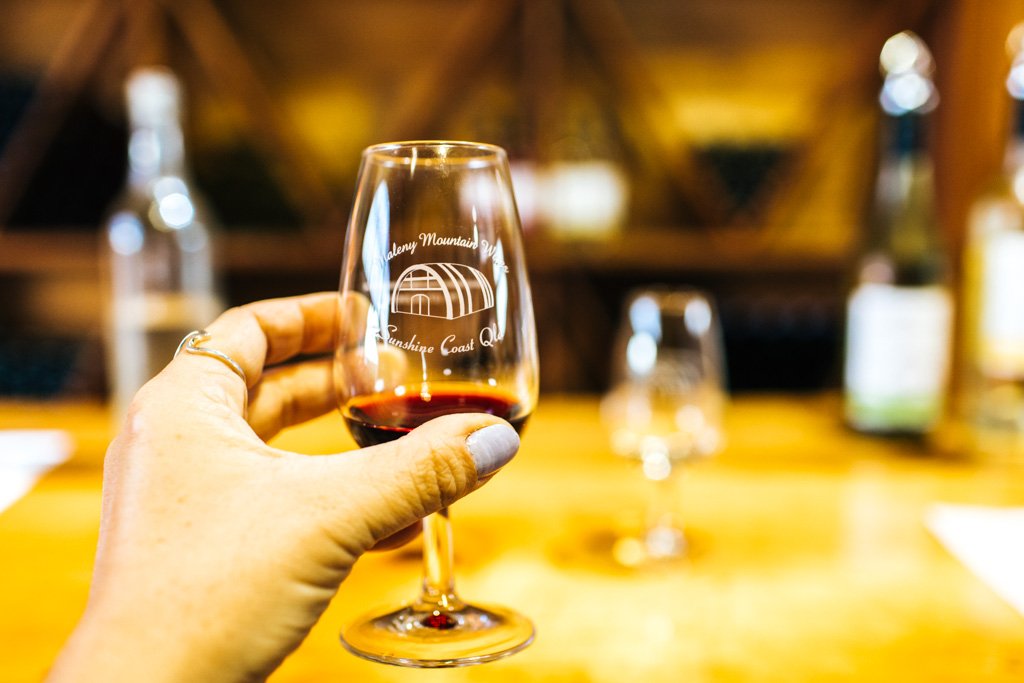 Day 4: Glass House Mountains
No matter what kind of hiker you are (hardcore, casual, not-at-all), definitely carve out at least a day on your Sunshine Coast to Brisbane itinerary to explore the Glass House Mountains.
There are a few worthwhile lookouts just a quick walk from where you park your car, including the Tibrogargan Lookout and the Glass House Mountains Lookout Circuit.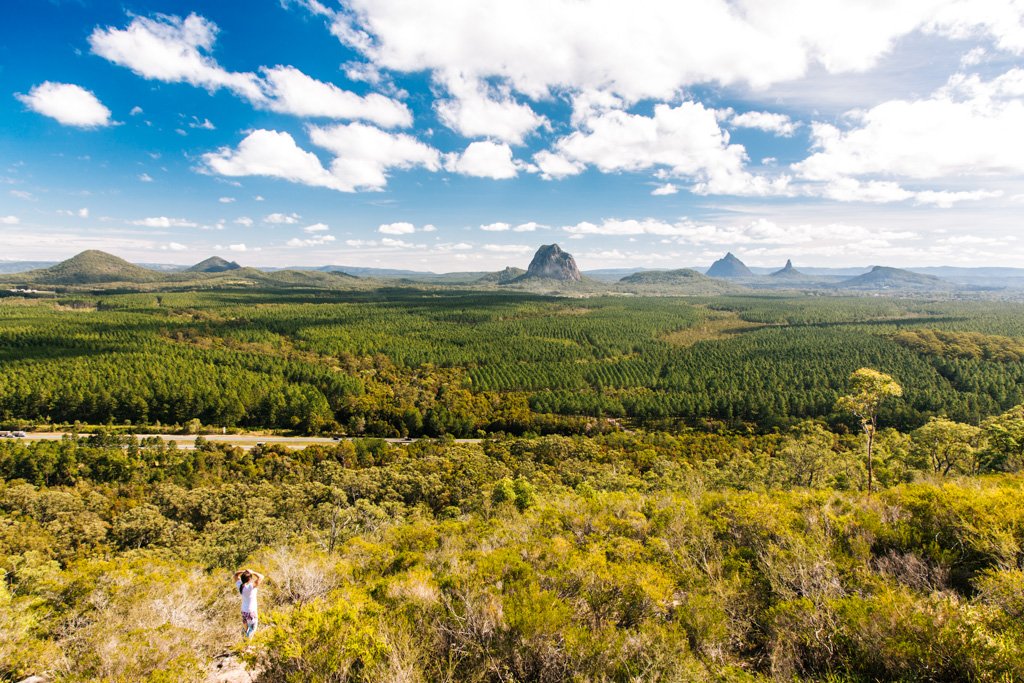 Tibrogargan Lookout.
Far more rewarding, though, is the hike to the Mt. Ngungun summit. At 2.8km return, it's a pretty quick hike even with the 25 minute ascent to the top. Aim to take this on around sunset if you can, for some 360-degree pastel-colored sky action.
Check out the Queensland NPSR site for more hikes in the Glass House Mountains. Ngungun's a pretty quick and easy hike, but there are other hikeable mountains that might pose more of a challenge if that's what you're up for.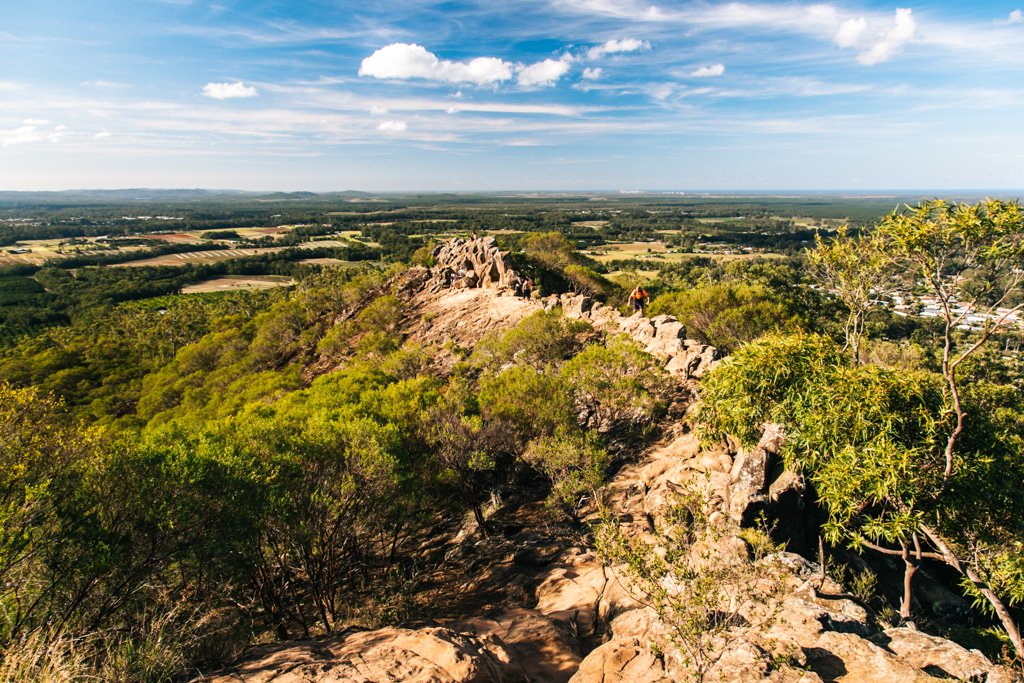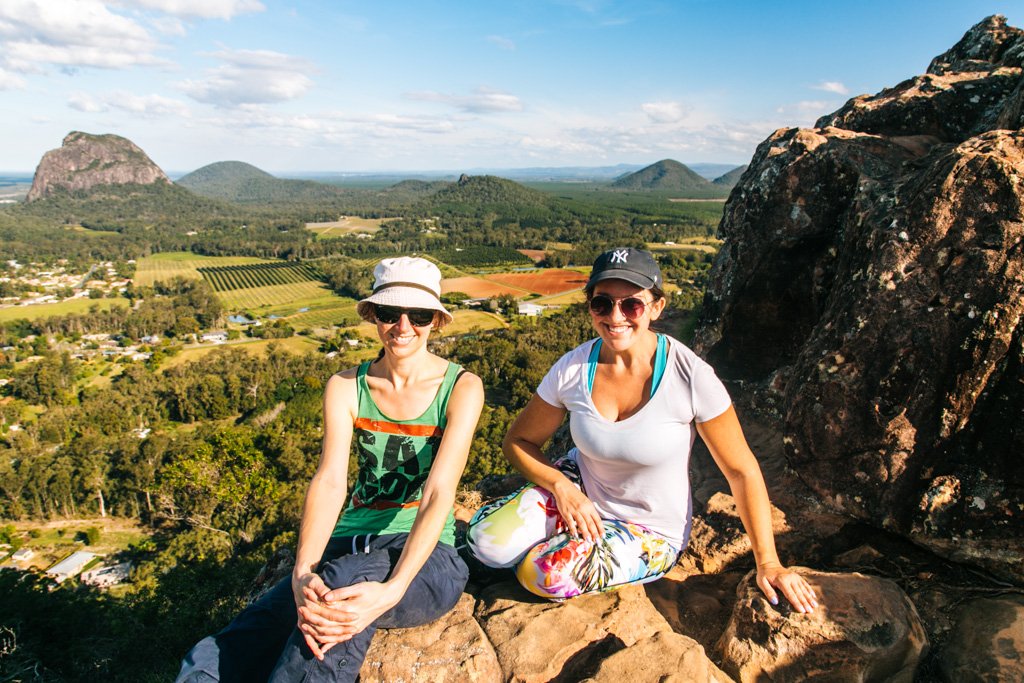 Pin it!