There are few things I love more than discovering hidden gems and underrated destinations on my world travels. Is there anything better than feeling like you've found a slice of paradise that not many other people seem to know about?
I'd say most Australians know about Noosa and consider it more of a glamorous beach holiday destination, where you spend the day on the beach or browsing the stylish boutiques, and the evening dressed up to drink and dine on Hastings Street. It's the kind of place where it's warm and sunny year-round and everyone is happy to be there – especially the locals (and honestly, I can't blame them)!
However, few international visitors have heard of, or know anything about Noosa – and I'm hoping this blog post will help change that!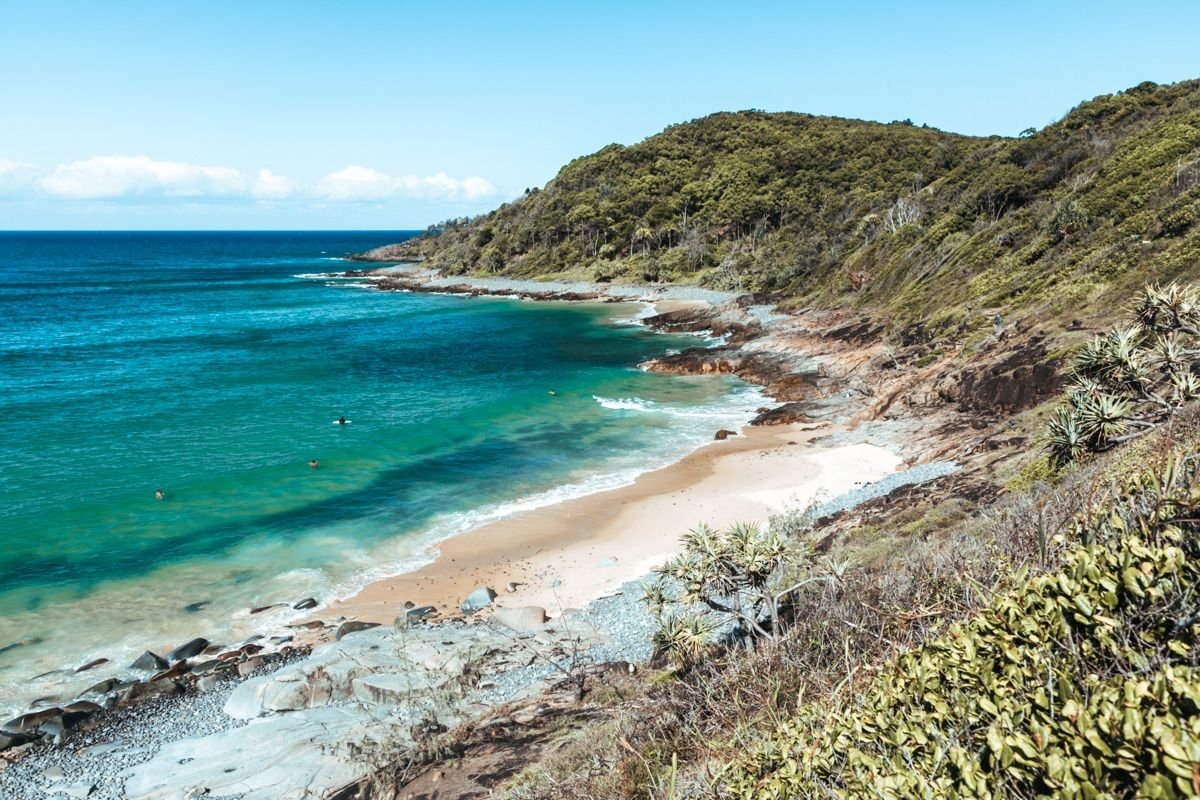 If you're planning a trip to Australia, Noosa would fit in very well if you've got Brisbane or Fraser Island on your itinerary (it's within a 2 hour drive of those two destinations). Yes, it can be a glamorous, upscale holiday destination; but it's also an outdoor adventure mecca, with tons of fun activities centering around water.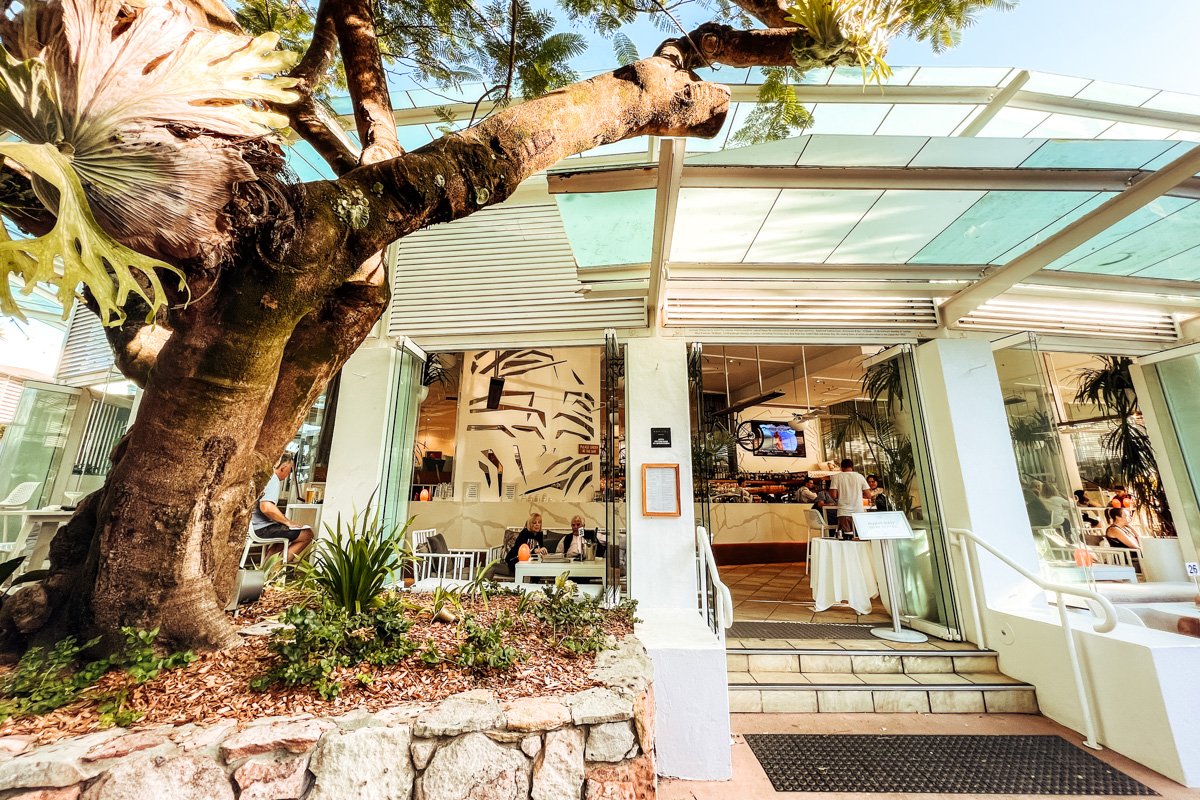 I debated for awhile how I wanted to organize this blog post. Should I do "50 things to do in Noosa" and make it a long list of Noosa activities? Should I break it up by outdoor activity type (e.g. hiking, swimming, paddling)?
Ultimately, I decided on a format different from my usual: I'm breaking my most recommended Noosa activities down by region, or part of town. Not by suburb, but more… by natural landscape? You'll see what I mean shortly ;)
Each of these areas in and around Noosa have so much opportunity for outdoor adventures, so if you're planning a trip to Noosa, I'd highly recommend allotting a full day to explore them one at a time.
Here are the can't miss things to do in Noosa, outdoor adventure style.
READ MORE: Brisbane to Noosa: A Sunshine Coast Road Trip
Noosa Main Beach
Noosa Main Beach is beloved by locals and visitors alike, with the bulk of beach-goers congregating on the southernmost end. From here, you can enjoy distant views of the coastline north of Noosa.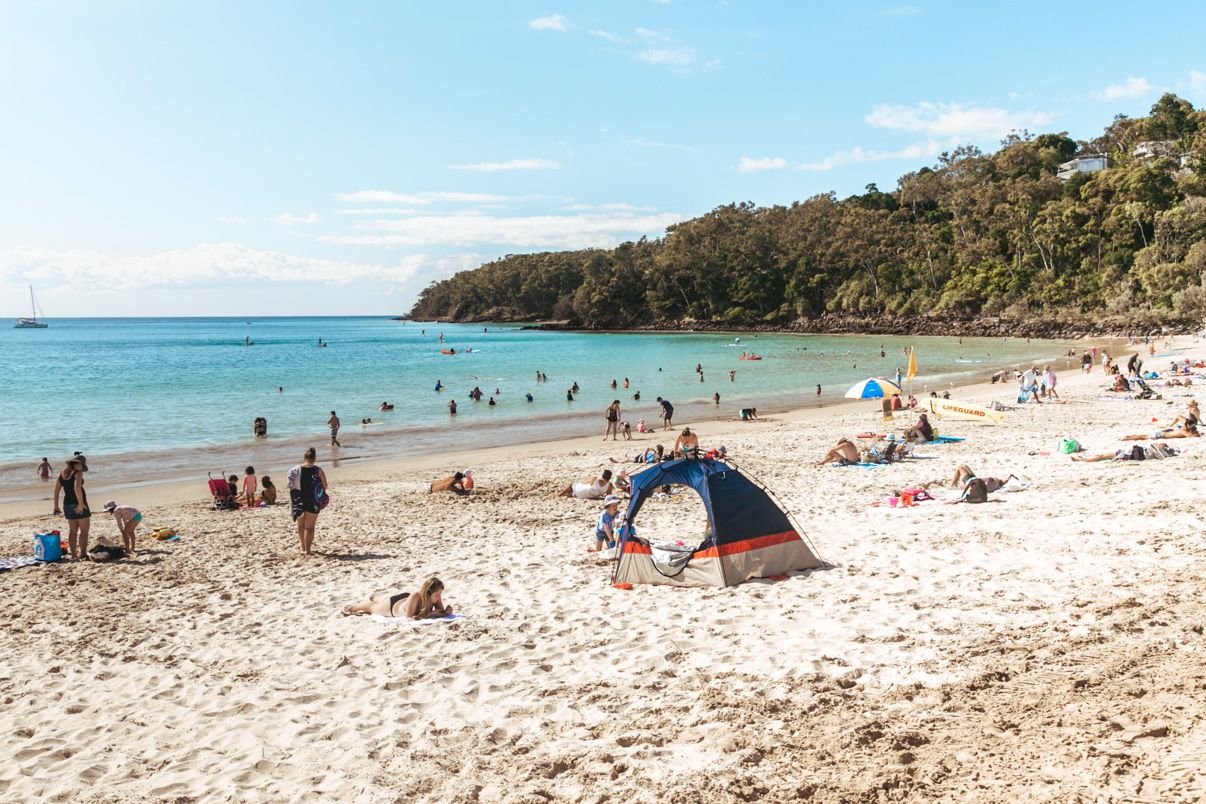 What I love about Noosa Main Beach is that there's a boardwalk you can walk along, which is dotted with oceanfront restaurants and luxury hotels with infinity pools (aka GREAT for people watching). Shortly after the boardwalk ends, you'll reach the entrance of Noosa Spit Recreation Reserve, a shaded park full of trees and walking trails. It's also a quicker way to access the far end of the beach, where you're likely to have a whole strip of sand to yourself (especially on a weekday).
At the far end of the reserve is Noosa River Mouth, where the river meets the sea. This is one of the best spots to catch the sunset in Noosa, as the beach here faces northwest and the sun sets over the river. It's a gorgeous spot!

View of Noosa River from Laguna Lookout.
Noosa also happens to be an excellent place to learn how to surf. The waves off Noosa Main Beach tend to be gentle and safe to learn on, and for most of the year the water is warm. Very ideal surfing conditions for newbies!
There are a few surf schools in Noosa: at Noosa Learn To Surf, you can learn from former world champion surfer Merrick Davis… which we nearly did, but unfortunately had to cancel due to Pete having what may have been an ear infection. But if you're keen to try surfing, Noosa's a great place for your first lesson – definitely better than where I had mine, many years ago (Sydney's Manly Beach).
CLICK TO BOOK A SURF LESSON IN NOOSA
Noosa National Park
From the south end of Noosa Main Beach, follow the road or accompanying foot path to the start of Noosa National Park: a glorious patch of wilderness with a well-formed trail that follows the coastline around to Sunshine Beach.
But first, a couple of notes before we get into the Noosa National Park coastal walk:
For most of 2022, the coastal walk has been under construction, which has rendered certain segments of the trail inaccessible to walkers. Be sure to check the park website for updates before you go!
The national park has a coastal walk trail, and then several other inland trails. In this blog post, I'm only going to cover the Noosa National Park coastal walk.
There is a small car park at the start of the coastal walk that offers free 4hr parking. It fills up VERY quickly, especially on weekends. A better alternative is to park in town and walk over: we always park just over the bridge on Noosa Parade, or on one of its side streets (e.g. Witta Circle, Wesley Court, or Mossman Court). It's free unlimited parking!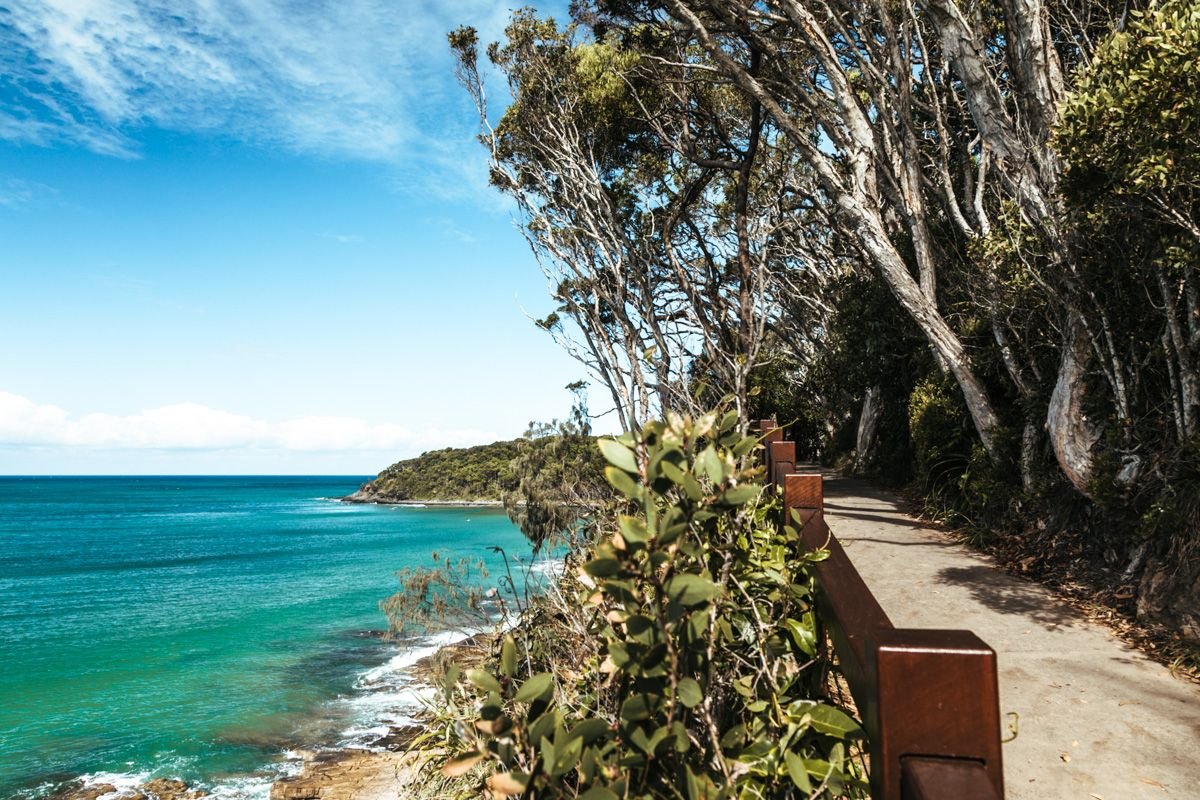 The Noosa National Park coastal walk is 10.8km return, from Noosa to Sunshine Beach and back. I'd definitely allot a full day to enjoy the whole walk with stop-offs.
There are two beaches near the start of the trail that are solid alternatives to Noosa Main Beach and especially popular with surfers: Little Cove and Tea Tree Bay. The tide does come up pretty high at both, so check the tide times before coming here to sunbathe and know that the sand is flat and not that comfy for laying on for too long!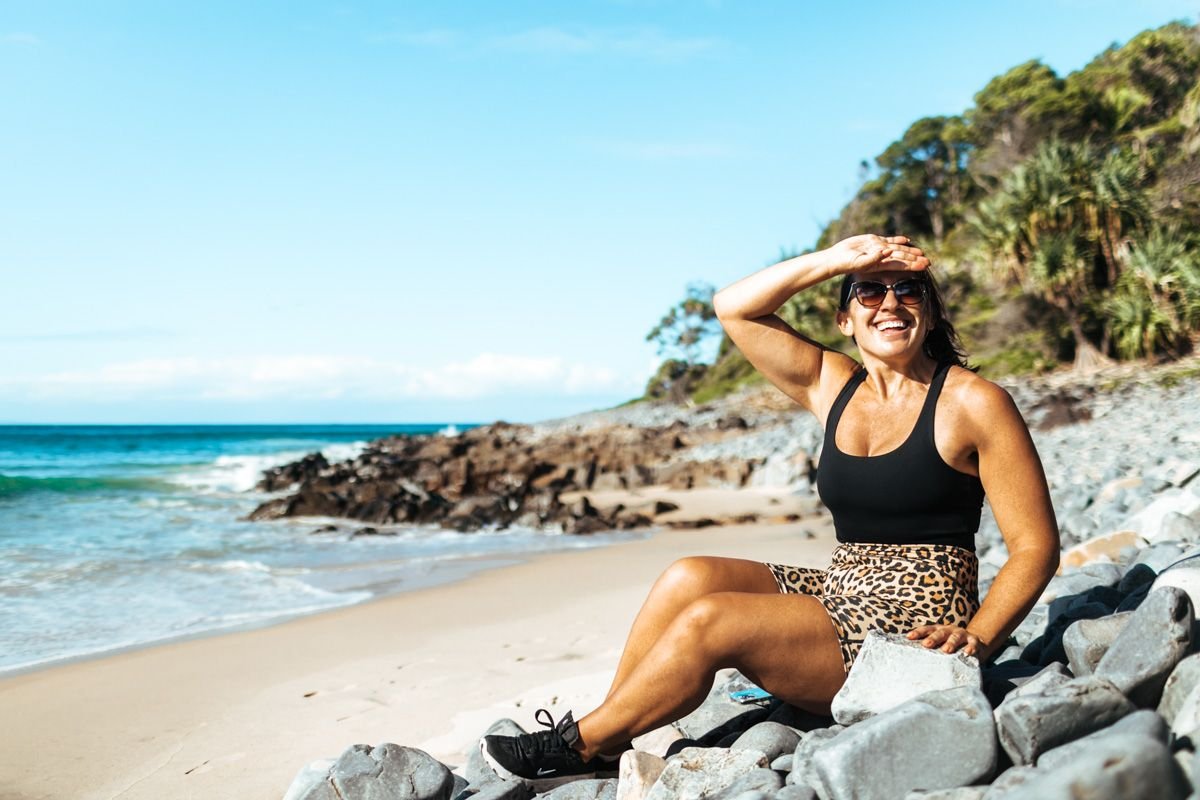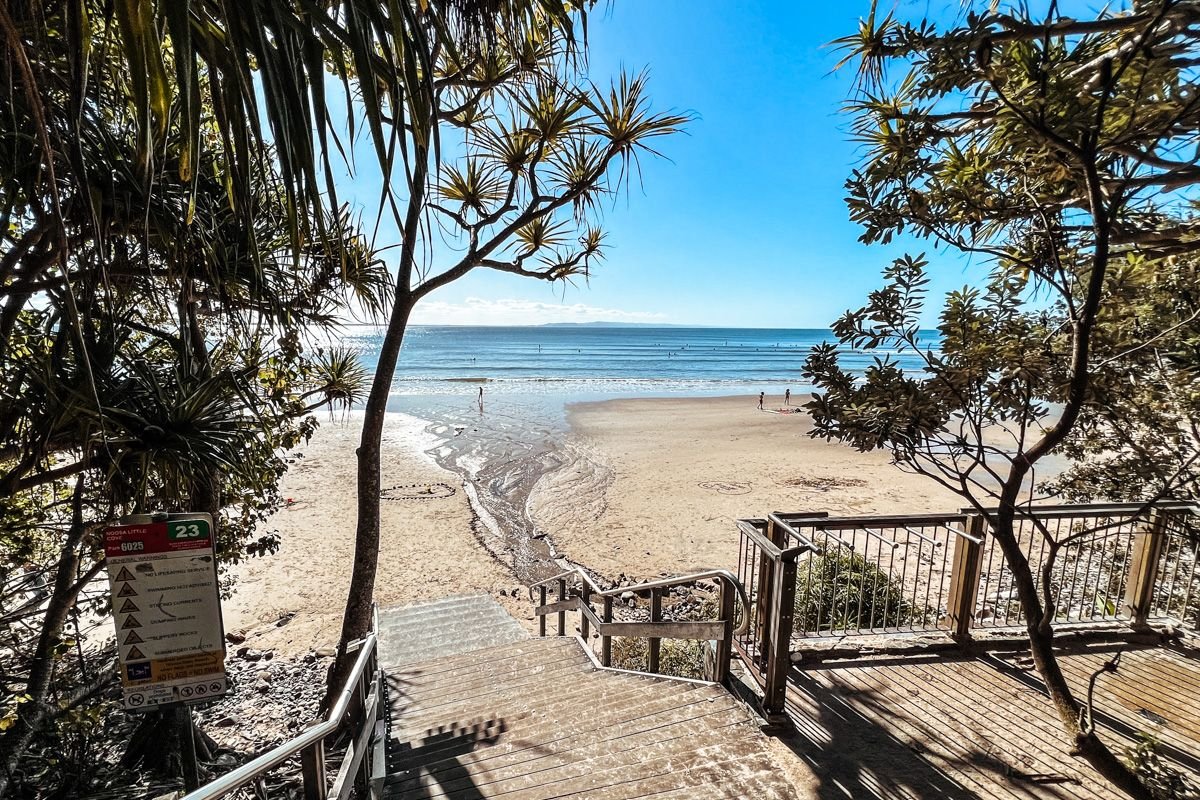 Little Cove, Noosa National Park.
There are a smattering of designated lookouts all along the trail. If you're lucky, you might be able to spot humpback whales just offshore from July-November!

Granite Bay, Noosa National Park.
Apart from the lookouts, there are several stop-worthy spots along the walk. The best thing to do is just walk and see what you find!
Though one thing you won't find labeled on the trail is Fairy Pools, a not-so-secret rock pool that you can easily track down on Google Maps. Aim to visit at low tide, when the pool is visible and safely accessible. It's a good idea to wear sturdy shoes if you plan on stopping here, as some rock scrambling is required to access it.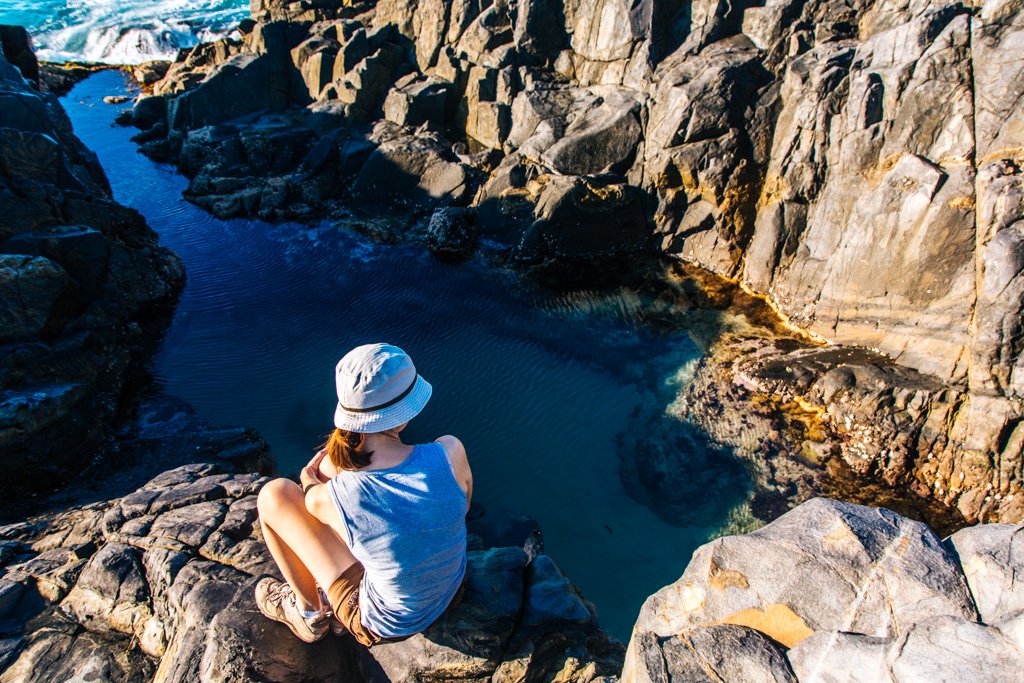 Fairy Pool, Noosa National Park.

Alexandria Bay (not pictured) is a sizable beach found just after Fairy Pool. It's a fab spot for sunbathing, as long as you don't mind that it's an unofficial nudist beach!
After that, Devil's Kitchen is a very pretty slice of rugged coastline where you can sit and watch the water churn below, with Sunshine Beach beckoning in the distance.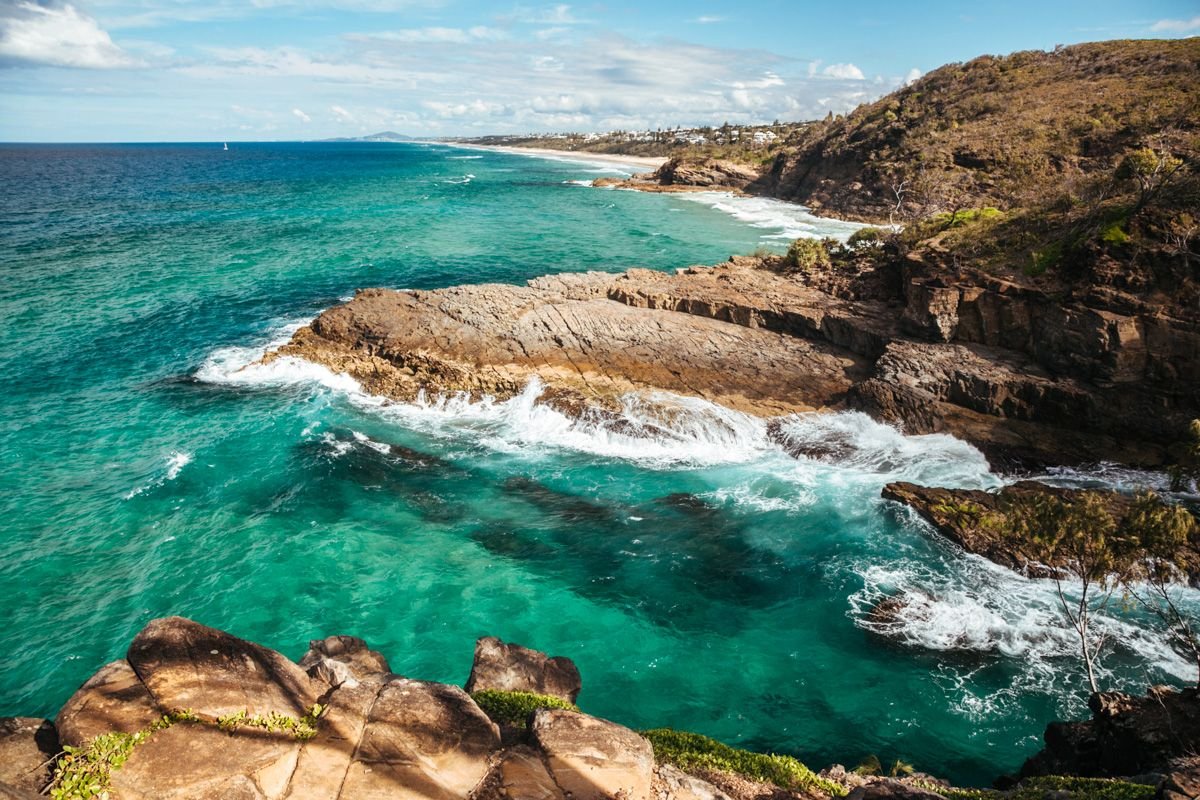 Devil's Kitchen, Noosa National Park.
Just beyond this point, and just before Sunshine Beach, are the Paradise Caves. Depending on conditions, you might be able to climb down to the caves or hop into a rock pool – just make sure it's low tide and calm surf conditions before attempting it!
And finally, the stunning Sunshine Beach marks the end of the Noosa National Park coastal trail.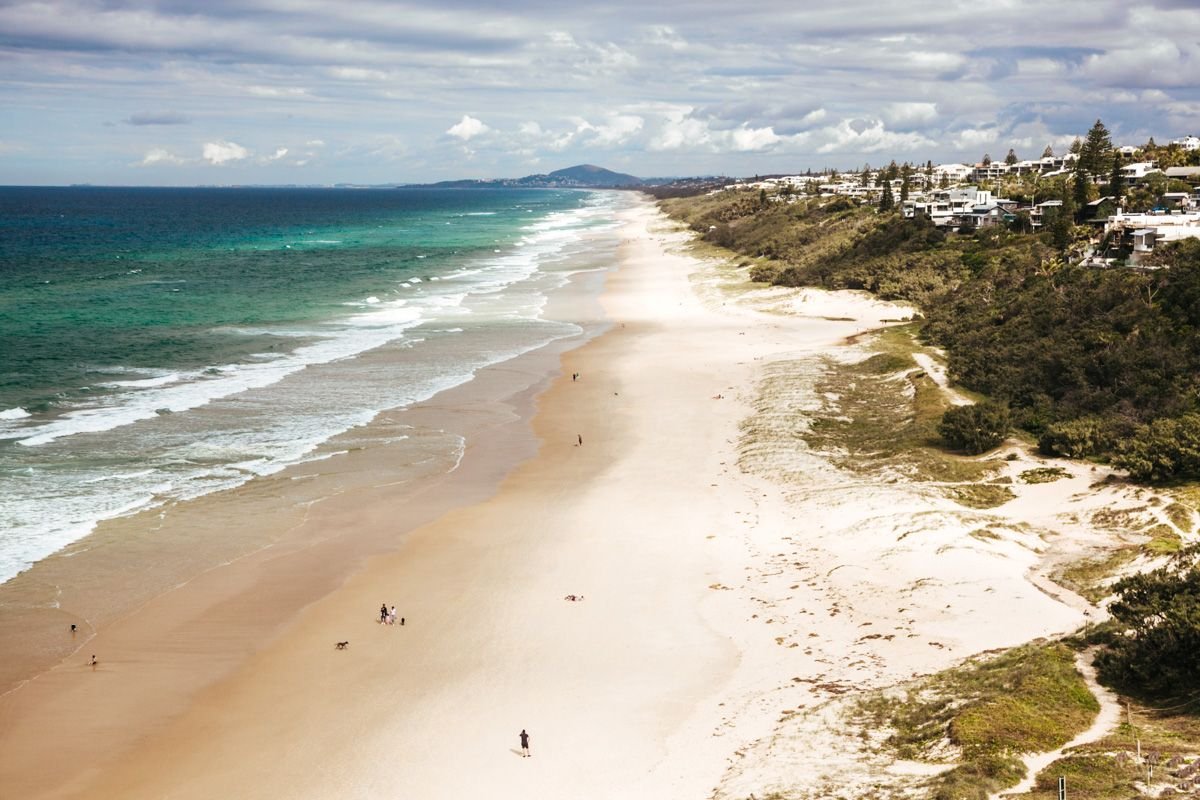 Sunshine Beach.
Noosa North Shore
If you have extended time in Noosa or just want to escape the crowds, you might want to venture across the river (via ferry from Tewantin) to Noosa North Shore, featuring 80+ km of pristine and undeveloped beaches. You can access some of it with a regular car, but a 4WD will give you much more freedom and reach… not to mention, you'll be able to 4WD on the sand, which is very popular up here.
Other popular activities and sights in the Noosa North Shore region include:
Horse riding – You can book a private horse ride on Teewah Beach for $185/person.The entire ride takes place on the sand and caters to riders of all levels, from first timers to experienced.
Cooloola Great Walk – If long distance hiking is your jam, look into doing the Cooloola Great Walk. The 102km walk is typically completed over 5 days and traverses both beach and rainforest from the south end of Noosa North Shore to Rainbow Beach.
Rainbow Beach – Somewhat true to its name, Rainbow Beach is home to colorful cliffs as well as the picturesque Carlo Sandblow (sand dunes). Its smooth flat sand makes it a top spot for 4WD – you can either bring your own vehicle or hop on a 4×4 tour to explore. From Noosa, it's about a 2 hour drive via the highway, or 1 hour by 4WD via the beach (on the Great Beach Drive).
CLICK TO FIND MORE OUTDOOR ADVENTURES IN NOOSA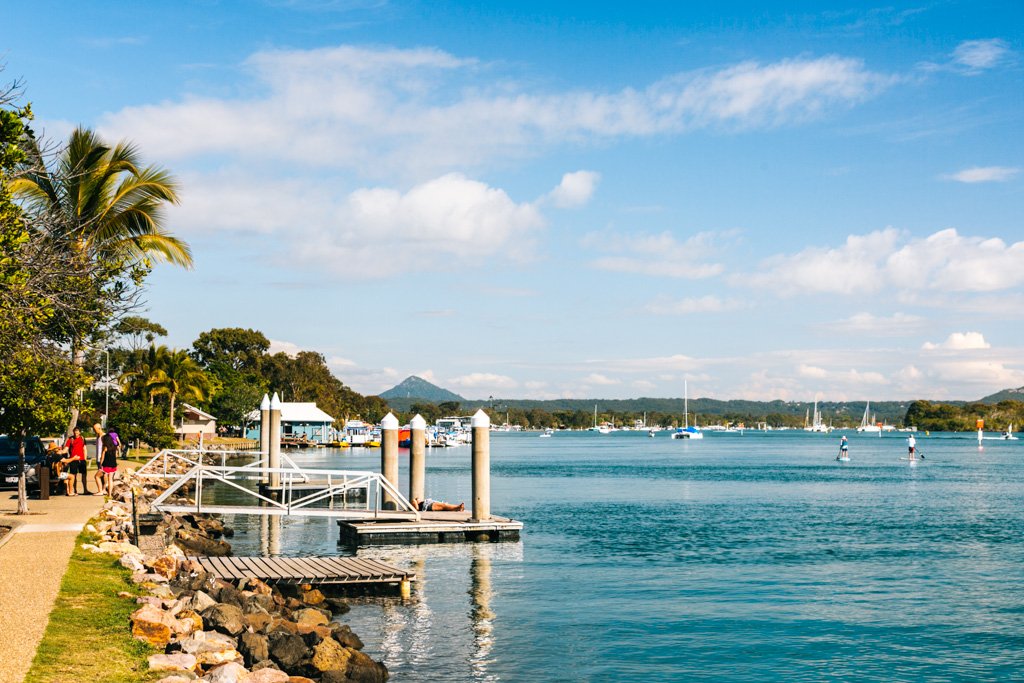 Walking along the Noosa River in Tewantin.
Noosa River (+ Canals)
While Hastings Street and the national park are obvious focal points in Noosa, I'd argue that the Noosa River is the thing that distinguishes it from other similar picturesque coastal towns in Australia. It's absolutely the heart of Noosa.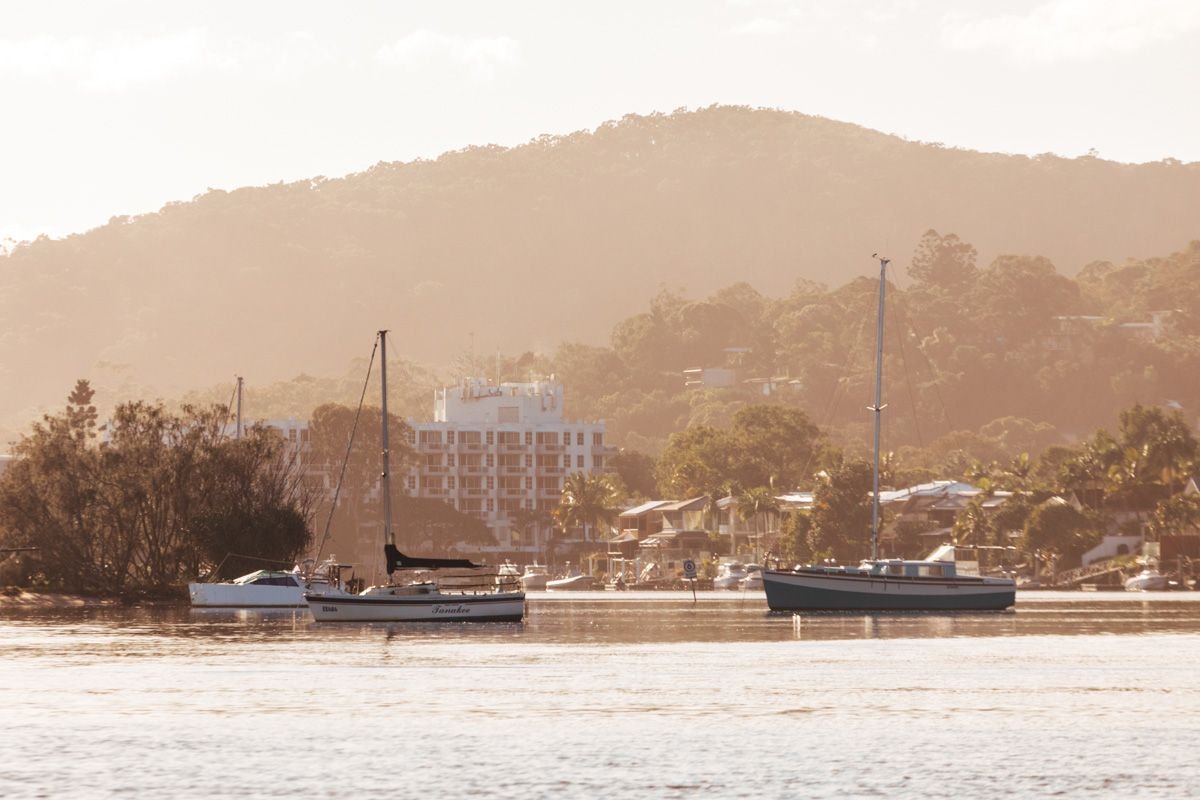 The Noosa River runs all the way from the Noosa Everglades to the Pacific Ocean and borders the main suburbs of Noosa Heads, Noosaville, and Tewantin – so odds are, wherever you stay in Noosa, the river is going to be closeby. Whether you walk around it, picnic next to it, or cruise down it, enjoying the Noosa River in some form is one of the best things to do in Noosa. From most places along/on the river, you can glimpse mountains in the distance and lavish homes right on the waterfront. It honestly is beautiful no matter where you look!
If you do just one thing on the Noosa River, you can't go wrong with the Noosa Queen sunset cruise which sails into the sunset from Noosa Marina to Lake Cooroibah and back. At just $15, it's one of the best value Noosa activities.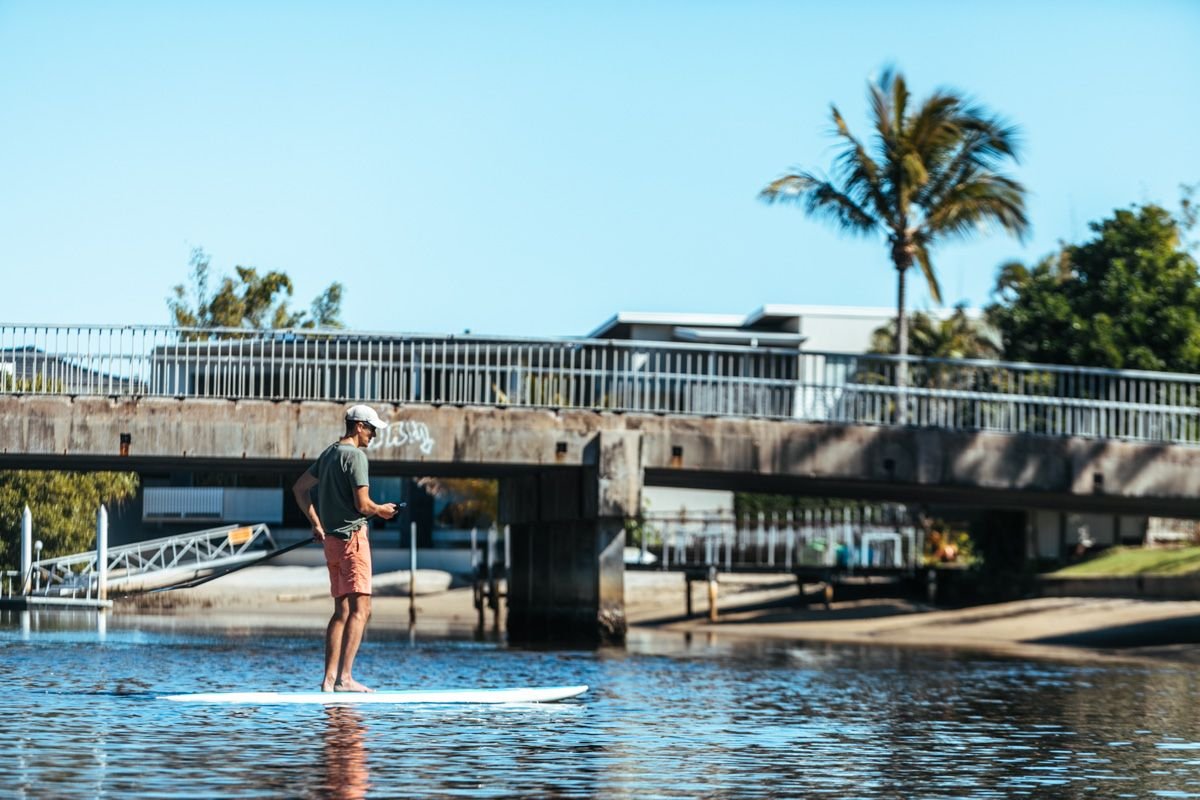 For me though, the best part of the Noosa River is the narrow canals that branch off of it and wind through the suburbs. This is where you go if you want to escape all the river traffic and get a glimpse of how the affluent spend their days living in fancy waterfront homes. Pretty much every house has its own little beach and jetty with parked boats and jet skis. Ummmm sign me up please!
Here's the thing, though: you can't really see much from the street, as there are houses rather than roads right along the waterfront around the canals. So if you want to ogle the fancy homes, you have to get out onto the water. I used my inflatable SUP and Pete hired a stand-up paddleboard from Boardwalk Boat Hire.
You could alternatively hire a kayak or boat from them, or hop on a boat tour with Noosa River & Canal Cruises (they probably won't go down the narrower channels, but you'll definitely get to see lots of waterfront McMansions!).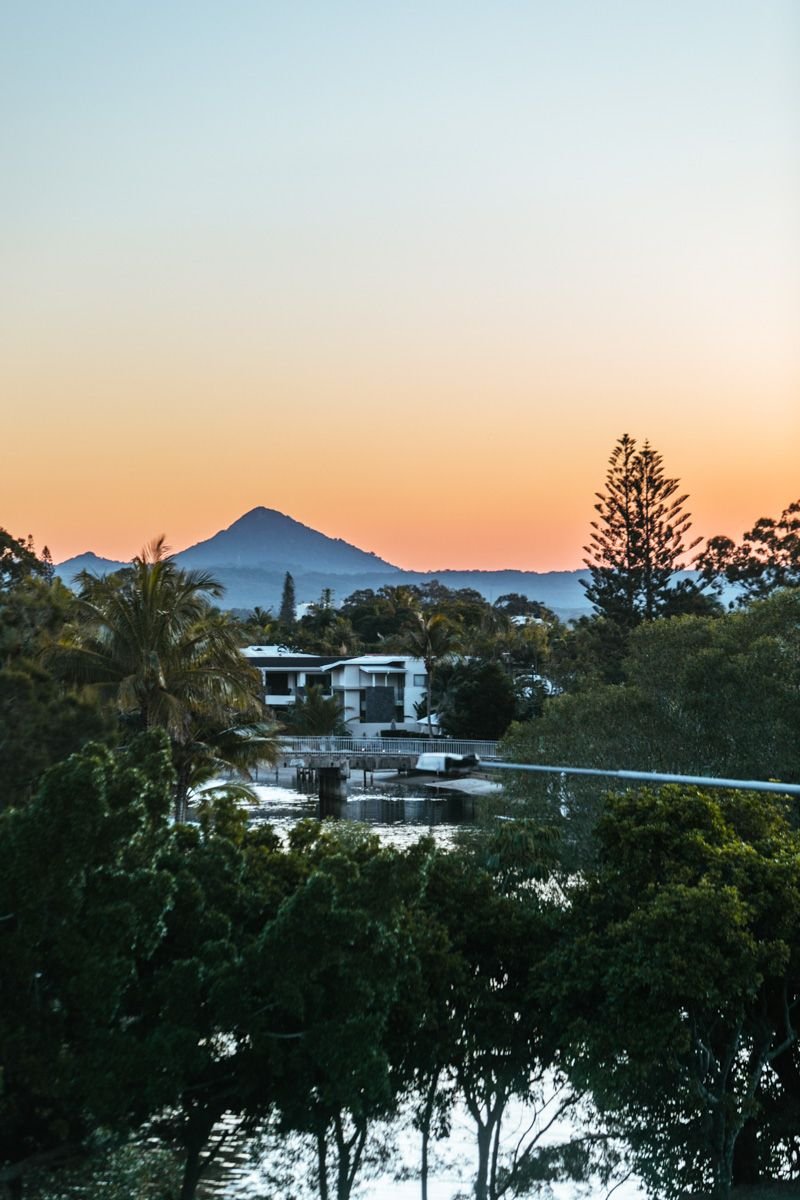 View of the Noosa River from our apartment at Bella Casa.
Lastly, I have one more boat trip to mention, but it doesn't really fit into any one category. I'm including the Ocean Rider whale watching trip as a Noosa River activity because technically it does start out on the river… though the bulk of it is spent out on the ocean.
At just $69 for 2 hours, this is also one of the more affordable things to do in Noosa. And if you DO manage to spot some humpback whales, then it feels like an absolute steal for the price!
This whale watching trip cruises down the river before hitting the open water and picking up speed as you head south along the national park coastline. The beautiful views here were an unexpected highlight of the excursion for me.
From here, we caught sight of another whale watching boat offshore that was stopped near some whales, so we headed out there and idled a short distance away. Once that boat left, we moved in for a closer look at the two whales. I couldn't BELIEVE how close they came to our boat! My 70-200mm lens was way too long to capture them half of the time.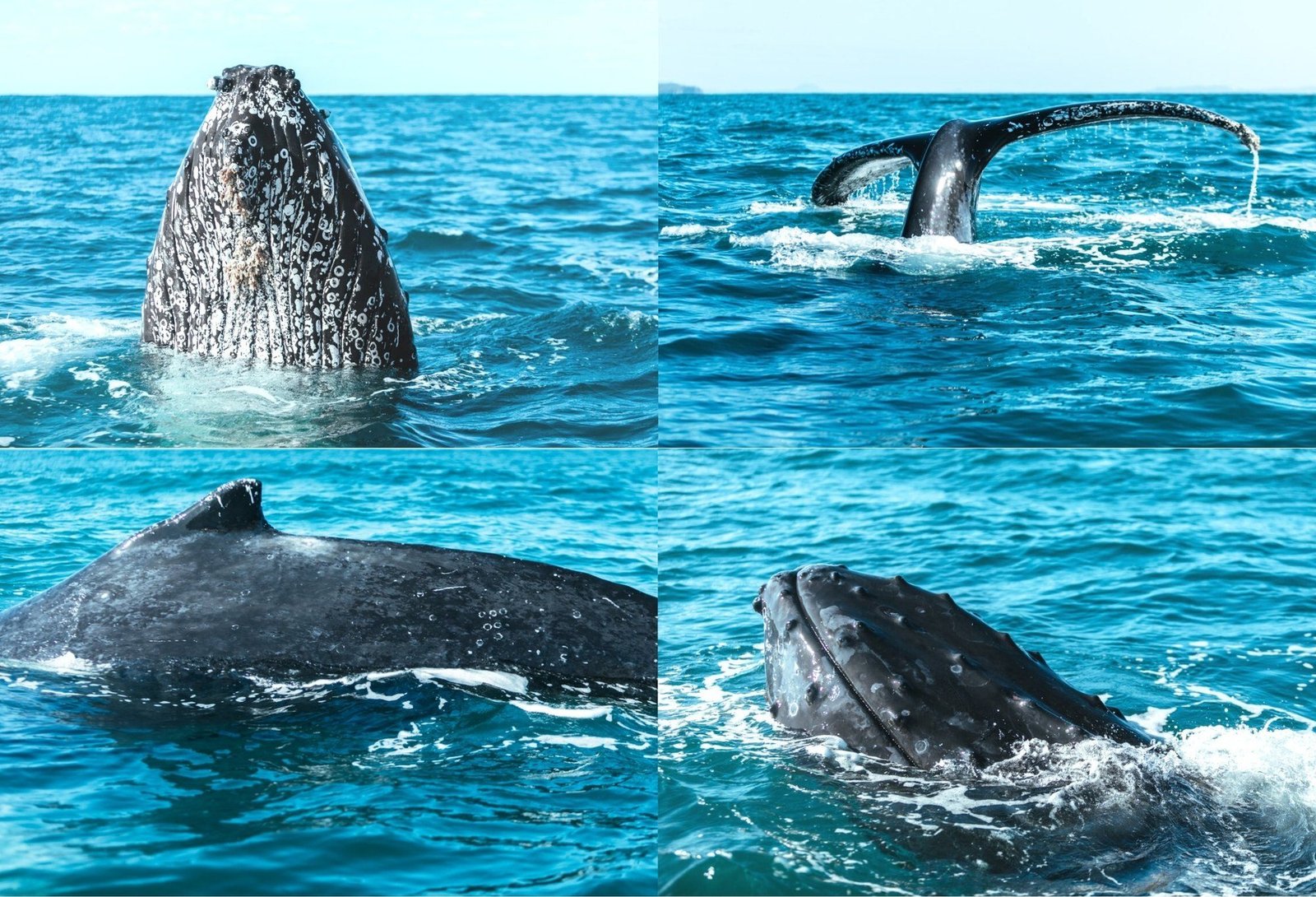 We caught one of the whales breaching twice (basically the top half of its body jumped straight up out of the water), just a couple meters from the boat! Holy sh*t! (*cue the chorus of OMGs from literally everyone onboard*)
In short, whale watching in Noosa is a MUST-DO. It was even worth getting a little queasy on the boat (as I usually do on any boat trip, ugh). July to November is when the whales are around Noosa; we visited in late July and saw 2 whales.
CLICK TO BOOK A WHALE WATCHING TOUR IN NOOSA
Noosa Everglades
I may or may not have saved the best Noosa activity for last: the Noosa Everglades.
Fellow Americans, you've likely heard of the Everglades in Florida. Well, there is exactly ONE other place in the world where the Everglades exist – and that's Noosa.
To get to the Noosa Everglades, just make your way up to Habitat Noosa, where you can either join a full-day tour or sunset tour of the Everglades, or hire kayaks, canoes, or stand-up paddleboards to explore them on your own.
If you're going to DIY/hire route, note that it's quite a distance to paddle from Habitat Noosa (Boreen Point) to the best part of the Everglades (around Harry's Hut). I wouldn't recommend paddling that whole distance and back in one day, but you could take your camping gear with you and camp along the way at one of the designated campsites. That way you spread out all that paddling over a couple days. Alternatively, you can hire canoes from Harry's Hut, but you'll need a 4WD car to drive there to pick them up.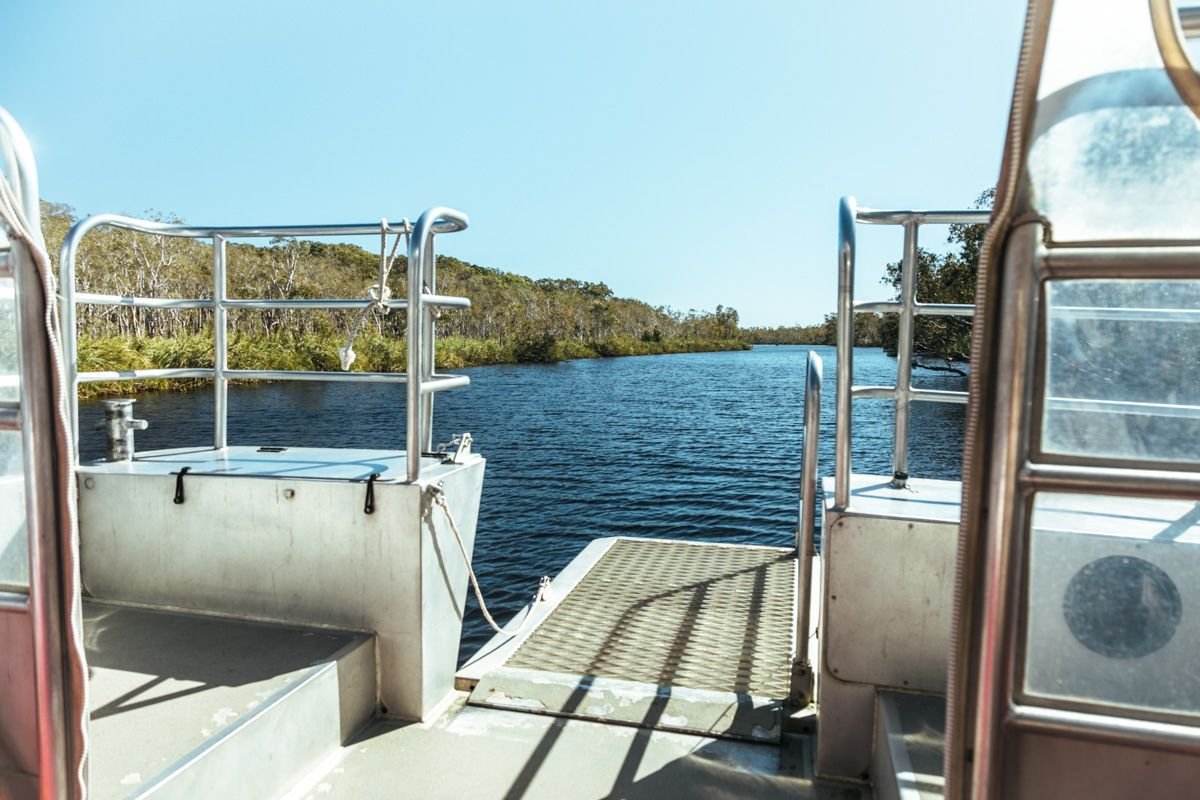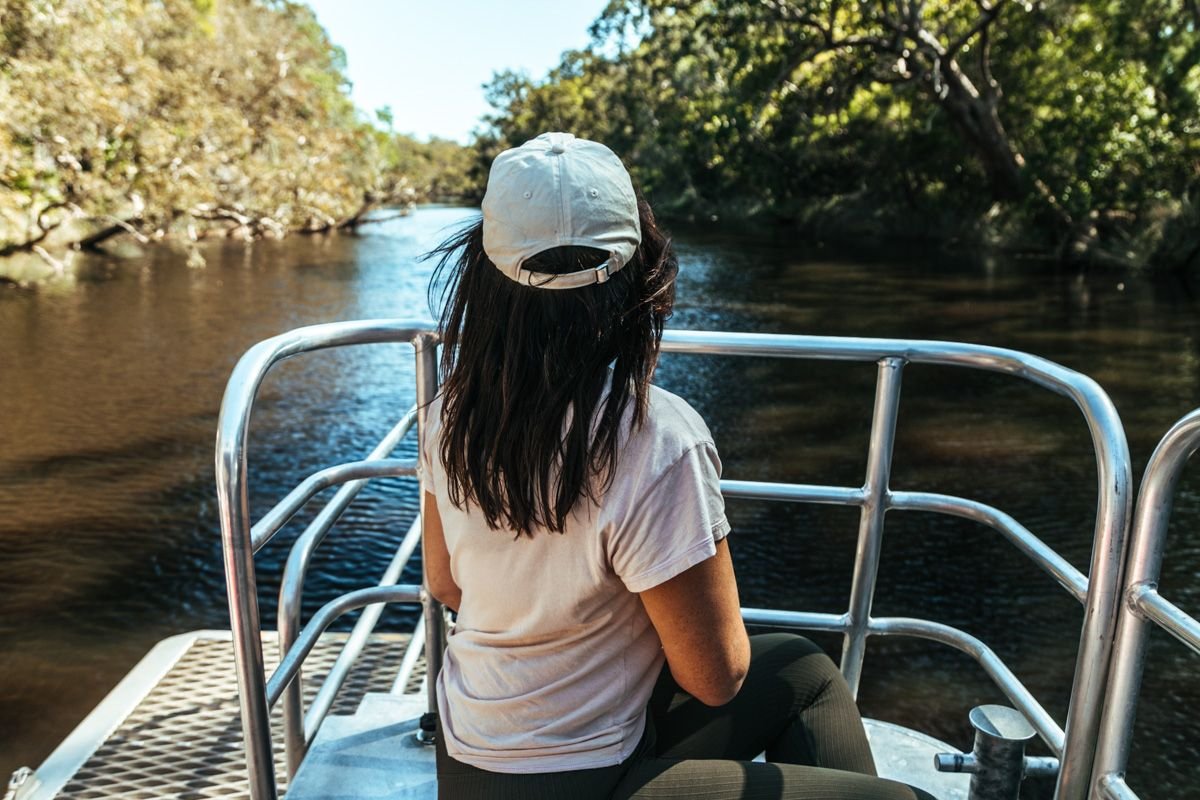 We opted for the full day Everglades Eco Tour with the optional canoeing add-on, which I HIGHLY recommend. The boat takes you across the lake and down some channels to Harry's Hut, then turns around and heads back to Habitat Noosa, where you have a BBQ lunch.
If you opt to canoe, you'll get an hour to paddle through The Narrows, which is the calmest and narrowest part of the Everglades system. On a good day, the water here will be so still that it reflects the trees above it. It is BEAUTIFUL and so incredibly peaceful.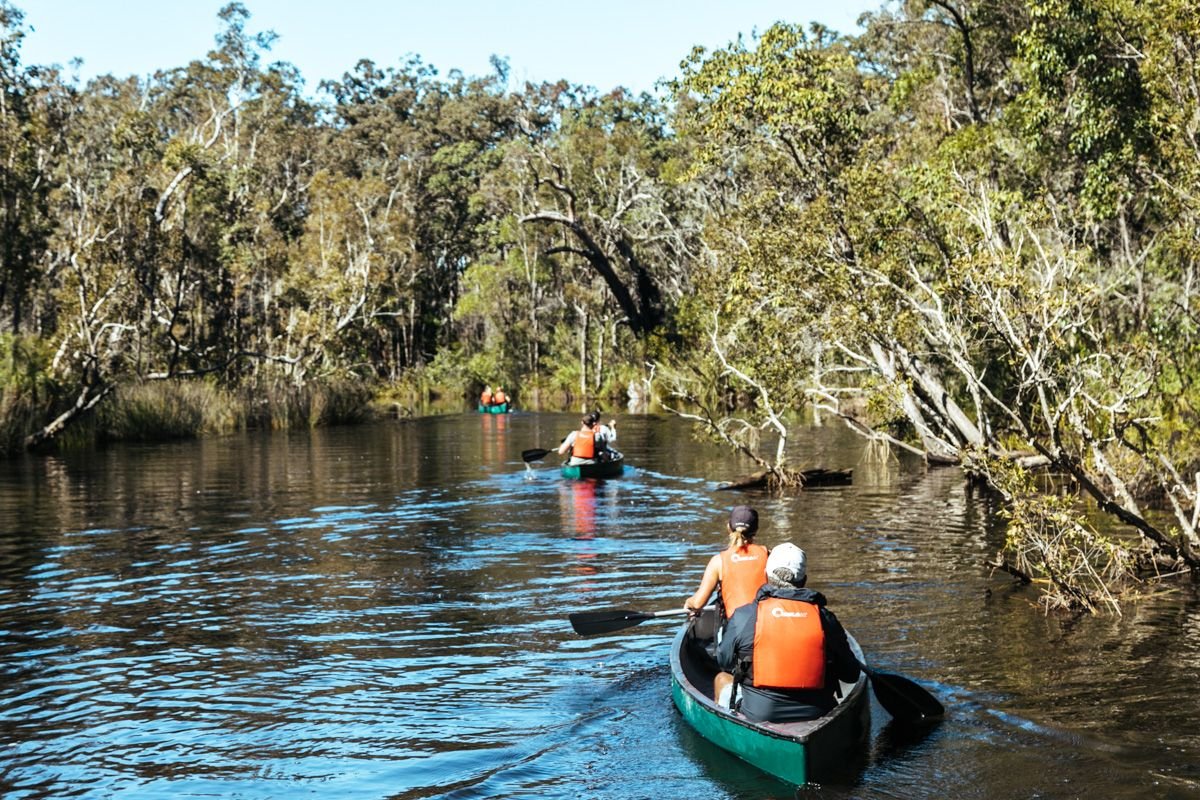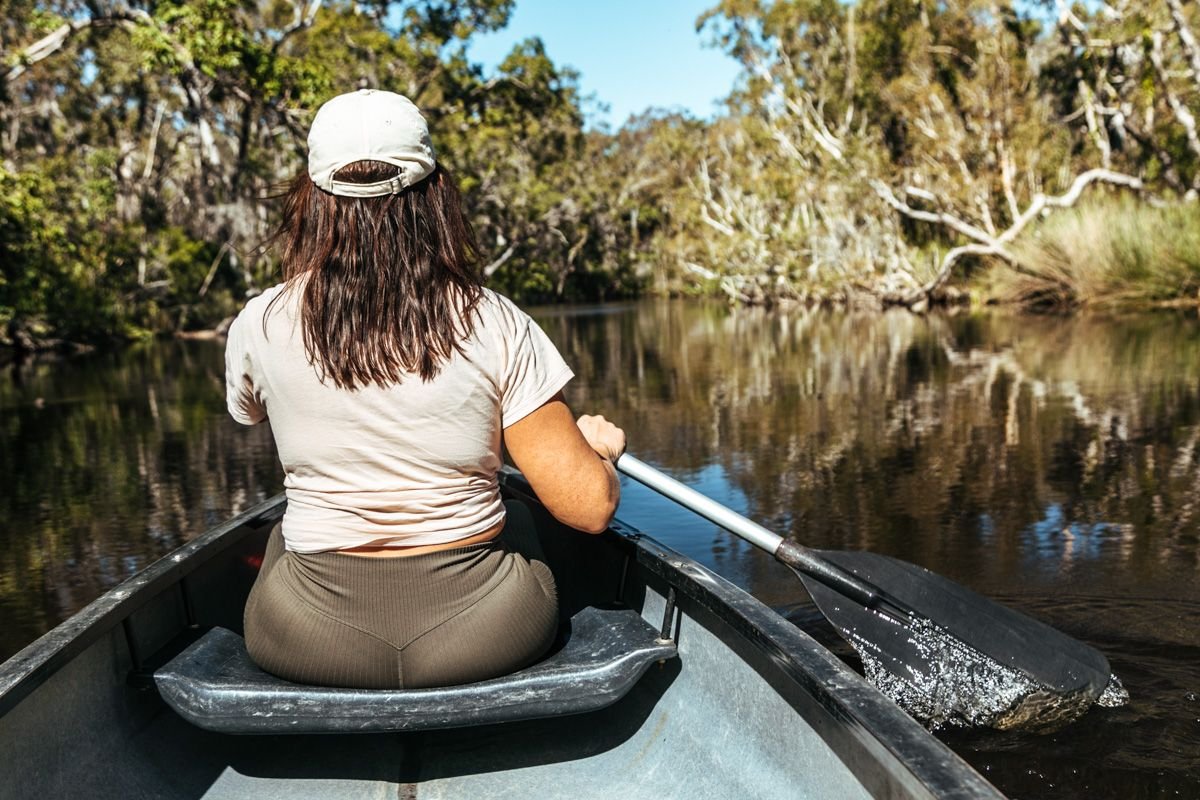 And if you're wondering about the logistics of canoeing like I was, half of the group canoes from Fig Tree Point to Harry's Hut while the rest of the group stays onboard and cruises up to Harry's Hut to have tea and snacks. When the canoe folks arrive, they can relax and eat/drink while the others grab a canoe and paddle back to Fig Tree Point, where they wait for the boat to arrive to pick them up and head back to Habitat Noosa.
We were in the second canoe group which I'd recommend because you get to pass by the canoers and snap photos of the canoes in the water while you're on the boat. Going back, the canoers leave before the boat does so you might not get to see the canoes from the boat.
CLICK TO BOOK A NOOSA EVERGLADES TOUR
Also, I just want to mention Habitat Noosa once more because WOW, what an unexpectedly delightful place! We didn't get to stay here on our most recent trip, but we are dead set on staying here later in the year when we return to Noosa. All the facilities are nice and new, there's a FIREPLACE and wifi in the bar area, and they have both glamping tents and campsites for accommodation options. The whole place just felt so peaceful, and within seconds of arriving I was like YUP we are staying here next time. I already can't wait!
CLICK TO BOOK A STAY AT HABITAT NOOSA
Noosa Accommodation
Speaking of accommodation in Noosa, there's definitely no shortage of it!
If you're camping, Ingenia Holidays Noosa North is a great option just outside of Noosa, in Tewantin. It's only a 15 minute drive to Noosa Main Beach. I've stayed here on two separate Noosa trips and enjoyed it.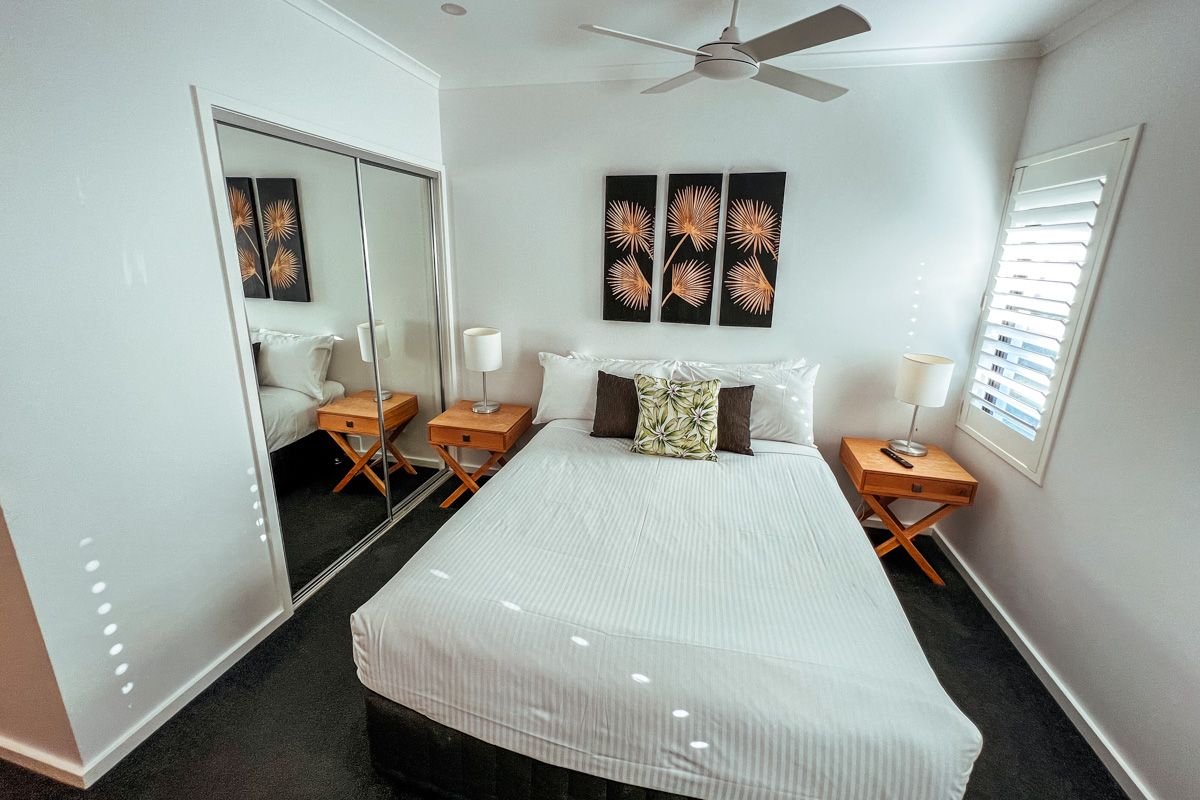 If you're looking for luxury accommodation in Noosa, Bella Casa is an excellent option on Hastings Street. It was so nice to stay in a spacious apartment rather than a hotel room, especially for us since we're used to being cramped in a small caravan. Our apartment had a beautiful view out toward the canals (away from Hastings Street) from our balcony. It also came equipped with a washing machine, dryer, bath tub, full-size fridge, dishwasher, and oven.
We LOVED getting to live in this space for a few days and found ourselves staying in at night just to take advantage of the fully-equipped kitchen and comfy living room. Such a luxury!
Or if you're looking for accommodation in Noosa that's somewhere between budget and luxury, try:
In general, accommodation in Noosa Heads (especially on Hastings Street) will be pricier than accommodation further from the beach (i.e. Noosaville or Tewantin).

El Capitano, a pizzeria in Noosa.
Noosa Cafes + Restaurants
Full disclosure, I haven't thoroughly investigated the cafes and restaurants in Noosa like I have the outdoor adventures, but I DO have a few places on Hastings Street I'm excited to recommend.
First off, the best coffee in Noosa Heads is at Moonstruck. It's the perfect place to stop and grab coffee en route to the beach. And what's more, they double as a gin bar in the evening. Moonstruck uses locally-roasted coffee beans and Australian gin, and their coffee drinks and cocktails are SO GOOD. Seriously, don't miss this hidden gem!
If you want to grab something quick and healthy to bring to the beach for lunch, I love Raw + Rice's poke bowls and Oakberry's acai bowls. Really I love any fruit/veggie bowl, and these two small chain cafes do them very well. Milk Bar Grocer has lots of sandwiches, wraps, salads, and snacks that are perfect for grab and go as well.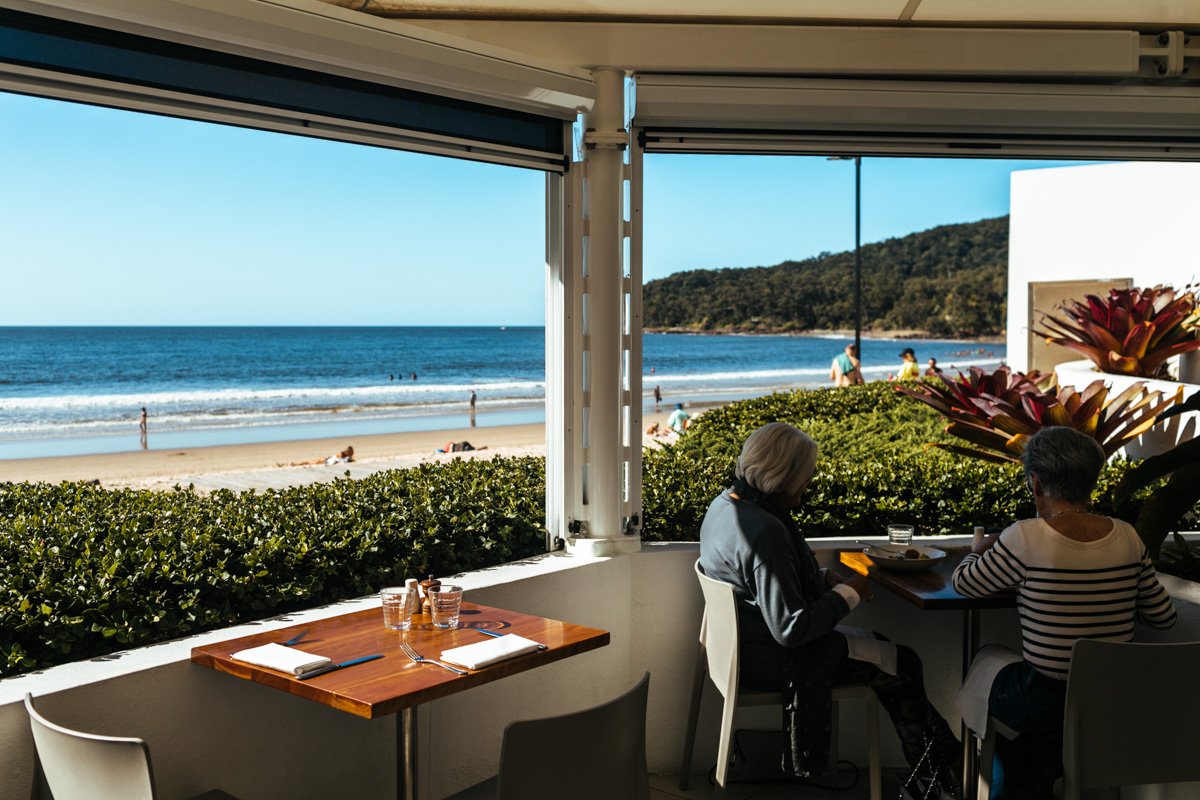 Season restaurant in Noosa.
Or if you want to have a nice sit-down meal with a view, there are a couple of great restaurants right on the boardwalk overlooking Noosa Main Beach. Boardwalk Bistro does an AMAZING seafood chowder, and it's so filling you might not even need to order a main.
Season is a more upscale restaurant with lots of excellent seafood dishes. Their seafood yellow curry is a favorite, but we actually loved the pork charcoal bao bun appetizer. Book ahead if you want to dine at this popular restaurant and be sure to request a table by the water!

Food at Boardwalk Bistro.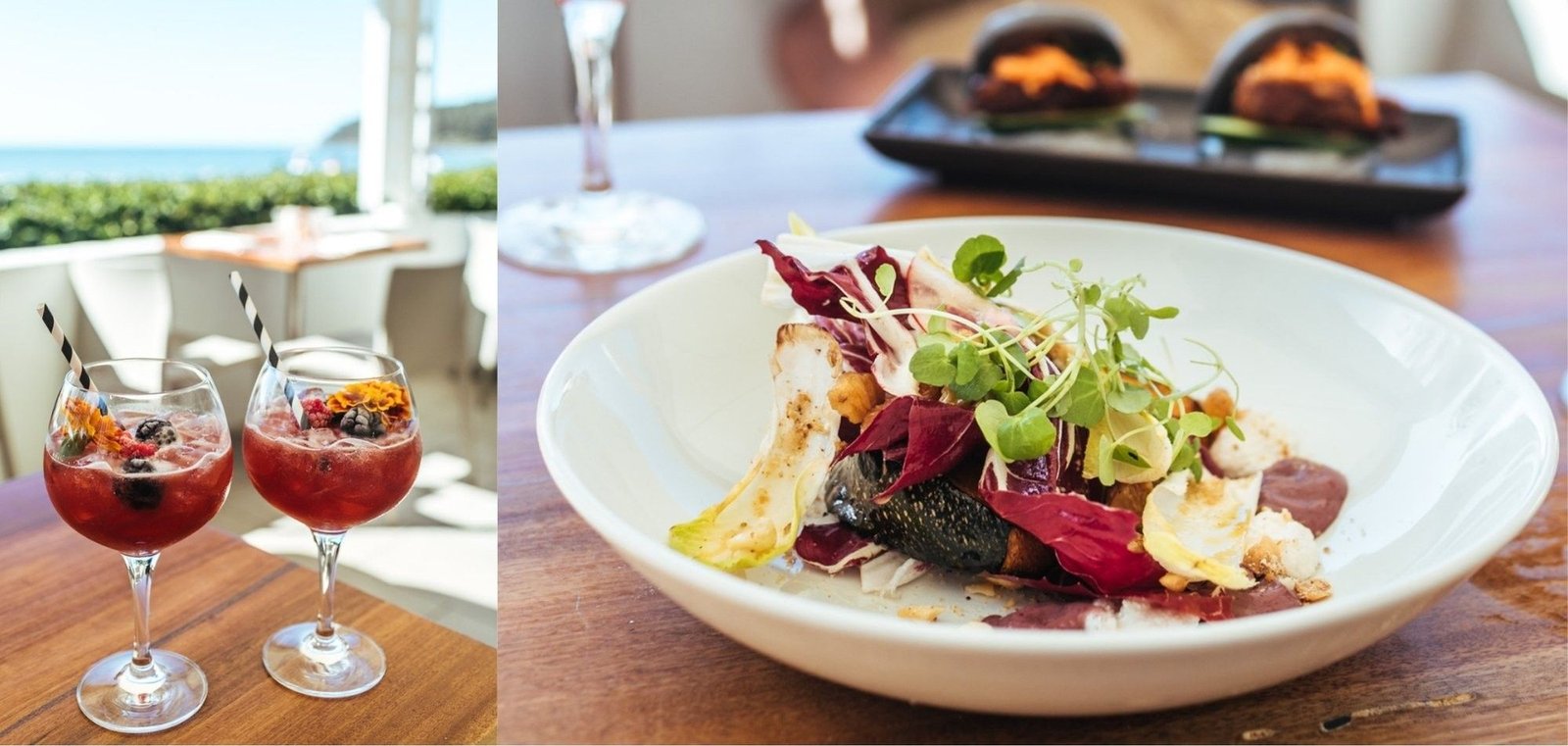 Food at Season.
READ MORE: Brisbane to Noosa: A Sunshine Coast Road Trip
Thank you to Tourism Noosa for gifting us with some accommodation, activities, and meals on our trip to Noosa. Note that all opinions expressed here and elsewhere on this blog are my unbiased own, and are uninfluenced by any gifts or incentives I may receive.
Pin it!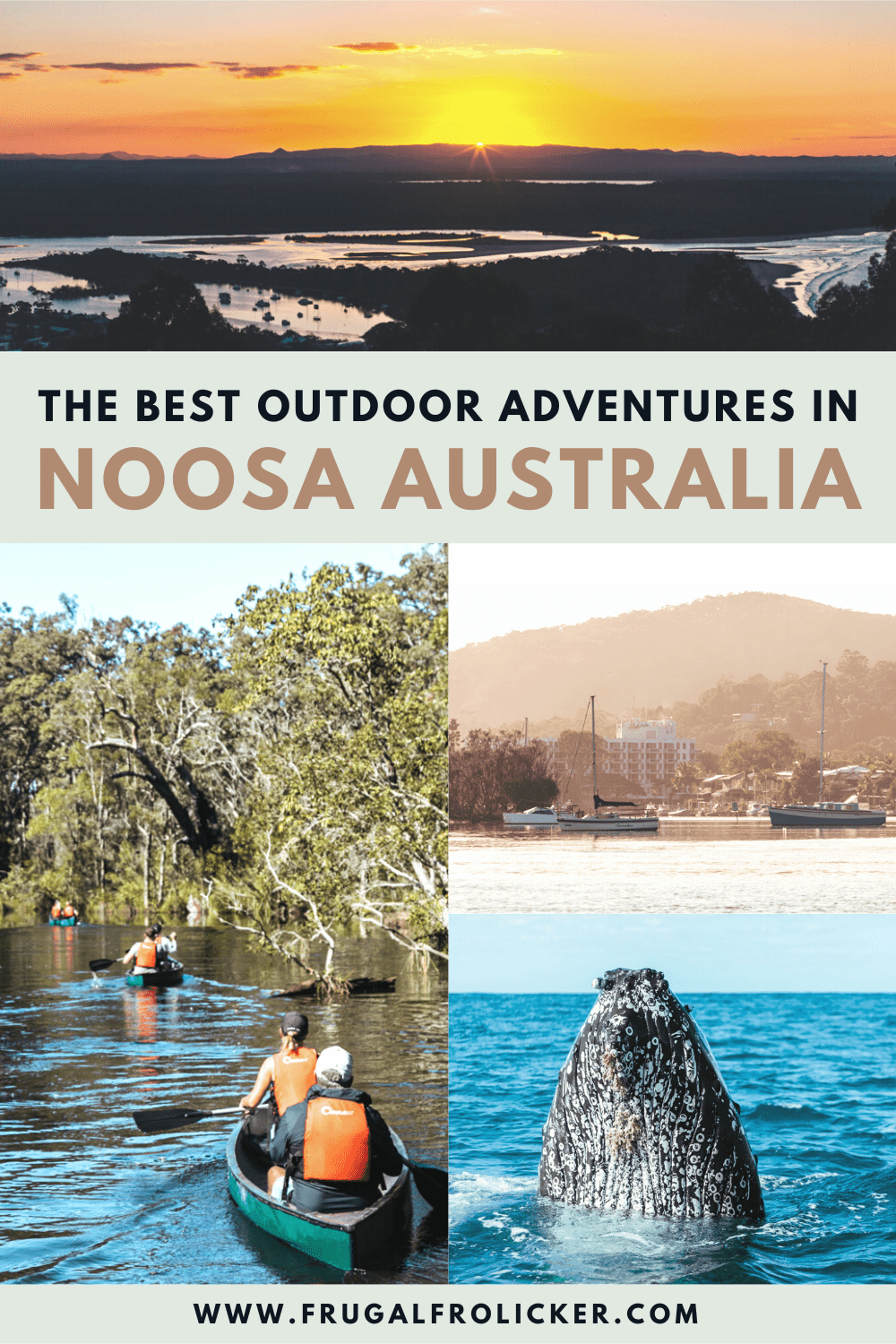 Pin it!