If you happen to find yourself in the Red Centre of Australia, I'm willing to bet you're primarily there to see Uluru.
And rightfully so! Uluru is a bucket list destination, UNESCO World Heritage site, and one of the most spiritual places in the world. You'd be right to plan a whole trip around it.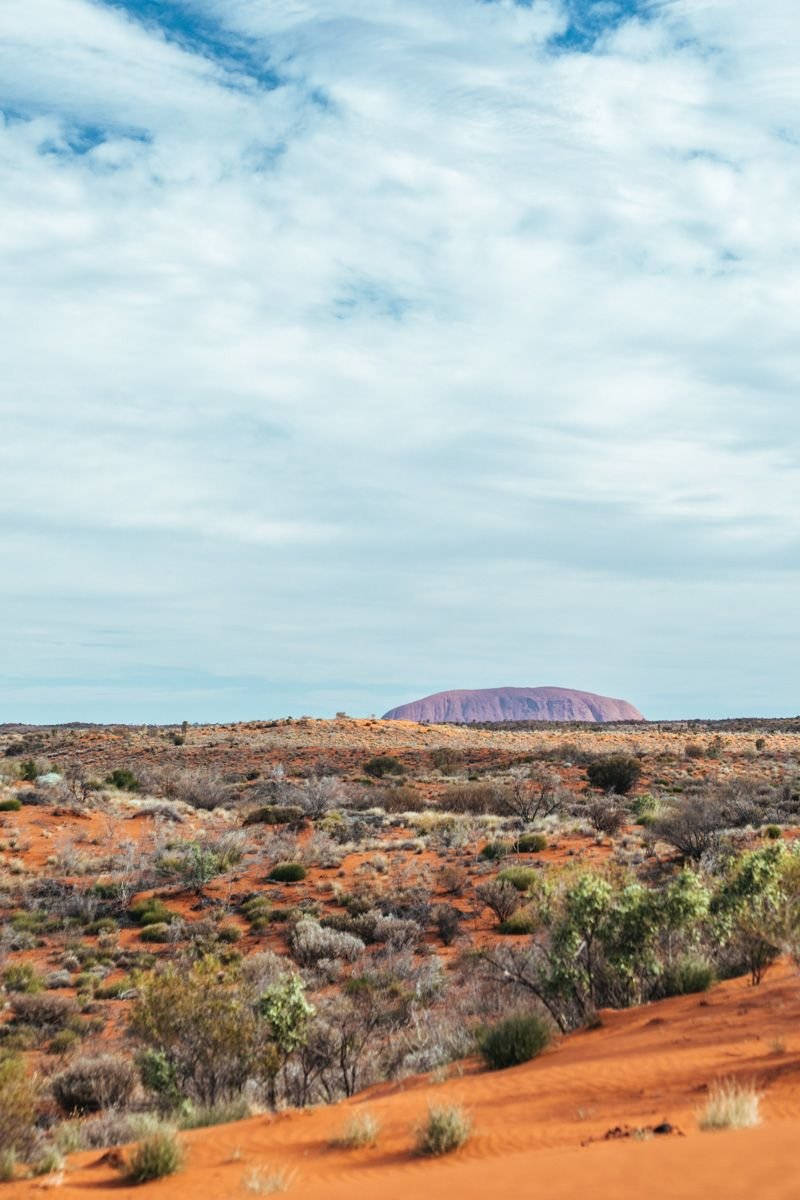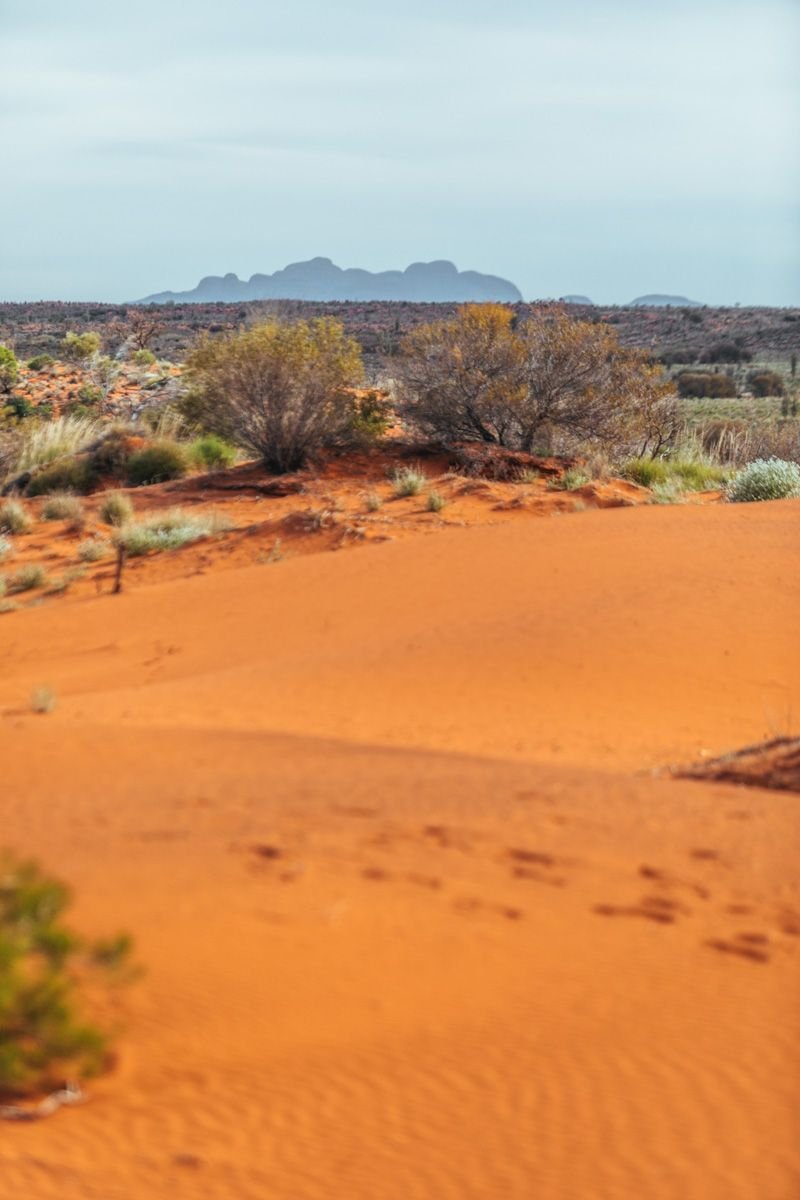 But if you're going to go all that way to see Uluru, you might as well take advantage and see more than that while you're visiting Red Centre Australia.
From Alice Springs to Uluru and beyond, here's a roundup of all of the best things to do in the heart of the Outback, the Australian Red Centre.
READ MORE: Left My Soul Outback Australia
Uluru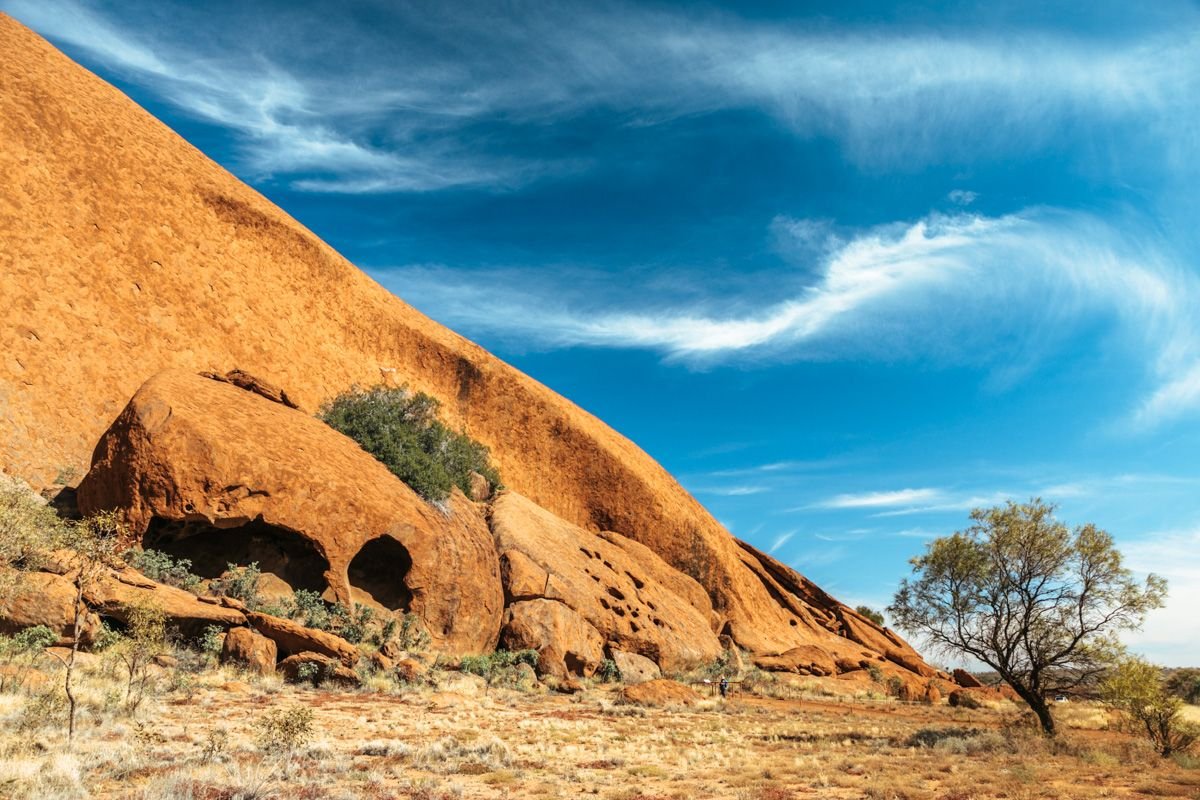 Uluru Base Walk
For an up-close and extended encounter with Uluru, there's nothing better than the 10km Uluru Base Walk. This track circles the entire rock and offers a variety of sights including waterholes (and potentially waterfalls, if there's been recent rain), aboriginal rock art, caves, and panoramic landscapes.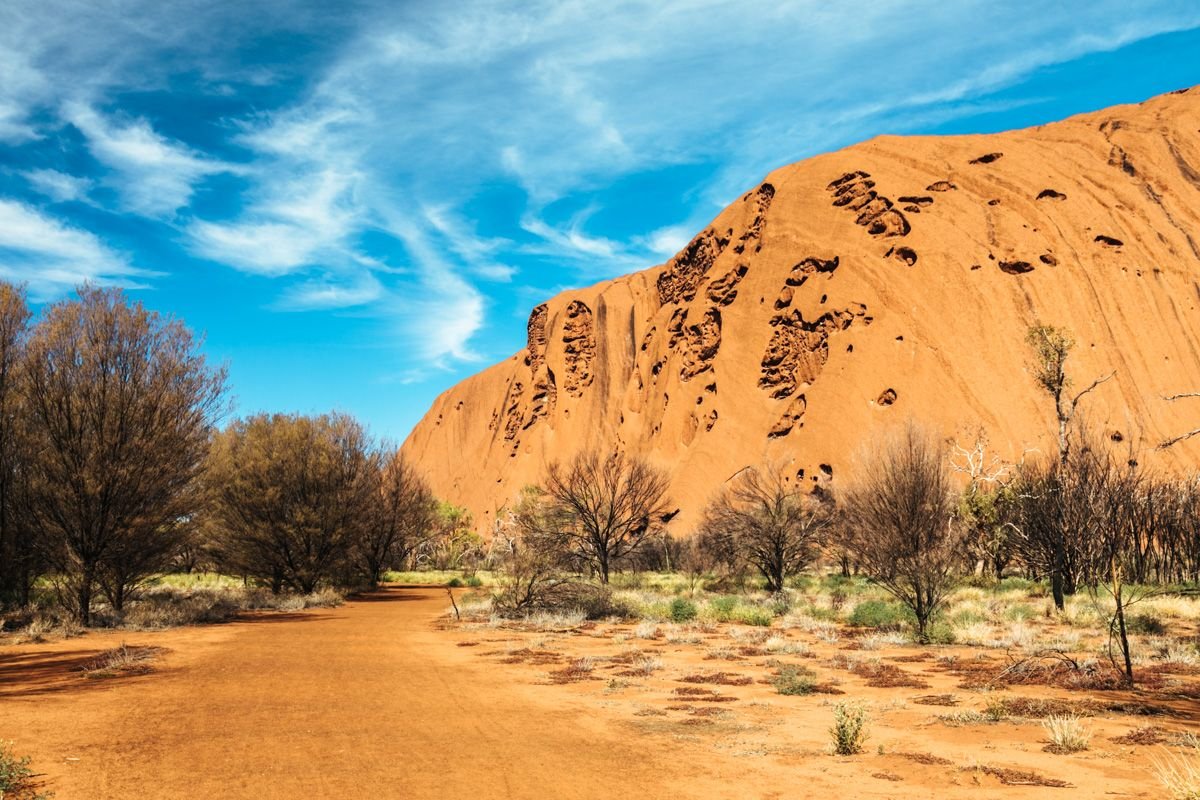 We completed the entire 10km walk but in my opinion, you don't really need to do the whole thing to get the most out of Uluru. The best sights can be found close to the car parks and along the boardwalk. There's not much else on the other side of the rock that you would miss out on if you opted not to do the whole walk.
If you do want to circle all of Uluru, I recommend hiring a bike and cycling around it. You can hire through Outback Cycling, which gives you use of a bike + helmet for 3 hours for $60. Bike pick up is at car park at the Uluru-Kata Tjuta Cultural Centre, which is 3km from the Uluru Base Walk.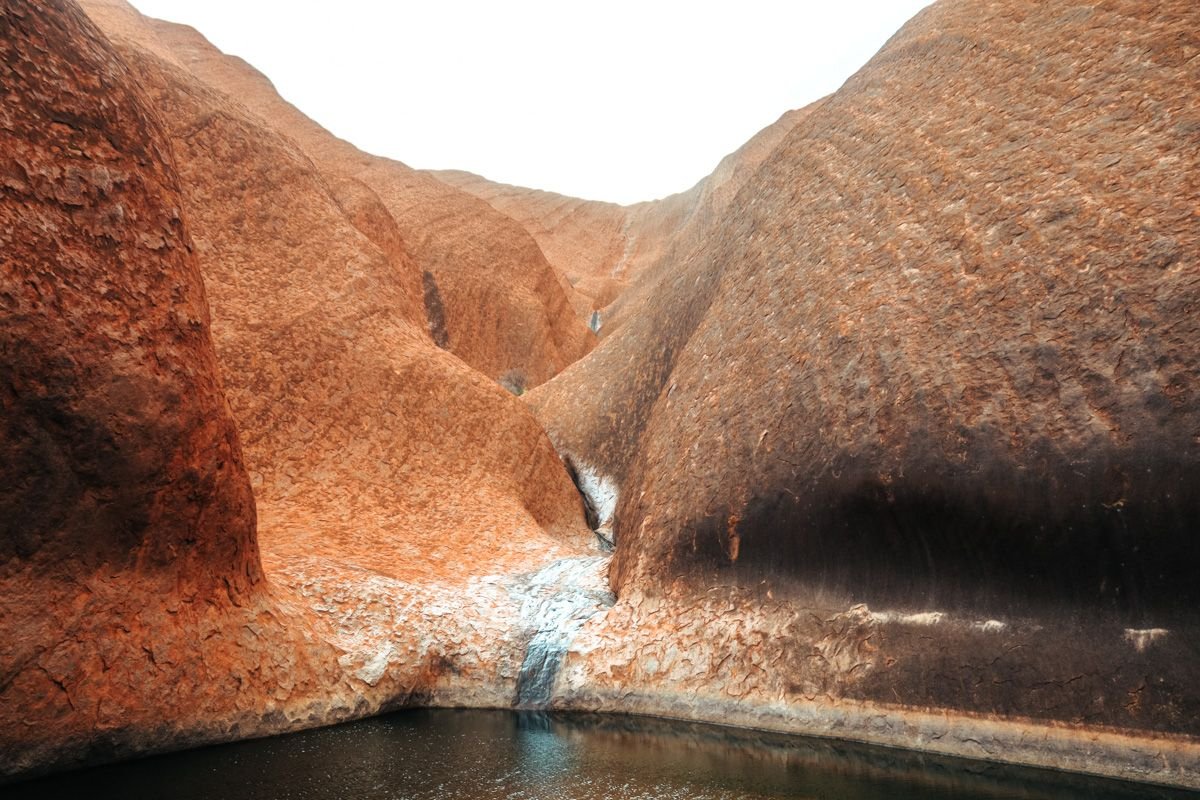 NOTE: It is no longer allowed to climb on Uluru, so be sure to stay off the rock!
Field of Light
If you're looking to keep costs down on your trip to the Red Centre of Australia but still want to experience one of the special paid activities at Uluru, you won't regret booking a ticket to Field of Light. Originally intended to run for just one season, this exhibition has been extended indefinitely due to its massive popularity.
What, exactly, is Field of Light?
Overwhelming in size, covering more than seven football fields, it invites immersion in its fantasy garden of 50,000 spindles of light, the stems breathing and swaying through a sympathetic desert spectrum of ochre, deep violet, blue and gentle white.
The Field of Light Pass costs $45, and you'll be able to wander around this famous display on your own for about a half hour. Tickets also include a return shuttle from Yulara.
The Field of Light Star Pass costs $100 and includes everything from the regular pass PLUS access to a dune top with drinks and canapés at sunset. Not just any dune top, but one that overlooks the Field of Light with Uluru in the distance.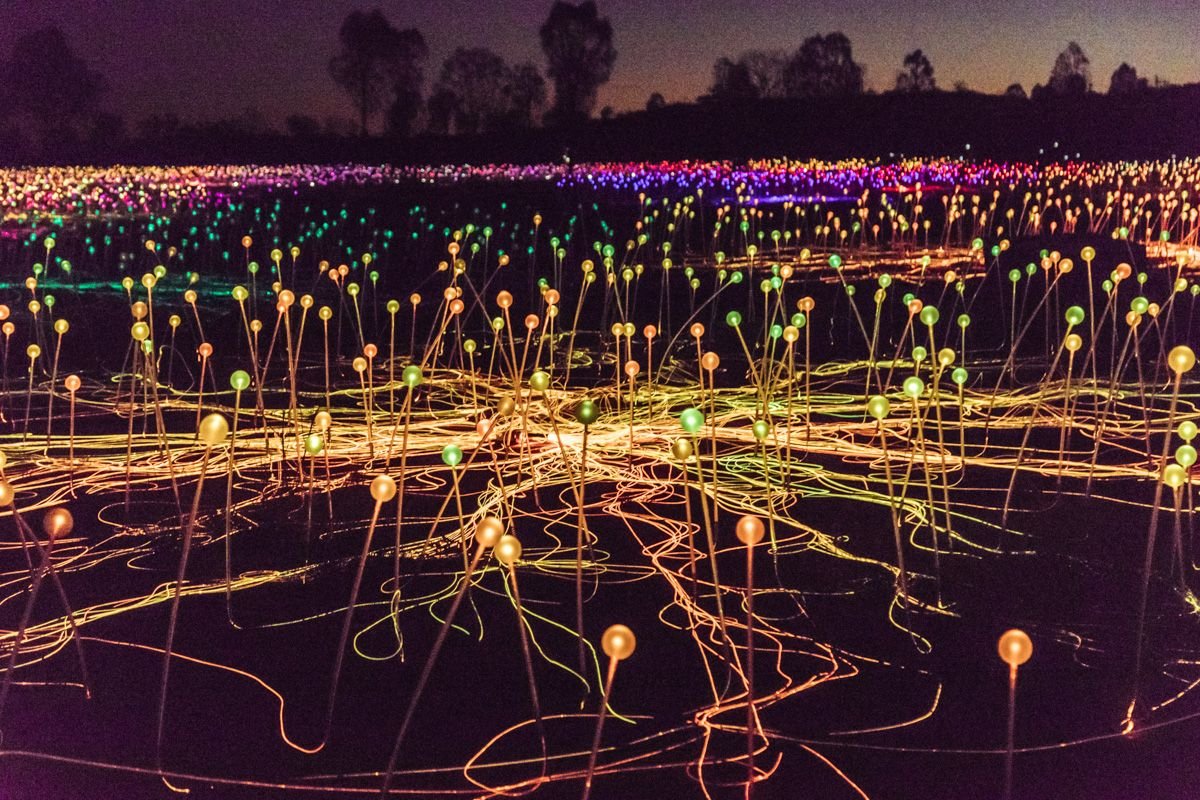 This pass is the only way to enjoy this particular view, and for that reason I'd say it's well worth the upgrade. Also, Star Pass guests get first access to the Field of Light as soon as it opens, which means you get to enjoy it with fewer people milling around. Guys, it's a NO-BRAINER, especially if Uluru is a once-in-a-lifetime trip for you (as it is for most visitors). Don't even think about it, just book it!
Sounds of Silence
If you're in YOLO mode, or money isn't much of a concern, you'll want to spring for the Sounds of Silence dinner under the stars.
As with the Field of Light Star Pass, Sounds of Silence guests start the evening with drinks and canapes on a dune top at sunset (a different dune top). However, this experience continues with a seated 3-course dinner, didgeridoo performance, and guided stargazing. Return transfers from Yulara are included as well.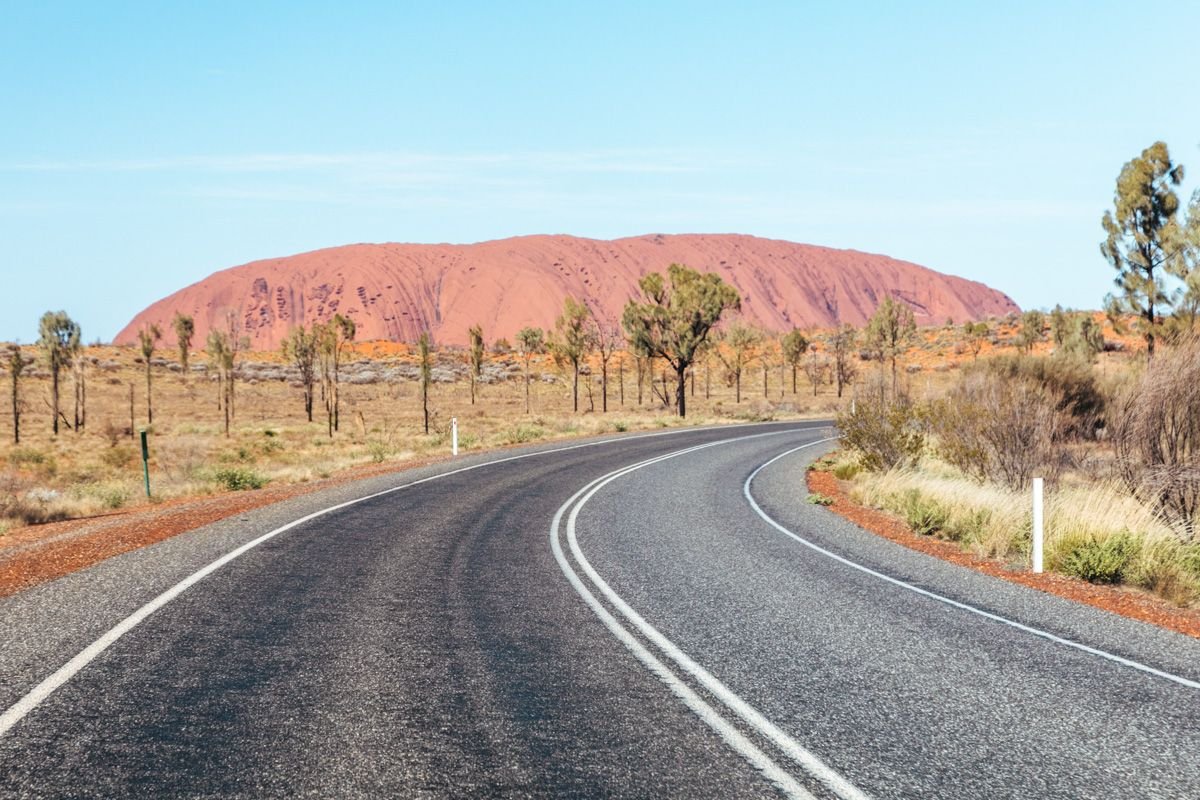 Helicopter Scenic Flight
If ever there was a place to splurge on a helicopter scenic flight, Uluru is it.
Fly Uluru offers a variety of scenic flights over Uluru and/or Kata Tjuta, starting at $120 for a 15-minute flight over Uluru. There are pricier options that include Kings Canyon and Lake Amadeus as well.
IMO the best value helicopter scenic flight is the Uluru & Kata Tjuta Scenic Flight, which costs $265 for a 30-40 minute flight over both rock landmarks. I am still kicking myself for missing out on this, but I guess it gives me good reason to return again sometime!
Sunrise from Talinguru Nyakunytjaku
If you can only manage one sunrise in the national park, I recommend catching it from the Kata Tjuta Dune Viewing Area instead (more on this below!).
But the Talinguru Nyakunytjaku viewing platform works for both sunrise and sunset, depending on the sort of view you're seeking. The platform faces north, so the sun will rise and set from the side of Uluru, giving nice side lighting on a clear evening.
Sunrise from Naninga Lookout, Ayers Rock Campground
One perk to camping at Ayers Rock Campground is this hilltop lookout that's just a few minutes' walk from most campsites.
I'm absolutely not a morning person but even I managed to roll out of bed and shuffle over there most mornings to catch the sunrise over Uluru. It definitely paid off at least once!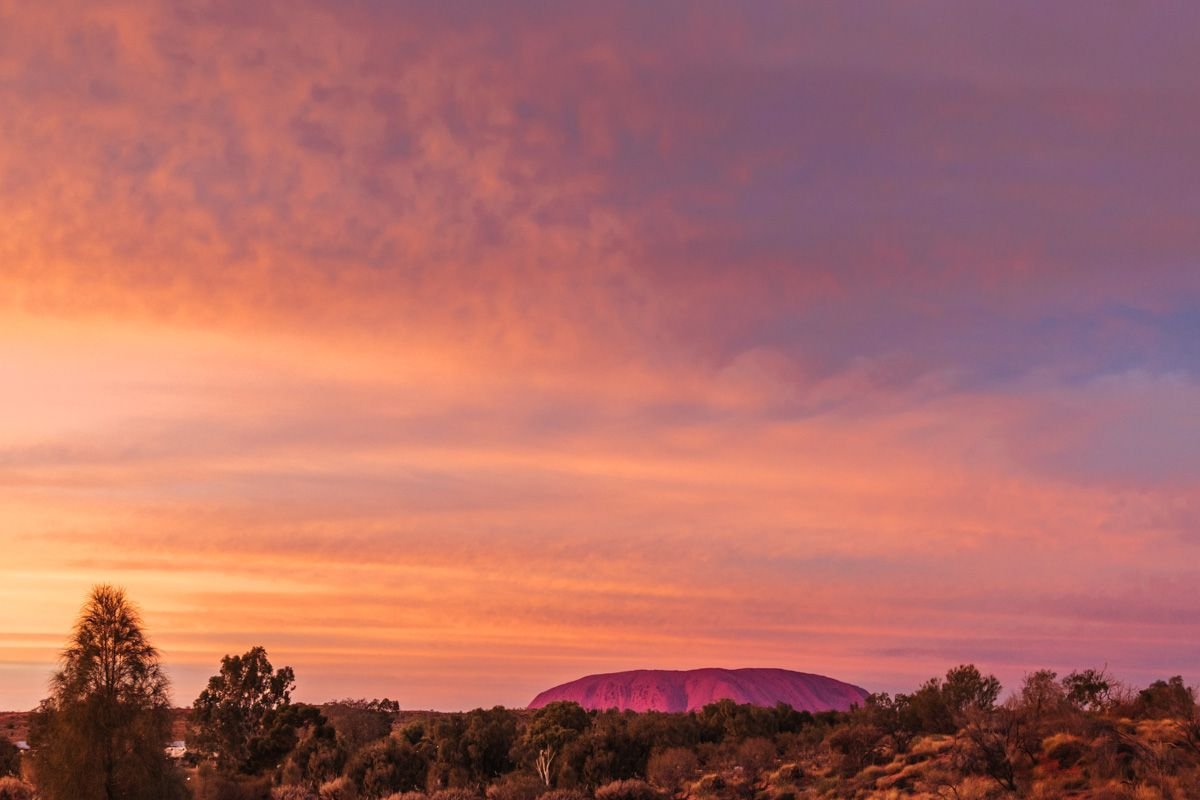 Sunset from Uluru Road
There are designated sunset viewing areas en route to Uluru, but all you need to do is drive down Uluru Road and pull over wherever you want to watch the sun go down. I'd recommend this over the crowded viewing areas if you prefer your sunsets with a side of serenity (and honestly, who doesn't?). Bring your picnic chairs or rug (and perhaps a beverage) for max relaxing.
Watching sunset at Uluru is SUCH a bucket list moment; it's less about watching the sky turn colors and more about marveling at Uluru changing colors. Shortly before sunset time, Uluru toggles between myriad shades of orange and red, erupting in a bright red color. It lends itself very well to time lapse photography, if that's your jam. Otherwise, just prop your camera on a tripod and don't stop snapping til the show is over.
KNOW BEFORE YOU GO:
Uluru is a 25 minute drive from Yulara, and a 5 hour drive from Alice Springs.
A 3-day park pass costs $38 per person, which you can extend to 5 days for free by asking at the park entry station.
Accommodation in Yulara + park activities book out quickly, so be sure to book everything at least one month in advance!
Kata Tjuta
Vastly overshadowed by its big brother Uluru, Kata Tjuta is my personal favorite place in the Australian Red Centre. I fell in love with it on my first visit back in 2006 and it was SO gratifying watching Pete experience the same awestruck feeling his first time there as well.
For me, part of the magic of a place is having it all to yourself – so on one hand, I (secretly) love that visitors tend to flock to Uluru over Kata Tjuta. But on the other, WHAT IS WRONG WITH PEOPLE? How is it even possible that we encountered zero hikers on the Valley of the Winds walk, on a Saturday afternoon when the resort was completely booked out?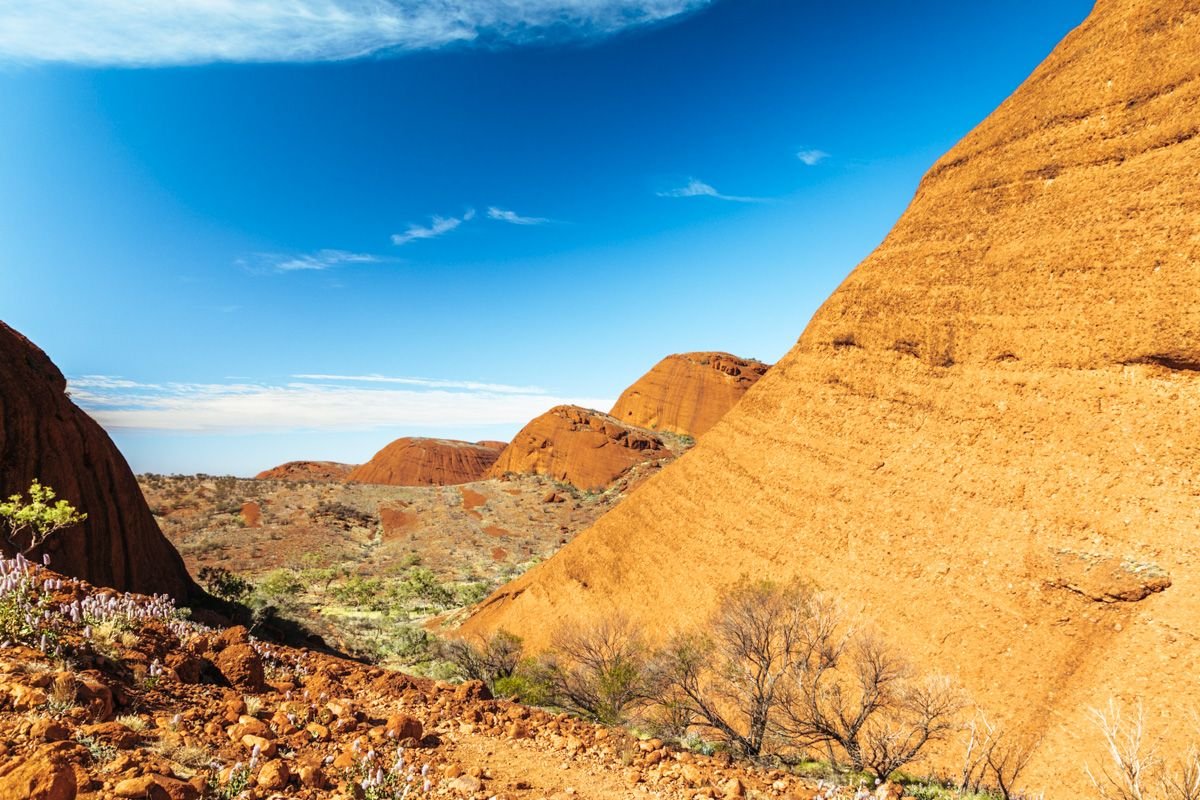 Are they not seeing what I'm seeing here?
If you're reading this blog post, then you won't make the silly mistake of glossing over Kata Tjuta. Here's what you can't miss.
KNOW BEFORE YOU GO:
Kata Tjuta is a 40 minute drive from Yulara, and a 5 hour drive from Alice Springs.
A 3-day park pass costs $38 per person, which you can extend to 5 days for free by asking at the park entry station.
Accommodation in Yulara + park activities book out quickly, so be sure to book everything at least one month in advance!
READ MORE: Kata Tjuta: My Heaven on Earth
Valley of the Winds
The Valley of the Winds walk at Kata Tjuta is one of the best things I've done in ALL of Australia (and good lord have I done a lot of things here!).
The trail begins from Karu Lookout, which gives you a taste of the sort of views you can expect from the walk. I really don't know how it's possible for anyone to stop here and say "yeah, that's enough for me" and walk back to their car, but I saw several people do it.
My blog may be called "frugal" frolicker, but let's adopt an abundance mindset and go for MORE. More views! More magic! More frolicking! Let's do the whole damn walk, shall we?
The Valley of the Winds walk is a 7.4km circuit that takes you around some of the domes of Kata Tjuta and through some of the most sensational landscape in Australia. I found the trail itself pretty easy despite it being marked a grade 4 (I did it in a mini skirt and have no regrets!). It is rocky in parts, and there's one section I recall being a little steep – but it's not hard at all if you're in halfway decent shape.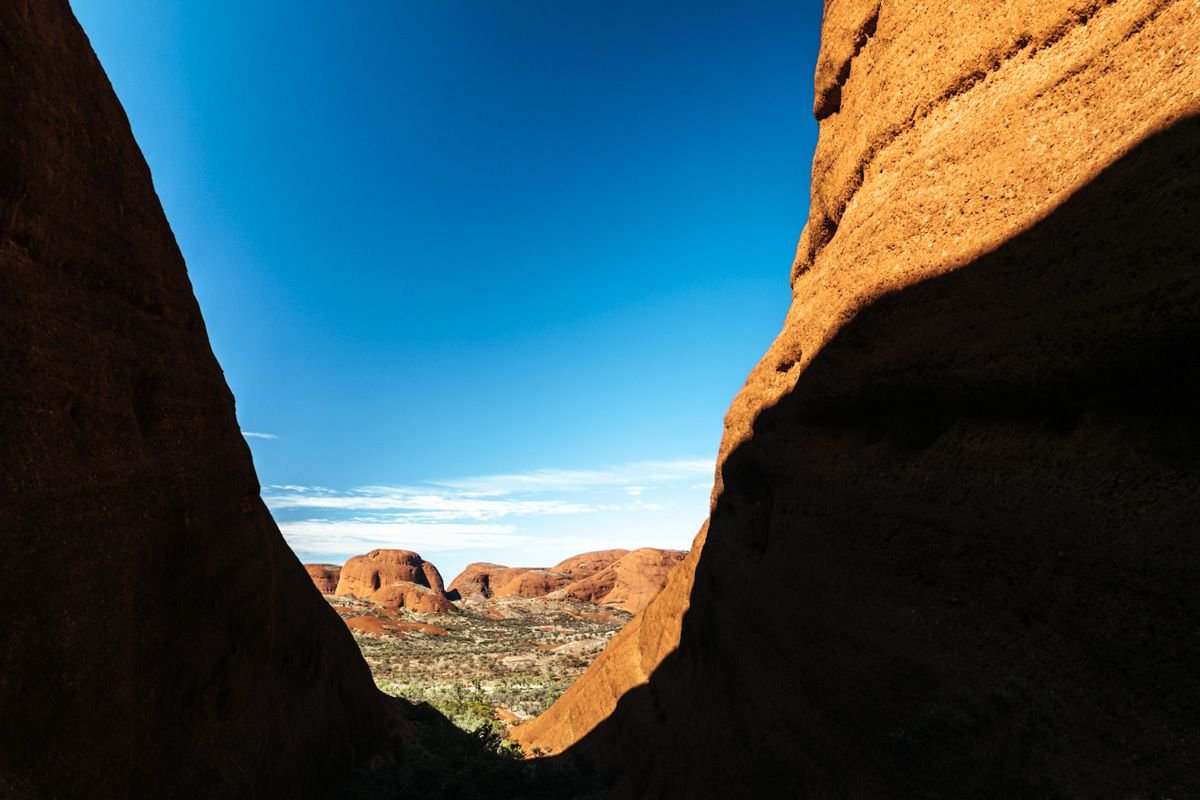 When I wrote about it in my travel diary back in 2006, I referred to it as "heaven on earth" and "the closest thing to Eden", and that's exactly how I feel now, 16 years later.
As I mentioned earlier, we had the whole trail to ourselves on a peak season weekend day, which is absolutely astounding. But it made the whole experience that much more magical.
In short, JUST DO IT, Nike-style ;)
Walpa Gorge
According to Parks Australia, Walpa Gorge is a "desert refuge for plants and animals". Indeed, there's a shallow stream and clusters of wildflowers along this short walking trail (2.6km return), depending on the time of year.
I'll be honest with you: Walpa Gorge is quite underwhelming in comparison to Valley of the Winds. It's worth doing just because it's a pretty quick walk in and out of the gorge, but if you're unable to fit it into your Red Centre Australia itinerary, don't worry too much.
Sunrise from the Kata Tjuta Dune Viewing Area
If you're going to wake up for an Uluru sunrise just one time, I recommend heading to the Kata Tjuta Dune Viewing Area. It's the one designated sunrise spot where you can see both Kata Tjuta and Uluru, so you'll get more for your early morning efforts!
From this platform, you'll see the domes of Kata Tjuta all spread out in a row – so widespread that it's tricky getting it all into a photo, even with a wide angle lens! The sun rises just to the right of Kata Tjuta as you're facing it, so you get nice side lighting if it's not completely cloudy.
You'll also be able to glimpse Uluru from afar from this spot – definitely bring a long zoom/telephoto lens to capture more of it in the frame! The sun rises from directly behind the rock, depending on the time of year, so there's definitely great potential for photographic drama if conditions are on your side.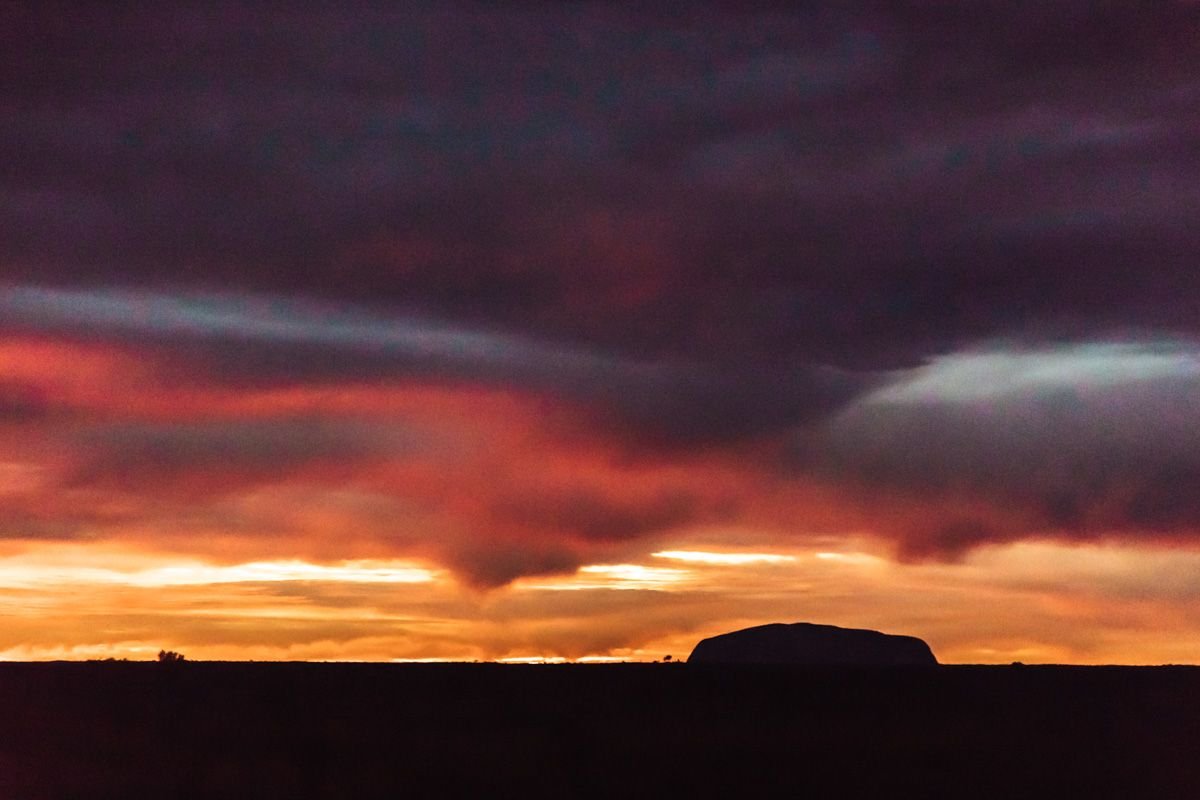 The Kata Tjuta Dune Viewing Area is about a half hour drive from Ayers Rock Campground in Yulara, so if you're staying in Yulara I'd leave about an hour before sunrise so that you can also witness the pre-sunrise sky colors.
Sunset at the Kata Tjuta Sunset Viewing Area
At the Kata Tjuta Sunset Viewing Area, you can be relatively close to a few of the domes while the sun sets opposite of them (or behind you, as you're facing Kata Tjuta). Unlike the other viewing area, there's no platform here, just a dirt path with a few clearings where you can sit and watch. Bring your camp chairs if you have them, relax, and enjoy!
The Kata Tjuta Sunset Viewing Area is a 40 minute drive from Yulara, and I'd recommend getting there in advance of the sunset so you can watch the rocks change color as the sun starts to set.
Not surprisingly, this sunset spot is far less frequented than the ones around Uluru, so you should be able to enjoy it with few others around.
Kings Canyon (Watarrka)
Kings Canyon Rim Walk
The #1 thing to do at Kings Canyon is the Rim Walk, a 6km circuit that takes you clockwise up and around the edge of the canyon, and descends back to the car park. The hardest part is the ascent at the start: there's no getting around this steep segment, unfortunately! But once you're done, the rest of the walk is a breeze.
I remember my first visit to Kings Canyon in 2006, and being wowed by the stacks of flat orange slabs throughout. I've still never seen anything quite like it in all my travels.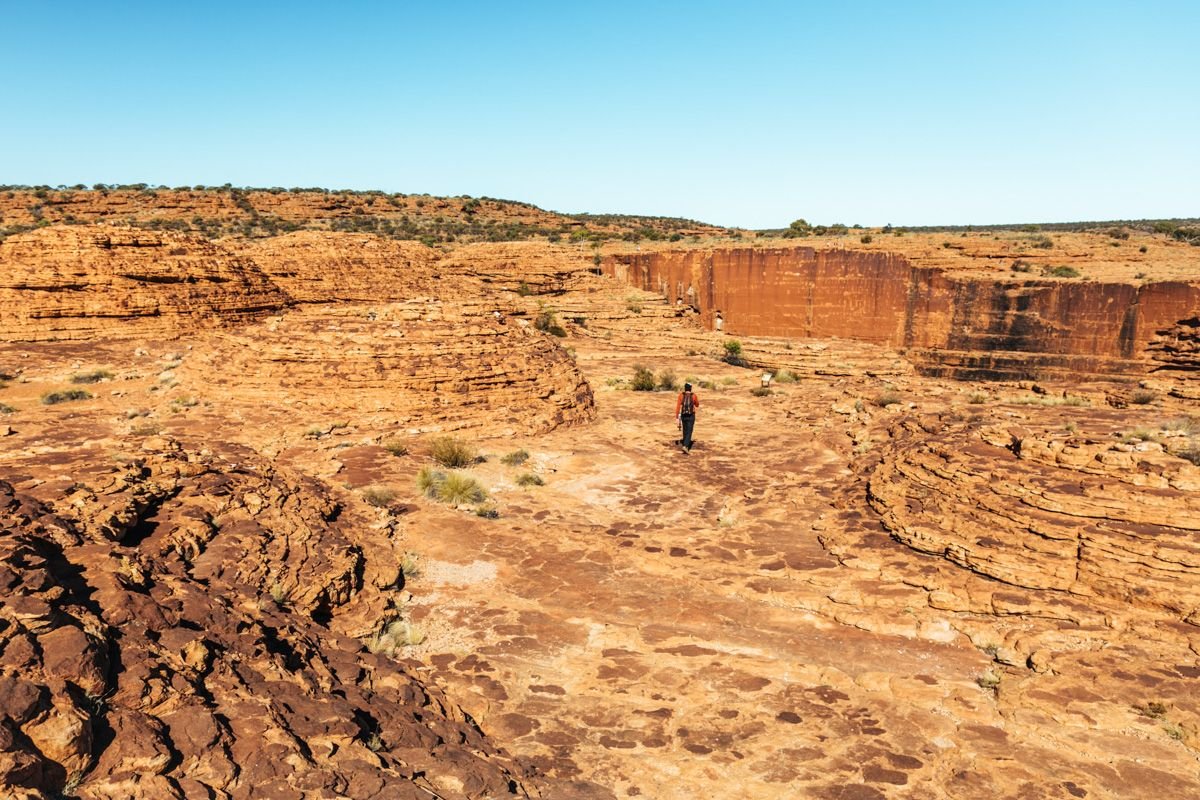 On the Rim Walk, it's easy to follow the arrows around the top of the canyon and make your way around the loop trail. It's even easier to get sidetracked by all of the glorious viewpoints along the canyon rim.
About midway through, the walk descends a little bit to the Garden of Eden, a lovely little rockhole where you can seek refuge in the shade of the canyon and admire the reflections in the water. No swimming allowed, though! The climb back up is short and easy, and deposits you onto the south rim of the canyon.
I think my favorite portion of the Kings Canyon Rim Walk may actually be near the end, on the south rim. Here, the landscape appears to expand out into the distance, dotted with picturesque rock slab piles.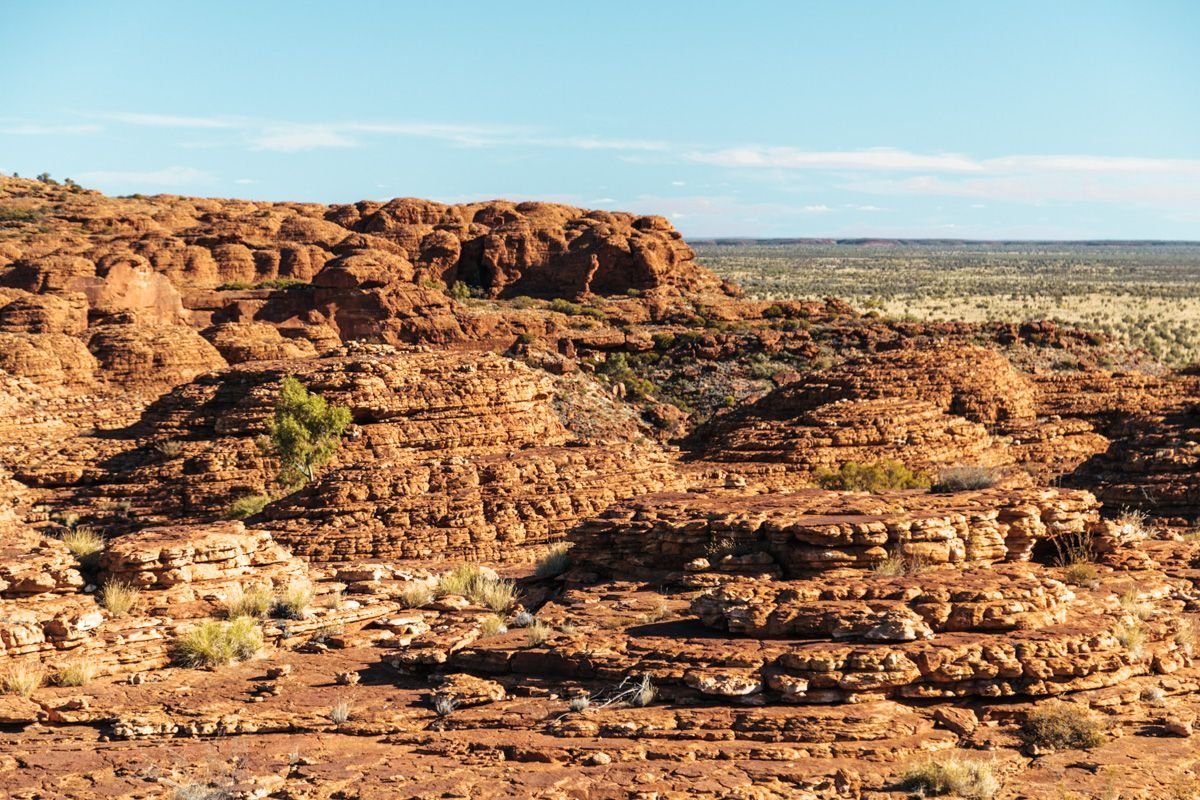 If you have time, there are a few other short walks in the park, and the 22km Giles Track which is recommended as an overnight hike. But if time is an issue, you're totally fine to just do the Kings Canyon Rim Walk and call your visit complete (i.e. you're not missing much).
KNOW BEFORE YOU GO:
Kings Canyon is about halfway between Uluru and Alice Springs. It's a 3 hour drive from Yulara, and a 5 hour drive from Alice Springs if you take the fully sealed route on the Stuart/Lasseter highway (no 4WD needed).
Park entry is free. On days where the weather forecast is 36C or higher (usually most days in September – April), you must start the Kings Canyon Rim Walk before 9am.
There are two campgrounds near Kings Canyon: Discovery Parks Kings Canyon and Kings Creek Station (where we stayed). I tried the famous camel burger at Kings Creek Station and found it to be pretty bland.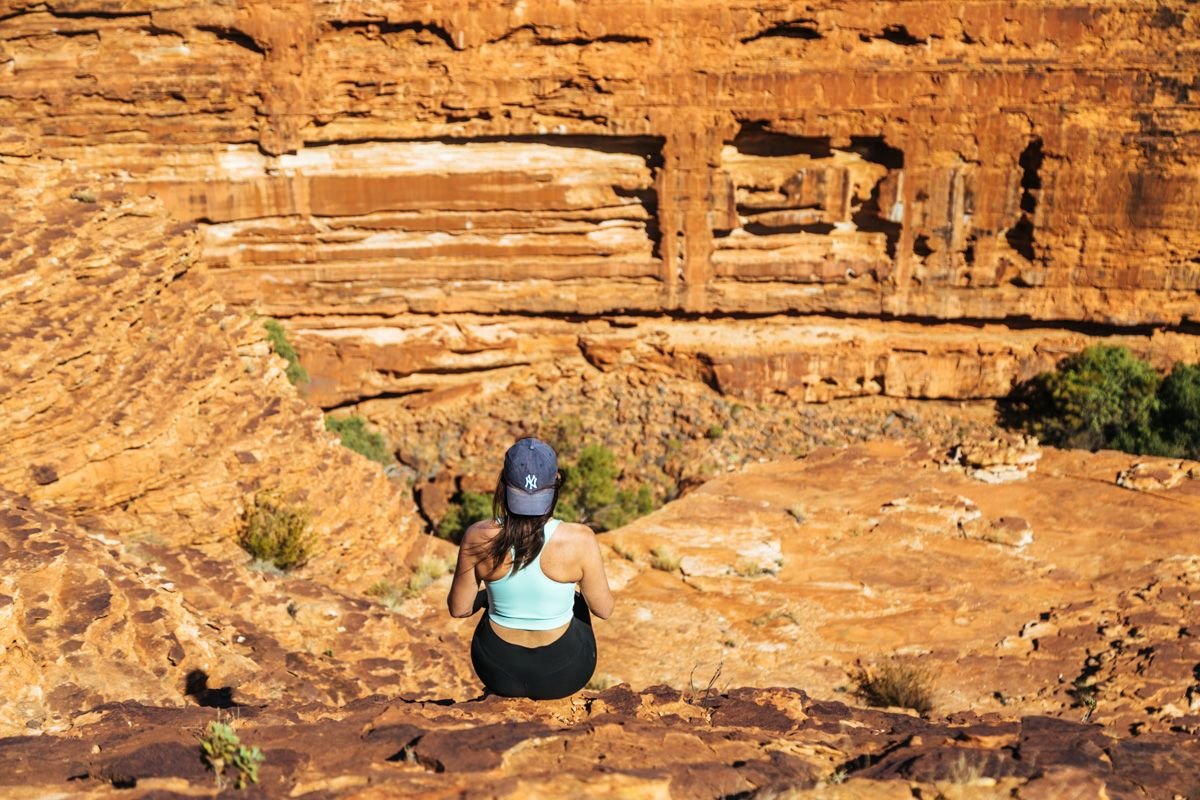 Alice Springs (Mparntwe)
I suppose I shouldn't leave the hub of Red Centre Australia out of this post; however, I'm afraid my Alice Springs explorations were limited to one cafe (one of my favorites from our entire big Aussie caravan trip!) and Woolworths (oh, and the desert park!). The bulk of our 3 weeks here was spent catching up on work and taking day trips from Alice Springs to locations mentioned later on in this post.
But if you're keen, there are plenty of things to do in Alice Springs that are worthwhile (including a plethora of local animal encounters):
Alice Springs Desert Park – an excellent display of plants, animals, and birds of the Australian Red Centre, set at the base of the West MacDonnell Ranges. If you go, don't miss their daily birds of prey show, where native birds fly right overhead on cue. Admission is $37/person.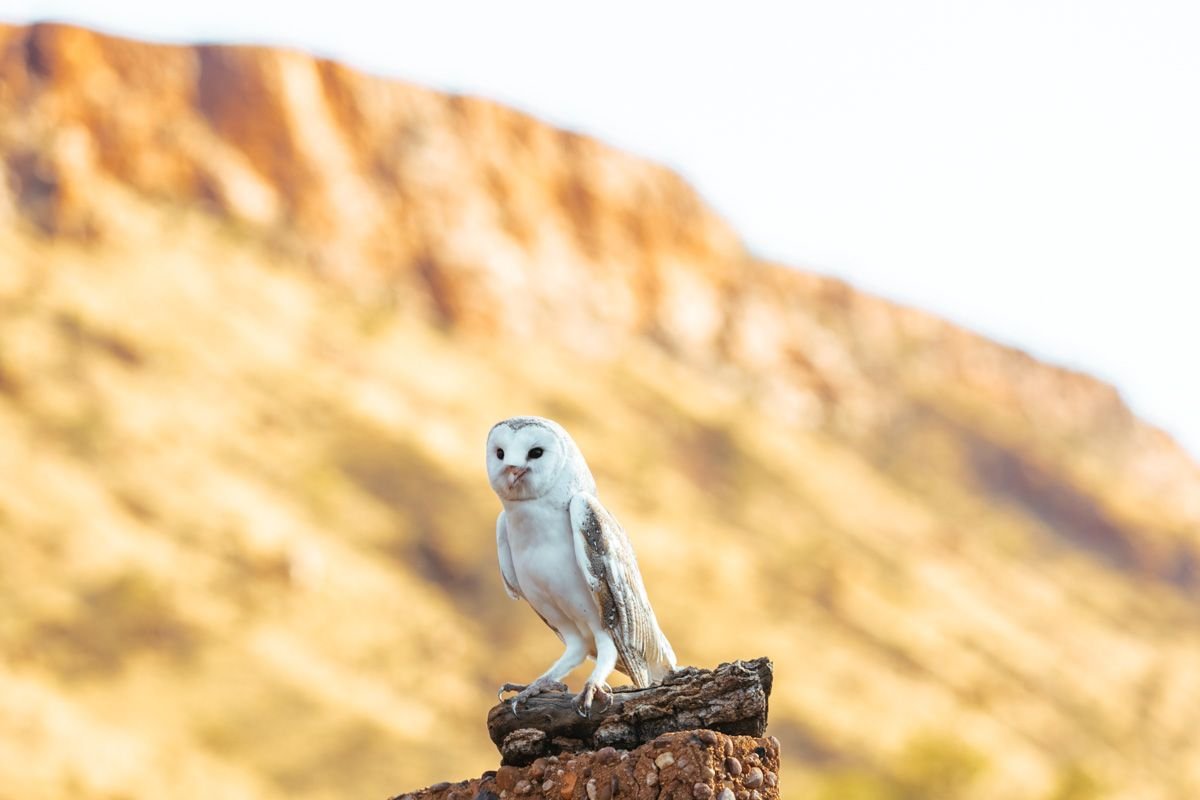 Alice Springs Reptile Centre – from crocs to pythons to goannas, this is your chance to get (safely) close to over 50 species of Aussie reptiles. Admission is $20/person.
Kangaroo Sanctuary – book a sunset tour for $85/person and get close to (+ possibly hold) some baby orphan kangaroos
Camel Tours – ride a camel into the sunset outside of Alice Springs
Watertank Cafe – best coffee in Alice Springs and a really cool space that's laptop-friendly!
Anzac Hill – great view of town from above (especially at sunset)
Parrtjima – the annual festival in light, held in April (I haven't been, but it looks AWESOME)
BOOK ACCOMMODATION IN ALICE SPRINGS:
West MacDonnell Ranges (Tjoritja)
I have a very detailed post about the West MacDonnell Ranges that tells you everything you need to know about exploring the gorges out this way.
If you want the short version:
Allow 2 full days if you want to see all of the gorges (which believe me, you should!)
To save time + petrol, it's worth camping at one of the campgrounds in the West MacDonnell Ranges. We camped at Standley Chasm because they have power and Telstra reception, but if being connected is not a priority for you, I'd recommend basing yourself at Ormiston Gorge which is more central.
The best gorge in the West MacDonnell Ranges? Gotta be Ormiston Gorge (I wrote a whole blog post dedicated to it!). Redbank Gorge is a not-too-distant second best.
READ MORE: The Gorgeous Gorges of the West MacDonnell Ranges
If you want a wee bit more detail, here is everything worth seeing in the West Macs: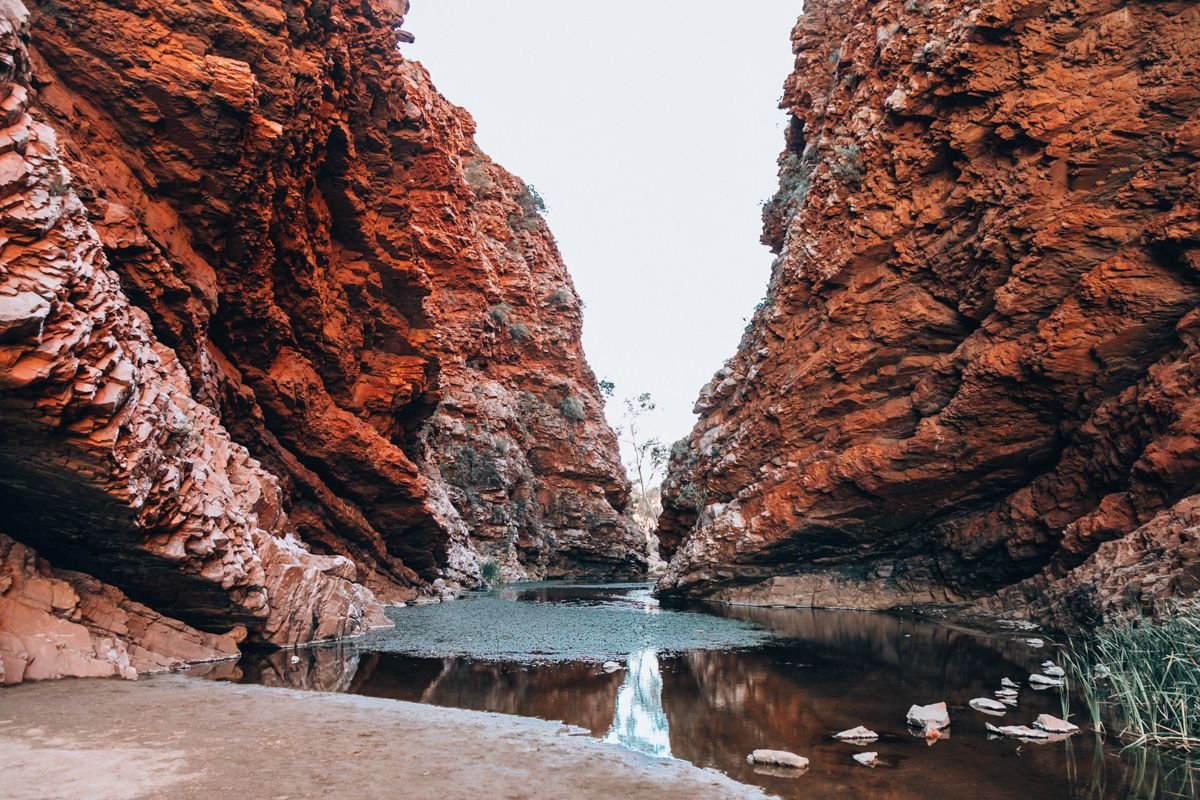 Simpsons Gap
Simpsons Gap is essentially a gap between two mountains in the West MacDonnell Ranges, but doesn't have a pool of water like most of the other gorges in the area.
It's very popular amongst Alice Springs residents, particularly as a sunset picnic spot, as it's quick and easy to reach from town (a 20min drive).
Standley Chasm
Standley Chasm is a dry gorge with walls reaching 80m in height. It's deep and narrow, which means that there's a short period of time each day where sunlight reaches it (around midday). The chasm looks its best and most vibrant red from 11am-1pm, so aim to visit when the sun is directly overhead.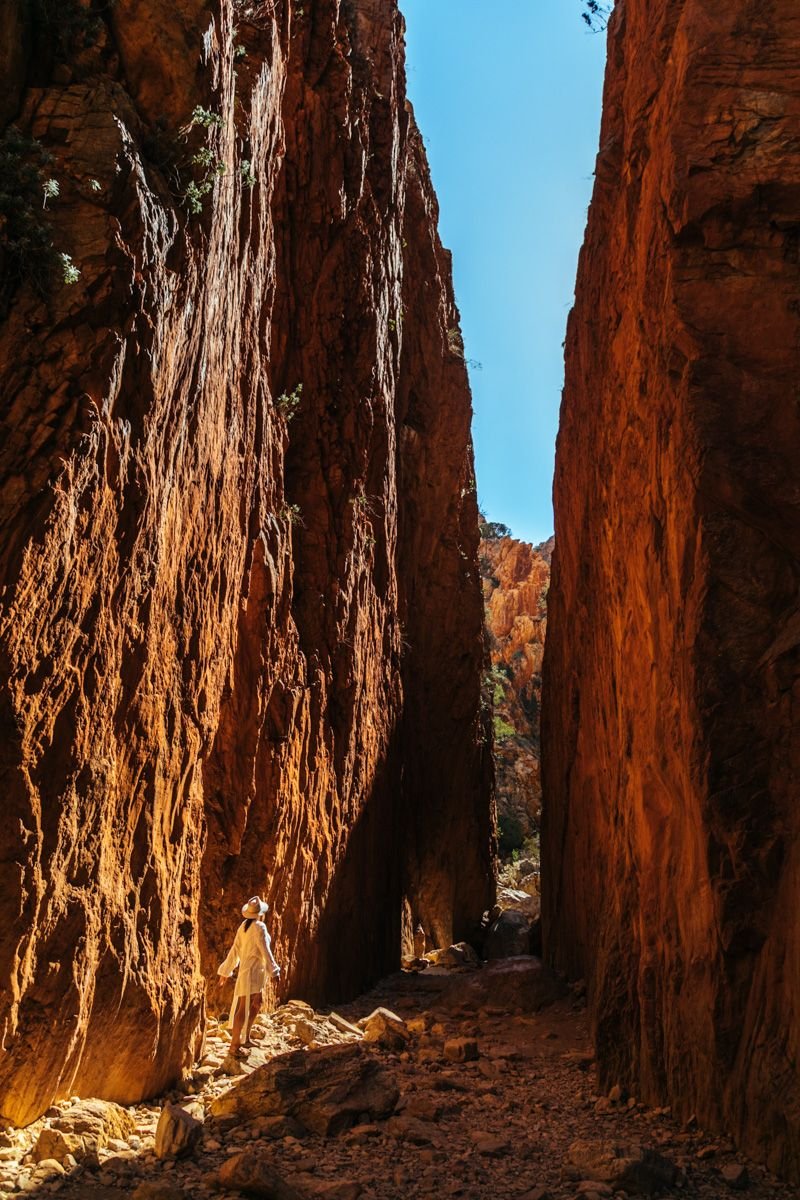 Note that Standley Chasm is the only site in the national park that's 100% Aboriginal-owned and run, and they charge $12 for admission. You can also camp in the car park for $18.50/person which includes admission (so essentially it's just $6.50 to camp). Powered sites are an additional $5/night, and you need to book these in advance as there are only a few available.
Ellery Creek Big Hole
Ellery Creek Big Hole is where you'll find the first major swimming hole after you leave Alice Springs. I highly recommend visiting first thing in the morning, when the water is still and the light isn't bright yet. Usually around this time, you'll get to enjoy a beautiful reflection of the gorge on the water.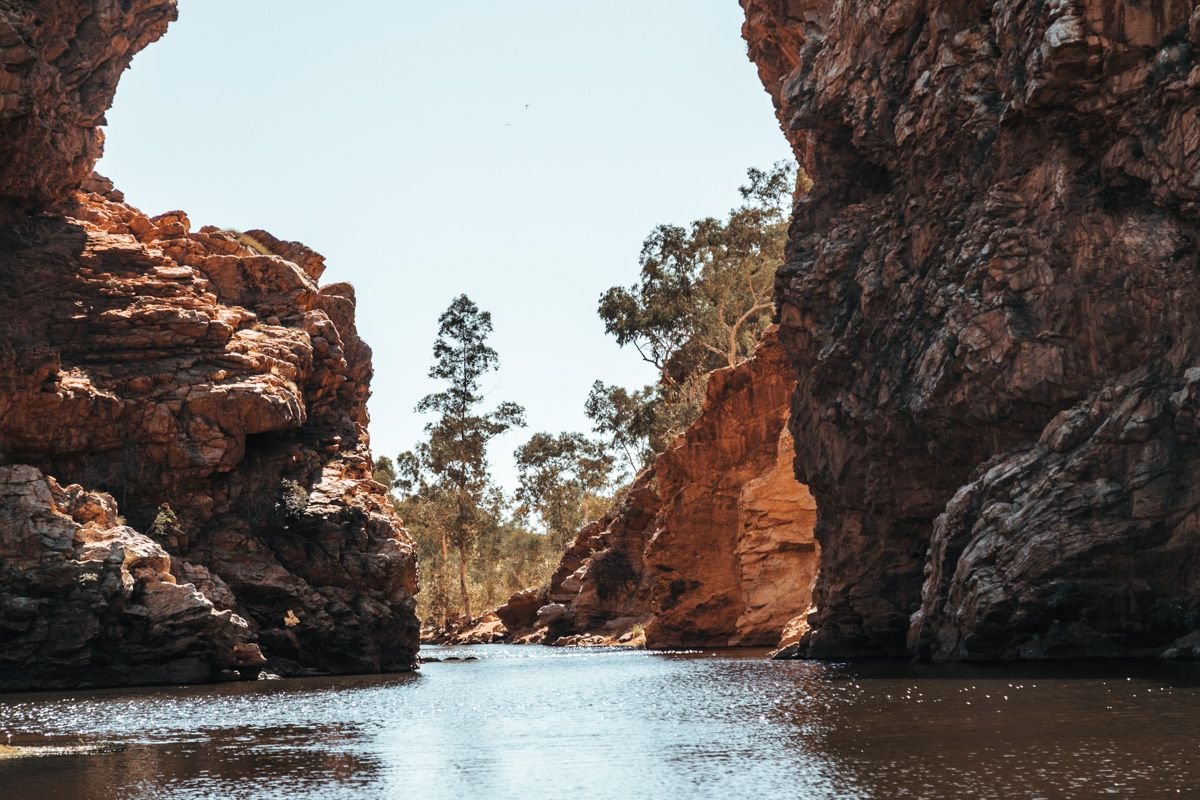 You can camp here for $4/person, cash only payable via the honesty box, and first-come, first-served.
Serpentine Gorge
Of all the gorges in the West MacDonnell Ranges, I'd say Serpentine Gorge is the least interesting to visit. The waterhole here is small and un-swimmable, and the gorge doesn't get much sun at all so it's dark and shady.
However, the hike up to the lookout is VERY worth doing. From the top, you can enjoy a much nicer view of the gorge as it's lit up by the sun.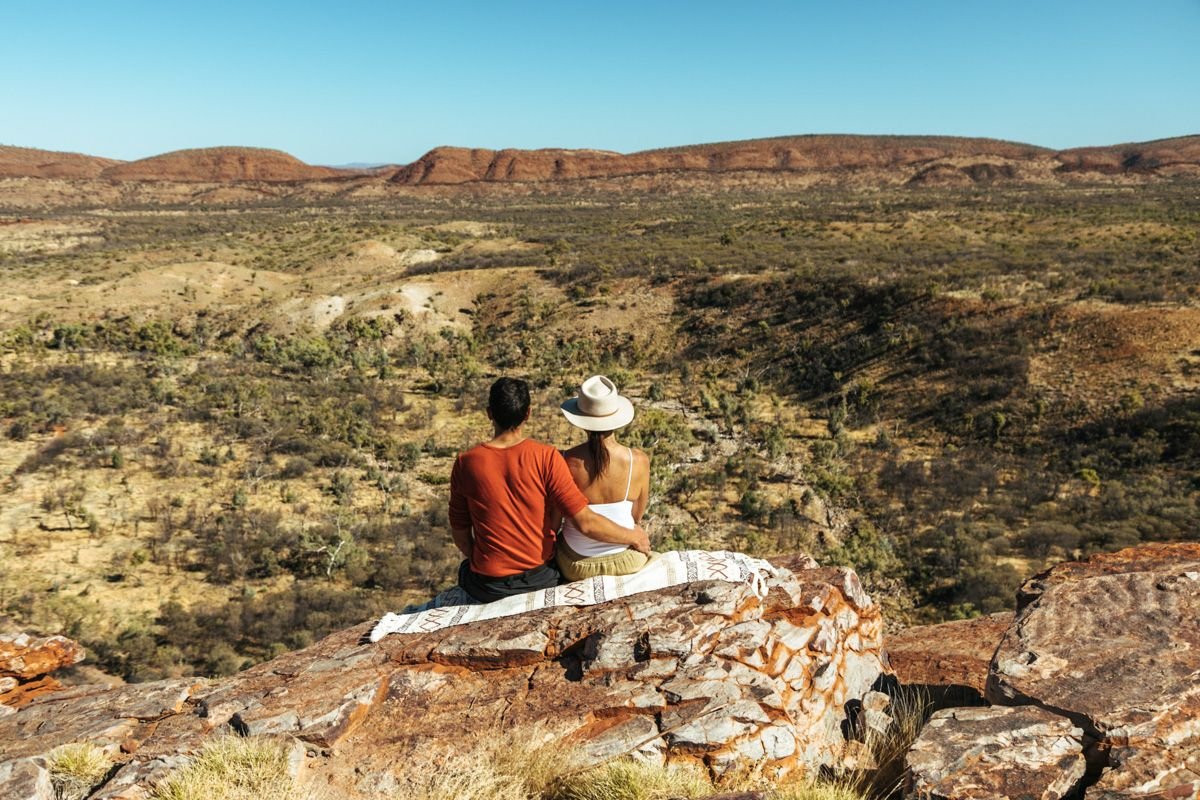 Ochre Pits
The Ochre Pits is one stop in the West MacDonnell Ranges that isn't actually a gorge, but a colorful cliff face along the bank of a creek. Ochre is a natural material that Aboriginals use in ceremonies; it's like an earth-colored powder you can use to make paint and dyes.
Ormiston Gorge
If you only have time to do one thing in the West MacDonnell Ranges, it should be Ormiston Gorge.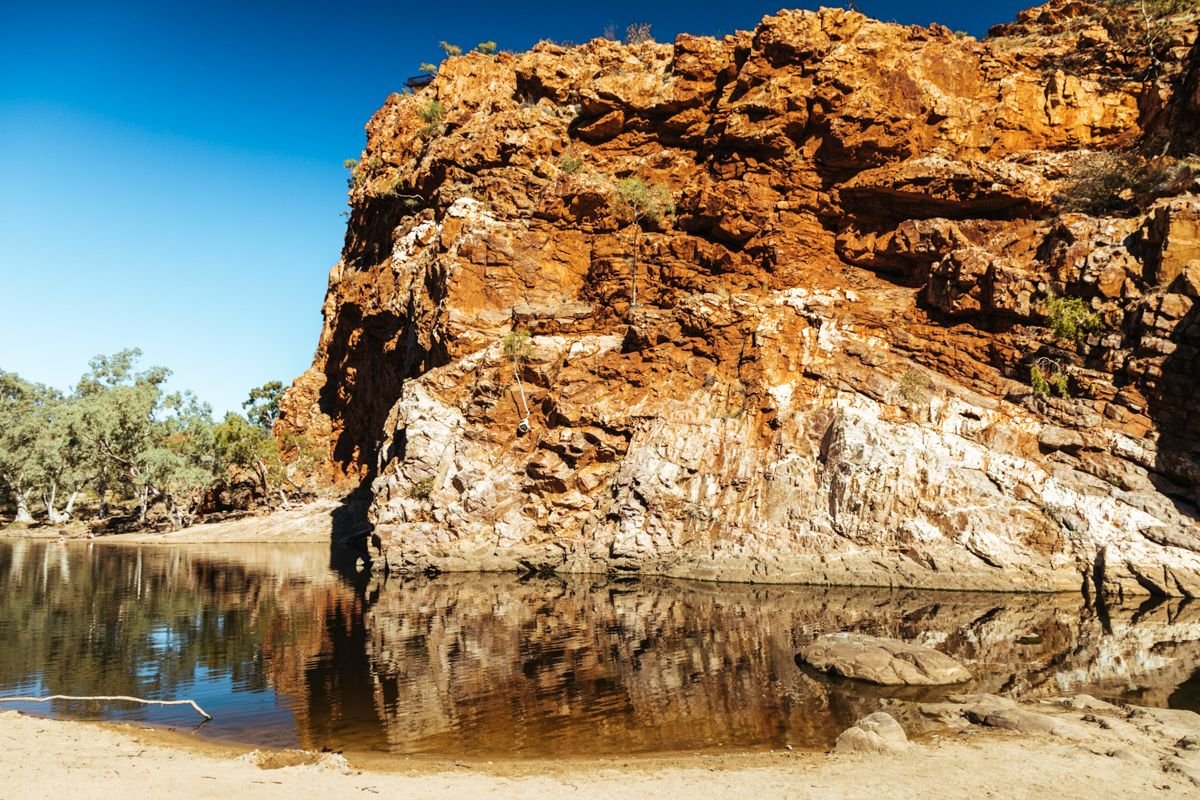 Ormiston Gorge has it all: a ridiculously picturesque gorge, a swimming hole with an actual BEACH beside it, an excellent lookout point, and one of the best short walks in all of the West MacDonnell Ranges (the Pound Walk). Plus, it's got a cafe that serves coffee and lunch.
You can camp here for $10/person per night, cash only, first-come first-served.
READ MORE: Ormiston Gorge: A Beach in Outback Australia!
Glen Helen Gorge
Glen Helen Gorge is the most majestic of all the West MacDonnell Ranges gorges. You catch a glimpse of it from the main road and as you get closer, it gets more and more impressive.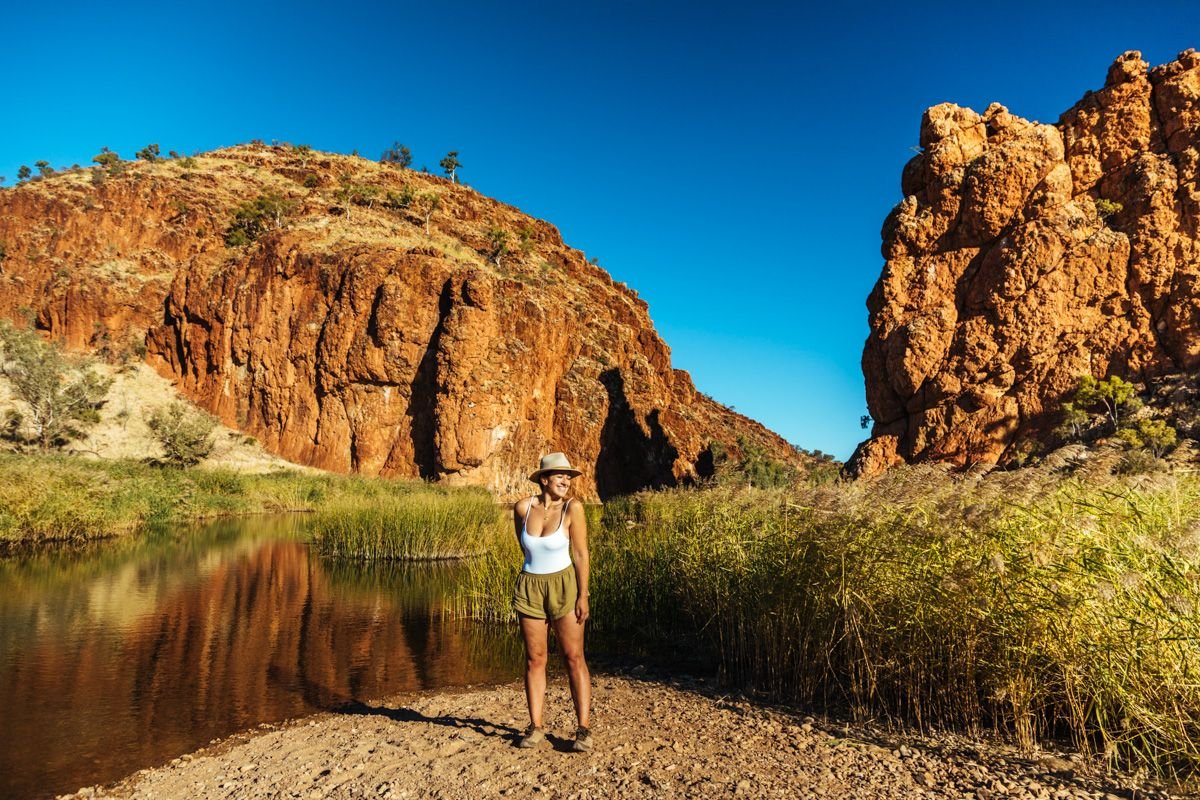 This gorge is just begging to be paddled, whether by kayak or stand-up paddleboard. Access was limited when we visited in winter 2021, so I'm not sure if there's anywhere you can sit and relax at the gorge – but either way, it is very worth stopping to see.
You can camp or book a room at the new Discovery Parks – Glen Helen campground. Sites are $40-50/night, and rooms are $280-305/night.
Redbank Gorge
Redbank Gorge is an absolute STUNNER. It looks a bit different to the other gorges in the West MacDonnell Ranges, and the rock reflections here are just beautiful. You can swim through the gorge to several small little pools, but it's better to float through the gorge on a floatie of some sort.
Of all the gorges in the West Macs, Redbank Gorge is the one that takes the most effort to get to. But I promise you it is VERY worth it, so don't skip this one if you've got a 4WD vehicle! Access to the gorge is via a 5km bumpy dirt road, then a 1km walk.
You can camp here for $4/person cash only, and first-come, first-served.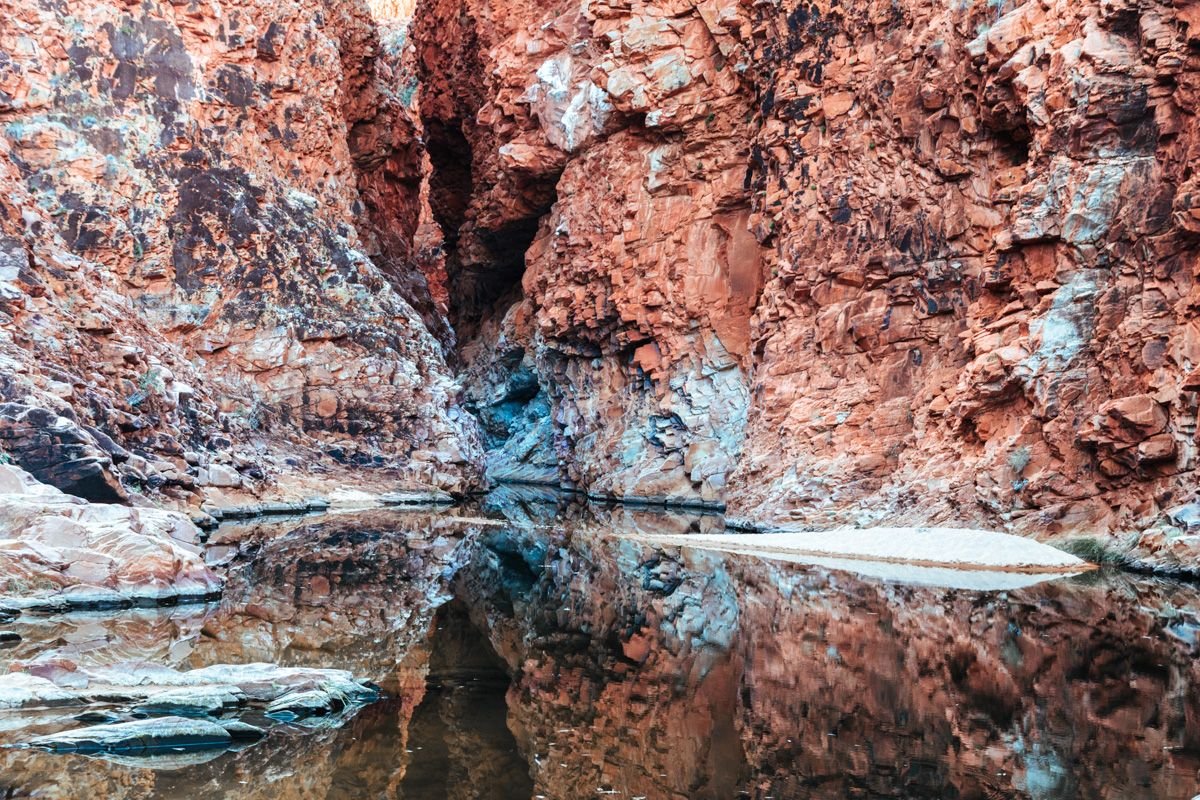 East MacDonnell Ranges
The East MacDonnell Ranges are vastly overshadowed by their western counterpart, but make for a perfect off-the-beaten-path adventure in the Australian Red Centre.
Emily & Jessie Gaps Nature Park
Emily & Jessie Gap (Yeperenye) will be your first port of call when venturing into the East MacDonnell Ranges. They're a quick and easy 10km drive from Alice Springs.
A brand new 7.2km walking/cycling trail opened to the public in mid-2021, running between Emily Gap and Jessie Gap. Both gaps have aboriginal rock art to observe, and there are designated lookouts along the trail to maximize your enjoyment of the surrounding Outback landscape.
Full disclosure: I have not been to Emily Gap or Jessie Gap because, based on all the photos I saw of them, they didn't look anywhere near as impressive as the West Mac gorges I'd already seen. However, they are much more easily accessible from Alice Springs, so if you are staying in Alice and don't have time to do the West Macs justice, they're definitely worth visiting.
Though no camping is allowed in the nature park, there are firepits at Jessie Gap where you can have a campfire.
Trephina Gorge Nature Park
Trephina Gorge (Alherrkentye) is a hidden gem in Red Centre Australia, definitely worth adding to your Alice Springs to Uluru itinerary if you're into offbeat adventures. It's 85km east of Alice Springs, with the last 5km being an unsealed (unpaved) road in good condition.
What awaits is a glorious Outback oasis with a few easy-to-moderate walking trails on offer:
Trephina Gorge Walk + Panorama Walk – These loop walks are quick and easy and take you along the rim of the gorge, down and back through it, and then up a hill above it – giving you a variety of stunning views of Trephina Gorge and surrounds. The NT parks website says to allow 1 hour for each, but you could probably do them both in 1 hour total at a steady pace.
Ridgetop Walk – This hike is a full-day affair, which means START EARLY… so you have enough time to walk, take in all of the panoramic views, and cool off in the swimming hole at the end. It's 4-5 hours one-way along (you guessed it!) the ridgetop from Trephina Gorge to the John Hayes Rockhole. To get back to the start of the trail, you can either walk 2 hours along the main road, or arrange to have a vehicle/ride waiting for you at the Rockhole campground so you can drive back. The road to John Hayes Rockhole is 4WD access only.
You can camp here at 1 of the 4 campgrounds by booking online in advance. It's $3.30/person a night. Note that there is NO mobile phone coverage in the park.

Trephina Gorge.
Rainbow Valley (Wurre)
Rainbow Valley is one of the most popular day trips from Alice Springs, just 100km south. Be warned that the last 20km of it, after the highway turnoff), is corrugated (read: very very bumpy and obnoxious to drive on). I'd highly recommend driving it in a sturdy, preferably 4WD vehicle… and not a sedan.
It's well worth the uncomfortable drive to see Rainbow Valley in all its glory. There are a couple of short walks you can do, including walking to Mushroom Rock, and also through the claypans (the expansive flat clay ground just beneath the rock formation). It's a really cool place, and one that's sacred to the Aboriginal people.
During the day, the sandstone rock formation is a vibrant orange color, and around sunset it turns more red (similar to Uluru). To observe Rainbow Valley in all its multi-colored glory, it's worth staying overnight. You can camp here for $3.30/person a night.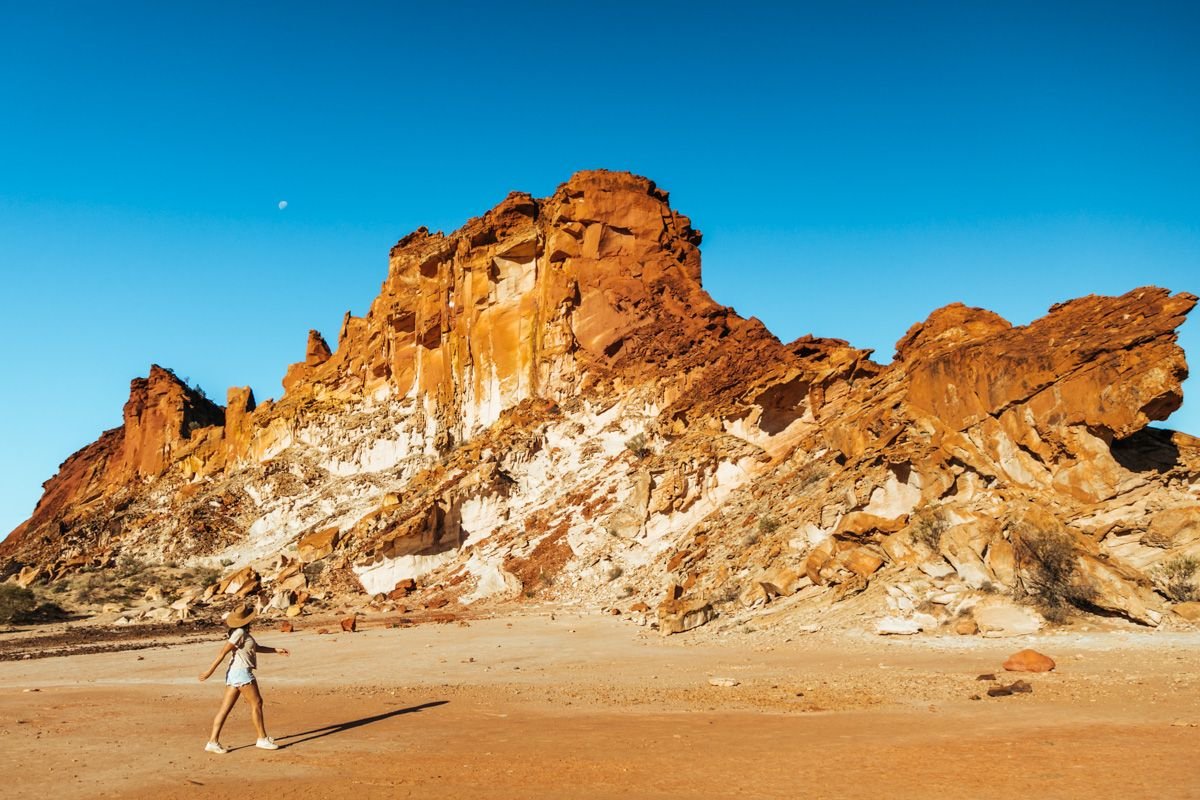 Pin it!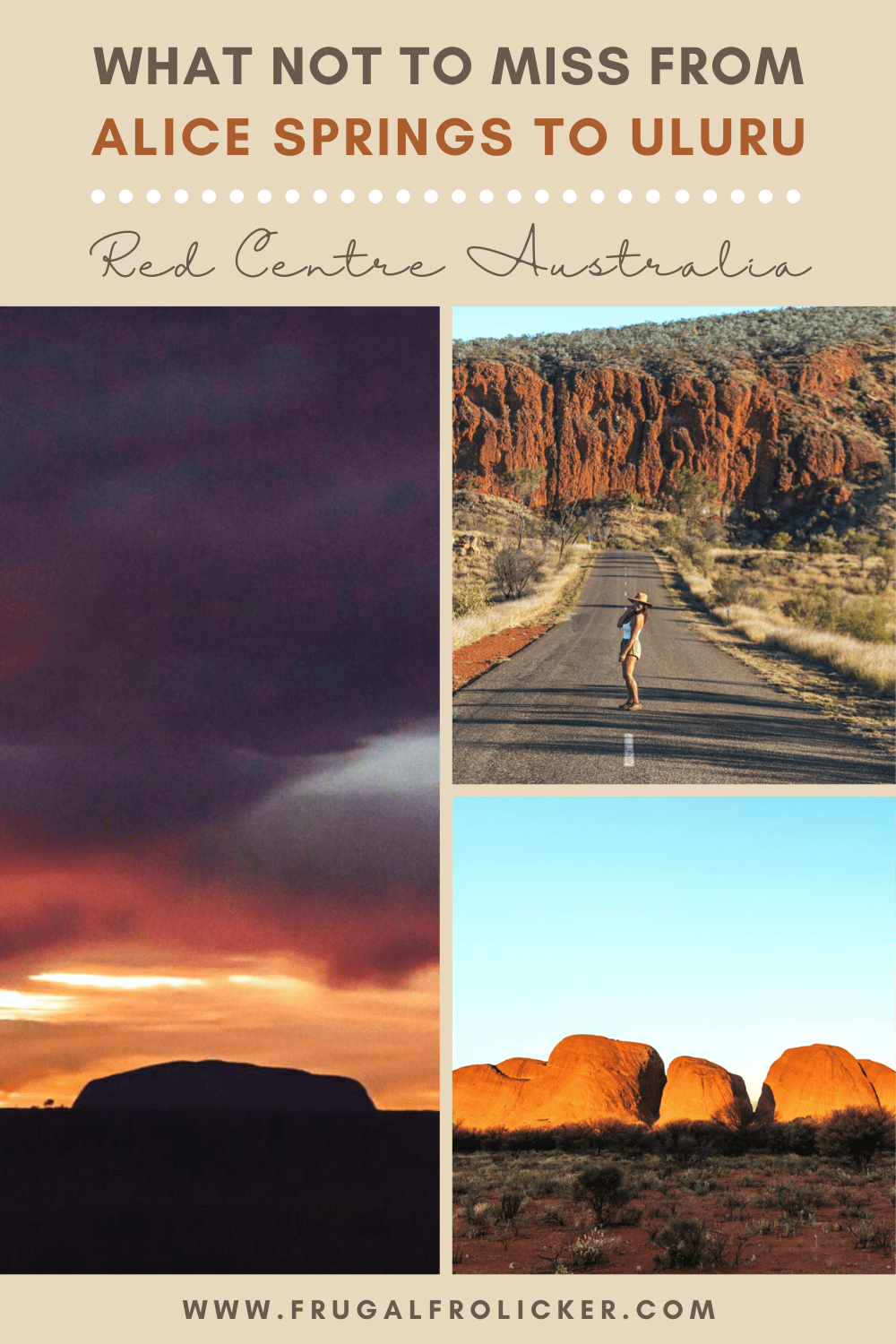 Pin it!