Looking for a 10-day Sri Lanka itinerary for your upcoming trip?
I recently toured the country for 2 weeks as a guest of Sri Lanka Tourism and traveled all over Sri Lanka, and I have a LOT of suggestions for the best things to do in Sri Lanka and how best to spend your time there.
Our Sri Lanka itinerary was planned for us, so all we had to do was show up. But there are a few things I would've changed about our trip, and a few stops I would have added.
So this post highlights a new and improved version of the trip I took to Sri Lanka.
This Sri Lanka 10-day itinerary can be extended to a 14-day trip if you have a little more time to spare. I've included a few options for add-on days in the itinerary for places I think merit more than one day, and for a few places I didn't personally visit, but are along the route and look to be worth a stop.
It's easiest to hire a driver to take you around Sri Lanka (we went with Aitken Spence), and this 10-day Sri Lanka itinerary was made with the assumption that you would do the same.
If you prefer to DIY it and rely on public transport, you may have less time to spend at each stop – so be sure to do your research and feel free to make changes to the itinerary as needed.
READ MORE IN THIS POST: 7 Fun Facts About Sri Lanka
Day 0: Arrive in Sri Lanka
We're not going to count this first day as Day 1 of your 10-day Sri Lanka itinerary, because you might arrive late at night, or be super jetlagged, and it would be a writeoff of a day.
So instead, we're gonna call it Day 0 and allow it to be a rest + recovery day :)
All you need to do is make your way from the airport in Colombo (which is actually quite far north of the city) to your hotel in Negombo (which is closer to the airport).
CLICK TO BOOK YOUR AIRPORT TRANSFER TO NEGOMBO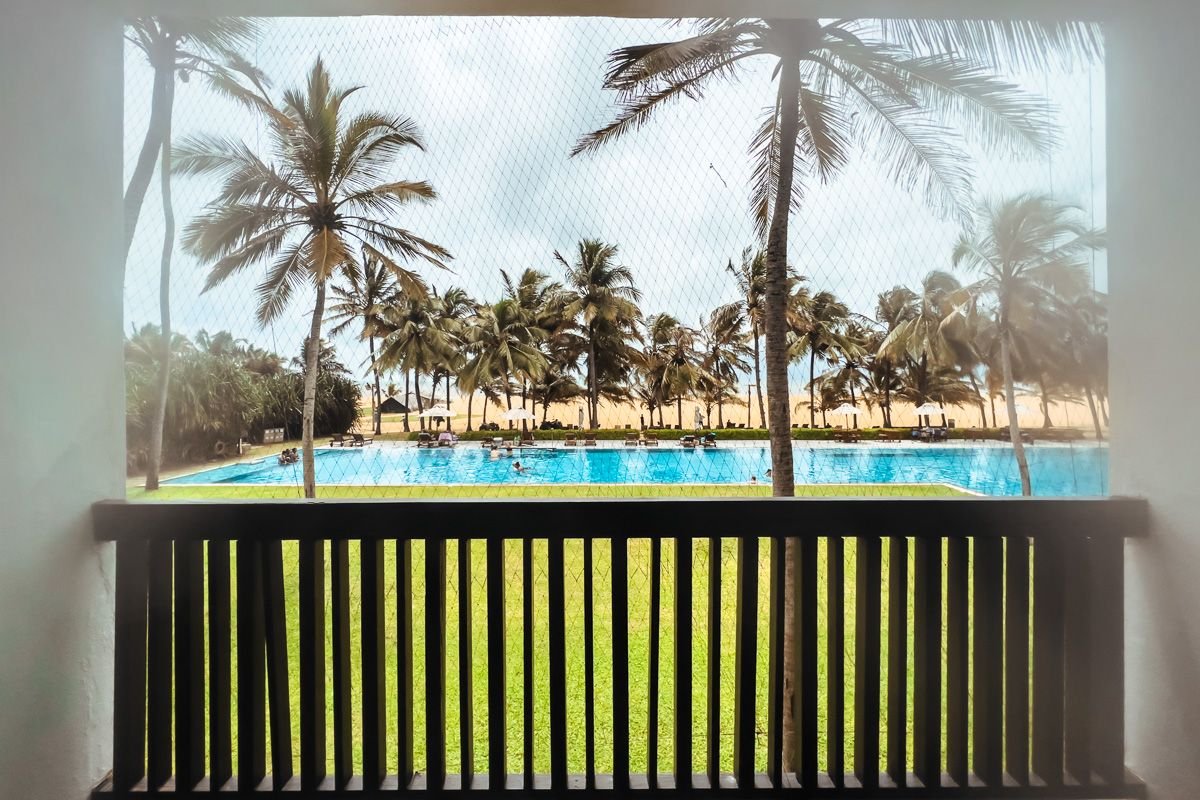 ---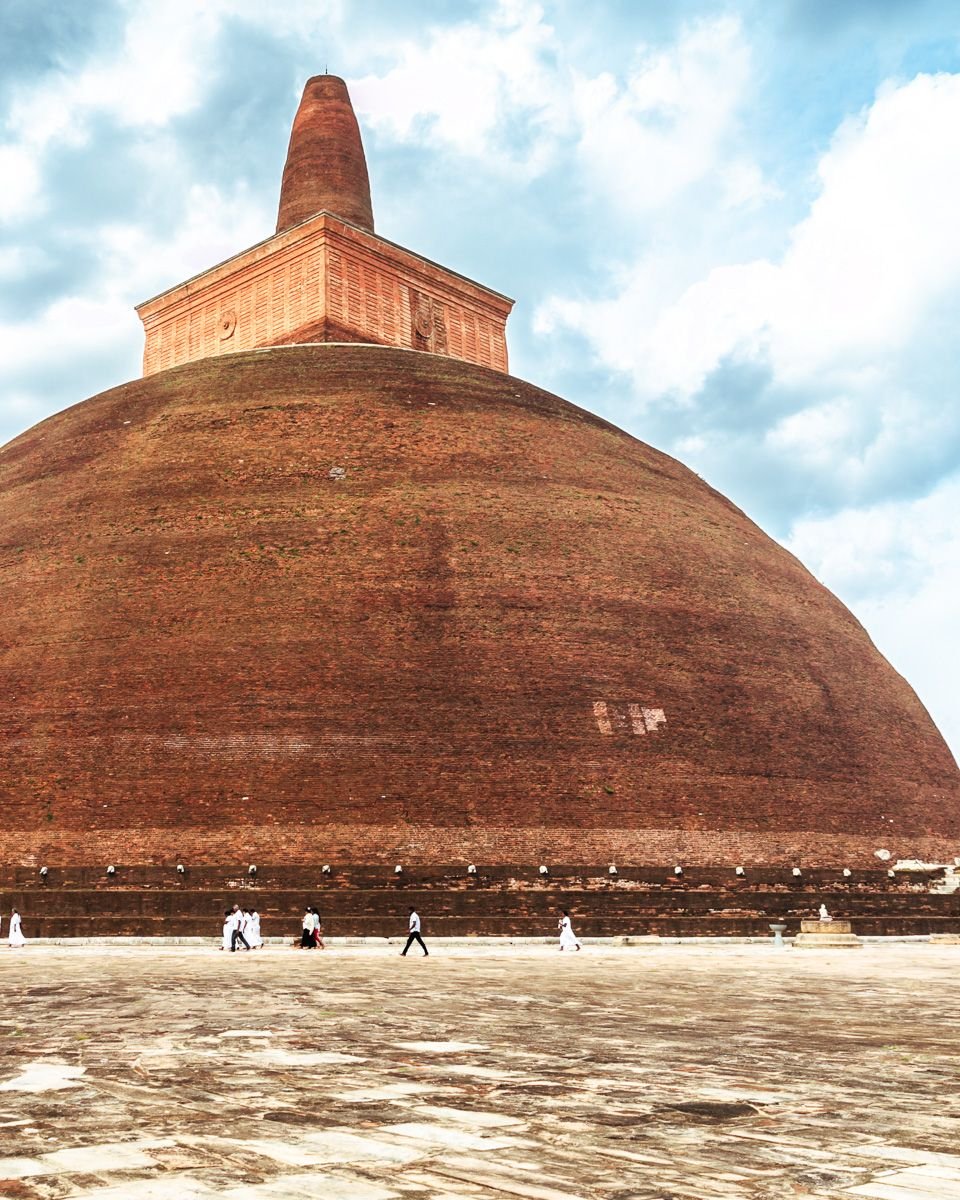 Day 1: Negombo – Anuradhapura
The first official day of this 10 day Sri Lanka itinerary kicks off with a 3.5 hour drive north to Anuradhapura, aka the "ancient capital of Sri Lanka" or the "Sacred City".
The city of Anuradhapura was founded in the 5th century BC, though it was inhabited much earlier than that. It was later destroyed and abandoned after 993 AD, then began to be revived in the 1870s, and was ultimately declared a World Heritage site in 1982.
CLICK TO BOOK A TUK TUK TOUR OF ANURADHAPURA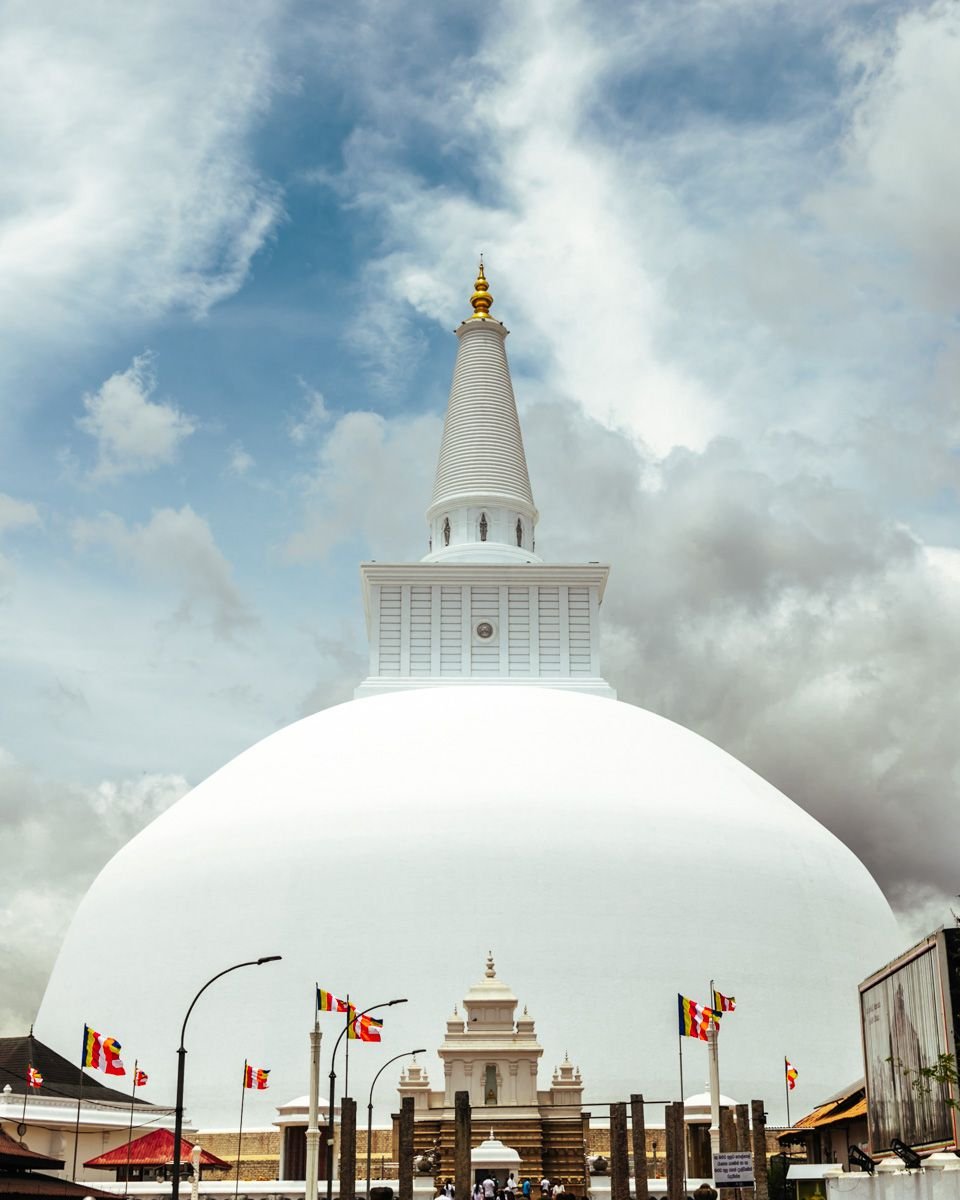 There's a LOT to see in Anuradhapura, from palace ruins to giant stupas to ancient ponds (or pools). There's even an archaeological museum adjacent to one of the temples. If you haven't hired a driver for your entire Sri Lanka 10 day itinerary, it's definitely worth hiring one for a day to take you around the main sights of Anuradhapura as they're all quite spread out.
CLICK TO BOOK A TUK TUK TOUR OF ANURADHAPURA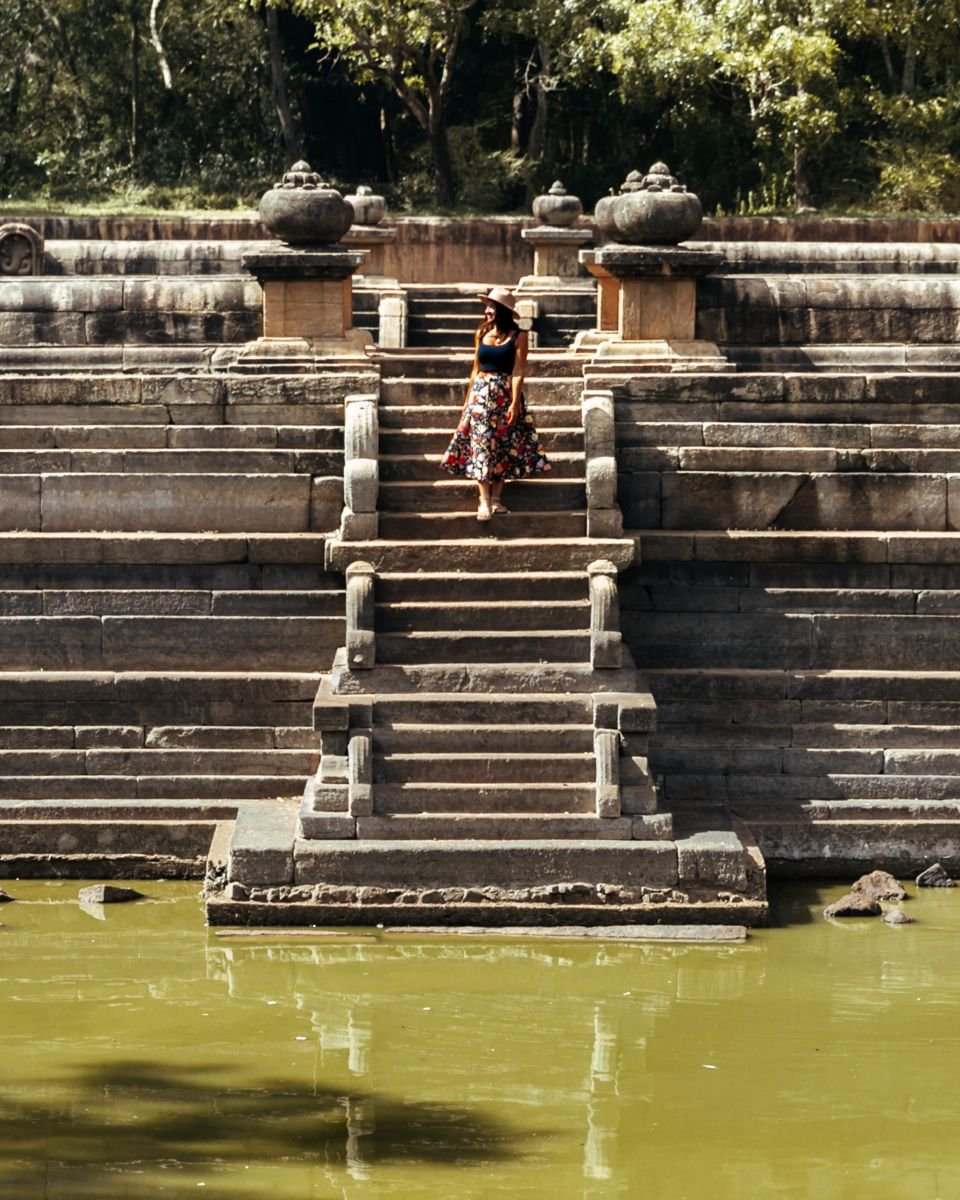 Things to see in Anuradhapura
Jetavanarama (large red stupa)
Ruwanveliseya (large white stupa)
Abhayagiriya (large red stupa)
Thuparama (said to be the oldest stupa in Sri Lanka; surrounded by tall, thin pillars)
Kuttam Pokuna (Twin Ponds; two old bathing pools)
Sri Maha Bodhi (Sacred Bodhi Tree, said to be the "oldest historically authenticated tree in the world" and where Buddha used to meditate)
Archaeological Museum (near Ruwanwalisaya)
---
Day 2: Anuradhapura – Wilpattu National Park – Trincomalee
It's an early start on Day 2 of this 10 day itinerary in Sri Lanka, but I promise it's worth it!
From Palm Garden Village, you'll drive about a half hour west to Wilpattu National Park and embark on a morning safari.
Everything you need to know about going on safari at Wilpattu can be found in this detailed blog post: A Sri Lankan Safari at Wilpattu National Park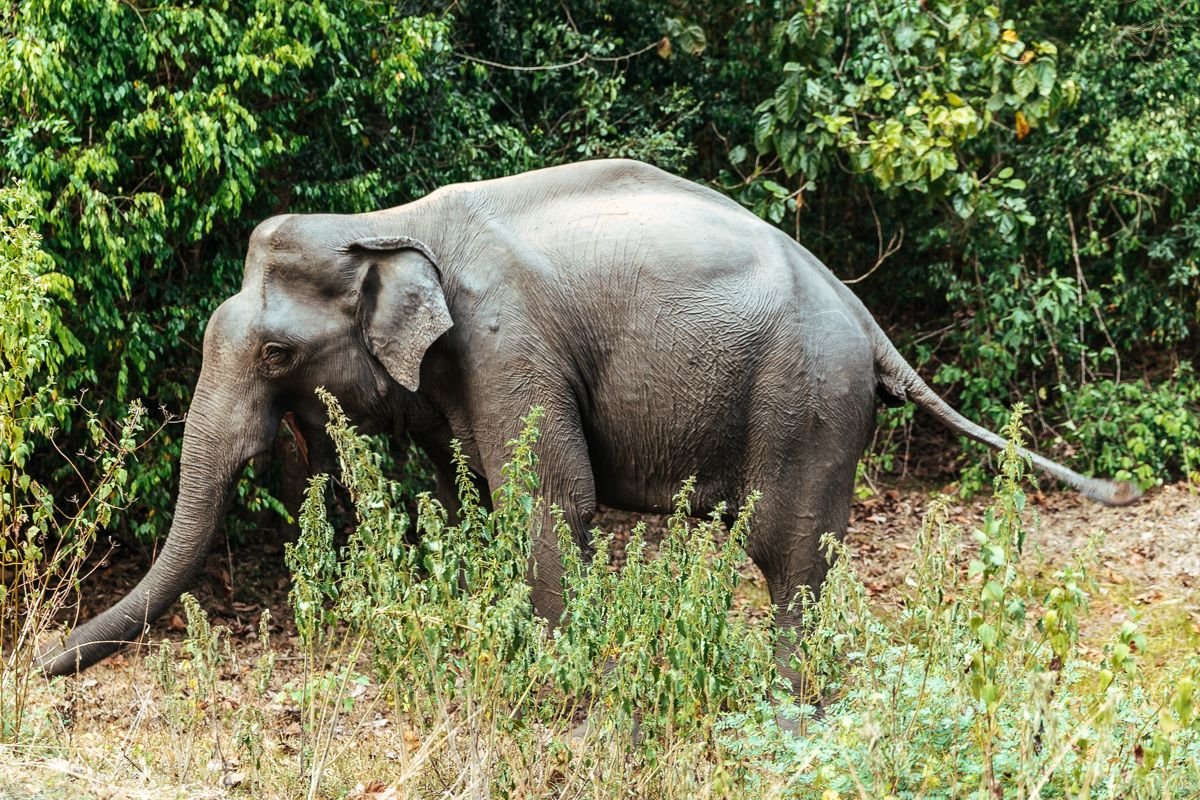 In short, Wilpattu National Park is the best place to spot leopards in Sri Lanka. The park is also home to many other creatures, such as elephants, sloth bears, kingfishers, crocodiles, spotted deer, and many species of birds. It's the largest national park in Sri Lanka, yet one of the least-touristy, providing a much more peaceful safari experience.
A half day safari at Wilpattu National Park is extremely affordable (about US$100 per person). You can either DIY it by sourcing your own transport, permits, and guide… or book a safari in advance so that everything is taken care of (I strongly recommend this option!). Or if you have hired a driver for your entire 10-day Sri Lanka itinerary, they should be able to organize the safari for you.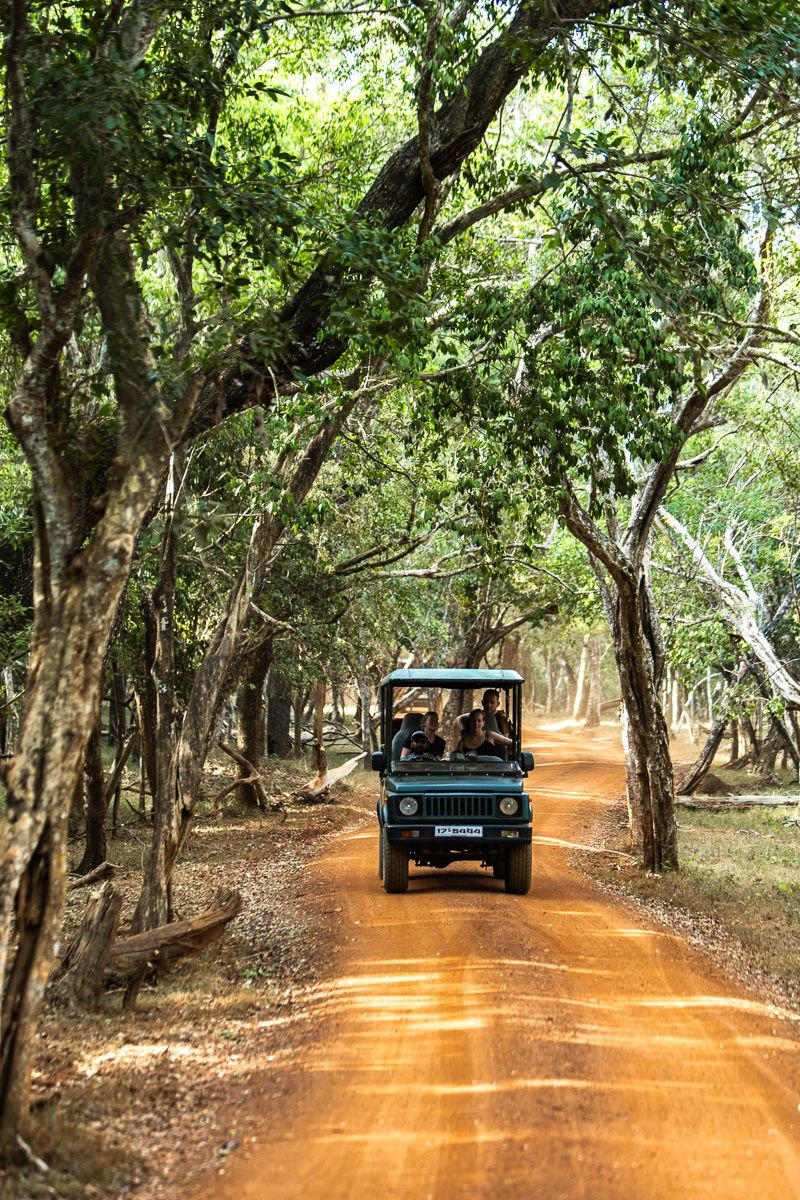 ---
BOOK YOUR WILPATTU NATIONAL PARK SAFARI HERE:
---
By late morning, you'll have finished your jeep safari and will be off to Trincomalee, a major town on the northeast coast of Sri Lanka. It's a 3 hour drive east from Wilpattu.
Trinco is known for its harbor and its glorious white sand beaches. If you stay at a beachfront resort in Trincomalee (like the one I recommend below), you can spend the rest of the day relaxing at the beach there. Otherwise, if you're not staying at the beach, head to Uppuveli Beach (the main beach in Trinco), or drive 20 minutes north to the famous Nilaveli Beach.
---
Day 3: Trincomalee – Hiriwadunna – Sigiriya
From Trincomalee, you'll head south to Sigiriya (a 1.5-2hr drive).
On your way out of town, you should absolutely stop at Thirukoneswaram Hindu Temple, a very colorful clifftop temple that I guarantee is like nothing you've ever seen before. The inside is adorned with vibrant murals and intricate carvings. If you're lucky, you might get to witness a wedding ceremony there like we did!
Outside, there's a path that winds through a cave and along the cliff edge, where people leave offerings and can enjoy the sea views.
Just before you reach Sigiriya, there's a town called Habarana that's very popular for its village tours. I have to admit, I wasn't too excited to see this on my Sri Lanka itinerary – but ultimately it ended up being one of my highlights for the entire trip, so I had to include it on this 10 day Sri Lanka itinerary for you.
The one we did was called Hiriwadunna Village Tour with Kelum and we loved it, though I think most of the tours are pretty similar. Other tours may vary, but here's what we experienced on ours:
The village tour begins with a bullock cart ride on a dirt road through a rural village. I was a little skeptical about the ethics around this, but from what I saw, the animals seemed to be treated well and were not forced to overwork themselves. Furthermore, it is a genuine mode of transport in this part of Sri Lanka, not solely constructed for tourism.
After a very leisurely ride through the village at a snail's pace (seriously, you could walk much faster than the cart traveled), we were dropped off by a river and escorted to our first village stop. We were warmly invited into a family's home, where they showed us how to bake flat bread over a fire, and make coconut sambal (a flavorful paste) by hand.
From there, we boarded a small wooden boat and cruised around a lake that offered distant views of Sigiriya in the distance. The tour ends with one more village stop, where we were given a curry-making demo and then served lunch.
A village tour is such an amazing way to immerse yourself in the culture of Sri Lanka and learn from the locals, and it's a little something different to add to your 10 day Sri Lanka itinerary from the standard sightseeing spots.
From Habarana, it's just a 10 minute drive to your hotel.
---
Day 4: Sigiriya
Today's the big day! You're hiking to the top of Sigiriya, the famous rock fortress in the middle of Sri Lanka.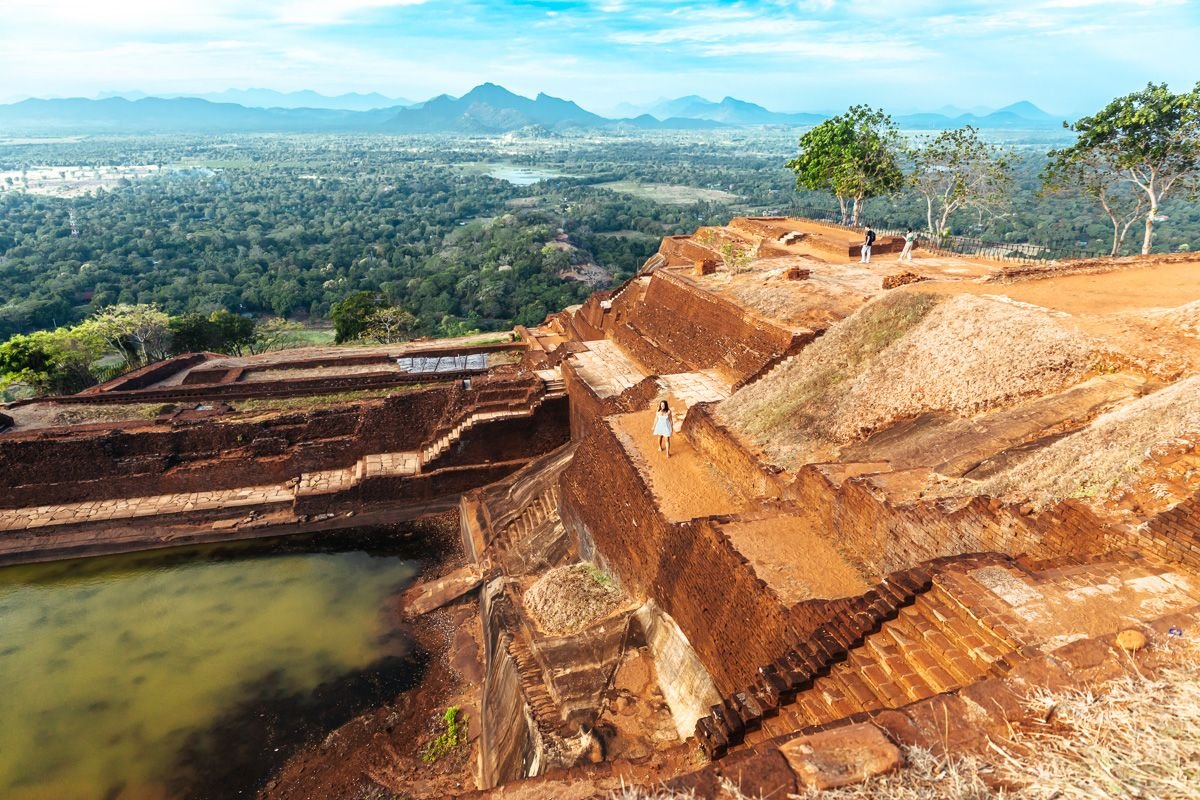 And before you ask, let's get a few things straight:
Yes, you must hike to the top of the rock! It is not enough to stand at the bottom of it, or see it from some other viewpoint.
Yes, you must do it at sunrise! It will be WAY too hot to do the climb once the sun is up, and there will also be many more people on the rock the later you climb it. But above all, the early morning light makes it look infinitely more magical.
Sunrise in Sri Lanka is around 6am, which means you'll probably want to arrive at Sigiriya around 5:15am in order to reach the top by sunrise. That means waking up in the dark and walking up with minimal light, but at dawn you'll be able to see enough to make your way up the rock safely.
Atop the rock is the old fortress, which has several levels to explore after you've sat and watched the sunrise. It's crazy to think there used to be a palace built here, when all that's left are the ruins of the foundation.
---
BOOK YOUR SIGIRIYA ACTIVITIES HERE:
---
I'm not going to bother saying much more about it because you really have to see it for yourself. Let me just say that Sigiriya is the best thing to do in Sri Lanka, and makes for a very gratifying bucket list tick once you've experienced it.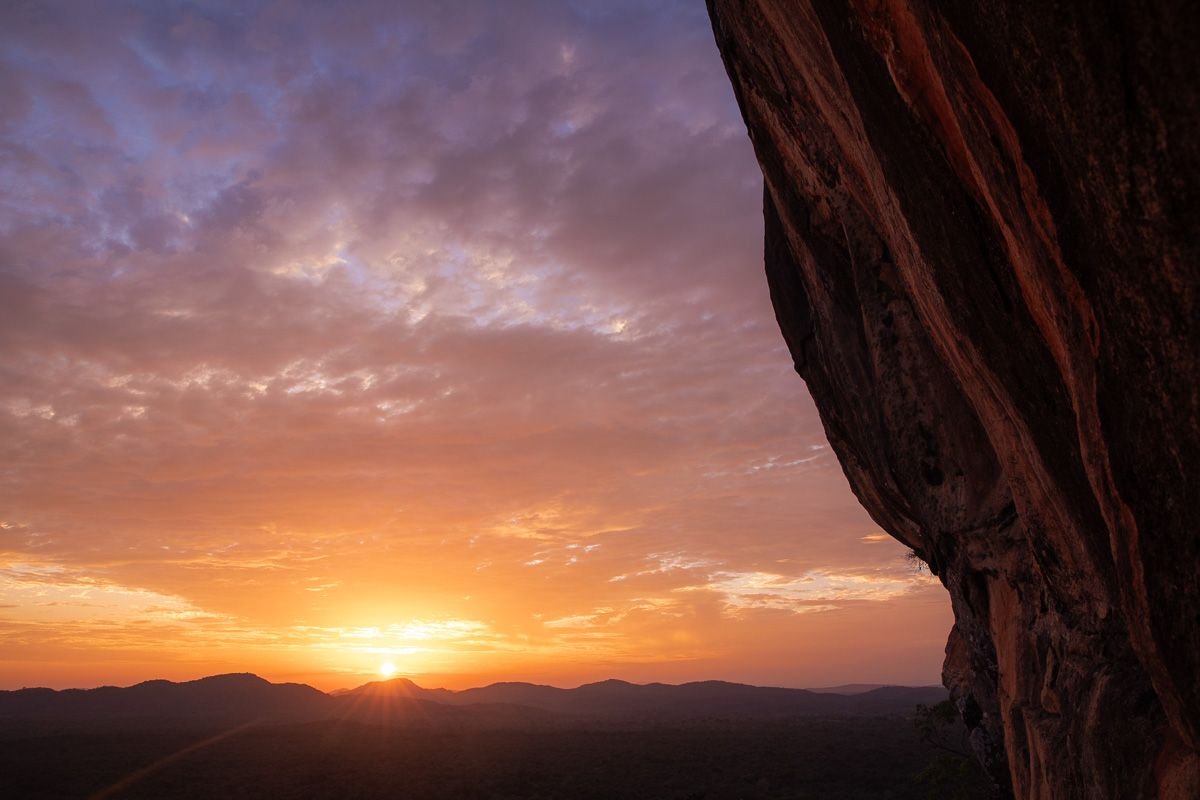 There's also more to see once you climb down, including a cave with some *interesting* paintings, and the gardens at the bottom (don't expect any actual plants here, though).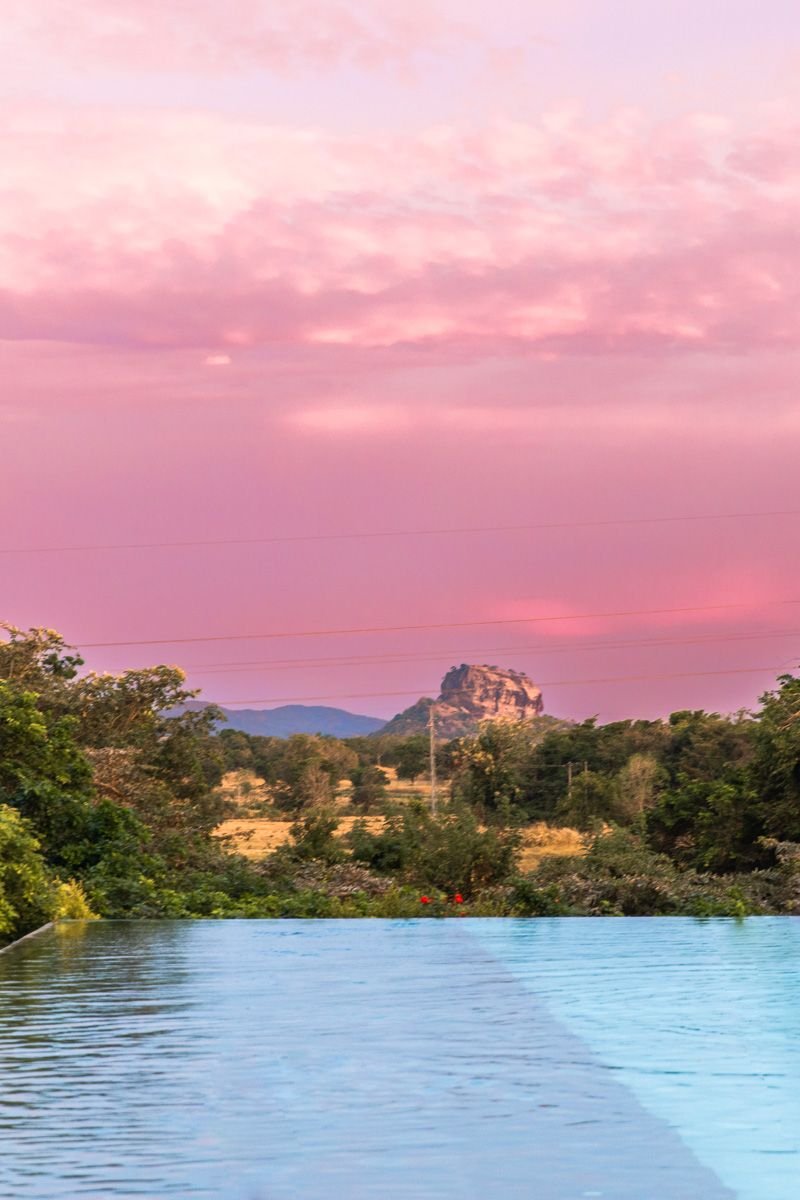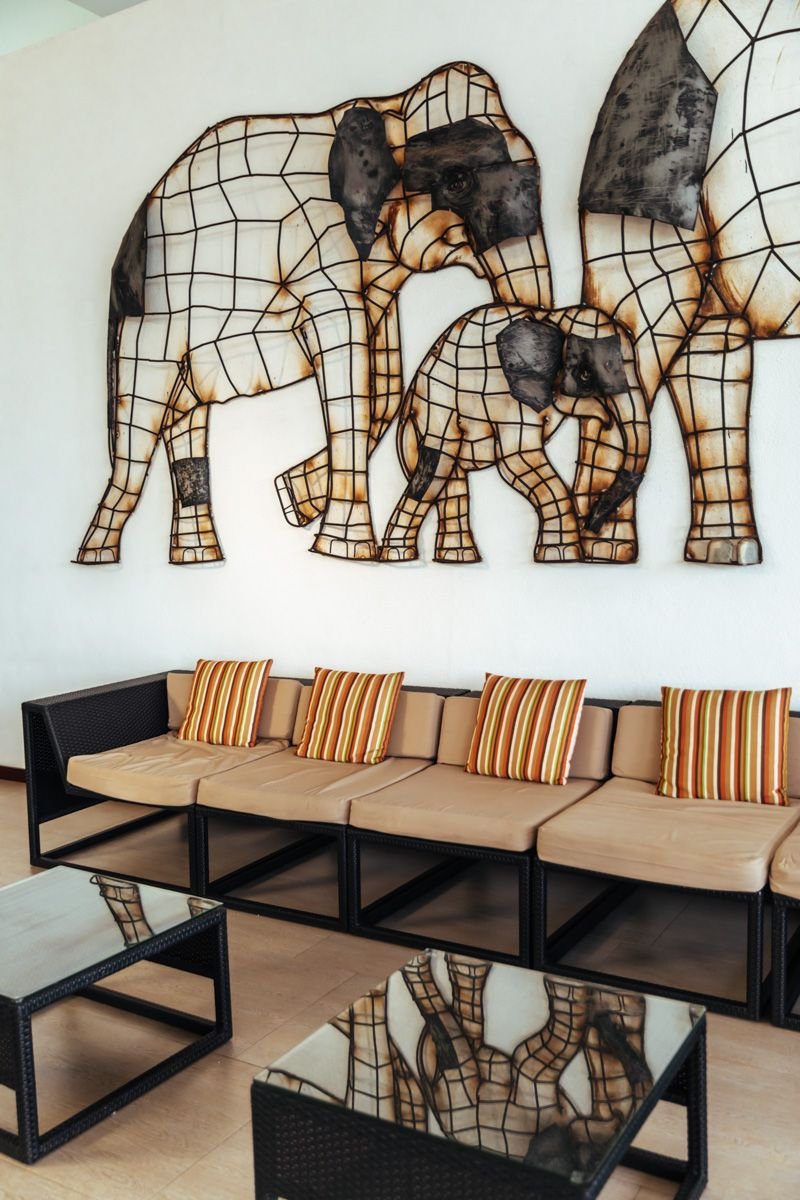 The rest of the day you have free to rest and relax back at the resort. Whether you lounge beside the glorious infinity pool or book a treatment at the onsite spa, you'll definitely be able to unwind from the morning's excitement.
---
Day 5: Sigiriya – Kandy
From Sigiriya, it's a 2 hour drive south to Kandy, the next stop on this 10-day Sri Lanka itinerary.
En route (about 30 minutes into the drive), be sure to stop at Dambulla Cave Temple. Yes it's *yet another temple* to visit in Sri Lanka, but this was my personal favorite and I PROMISE you it's worth it!
The temple spans across 5 caves which you're free to wander around (barefoot and with shoulders/knees covered, of course!). It's a bonafide Buddha-palooza with countless colorfully-decorated Buddha statues adorning the caves. I was most impressed with the intricately-painted ceiling inside every cave. Truly, the entire complex is a magnificent work of art – one of my favorite stops on this 10 days in Sri Lanka itinerary for sure.
Note: No photo or video selfies are allowed in the caves (the idea is that it's bad to turn your back toward Buddha, which is what people tend to do when photographing or videoing themselves at these temples).
Spend the afternoon in Kandy, Sri Lanka's "second capital" and its unofficial cultural hub. The drive into town is slow and scenic as the road winds gradually uphill to the plateau.
Kandy is typically lauded as a must-see in Sri Lanka, but for me personally, I didn't love it anywhere near as much as any other place I visited on this 10 day itinerary of Sri Lanka. I found the main temple extremely underwhelming and the town itself a bit too busy for my liking. We were harassed by people on the street trying to sell us things (or even just staring at us) several times, which kind of tainted the whole experience for us.
---
BOOK YOUR KANDY ACTIVITIES HERE:
---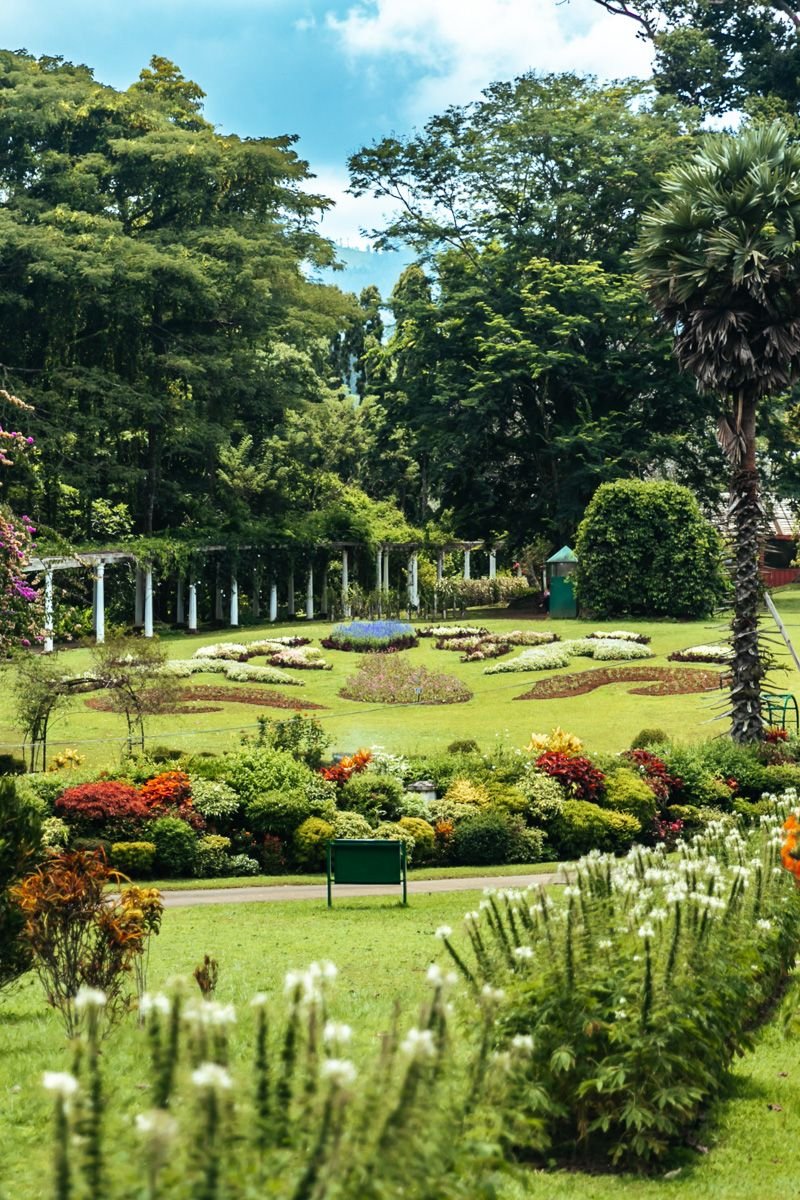 If you're up for seeing the sights in Kandy, there is some lovely colonial architecture to ogle, among a few other things:
Things to see in Kandy
Temple of the Tooth Relic (Sri Dalada Maligawa) – part of Buddha's tooth is rumored to be preserved here
Peradeniya Botanic Garden – wander the tall palm-lined road through the garden
Cultural show – witness an exciting dance performance
Kandy Lake – stop at a popular viewpoint on the side of the road, on a hill above the lake, to see it from the best angle
And if you're not up for touring Kandy, then you definitely won't mind spending the rest of the day at your hotel (one of the best I stayed at in the whole country!).
---
Day 6: Kandy – Nuwara Eliya
If you're wondering why I included Kandy on this 10 day Sri Lanka itinerary at all when I didn't exactly love it, it's because of today's activity: the epic train ride from Kandy to Ella.
Unfortunately my own Sri Lanka trip did not include this train ride, which was a major bummer – but I'm including it in this itinerary because it's a must-do!
So what's so great about the Kandy to Ella train ride? It's one of the most scenic train rides in the world! In your wanderlusting, you might have seen photos of a person hanging out of a blue train car as it passes through endless greenery – that's this train ride! It's a ready-made photo shoot beckoning you.

Photo by Eranda Fernando on Unsplash
You can travel by first, second, or third class. A lot of blogs recommend NOT going first class, because you're not able to hang out windows or doors to get the best photos. Second and third class offer a more authentic experience, as you'll be surrounded by more locals than you would be in first class. There doesn't seem to be much difference between second and third class, and you'll probably be too busy hanging out the door to worry about where you're sitting anyway.
CLICK TO BOOK THE TRAIN FROM KANDY TO NUWARA ELIYA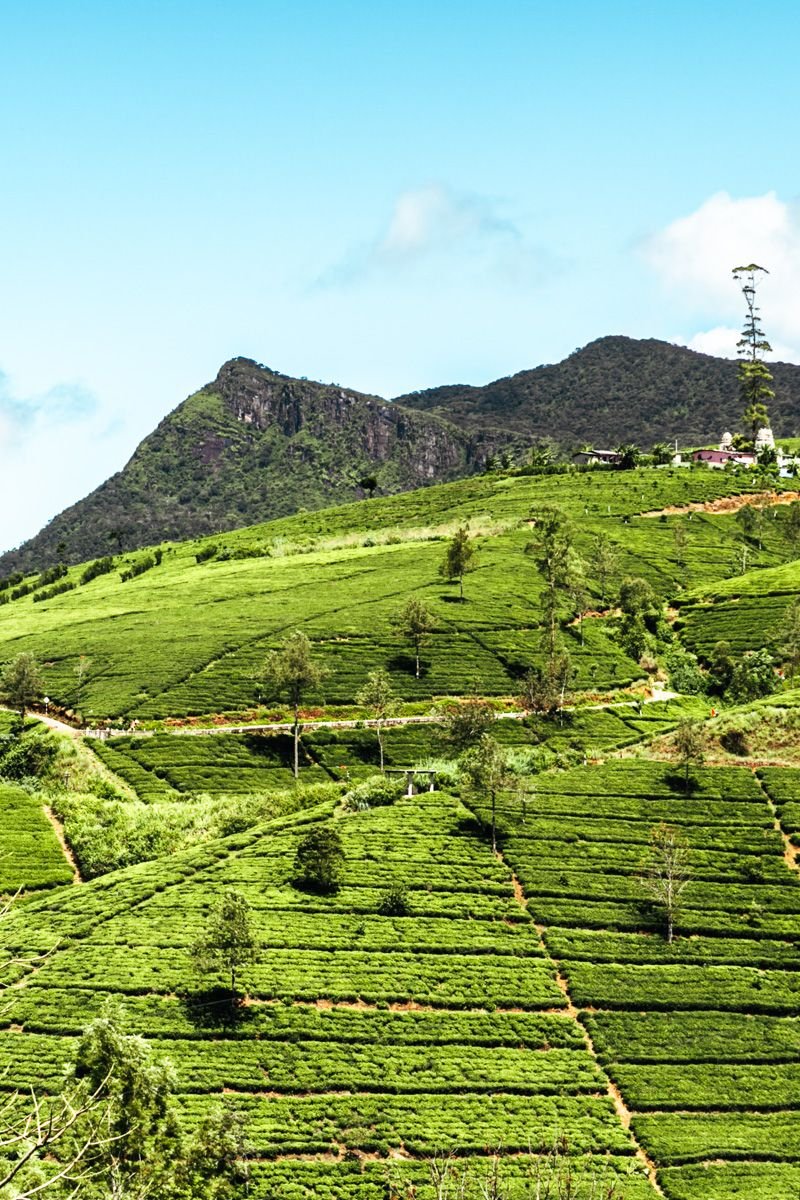 Despite what the timetables say, you can expect the train ride from Kandy to Ella to take 9-10 hours (not 7-8 hours). Nuwara Eliya is approximately halfway between the two, so we're splitting the journey into two 4-5 hour segments and taking the train from Kandy to Nuwara Eliya today. If you've hired a driver for your whole Sri Lanka trip, you can ask them to meet you at Nuwara Eliya station for pickup.
I'm not sure how often train schedules change in Sri Lanka, but as of October 2023 there's an 8:55am express train you can catch from Kandy. Be sure to sit on the right side of the train for the best views: the lush green tea hills leading into Nuwara Eliya are simply STUNNING (I saw 'em by car on my trip!).
You should arrive in Nuwara Eliya by mid-afternoon, aka the perfect time to enjoy some tea. Take a tea factory tour at Pedro Estate and learn how ceylon tea is made, and enjoy a complimentary cup of tea overlooking the picturesque tea field.
If you have extra time, you might want to wander around the lake and enjoy the pretty gardens, or simply walk around town gawking at all the European-style buildings. It's a bit of a shock seeing all the British influence in this town (there's a reason Nuwara Eliya is called Little England!), you almost forget that you're in Asia!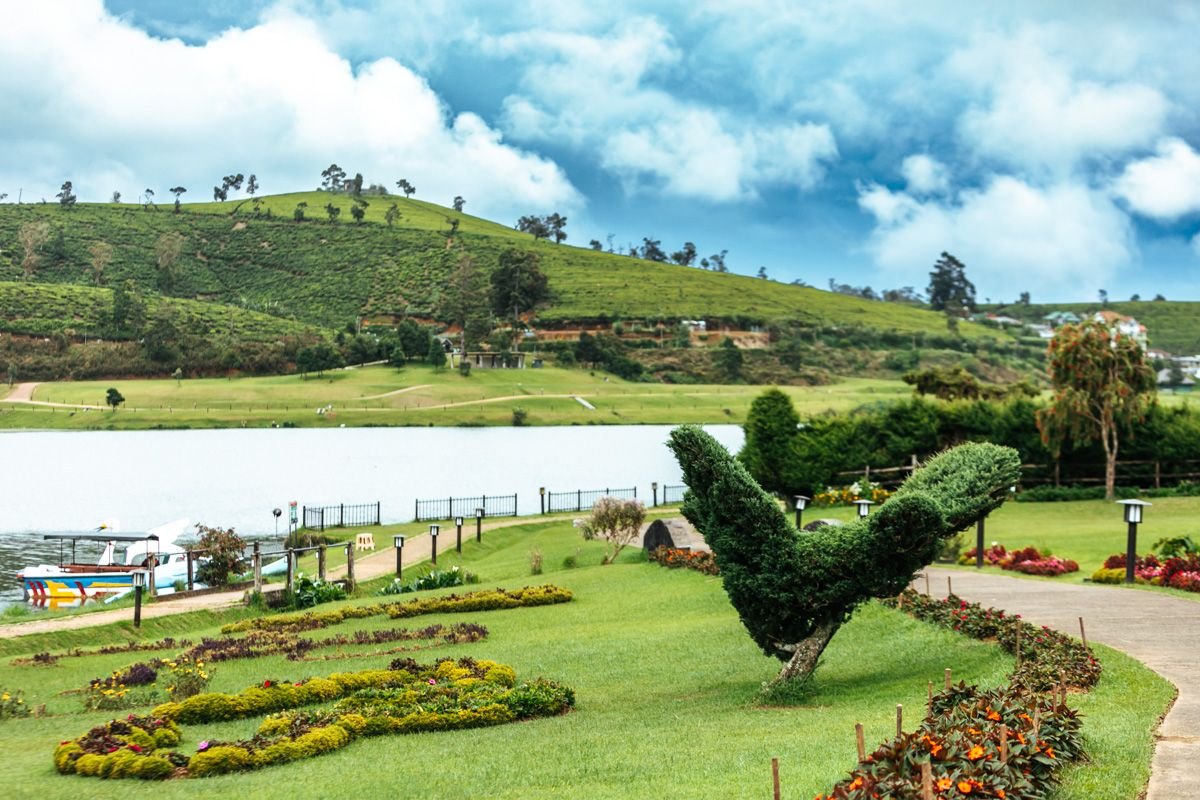 ---
Day 7: Nuwara Eliya – Ella
Take the first half of the day to enjoy Nuwara Eliya before catching the train to Ella (in early to mid-afternoon).
Depending on your interests, you have a couple options:
An early start and an active morning – Hike the 8.2km World's End Trail in Horton Plains (takes about 3 hours to hike, and 1 hour each way to drive there, so you'll need a minimum of 5 hours for this excursion). Aim to get there early in the morning, before it gets too hot.
A leisurely morning – Take a jeep safari around Moon Plains and Mini World's End (takes about 1 hour), have coffee and a healthy breakfast at Cafe Noshers, check out more tea plantations.
Our original 10-day Sri Lanka itinerary had us doing Option 1, but once we arrived in Nuwara Eliya we crafted up Option 2 and were very happy with it.
CLICK TO BOOK THE TRAIN FROM NUWARA ELIYA TO ELLA
A Moon Plains safari is very worth doing – you just drive to the meeting point (which is just outside of town) and hire a jeep driver on the spot. The road through the plains is very bumpy and muddy, definitely not a path you want to be walking on.
The scenery en route to the viewpoint is very beautiful, but the views at the end are to die for! You have the best view of the hills on one side, and the stunning mountainous landscape on the other. Definitely a high rewards/low-effort situation, which we love.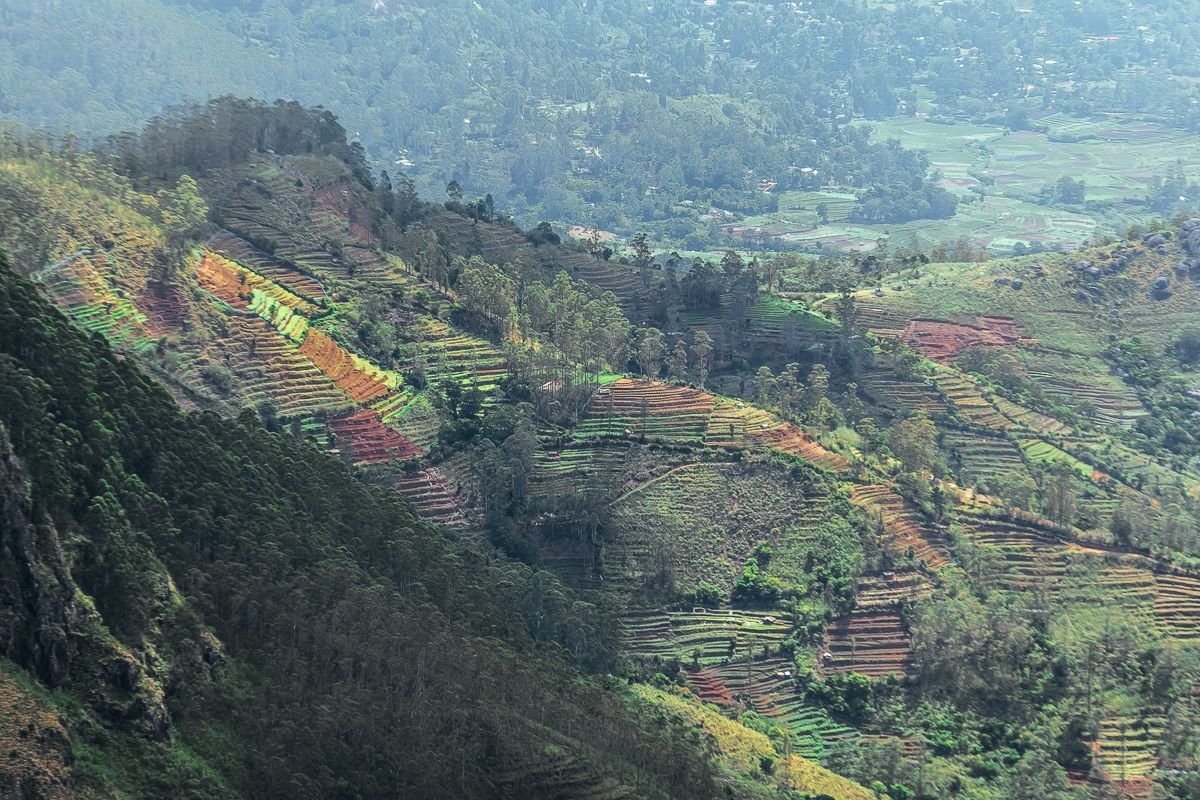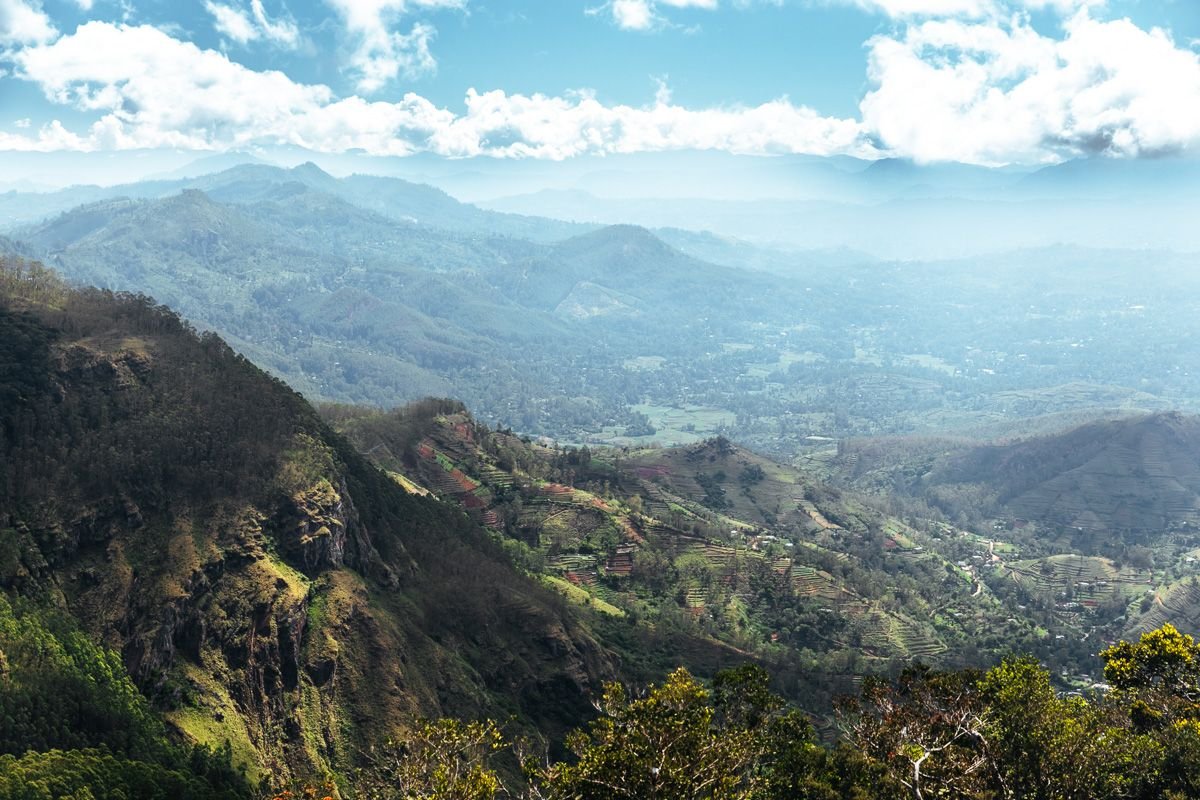 ---
BOOK YOUR NUWARA ELIYA & ELLA ACTIVITIES HERE:
---
In the afternoon, it's time to take the train from Nuwara Eliya to Ella (refer to Day 6 for more details on train tickets). As of October 2023, there is a train departing at 2:33pm; however, keep in mind that trains usually run late in Sri Lanka, so you'll likely be departing a bit later than that.
It is advised to sit on the left side of the train for the best views.
---
Day 8: Ella – Galle
First thing on the agenda today: getting photos at Nine Arches Bridge!
Thankfully your hotel is within walking distance of the bridge, so you can walk over there first thing in the morning and avoid the midday heat and crowds. If you want to witness a train crossing the bridge, you'll want to check the train timetable and plan your morning accordingly.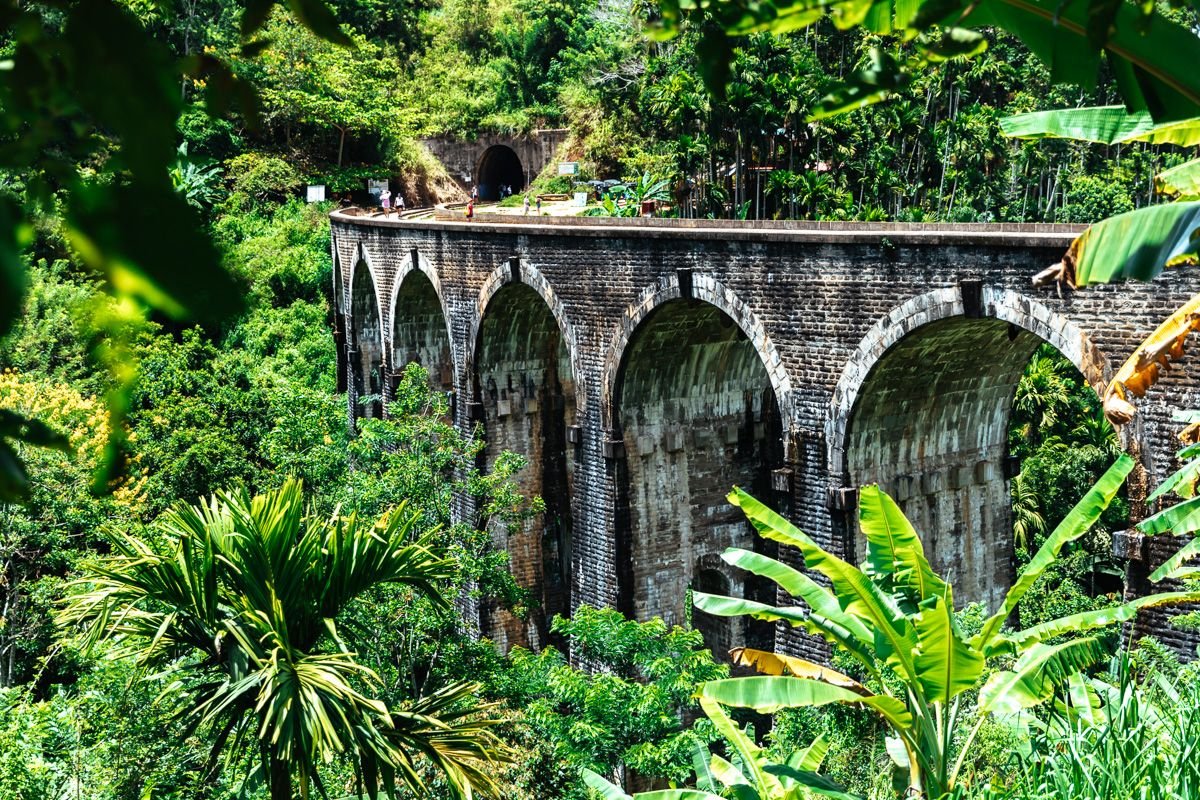 By mid-morning (maybe 10am at the latest), head over to the Little Adams Peak trailhead. This spot is somewhat of an adventure hub, where you have the option of doing any of the following:
Hike the Little Adam's Peak trail – Takes about an hour to reach the summit and involves LOTS of stairs. There are lots of different viewpoints for photos at the top. I recommend hiking out further on the ridge for the best views over the mountains (note that you'll need sturdy shoes for this, as you need to hike down and then back up a short, steep, slippery path to get out there.
Ravana Pool Club – A few minutes into walking the trail, you won't miss the aesthetic pools and loungers at this hot spot. This is the option for you if you're not up for an adventure today; you can relax and swim with a glorious view instead!
Ella Swing – Right next to the pool club is a giant swing (like the ones that are very popular in Bali). You can get your photo taken while on the swing, and even rent a flowing dress to wear for it.
Flying Ravana Mega Zipline – This adventure center offers a zipline ride as well as ATVing, abseiling, mountain biking, and climbing. The zipine is the main event: it's supposedly one of the longest and fastest in all of Asia, going up to 80kph while traveling 1km over tea plantations and forest. Is it worth US$29 for a 45 second joyride? If you've done it, please leave a comment and let us know!
We opted to hike to Little Adam's Peak and it was INCREDIBLE. Great workout, and even greater views up there.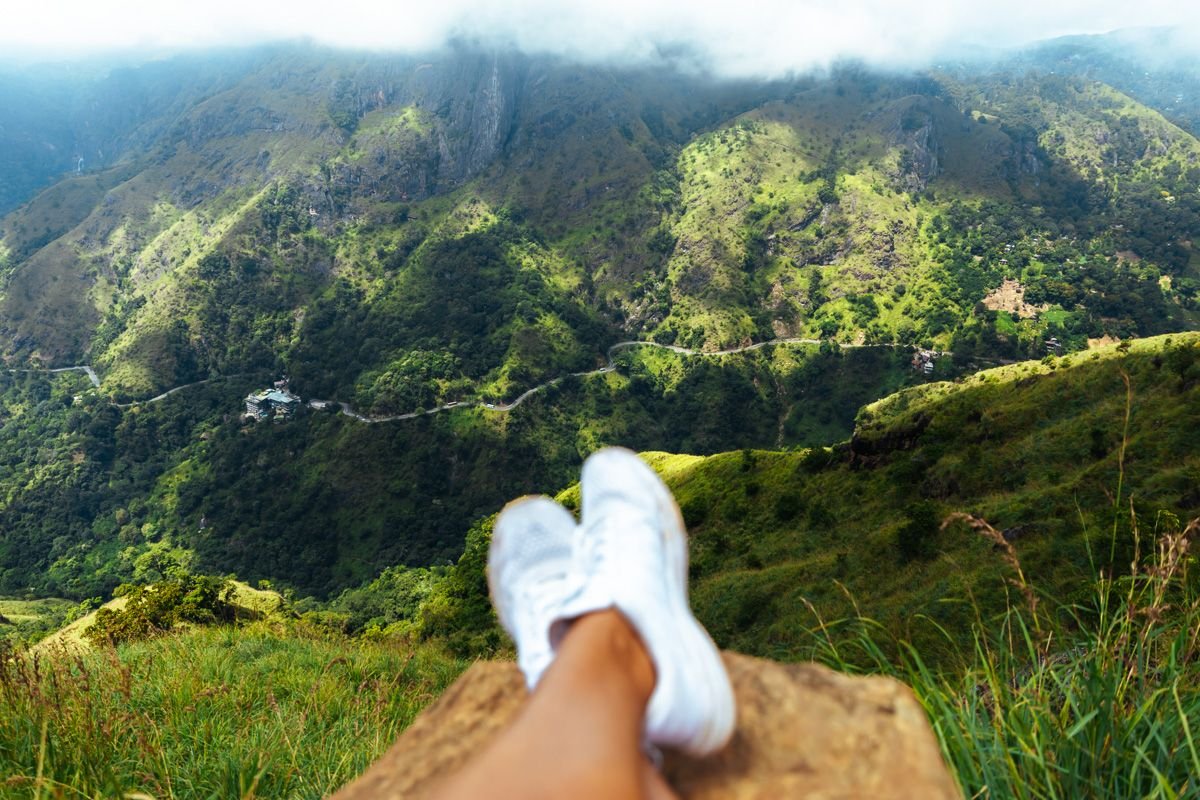 ---
BOOK YOUR NUWARA ELIYA & ELLA ACTIVITIES HERE:
---
In the afternoon, you'll drive to Galle which is 3.5 hours from Ella. See below for some potential stops along the way if you have more than 10 days for a Sri Lanka itinerary.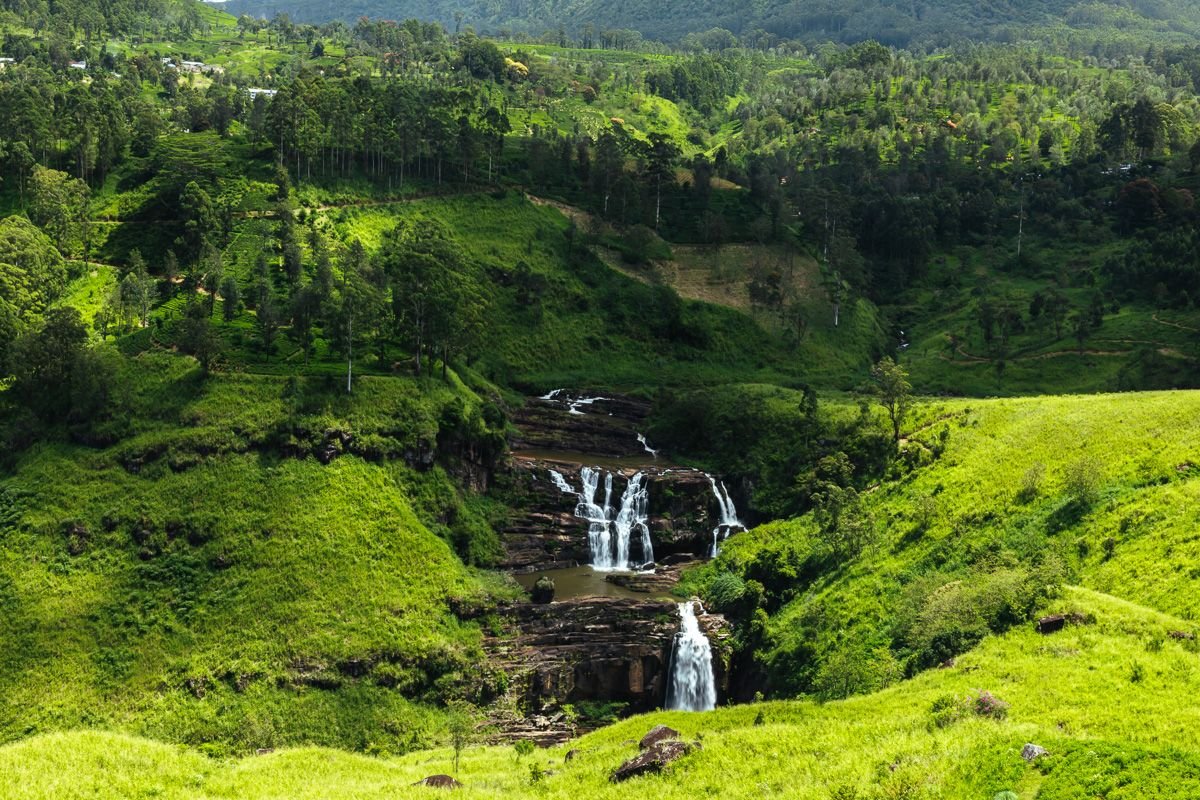 ---
Day 9: Galle
If you've done any research on Sri Lanka at all, then you've heard of Galle, its famous fortified city.
Galle Fort is an absolute MUST on this Sri Lanka 10 day itinerary… and yet inexplicably, our original itinerary did not include a stop here, so unfortunately I don't have any of my own photos or experiences to share from this beautiful place.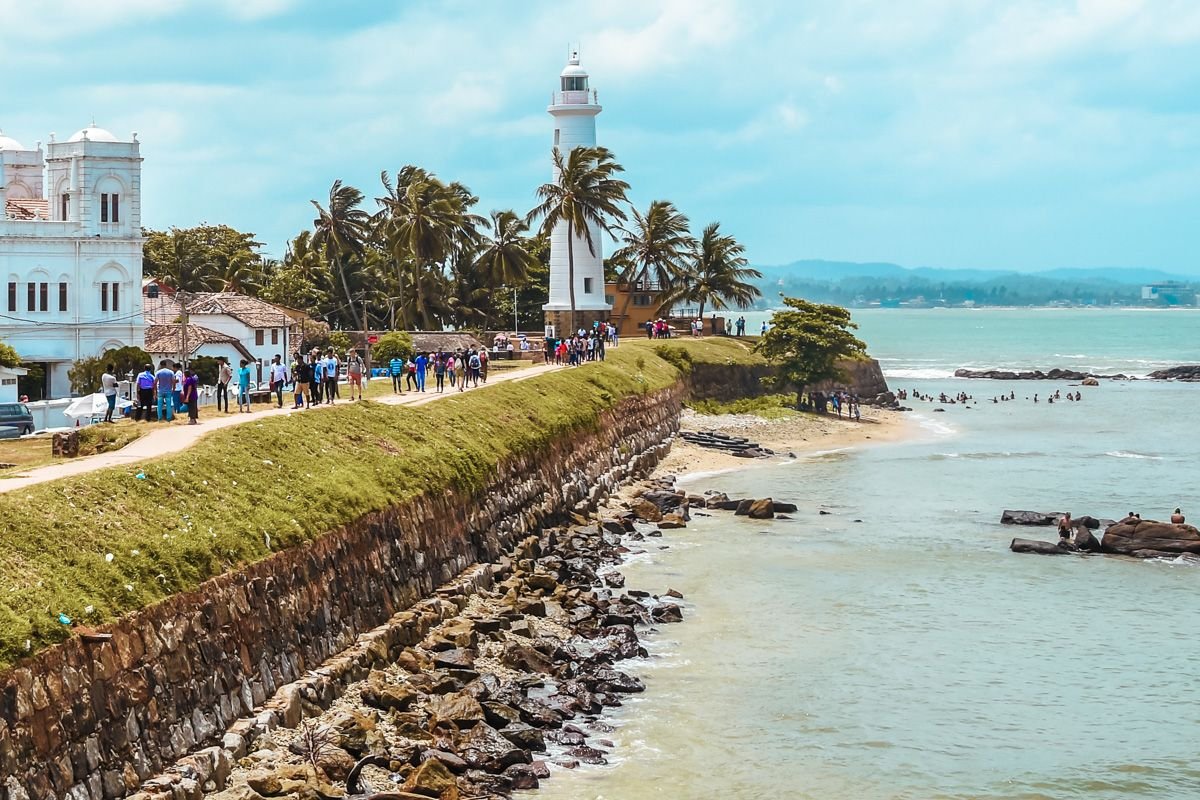 Photo credit: Photo by Nilanka Kariyawasam on Unsplash.
From what I gather, in Galle Fort you'll find beautiful Dutch colonial buildings with a tropical backdrop. It's got a very European vibe to it, juxtaposing old colonial architecture with modern boutiques and cafes inside the fort walls.
A few things to do in Galle Fort:
Galle Fort Lighthouse
Galle Fort Walls – walk the walls and catch the sunset from here
Galle Fort – walk the streets and laneways inside the fort
Unawatuna Beach – a 15min drive southeast from Galle
---
Day 10: Galle – Colombo
From Galle, it's a 2 hour drive north to Colombo, the capital of Sri Lanka.
There's lots to see and do in Colombo if you're up for it after this jam-packed 10 days Sri Lanka itinerary, so feel free to spend an extra night or two in the city if your schedule allows.
Here are the top things to do in Colombo:
Galle Face Green – a large waterfront park ideal for a sunset stroll (and right next to your hotel!)
Gangaramaya Buddhist Temple – a beautiful ornate temple, and my favorite sight in Colombo
Jami Ul-Alfar Mosque – a vibrant pop of red and white architecture in the middle of a busy city street
Colombo National Museum – Sri Lanka's largest museum
Colombo Fort – Colombo's CBD, and a nice place to wander around looking at all the colonial buildings and monuments
Seed Cafe – the best coffee in Sri Lanka, and a great place to enjoy a healthy lunch (e.g. Buddha bowls and avocado on toast!)
CLICK TO BOOK YOUR AIRPORT TRANSFER FROM COLOMBO
---
BOOK YOUR COLOMBO ACTIVITIES & AIRPORT TRANSFER HERE:
---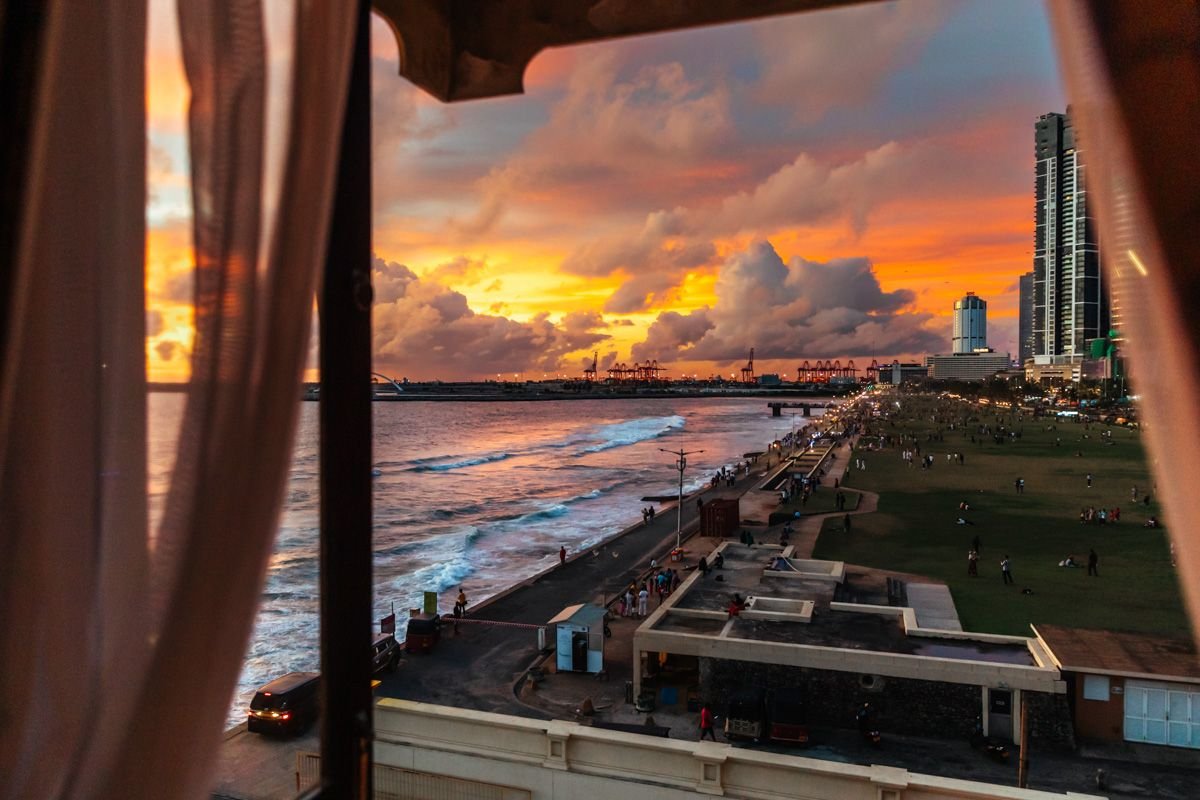 READ MORE ABOUT SRI LANKA IN THESE POSTS:
Thank you to Sri Lanka Tourism for hosting me for 2 weeks in Sri Lanka. Note that all opinions expressed here and elsewhere on this blog are my unbiased own, and are uninfluenced by any gifts or incentives I may receive.