With all the traveling I've done, you'd think I'd have gone hot air ballooning before. But nope! Somehow that item was still on my bucket list, waiting to get checked off… until very recently!
Apart from Cappadoccia, I hadn't really heard of any other epic hot air ballooning locations. And in Australia, I only knew about Canberra having its annual Balloon Spectacular festival.
So it was a total surprise to see Gold Coast hot air ballooning on a lengthy list of activities available to book on Headout, an online portal that curates the best adventure experiences around the world. Who knew you could even go hot air ballooning in Gold Coast, Australia?
Pete and I went with Hot Air on their Gold Coast Classic Ballooning with Vineyard Champagne Breakfast and had the most INCREDIBLE time. And now I can finally say I've been hot air ballooning!
If you're interested in going up in a hot air balloon in the Gold Coast, here's what you can expect for this experience.
READ MORE: Headout: Where To Find & Book The Best Experiences In A City
Hot Air Ballooning in the Gold Coast
First off, hot air balloon trips are not cheap; this one costs AU$390 (US$270) on a weekday, and AU$450 (US$312) on a weekend. But it's a bucket list experience and VERY worth budgeting for, if you can.
Secondly, fellow night owls, you're gonna have to brace yourselves for a very early start because this is a sunrise experience. Apparently early morning is when wind conditions are best for flying, so that is when all Gold Coast hot air balloon trips take place.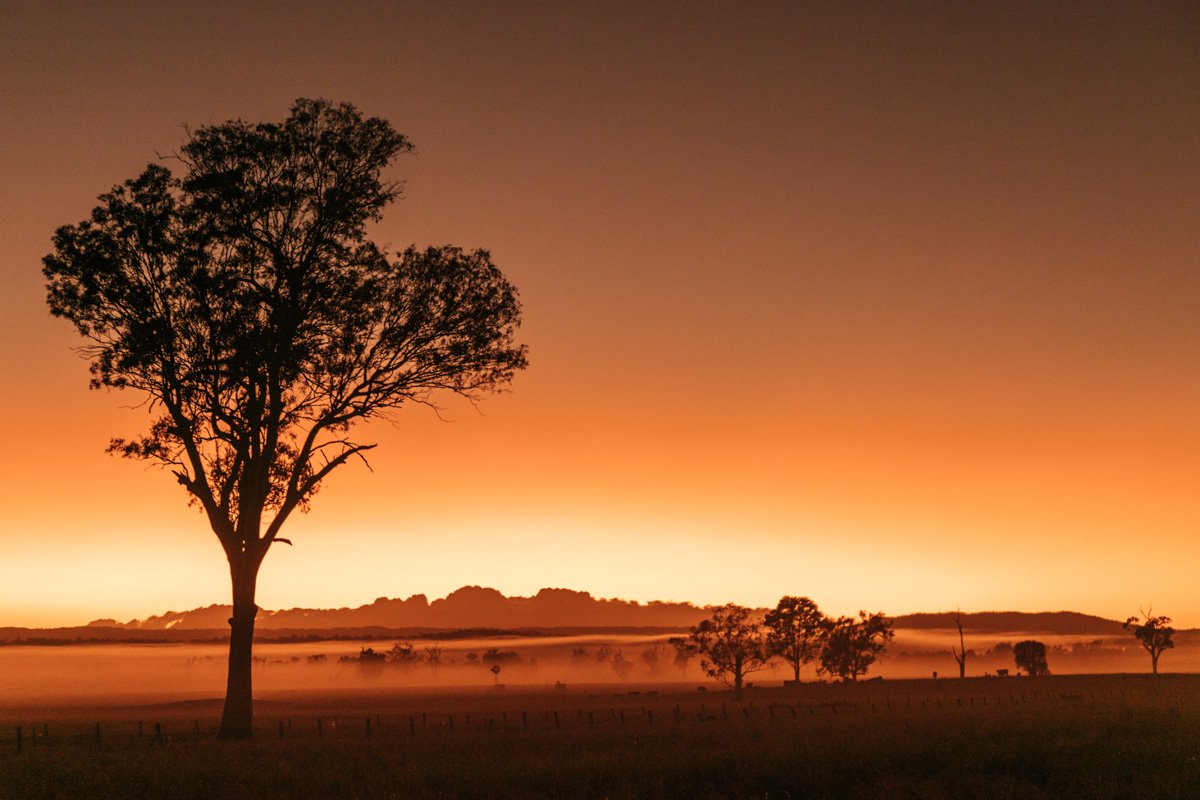 Hot Air offers pickups for anyone staying in Gold Coast hotels in the beachside suburbs (Southport to Broadbeach). I believe they have designated pickup spots all along that stretch. If you're more inland, you can self-drive to either Nerang or Canungra and the shuttle bus will pick you up there en route to the balloon launch site.
At the time, we were staying in Labrador and opted to drive to the Nerang location for a 4:40am pickup. Hot Air texted us when the driver began pickups around 4am, and when he was about to arrive at our pickup location – and they also sent a map link so we could monitor his whereabouts. I swear I've never experienced a more seamless shuttle bus experience. I always appreciate when vendors go the extra mile to mitigate stress and make life easier for customers, but I especially appreciated it at the crack of dawn when my mind wasn't yet fully firing!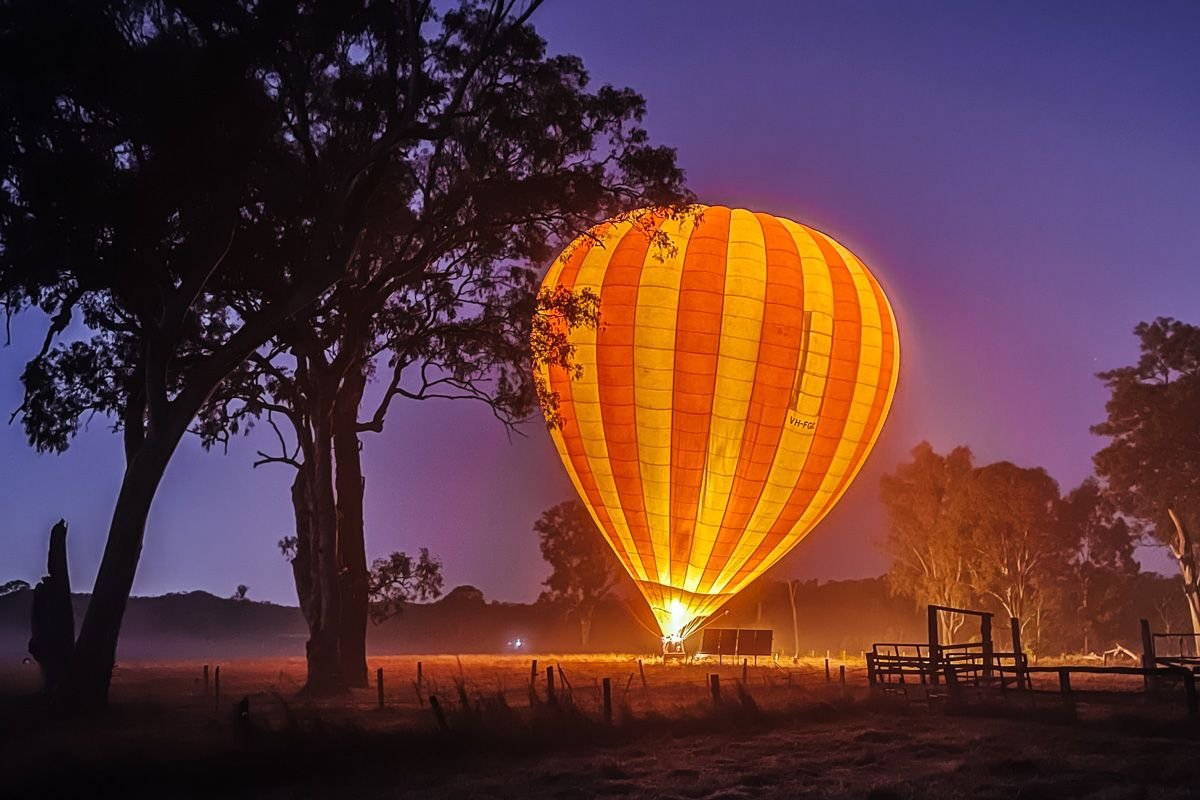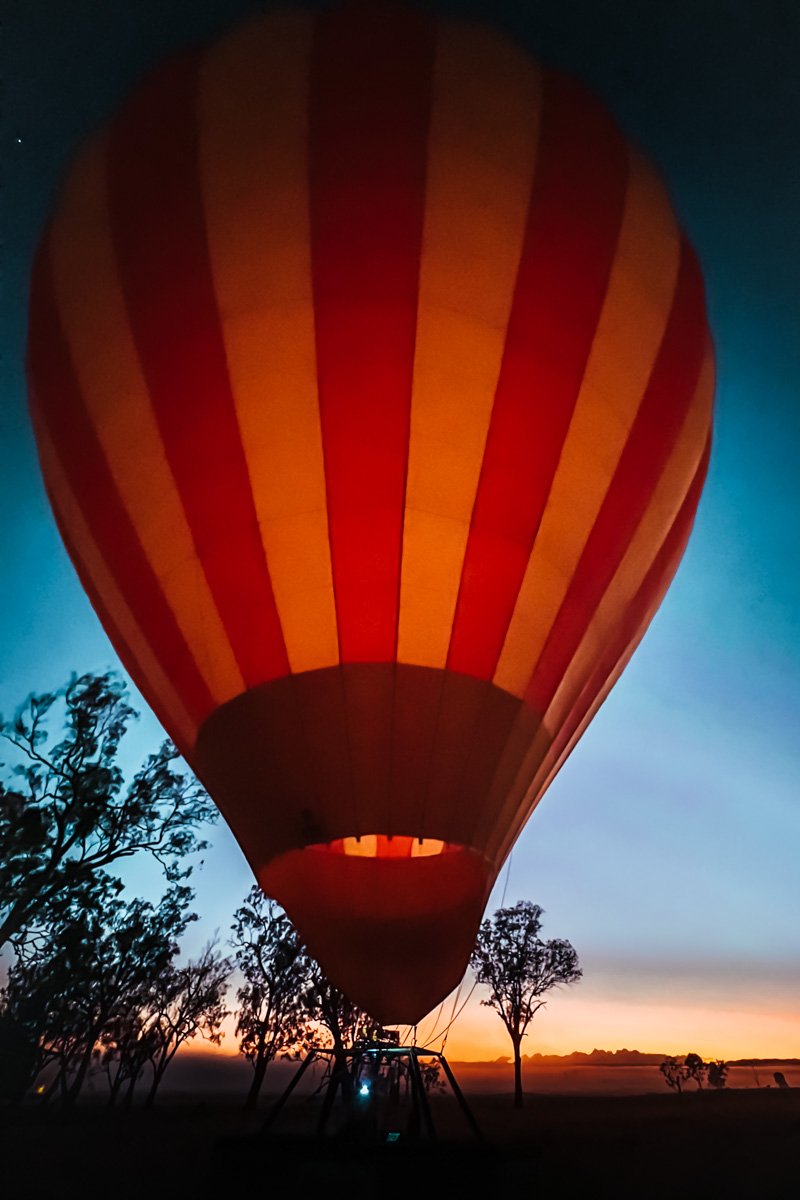 From Nerang to the hot air balloon launch site, it's about an hour's drive. Halfway there, we stopped at Canungra to pick up a few other people and use the toilets, and our driver briefed us on what would be happening next.
We arrived just before 6am at the hot air balloon launch site, located on private farmland somewhere in the Gold Coast Hinterland. It was still dark out at this point, but we got to catch the balloon inflating and rising upright which was so cool!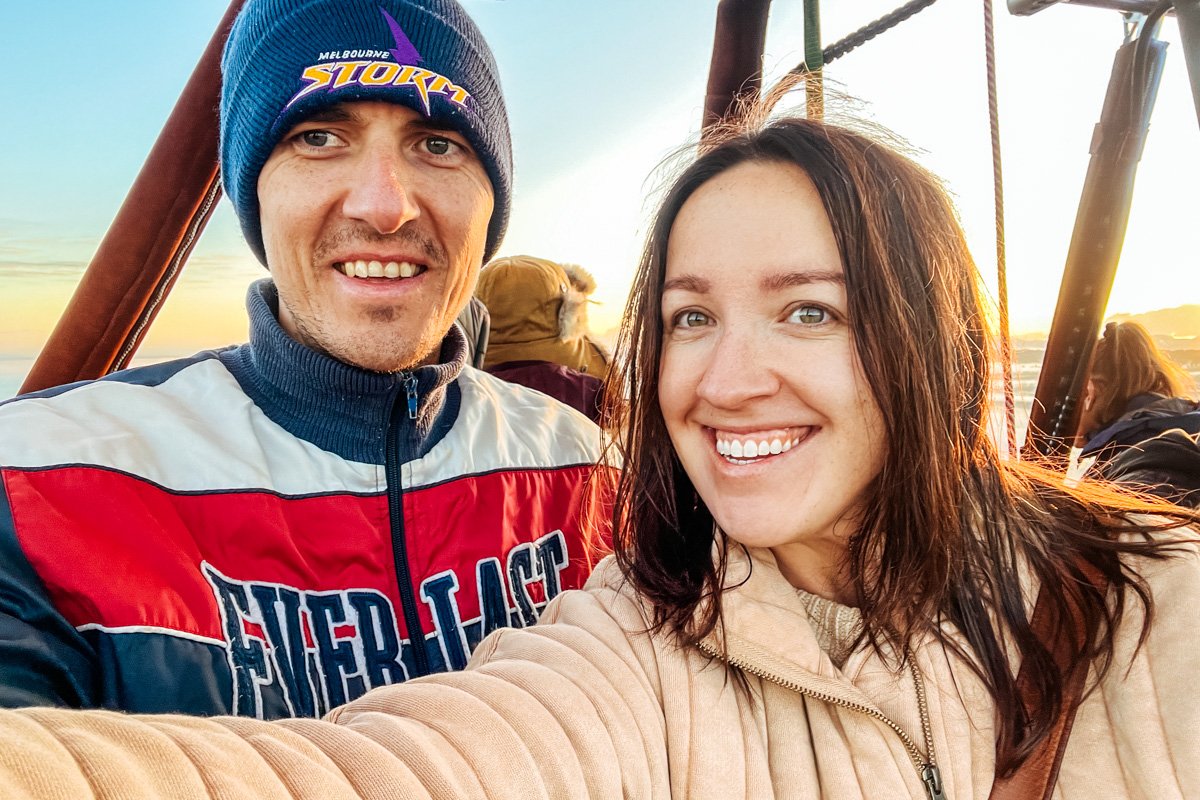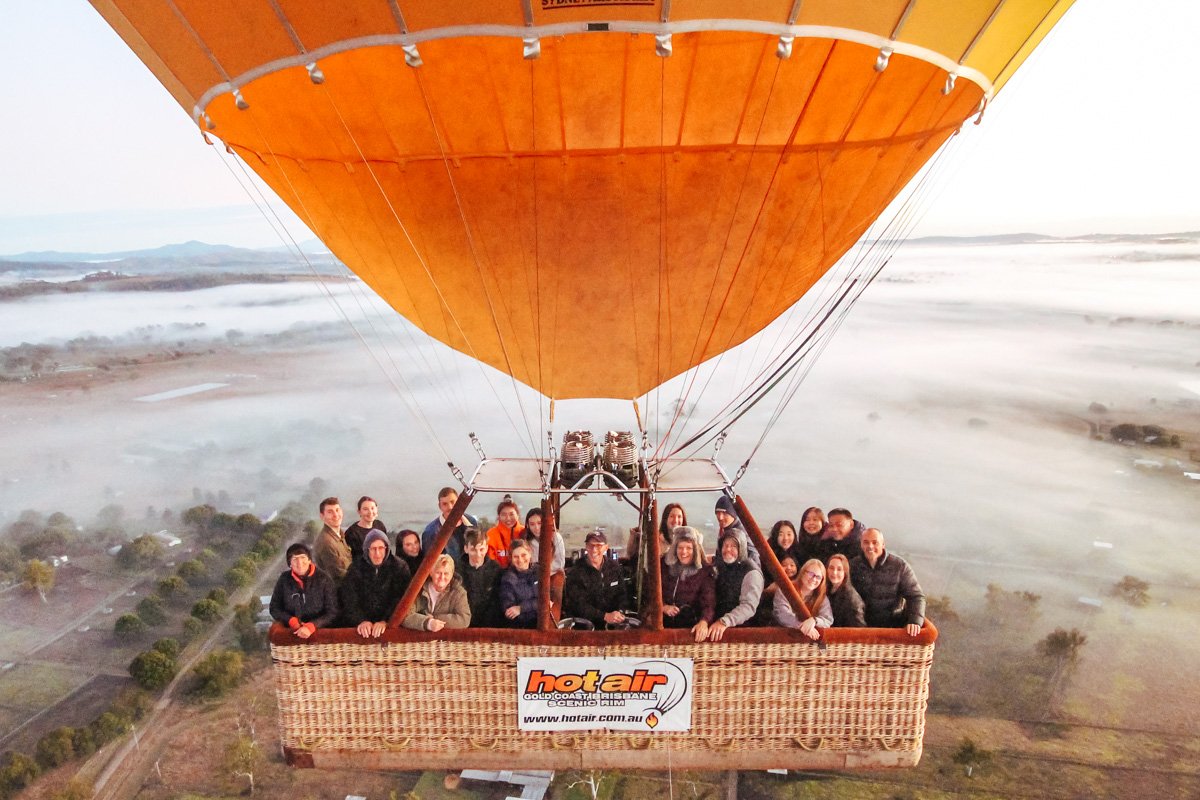 The balloon basket fits 24 people (plus the pilot) standing up; we had 22 people on our tour. Pete and I were situated close to the center of the basket (can you spot us?).
And let me just tell you right now, it is NOT EASY getting good photos of yourself with the balloon! It's way too big to fit in any camera frame, even with a very wide angle lens. Thankfully Hot Air has a camera hanging from what looks like a trapeze swing just outside and above the basket, which they use to snap group photos in the air. These photos are sent to all trip participants at no extra cost.
Trust me, you'll want to focus on the amazing 360-degree views of the Gold Coast Hinterland at sunrise, rather than on taking selfies. LOOK AT THESE LANDSCAPES! LOOK AT THAT LIGHT! (Who knew this was what I was missing out on by not being a morning person?).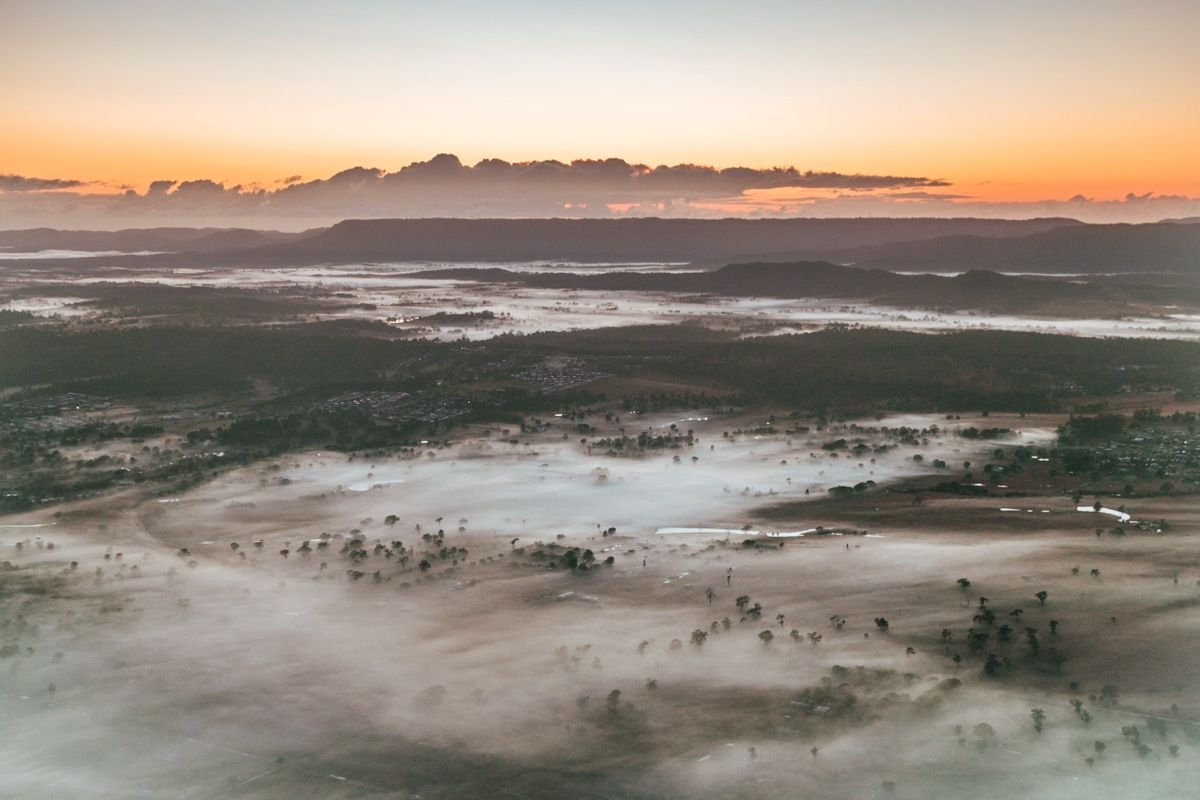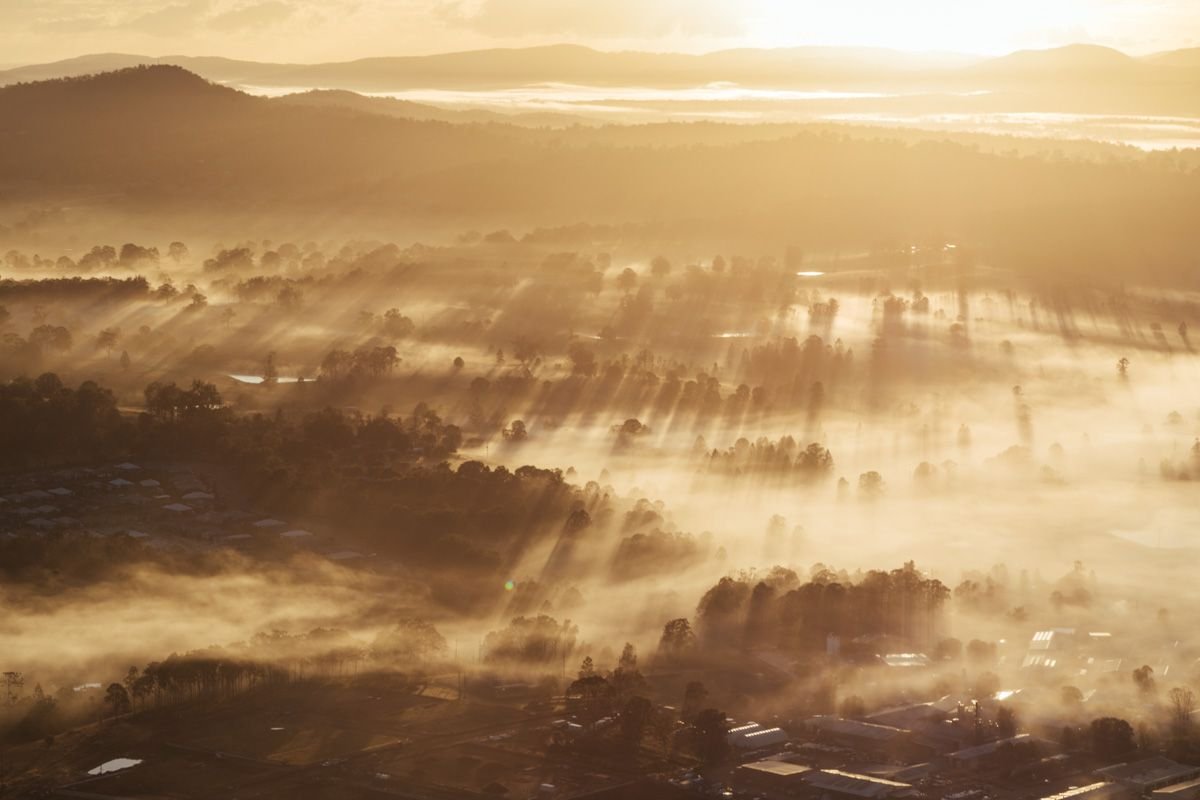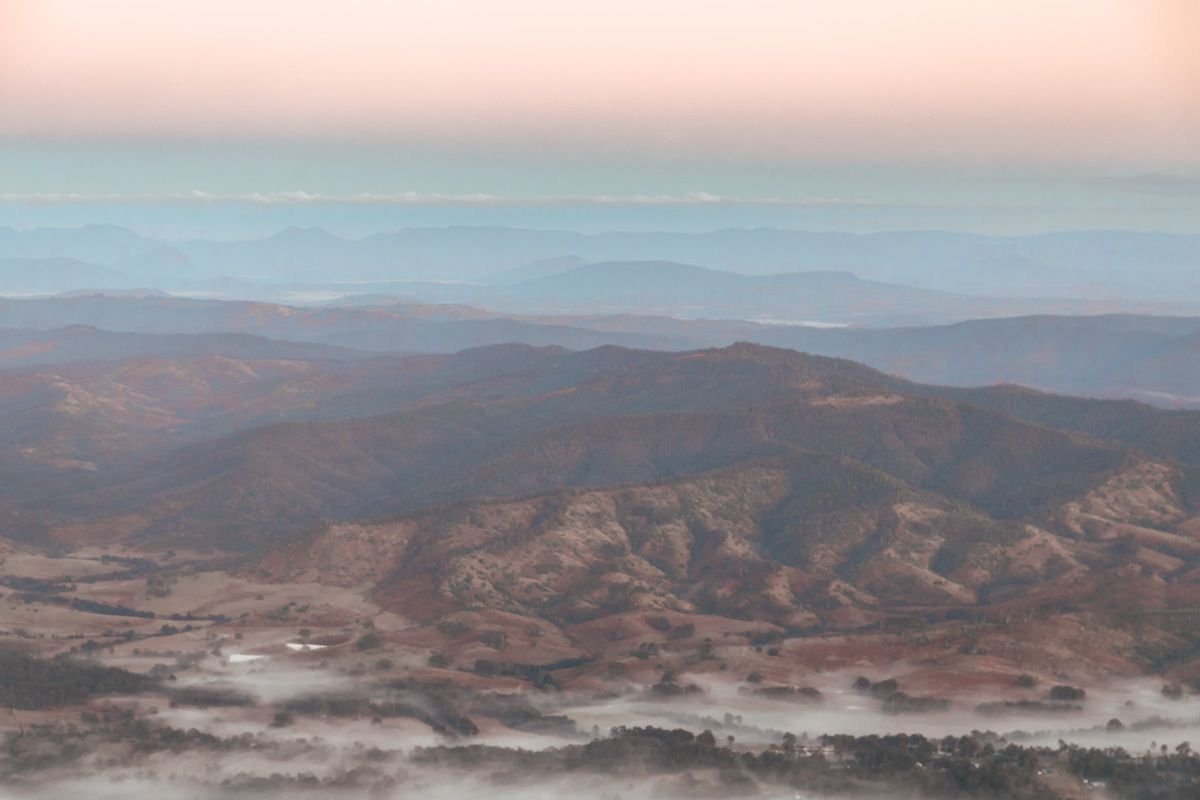 If you're at all worried about getting motion sick or are scared of heights, I'd say hot air ballooning probably has the lowest risk of anything happening of any form of transport. You can barely feel the basket moving as you ascend to 3000 feet! In fact, the only time I felt anything was when we were descending to a different airstream where it was a bit windier, but it wasn't bumpy at all. It felt more like floating than flying.
Also, know that they won't fly in bad weather or if it's too windy, so you're guaranteed good conditions when you go up in a hot air balloon in the Gold Coast.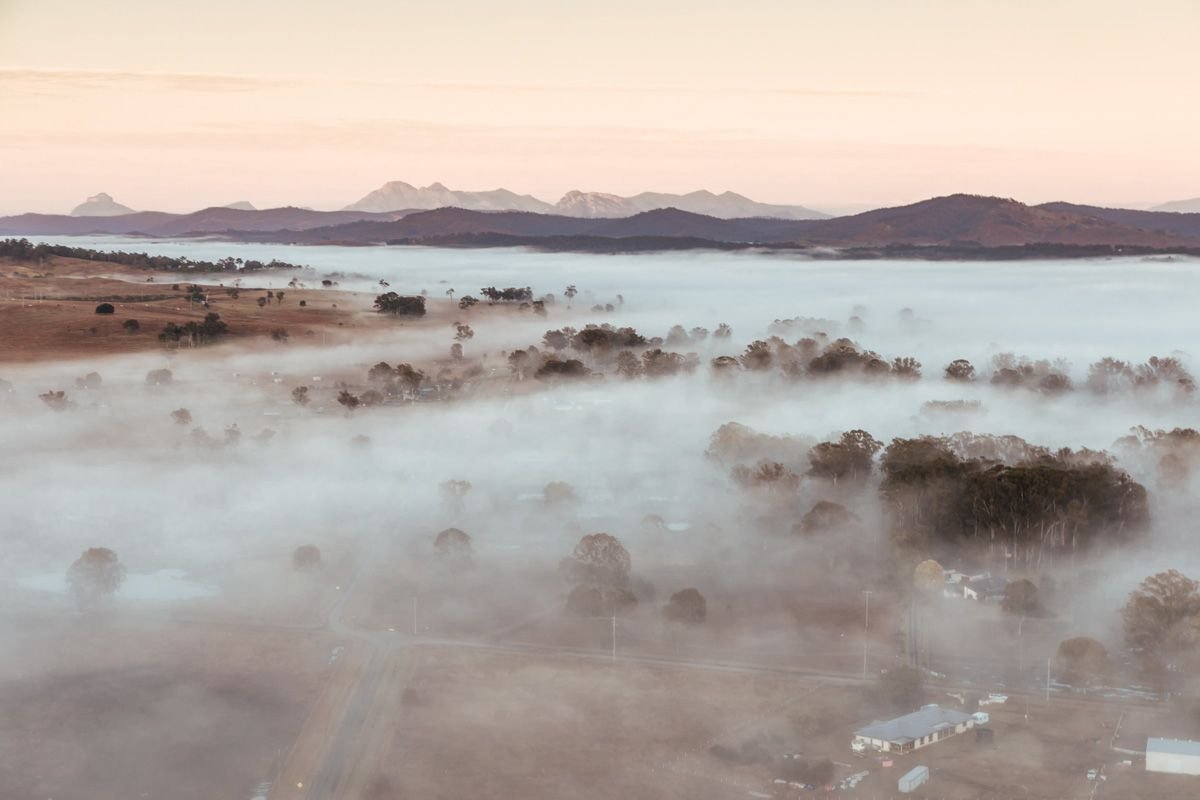 One thing I didn't realize is that you can't steer a hot air balloon! There's a burner to control the temperature inside the balloon, which is how a pilot gets it to ascend or descend, but the balloon is at the mercy of the wind in terms of where it ends up going. And BTW the burner also helps to keep you warm while flying – it's like having a trusty heater right over your head. I wasn't cold at any point, despite it being near freezing at ground level.
So rather than following a set route, the hot air balloon goes up above its launch point, and can move around a bit depending on what the wind is doing in the different jet streams – but it's impossible to know where exactly it will end up landing until the pilot begins the descent.
Though he can't steer, he can turn the balloon around in circles – which our pilot did several times to allow everyone to soak up the views from all around. I especially loved the inland views of the mountain ranges, with layers of fog in the foreground.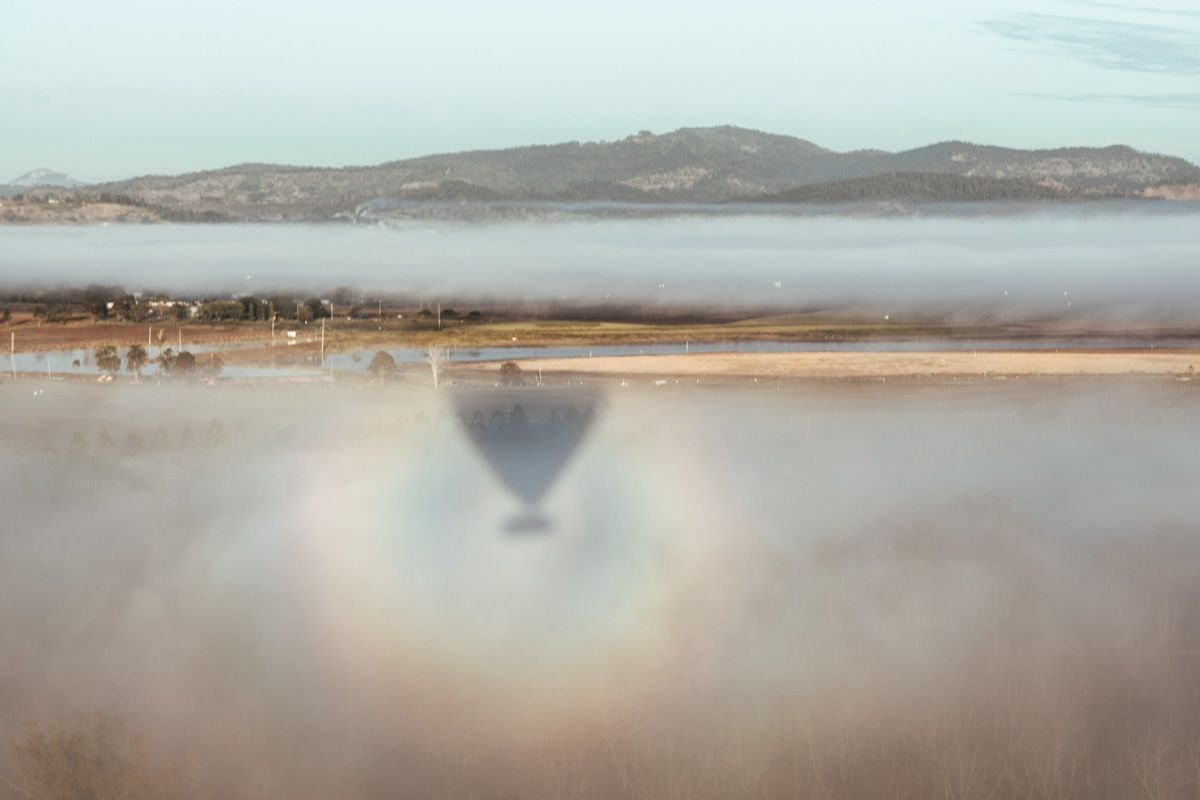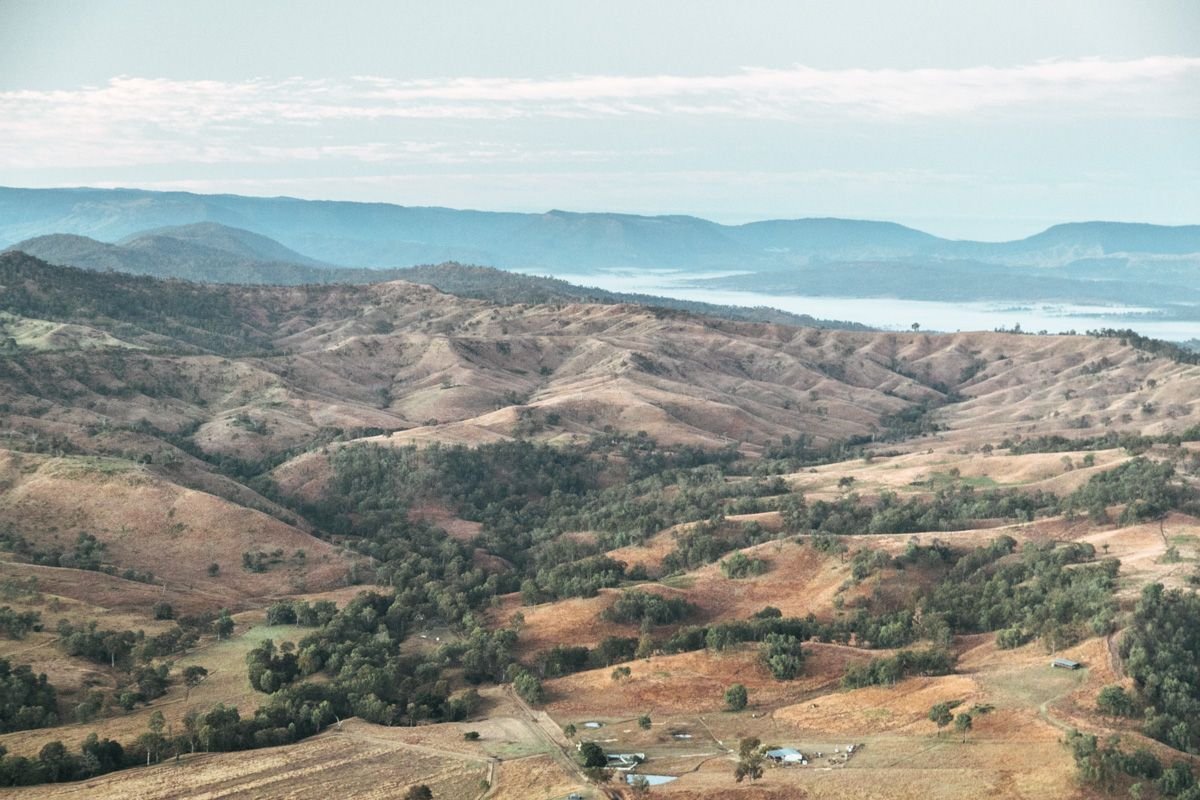 Our pilot was telling us that they land on all different farm properties in the hinterland, and they always have another staff member drive ahead and knock on the land owner's door to ask for permission to land before they do. Hot Air even pays the land owners every time they land a balloon on their property!
There's a special procedure to follow when landing the hot air balloon: everyone on the flight must grab the handle straps near them and squat down with their backs against the basket. This is just in case the basket does a few hops on the ground before coming to a stop. Our landing was very smooth and hop-free though!
After landing, the balloon comes down and gets packed up. We were all encouraged to help out with the packing-up process, though it's not required.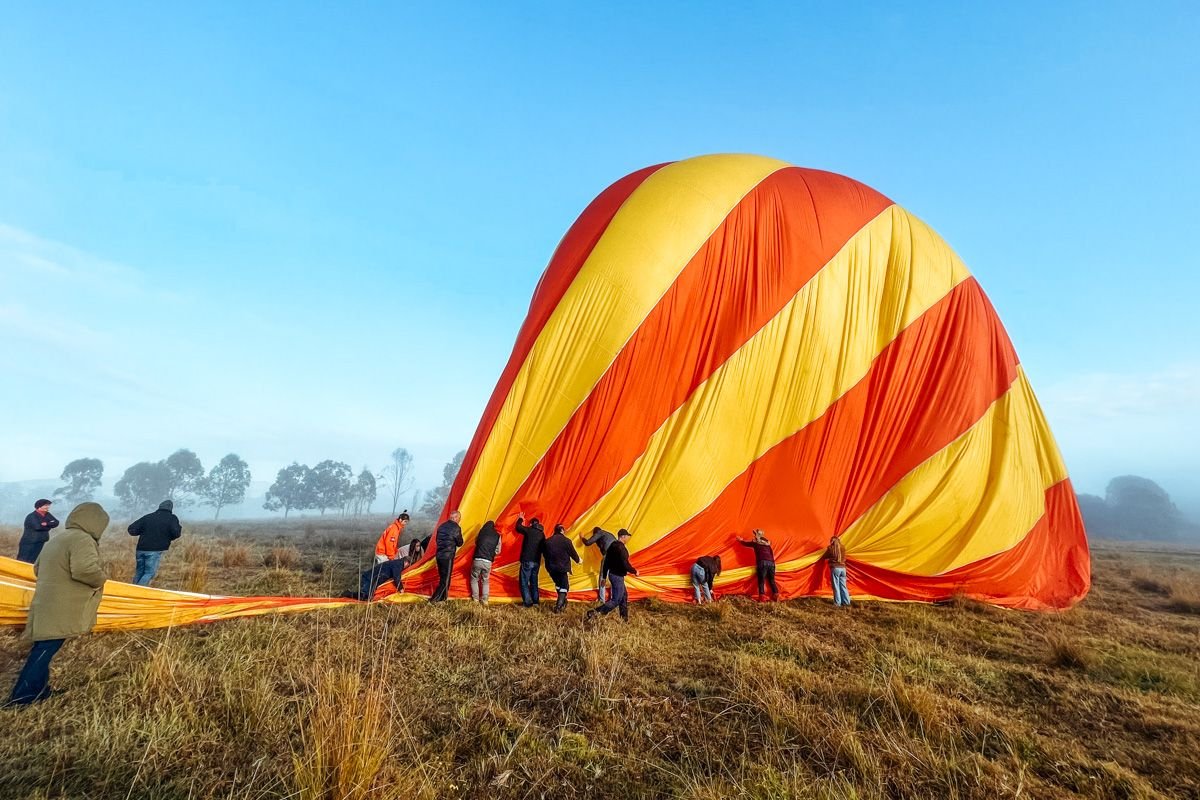 Did I mention that the Gold Coast hot air ballooning tour we booked includes a champagne breakfast at O'Reilly's Canungra Valley Vineyards?
I believe you can book the hot air balloon flight on its own if you don't want to stay on for the breakfast excursion, but it definitely makes the whole experience that much sweeter if you do the whole thing.
We were shuttled to the vineyard after the balloon flight, which was maybe a 40 minute drive? I'm not sure because this was the point I started to feel not-so-great. Lack of sleep often triggers motion sickness for me, so I was feeling a little woozy sitting in the back of the shuttle bus.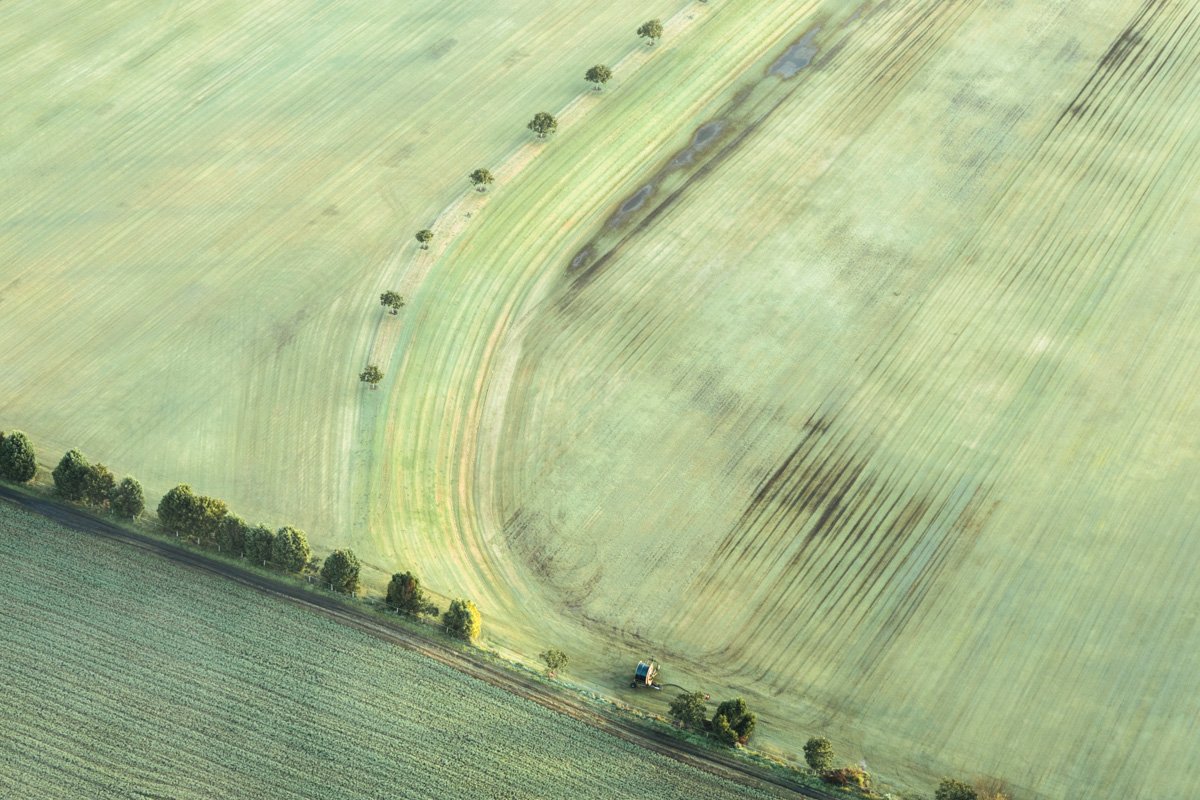 At the vineyard we were greeted with glasses of champagne, which Pete and I declined because it was like 9am and I was feeling a little rough. They had tables set for us on the verandah, and a little buffet breakfast spread inside where we could take whatever we wanted.
The highlight? Definitely the fresh orange juice-making machine. The lowlight? Sitting outside when it was still really cold out at 9am. I wish there had been indoor seating or outdoor heaters so we'd have been more comfortable, but we warmed up again afterwards when we walked around.
They also came around and served us each a plate of hot breakfast foods including eggs, bacon, sausage, and mushrooms. I didn't eat anything, but Pete says overall it was pretty good but not great.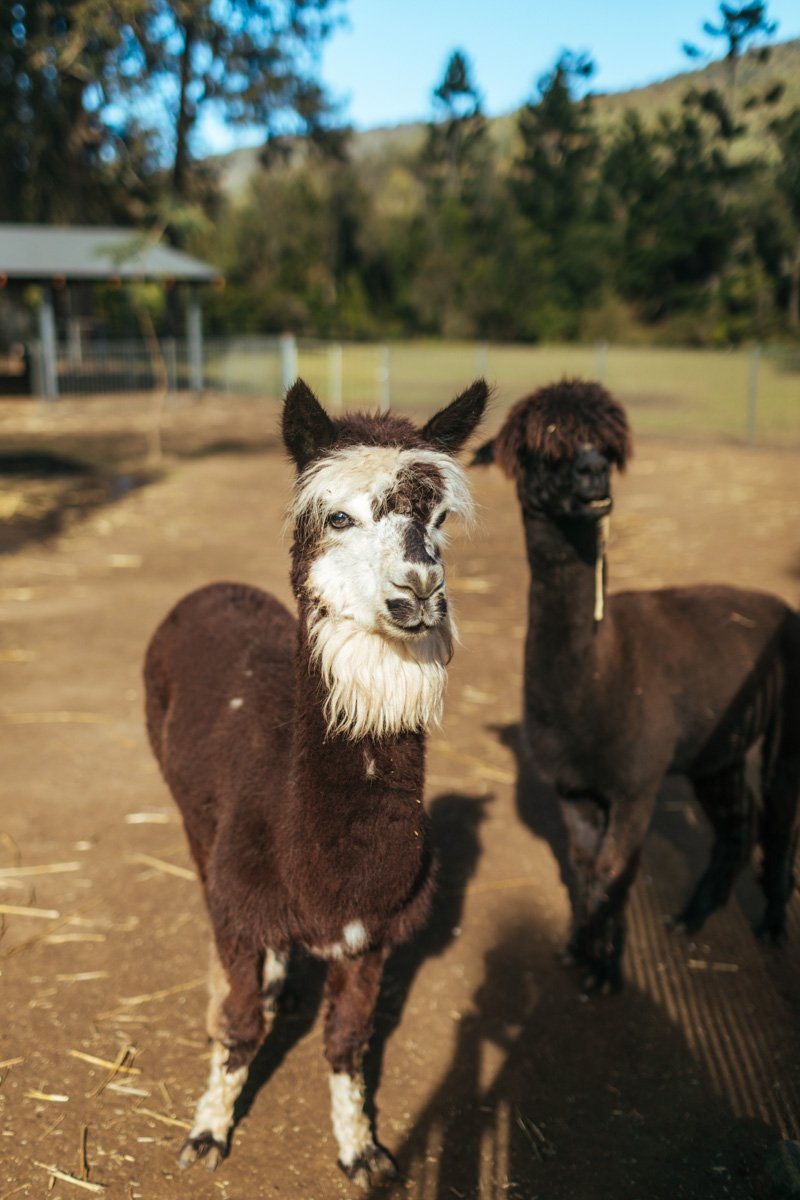 In total we were given an hour at the vineyard, during which we could eat breakfast, do an optional wine tasting inside, wander around the grounds, and go see THE ALPACAS!
Yes, O'Reilly's Canungra Valley Vineyards has an onsite alpaca farm! They were all huddled in a group in some enclosed fencing when we were there, but if you're visiting the vineyard outside of this tour you can actually book experiences with the alpacas (like walks, feedings, and picnics).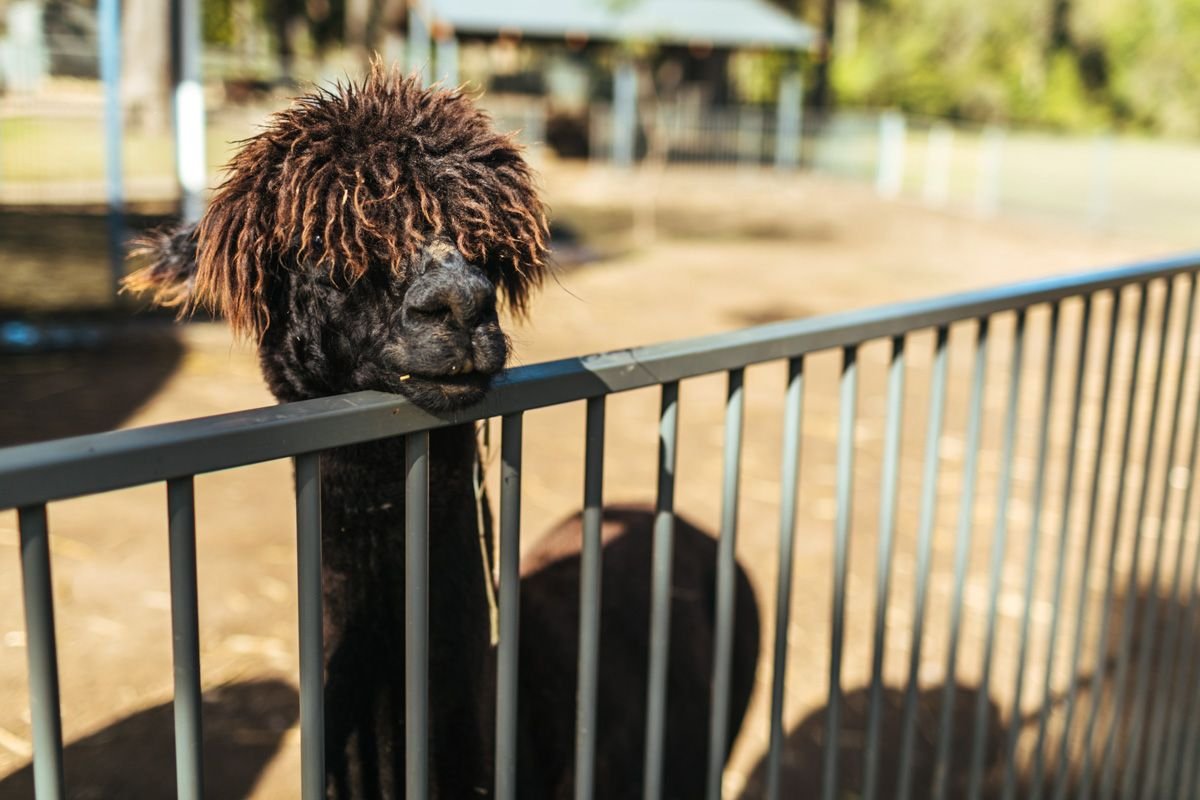 Overall, we LOVED our experience with Hot Air and would 10/10 recommend hot air ballooning in the Gold Coast with them. I can't wait to get up in a hot air balloon again sometime!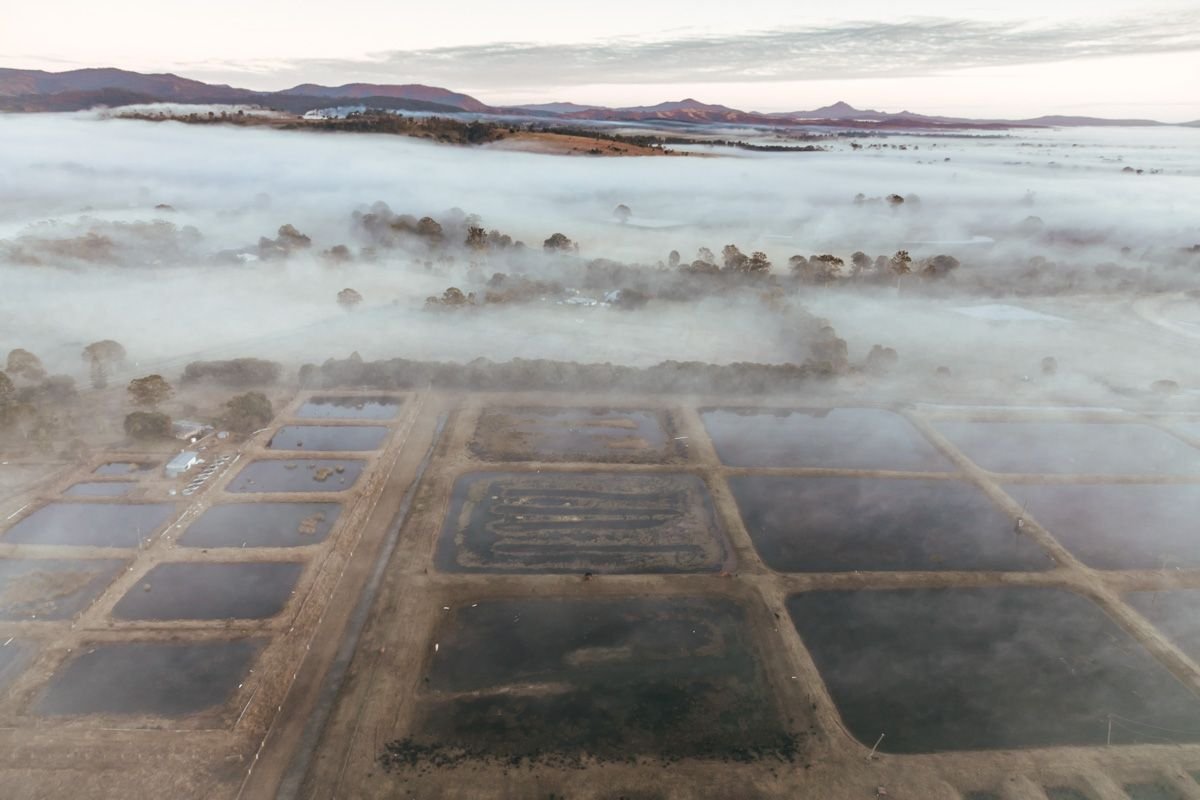 What To Bring/Wear While Hot Air Ballooning
Hot Air does advise on what to bring and wear for your Gold Coast hot air ballooning trip, but they don't explain they why behind it. So in case you're like me and have to have a good reason to do something before you do it, here are the most important things to bring/wear on the hot air balloon:
Headphones (you'll be spending a couple hours on the bus, so it's worth bringing them – I wish I had!)
Water (mostly for the bus ride; they do give you a tiny bottle of juice as you board the balloon, but I wish I'd had water to drink while on the bus)
Jacket/layers (we went during winter and it was very cold in the morning, warmer in the balloon basket, and still quite cold during breakfast… so it's definitely wise to dress in layers so you can adjust your outfit according to weather conditions)
Closed-toe shoes or boots (you'll be walking through farmland that may be muddy, wet, or frosty, depending on the weather)
Long pants (to keep warm before sunrise, and to prevent any flashing when climbing into/out of the balloon basket. If you fly during summer, you'd probably be ok in a dress, but maybe wear shorts underneath?)
Hat/Sunglasses (for when the sun comes up)
Camera (at the very least, bring your phone and take photos with that; I also had my trusty Canon 5d mark IV with a 24-105mm lens which I found the perfect focal length range for capturing both wide and close-up landscape shots. I also had my 70-200mm lens but didn't need it.)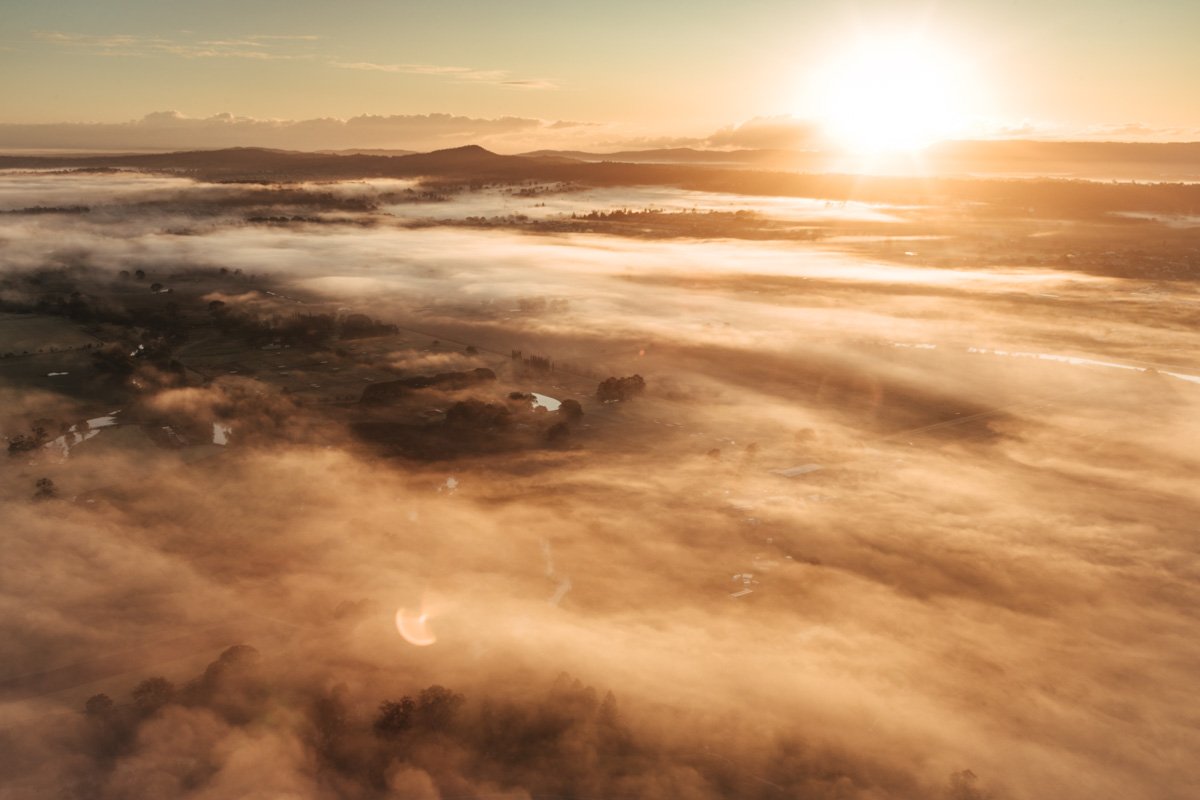 Booking With Headout
Full disclosure, Headout generously gifted us this Gold Coast hot air ballooning experience in exchange for this blog post.
As I mentioned earlier, Headout is a website that curates the best adventure experiences around the world. If you're heading to a major city, you can have a look at all the activities on offer in that location (and yes, they are worldwide!).
Headout (as well as flight booking portals like Skyscanner) is great if you don't want to spend time researching all of the options yourself. They do the hard work for you and save you time by showing you what all of the options are in one place. Admittedly I tend to book direct whenever I can, but it's only because I like to do extensive research on my own, compare all of the options, figure out exactly what I want to do, and then I just book it. But most people probably don't want to do that, and that's where Headout comes in.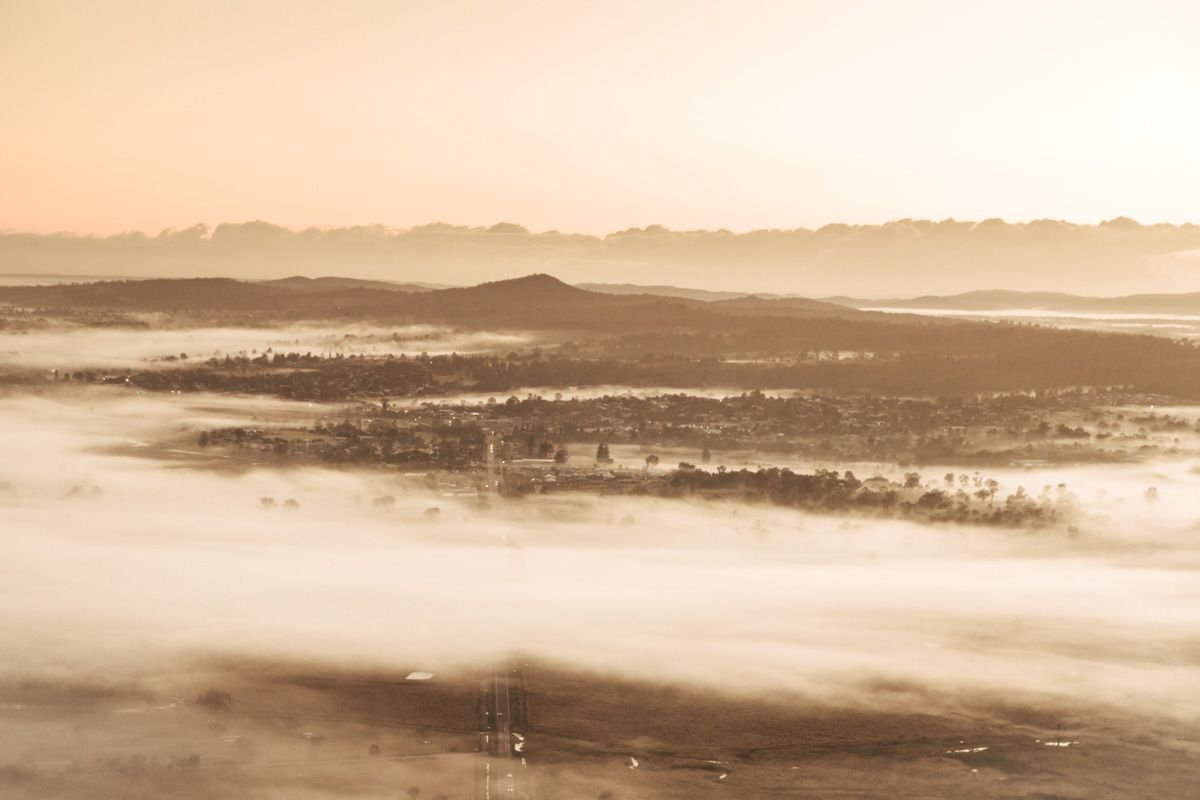 Headout is also great for finding new things to do in a location that you might not already know about. We were based on the Gold Coast for 4 months house sitting, not so much in tourist mode, so I didn't do my usual thorough research to see what there was to do here. I had a look on Headout to see what activities were on offer nearby and found SO many things I'd never heard of, including this Gold Coast hot air balloon experience.
When you book an experience with Headout, they put you in direct contact with the vendor from that point forward rather than acting as a middle man. Hot Air contacted me directly via email with the booking confirmation, and then via text message the morning-of with pickup updates. It was all seamless and easy, the way a tour should be!
CLICK TO SEARCH HEADOUT FOR FUN EXPERIENCES IN YOUR CITY
Want More To Do In The Gold Coast?
Check out these blog posts:
Thank you to Headout for gifting us with a Gold Coast hot air ballooning trip. Note that all opinions expressed here and elsewhere on this blog are my unbiased own, and are uninfluenced by any gifts or incentives I may receive.
Pin it!