This post is brought to you by Ted's Cameras. Please note that I was already a happy customer of Ted's before they approached me about sponsoring this post.
—
So you've booked your next big holiday adventure, road trip, or weekend getaways from Sydney – and you can't wait to shoot some stunning travel photos to be proud of. But before you jet off – do you have the right camera gear for your trip?
Many people aren't aware that renting a camera and lenses for travel can be the better choice. From getting top quality camera gear to traveling light and saving money, here are 5 reasons why renting camera gear for travel is a smart, affordable, and convenient option.
1. After paying for your holiday, you might be feeling the pinch
Holidays are often costly, even if you opt for budget accommodation and flights. Renting your travel camera gear saves you from spending extra cash before your trip, and gives you the option of making monthly payments instead of paying for it all upfront.
By renting, you'll have more money in your pocket to spend on extra tours, experiences, or tasty local delicacies.
2. You won't waste money on gear you don't need for long
Many of us are quite happy using a smartphone for everyday snaps, but would probably prefer to use something a little more substantial for once-in-a-lifetime holiday, such as a compact digital camera, action cam, or SLR camera.
Ted's short-term rental period (just 6-months minimum) will help you get the highest quality photographs, without needing to spend huge amounts on items that you only need for the duration of your trip. After 6 months, if you're done, you can easily return your gear and stop paying. You'll have spent much less on renting your gear than you would have, had you purchased all of your items to keep.
Here's an example of pricing for a few items you might be interested in renting for a holiday (prices are AUD per week):
Canon 5d Mark IV – $44.08
Canon 70-200mm f/4 lens – $21.93
Manfrotto MK290XT Tripod – $2.08
SanDisk Extreme 128GB SDXC Card – $0.93
For me, as someone who already owns an expensive camera kit and uses it frequently, I can see one really compelling use for renting additional gear: to have an ultra-zoom lens to take on safari. In my everyday shooting and my typical trips, I have no use for any lens beyond 200mm; however, to capture wildlife from afar, I'd definitely want to have a camera lens that goes up to at least 400mm. It just wouldn't make sense for me to buy a lens like this because I'd never use it outside of this trip… so if I have the option to rent it instead from Ted's, that's going to save me heaps of money.
3. Certain camera gear is better suited to travel
While your smartphone can take great selfies for Instagram, a dedicated camera is necessary if you want to create prints, posters, or high-quality images for photo books, portfolios, or professional websites.
A digital camera will usually feature an optical zoom which can get you right up close to distant subjects without reducing the quality of the end product – perfect for shooting landscape or wildlife photography on your travels.
If you're very serious about getting the best photos possible on your trip and are keen to learn a bit about manual photography settings before you take off, an SLR or mirrorless camera is going to yield the best quality images. I'd recommend going for a camera body and one walkaround lens (i.e. a lens with a focal length range that will cover most anything you'll want to shoot). My go-to setup is the Canon 5d mark IV and Canon 24-105mm lens, and I've done plenty of trips where I've not had to change to a different lens at all.
If you are traveling to somewhere in the world that you are not likely to be returning to soon, if at all, you owe yourself the chance to preserve these memories in the best way possible – and that calls for a real camera.
4. Even accessories can be costly
When we're researching new cameras we often forget to add accessories into our budget. Once you factor in things like protective cases, memory cards, and tripods, it becomes dangerously easy to blow your budget.
Renting allows you to create your entire travel kit and have it all ready to go right away, for small monthly payments. Certain accessories are very cheap to rent at a monthly rate, so you can piece together a complete kit which is capable of capturing all your adventures – compared to simply making do with the gear you can afford when making an outright purchase, which might be lower quality.
5. If you fall in love with your camera, you don't have to part ways
If you are hesitant to start a rental agreement because you feel like you'll be ready to buy soon, this shouldn't hold you back. If you love your new gear, you can always ask to keep it!
You can apply to purchase your camera at any time during your rental period with Ted's Cameras – letting you enjoy your dream camera right away, and make the application to purchase when you've saved up enough money. The cost of your purchase is reduced as your rental continues, so you won't end up paying full price when it comes time to buy it outright – these values can be viewed when you are making your initial rental agreement.
This saves you from missing out on capturing the best possible travel snaps with the camera of your choice, for fear of wasting money.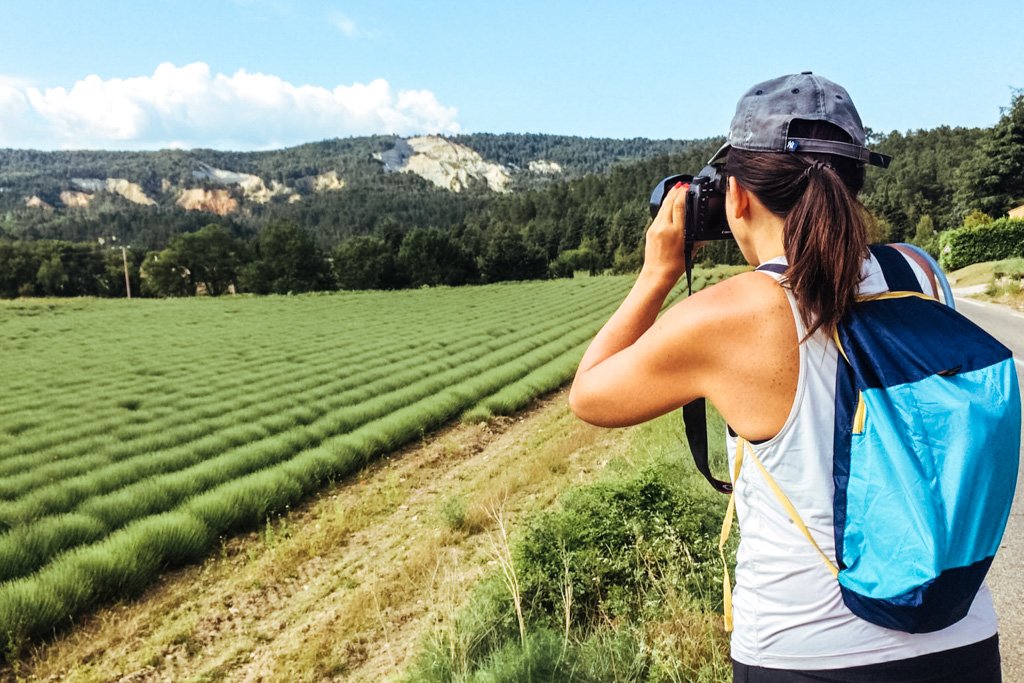 What's the best travel camera for your needs?
For budget-friendly travel cameras: If you're a photography novice, try a compact digital camera that is pocket-friendly with a versatile feature set, including a long zoom range.
For adventure-ready cameras: If on your travels you are likely to find yourself surfing, diving, skiing or cycling, water and shock-proof action cameras such as GoPros are the perfect option.
For image quality: If you place a greater emphasis on image quality and you don't mind interchangeable lenses, mirrorless cameras provide similar quality and usability to Digital SLR cameras, in a more portable package.
Want more inspiration?
Check out Ted's guide on How to Choose the Best Lens and the Best Digital Cameras in 2019.
I've also got a blog post where I spill all of my Lightroom editing secrets, which might be handy for when you want to edit the photos from your trip.
Ready to start making memories?
Traveling is a special experience that should be embraced wholeheartedly. Why not make the most of your next trip and return with a collection of high quality photographs you'll cherish forever?
Ted's Cameras has partnered with Studio19 so you can rent the best gear at the best prices. With low monthly payments and maintenance and repairs included, their rental plan has given well over 250,000 happy customers access to some of the best gear on the market.
For more information, check out Ted's Cameras rental page or visit your local Ted's Cameras store for more advice!
Thank you to Ted's Cameras for sponsoring this post. Note that all opinions expressed here and elsewhere on this blog are my unbiased own, and are uninfluenced by any gifts or incentives I may receive.