This Sydney to Broken Hill road trip post was originally published on 1 January 2019 and last updated on 4 September 2022.
—
In November 2018, my #1 road trip buddy Marijs and I made the long drive from Sydney to Broken Hill and got to experience Outback NSW for the first time.
This unique little slice of Australia isn't really on the tourist trail, but that only adds to its appeal. You won't find the glitzy beach towns or hip coffee shops that mark most of the rest of the country here (glorious as they are!).
BUT… you get to explore the mining towns and underground dwellings of the NSW Outback without having to deal with crowds, traffic, or other travelers, which is pretty amazing.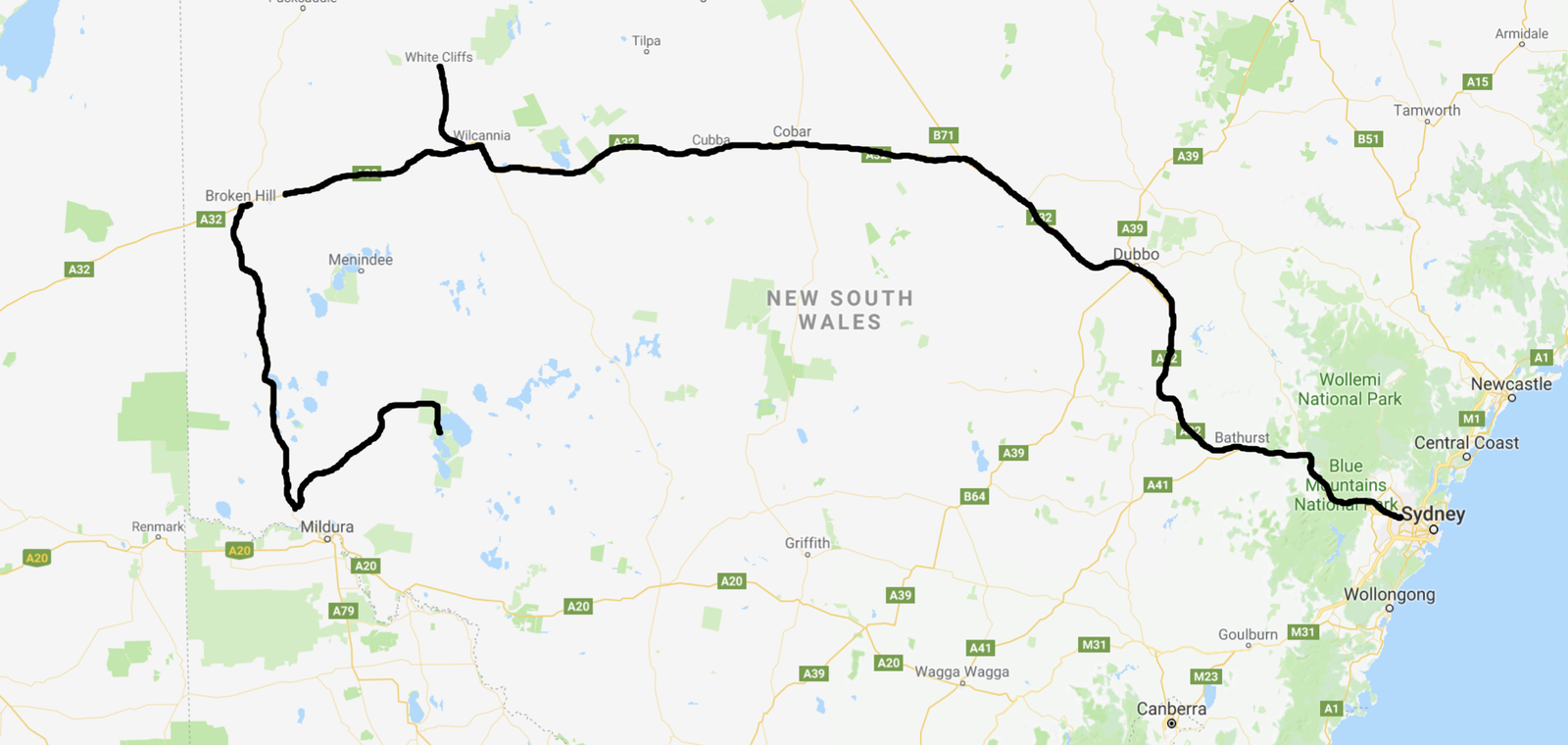 A few important things you should know before taking off on the Sydney to Broken Hill drive:
This road trip is best done outside of summer due to the extreme heat the region experiences during this time of year. Aim to travel between April and early November for maximum enjoyment.
Allow a full week to drive from Sydney to Broken Hill in order to enjoy all of the stops along the way. Then you can drive straight back from Broken Hill to Sydney in 1-2 days either back the way you came, or south via Mildura and Wagga Wagga.
There isn't much mobile coverage from Dubbo to Broken Hill unless you have Telstra.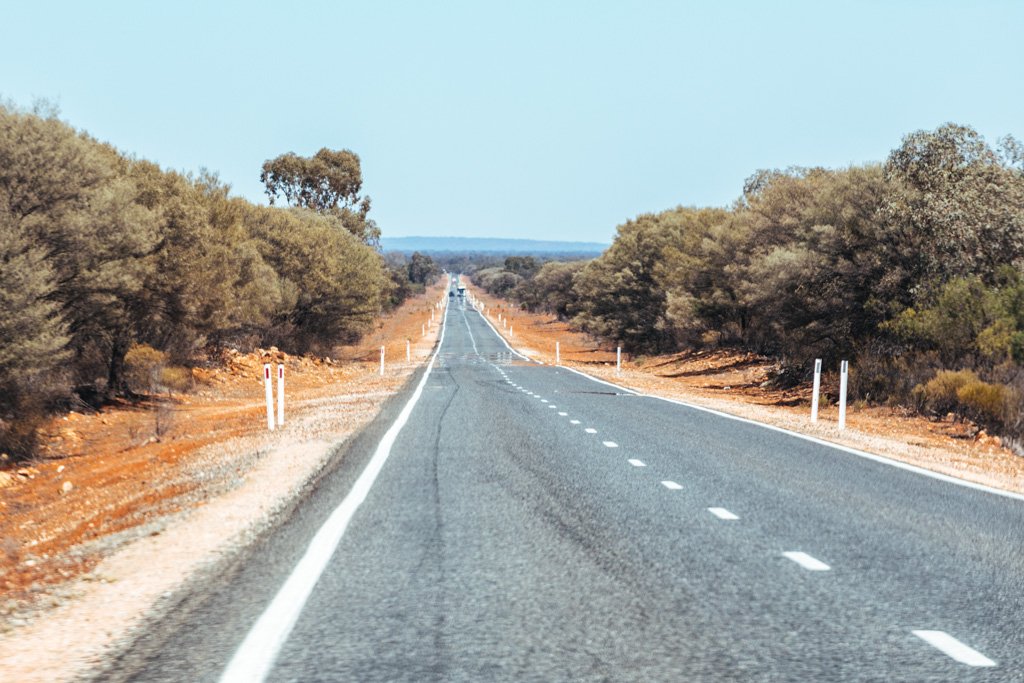 Dubbo
Considered the gateway to Outback NSW, Dubbo makes for a natural stop on the long drive from Sydney to Broken Hill. It's "only" a 5 hour drive from Sydney, so you'd be totally fine with a late start on the first day and just crashing for the night in Dubbo before really getting into the Outback.
But if you have the time, why not spend a half day exploring Dubbo?
Things to do in Dubbo
Where to stay in Dubbo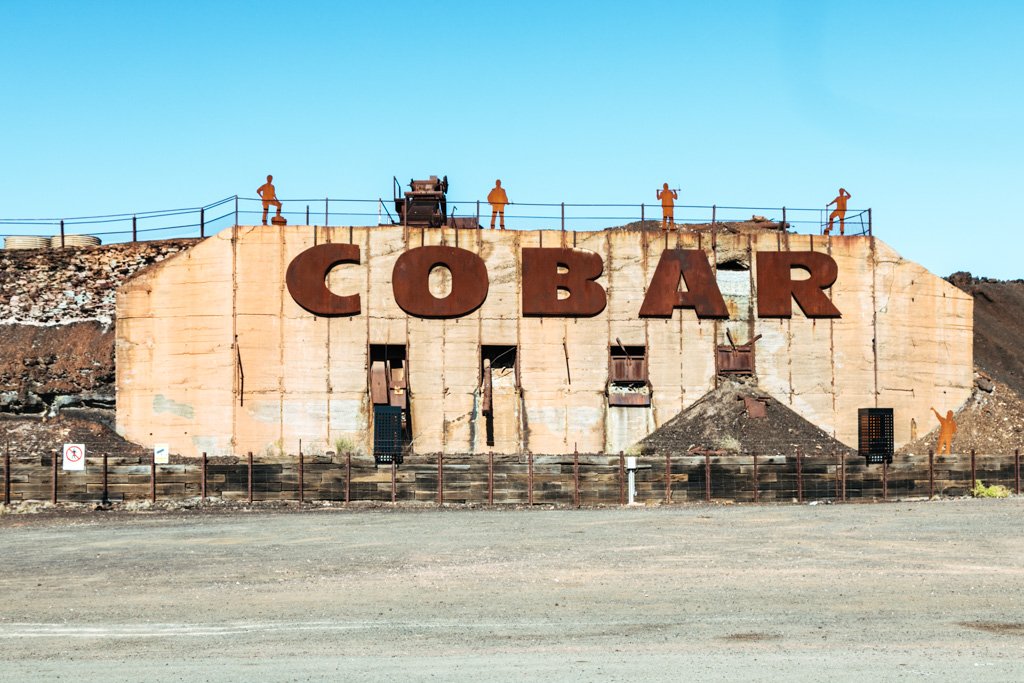 Cobar
It's a 5-6 hour drive from Dubbo to Wilcannia, with Cobar fitting into the Sydney to Broken Hill road trip itinerary nicely as a stop at the approximate halfway point.
Cobar (aka "The Copper City") has been a copper mining town since its discovery in 1870, and was Australia's top copper producer at one point. It's worth a quick stop to check out the mines and learn a bit about Cobar's mining history, but you probably won't need more than an hour or two to take in the town.
We stayed overnight at the Copper City Motel and had a hell of a time trying to find (somewhat) healthy dinner options. FYI if you're vegetarian, your only option will be the (oh-so-creatively named) Cobar Thai Restaurant.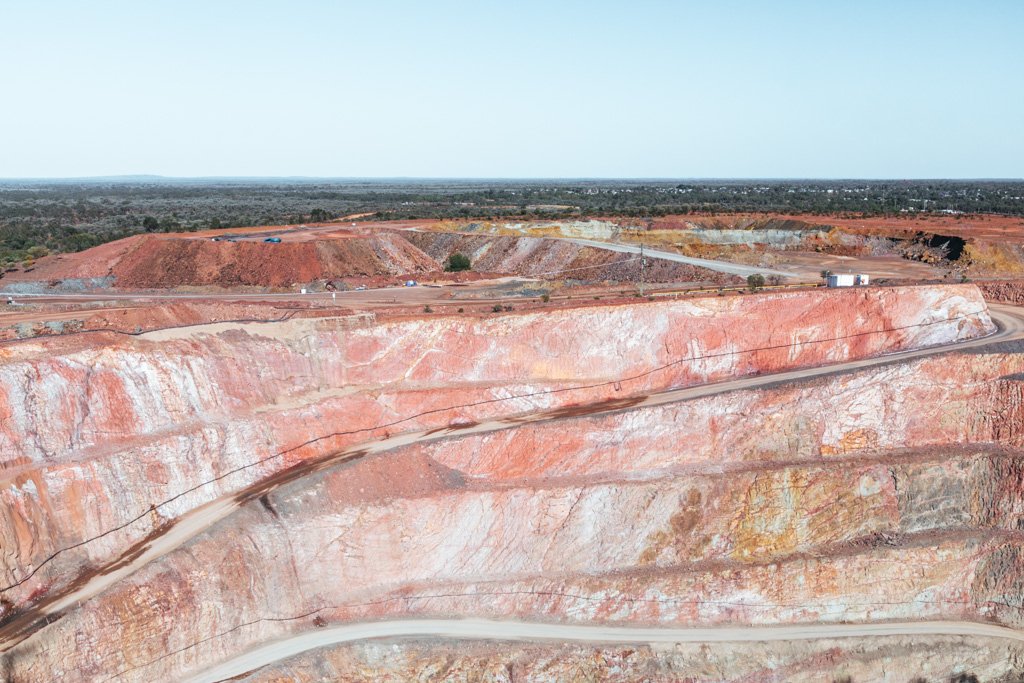 View from Fort Bourke Lookout in Cobar, NSW.
Things to do in Cobar
Drive up to Fort Bourke Lookout and gaze out at the colorful New Cobar Open Cut Gold Mine (photo above). It's actually cooler than it sounds and well worth a look.
Go for a swim at the Great Cobar Open Cut, a quarry that's 150m deep and popular amongst the locals during summer.
Peruse the Great Cobar Museum, which provides a hands-on experience of the town's history. The building itself has quite a history, having been a boarding house, a "haunted" house, and the admin office for the Great Cobar Copper Mine at various stages. Tickets are $12.
Amble through the Cobar Heritage Walk, which starts at the Great Cobar Museum and takes you past most of the places of interest in town, including the miners' cottages. Stop by the visitor's centre for a map of the walk.
Walk along the Main Street and check out the old-timey buildings. The Great Western Hotel stands out the most with its 100-meter-long cast iron veranda (the longest in the country, apparently!).
Check out the brand-new (as of 2022) Cobar Sound Chapel, a permanent sound art installation playing a string quartet soundtrack from approx. 9am-3pm daily (or 10am-4pm during summer). Admission is free, but you need to pick up the key from the Great Cobar Museum to access the chapel.
Take a 33km detour on your way to Wilcannia to check out the aboriginal rock art at the Mount Grenfell historic site. It's said to have some of the best Aboriginal rock art in all of Australia, as well as ochre pits and a waterhole. There's a 5km walk you can do that takes you to a picturesque lookout over the plain. (Note: Allow about a half day for this detour)
Where to stay in Cobar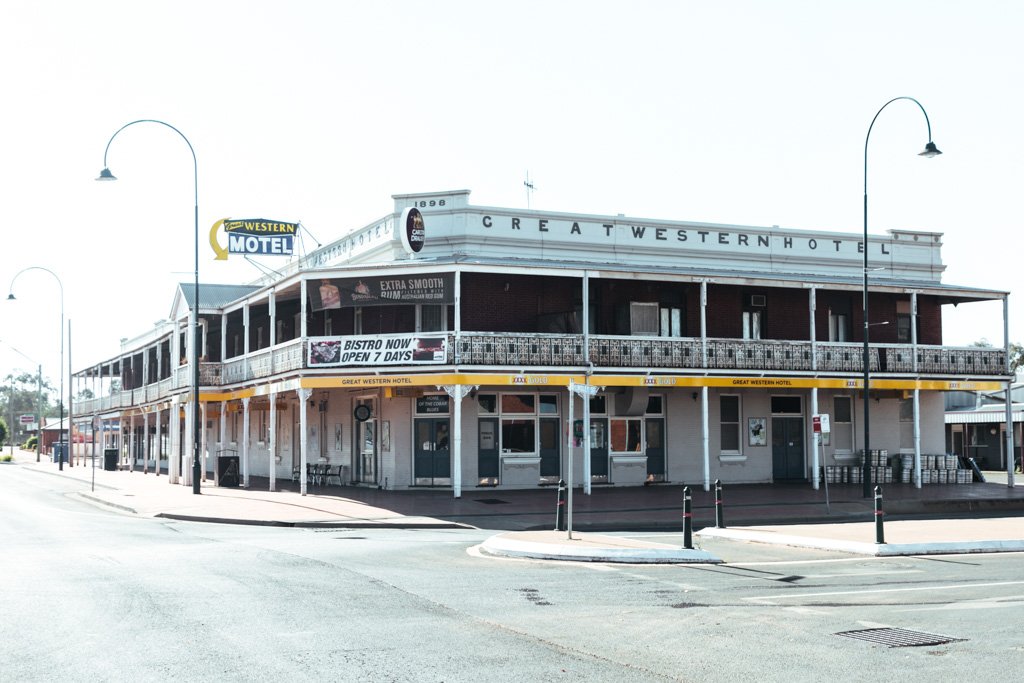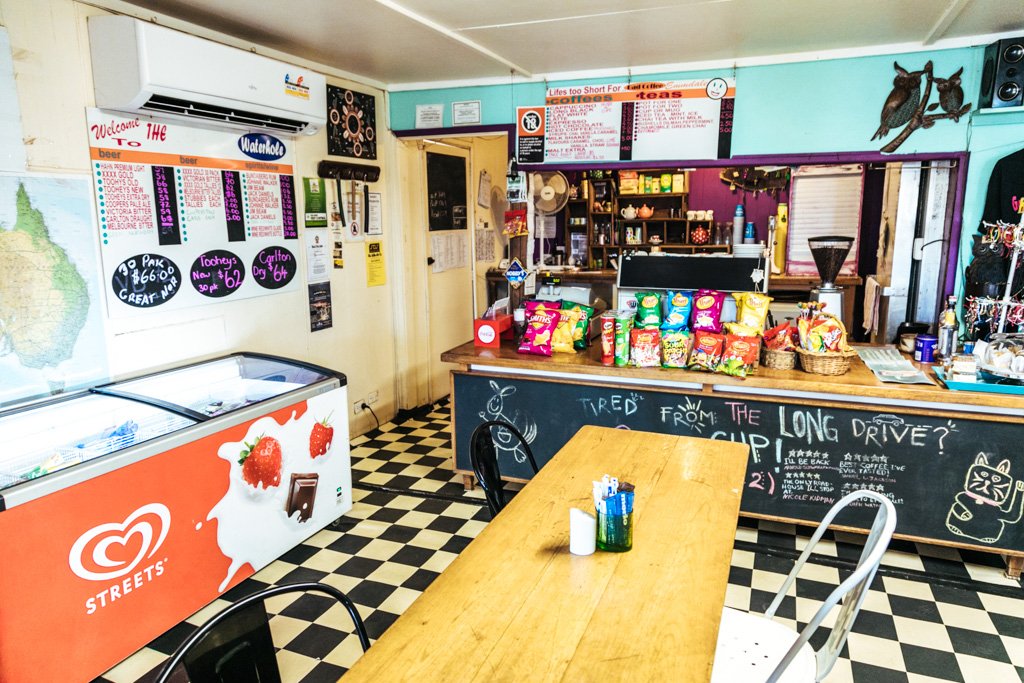 Emmdale Roadhouse.
If you're itching to stop for food or fuel between Cobar and Wilcannia, the Emmdale Roadhouse will sort you out. They boast the best coffee on the Barrier Highway – I can confirm this is false. Or if it's true, then there is absolutely no coffee worth drinking on this drive until you reach Broken Hill.
Still, definitely stop for a break and to feed the resident roos out the back!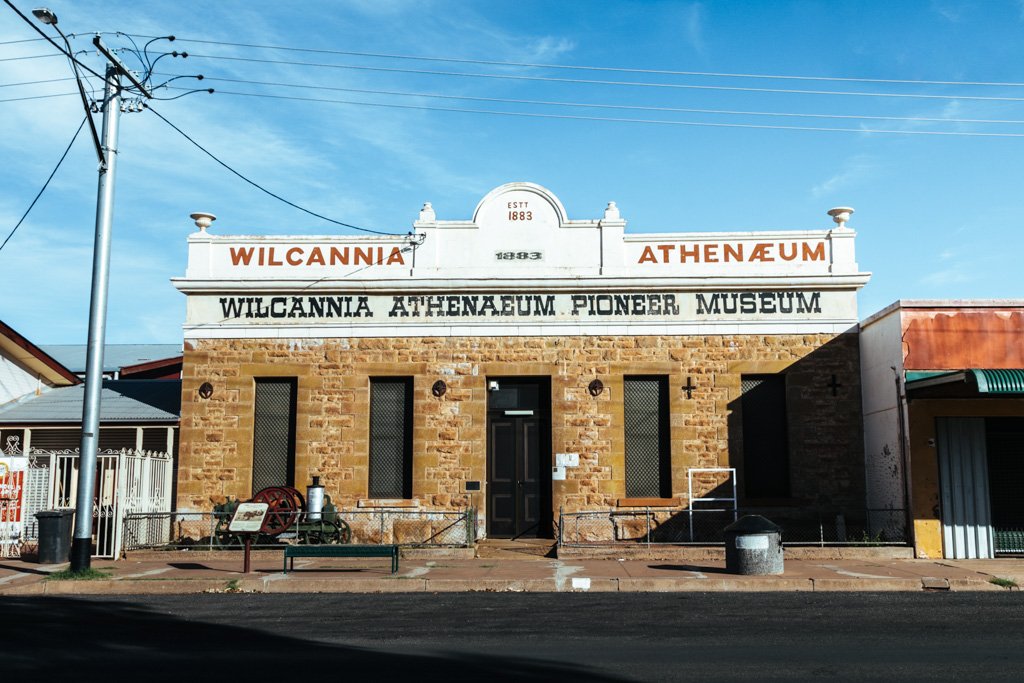 Wilcannia
In contrast to Cobar's copper, Wilcannia is (or used to be) all about wool.
This historic port town sits on the Darling River and at one point was the third-largest port in NSW, transporting wool and wheat along the Darling in the 1800's. More than that, it's been inhabited by the Barkindji people for over 40,000 years, so there's also some Aboriginal influence.
These days, Wilcannia's got more of a sleepy town feel to it. It's an ideal place to slow down and relax before carrying on with the rest of your Outback NSW road trip.

Definitely not the real Bondi Beach!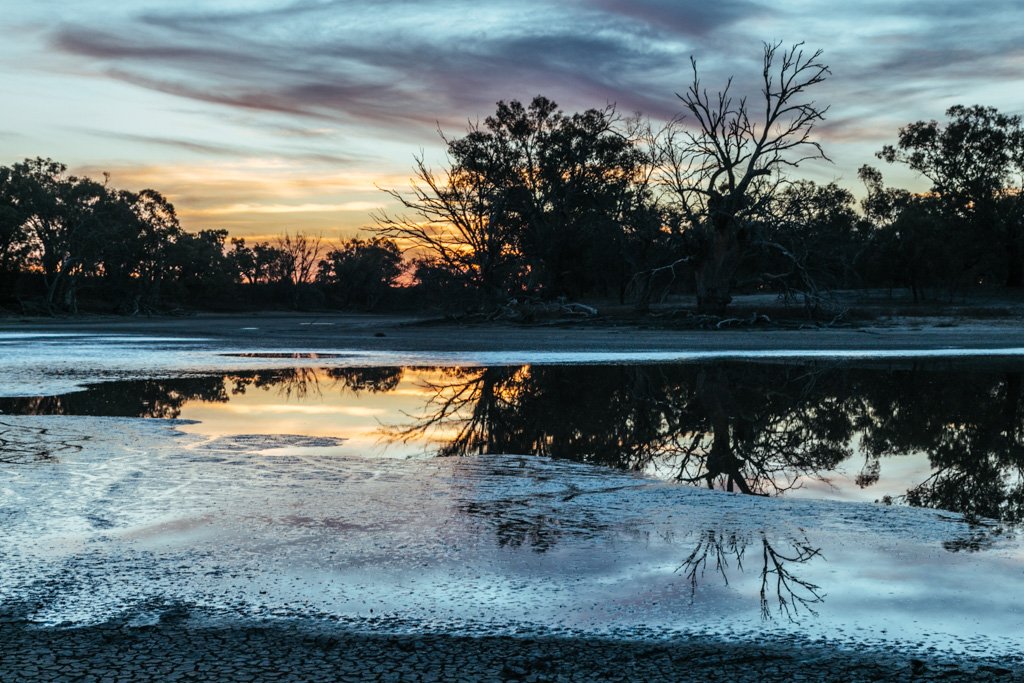 Warrawong on the Darling.
Things to do in Wilcannia
Walk around town and admire the old heritage building facades (great for photo shoots!).
Stay and relax at Warrawong on the Darling. Lounging on the veranda with a cold beverage in hand is a must, but also be sure to pay a visit to Rissole the resident emu and go for a drive or walk on the property's scenic dirt trails. You can grab a mud map from reception to see where the trails are. Also, be sure to check out some art by local Aboriginal artist Eddy Harris, who works and displays his paintings on the property.
Grab dinner at the Green Dragon Restaurant, tucked in the back corner of the Wilcannia Golf Club. There aren't many dining options in town, but this place does really good Asian fusion and understandably is quite popular amongst the locals.
Enjoy coffee and sweet treats at the Cooee for Coffee cart. I haven't visited since it opened after I did my Sydney to Broken Hill road trip, but word is that this is the best coffee you'll find before you hit Broken Hill.
CLICK TO BOOK A STAY AT WARRAWONG ON THE DARLING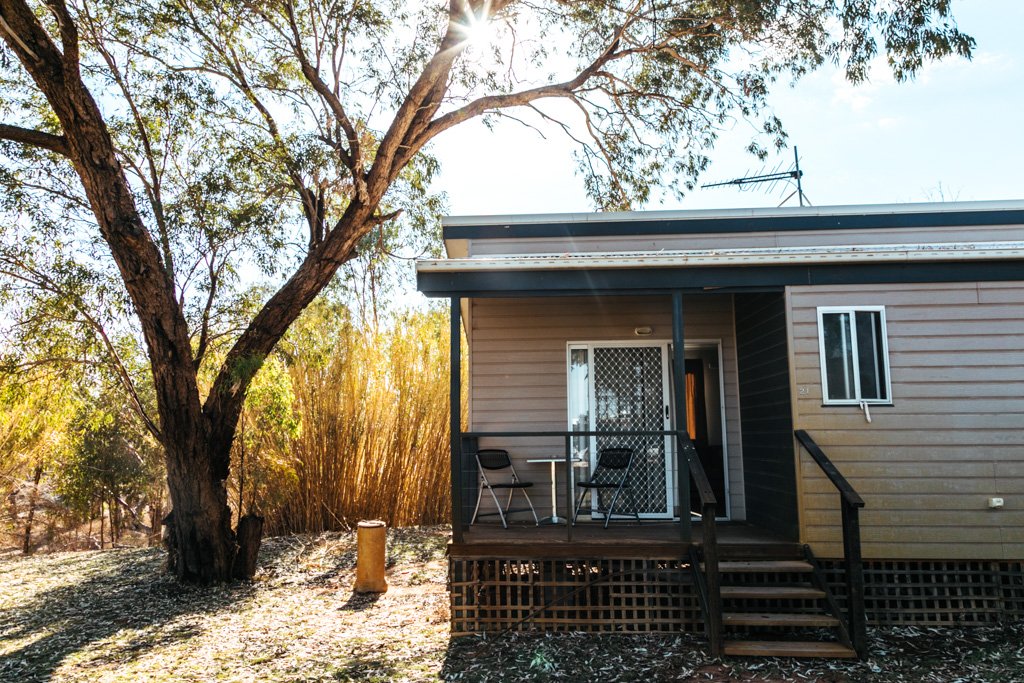 Warrawong on the Darling.
White Cliffs
It's only about an hour's drive from Wilcannia to White Cliffs, which is actually a detour from the Barrier Highway. Whatever you do, do NOT miss this stop on your Sydney to Broken Hill NSW Outback road trip! It was the highlight of ours and we really wish we'd had more than a half day to spend here – which is why I've given it a full day on this itinerary ;)
So what's so special about White Cliffs, you ask? Simply put, it's unlike anywhere else I've ever been.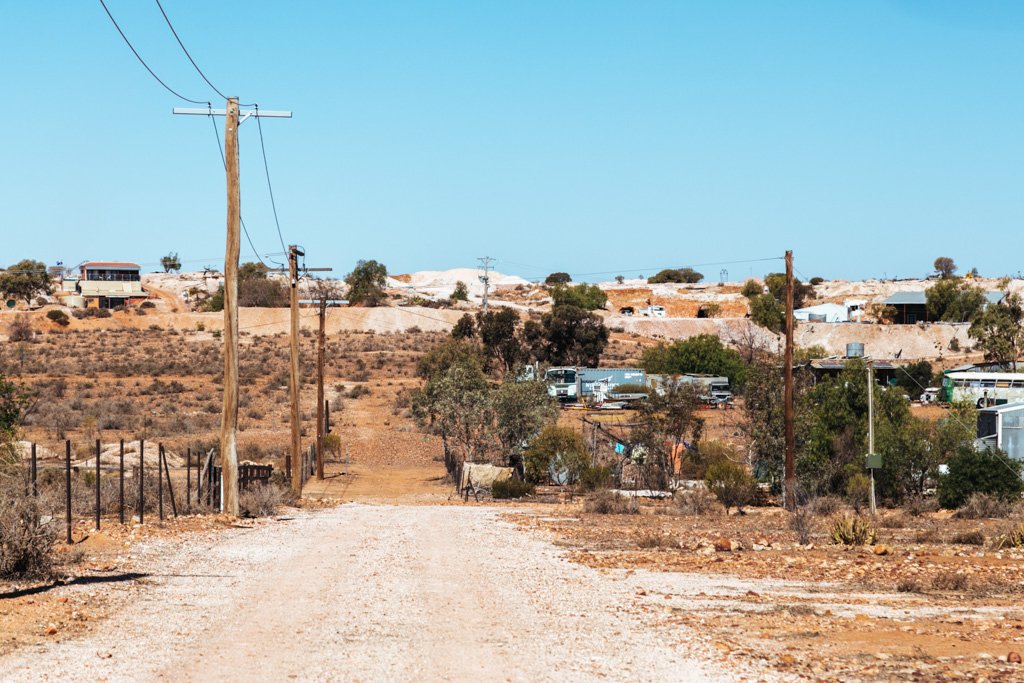 White Cliffs is an opal mining town where most people live in underground homes to avoid the hot summer temperatures. These "dugouts" are built into hills and stay cool throughout the year.
In that sense, it's similar to Coober Pedy – but unlike its big brother in South Australia, White Cliffs is a bit more off the beaten track and significantly less touristy. In fact, we had the whole town to ourselves when we visited.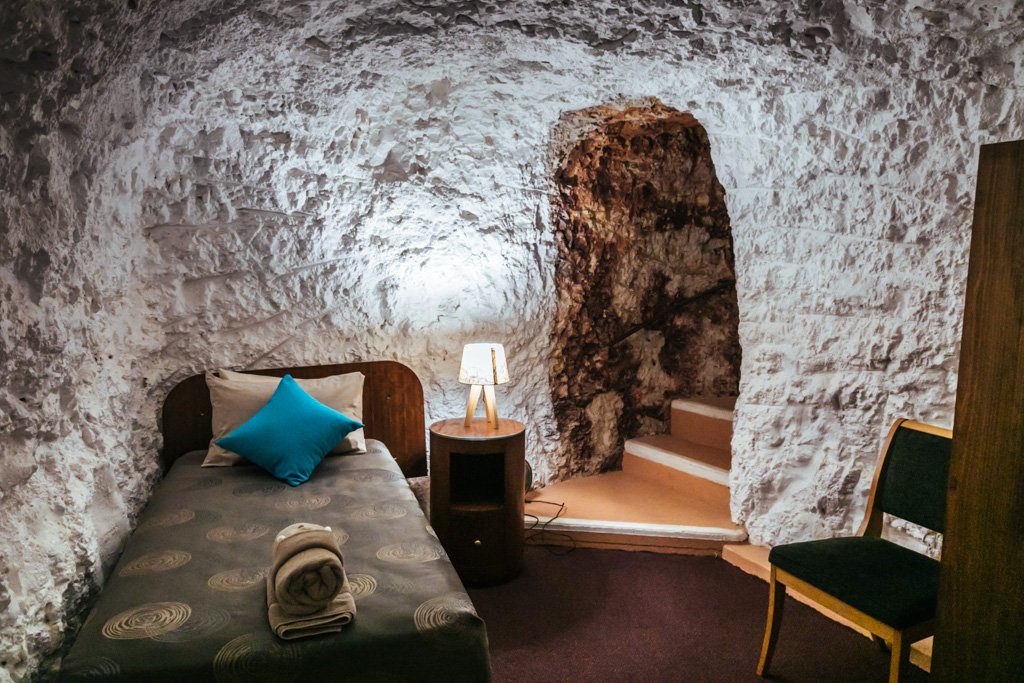 Things to do in White Cliffs
Tour *and stay at* the Underground Motel, which boasts 30 underground rooms, all free of mobile phone signal and TVs so you get to experience authentic underground living. The rooms feel like little caves with their exposed rock walls – it's the coolest thing! (Note: this hotel is closed from early December through mid-March, the hottest time of year in White Cliffs)

Visit the White House (aka Cree's House) to see a creative take on designing and furnishing an underground home in White Cliffs. A house tour might not sound like the most exciting way to spend an hour, but believe me: this is an absolute must-do in White Cliffs! Cree's house is beautifully decorated, with all-white walls to help with lighting and temperature, and strategically drilled holes in the walls to aid in circulating air around, as the house doesn't get any sunlight and has no heating or cooling. As a result, it stays 19-23C inside year-round, even on a 40-degree summer day. Tours of the White House run daily at 11am and 2pm and cost $10/person. Look for the sign 150m back from the Red Earth Cafe.
Peruse the Outback Treasures outdoor 'museum'. It's essentially a fenced-in area in someone's backyard full of rusty… *treasures*. Only in the Australian Outback!
Have a look at the Stubbie House – yes, a house made entirely of glass bottle-bottoms. Inside there's a little shop selling (very pricey) opal jewelry, all made from opals mined around White Cliffs.
Take the Red Earth Opal Mine tour to learn about the local mining history, see some live demos of the mining equipment, and dig for opals yourself. You'll be touring a working opal mine that's 45 feet underground! Tickets cost $35.
READ MORE IN THIS POST: White Cliffs: Underground Living in Outback NSW
CLICK TO BOOK A STAY AT THE UNDERGROUND MOTEL
Broken Hill
The drive from White Cliffs to Broken Hill takes about 3 hours. There's not much in-between the two, save for a roadhouse in Little Topar – ideal for fueling up if you're low on petrol or blood sugar. If you're lucky, you might get to share your ice cream with a visiting sheep!
Upon arriving in Broken Hill, we took it easy and hung out at The Silly Goat cafe which has AMAZING coffee and some really good brunch dishes – the kind of cafe that would not be out of place in Melbourne. It's a great spot to hang with a book or your laptop and escape the heat outside, and would definitely be my unofficial office if I lived in Broken Hill!
We also wandered down Argent Street and checked out some shops, galleries, and old heritage buildings before rounding out the day at the Broken Hill Outback Resort, where we dined and camped in swags for a night. It features a restored pub with a wraparound veranda – absolutely PERFECT for cooling off with a drink and some nibbles, and watching the sun go down.
CLICK TO BOOK A STAY AT THE BROKEN HILL OUTBACK RESORT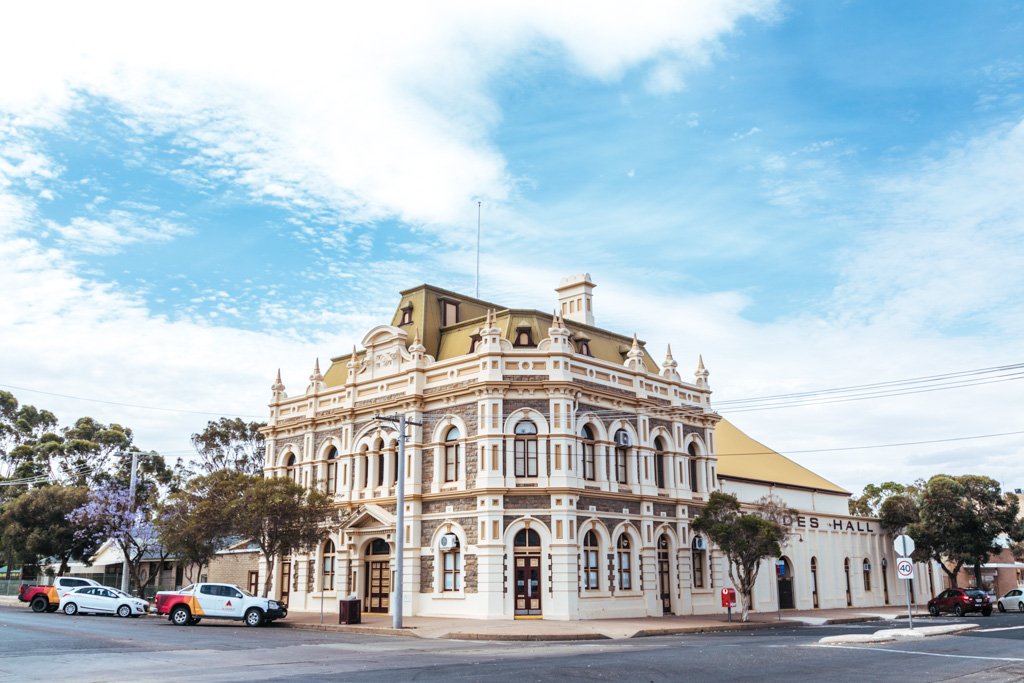 There's no shortage of things to see and do in and around Broken Hill. Apart from wandering around the town centre, you might also enjoy filling your day with the following:
Things to do in Broken Hill
Pop into the iconic Palace Hotel and ogle the murals that cover nearly every inch of wall space, or grab a drink from the iconic pub inside. FYI this is where Priscilla, Queen of the Desert was filmed, so it's *kind of* a big deal in town.
Stroll up and down Argent Street, the main road in town, and admire the beautiful old heritage buildings. Did you know that Broken Hill is Australia's first Heritage Listed city? That honor is largely due to these historic buildings. There's also a host of art galleries on or just off Argent Street that are well worth popping into, such as the Pro Hart Gallery (fun fact: There are 2x as many art galleries as pubs in Broken Hill!). Or, if art isn't your thing, there are lots of unique little storefronts on Argent where you can do some shopping.
Visit the Living Desert and Sculpture Symposium about 15 minutes outside of Broken Hill. Here you'll find 12 sandstone sculptures set atop a hill overlooking the desert landscape. Aim to visit around sunset if you can and you'll have a prime view of the sun going down over the Outback. It costs $6 per person to enter, payable at the kiosk by the park entrance.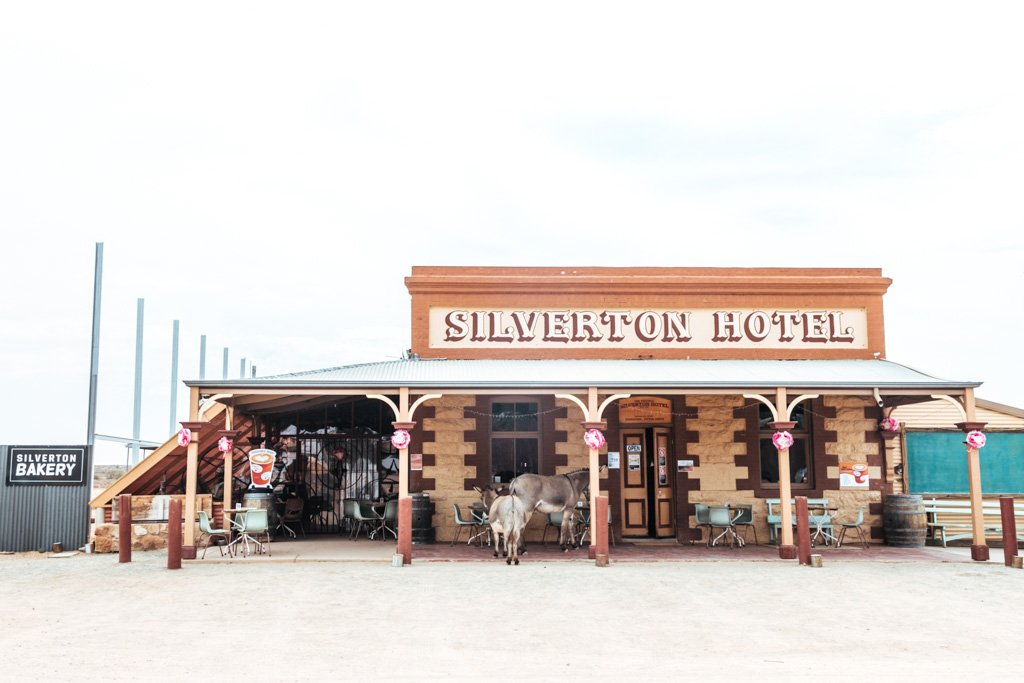 Where to stay in Broken Hill
Broken Hill Outback Resort – A gorgeous property just 10 minutes outside of town that combines a caravan park, some luxury cabins, and a bustling bar/restaurant that's a popular local hangout.
Argent Motel – A basic/affordable accommodation option in town.
Red Earth Motel – A highly rated hotel with modern furnishings and a central location.
READ MORE IN THIS POST: 10 Things Not To Miss in Broken Hill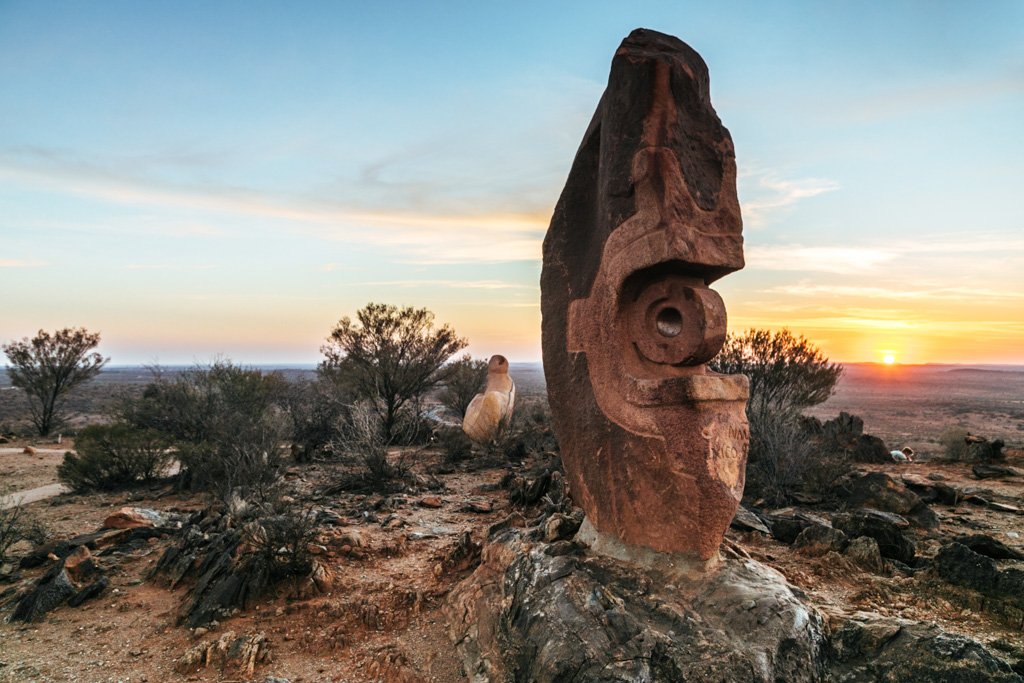 Outdoor Sculptures near Broken Hill.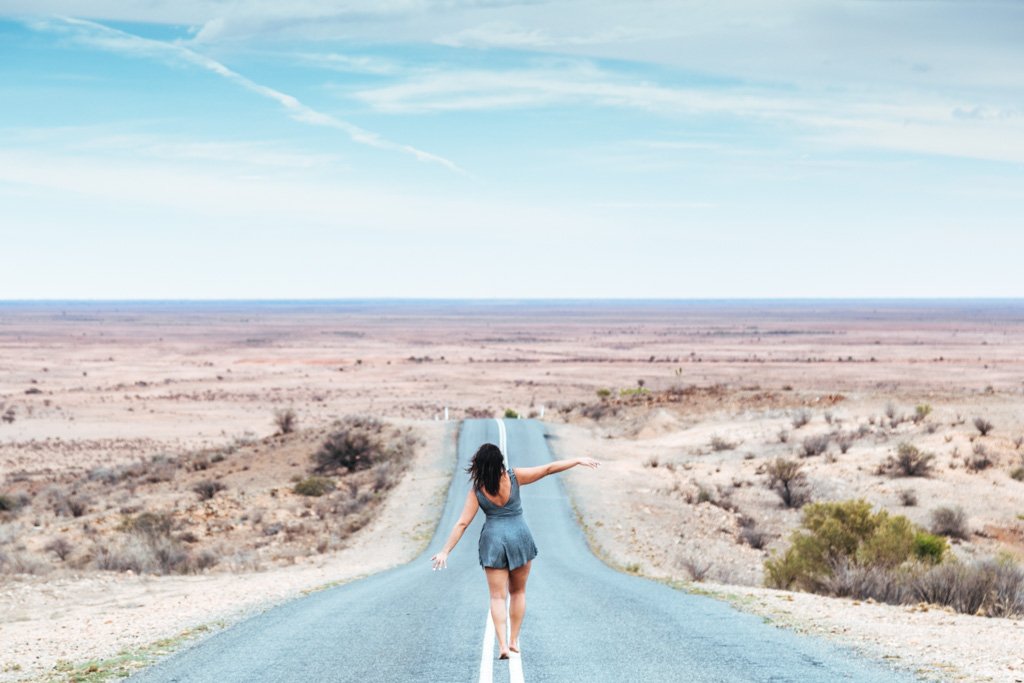 Mundi Mundi lookout.
Mutawintji National Park
If you're into off-the-beaten-path adventures, you should definitely stop at Mutawintji National Park on your Sydney to Broken Hill road trip. It's about a 2.5 hour drive from Broken Hill and makes for a great day trip, but can also be done as an overnight trip if you're keen to camp there.
Mutawintji is Outback NSW at its best, rife with Aboriginal history and red rock adventures galore. You'd be excused for mistaking it for the Northern Territory, as it looks nothing like the rest of New South Wales.
Mutawintji is the traditional home of the Malyankapa and Pandjikali people, who have left behind heaps of intricate rock carvings and stencils. You can spot some of them while hiking through the park, or by booking a tour (more details below).
Things to do in Mutawintji National Park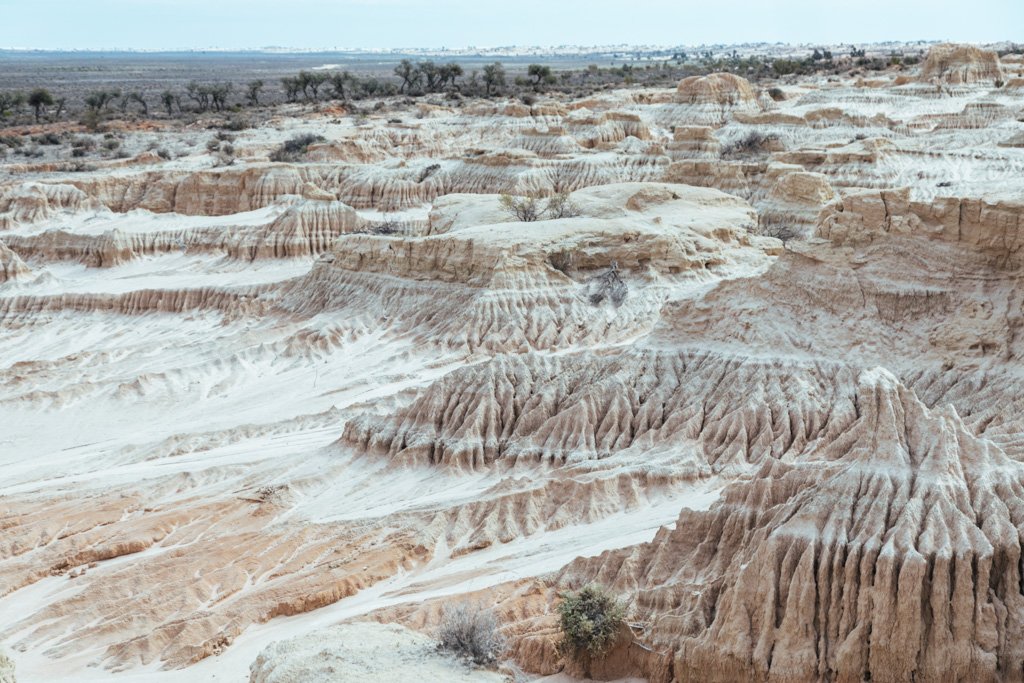 Mungo National Park
It takes 4.5-5 hours to drive from Broken Hill to Mungo National Park, though Google Maps will overestimate this time due to the dirt roads leading into Mungo. Don't worry, it doesn't take a full day to make this drive! Also, I recommend you go via Wentworth (even though Google will likely choose the other route) – the roads are better on the Wentworth route.
I promise you though, Mungo is SO worth the trip either way. In my mind it's akin to what I imagine the landscape on Mars to be like. There's just nothing like it anywhere else in Australia (or perhaps even the world?). Picture miles of cemented sand and clay, ranging from white to red to brown in color, dotted with conical rock formations and lined with sand dunes.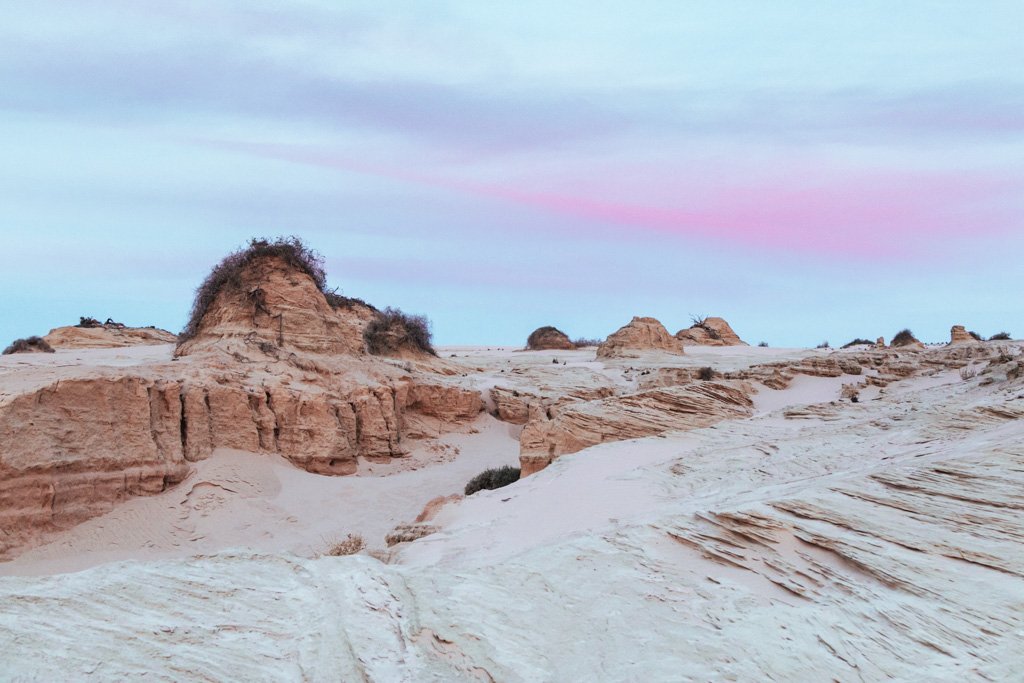 Assuming you arrive in Mungo by late afternoon, head straight to Mungo Lodge and book onto their sunset tour of the Walls of China (tickets are $75 and go for 2 hours).
This is the most fantastic and picturesque part of the whole park and in order to preserve it, visitors are only allowed access via a tour like this. During the tour, you can stick with the tour guide and learn more about Mungo, or you're free to wander from the group to take photos.
CLICK TO BOOK A CABIN OR CAMPSITE AT MUNGO LODGE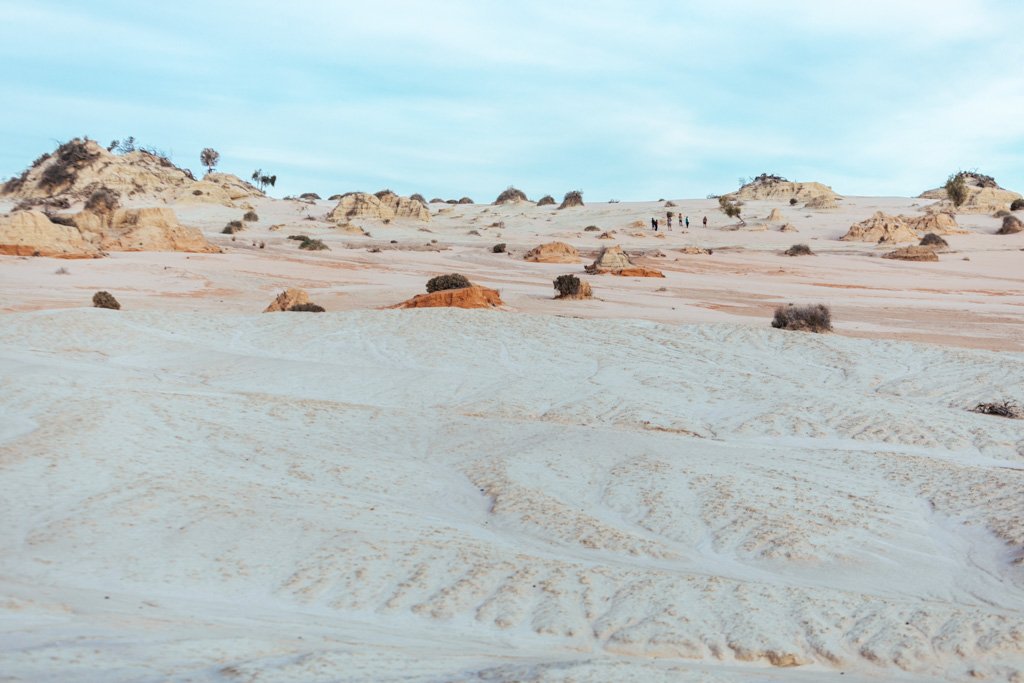 Spend the next day embarking on the Mungo self-guided drive tour, essentially a loop around the park where you can stop off at various points of interest. There are a few walking trails and picnic areas if you have the time to linger, but if you only have time for a few stops, let it be these:
Things to see in Mungo
Walls of China – The best part of Mungo. Definitely stop at the viewing platforms, but also book a sunset tour with Mungo Lodge so that you can explore inside and see it up-close (remember, you can't access inside if you're not on a tour).
Mungo Woolshed – This building was constructed in the 1800s from cypress pine tree logs and used to be used for sheep shearing. These days it's no longer in use, but you can go inside and look around.
Vigars Wells – Picturesque white sand dunes made for frolicking (slash jumping around in a red dress).
The Mungo Track – A 70km loop track that you can walk, bike, or drive, that takes you past all the main sights in the national park. There's a national park campsite along the track where you can stay overnight in seclusion (more details below).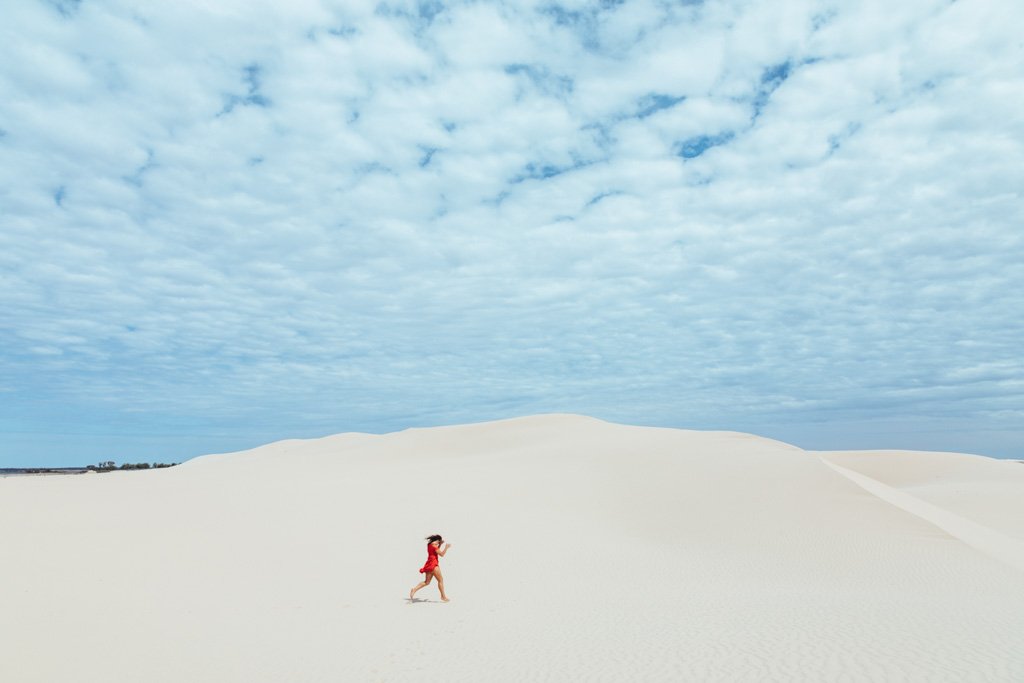 Where to stay in Mungo
Mungo Shearers' Quarters – Bookable through the NPS website, a room in the shearers' quarters is $69 for 3 people and is conveniently located next to the visitor's centre and Mungo Loop Track.
Mungo Lodge – A privately-owned accommodation on the edge of the park offering cabins ($299+ per night) and camping ($29/person per night for an unpowered site). There's a restaurant onsite and a very nice lounge area in the main building where guests can hang out.
Mungo National Park Camping – The NPS offers two campgrounds: the Main Campground and Belah Campground, which go for $24.60/night per campsite.
READ MORE IN THIS POST: Mungo National Park: Like Mars on Earth
Thank you to Out of the Ordinary Outback for providing us with accommodation on our Sydney to Broken Hill road trip. Note that all opinions expressed here and elsewhere on this blog are my unbiased own, and are uninfluenced by any gifts or incentives I may receive.
Pin it!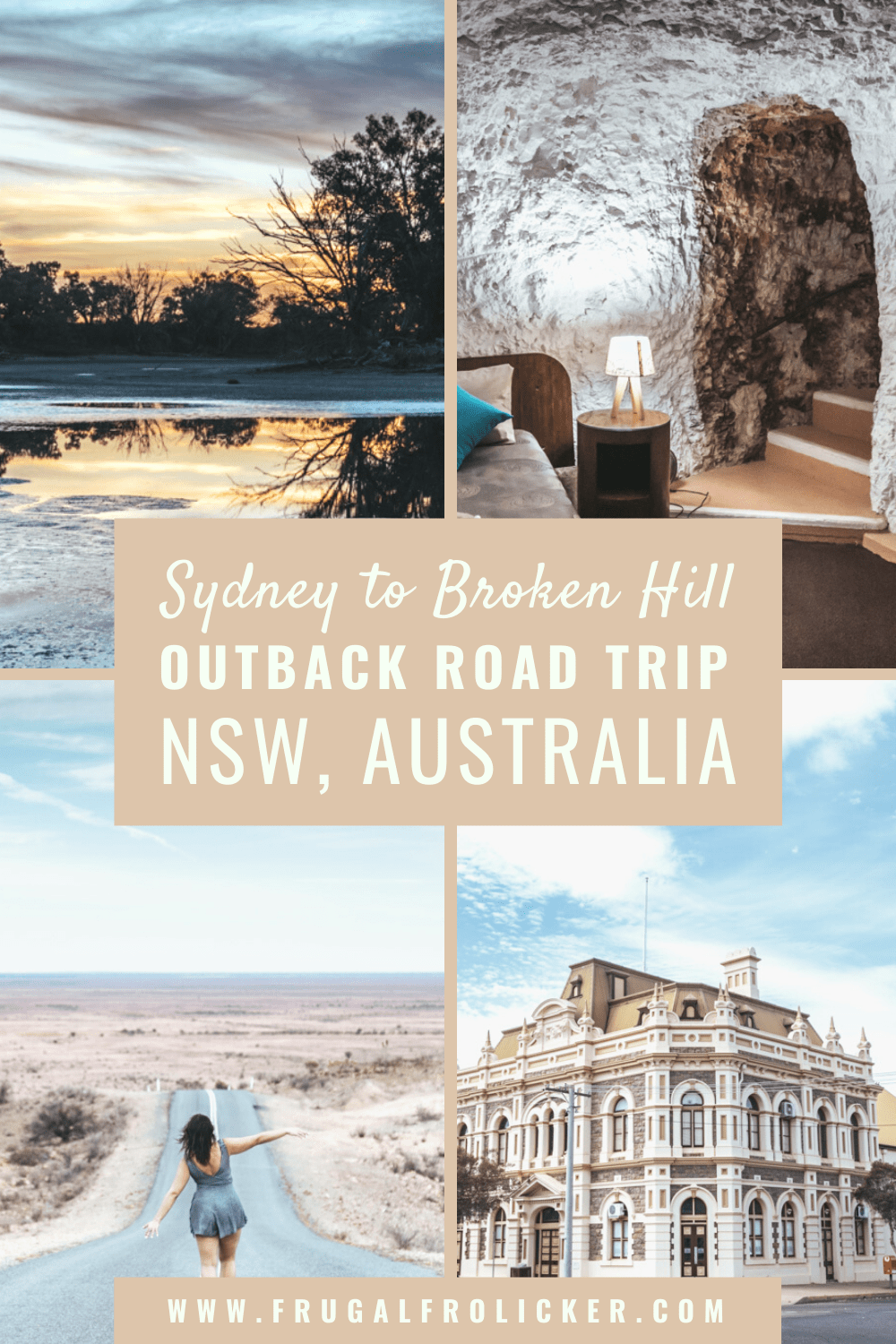 Pin it!