Coober Pedy is probably the most well-known (read: touristy) mining town in Australia, but if there's anything I learned on my recent road trip from Sydney to Broken Hill through Outback New South Wales, it's that this country's got plenty of other mining towns. Are they all worth visiting? No way. I'd conjecture that most of them exist solely for the purpose of mining and have little else to offer visitors.
White Cliffs, however, is definitely worth a trip. Situated in northwest NSW about a 3 hour drive from Broken Hill (another mining town!), its claim to fame is its opal mines, and its residents occupy 'dugouts' or underground homes built into hills.
Visit White Cliffs to get a glimpse into underground living and opal mining, soak up the Outback atmosphere, and see some quirky things you might not find elsewhere.
Here's what to do in White Cliffs if you do decide to visit:
The Underground Motel
The only thing I knew about White Cliffs before we arrived was that it has an Underground Motel that you can stay in overnight. Sadly we didn't stay here, but we did get to pop in and tour the venue.
Like most of the buildings in town, the motel is built into a hill and stays cool throughout the year, even on the punishingly-hot summer days that Outback Australia endures each year. It boasts 30 underground rooms that accommodate anywhere from 1-5 people, all free of mobile phone signal and TVs so you get to experience authentic underground living.
Really, I feel like the novelty of hanging out in a cave-like bedroom and getting lost in a maze of cavernous hallways would be more than enough entertainment for me. Bring on the digital detox!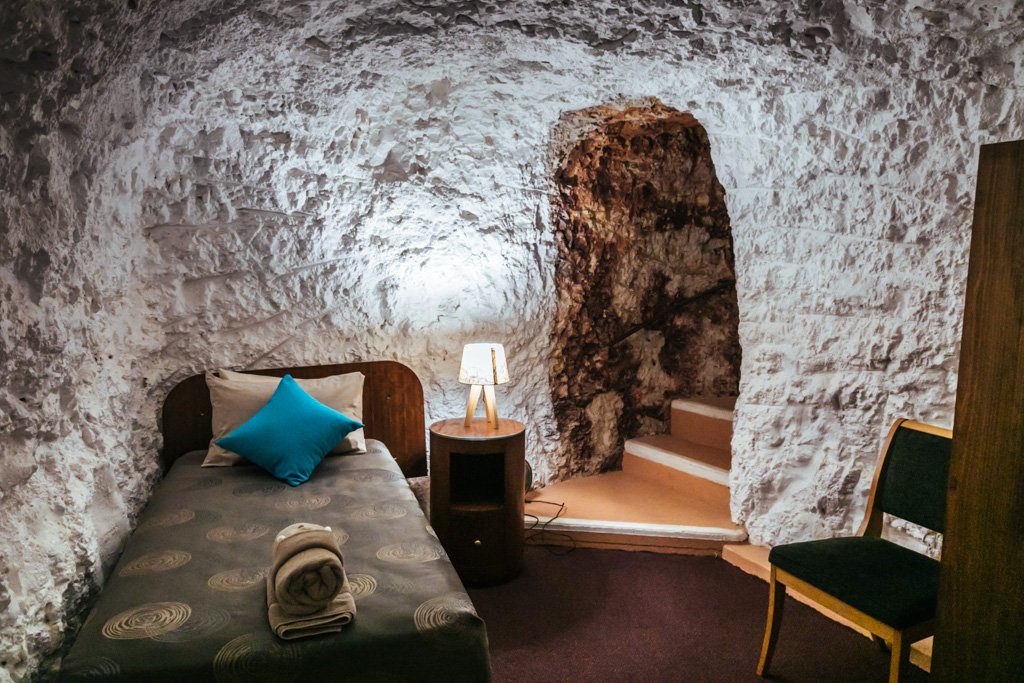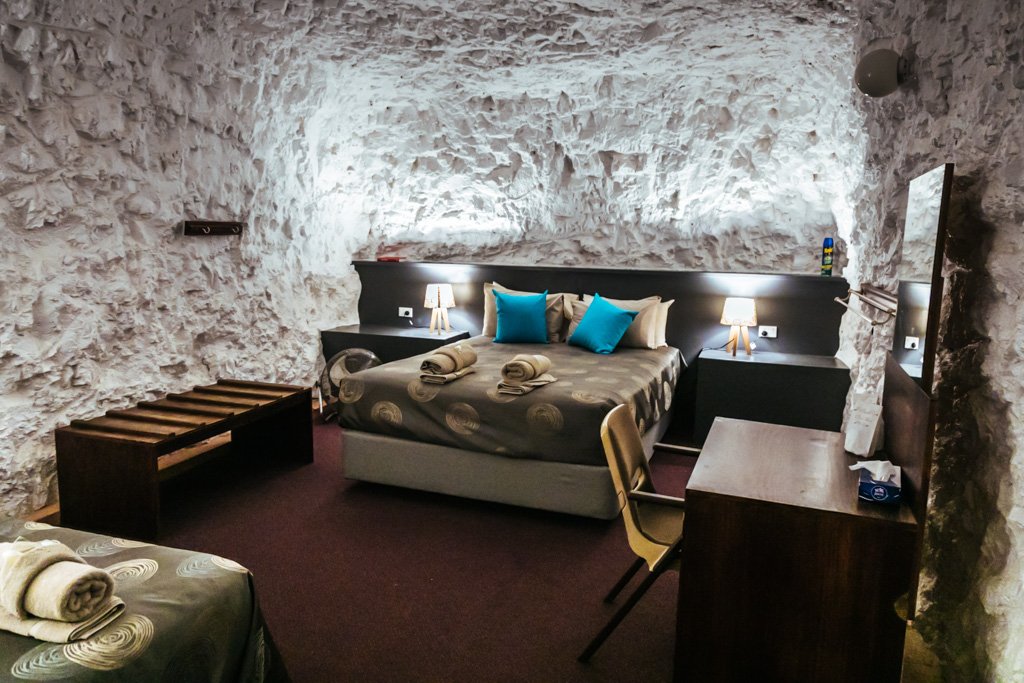 The Underground Motel is closed from December through mid-March each year, as White Cliffs typically sees few visitors during summer months. Room rates range from $118-149/night and include breakfast.
Outback Treasures
While wandering the streets of White Cliffs (which doesn't take long, by the way, in a tiny town with a population of < 200), I spotted what appeared to be a junk yard slash garden of old rusty items including tools, car parts, and iron statues. There's a sign up asking for a $2 donation for anyone who wants to walk around and have a look at them.
Kinda weird, kinda cool, very Outbacky. I dig it!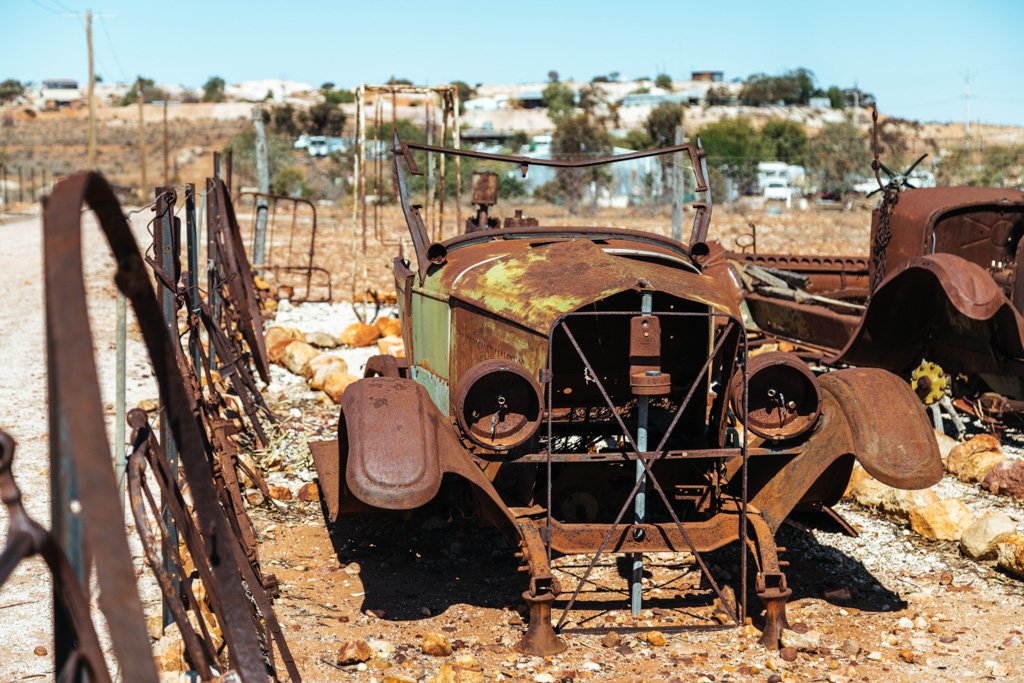 The White House (Cree's House)
I have to admit, we weren't exactly bursting with excitement to pay a visit to the White House in White Cliffs. House tours aren't exactly my thing – hell, tours in general aren't my thing.
But at the urging of a few different people who declared it a "must-do", Marijs and I rocked up to one of the many nondescript underground homes in White Cliffs and were welcomed inside by Lindsay (fun fact: Lindsay is a common male name in Australia) and his gorgeous cat Donna (another fun fact: Donna is my mom's name, and I'm pretty sure she's reading this so HI MOM!).
This Lindsay fell in love with that Donna at first sight, but we put our love on hold while I got whisked away on the house tour.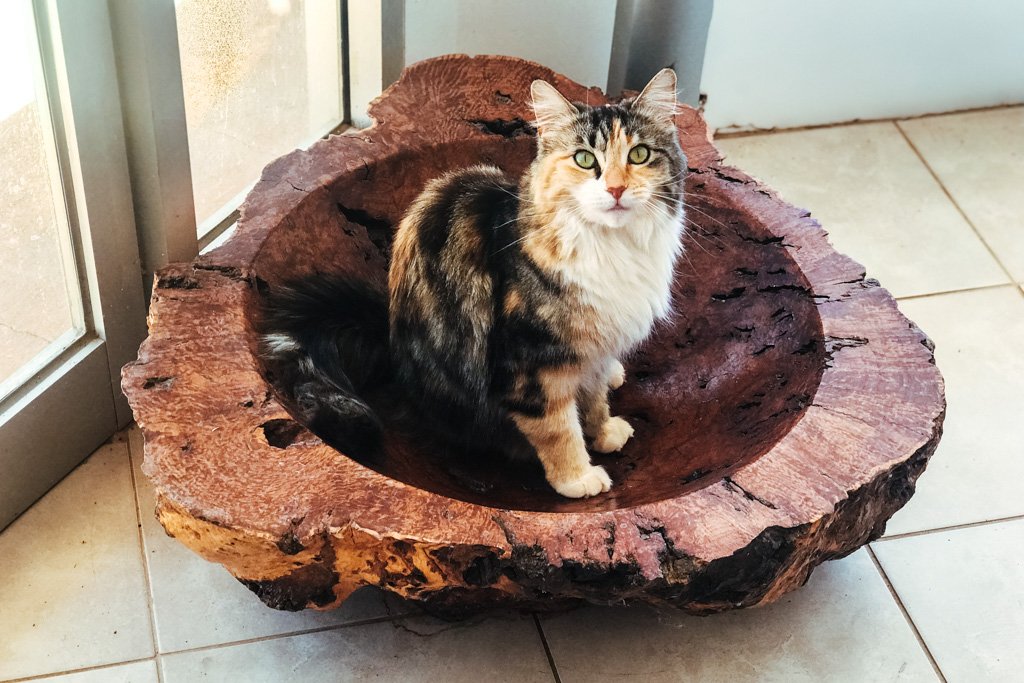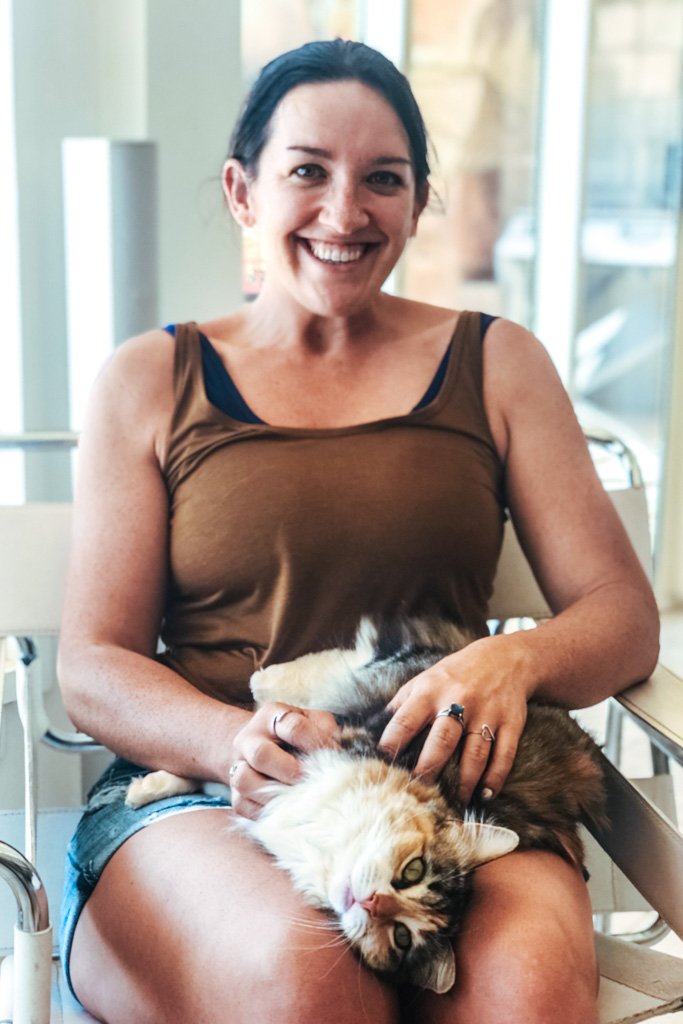 Well, let's just say we morphed from unenthused to mindblown almost instantly, our jaws steadily dropping further to the floor as we made our way through the cave-turned-home. Lindsay explained that they painted the entire thing white to help with lighting and temperature, and strategically drilled holes in the walls to help with circulating air around, as the house doesn't get any sunlight and has no heating or cooling – and as a result, it stays a comfortable 19-23C inside year-round. We all but forgot that it was nearly 40 degrees outside while we were there.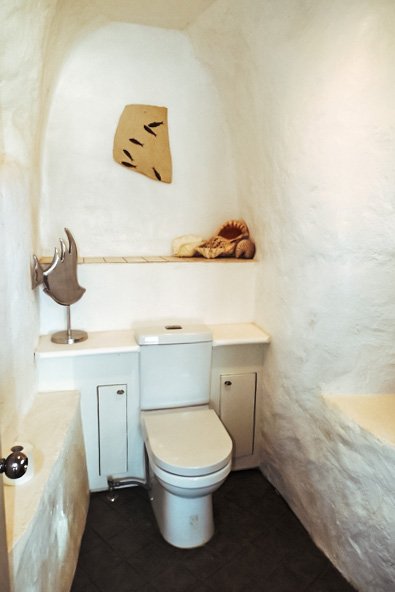 But most impressive of all is how the've decorated the house. Lindsay's partner Cree is an incredibly talented artist who takes locally-sourced recycled/natural materials and turns them into art of all sorts (paintings, collages, statues, fixtures, etc). Her works are always within eyesight no matter where you are in the house and they're absolutely BRILLIANT. My mind can't even comprehend how she comes up with the ideas for her pieces, but I guess that only ups the awe-factor.
Whatever you do, do NOT miss the White House tour in White Cliffs! Note that photos aren't allowed inside, so all of the non-cat photos above are courtesy of the owners (and edited by me).
Tours of the White House run daily at 11am and 2pm and cost $10/person. Look for the sign 150m back from the Red Earth Cafe.
Stubbie House
The Stubbie House is exactly what you think it is: a house made of old stubbies (yes, bottle bottoms). Only in Australia, I swear!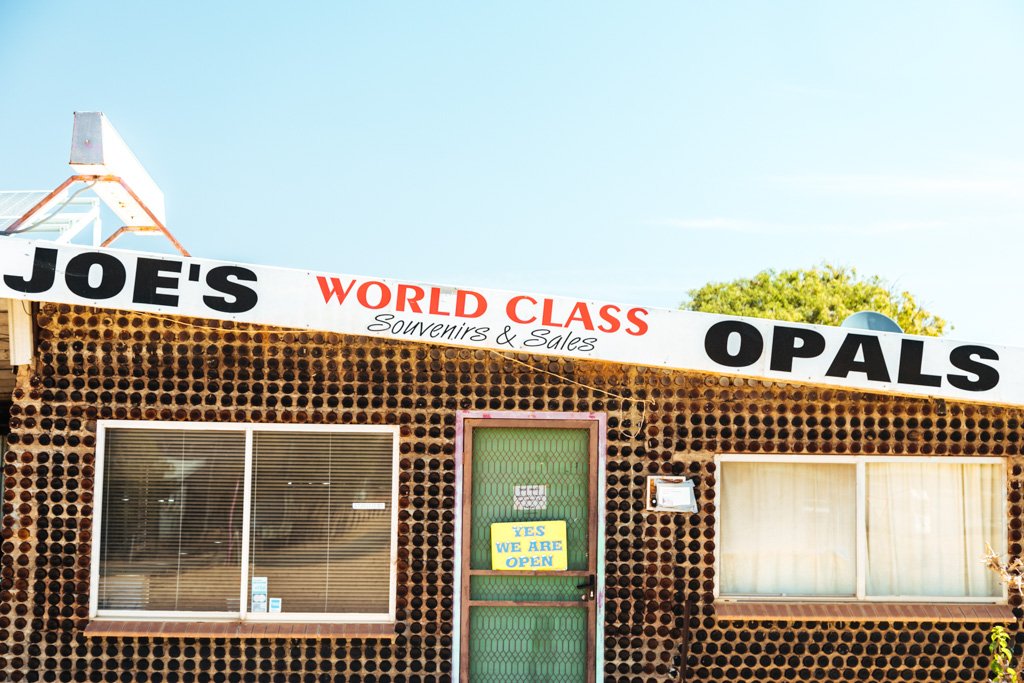 Inside there's a little shop selling (very pricey) opal jewelry, all made from opals mined around White Cliffs.
Mine Tour
Another thing that was highly recommended to us on our White Cliffs trip was the opal mine tour by Red Earth Opal. Unfortunately it overlapped with our private White House tour so we weren't able to make it.
But if you've got two hours to spare, this mine tour is well worth the time. It takes you 45 feet below ground to learn about mining history, see live demos of the mining equipment, and dig for opals yourself.
Tours run daily at 3pm and cost $20/person.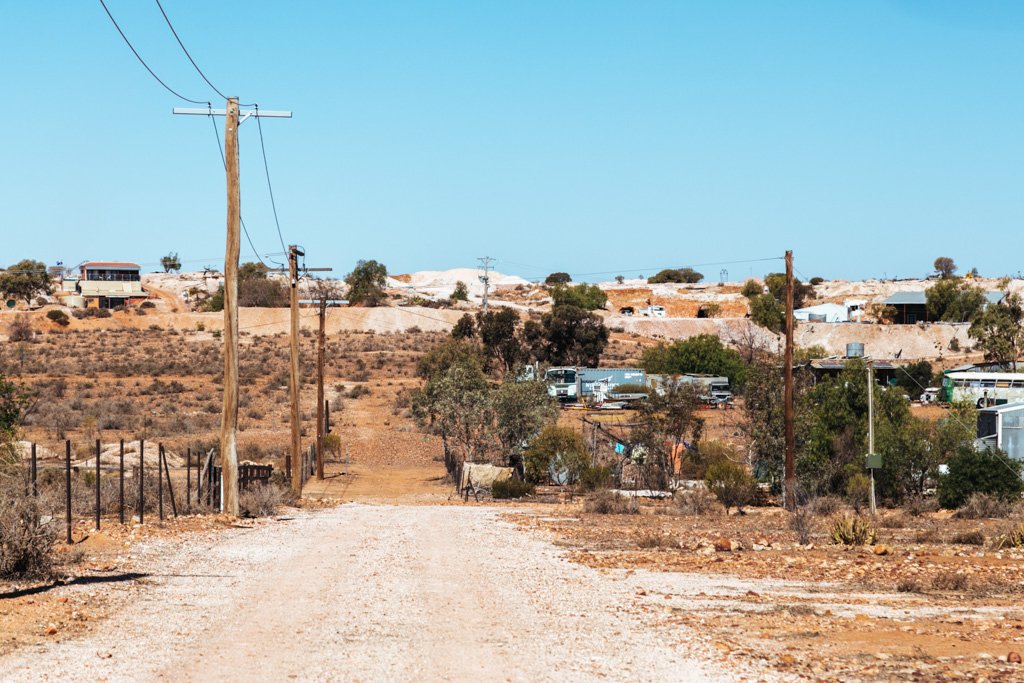 Pin it!