More than a little overshadowed by the Blue Mountains and the Royal, Ku-ring-gai is another national park just outside of Sydney that NO ONE ever seems to talk about.
Sure, maybe it's a little bit smaller, and slightly less dramatic than its counterparts… but Ku-ring-gai Chase National Park boasts bushwalks, rainforests, mangroves, Aboriginal sites, and beaches galore. What's not to love?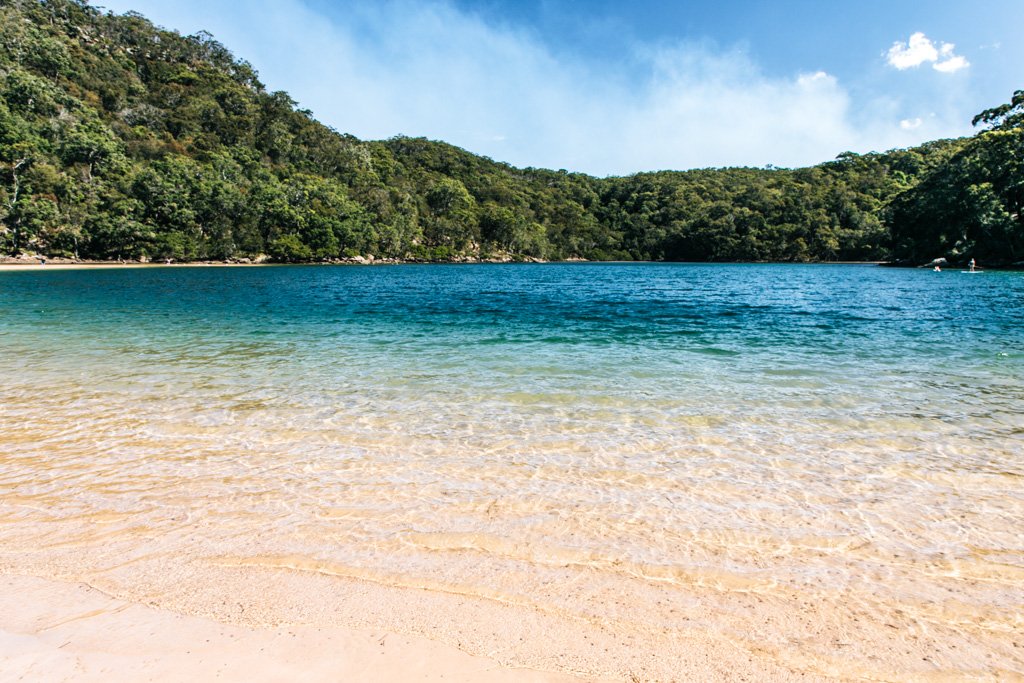 The Basin.
At just 25km north of the city, Ku-ring-gai makes for an ideal day trip from Sydney. Here are the top things you should do while exploring Australia's second-oldest national park:
The Basin Campground
One of my FAVORITE local summer getaways is an overnight trip to The Basin, a Ku-ring-gai camping ground located right on Pittwater (an open waterway full of little creeks and inlets, a top spot for boating in Sydney). It's actually the only place where camping is allowed in Ku-ring-gai Chase National Park.
The Basin campground is equipped with bathrooms and BBQs, and there are kayaks and stand up paddle boards available for hire on weekends. The Basin itself is a little inlet with calm, shallow water and a small beach.
The views of the water from here and around the campground are so gorgeous… and it just feels so peaceful and remote. It's easy to forget that Sydney is just an hour's drive away.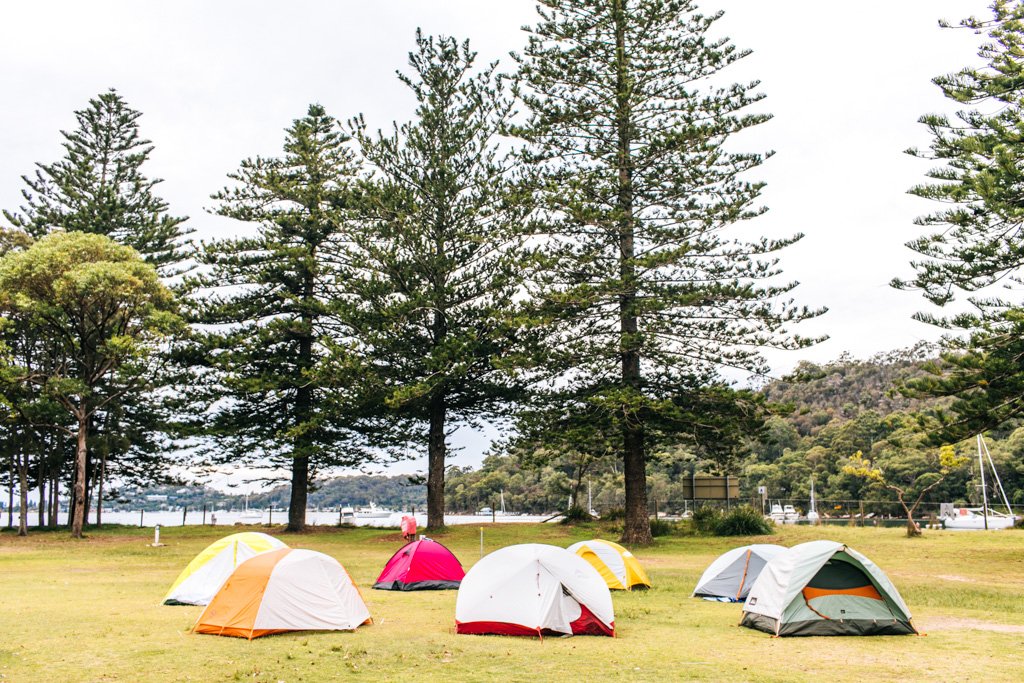 To reach The Basin campground, you can drive into the park, park at the West Head Road car park, and then hike down the steep 2.8km Basin Trail with all your camping gear… OR you can take the easier and far more enjoyable option and catch the ferry from Palm Beach (which costs $8.20 each way and only takes 20 minutes).
Book your campsite here, and check ferry timetables here.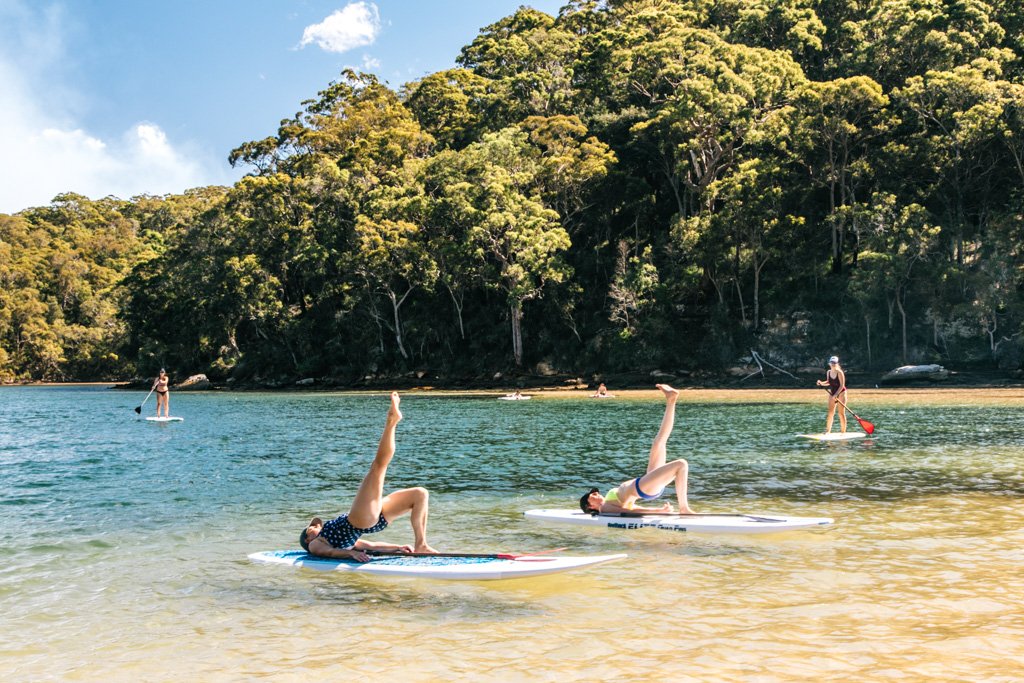 Mackerel Beach & Resolute Loop Walk
The Resolute Loop trail is one of the best Ku-ring-gai National Park walks as it's easy to access, not too strenuous, and offers great bang for your buck.
This 5.4km circuit takes you by some aboriginal rock engravings, Red Hands Cave, and West Head Lookout (which has the BEST views out toward Bouddi National Park and Palm Beach). For me, the best part is being able to access a few beautiful beaches that most people never make the effort to get too. Resolute Beach and West Head Beach sit along the loop, while Mackerel Beach is accessed via a side trail.
Wherever you end up, don't forget to look out and enjoy the views over Pittwater! There's plenty to see along the trail before you hit the West Head Lookout.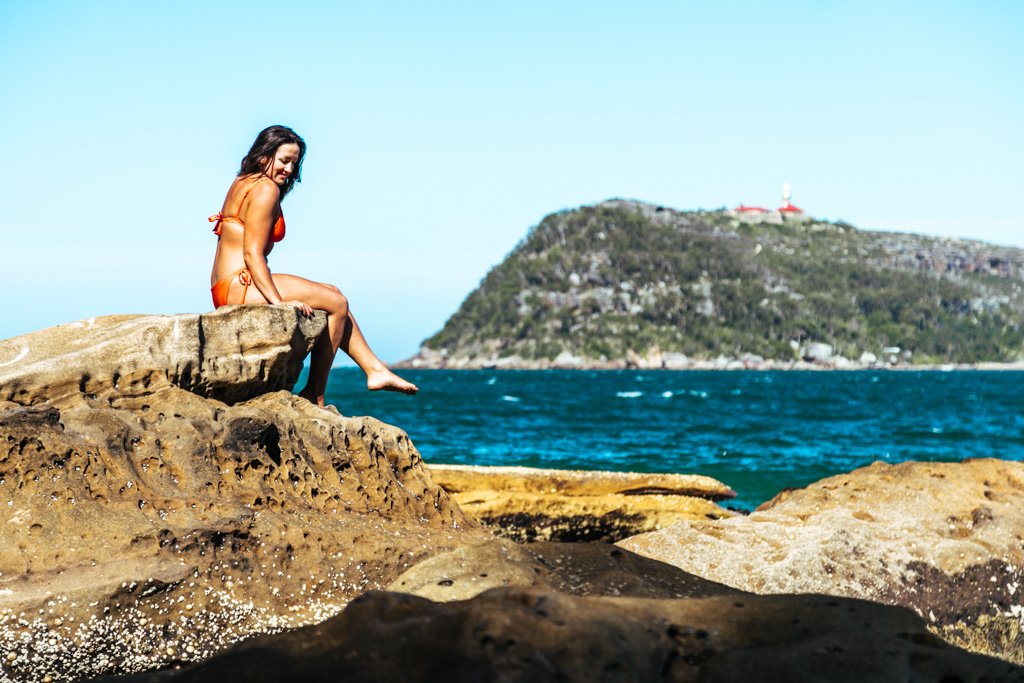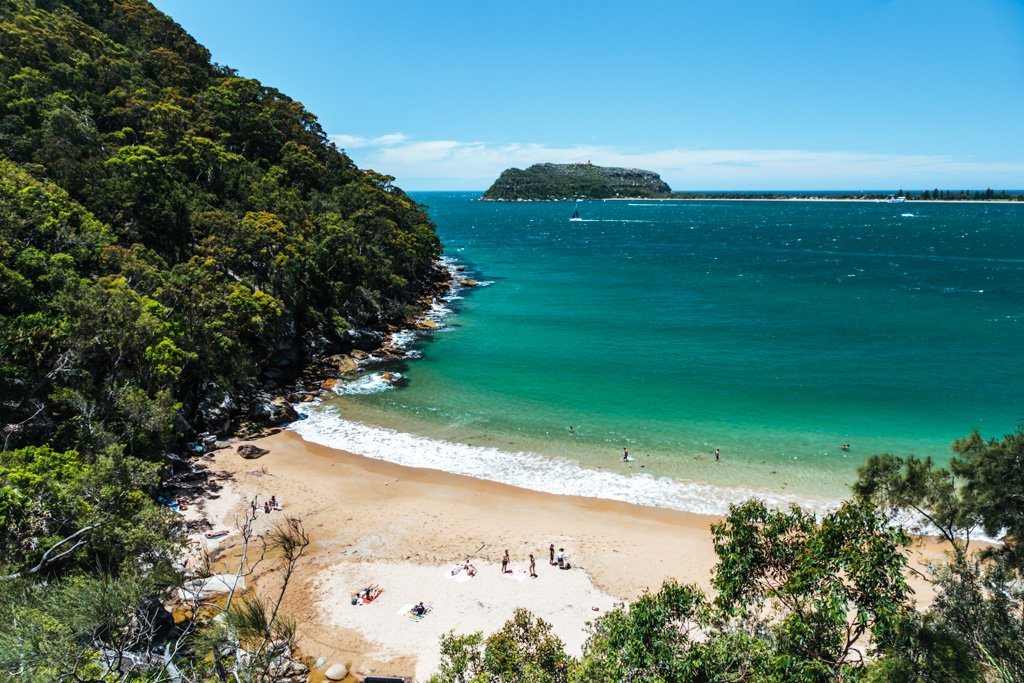 There are a few places from which you can start the hike: if you're driving, park at either the West Head Lookout or the Resolute picnic area; if you're taking the ferry, get off at Mackerel Beach (ferry timetable here).
Flint and Steel Beach
The hike down to Flint and Steel Beach is a steep 30 minute jaunt, but it's well worth the effort to reach one of the prettiest, most remote beaches near Sydney. The views out toward Bouddi National Park are just magical!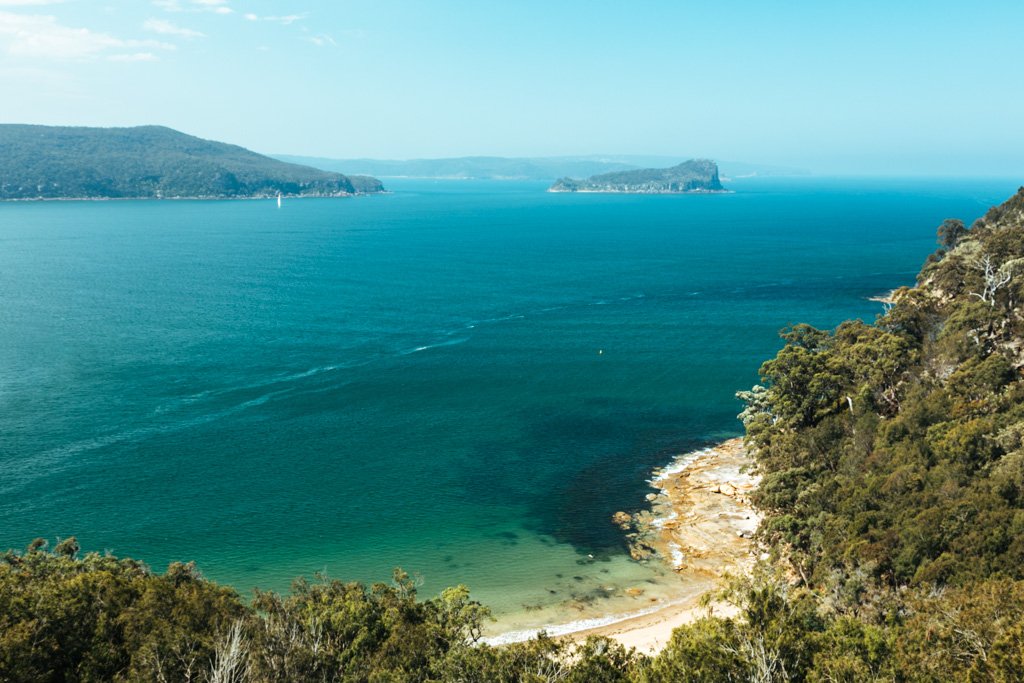 From the beach, you can opt to walk along the water to Flint and Steel Bay (said to be nowhere near as nice as the beach) and hike back up to the main road from there, or you can hike back up from the beach the same way that you came.
Note that to reach Flint and Steel Beach, you'll need to have a car to drive around Ku-ring-gai National Park… unless you're lucky and know someone with a boat who can take you there ;)
America Bay Walking Track
If you're looking for a birds eye view from high up above the Hawkesbury River, the America Bay walking track will deliver.
It's an easy 15 minute walk from the road to the America Bay lookout, which might have a small waterfall and pool of water if it's rained recently. These are secondary to the main attraction though, which is the sensational view out over the bay: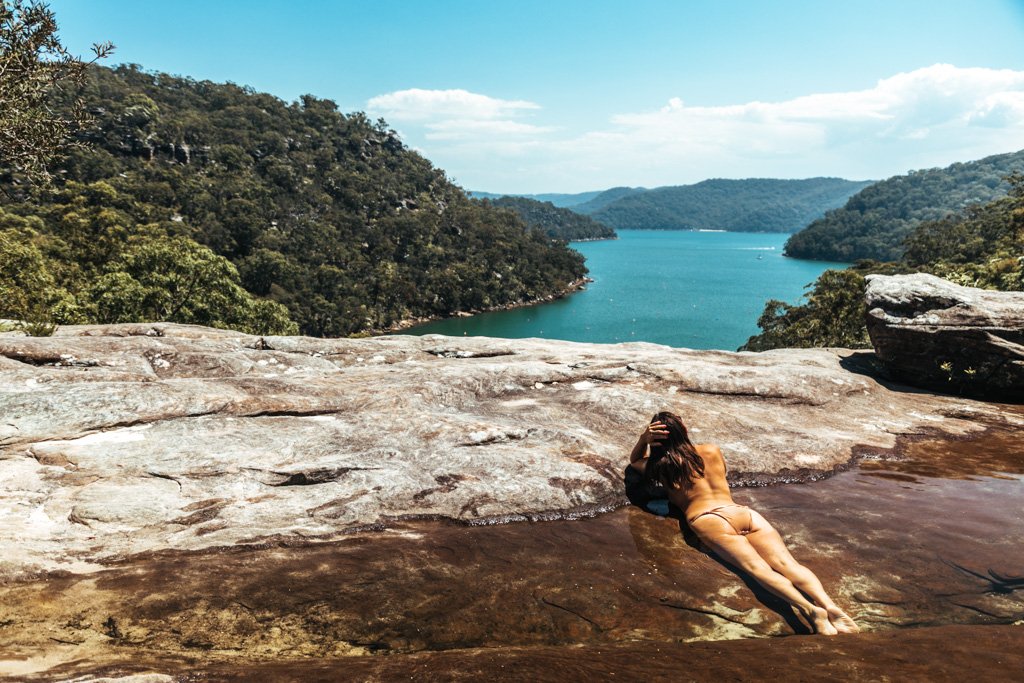 Note that the track does continue down towards the bay, but when I visited in October 2019 the trail was closed off beyond this lookout point.
Upper Gledhill Falls
Not many people know about this Ku-ring-gai National Park waterfall, so shh! Go and enjoy it in peace while it's still off the radar 😉
I found out about Upper Gledhill Falls thanks to my Wild Swimming Sydney book. We drove up there on a random summer weekday and there were a few hippies there enjoying the 10m-wide natural swimming pool, meditating, and playing the drums. What a cool spot!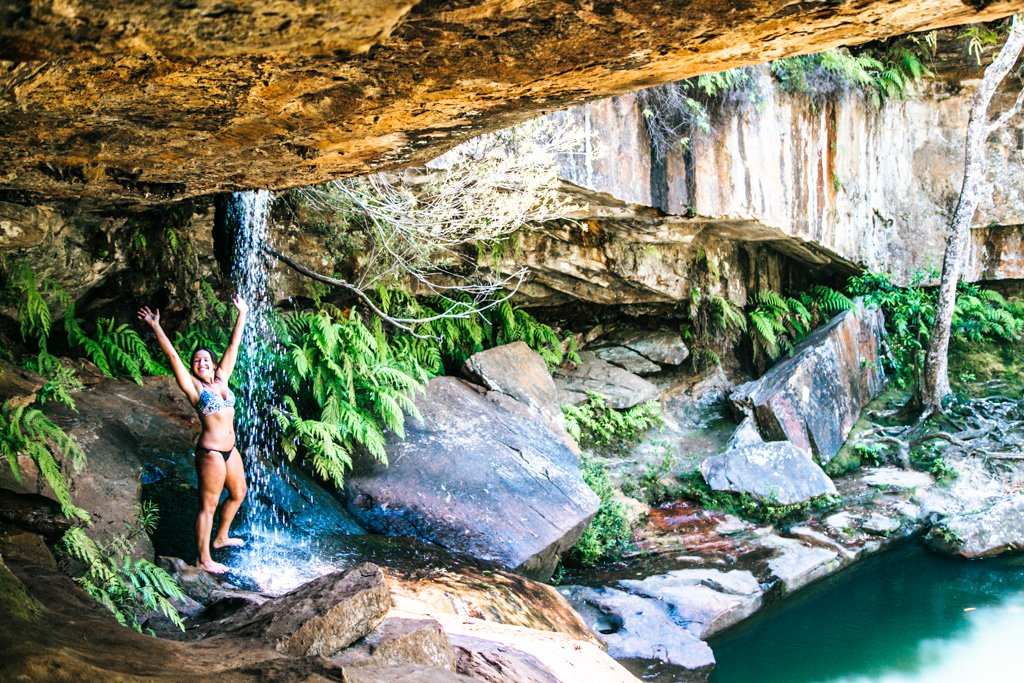 The water looked a little gross when we were there, so I opted out of swimming. It's well worth venturing into the little cave behind the waterfall, though.
Note that you need a car to reach this spot, and then it's a quick walk in from the road.
Jerusalem Bay Track
The Jerusalem Bay Track is actually a segment of the much longer Great North Walk, and makes for a very reasonable 13.4km day hike in Ku-ring-gai National Park. It can be hiked from Brooklyn to Cowan, or Cowan to Brooklyn (I started in Brooklyn and think there's a bit more uphill walking if you hike in this direction).
Most of the hike is through bush, with occasional views out towards the Hawksbury River. I'd rate it as moderate due to the hilly nature, but it should be a cinch for seasoned hikers and/or fit folks.
The light at the end of the tunnel (if you hike in from Brooklyn) is Jerusalem Bay: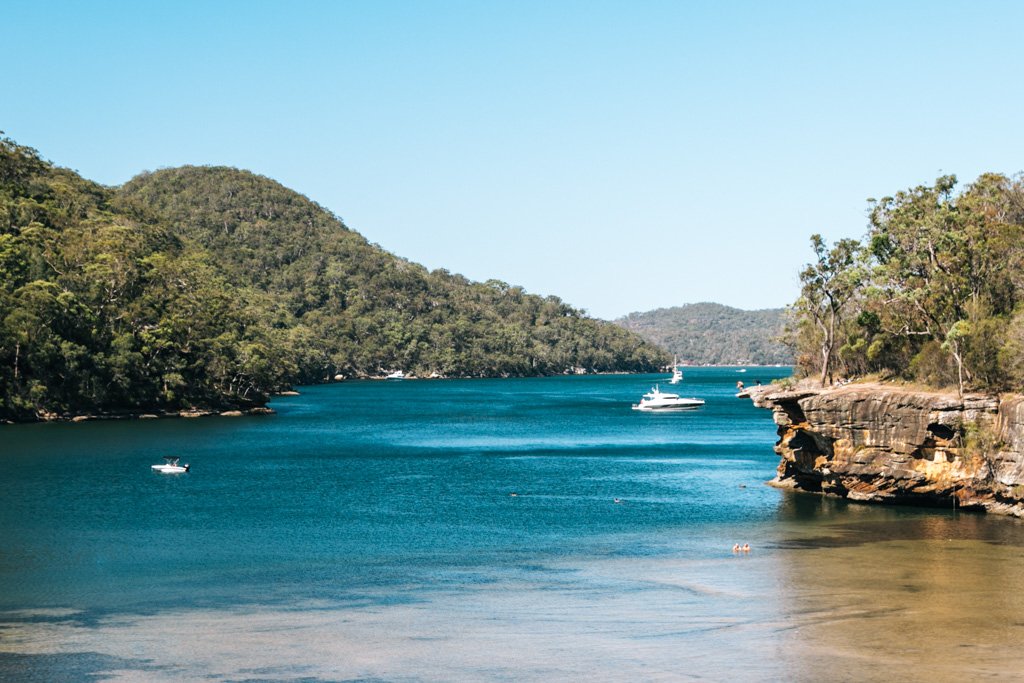 If you'd rather do a shorter walk and spend more of your outing relaxing and swimming in Jerusalem Bay, you can opt to hike in and out at Cowan station (should take under 30 minutes each way). On a hot day you're likely to see people hurling themselves off of Jump Rock just across the channel (YES I did this, and had a nose full of water to show for it afterwards). Be aware that there are massive orange jellyfish lurking in the water here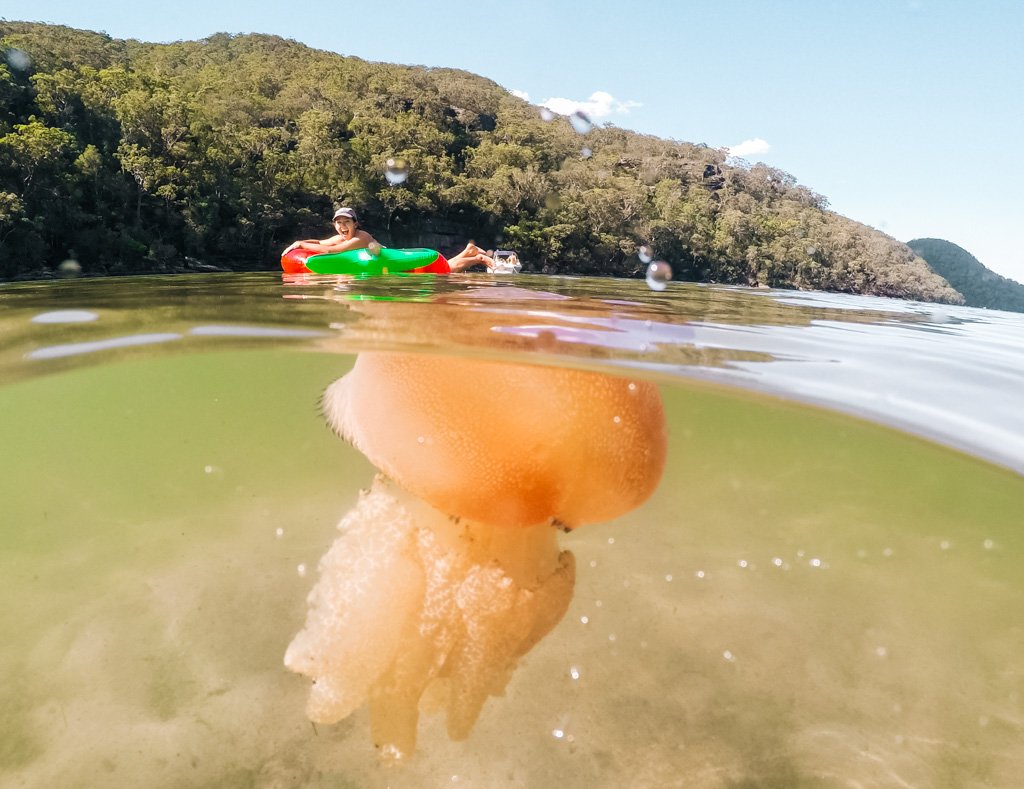 This is one of the Ku-ring-gai Chase National Park walks that's accessible by train, with Cowan station and Hawkesbury River station on either end of the trail. Alternatively, it works quite well if you hike with a small group and do a car shuffle, leaving one car at either end of the trail.
Berowra to Mt. Ku-ring-gai Hike
Similar to the Jerusalem Bay track, the Berowra to Mt. Ku-ring-gai hike is another bushwalk that runs alongside a different part of the Hawkesbury River. It stretches for about 10km and should take about 4 hours to walk (add more time if you want to stop and relax along the way).
The best bits of this bushwalk are the lookouts along the way from the ridges above Cowan Creek. Definitely allow time for the short side track to Apple Tree Bay, where you can go for a swim and take advantage of the picnic areas and toilet facilities if needed.
This is also one of the Ku-ring-gai National Park walks accessible by train. You can start and end from Mt. Ku-ring-gai station and Berowra station in either direction, or do a car shuffle if you have two cars and a small group of friends to hike with.
Pin it!