While I'm on a roll with confessions, let me throw one more atcha:
It took me 21 months in Australia before I finally made it out to the Blue Mountains.
Now before you roll your eyes and think big whoop, so what you didn't go somewhere, you should know that the Blue Mountains are probably THE #1 Sydney weekend getaway. I've been to Kangaroo Valley TWICE for crying out loud, and that's not even near the top of anyone's Sydney to-do list. How is it that I'd never managed to explore the Blue Mountains?
Well, let me defend myself by saying that the majority of my time in Sydney has seen me tied to either a work exchange or a house sit, making it very difficult for me to steal away for a day or two to go adventuring further afield. Plus, the Blue Mountains are a 2+ hour train ride from Sydney and much better explored by car. I really wanted to have more than just an afternoon to frolic there so that the trip would be worth my while.
Fast-forward to the week before I leave for a month in the Philippines and suddenly I realize that OMG I'm only gonna have 6 weeks left in Australia after I return and AHH I don't even know if I'll be able to come back to this country next year and I GOTTA DO THE BLUE MOUNTAINS NOW! (Don't you love my spastic thought process?)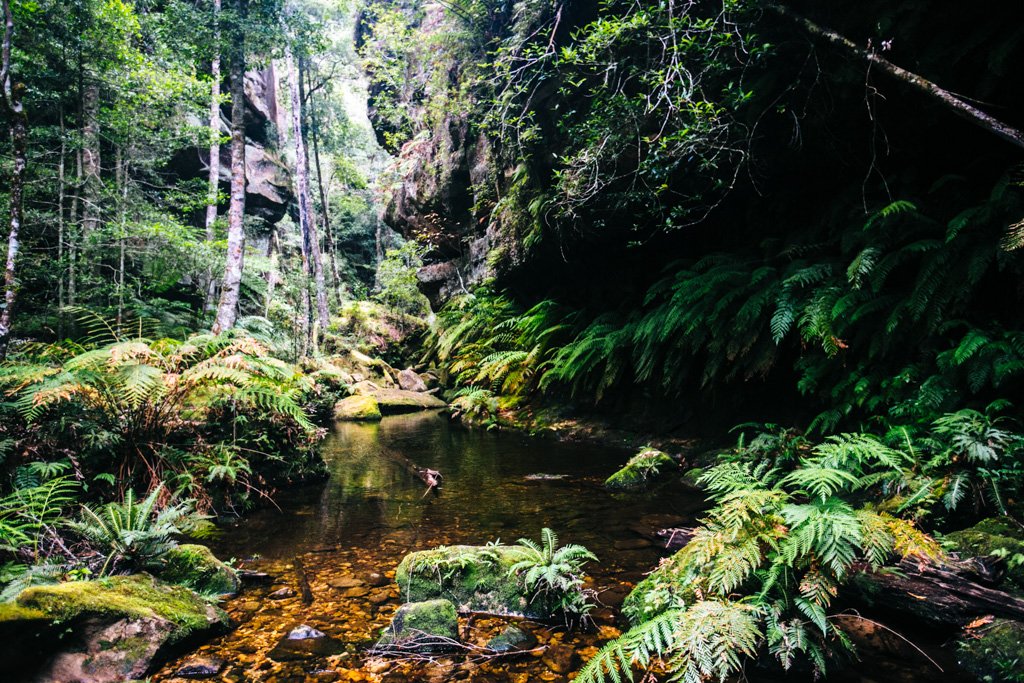 Spoiler alert, I made it happen despite it being just an afternoon affair. I still think it was worth it!
I love the way our trip came together. I found a German girl who had commented in the Couchsurfing forum saying that she was planning on heading to the Blue Mountains this coming Tuesday. I messaged her and said HEY let's go! I'd take the train out to meet her, she'd pick me up in her car and we'd set out to some undetermined trailhead to hike for the day. Perfect!
Then I spotted a post on the Girls Love Travel facebook group by a Belgian girl who had just arrived in Sydney and was lonely and not having the best time here, asking if anyone in Sydney wanted to meet up. I love Sydney so freakin' much and I want everyone else to love it too, so I couldn't very well just sit there and let her have a mediocre time in this glorious place! So I invited her to join us.
Here's a look at my latest adventure with some young Euro-backpackers! (Seriously though, at what point am I too old to hang out with 23 year old backpackers?)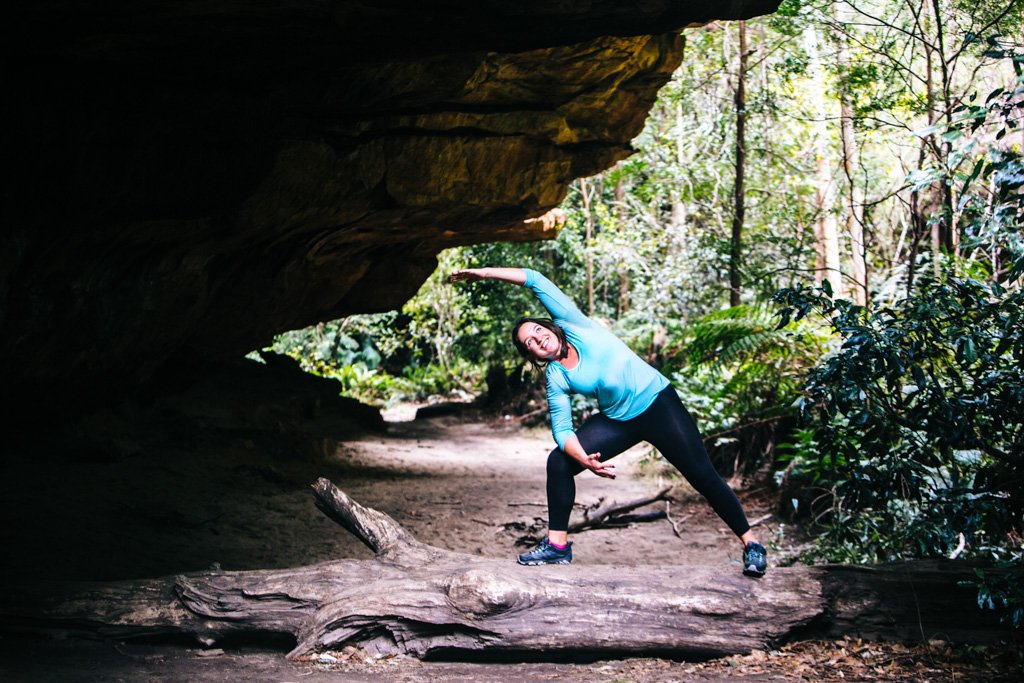 Maren and I met at Central Station in Sydney and took the train out to Blackheath to meet Mary. All three of us are on very different Australia journeys: Maren's on a month-long whirlwind tour of the country before settling down in Belgium to start her first big job. Mary's on a working holiday here, traveling slowly, couchsurfing loads, doing farmwork, and roadtripping with (slash living in) her beat-up car. I'm – well, you know my story – a working professional who desperately wants to make Australia her perma-home. Despite us all being very different, we got along super well and managed to have an awesome day exploring the Blue Mountains!
As per usual, I did a bit of research and suggested we take on the Grand Canyon Loop, as most of the other hikes around are all about the clifftop views, which would be pretty lackluster with the cloudy weather we were having. This hike, by contrast, is spent largely down in the canyon.
But first, Govettes Leap Lookout. We figured we might as well pop out to see the views here, since we were already at the Blackheath visitors center and it was just a quick walk from there. You can see what I mean about the clouds, but look at this waterfall! So darn gorgeous.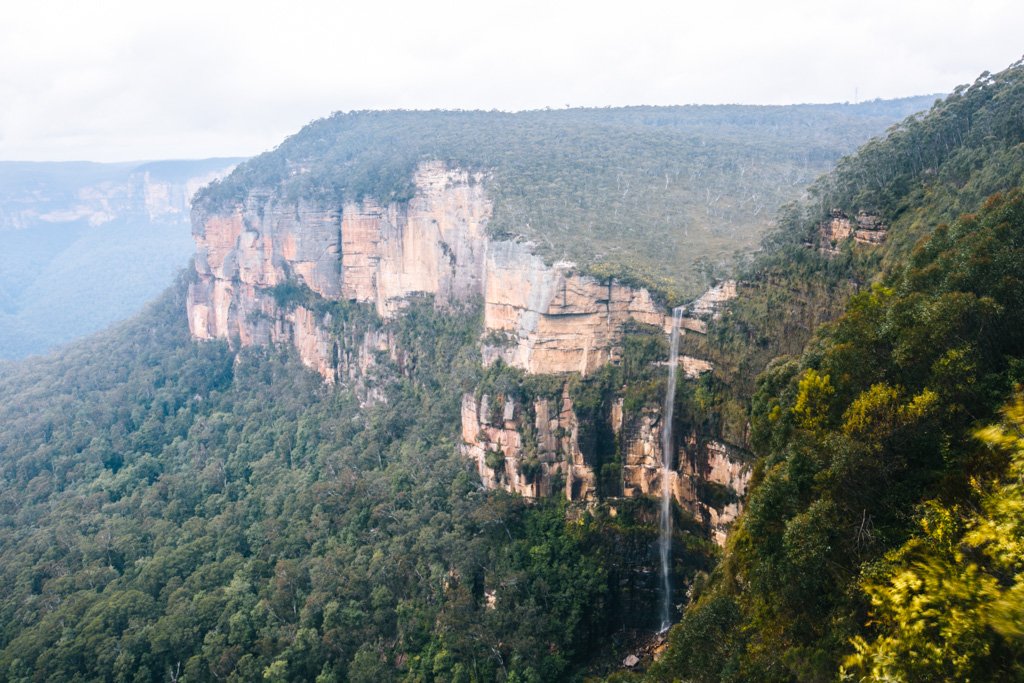 From here, we drove about 5 minutes to the Grand Canyon trailhead. The trail is a loop that starts from the car park and ends not too far away from it. They estimate 3-4 hours to complete it, but it only took us 3 hours even with a few stops. I can definitely see how the hike could take longer though, as you're hiking straight down into the canyon at the start and then straight up out of it at the end. We powered through the steep climbs because we just wanted them over with!
I'm much more of a "views" kind of hiker rather than a "woods" hiker, but I'll admit that this woodsy hike was pretty epic! I felt like I'd been dropped into this mystical green place with water dropping or falling from the numerous overhangs, and heaps of cool rock formations and cave-like nooks along the trail.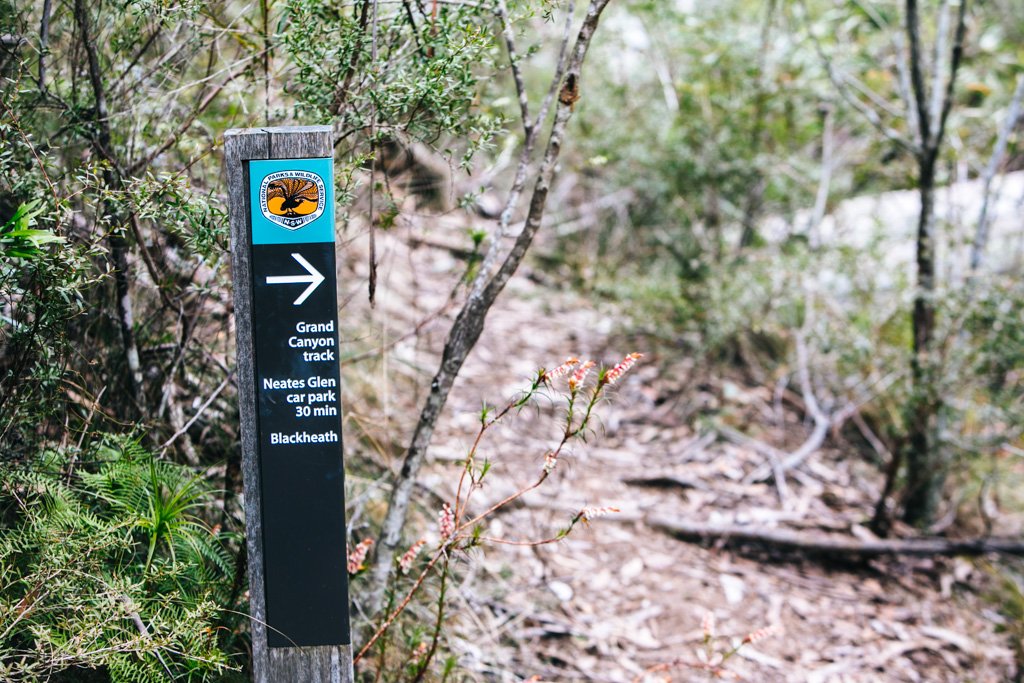 Our best find had to be this waterfall about halfway through. The trail actually takes you behind it, not around it, how cool is that?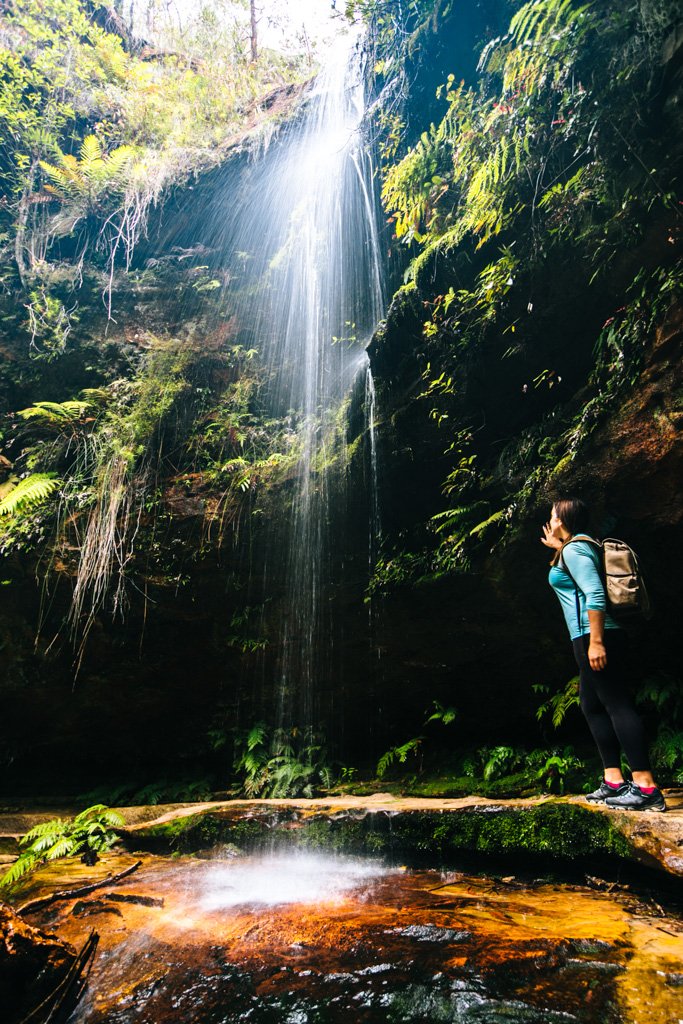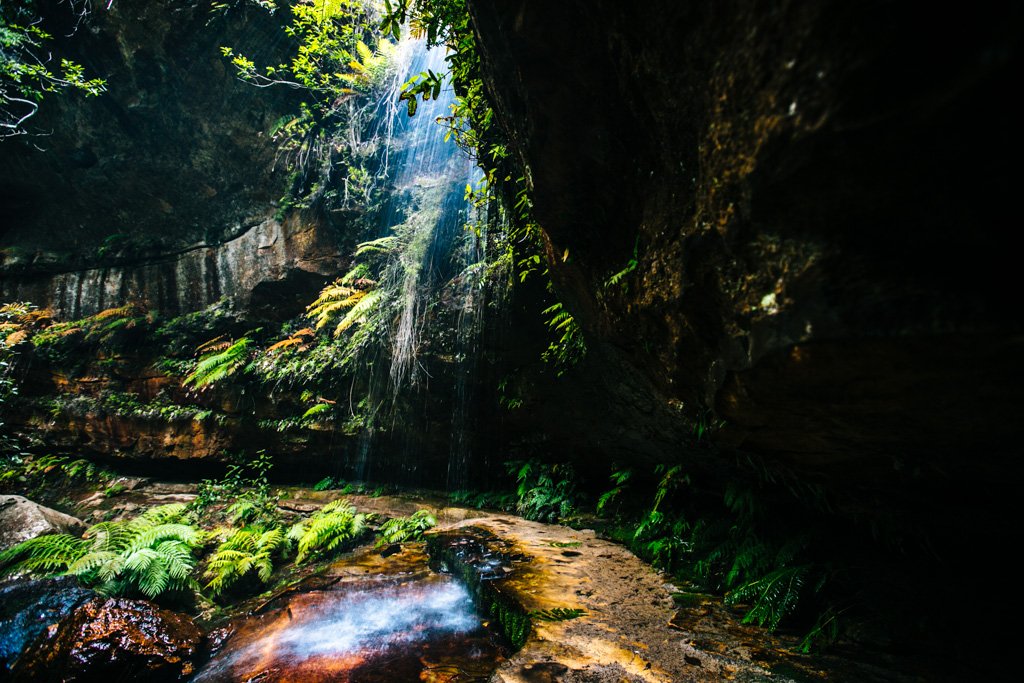 Between waterfalls, streams, and little pond-like formations, we never went long without crossing some sort of water form. And with water comes ALL THE GREENERY.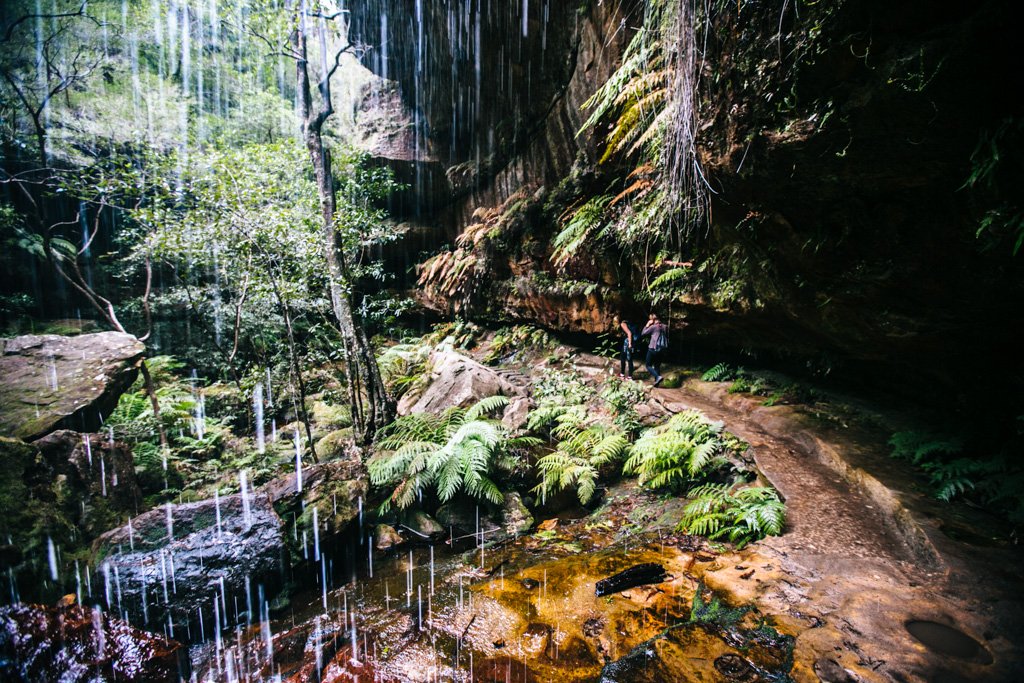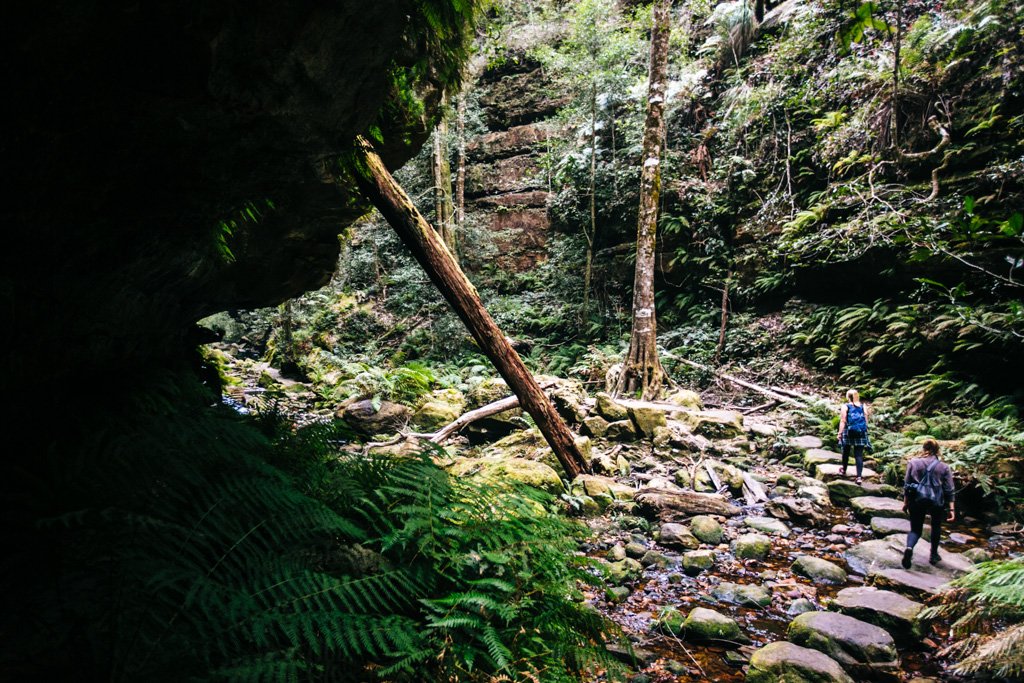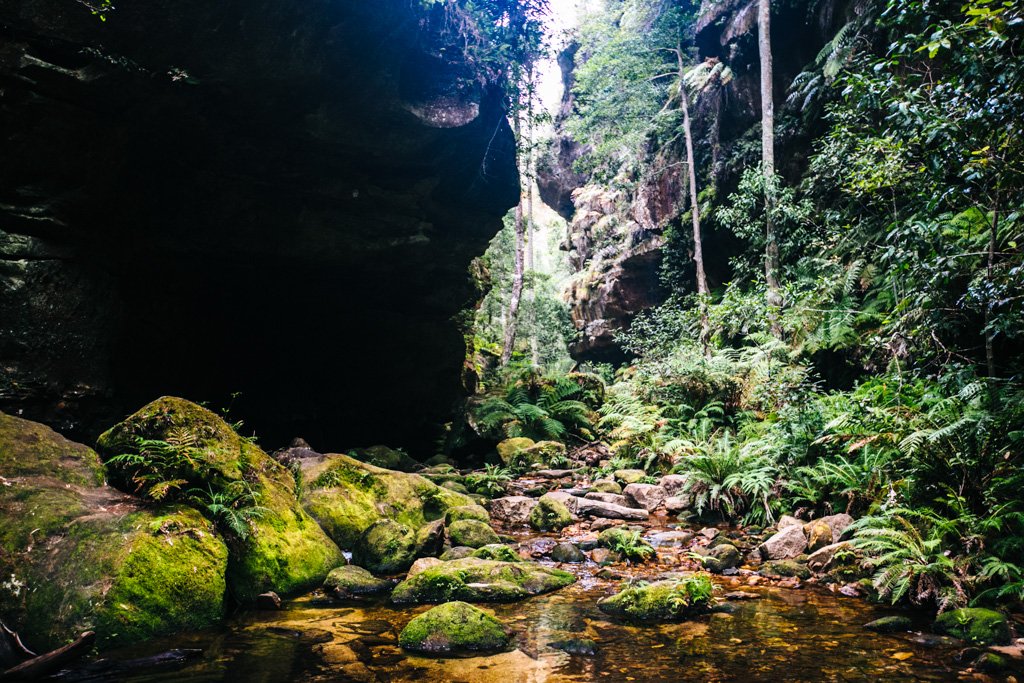 As predicted, the steep hike out of the canyon was utterly sweat-inducing and the least-fun part of the whole hike. Thankfully we were rewarded with some lovely views from Evans Lookout at the top. Bookending a woodsy hike with some clifftop views, I'm into it!
There are loads and loads of hikes around the Blue Mountains, which makes it a place to keep coming back to. While I don't have much to compare it to (yet!), I highly recommend the Grand Canyon loop for a moderate half-day hike. Aside from the steep entry and exit from the canyon, the trail is mostly flat and easygoing with incredibly lush scenery the whole way through.
Now I'm aching to return to the Blue Mountains to do some full-day hikes and camping adventures once the weather warms up. If you have any suggestions, I'd love to hear them in the comments below!