Ever wondered how some people seem to find the coolest things to do on their travels?
Most likely, they either did extensive research on Google, or they saw it on Instagram – both of which call for hours of research and scrolling.
I don't know about you, but I'm always looking to reduce my screen time whenever possible. So when I learned about Headout, a site that curates the best experiences in cities around the world, I was instantly intrugued.
Headout does all the research so you don't have to! What could be better?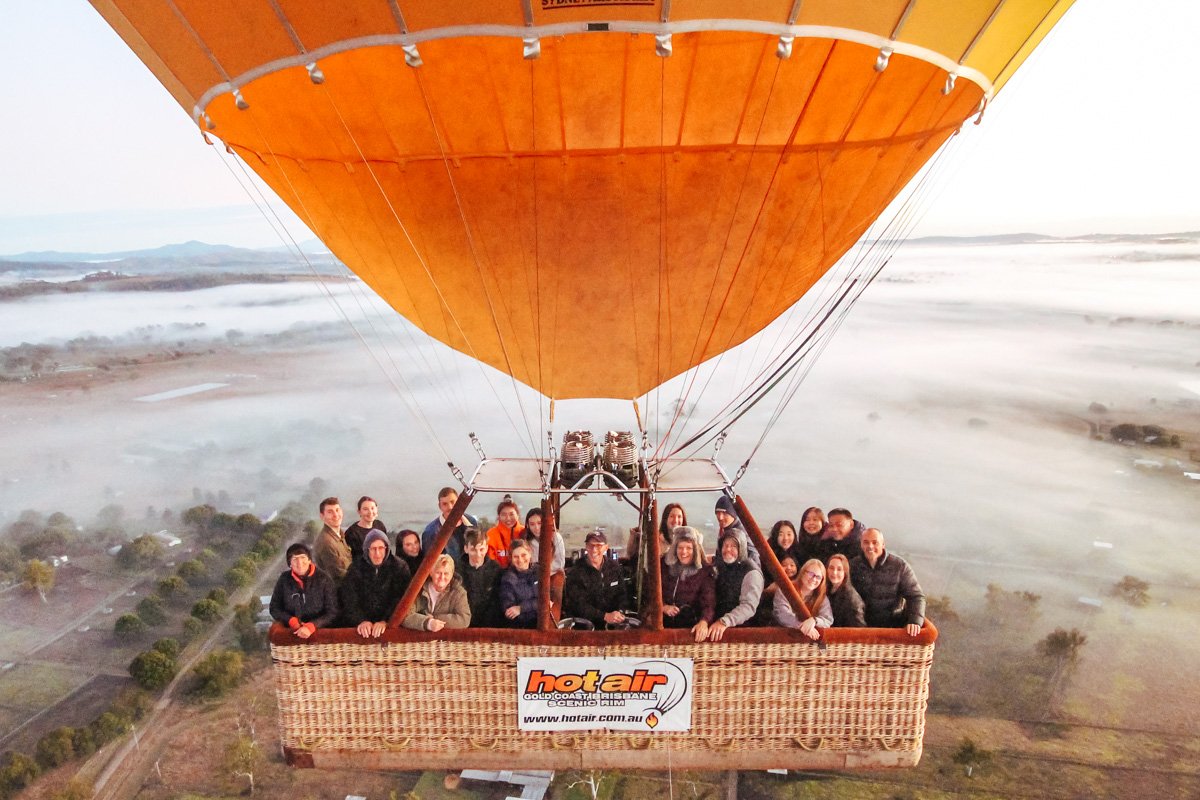 What is Headout?
You know how Skyscanner is a flight aggregator? Well, Headout is an experience aggregator.
In other words, it's a site where you can search for fun activities to do in numerous cities around the world.
Headout saves you from having to do the research yourself by showing you all of the cool things you can do in a city, and makes it super easy to book them on the website without having to book directly with each operator.
Sounds good, right? I'll give you my Headout review later on, but for now here's how it works.
How does Headout work?
Experiences are extensively organized by category and even sub-category, getting as granular as SIM cards, pantomimes(!), and desert safaris. It's fun just to browse the categories and see what's out there that you've never even heard of.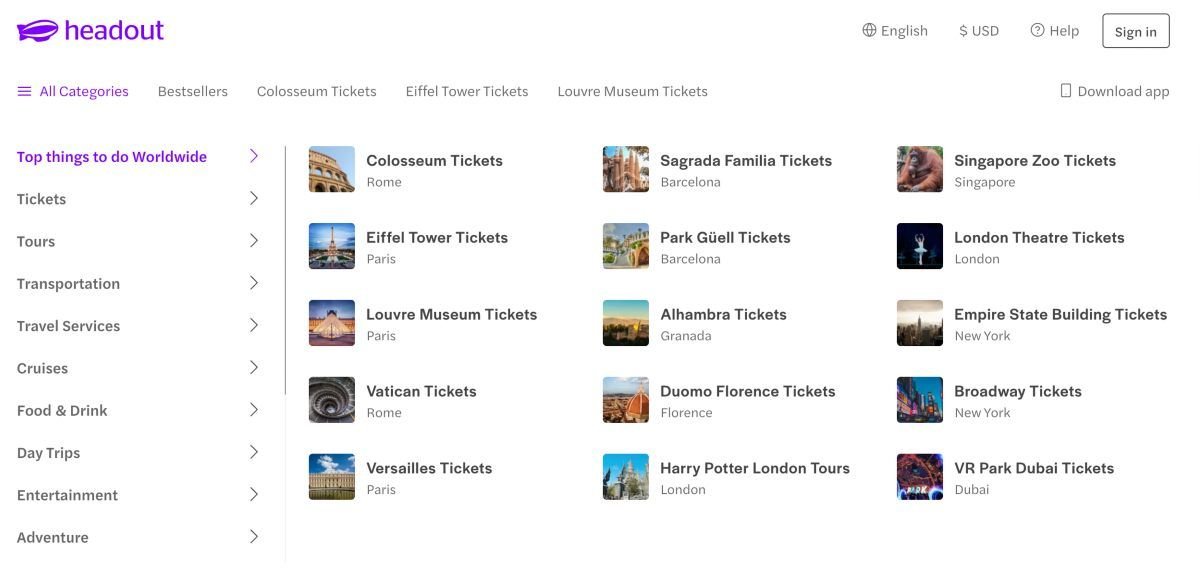 I can see search by category being useful if you're very interested in ONE type of activity and want to plan a trip around it, like food tours or skydiving. I think it would also work well if you're planning a trip to Europe and have a flexible itinerary. It'd be very easy to hop all over Europe, booking Headout experiences in multiple different cities depending on what strikes your fancy while browsing the site.
But I know for me, and likely for the majority of travelers, I plan my trips around the destination (or city), not a certain type of activity. So searching for sightseeing cruises and having most of the activities that pop up be in European cities when I'm traveling around Australia… isn't very useful.
Fortunately you can search by city on Headout as well!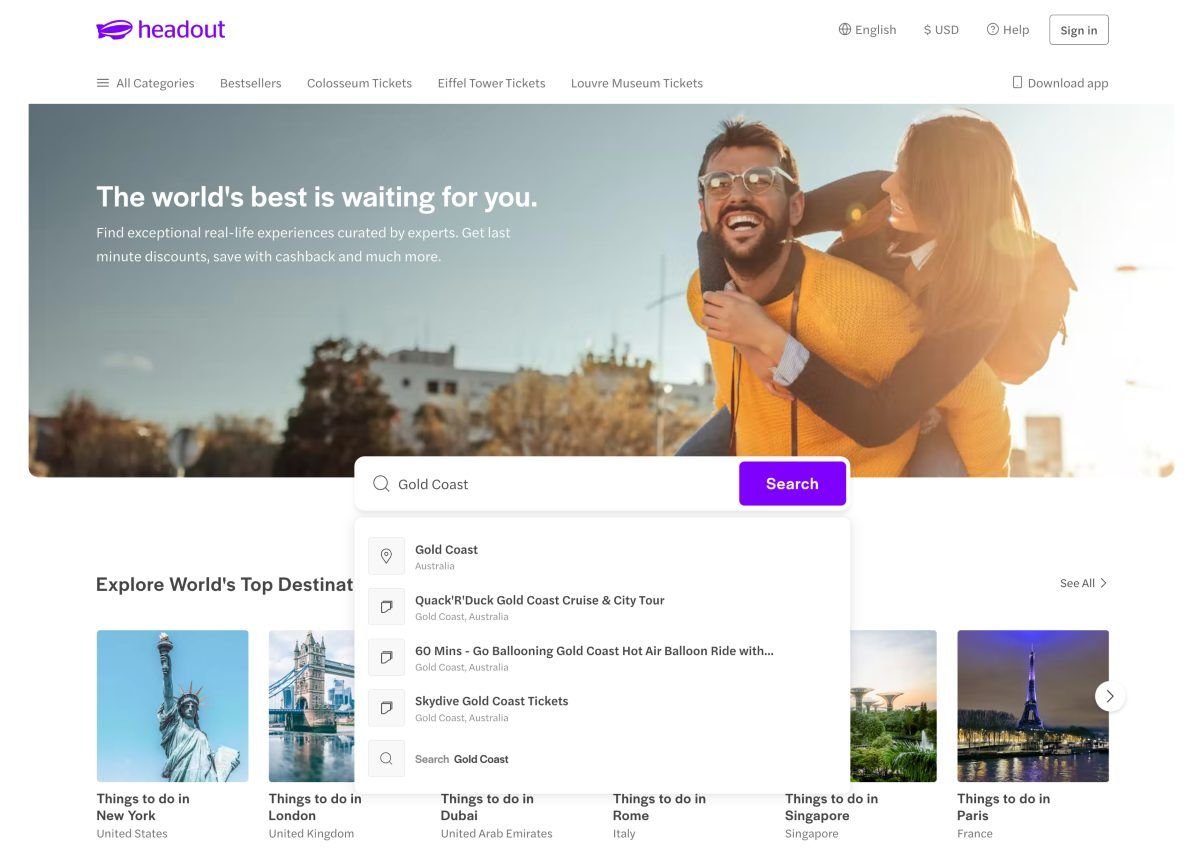 If the city is on Headout, it will show up first on the search results drop-down with a link to the city page. At the moment, there are 80+ cities on Headout with new experiences constantly being added. The majority of Headout cities are in Europe, but there are some from other regions on the site as well.
The city page is where you'll find a host of activities and experiences available to book in that city, broken down by category of course. This is how I found out about all these cool experiences to be had in the Gold Coast when we first arrived, like wine tours, jet skiing, and hot air ballooning.
Obviously I couldn't go past the hot air balloon trip, so that's what we ended up booking on Headout – more on that later!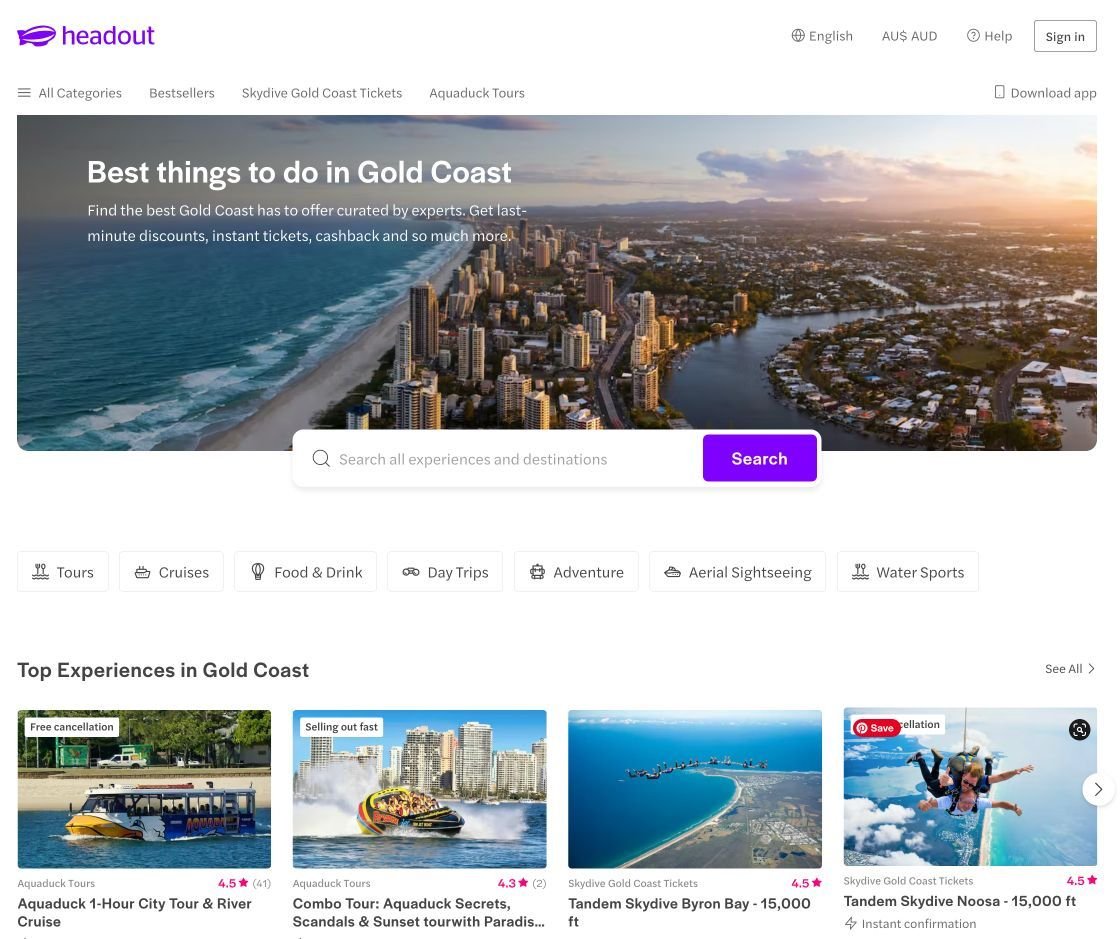 If I were to drop a note in the Headout suggestion box, I'd request an option to View All activities in a city. As far as I can see, you have to browse by activity category, which meant I had to click on every single category to make sure I'd seen all of the options in one city. Maybe it would be too much for popular cities that have hundreds of activities available to book on Headout, but for the Gold Coast which only has a couple dozen at the moment, it would have been easier to see all experiences on one page.
There's also a link to a cities page at the very bottom of the site, which I'd love to see at the top instead for easy access. Better yet, I think it would be amazing to have a drop-down in the navbar (similar to the All Categories drop-down) where you can search by location, broken down by continent –> country –> city. This would also make it easier to see which cities are available on Headout at a glance, without having to manually search for them.
CLICK TO SEARCH HEADOUT FOR FUN EXPERIENCES IN YOUR DESTINATION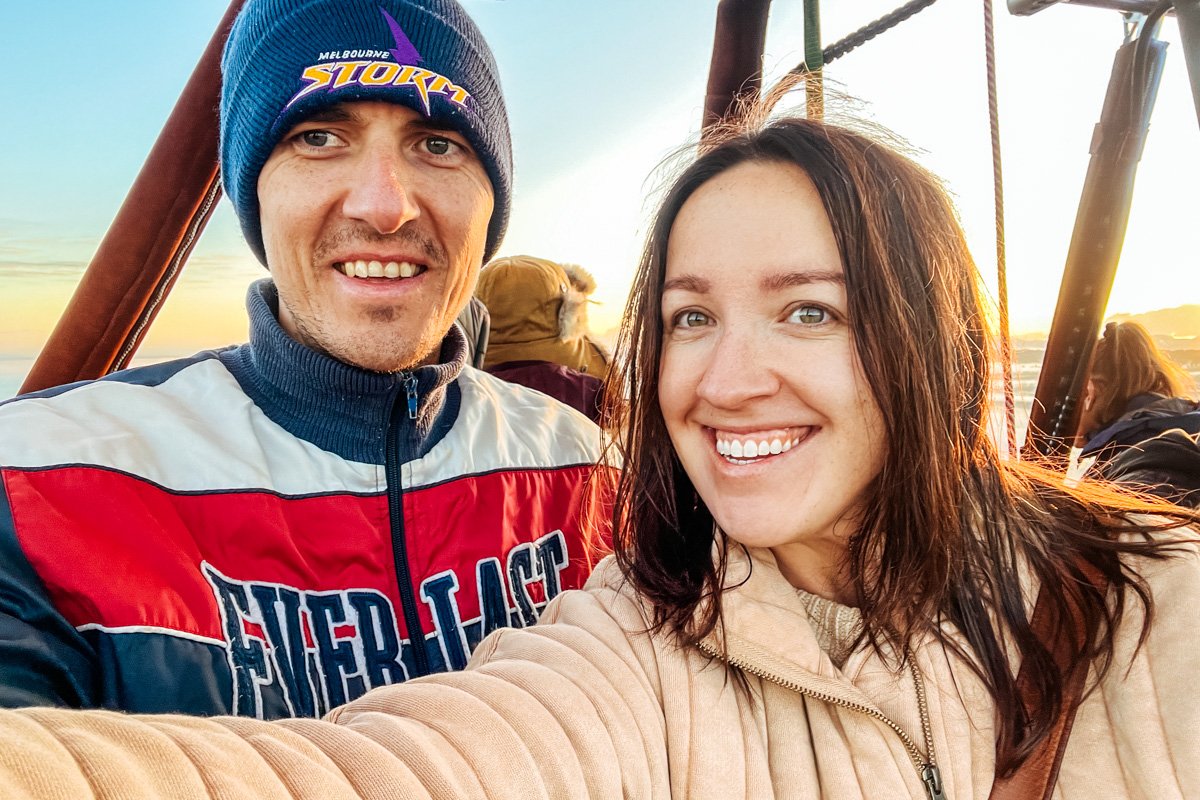 Headout in Australia
As with most things, Australia is never first to the party… so at the moment there are limited cities and activities available Down Under on Headout. Over time I hope to see more Aussie representation on the site!
As of December 2022, the following Australian cities have city pages on Headout:
Brisbane
Cairns
Gold Coast
Hobart
Melbourne
Perth
Sydney
But then if you search for other Aussie cities, some of them do show up as well – they're just not listed on the cities page, I'm guessing because not many activities are available to book yet.
Adelaide
Canberra
Darwin
Pokolbin (Hunter Valley)
Port Stephens
CLICK TO SEARCH HEADOUT FOR FUN EXPERIENCES IN YOUR CITY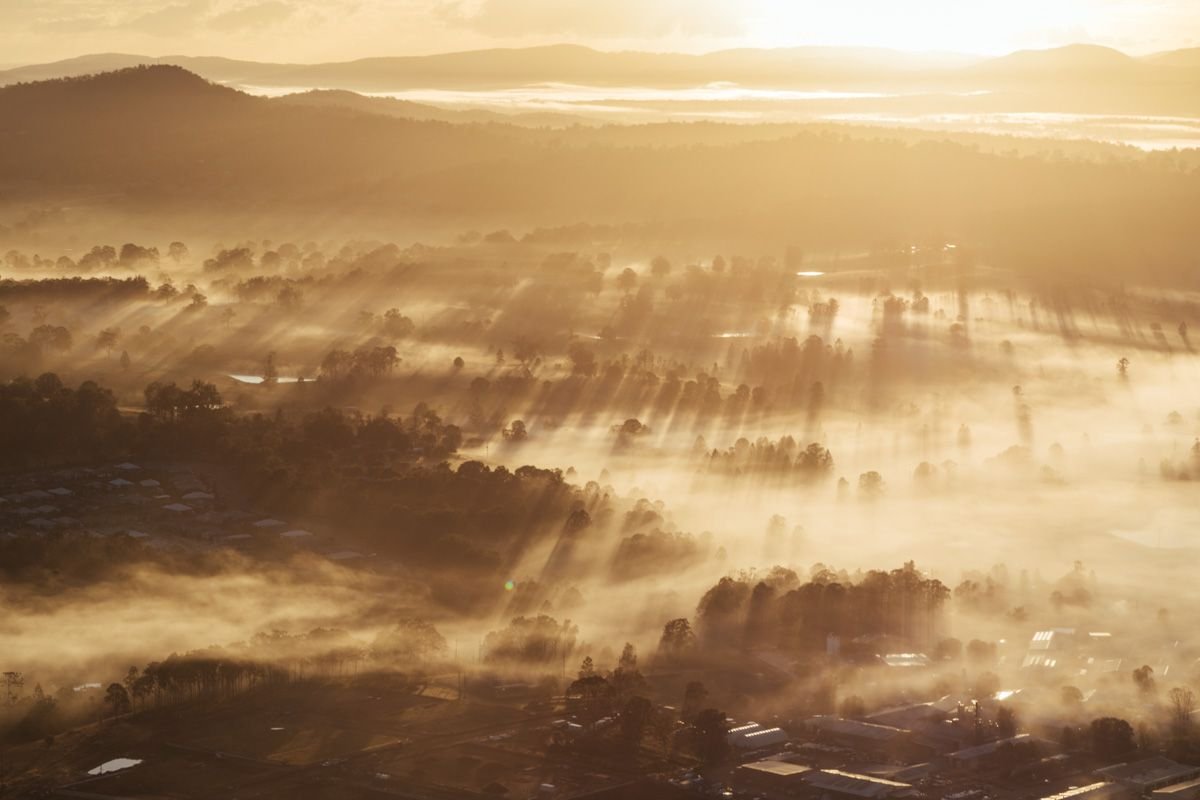 My Headout Review
I booked the Classic Gold Coast Ballooning Tour with Vineyard Champagne Breakfast on Headout.
The whole experience was seamless from start to finish. Upon booking, I received an email confirmation directly from the operator and was asked to confirm my pickup location. Because of this, there was never any wondering about whether my booking from Headout had gone through.
In fact, all communication came directly from the operator, not from Headout. I like that Headout doesn't act as a middle man – it makes everything much more efficient when there's direct communication, you know?
As for the hot air balloon trip I booked, well… it was absolutely magical. And I never would have known about it, had I not seen it on Headout!
READ MORE: Gold Coast Hot Air Ballooning: A Bucket List Experience You Didn't Know You Needed
Next time you plan a trip, have a look at Headout to see what experiences are on offer at your destination. It'll save you from doing all the research yourself, and you'll likely find some activities you wouldn't ever know about otherwise.
Thank you to Headout for gifting us with a Gold Coast hot air ballooning trip. Note that all opinions expressed here and elsewhere on this blog are my unbiased own, and are uninfluenced by any gifts or incentives I may receive.