If you're searching for hidden gems in Australia, then boy do I have a tip for you!
Lawn Hill National Park, located in Outback Queensland near absolutely nothing of interest, is the best place you've probably never heard of in Australia.
It's remote, it's well off the beaten path (despite the road there being VERY beaten-up), and it's one of the most stunningly beautiful slices of nature I've been fortunate enough to see in this country.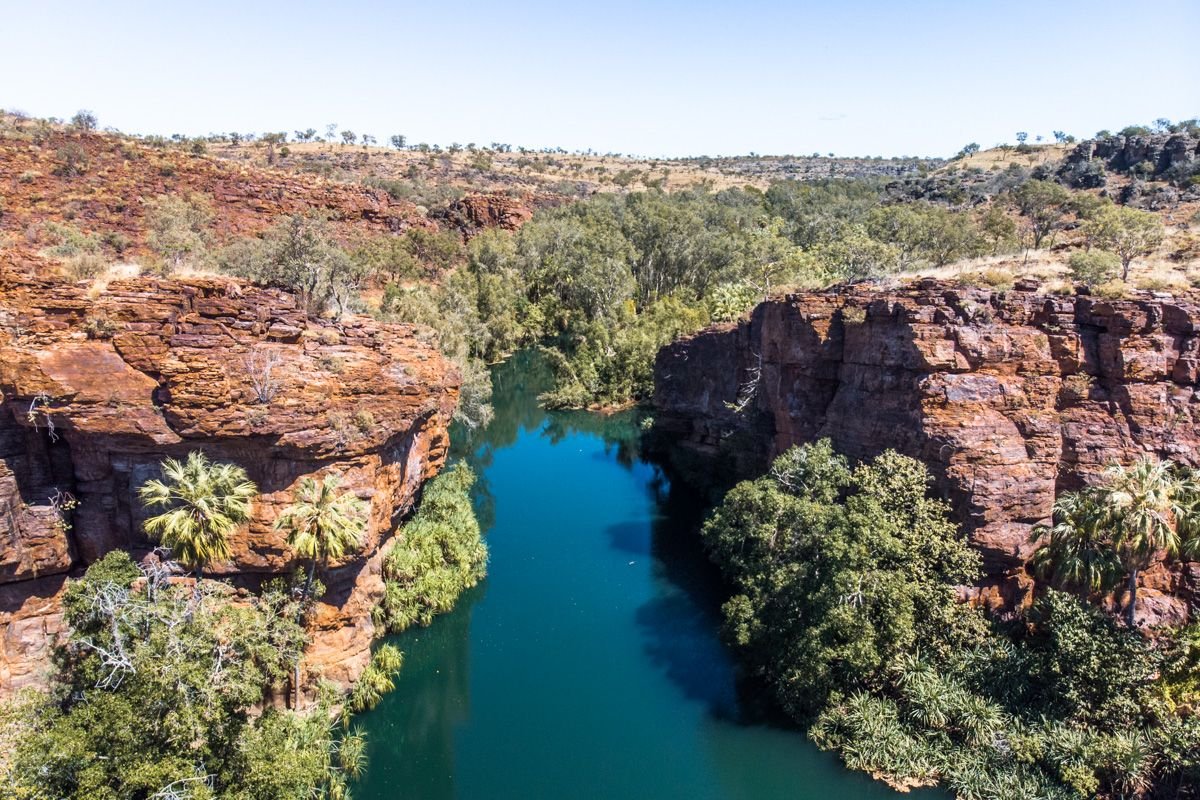 If you want to visit Lawn Hill Gorge, you're going to have to embark on an Outback Queensland road trip – this definitely aint a weekend trip situation.
Lawn Hill National Park is about:
13 hours from Cairns or Alice Springs
18 hours from Darwin
24 hours from Brisbane
29 hours from Sydney
31 hours from Melbourne

(See? I wasn't kidding when I said Lawn Hill QLD was near absolutely nothing!)
You can either camp or stay in a very basic room just outside of the park, and you really need a 4WD vehicle to survive the bumpy drive in from the highway (more on that shortly).
I'd recommend a minimum of 2 nights, preferably 3 nights, at Lawn Hill Queensland – that way you can have a day or two to recover from the drive and make it worth your while.
And believe me, Lawn Hill Gorge is absolutely worth it. Let me show you just how incredible this place is!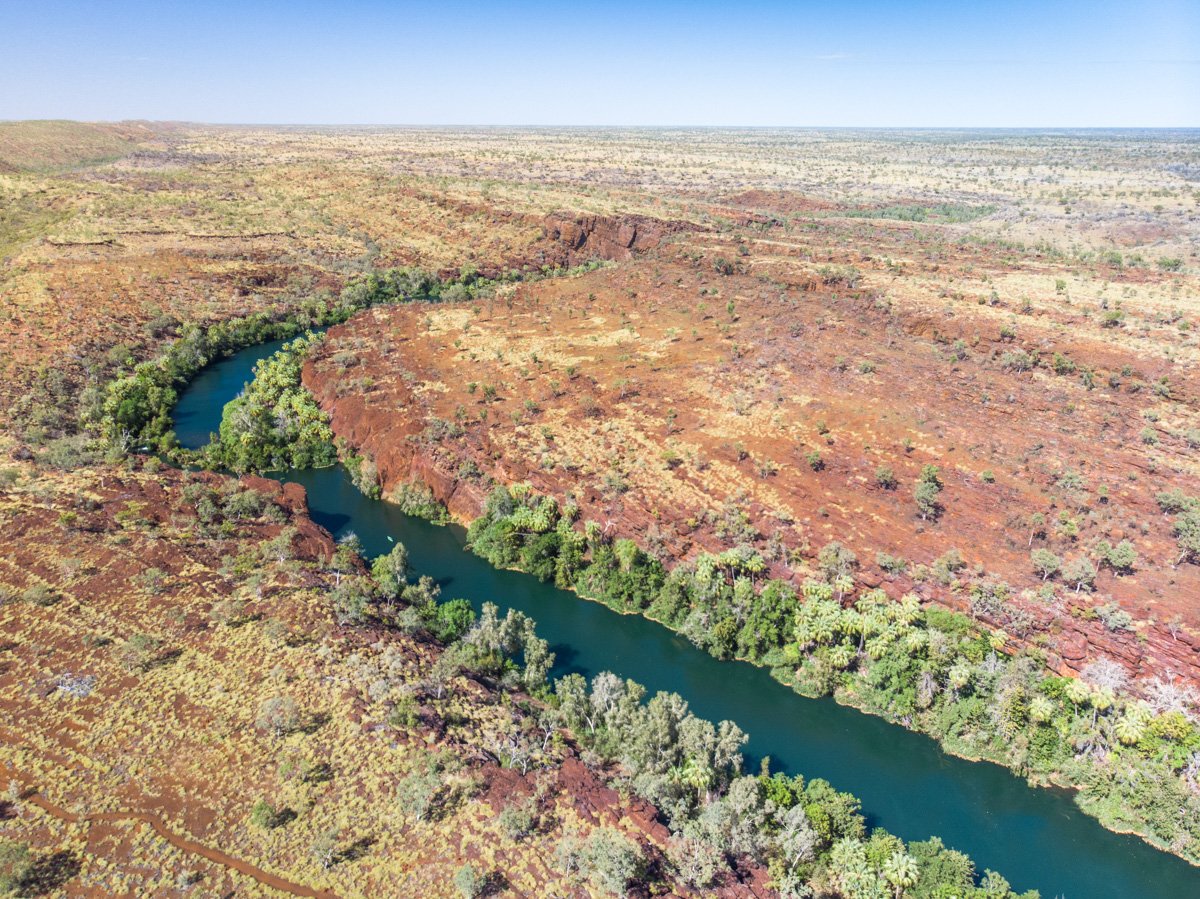 How To Get To Lawn Hill National Park
Not to scare you off, but the road to Lawn Hill Gorge is… long, bumpy, and uncomfortable.
You absolutely need a 4WD vehicle to get there, preferably a very powerful one that does a great job at cushioning the vibration from all the bumps in the road (I don't know the proper terminology for this… is it shock absorption? Dad, if you're reading this, wanna let me know? :P).
Needless to say, our retirement-aged Jeep Grand Cherokee was not it. And the dust from all the road bumps triggered the "check engine" light to turn on, which only added to our anxiety on this harrowing journey. Honestly I'm just grateful our car got us there and back in one piece, but it sure wasn't pretty.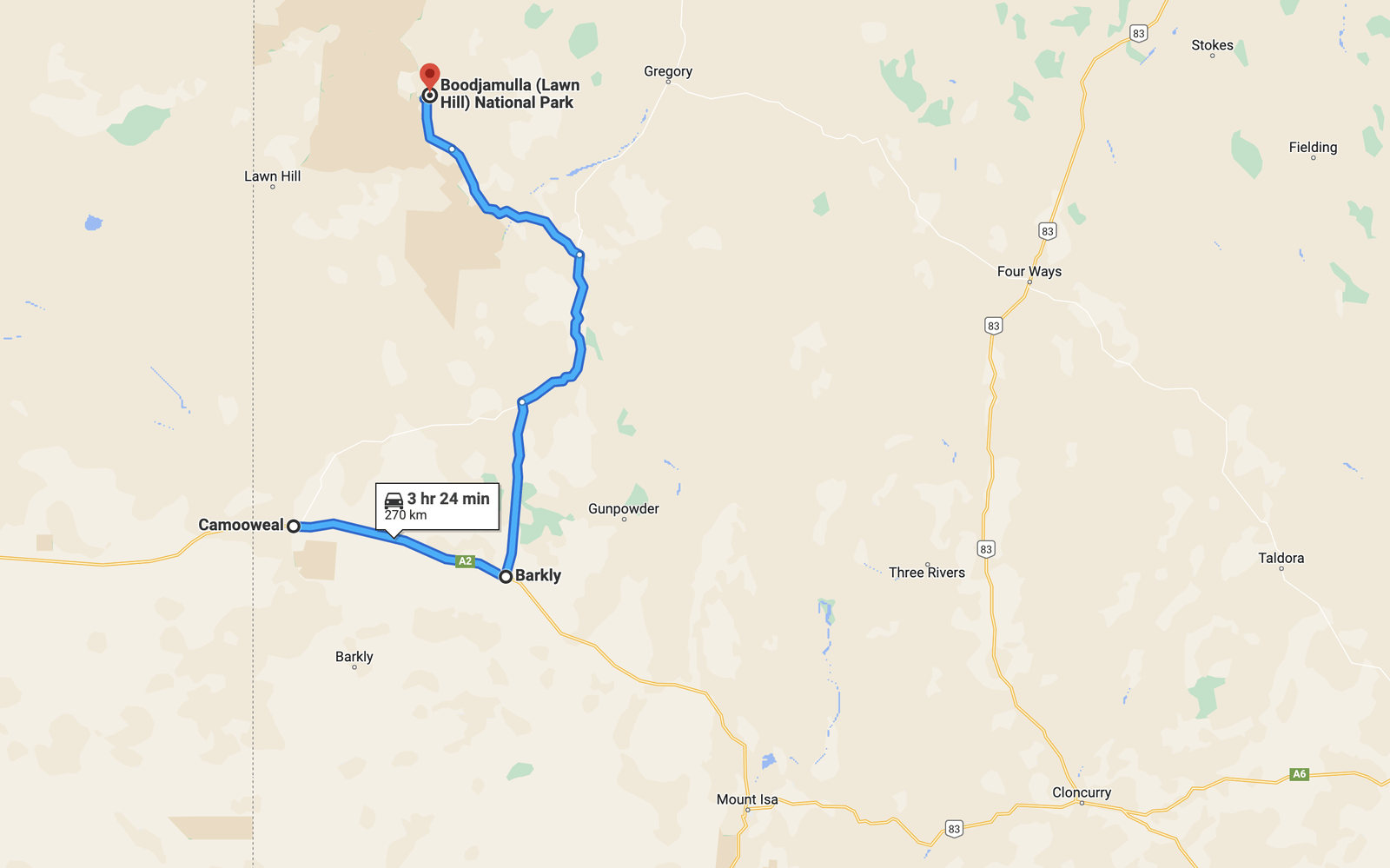 If you're approaching Lawn Hill National Park from the south, Google Maps will probably tell you to take Highway 76 from Camooweal. This road is not paved and I'm not sure what condition it's in, so we opted instead to drive in via Thorntonia Yelvertoft Rd, whose turnoff is 70km east down the main highway from Camooweal. This road IS paved, though much of it is only half-paved, meaning that if there's an oncoming car, you both have to drive partially onto the dirt as you pass each other because there's not room for 2 cars on the paved road.
Both roads meet up about a third of the way in, and from here there's just one road that takes you to Lawn Hill. There's no phone reception for most of the drive, so it's hard to tell how much longer you have to go. I'd say Google Maps' time estimate of 3.5 hours was pretty accurate for us.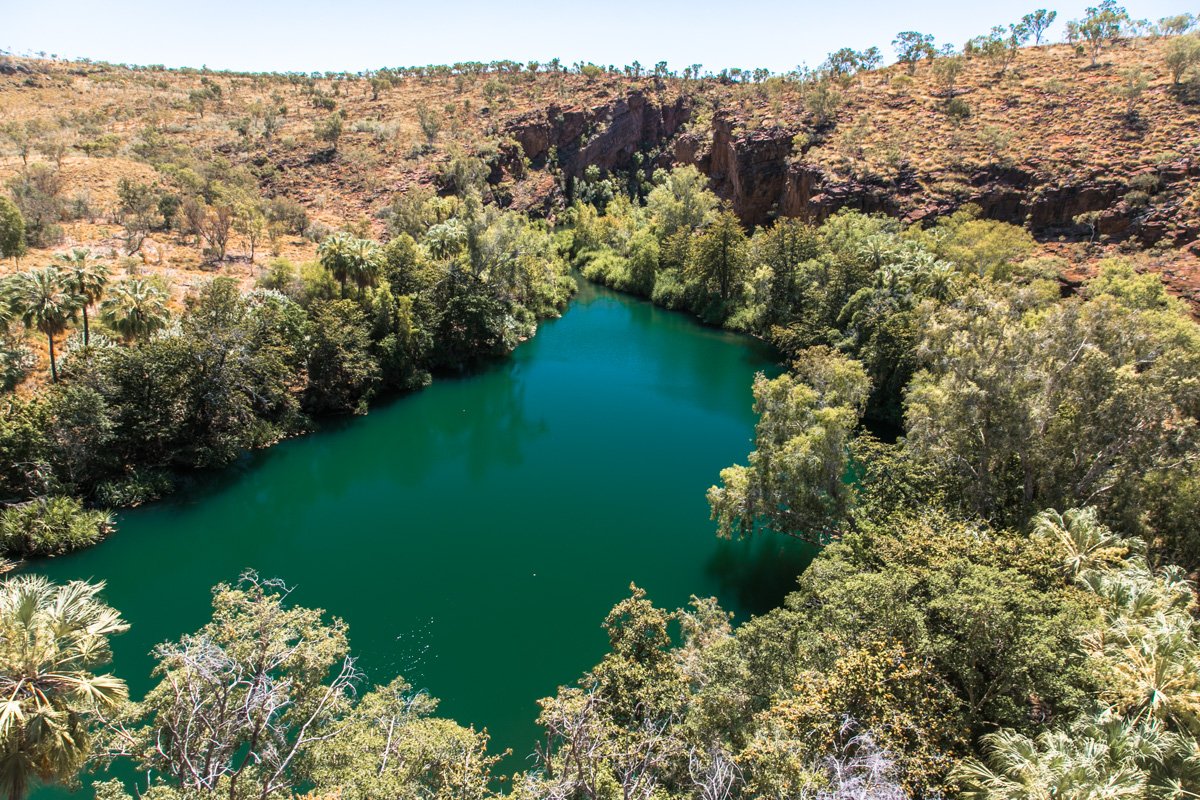 Be warned: the road condition gets worse and worse the further you go towards Lawn Hill Gorge. The bumps and pot holes are CONSTANT. There are also a few shallow creek crossings, which we had no issues driving through.
To reiterate, you definitely need a sturdy 4WD to tackle the drive to Lawn Hill National Park. We did see some caravans set up at the park campground, so I guess it IS possible to tow a van on this horrendous road – but of course, make sure it's an off-road caravan that can handle the journey.
Towards the end of the drive, you'll finally reach a paved road and want to kiss the ground in gratitude (or at least we did!).
Turn left onto the paved road, and you'll reach Lawn Hill National Park!
Turn right onto the paved road, and you'll find Adels Grove, the only semblance of civilization between Camooweal and Lawn Hill. Here you can buy petrol and food, stay overnight, and get your car looked at by a mechanic if it got roughed up on the drive in.
Re: petrol, we opted to travel with a 20L jerry can of petrol for the car, which ended up being *just* enough to get us back to Camooweal. I recommend doing the same unless you want to pay an inflated price to fuel up at Adels Grove.
Where To Stay At Lawn Hill Gorge
There are exactly two accommodation options near Lawn Hill Gorge:
Lawn Hill Camping Area
This is the Lawn Hill National Park campground, which is divided into two sections: tent-only and trailers. It's super popular and books out well in advance, so if you want to camp here you'll need to plan ahead! Site are unassigned, so you just choose the one you want when you arrive.
Though it was fully booked both nights we stayed there, there were several empty sites – I think this is pretty common. Since it's only $6.85/night per person and a very long drive to get there, it's probably very easy for people to no-show on their bookings. So you could always risk it, turn up without a booking, and hope to snag an empty site. Otherwise, you can stay down the road at Adels Grove without a booking (see below).
Also worth noting is that the bathrooms at the Lawn Hill camping area are SO NICE! Very new-looking and clean, *and* they have showers! I was very impressed.
And if you're wondering if there's any phone reception out here, the answer is: sometimes, but only barely, and only via Telstra.
Adels Grove
Adels Grove is located just 10 minutes down the road from Lawn Hill Gorge and is an excellent alternative to camping inside the park.
At Adels Grove, you can either book a room, or camp for $50/night (they don't take bookings for campsites, you just show up and there's always room). All guests can make use of the shared camp kitchen facilities and onsite bar and restaurant. And campfires are allowed! (Unlike at the national park campground).
Adels Grove also offers boat tours and canoe hire in Lawn Hill Gorge, available for both guests and non-guests. More details below!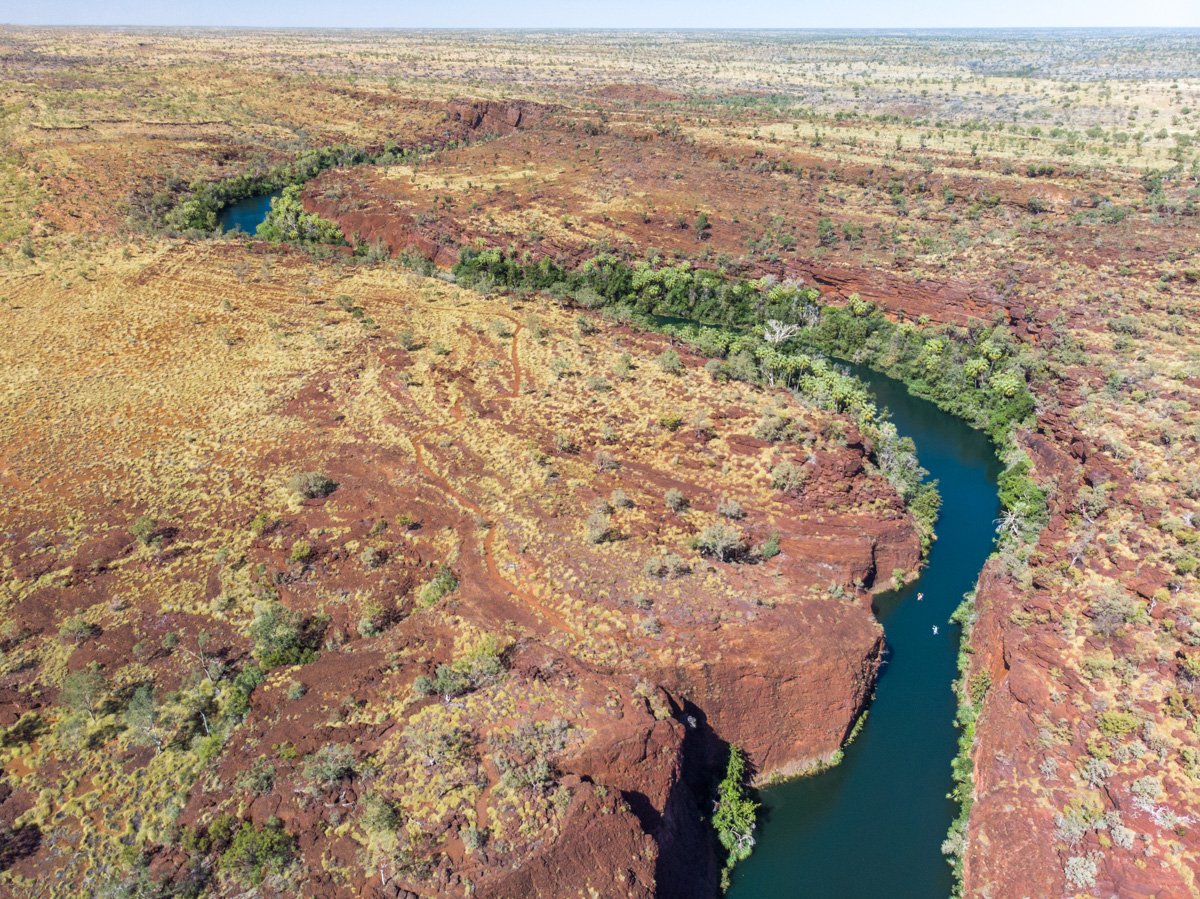 What To Do At Lawn Hill National Park
Lawn Hill Gorge is the focal point of the national park, so most everything you do here will involve exploring and enjoying the gorge.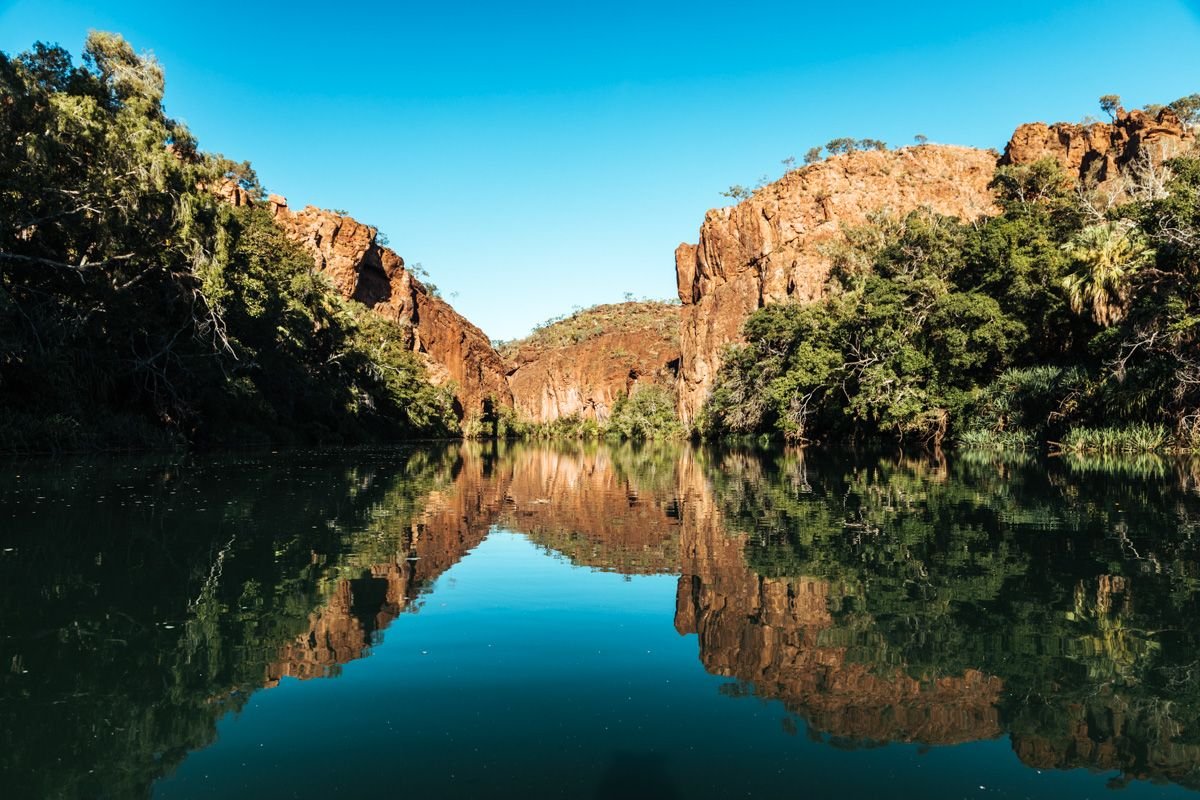 Canoeing/Kayaking/Paddleboarding
In my semi-professional opinion, the best thing you can do in Lawn Hill National Park is paddle through the gorge. Whether you bring your own kayak or stand-up paddleboard or hire a canoe, paddling Lawn Hill Gorge is a MUST. There's nothing like floating in the middle of the creek, gazing up at the tall rock walls surrounding you – it's magic!
As mentioned above, Adels Grove has canoes for hire ($30 for a single, $60 for a double, $90 for a triple – per 2 hours). These are available even for non-guests, so if you're staying at Lawn Hill camping area, I'd recommend stopping at Adels Grove first to see if you can book in advance, then heading to Lawn Hill to set up camp. The canoes can be picked up at the gorge (at the camping area), and I believe you just show your receipt to prove you already booked and paid for the hire.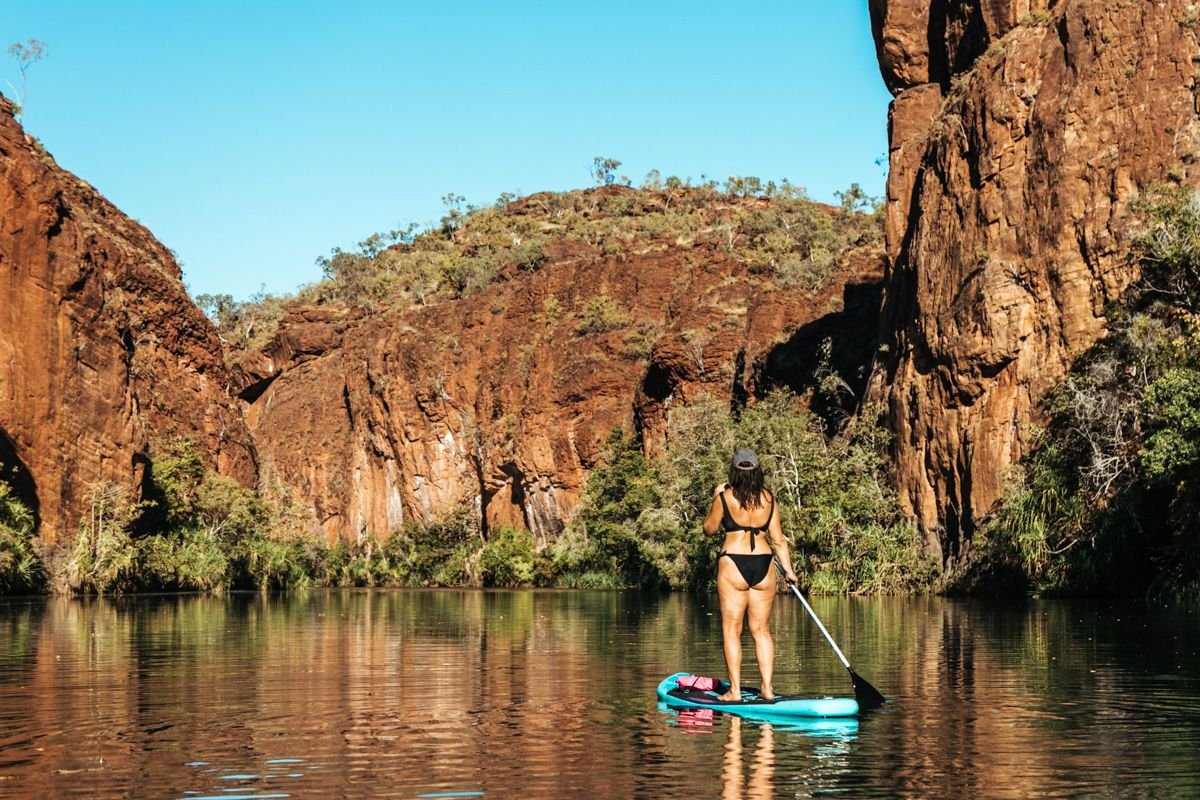 If you want to paddle to Indarri Falls and back, 2 hours should be more than enough time with the canoe. However, if you want to paddle further on to Upper Gorge *and* stop off along the way to swim or relax, 2 hours might not be enough time.
Note that after Indarri Falls, there's a break in the creek where you can't go any further without getting out of the water. So in order to continue paddling past the falls, you'll have to walk your canoe along the walking path for a few minutes and then return to the creek where it resumes.
Boat Tours
If you prefer a less active adventure, Adels Grove also runs boat tours through Lawn Hill Gorge ($80 for a 2 hour tour). They can take 8-10 people at a time on their solar electric powered pontoon boat, which slowly makes its way from the boat launch (where the canoes are) to Indarri Falls and back.
Just as with the canoe hire, you must book the boat tour in person at Adels Grove reception.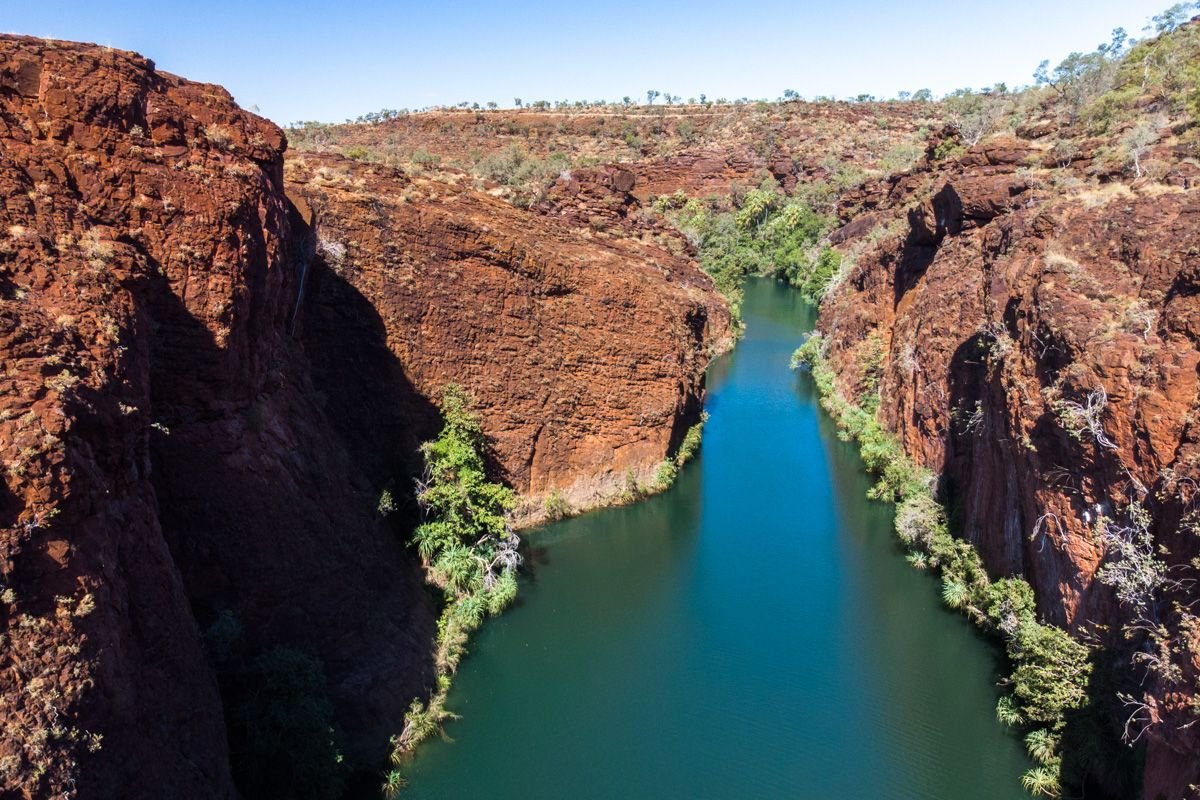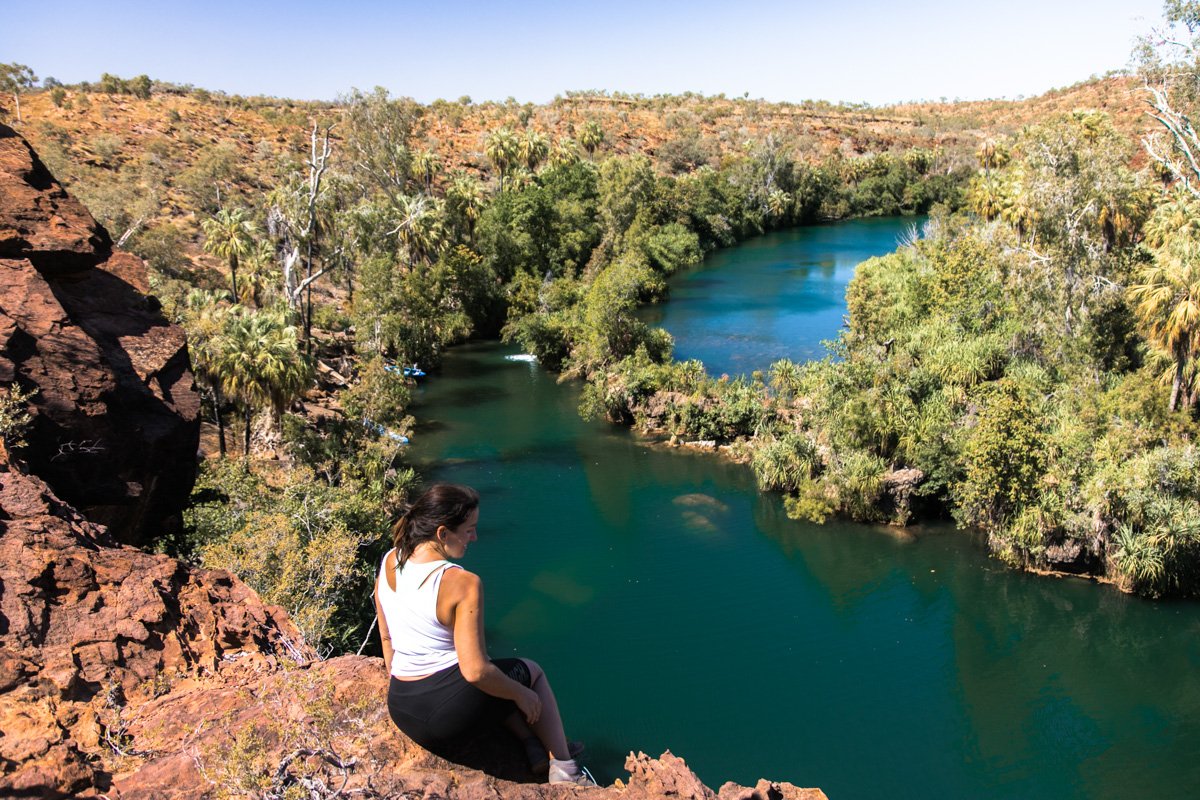 Indarri Falls lookout, Lawn Hill QLD.
Hiking
Even though it's always super hot here and walking uphill is probably the last thing you'll feel like doing, it is well worth hiking and catching some views of Lawn Hill Gorge from above. There are several walking trails you can take that start from right outside the Lawn Hill camping area (see below map).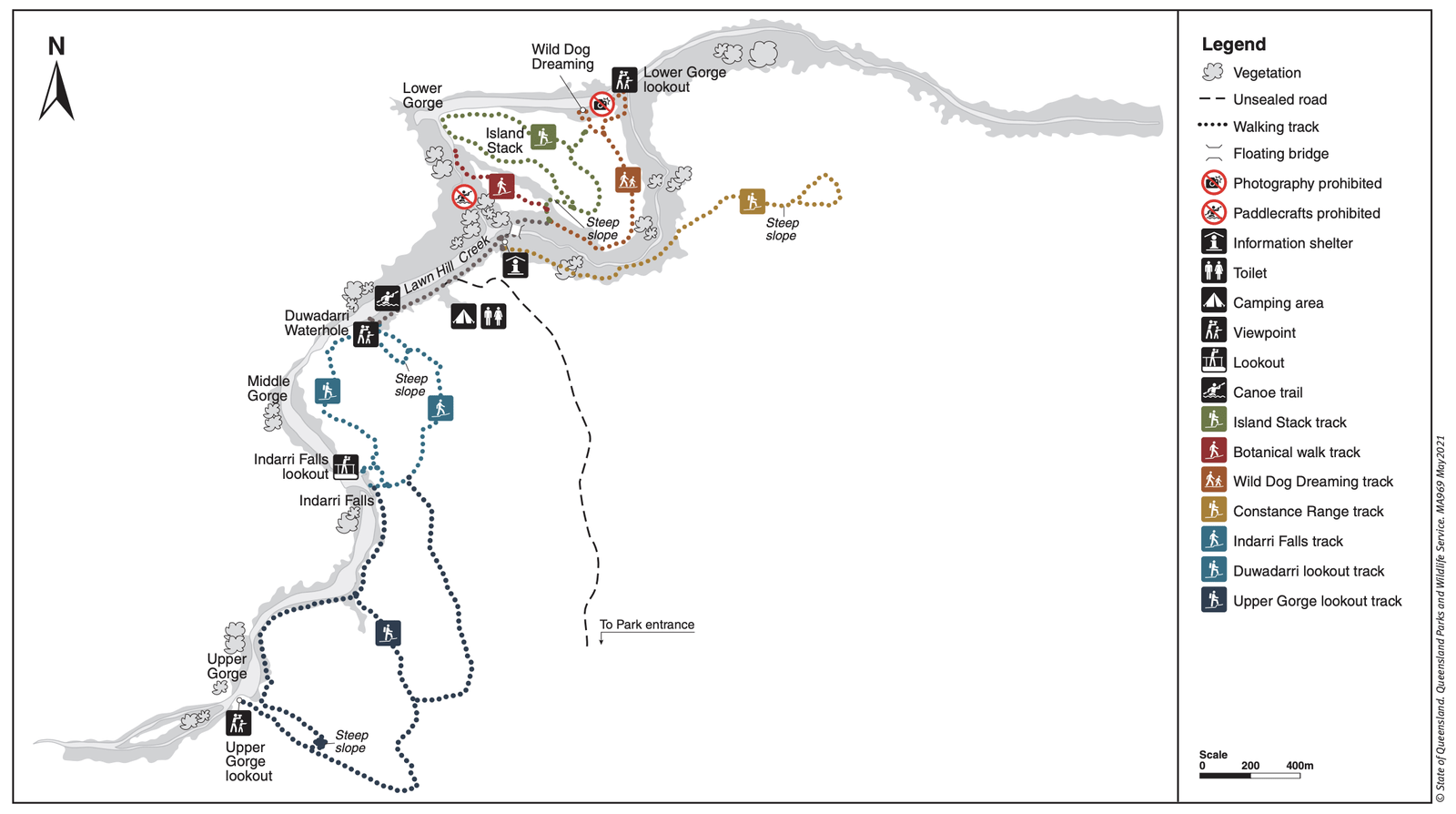 Map via the Queensland Government.
If you only have time for one hike, I recommend doing the Indarri Falls track and Upper Gorge lookout track (colored navy and blue in the map above). These trails are pretty easy, it's just a bit of an uphill walk to reach some lookouts. You should be able to comfortably complete both in a couple hours.
The Indarri Falls track is entirely above the gorge, while the trail between Indarri Falls and Upper Gorge lookout goes alongside the creek (you'll be walking beneath the palms for this segment, mostly in the shade). Definitely pause for photos, breaks, and/or snacks at Duwadarri Waterhole, Indarri Falls lookout, and Upper Gorge lookout. The views from each are incredible.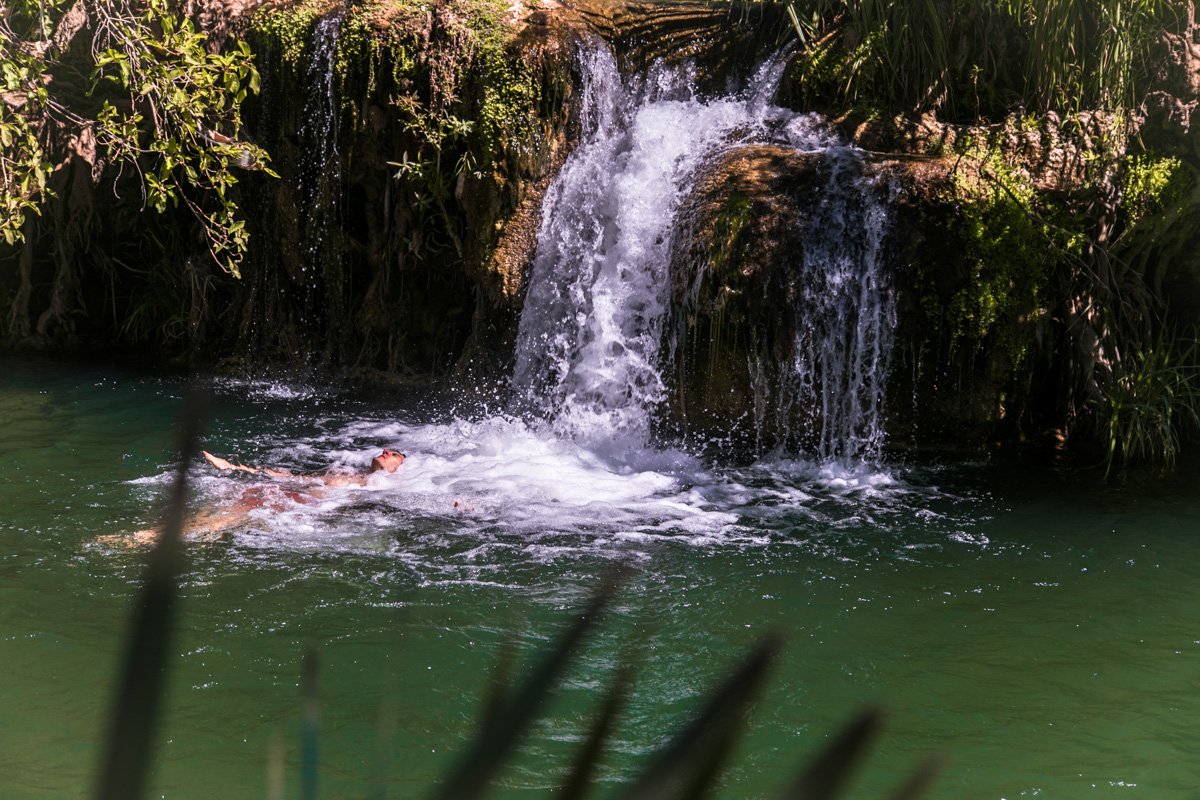 Indarri Falls, Lawn Hill QLD.
Swimming
When we camped at Lawn Hill National Park, we saw people swimming at various points in the creek, but the majority were in the water at Indarri Falls. This is definitely THE SPOT to cool off and relax underneath the waterfalls. Most canoers seemed to park their boats and hop into the water here.
IMPORTANT NOTE: There is a disclaimer that freshwater crocodiles frequent the creek, so swim at your own risk! At the time of writing (mid-May 2022), there was a recent croc-related incident at Indarri Falls and as a result, swimming is currently not allowed in the gorge. Be sure to check the park website for updates before you visit.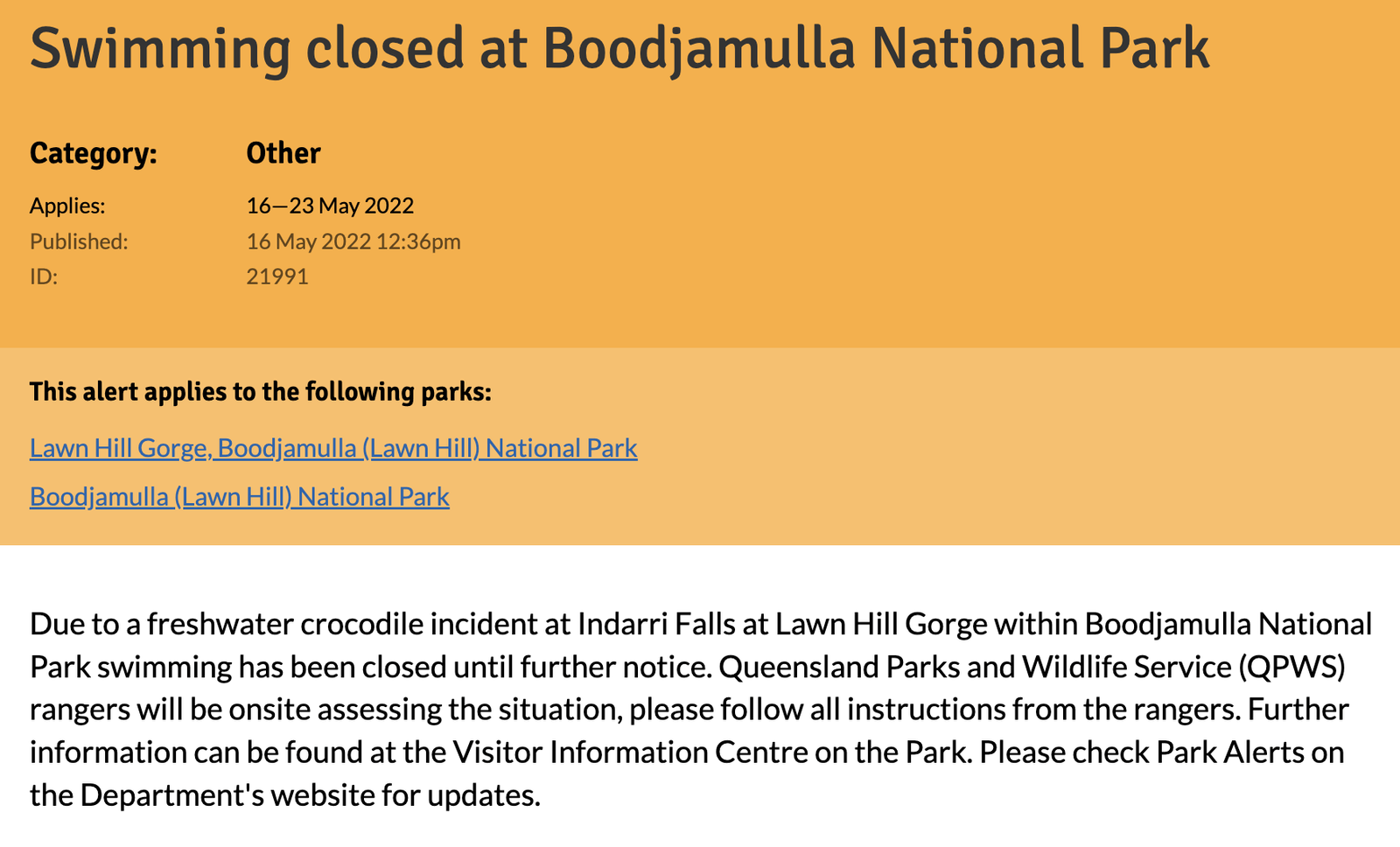 Pin it!