If you haven't heard of Mount Gambier or the Limestone Coast of South Australia, I'd say you're in the majority. Most Aussies probably don't even know about this very under-touristed part of their own country.
Admittedly I didn't either until I saw some Instagram posts by a former Australian Bachelor, who had visited the region right before we began our big Aussie road trip (ugh, I hate that this is how I know about it!).
But I suppose I owe Locky Gilbert some thanks, not just for way too many hours of mindless television that got me through lockdown in 2020, but for the travel inspiration.
Mount Gambier is about halfway between Melbourne and Adelaide, and it's the hub of the Limestone Coast region which occupies the southeast pocket of South Australia. The thing is, driving via Mount Gambier is not the most direct way to get between those two cities, so it often gets bypassed due to being a wee bit inconvenient.
And that's fair enough because it deserves more than just a quick stop on the way from A to B. Honestly, Mount Gambier and the Limestone Coast are worthy of a dedicated trip on their own.
I'd recommend allotting 5-10 days to exploring the region (5 days if you want to pack each day full of activities, 10 days if you want to enjoy it all at a slower pace), basing yourself in Mount Gambier for part of the time and Robe for the rest.
So if you're interested in near-empty beautiful beaches, the freshest of seafood, some of the country's best red wine, caves and sinkholes, you're gonna wanna read on to find out more about Mount Gambier and the Limestone Coast of South Australia (where virtually no tourists are going!).

Robe, South Australia.
Mount Gambier
Confession: I used to think Mount Gambier was the name of a mountain, not a city – oops!
Mount Gambier is on the small side, but definitely a city with plenty to see and do. The best Mount Gambier attractions, though, are its natural landmarks, namely sinkholes and lakes.
Basically, thousands of years ago, volcanoes erupted and the lava formed an intricate cave network across the Limestone Coast region. Over time, many of the caves have collapsed and left behind sinkholes – 50 and counting as of now. And most of them are filled with water, making them more lakes than anything.
So if you're going to do anything in Mount Gambier, definitely tour the sinkholes and lakes nearby.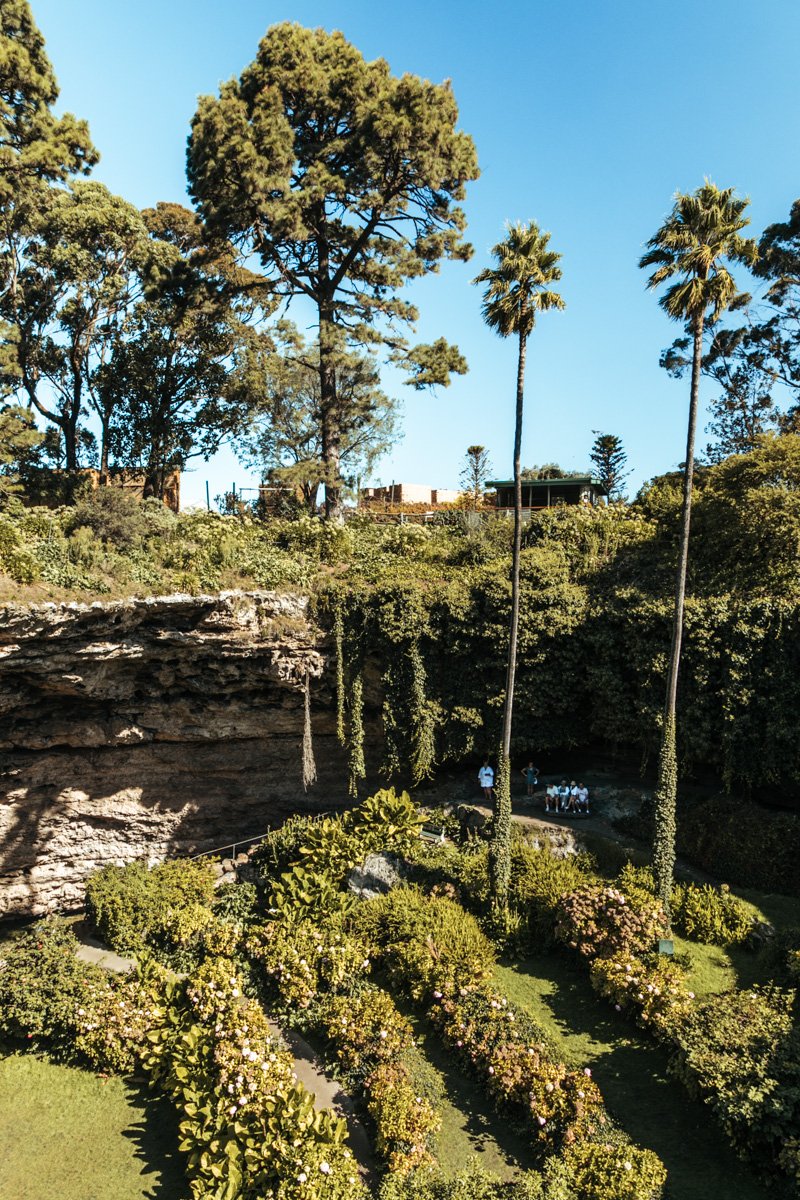 Umpherston Sinkhole.
Things to do in Mount Gambier
Umpherston Sinkhole – Umpherston Sinkhole is actually in the city, and it's essentially been transformed into an urban cave garden that you can walk down into and even relax in. The coolest part? There are tall palms growing out from the bottom of it! Such a cool spot, just aim to visit at an off-peak time (e.g. not Easter Sunday, oops again). It's free to enter.
Engelbrecht Cave – Another sinkhole in Mount Gambier, Engelbrecht Cave is an actual cave you can explore via guided walking tour (tickets are $14.50). It also houses an underground lake that's popular for diving.
Blue Lake – This one gives some serious Crater Lake vibes, minus the snow. But I swear the water is the exact same shade of dark blue in both lakes. This Blue Lake is about a 5 minute drive from Mount Gambier and honestly, the best thing to do is park your car nearby, get out, and just start walking around the lake. There are some view points you can walk up to on the side of the road, and a few patches of grass you can sit and picnic on while enjoying the view. The lake is free to view, but no swimming is allowed.
IMPORTANT NOTE: Blue Lake only looks this vibrant blue for part of the year (approx. early November through late March). Outside of this time, it'll appear more gray. We got lucky and caught it still looking blue in early April when we visited.
Little Blue Lake – This little sinkhole is only small relative to Blue Lake; with 8 meter-high cliff walls and a depth of up to 47 meters (yes, you can dive here), Little Blue Lake is actually quite sizable in volume. It's a very popular spot for swimming, and you'll see many visitors floating around inflatables and jumping into the lake from above. This place looks incredible in photos, but I think you really have to choose your arrival time wisely (e.g. maybe don't go on a holiday weekend when it's incredibly crowded, windy, and gray skied?). Don't let my rubbish photos deter you from visiting, I'm sure it's glorious on a clear and quiet day. It's free to visit, and is about a 10 minute drive from town. PS – The water here is very cold, so don't forget your inflatable tube/raft!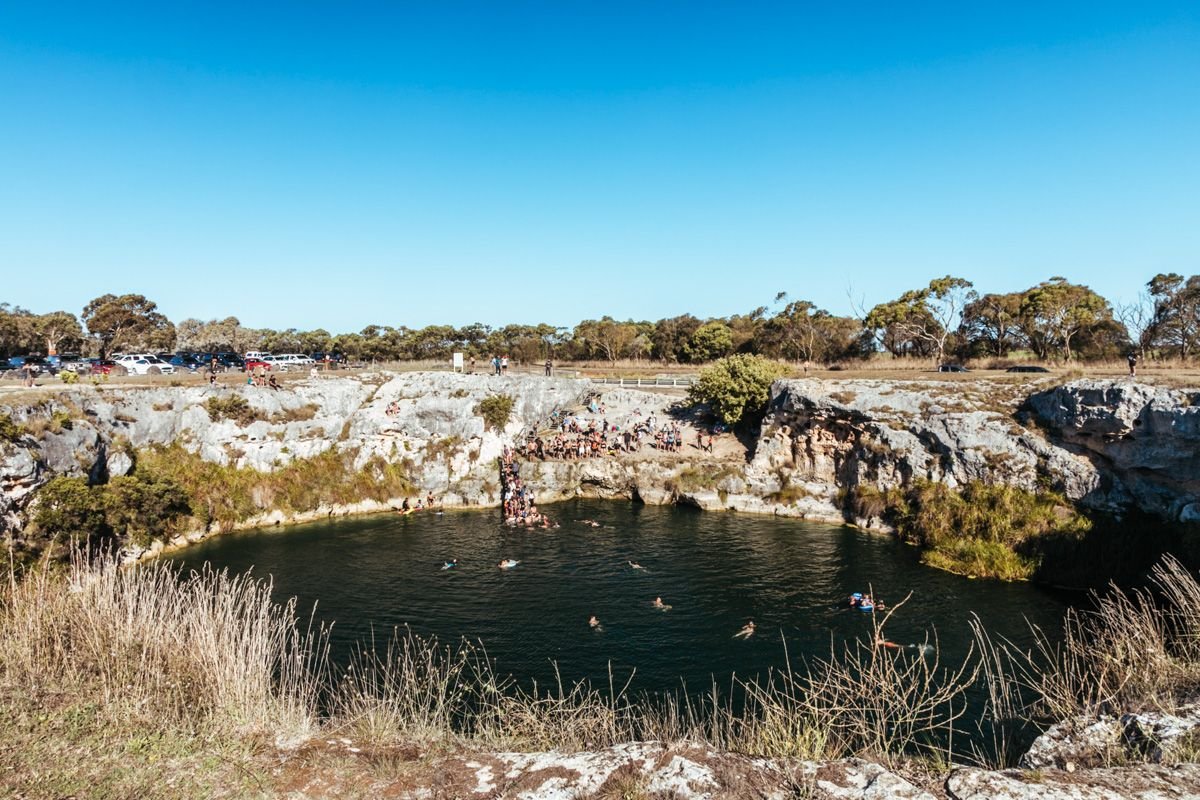 Kilsby Sinkhole – Another sinkhole near Mount Gambier (about a 15 minute drive) is Kilsby Sinkhole, which is privately owned by a family who's turned it into a tourist attraction (they also use the limestone-filtered sinkhole water to make their own gin!). They offer guided tours, snorkel tours, and scuba diving at the sinkhole.
I don't often poo poo travel experiences I've had, but I have to say that I personally don't think the Kilsby Sinkhole snorkel tour is worth the $99 admission. They literally just plop you in the sinkhole with your snorkel gear and you're free to swim around on your own for awhile. The water is amazingly clear, probably clearer than any water you've ever seen before – but there's really nothing to see underwater except for the rock (and the resident turtle, who apparently was hiding during our visit).
Was it cool and informative, absolutely – but WAY overpriced for what it is, IMO. I'd only recommend diving here, or maybe just taking the above-ground tour. And if you snorkel or dive here, be sure to come at midday so you have the direct sun from above shining through the water (the sunbeam photos here are epic!).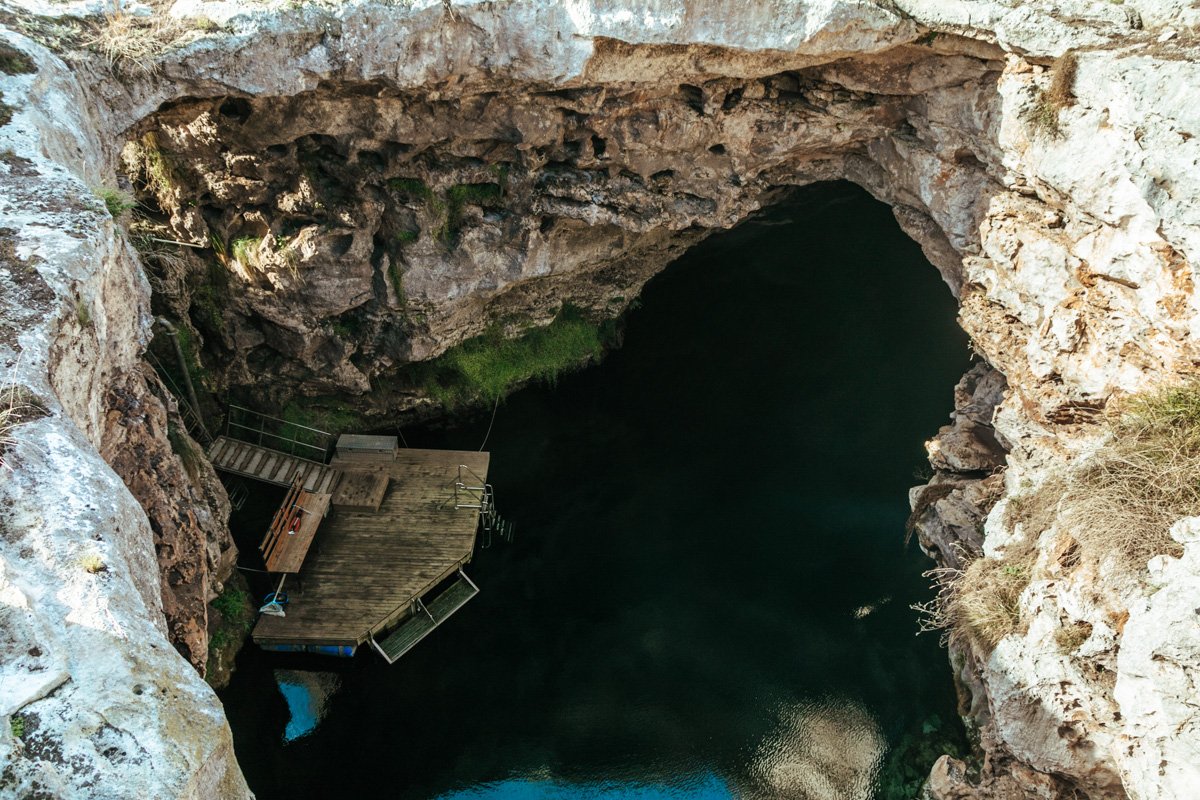 Mount Schank – For a bit of a workout in-between sinkholes, there's a 1-hour rim walk you can do around the rim of Mount Schank, a dormant volcano outside Mount Gambier. The .6km walk up is steep, and then it's about 1.4km around the rim (making the hike about 2.6km in total). The 360-views from the top are well worth the hike up 1000+ steps.
Bricks & Mortar Coffee Co. – I'm calling this the best coffee in Mount Gambier. My sample size is one, but when you know you know. This cafe served up some of the best coffee I had on this whole road trip!
Where to Stay in Mount Gambier
Pine Country Caravan Park – This is my top pick of the Mount Gambier caravan parks, though unfortunately they were all booked out when we visited due to it being the Easter long weekend and us not planning too far ahead. It's quite spacious and they allow campfires, which most caravan parks don't do.
The Barn Accommodation – featuring suites set amongst beautiful English-style gardens, The Barn is located just 5 minutes outside of Mount Gambier. Rates start at AU$190/night.
CLICK TO SEARCH FOR ACCOMMODATION IN MOUNT GAMBIER

Robe, South Australia.
Robe
If I had to recommend ONE place to visit in the Limestone Coast region, it'd have to be the seaside town of Robe.
In a word, Robe is DELIGHTFUL. It is just the perfect holiday getaway spot, the kind of place where you rent a beach house and just hang out at the beach all day every day, venturing into town occasionally for a meal or a bit of shopping.
Things to do in Robe
Really, all you need to do in Robe is beach 'n chill. But if you're the kind of person who likes to do all of the things, here are a few things to do in Robe:
Robe Coastal Walk – I'm not sure if this is the official name for it, but regardless, I highly recommend going for a walk along the waterfront in Robe. Much of it is lined with a pathway which makes for easy strolling. The western side of the walk goes up into the scrub and away from traffic, taking you past the red-and-white striped Robe Obelisk. The eastern side of the walk takes you past a few small beaches and ends at Long Beach.
Mahalia Coffee – Definitely the best coffee in Robe, and they roast their own beans. There was an adorable 3-legged cat hanging out at the cafe every time we stopped in.
Sky Seafoods – Go here for amazing fresh seafood. You can either buy and cook at home, or indulge in their delicious fish and chips.
Where to stay in Robe
Sea Vu Caravan Park – If you're camping, Sea Vu is where you want to stay. It's the only place in or around town where you can camp right next to the beach. Doesn't get much better than sea views from your campsite (aptly named, right?).
Trader Jacks – If you're seeking an Insta-friendly Robe accommodation for 1-2, this is, evidently, "the coolest space in town." Plus, it's dog-friendly. Rates start at AU$175/night.
Your Place Robe – Beautiful modern holiday home that sleeps up to 8 people. Rates start at AU$380/night.
CLICK TO SEARCH FOR ACCOMMODATION IN ROBE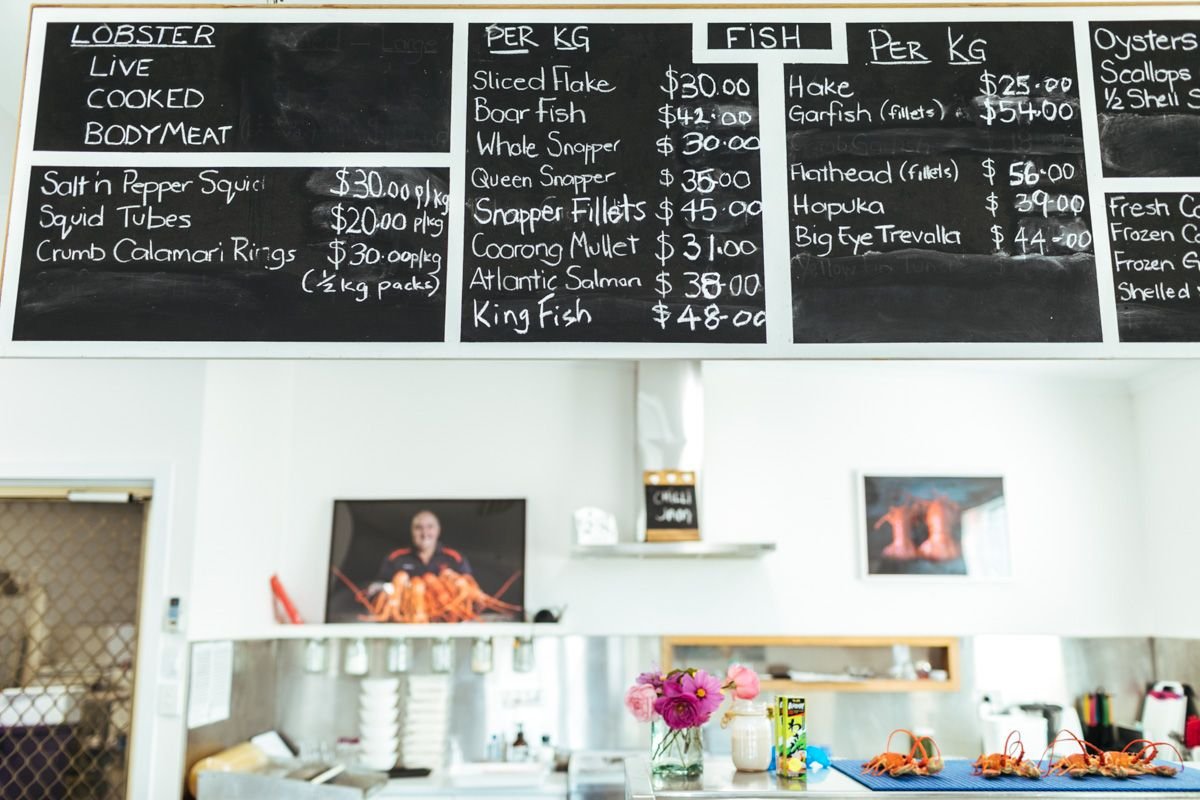 Sky Seafoods in Robe.
Beachport
Beachport is a tiny town that's less than an hour's drive from Robe, making it perfect for a day trip. You can definitely stay here overnight too, but I think Robe is a better place to base yourself because there's a lot more food and accommodation options there.
Either way, you'll want to spend at least one full day in Beachport because it's where the best beaches in the Limestone Coast are. TRUST ME ON THIS.
Things to do in Beachport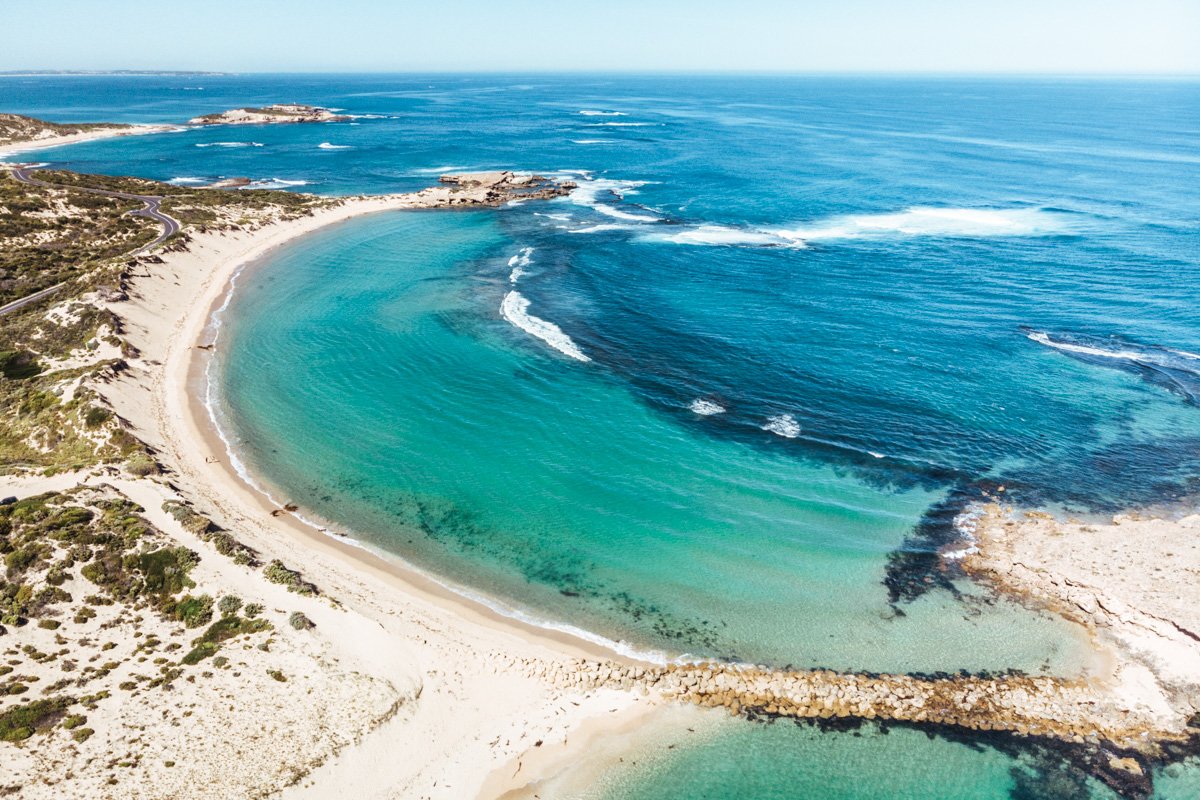 Post Office Rock / Salmon Hole – Head straight to Post Office Rock, pass Go, and collect $200. Post Office Rock separates the two prettiest beaches in Beachport, so your best bet is to park here and walk between them. White sand and the bluest of blue water await.
Pool of Siloam (aka Beachport Lake) – A salt lake that's allegedly 7x more salty than the ocean, which makes it ideal for relaxing floats and relieving body aches (similar to a float tank). There's a picturesque jetty that you can jump off of.
Bowman Scenic Drive – An extremely picturesque drive around the coastline of Beachport that offers incredible views of the sea and town. You'll definitely want to stop the car and get out every 10 seconds for a longer look at the scenery (just be sure to do so safely!).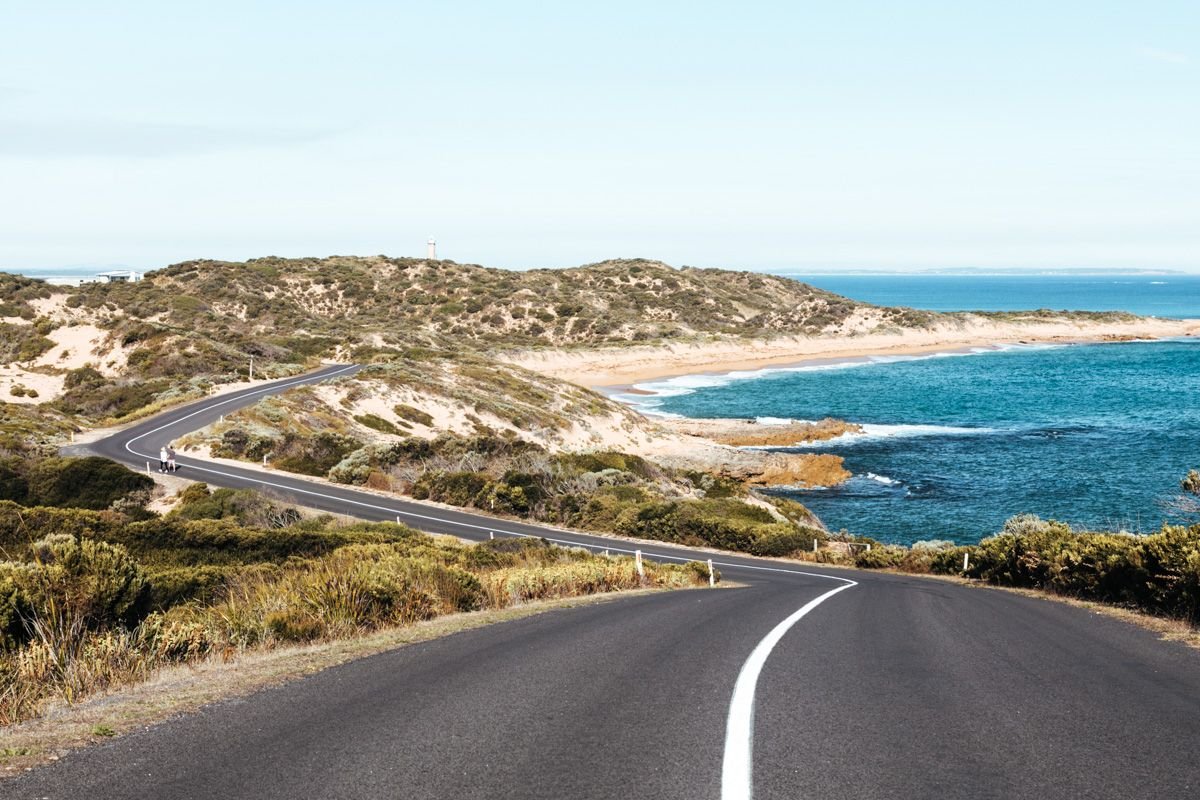 Coonawarra
Sometimes referred to as "Australia's Other Red Centre", Coonawarra is a hidden gem as far as wine regions go.
Its red-ness comes from the region's terra rossa soil, which has birthed some of the best cabernet sauvignon and shiraz in all of Australia. I'm no geologist or wine expert, but I think the high quality has got to do with the limestone content of the soil. Whatever it is, just know that Coonawarra has incredible red wine, which you can sample at numerous different cellar doors in the area. Note that most places will charge $10 per tasting unless you buy a bottle of wine from them.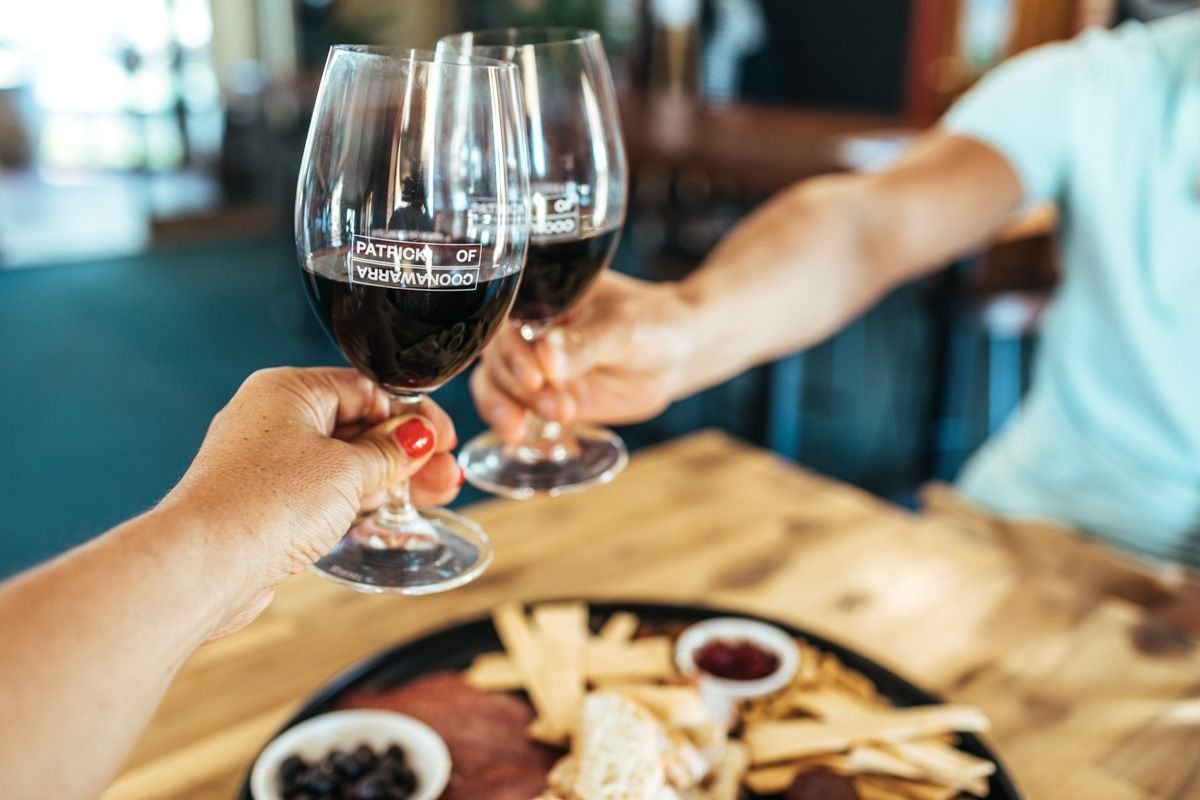 We stopped in for wine tastings at:
Patrick of Coonawarra – Come here and do a wine tasting, then order a cheese platter to enjoy out on the lawn with a glass of your favorite wine. They've got bean bag chairs and low tables set on the grass outside, perfect on a sunny day.
Bellwether Wines – Quite possibly the most unique cellar door in Coonawarra (/South Australia?). First off, definitely book your wine tasting in advance online, as it's a small space. Second, if you're camping, try to book in to camp here (again, well in advance, as they have limited space), or glamp in their bell tents. They put on a special wine tasting exclusively for campers every day, plus offer other perks for anyone staying overnight. And third, their venue is just so nice and cozy inside. Bellwether wines are known for being a little… *different* than the usual ones made in Australia, so they may or may not be your cup of tea (they weren't mine).
Naracoorte
Naracoorte Caves National Park is THE thing to do in Naracoorte. It's the only world heritage-listed site in South Australia, which makes it worth a stop even if you're not really into caves (though full disclosure, we gave it a miss – caves aren't really my thing).
As you might expect, you can hop onto a few different guided cave tours here, ranging from $11-35/person per cave. They also offer a bat tour, fossil tour, and adventure caving, which is pretty unique considering how most cave sites in Australia only offer straight-up guided cave tours.
Click to see all of the cave tour options at Naracoorte Caves National Park.
Other Things To Do in the Limestone Coast, South Australia
There are a couple other interesting Limestone Coast attractions I wanted to mention that are a bit more off-the-beaten-path. Both are super unique diving/snorkeling spots in the southeast corner of the region (close to the VIC border):
Ewens Ponds – Here you'll find 3 spring-fed limestone ponds connected by narrow channels, which you can swim between. The water here is pretty cold year-round (10-15C), so wetsuits are a must. To snorkel or dive here, you must book a permit and time slot in advance.
Piccaninnie Ponds – At this location, where wetlands meet the beach and freshwater springs bubble up onto the sand, you can go snorkeling or cave diving. The majestic underwater cavern is a major draw for divers. To snorkel or dive here, you must book a permit and time slot in advance. If neither is your jam, you can opt to follow the walking trail or stroll the beach nearby.
Pin it!