Oh my goodness is this post long overdue!
You'd think that after 5 years in Australia, 6 months of which I lived in Melbourne, I'd have already shared a Melbourne itinerary on the blog.
The reason why I haven't until now is that it's actually really difficult to organize the best bits of Melbourne into an itinerary of must-sees and must-dos. It just isn't the kind of a city that's full of tourist attractions to check off your list.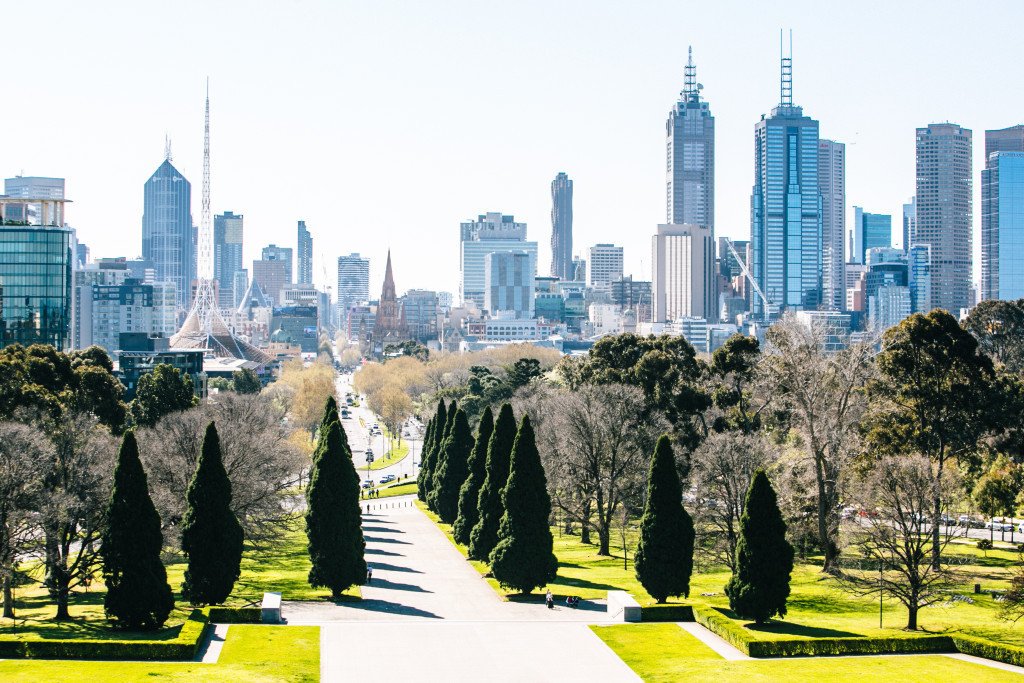 And that's exactly why Melbourne is such a joy to experience! You can visit this oh-so-liveable city without any agenda, simply following your tastebuds from cafe to restaurant to bar. Or if you're less of a foodie and more of a street art lover, you can play the game I like to enact where I just chase after colorful murals around town and craft my own little spontaneous street art tour.
These days, whenever I return to Melbourne for a quick visit, I tend to shape my days around whatever new (or tried-and-true favorite) cafes I feel like sampling coffee from, and then fill in the rest of my time in the moment based on how I'm feeling.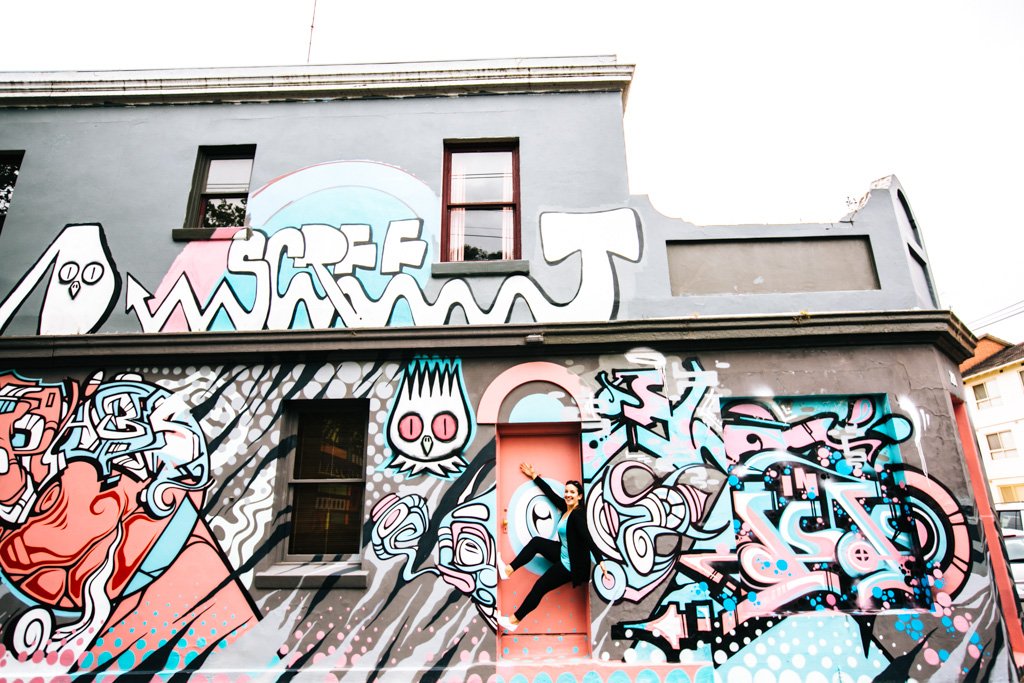 I may have moved to Sydney for its beaches and beauty, but I adore Melbourne for its ability to make me more PRESENT. I'm never thinking ahead to what other things I want to see when I'm there, or turning over future blog post ideas in my mind as I do most anywhere I go ('tis the curse of being a travel blogger) – I simply follow my whims and design my days in real time.
Melbourne is a city with a seemingly endless supply of restaurants, bars, brunch spots, and coffee shops – but it's not just the quantity, it's the QUALITY of these venues that makes Melbourne shine. You will eat and drink SO WELL in this city and it'll be the highlight of your trip guaranteed.
I've taken a crack at creating a Melbourne 3 day itinerary that I think you'll enjoy, which includes many of my favorite things in this city (however, I give you full permission to ignore it and just do your own thing):
Day 1: Melbourne CBD
We're staying central on Day 1 of this Melbourne 3 day itinerary and exploring Melbourne CBD and surrounds.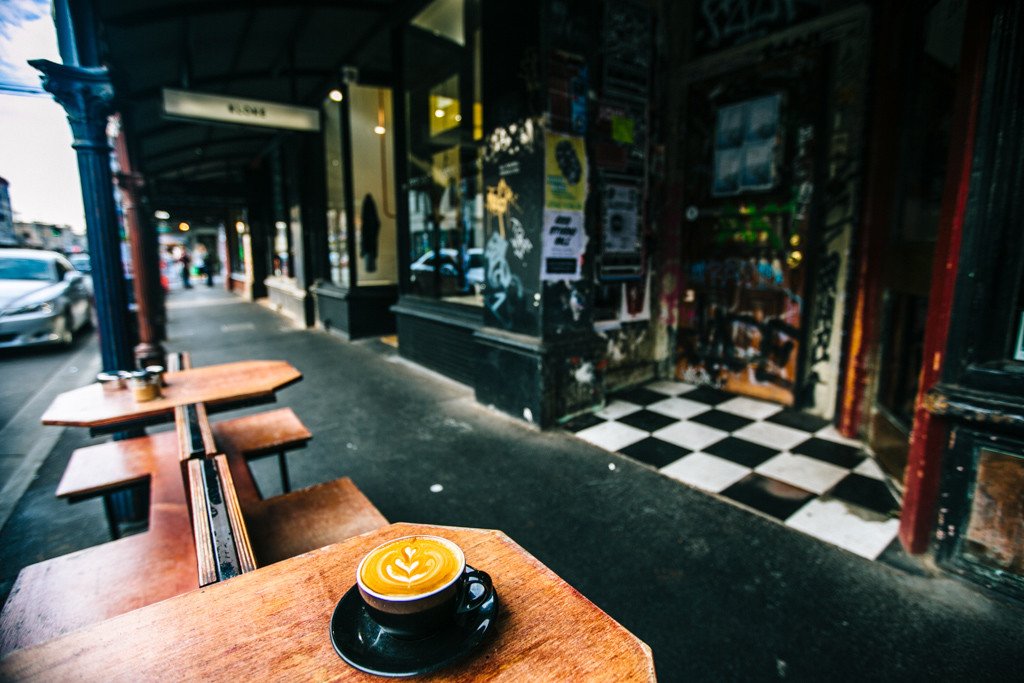 Coffee & Breakfast
First thing's first: coffee and breakfast at one of Melbourne's best cafes. Hit up Seven Seeds in Carlton or Auction Rooms in North Melbourne (both are a quick tram ride away from the city center, or a longer walk). These Melbourne coffee shops have been around for years and are widely considered to be two of the city's best, which is why I always make a point to stop in at both whenever I visit Melbourne.
Note that there are ALWAYS new cafes popping up around the city that get super trendy for a year (mainly due to Instagram), but personally I'd rather go to these older classics because it's hugely important to me to be able to count on consistently amazing coffee. You can never go wrong with either option: they have some of the best coffee in Melbourne.
I always love buying a bag of Seven Seeds coffee beans to take home with me. And on my most recent Melbourne trip, I finally sampled the Barista Breakfast at Auction Rooms (a double espresso, a flat white, and a long black). This is a great move if you're sharing with someone or have the discipline to just take a few sips of each – all of their coffee drinks are SO GOOD. I wouldn't recommend devouring the whole thing after 2pm like I did though (Sleep? What's that?).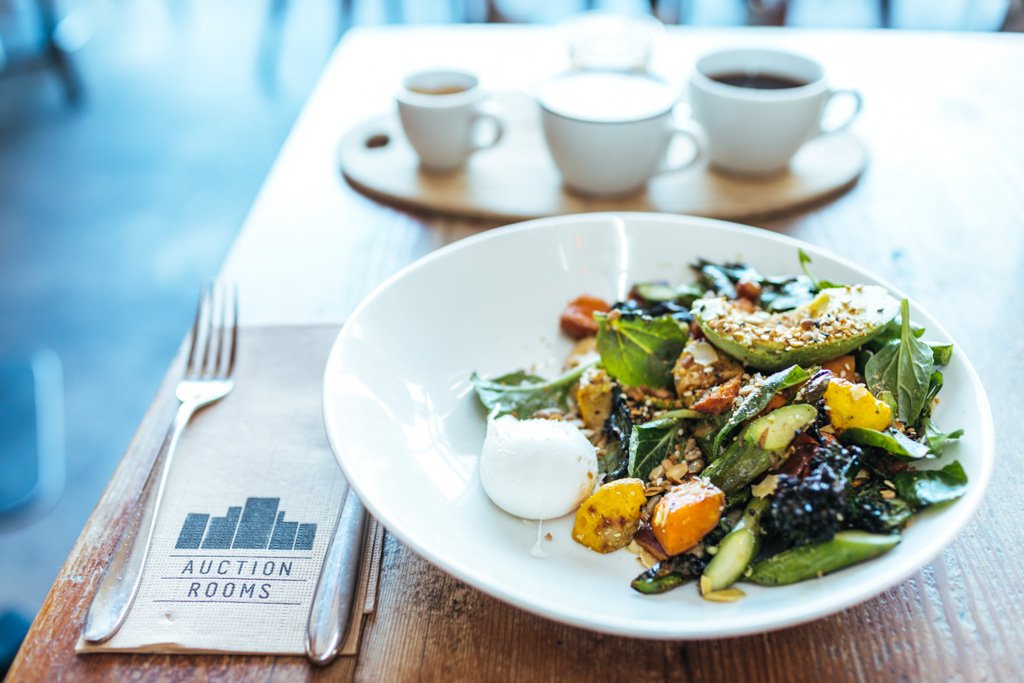 From late morning to early afternoon, you'll be frolicking around Melbourne CBD, making your way from the northeast corner of it to the southeast corner by Federation Square.
Here's what I recommend doing along the way:
Queen Victoria Market
Fun fact: the Queen Vic Market is the largest open-air market in the southern hemisphere!
Not only is it a top shopping spot in Melbourne, it's also somewhat of a foodie mecca with its sweet treats, fresh produce, and plentiful cafes on offer. You might want to stick around to grab lunch here!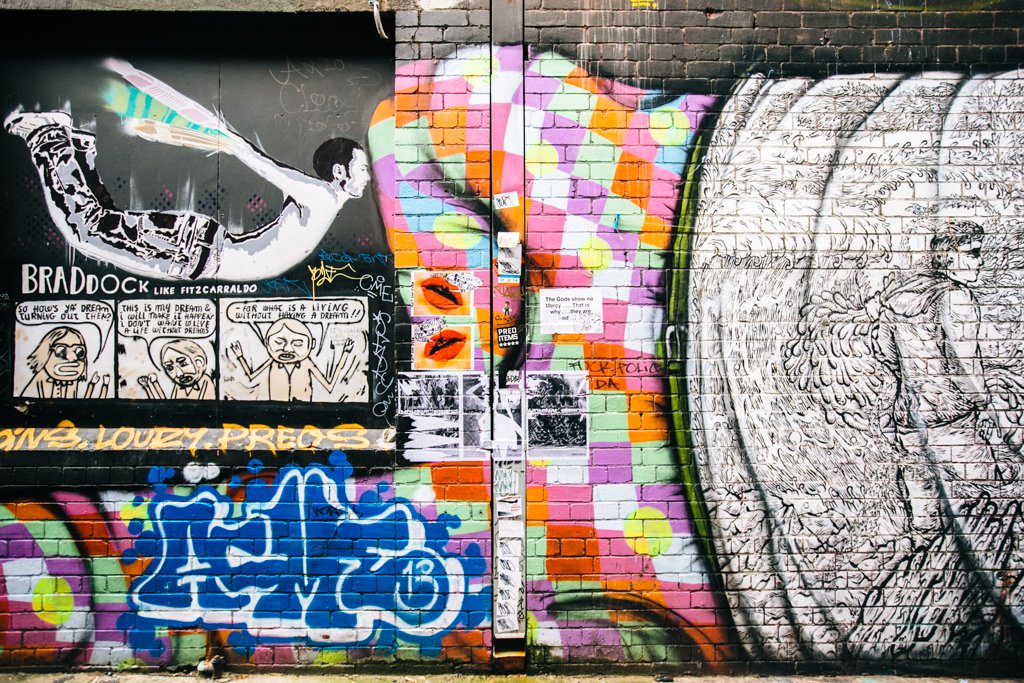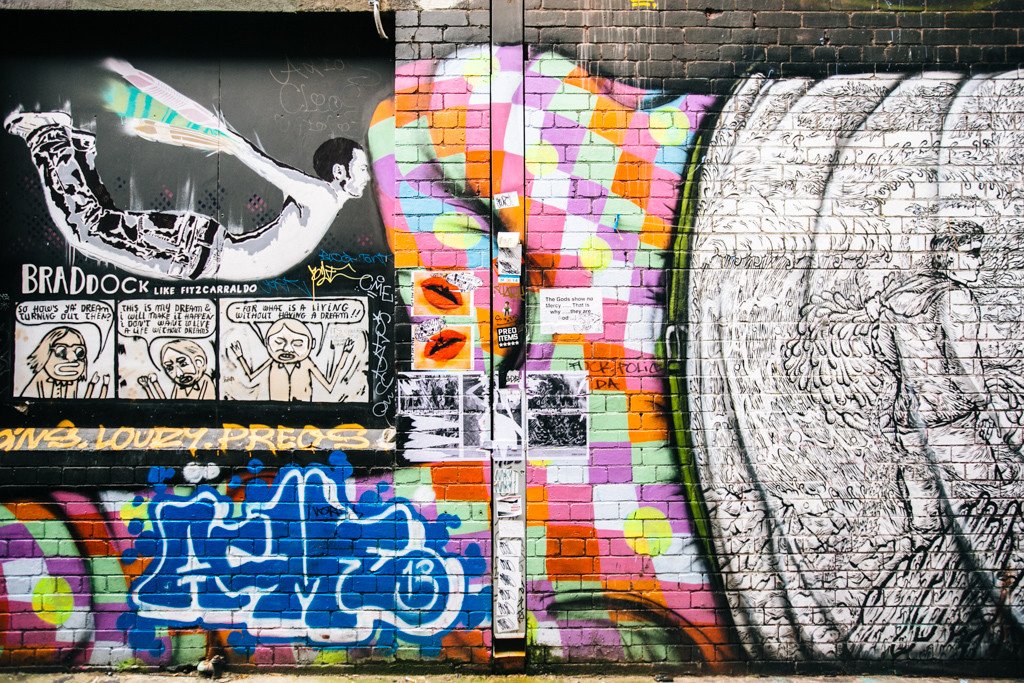 Blender Lane street art.
Street Art in Melbourne CBD
Lots of Melbourne's street art is concentrated in the CBD, so you're bound to spot some without even looking for it.
But if you want a cheatsheet, check out: Queen Street Laneway, Tattersalls Lane, Croft Alley, Blender Lane, Centre Place, and the famous Hosier Lane.
READ MORE IN THIS POST: Where To Find The Best Street Art in Melbourne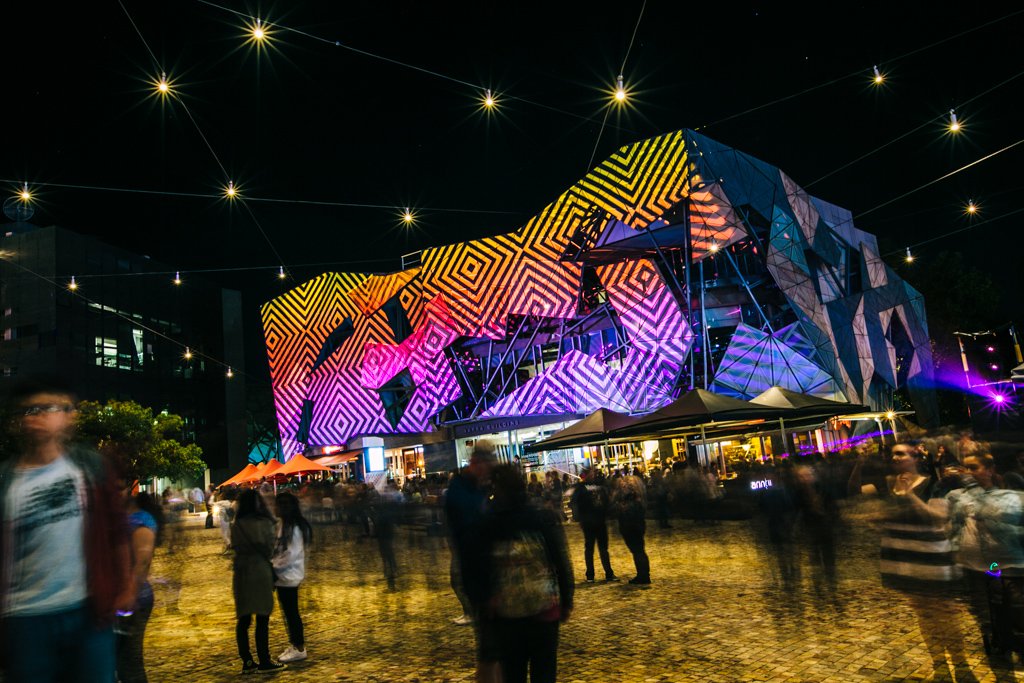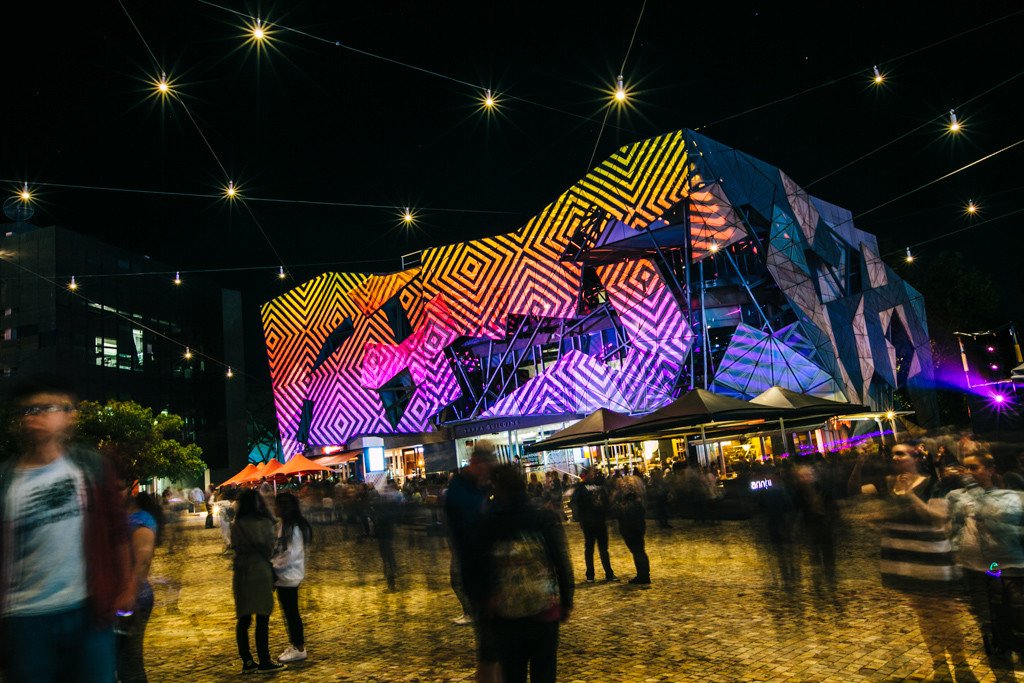 Fed Square during White Night.
Federation Square
Federation Square is more of a cool landmark than anything else, and it's worth a quick walkaround.
Flinders Street Station
Right across from Fed Square is Flinders Street Station, which is impossible to miss with its distinct yellow architecture. If you're taking the train at all while in Melbourne, you're likely to pass through this station.
The Yarra River
One of my favorite things to do in Melbourne is just wander along the banks of the Yarra, particularly during golden hour. If you have time in the afternoon, do this; otherwise you can do your frolicking after the boat trip!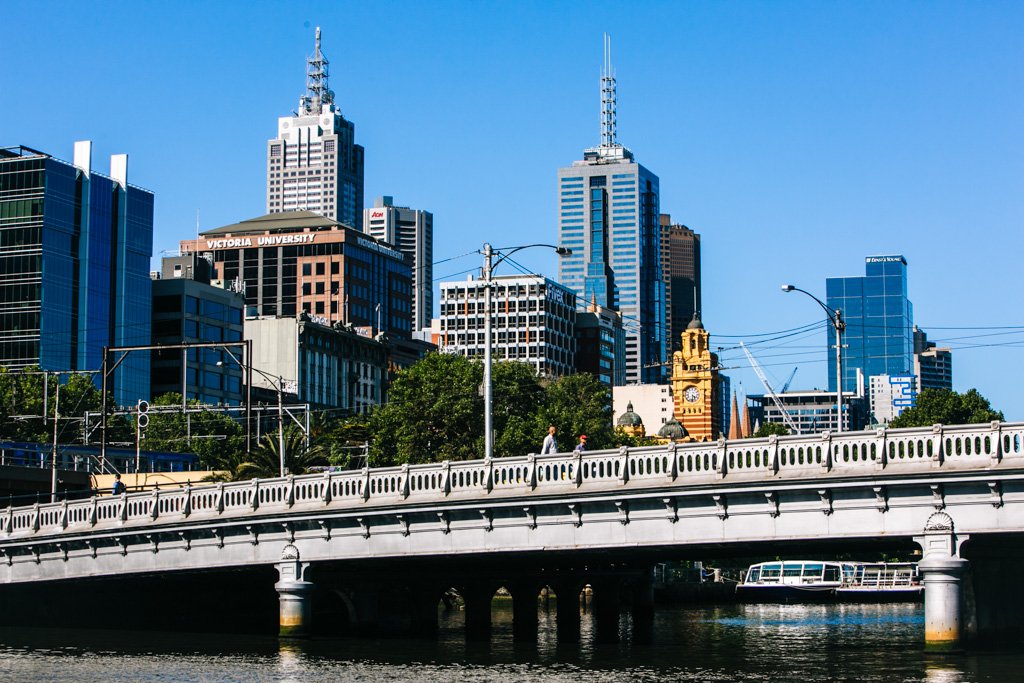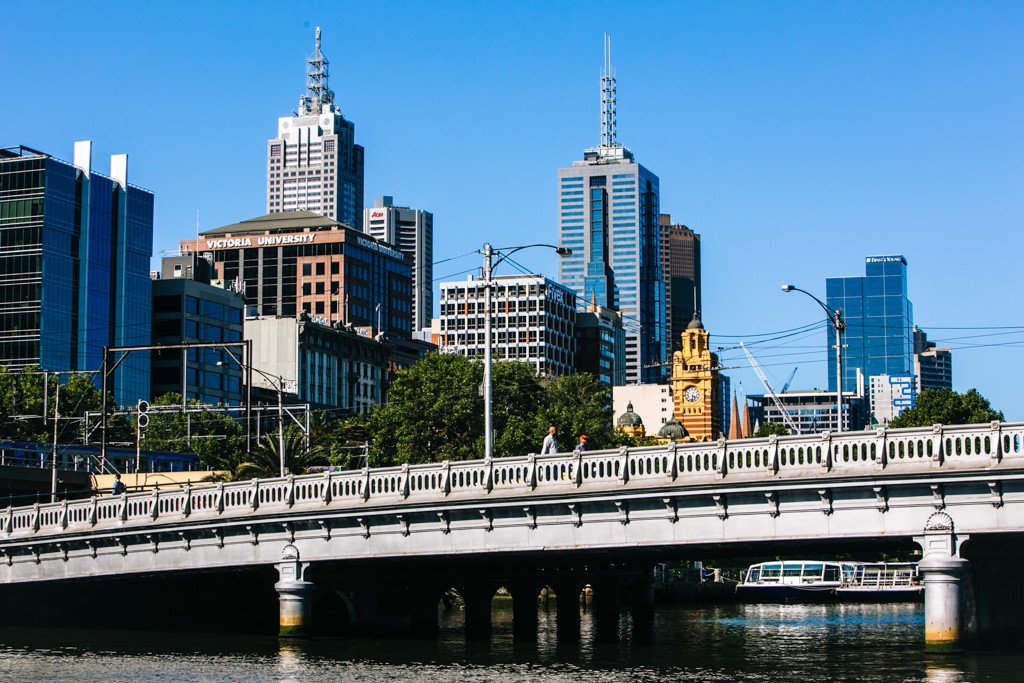 Melbourne River Cruise
Speaking of boat trips, I highly recommend booking a Melbourne River Cruise during your 3 days in Melbourne. Boats run up and down the Yarra and give you some sensational views of the city and its bridges along the way.
I've gone with Melbourne River Cruises, which is a 2 hour trip that cruises out to Williamstown and back and costs $29. You also have the option of taking a boat in the opposite direction toward the stadiums and gardens.
READ MORE IN THIS POST: Highlights From A Melbourne River Cruise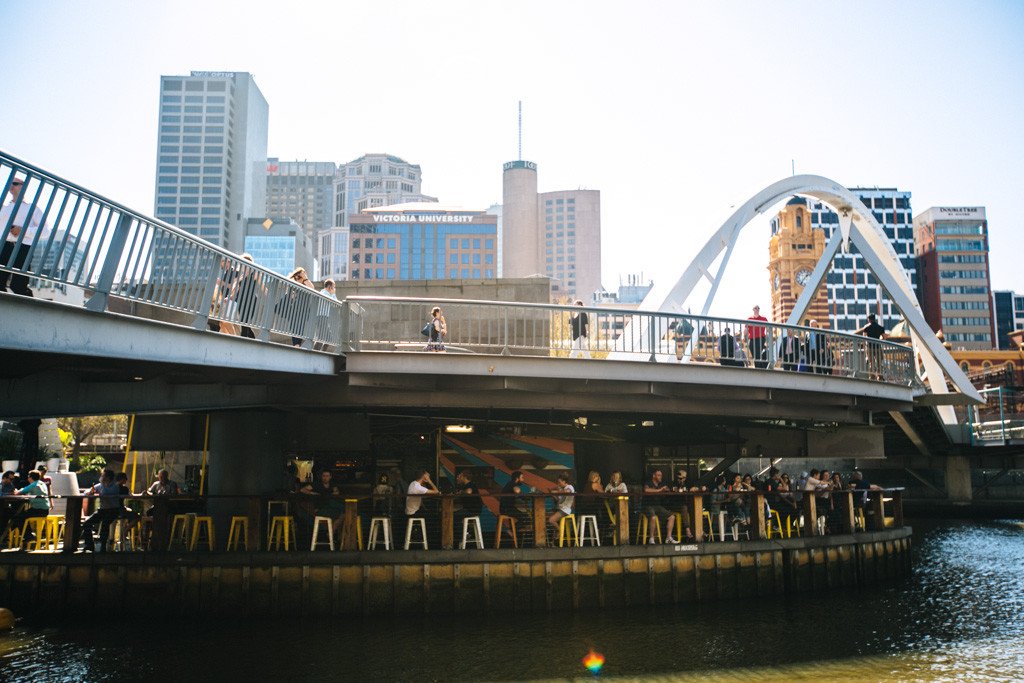 Ponyfish Island.
Drinks & Dinner
End your day with a drink at Ponyfish Island, a floating bar in the middle of the Yarra. It's a bit touristy, but the vibe is great and it's an ideal place to watch the sunset if you time it right.
For dinner, check out the Asian fusion dishes at popular Red Spice Road, or wander into Chinatown for other Asian eats.
Day 2: Northside to Southside
Day 2 of this Melbourne 3 day itinerary mirrors what a typical day in my old Melbourne life would look like. I hope you enjoy it as much as I do!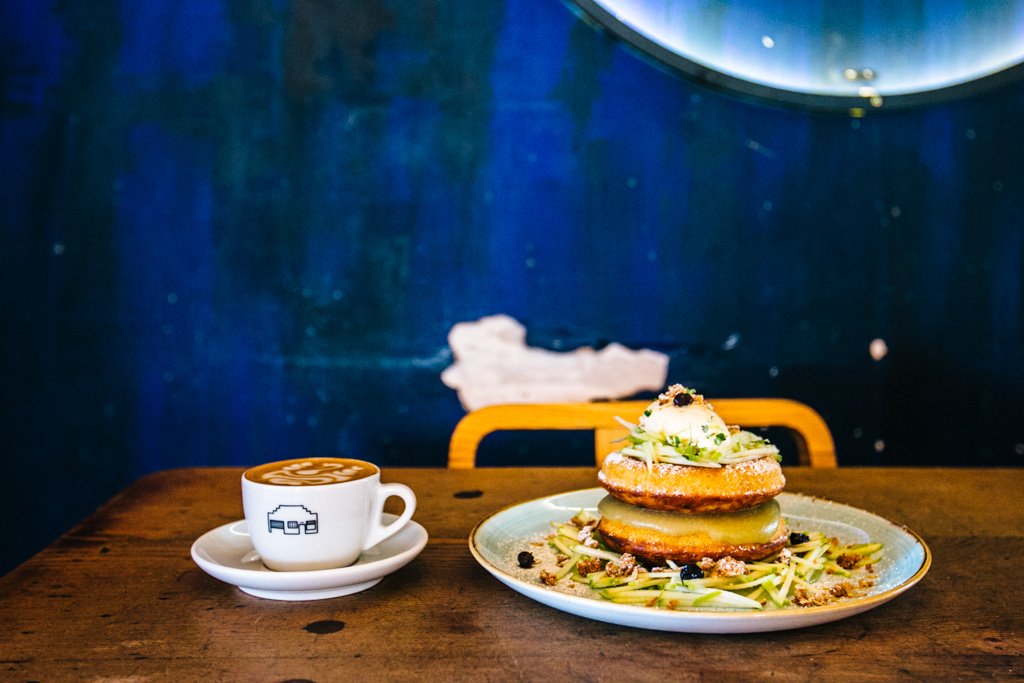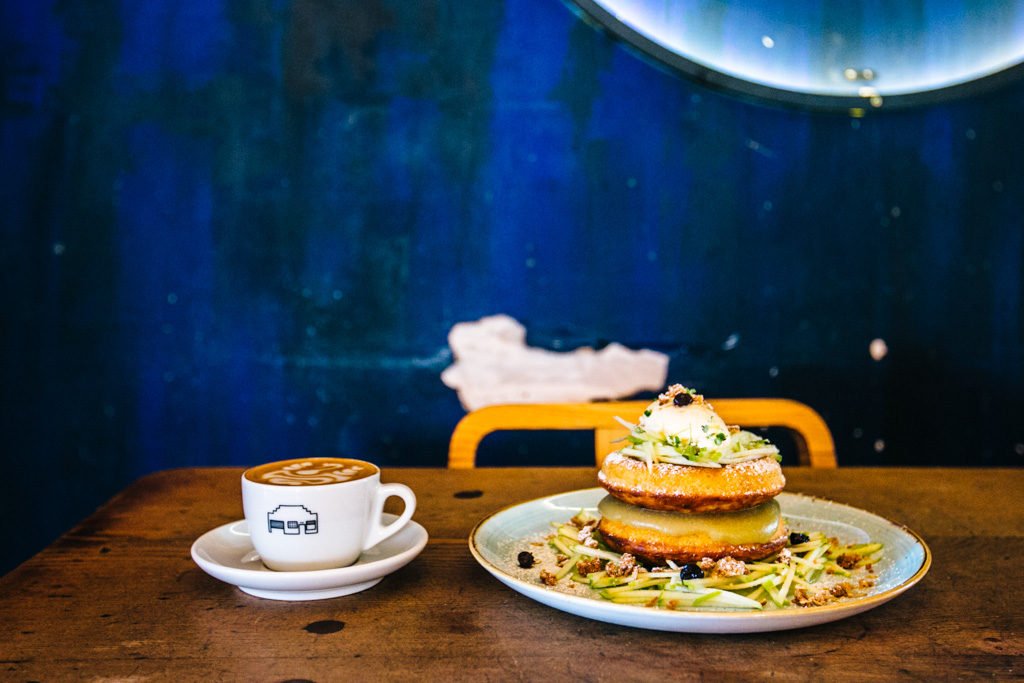 Coffee & Breakfast
Kick off the day northside exploring some of Melbourne's most colorful neighborhoods: Fitzroy, Collingwood, and Abbotsford.
Depending on which suburb you start in, I've got a few options for coffee and breakfast: Industry Beans (Fitzroy), Proud Mary (Collingwood), or Three Bags Full (Abbotsford).
My go-to has always been Proud Mary – like the cafes I recommended on Day 2, Proud Mary's a longtime Melbourne favorite (i.e. very legit) and their coffee is always incredible. Industry Beans is more of an insta-sensation, and I usually order my coffee beans from them online to have shipped to me in Sydney. 3BF I've yet to try, but they have hundreds of stellar reviews so I feel pretty good about recommending them.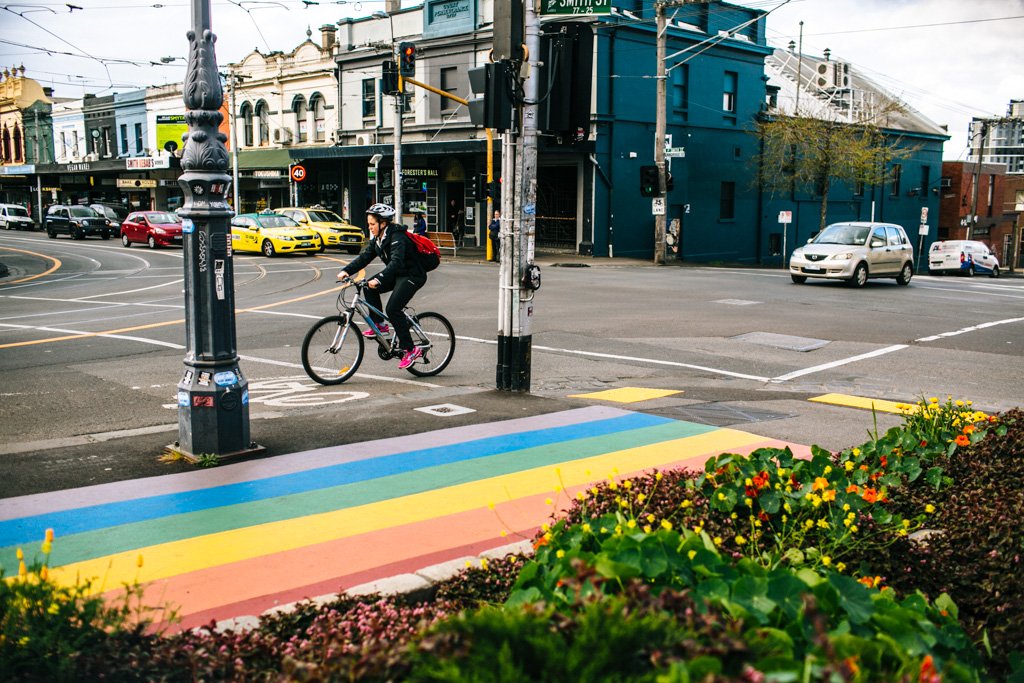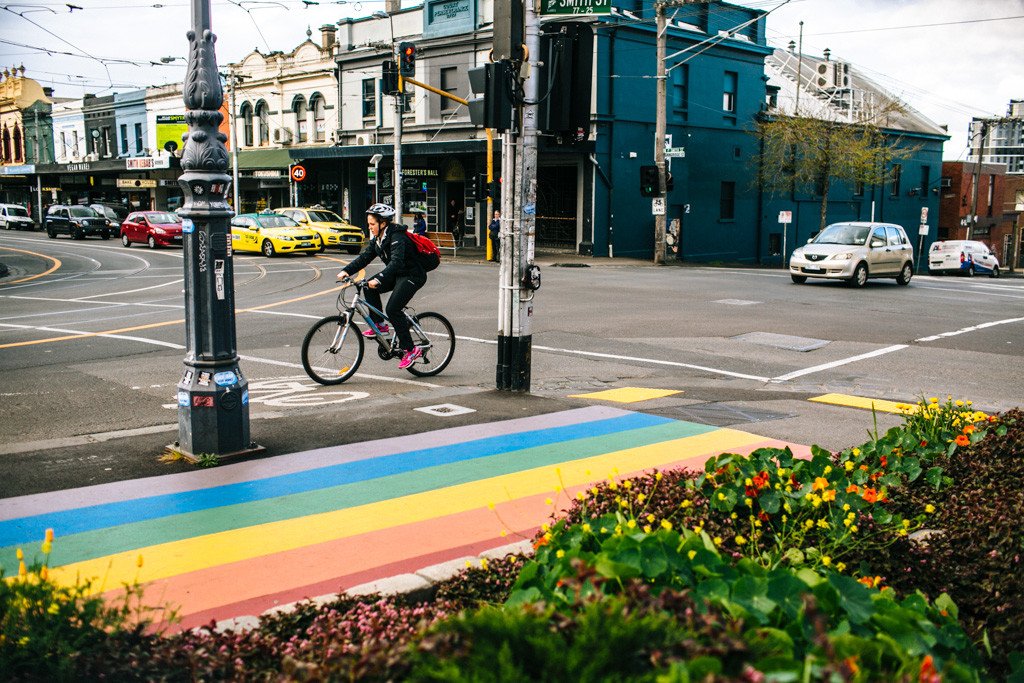 Colorful Fitzroy.
Fitzroy & Collingwood
Spend the morning wandering around Fitzroy and Collingwood, part of Melbourne's hipster hub and absolutely brimming with murals on every other block. There's a high concentration of street art in this part of town with new pieces popping up frequently. And if you like quirky shops, art galleries, and ethnic eats, you'll have plenty to occupy yourself with here.
Be sure to pop in for a drink at Naked For Satan, a venue that's universally loved by Melburnians and visitors alike for it's rooftop views and infused vodka drinks (I'm not much of a drinker, yet I can't even count how many times I've been to this bar over the years. It's always the place people suggest meeting for catchups or dates, it seems!).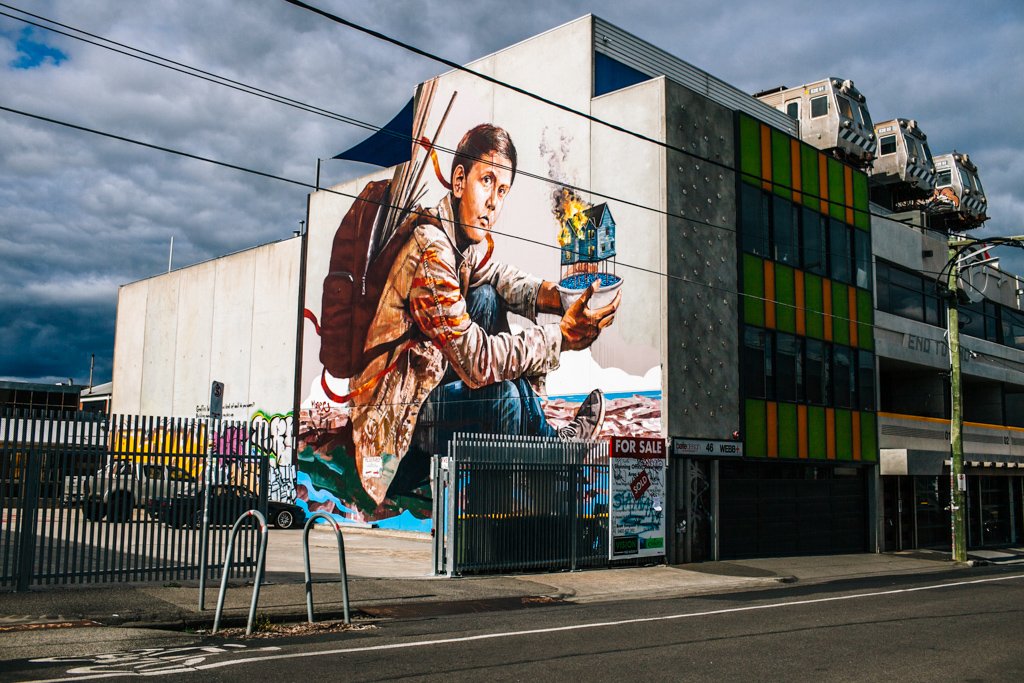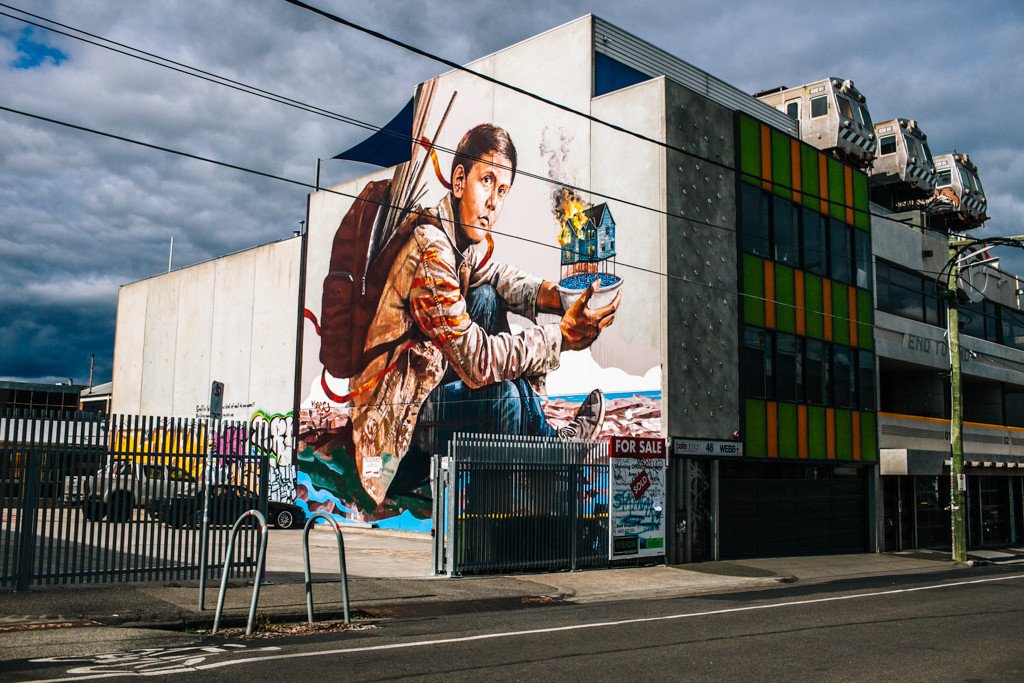 Easey's in Collingwood.
Lunch
For lunch, you've got a healthy and an unhealthy option:
Option A is Easey's, where you can nom on burgers from inside a train carriage set on a rooftop in Collingwood. Yep, only in Melbourne! Even if you don't eat here, it's worth passing by just to glimpse the spectacle of train cars on top of a 5-story building.
Option B is Lentil As Anything in the Abbotsford Convent, serving all-vegan food typically buffet-style. Meals are donation-based, and there's often live music and other events on at the venue while you dine. It's got a really warm, cozy vibe to it – and plus, the convent grounds are pretty beautiful on their own.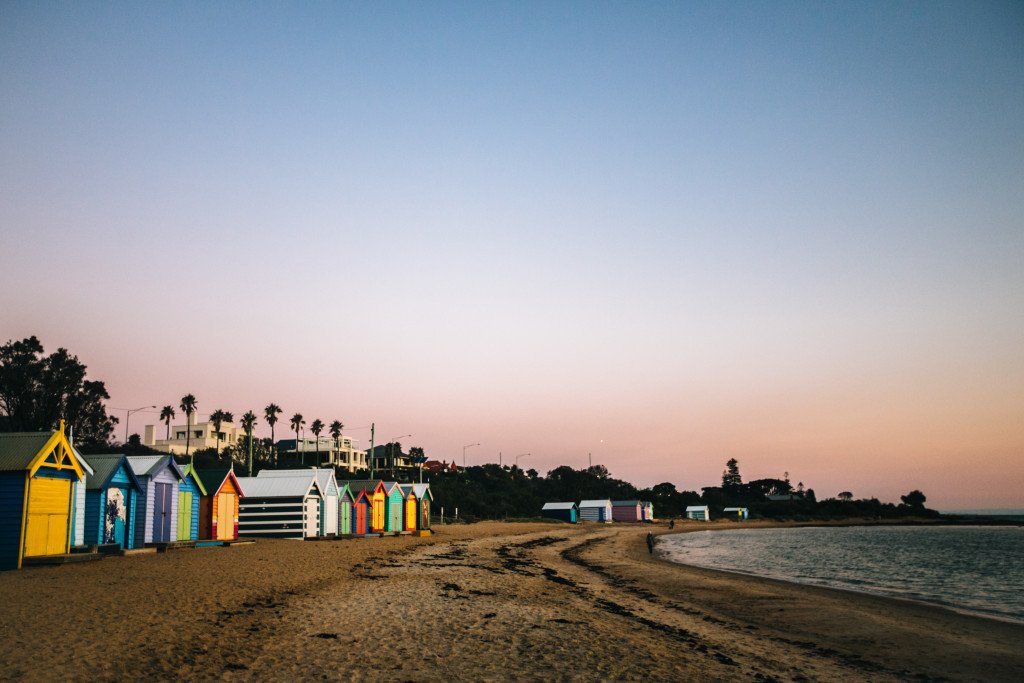 Brighton bathing boxes.
Brighton to St. Kilda
Come afternoon, hop on the train to the southside – Brighton, to be specific.
Melbourne isn't known for its beaches like Sydney is, but it does have a few worth noting. Brighton Beach is famed for its colorful bathing boxes in the sand, definitely a must-do for photos.
From here, there's a coastal pathway you can walk all the way up to St. Kilda Beach, which should take you 1.5-2 hours depending on how often you stop.
St. Kilda is the unofficial backpacker HQ in Melbourne, so consider yourself warned! Nevertheless, it's worth coming here at least once for sunset – not just for the daily spectacle itself, but also to catch the little penguins which are only really out at this time of day.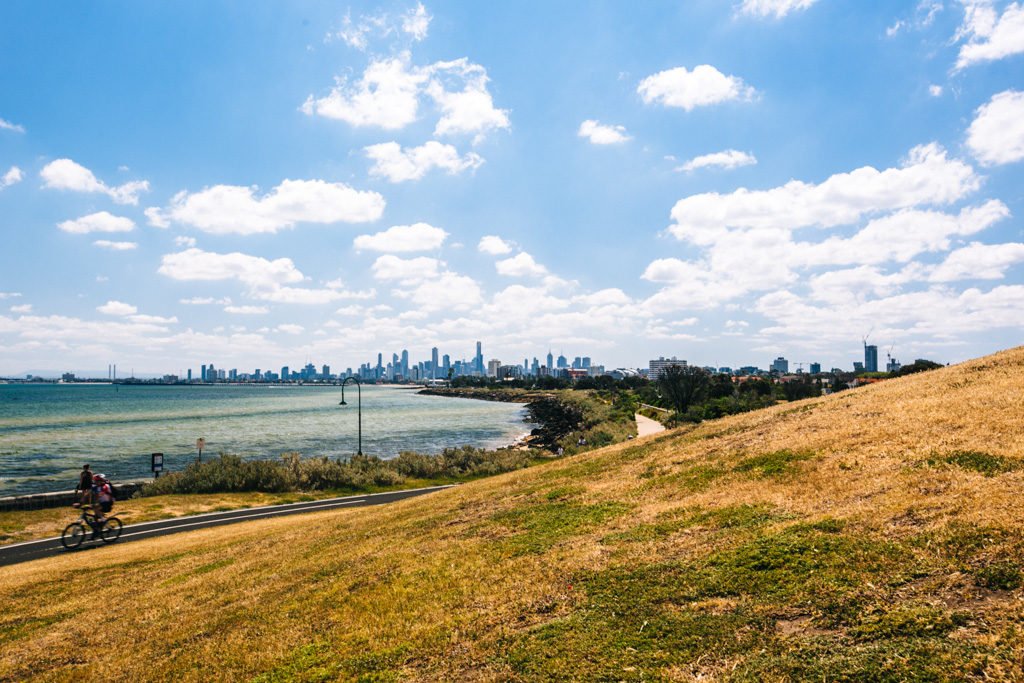 The path from Brighton to St. Kilda.
Drinks & Dinner
For southside dinner and drinks, you can either hang around St. Kilda or head up to South Yarra. In general, both suburbs are full of young folk and social venues, which may or may not be your scene. I think it's worth lingering for the evening just so you can compare this part of Melbourne to the northern part you saw earlier in the day.
There are plenty of good restaurants in this area: try St. Luja or Republica in St. Kilda, or anywhere on Chapel Street in South Yarra.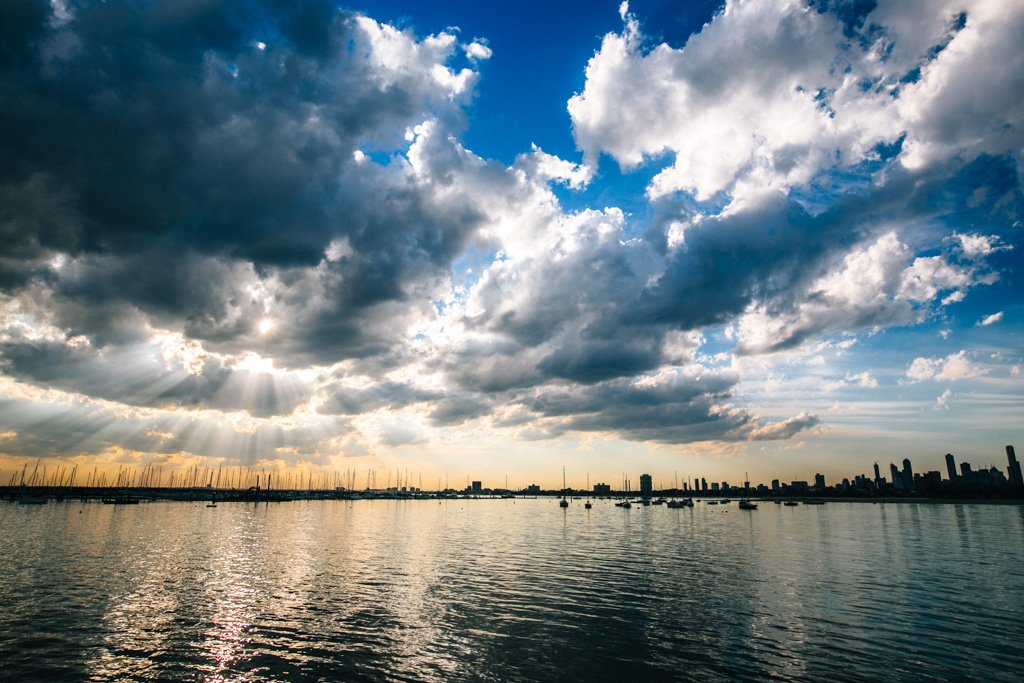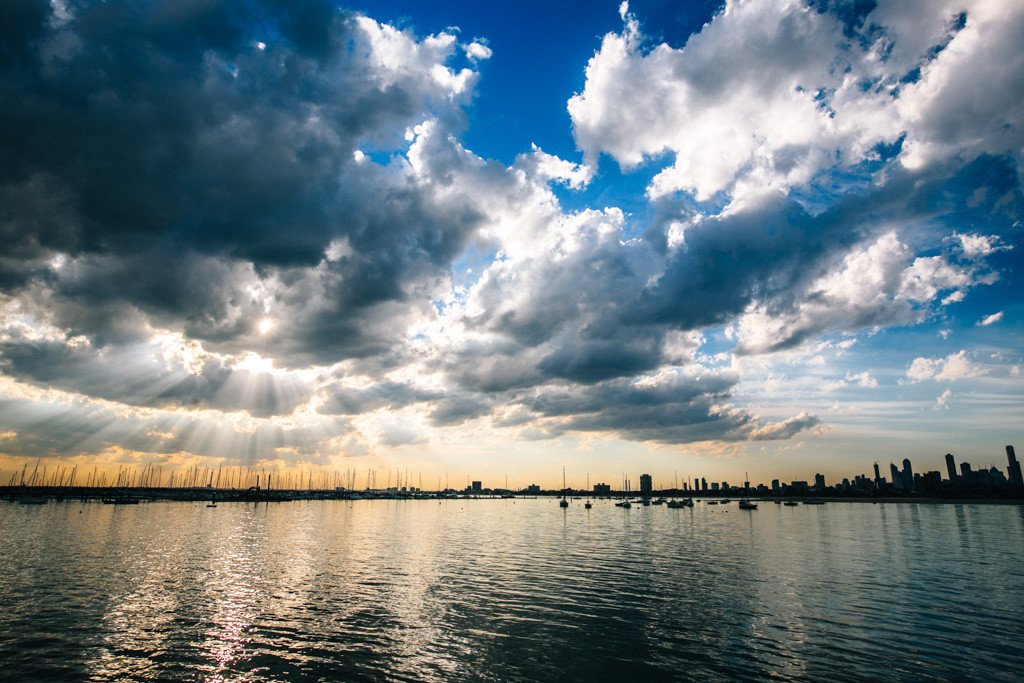 Sunset from St. Kilda.
Day 3: Cycling
If you have a third day in Melbourne, spend it on a bike as many Melburnians do. Apart from the coffee, the other thing I miss the most from living in Melbourne is how bike friendly the city is. There are so many bike paths and designated bike lanes on the streets that it feels very safe to be cycling here. And SO many people do!
I once hired a bike from The Humble Vintage in Collingwood and can definitely recommend their quality stylish bikes, but feel free to get a bike from another vendor if it's more convenient.
Coffee & Breakfast
Two wheels obtained, head north on the Upfield bike path which runs alongside the train line. There's a lot of cool street art works along the route and minimal vehicular traffic.
This area is definitely not short on quality cafes, but my picks are Wide Open Road in Brunswick or East Elevation in Brunswick East.

Upfield bike path in Melbourne.
Brunswick
Brunswick is the hipster heart of Melbourne. The northside in general reminds me a lot of Brooklyn, but if Fitzroy is Williamsburg, Brunswick is Bushwick. It's a bit less polished and a bit more… colorful, let's say.
Feel free to wander around the suburb on foot or by bike, whatever you fancy!
READ MORE IN THIS POST: Things To Love About Brunswick, Melbourne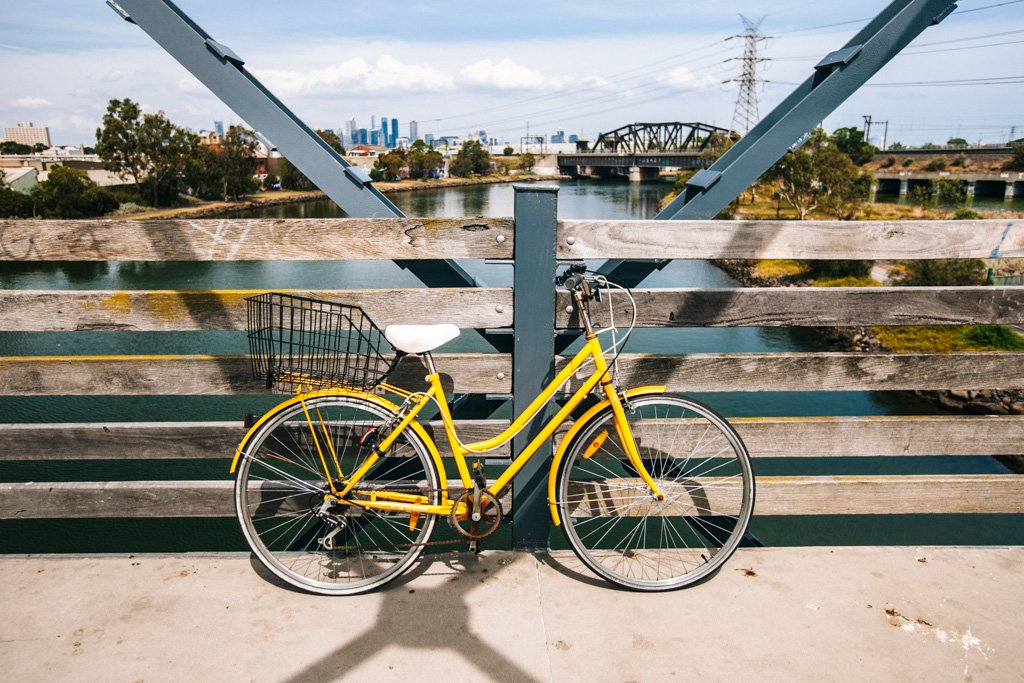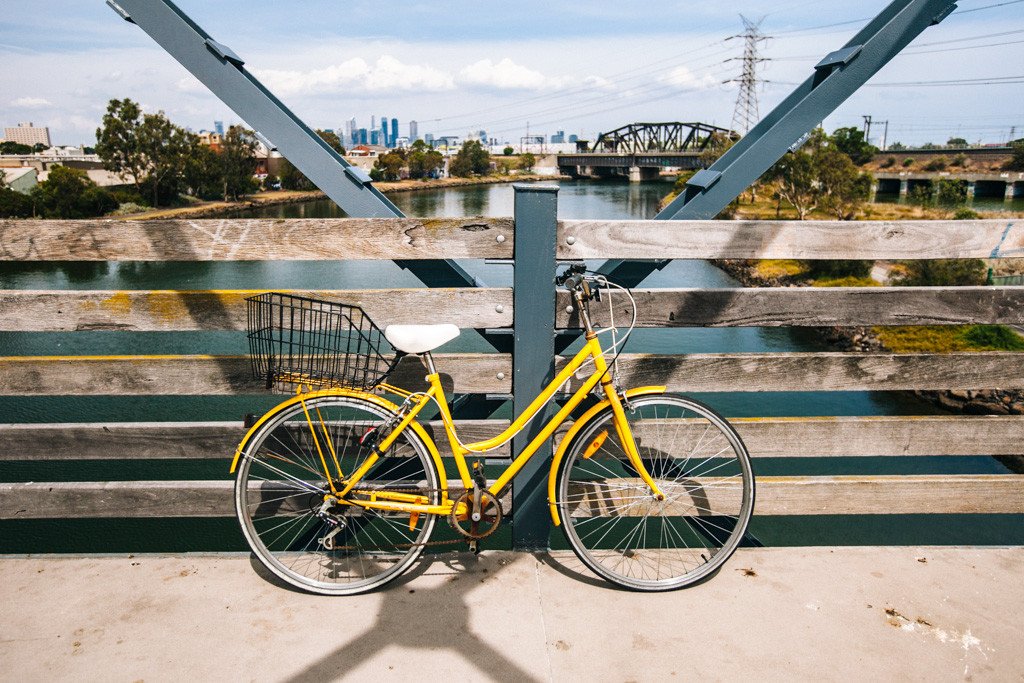 Cycling Merri Creek Trail & Yarra Trail
From Brunswick, hop onto the Merri Creek Trail with your bike and pedal south along the creek until it turns into the Main Yarra Trail.
You'll forget you're even in Australia's second-largest city until the trail curves in toward the city skyline and you're riding along the Yarra River. These trails are such an oasis, full of greenery and trees and even farmland in one part. It's the perfect thing to do in Melbourne if you're craving some nature, quiet, and physical activity.
READ MORE IN THIS POST: Cycling Melbourne Is The Best Way To See This City
Lunch
Once the bike trail hits Burnley, stop off and head for lunch at Serotonin Eatery, the "world's first happiness centre", aka an incredible cafe with healthy, inventive dishes and drinks which I discovered on my latest trip to Melbs.
This place is relatively new to the scene, but I absolutely love what they're about. One look at their menu and it's clear that holistic health is their jam – they even offer free community yoga classes, how cool!

Serotonin Eatery.
NGV & Royal Botanic Gardens
Depending on the time and on your interests, you can end your epic bike ride with a wander around the Royal Botanic Gardens, or a visit to the nearby National Gallery of Victoria (NGV). If you're at all into art, this is THE best place to see it in Melbourne.
Eureka Skydeck
Aim to be at Eureka Skydeck in time for sunset, and plan to linger afterwards so you can watch the city get dark and sparkly. This is one of the best views in Melbourne at 300 metres above street level and well worth the $25 ticket (or $23 if you buy online).
READ MORE IN THIS POST: Eureka Skydeck: Melbourne From the 88th Floor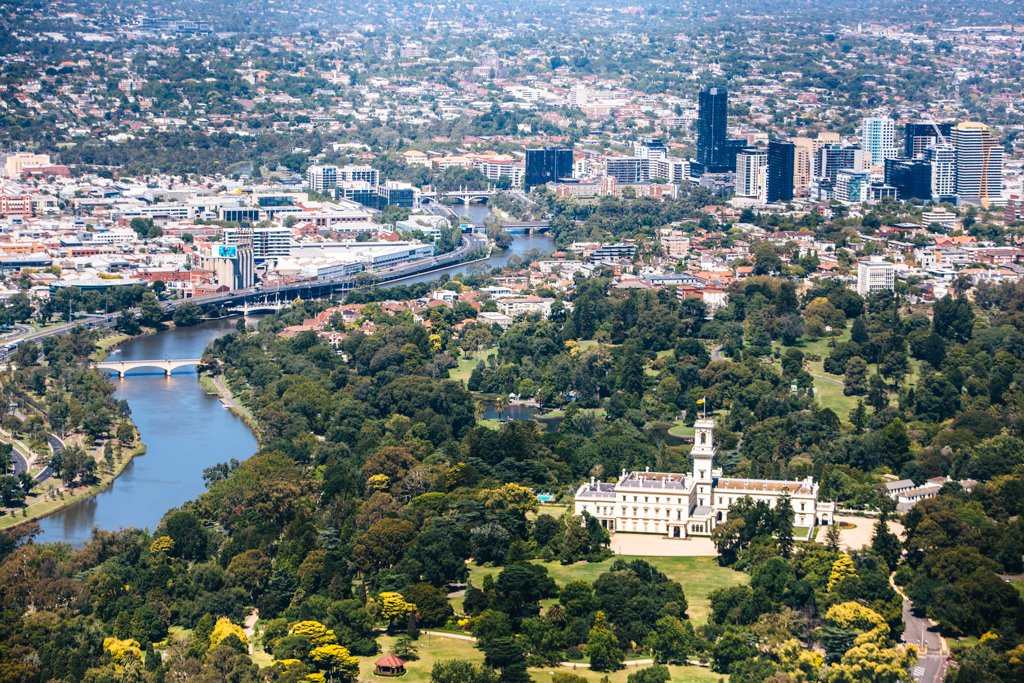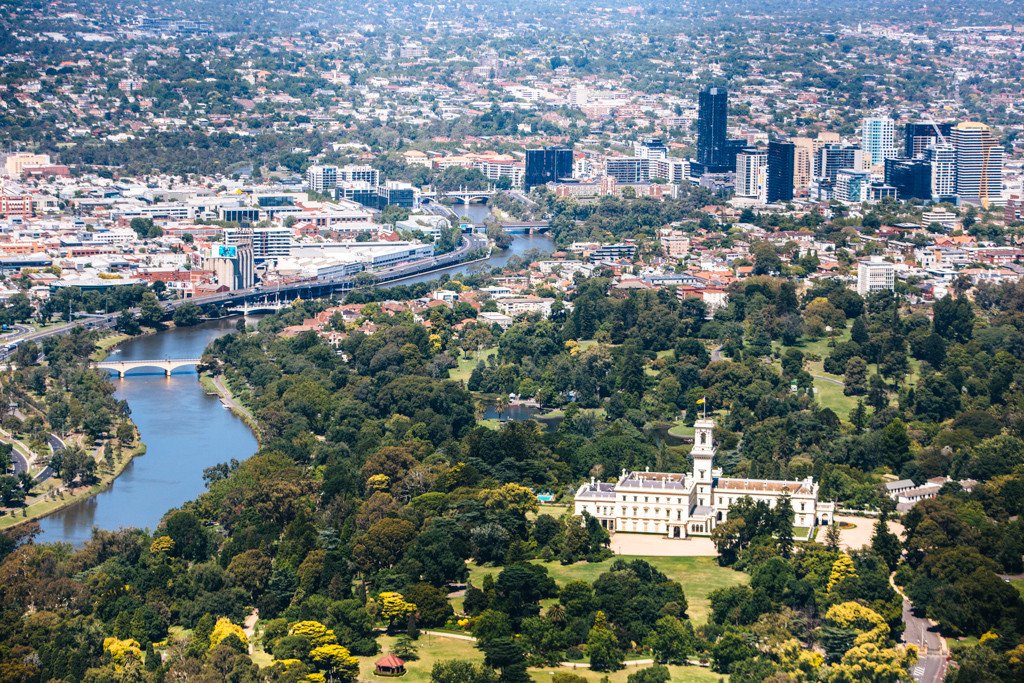 View from Eureka Skydeck.
Drinks & Dinner
For your last night in Melbourne, hit up the laneway bars in the CBD: Eau De Vie for whiskey, Gin Palace for gin, Croft Institute for a science lab theme (to name just a few). There are heaps of cool bars in the city so your best bet is just to wander and see what looks good to you.
As for dinner, have a look at this extensive list of the so-called best restaurants in Melbourne CBD. Then report back and let me know which one I should try the next time I'm in Melbourne! ;)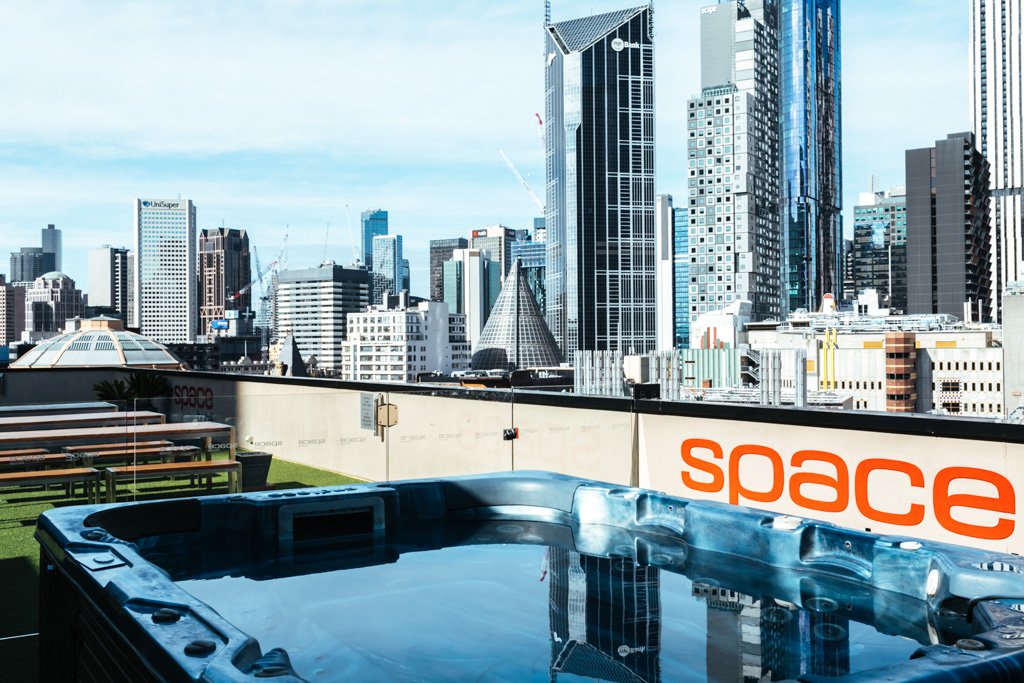 Where to Stay in Melbourne
I stayed Space Hotel in a dorm room back in my backpacker days and loved it then; more recently, I returned and got to experience a private room this time. And yup, still love it!
Space Hotel is centrally located in the CBD, which makes it super easy to get most anywhere mentioned in this post. It's got a hip modern vibe and a smattering of common areas for various uses (think fitness center, lounge, game room, and cinema).
Basically, stay at Space Hotel if you're on a budget but still wanna feel fancy and abundant. It's more of a flashpacker hostel than a typical backpacker hostel.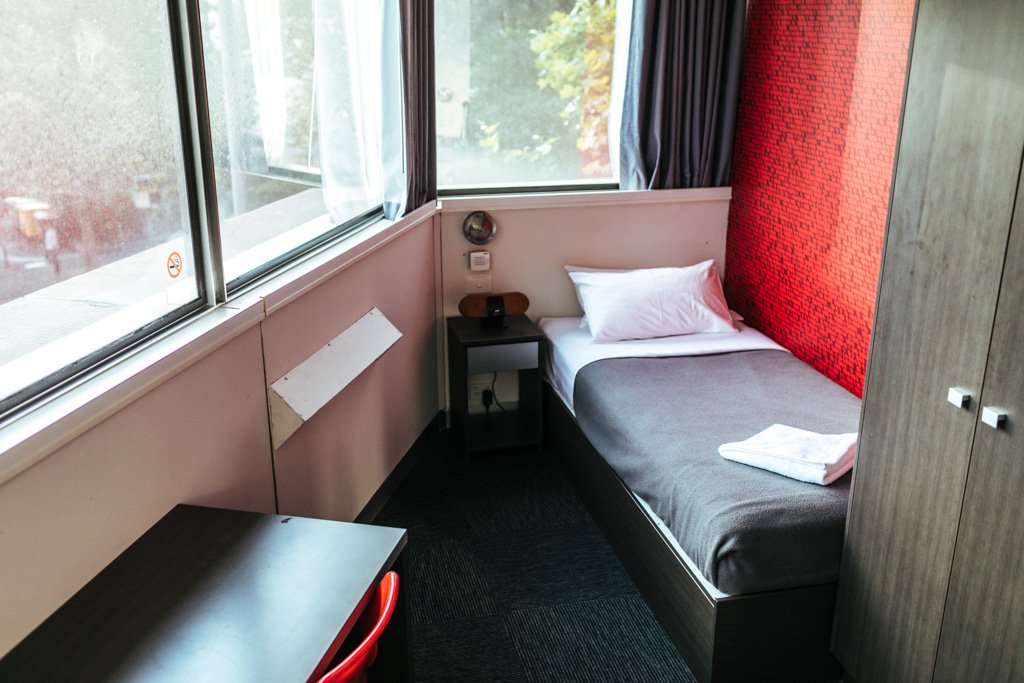 My absolute FAVORITE aspect of Space Hotel is its rooftop space. I loved starting my morning on the roof with coffee and reading, and catching sunset over the CBD skyline later in the day. My only regret is not packing a bathing suit to wear in the rooftop hot tub! Don't be silly like me and be sure to pack your swimsuit if you stay here.
Dorm beds start at around 33AUD and private rooms start at around 75 AUD (prices vary slightly seasonally).
CLICK TO BOOK A BED OR ROOM AT SPACE HOTEL
Thank you to Space Hotel for hosting me on my last Melbourne trip. Note that I paid to stay there on a past trip and was already a happy customer of theirs before they approached me for this partnership. Note that all opinions expressed here and elsewhere on this blog are my unbiased own, and are uninfluenced by any gifts or incentives I may receive.
Pin it!