I'm not sure how I first heard about this free Melbourne event, but I had White Night on my calendar for months leading up to it. Here's the official description of it:
White Night Melbourne is the city as you know it, turned on its head in a dusk 'til dawn celebration of culture and creativity. A night where the surreal seems real, White Night Melbourne is a rare opportunity to experience the city in a different light.
Beyond that, I knew there would be colorful light installations around Melbourne city center, and that was enough for me to venture out in the middle of the night on one random February day.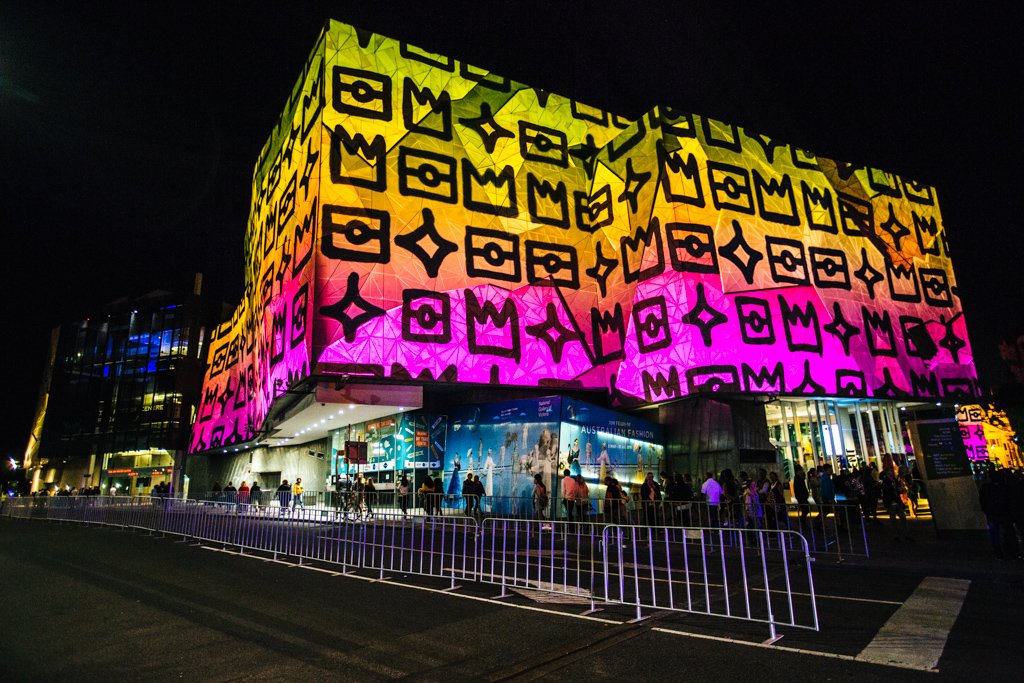 The NGV building on Flinders Street.
White Night kicks off at 7pm and concludes at 7am the following morning. I knew I wasn't up for staying out all night, because guys – I'm 31 now. Then again, I don't think I was ever up for it even in my younger years. I may be a night owl, but at least I'm semi-sensible about it – i.e. a midnight or 1am bedtime won't leave me exhausted and useless the next day.
I also wasn't thrilled with the idea of frolicking around White Night during peak time, which was said to be before midnight. I figured families with children would be out and about early on, so I'd let them have their time and then show up around 11pm.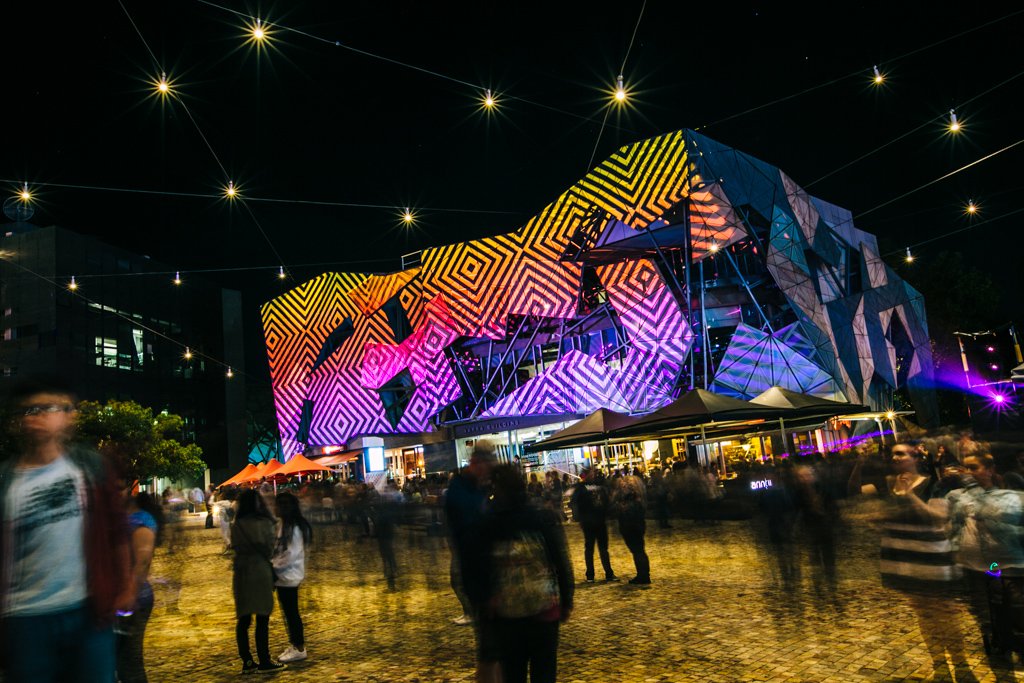 Federation Square during White Night.
Turned out, White Night at 11pm was a madhouse. Streets were completely packed with pedestrians (and thankfully closed to vehicular traffic). I grabbed some quick shots at Fed Square and quickly headed across Princes Bridge to the south side where it was marginally less chaotic.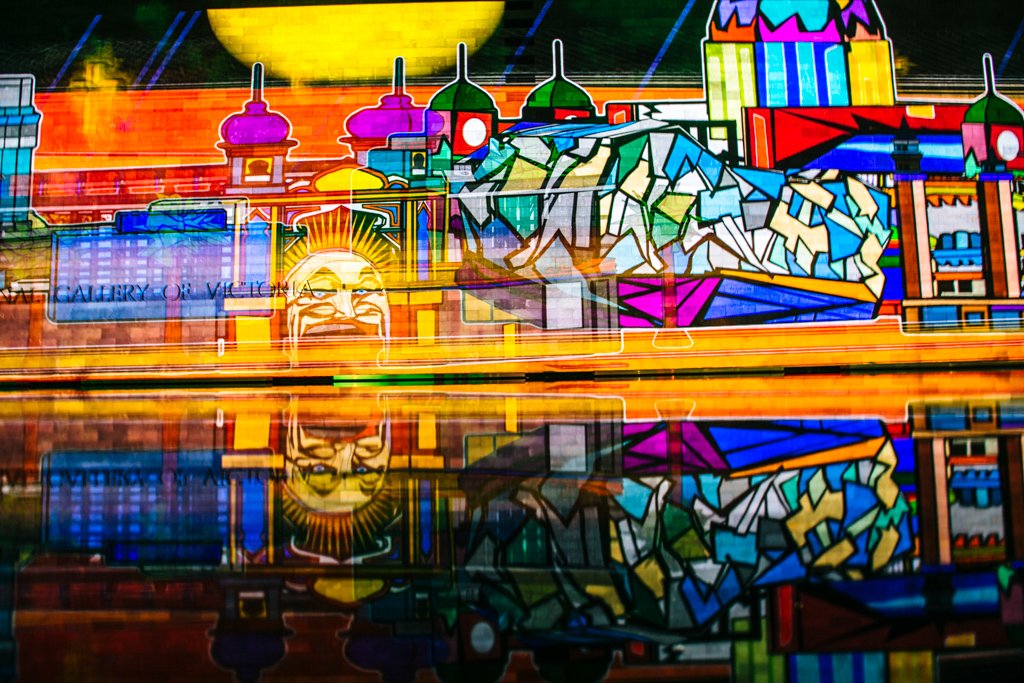 White Night light installations at NGV on St. Kilda Road.
My favorite light installation of the night was the one projected onto the National Gallery of Victoria (NGV) on St. Kilda Road. It showed the progression of civilization in Australia, specifically around Melbourne, with images of aboriginals, then small villages gradually evolving into the major city it is today. I sat there and watched the light show at least 5 times through and never tired of it.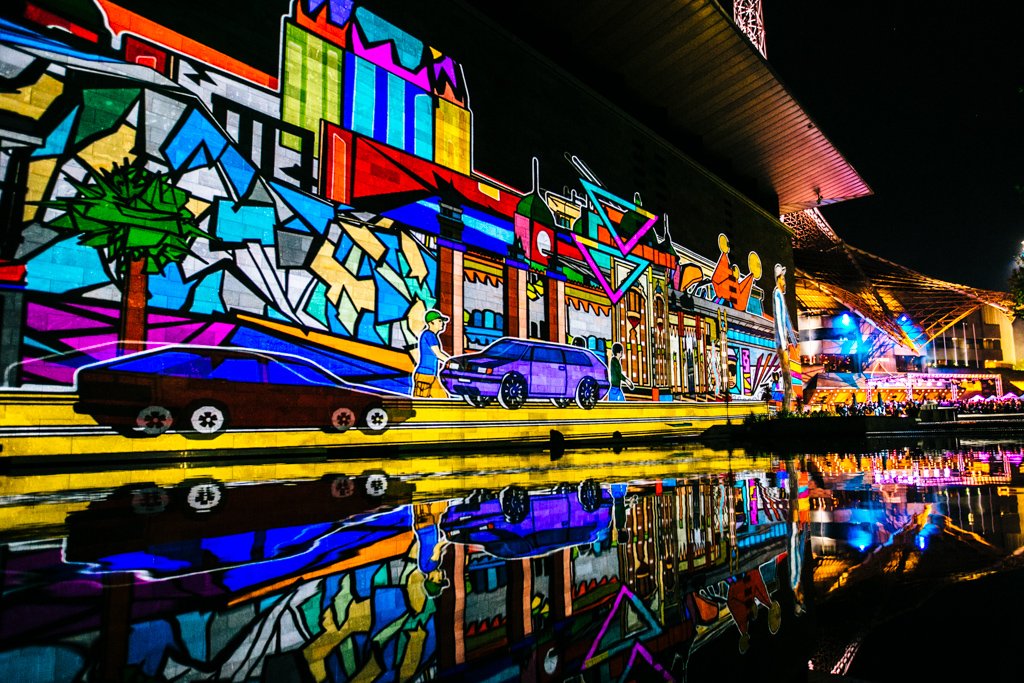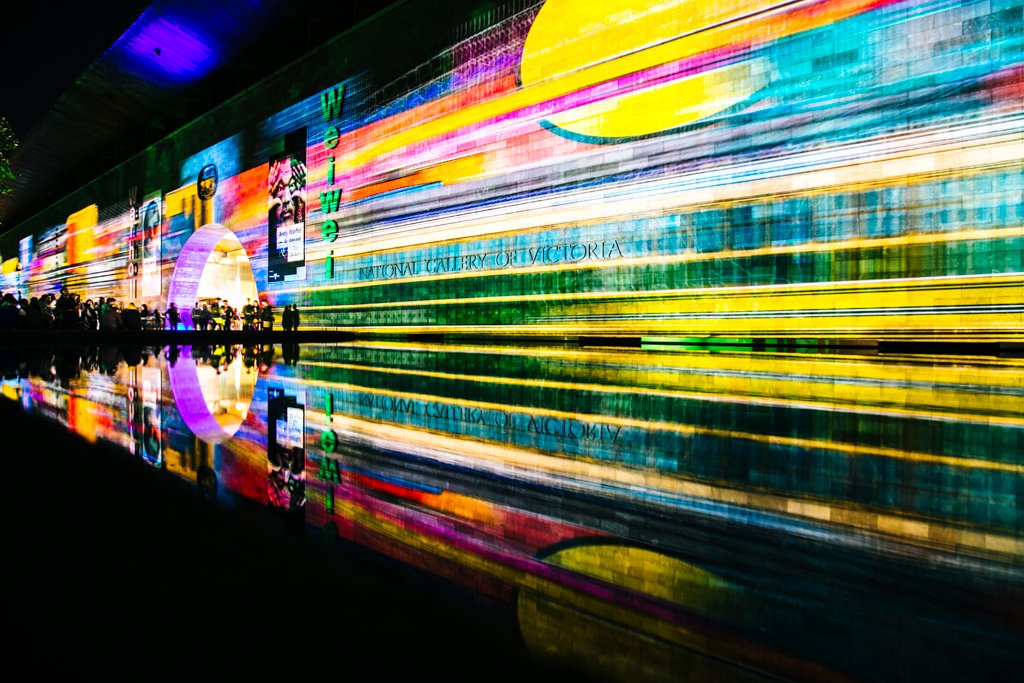 There were a couple of displays in the Royal Botanic Gardens, including this neat little one that changed colors as you touched it.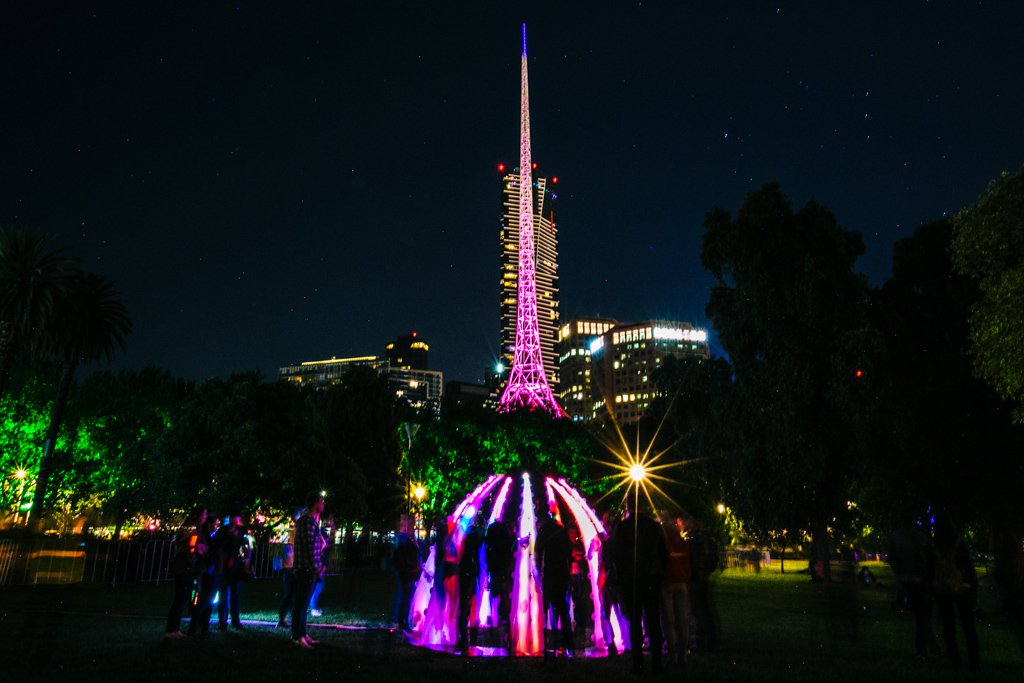 I froze in my tracks the second I reached the riverfront and looked up at the Melbourne skyline. How amazing does it look with that hot air balloon and the colorful lights? Why can't it look this good every night of the year? (I know, I know – then it wouldn't be special!)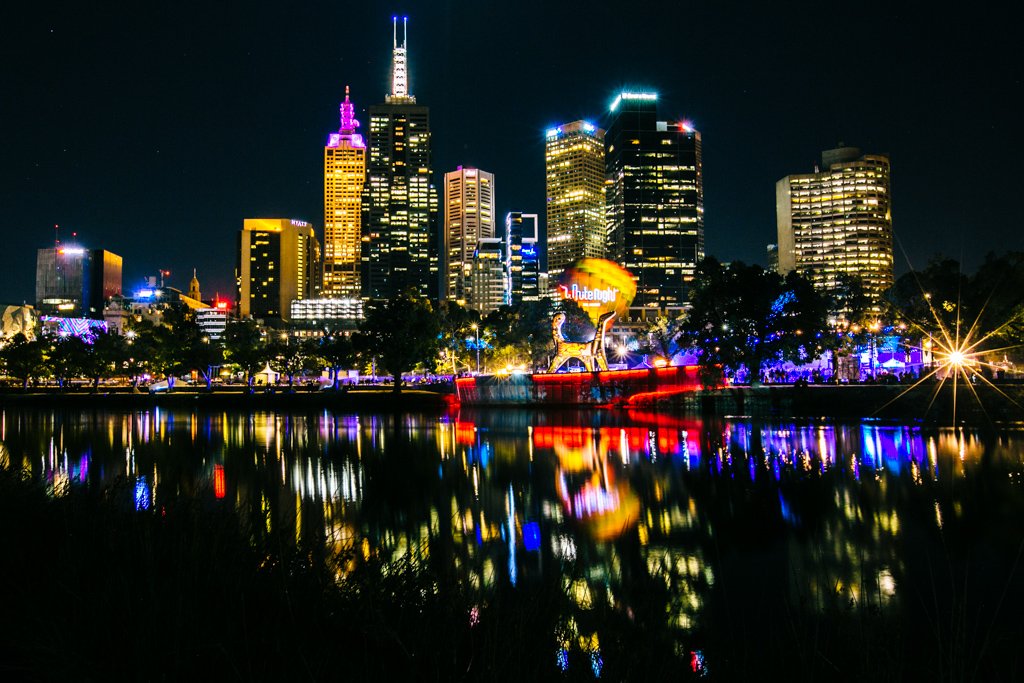 There was a fantastic projection over the water depicting a rainstorm building up and then clearing. The sound effects that went along with it made it even more captivating. I'd have stayed and watched this one on loop as well, but the grass along the river was packed with people smoking pot so I didn't linger too long. (Anyone else feel like vomiting at the slightest smell of marijuana?)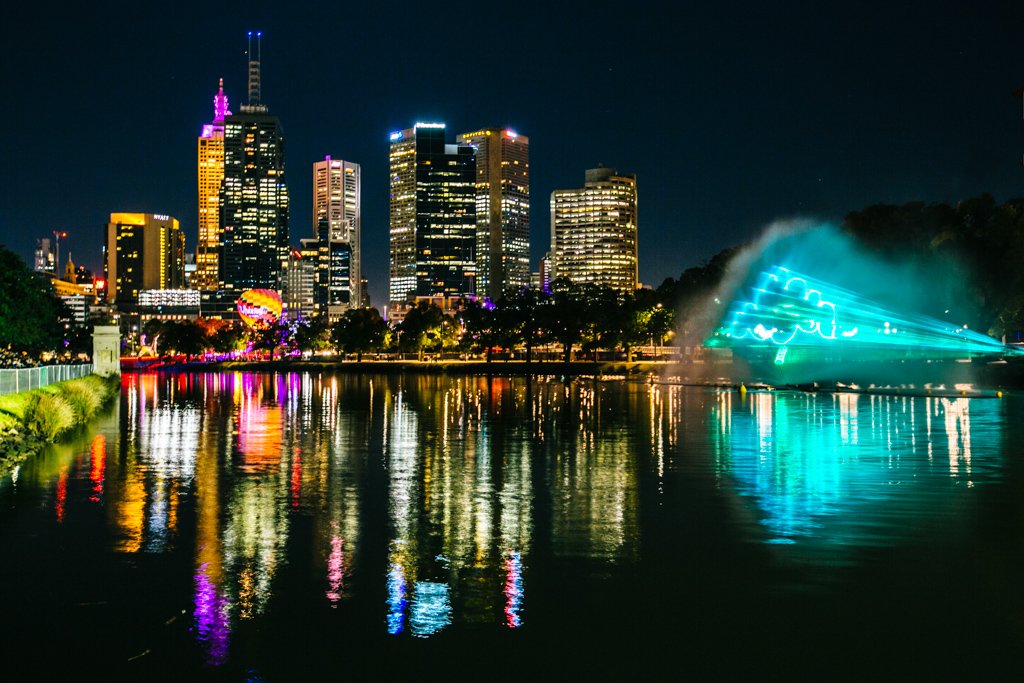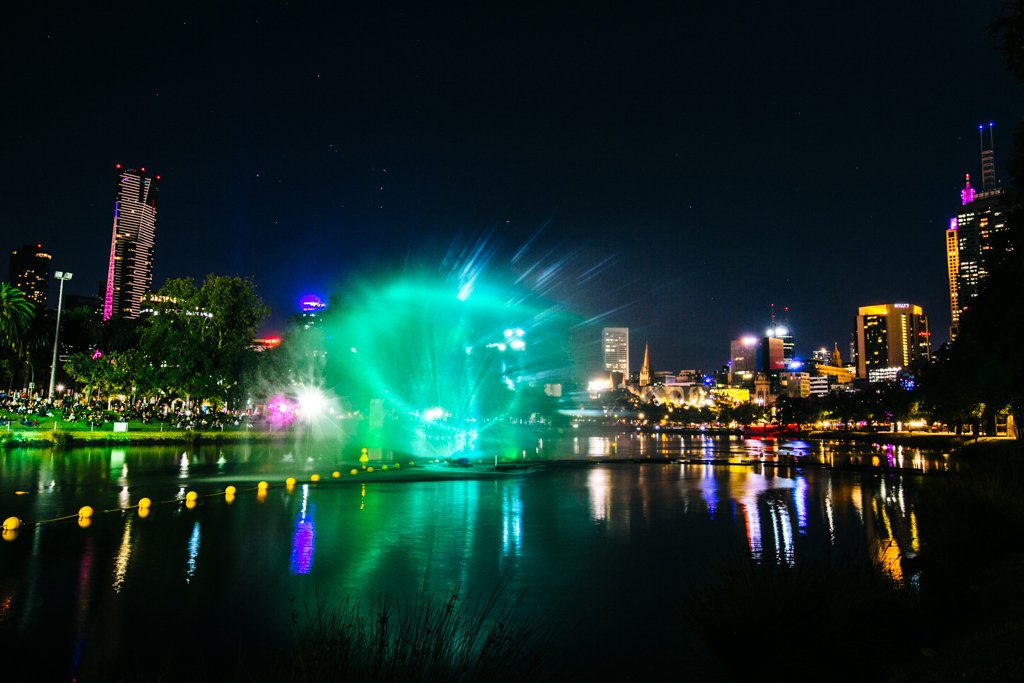 Is it just me, or does this have an Aurora Borealis look to it?

I crossed back to the north side of the Yarra and up to Birrarung Marr, a popular waterfront park for outdoor markets and other special events in Melbourne. I'd been meaning to get some good night shots from this foot bridge for months, and with the addition of the hot air balloon it seemed like a pretty ideal time to make this happen. The balloon kept spinning around in the wind, making it a wee bit challenging to shoot!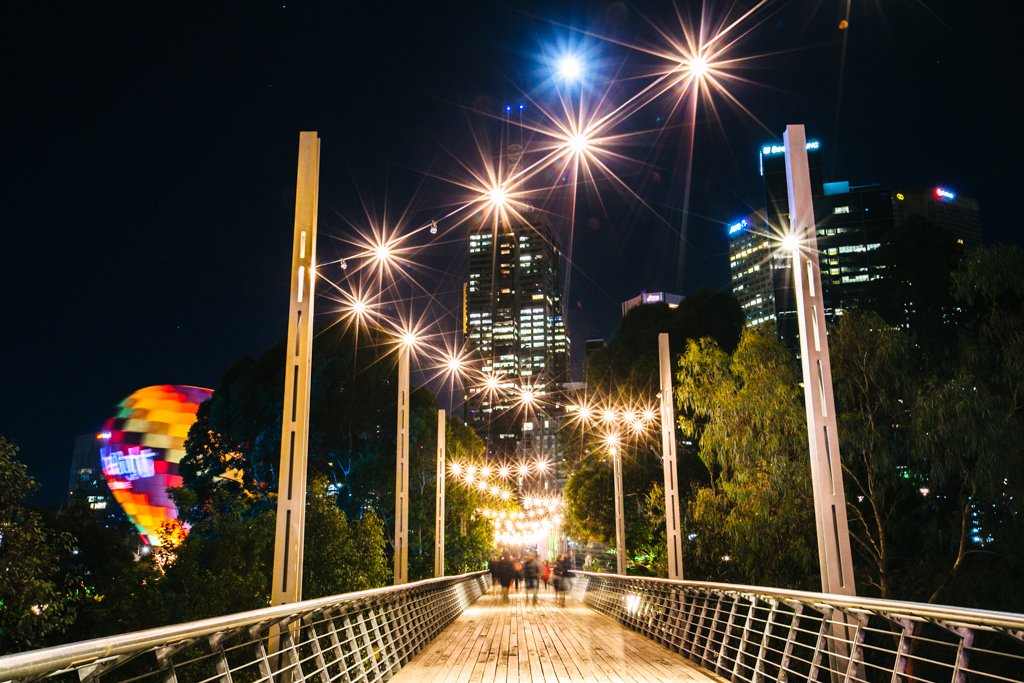 By now it was after 2am and I was feeling pretty pooped (again, #grannystatus), so I headed back into the city toward where I'd parked my bike. The walk back was not without entertainment: I passed by random projections onto side street buildings, street performers playing to packed streets of onlookers, and light shows projected onto both majestic buildings and people.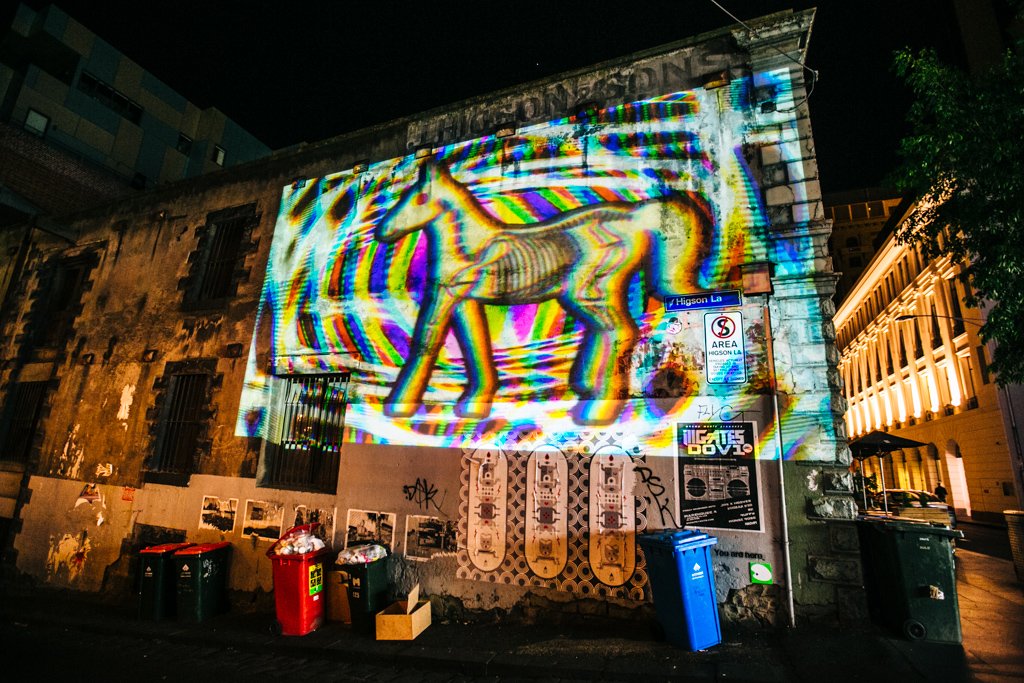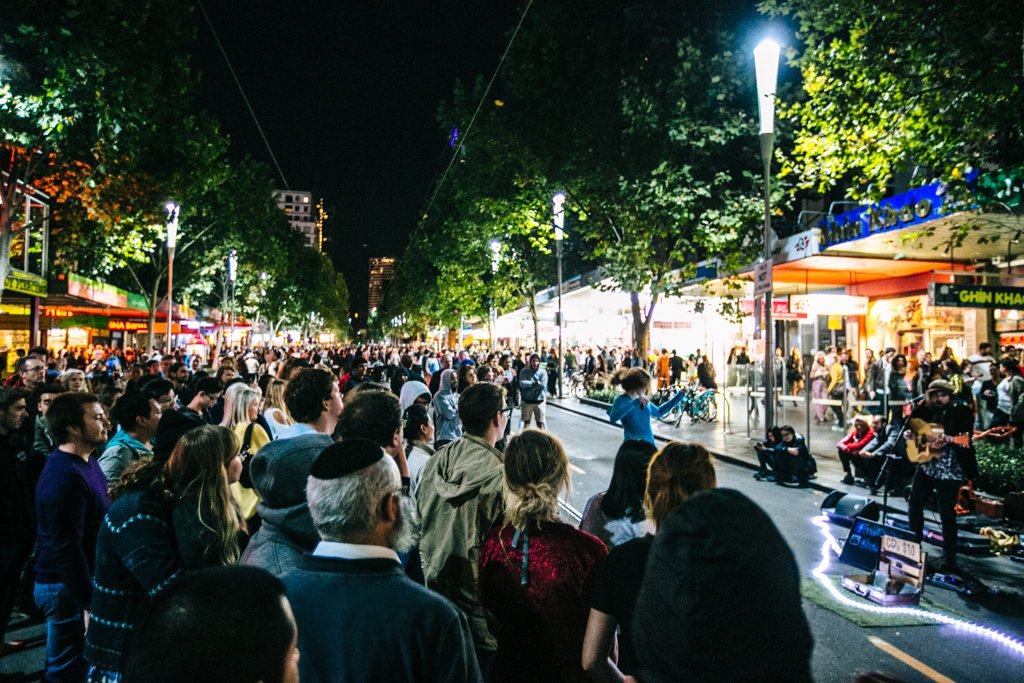 Light projections on the State Library of Victoria

White Night lights on the Royal Exhibition Building.
In sum: I loved White Night Melbourne. It was free, colorful, and a wonderful manifestation of the art and culture in this city.
I was only there from 11am-3am and felt like there was so much more I could have seen. I missed out on the internet cat videos playing at ACMI, didn't catch much in the way of street performances or live music, and didn't go inside any buildings where there was more going on. If I were to do it again next year, I'd arrive earlier right after sundown (by 9pm latest), brave the crowds, and stay for as long as possible.
Pin it!