I'll be honest: I never planned to visit Phillip Island during my year on the Australia work and holiday visa, nor during my 6-month stint living in Melbourne. I briefly entertained the idea of doing a Phillip Island excursion with my friend Nicki while she was visiting from NYC, but after a quick Google search she said what I'd been thinking: "mehhhhh, I'm not really impressed".
I wasn't sure that penguins and The Pinnacles (literally the only 2 things I knew existed on the island) were worth a trip there, but earlier this year I found myself in Melbourne with a handful of days between house sit and sublet and unsure of where to go. When I realized how easy it was to get to Phillip Island by public transport, I said what the heck – why not check it out.
Turns out,
Phillip Island is an incredible place.
I am baffled at how little has been written or blogged about it, so in very
un-
Frugal Frolicker-like fashion, I've put together a guide to Phillip Island. Don't make the mistake I very nearly made – make time for Phillip Island on your Australia trip, or consider a Phillip Island day trip if you're living in Melbourne.
Here's everything you need to know about traveling solo, without a car, and on a budget to Phillip Island for a day trip or weekend trip.
Getting To Phillip Island By Public Transport
Phillip Island is a 2 hour drive from Melbourne, but it's also very easy to get to by public transport:
Train to Dandenong – AU$3.90 one way, use your Myki.
VLine bus to Cowes (or anywhere on Phillip Island) – AU$7.60 one way to Cowes, slightly less if you're getting off sooner. Buy ticket at the counter in Dandenong Station.
If the VLine bus terminates before Phillip Island, change at Anderson for the free South Coast bus to Cowes (usually it will connect with the VLine for a guaranteed transfer).
Even better, Phillip Island has recently introduced the Island Explorer bus. Operating daily through summer, this bus runs in a circuit around the island, reaching each stop every 2 hours or so from 10am-5pm. Depending on where you're going, you may have to sit on the bus for awhile as it makes its way around the island – but with a little smart planning, you might be able to catch the bus on its way back around. Every driver I had was eager to help me get around: they'll ask where you want to go, then offer to pick you up again later in the day, sometimes at non-designated bus stops if they know to meet you there ahead of time.
Seriously, the Island Explorer bus is a game changer for solo travelers to Phillip Island without a car. I wouldn't have been able to see half of what I did otherwise! Between this bus and the easy connections from Melbourne, it's very doable to travel to Phillip Island by public transport.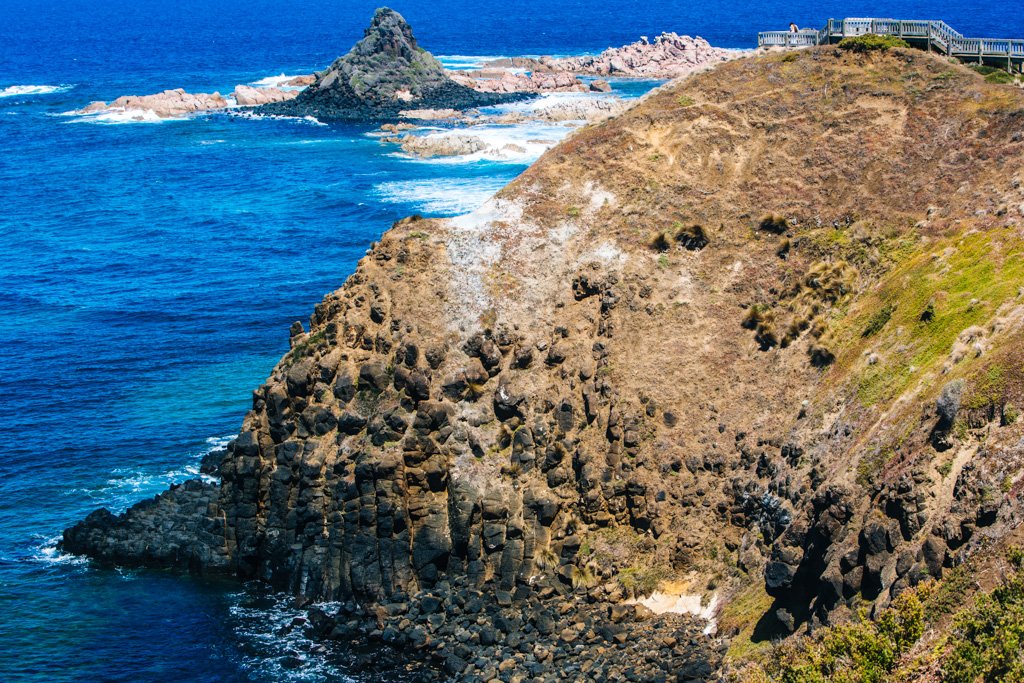 Pyramid Rock.
Where To Stay On Phillip Island
There aren't many options for budget accommodation on Phillip Island, but the few that exist I found to be quite excellent.
Hostels on Phillip Island
At the moment, there is just one hostel on Phillip Island. The Island Accommodation YHA (AU$30-40/night for a dorm bed) in Newhaven is one of the nicest hostels I've ever stayed in. Everything is new and modern, the kitchen and common rooms on each floor are spacious, and all bunks have outlets so you can safely and conveniently charge your electronics. I had one of my best sleeps in a long time the first night I stayed there, but near the end of my stay there were a lot more people booked in and I woke up super early one morning due to nearby doors slamming shut. Something to be aware of if you're a light sleeper!
Click to book a stay at The Island Accommodation YHA.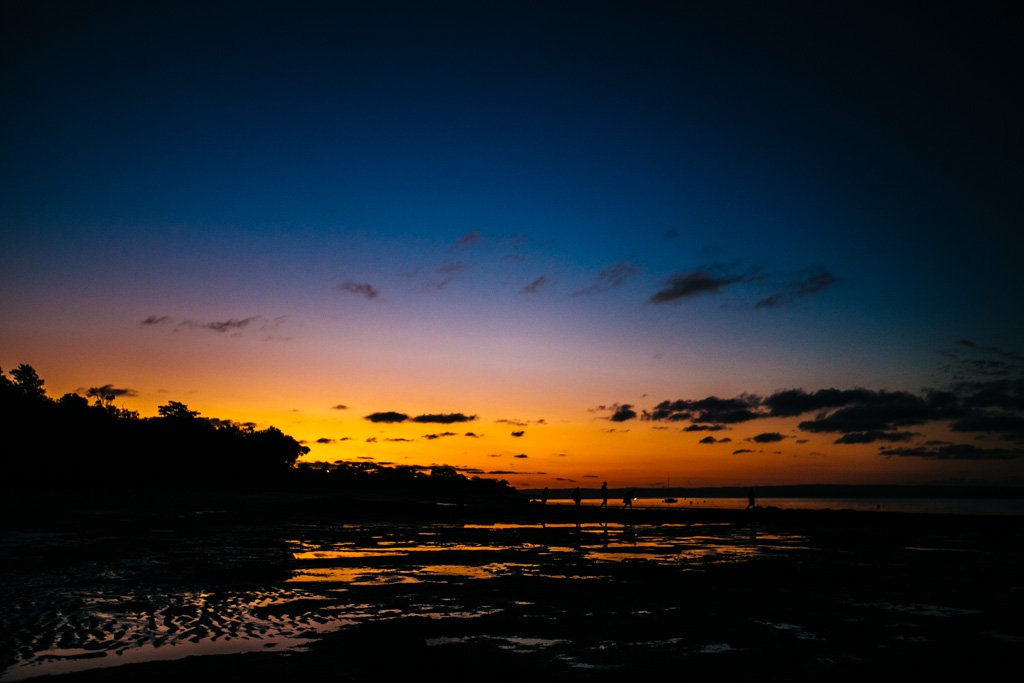 Sunset from the beach in Cowes.
Phillip Island Camping
Bush camping isn't allowed on the island, but there is a Phillip Island caravan park in Cowes and in San Remo if you're looking to camp with the convenience of toilets and BBQ blocks. I had a beachfront site at Cowes Caravan Park (AU$40-55/night per campsite) and the view was downright stellar. I loved being able to walk into town via the beach rather than the road – it took me less than 15 minutes to reach the pier from the campground. One thing I didn't love was that they charge per campsite, rather than per person (which is pretty standard in Australia) – not a problem at all if you're sharing the site with friends, but for solo travelers it's a bummer. Why would I pay $50 for a teeny-tiny plot of land for myself when I could spend less than that to have a comfortable bed and more amenities at a hostel? (Because of the next option, that's why!)
It's also worth noting that the campsites are very small and cramped together, which is typical of caravan parks in Australia. You won't have much privacy at all if the park is booked out.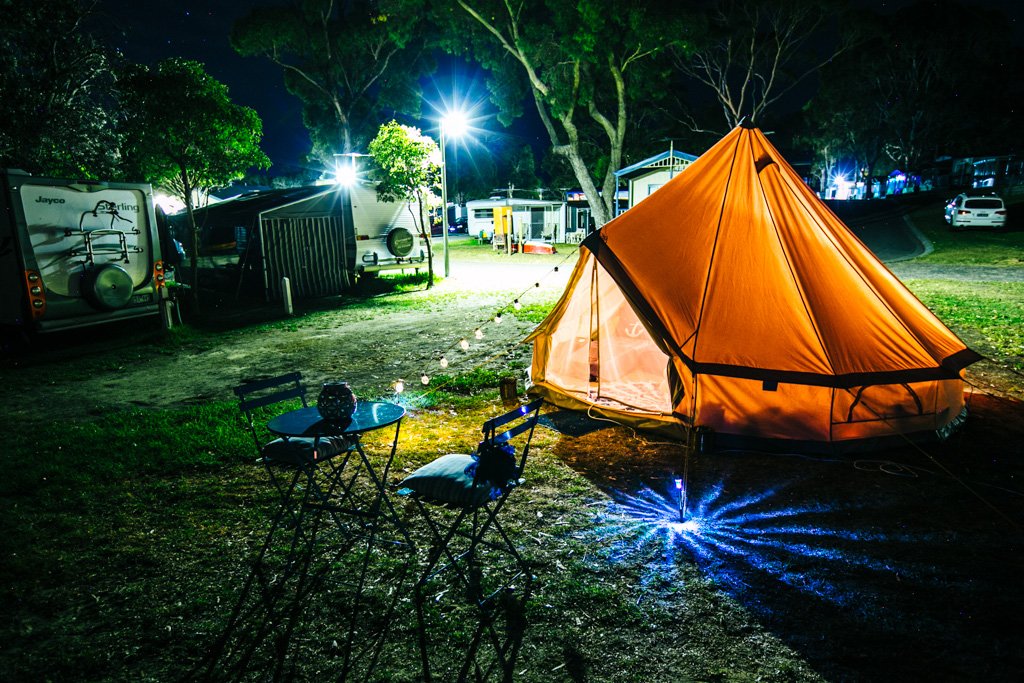 Phillip Island Glamping
I highly recommend upgrading your camping experience to a glamping one, if you can swing it. Phillip Island Glamping can set you up with spacious tent (AU$120-160/night) on the campsite of your choice, all kitted out with everything you need for a comfortable stay on the island. I especially appreciated the french press, portable heater (it gets quite chilly at night, even in summer), wine glasses, and comfy air mattress. Plus, the tent is just so nicely decorated! At the moment they have a few different color schemes, but plan to expand their tent offerings once they get their own land (hopefully by next summer).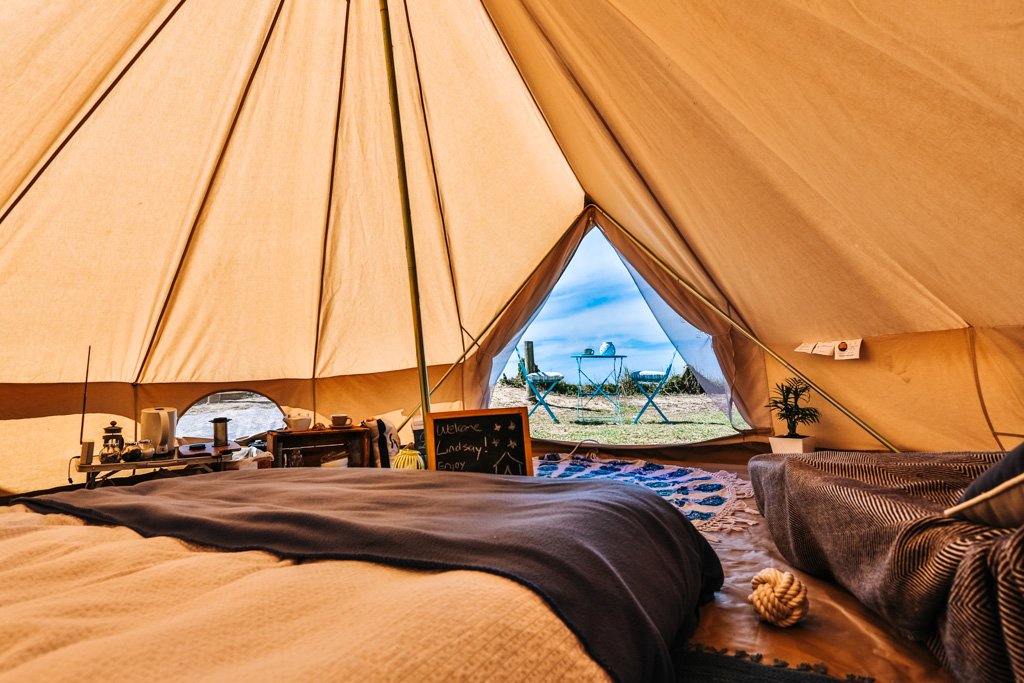 Phillip Island Beaches
If you're a beach person like I am, then you'll be more than happy with the Phillip Island beaches. The northern coast, near Cowes, has quiet beaches with calm waters fit for swimming and boating. I didn't find them to be the most beautiful beaches on Phillip Island, but I did find Red Rocks to be quite pretty (about a half hour walk west from Cowes Caravan Park).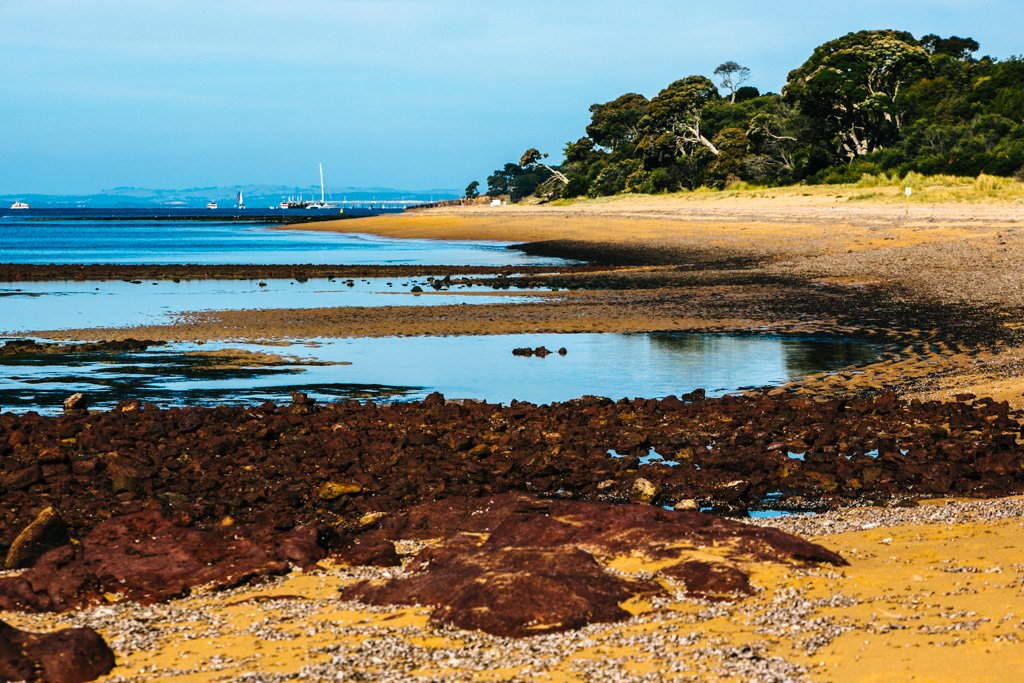 The southwest and south coast of Phillip Island is where all the surf beaches are. Surfing is absolutely massive here! Even if you don't surf, these beaches are devastatingly beautiful and more than fit for sunbathing and wading in the water.
The aptly named Surf Beach is a stunner. How often do you see such colorful cliffs leading down to the sand?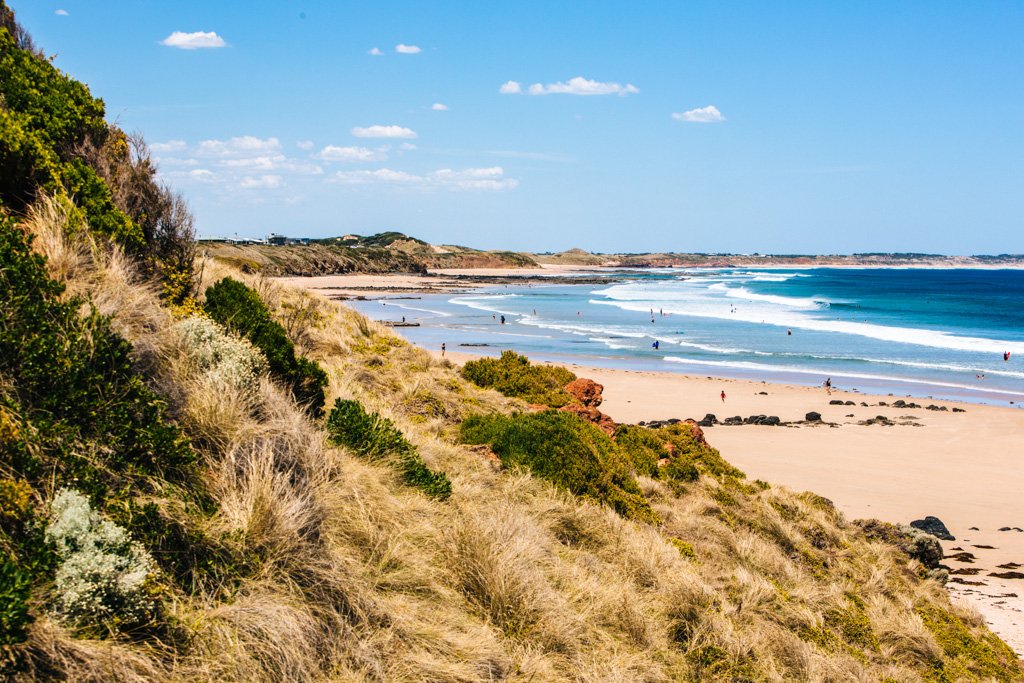 Woolamai Surf Beach is an insanely popular surf spot, but it's so expansive that you'll easily find a quiet plot of sand for yourself. The views looking south down Cape Woolamai are delightful, but the views from above the beach on the walking track are to die for!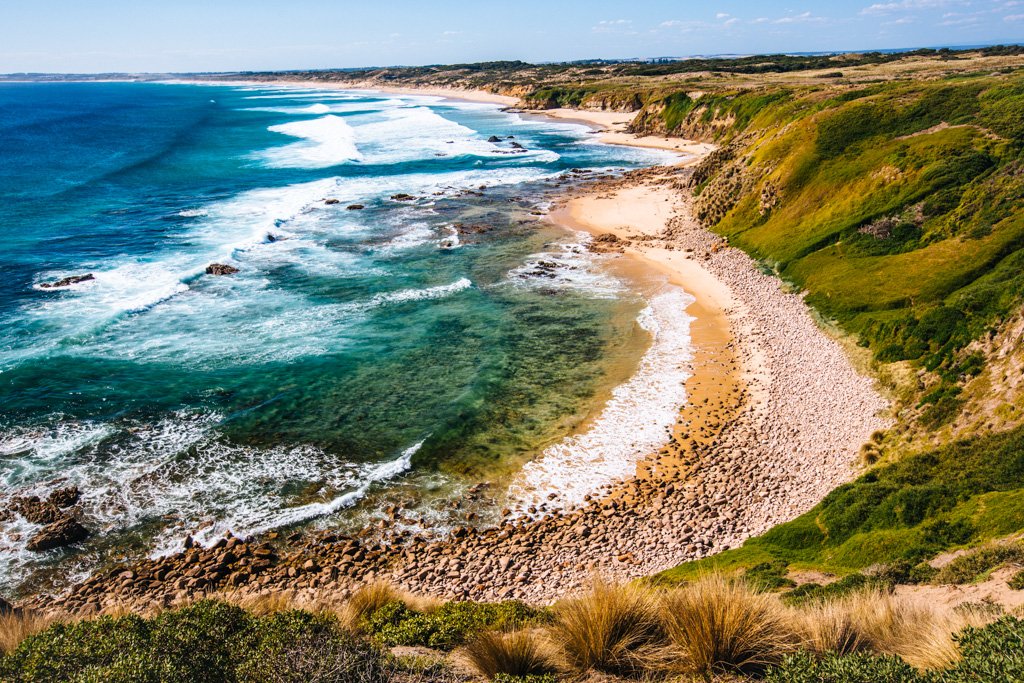 Phillip Island Walks
The best way to enjoy Phillip Island's glorious coastline is to walk it. Here are a few great walks on Phillip Island:
The Nobbies to the Penguin Parade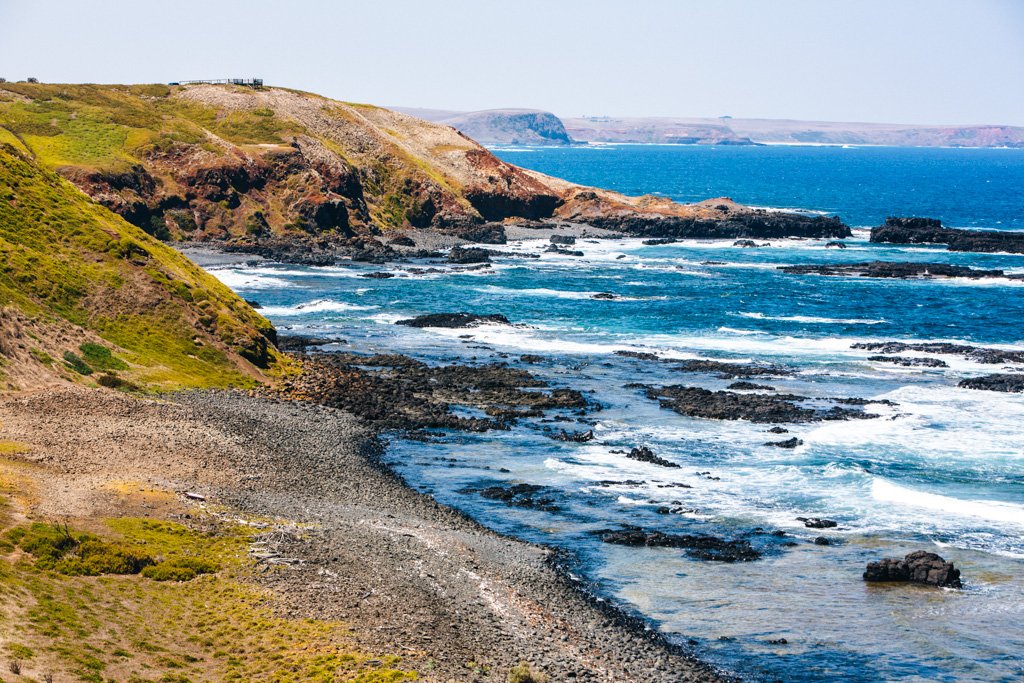 From The Nobbies, there is a dirt path (dubbed an alternate road) that winds along the coast to where the Penguin Parade is. It's only a few kilometers long and takes about 45 minutes if you don't stop. For me, it was the perfect distance to cover with plenty of stops for photo ops, and still make it to the Penguin Parade bus stop within 2 hours to catch the next Island Explorer bus.
You're gonna want to explore this part of the Phillip Island coastline – with the blowholes and plentiful rock formations, it's absolutely a stunner.
Cape Woolamai
If you do just one of the walks on Phillip Island, make it Cape Woolamai. In particular, the track from Woolamai Surf Beach to the Pinnacles and back is stellar. At certain points, you can see nearly the entire cape and several miles of island coastline.
READ MORE IN THIS POST: Cape Woolamai walks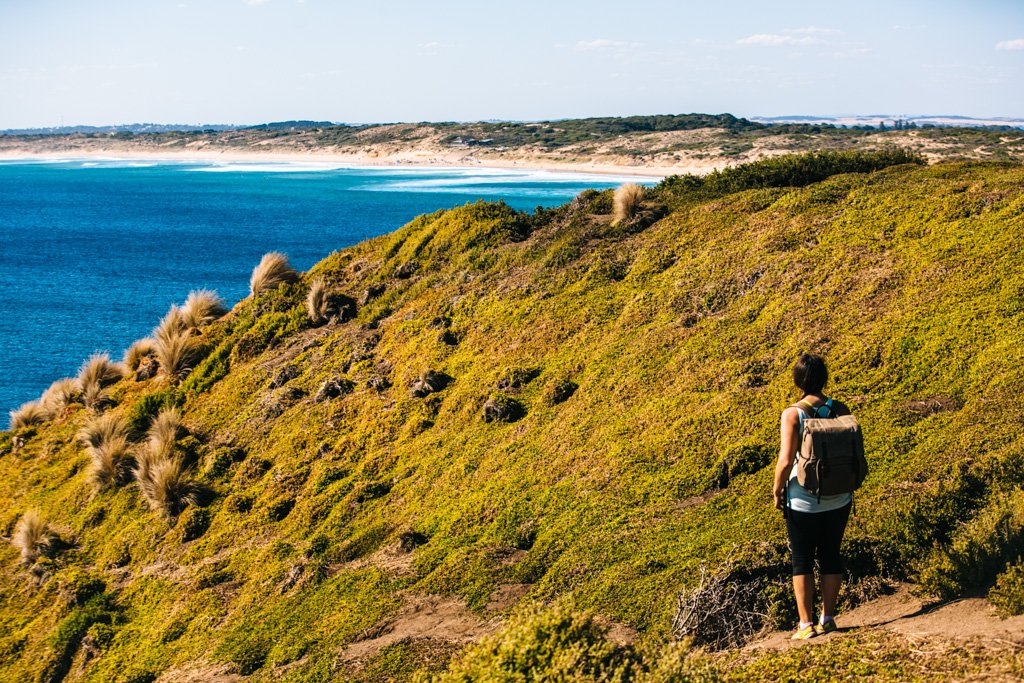 San Remo
San Remo is technically not on Phillip Island, but it's the town just before the bridge onto the island and has some great coastline worth exploring. There is a coastal walk that runs south from the bridge, which provides views toward the island until it curves east along the Bass Coast. I didn't have time to do this walk, but I did stop by the docks to watch the pelican feeding that's done around noon every day.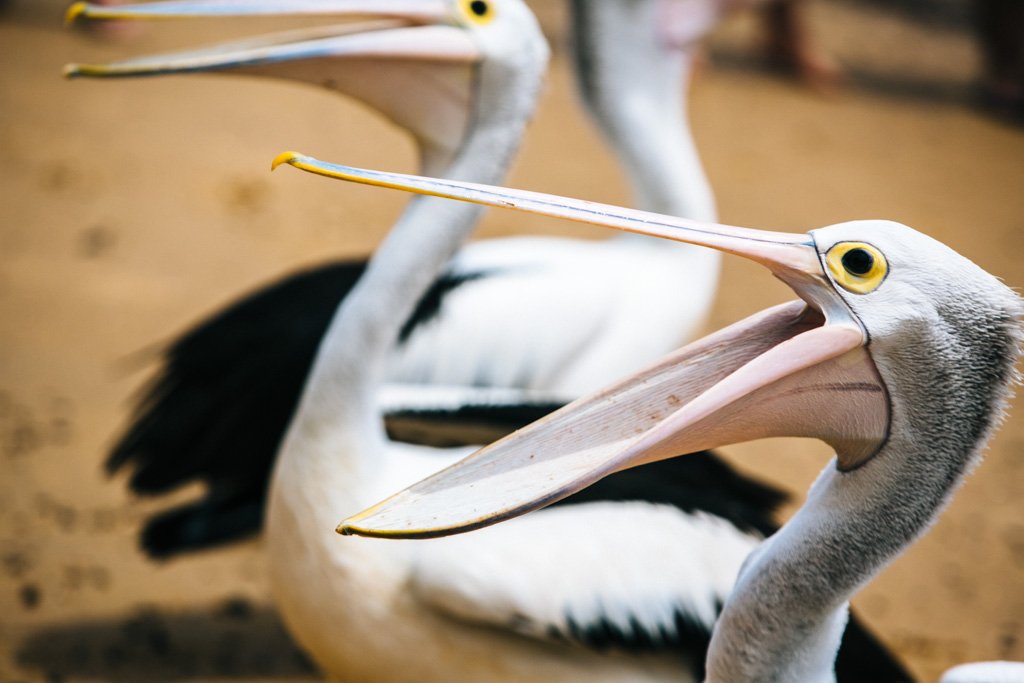 Phillip Island Activities
More than any other Melbourne getaway destination, Phillip Island seems to have made massive leaps in the tourism game. As a result, there are a lot of tourist attractions on offer here – but it's a good thing, because many of them funnel money right back into protecting the wildlife on the island.
The Nobbies
At the southwest point of Phillip Island you'll find the Nobbies, a rocky outcrop where thousands of sea lions have made their home. You can't see the seals from here, but you can walk along the boardwalk to catch some fantastic coastal views.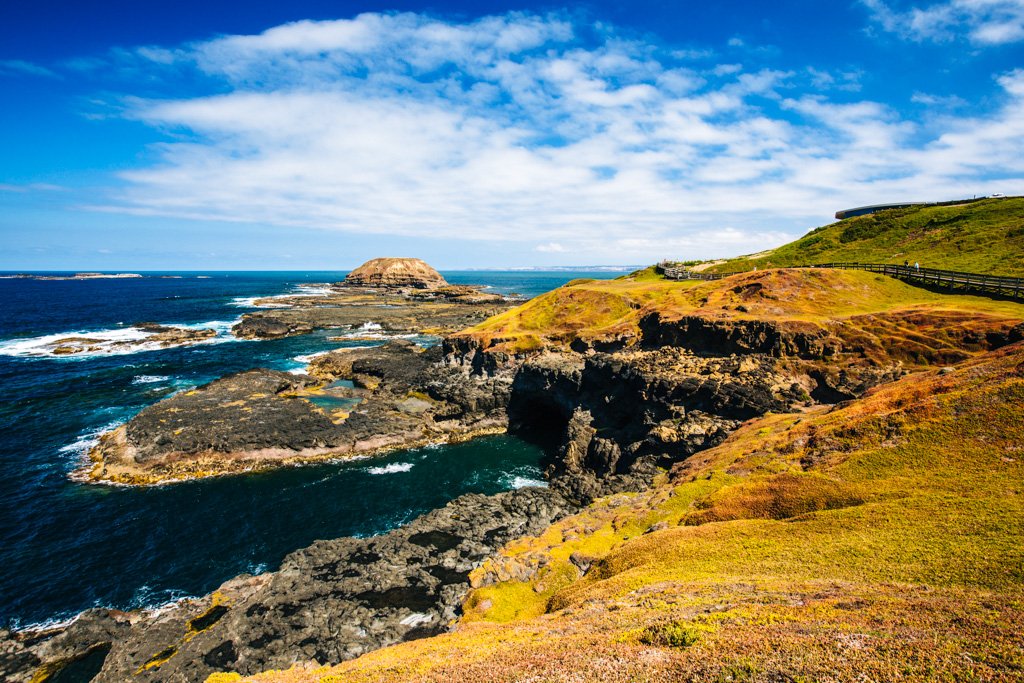 The newly-opened Antarctic Journey is worth a look if you need a break from the sun or want to get your learning on. I loved the cinema room that had numerous screens showing scenes from Antarctica.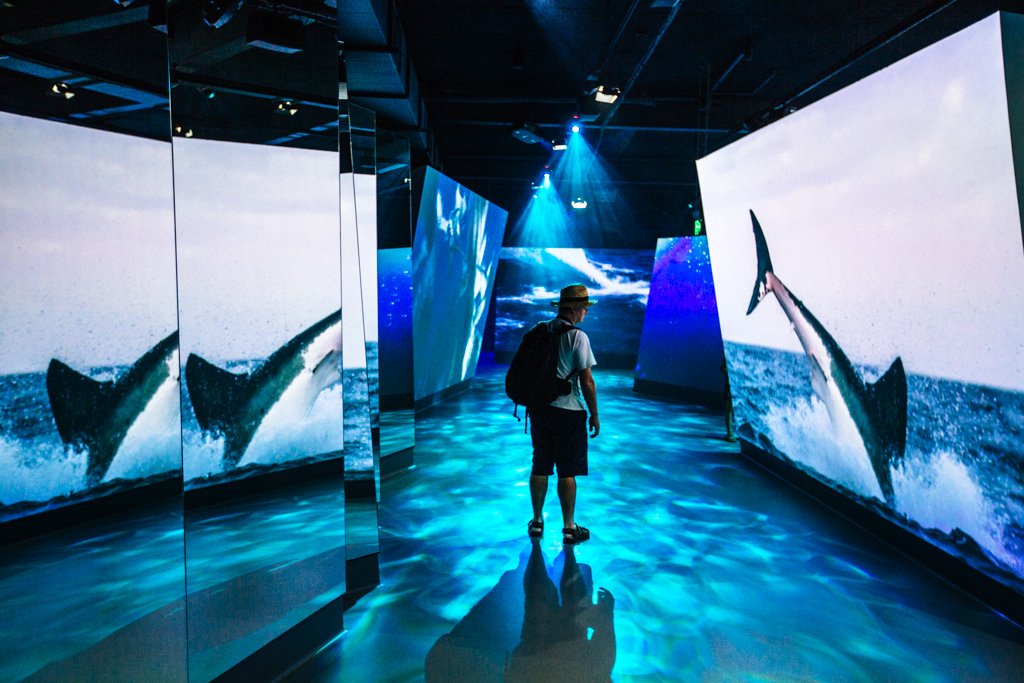 Eco Cruise To See The Sea Lions
If you want to sea the sea lion colony at Phillip Island, hop on an eco cruise from the Cowes jetty. This is no leisurely boat ride, so if you're prone to motion sickness you might want to think twice about taking it. En route to the seals, the captain tried to catch some waves to up the excitement factor. My butt flew off the seat a bunch of times, and all I could think was oh god, be still my stomach!
BOOK NOW: Phillip Island Cruises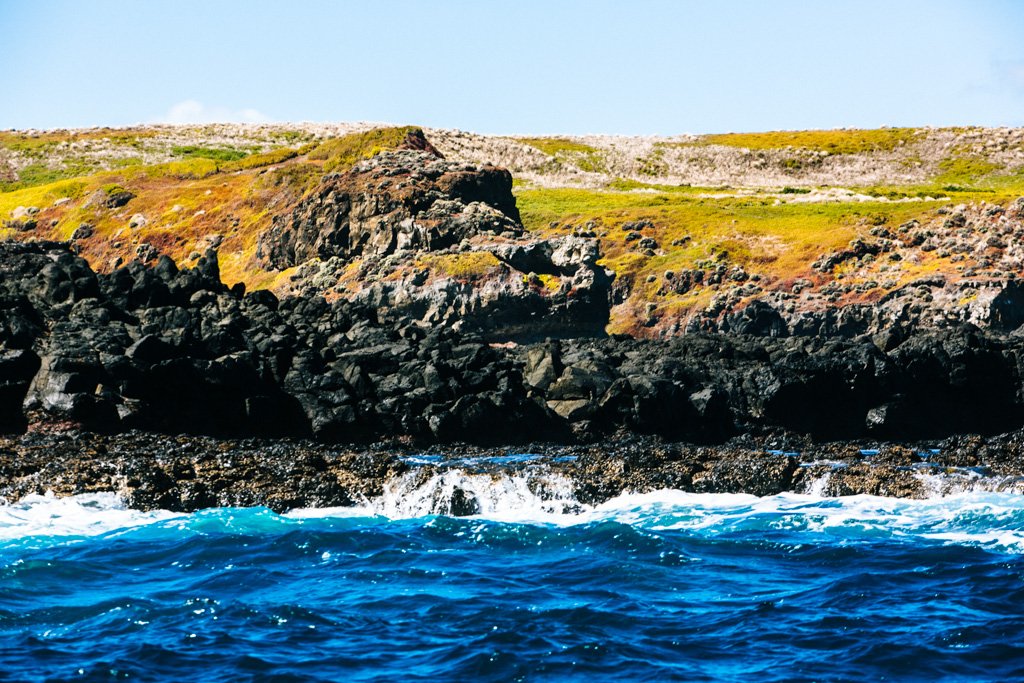 There are some seriously beautiful patches of coastline once you get out toward the Nobbies. The boat stops for awhile at the sea lion rocks so you have plenty of time to watch and take photos – or in my case, plenty of time to sprawl out on some chairs and attempt to tame the motion sickness monster. I suspect I'm not the only victim, as the staff were quick to pass me a barf bag and some ginger candies to quell the nausea.
Penguin Parade
Unfortunately I missed my night to see the penguins because I was still feeling woozy from the eco cruise, but every evening you can book a ticket to watch the penguins make their nightly return to shore around dusk. Phillip Island is probably most known for its penguins, so I'd deem this a must-do if you're going to splash out for any one paid activity here. Note that no photography of any sort is allowed during it.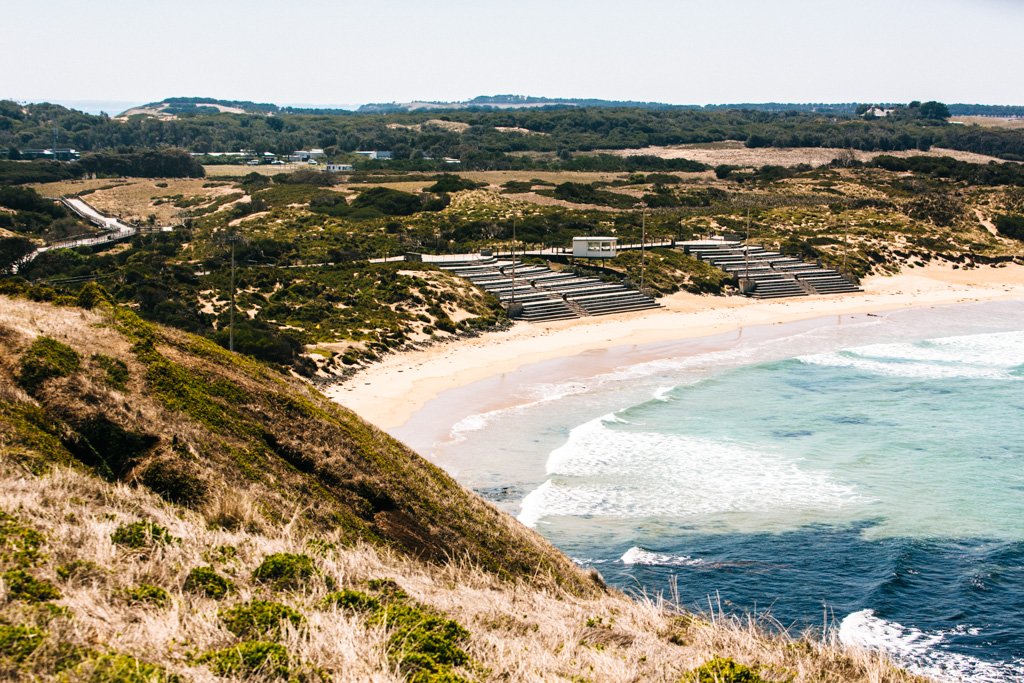 The seating at the Penguin Parade.
Wine Tasting
You might not guess that Phillip Island hosts a couple of great wineries, but it sure does! Purple Hen Winery is open daily for $5 wine tastings (credited toward any bottle purchase). Servings are generous and plentiful – I'd been planning on enjoying a glass of Chardonnay outside there, but was well into the tipsy phase after the tasting so I bought a bottle to bring back to Cowes, which I enjoyed on the beach at sunset that night. Highly recommend their Sparkling Shiraz – it's not something you'll find often, and plus it's downright delicious.
The gravel road leading to the winery is worth a wander as well: you can catch glimpses of the water from the eastern side of the island, will inevitably spot some cows grazing nearby, and may even come across a wallaby crossing the road.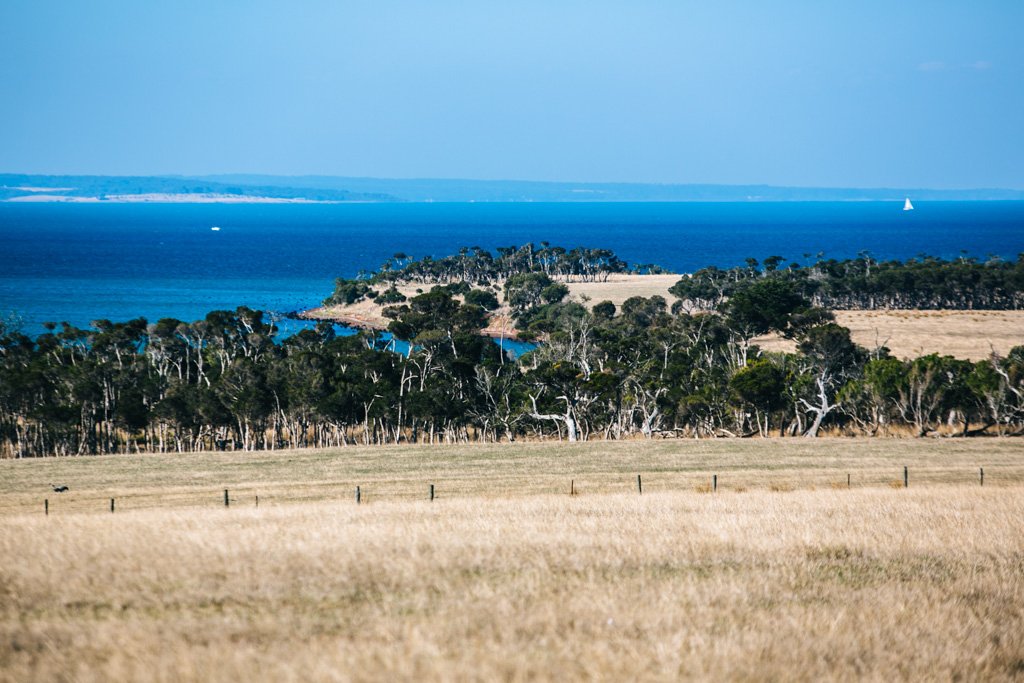 View from the road to the winery.
Churchill Island
Not long after entering Phillip Island, you can turn north onto a road that leads to the much smaller Churchill Island. There's a farm here with some great walking and cycling tracks that offer countryside views.
Other Activities (For Kids)
I didn't try any of these kid-friendly activities, but they're excellent options for families and kids at heart:
A Maze 'N Things – A "world of optical illusions, mazes and puzzles that will entertain, intrigue and amuse adults and children for hours". Also features a mini-golf course and the highest indoor vertical slide in the Southern Hemisphere.
Koala Sanctuary – If you haven't seen a koala up close during your Australian travels, here's your chance.
Rhyll Trout & Bush Tucker Farm – You can catch a trout and they'll cook it up for you here.

Wine and cider at The Cape Kitchen.
Eating Out
Though food isn't a hot topic on this blog, I have to give props to The Cape Kitchen for their top notch dining experience. With their aesthetically-assembled dishes and floor-to-ceiling windows yielding front-row views of the water, this restaurant is instagram heaven. All of their dishes are made with local ingredients sourced entirely from Victoria.
The best coffee on Phillip Island is at Mendl's Coffee House, a brand new cafe in Cowes serving Melbourne-caliber coffee. They also have a lovely space in which to linger with a book, meal, or laptop.
Disclaimer: I'd already had my 2nd trip to Phillip Island booked when I won an Instagram contest put on by Destination Phillip Island, so my prize allowed me to upgrade my trip and make a few more adventures possible. Special thanks to Phillip Island Glamping and The Cape Kitchen for some truly memorable travel experiences. Note that all opinions expressed here and elsewhere on this blog are my unbiased own, and are uninfluenced by any gifts or incentives I may receive.
Pin it!