I very nearly skipped Phillip Island on the roster of Victorian excursions to take from Melbourne. All you ever hear about it is the famous Penguin Parade, and honestly I'm not super interested in schlepping a couple hours just to watch these creatures waddle onto shore at dusk.
I started following some Melbourne instagrammers once I moved here, and soon after learned about a second thing you can see on Phillip Island: The Pinnacles, a gorgeous rock formation off of Cape Woolamai oft-photographed at sunset. Now is Phillip Island worth visiting?, I asked myself.
I was still on the fence about it, but with a few days between when my housesit ended and my sublet began, and public transport to Phillip Island surprisingly not too inconvenient, I figured why not take myself on a little getaway.
And man, I am SO GLAD I went to Phillip Island. It knocked my socks off in the best way possible, and I'm already aching to get back to this glorious little nook. I never even made it to see the penguins, but no matter – Cape Woolamai was enough to make the trip worth it.

Here's a little glimpse of the beautiful Cape Woolamai.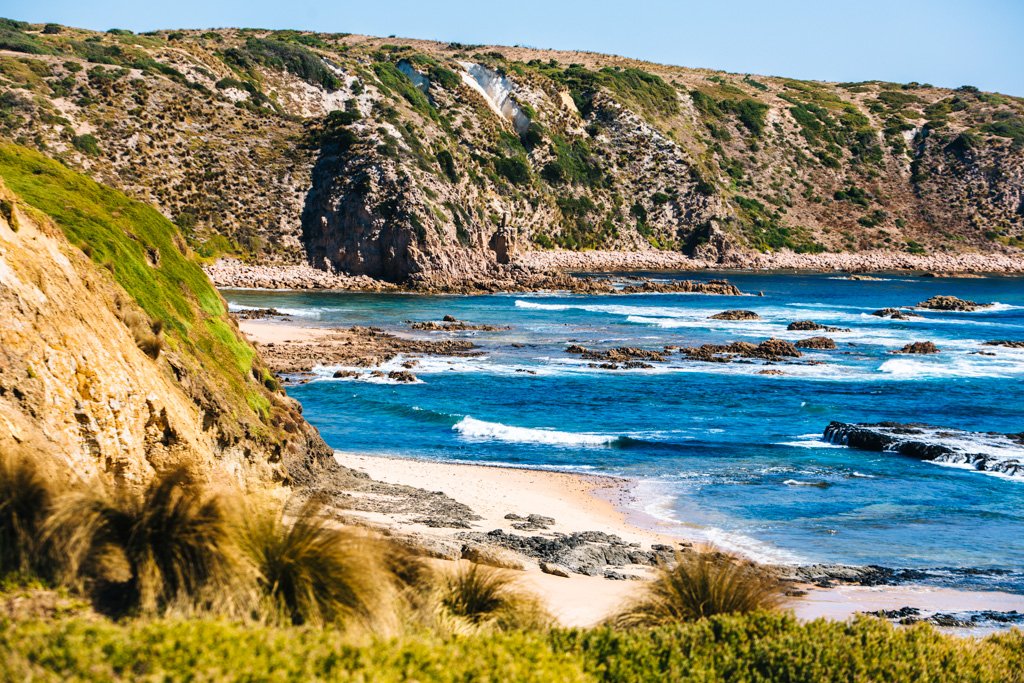 Walking Cape Woolamai
I know I've confessed before that the first thing I do upon settling into a new destination is research nearby coffee options. Well, hand-in-hand with my coffee research is looking for nearby walks or hikes I can do that yield some awesome views or cool finds. I just wanna see some pretty sights, y'all!
It didn't take long for me to learn that Cape Woolamai's got plenty of walking trails, so I was more than set in that domain. I was ready to make the lengthy walk from my accommodation in Newhaven down to Woolamai Surf Beach, the cape's trail hub, which would have taken me at least an hour one-way – then I discovered that during summer there's a free Island Explorer bus that shuttles visitors around Phillip Island. A quick 5 minute bus ride and I was at the main beach on Cape Woolamai – too easy!
To reach the start of the Cape Woolamai Circuit, you have to start walking south down Woolamai Surf Beach, then take the first set of stairs up the dunes (I believe there is, or was, a portion of the track that leads there straight from the parking lot, but as of January 2016 it was roped off). The views down toward the end of the peninsula are absolutely stunning, both from on the beach and above it.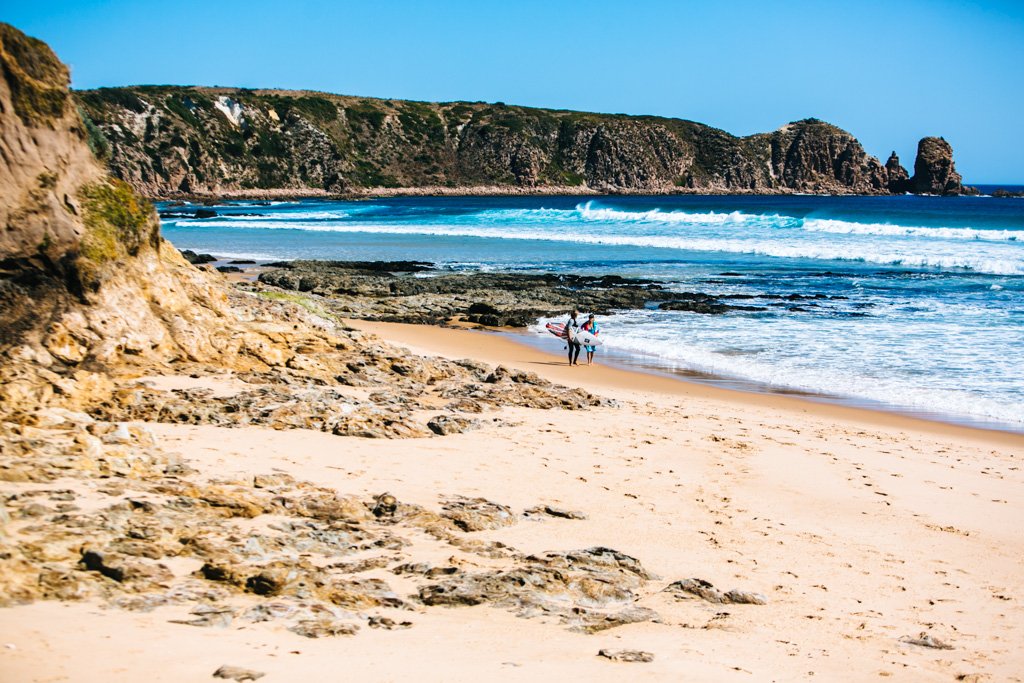 You can opt to do just one portion of the circuit (for example, the 4km return walk to the Pinnacles, or the 6km return walk to the Quarry), but I'd recommend doing the entire 8km circuit. The walk to the Pinnacles and just a bit beyond has the most dramatic coastal views, but the view from the highest/southern-most point of the peninsula at the Beacon is well worth the uphill climb.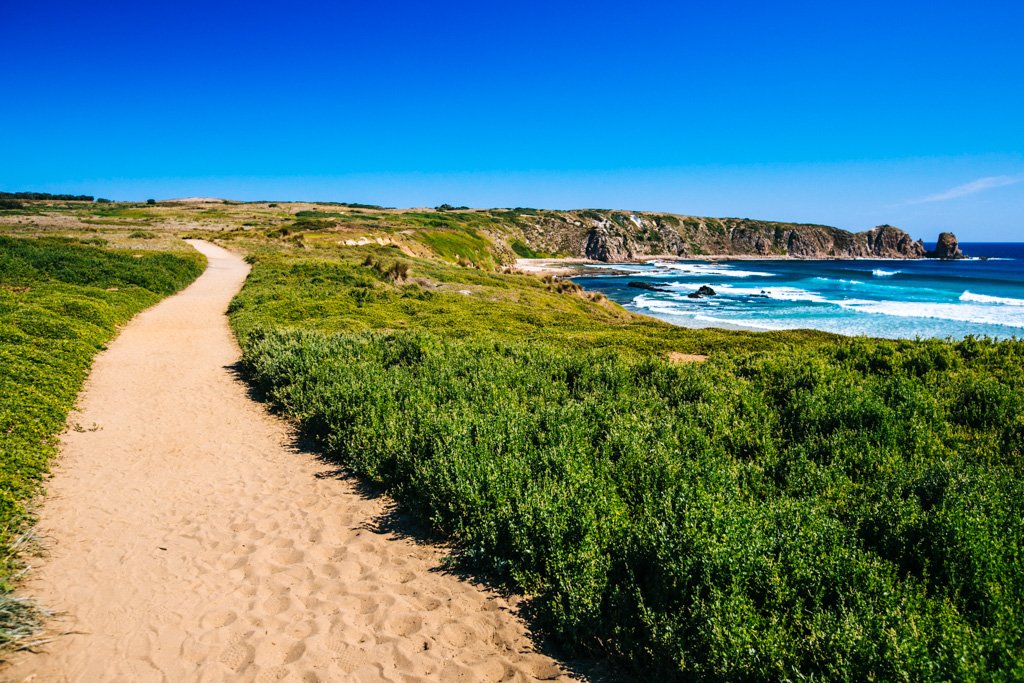 I followed the circuit in a counter-clockwise direction, heading toward the Pinnacles first. Every time I looked back toward Woolamai Surf Beach I glimpsed a different view of it and just COULD NOT PUT DOWN MY CAMERA. You've been there, right? Where you just get so darn worked up over the amazingness you're witnessing and want to capture it all so that you can remember it perfectly? Yup, that was Cape Woolamai for me.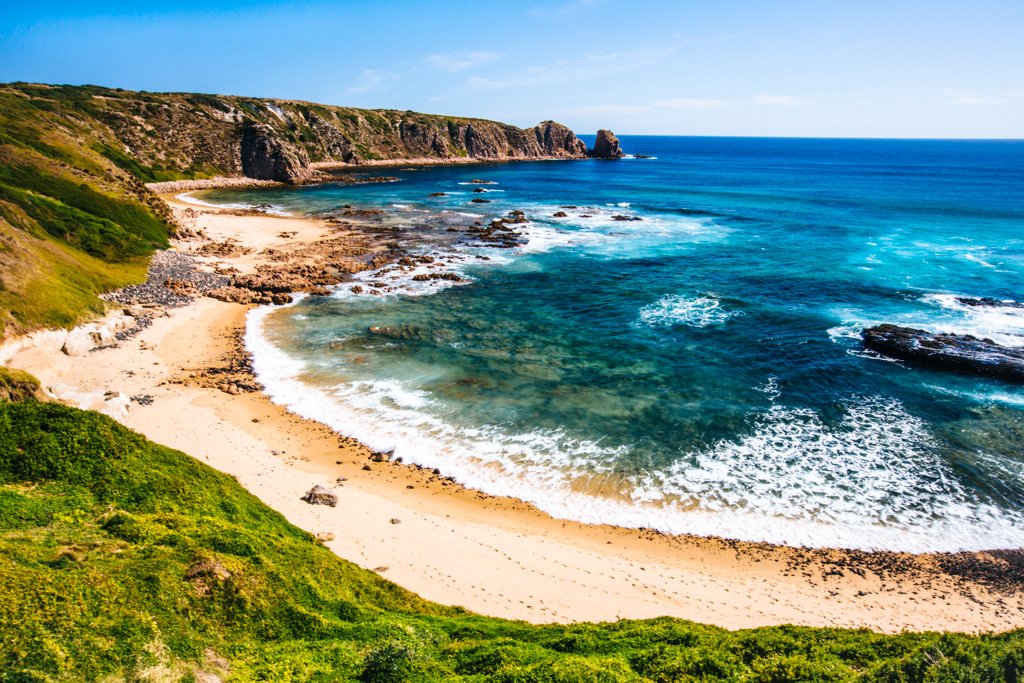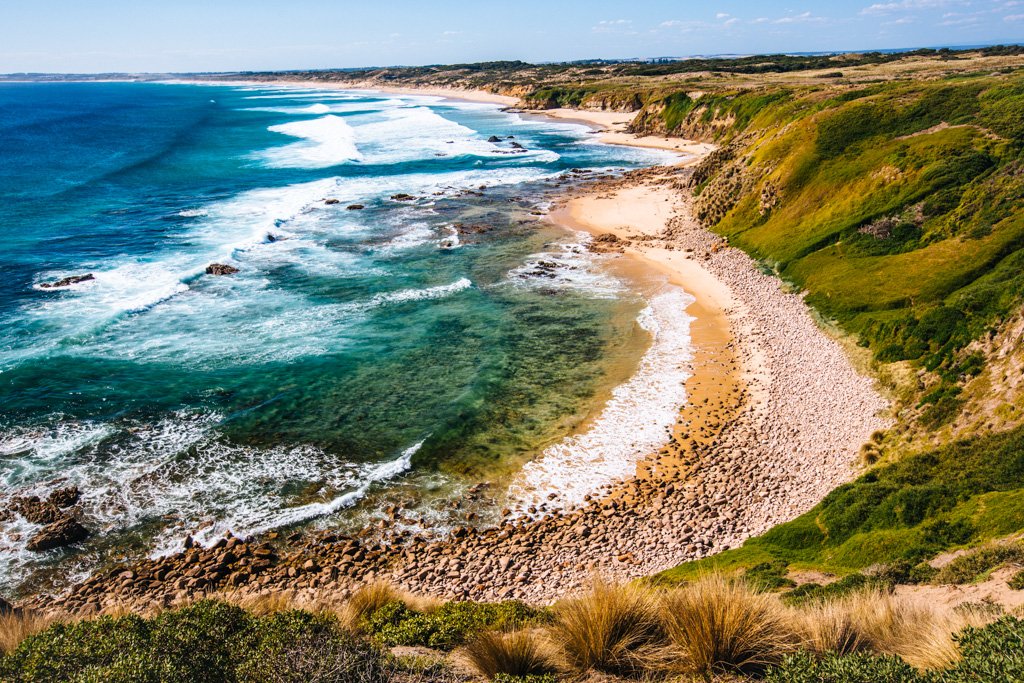 I was so completely captivated by the constant views from above Woolamai Surf Beach that the Pinnacles were pretty underwhelming. I didn't even want to take a picture of them! (Note: If you want to photograph this landmark, either head there in the morning or at sunset, else the rocks will be silhouetted).
Like I mentioned, if you're just doing the Pinnacles walk, go a bit further because there are more spectacular cliff views to be enjoyed. Once the trail starts to head away from the cliffs and uphill, you can turn around.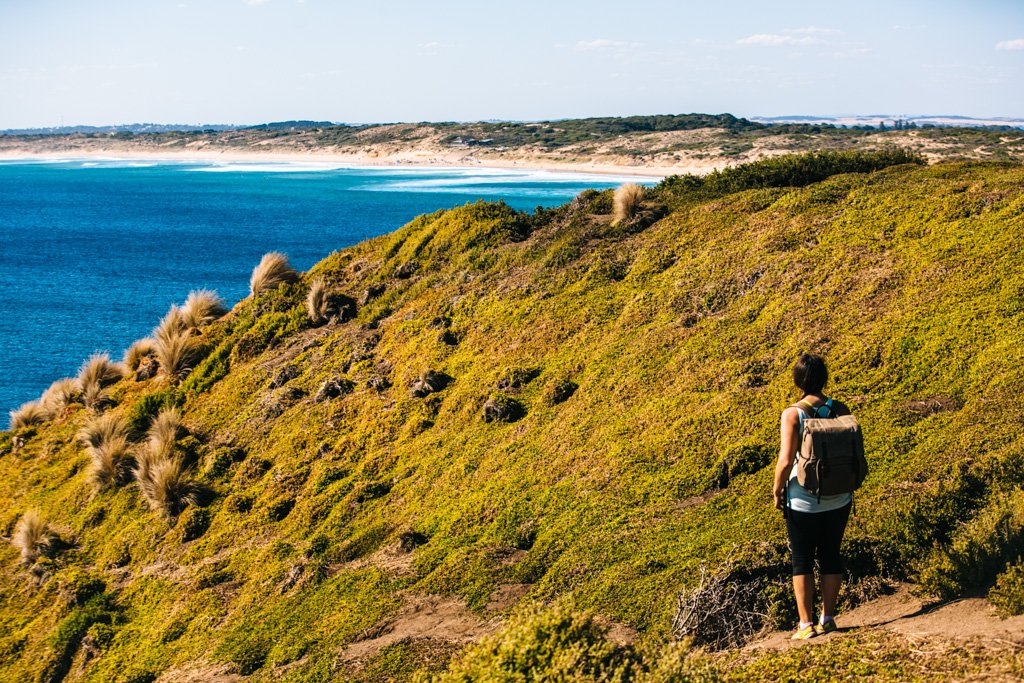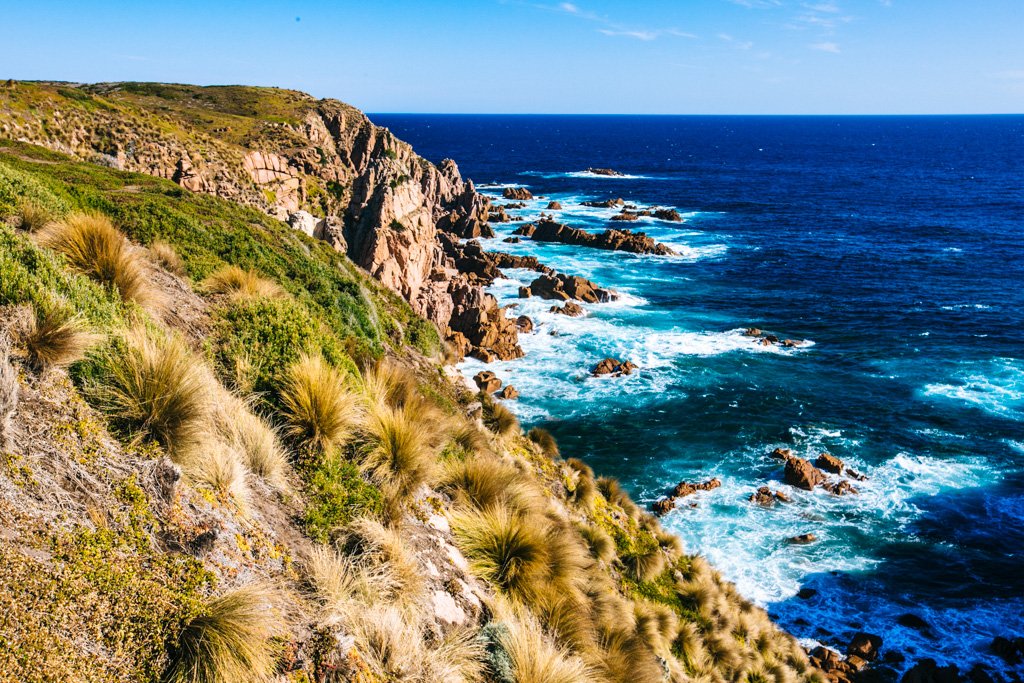 Continuing on the circuit, the trail will lead uphill and away from the water. There's not much to see until you reach the top of the hill by the Beacon: here you can look out over the entire cape, plus parts of the island and mainland. There's a good chance you'll run into kangaroos and rabbits as well around here.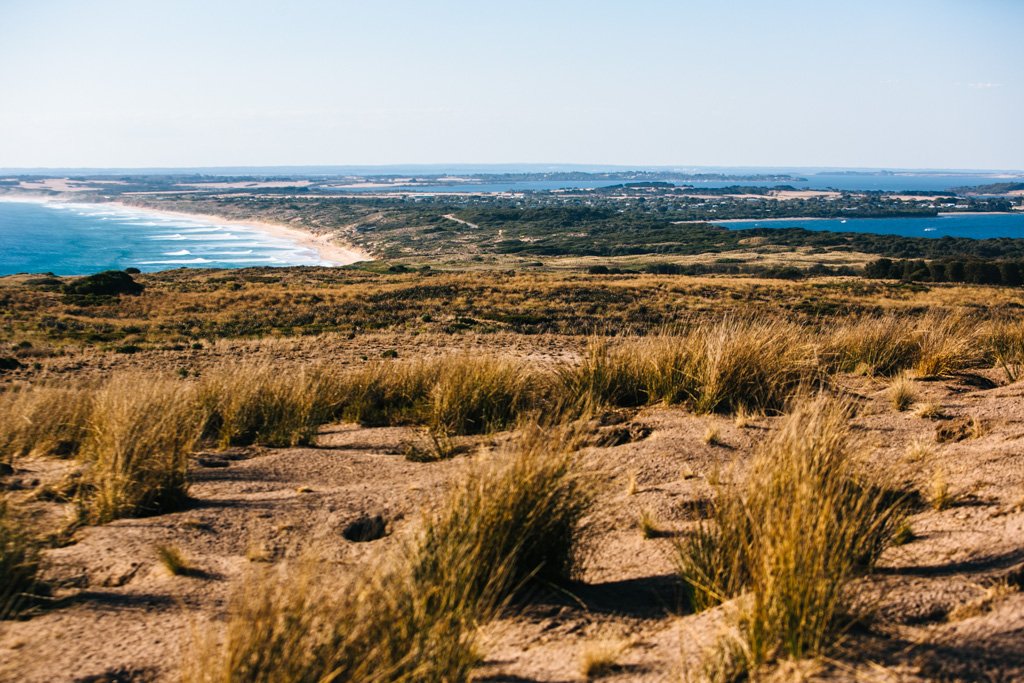 The southern-most point you can reach on Cape Woolamai.
Heading back down, the trail stays inland and branches off about halfway down, at which point you can turn off and take a little detour toward the Quarry. Unless you're super gung-ho about hiking and have plenty of time, you can skip this little side trek and keep following the trail back to the Woolamai Surf Beach parking lot.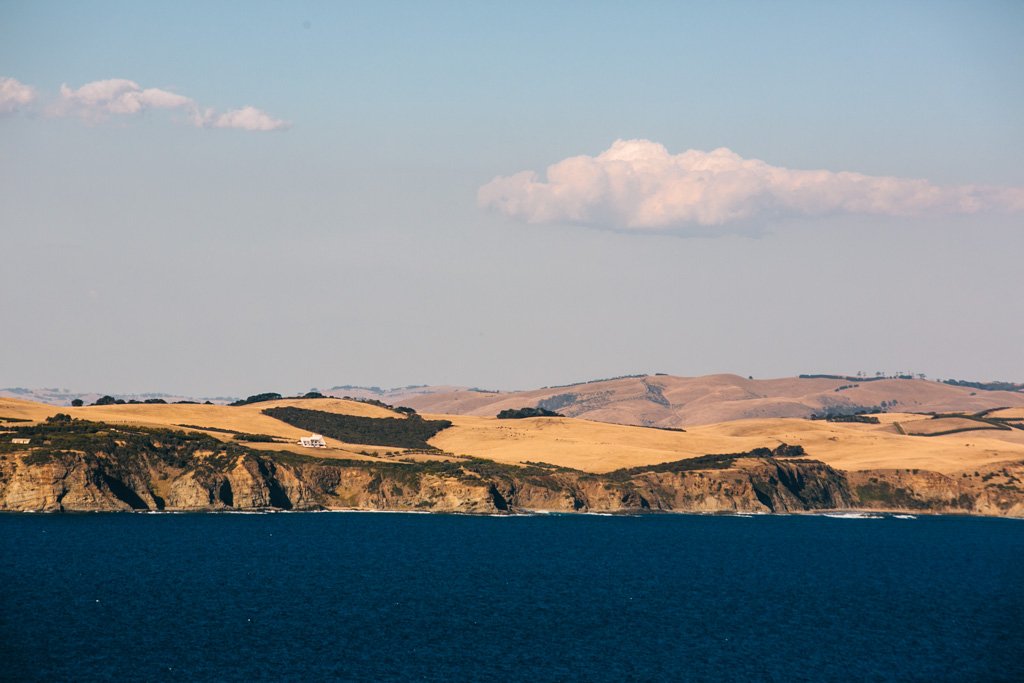 View of the mainland.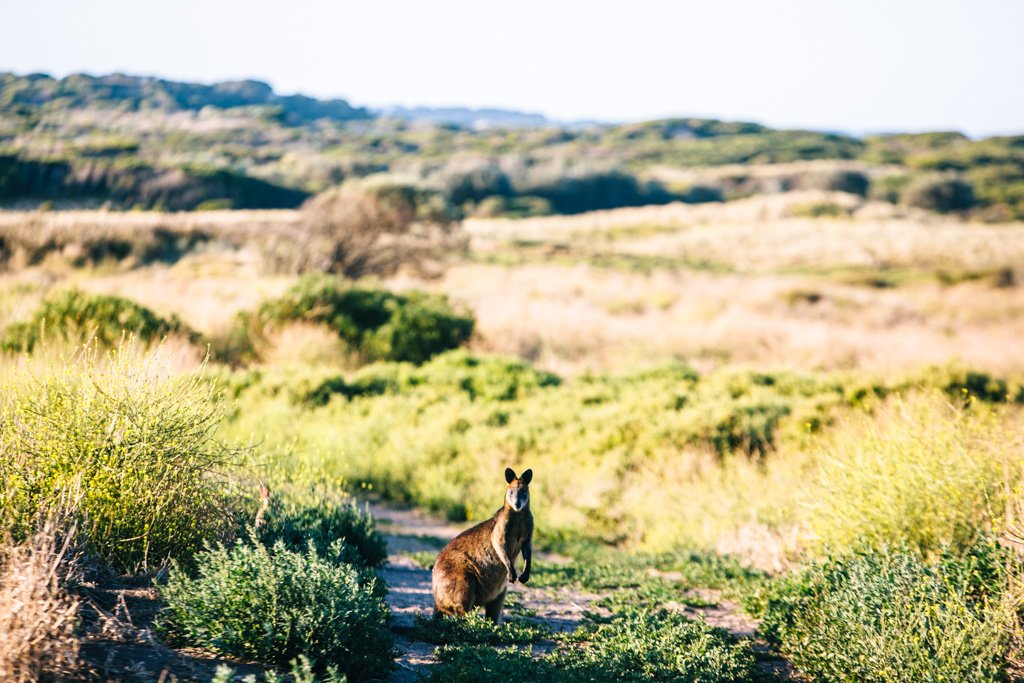 A few final thoughts on walking Cape Woolamai:
The trail is smooth and easy going, and you'd be fine walking in sneakers/trainers rather than hiking boots.
The trail is well-marked with signs that point out distances to landmarks so you always have your bearings.
Aim to walk around mid-to-late afternoon, where everything is bathed in warm golden light and the sun is less strong.
Cape Woolamai Beach
Even if you're not down for tackling the Cape Woolamai walking tracks, it's still well worth visiting for just the beach. It's known for having consistently serious waves, so serious that they've killed swimmers before. Not surprisingly, the beach at Cape Woolamai is extremely popular with surfers.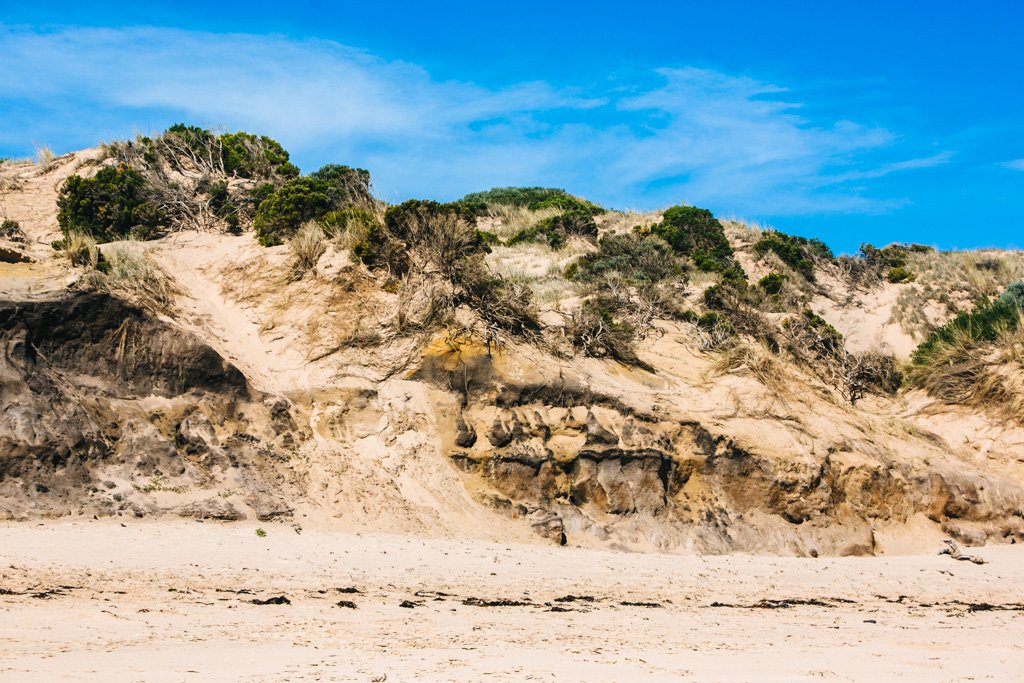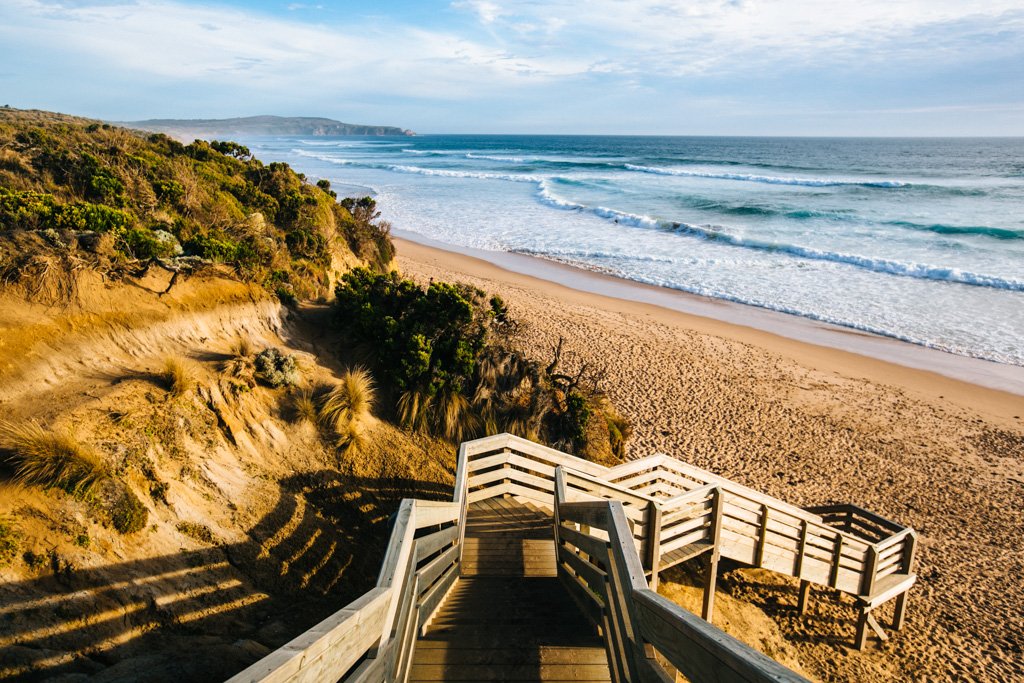 I'd have contentedly spent an afternoon laying out on the beach here, gazing out at the nearby dunes and cliffs or watching the surfers, but because I'd gotten a bit sunburnt I opted instead to come back to Woolamai Surf Beach on my last day in late afternoon. It was a tad too windy and cool to be sunbathing at this time, but pretty ideal for throwing on a light layer and reading a book.
No matter your agenda, Woolamai Surf Beach is a must-do on Phillip Island. Trust me on this.
One of the island bus drivers clued me in to a little shortcut to get from Cape Woolamai back to Newhaven (or vice versa): instead of walking up Woolamai Beach Road to get to Phillip Island Road and then following that back to town, there's a short trail across from the Woolamai Surf Beach parking lot that cuts over to the beach on the eastern side of Cape Woolamai, which you can walk on at any level tide to get to the Phillip Island Bridge, San Remo, and Newhaven in under an hour. If you don't have a car or can't catch the bus, walking from A to B via Woolamai Safety Beach is the next best option.
What about you: is Phillip Island on your Australia or Melbourne to-do list?
Pin it!