How many times have you heard Australia referred to as an expensive country? Relatively speaking, it is. Your money could definitely go further in Southeast Asia, Eastern Europe, or South America. But if you're coming from a western country, Australia really isn't that expensive – especially right now, with the Australian dollar being pretty weak.
I set out on my Australia Work and Holiday visa with a mission: to prove that you can travel Australia on a budget and still see so many amazing things.  I challenged myself to spend as little as possible – without sacrificing happiness, adventure, or my top Australia bucket list items. I also had monthly student loan payments to make, which lit a fire under my ass to stick to the budget.
How'd I do? I spent an average of $36/day during my year in Australia and managed to travel to every state and territory in the country.
Exceptionally well, I'd say. But make no mistake: I worked hard to save money. I sacrificed comfort and having a home base, rarely shopped or drank, and often exchanged my skills for accommodation or activities. I was happy to live like this because the things that make me happiest don't cost much money at all; however, I don't think this lifestyle is sustainable longterm (at least not for me!).
Now excuse me while I nerd out on numbers and throw some stats your way!
Note: All amounts are in US dollars. (Even after 13 months in Australia, I still think of pricing in terms of USD!)
What I Spent In A Year In Australia
Daily Spend – $12,878 is what I consider to be "what I spent in Australia", on daily expenses that a carefree/debt-free backpacker on the Australia Work & Holiday visa can expect here. All breakdown numbers below are based on this amount.
I, however, am not as carefree as I might like, and certainly not debt-free, so I had a few additional expenses:
Business Expenses – Includes all the fees that come with being a digital nomad / travel blogger, such as web hosting, domain renewals, online courses, plugins.
Insurance – I paid $670 for 12 months of travel insurance through World Nomads and $304 for a year of personal articles insurance through State Farm, which protects my camera gear and laptops.
Student Loans – No explanation needed. Every year I die a little thinking about how much traveling this amount of money would buy me, but alas.
Breakdown of Expenses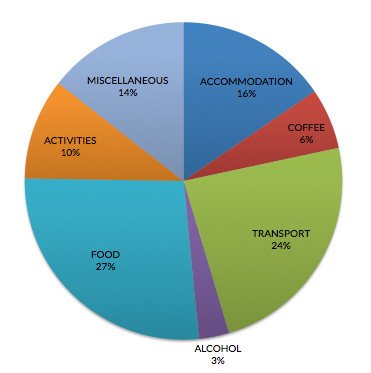 Food – I excluded the 71 days where my food expenses were covered (e.g. the Hinchinbrook Island trek, the Whitsundays sailing trip, HelpX work exchange). Of the money I did spend on food, 74% of it was on groceries and snacks while 26% went toward eating out.
Coffee – I'm zero parts sorry about spending $712 on coffee this year. 40% of this amount went toward beans that I'd ground to make my own coffee at home. The rest I spent on flat whites, often so I could camp out at a cafe for a few hours with my laptop to get some work done.
Accommodation – This number is ridiculously low because I only paid for accommodation 1/3 of the time (if you only look at the days where I paid for it, I averaged just under $17/day). How did I manage to sleep for free so often? House sitting, couch surfing, work exchange, working at a remote resort, and camping. Without those frugal measures, I'd have spent at least an additional $4000 on accommodation.
Walking – Ok, so this is not money-related, but in fitness you spend (or expend) energy, so I feel justified in including this figure. I covered more than 5 miles a day on foot via coastal walks, city frolics, gorge hikes, and neighborhood runs.

Phone – I got away with using my phone almost exclusively on wifi in Australia, avoiding text messaging and relying instead on iMessage and Facebook Messenger. I had a prepaid SIM with Optus, which I topped up with 10 AUD at a time. I found I mostly just used my credit while I was out and about and needed data, or was roadtripping and needed to use Google Maps.
Miscellaneous – This includes toiletries, dentist appointments, haircuts, clothes, and other non-essentials. I felt like I learned to be much more conscious of frivolous spending just because I was tracking every purchase I made this year. One mild shopping spree was enough to pulverize my daily budget, so I kept those to a minimum.
Transport – Considering I took 9 flights within Australia this year, this number aint half bad. It also includes city transport, car rentals, and fuel.
Alcohol – I actually thought this number would be lower because I hardly drink, but I did go on a fair number of wine tours throughout my Aussie travels and shelled out for some quality bottles of vino. If you like frequenting happy hours and meeting up for drinks on the reg, expect to spend far more than $25/month on drinks.
Money Earned In Australia

I don't want to focus too much on my income because I don't feel it's indicative of what a typical person on the Australia Work & Holiday visa can expect to earn in a year. I only worked one casual job, I spent a couple months on a work exchange (neither earning nor spending much), and most of my income came as a result of my transition to freelancing.
Note: I actually earned an additional $2000 or so this year: some of it didn't get paid til after I left the country, and another chunk I'll be getting back from my tax return in July (Australia's financial year ends on June 30, they're weird like that). I also have some money in my superannuation fund, which I'll get back when I leave the country.
Jobs
I worked one casual job in Australia as a kitchen hand at El Questro Wilderness Park. I made $6242 working full time over 11 weeks – that's about $567/week (808 AUD), almost all of which was banked because I had nothing to spend my money on in the Outback. They charged us a compulsory $73/week (105 AUD) to cover the cost of food, which was extremely reasonable given that we had all meals prepared for us (and they were delicious!). Our accommodation was free, though very basic – think portable single rooms that sit a foot or two off the ground.
So based on my experience, let's say you can expect to net $500 (700 AUD) per week working a full time minimum wage hospitality job at a resort in Australia… that is, if you don't piss it all away on booze!
Freelancing
One advantage to waiting til I was borderline #grannystatus (aka age 30) to get my Australia Work and Holiday visa? I had 8 years of professional experience to draw on, which allowed me to get creative with my income streams. I didn't have to limit myself to casual jobs while in Australia (and thank god for that, because it turns out I'm total crap at all things hospitality). I did some freelance travel writing and web design, started working on SEO projects for a digital marketing startup in Melbourne, and snagged a major(ly profitable) consulting gig from my old boss back in NYC. No way would any of that been feasible had I done my working holiday at age 22, or even 27.
Another note to anyone who has never freelanced or started a business before: it requires some serious hustle. It might not be for you if you want to be a carefree backpacker while on your Working Holiday visa.
Time Spent In Australia
It's funny to look at where I actually spent my year vs. where I thought I would spend it. My original "plan" was to hit Sydney first just to get it out of my system, then move immediately on to Melbourne and spend most of the year there. But I just couldn't say no to 2 months living on Bondi Beach, or 3 months in the Kimberley: two uniquely Australian experiences I'm so glad I was open enough to pounce on when the opportunities arose.
I also didn't expect to make it to every state and territory in Australia! And yes, I'm totally counting the ACT thanks to a full day spent stranded on the tarmac in Canberra. I spent 35% of the year in Western Australia, 31% in Victoria (Melbourne), and 22% in New South Wales (Sydney).
Other Random Numbers
I'm a big ol' math nerd, and so I kept track of all sorts of random things aside from money. Which of the stats below is most alarming? Or impressive?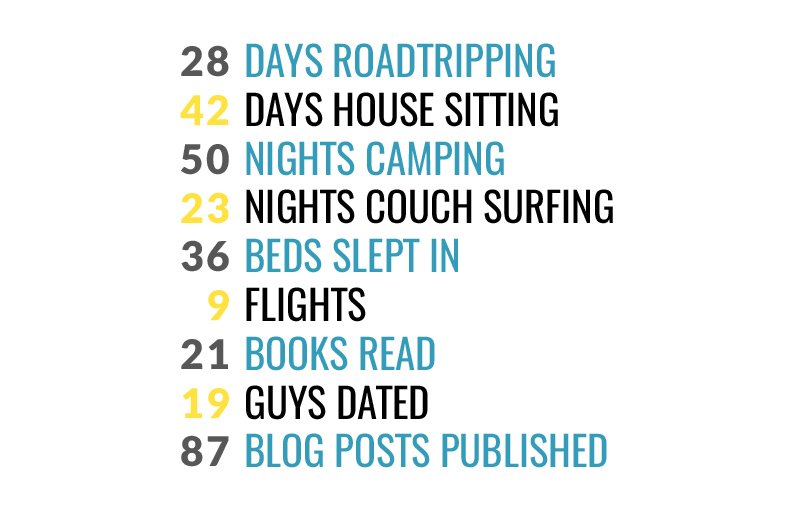 More on Australia & Frugal Travel
If you're interested in going to Australia on the Work and Holiday visa (or the Working Holiday visa) or want to learn more about traveling on the cheap, check out these other posts I've published!
Pin it!