Attention Aussie readers! I'm coming in hot with a new way to save money for travel. Are you ready for it?
Introducing: WeMoney!
WeMoney is an award-winning financial wellness app that aims to help Australians manage their money better, pay off debt faster, and achieve their money goals.
Sure, we all know we should be saving money and eliminating debt, but often they remain lofty concepts that we don't quite know how to put into practice, or haven't gotten around to tackling yet.
The WeMoney app invites you to take charge of your finances and start doing the work that's needed to hit your money goals.
WeMoney recently invited me to test out the app and review it on the blog, and this frugal frolicker eagerly obliged 🙂 Yes, I'm always down for saving more money for travel!
Here's my WeMoney review:
CLICK TO JOIN WEMONEY + GET $5 WHEN YOU CONNECT AN ACCOUNT
How The WeMoney App Works
Step 1 – Download the app
First, you can download the app for iOS or Android.
The WeMoney app is free to download and use, though there are some paid features on the app itself.
Step 2 – Enter your details
After you install the app, you'll be guided through a series of questions to answer and details to provide, including:
Verifying your identity (you'll need to upload a photo of your drivers license or passport)
Linking your bank accounts (you'll need to log in to your online banking platform)
Consenting to WeMoney accessing your bank details
Your work details (e.g. schedule, industry, income) + financial interests (e.g. buying property, saving for a car, investing, side hustles)
Your interests are used to customize the offers and communities that are featured for you in the app.
Your bank accounts are used to pull in all your financial details so that you can see exactly how much money is going in and out of them. If possible, you want to link ALL of your accounts including checking, savings, loans, financing, and retirement.
WeMoney currently has 400+ accounts available for integration with the app. If all of your accounts are Australia-based, you should be able to include them.
NOTE: Though I have fully embraced my new life as an Australian (yes, I've even switched over from Fahrenheit to Celsius, 8 years later!), admittedly I have held on to all of my American accounts. My student loans are there, my Chase Sapphire Reserve credit card is there, my bank account that is linked to that credit card is there, my retirement account is there. So just keep in mind that I'm not able to fully take advantage of this app simply because most of my financial accounts are based in the US, not in Australia.
Step 3 – Set goals and budget
Scroll down the Home tab of the app and you'll see sections for Goals and Budget. Here is where you can set financial goals and keep track of your budget.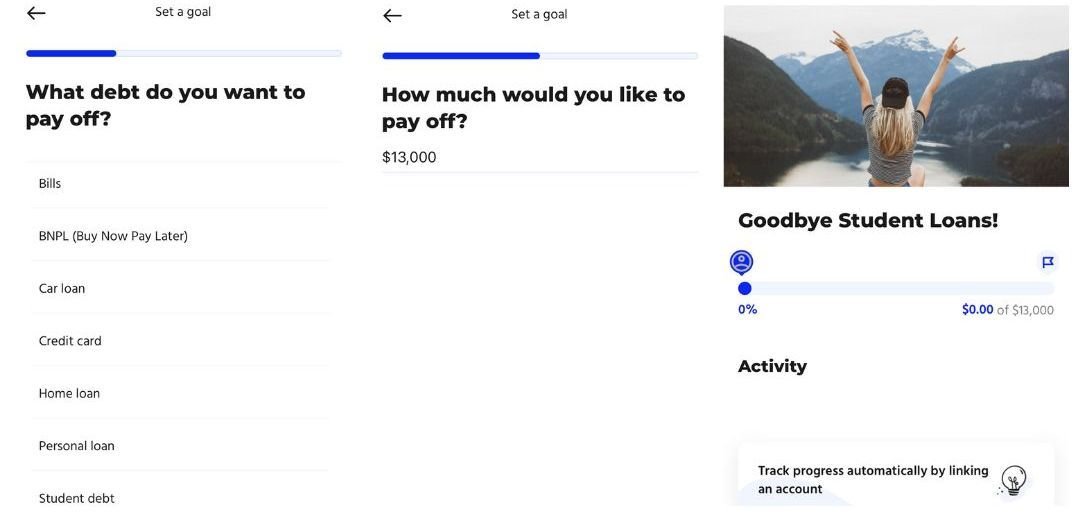 You can set either a savings goal or a paying off debt goal, and enter a target amount. Super handy if you're saving up for a trip, or paying off debt before you travel.
To keep track of your progress, you either need to pay to upgrade to WeMoney Pro ($9.99/month) so you can link your accounts, or manually enter any dollar amounts you've contributed towards the goal.
In other words, this is where you finally get serious about your money goals and either invest in the pro version of the app, or commit to tracking your progress by hand.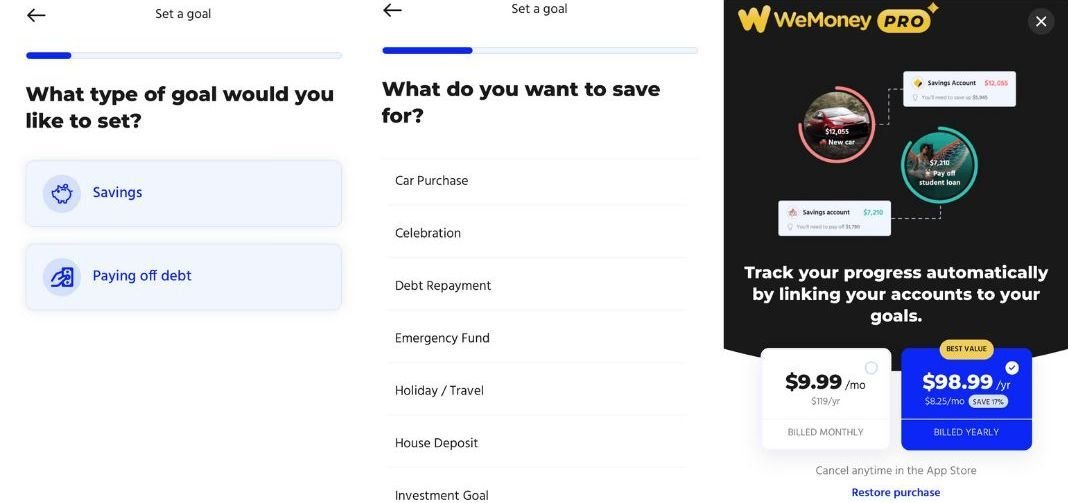 To set up your budget, you simply enter your monthly income and monthly budget, and the app will start tracking how much of your budget you've gone through so far this month. You can set up different budgets by category and get notified if you're getting close to or over your budget.
For this to work, you have to have your bank accounts linked to the app so that it can automatically pull in any debits and count them as spending.
Step 4 – Join communities
On the Community tab of the app, you can find and follow all sorts of finance-related groups depending on your interests. WeMoney will recommend some to you based on the details you entered when you first set up the app.
There's a handful of groups created in WeMoney, which at the moment includes: Debt Free, FI/RE (Financial Independence / Retire Early), Investing, Bargain Hunting, Crypto, Side Hustles, Budgeting, and Home Buyers. They're all surprisingly full of useful posts with actionable tips.
Step 5 – Browse offers
It's impossible to miss the money-saving offers WeMoney has available for you: they're sprinkled on the Home tab, listed extensively on the Offers tab, and periodically delivered to you via email.
That sounds spammy, but it's not! WeMoney actually aggregates different types of offers and presents you with a variety of offers to compare, saving you heaps of research time. You can even apply for them straight from the app!
Types of offers include:
Home loans
Personal loans
Debt consolidation loans
Car loans
Credit cards
Savings accounts
Bank accounts
Insurance
Electricity/Gas
Broadband
Business & Self Employed
Investing & Crypto
For me, I can see this being super useful when I finally hang up my nomad's boots (again!) and move into an apartment later this year, and inevitably have zero idea which companies to go with when it comes to internet, gas, and electricity. I know already that I'm going to go straight to the WeMoney app and apply for whichever options are the cheapest in my area. I hate paying extra for something when I'm not getting any extra value out of it, and I love that WeMoney helps you avoid overpaying by highlighting the cheapest option.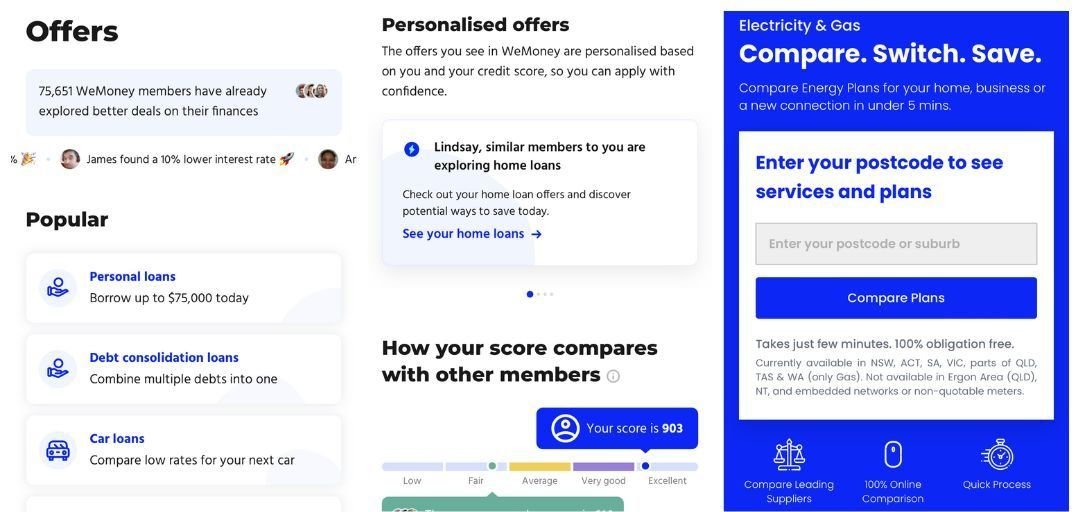 If you've been thinking about applying for a new loan or credit card, considering switching banks, or want to see if there are more cost-effective options available for you, WeMoney makes it super easy in their app.
CLICK TO JOIN WEMONEY + GET $5 WHEN YOU CONNECT AN ACCOUNT
Things I Like About WeMoney
It feels safe and secure
If you're at all concerned about sharing your financial details on the internet, good. You should be!
And you'll be happy to hear that your money matters are safe with WeMoney. In fact, I didn't even have time to worry about it because from the minute you open the app for the first time, they hold your hand through the process of setting up the app and linking your financial accounts. Everything is very clearly (and thoroughly) explained, and they ask for your consent before doing anything with your financials. You're even able to opt out of any data you don't want to share.
When I linked my Aussie bank account, I got emails from both my bank and from WeMoney, the latter of which sent a breakdown of exactly what data I had consented to be shared, when, and for how long.
You know how companies make you read and sign a long-winded document of terms and conditions that no one ever bothers to read because it's written in corporate-speak? Well I'm pretty sure someone at WeMoney has taken the time to break down, simplify, and translate it into language that the average person can absorb with ease. That makes me trust them even more.
Their money-saving offers
I already raved about the offers earlier in this post, but it's worth mentioning again that WeMoney has done all the research for you when it comes to comparing different options for insurance, utilities, credit cards, bank accounts, etc.
If you're looking to open a brand new account, or if you want to see if there's another option that will save you money, WeMoney's got you covered!
It tells you your credit score
I'm very familiar with how credit scores in the US work and I know what mine are. But in Australia? Not so much.
In fact, I was pretty sure I had a terrible (or nonexistent) Aussie credit score, due to all my accounts being in the US… so I kinda just pretended like it didn't exist.
But then WeMoney came along and forced me to face the money music!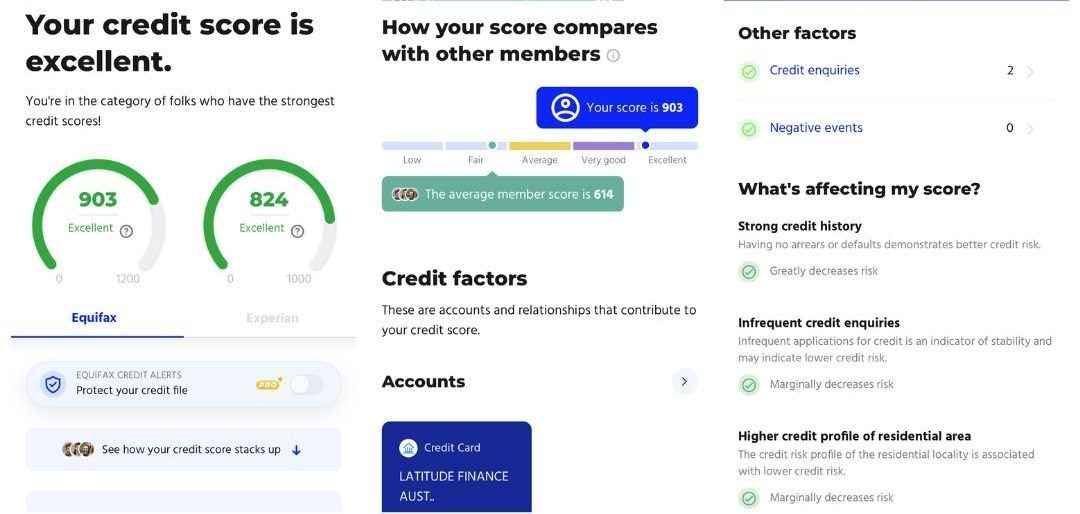 You can't escape your credit score on the app – in fact, it has its own dedicated 'Score' tab. So with squinted eyes, I took a peek at my credit score and was SHOCKED to see it was "excellent". What a relief!
Also, I'm no pro, but it's VERY clear that getting financing on a big purchase and making all payments on-time is a very good way to increase your credit score. I can't think of anything else that would have helped me, since I do most of my transacting via my US accounts.
The app will also tell you what's affecting your score.
CLICK TO JOIN WEMONEY + GET $5 WHEN YOU CONNECT AN ACCOUNT
Things I Don't Like About WeMoney
Too many emails!
Within 24 hours of downloading the app, I received 7 emails from WeMoney (most of which were sent within the first few hours).
Within one week, I had received 13 emails in total.
I like to keep my inbox lean, so even 2 emails in a day is too much for me, but 7?! I'm pretty sure that's too much for anyone.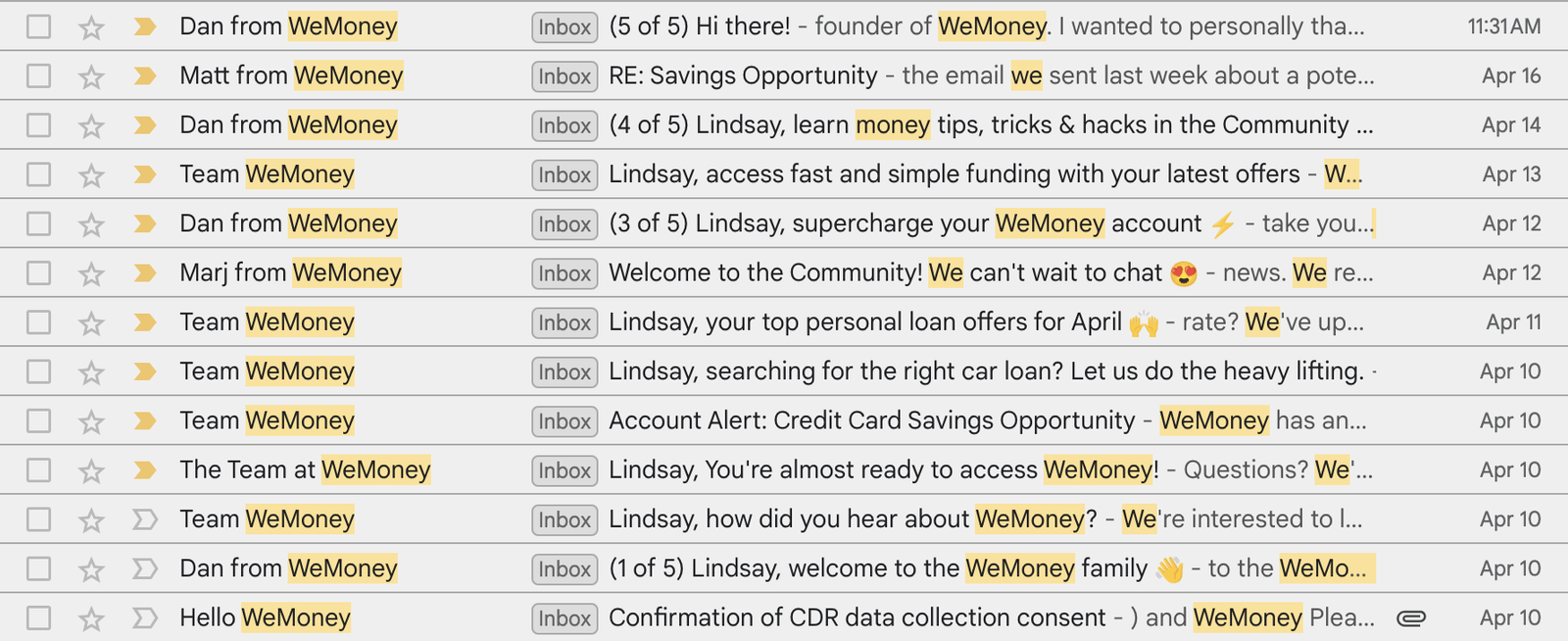 Not sure what happened to email 2 of 5…
It only pulls in Australian accounts
As I lamented earlier, you can only link to Australian accounts and search for Australian offers.
This is totally fair, given that WeMoney is an app for Australians. But it does limit the app's functionality and usefulness for me, someone whose financial accounts are mostly in the US, which provides me with an incomplete picture of my finances.
The debt tracker
One Australian account I DO have is a small financing account that I opened to pay for my new iPhone, mostly because I wanted to start building some credit here.
I'm able to link to this financing account in the WeMoney app, but it only pulls in the last 3 months of transactions even though I've been making monthly payments for over a year. So it doesn't show the full picture of the starting amount and how much has already been paid off.
Additionally, it counts monthly payments as "income" and monthly account fees as "spending", which is a little weird given that all transactions are basically expenses (i.e. me paying). But I guess they count payments as income since it's a positive thing that counts toward paying down the debt?
At any rate, it's a little confusing and I'd love to see them make some tweaks to how the debt tracker recognizes transactions!
CLICK TO JOIN WEMONEY + GET $5 WHEN YOU CONNECT AN ACCOUNT
Is The WeMoney App Worth Using?
If you live in Australia and all of your financial accounts are Australian, WeMoney is definitely worth using. I think it's hugely valuable just to have all of your financials in front of you in one place, accessible with a few taps of the finger – even if you don't use any of the app's other features.
For me personally, its usefulness is limited because most of my accounts are American and can't be pulled into the app. I'd love to see WeMoney expand internationally at some point, but I'm sure that's a huge endeavor so I won't hold it against them.
Even though I can't utilize the money tracking on the app, I will definitely be checking my credit score and taking advantage of their offers in the future.
CLICK TO JOIN WEMONEY + GET $5 WHEN YOU CONNECT AN ACCOUNT
Thank you to WeMoney for sponsoring this blog post. Note that all opinions expressed here and elsewhere on this blog are my unbiased own, and are uninfluenced by any gifts or incentives I may receive.