Stringing together a collection of Melbourne's best street art is about as silly as creating a roundup of the city's best coffee shops: there's just too much of both of them to condense into one guide or Top 10 list, and they're constantly changing. Also: Melbourne has some of the greatest street art in the world… so there's that, too.
Instead, I'm going to point you toward certain parts of Melbourne that have high concentrations of street art. An aimless frolic in any of these parts of town will guarantee numerous street art encounters.
These are the neighborhoods you should explore if you want to find the best street art in Melbourne —
The CBD
Melbourne's city center hosts some exceptionally great street art. There are several laneways with a high concentration of street art, including but likely not limited to the following:
Hosier Lane
The most popular street art spot and crowded with tourists. It's changing constantly and well worth a quick visit.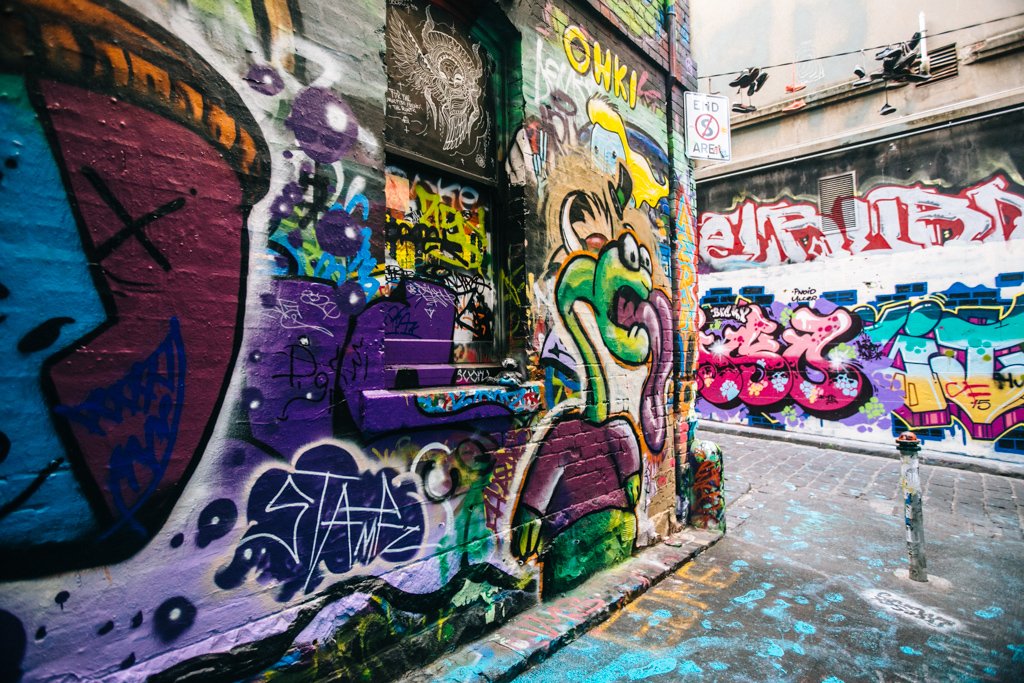 Centre Place
A lovely laneway comprised of cafes with al fresco dining, Looks like something out of Europe!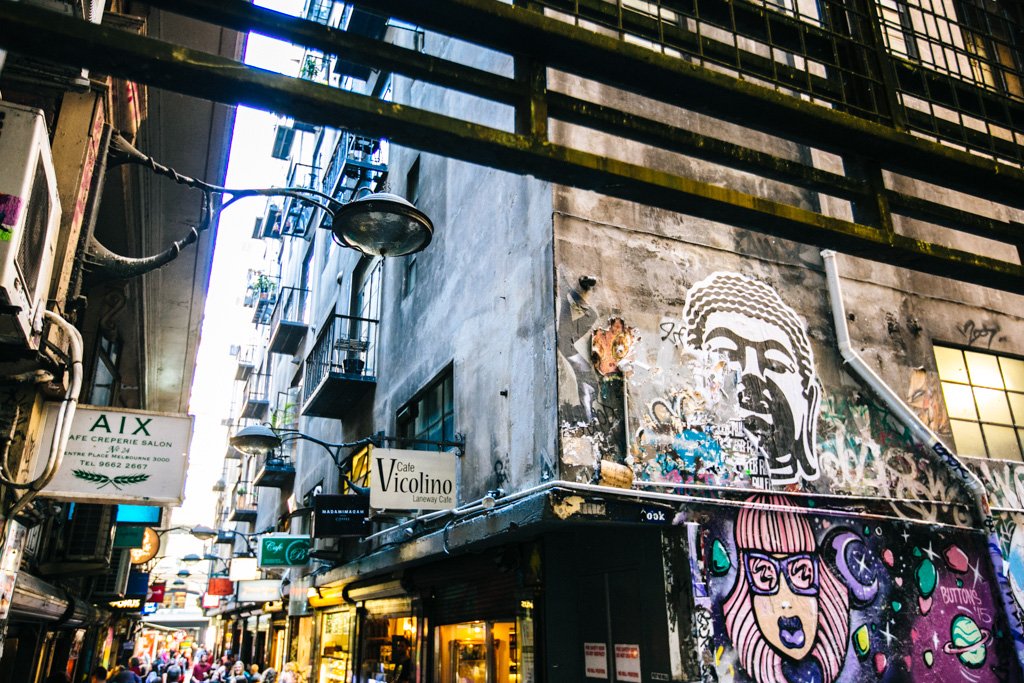 Blender Lane
With street art on all the walls AND on the ground, this is my pick for the best street art laneway in Melbourne city. There's an Artists Market held here on Wednesday evenings during summer.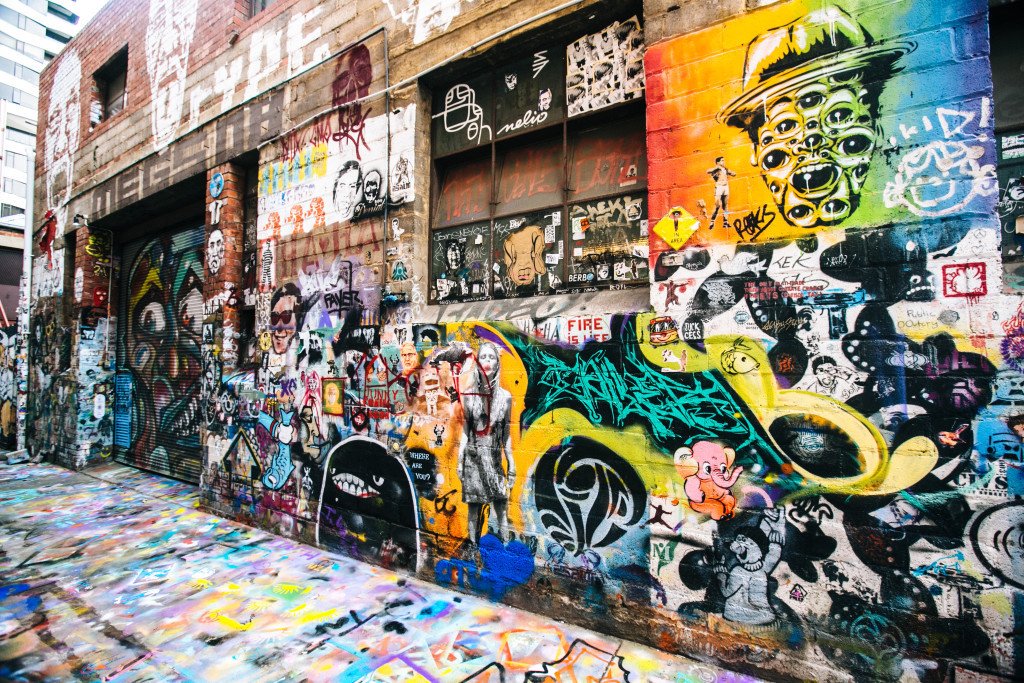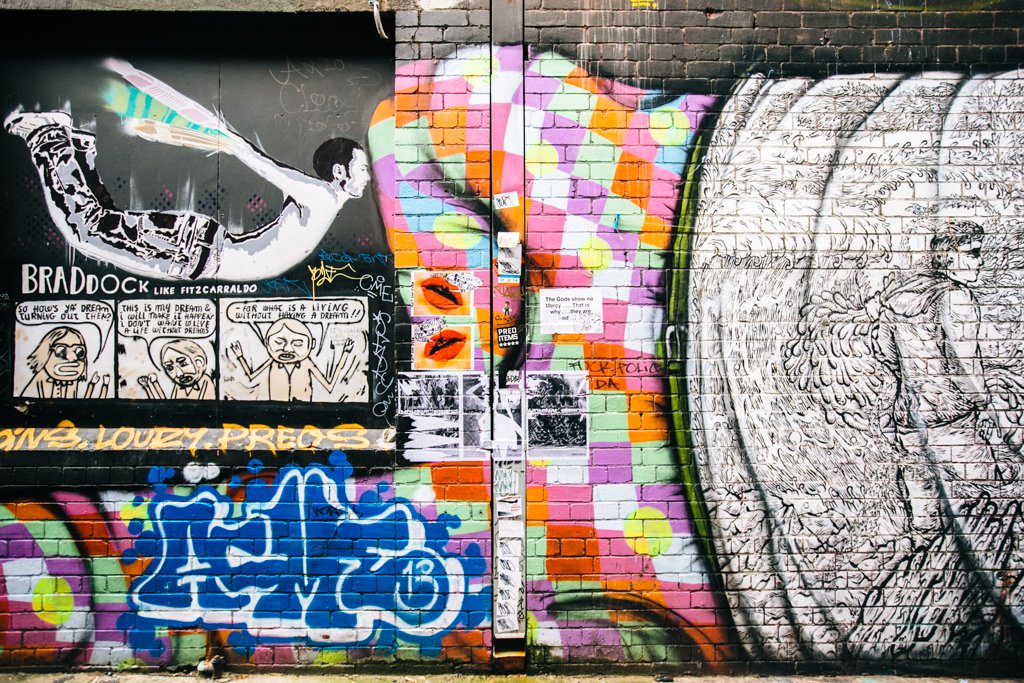 Croft Alley
A quiet Chinatown laneway that leads to the Croft Institute (a really cool bar).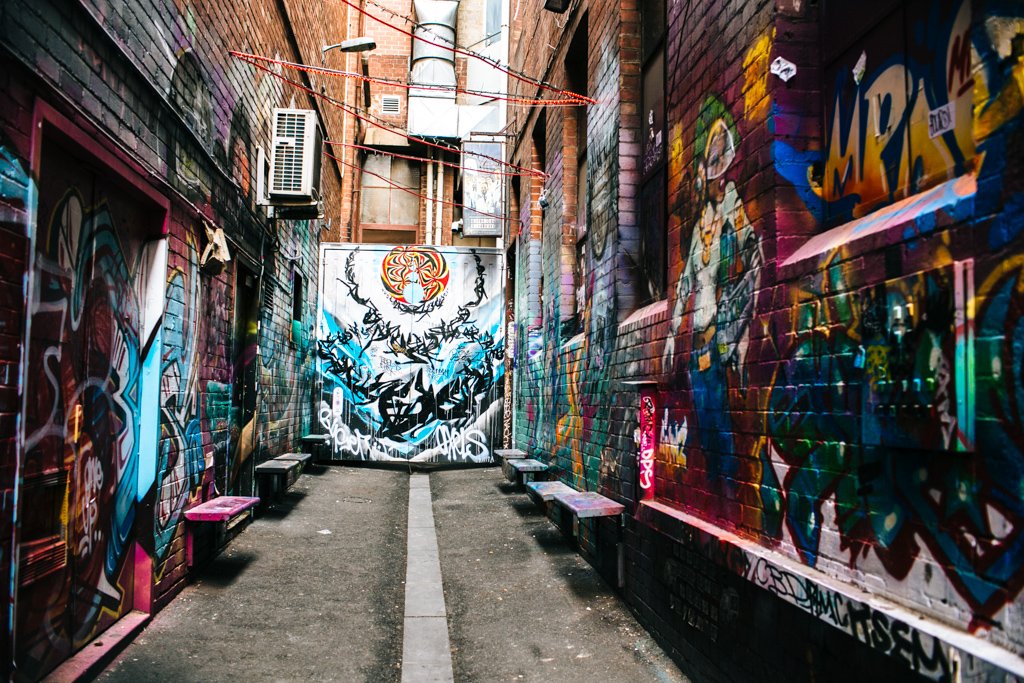 Tattersalls Lane
There are a couple of great hipster bars here surrounded by street art.
Queen Street Laneway
There's a nameless laneway just off of Queen Street, parallel to Franklin Street, that has some awesome art.
Collingwood
Collingwood is known for its abundance of street art, and overall it's one of the better suburbs in Melbourne for frolicking because there's so much to see and do there. You'll definitely glimpse some murals along the main roads, Smith Street and Johnston Street, but there's plenty more street art to be found on the shorter roads nearby. One of my favorites is Easey Street – if you go here, grab a burger and dine in the rooftop converted train cars at Easey's. It's a must-do experience in Melbourne!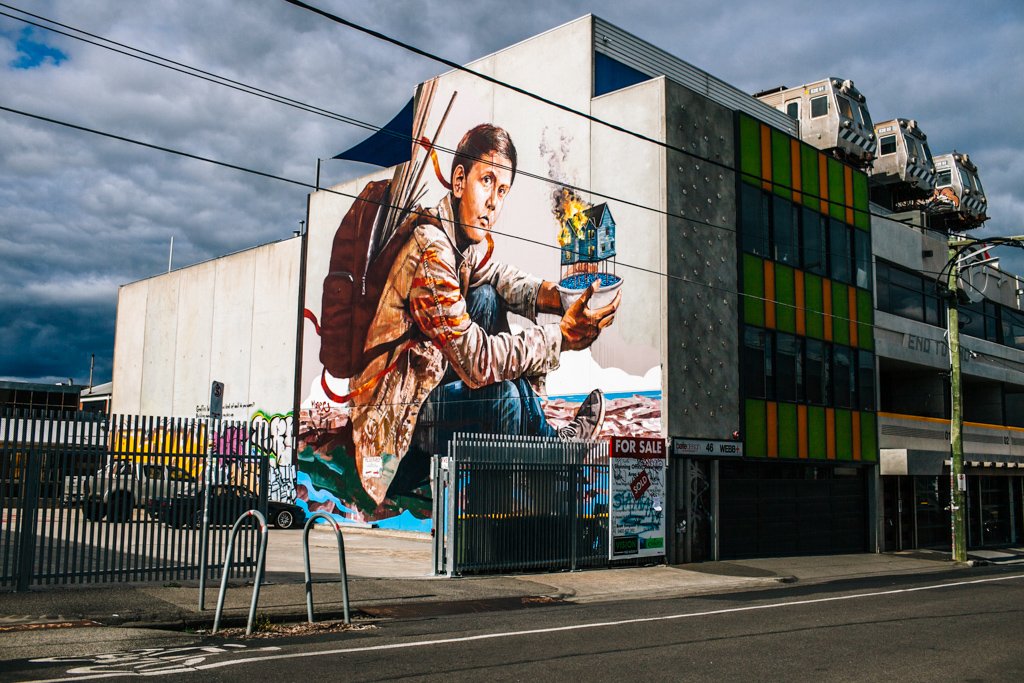 Fitzroy
I adore Fitzroy, as it reminds me of my old Brooklyn 'hood, Williamsburg, with its plentiful coffee shops, thrift stores, hip bars and restaurants, and – surprise! – street art. For a guaranteed good time, head down Brunswick Street to enjoy all of the above, and venture off onto the side streets to see more excellent street art (the laneways west of Brunswick Street never disappoint!). Rose Street in particular has heaps of it, including an entire parking garage decked out in murals.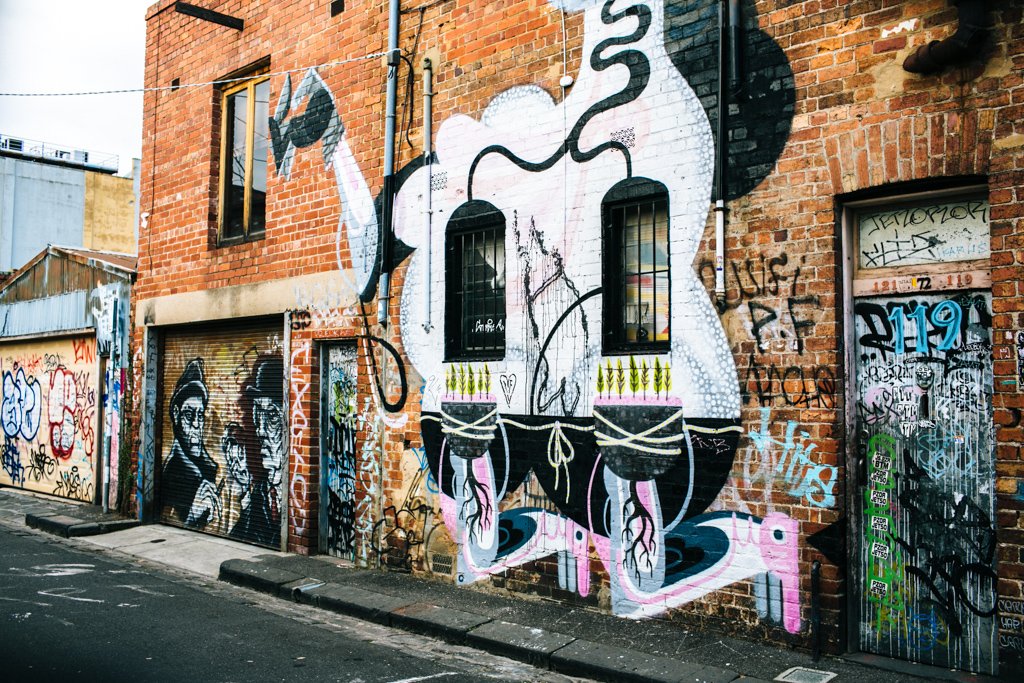 Northcote
Northcote doesn't have as high a concentration of street art as some other 'hoods, but there are some really interesting pieces along and just off High Street. Many of them are highlighted on this nifty site about street art along the 86 tram (which runs straight down High Street).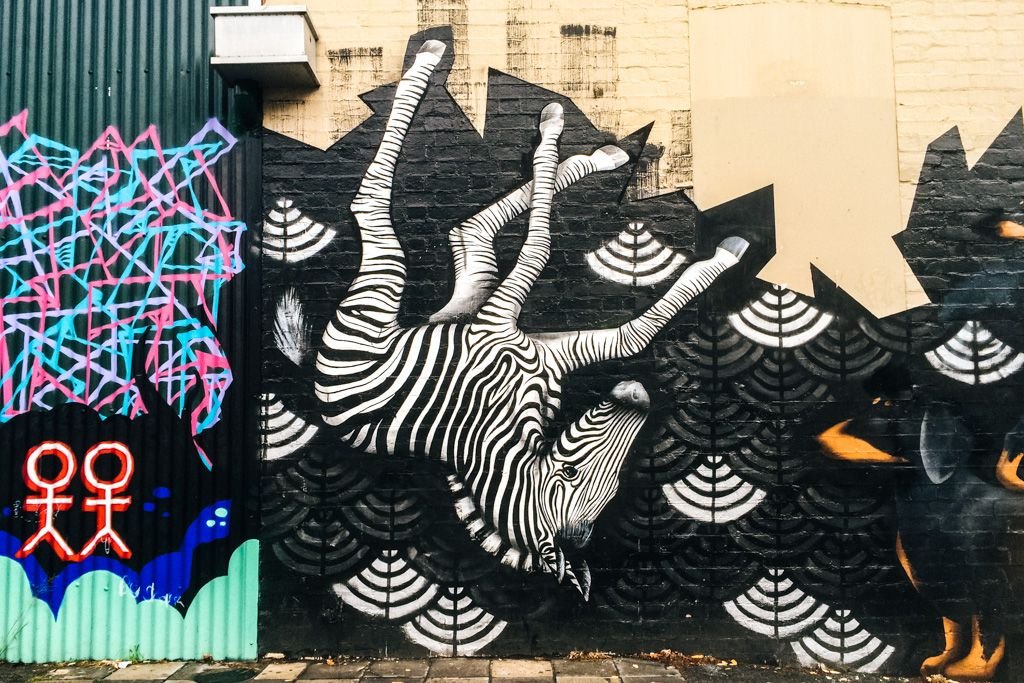 Upfield Bike Path
Melbourne's blessed with several dedicated bike paths, but my very favorite is the Upfield Bike Path which runs right next to the Upfield train line. From the top of Royal Park, north through Brunswick and into Coburg is the portion of it that's decked out in some really awesome street art. You can walk or bike along the path admiring the constant bursts of color on one side, and watching trains pass by on the other side.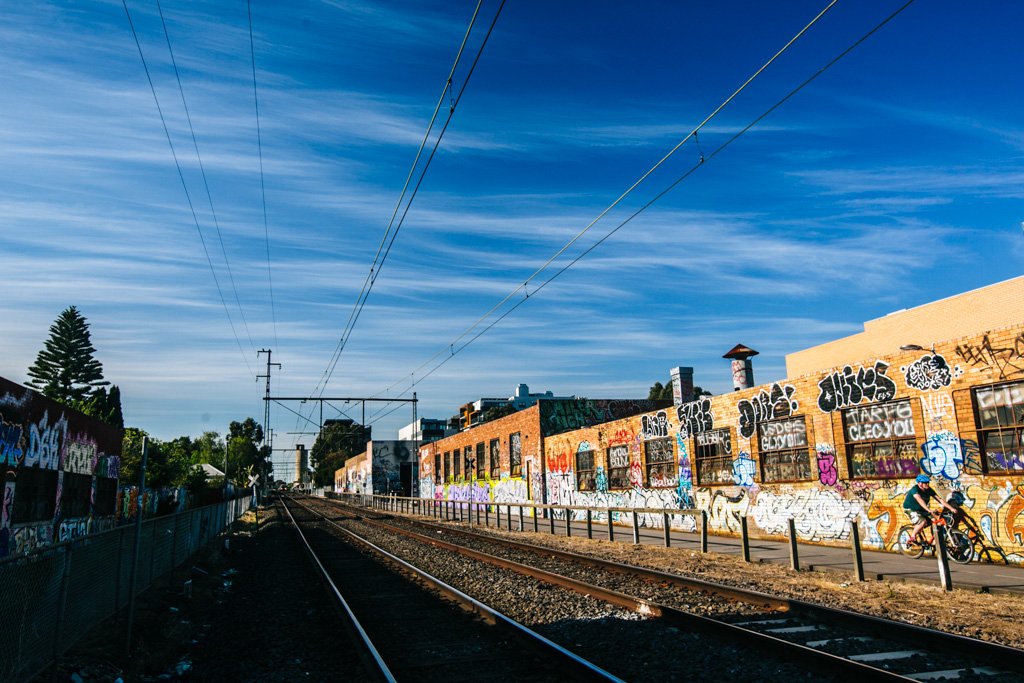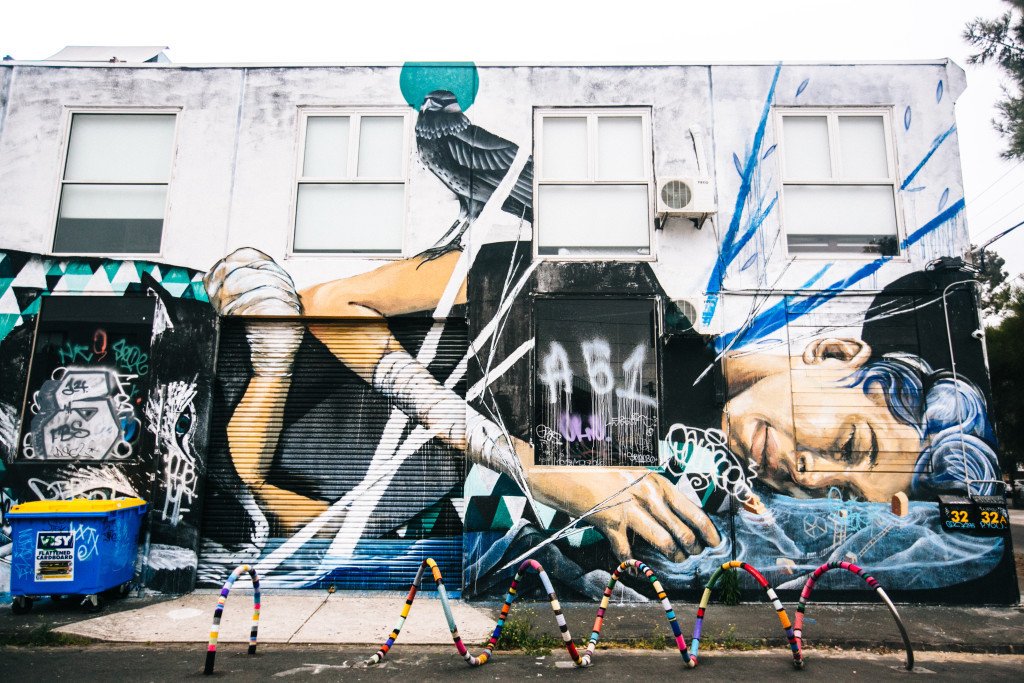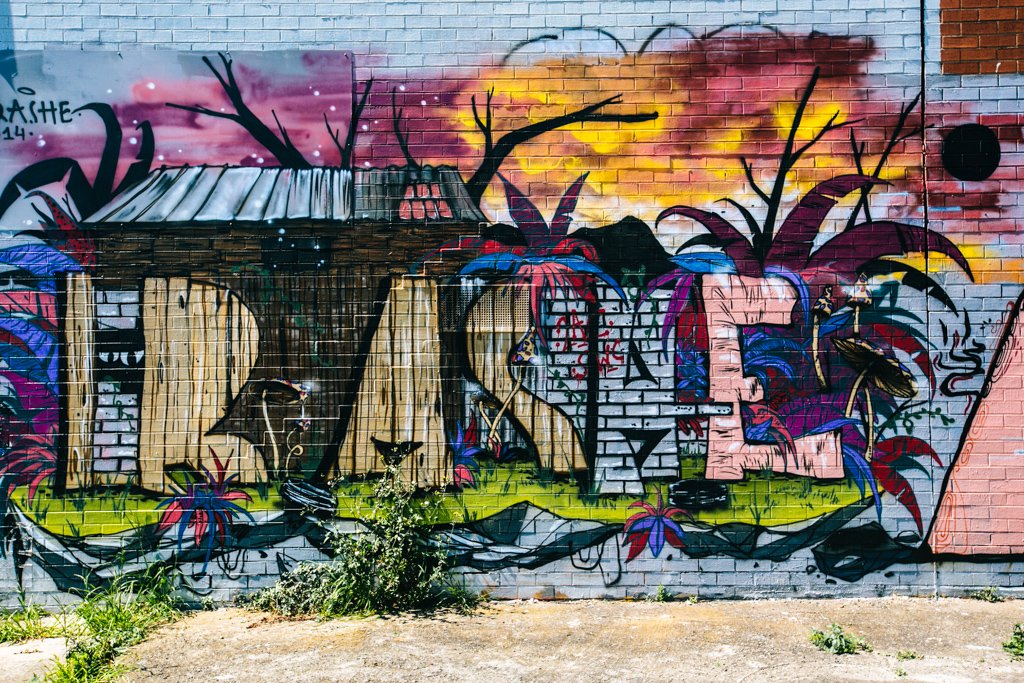 I'd make an afternoon of it and walk the Upfield Bike Path, popping off of it here and there to head into Brunswick for coffee, brunch, and/or drinks on Sydney Road (just a quick walk east from the track).
Brunswick
You could feasibly extend your frolicking from the Upfield Bike Path into Brunswick and Brunswick East for a full day of street art. Head east to hit the 3 main north-to-south thoroughfares in the neighborhood: Sydney Road, Lygon Street, and Nicholson Street. There's street art on all 3, but it's even more fun to wander the laneways just off these roads to find the really good stuff.
Check out my other street art posts: Brooklyn // Montreal // Chicago // Tulum // Sydney
Pin it!