8 years ago, I went sailing in the Whitsundays for the first time. It was quite literally at the top of my to-do list when I first moved to Australia in December 2014, and let me tell you – it did not disappoint.
I had an incredible experience on Solway Lass (an old tall ship that looks very much like a pirate ship) and was dead set on sailing the Whitsundays again on the same boat. Sadly, Solway Lass is now used primarily as a private charter boat and only does a few group sailing trips each year, so it wasn't an option for us this time when we booked an overnight Whitsundays sailing trip for November 2022.
So instead, we scoured all of the options available with Explore Whitsundays, keeping a few criteria in mind:
Not a party/backpacker boat
Not a small boat
Preferably a 3 day trip
And honestly, there wasn't really anything that checked all of those boxes. Most Whitsundays sailing trips are for 2 days, but with those you really only have time to go to Whitehaven Beach and back. I knew I wanted more time so that we could see more of the Whitsunday islands.
Of the two 3-day trip options available, both were on small catamarans which reeeeeeally gave me pause, due to my propensity for seasickness. I'd wanted to sail on a larger boat because they're typically more stable. 8 years ago, I was mostly fine on the 120+ foot Solway Lass and remembered the water being very calm during that sailing trip.
So with that, I took a gamble and booked us a 3D/3N Whitsundays sailing trip on Whitsunday Blue, a 40 foot catamaran.
Did it pay off? Let's get into it.
About Whitsunday Blue
First, let's talk about the boat. Whitsunday Blue is a 40 foot catamaran with 4 guest cabins, accommodating up to 8 guests. 3 of the cabins are ensuite, while 1 of the cabins shares a bathroom with the crew. The ensuite cabins are about $150 more than the non-ensuite cabin and IMO are very worth the upgrade. All rooms are equipped with air conditioning (which may or may not work) and a fan.
We had one of the rear ensuite cabins, which had a big bed taking up the back 3/4 of the room. It felt similar to a queen sized bed, but possibly a little bit shorter.
Next to the bed and in front of the door, there was about 2 feet width of floor space for walking and stashing your belongings. There was also a little platform next to the bed with room for a few things. So if you were wondering why Whitsunday Blue (and basically all other boats in the Whitsundays) ask you to bring a soft bag rather than a suitcase with all your gear, well, now you know why. Aint no room for a suitcase in these tiny cabins!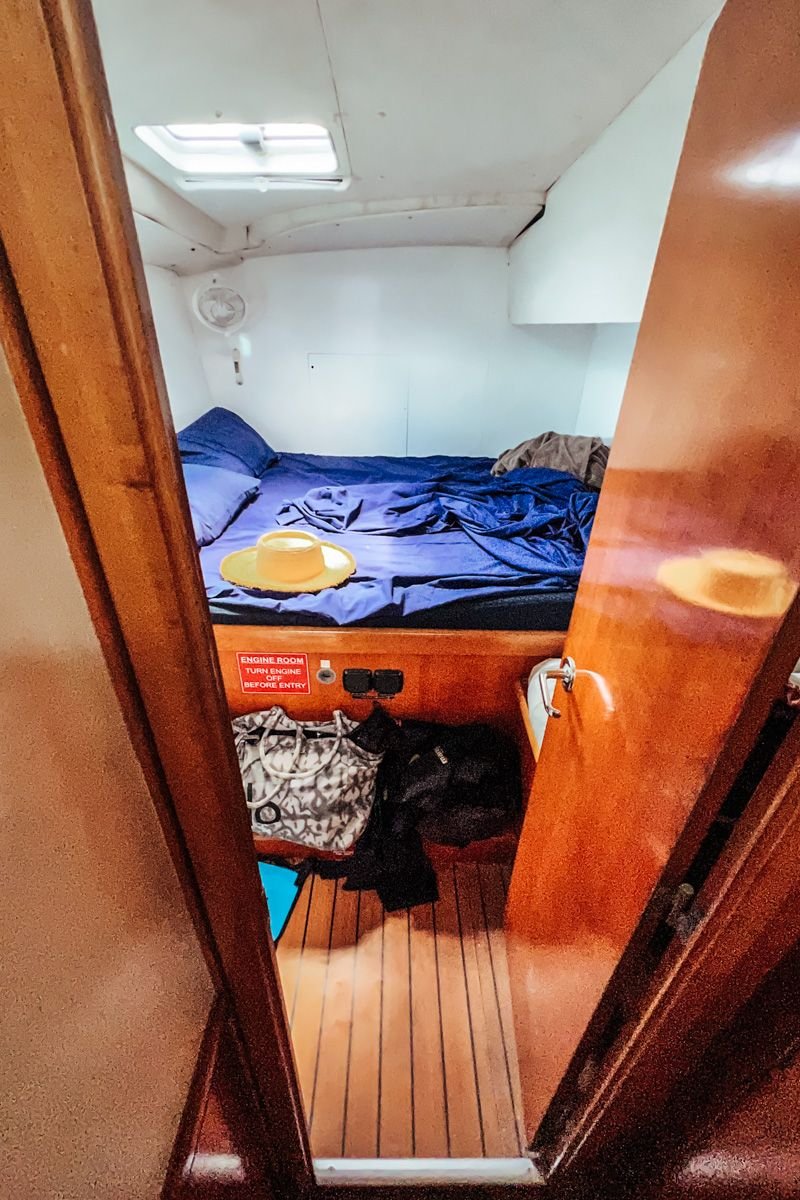 Ensuite cabins have a, ahem, very cozy bathroom with a sink, toilet, and shower. To shower, you stand in front of the sink and toilet, take the sink tap (which is essentially a detachable shower head), and use it to hose yourself down. It's definitely one of those shower situations where you have to lather up before you turn the water on.
There are buttons to flush the toilet and drain the shower water. It's all very practical and an efficient use of such a small space.
Upstairs is where you'll spend most of your time onboard. Inside there's the saloon and adjoining kitchen, which surprisingly includes an oven! The saloon table and benches convert into a bed that the crew sleeps on at night. During the day, Pete and I liked to sit here in the shade and play with the trivia card decks they have on the boat.
Outside and at the back of the boat is the dining table, which just fits 8 people around it (6 on cushioned benches, 2 sitting on the eskies – Pete and I usually sat on those). The table is in the shade and on our trip, proved to be a popular hangout spot during the day when people needed a break from the sun.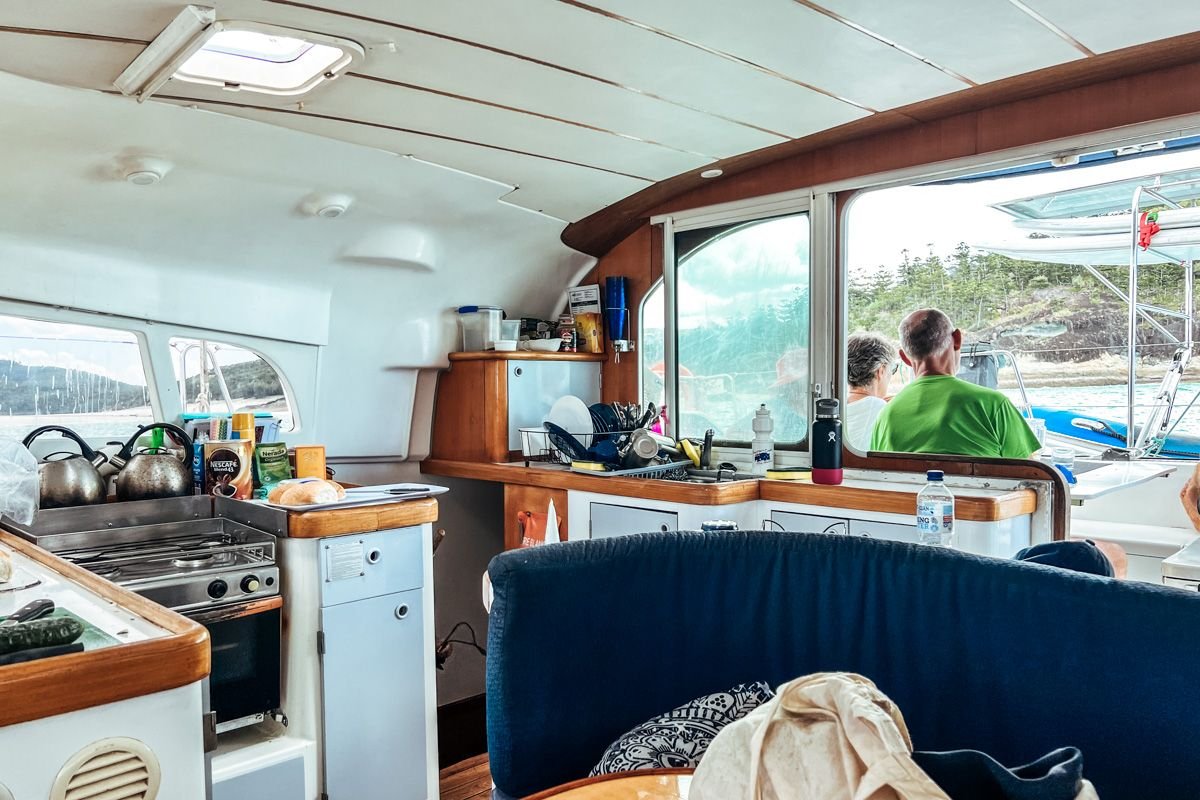 The best part of any catamaran? The deck, of course!
Whitsunday Blue has a sizable net that takes up most of the front of the boat. I was pleasantly surprised to find that you don't get wet from laying on it while the boat is moving, which makes it THE SPOT TO BE when the sails are up and the sun is out.
A recent addition to the deck is the bean bag lounge chair, which someone recently snagged from a superyacht after the chair had blown into the water. You wouldn't think much of a bean bag chair, but let me tell you, this thing is SO comfy! I highly recommend claiming it for sunset one night, drink and canapes in hand.
And of course, you can't write about a catamaran without mentioning the sails. Unlike Solway Lass, where putting up the sails was a long-drawn production, it was a very quick process on Whitsunday Blue. Sailing felt much smoother than cruising with the motor on, which I very much appreciated.
The boat is also equipped with two stand-up paddleboards and a tender for shuttling guests to/from the islands.
All in all, Whitsunday Blue is a solid vessel and works well for small group sailing trips.
Whitsunday Blue Itinerary (3D/3N)
The nice thing about Whitsunday Blue is that there's no set itinerary, which keeps the sailing trip spontaneous and exciting. Our skipper would look at the weather and make the call the day-of as to where he'd be taking us, drawing out the approximate route on a big map for everyone to see.
So although the Whitsunday Blue itinerary looks different for every trip, here's what we ended up doing:
CLICK TO READ WHITSUNDAYS SAILING TRIP REVIEWS ON TRIPADVISOR
Day 1: Airlie Beach to Nara Inlet (Hook Island)
We left Airlie Beach at 3pm and headed straight to our anchorage for the night at Nara Inlet, Hook Island. I remembered this spot from my last Whitsundays sailing trip as being one of the most popular overnight stops in the islands due to its calm water.
And ooh boy, did I need some calm water after the rough crossing through the Whitsunday Passage!
Unless you're new to this blog, you probably already know that I sometimes get seasick on boat trips (see: exhibit A, B, C, D, E…). I'd done Reef Sleep a couple days before this sailing trip and gotten very seasick, so for this trip I ditched the natural Travacalm ginger tablets and invested in some Kwell travel sickness pills (the Aussie equivalent of Dramamine).
I still cannot believe that I didn't get sick on the trip out there! It was anything but smooth sailing; in fact, we couldn't even sail because it was so swell-y, so we used the motor nearly the whole way there. It was a lot of bobbing up and down and swaying back and forth in our seats – kind of felt like being stuck on a bad amusement park ride. I got sprayed with sea water numerous times. Thank goodness for Kwell!
Three hours later, we reached Nara Inlet and suddenly everything was still again. Pete and I lounged on the deck and watched the stars start to appear while we waited for dinner, which was an impressive salmon dish.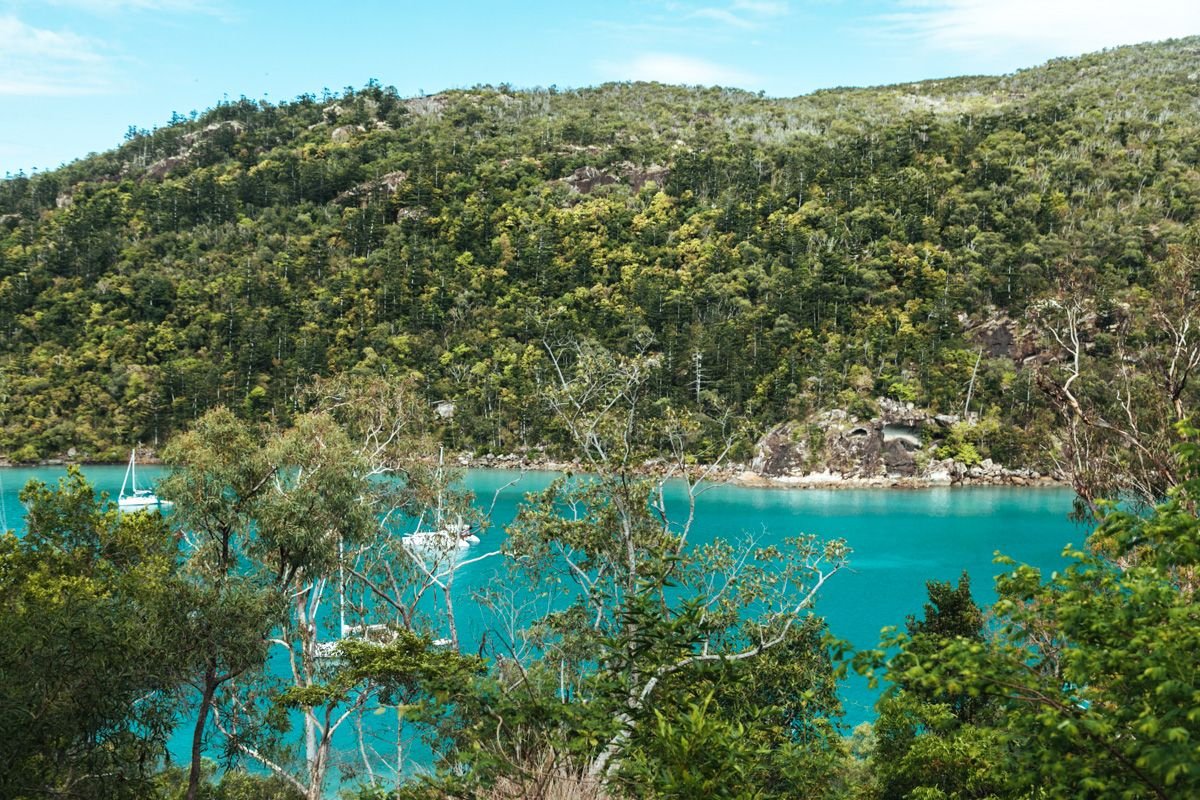 Day 2: Hook Island
We spent the entirety of Day 2 at Hook Island, which is blessed with dozens of inlets and coves ideal for snorkeling and/or anchoring.
First, before we left Nara Inlet, we did a short hike up to the Ngaro caves, an Aboriginal site that's well worth the trek up 187 steps (yes, we counted!). There are some audio clips you can listen to and learn about the Ngaro people who live(d) on the island, before you reach the cave at the end of the trail. The cave is decorated with Aboriginal paintings, very cool to see especially if you've never seen this sort of art before (most Aboriginal art tends to be in the Outback!).
There are some really pretty views of Nara Inlet through the trees as you walk back down, too.
From Nara Inlet, we sailed up and down the west side of Hook Island for the rest of the day. It started out pretty glorious, with me sunbathing on the net and turning various shades of pink while we cruised toward Hayman Island. But then, as we stopped at a few different coves around Hook Island (including Manta Ray Bay), I started feeling a little woozy. It's always when the boat stops and is bobbing around in the water that the seasickness hits me :(
Should I have jumped right in when we got to the first snorkeling spot to stave off the seasickness? Yeah probably… but I really didn't want to deal with the stinger suit and didn't feel like snorkeling anyway. i just wanted to lounge on the catamaran and feel like a normal, non-seasick person!

Sand-free beach towel courtesy of Tesalate.
The rest of the day was pretty much a write-off for me, as I spent it pseudo-horizontal feeling yuck. Shortly before sunset, we got to hop off the boat and onto Black Island, a very small island between Hook and Hayman islands that's a popular spot for watching the sun go down. I SO wish we'd had longer than 15 minutes there – if I'd been well enough to survey my surroundings a little better, I would've asked to be dropped off there while everyone else was snorkeling nearby.
Black Island's a real beaut – photogenic from every angle, really. And the views of the surrounding islands are just gorgeous!
We returned to the boat in time to watch the sunset, which turned out to be one of those sunsets that seem to last forever.
Post-sunset, I skipped dinner (steak) and went to bed at an absurdly early hour to sleep off the nausea. Actually, all day I was feeling a combination of nausea and exhaustion. I noticed that the Kwell seasickness pills were making me feel sluggish and super tired – like what I imagine it might feel like to be drugged. I was pretty diligent about taking the pills all throughout the trip, but honestly I'm not even sure if it was worth it since I didn't feel like myself either way.
I could feel the boat motoring later in the evening to take us to our anchorage for the night at Macona Inlet (which is just next to Nara Inlet, on the south end of Hook Island). The water here was calm, but not quite as still as it was at Nara.
Day 3: Whitehaven Beach
I woke up on day 3 feeling better, but tired and off from the Kwell seasickness pills, so not great.
But it was Whitehaven day, so I mustered up all the energy I had to make the most of it!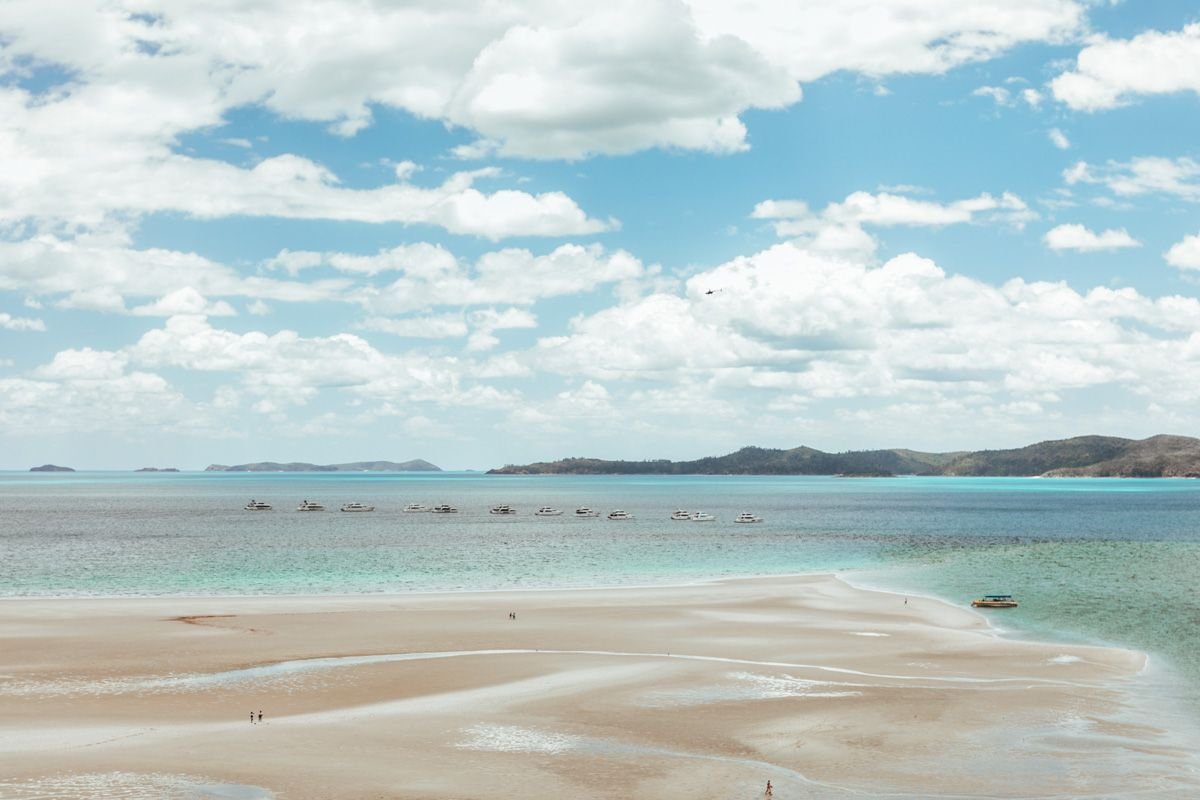 First we were dropped off on the beach at Tongue Bay to do the short 650m walk up to the Hill Inlet lookout. The trail is very well formed and easily doable in sandals, so no need to bring sneakers on this Whitsundays sailing trip!
If luck is on your side, you'll be up here on a clear day around mid-tide, which are the ideal conditions to get the best views from the Hill Inlet lookout. This morning it was a bit overcast, so we didn't quite get the vibrant hues in the water that you often see in photos. I wasn't too fussed, as I've been here twice before – but it's gorgeous no matter what the weather or tides are doing!
One little fun fact I learned this time: the fancy new boardwalks installed at and around the 3 Hill Inlet viewing platforms were funded by the Pirates of the Caribbean movie that was filmed here (Dead Men Tell No Tales). The more you know!
From the lookout, we walked back down via a different path to the north end of Whitehaven Beach, where we had about an hour to explore. Most of Whitehaven Beach is south of Hill Inlet, but there's a small section just north of it too – that's where most Whitsunday sailing trips and Whitehaven day trips stop, just because it's easy to do right after you go up to the Hill Inlet lookout.
We arrived early enough to beat most of the day trippers, so the beach didn't feel crowded at all: a huge perk of doing an overnight sailing trip!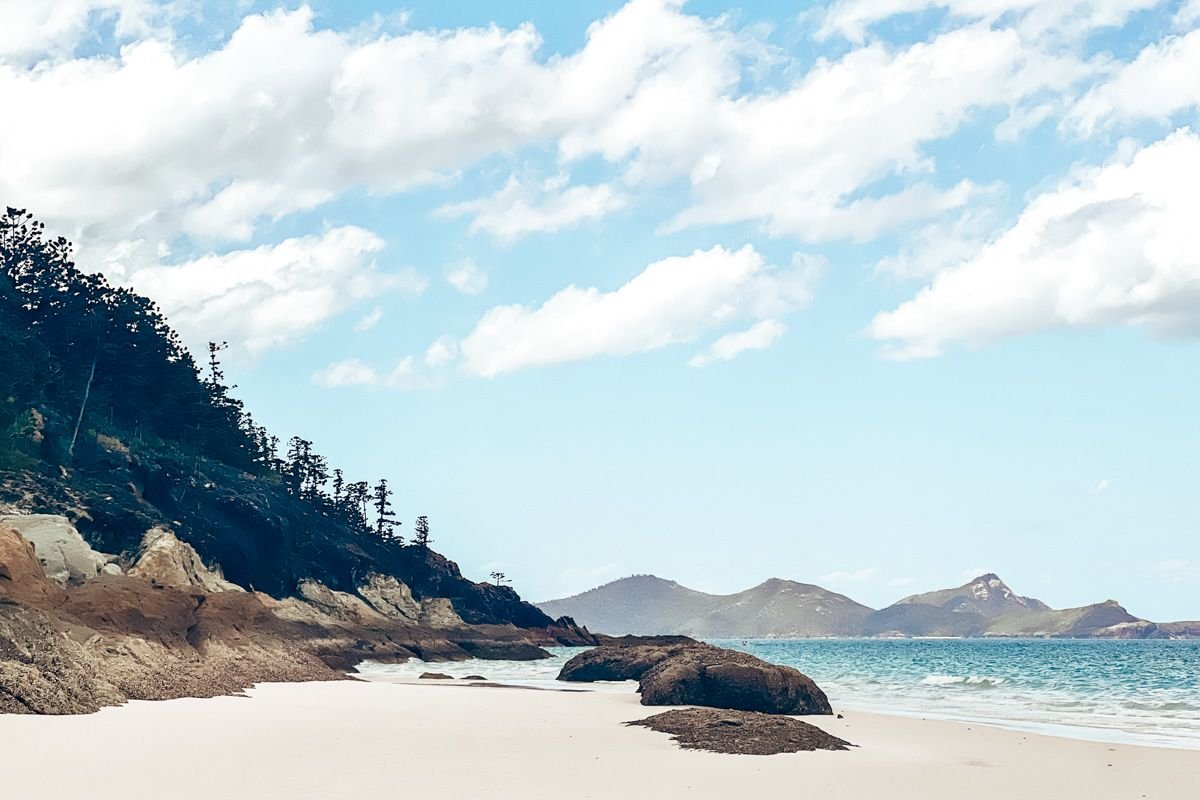 Even on the best of days, I find it hard to resist a good lay-down on the beach. But when I'm feeling yuck, forget about it – laying horizontal is ALL I want to do… so that's how I spent my hour on Whitehaven Beach.
Had I felt up to it, I would have walked up the little headland on the northern side of the beach to find the secret hammock. Apparently it hangs in the trees up there with a stunning (and private) view over the water. Guess I'll have to come back a 4th time in the future and try to find it!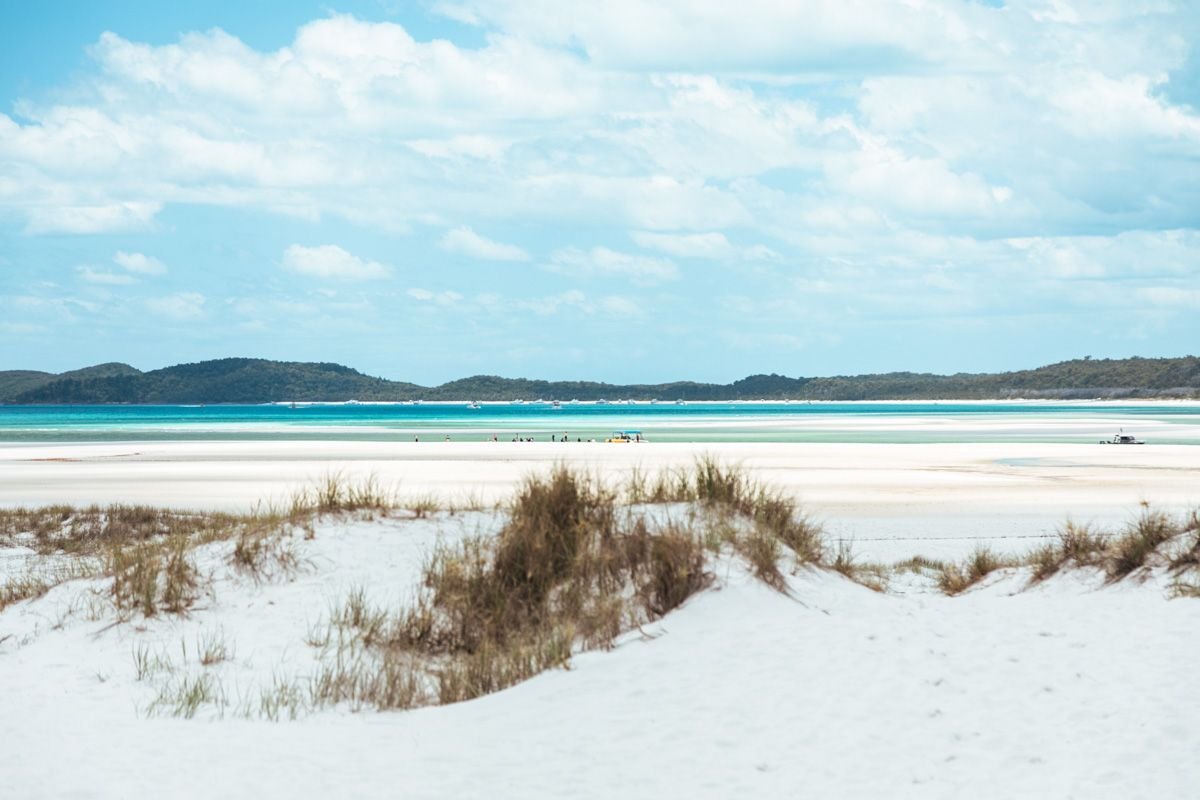 By late morning, we were back on the boat heading to the south end of Whitehaven Beach for lunch – and to my delight, this is where we'd stay for the rest of the day (and night).
I got a little sick once we arrived, and mercifully another guest on the boat (who's a nurse) offered me some ondansetron to stop the nausea. Apparently it's mostly used on chemo patients and is a pretty heavy duty drug (aka not technically meant to be used to prevent or treat seasickness).
WHEN I TELL YOU THIS WAS A MAGIC PILL…
I mean, this thing literally turned the nausea switch off and transformed me into a normal functioning person at sea. I've been waiting my whole life for something like this!
I popped one pill and in no time I was sitting upright, hopping onto a paddleboard, and paddling myself to shore. It was nothing short of a Whitsunday miracle!
What followed were the best 2 hours of the entire trip, where we got to frolic and sunbathe in the glorious late-afternoon sun on the prettiest white sand beach in the world. THIS IS MY BLISS, PEOPLE!

Sand-free beach towel courtesy of Tesalate.
We even went for a few cheeky swims without our stinger suits on (as did several others from our boat, much to the chagrin of the skipper). The water was shallow and clear enough that we felt comfortable risking it for a few minutes, and thankfully nobody got stung.
We didn't realize until afterwards, but there's a short walk you can do on the south end of Whitehaven Beach to the South Whitehaven lookout. From here, you can enjoy panoramic views of the surrounding bays. A few guests from our boat did it and said it was well worth the walk, so I'm kicking myself for missing out. Ah well, next time!
After our quality beach time, we returned to the boat, cleaned up, and hung out on the deck for sunset (though there wasn't much of one). I was still marveling at what it felt like to NOT be the slightest bit nauseous on a boat, and let me tell you I definitely didn't take it for granted.
Pete and I lounged on the net, wrapped up in blankets, watching Below Deck on my phone (I mean, there is no show more appropriate to watch while on a boat, am I right?). We also unknowingly were getting eaten alive by mosquitos, so I'd definitely recommend covering your arms and legs in the evening or wearing bug spray. Those Whitsundays mozzie bites lasted several itchy days, not quite a souvenir you want to take home.
We had some really nice bruschetta for a sunset snack, and then chicken for dinner.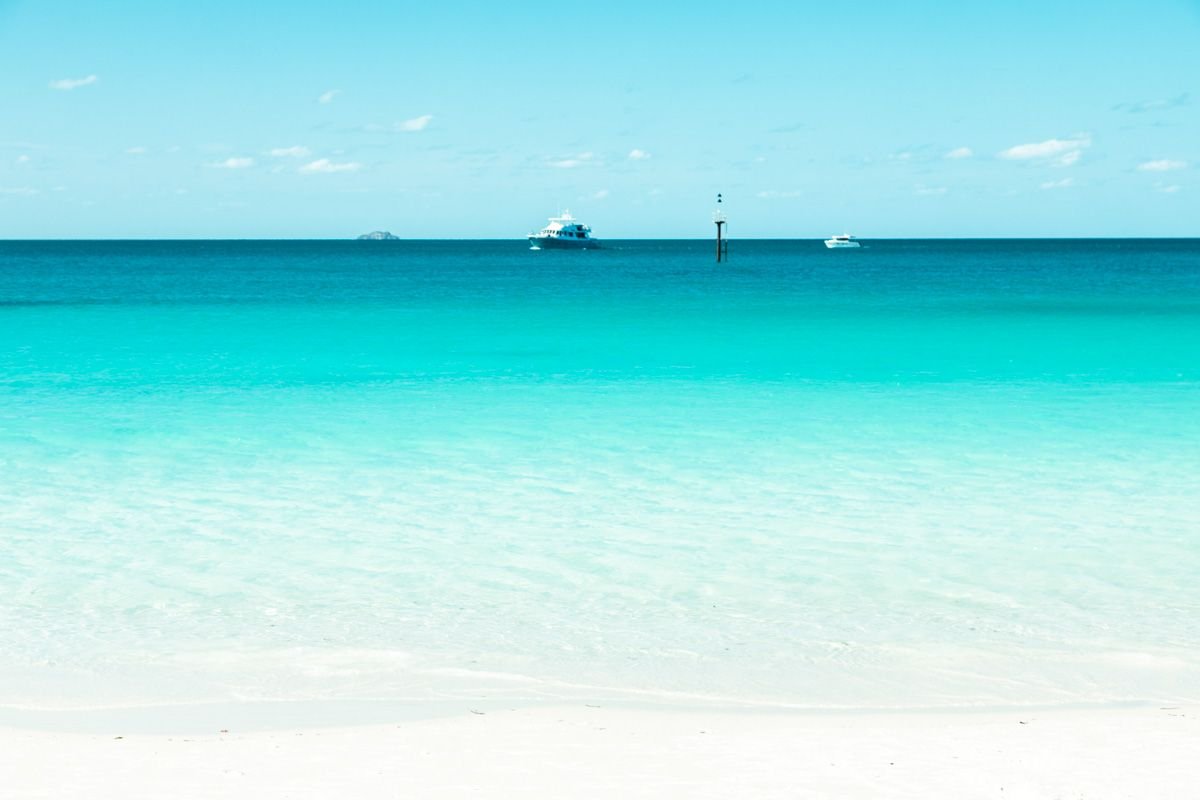 We stayed anchored at South Whitehaven Beach overnight, as did many other boats that had spent the afternoon there near us. The water was calm but I could feel the boat gently bobbing back and forth for most of the night. My magic pill started to wear off just after dinner, so the movement affected me more than it would have earlier.
By 2am, the tide had gone out enough that our boat started to hit the sand, at which point I could hear the skipper running around on deck and then moving the boat just a little ways out to avoid getting stuck at low tide.
That's the thing about the Whitsundays, the tide can go out VERY quickly and boats end up getting stuck. For this reason alone, for me it's VERY worth booking a Whitsundays sailing trip rather than chartering my own boat to explore the islands (which FYI you can do without a license). If you don't know what you're doing, I imagine it can be very stressful. But we didn't have to worry about anything on this trip and the skipper took care of everything quickly and easily like a true professional.
Day 4: Whitehaven Beach to Airlie Beach
Our original plan was to sail through the Solway Passage around the south side of Whitsunday Island and maybe check out an island, but there was too much swell down there so we had to head north via the way we came to return to Airlie Beach.
The return trip was just as rough, if not moreso, than our trip out to the islands on day 1. I was sick in no time and down for the count til we got back to land. I did pop another ondansetron which stopped the vomiting, but I felt pretty out of it afterwards because the boat never stopped swaying.
About halfway back (maybe less), we stopped at a cove at Border Island for a little shelter from the swell. Some of the other guests got off the boat to do a short walk on the island and then we all had lunch on the boat before heading back to Airlie. It was SUPER windy out, even in this sheltered cove, so all I could really do was take up permanent residence on the saloon lounge and try to sit partially upright to see the horizon.
We arrived back at Airlie Beach at 2pm, a little later than the usual 12pm end time which no one really minded (except maybe me, as I just wanted to be back on solid ground ASAP).
CLICK TO READ WHITSUNDAYS SAILING TRIP REVIEWS ON TRIPADVISOR
Crew & Food Onboard
I thought these deserved their own section, so here we are!
The crew we had on Whitsunday Blue was excellent. Zim was our skipper and Mani was our cook/deckhand/stewardess. Really, both of them shared all duties and did everything on the boat (and with a smile!). They were really sympathetic when I wasn't feeling well and always offered to bring food to our cabin or save a plate for me for later.
We could tell Zim was very passionate and knowledgeable about sailing and the Whitsundays (he used to work on Solway Lass!). And Mani was brand new to the boat, but you'd never know it with how much of a pro she was. The girl worked nonstop for us, sort of acting as the group mom (despite being the youngest on the boat by far, at 19).
Sailing with them felt more like hanging out with friends than being on a group tour: it was fun and easy and very chill. I think having a small group also contributed to it because there were only 10 people total onboard.
As for the guests, there were 8 of us (4 couples). I remember on Solway Lass, the group was much larger and it was easy to maintain some anonymity and stay away from anyone who was annoying you. But on a small boat like Whitsunday Blue, it matters much more who you end up traveling with and you'll get to know everyone.
Thankfully we ended up with a good group and everyone was super nice and pleasant to be around. I'm not sure what the norm is, but the other couples on our trip seemed to be in or near their 50's. Two of them were visiting from Europe and one was Australian.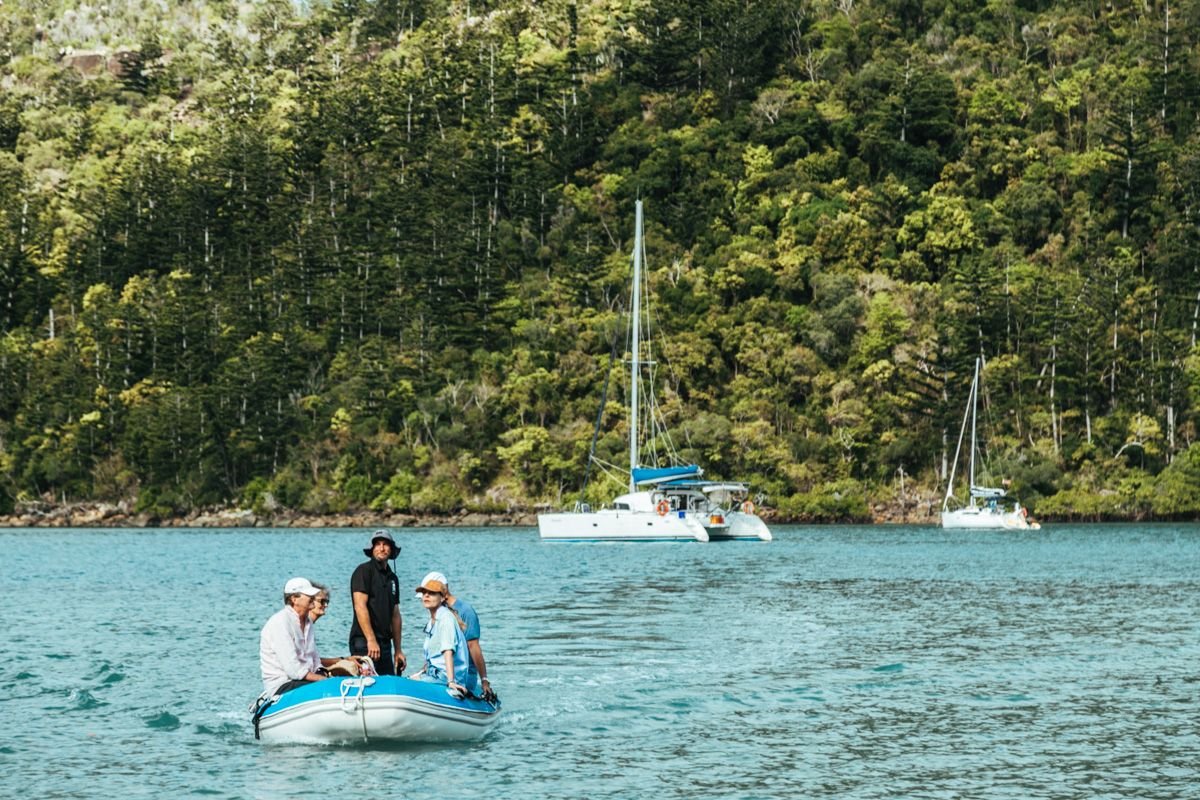 And the food, well – they aren't kidding when they say you won't be hungry. With 3 meals a day supplemented with snacks and capped off with dessert, the crew was constantly feeding us. They actually did seem to follow the sample menu on the website, except they didn't serve us nachos as a snack on day 1 (I don't even see how there would have been time for it, to be fair).
Was it amazing? No, but I never expected 5-star dining and I'm no foodie, so I didn't mind. We had good home-cooked meals, certainly better than what I normally cook for myself, and HEALTHY which was a pleasant surprise. Lots of salads and grains and meat. Dessert I think was packaged stuff rather than homemade, but I usually wasn't in a state to eat it so I didn't take much notice.
Breakfast was usually a bit of a DIY setup, with fruits, muesli, yogurt, and sometimes packaged pastries for us to grab. On the last day, we had a later breakfast and they cooked us eggs and pancakes which was really good.
In terms of drinks, it's BYO alcohol and soft drinks. All drinking water is provided.
If you have dietary requirements, you can mention it when you book the trip to ensure your needs are catered for. According to the brochure, there's a $15 surcharge for that.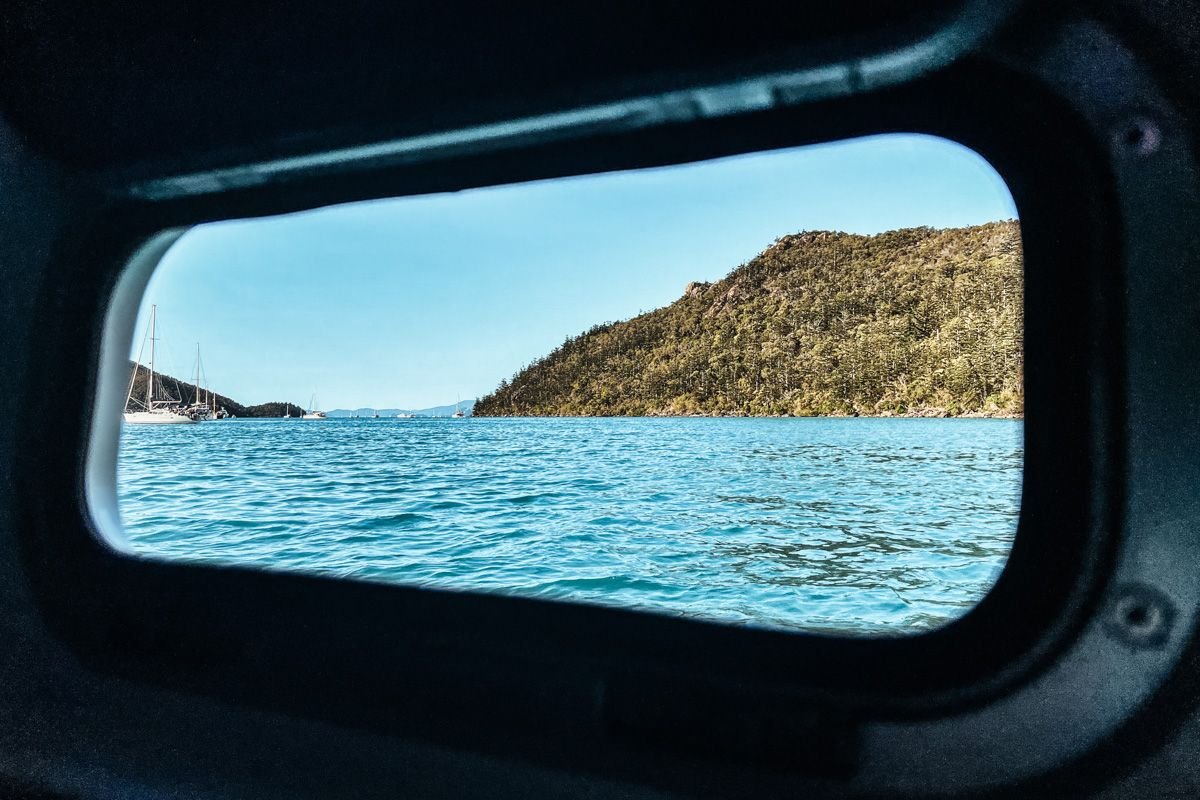 Things To Consider Before Sailing On Whitsunday Blue
Because I'm prone to falling down research rabbit holes, I scoured the TripAdvisor reviews before our trip to see what others said about sailing with Whitsunday Blue. From this, I set realistic expectations and ended up happy with most everything about our trip.
The overall take in the reviews was positive, but I noticed that most complaints were due to mismatched or unmet expectations. And you know what, that's totally fair because there isn't much information about the boat or sailing trip on any of the booking websites. Even worse, it doesn't look like it's been updated in quite some time. So that's my main critique: lack of up-to-date and detailed information provided before the trip.
But the good news is, you're here reading this Whitsunday Blue review and now you're going to know exactly what to expect!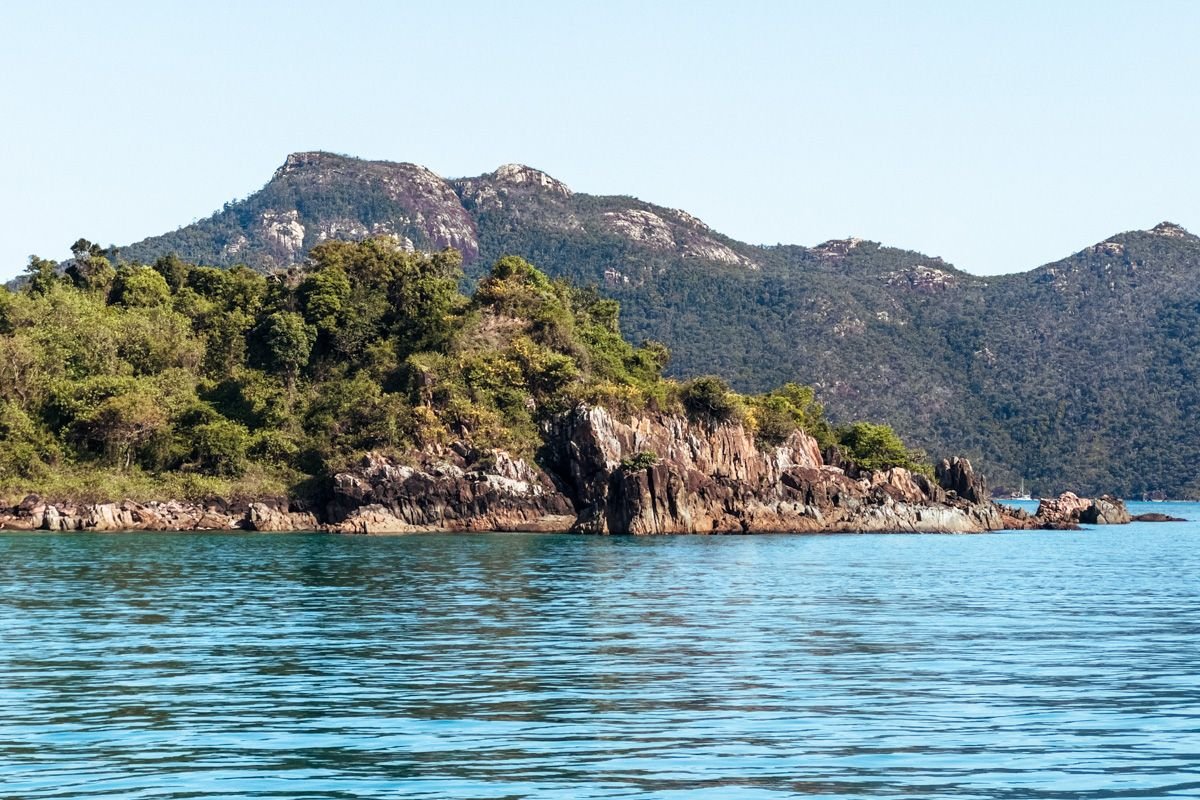 So here are the most important things to know before you book this Whitsundays sailing trip:
Whitsunday Blue is not a shiny new boat. It's clean and in good condition, but some things do look a little dated.
If the sailing trip is fully booked, the two crew members have to sleep upstairs in the common areas. There was absolutely no evidence of this on my trip, as our crew was super discreet and never left any of their belongings or sleeping gear out in the open, but I did read some reviews that complained that the saloon had been turned into the crew's sleeping quarters and was unusable by guests. We didn't have this problem on our trip and were able to spend as much time as we liked lounging in the saloon.
There is air conditioning in all of the cabins, but it's broken as of November 2022 and has not been working for a long time (apparently they are waiting on parts needed to repair it). We sailed during a heat wave and were fine with the window open and the fan running in our cabin because it cooled off a lot at night. If anything, the first night will probably be the hottest because the boat will have spent the previous day sitting in the heat in Airlie Beach rather than in the cool breeze around the islands. I didn't see any mention of the broken AC online when I booked, which I feel is definitely something that should have been noted on the booking page (especially when the boat description mentions that it does have AC).
The aft (rear) cabins are larger than the forward cabins! I'd also read this in reviews and even asked about it before booking, but couldn't get any confirmation on it. So let me be the one to confirm that yes, the rear cabins are larger on Whitsunday Blue. If you look at the boat layout on another booking site (not Explore Whitsundays), you can kind of see the difference in size between the forward and rear cabins. Our rear cabin bed was close in size to a queen, while the aft cabin beds looked much narrower. So if bed size is important to you, try to request one of the rear cabins.
I was unable to confirm this, but some reviews also mention that the forward cabins are close to the generator which can be noisy when running. If you're a light sleeper, that's another reason to ask for a rear cabin.
You don't have to worry about running out of water, ice, fuel, or food while on Whitsunday Blue because the skipper can easily radio another boat that's about to sail out from Airlie Beach and ask them to bring out any needed supplies.
Stinger season runs from October-May in the Whitsundays, which means you're not gonna want to be in the water without a stinger suit on (which they provide for you on the boat). For me, this is reason enough to sail the Whitsundays in winter, but unfortunately the timing didn't work out for us this time.
If you're a big introvert (*raises hand*), you might struggle with constantly being around too many people in such a small space. There are a few different spots you can spread out on while on Whitsunday Blue (saloon, outdoor dining table, deck), so my best advice for introverts is to go to the spot with the fewest people when you're feeling drained. Or better yet, take advantage of any and all opportunities to get off the boat and explore the water or islands. On our trip, the other 3 couples spent most of the time at the outdoor table, while we took our space on the deck or in the saloon.
Whitsunday Blue lends itself well to couples, as there are only double cabins and no shared bunks, and that is who tends to book this sailing trip. So if you're not traveling in a couple, you might feel a bit out of place on this boat.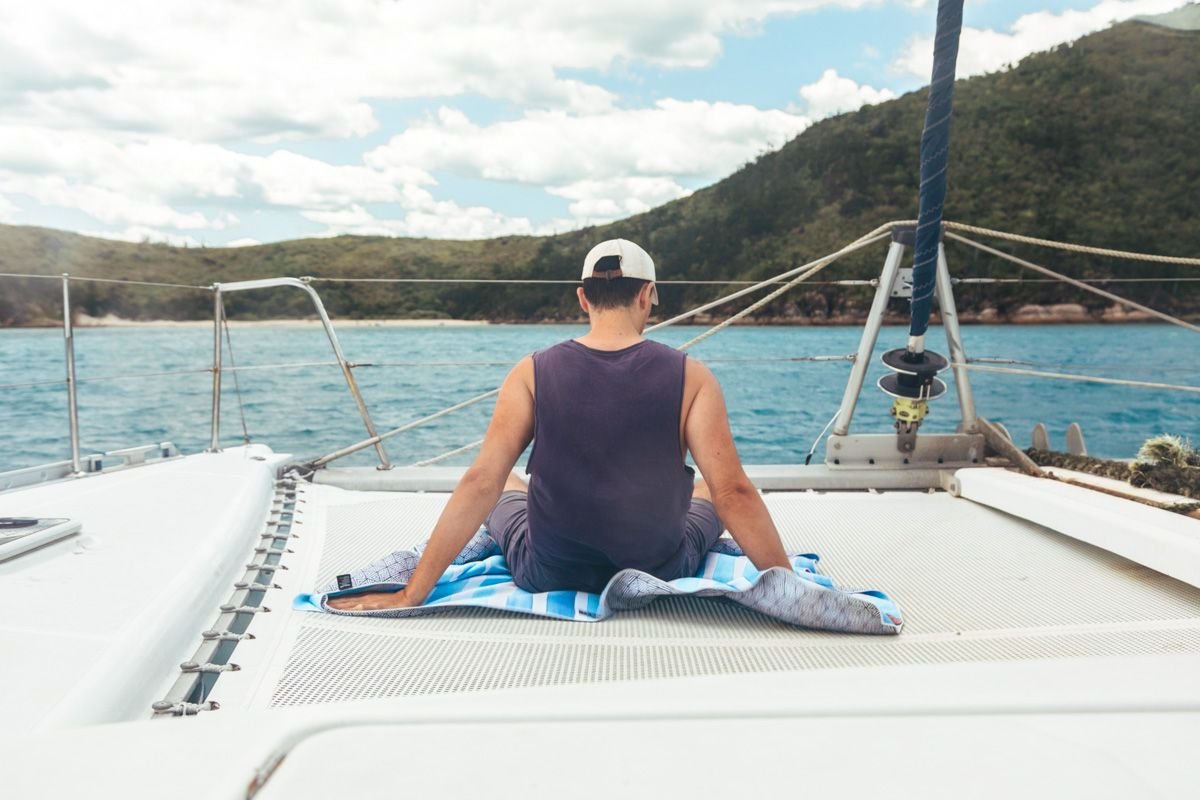 XL sand-free beach towel courtesy of Tesalate.
My Whitsunday Blue Review
Overall, I was very happy with my Whitsundays sailing trip on Whitsunday Blue. I think it makes for a great choice if you're older (over 30), traveling in a couple and happy to get close to a few other couples in a short stretch of time. It's also great for those who don't want to be stuck on a party boat or in a structured group tour and would rather feel like they're sailing with a group of friends.
Was it the right choice for me? Maybe not, but I think it was the best option given what was available with Explore Whitsundays during my travel timeframe. Ideally I would have gone with Solway Lass again if there were any trips scheduled.
For me, and probably anyone else prone to sea sickness, boat size absolutely needs to be my #1 criteria when I'm booking an overnight sailing trip like this again. A small catamaran is a recipe for nausea disaster if the conditions aren't favorable. But then the bigger boats running Whitsundays sailing trips seem to be the party/backpacker boats, so I'm not sure if that would be much better.
But for most of you reading this, I think you'll be very happy with Whitsunday Blue. Just be sure to book at least a couple months in advance, as they do fill up their trips quickly!
Want More To Do In The Whitsundays?
Check out these blog posts:
Thank you to Explore Whitsundays for a generous media discount on Whitsunday Blue. Note that all opinions expressed here and elsewhere on this blog are my unbiased own, and are uninfluenced by any gifts or incentives I may receive.
CLICK TO READ WHITSUNDAYS SAILING TRIP REVIEWS ON TRIPADVISOR
Pin it!